Christina and Thomas knew they wanted a Burlington winter engagement. Finding that perfect snowy day proved challenging. In fact, it almost never happened as we were plagued with either bad weather conditions, extreme temperatures or poor lighting. Finally, in April, I saw that we were due one last snowstorm and the forecast was for sun and mild temperatures! We booked it in and their session proved that good things come to those who wait.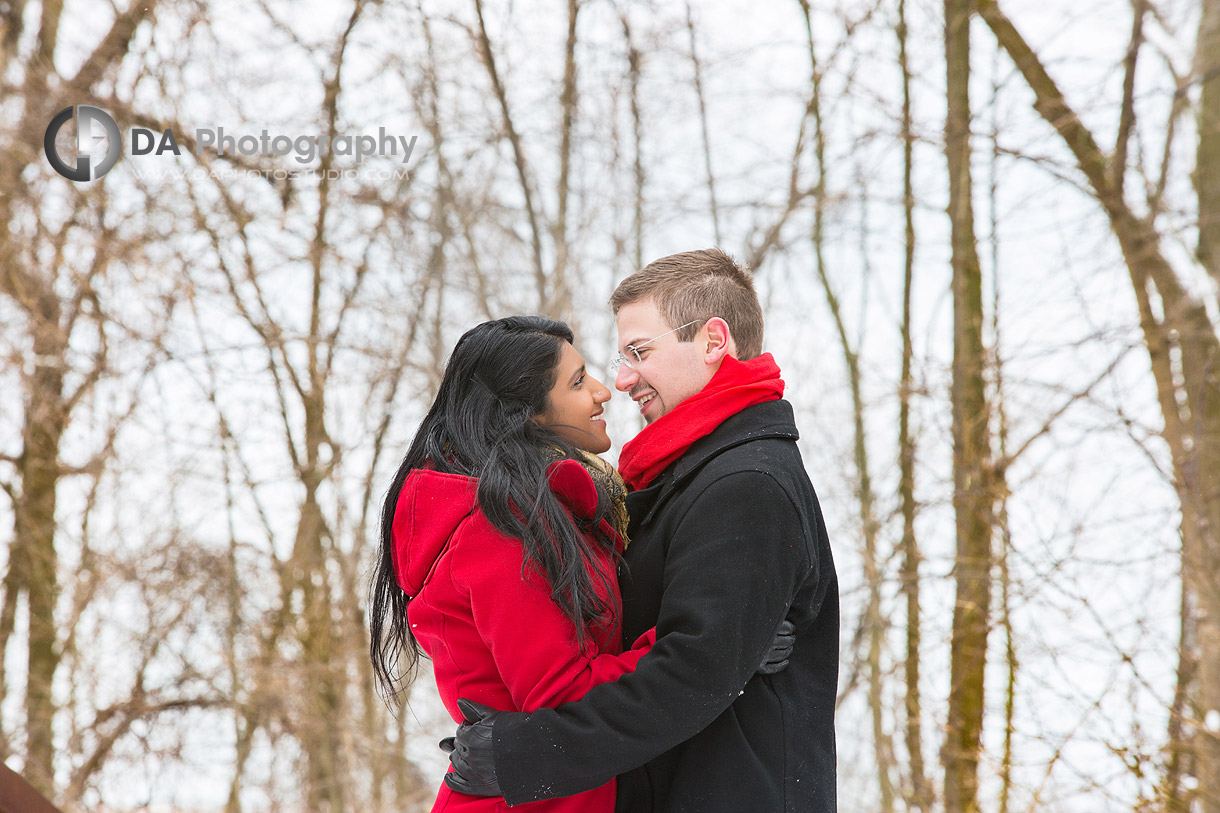 Christina's main concern was how they would both be lit as they had completely different skin colourings. They were drawn to my experience in lighting and photographing inter-racial couples and I was able to satisfy their worries.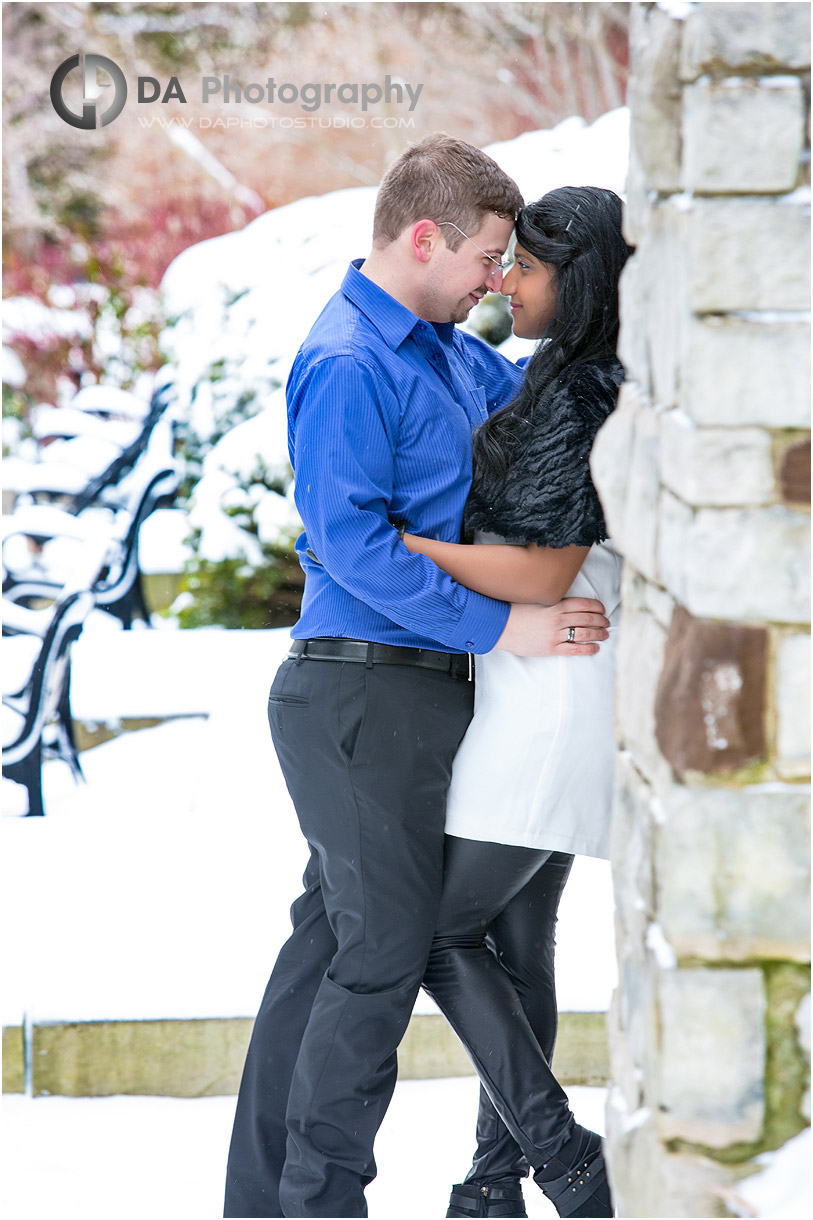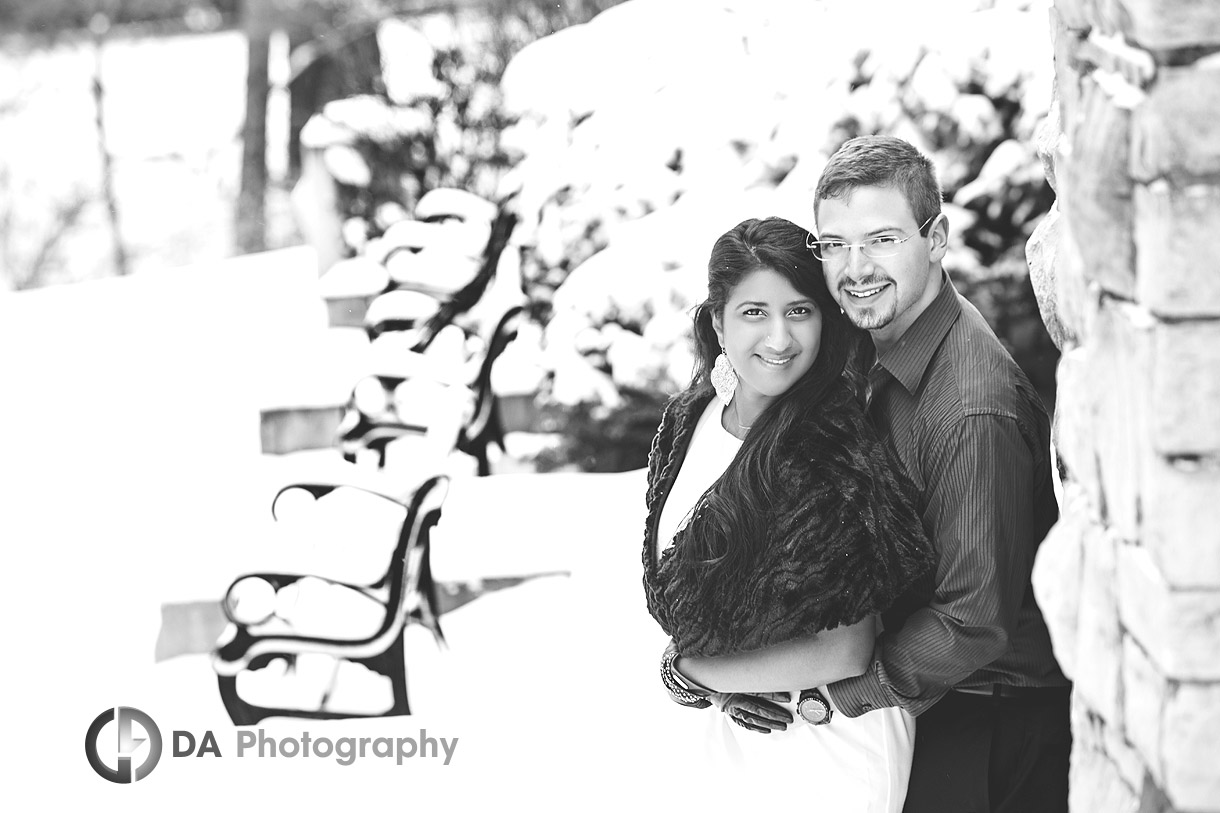 This Burlington winter engagement proved that good things come to those who wait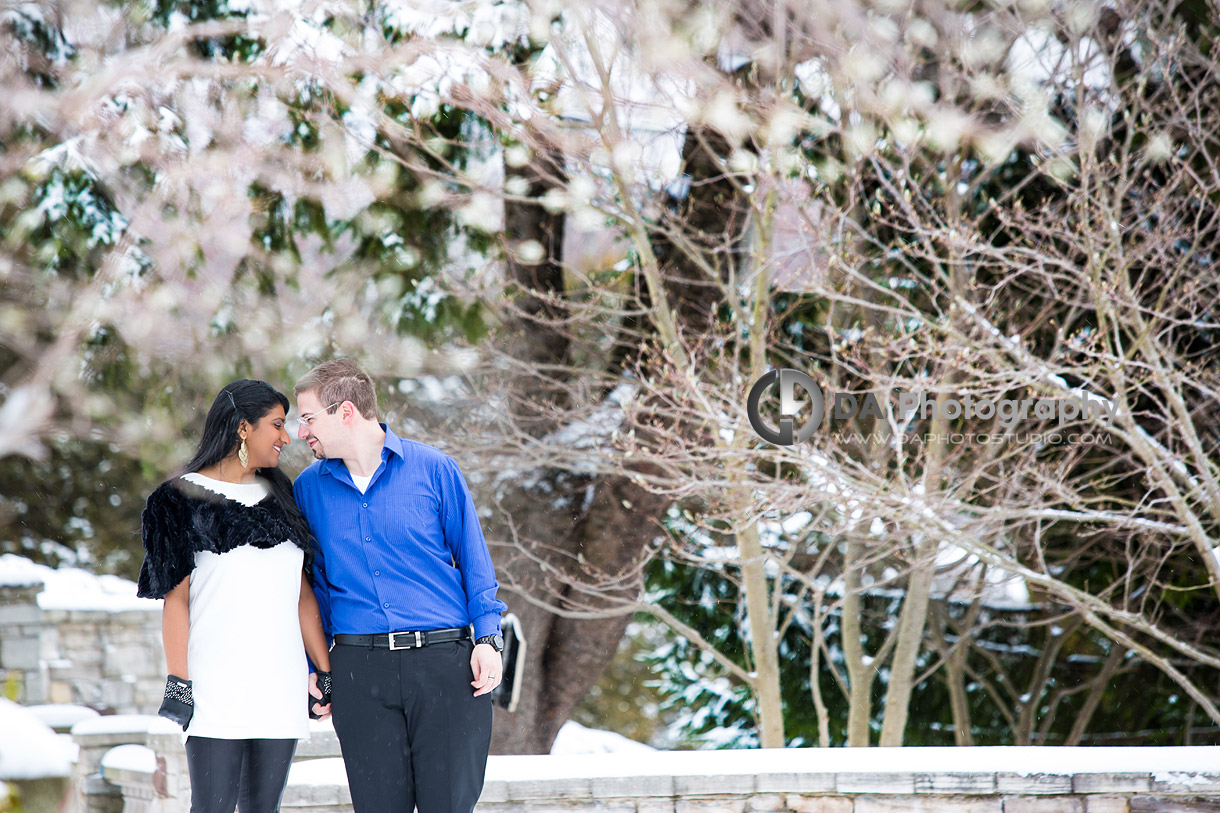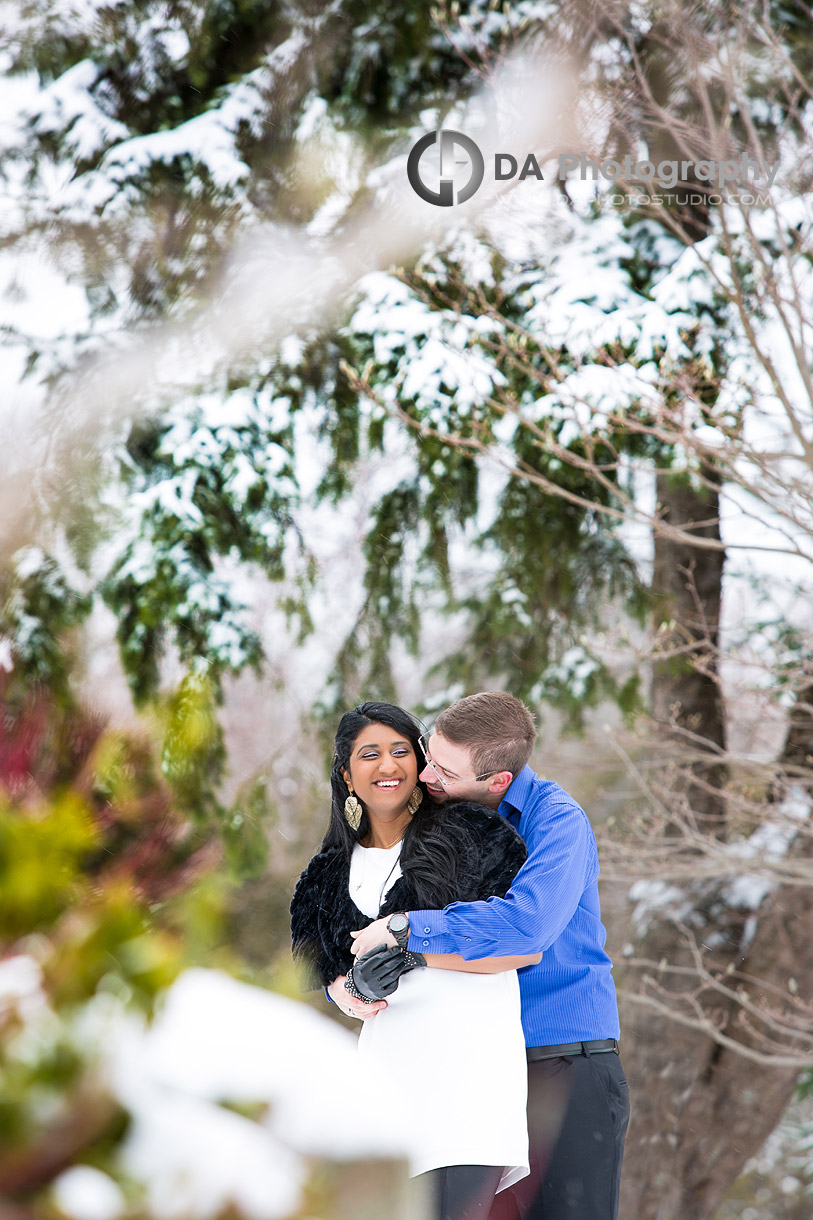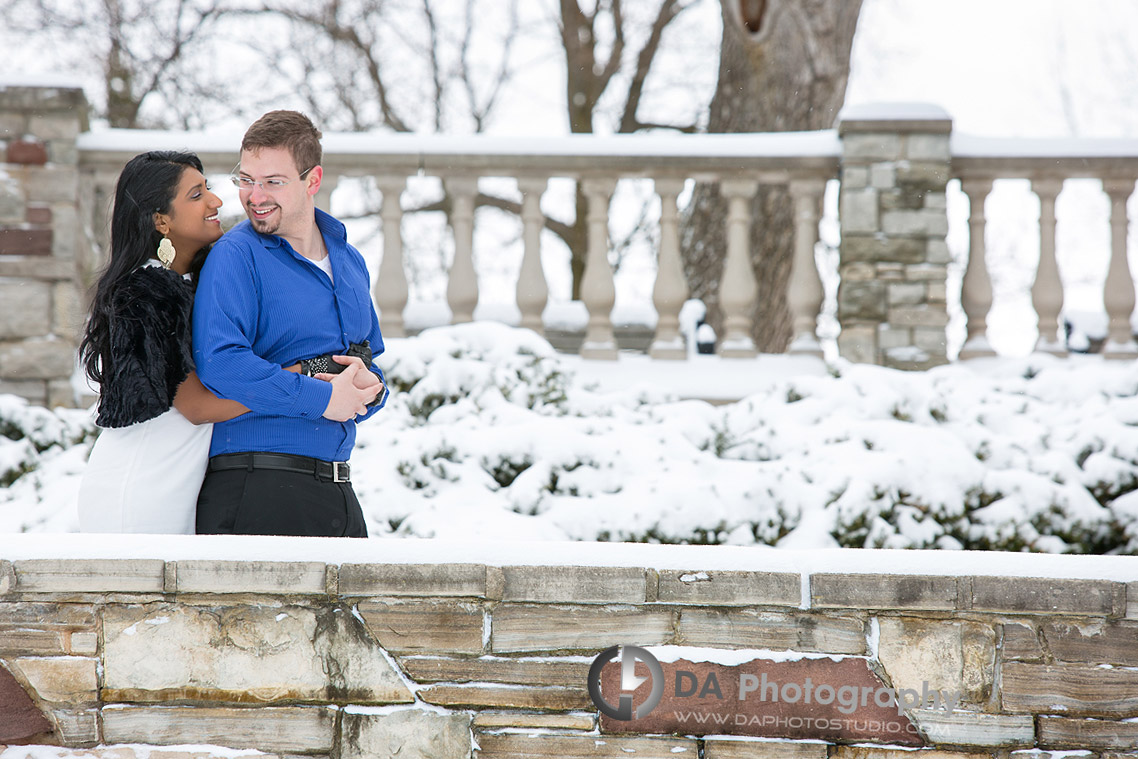 We decided upon Paletta Mansion and the waterfront park for the locations of their Burlington winter engagement photoshoot. Both locations offer a huge variety of backdrops within close proximity of each other. First, we started our shoot without their jackets while they were still warm from the car. Christina's little fur shrug added great texture. I presented some of their images in black and white to showcase the beauty of working in these mono tones. Even when surrounded in snow, black and white images create hundred of different shades of grey that highlight emotions.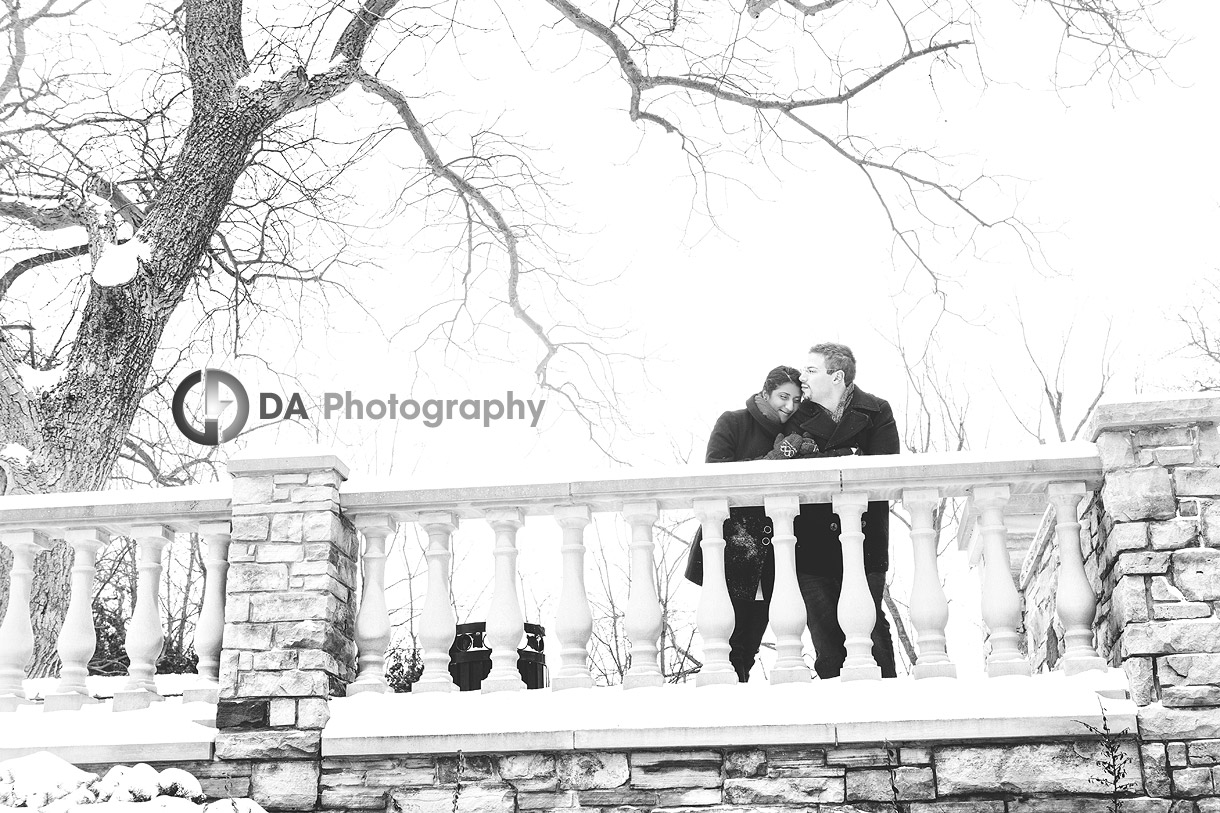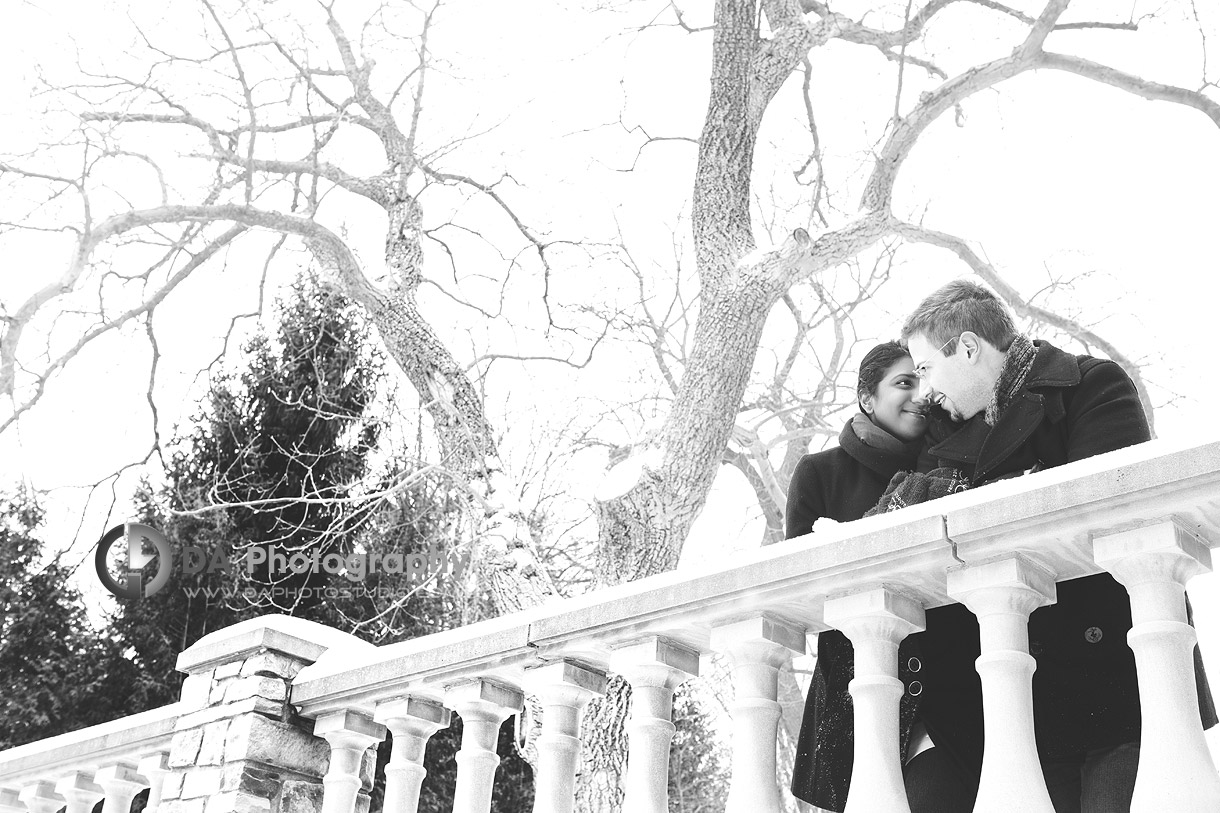 The scenery was stunning! I captured the snow laden trees and gentle snowfall as the branches swayed above. Christina's red jacket that she brought to throw over was perfect.  It really popped against the tranquil background. Thomas changed into a red scarf and black jacket that tied the two of them nicely together.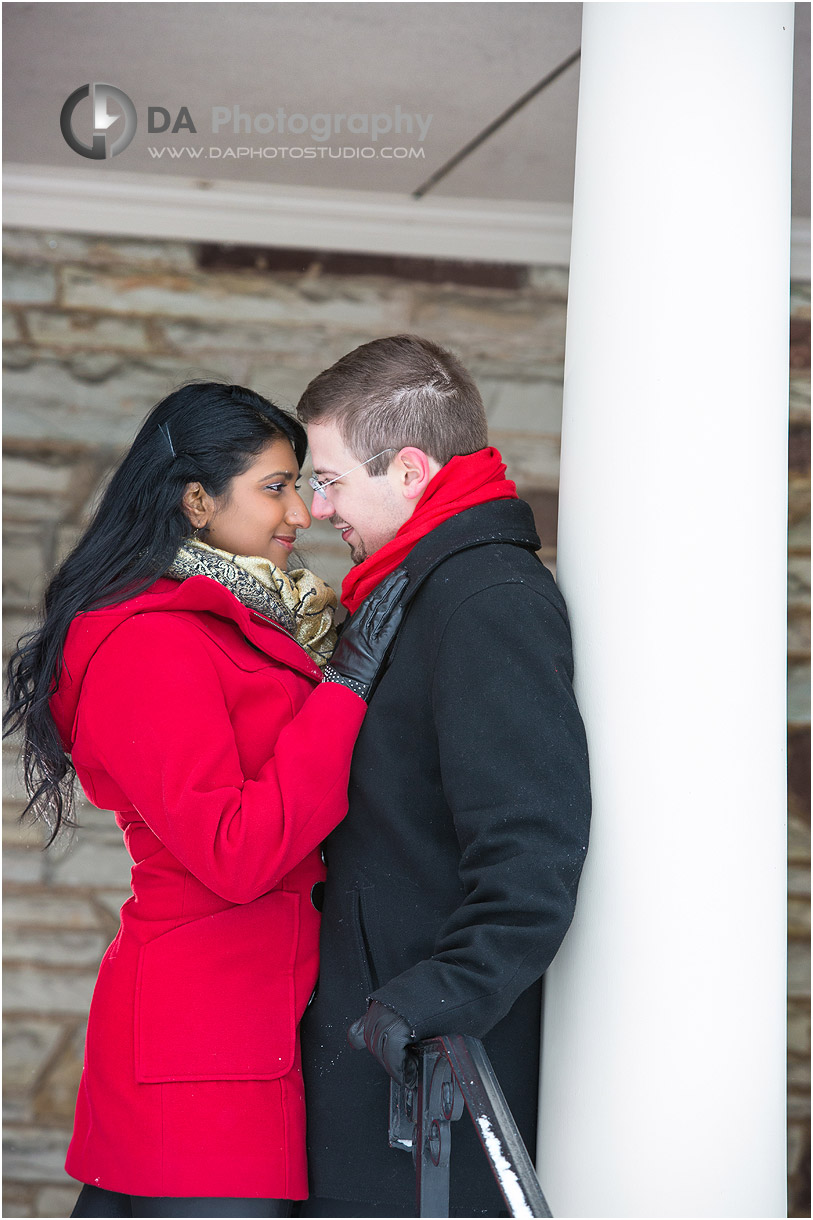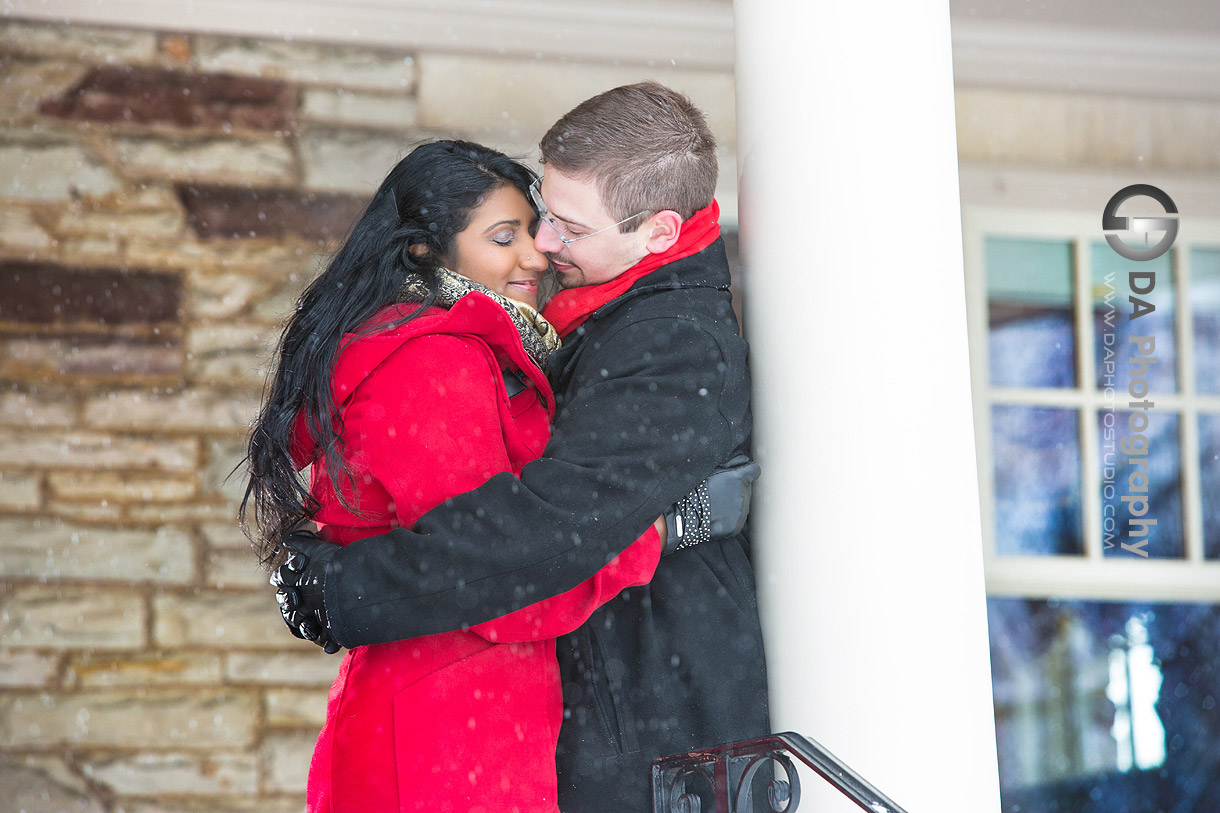 I encouraged them to enjoy the time together, and some of my best images where when they had let their guard down and I was documenting tender moments between the two of them. Her little foot was raised when they were kissing. I loved how this added interesting lines to the silhouettes of their bodies. The same went for having them leaning against the tree. By having them on a slight angle and relaxed, it changes the composition to something a little more complex.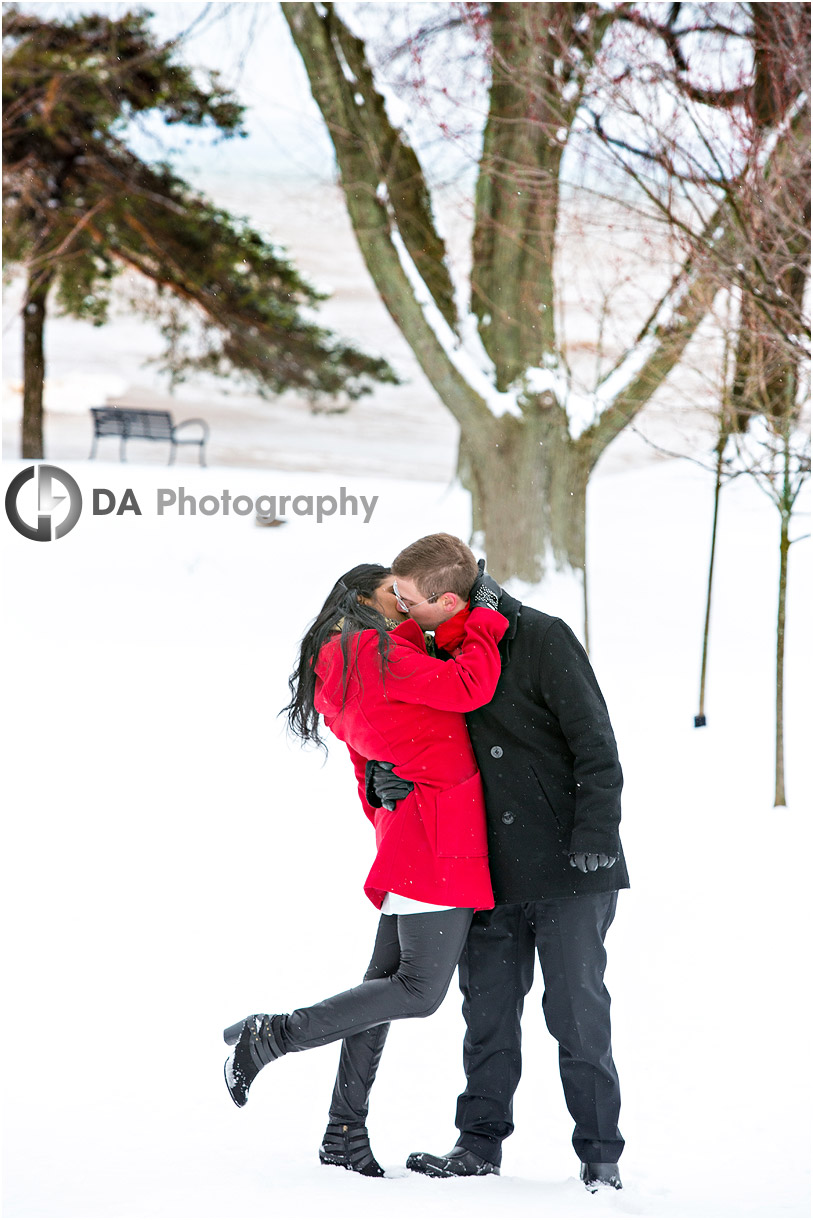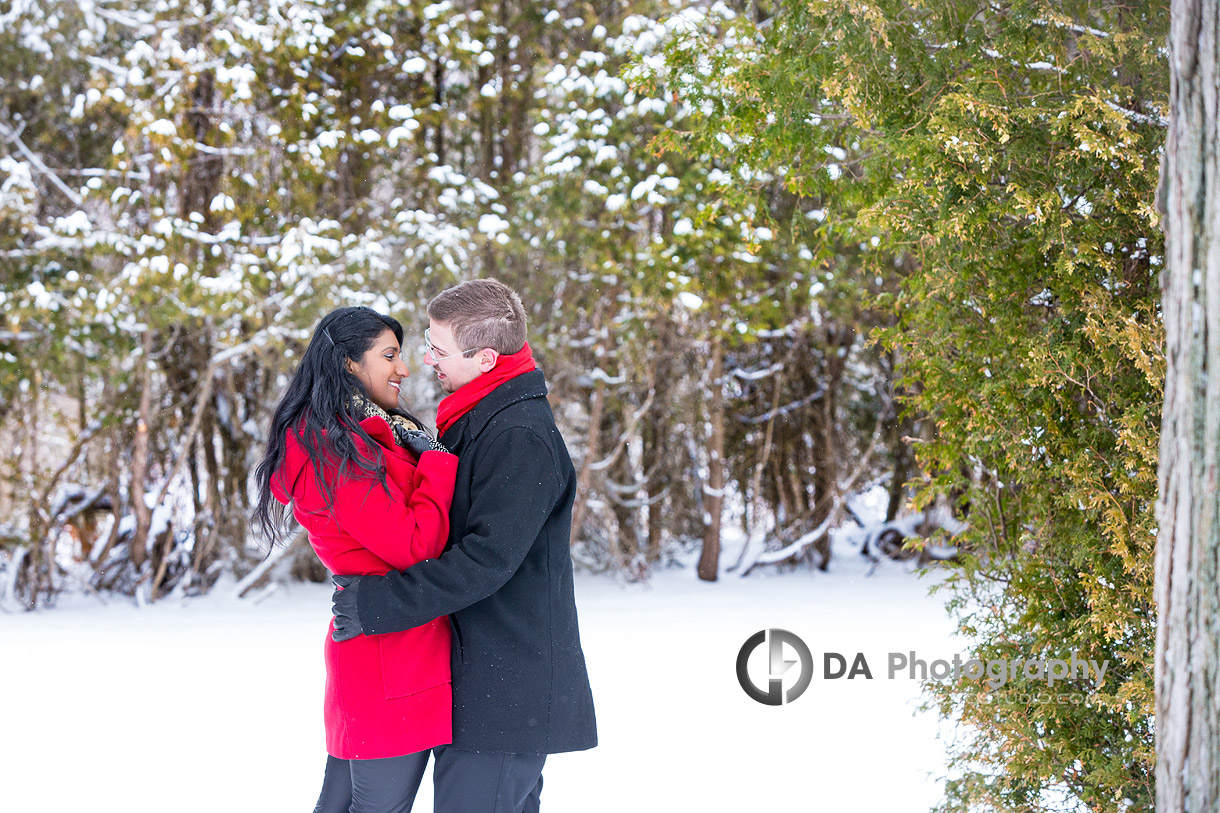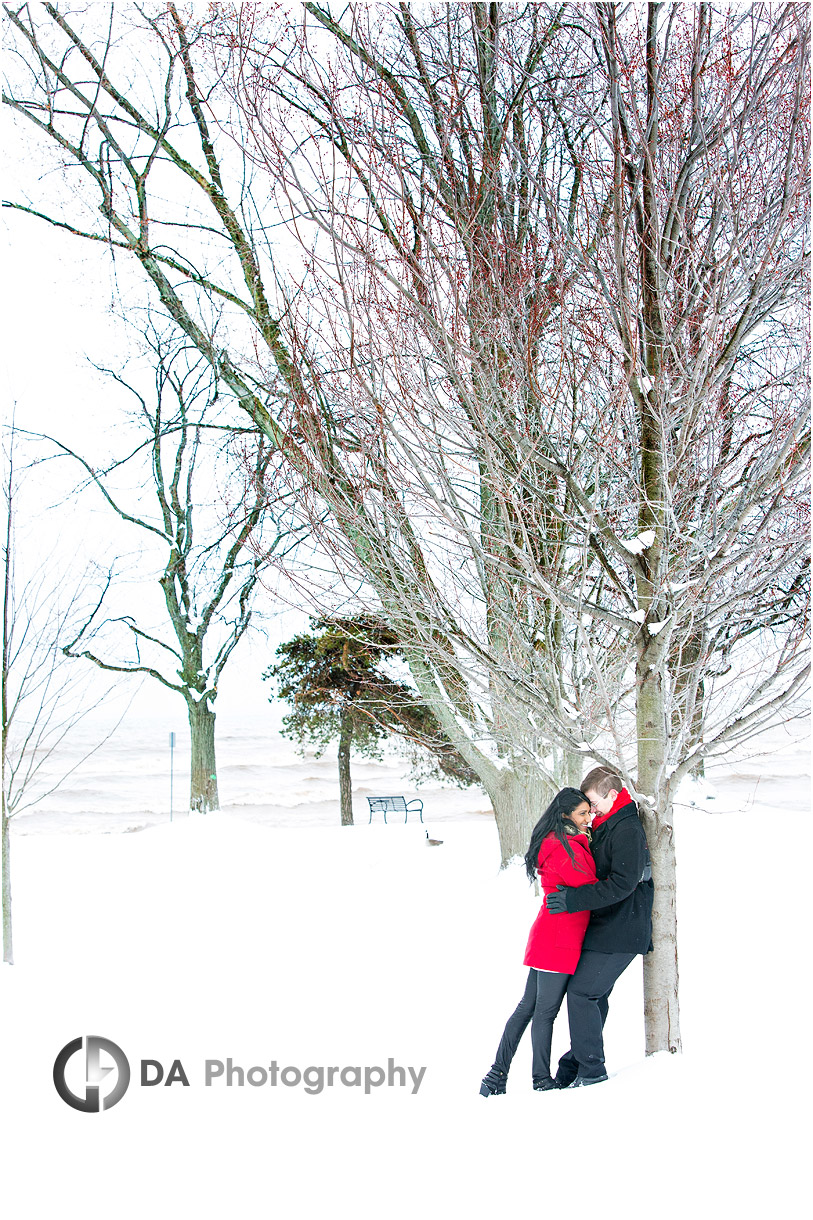 This couple prove you are never too old to have some fun with the snow in their Burlington winter engagement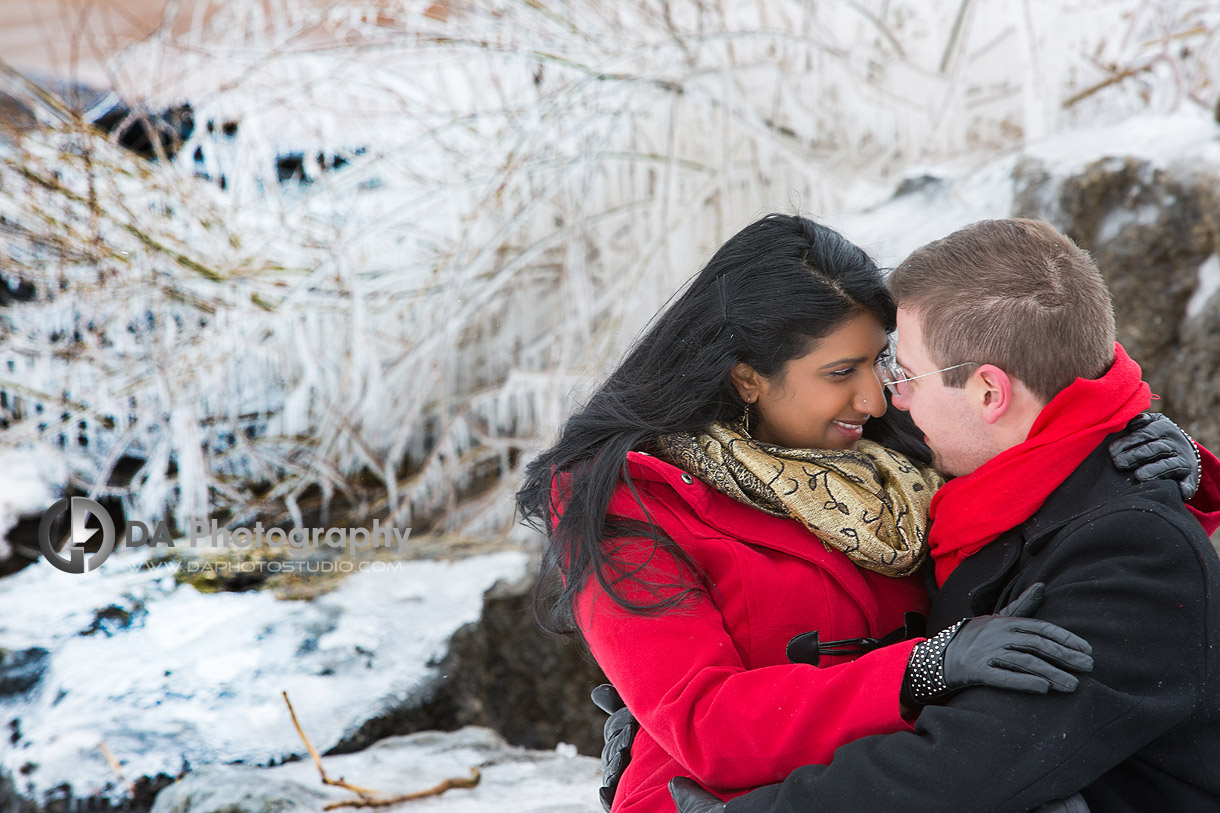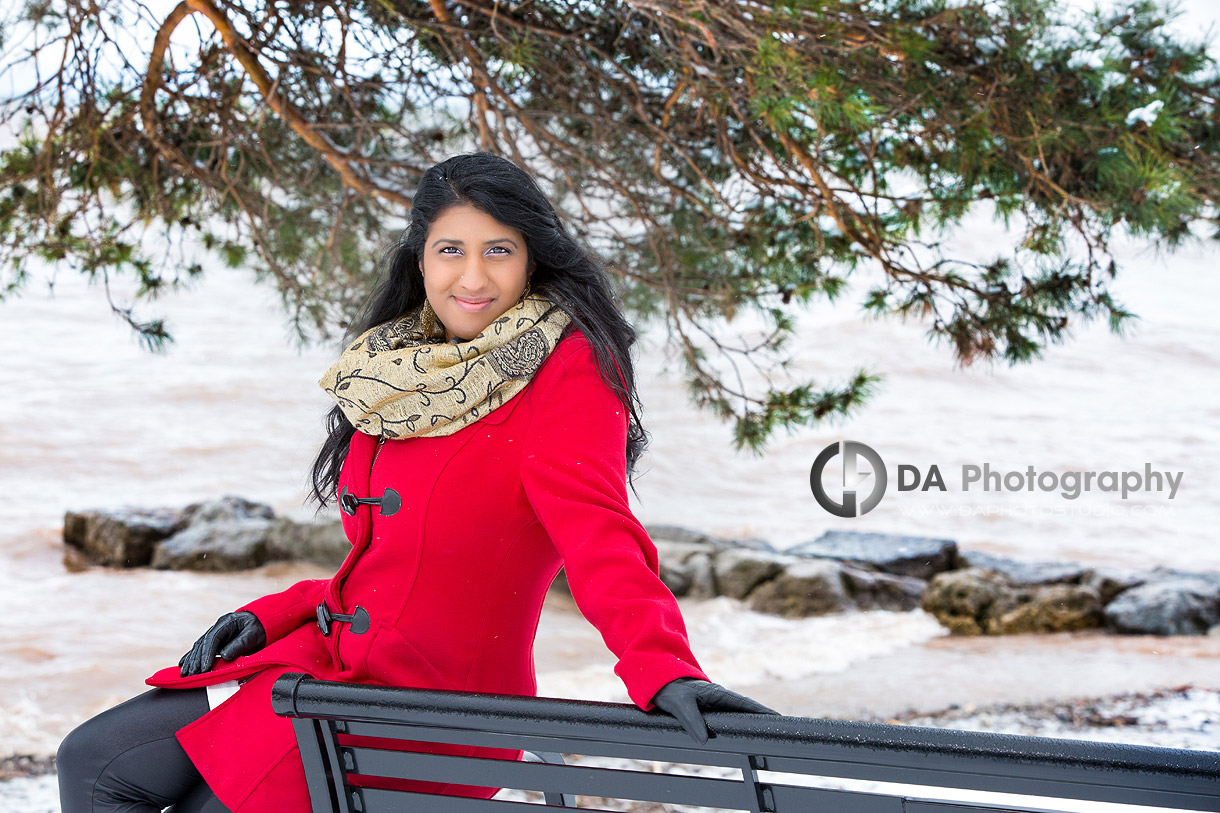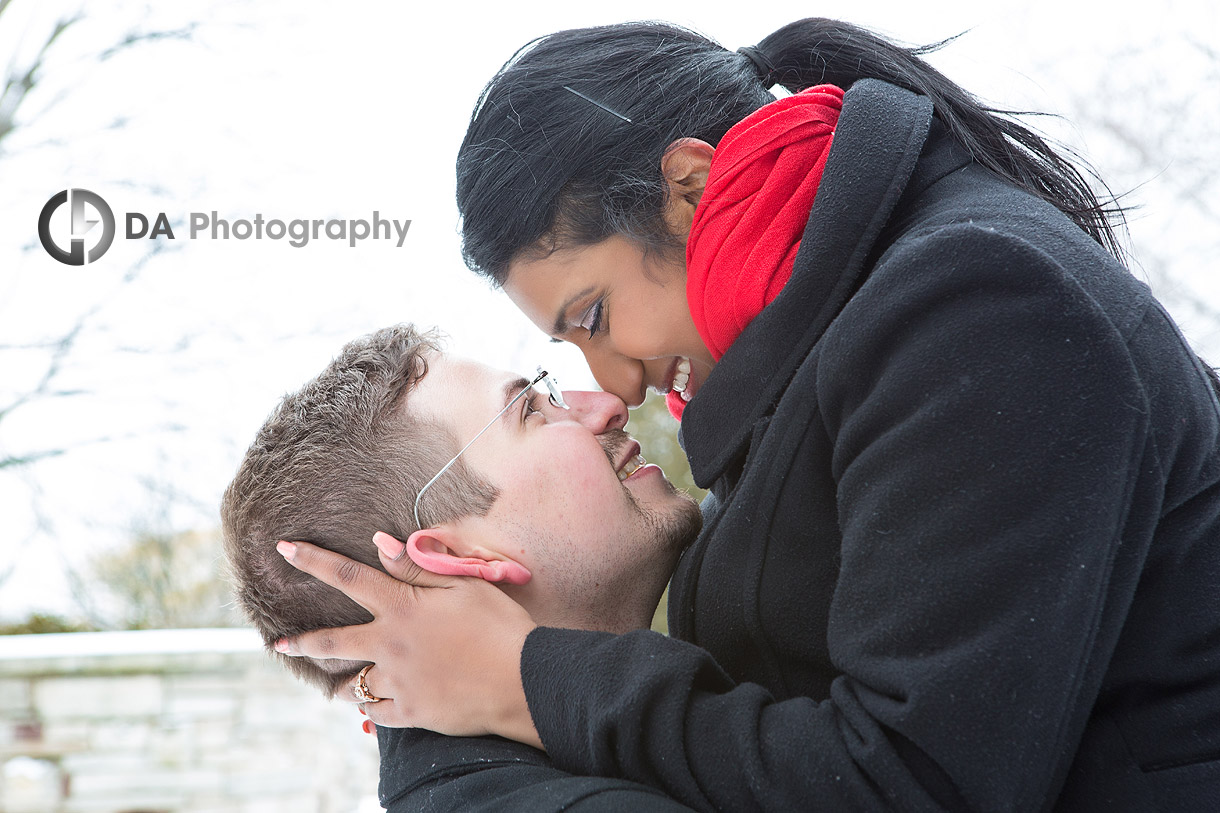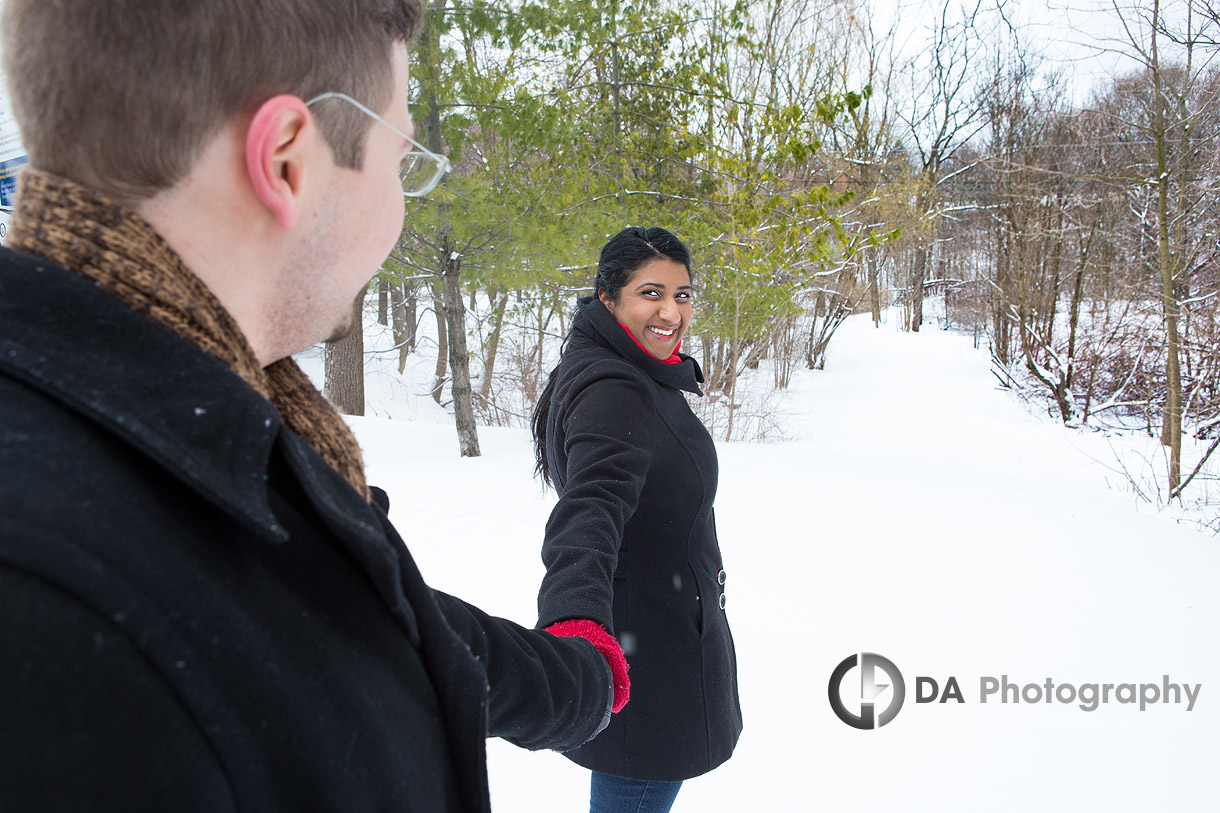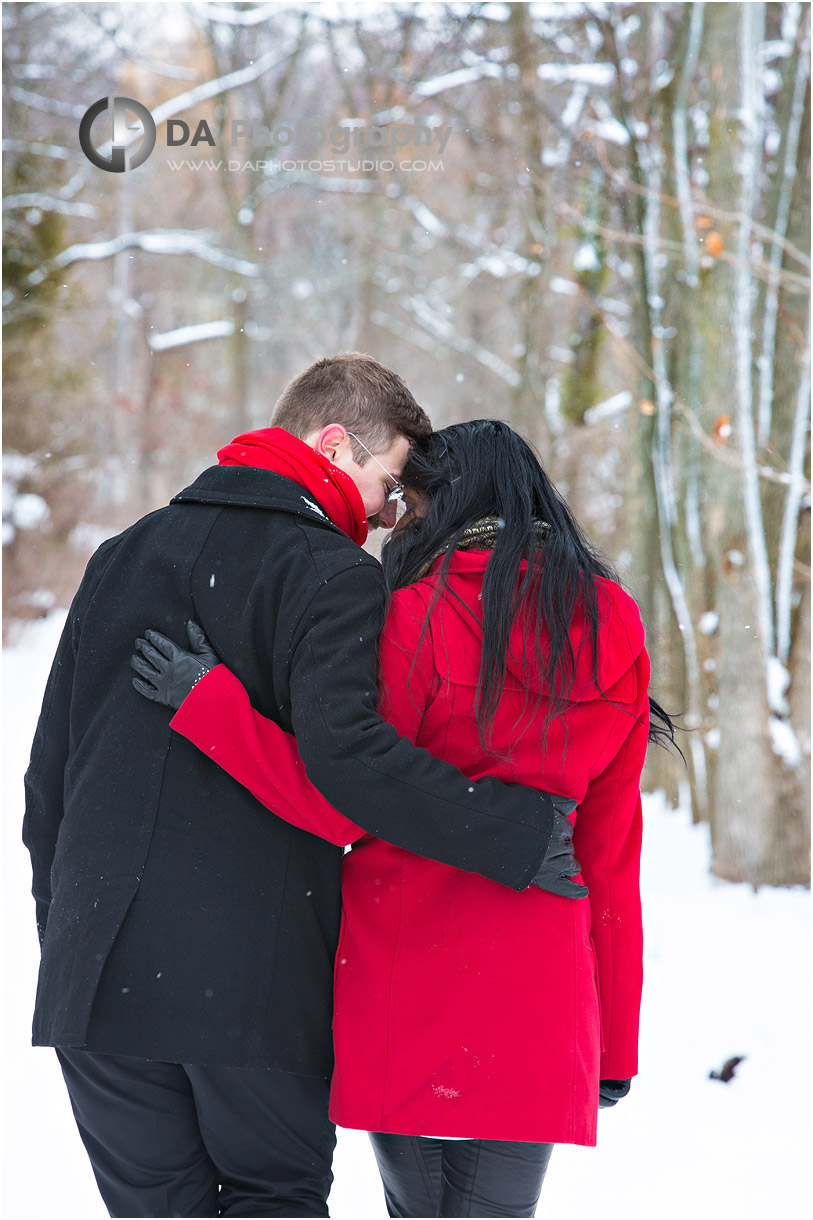 Most of the photoshoot was of the couple just being themselves. My objective was to capture a session that represented their dynamics and connection as a couple. For a change of pace, I had them blowing snow into the camera. Certainly, the energy made for some playful and lighthearted images. Then, they had wanted to incorporate their Starbucks coffee cups into the shoot and had the fun idea of writing captions on them. Again, adding little elements that represent who they are as a couple is what makes each session unique.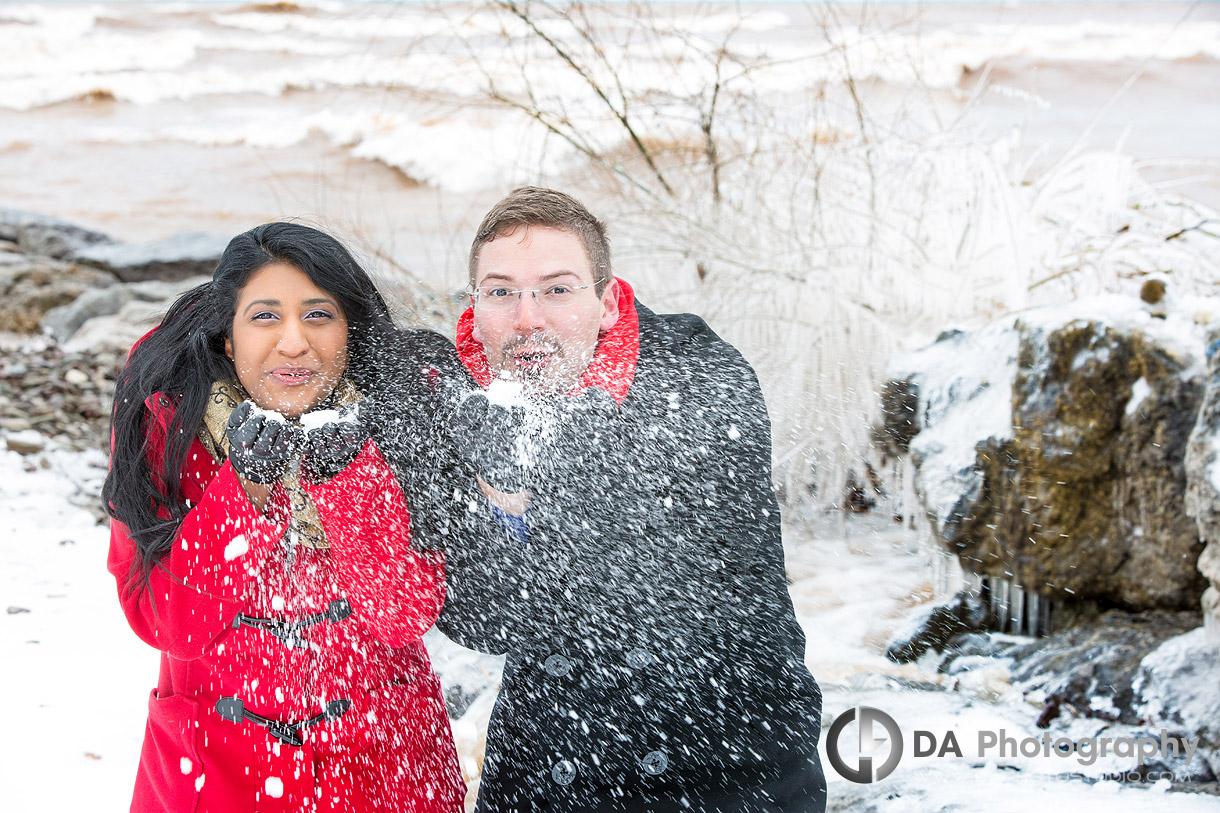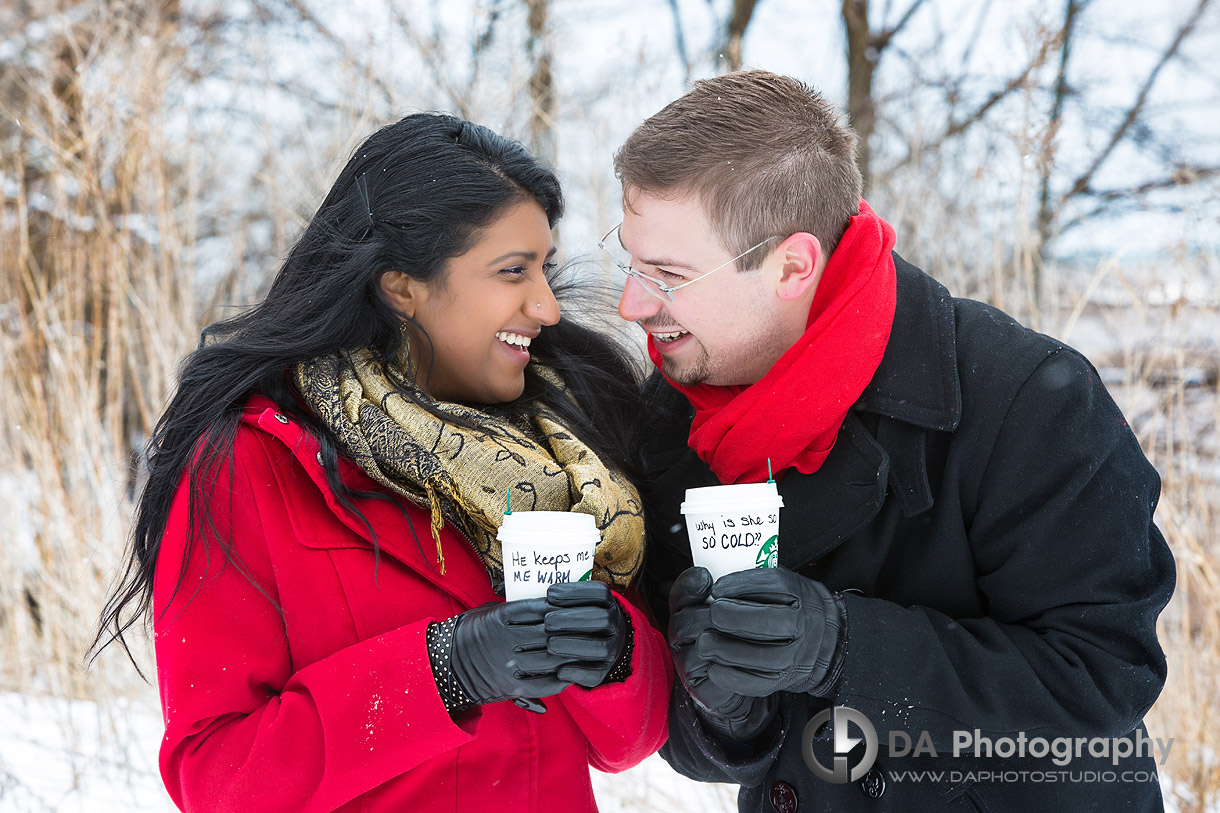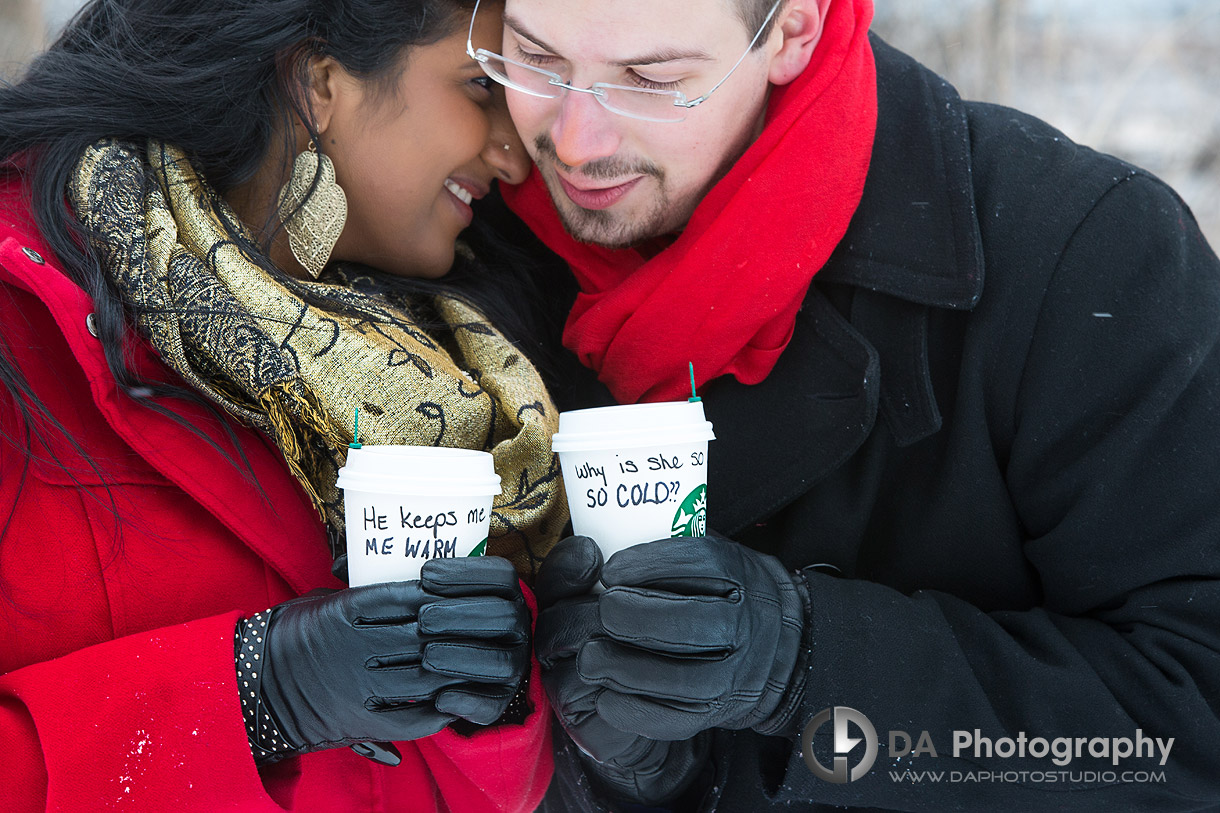 Although the photoshoot was short and sweet due to the weather, I managed to represent a variety of different emotions. From deep and meaningful to silly and playful. This gives them the option to use their photos in many situations and also offers great memories. Above all, I was pleased with the way the lighting turned out as skin colourings all require different levels. I love the diversity of my clients and thank every one of you for helping me continuously fine tune my skills and challenge my creativity.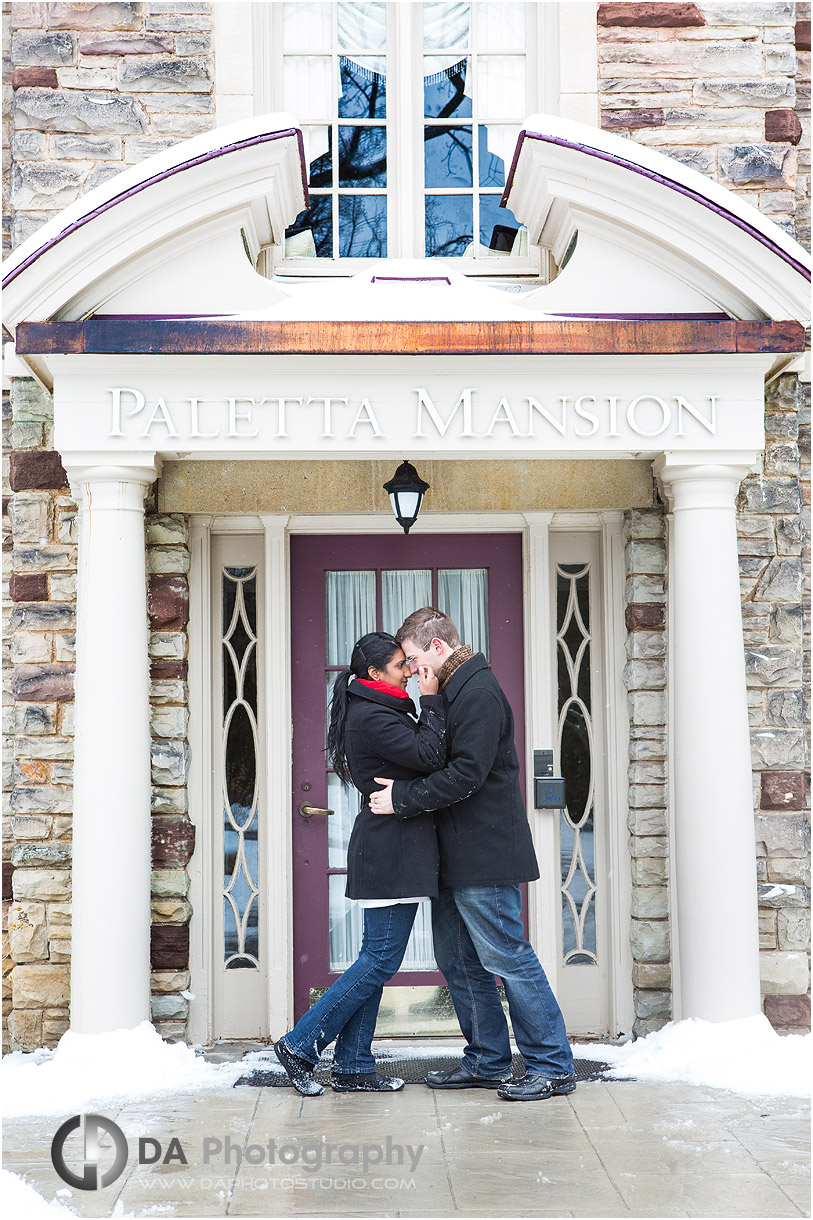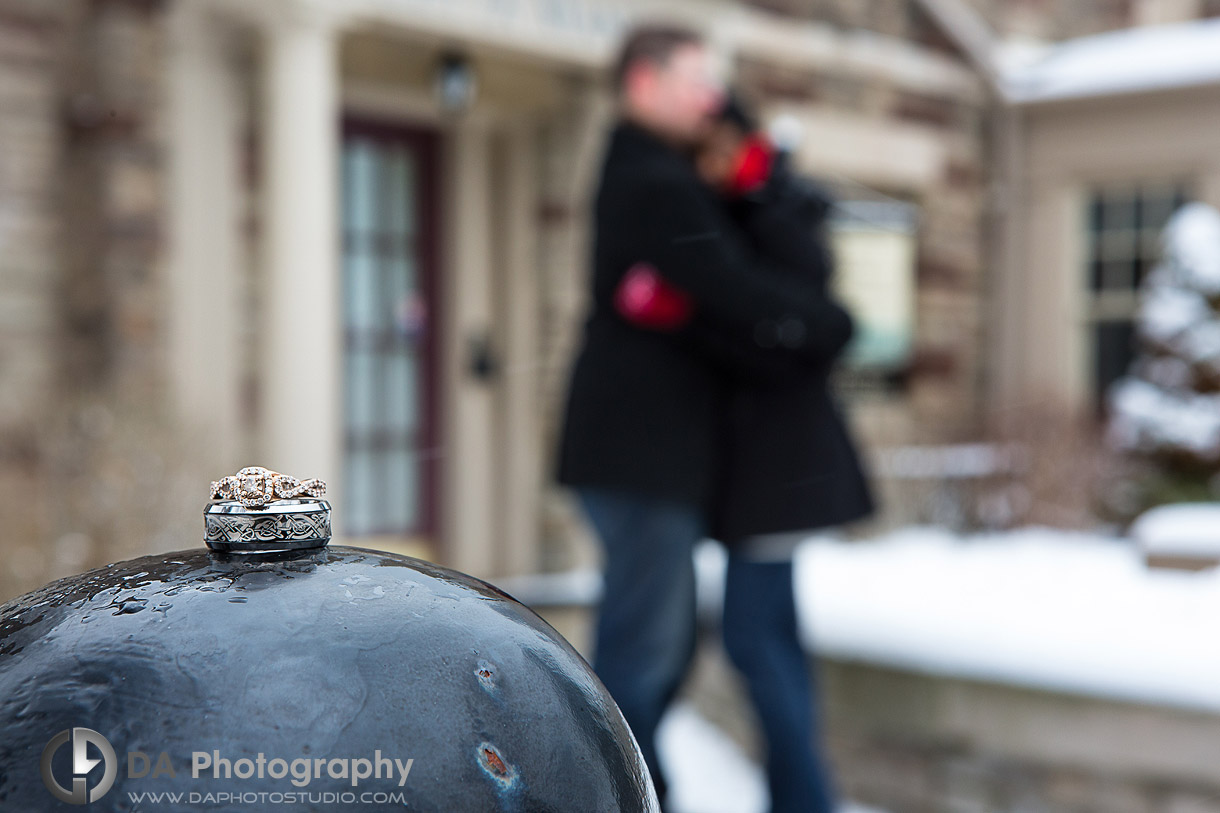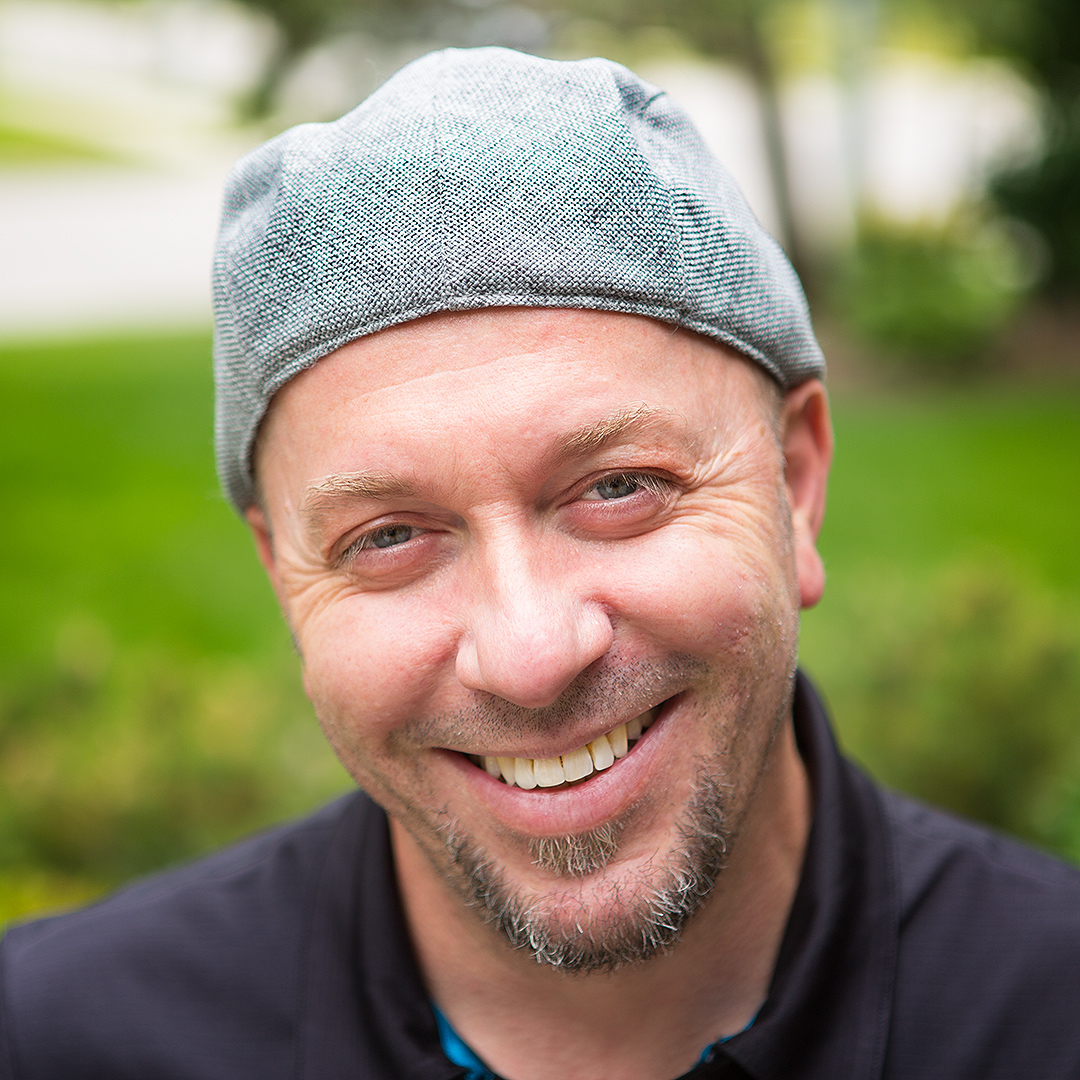 My passion and biggest asset is taking the time to make every client comfortable and relaxed before I even pick up the camera. The result? Photos of you that actually look like you at your best! I can prove to you how much you can enjoy having your picture taken. Lifestyle photography is about the experience that happens to be served up along side of some great photos.
Specialties:
Family Photography for families that like to move around and enjoy their photo time, Wedding Photography for couples looking for a mixture of photojournalistic, contemporary and traditional images and Professional Corporate headshots that are far from cheesy and stiff.