A romantic, fall engagement photo shoot at Albion Falls in Hamilton goes beyond the usual and incorporates the surrounding area, not just the waterfall.
Popular Does Not Equal Better
Albion Falls in Hamilton is a very popular destination for photographers and their eager subjects. When we arrived at the site, we saw about 25 photographers vying for a position in front of the falls. Instead of wasting time, standing in queue for our turn at the falls, I looked around to find other great backgrounds. I noticed rock faces, fallen trees, benches, bridges, things that give the background of a photo depth and interest. There was so much to work with!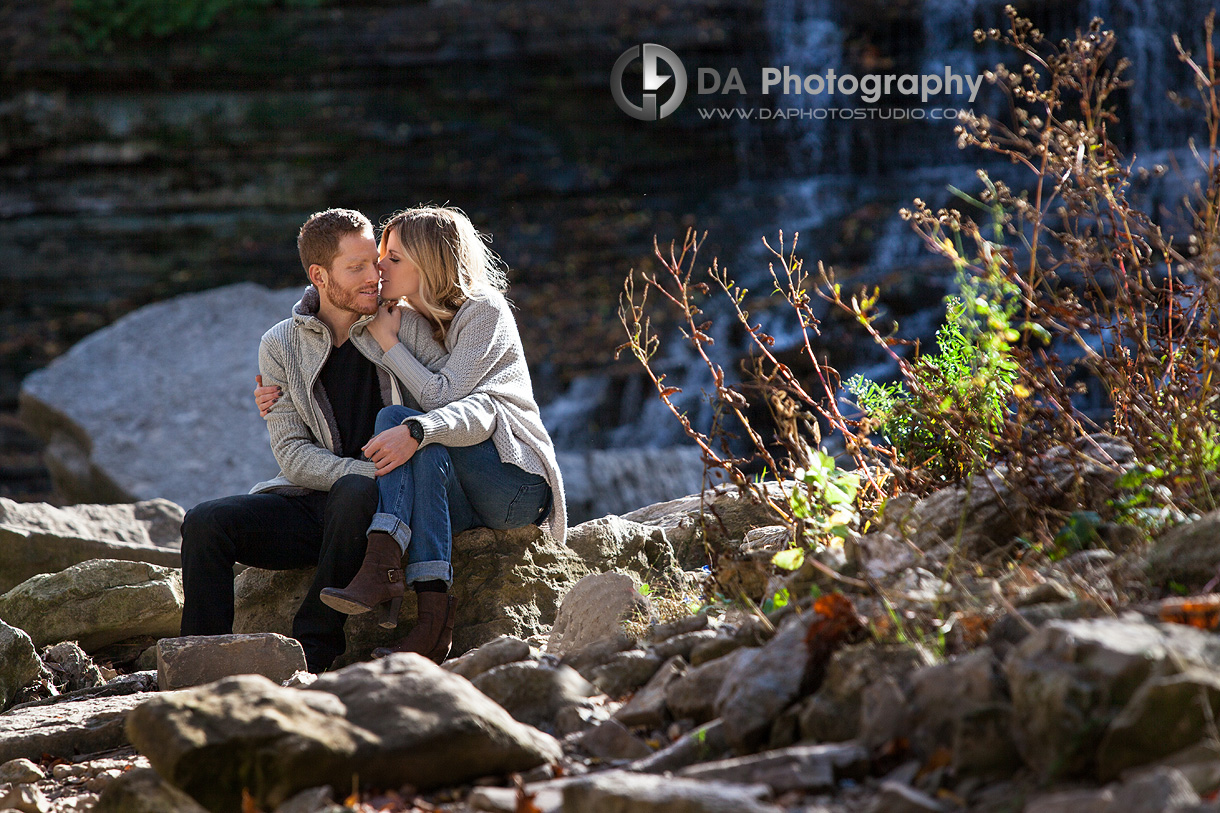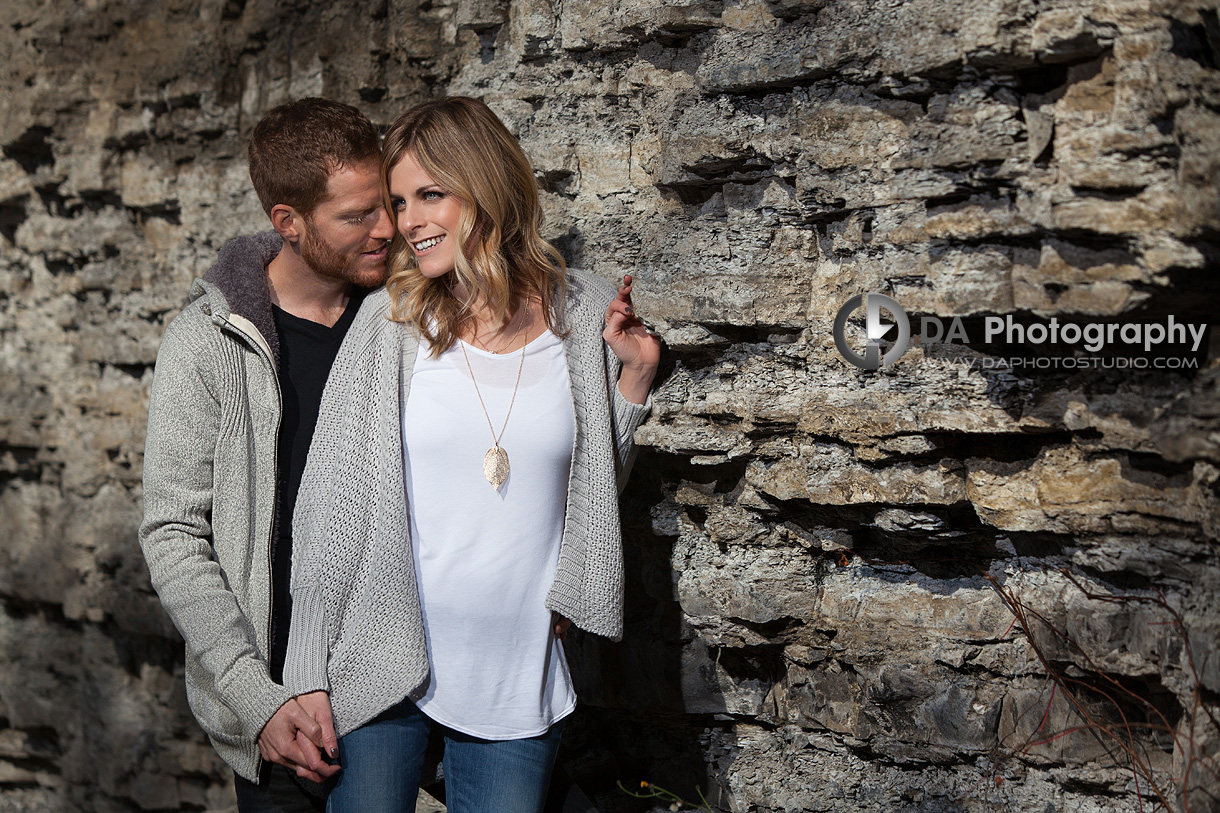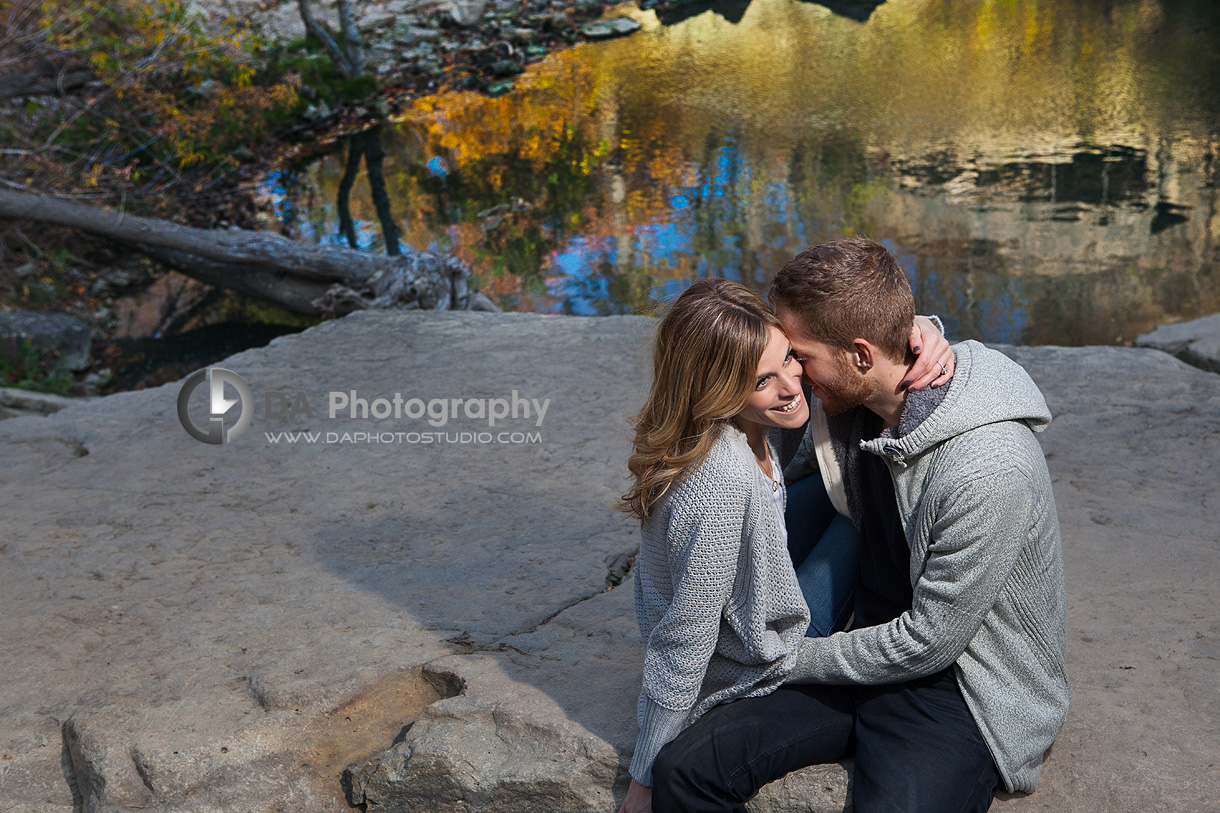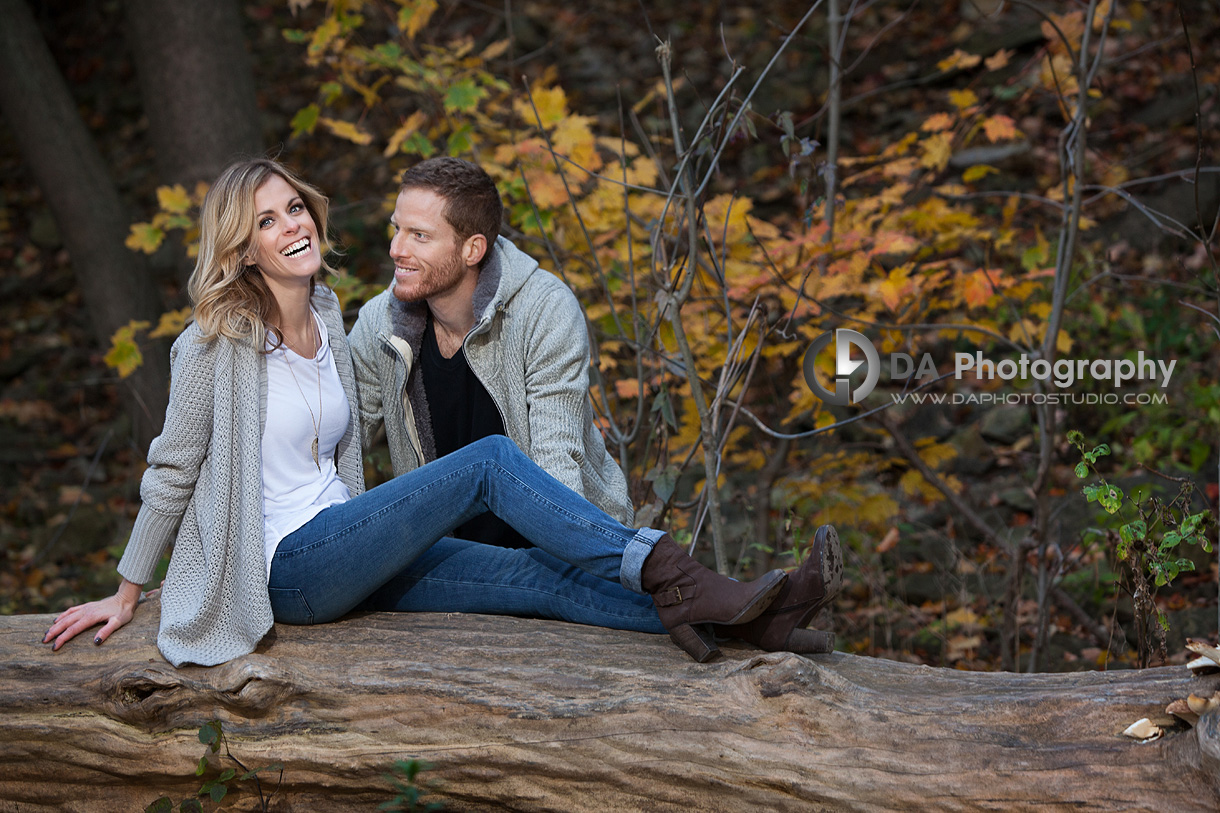 Danger, Danger!
Some of the new areas I found looked great on camera, but they were harder to get to. Some spots might even be considered a little dangerous. If I suggested a rock to sit on or a tree to lean against, Julie and Gianni were game. No matter the danger involved. I would never strongly suggest spots like this with someone who is afraid of heights and unsure footing. Taking a photo of someone who is frightened isn't good for the person involved and they'll never look good in the final photo anyway. I want my clients to always feel comfortable because that's what makes a photo great. Julie and Gianni were comfortable climbing rocks, navigating the water and sitting tight until I found sure ground myself.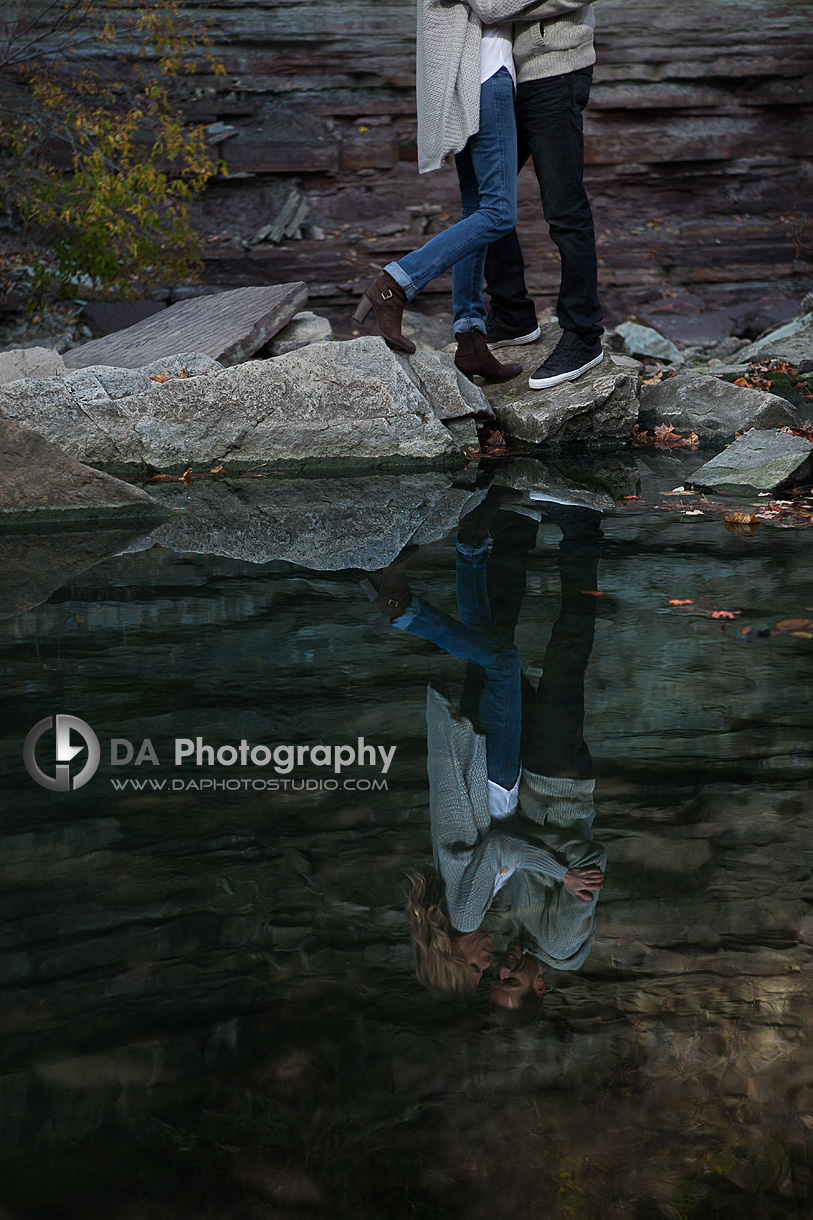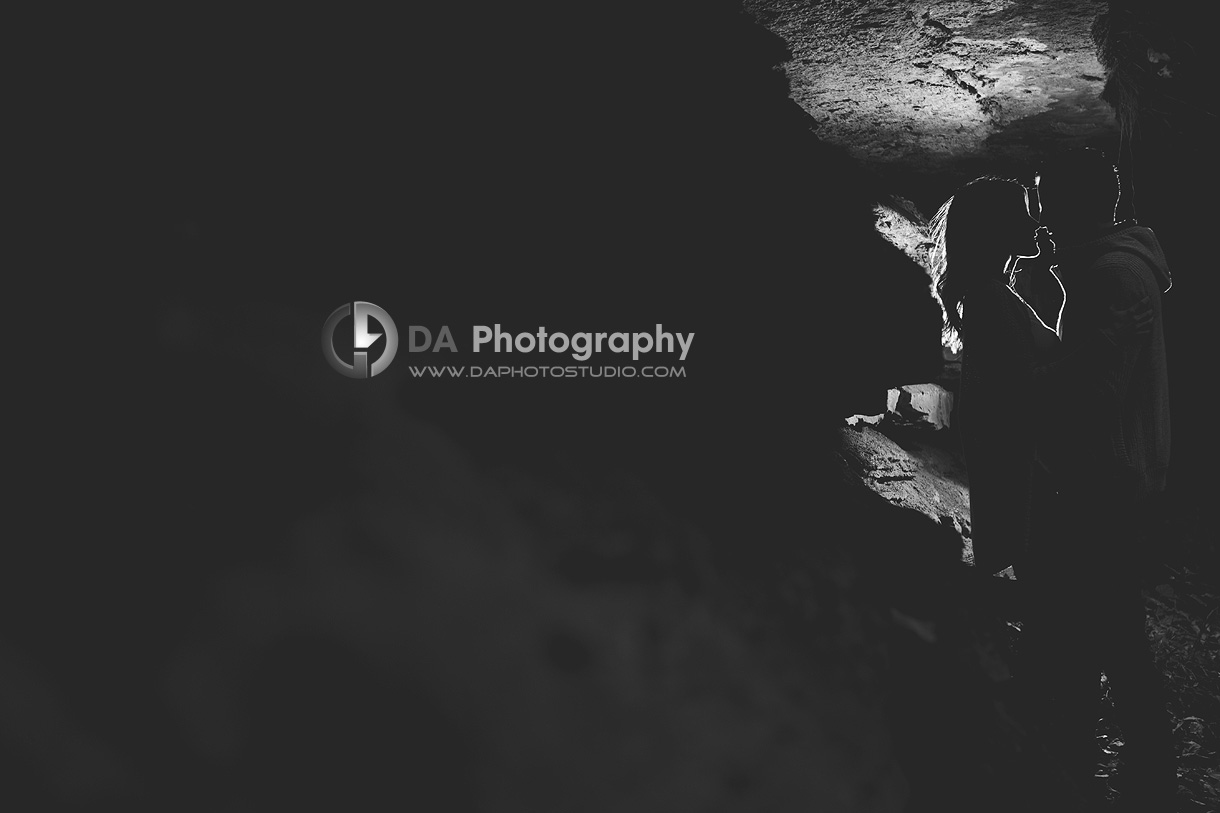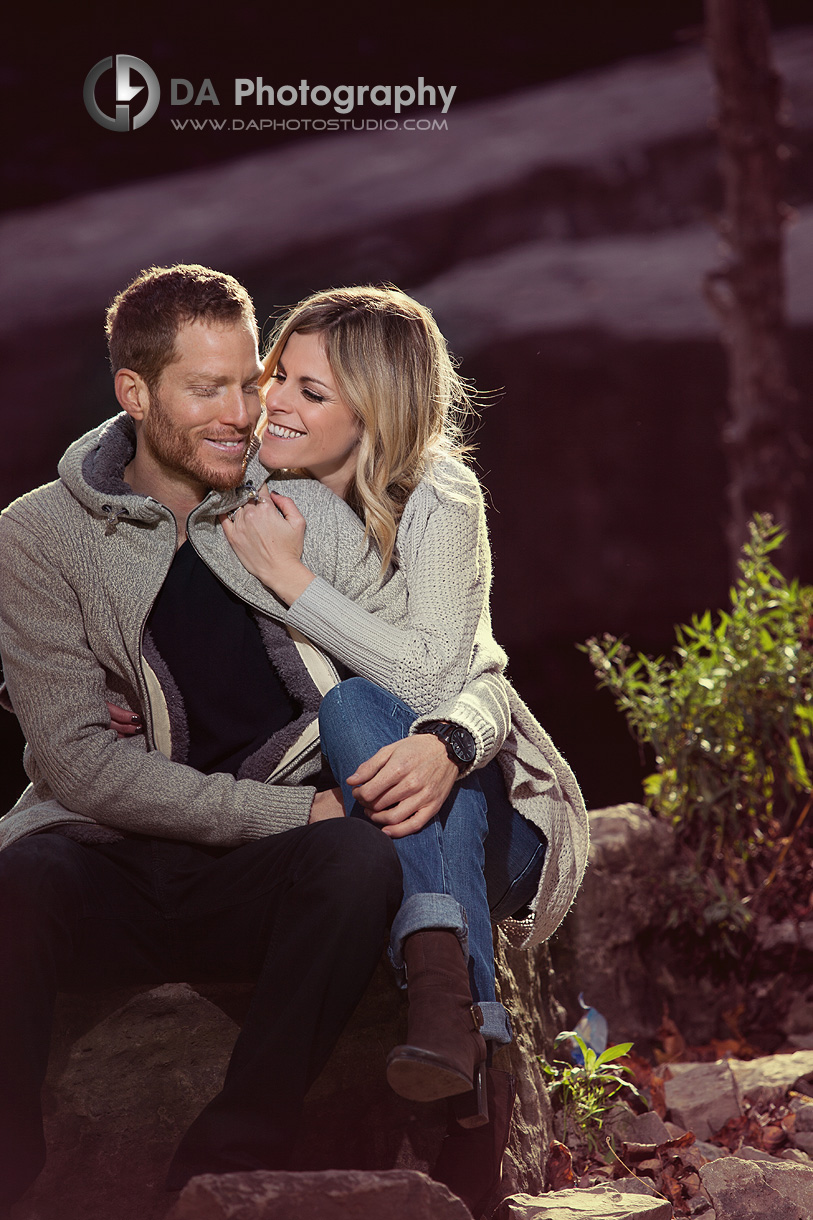 Romance for the Masses
The love that Julie and Gianni share is evident in every photo and seemed to radiate through the air on that day. So much so, in fact, that on-lookers were stopping to watch us "work". We must have made the photo shoot look good because we started to have other photographers follow us. Their subjects were climbing the same rocks we had just finished shooting on. Once we accidentally deterred everyone from the main attraction – the waterfall – the opportunity presented itself for us to take to the falls ourselves! We ran over, captured the photos we were there for and called it day.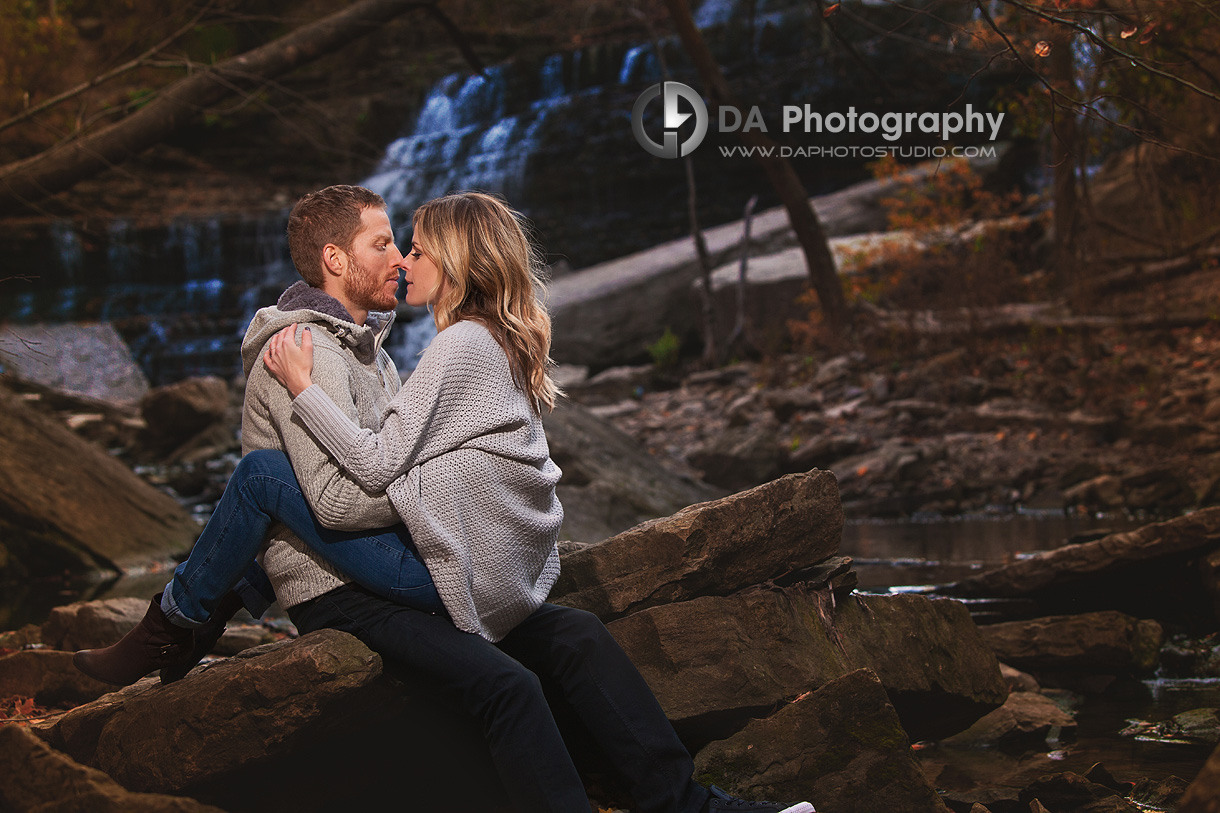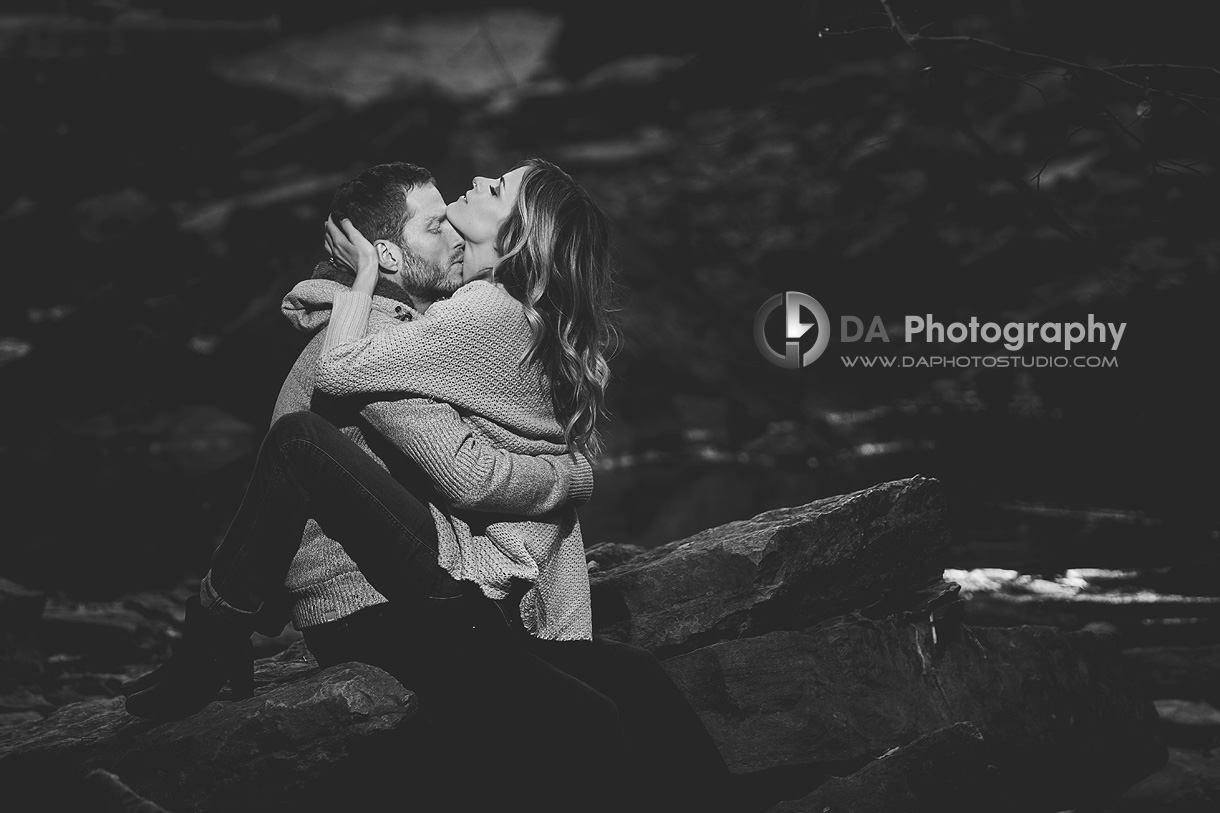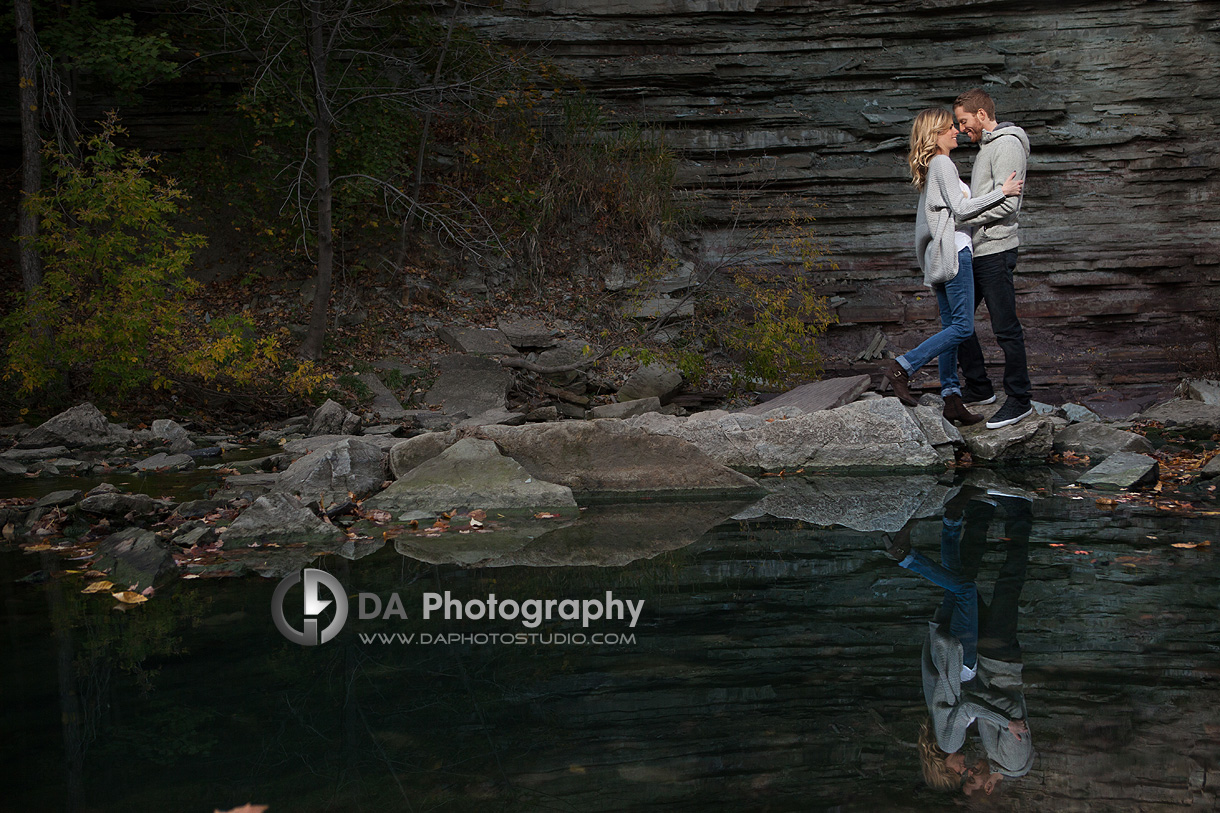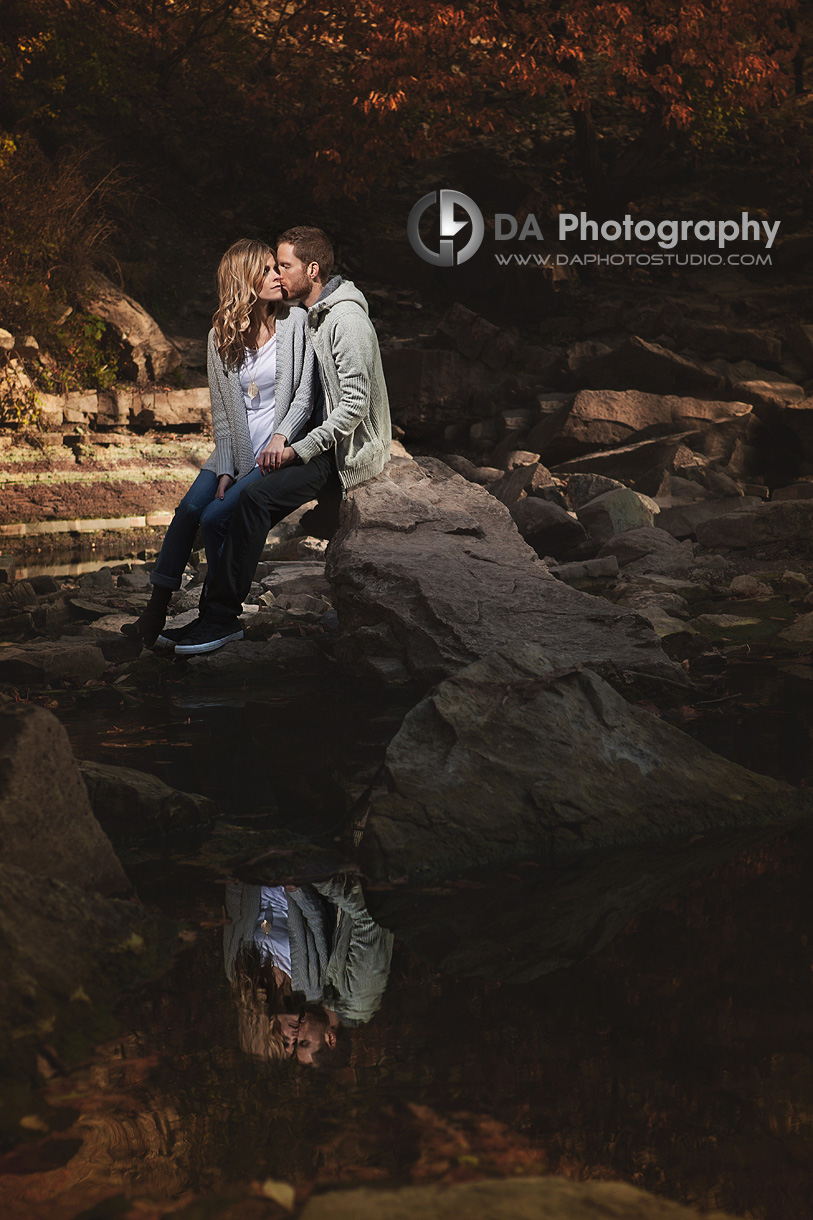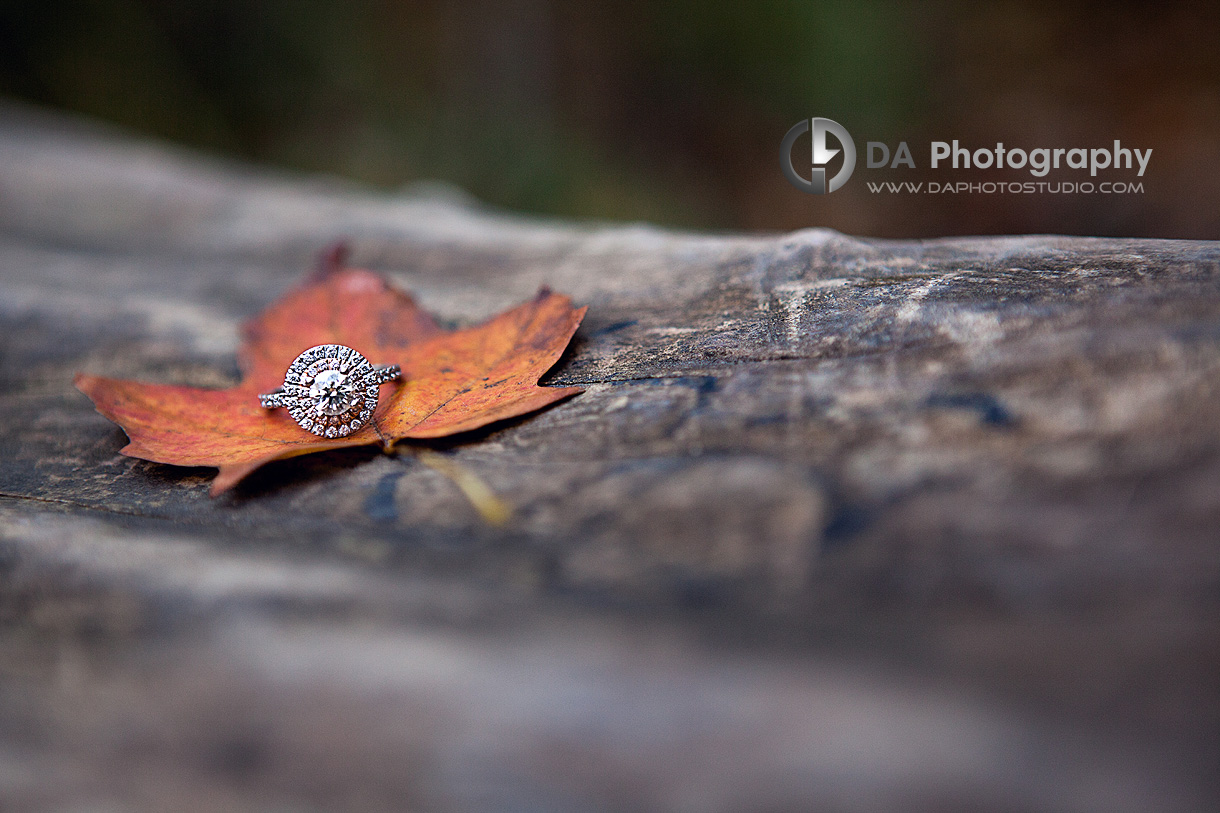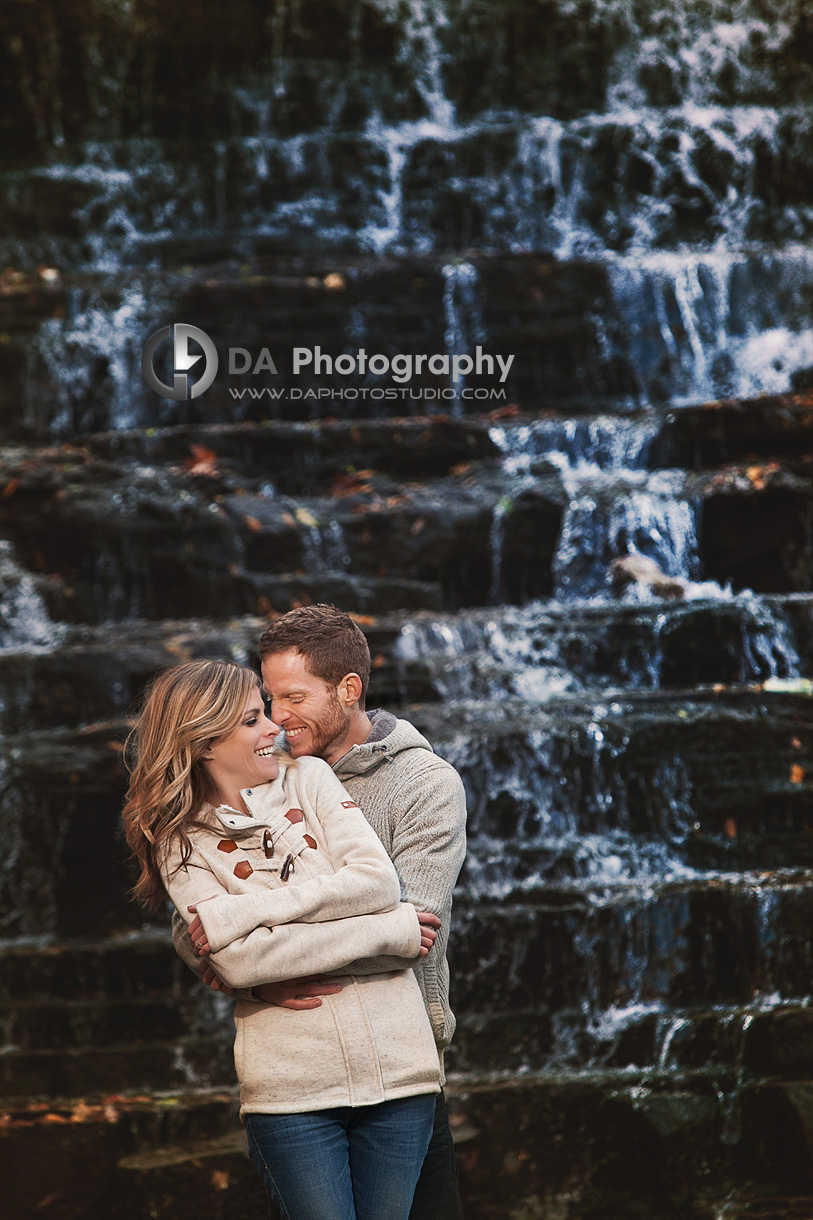 A Great Assistant is Priceless
Jacquie, my trustworthy assistant, has been working with me for about a year and a half. I really couldn't ask for a better assistant. On this particular day, Jacquie was really put to the test. She navigated the water, climbed over rocks and even scaled a tree, in order to project the flash in just the right spot for the perfect shot. She sacrifices her comfort many times in interest of capturing the image just like any great photographer. While Jacquie is willing to do whatever I ask her in front of our clients, she also has a keen eye for photography. She's not a "yes-woman" by any stretch. She does what she needs to do in the moment and then she gives me feedback when it's appropriate. I can't thank her enough for what she does for our business and our clients in a regular basis.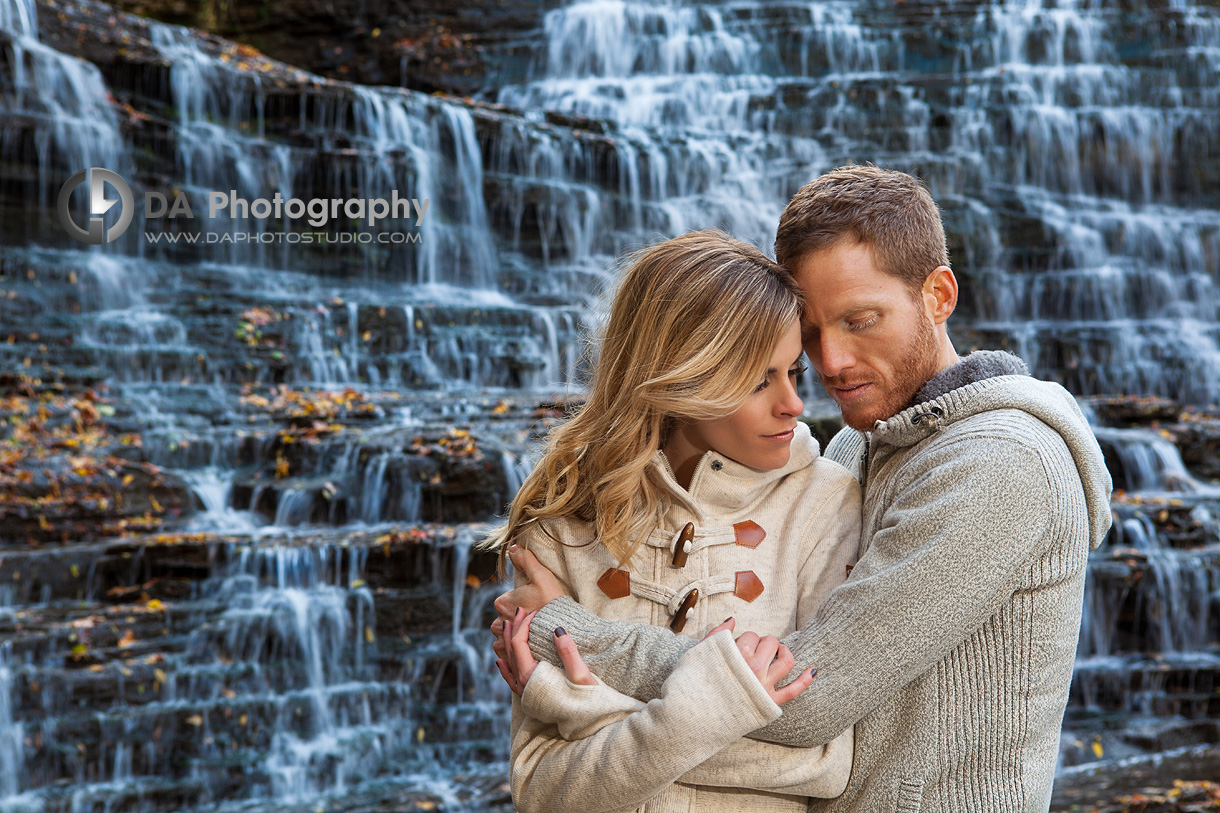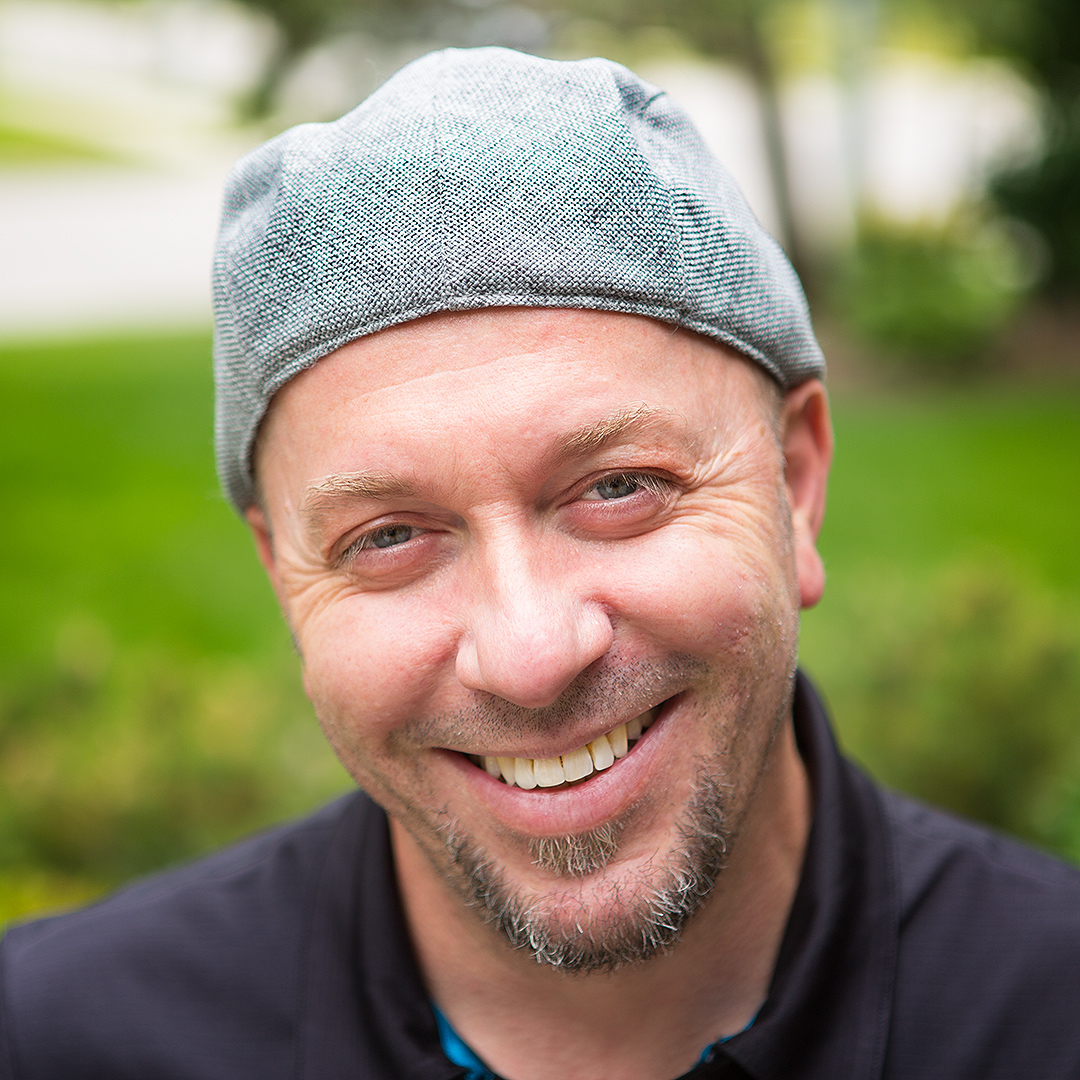 My passion and biggest asset is taking the time to make every client comfortable and relaxed before I even pick up the camera. The result? Photos of you that actually look like you at your best! I can prove to you how much you can enjoy having your picture taken. Lifestyle photography is about the experience that happens to be served up along side of some great photos.
Specialties:
Family Photography for families that like to move around and enjoy their photo time, Wedding Photography for couples looking for a mixture of photojournalistic, contemporary and traditional images and Professional Corporate headshots that are far from cheesy and stiff.