Can you imagine being able to literally roll out of bed and arriving at your engagement photo location? Sounds idyllic, yet this was the reality for Hunter and James who were lucky enough to have the perfect photoshoot location in their backyard.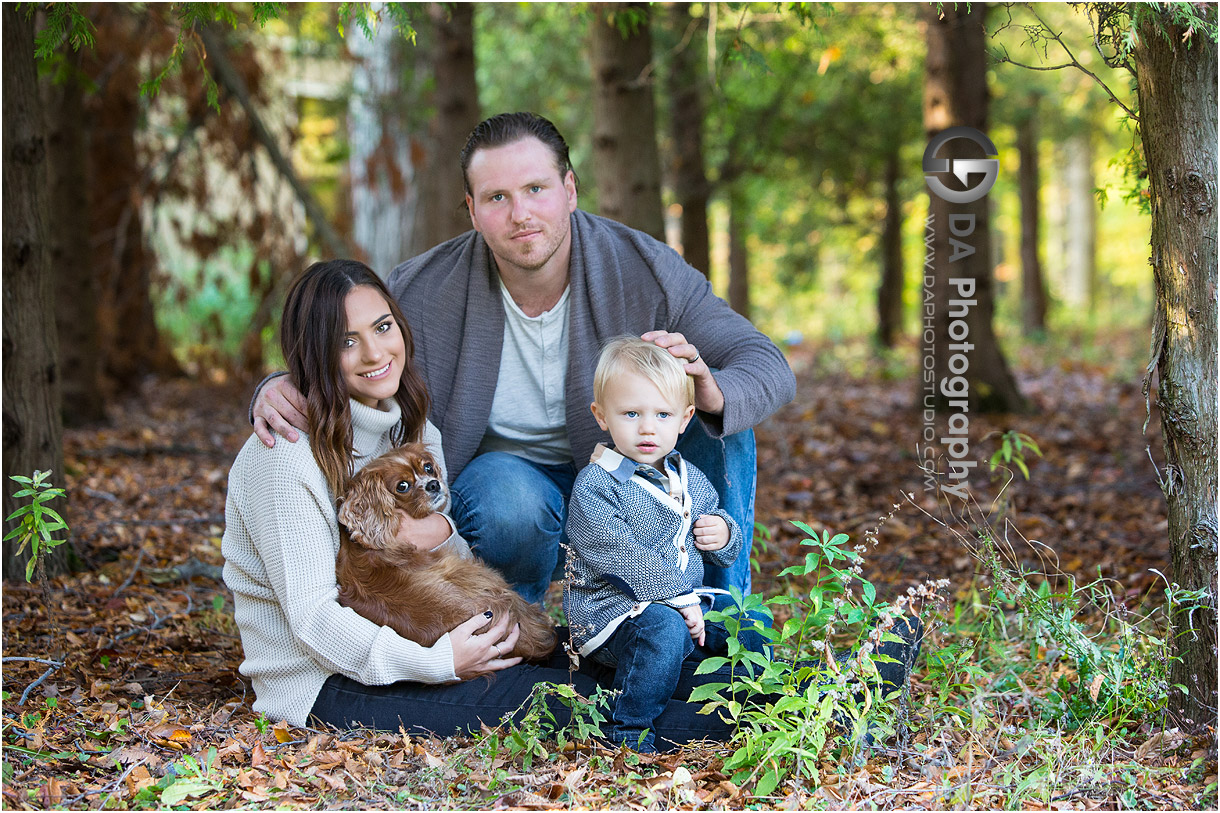 Hunter and James, who already had a gorgeous little boy, Turner, knew they wanted to book an engagement session, but wanted it to be reflective of their lives. Instead of a traditional, romantic photoshoot, they wanted it to capture their connection and the tight family bond.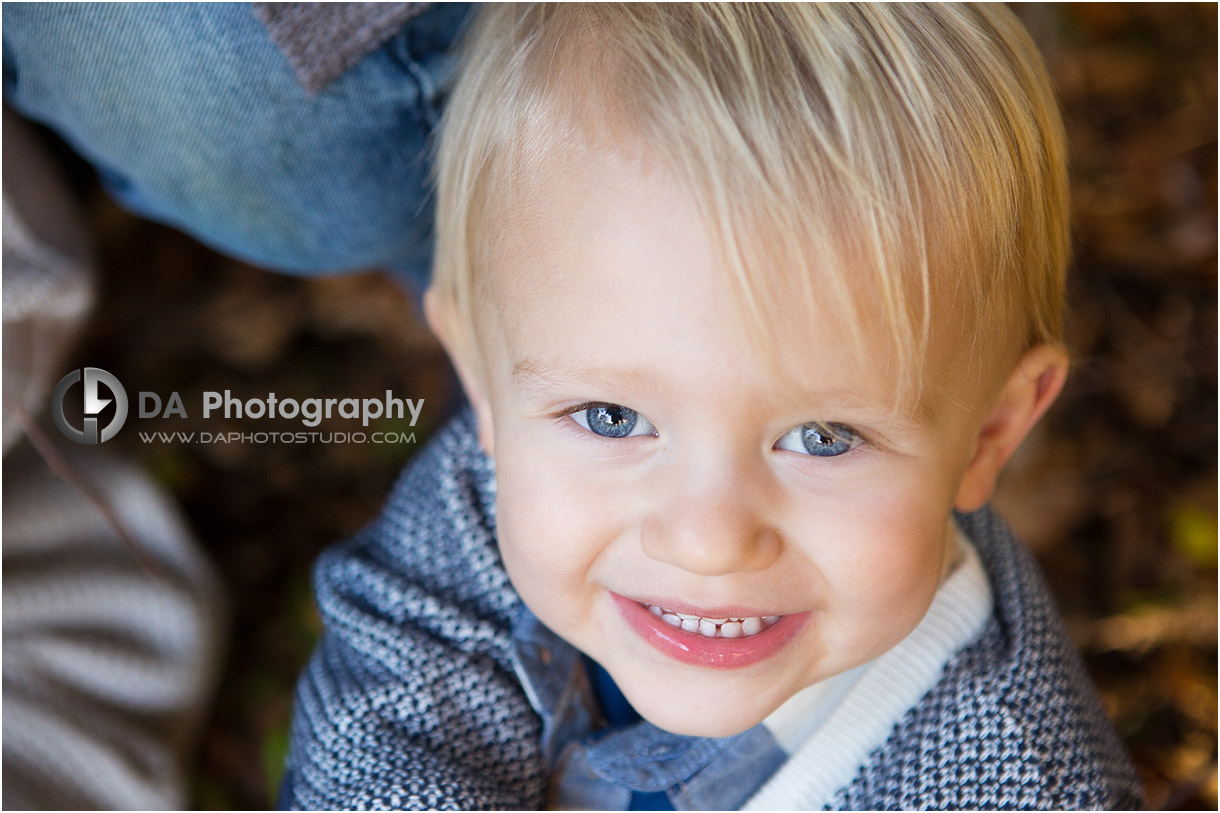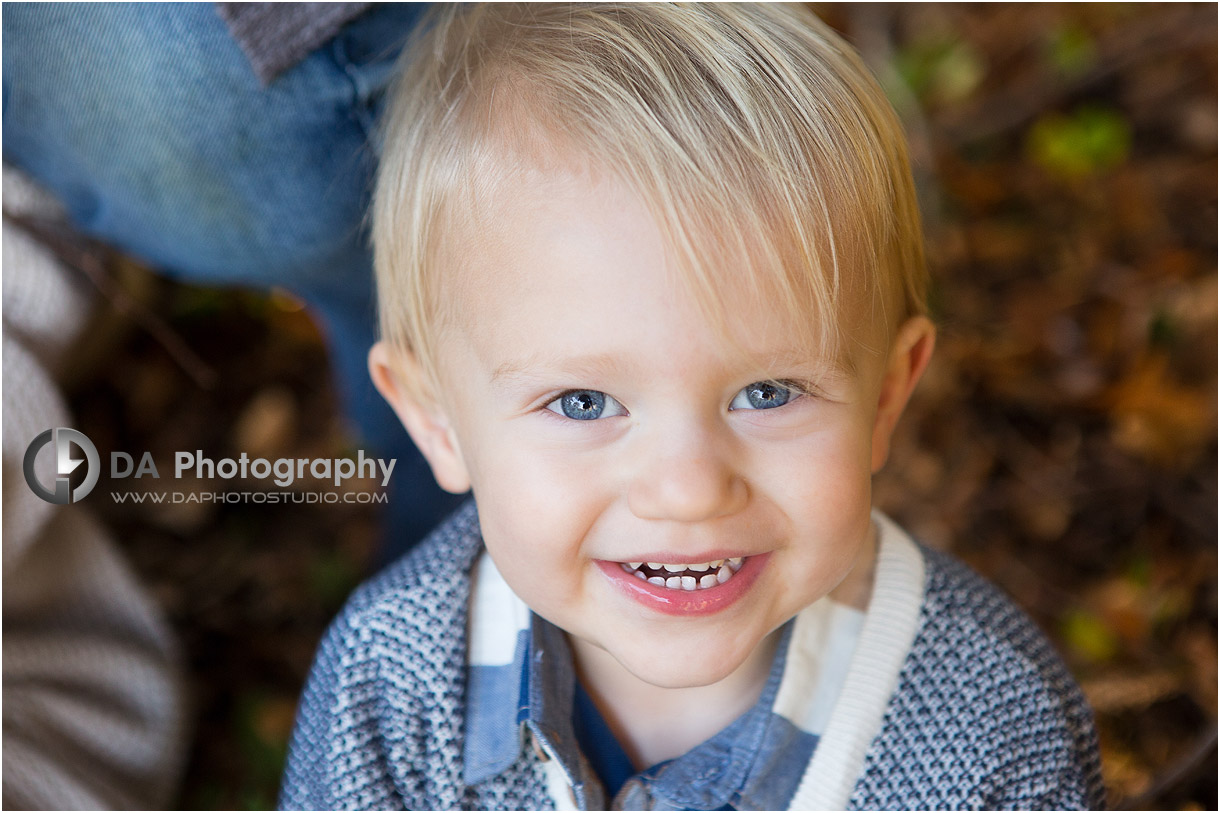 We actually started off with a couple of other locations in mind, but fate had a different plan for us. Hunter hadn't been able to secure a babysitter for Turner for the entire session , so on a whim suggested using their backyard. Living on property that backed onto woodland, the simplest of solutions turned out to be a win, win situation. Turner was able to occupy himself with the family dog and his toys and his babysitter could watch over him. Utilizing an onsite location meant they had full access to everything. From wardrobe changes to bathroom breaks.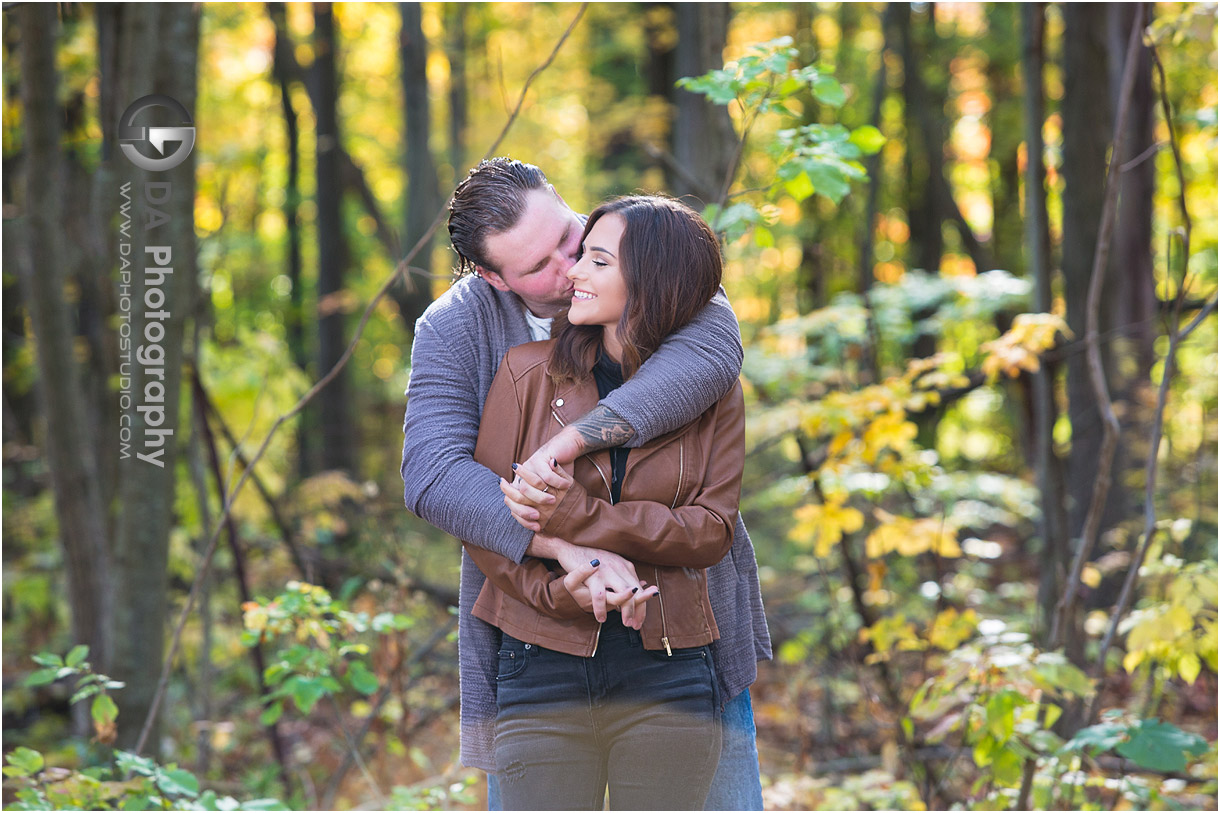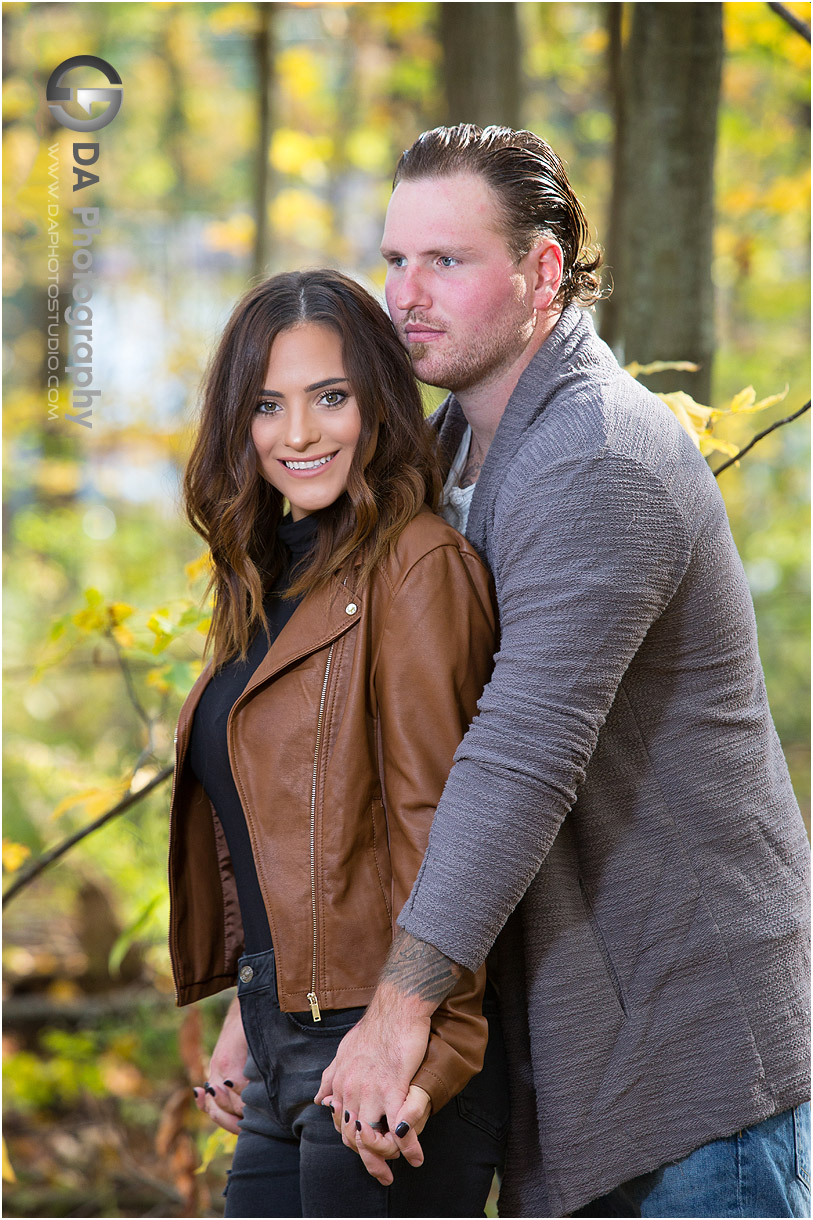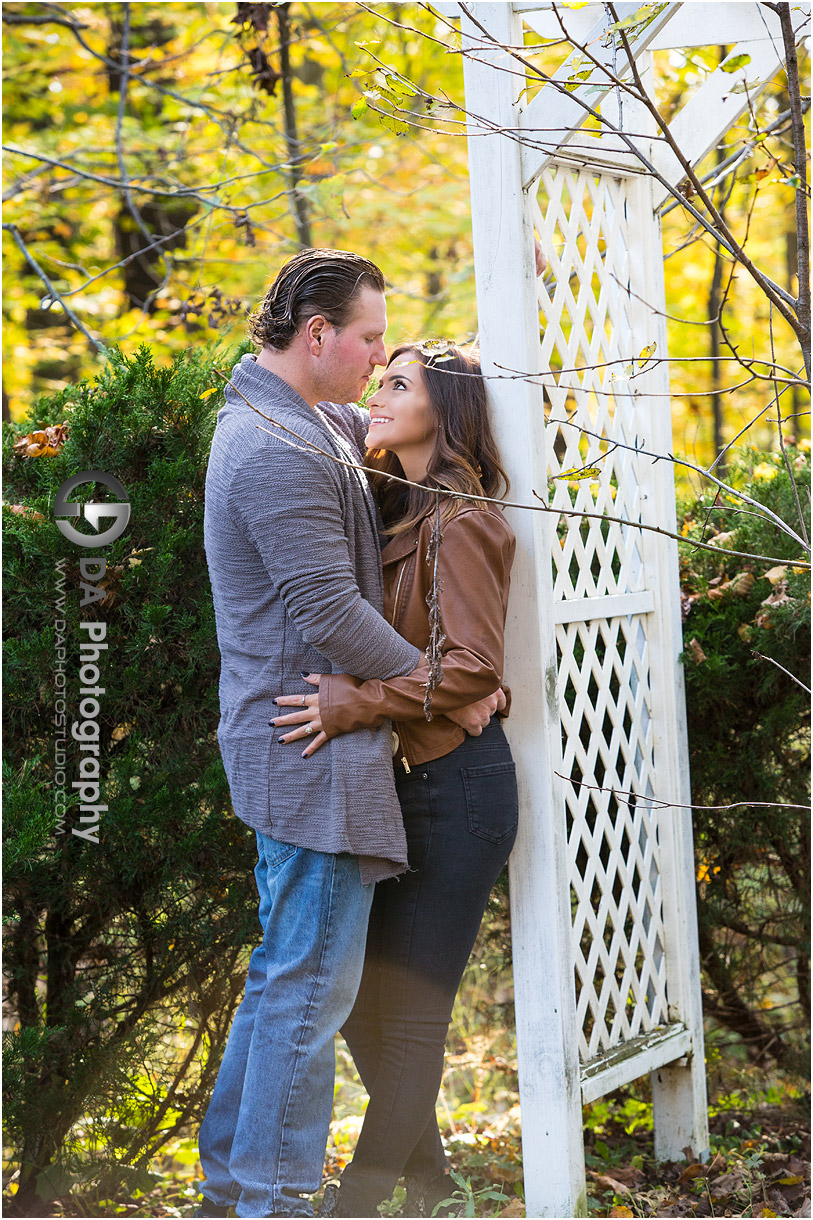 Discover the benefits of an on-site engagement photo location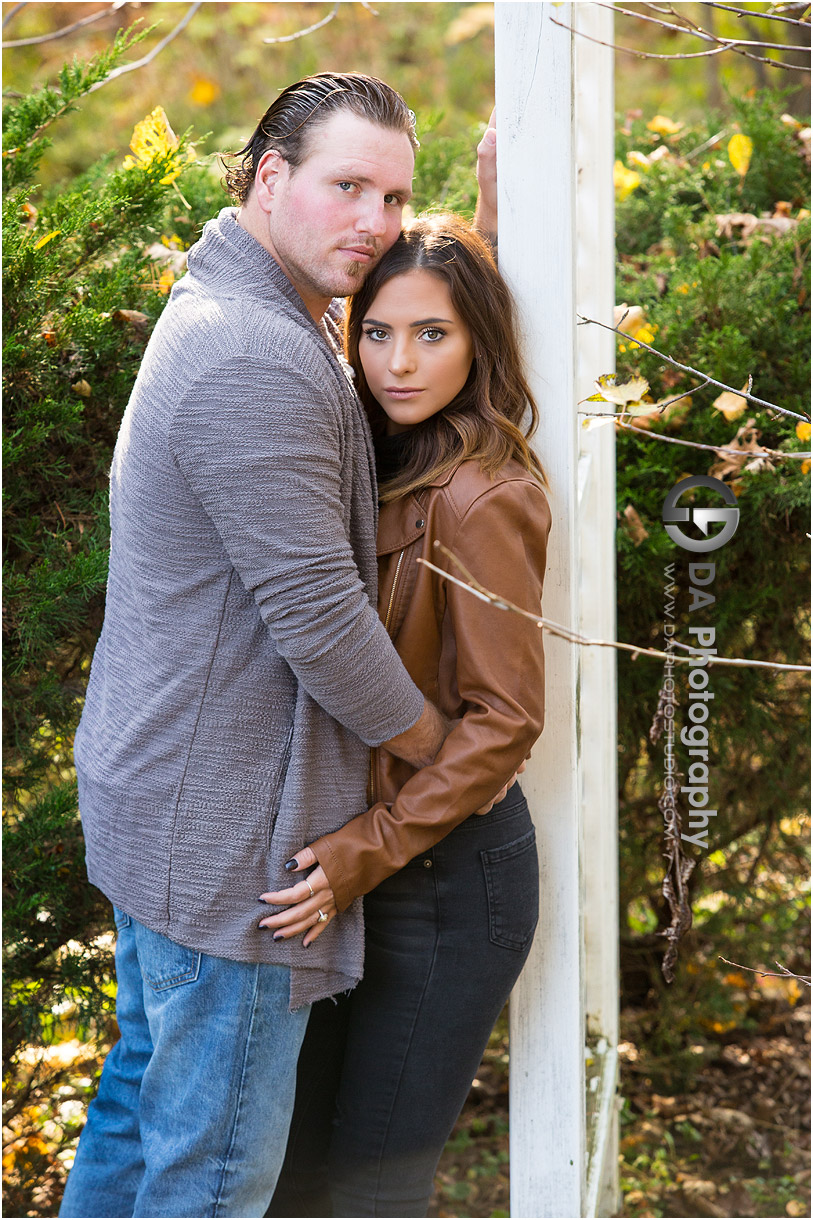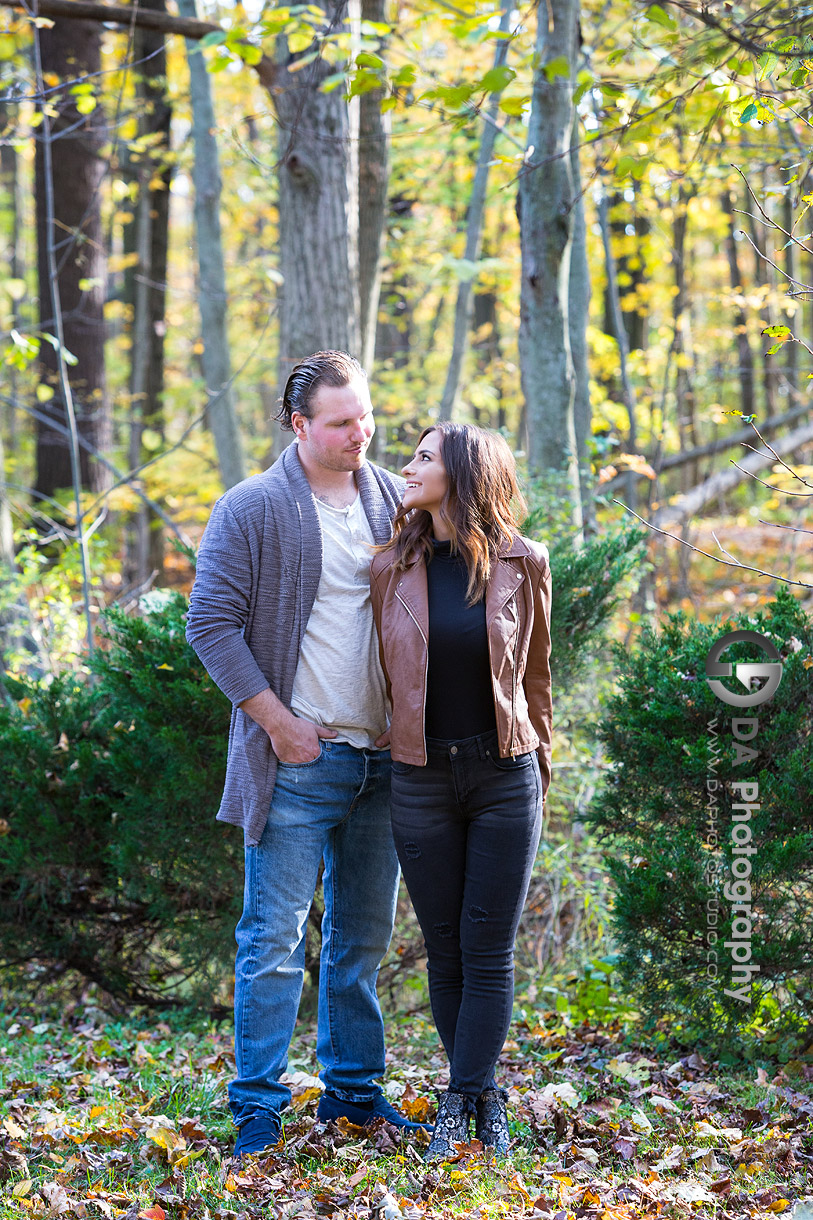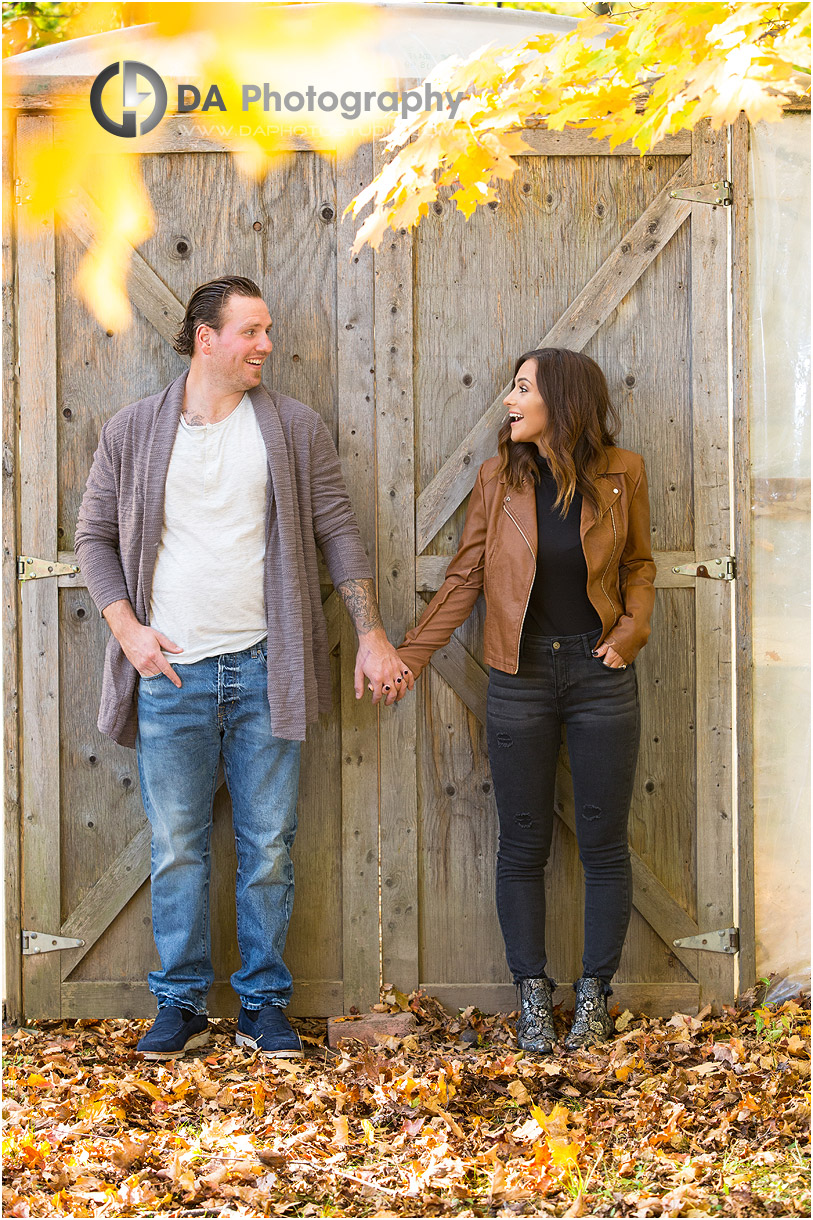 I had met Hunter at her cousin Daniella's wedding. She was familiar with my style of work. James, like most men I shoot, was self conscious of showing his emotions for the camera. You can see throughout the series of portraits as he visibly relaxes and forgets I'm there.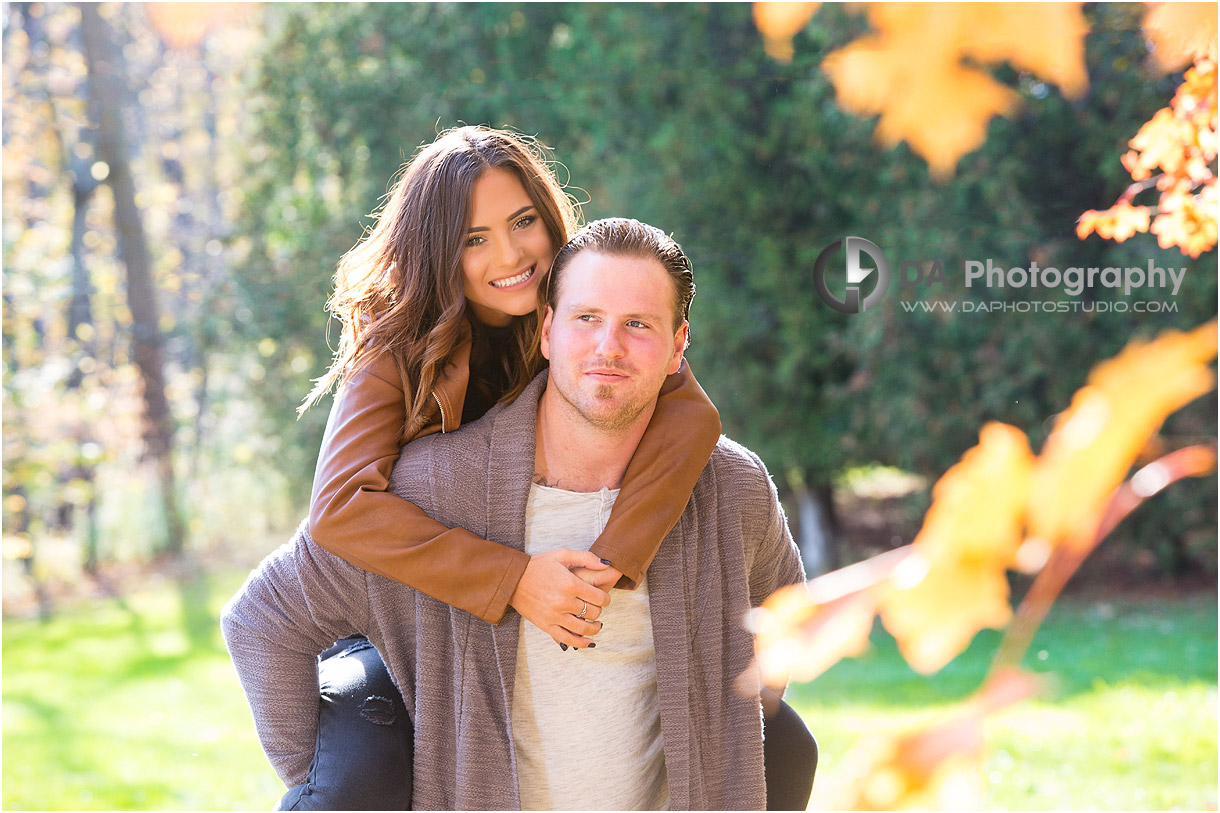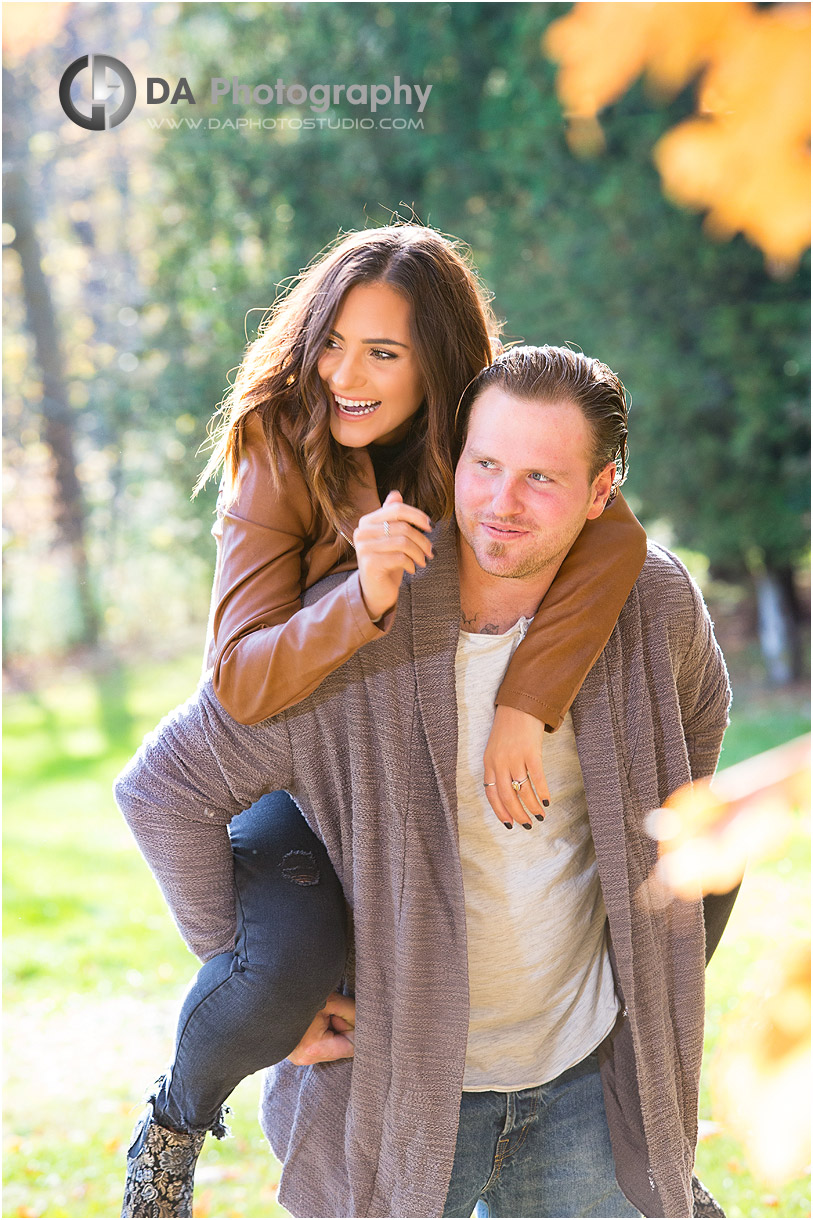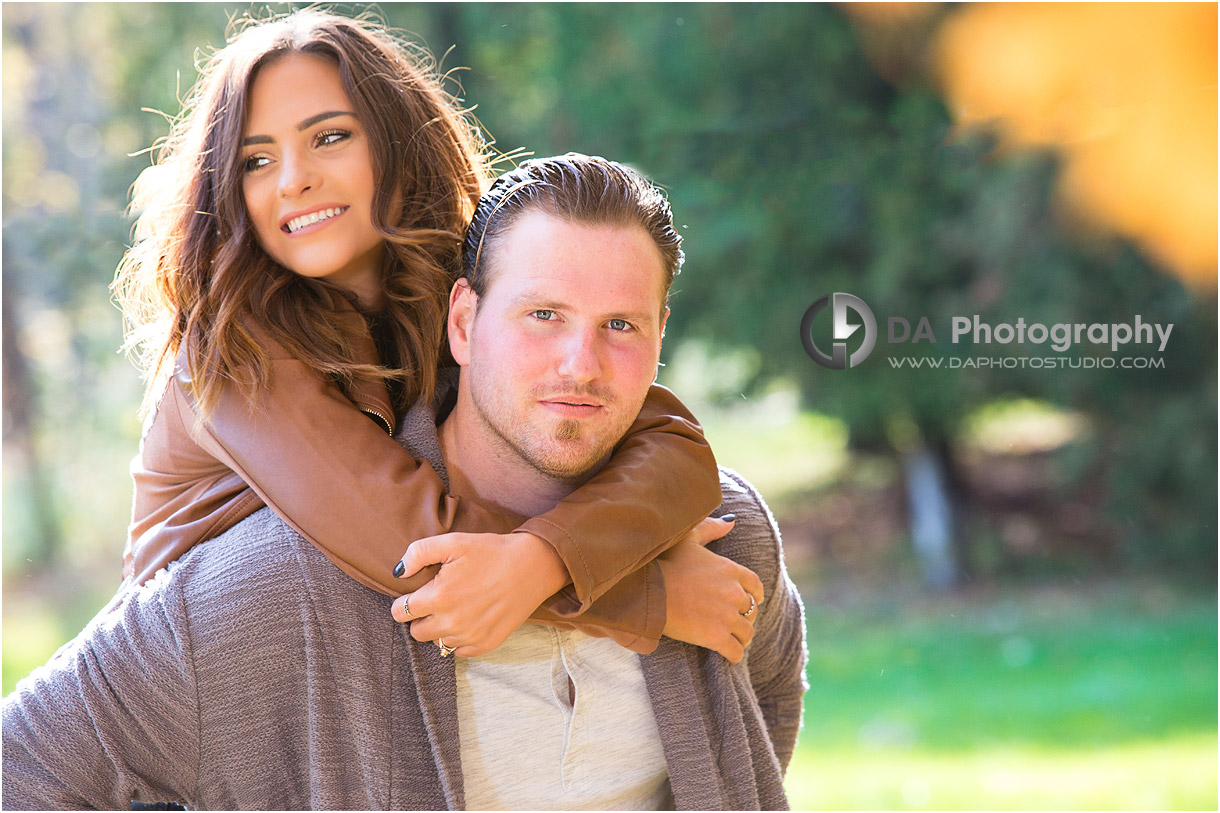 Hunter had chosen solid colours for their wardrobe which always helps as it isn't stealing the limelight from the couple. Their colour scheme accented the fall colours surrounding them and simple layers added clean lines without being bulky.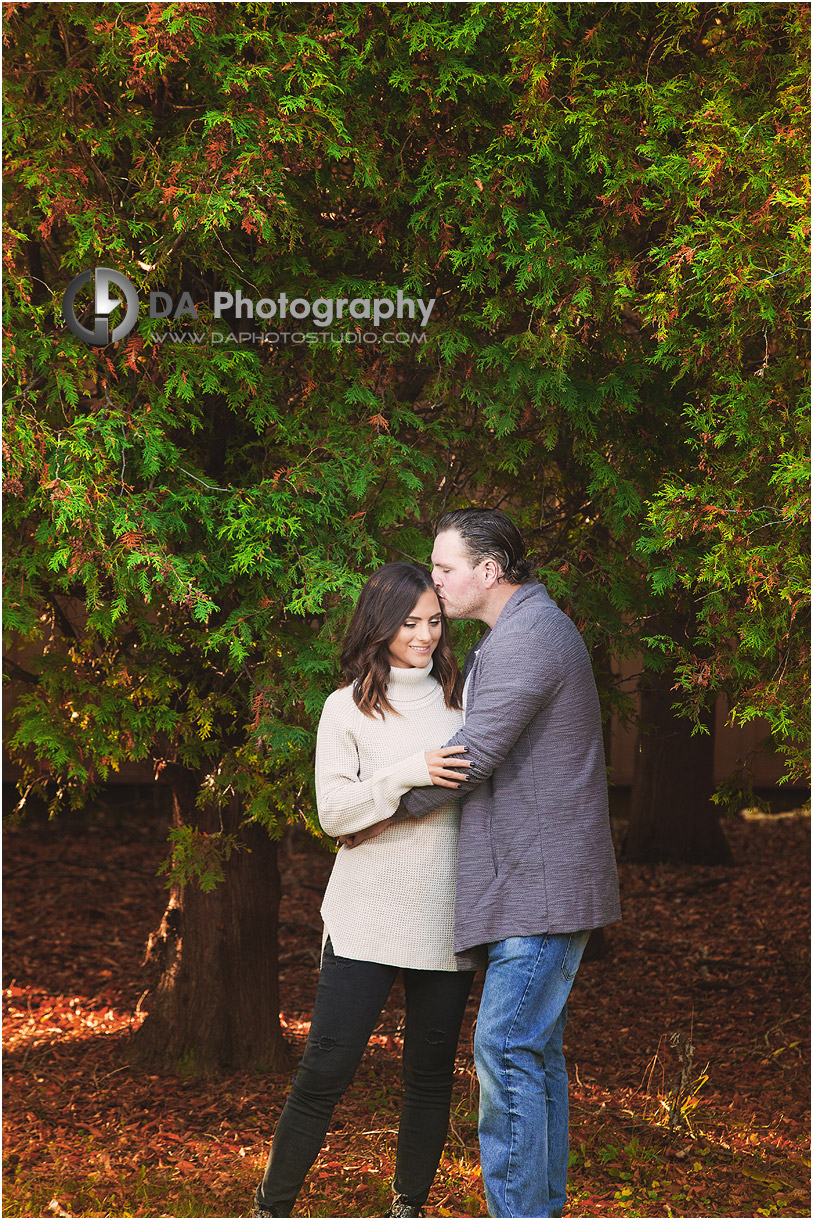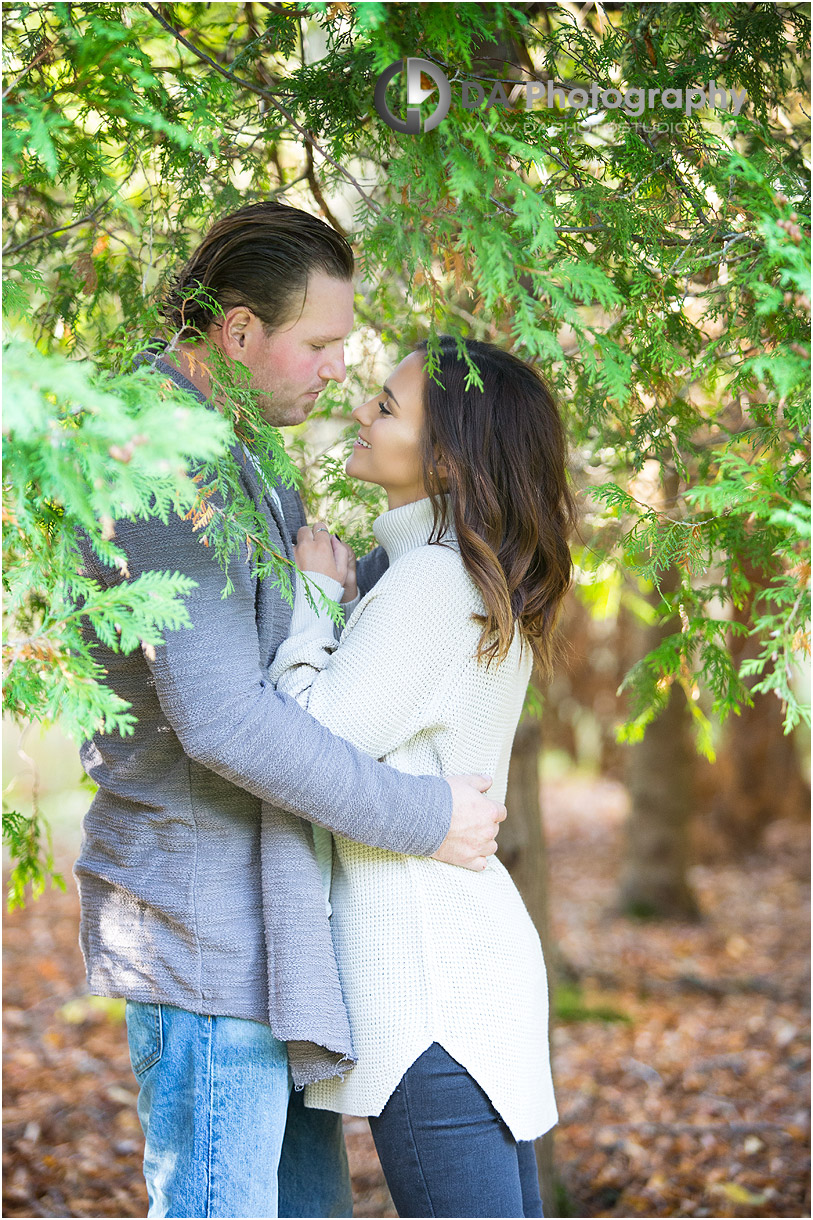 I began with them standing in various configurations to see how they felt most comfortable together. We used the wooden trellis as a prop, where they could lean against it and be more natural. One of my favourite shots of the two of them was taken against the wooden gate. I positioned them in the centre holding hands and framed the top and bottom of the image with leaves. The lines of the door and their arms, colours, textures and focal points all tied in nicely to create an interesting composition.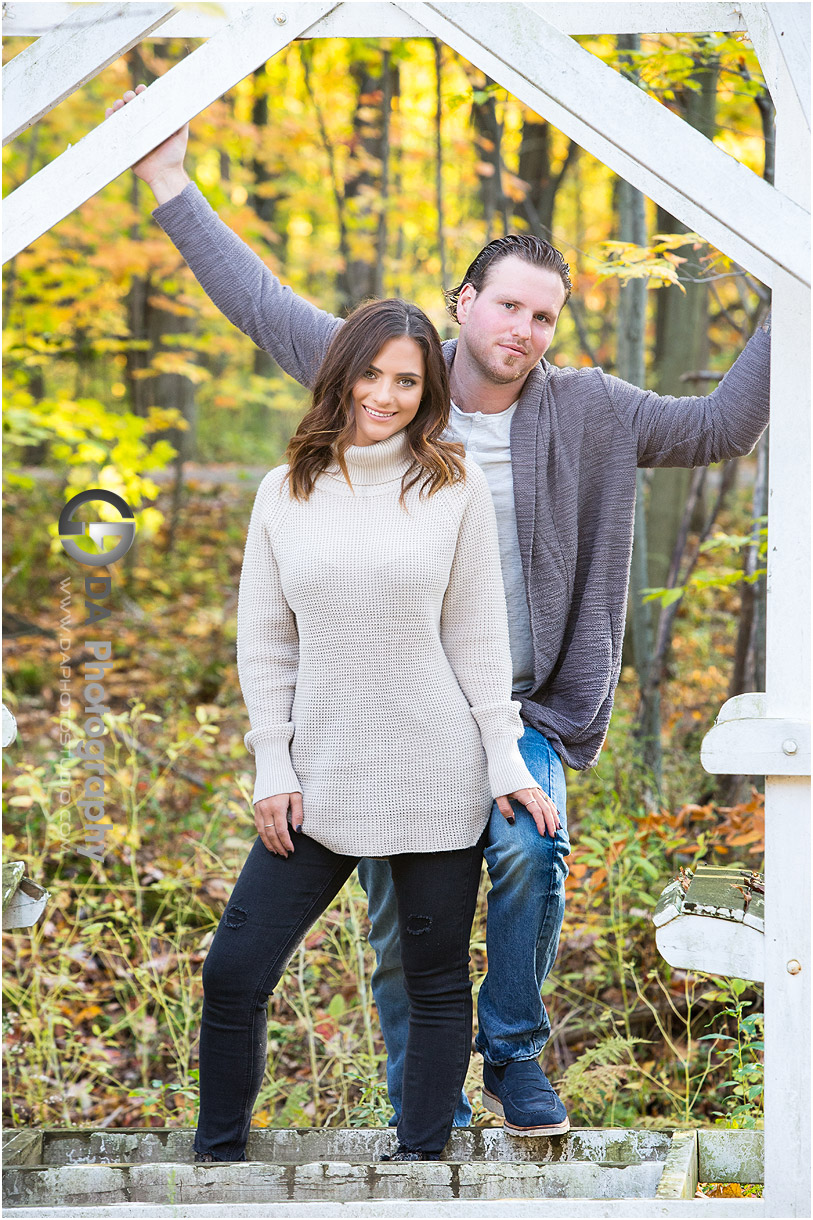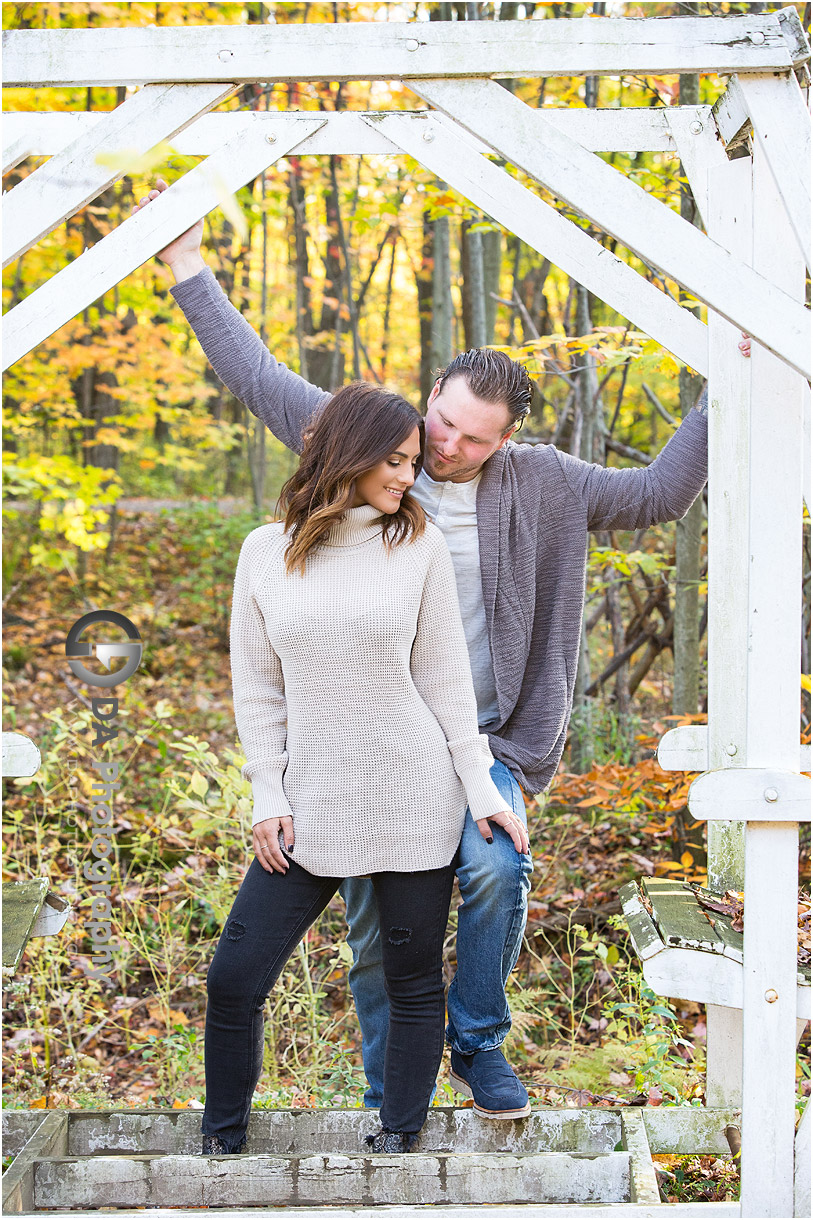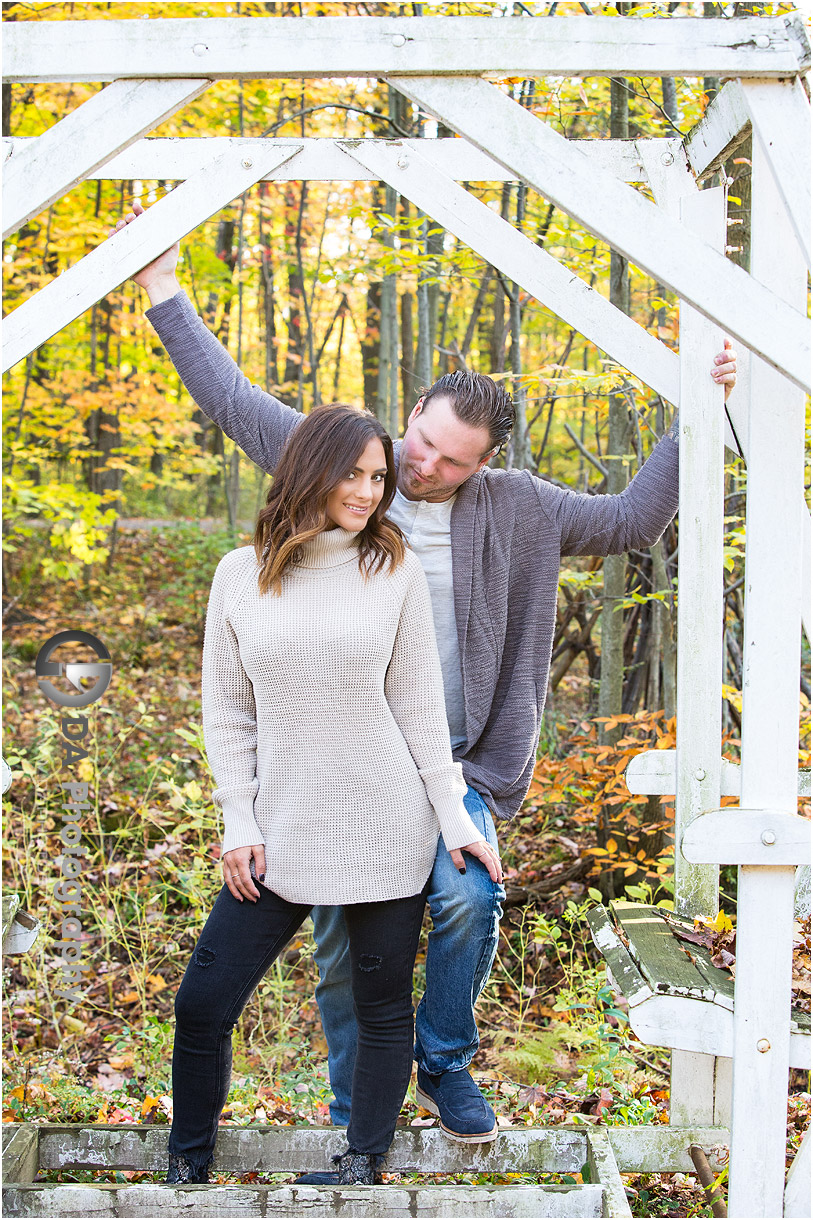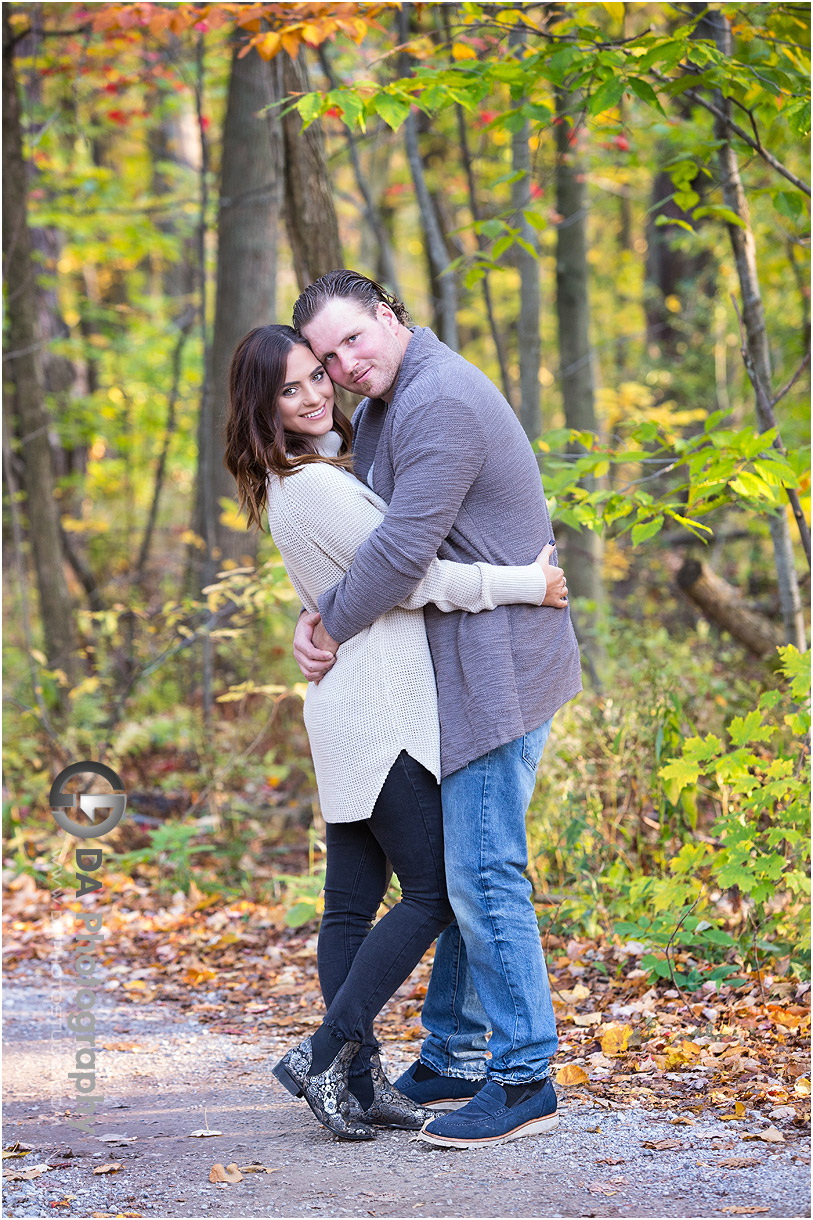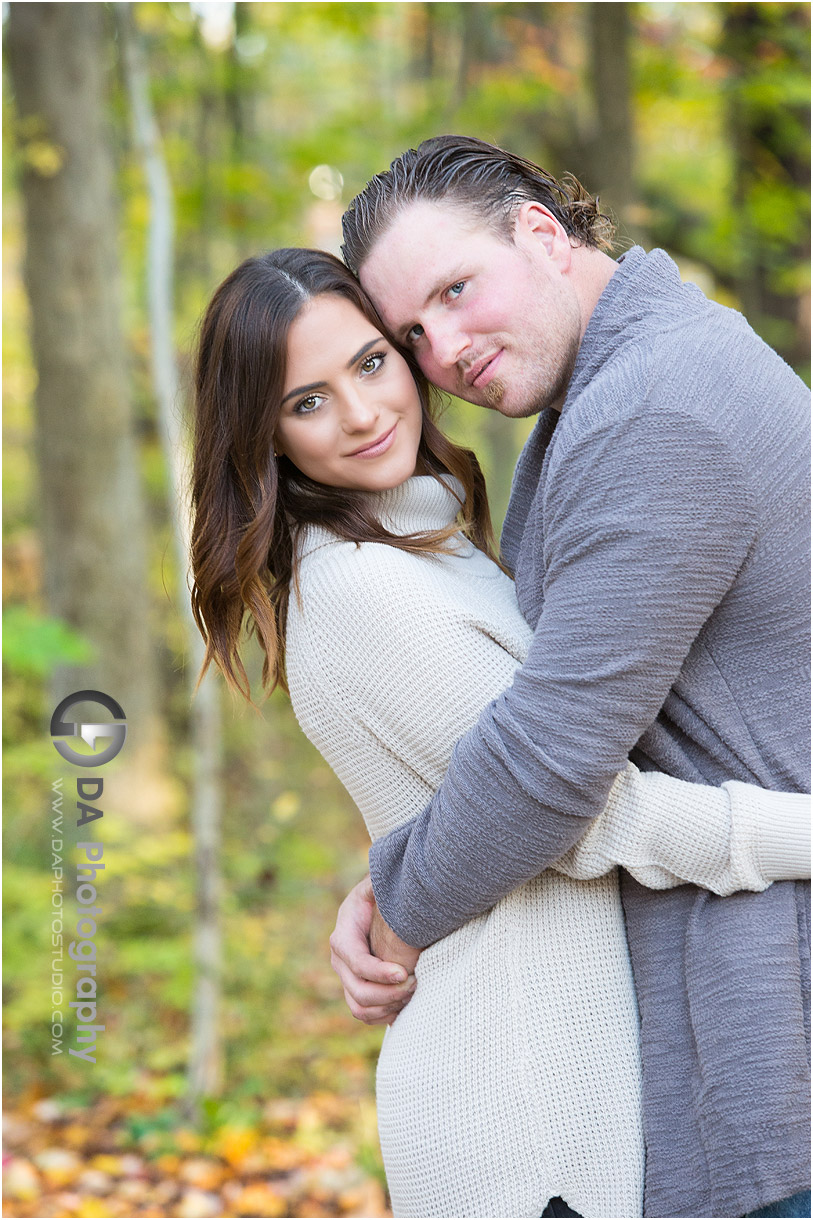 Once we had warmed up and they had relaxed, we added Turner into the photoshoot. His curiosity and energy added a carefree dynamic to the little group, and it made it easy to capture true smiles and natural laughter. When Turner climbed into his father's arms, I was quick to freeze-frame the moment of James in protective mode.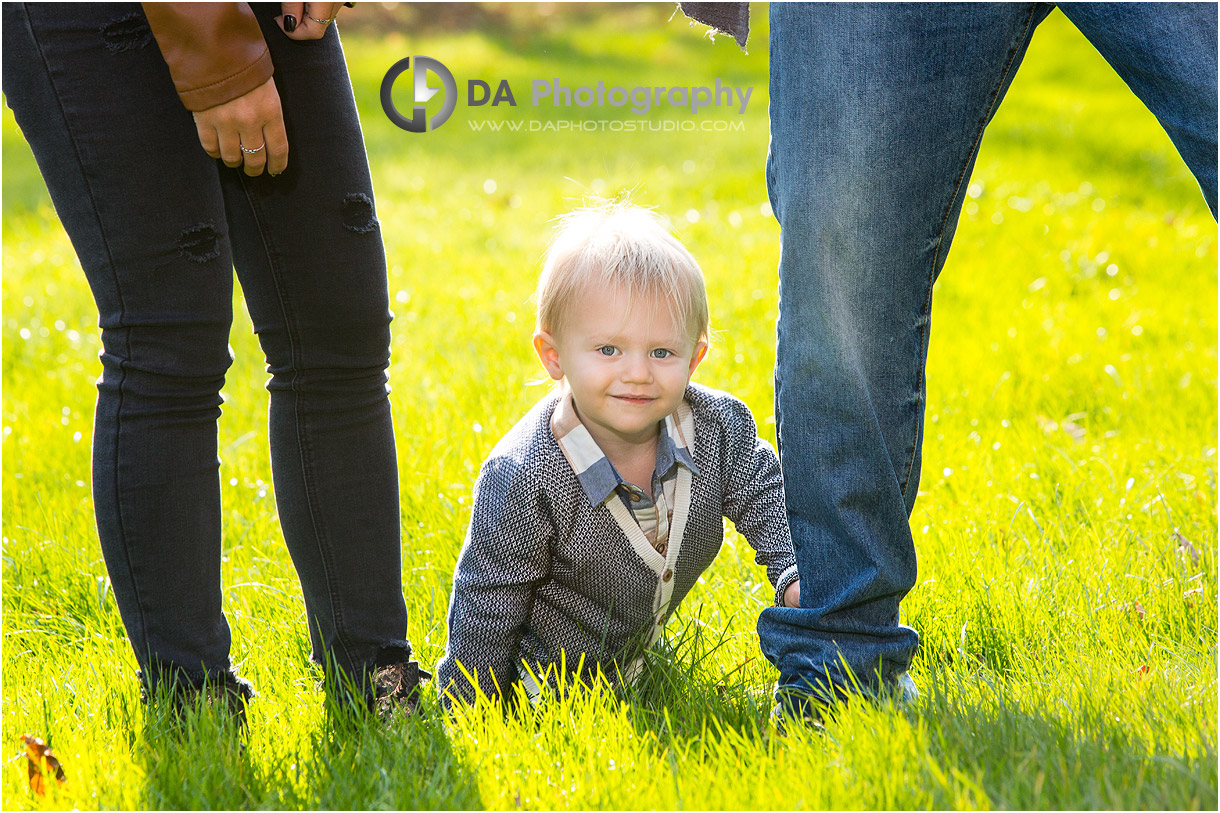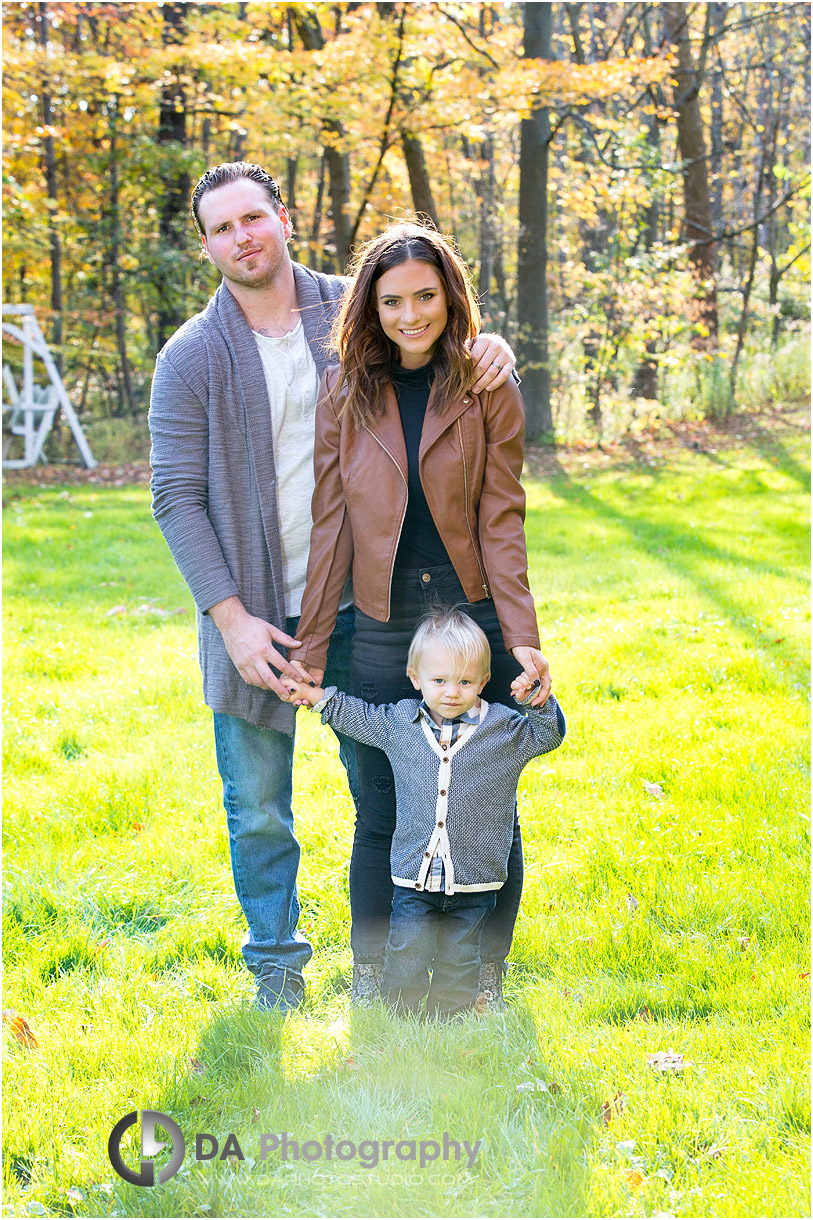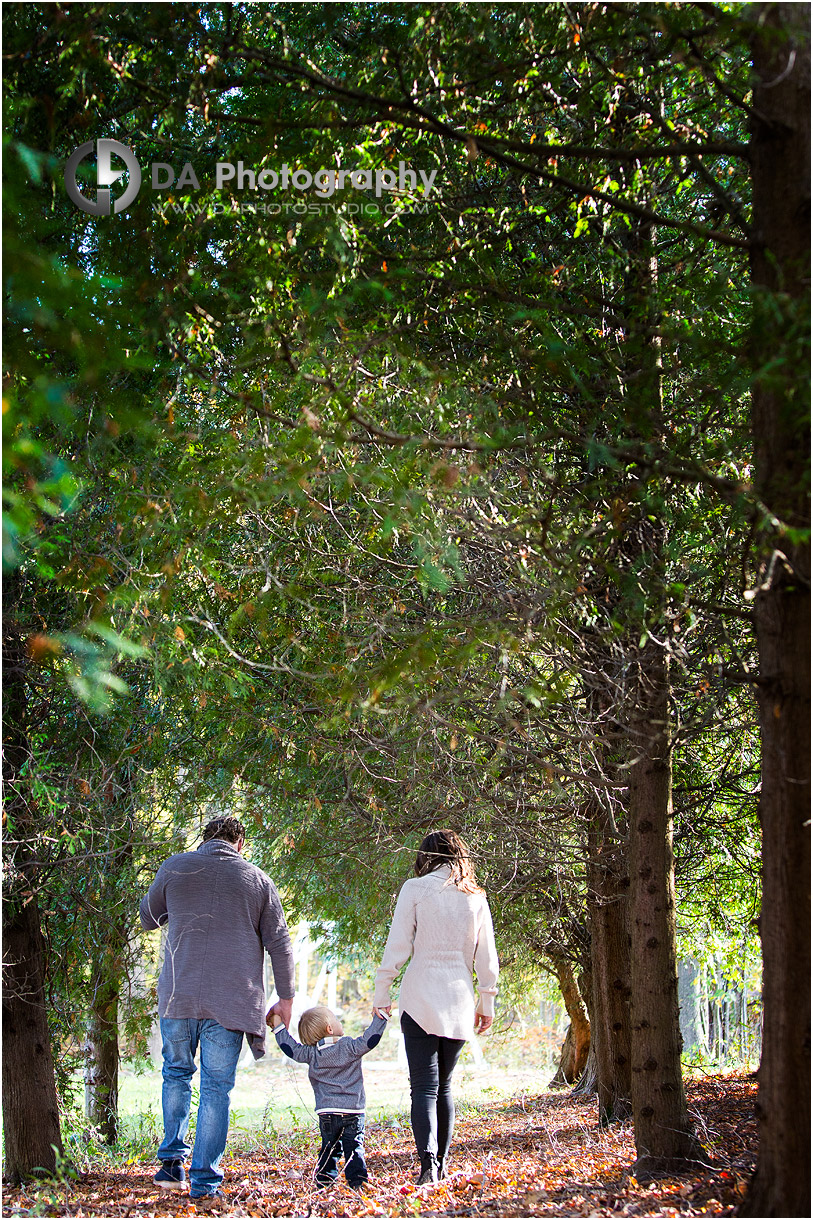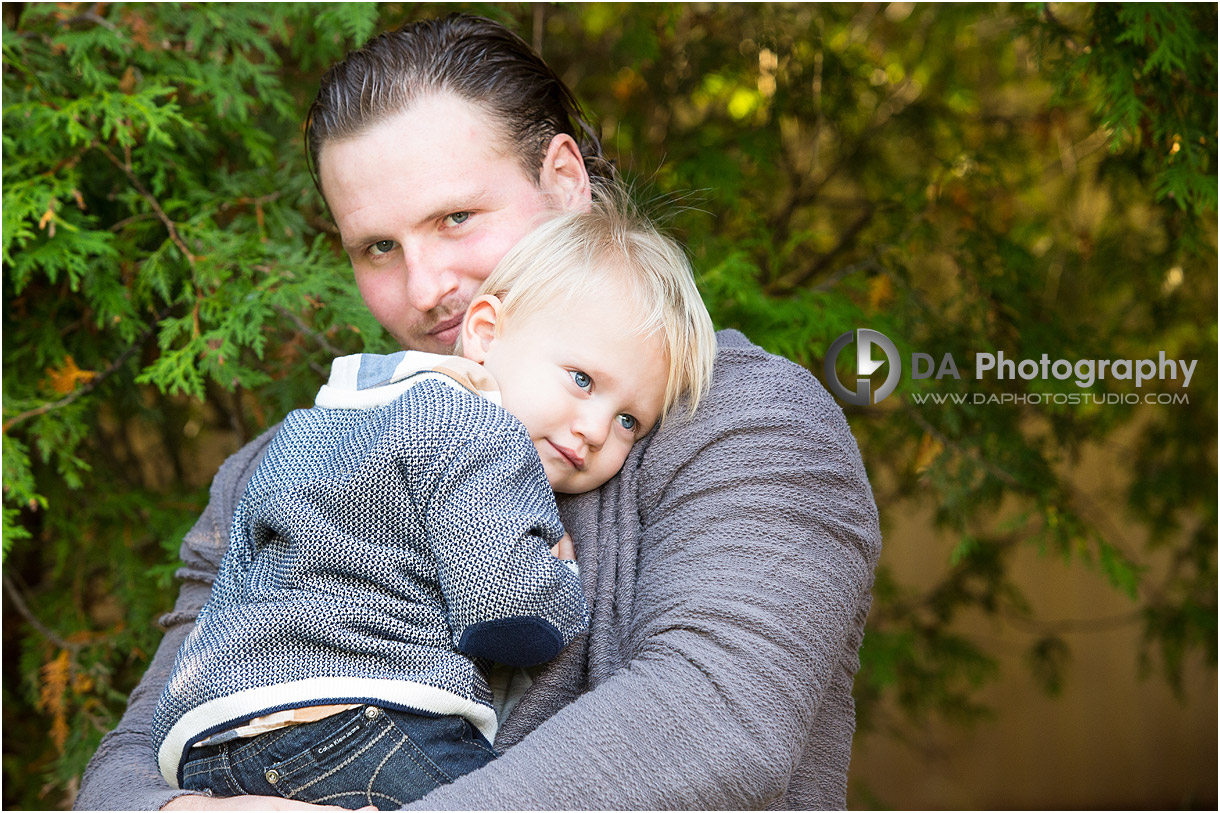 When you live amidst natural beauty, why go anywhere for your engagement photo location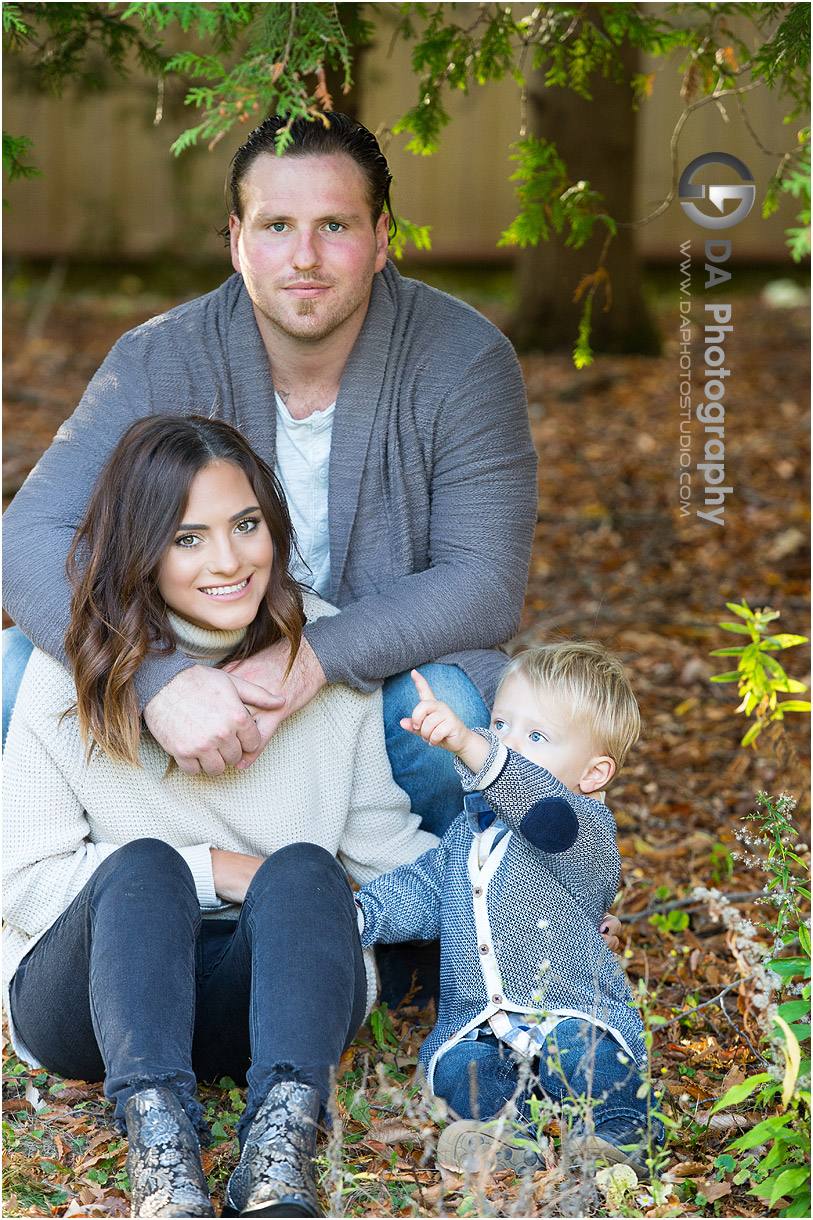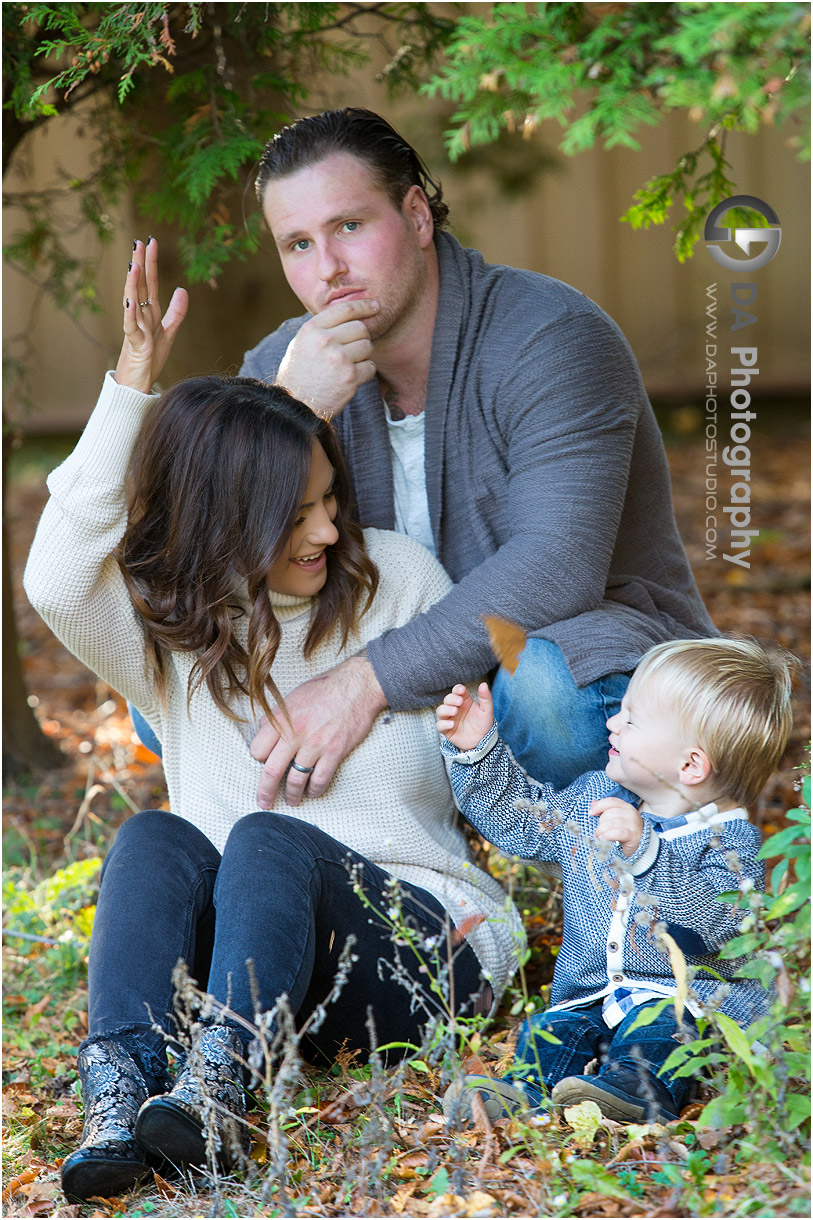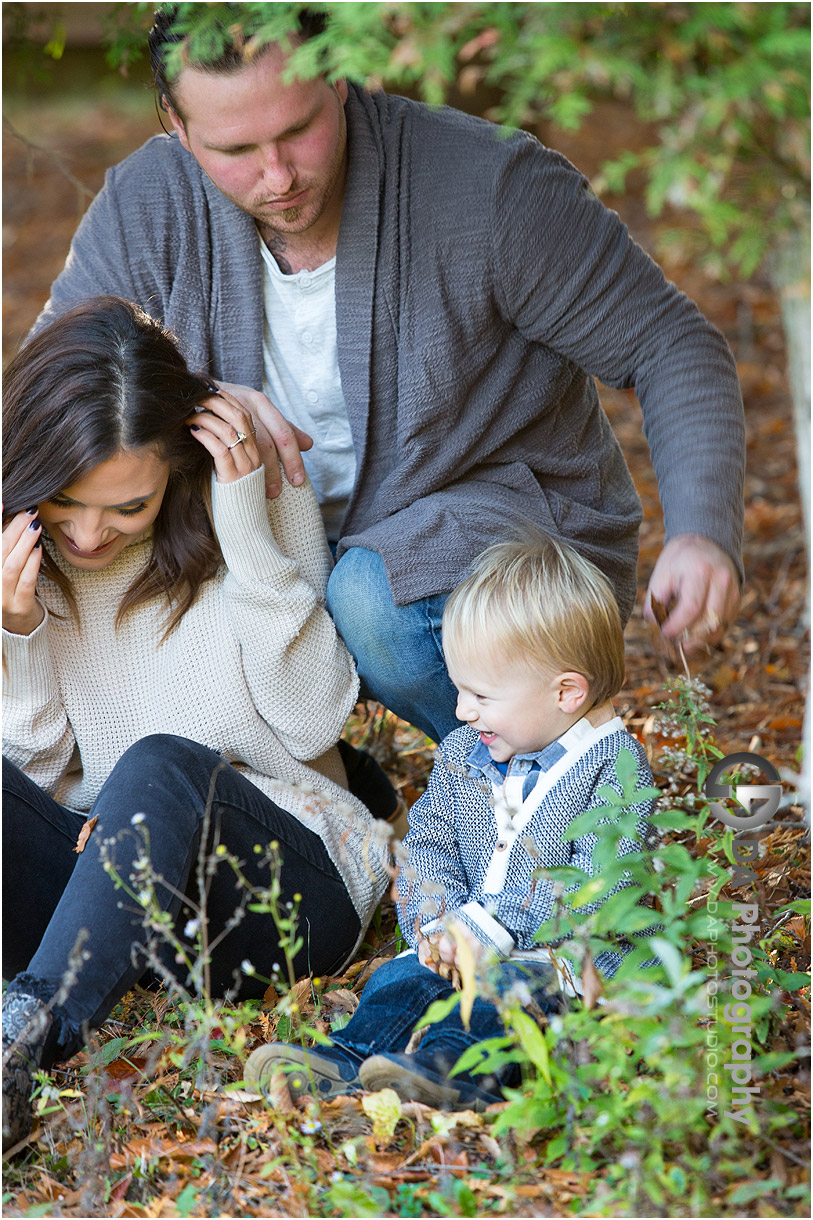 Once I notice that Turner had had enough, we headed back into the woods to maximize the use of the golden hour. The yellowish sheen that the golden hour exudes, just before sunset, makes everything look dreamy and soft. One of my favourite poses during this incredible lighting is to focus on the couple's silhouette. With the light, comes shade and a more dramatic look, therefore a depth is added to the image.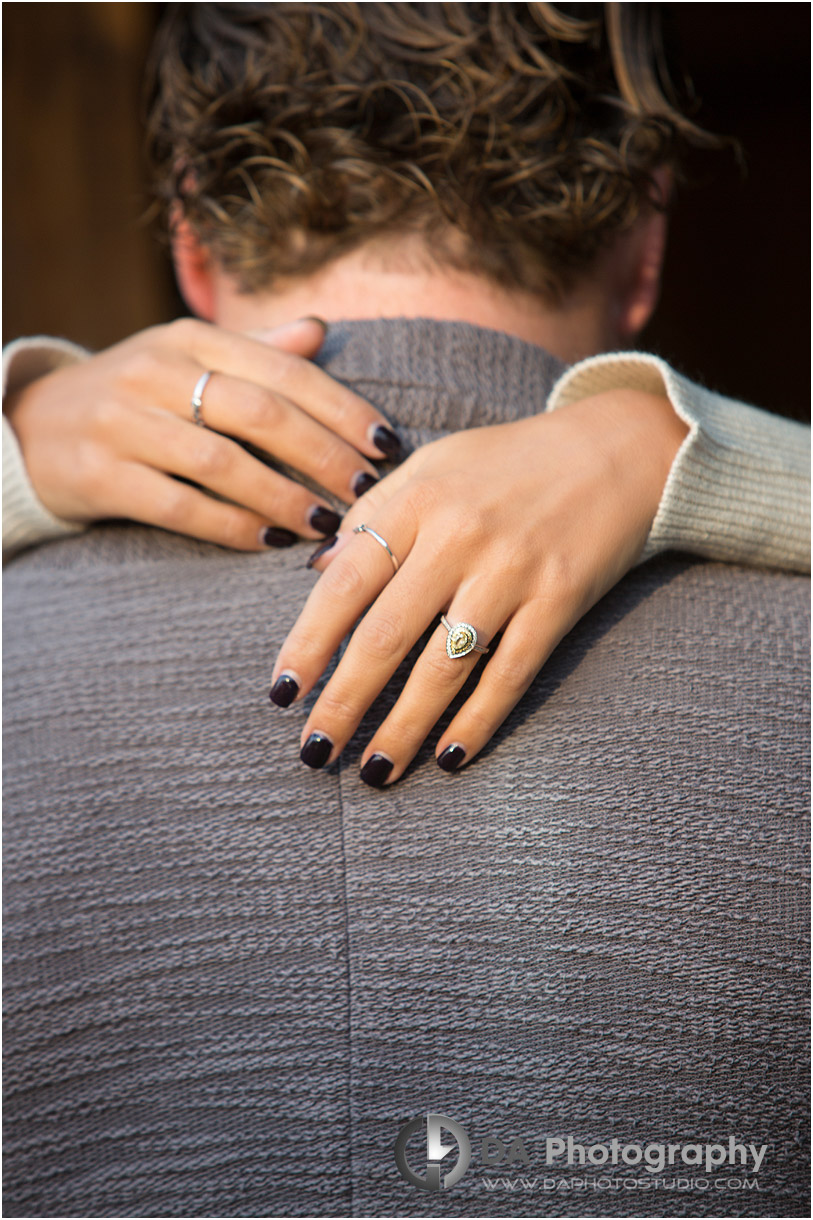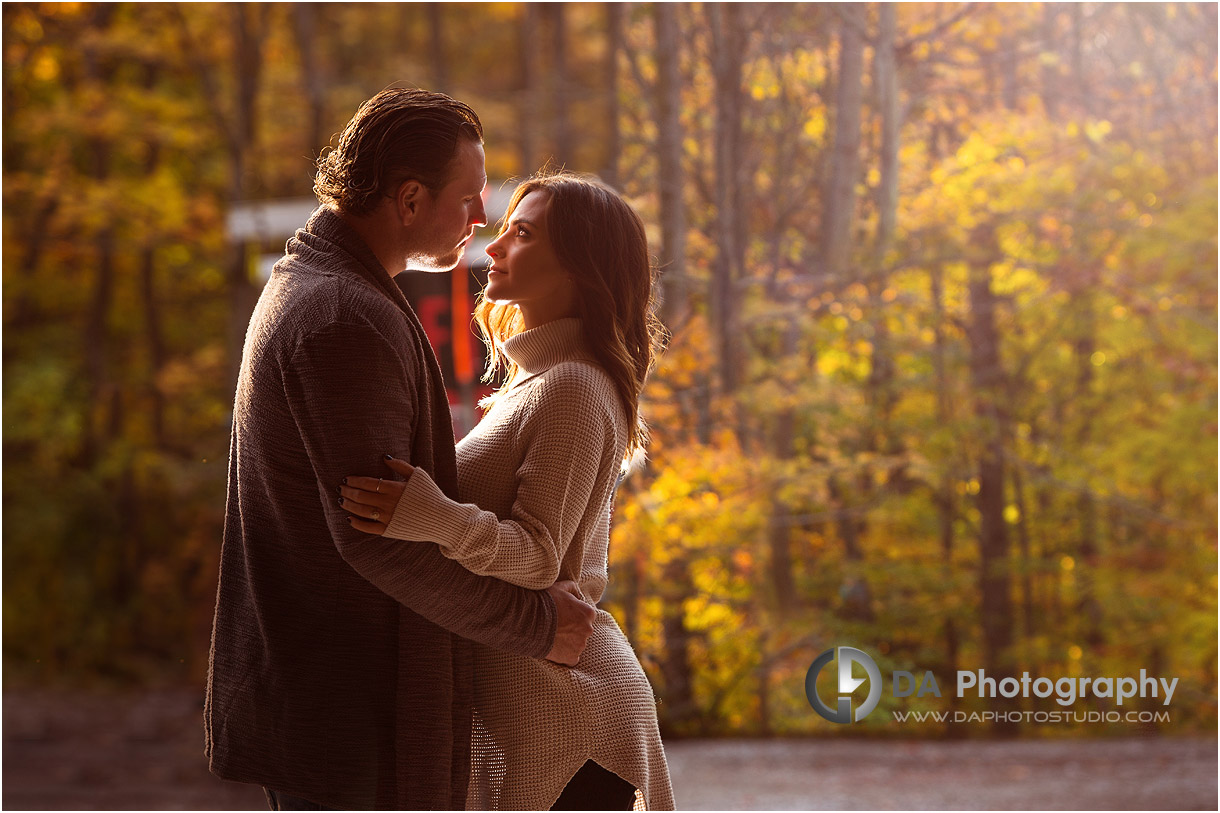 Adding family pets and children into engagement shoots bring reality into the frame. There's no better representation of your life together than by incorporating the elements that are fundamental in your life. Hunter and James also served to prove that we need to utilize the spaces around us as sometimes your engagement photo location may be closer than you thought.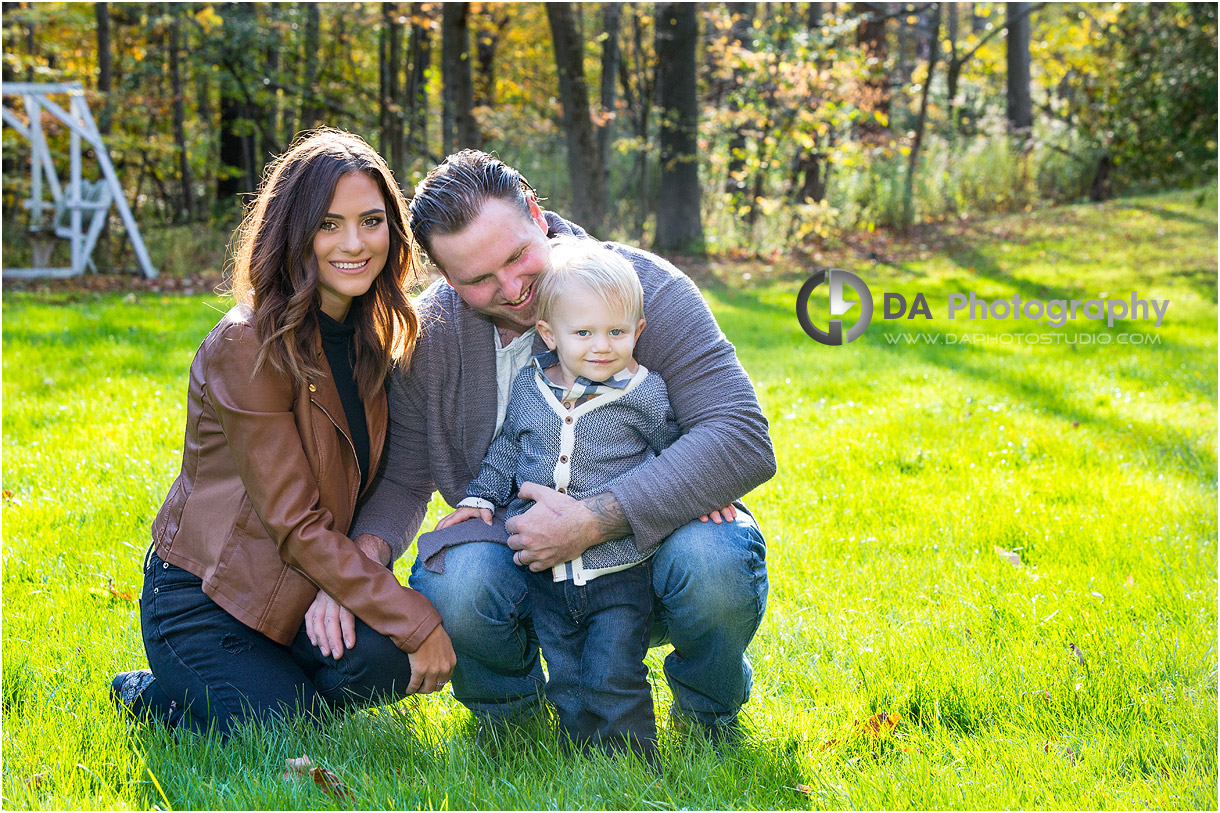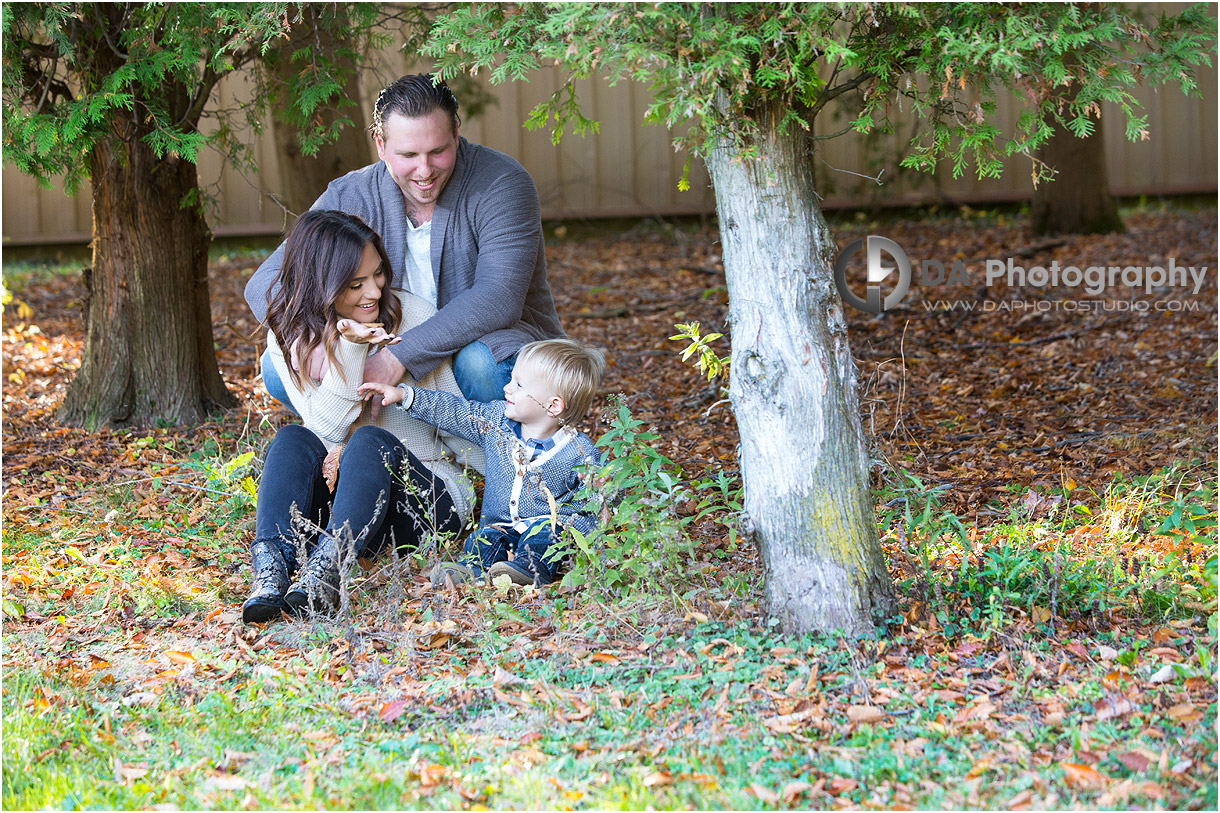 Check the 
engagement photos
of Daniella and Steve, the couple who recommended me to Hunter.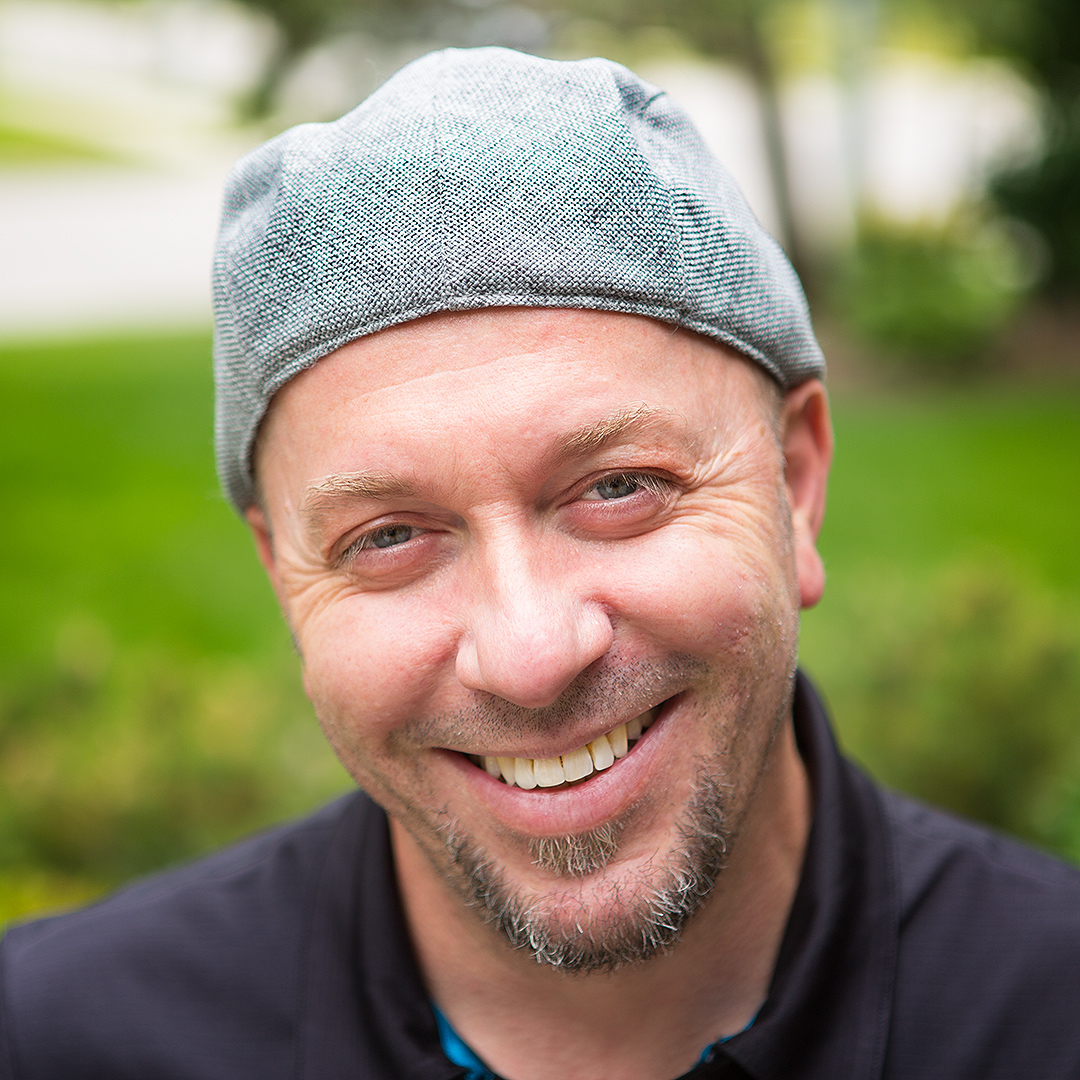 My passion and biggest asset is taking the time to make every client comfortable and relaxed before I even pick up the camera. The result? Photos of you that actually look like you at your best! I can prove to you how much you can enjoy having your picture taken. Lifestyle photography is about the experience that happens to be served up along side of some great photos.
Specialties:
Family Photography for families that like to move around and enjoy their photo time, Wedding Photography for couples looking for a mixture of photojournalistic, contemporary and traditional images and Professional Corporate headshots that are far from cheesy and stiff.