These Adamson Estate engagement photos showcase the beauty and versatility of this great location. It's true that every location continues to give a different experience with each new set of clients. However, I find Adamson Estate is always unique and inviting.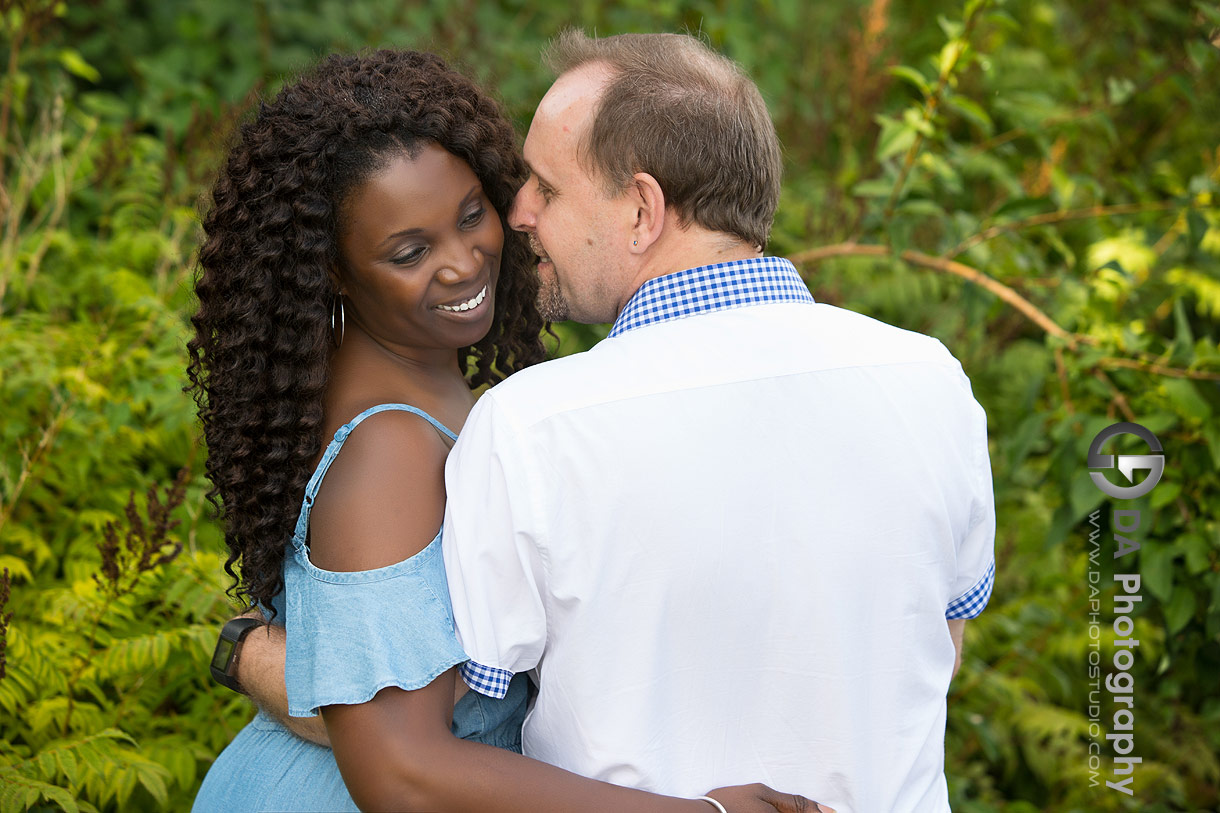 Why we chose Adamson Estate engagement photos for Donna and Greg?
When Donna and Greg decided to plan their engagement session I suggested Adamson Estate as a location option. Undoubtedly, I knew that the quality of this place and the relaxed nature of my couple would be a perfect match. Spoiler alert: we were right!
We began to visit each spot within the location by working counterclockwise around the grounds. There are so many unique mini-locations within the site that showcase the atmosphere and can truly paint the picture of the relationship between these two lovely people.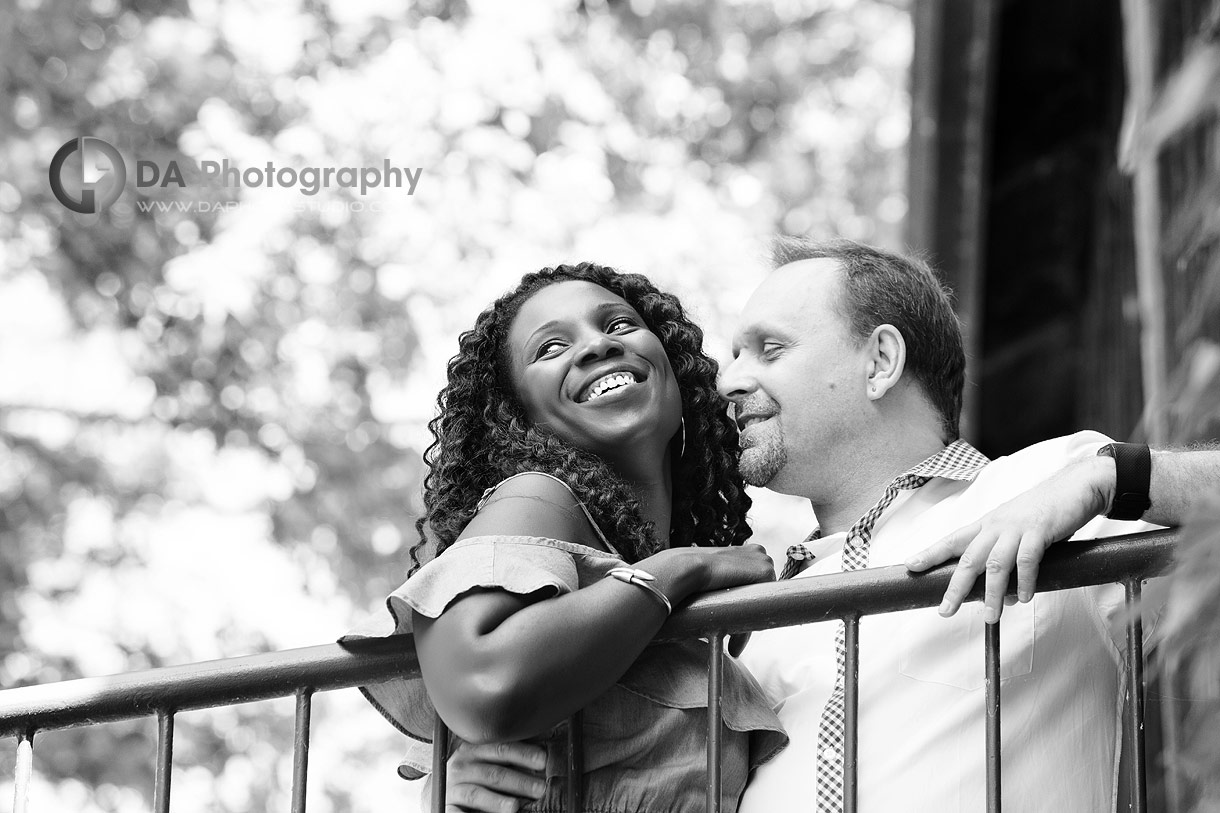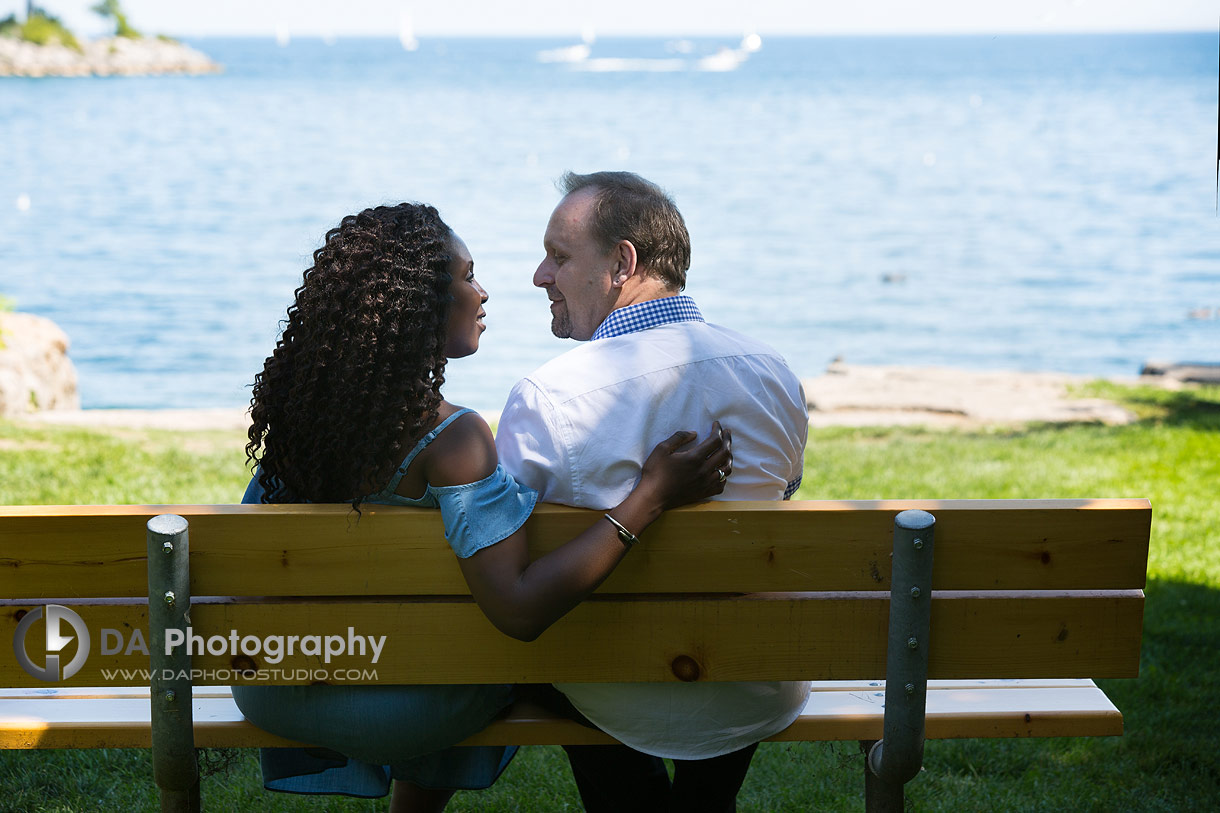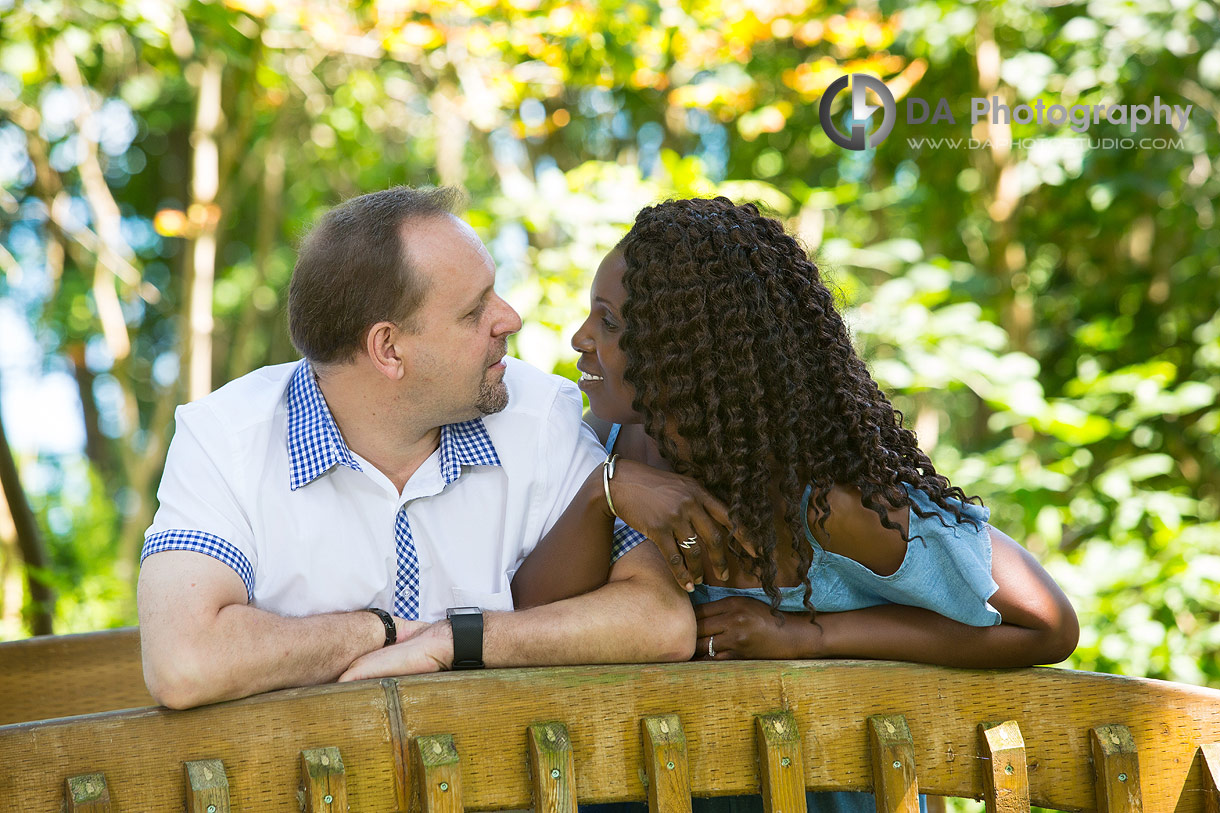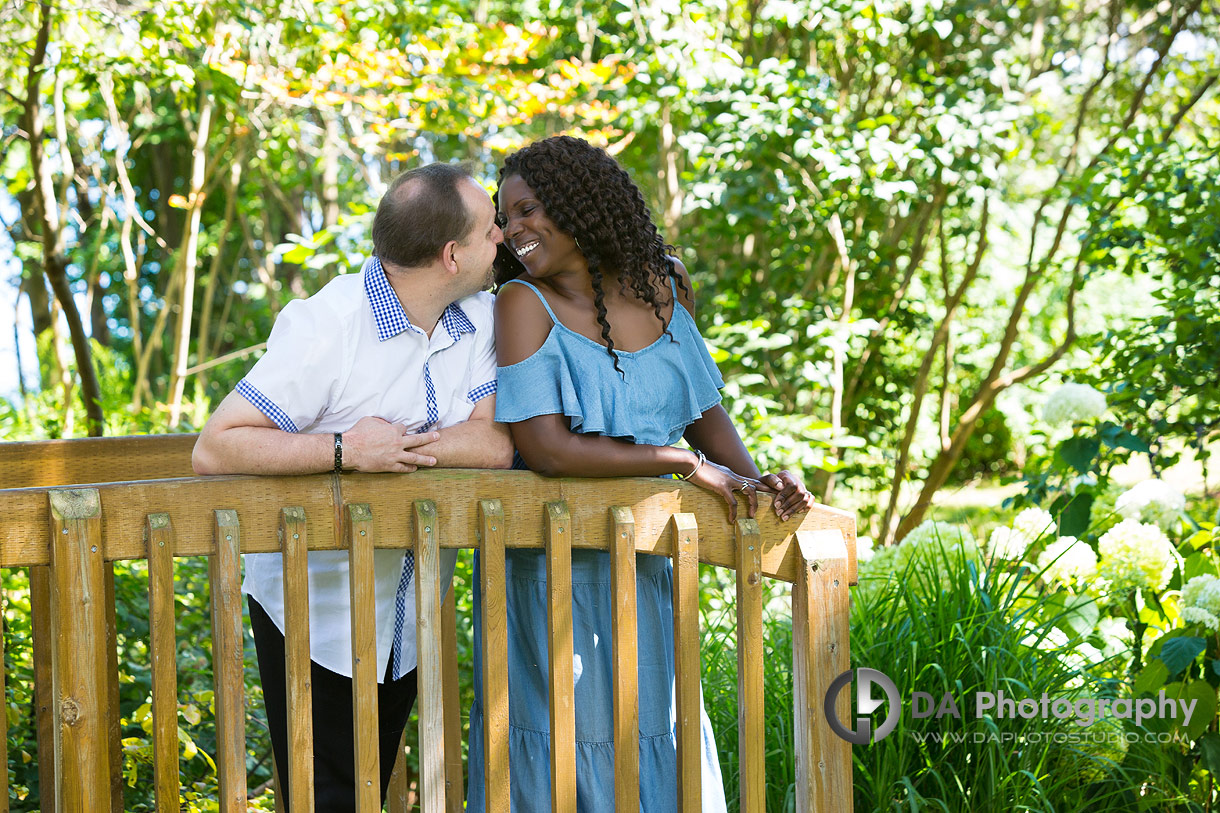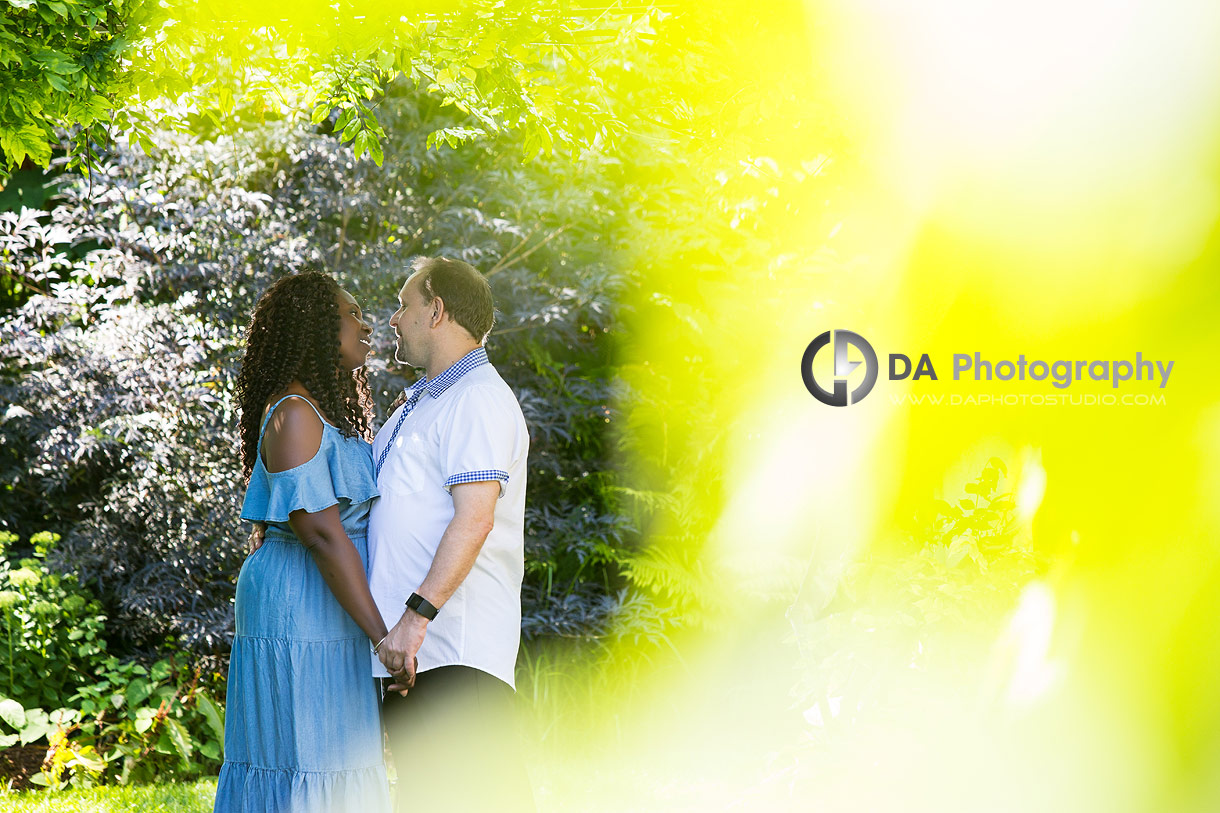 Why these photos need to be shared
The images that we captured during our 2 hour photo session truly represented the connection that this couple shared. I was meeting Greg for the first time during this session. It was here that I was able to spend a little time getting to know him and his love for Donna. In my opinion, the images from our time together highlighted their easy-going personalities and their genuine deep love for each other.
I am often commended for my capability to capture the true light when it comes to photographing groups of people with different skin tones. There is a whole study on how to photograph mixed skin tones for photographers as it requires experience and understanding how to use your lighting properly. My interracial couples understand the importance and are quick to point out my abilities when looking through my samples. They often question who I set the light for. Is it the darker skin tone or the lighter? My answer is always the same. Tongue in cheek, I say, "Book me and I will show you!"
However, joking aside, the answer is always the truth. I make sure that I keep the skin tone of all my clients true to reality. This means that I always document perfectly in camera to begin with. Then, it's easy to adjust small details and imperfections in postproduction. The majority of the work is done the moment we take the picture. This means it is essential to use proper camera lighting, no matter which time of the day we are working in.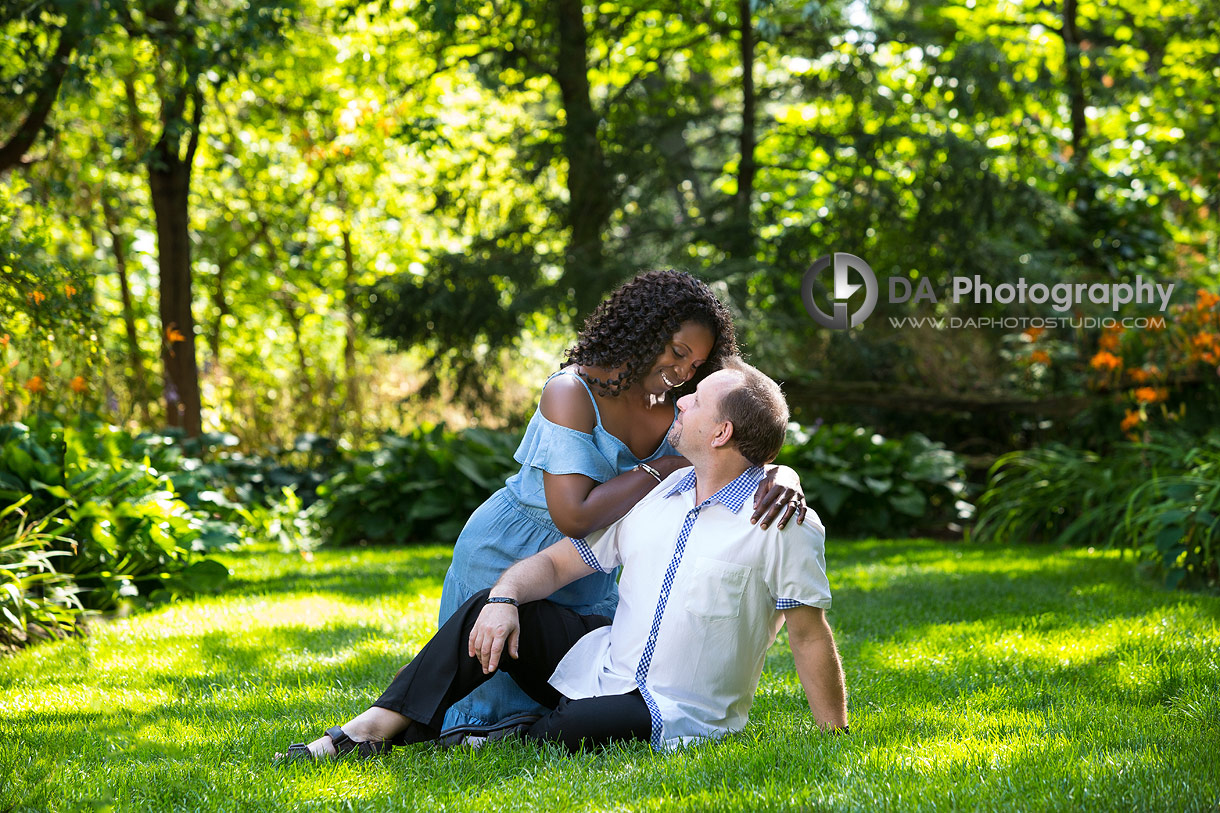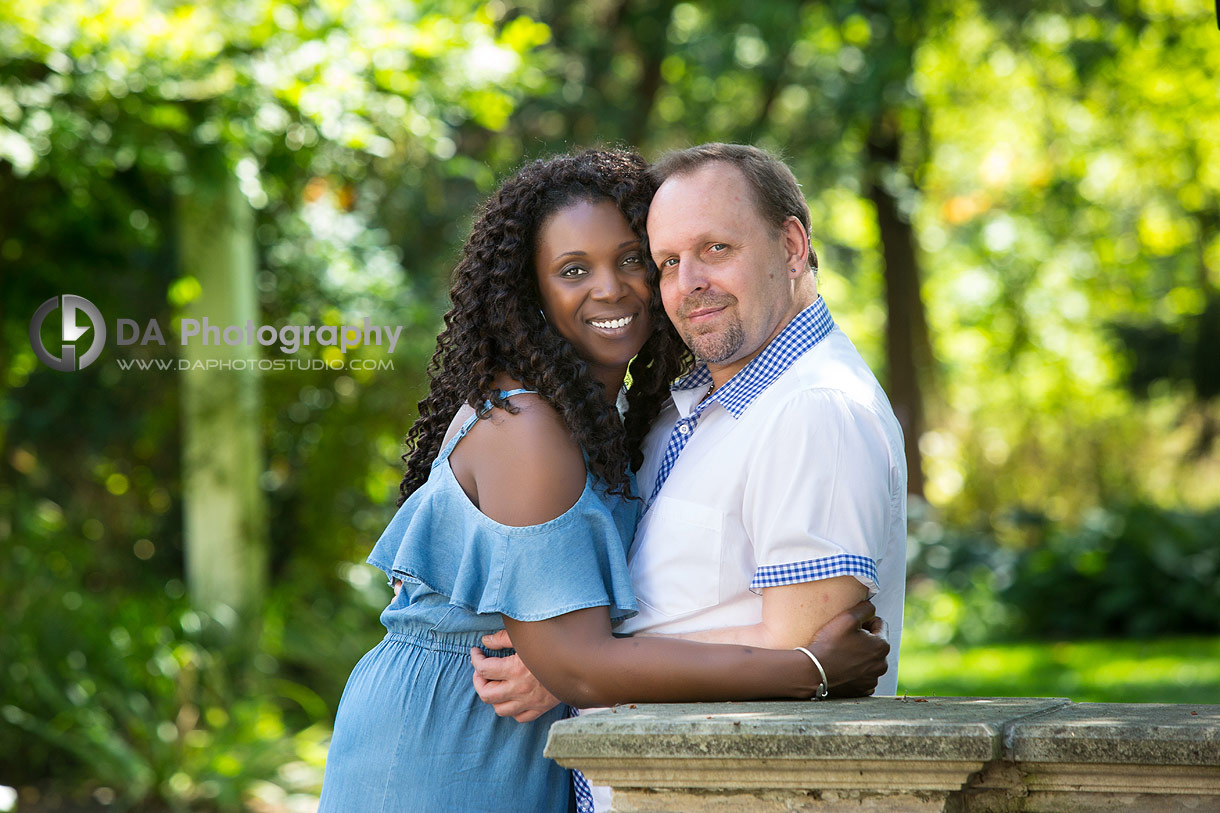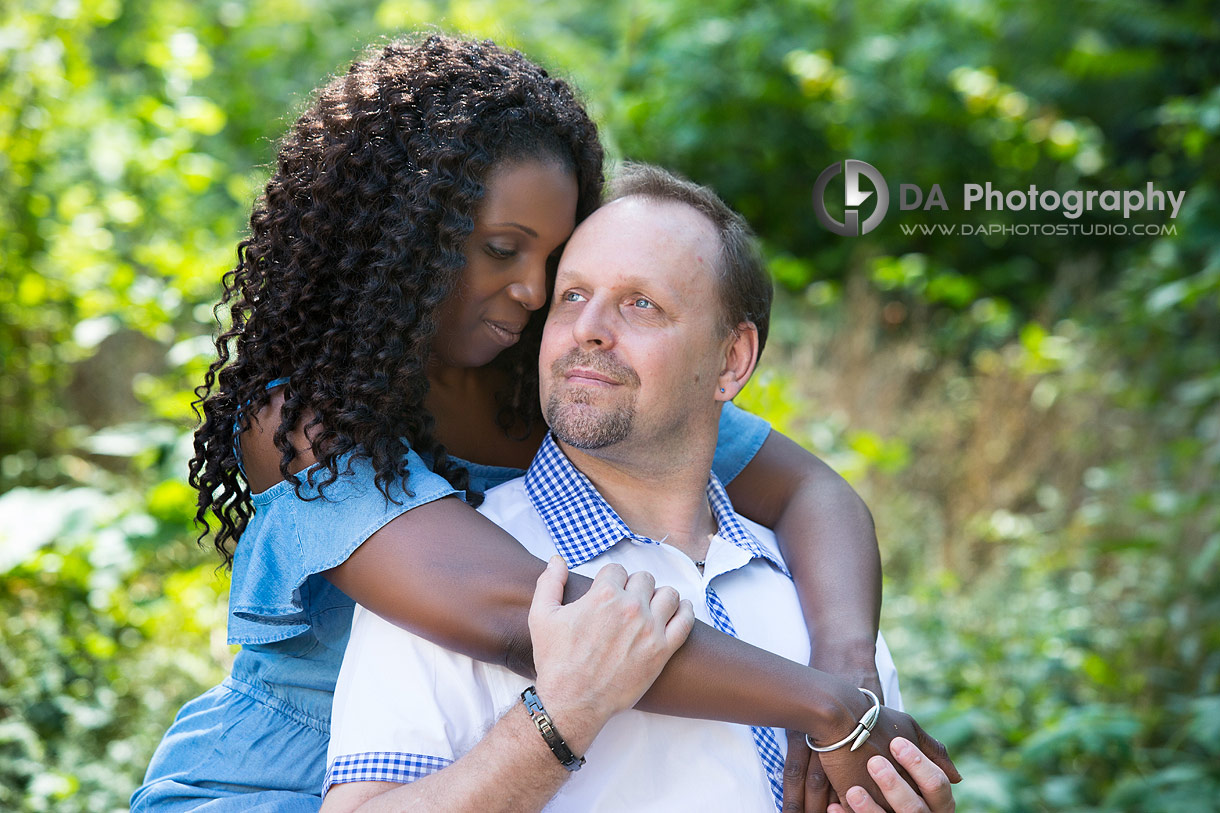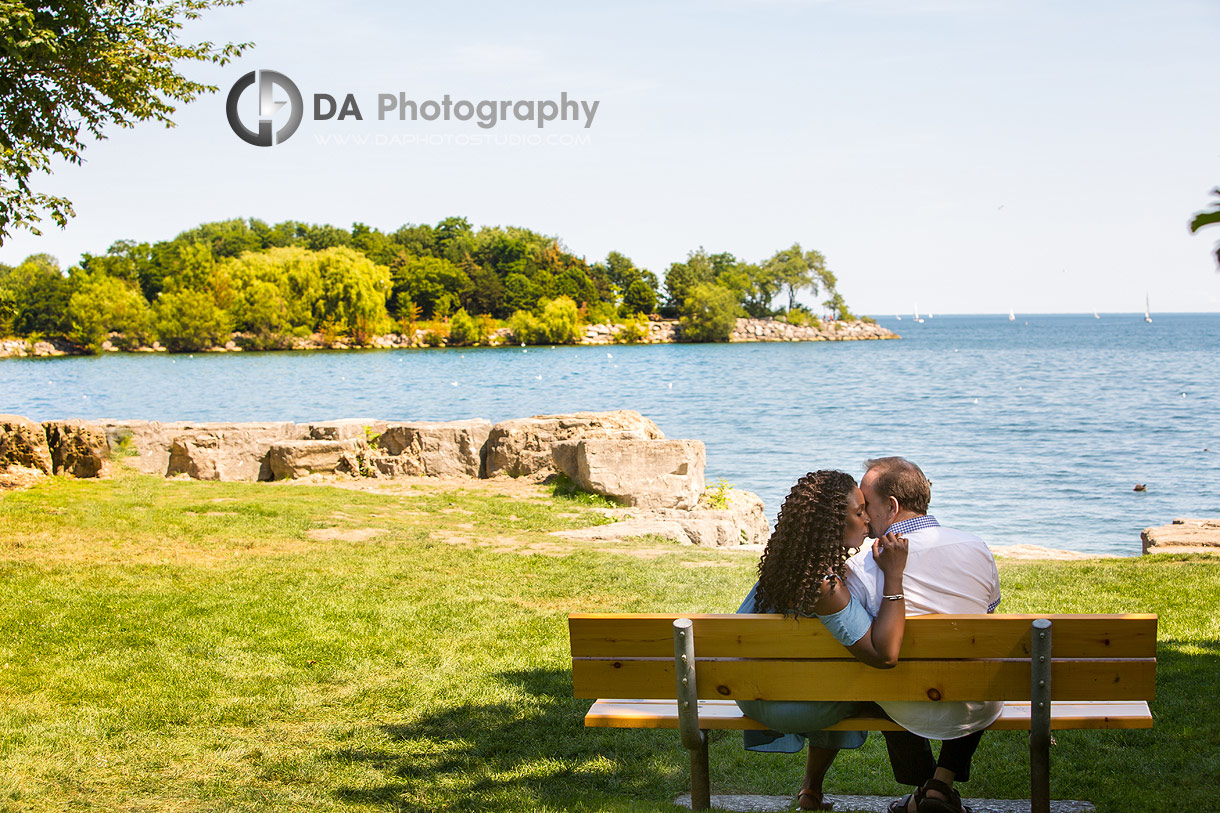 Before the Adamson Estate engagement photos: How we met and connected
I first met Donna when she visited my last Perfect Wedding Show in Mississauga with her mom. Her mom was enjoying looking through my sample albums and kept commenting on how impressed she was with my work. With Donna, we connected over our true love and appreciation of authentic and real photos. We also shared our appreciation of honest two-way communication between wedding professionals and their clients.
Later, during our wedding planning process, Donna confided that she had actually won a free engagement session along with 50% off her wedding coverage from another photography studio. However, Donna determined that our connection and my work was what would be best for their wedding. She knew what she wanted. It didn't matter that she had been offered free coverage because it didn't align with her needs or values.
With such a strong trust and connection established, we set out to capture our first part of the wedding events: Our Admason Estate engagement photos.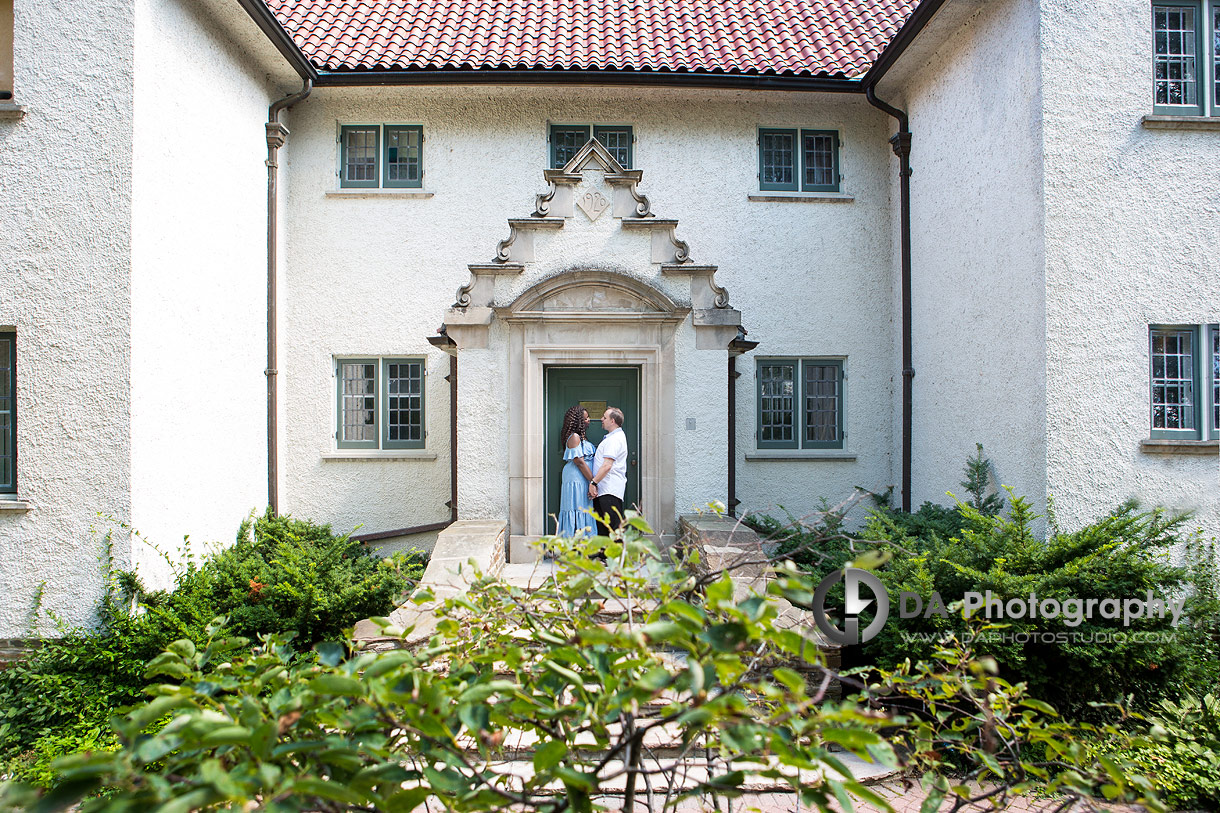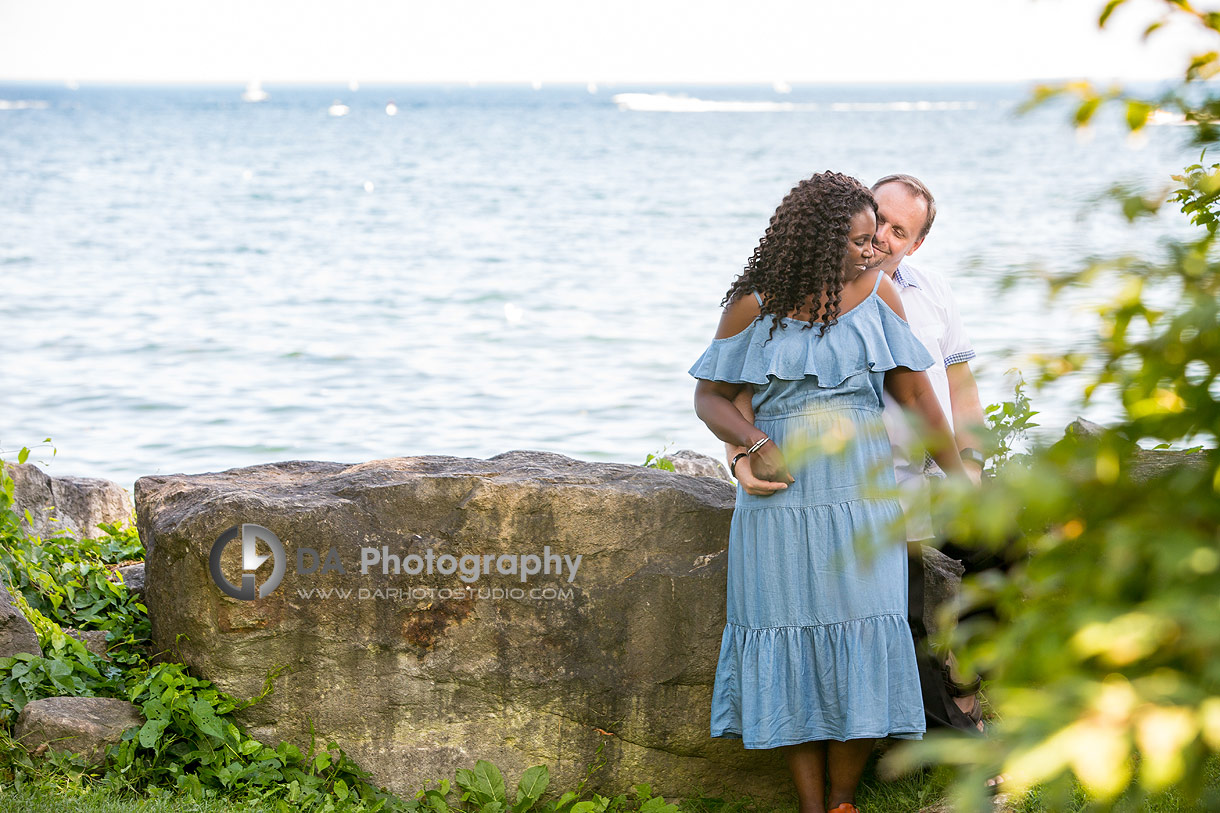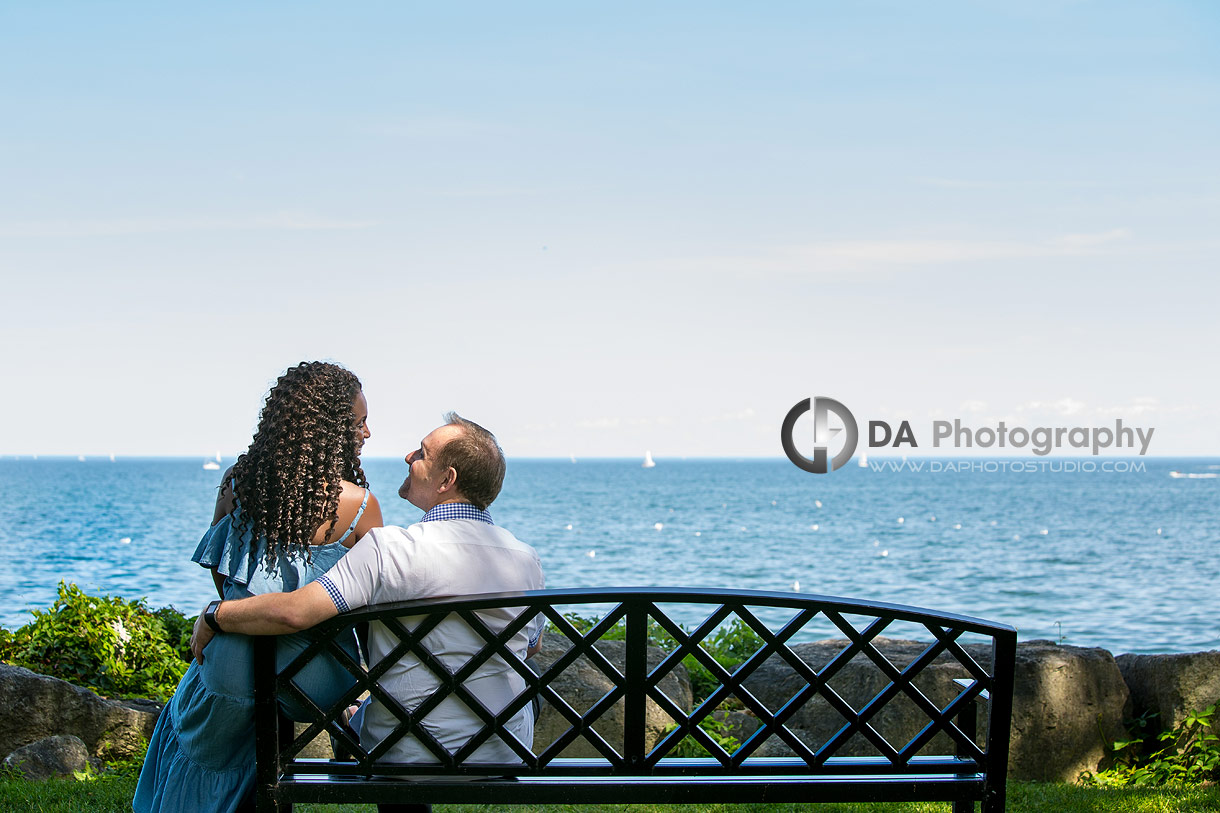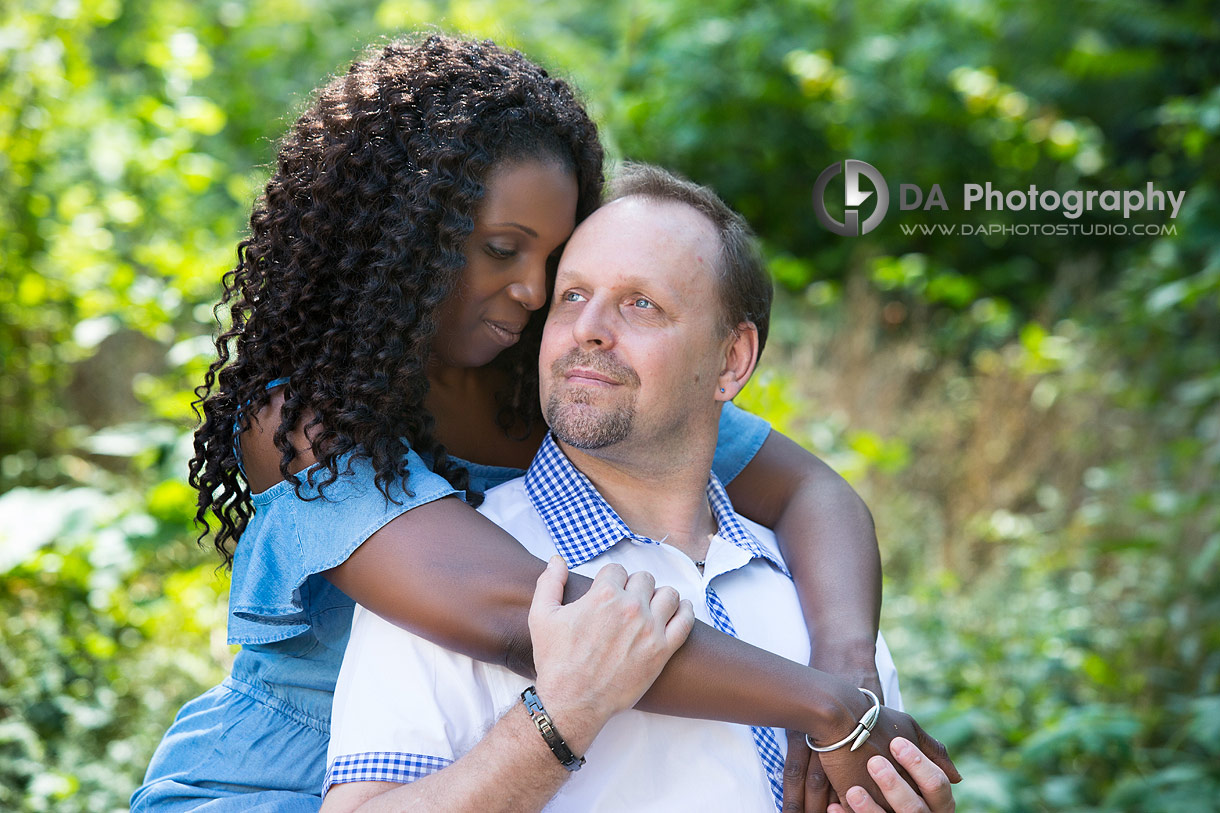 The story behind Donna and Greg's love
Previously, I have shared the story of how Donna and Greg in their wedding day blog I posted earlier last year. For those that may have missed it, I'll give you the Coles Notes version this time. Donna had her car's flat tire fixed at the auto mechanic shop where Greg worked. There, he helped her fix the tire. Unbelievably, the tire became flat again once she arrived home that very same day. So when she called the shop where she had it fixed, Greg offered to come and fix the tire on the spot. Donna found Greg's personality amazing and eventually this connection started to evolve into something much more. Later, Donna and Greg began dating and the rest is history!
To keep the tire theme going, a tire obstacle continued to plague them on their wedding day. The vintage car scheduled to pick up Donna and bring her to the church suffered a flat tire too! It was successfully changed during the wedding ceremony and made a return after. We were sure to take some great photos with it to tell the incredible story.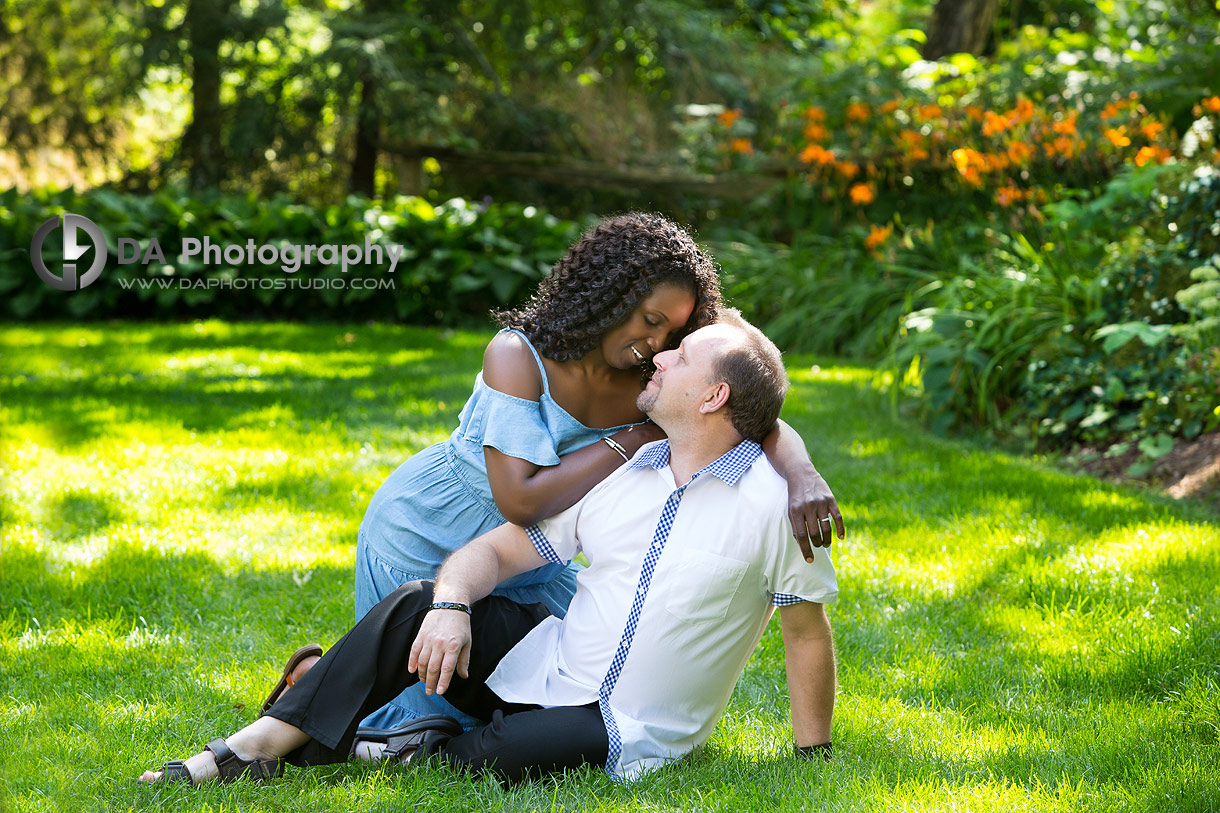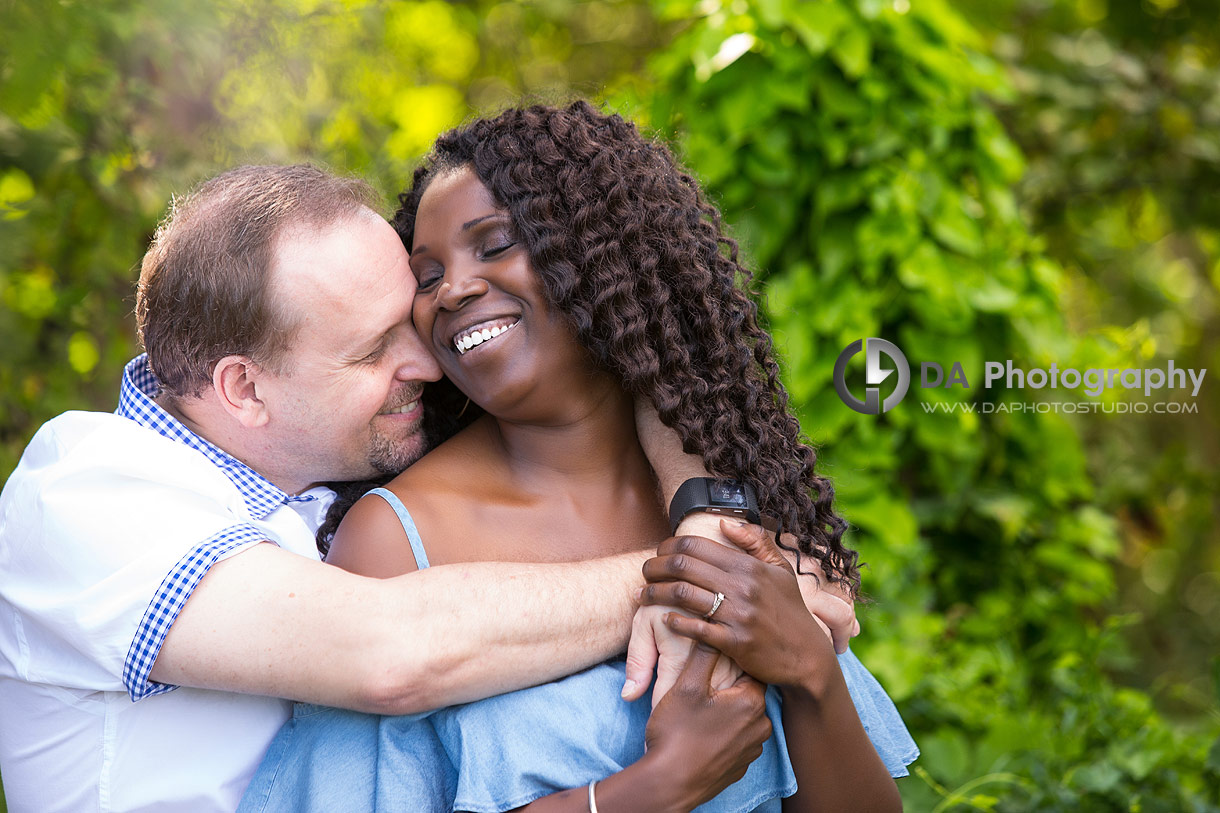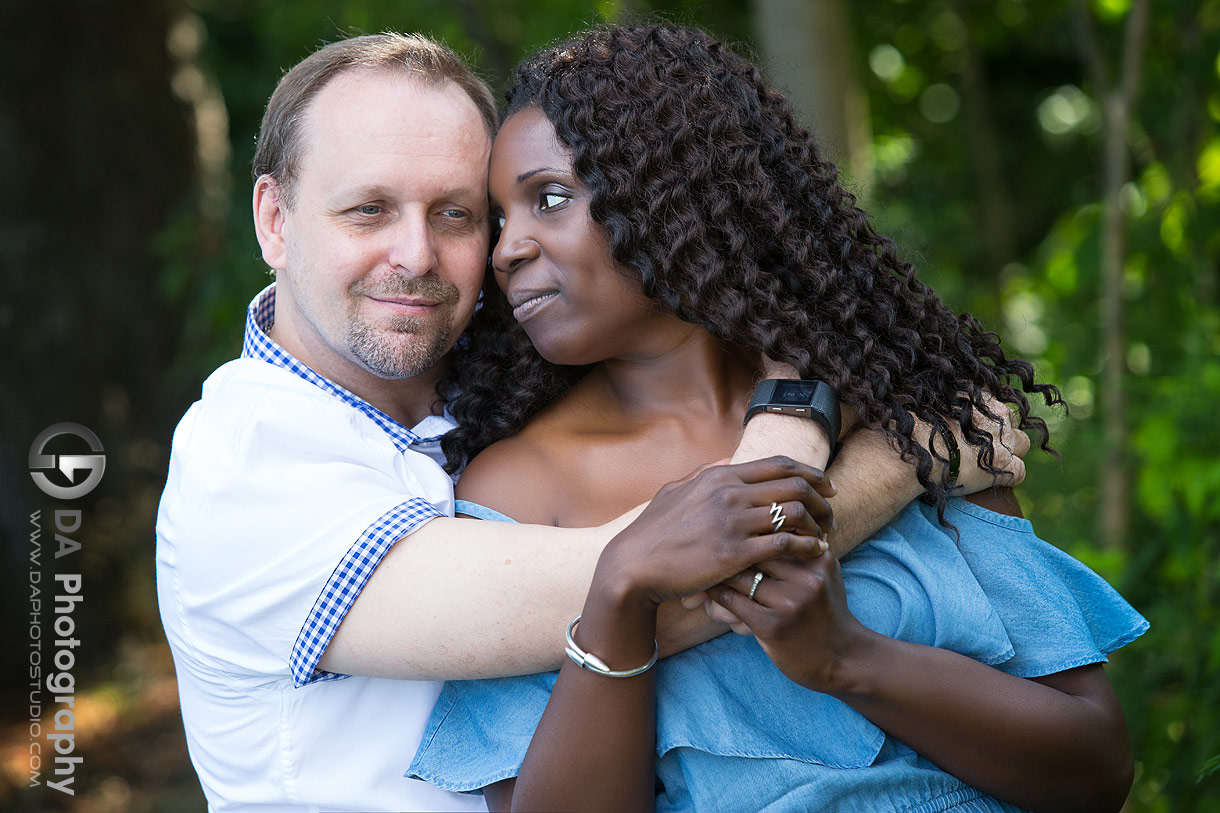 Working the site with easy transitions to new places
Arriving at Adamson Estate, the first noticed the gorgeous breeze off of the lake. Between the breeze and the shade of the huge branches of the old trees on site, it was such a relief from the hot August heat.
We began the session with photos by the front of the barn and it's wooden plank doors. Being the first time we were working together, I gave them time to connect with each other. This slow introduction to the session really helps my clients relax and begin to feel comfortable with me (a stranger until now!) taking their picture.
Noting what each of them prefer, I began introducing them to the site and using each of the Adamson Estate's natural props. We took photos by the pond's little bridge, in the garden area by the lake and in front of the estate. I could tell that Donna was enjoying the session. Along the way, I started to also gain Greg's trust as he relaxed and began listening more to my instructions.  That is what I wanted it!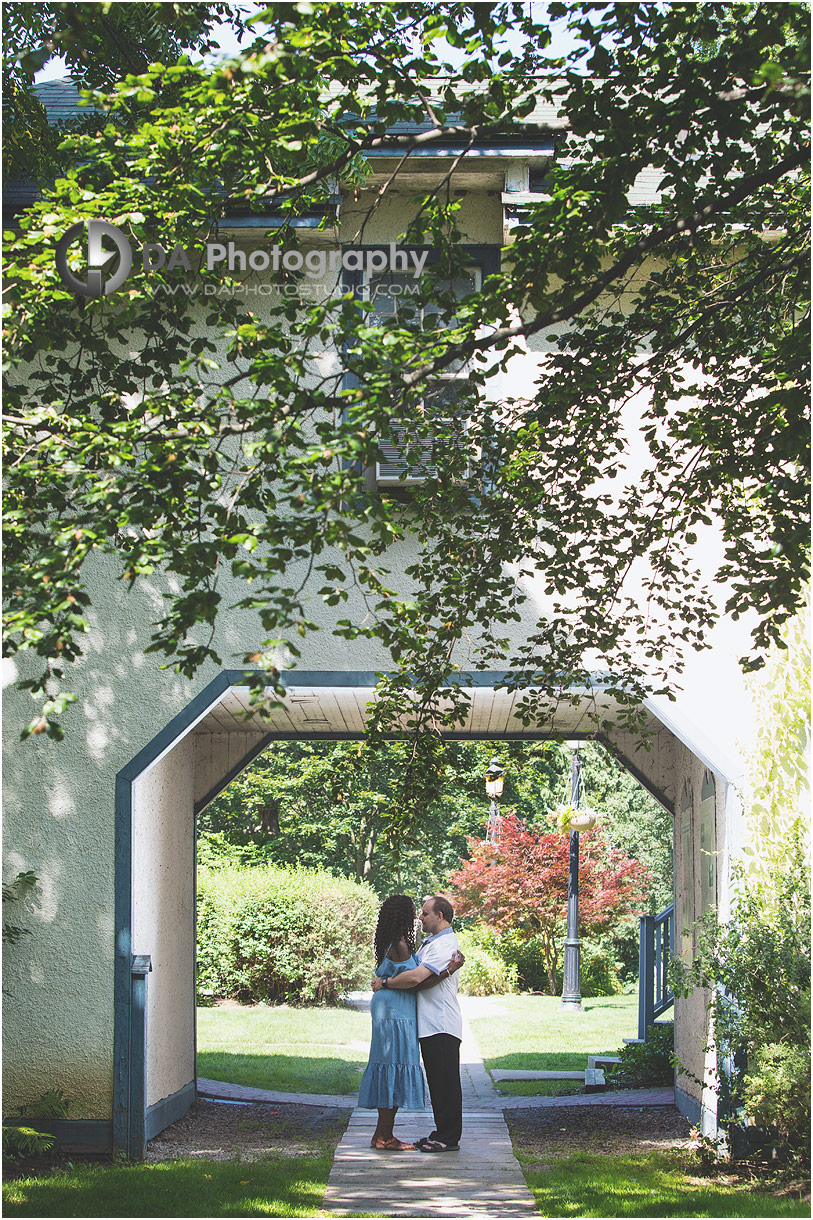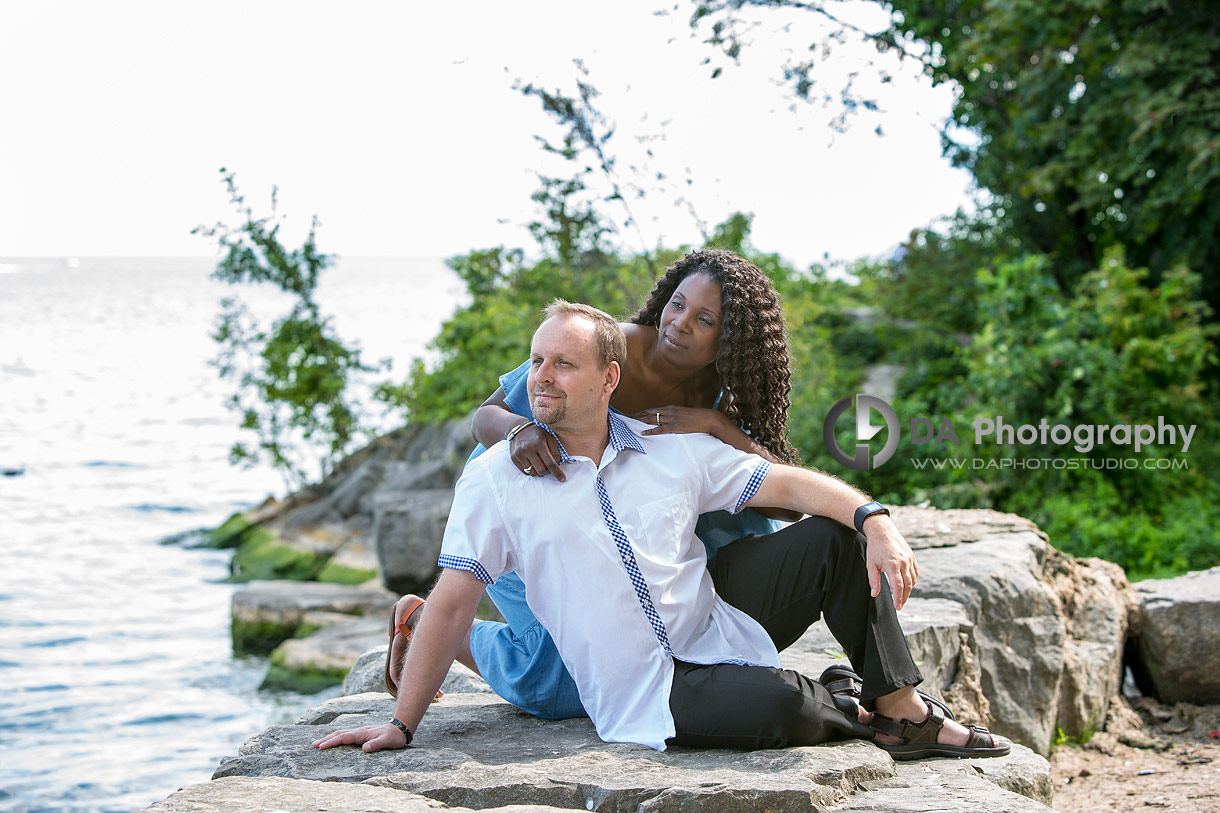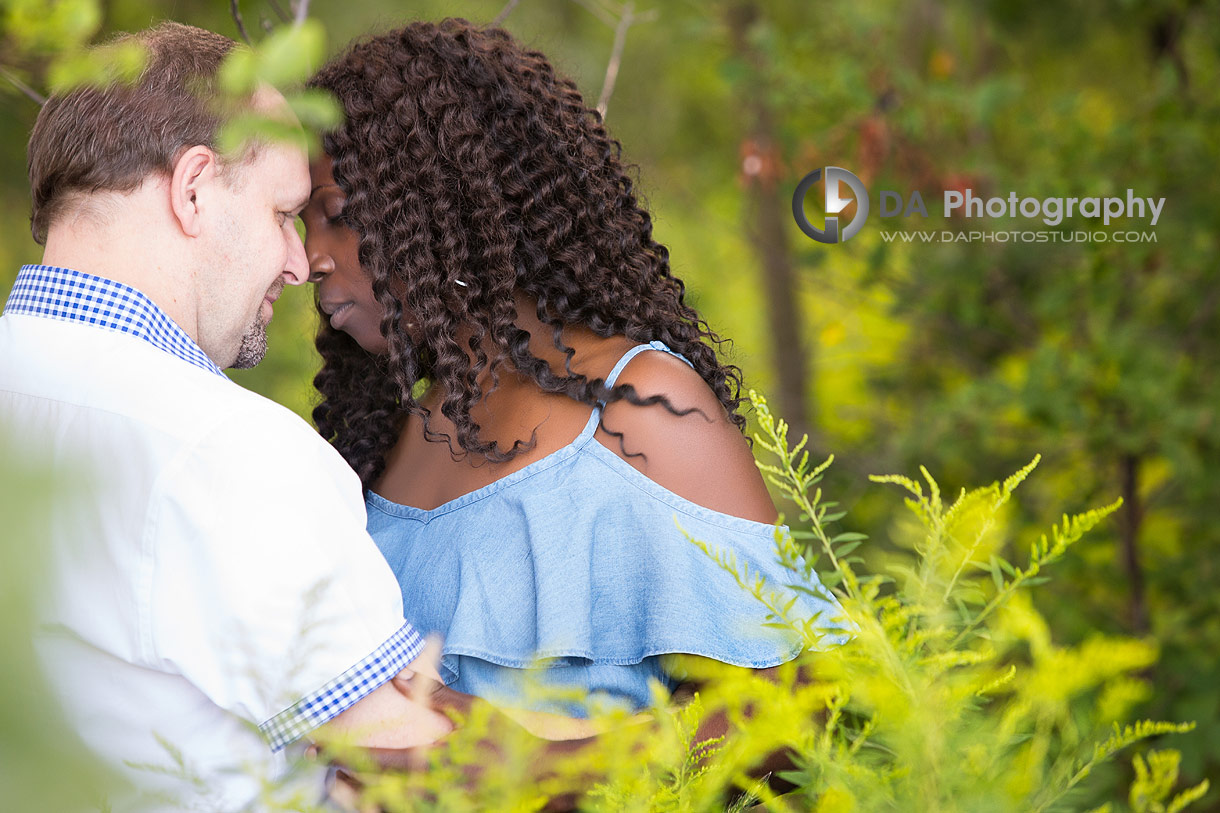 Why this location is worth mentioning
With their connection increasing, we moved closer to the water. Walking between the forest and the big boulders that protect the estate from the lake's waves, I saw the perfect spot for just the two of them. It was secluded and perfectly lit; the best circumstances for these two lovebirds. There was no need for any sort of instructions or even a word from me! They were in the moment and I was happy that I could photograph that for them.
The beautiful greenery behind them outlines their silhouettes while the reflection from the lake gave me the perfect light to work with. It created a bouncing light that is smooth and great for any skin tone.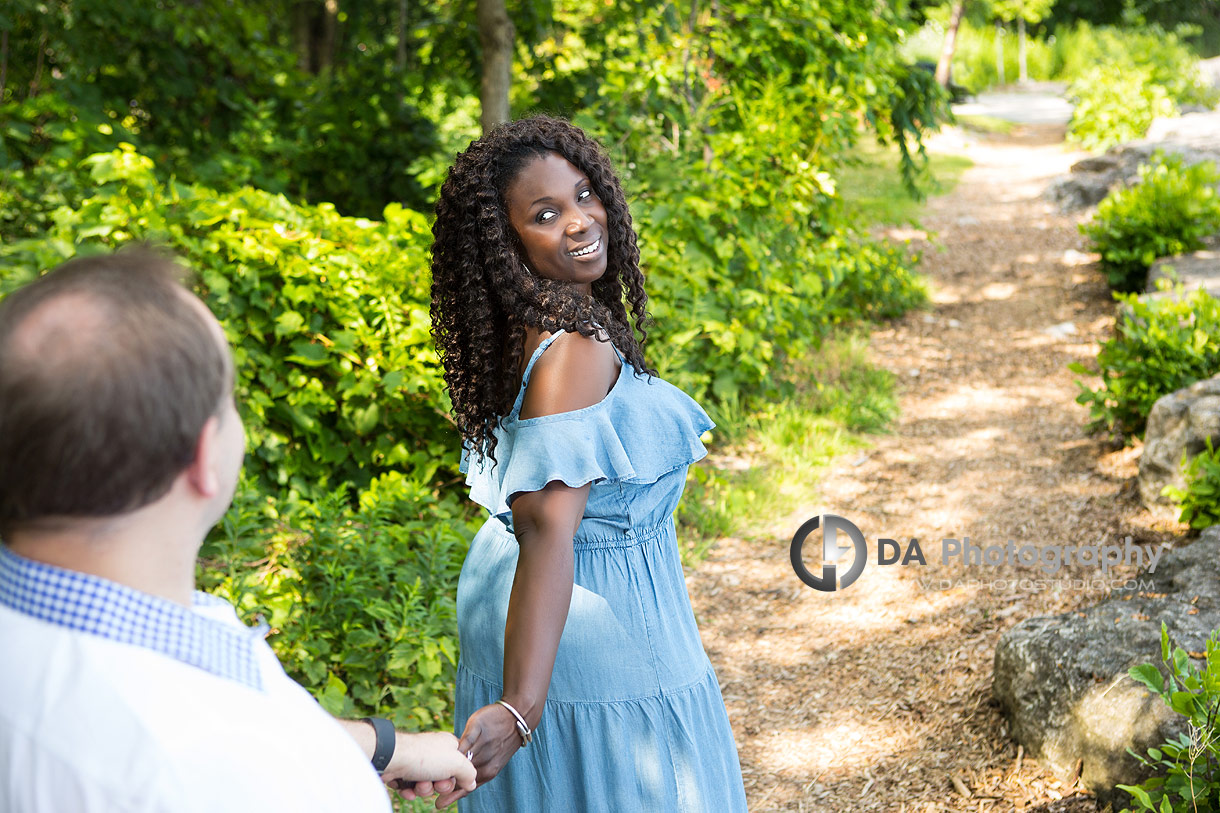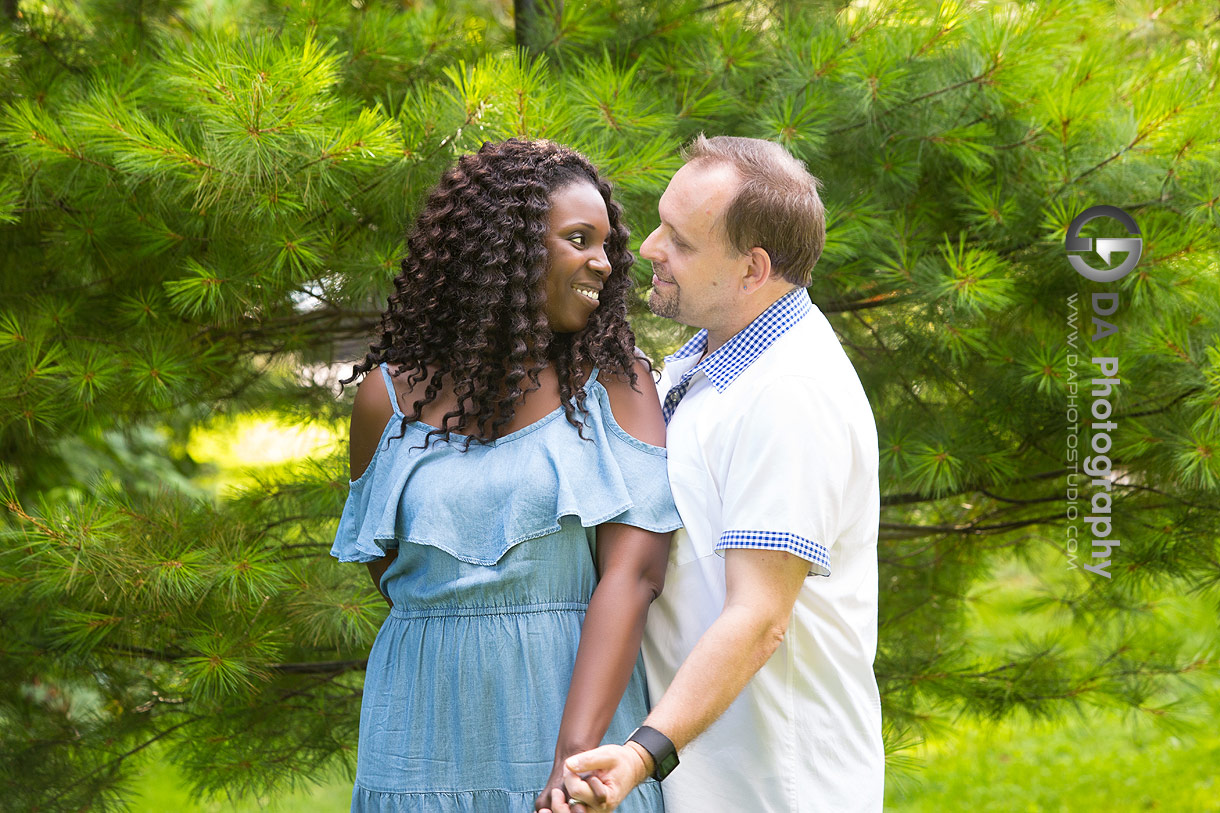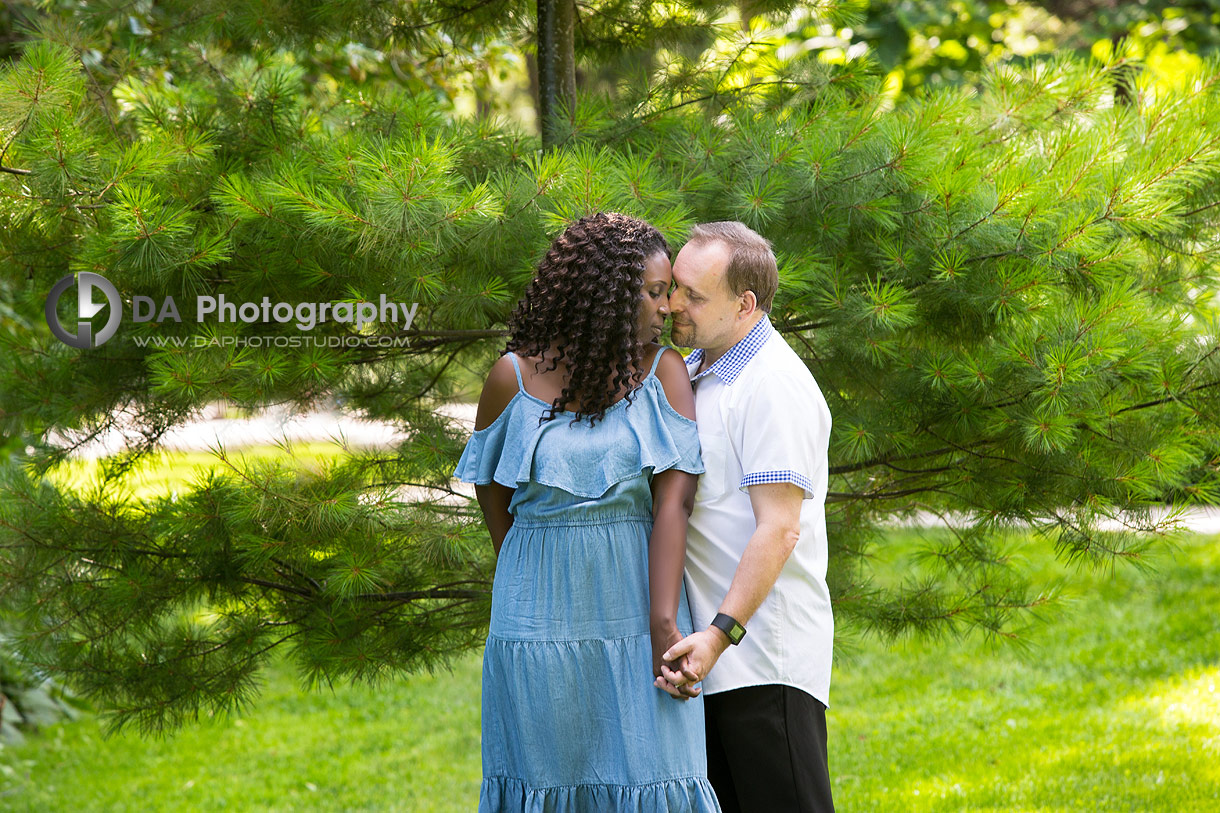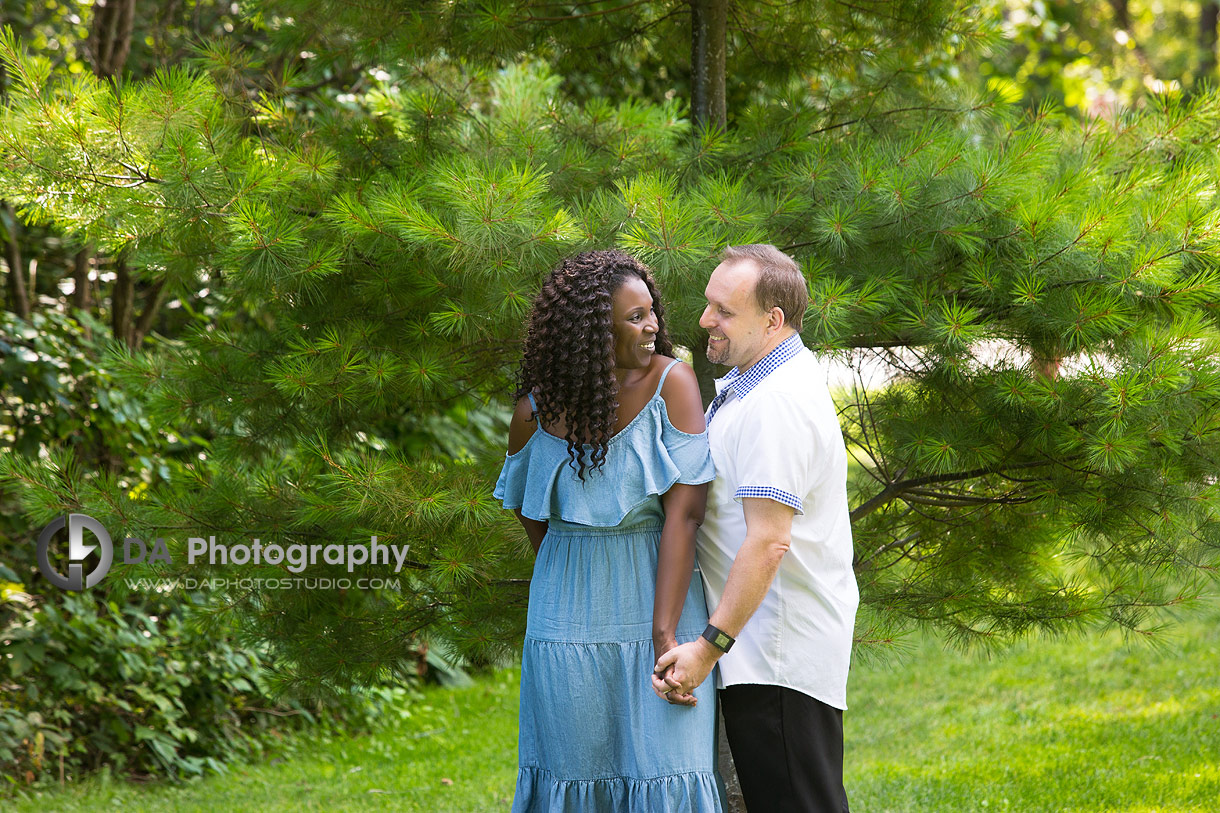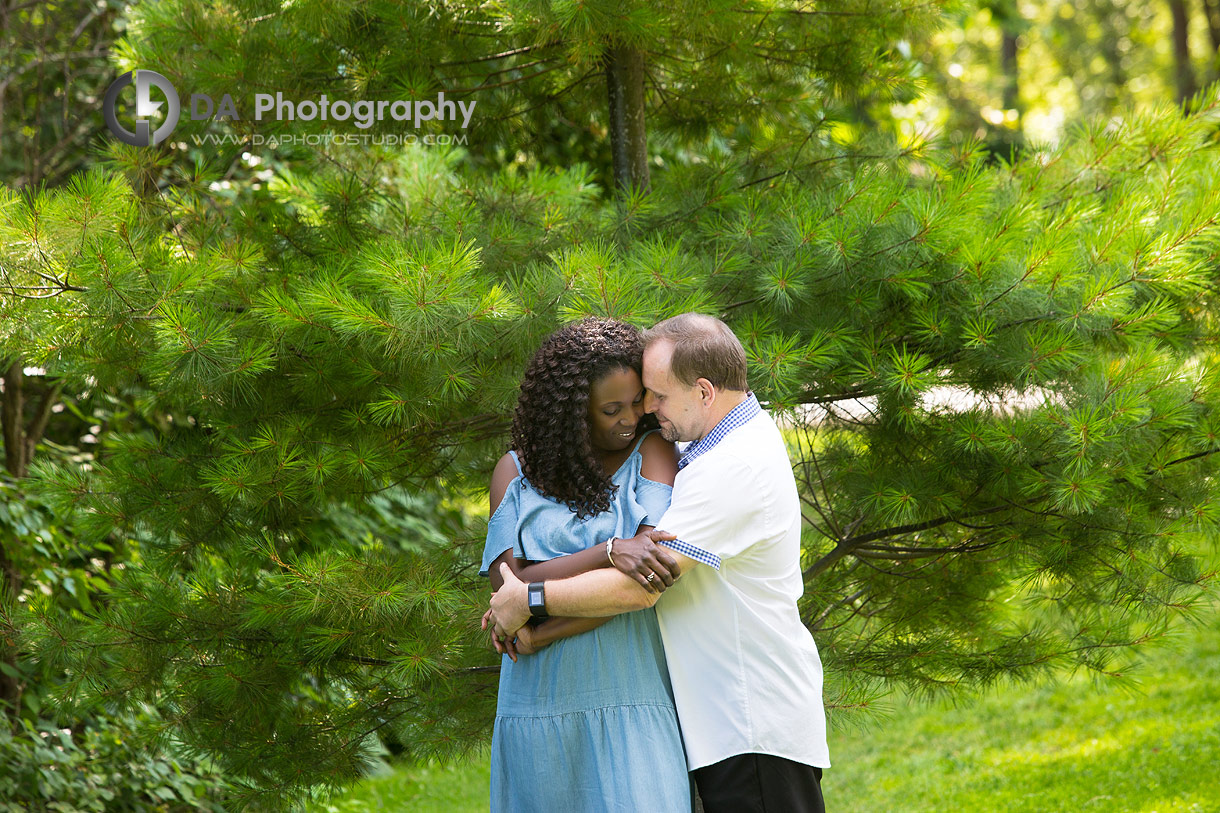 Next Chapter: Donna and Greg's wedding story continues on their wedding blog
Finishing their relaxed Adamson Estate engagement photos, I was happy that we were able to build trust together and set the expectations for their wedding photos.
The hard work was worth it. Donna and Greg's wedding day was amazing! When choosing a Spring wedding, they did not know what the weather would be like. However, their memories were perfect. The weather was colder than usual for that time of the year. But that did not stop Donna and Greg with their friend and family to celebrate their unity! I feel extremely blessed that I had chance to work with such great people as Donna and Greg. Looking forward for many more happy moments to be shared with these two.
Here is a link of their full wedding day blog post.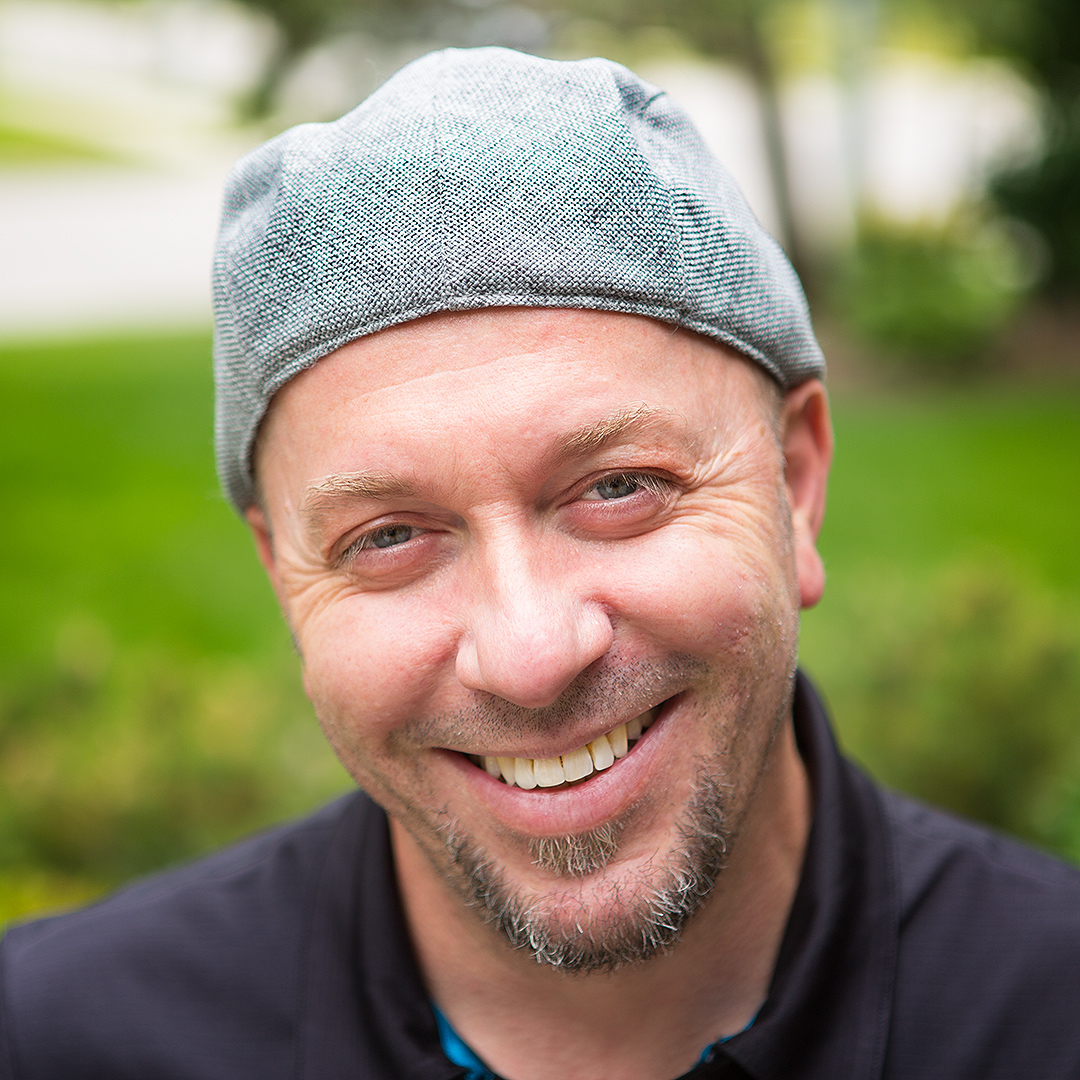 My passion and biggest asset is taking the time to make every client comfortable and relaxed before I even pick up the camera. The result? Photos of you that actually look like you at your best! I can prove to you how much you can enjoy having your picture taken. Lifestyle photography is about the experience that happens to be served up along side of some great photos.
Specialties:
Family Photography for families that like to move around and enjoy their photo time, Wedding Photography for couples looking for a mixture of photojournalistic, contemporary and traditional images and Professional Corporate headshots that are far from cheesy and stiff.