Purposefully creating and capturing your family memories becomes a priority from the moment that you really understand the importance of it. For some people, this happens as soon as they are married and begin their life journey. For others, sometimes it's a life lesson makes the importance of preserving those memories just that much more worth doing.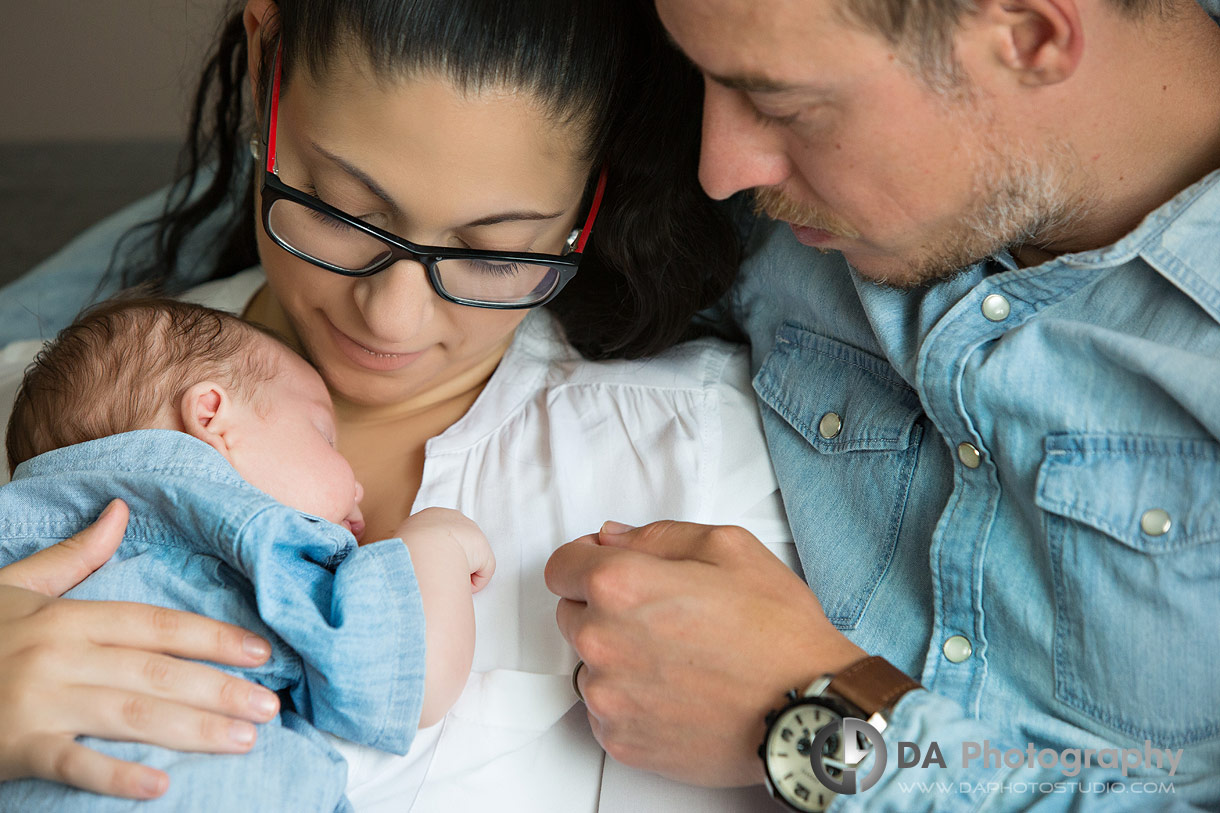 Building family memories through photos
One way of building your family memories is through photography. Photos are a great way to freeze a moment to relive for years to come. On your life journey with your new family, it probably begins with engagement photos, then through the images of your wedding day and then so on through the years.
One momentous milestone in your family memories would be the birth of your first child. Speaking from experience, it's definitely a life-changing occasion! Those moments are ones that you would like to record and treasure for yourselves as well as the baby and your entire family. There is just something awe-inspiring about the time that your child was as small as your hand. At the same time, isn't amazing how young and fresh you were at that time too?!
Photos and videos are a way to record special family memories. They give us the security that they will be preserved for times to come. You have so many memories worth revisiting and cherishing with your loved ones.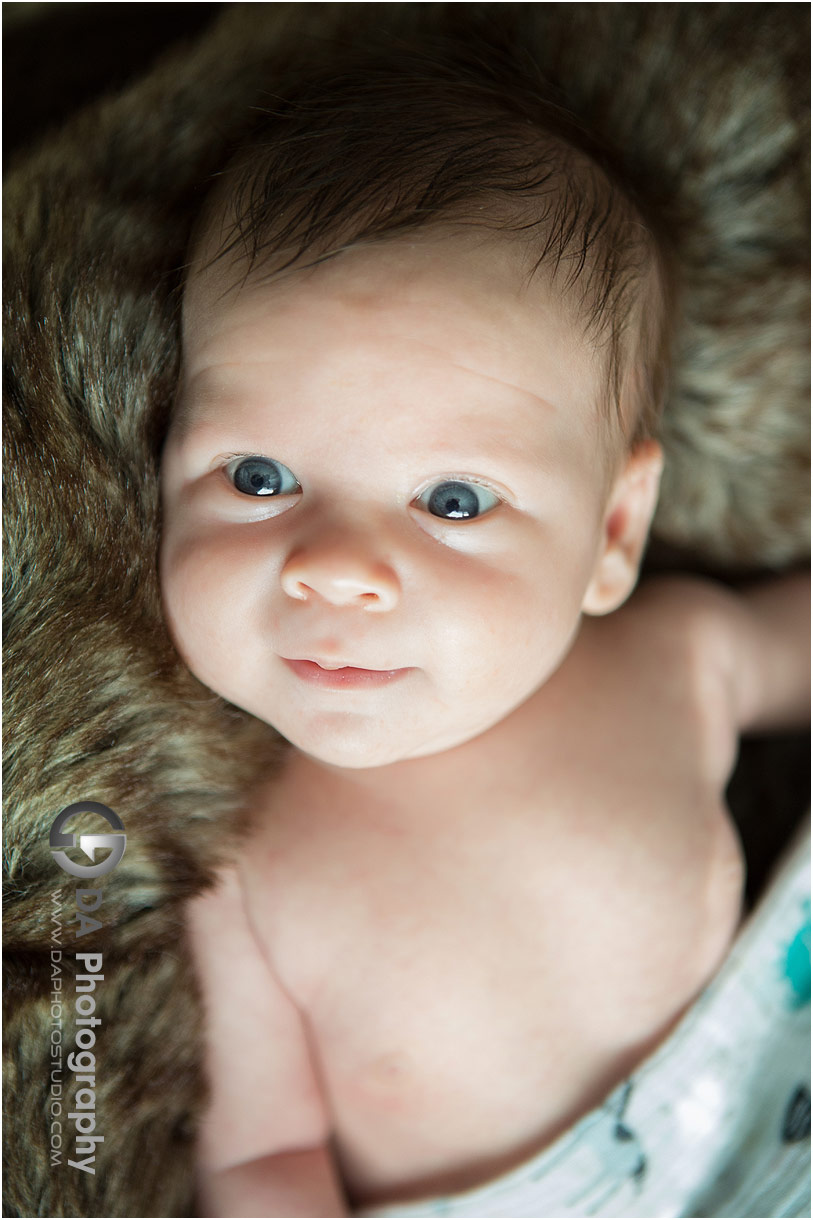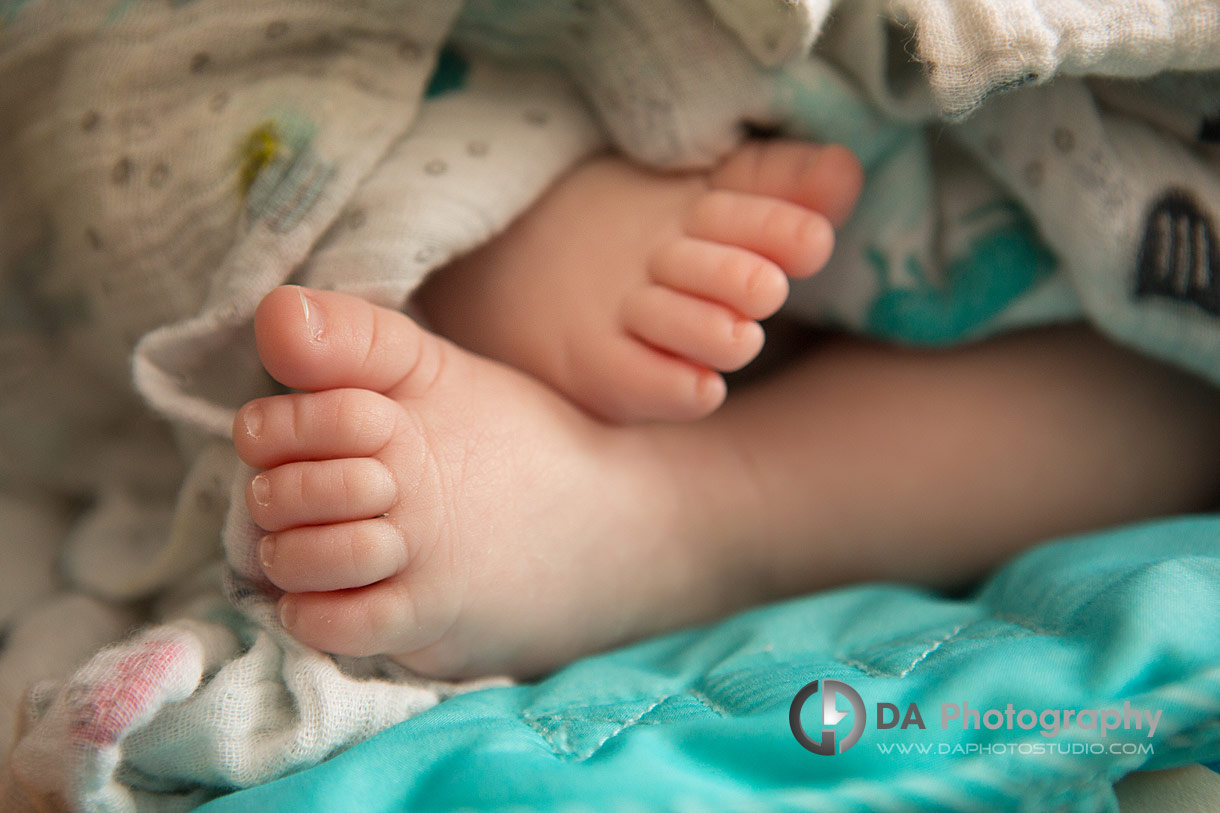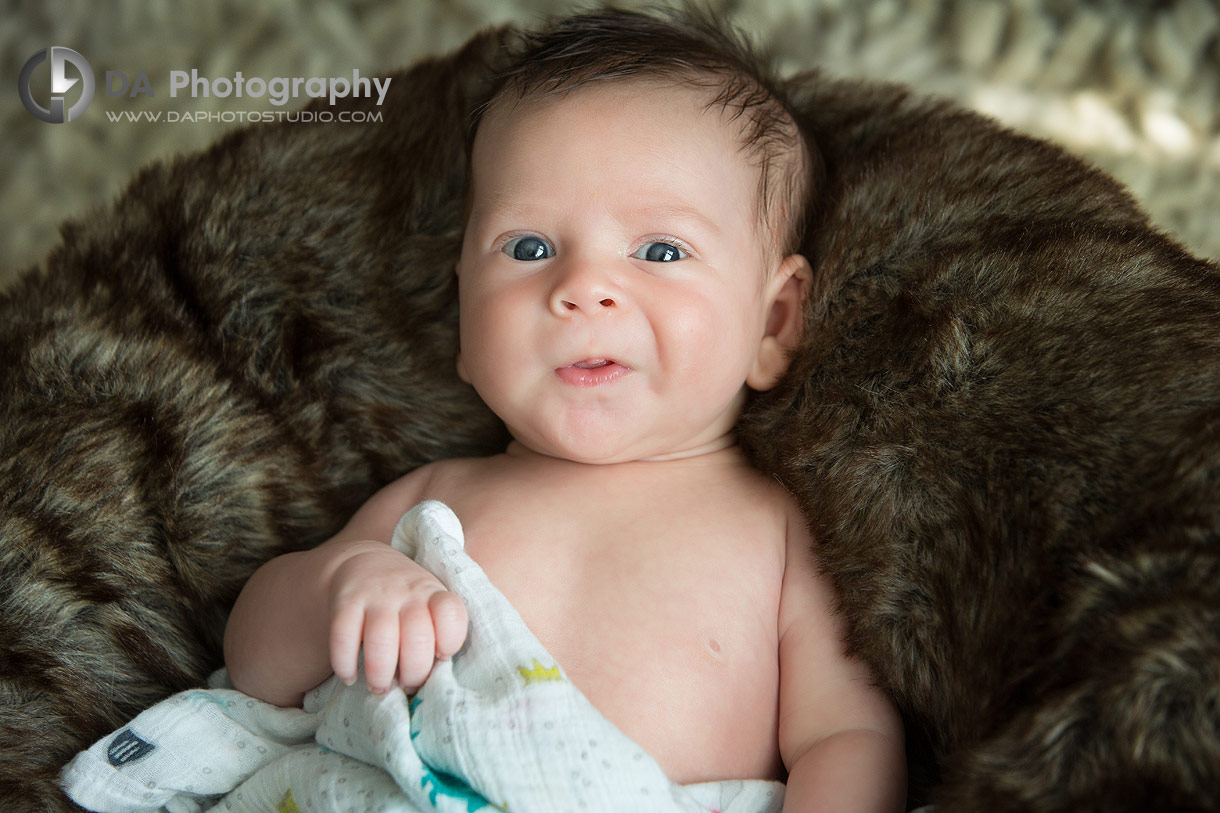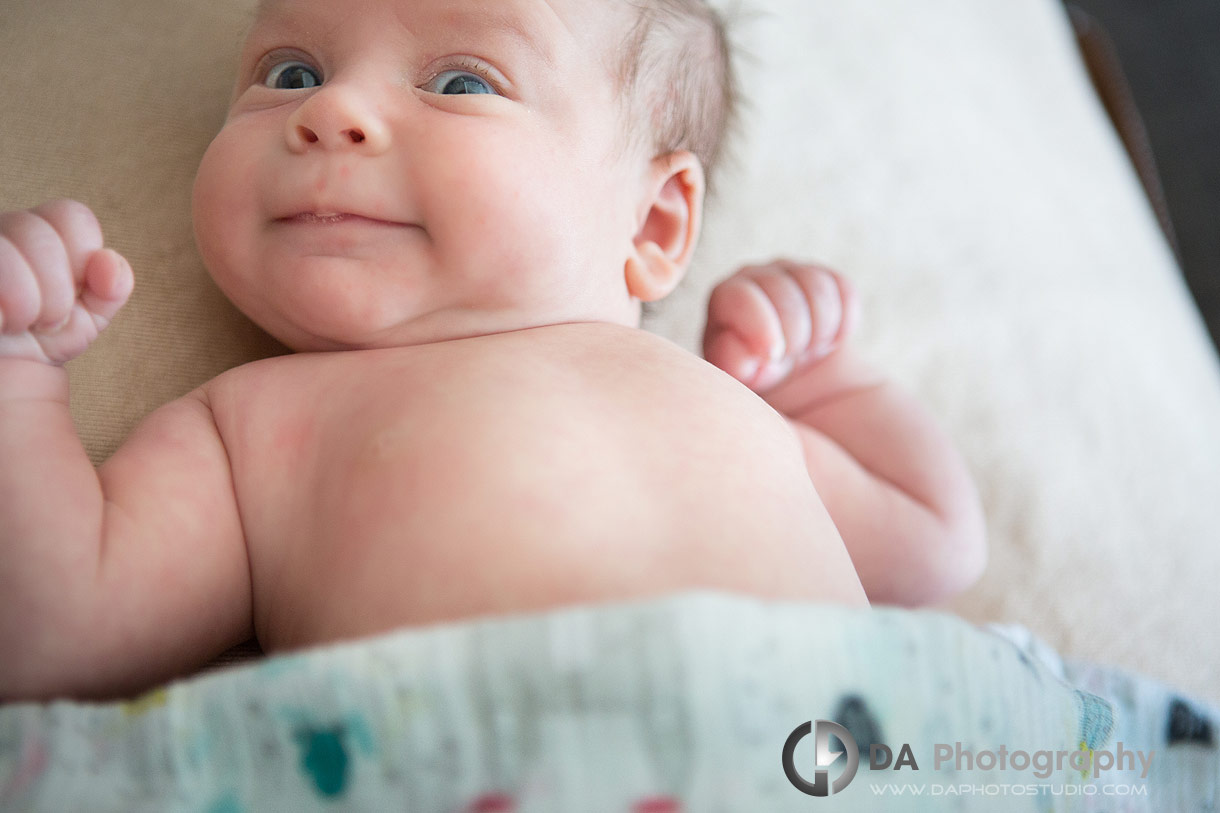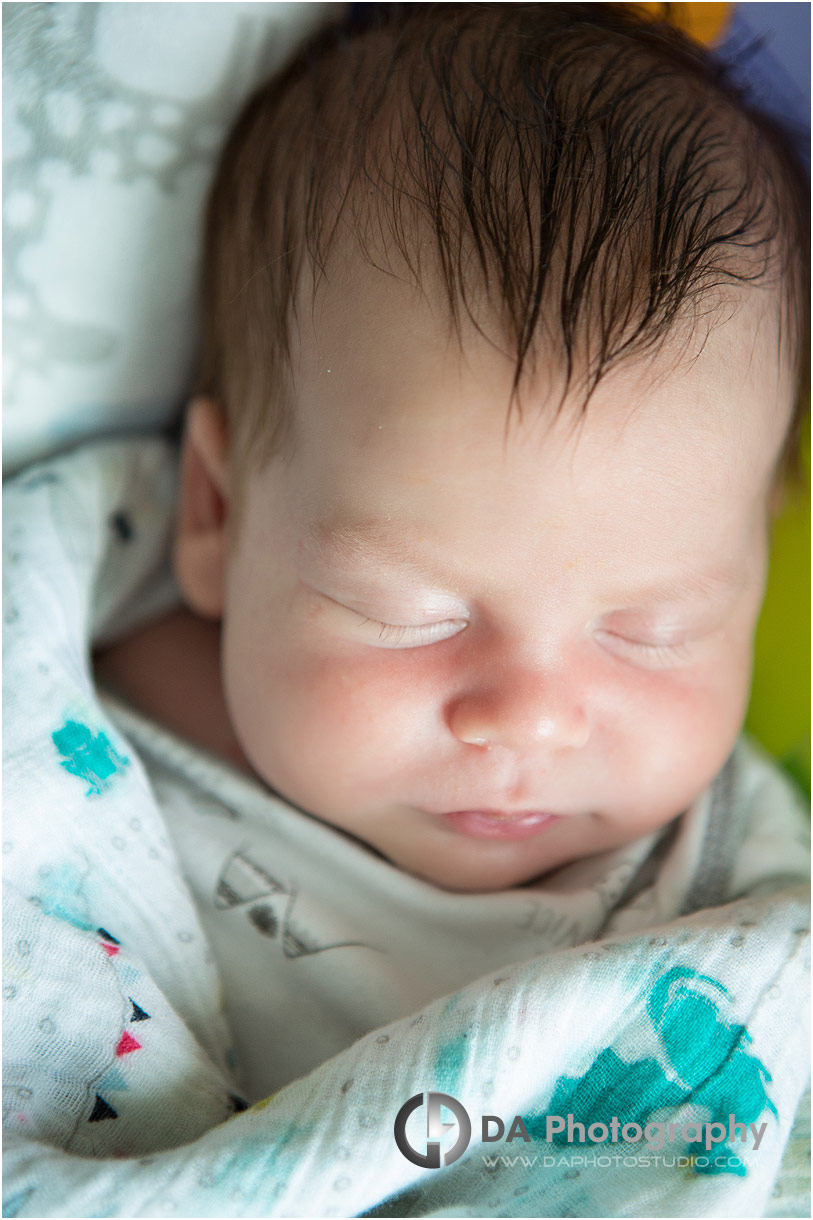 How I got to know Gianluca's parents
Daniella and Steven were one of these types of young families. It was long before they started to plan to grow their family that I first got to know them.  I had the pleasure of being their photographer for their amazing  Niagara on The Lake engagement at Two Sisters Vinery.
I also had the opportunity to capture memories for them at their big Italian wedding at Carmen's in Hamilton. They are so much fun. Truthfully, I thoroughly enjoyed working with them and getting to know them both personally. Daniella's kindness and friendliness is truly one of a kind. At the same time, Steven's characteristics are out of this world too. He is a person who would give everything in his power to help out another.
I was so happy for these two wonderful people when I heard that they were expecting their first child. Once little Gianluca arrived safe and sound, I couldn't stop thinking about when we would be documenting their beautiful family photos.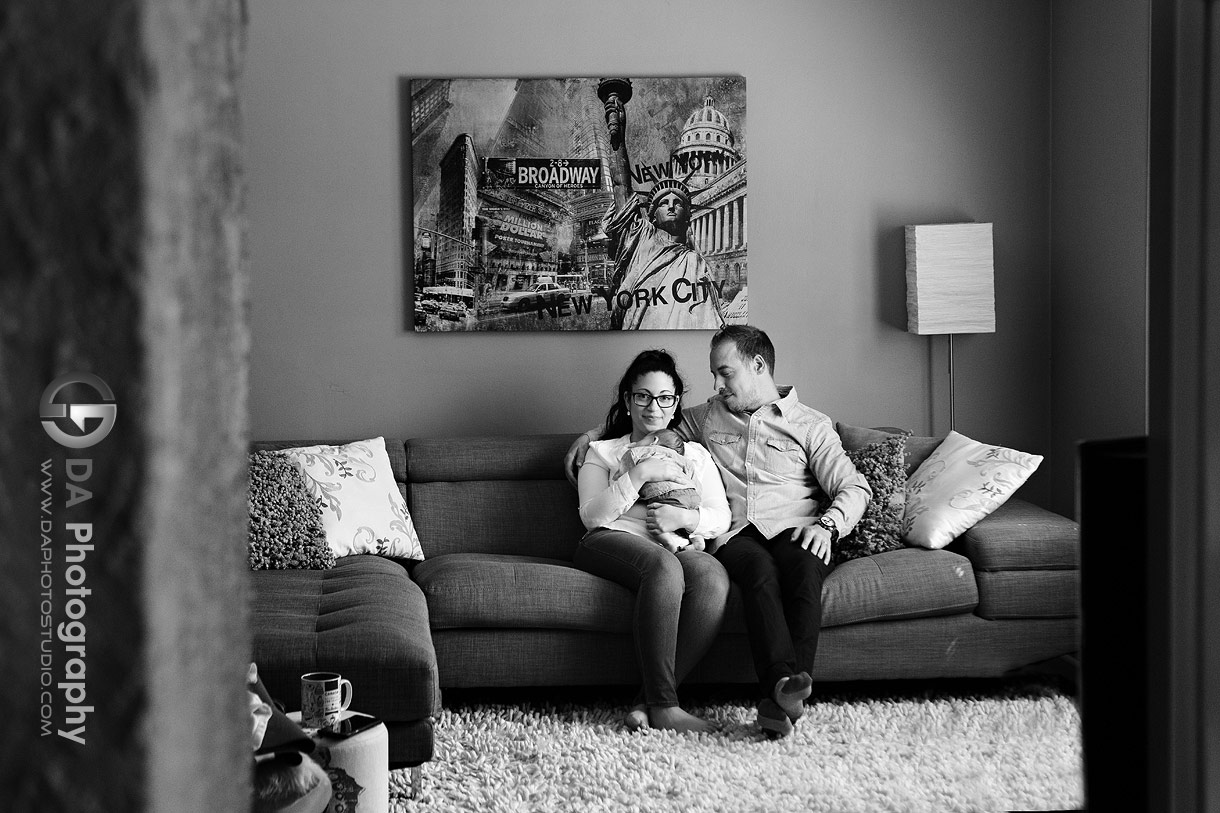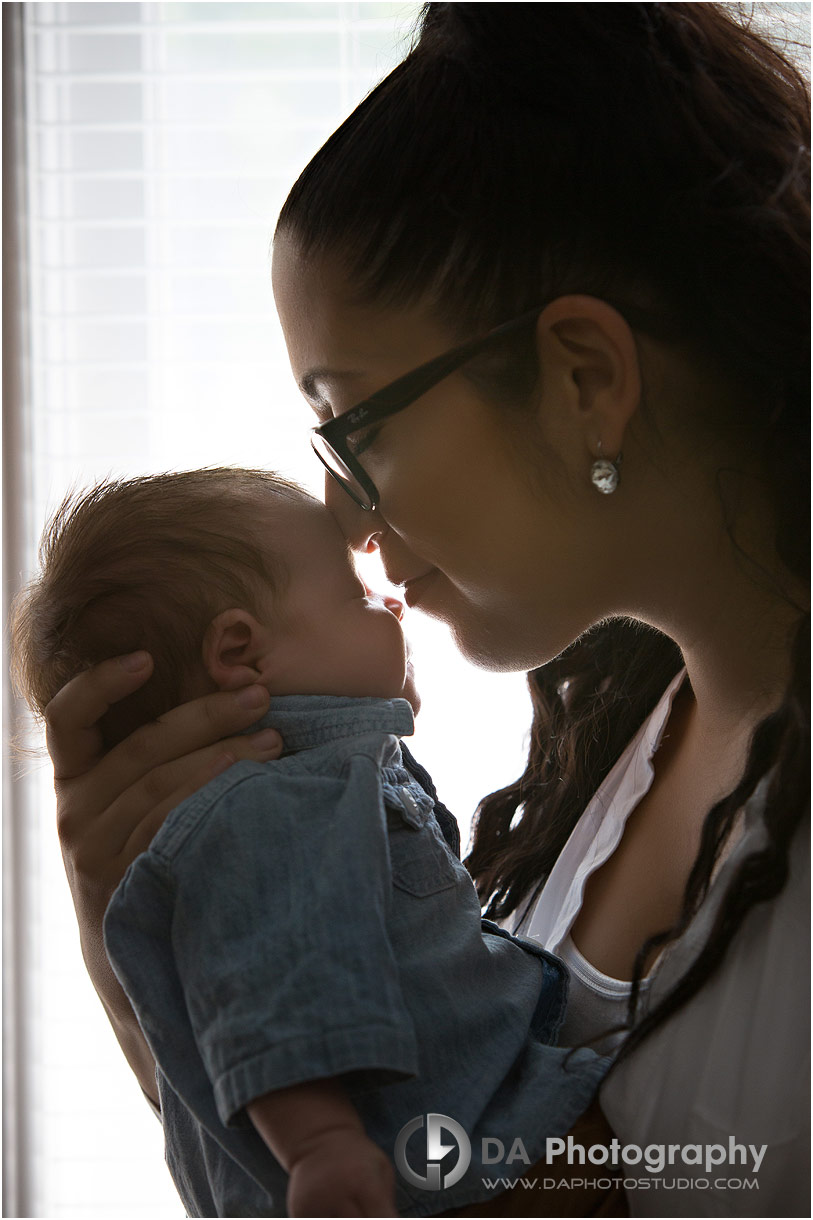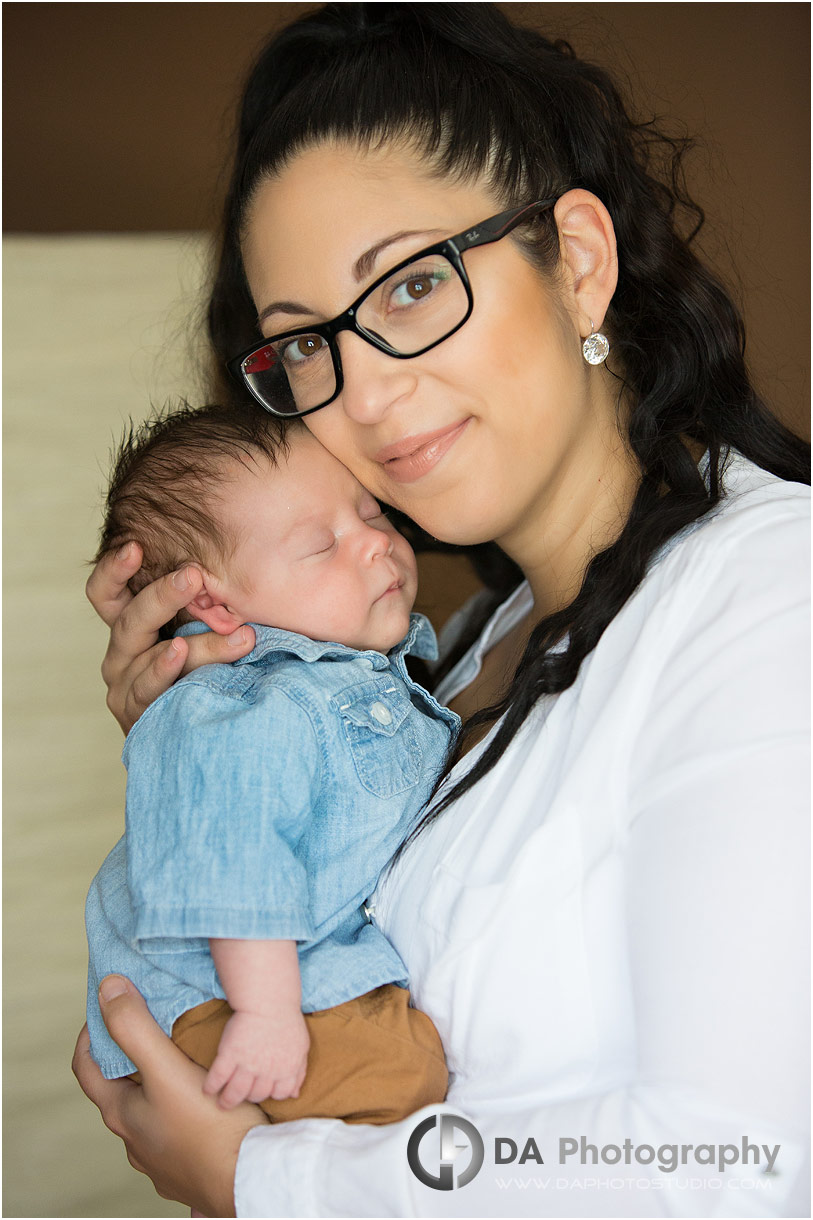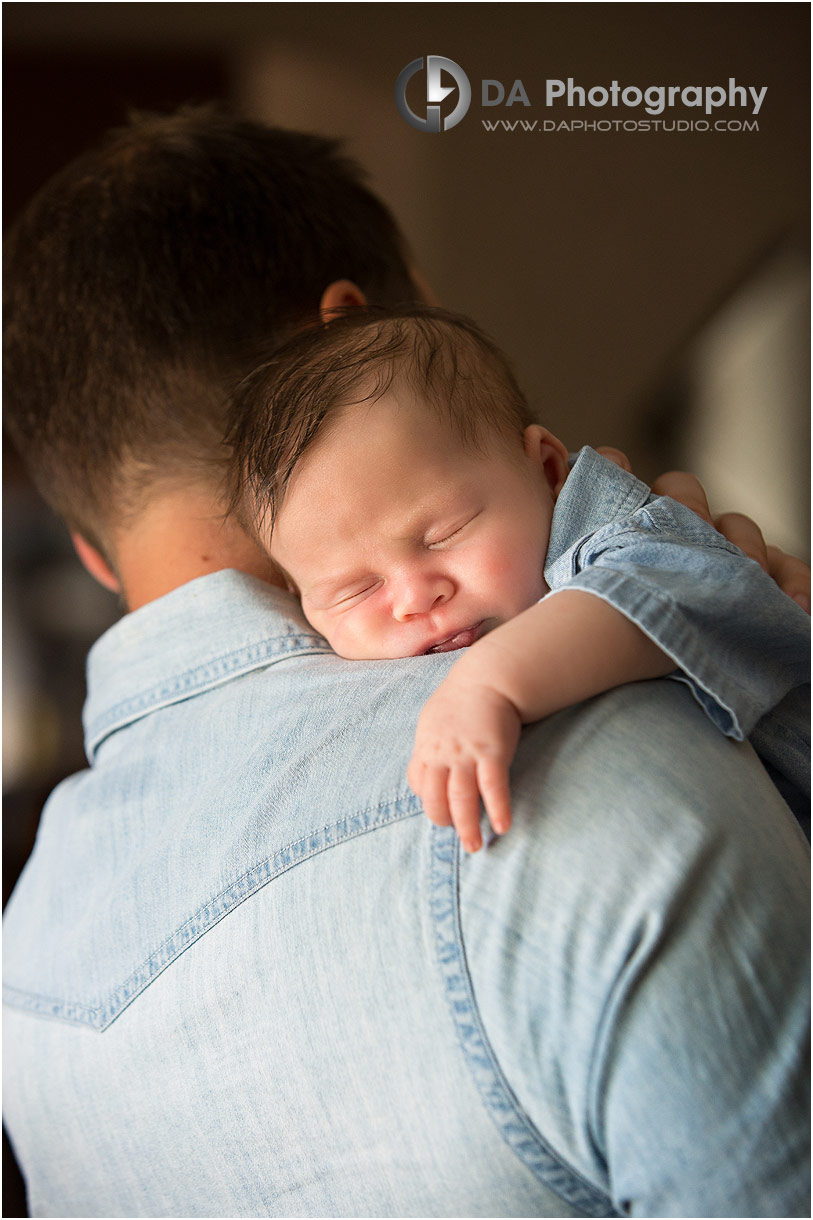 Working with my past wedding clients and reliving my family memories
It's such a blessing to work with the newborns of couples that have been my wedding clients. Because I knew their parents from a different time in their lives, it's especially sweet to see their joy and excitement in this new scenario. I compiled all of my years of experience working with them and getting to know them while preparing for the newborn session. This helps to create a perfect people profile that personalizes the session into a custom made experience designed for these parents and families only.
The beauty of working with new families is that I relive the moments when my own children were at this stage. Having these wonderful flashbacks makes me appreciate my family even more every time I capture these types of photos. Once home, I tend to revisit my own family memories and reconnect to those moments that make me so proud. Lately, my two sons have also been joining me to look back through these photos which just makes the experience that much sweeter. It's such a blessing to have them in our lives!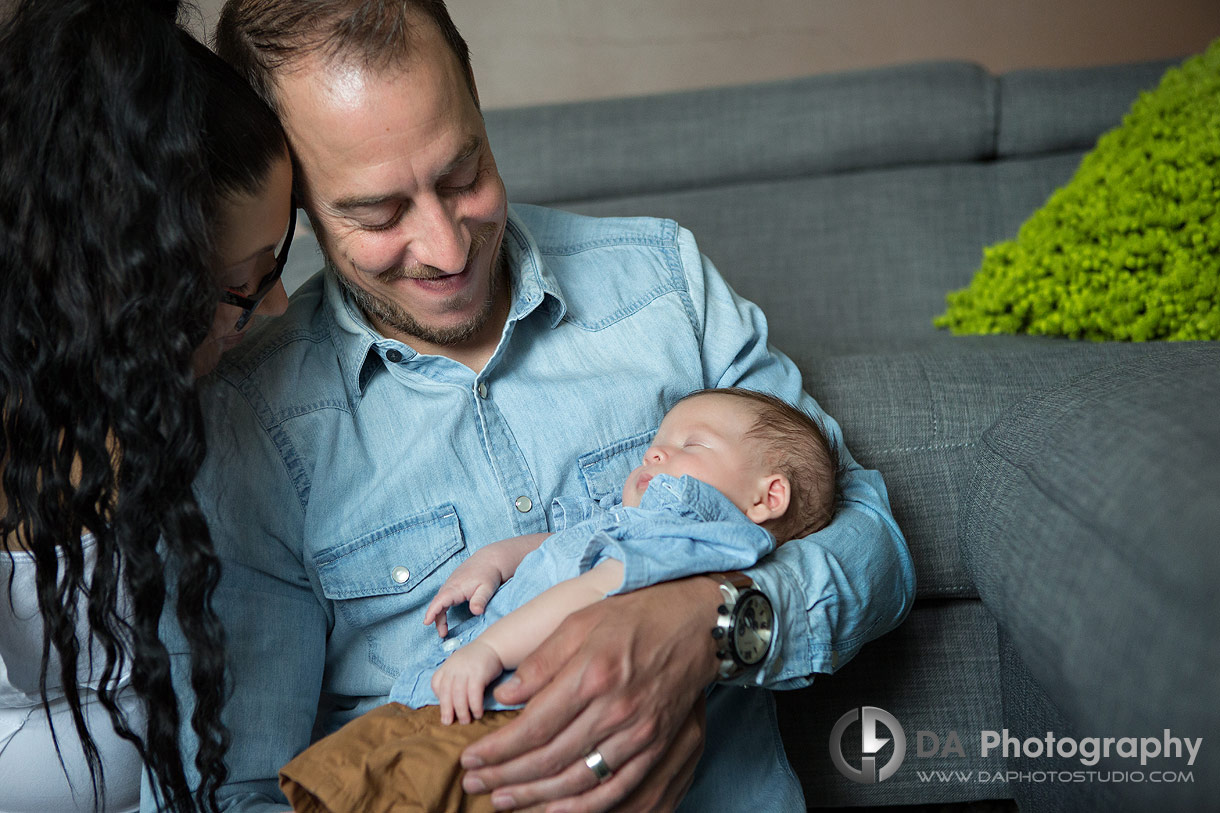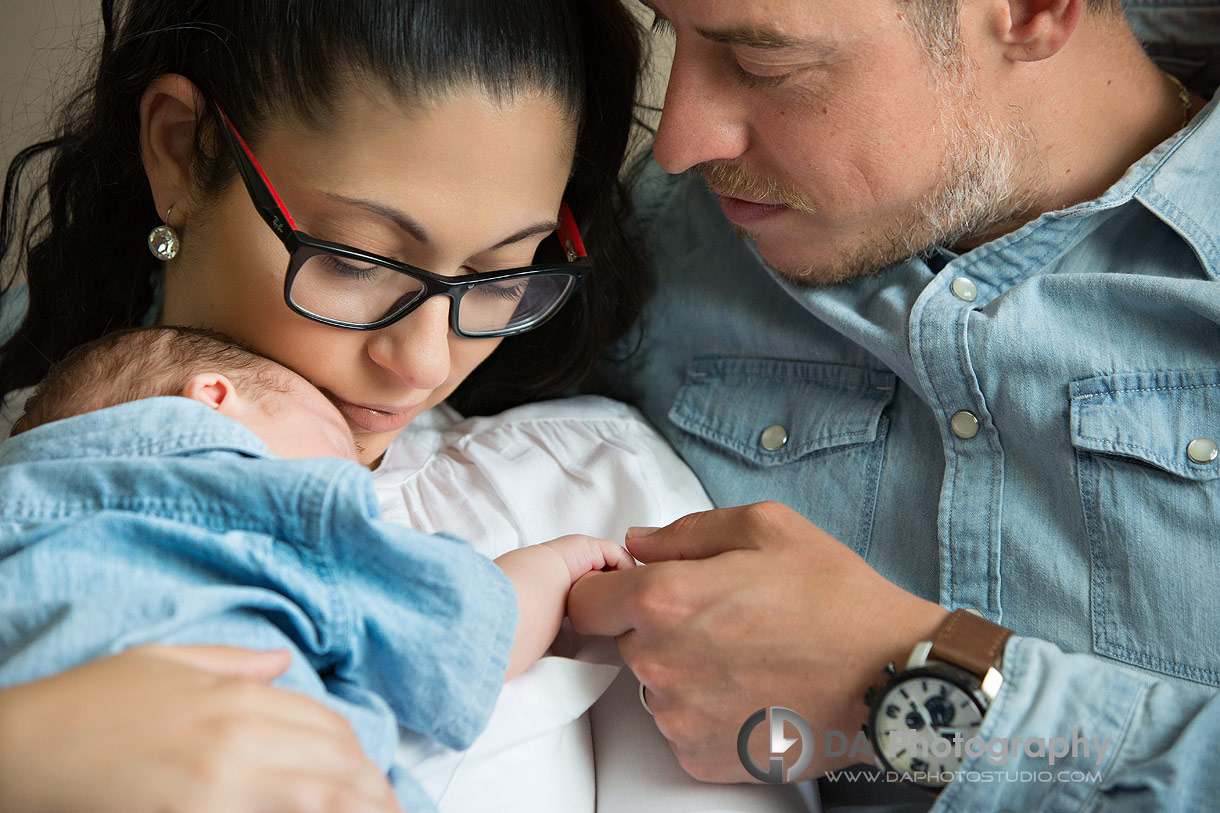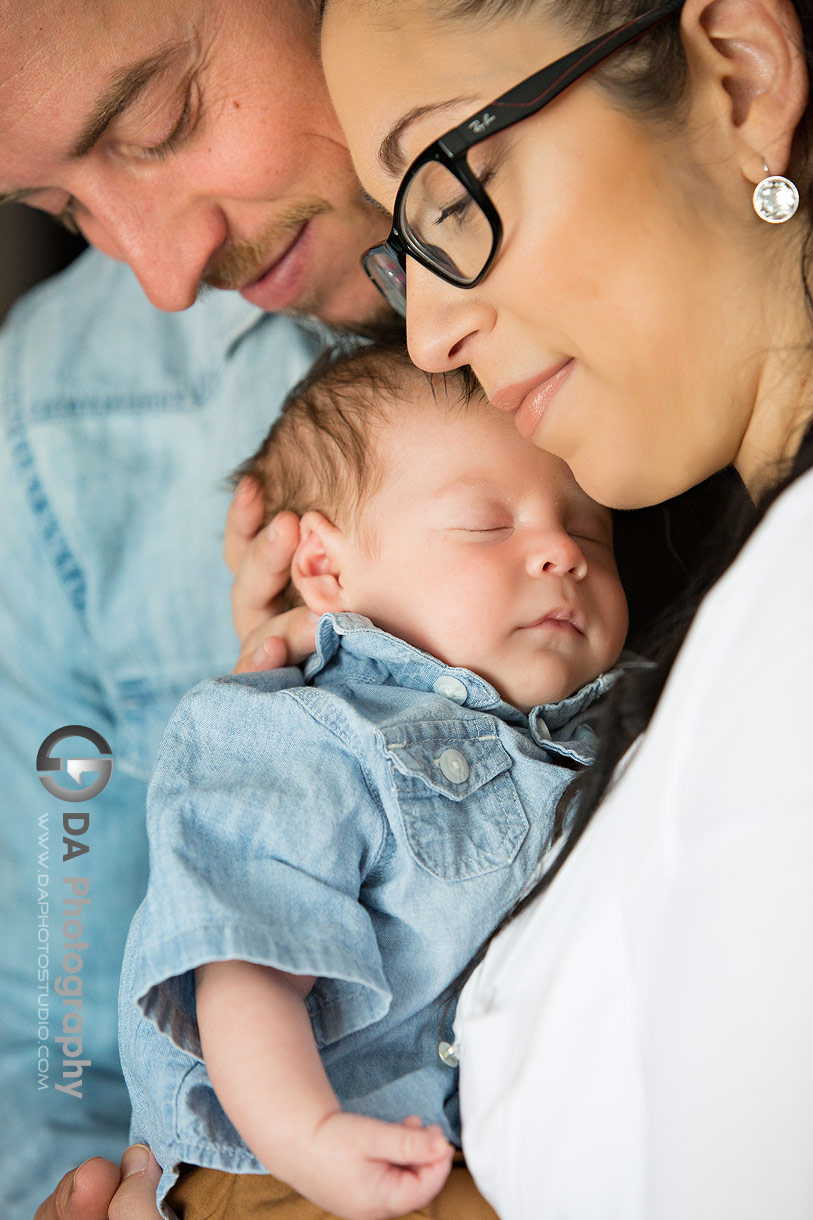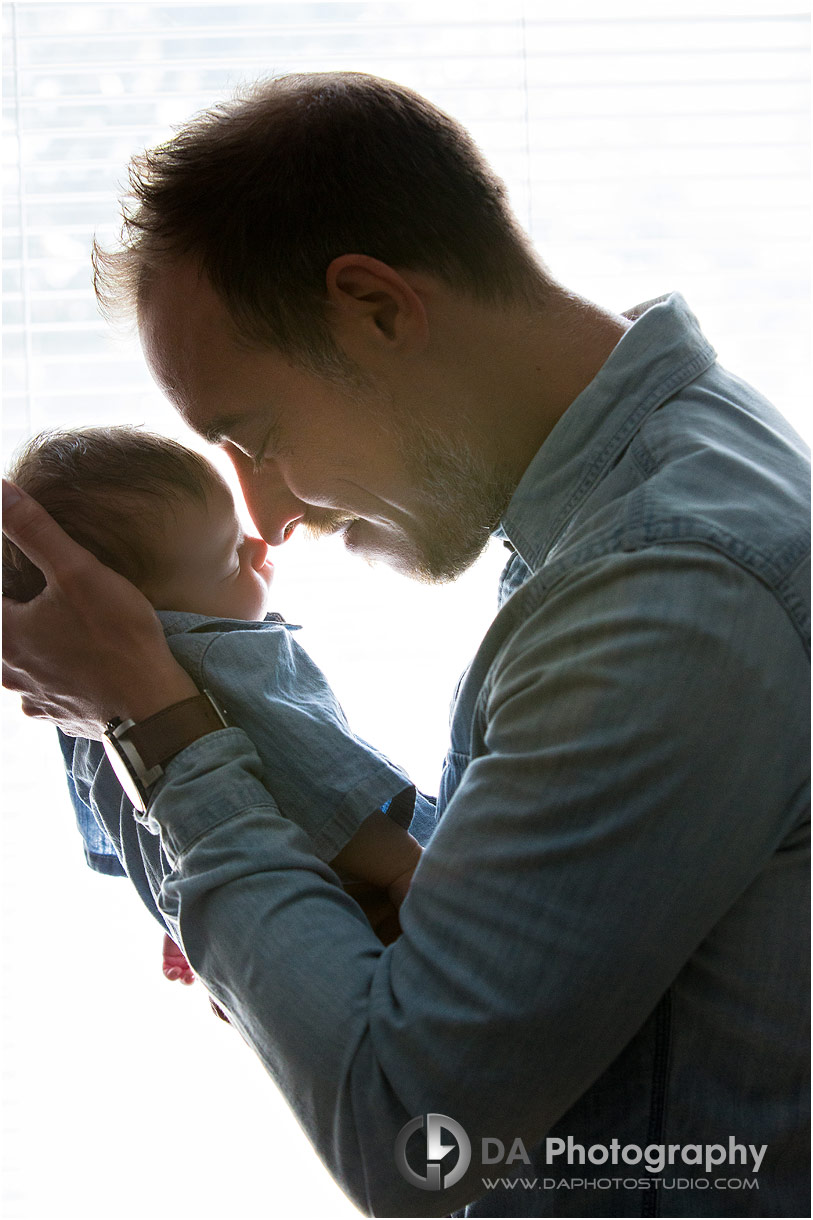 Lifestyles sessions' beauty
To be able to accentuate the personalities of the parents and their child, I only shoot newborn photos as a lifestyle session. I don't use props or backgrounds to alter reality. I find that this only makes the child look more like a doll. Instead, I look to showcase the love between the family, their connection, and attachment. Just as special for their memories, I find it important to include pieces of the environment. This is where the little bundle of joy was first brought home to. In a lifestyle session, the memories include where the family lived and what made them comfortable at this point in their lives.
Through these sessions, I like to document the real emotions and the true joy of the moments in which the young family is living. For these reasons, it is only occasionally that I take on newborn sessions with people that I have not worked previously with. Being a new parent is hard and the attention of a newborn session should be on connecting with your new arrival.
Because we are already like family, I experience their happiness alongside the new parents. I love the feeling my client experiences while watching me work to produce their family memories. While I do still work with other people, my past wedding couples benefit the most from knowing me and trusting me with their family photos.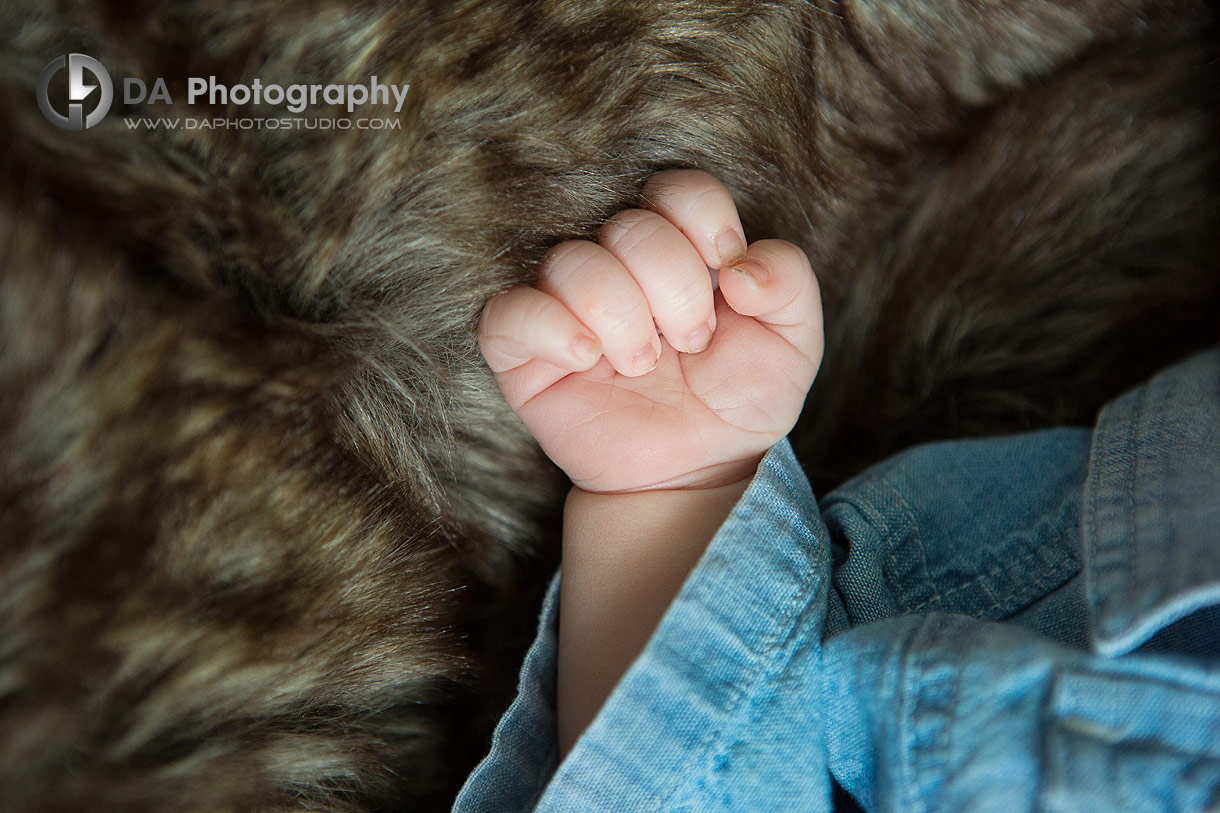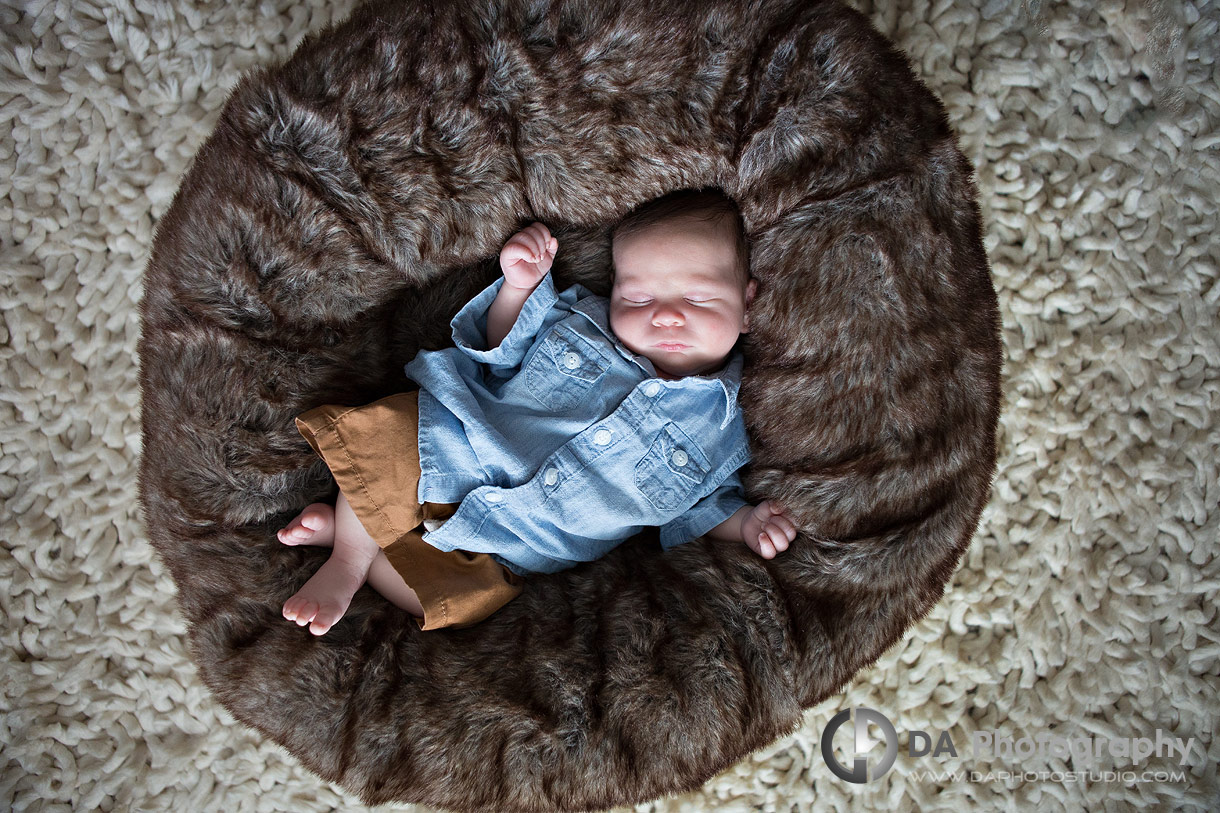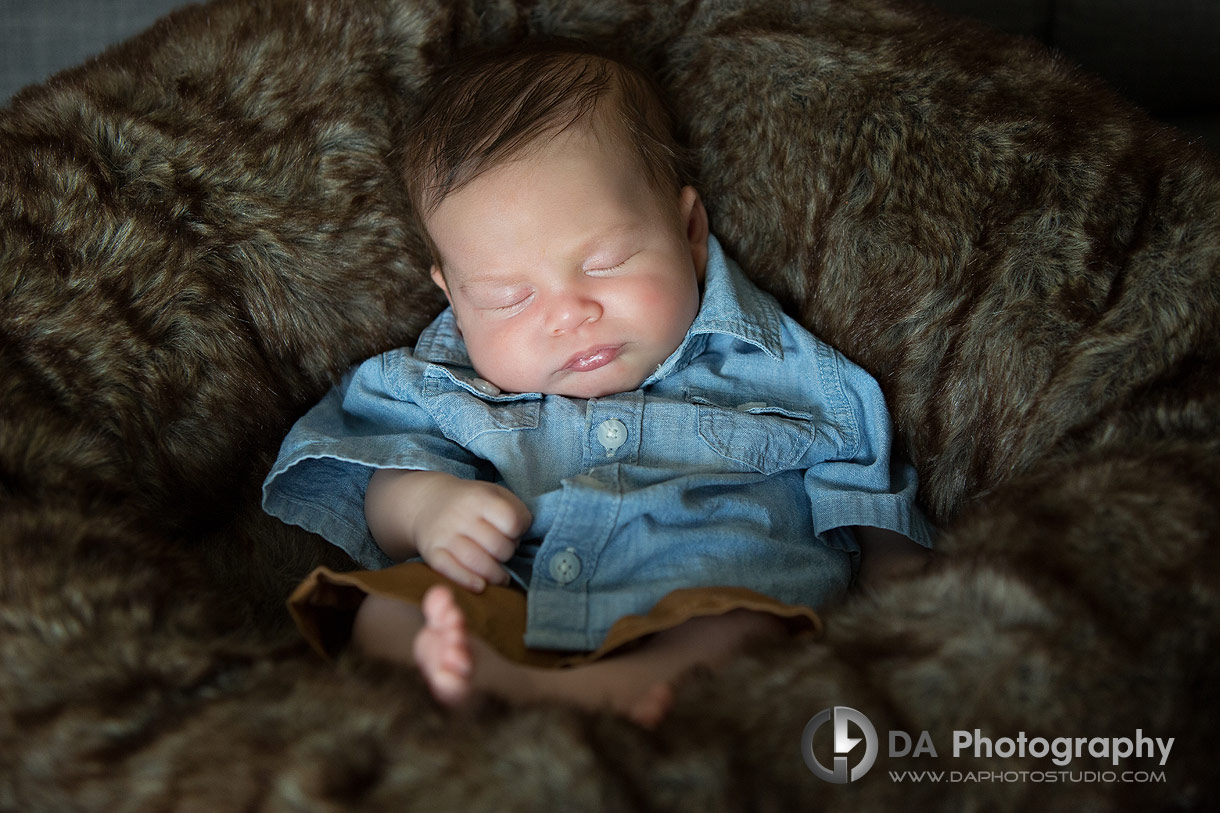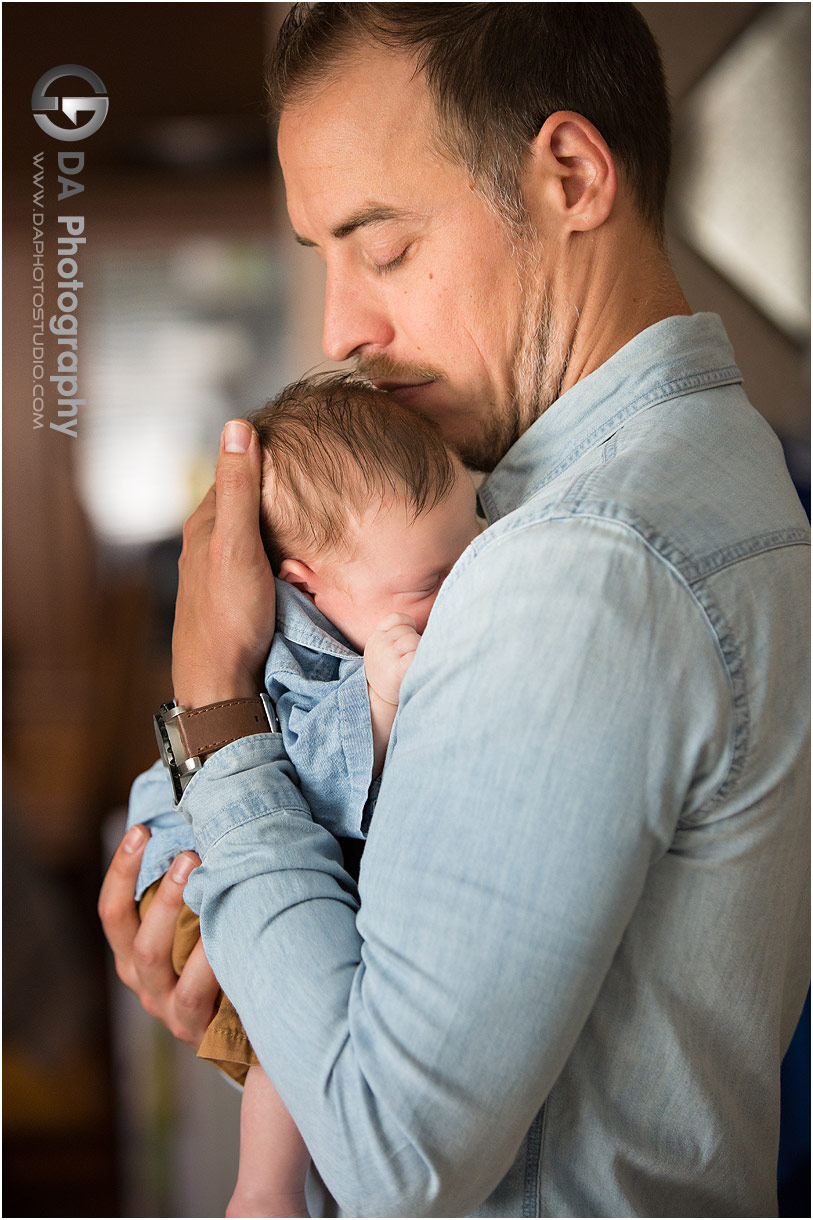 Toronto sports fans
Gianluca was such a happy baby! As with every newborn, his focus was on sleeping while his parents were building their family memories. We had a few outfits organized for him to wear during his session. While figuring out what to wear, we had to also factor in how much time we had until he fell back asleep again.
Working with newborns is always a unique experience. This is espceially true when you photograph lifestyle sessions. The process cannot be rushed! There is no way that a newborn can be forced into something that the parents or photographer wants. The whole experience needs to be smooth for the baby to enjoy. It is then that the parents can feel satisfied that the session accomplished what they wanted as well.
Once we had completed photos with more formal outfits, the family relaxed and transformed fully into Toronto fans. Because they had a Toronto Maple Leafs jersey custom made for little Gianluca, it was only fitting that we document their unity as a team in love with their favourite team. And the Italian heritage couldn't be forgotten either! Steven brought out an official jersey for Italy's football team to cover Gianluca with.
In the end, we had another football jersey to incorporate too. This time it was from Toronto's football team. Ending with these photos, I knew that we had captured what Daniella and Steven needed to begin the process of building memories for their young family.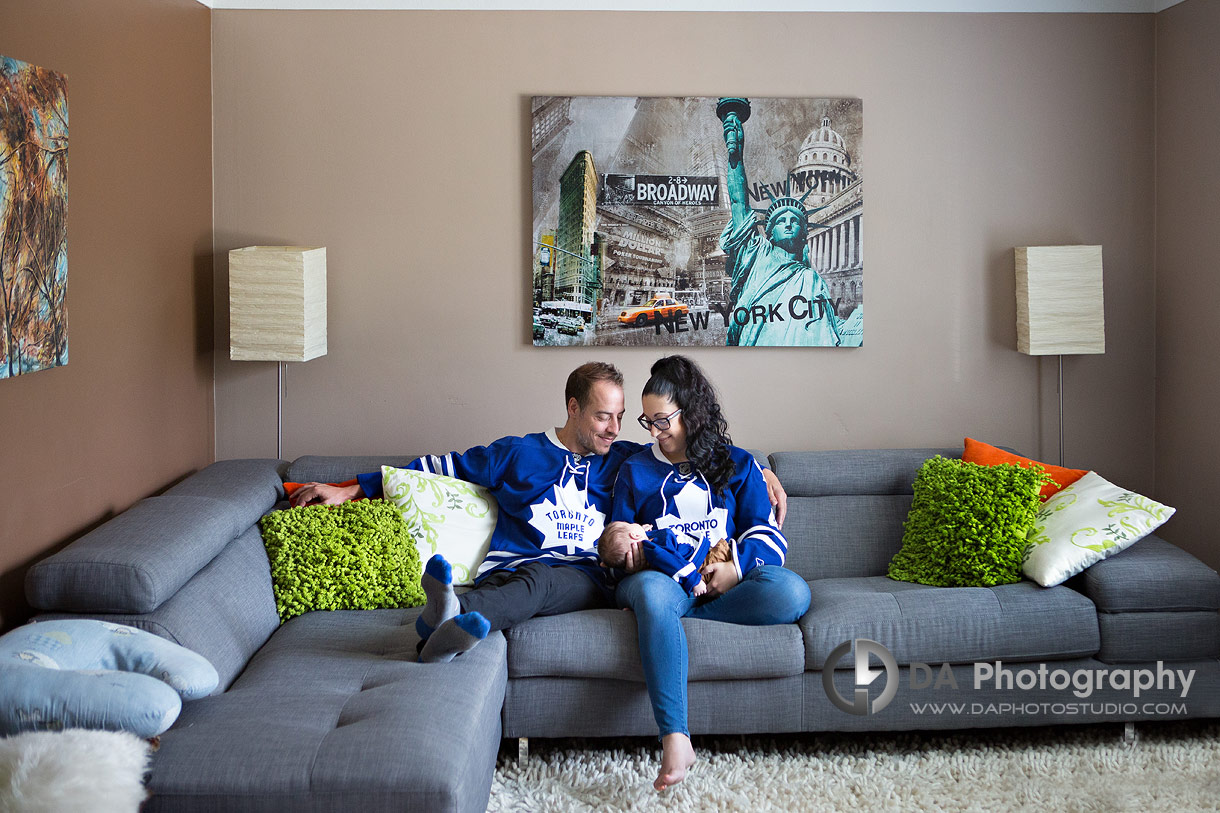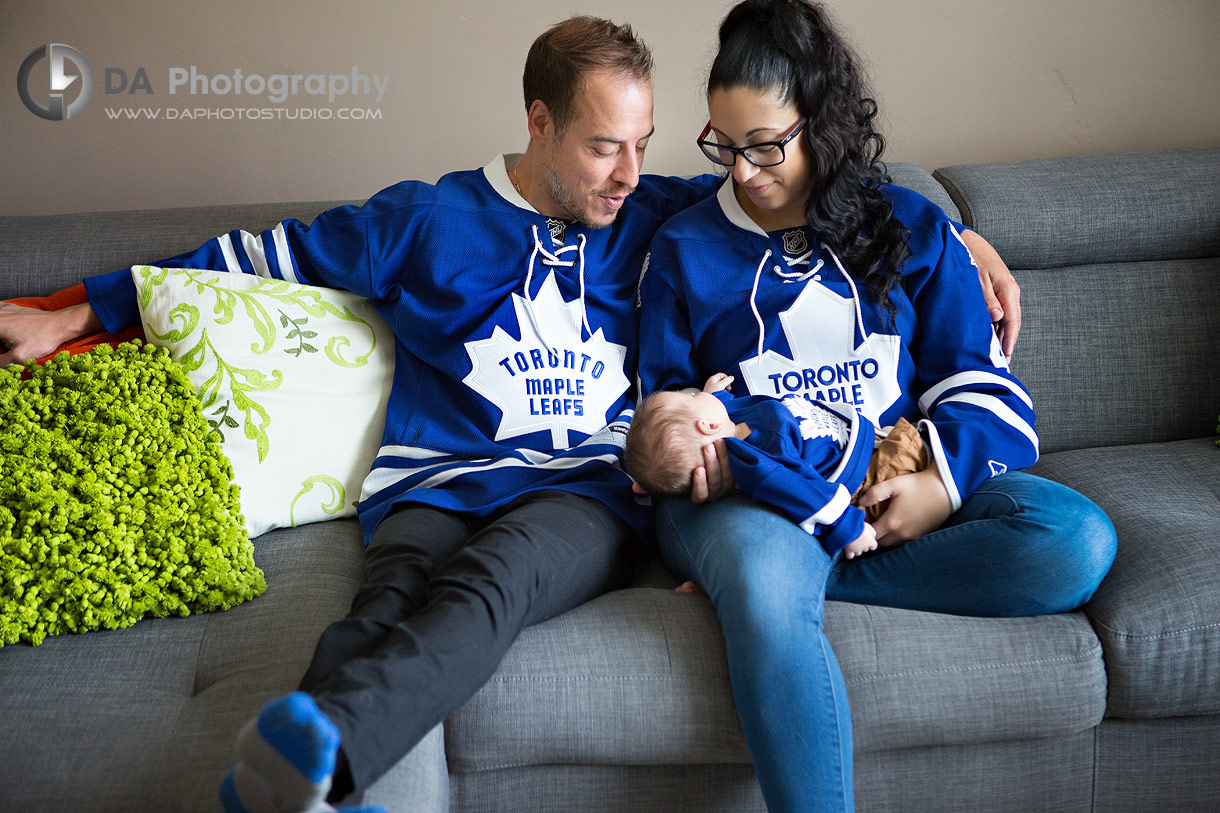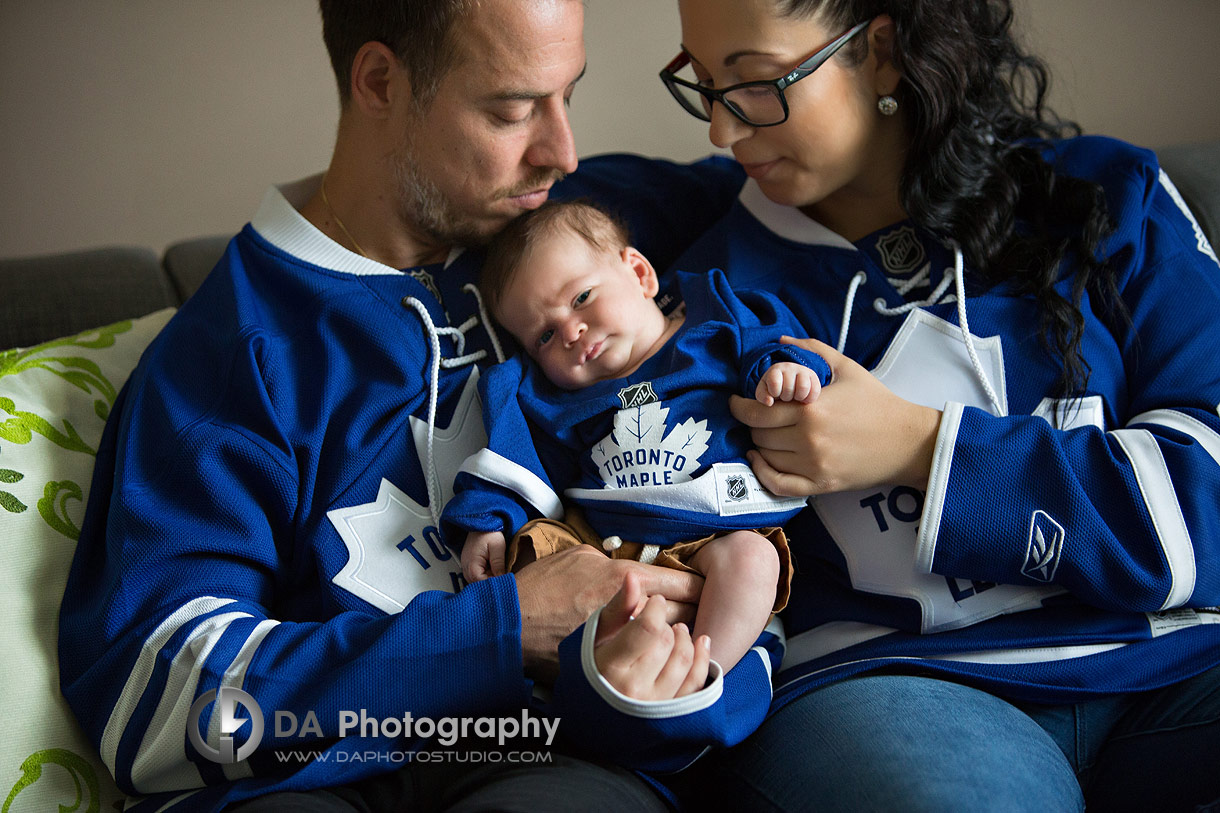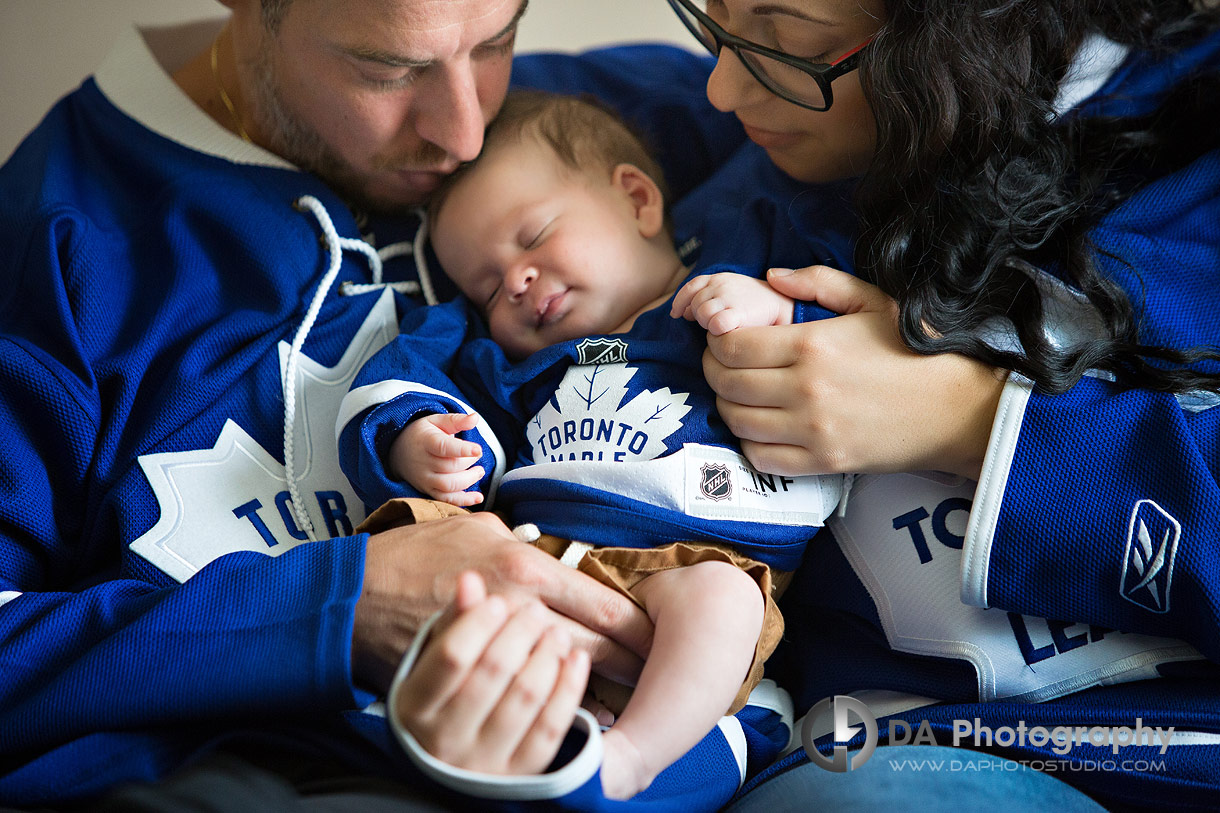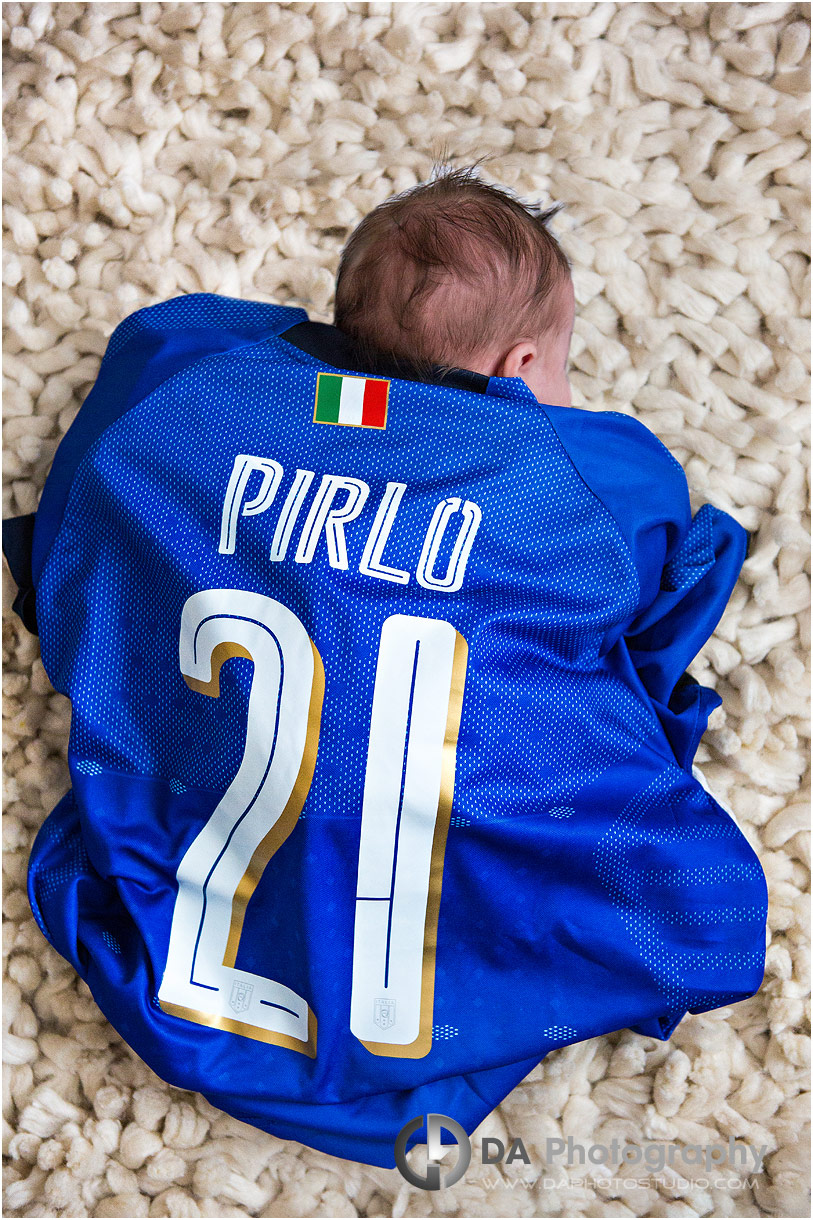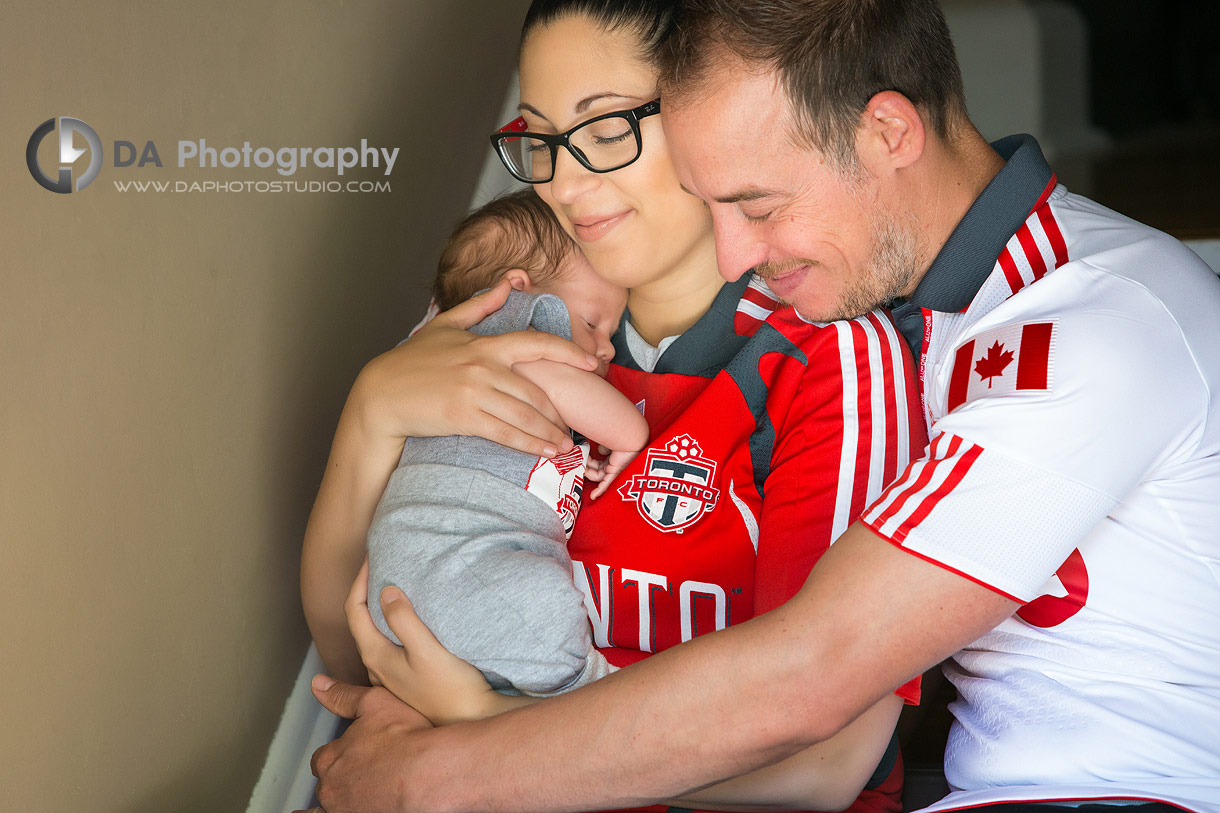 Keeping up to date with the newborns
More than two years have passed since this session and I still keep in touch with Daniella and Steven. Last year, I was invited to photograph Gianluca's baptism. Unfortunately, though, I was already scheduled for a wedding on the same day and wasn't available for the ceremony. It would have been so beautiful to witness this next milestone for them.
However, I still get a chance to see their growing family through social media. When Daniella, Steven or one of their family members post and share, I can see how much they are enjoying together.
It's amazing to see that what I was trying to capture during this first session of Gianluca as a baby still holds true today. Gianluca is now more than 2 years old and is still the same happy baby-toddler that is busy keeping his parents on their toes. I am so proud to be welcomed as a part of their family memories and looking forward to many more in the years to come.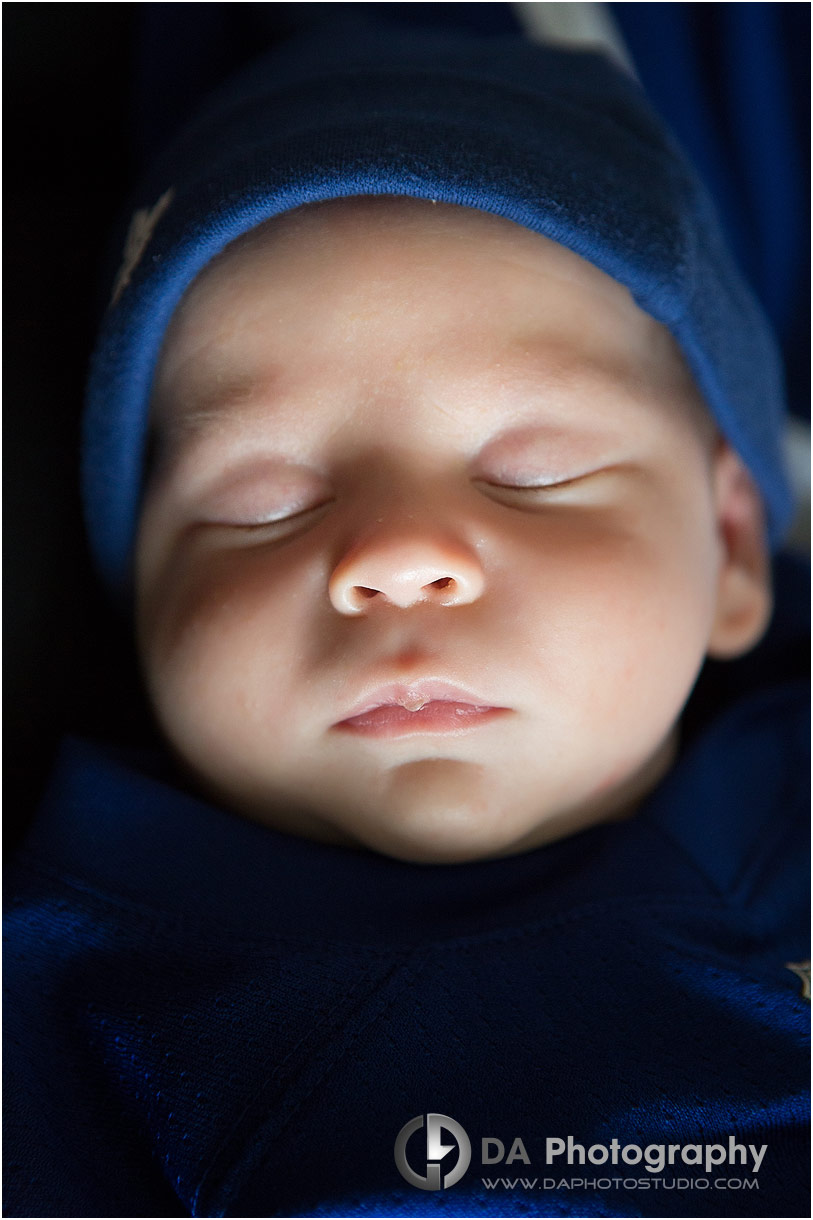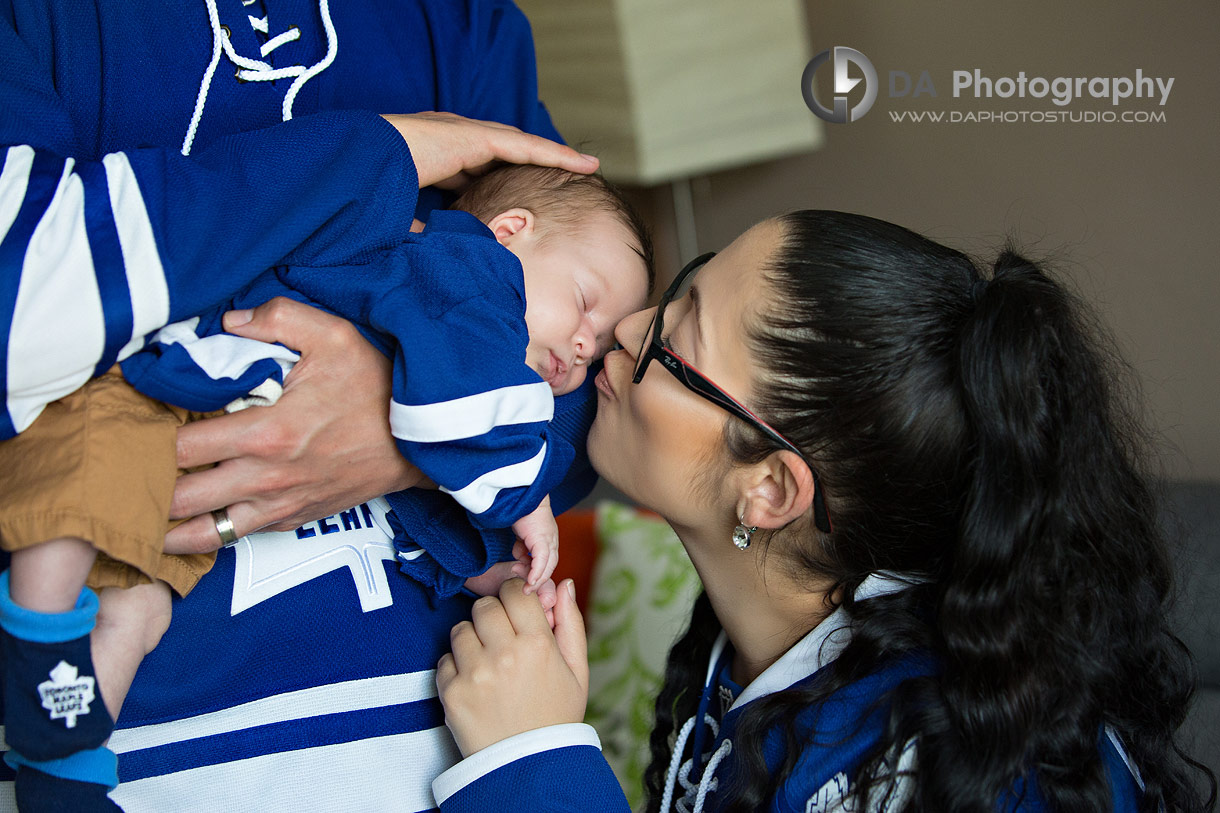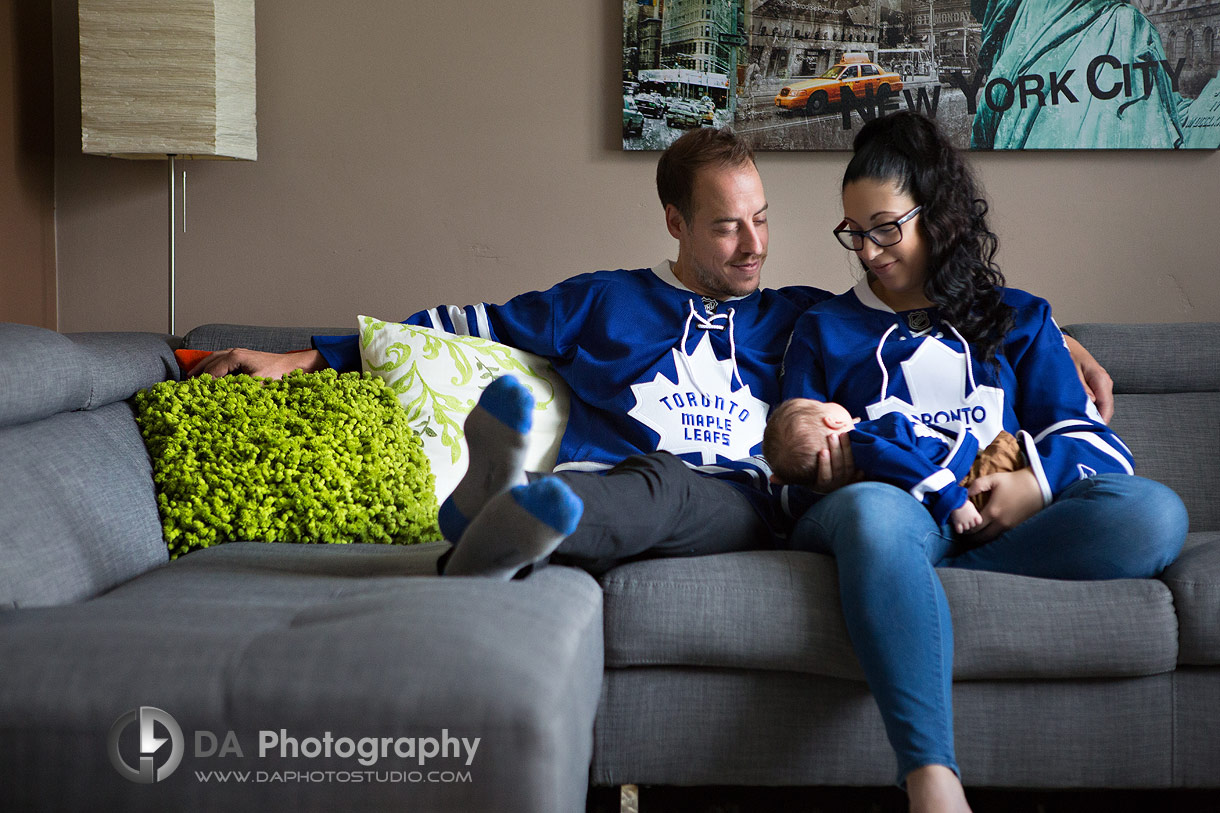 How was your own experience with newborn photos of your little ones? Did you opt for more of a lifestyle session or posed in-studio images? Please share with us your take on this type of photography. We would love to hear from you.
If you would like to experience a lifestyle family session of your family please feel free to reach out. You can contact me and I could help you build your family memories.
Photo Location: Private Property, Hamilton, ON
Want to see some more lifestyle family photos? Check
this family blog
post.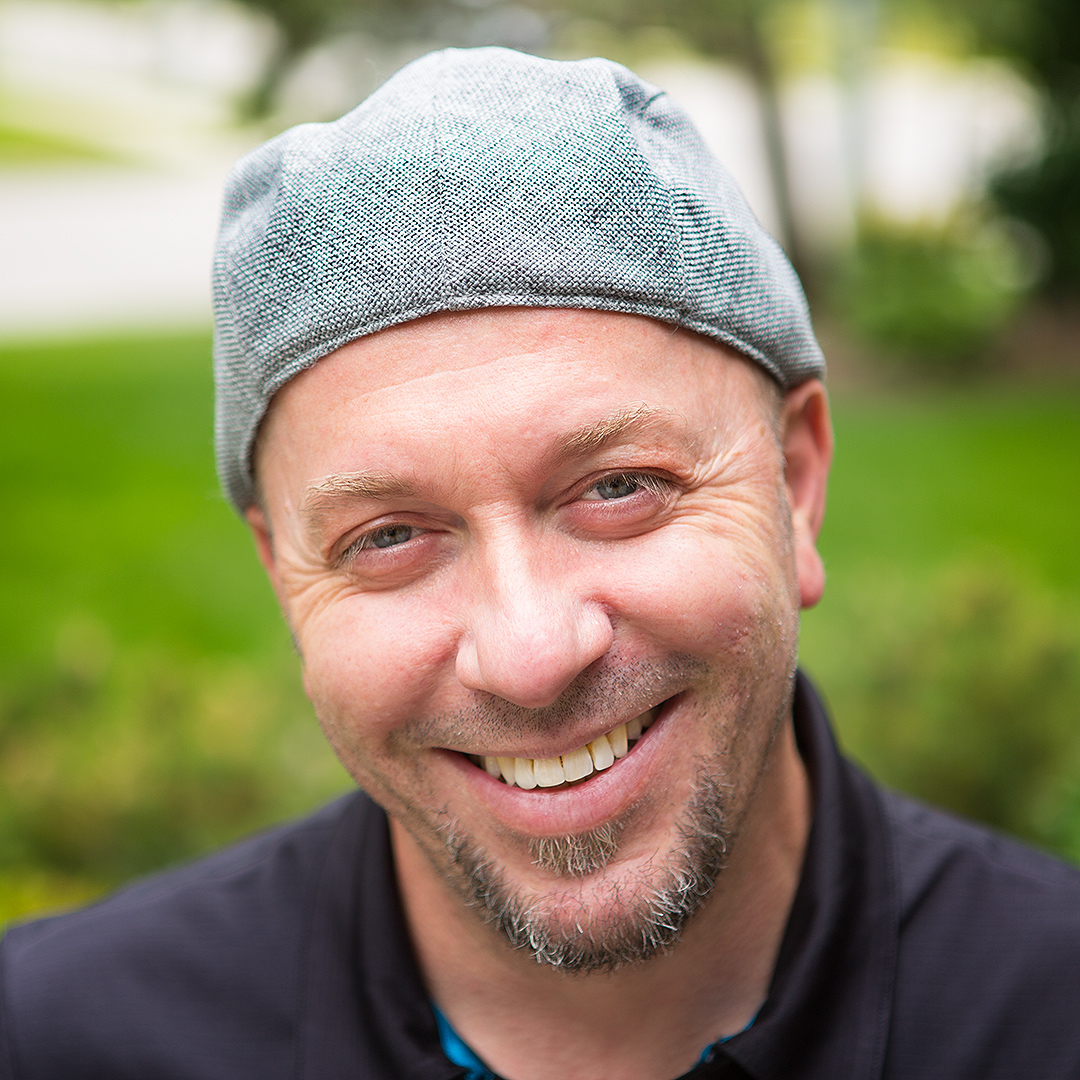 My passion and biggest asset is taking the time to make every client comfortable and relaxed before I even pick up the camera. The result? Photos of you that actually look like you at your best! I can prove to you how much you can enjoy having your picture taken. Lifestyle photography is about the experience that happens to be served up along side of some great photos.
Specialties:
Family Photography for families that like to move around and enjoy their photo time, Wedding Photography for couples looking for a mixture of photojournalistic, contemporary and traditional images and Professional Corporate headshots that are far from cheesy and stiff.