This particular Hazelton Manor wedding was my very first coverage at this beautiful location. With every wedding venue, there are always a few key points that really attract the couple to decide on that site for their special day. They are looking for perfect opportunities to make their wedding unique and authentic. Hazleton Manor was just the place for Erika and Stan and they decided to celebrate the union of their marriage with their friends and family here.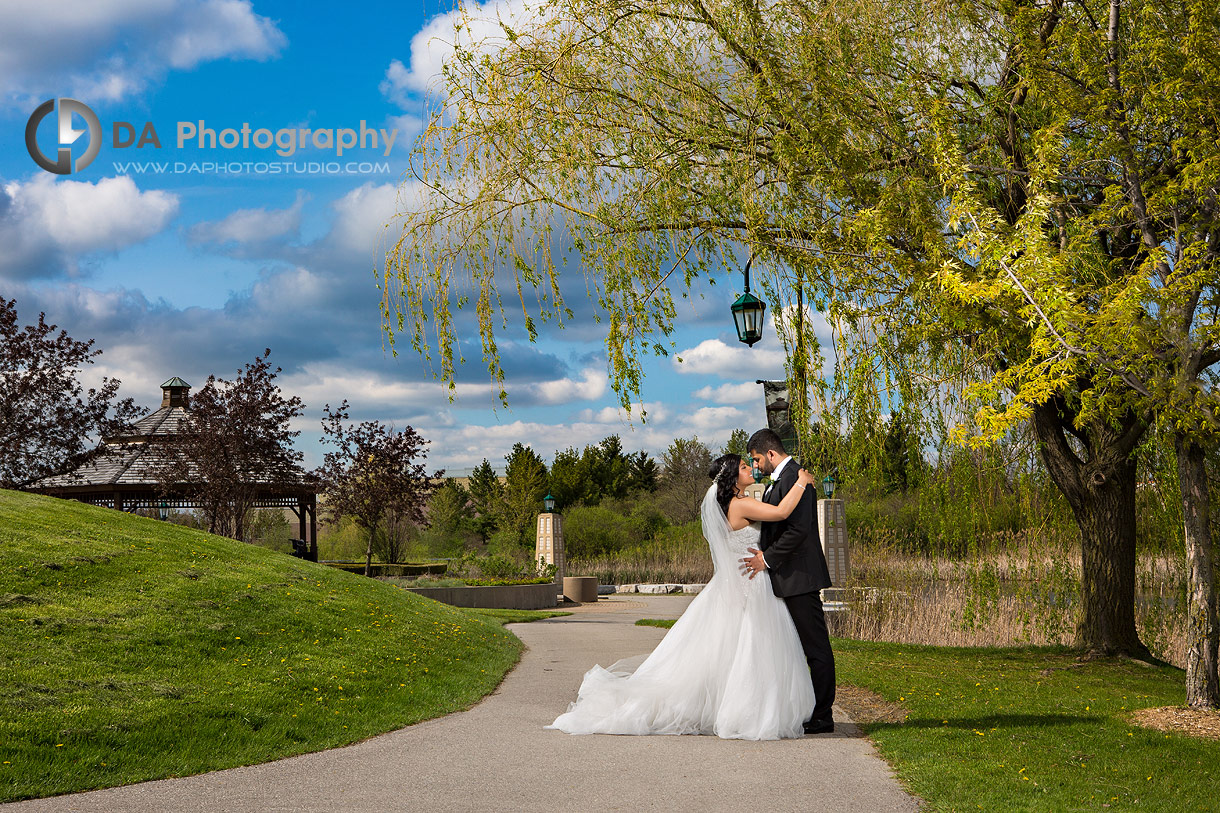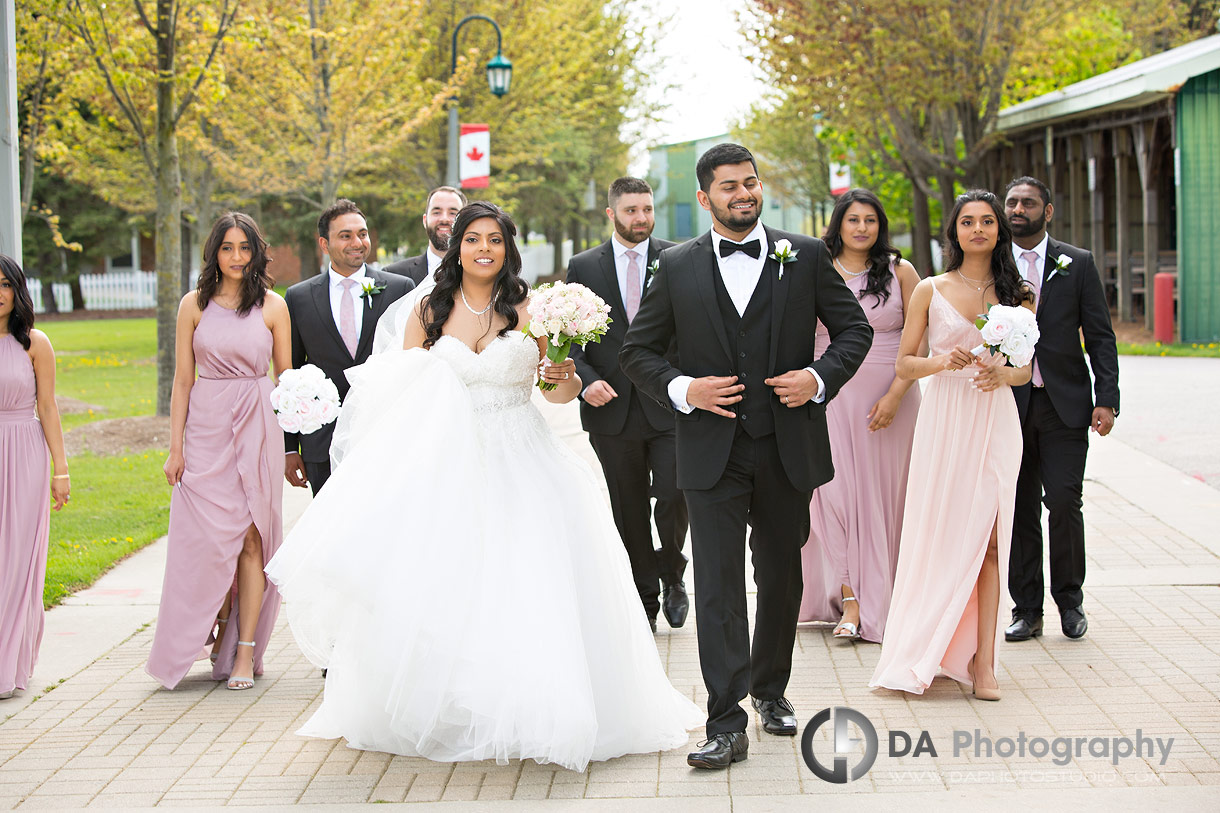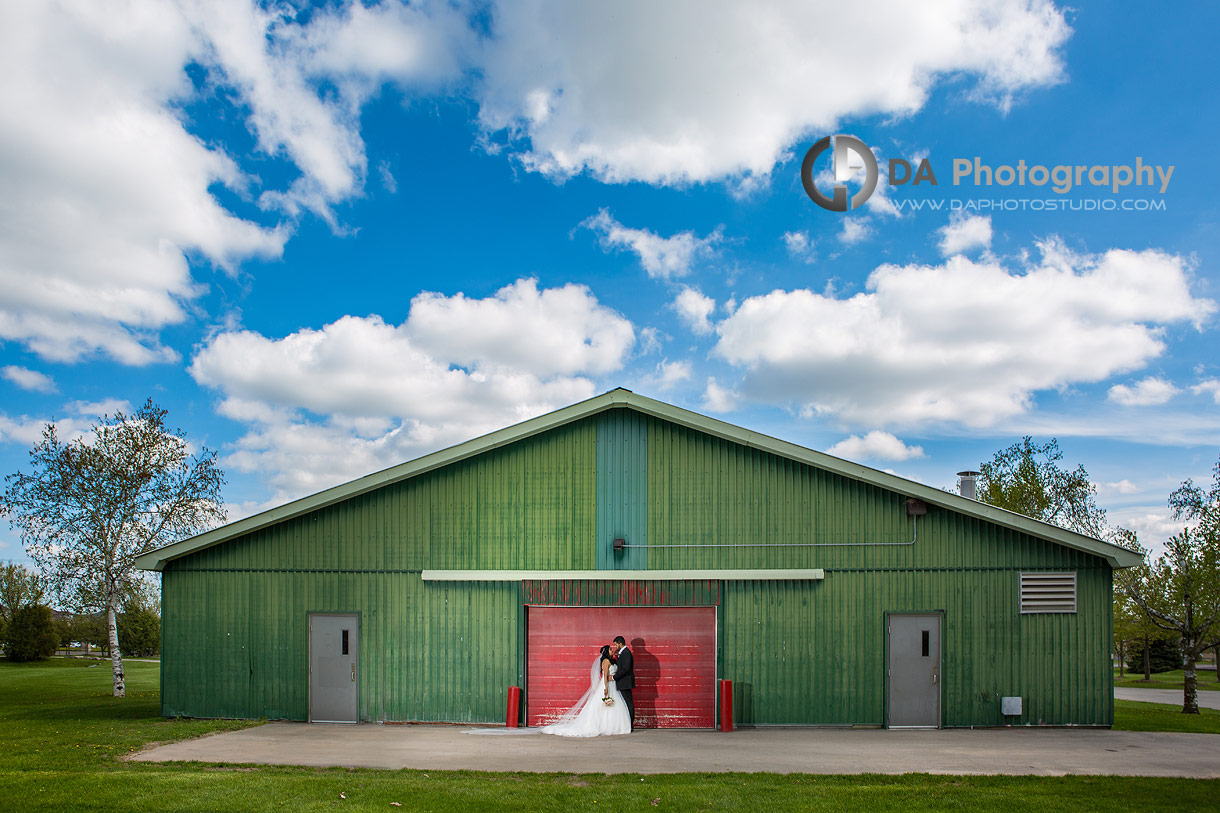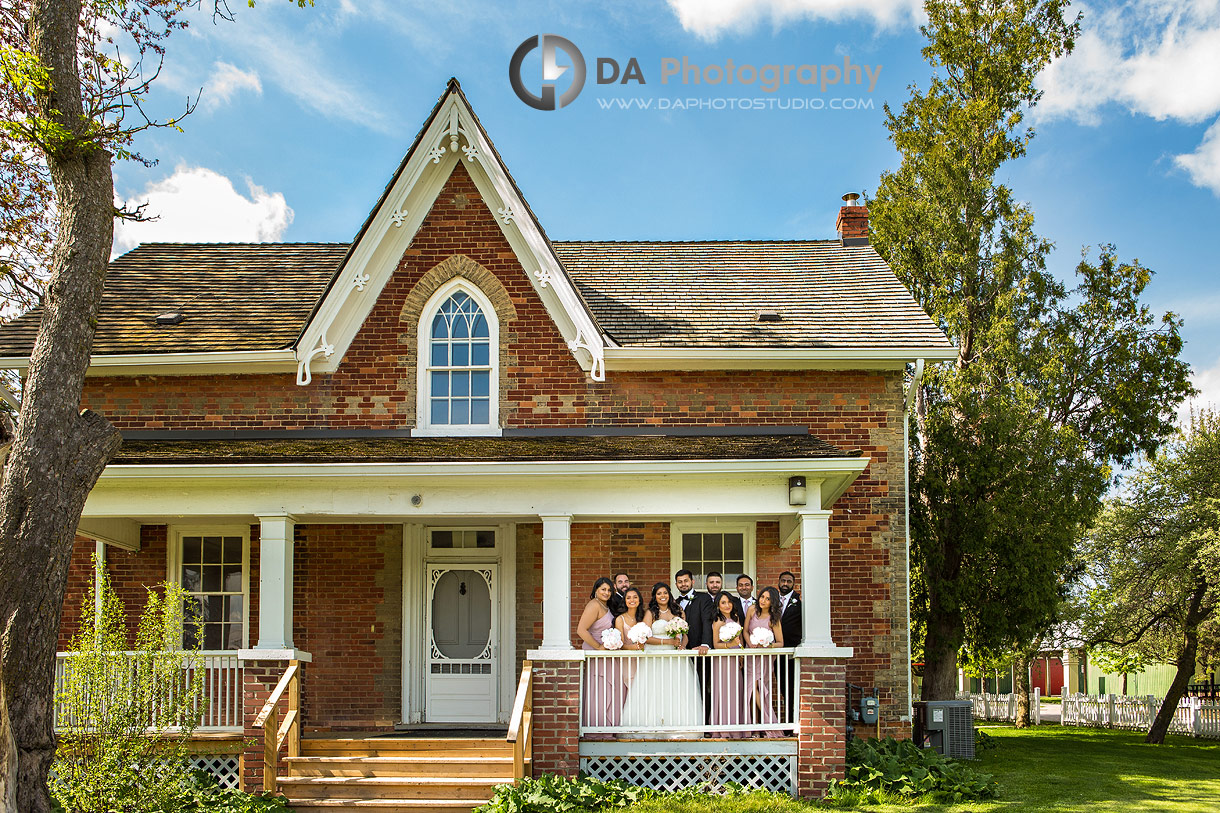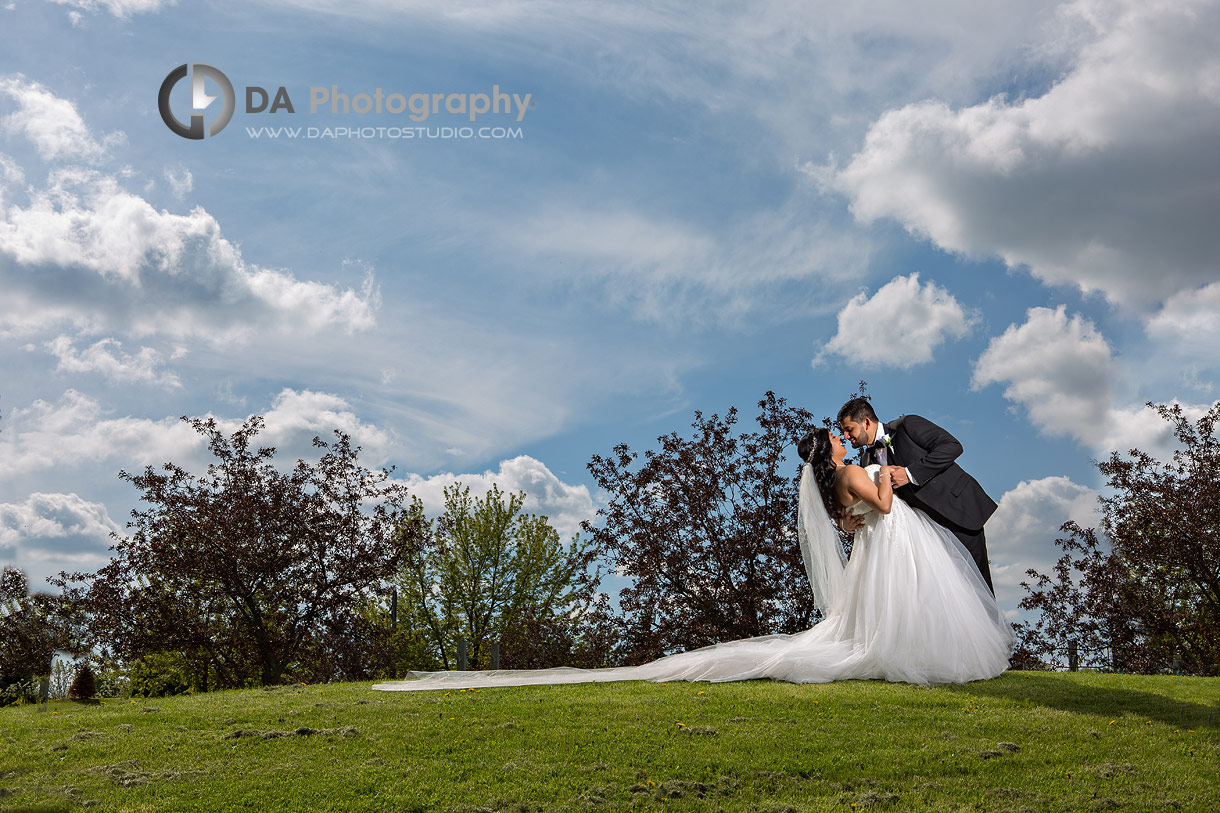 The early stages of planning for this Hazelton Manor Wedding
When I first started to work with Erika and Stan they were just starting to plan their wedding day festivities. They were still debating on the timing of the home blessing ceremony, where would be the photo session area would be, the driving logistics and a few other important pieces of the timeline. Don't get me wrong; there was no need to rush. This was more than a year in advance, so they were still in the early planning stages.
However, there was no wavering from their choice of Hazelton manor for their reception and final wedding day celebrations. Erika and Stan knew for sure how they would make this location their own for their day. This made it easier to plan and work around it with other itinerary challenges.
Erika and Stan's engagement session
After our engagement session a year before their wedding, I blogged about it and our experience. We had a great time and easily began to create the bond that would assist us again on the day of their wedding. This connection that we developed played a major role in the quality and creativity of the photos I was able to document for their special day.
Because they knew me so well already, they were at ease to work with me and trusted me with my direction or requests throughout the day. It was truly game changing! Their confidence helped me to focus on documenting this lifetime milestone perfectly with a documentary-style approach. With those moments captured so efficiently, it left sufficient time to explore my creativity during the more posed moments at the photo shoot location.
All in the neighbourhood
Amazingly, before their wedding, Erika and Stan lived on the same and just two houses apart from each other. While they were technically on the opposite sides of the street, it is hands-down the closest that I have ever witnessed in my photography career, for sure!
Igor, my second photographer for the day, went to Stan's house to capture his family along with the getting ready moments. I went to Erika's house to do the same. Absolutely, the atmosphere in both houses was wonderfully relaxed. The only people who seemed a tad bit nervous were Erika's parents. But this was not because something wasn't right. Understandably, they just wanted to make sure their daughter had the best experience on her wedding day. I'm sure we all could relate!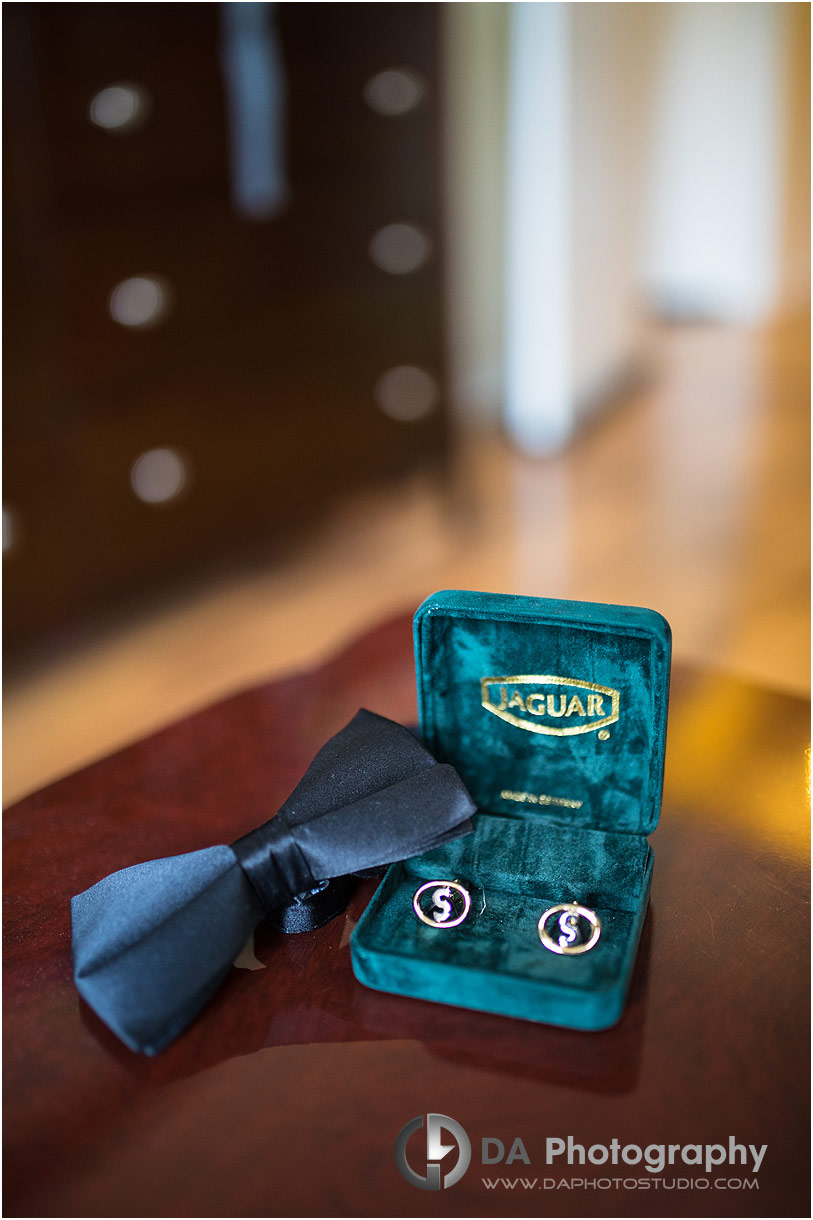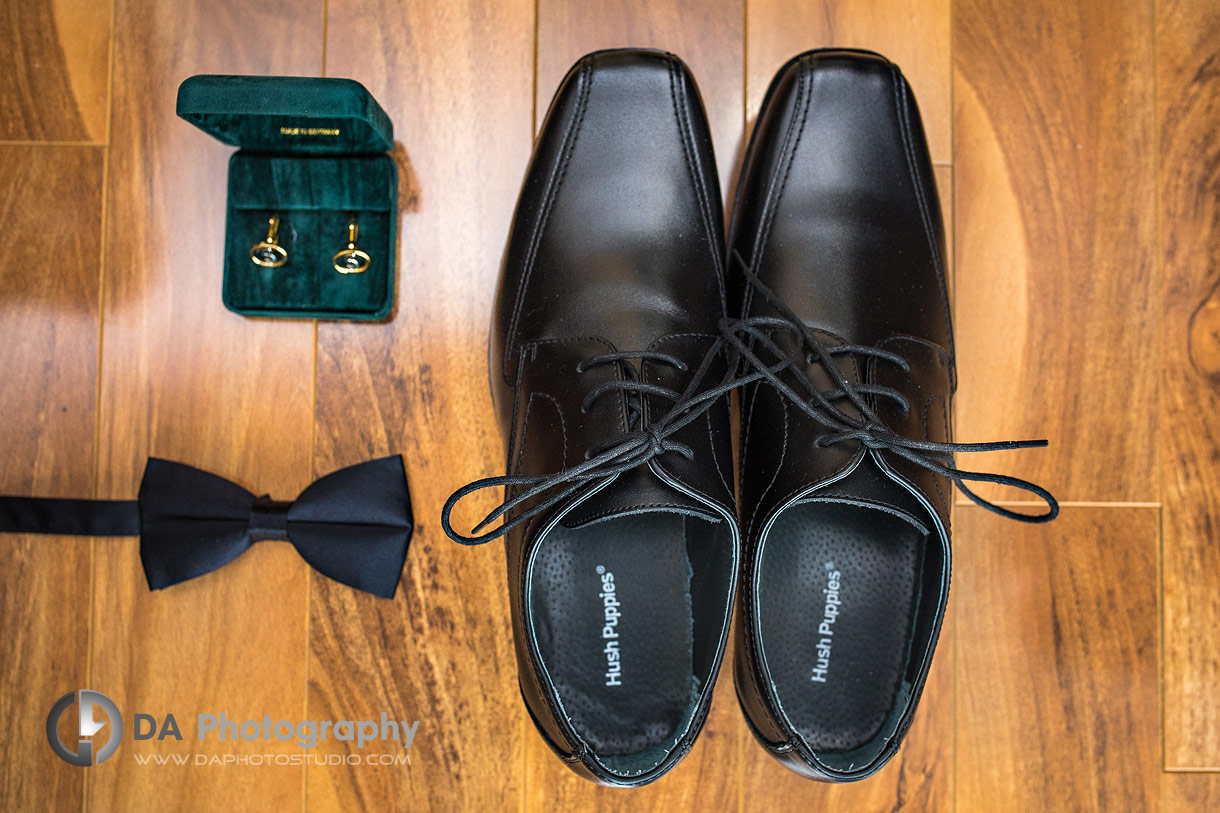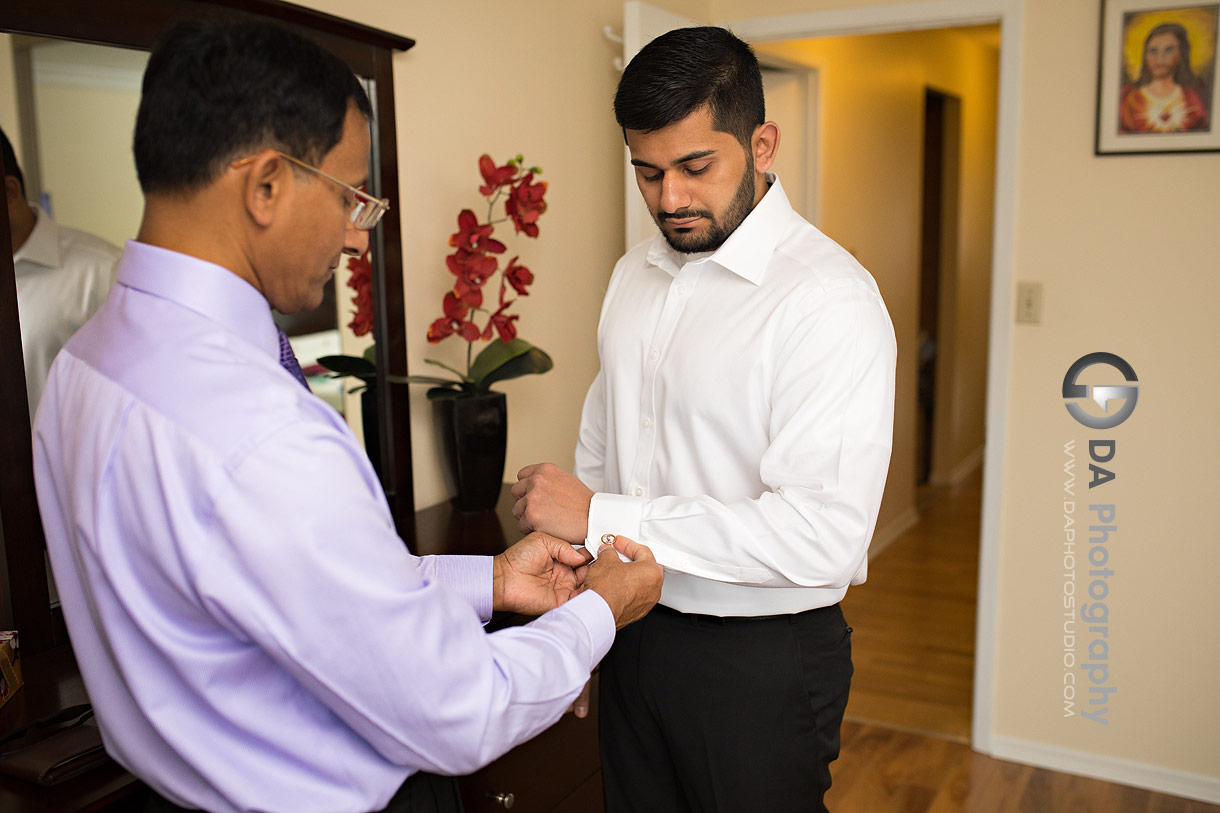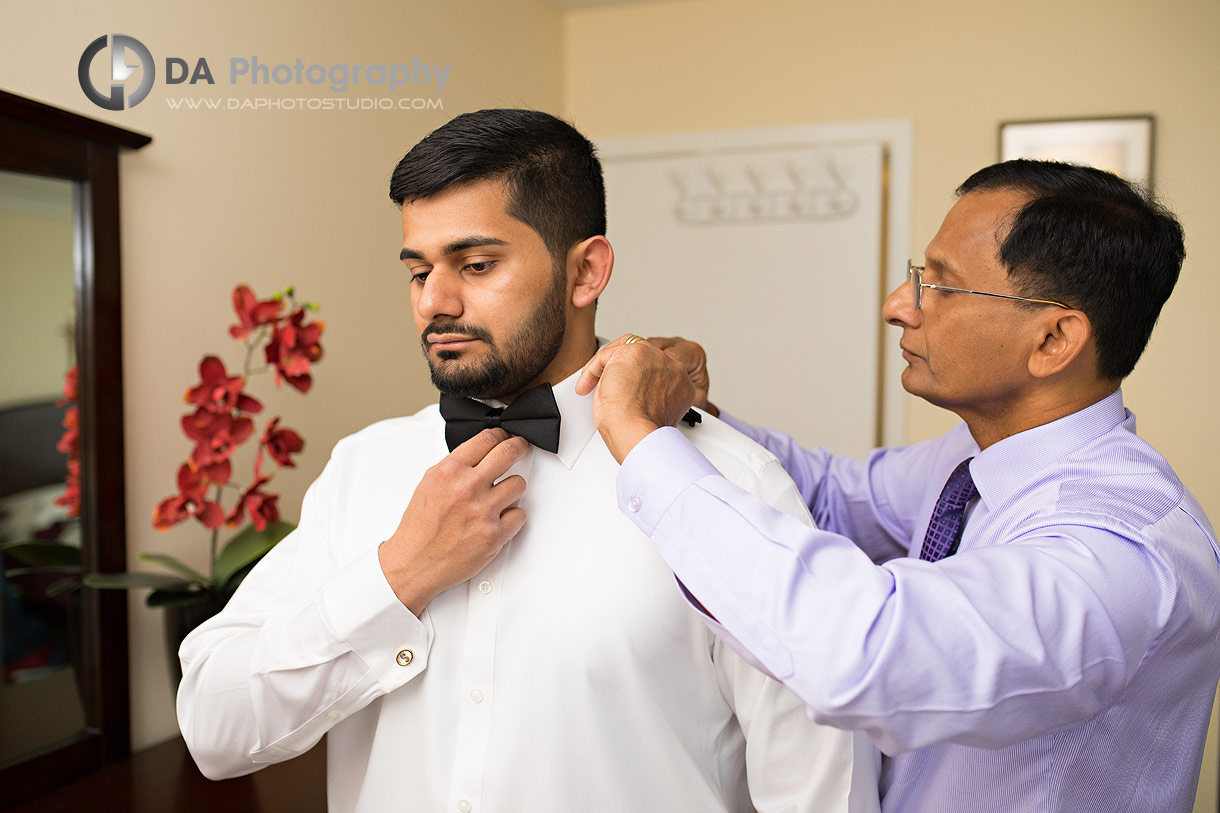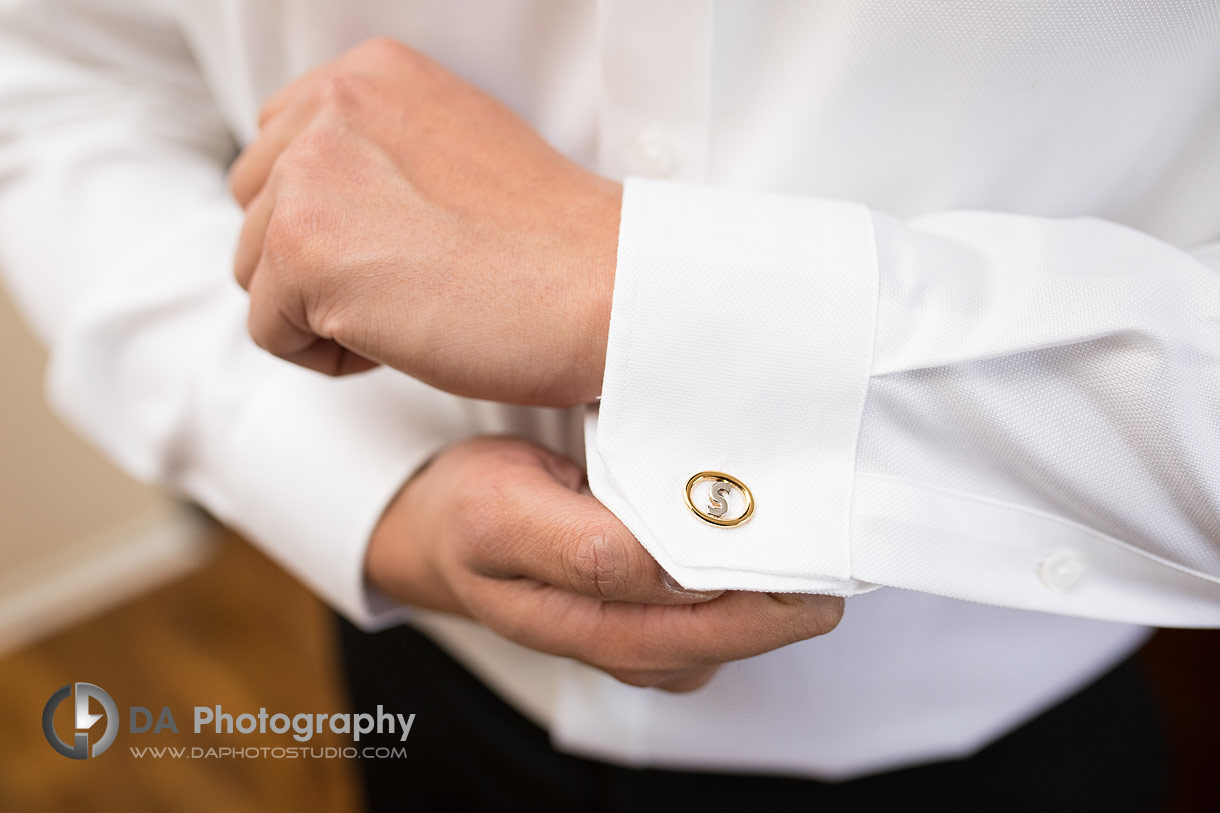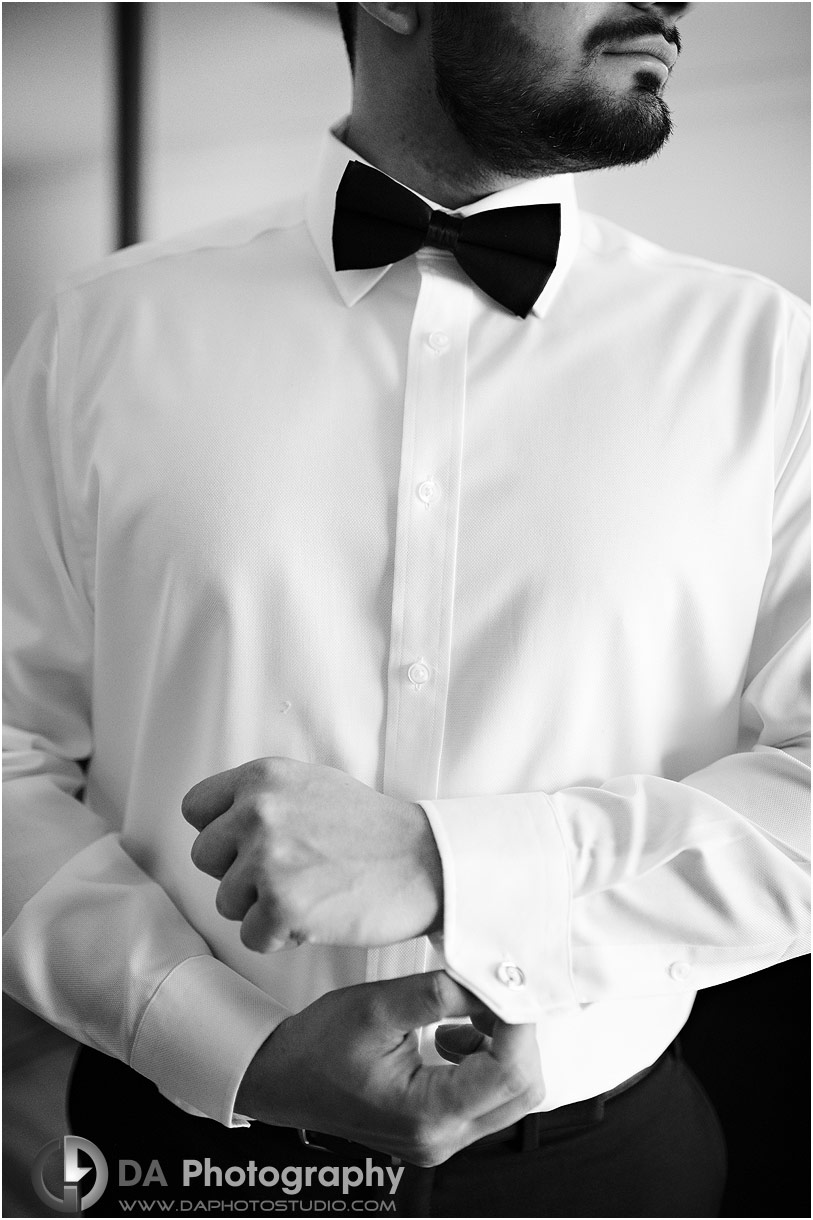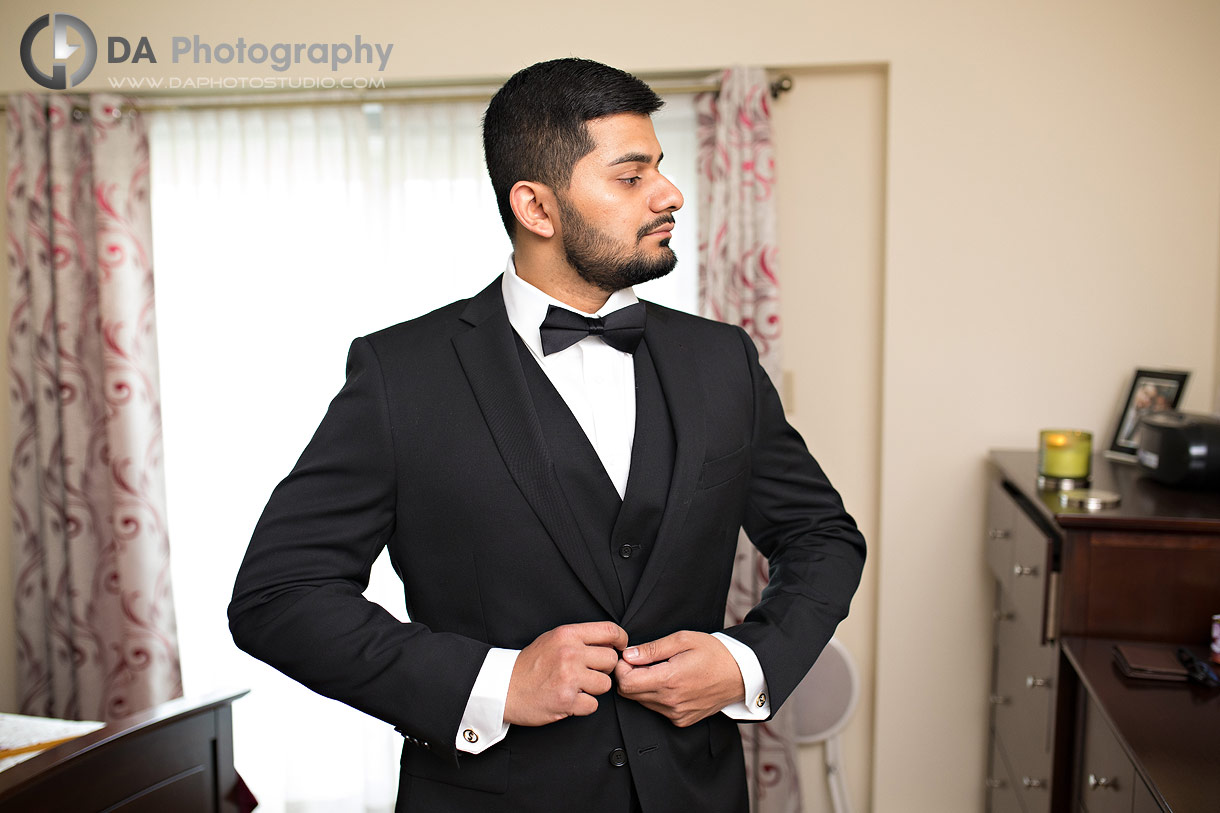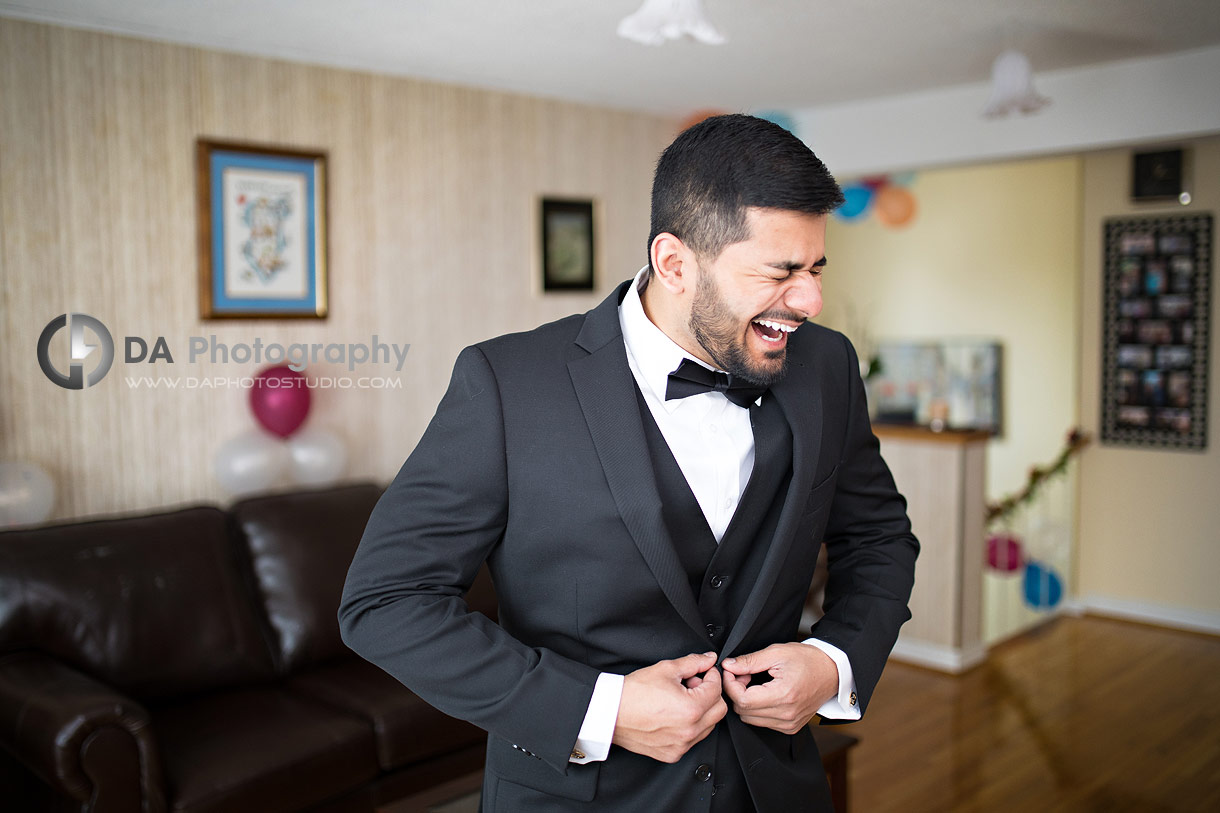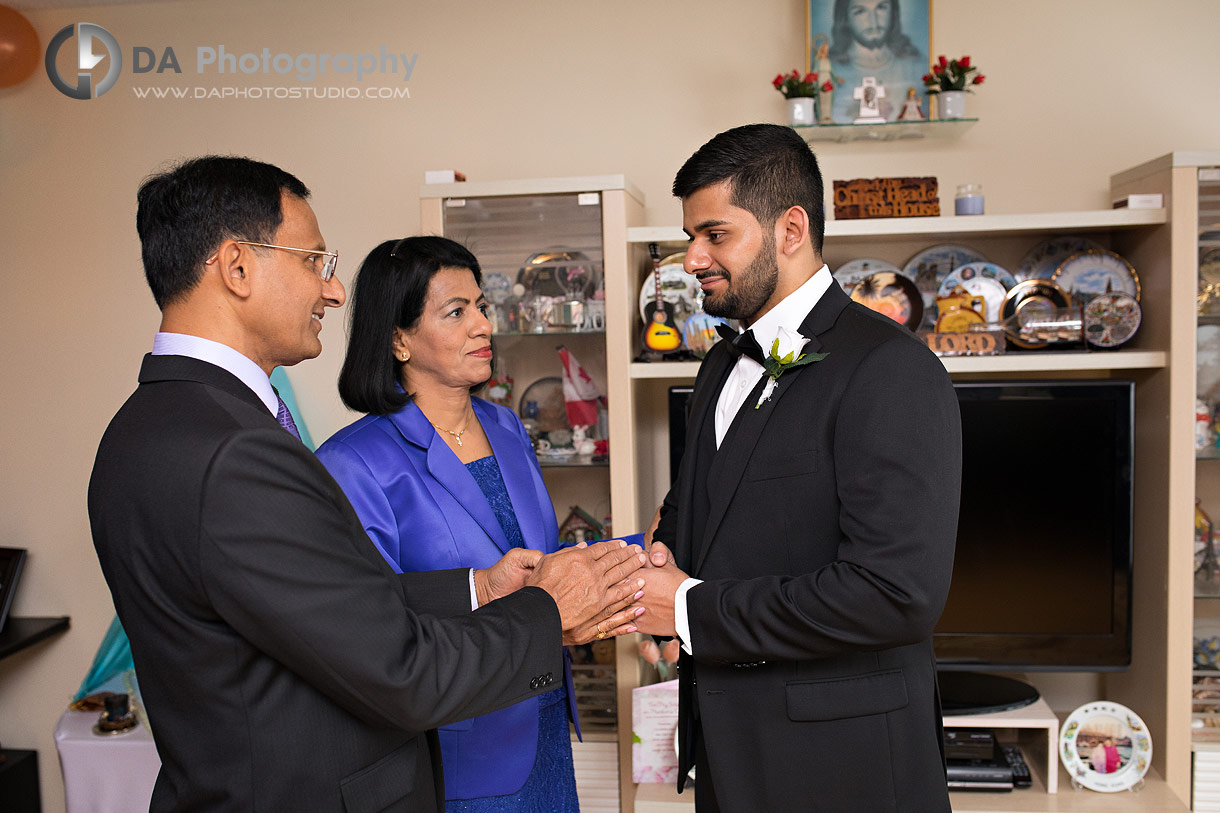 The moments of preparation for this Hazelton Manor wedding
Right away, I started to capture the final touches that Erika was receiving from the hair and make-up artist. By using the multiple mirrors that were set-up, I was able to capture some great reflections. Once complete, we then went to the part of the house where Erika was going to get into her dress. I love how relaxed, calm and really happy everyone was. Her entourage included her sister, her entire family and her bridesmaids too.
We took some great photos with her immediate family. Then, we continued with the blessing and family prayer in honour of the wedding. Once Erika received her family's blessing, we did some group photos with the extended family at the wall that was set-up for this purpose.
At the same time, Igor was capturing some great images of Stan getting ready with his groomsmen and his family. His sister was part of the bridal party as well.
Once it was time to leave for the church, we took some unposed pictures of them casually walking towards the limo. Certainly, I'm sure they had a whirlwind of emotions going through their heads. Weddings often bring excitement, perhaps a bit of stress over the unknowns and some hard-to-describe and never-felt-before type of feelings too.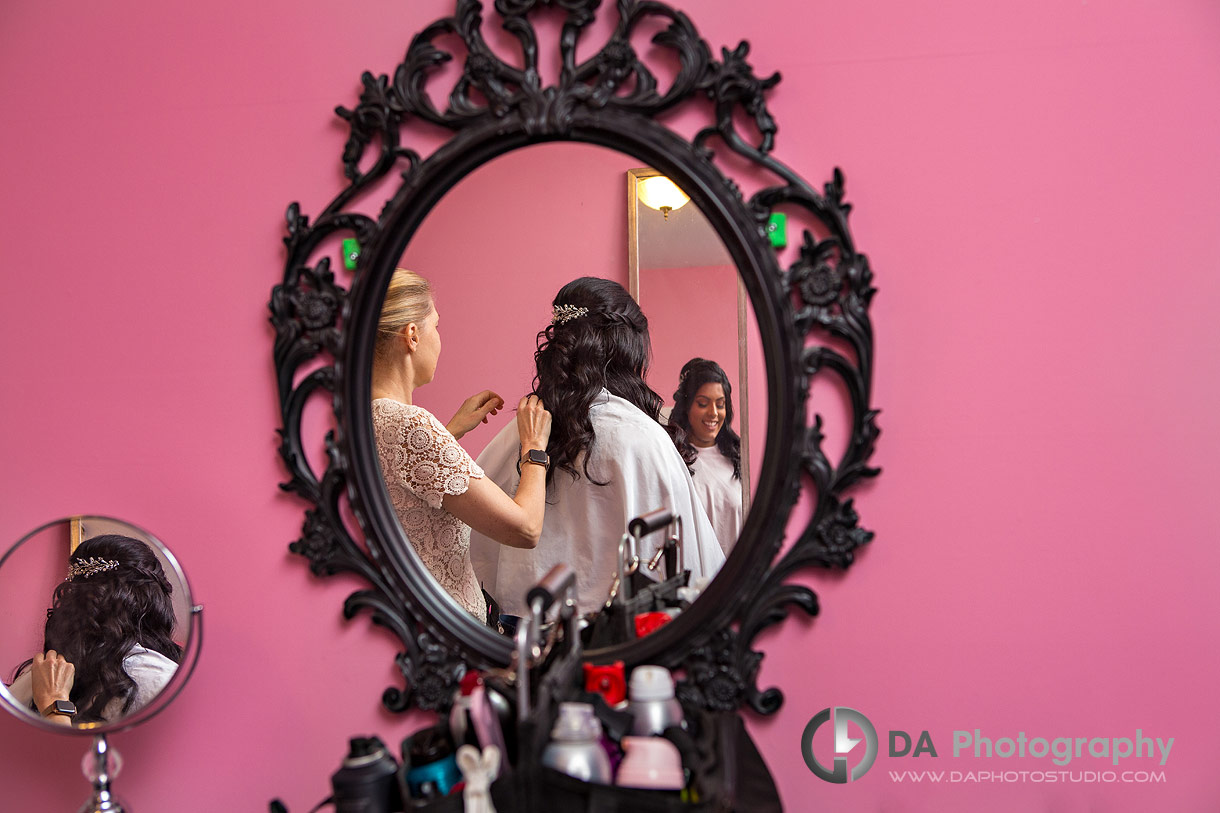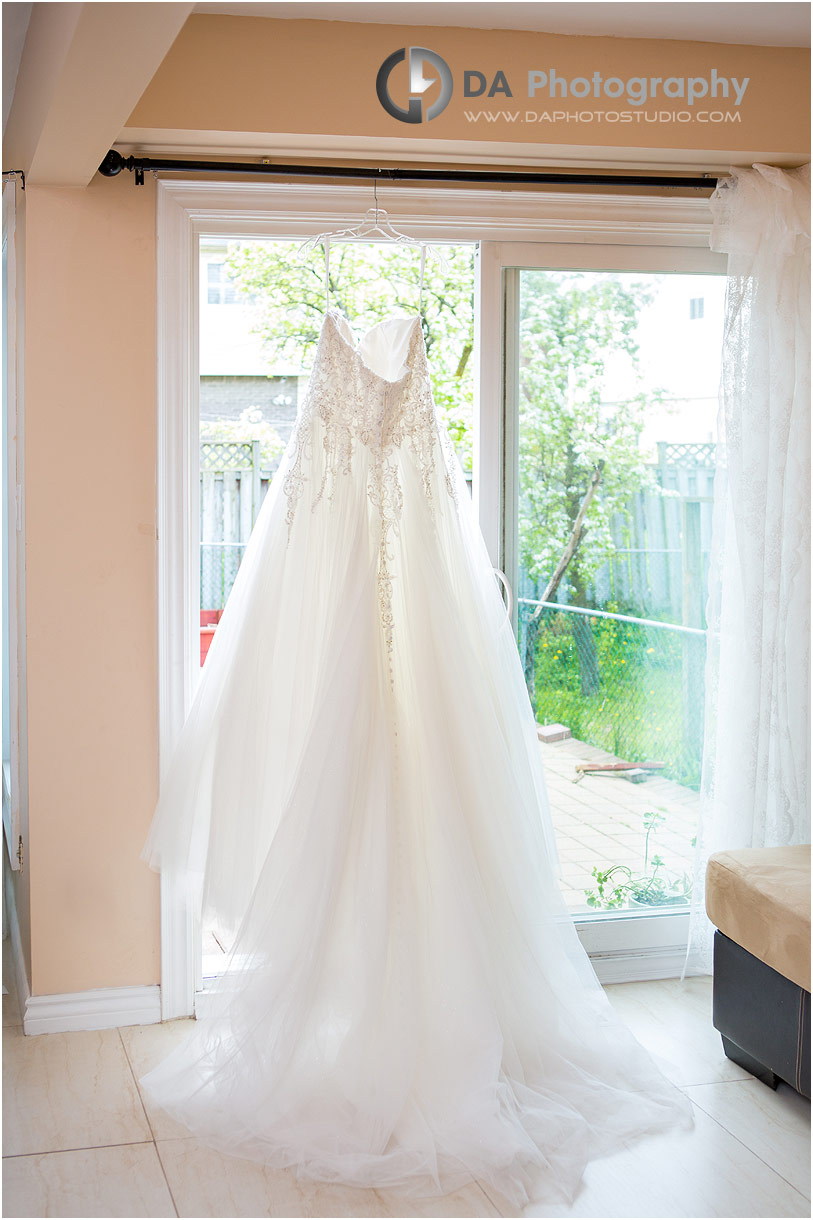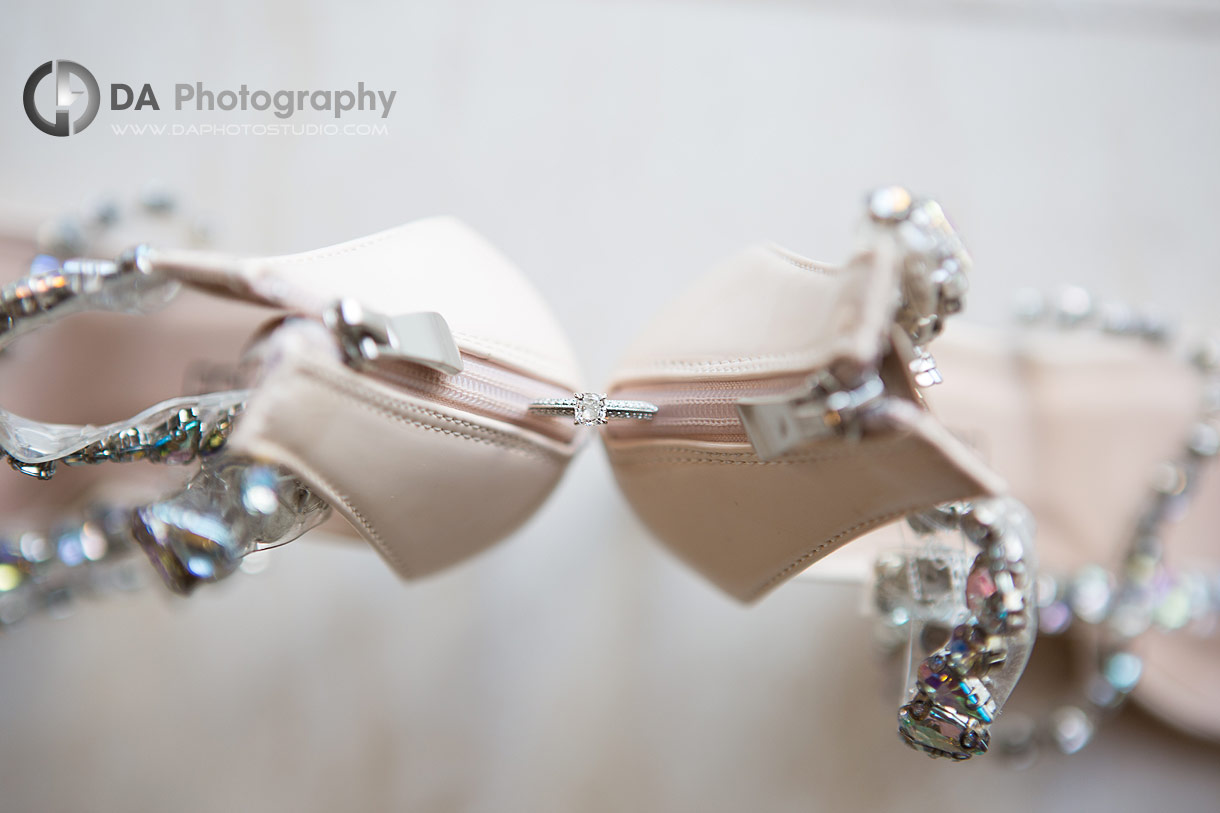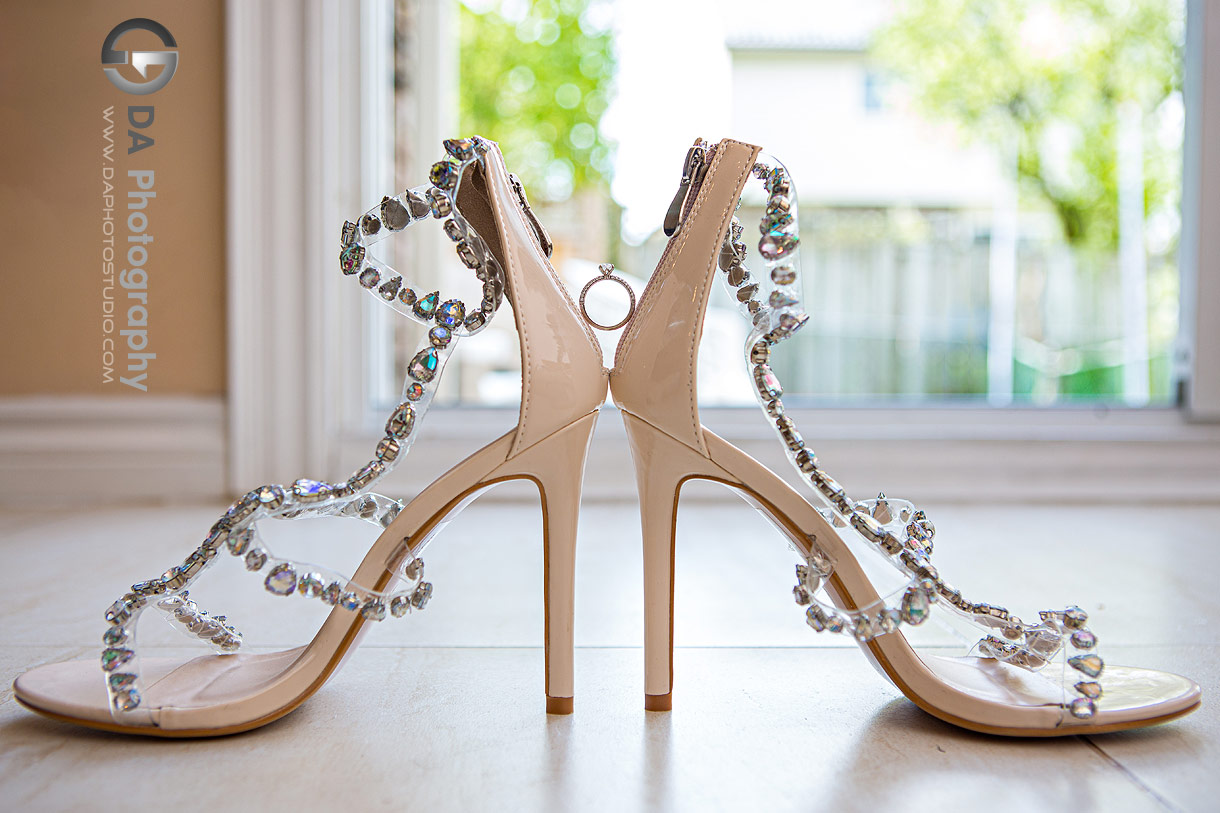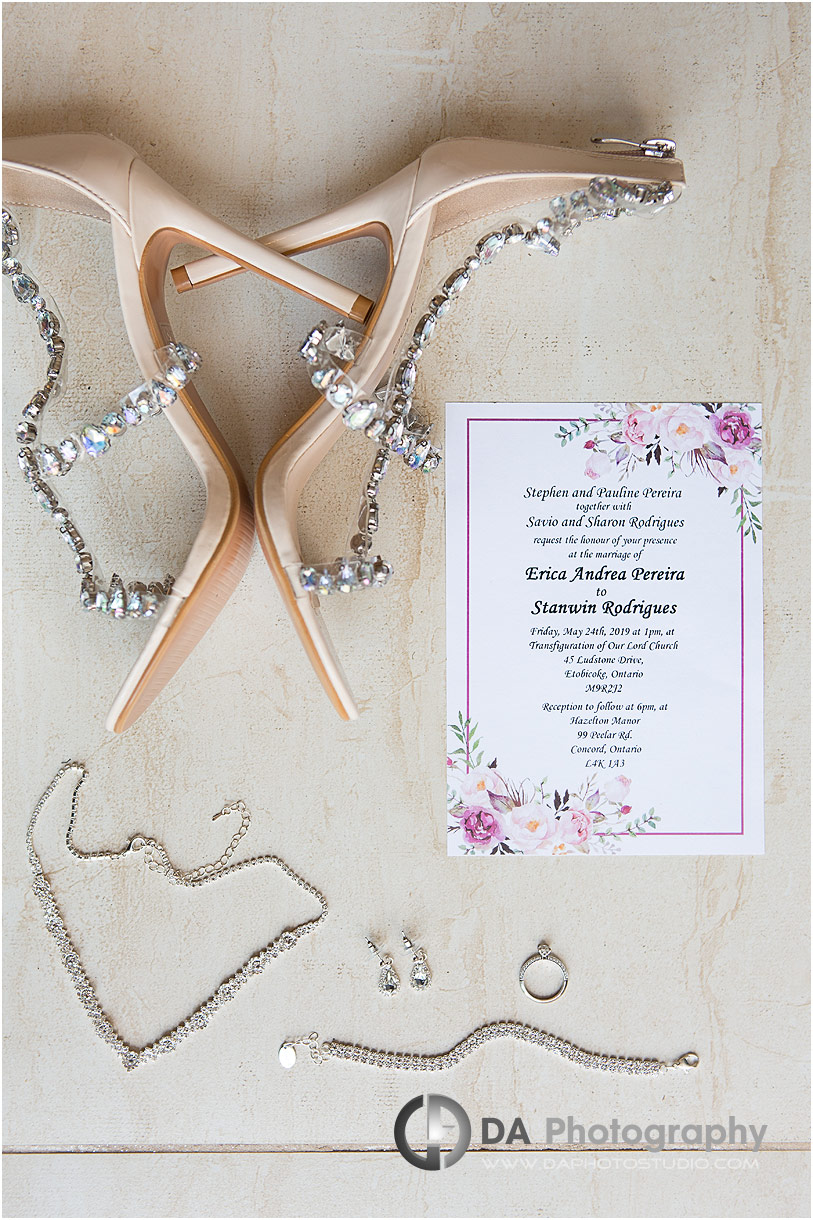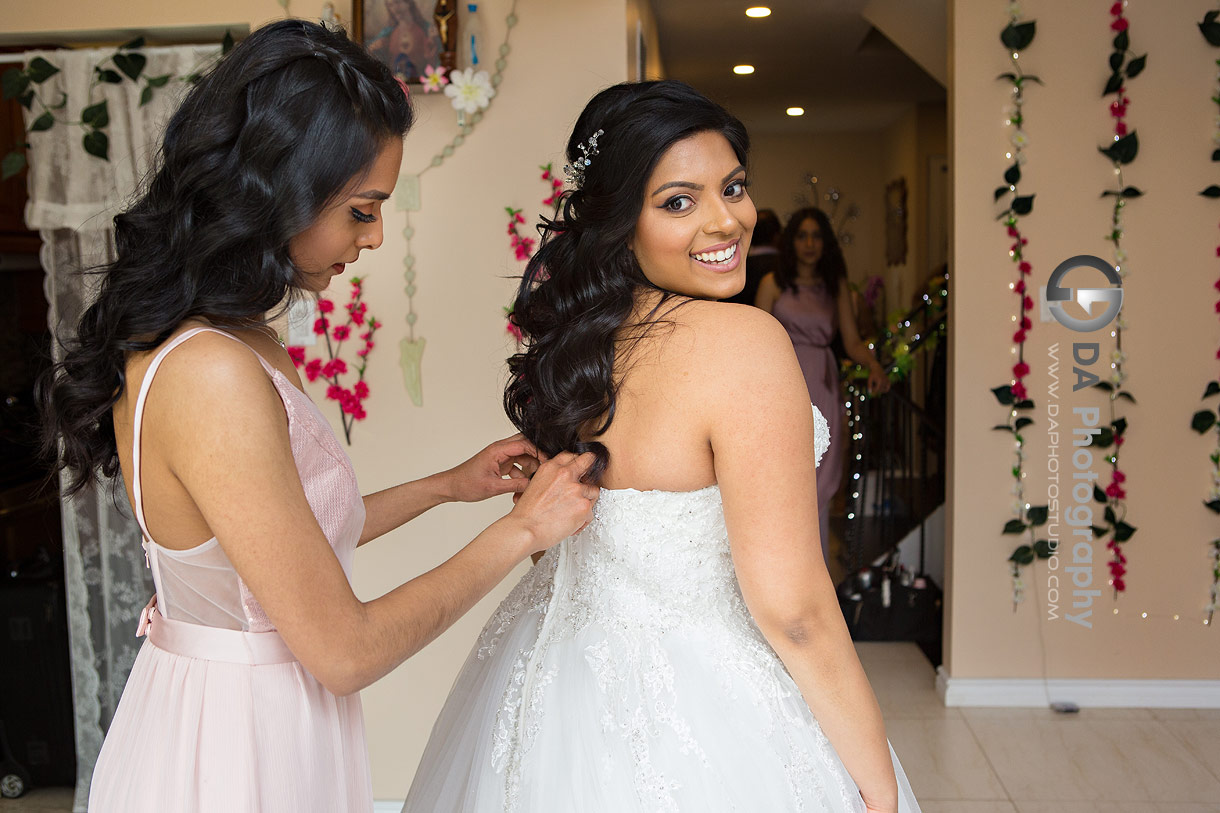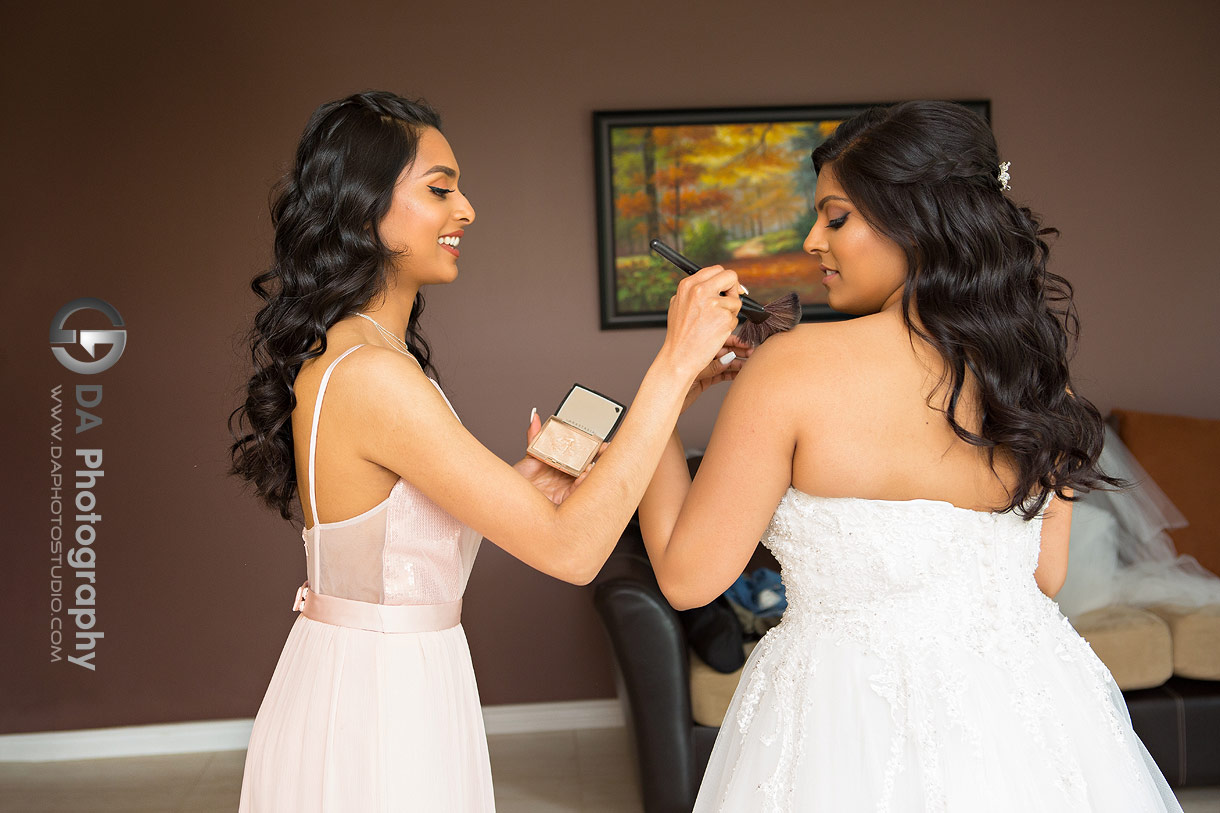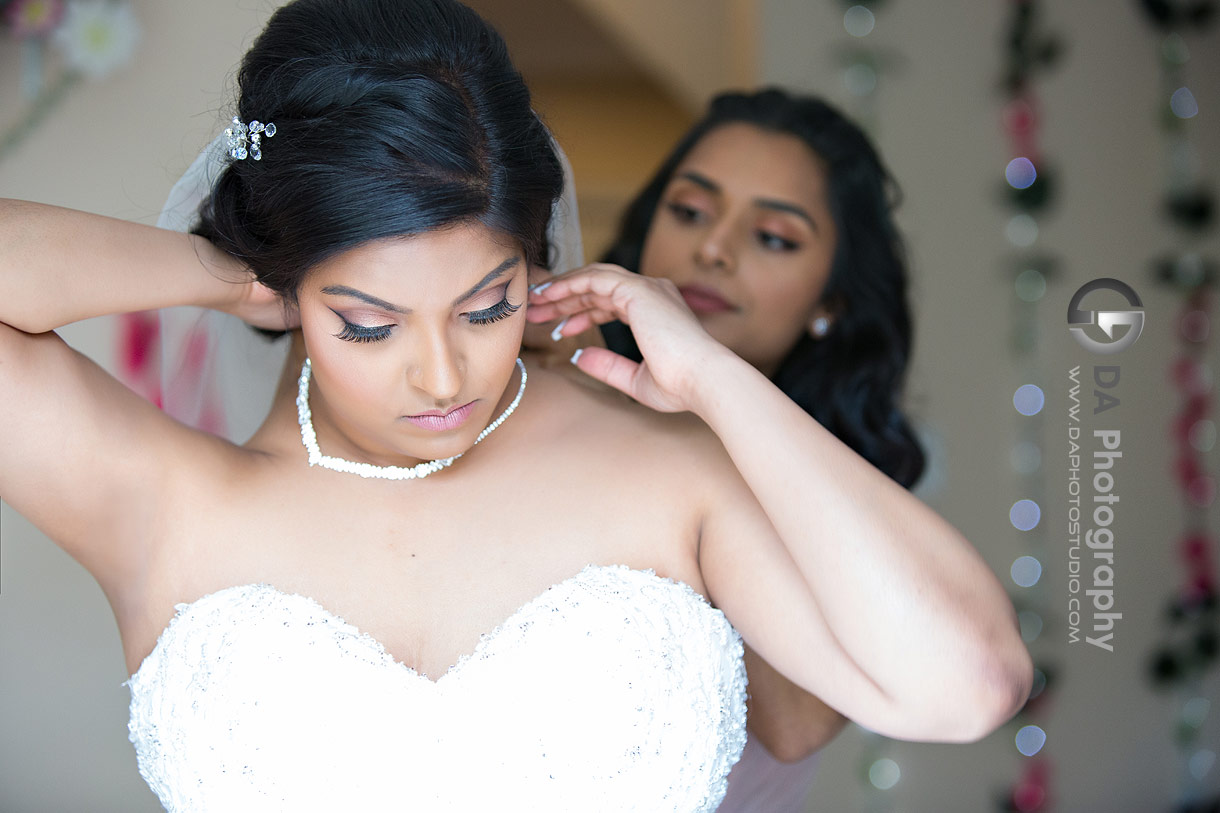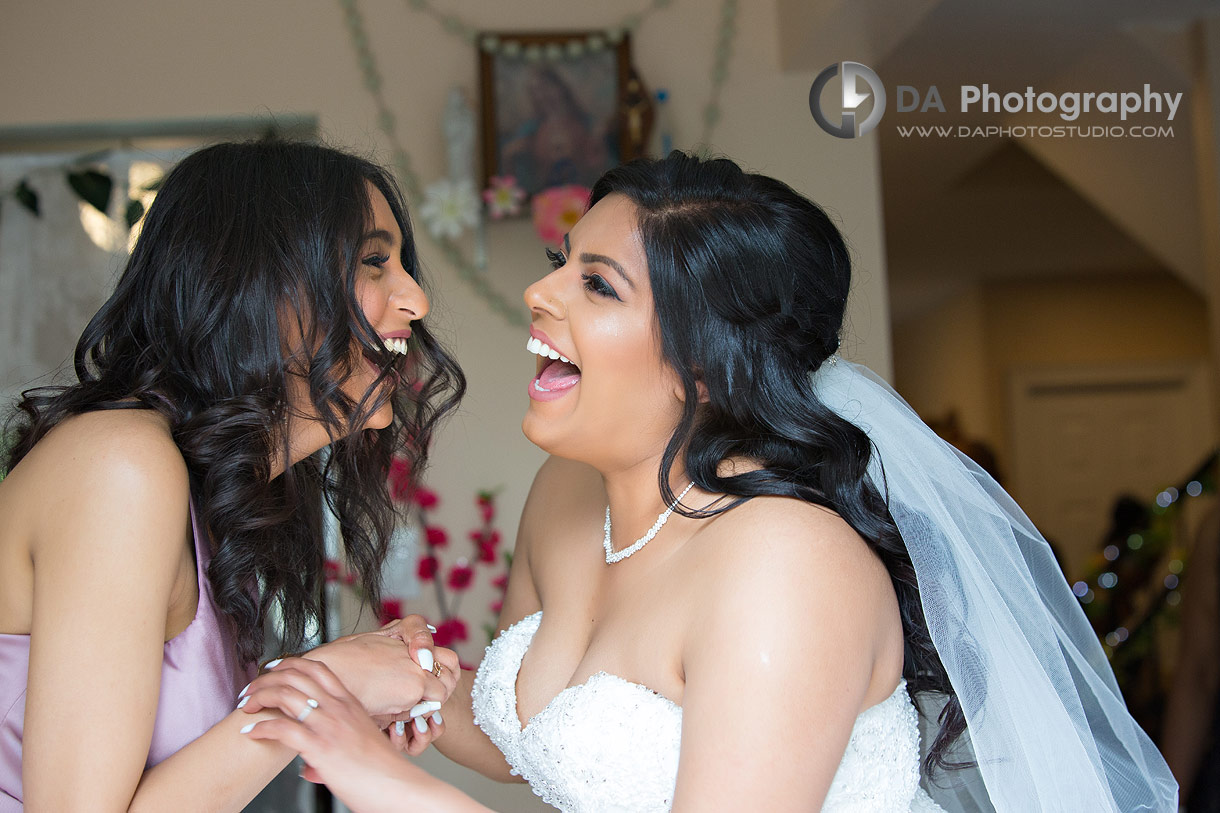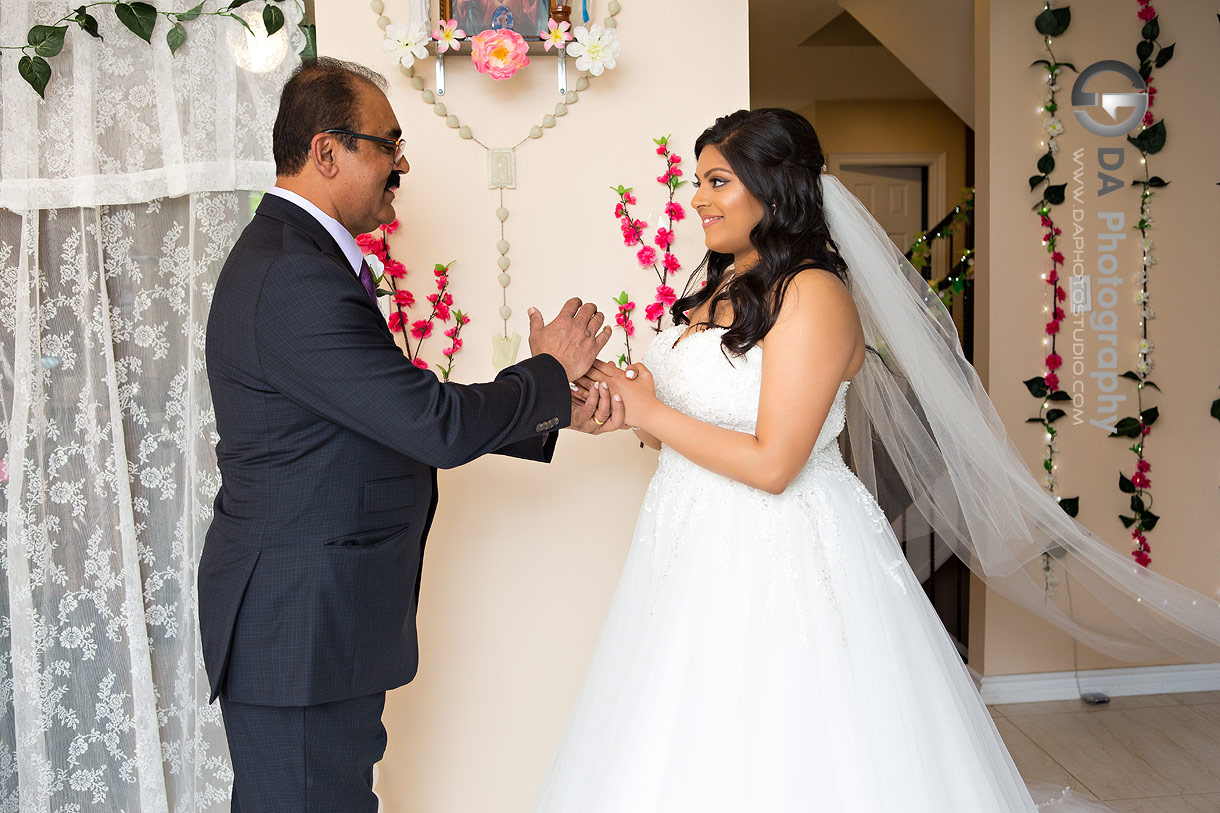 Wedding ceremony at the church
This Hazelton Manor wedding began with a ceremony at an amazingly gorgeous church. We were able to photograph from so many angles. I'm sure that just by looking at these photos you can experience all of the excitement and ambience just as clearly as if you had been there. Amazingly, the hour-long ceremony was done in a heart beat.
At the end of the ceremony, we were able to capture the couple walking down the aisle from two very different perspectives. Igor was in the upper level of the church. He photographed their exit at a bird's eye view while I was in front of them. This gave us the perfect advantage to capture their interactions with the guests who were congratulating them and giving some high fives over the pews. We did some group photos with the wedding party and all of the guests. Finally, we ended with a "sealed with a kiss" exit at the front of the church.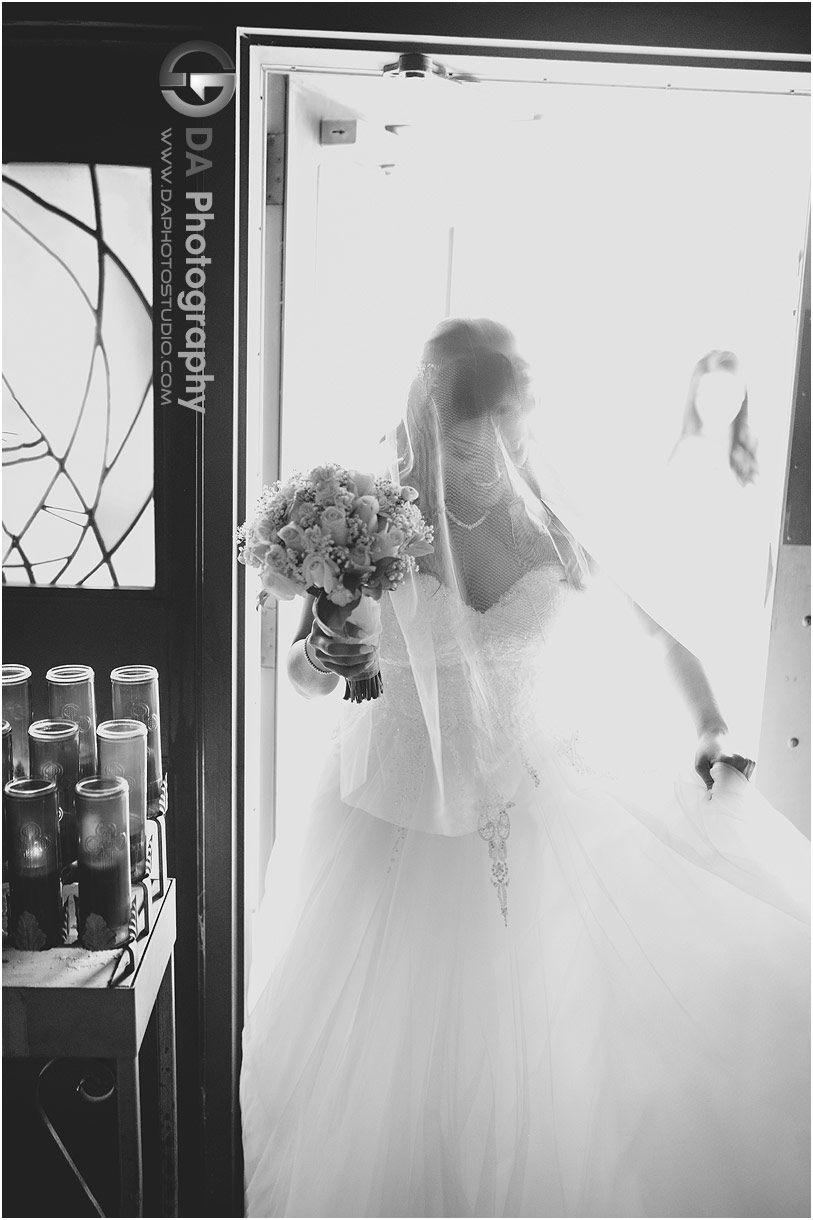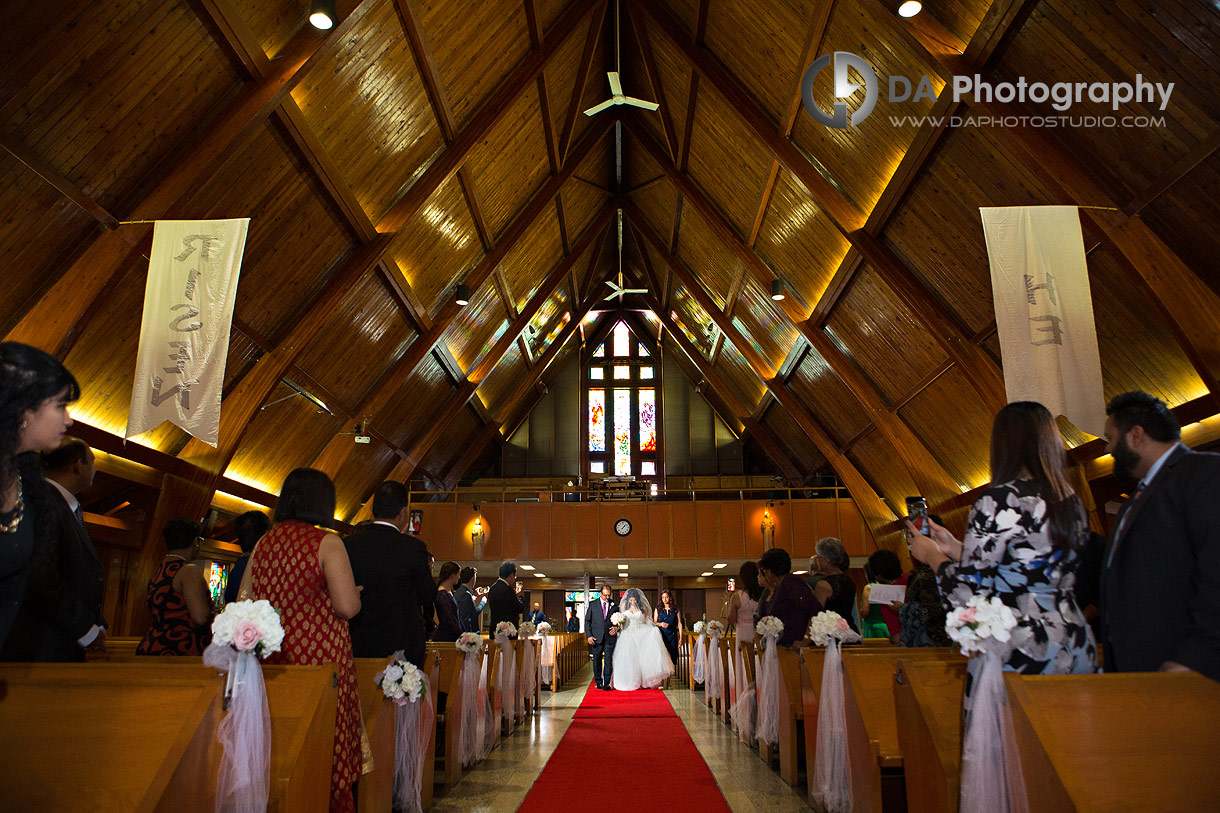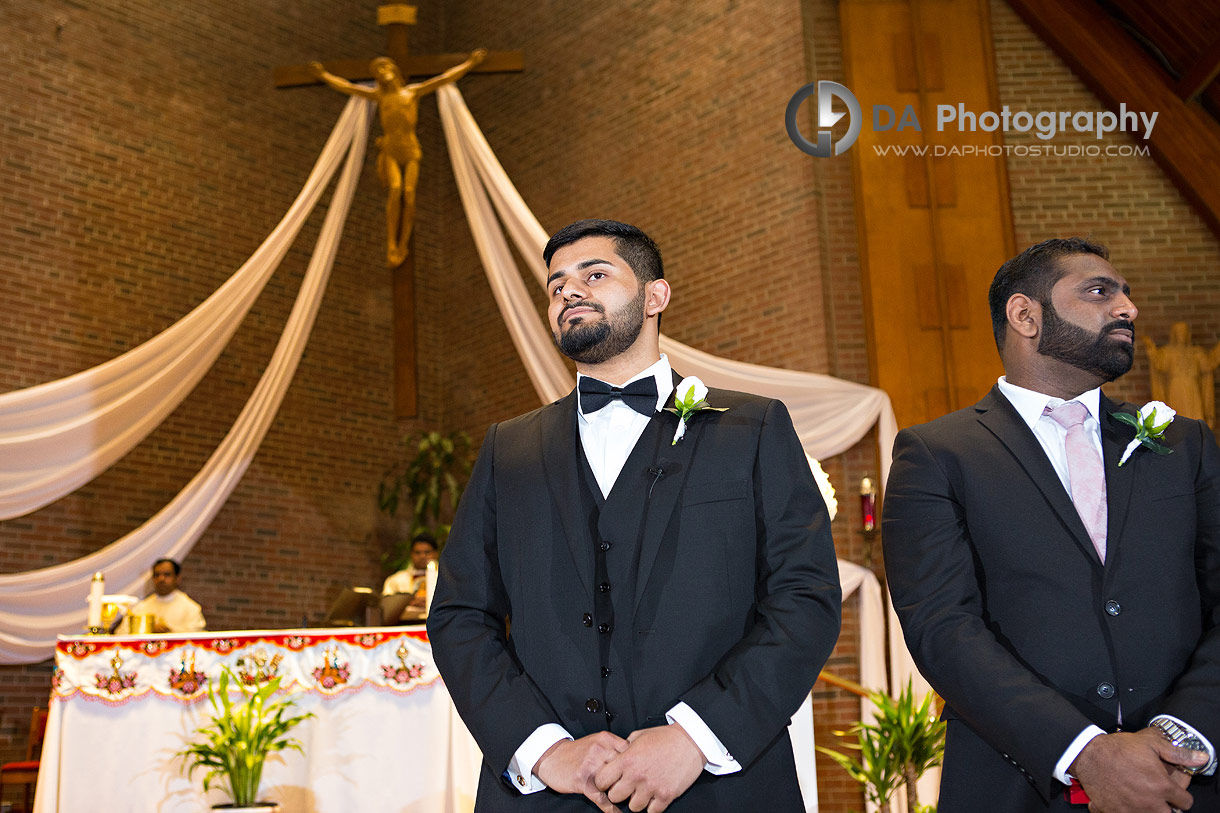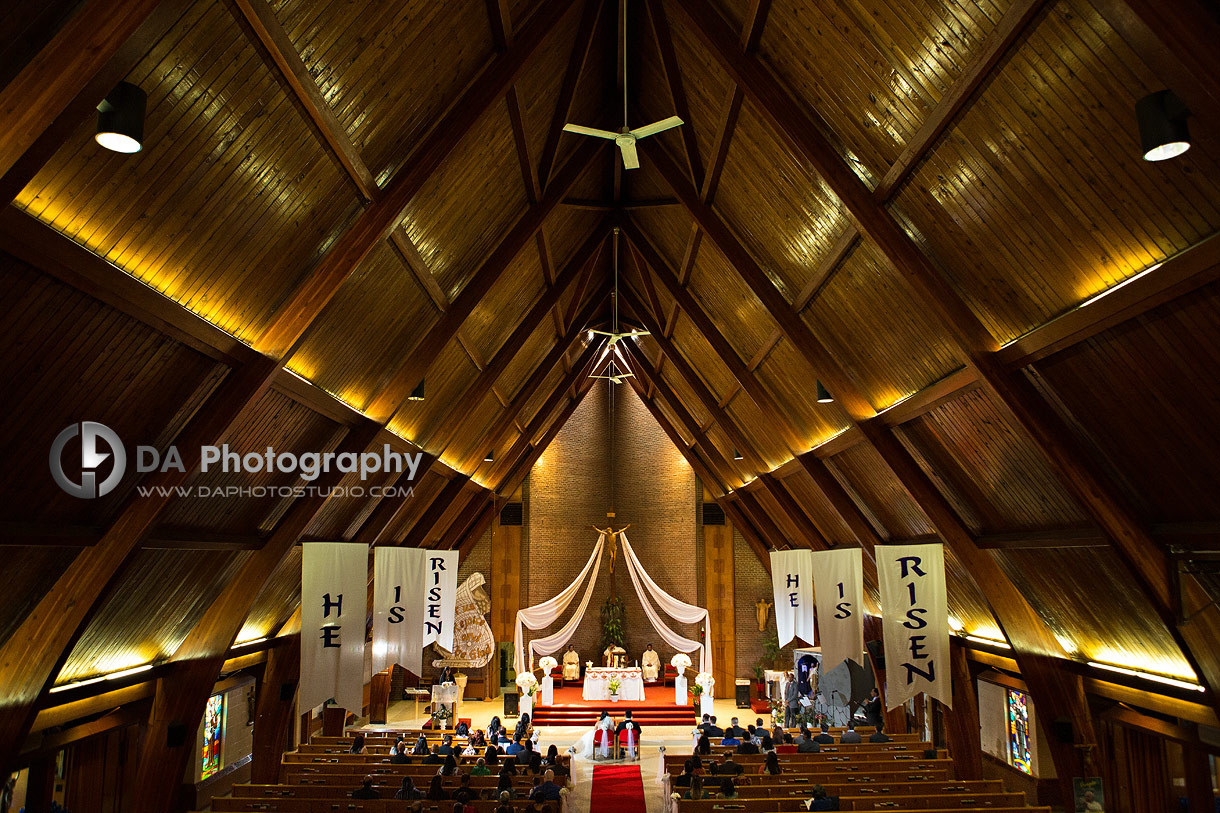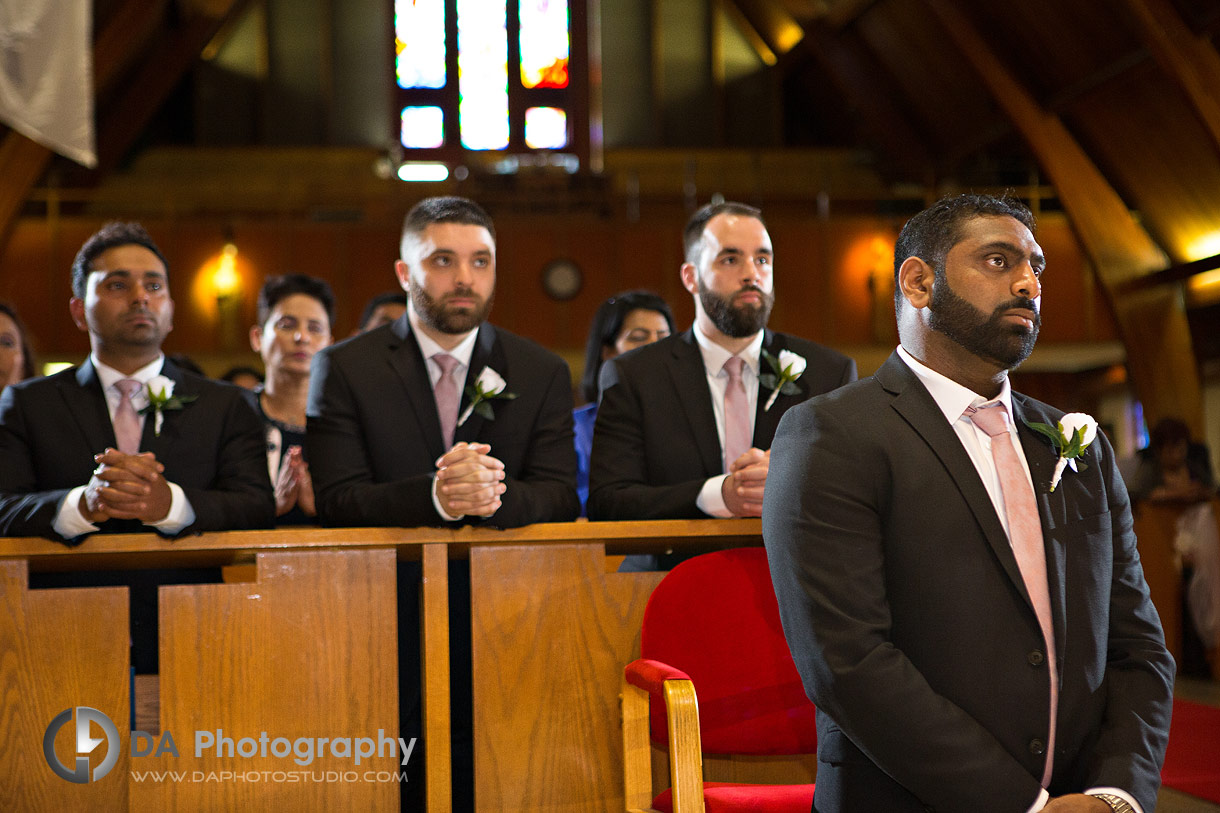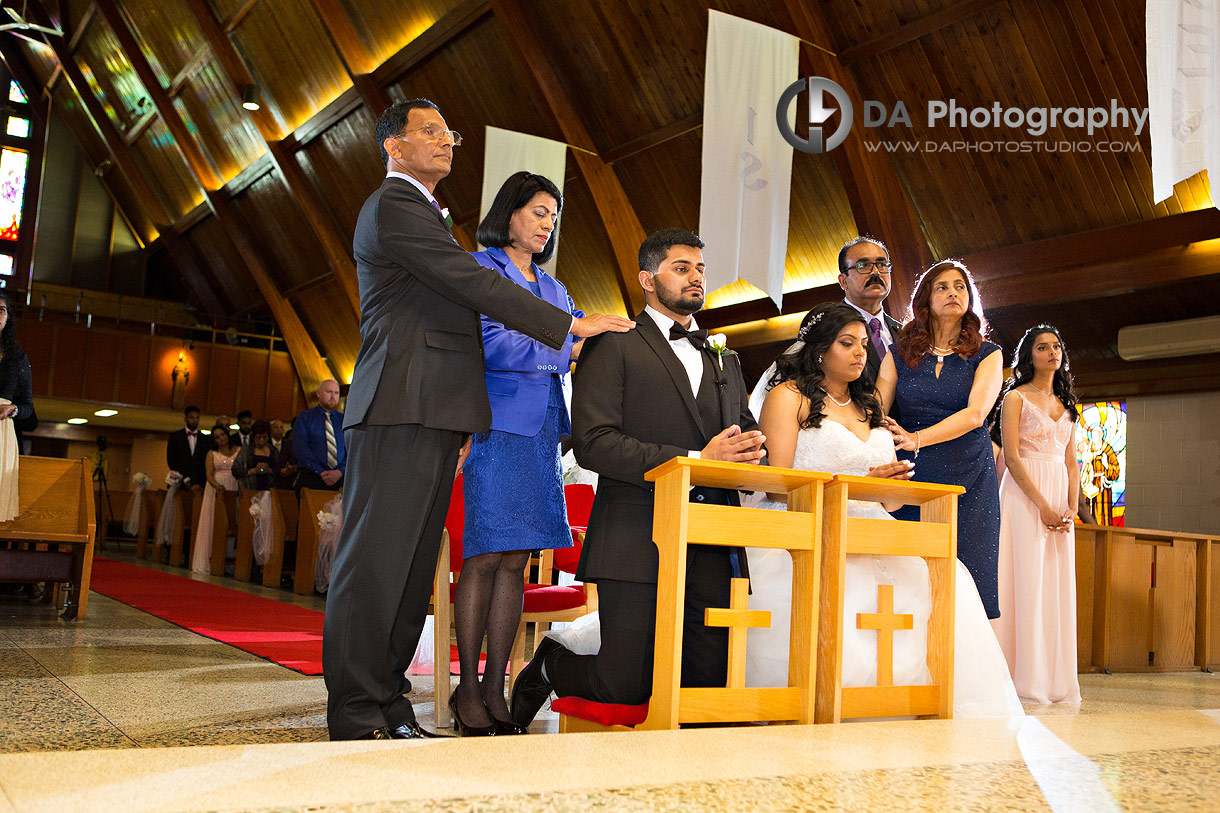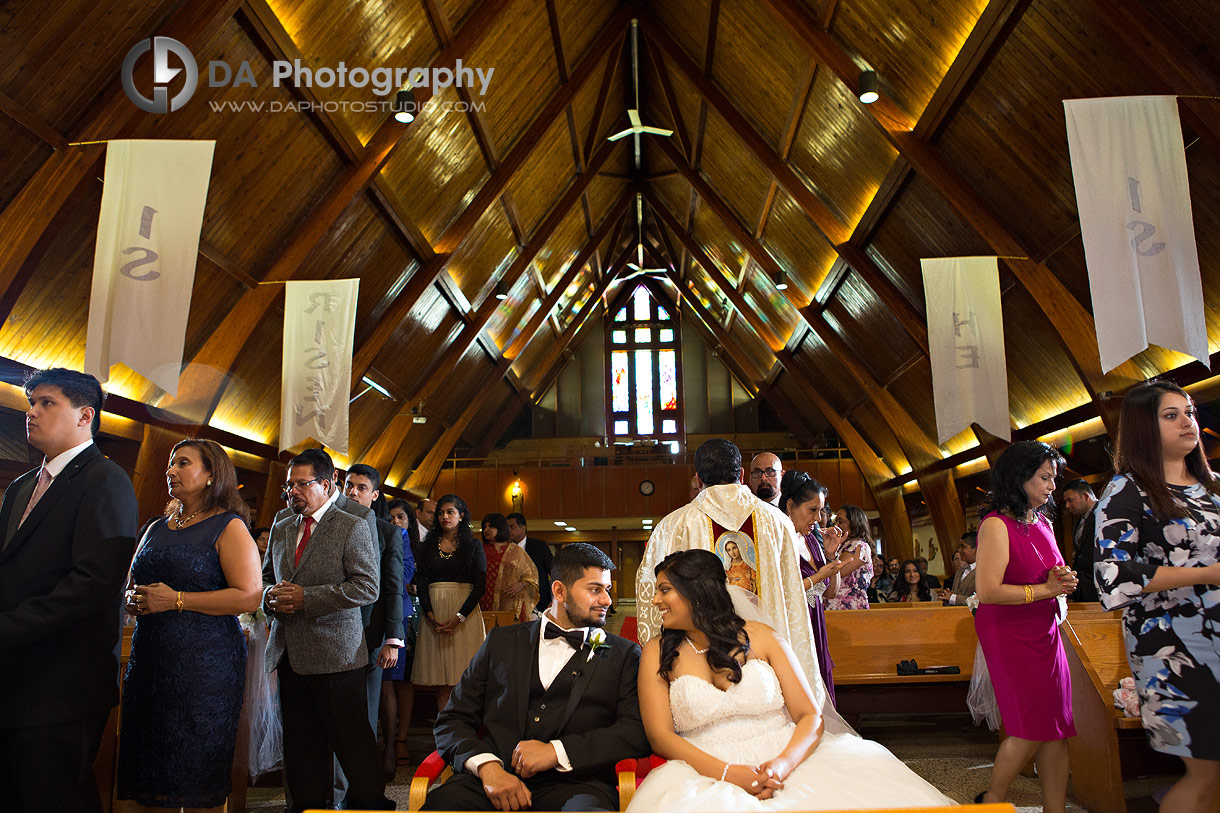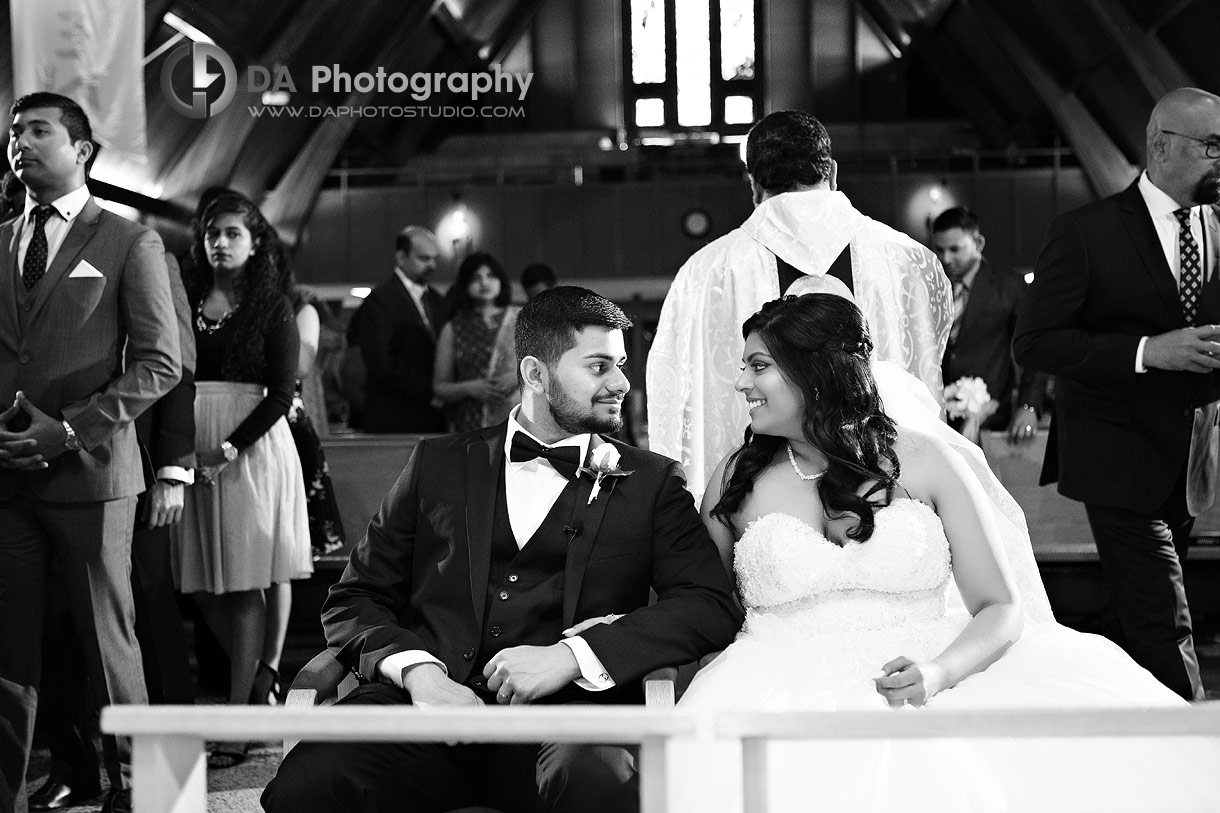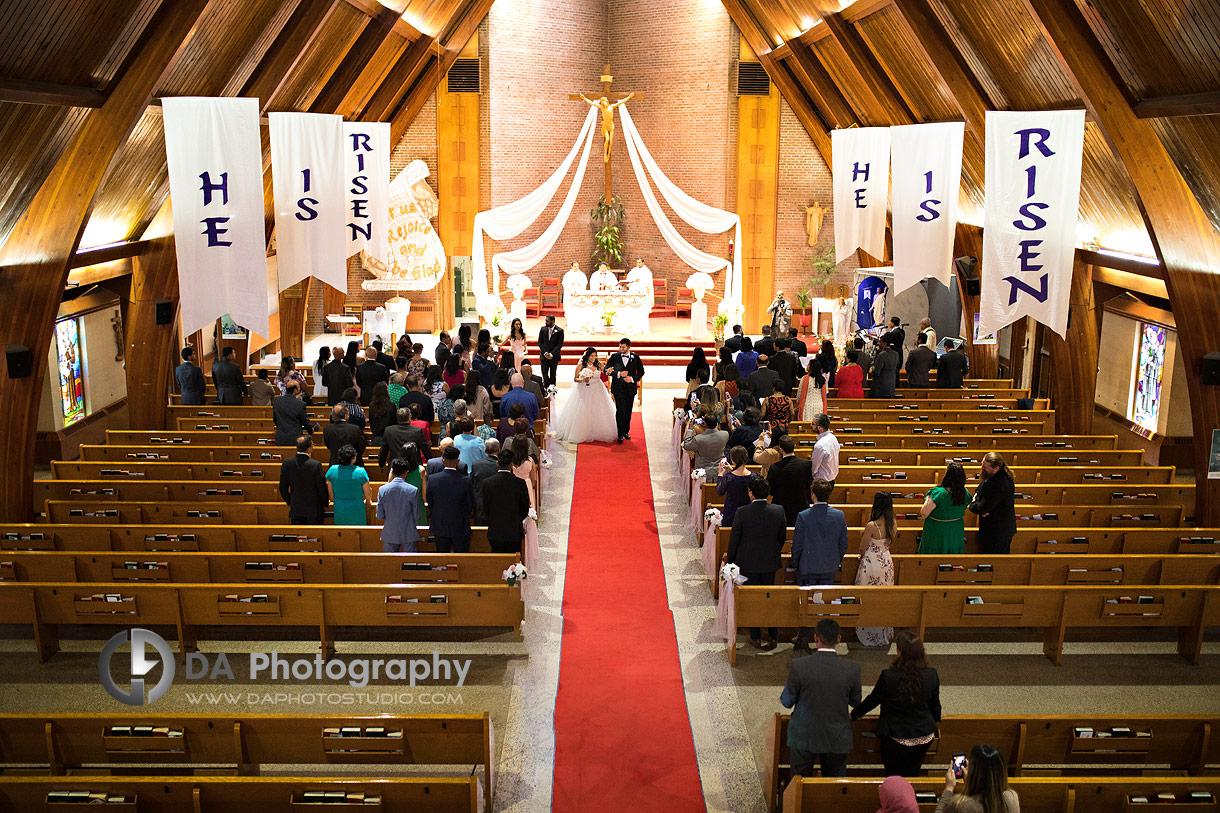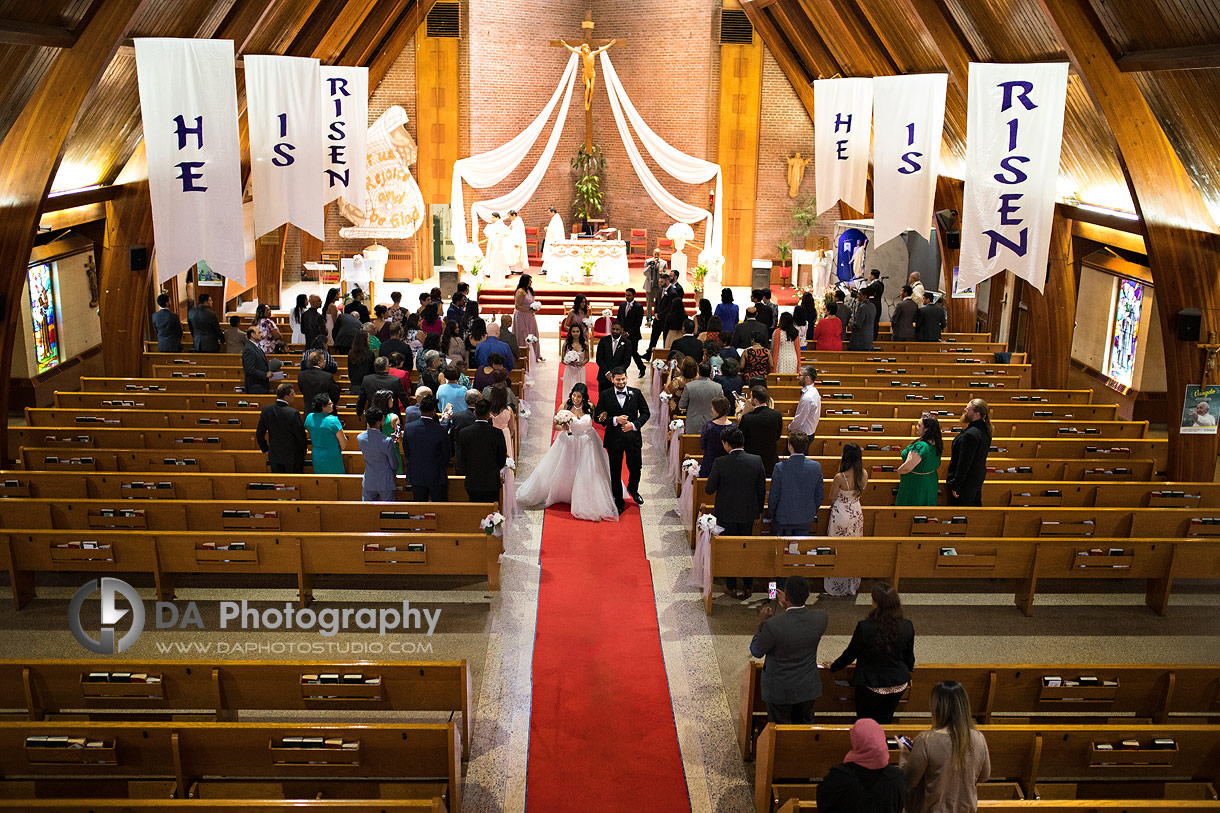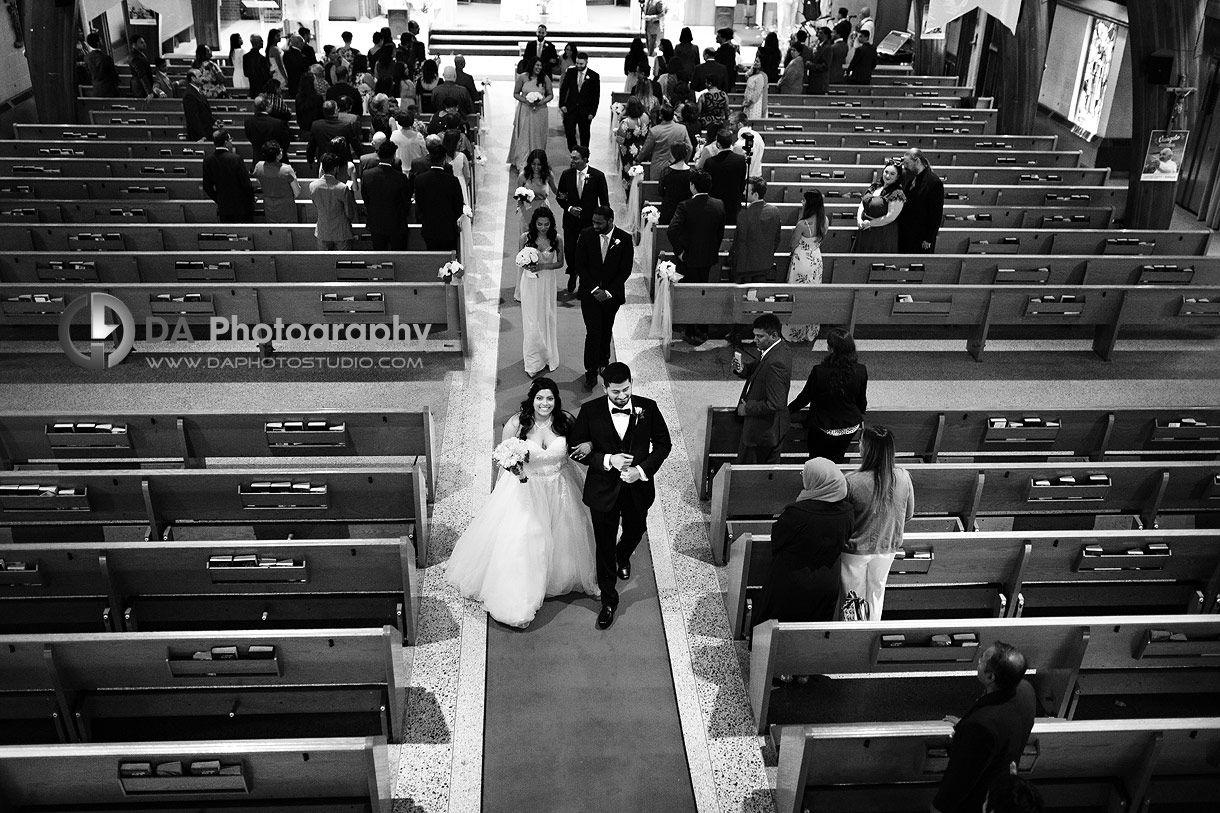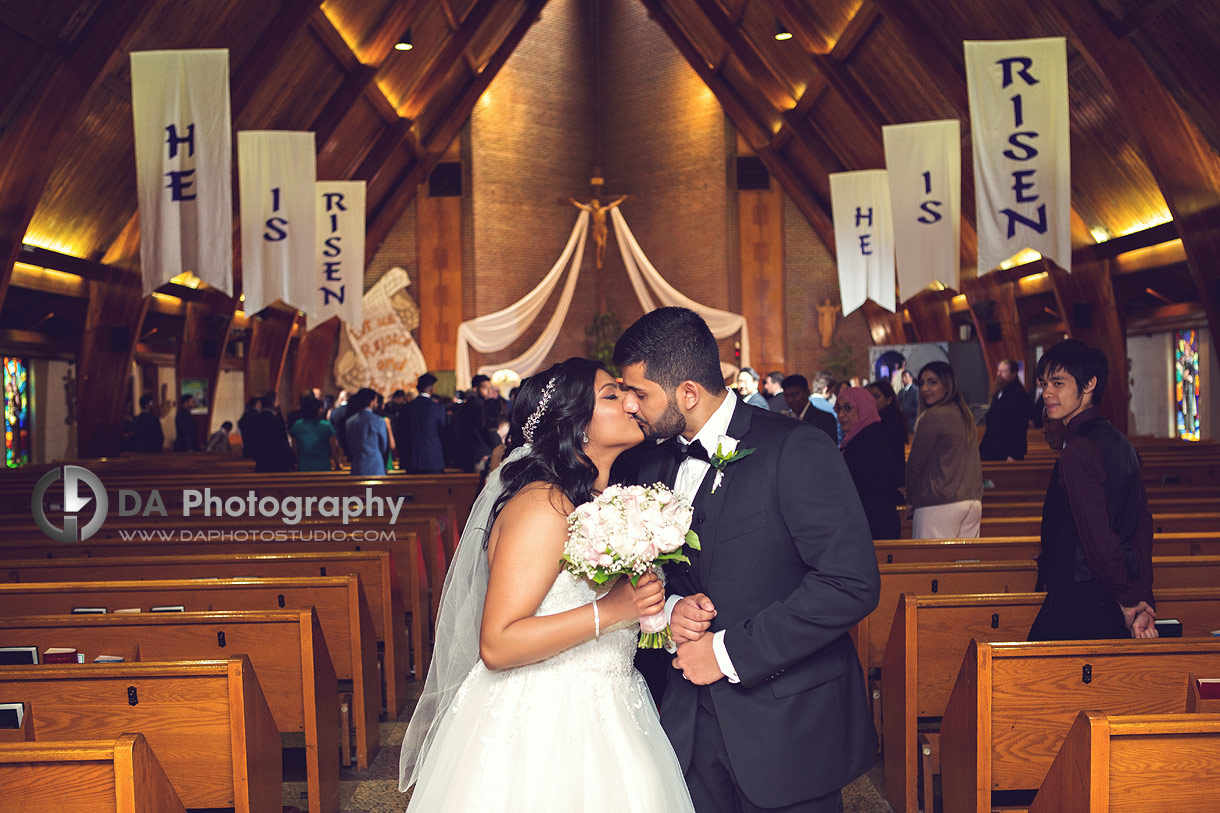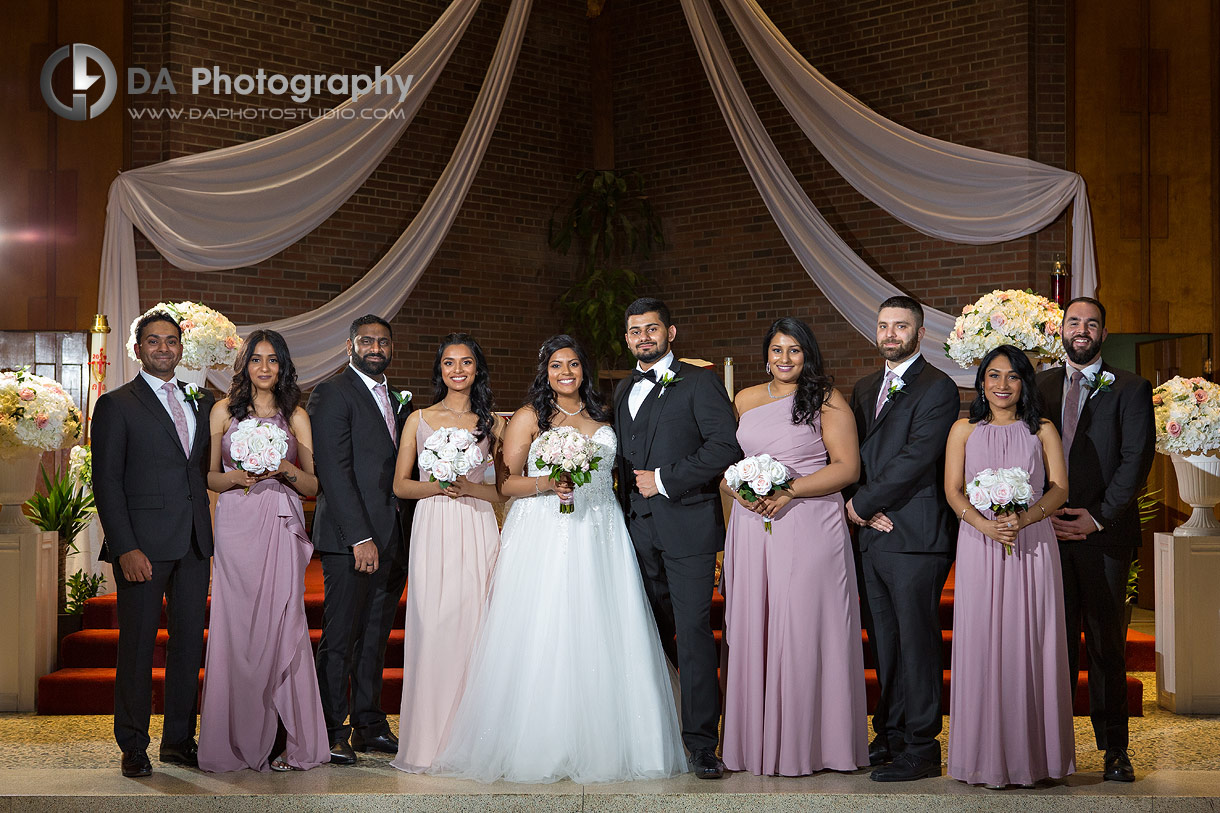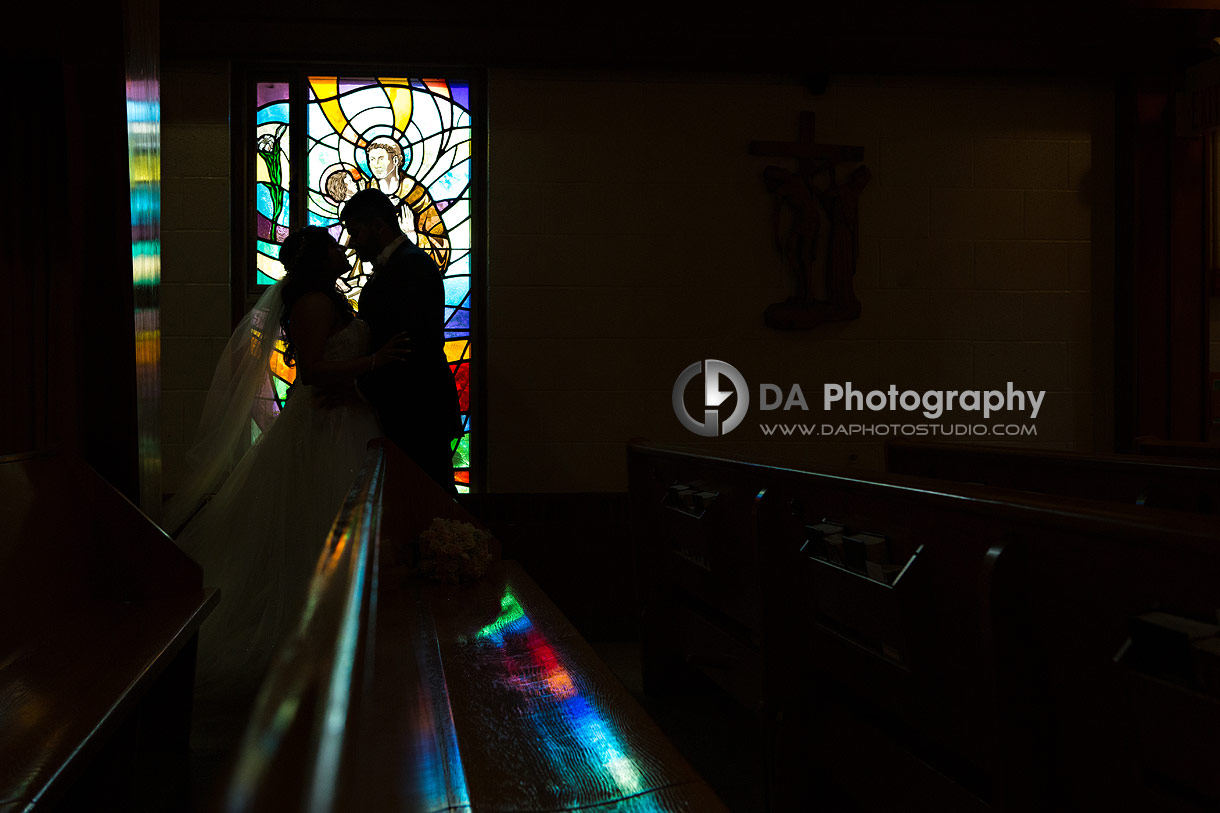 Photo Session at Richmond Green Park
With the perfect church ceremony complete, we were on the move to our next location, Richmond Green Park. This was the perfect site for our photo session. It is open to the public, but amazingly it is also very infrequently used by others. It is this location that I also photographed Simone and David's wedding.
At Richmond Green, our photo session went smoothly as we visited and captured all of the places within it that this location offers. There is the old vintage house at the entrance of the park and the gazebo within where we incorporated the entire bridal party. We did some bridal photos by their water fountain that created a type of feeling of a real waterfall.
Overall, we were able to work with the entire bridal party to capture the amazing images that Erika and Stan will forever cherish. Without a doubt, the weather was on our side as well. Being late Spring, there was an abundant amount of greenery and blossoms. At the same time, we were not threatened by any rain or unpredictable winds. A perfect case scenario!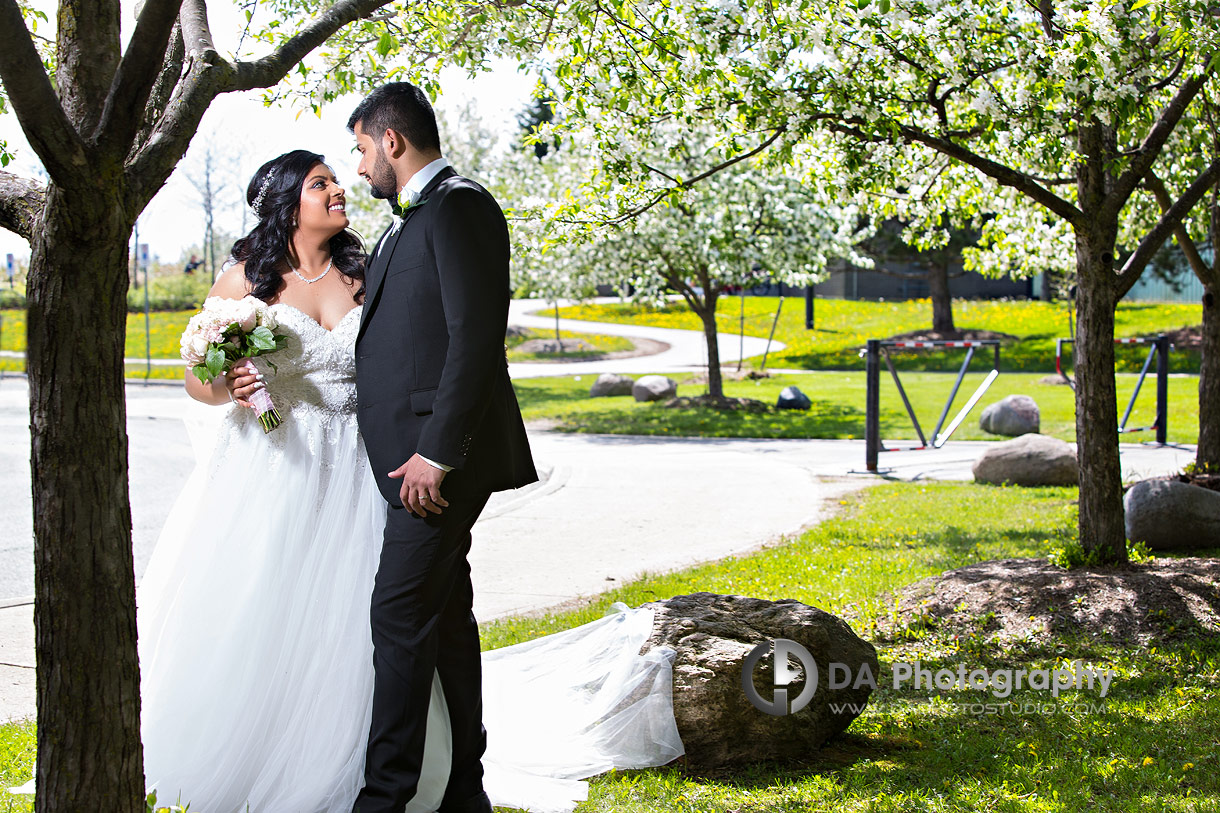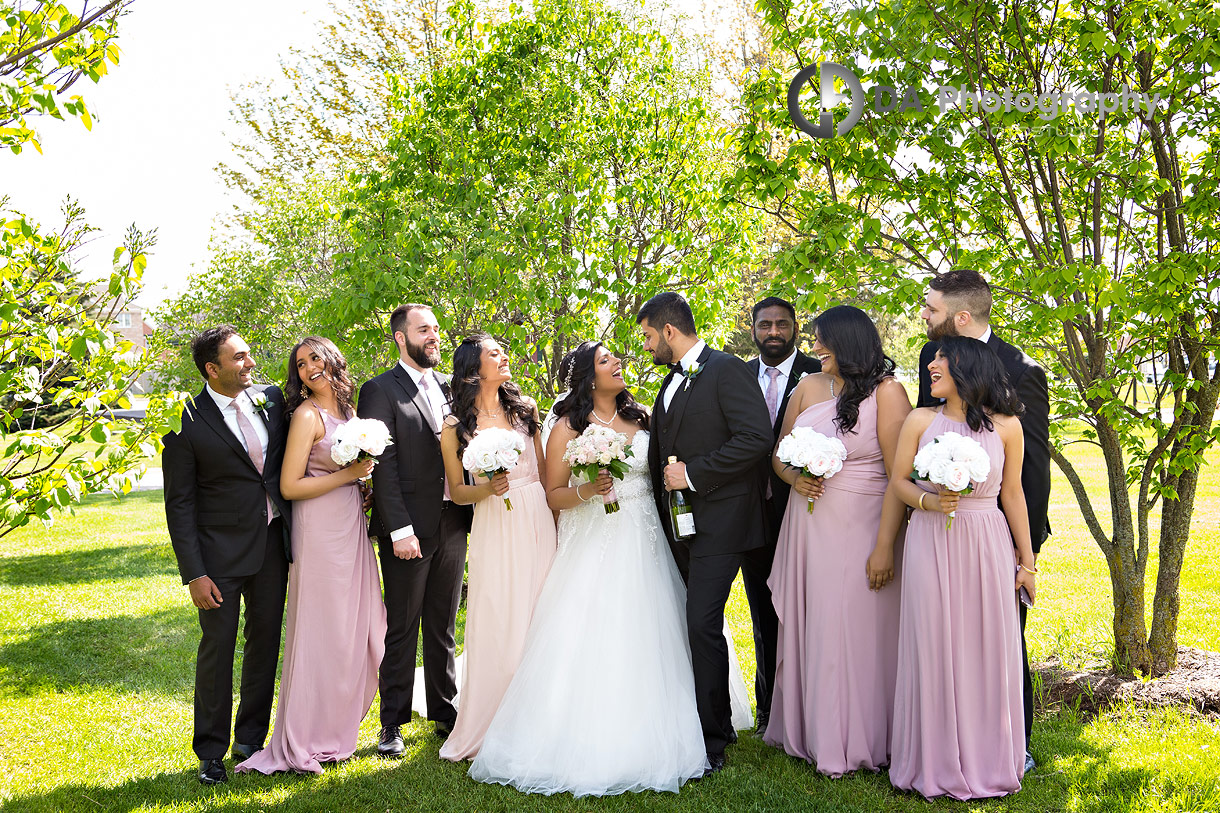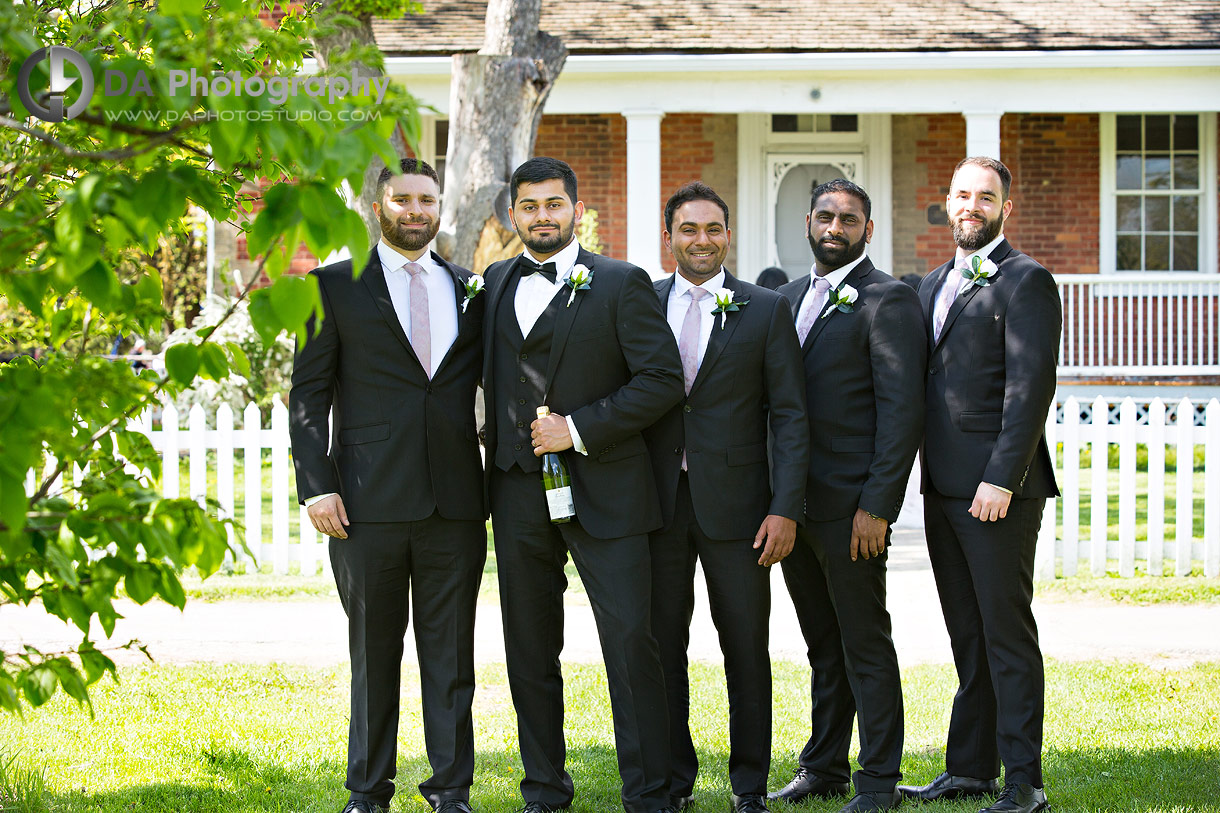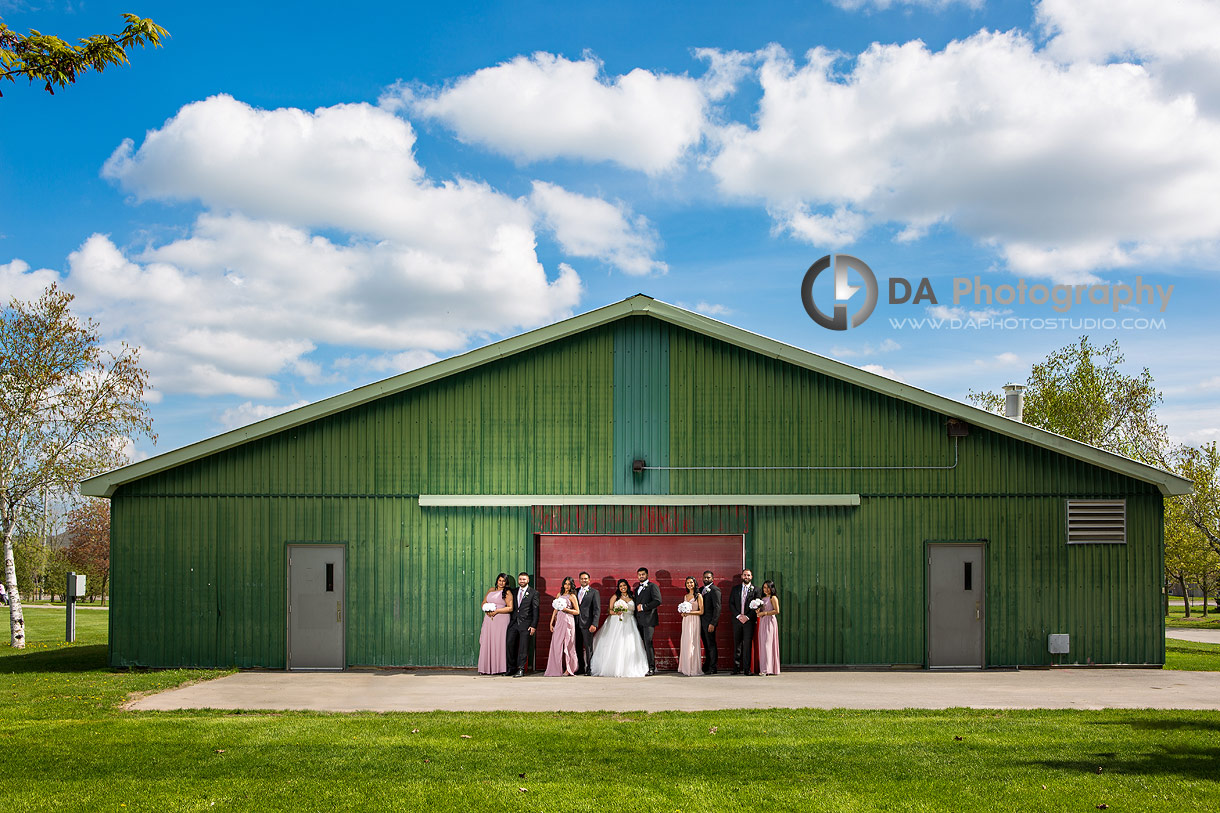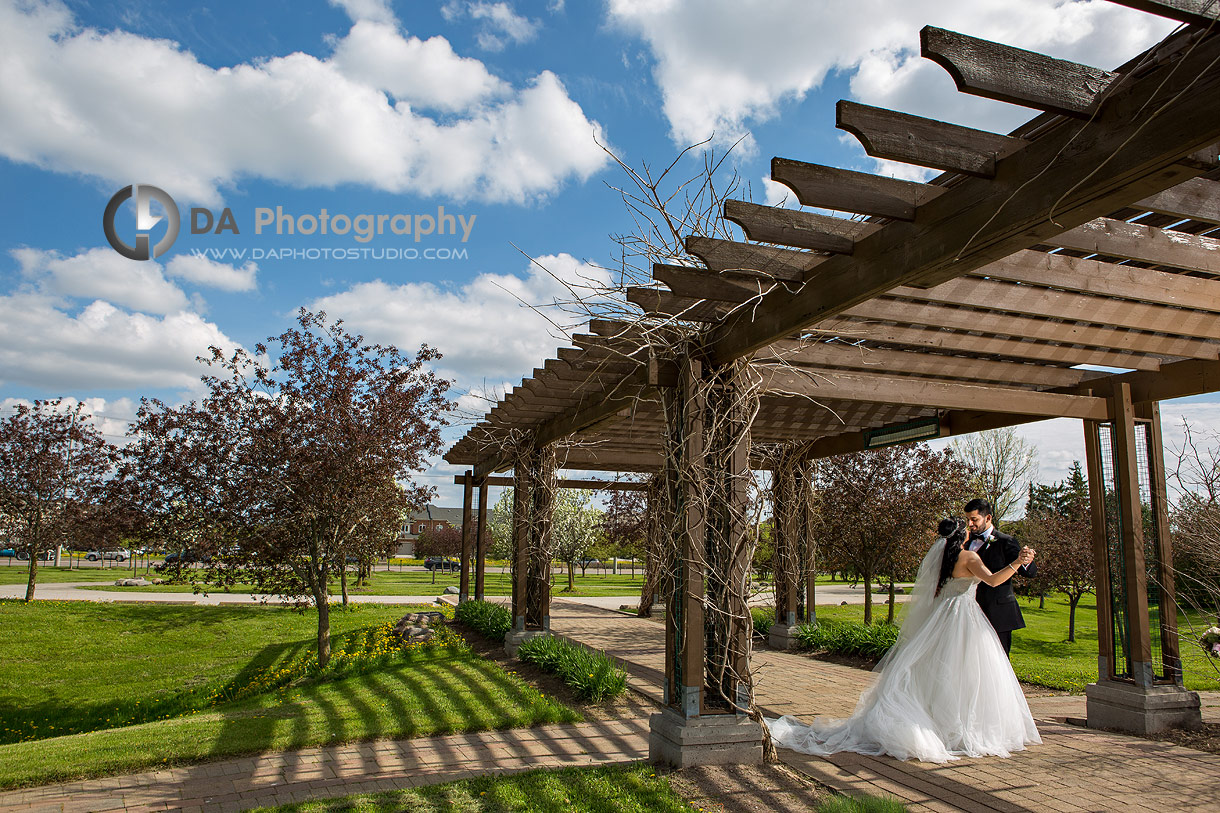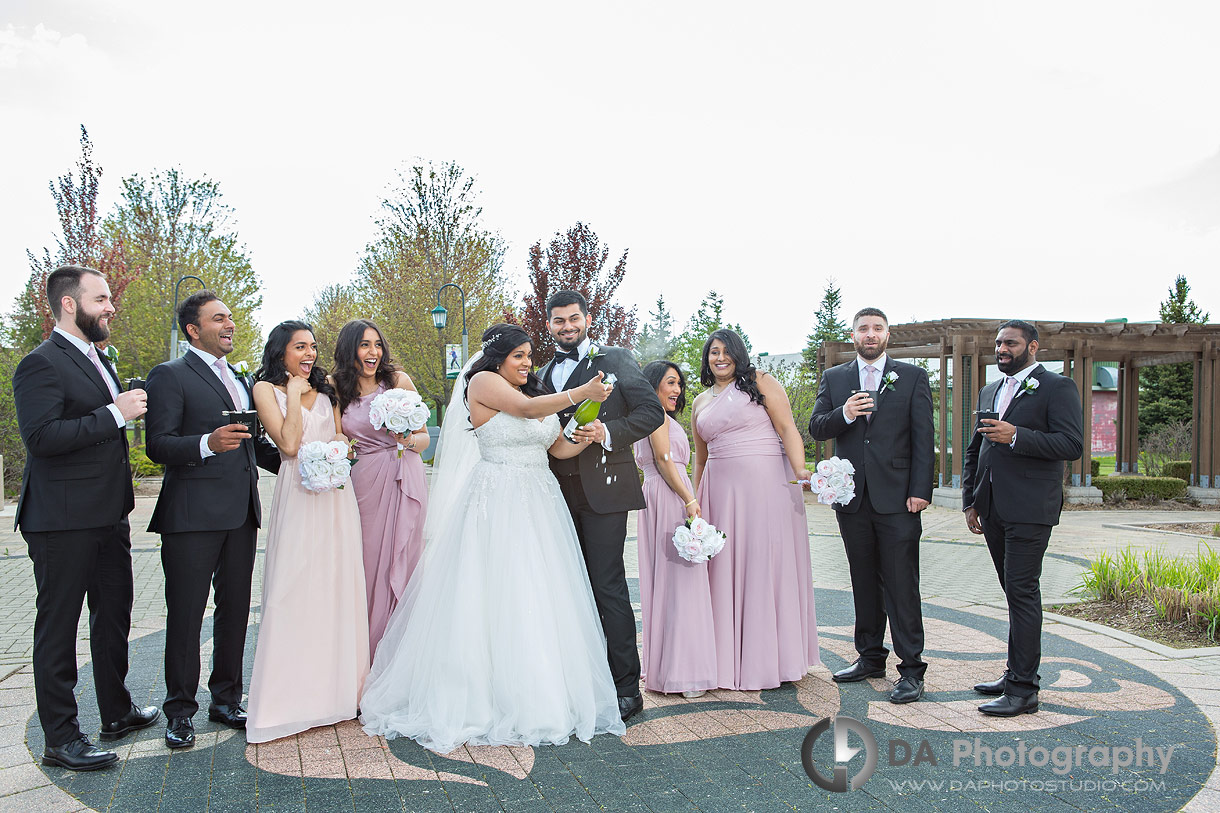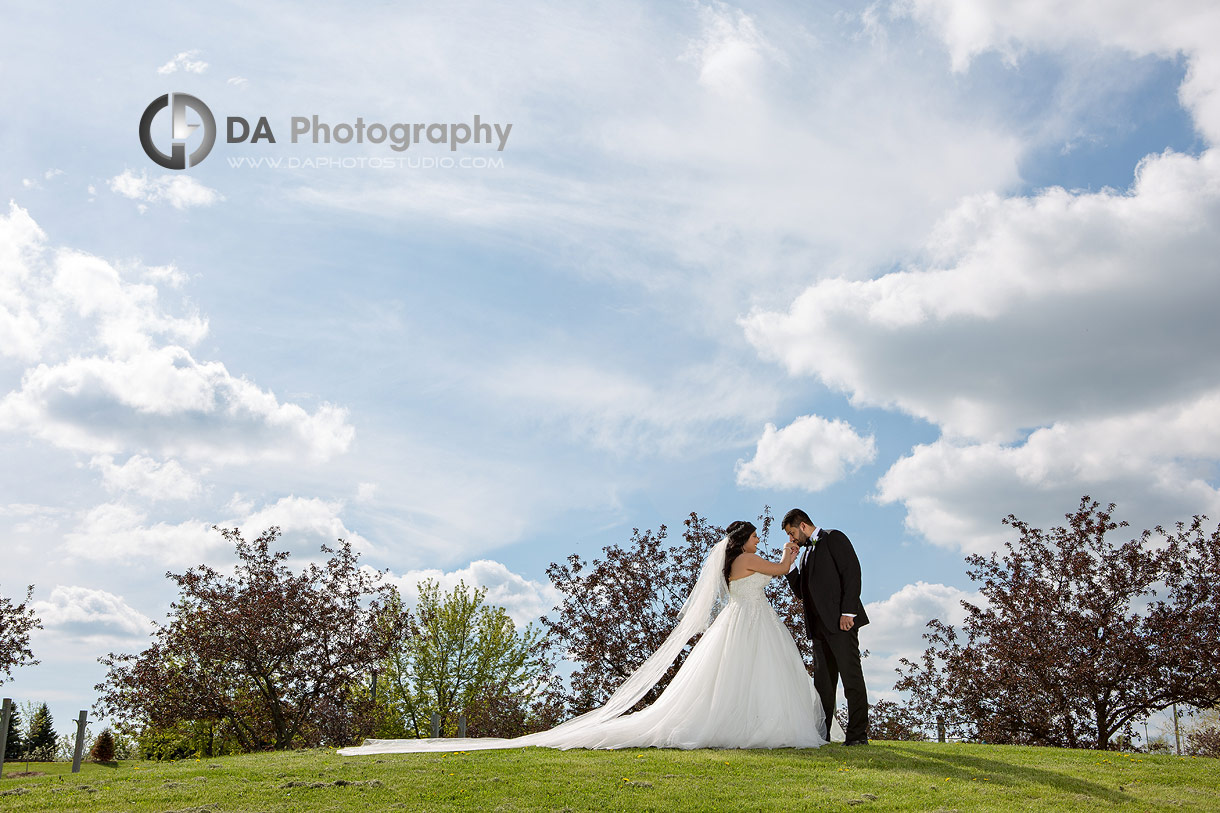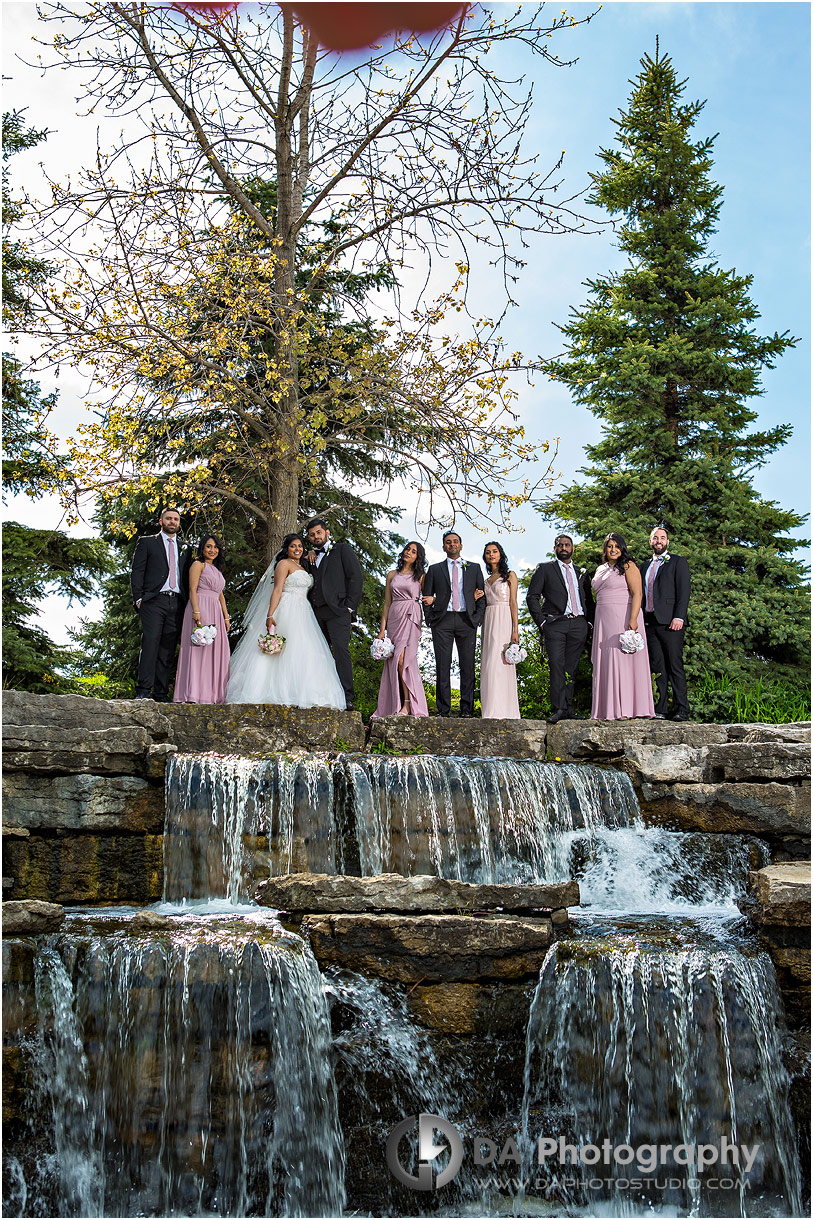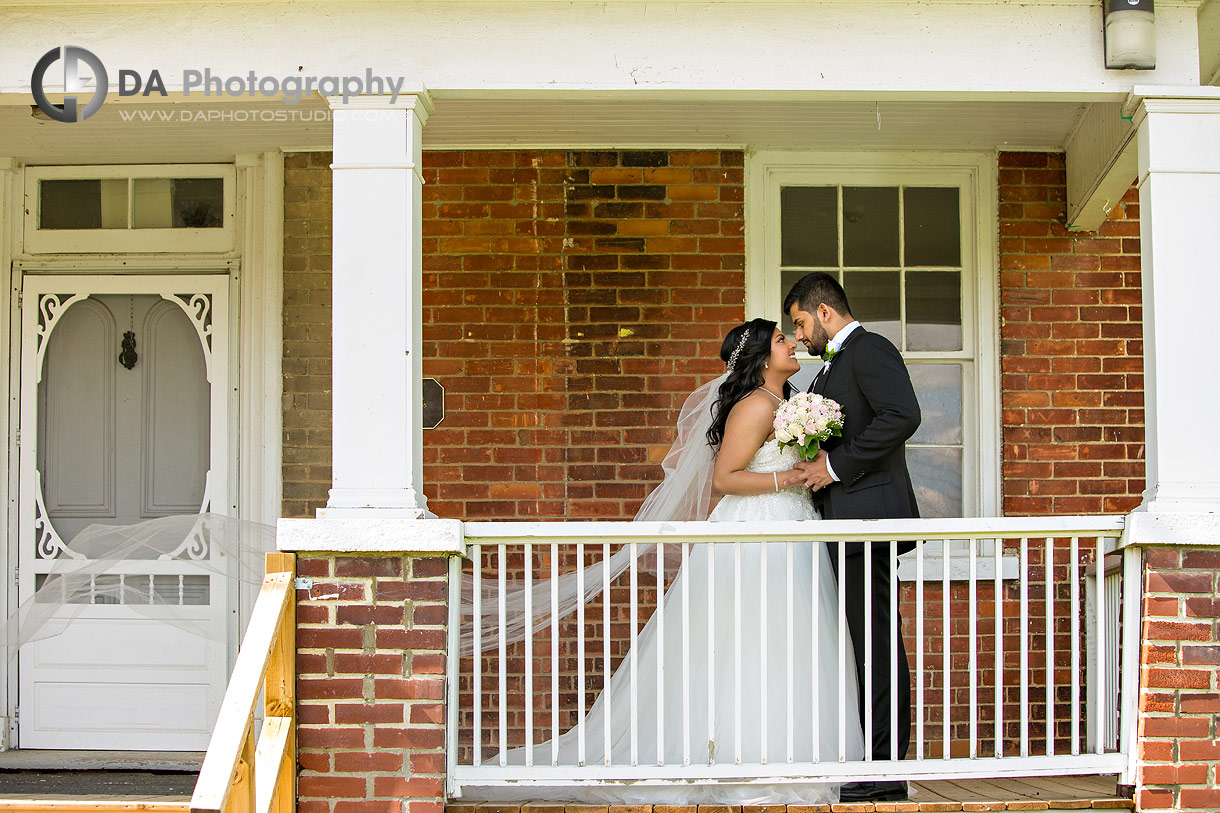 Reception and cocktails at this Hazelton Manor wedding
With all of the travel and most of the itinerary behind us, arriving at Hazelton Manor was a welcomed relief for us. By no means were we ready for the day to be over! We just wanted to really celebrate this perfect wedding and to have it finish on the same high note that it had started on. Coming to the last location was rewarding and I'm sure relaxing for the bridal party too.
At the location, Igor started to photograph some candid moments of their cocktail reception. There were so many happy faces and opportunities for some great un-posed images.
Alternatively, I took some time to set up mu lighting for the evening celebrations. Then, set out behind the scenes a bit to photograph the details of the wedding reception set-up. The podium where they would be sat together was elevated and perfectly decorated. The colours of the flowers were subtle and delicate. Absolutely, it was a very classy set-up done with a great attention to detail. And then there was the amazing big multi-tiered cake as well!
Working efficiently, we were able to document the full set-up right before their grand entrance. This left us some extra time to work on getting our creative juices flowing and to prepare for the night of fun, dancing and family moments.
Fun MC from India creates super interactive atmosphere
The master of ceremonies for the evening was Erika's uncle who arrived straight form India. His approach to his role as MC was different from anything I had previously experienced. He was extremely personable and took some extra time than usual to help sustain their already uplifting atmosphere.
After the formalities of the grand entrance, cake cutting celebration and first dance were complete, I began to really see the hard work of her uncle. He was able to keep the wedding reception interesting and fun while still respecting the house rules and giving the guests time to enjoy their delicious meal.
The night was proving to be a very interactive and fun event that was full of games, smiles and dancing. Igor and I couldn't remember a time when we photographed a more real and unposed reception before. The smiles, and perhaps a little sweat glow too, on my couple, their family and all of their guests was pure proof that they were having fun and enjoying the night.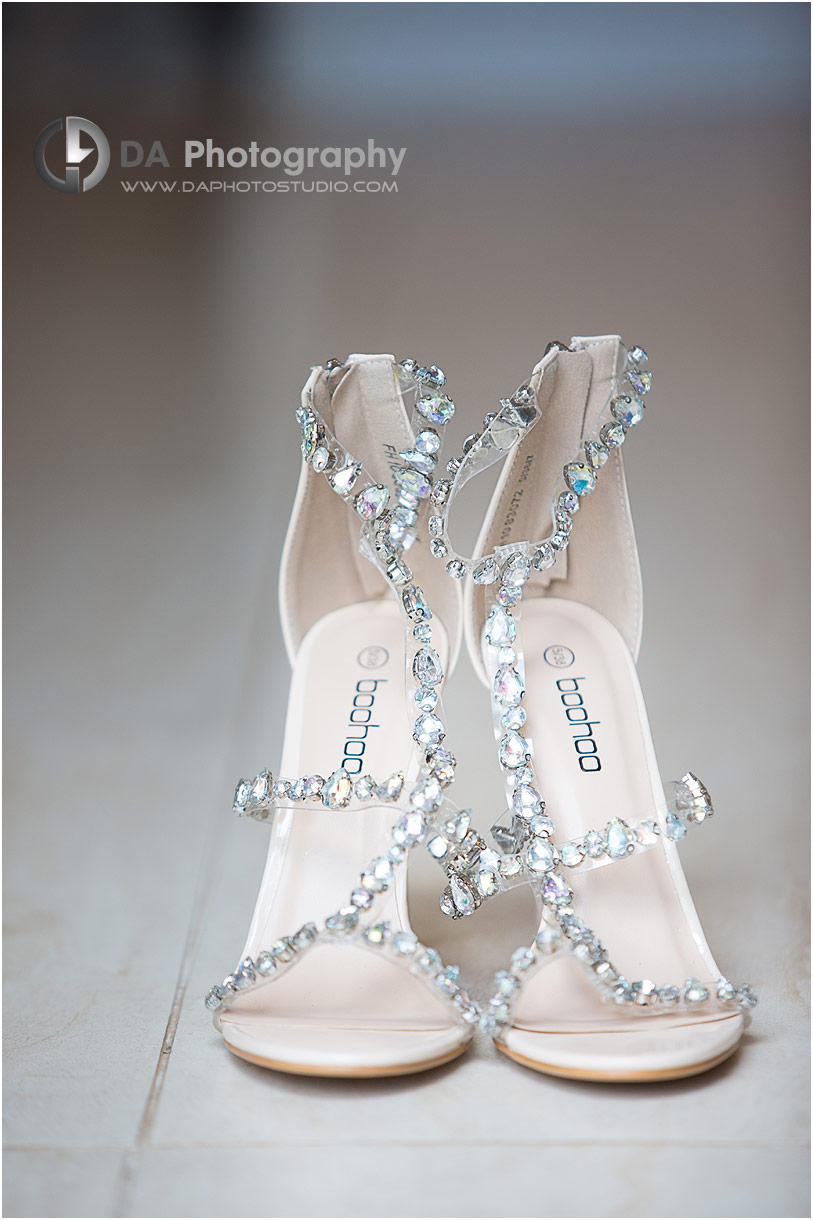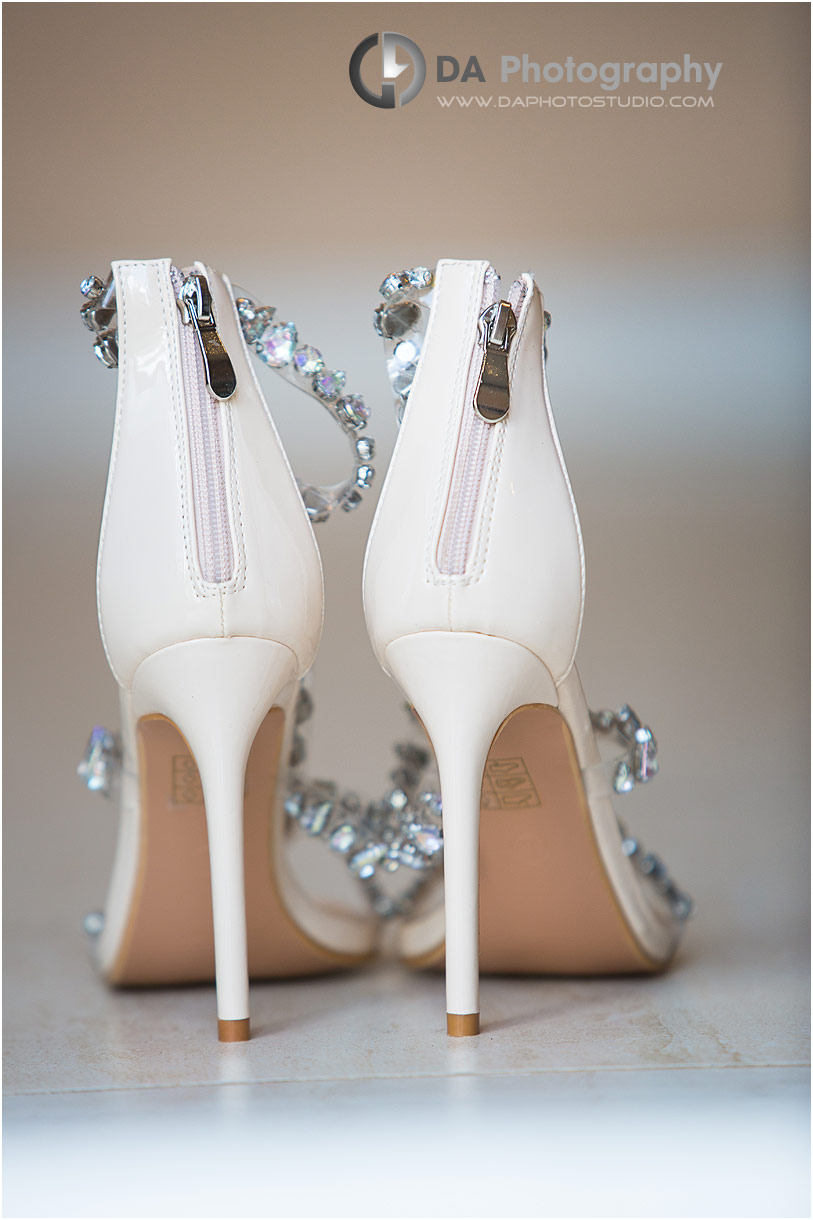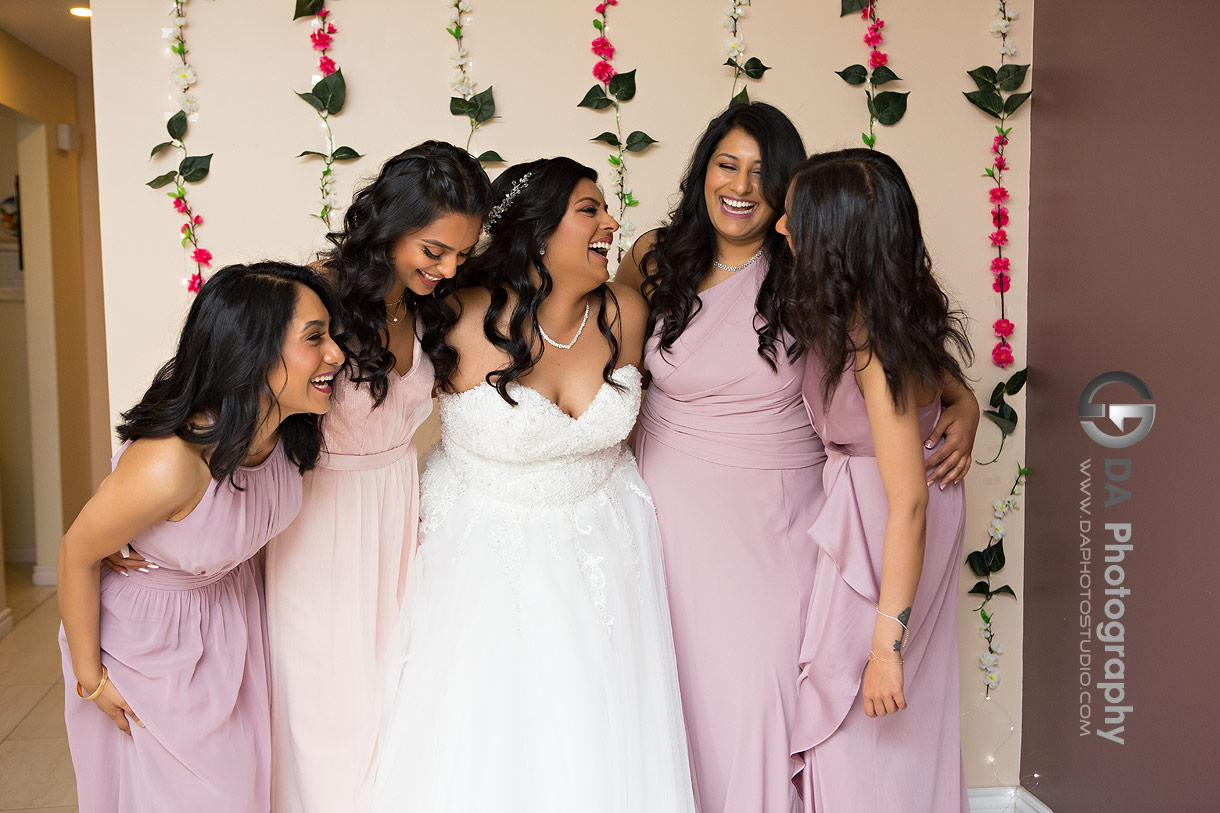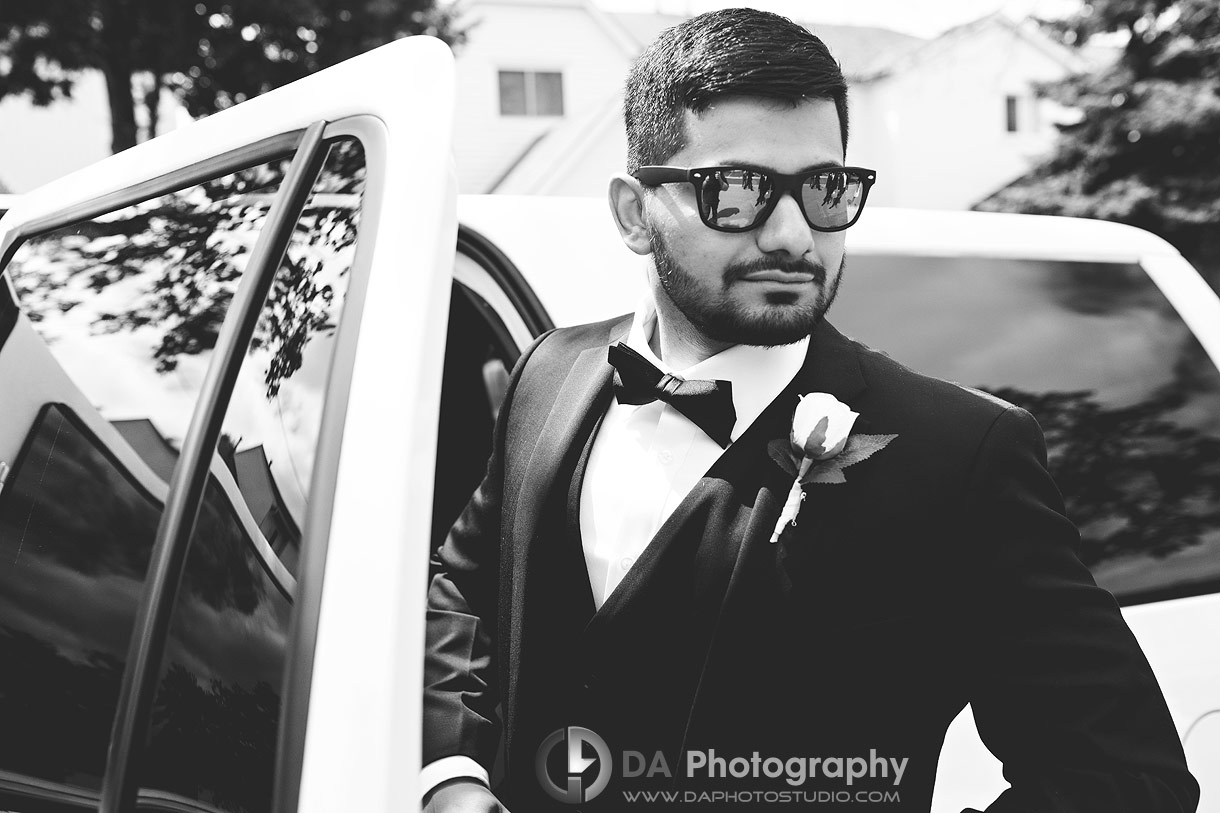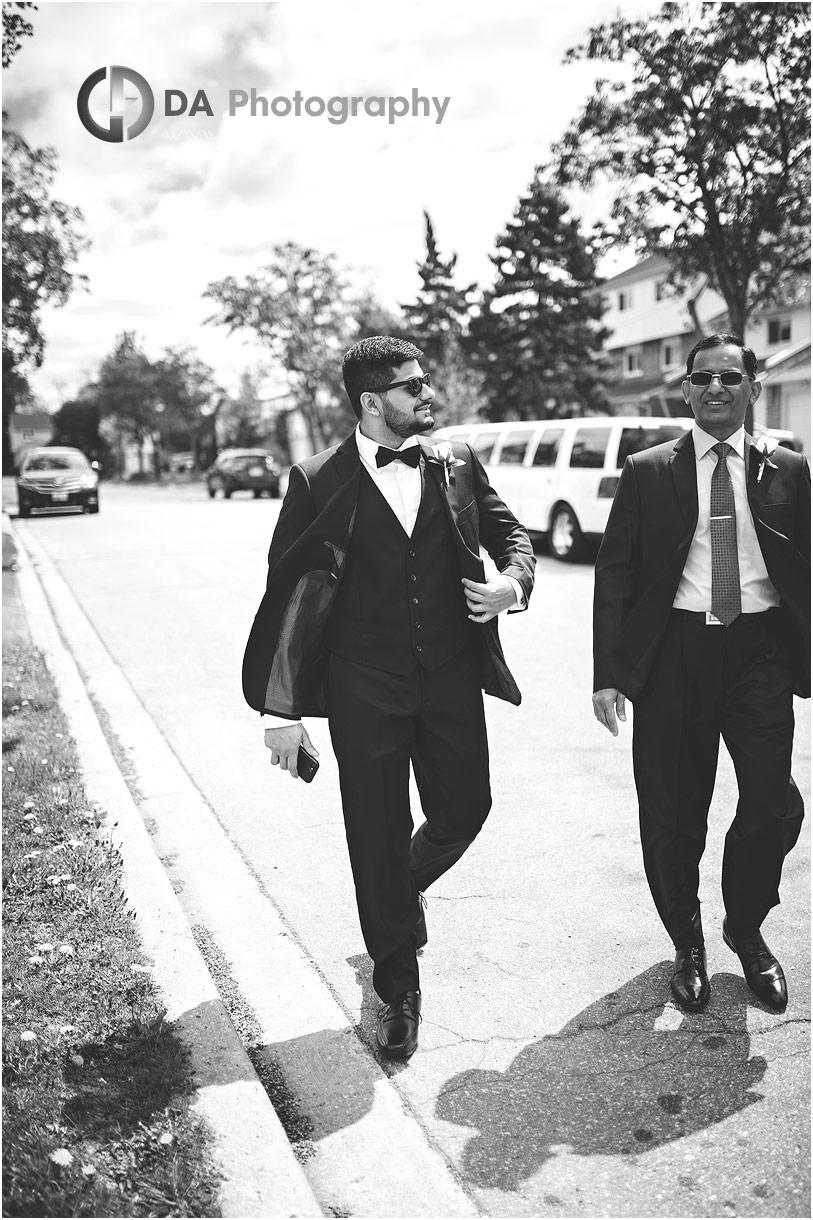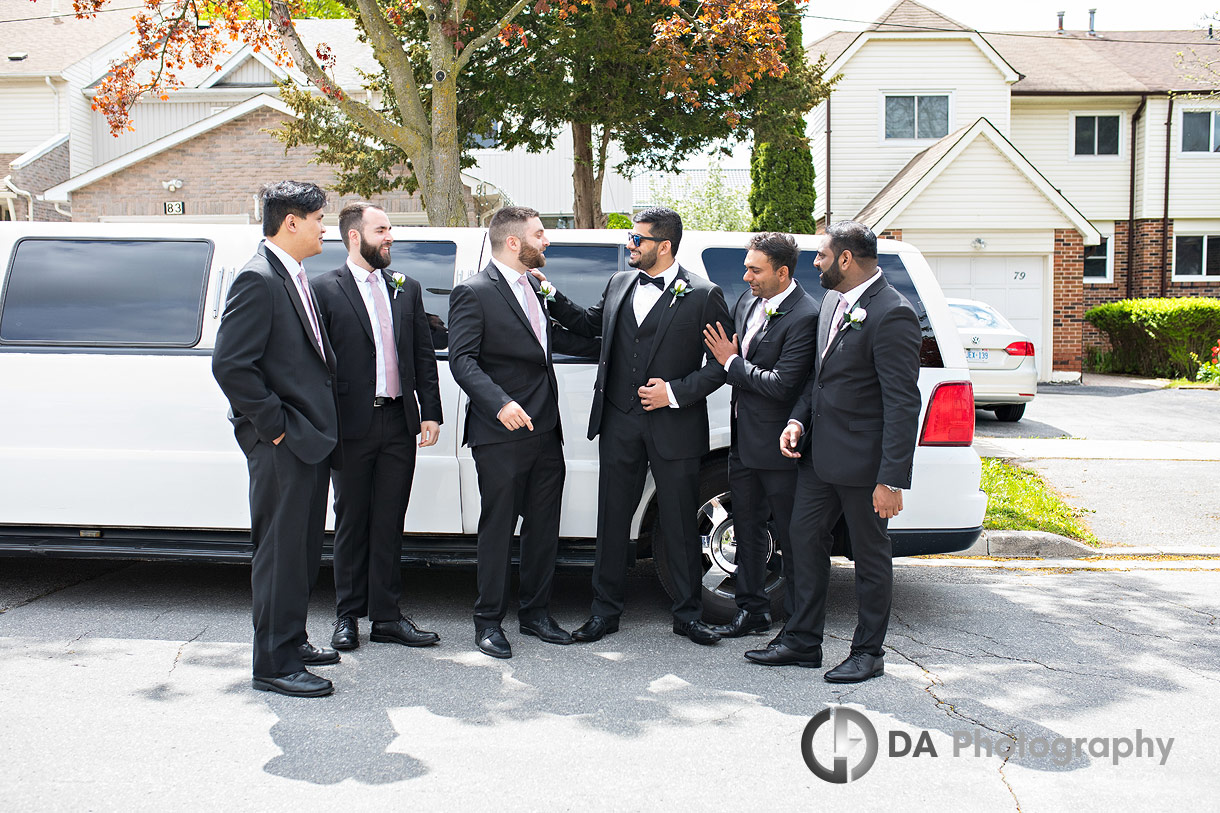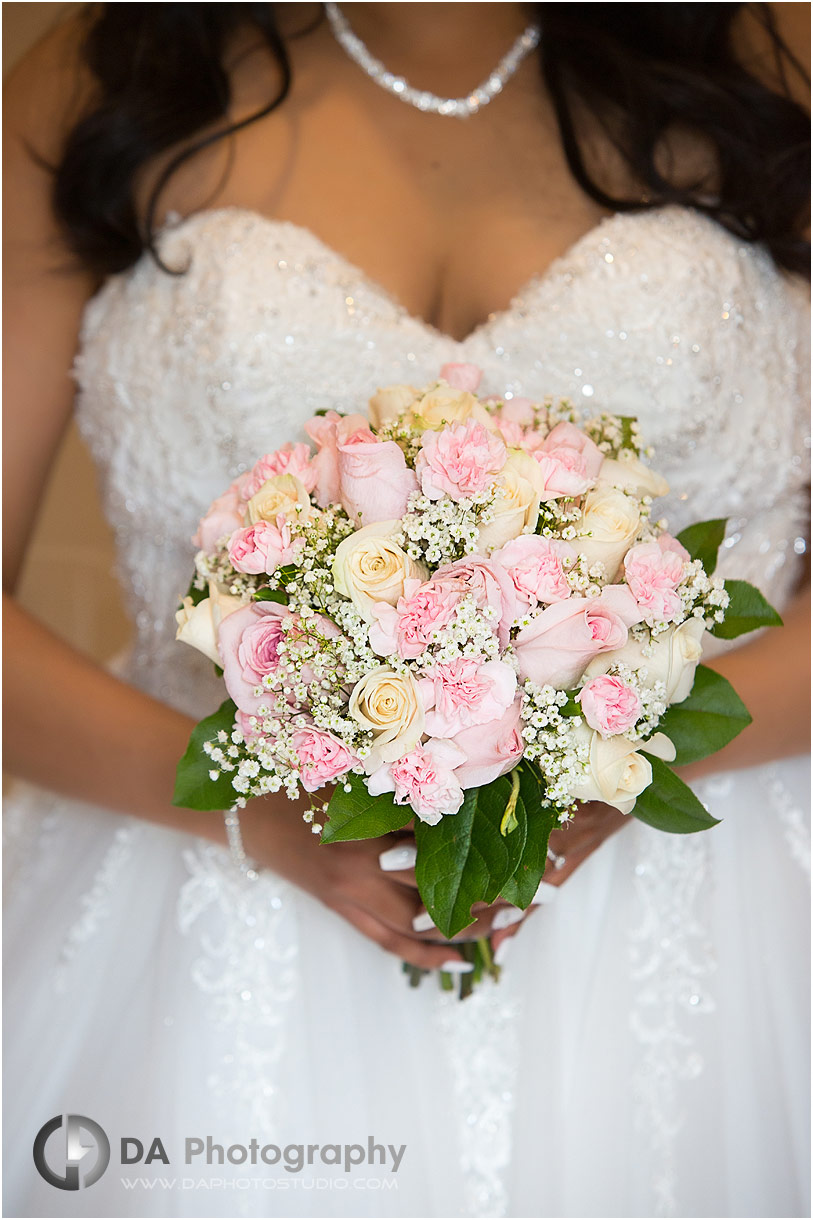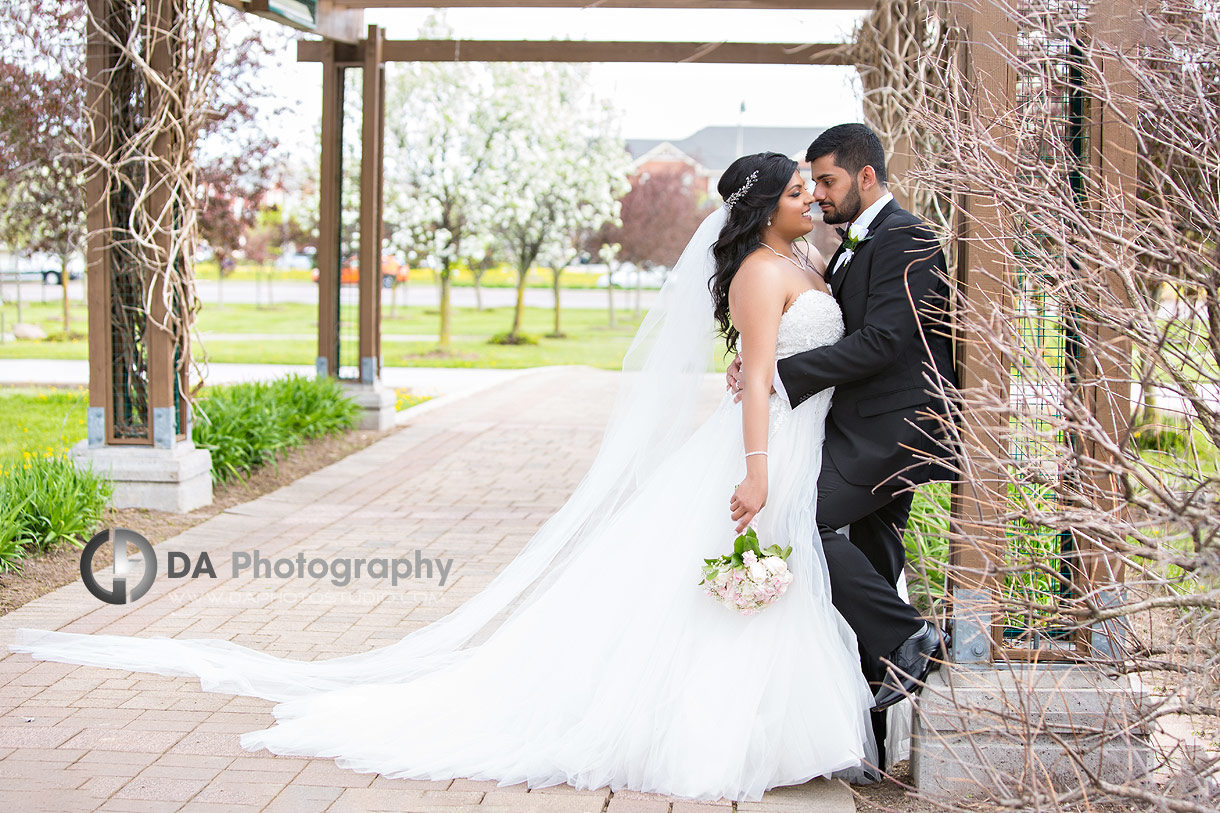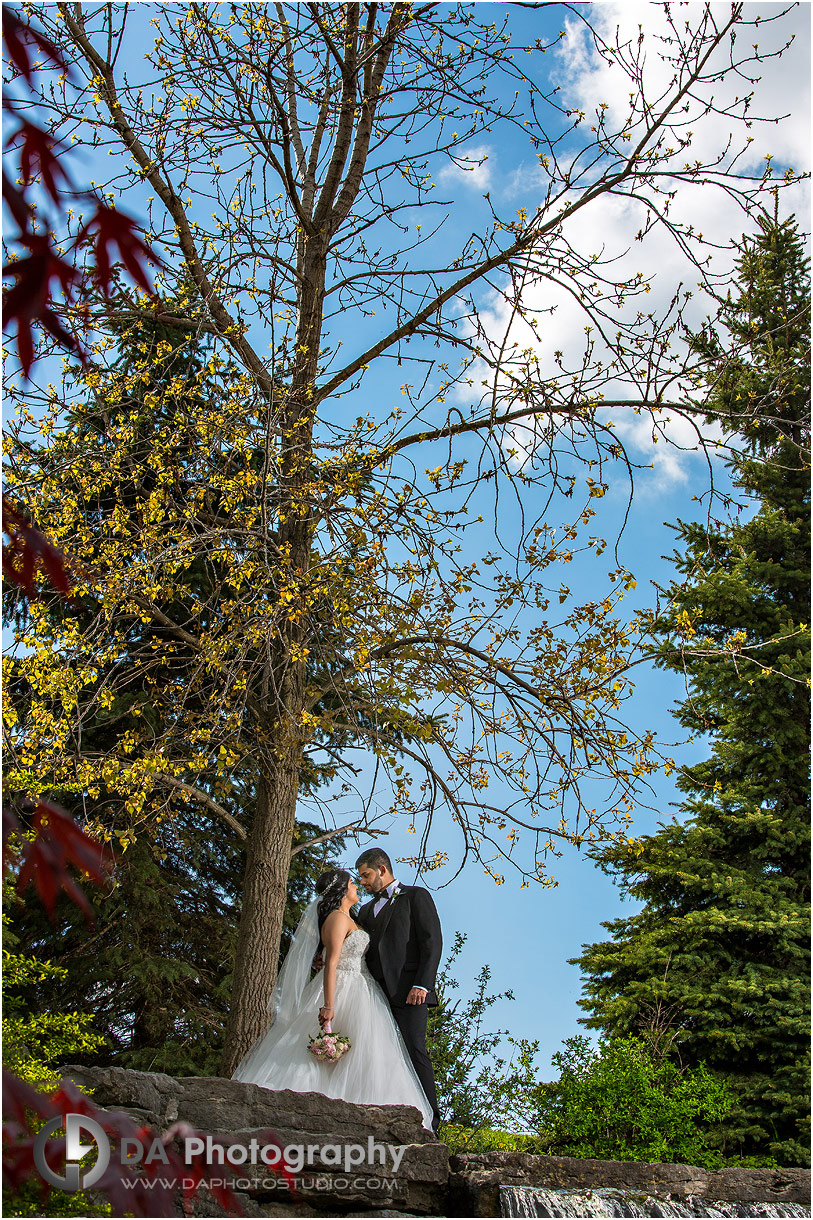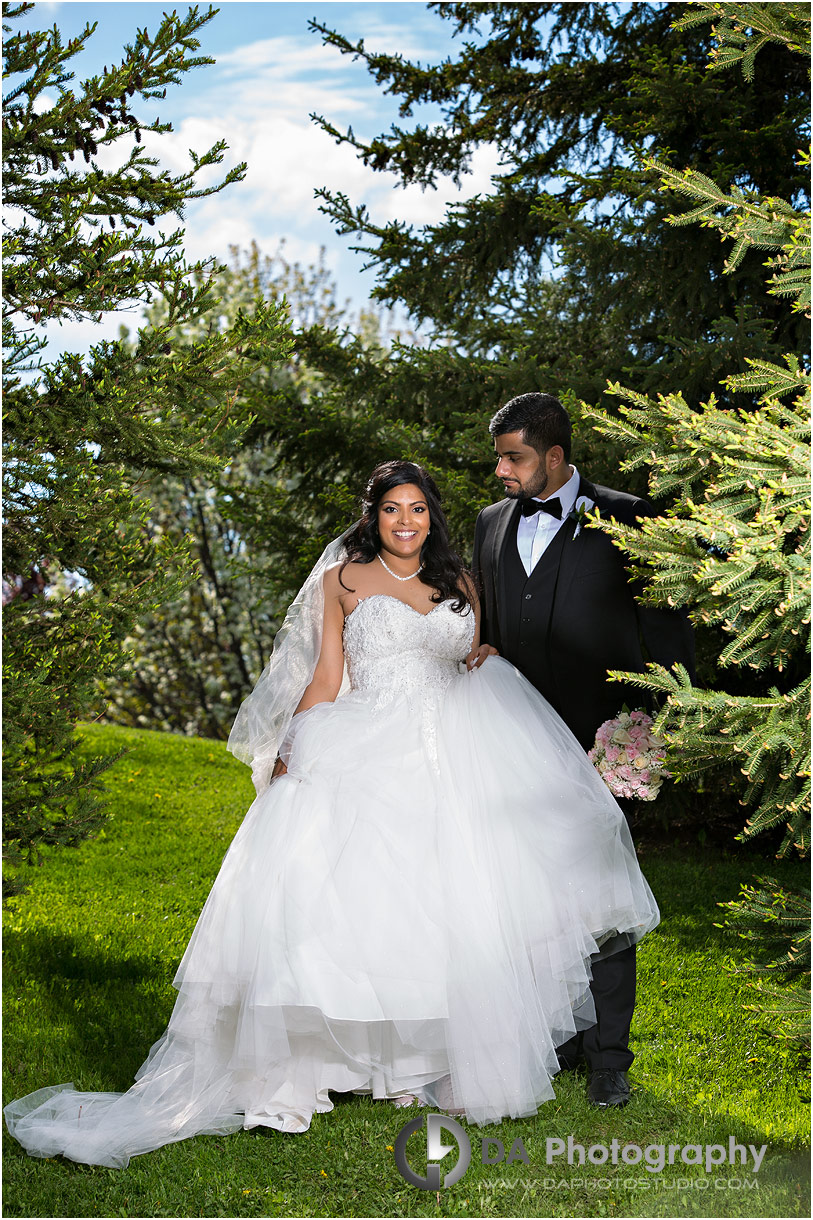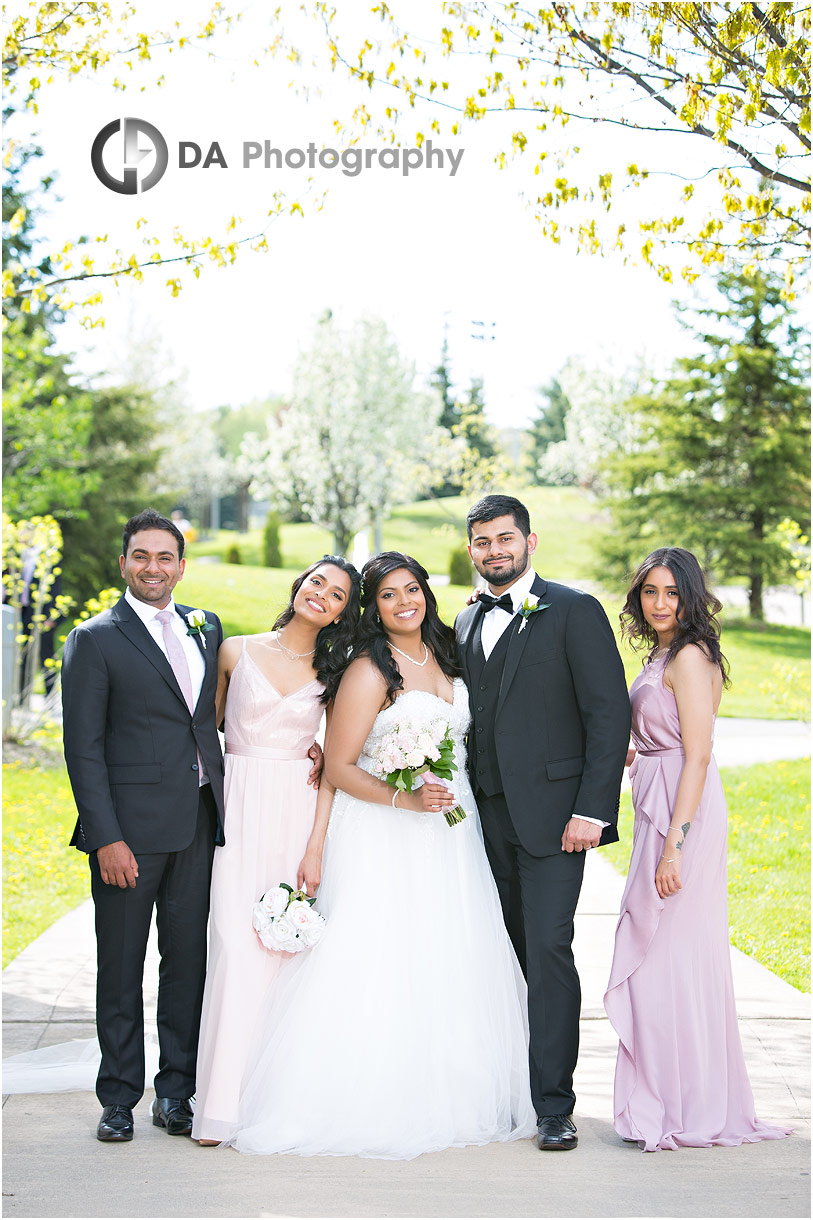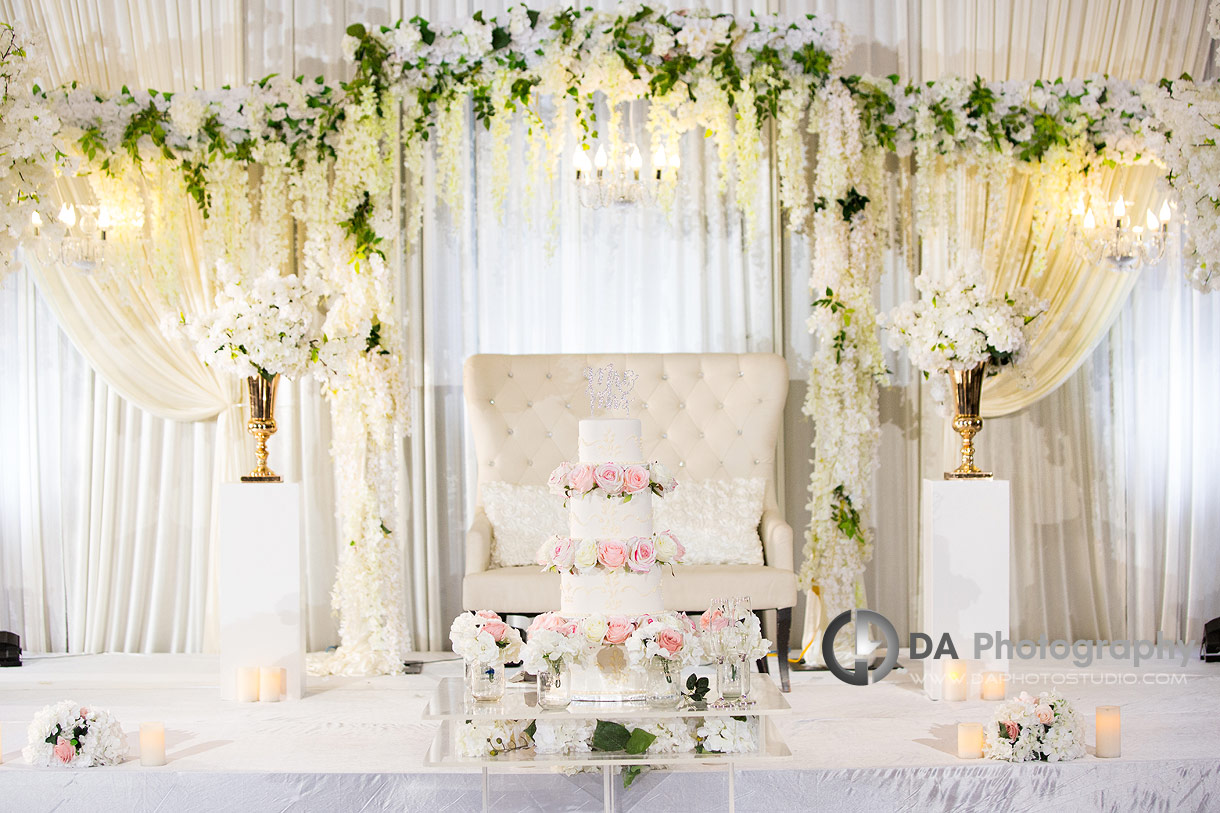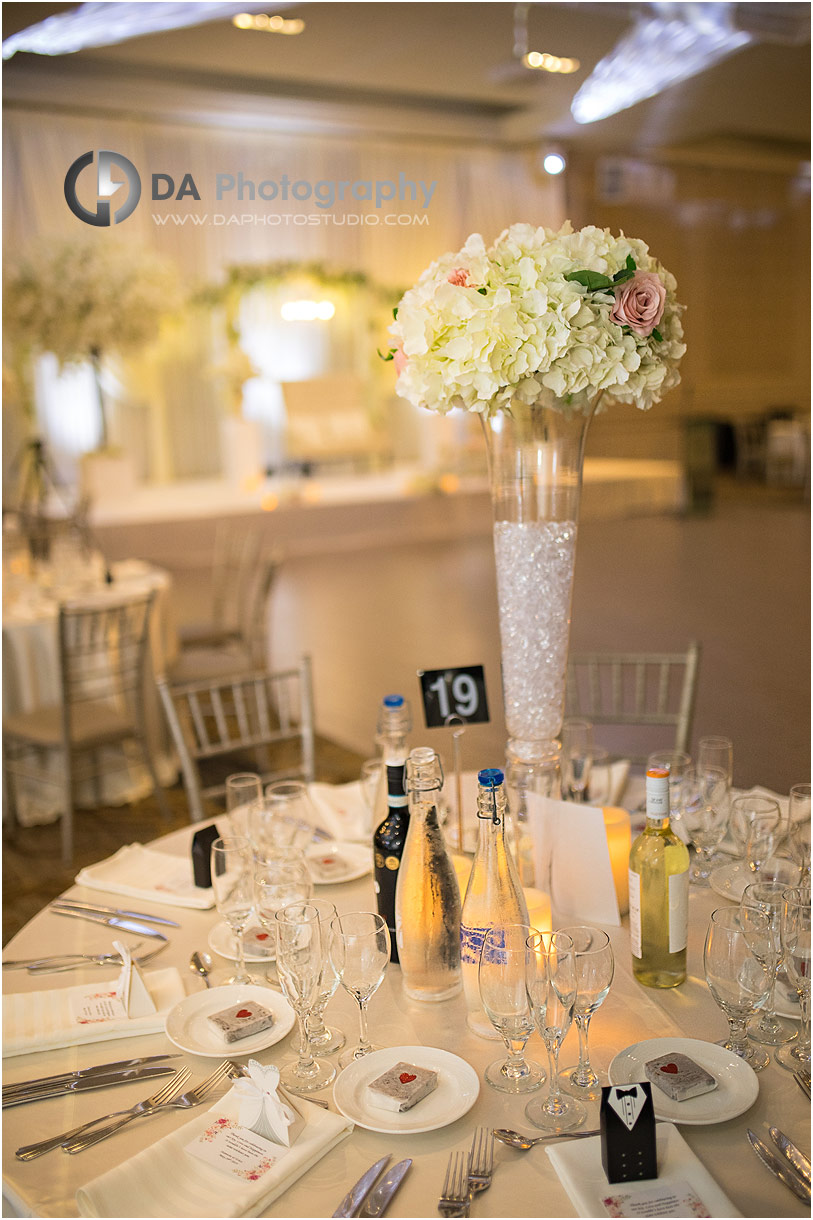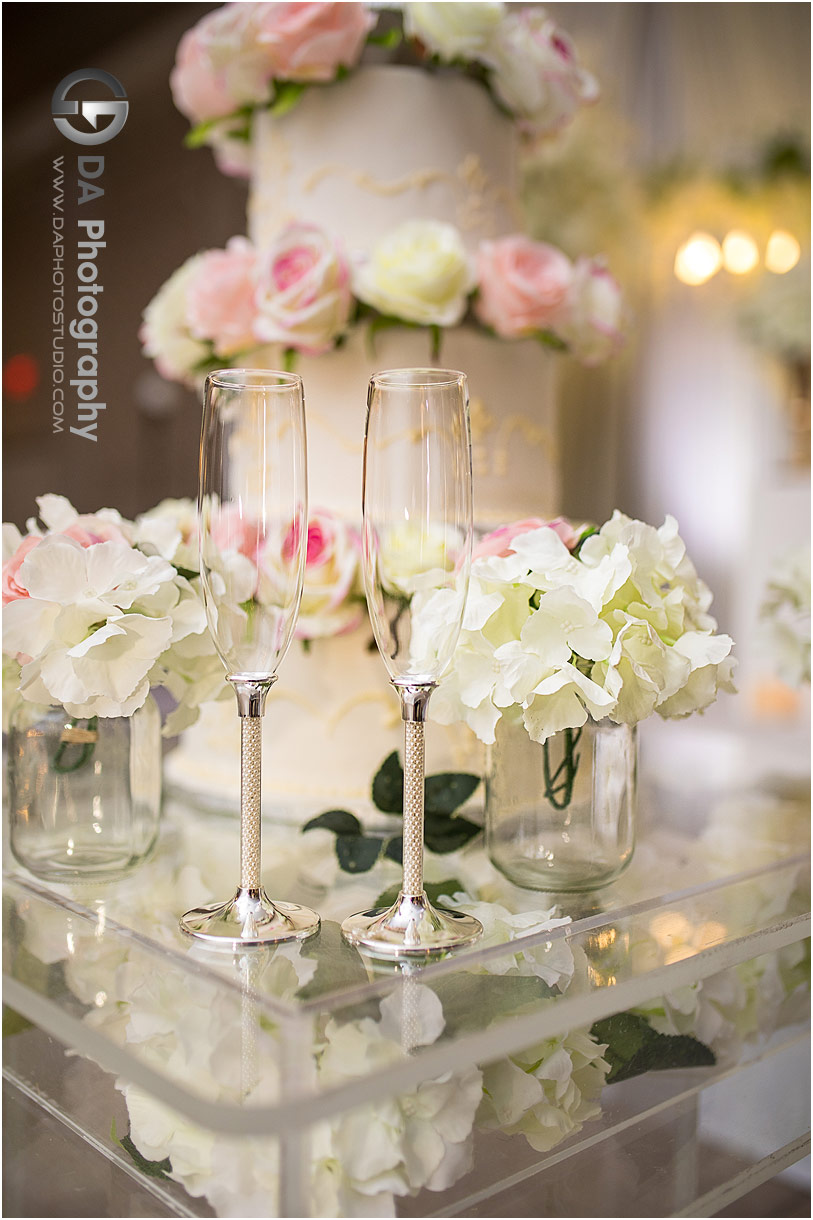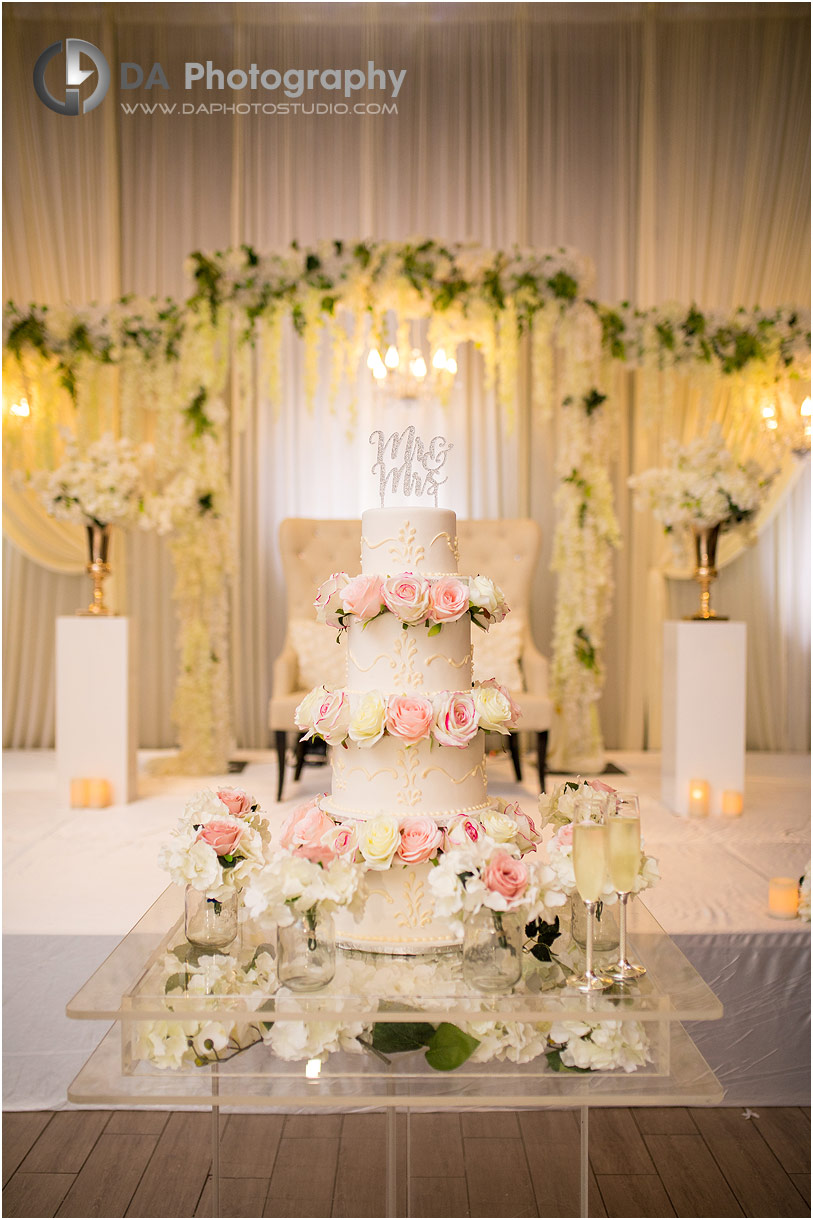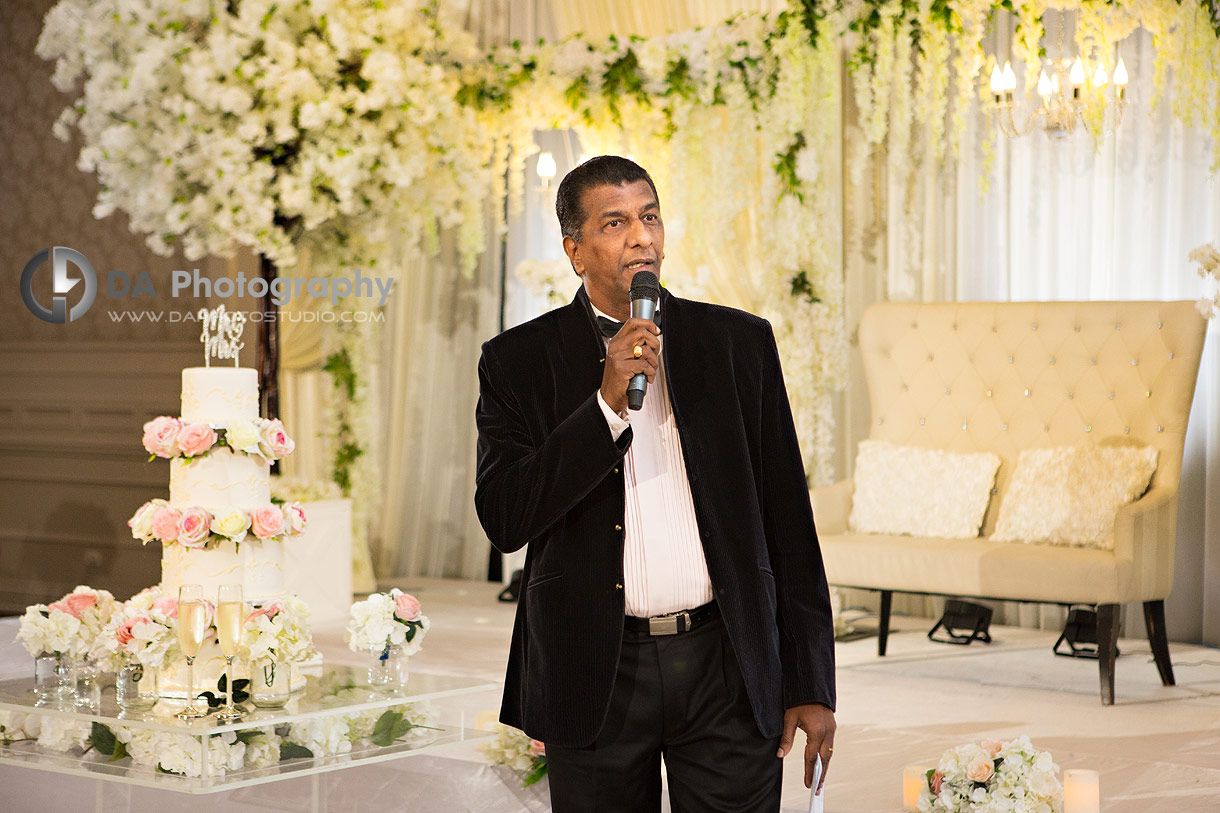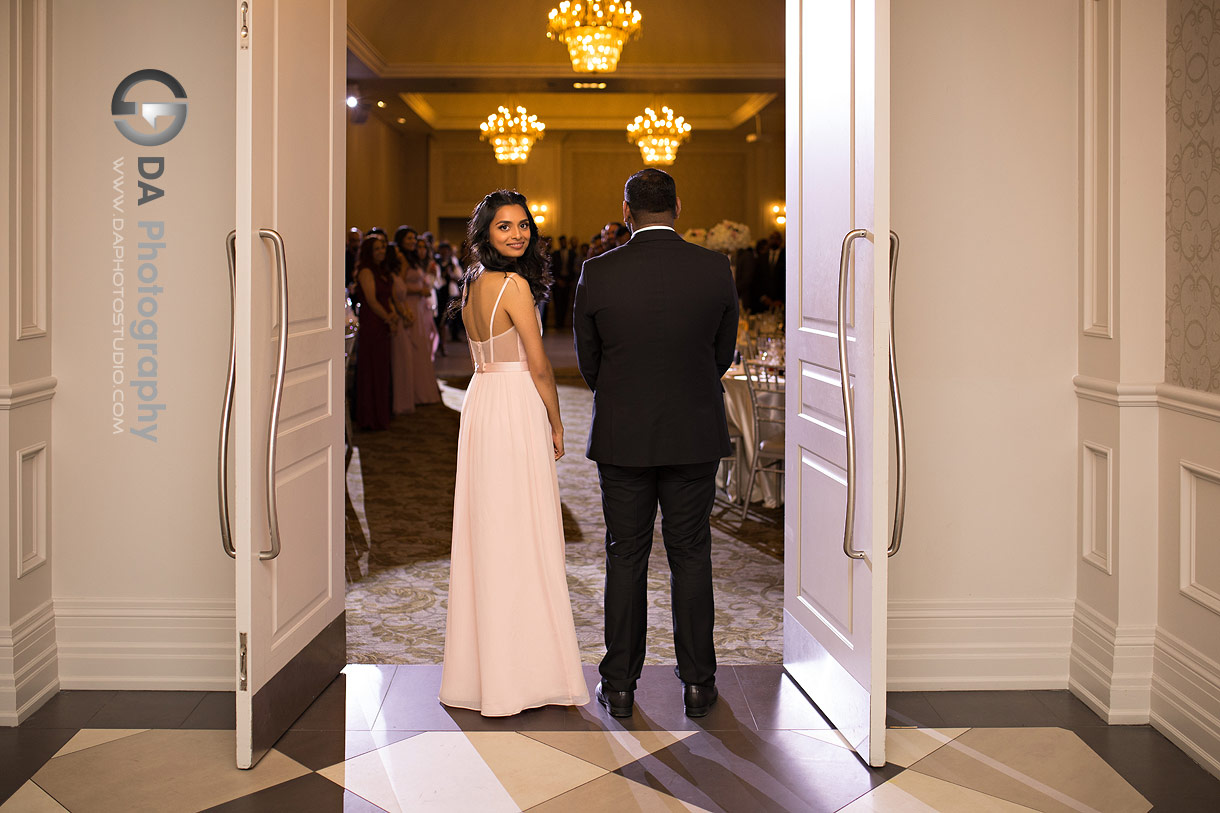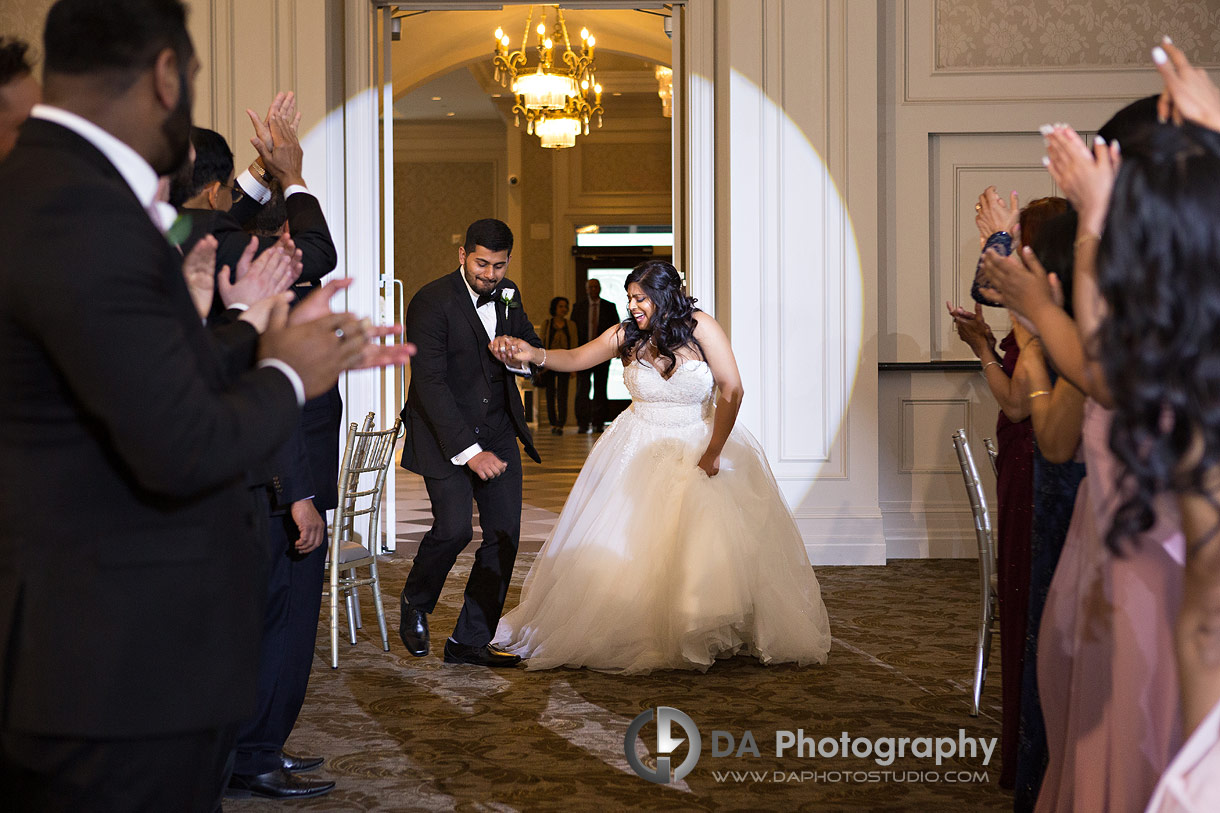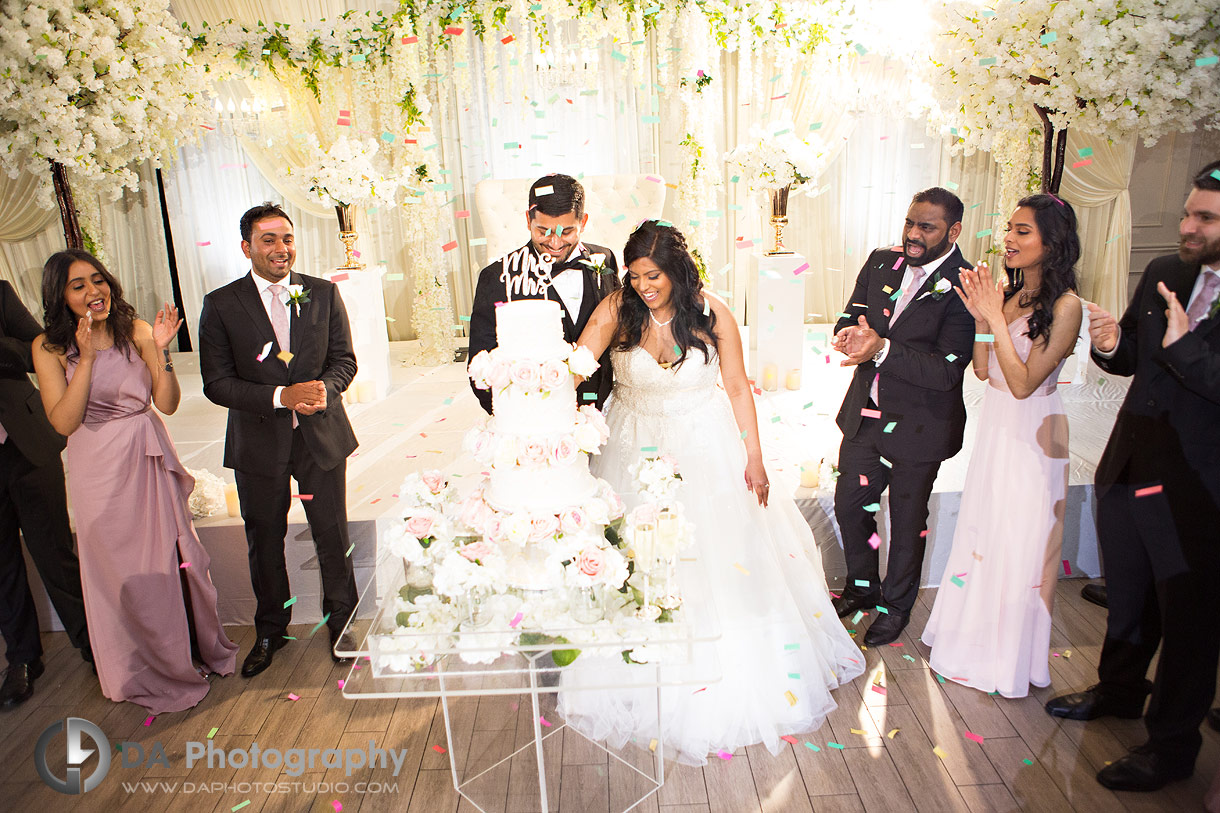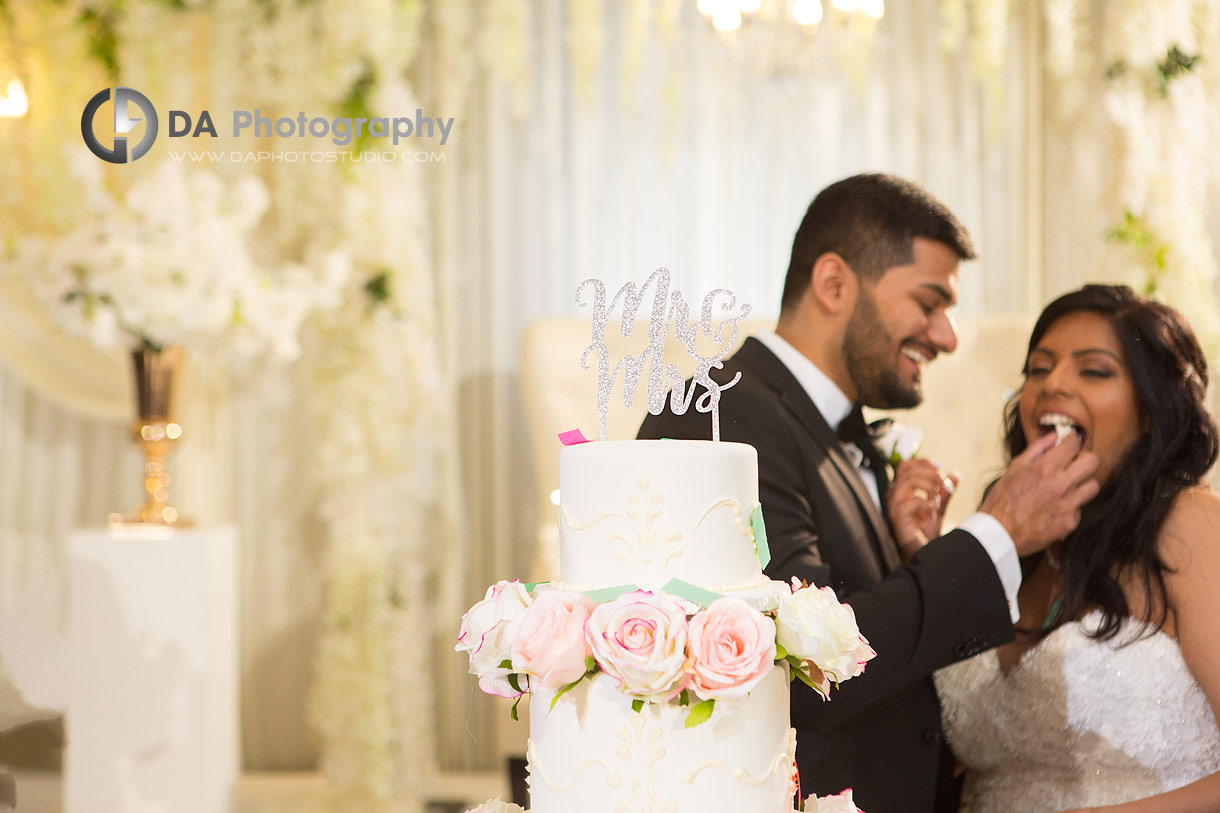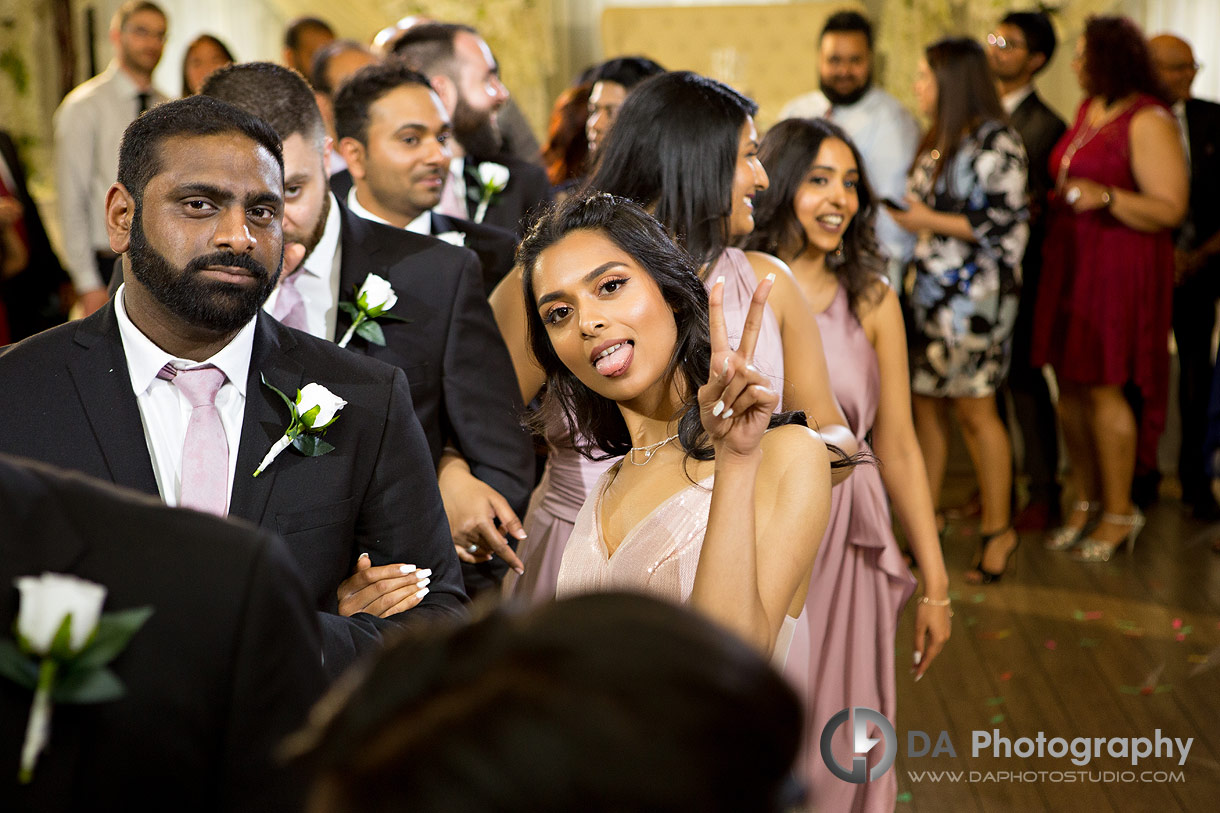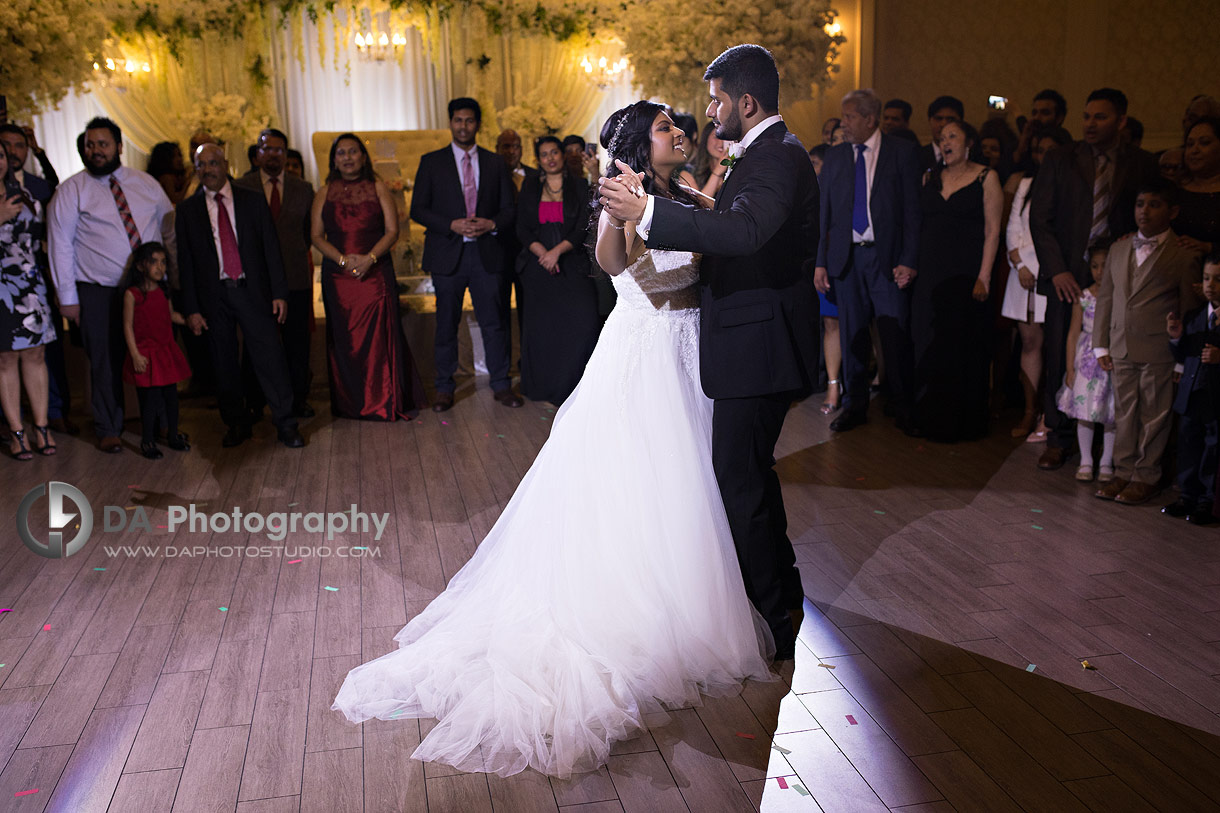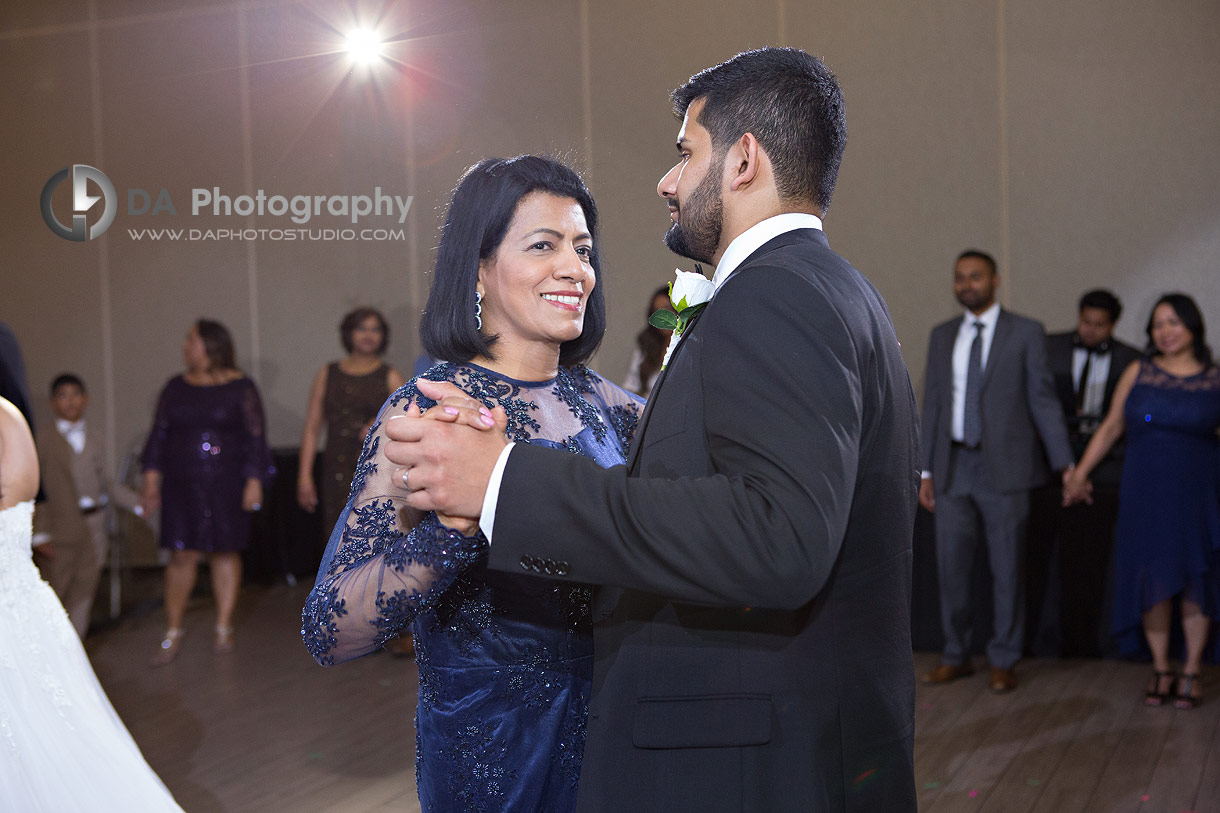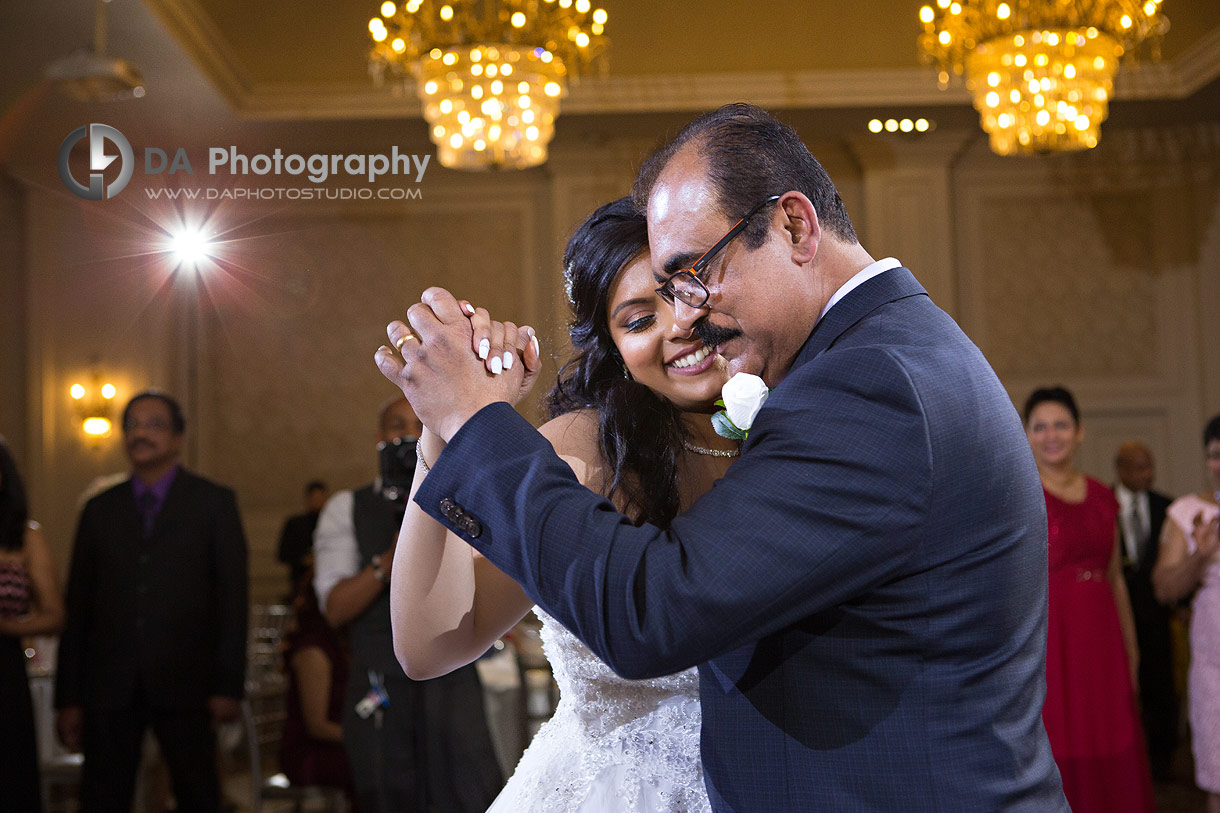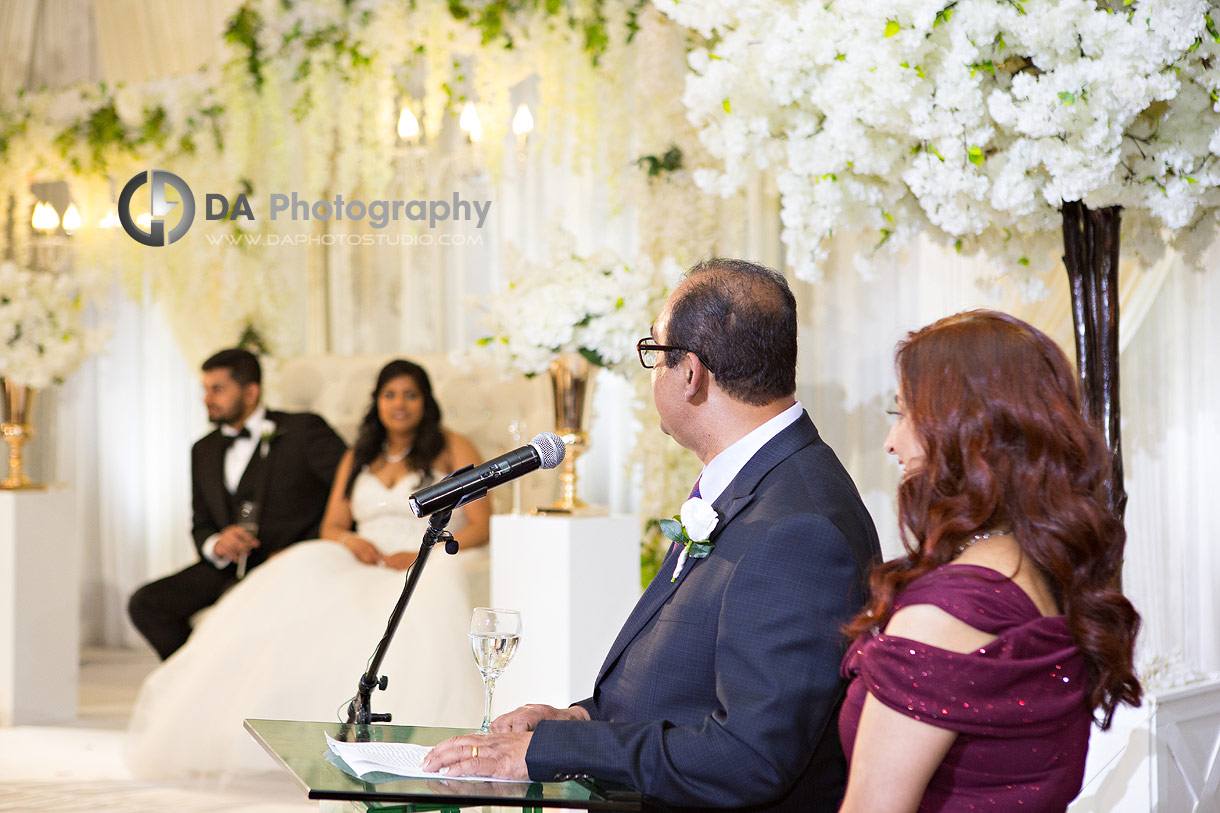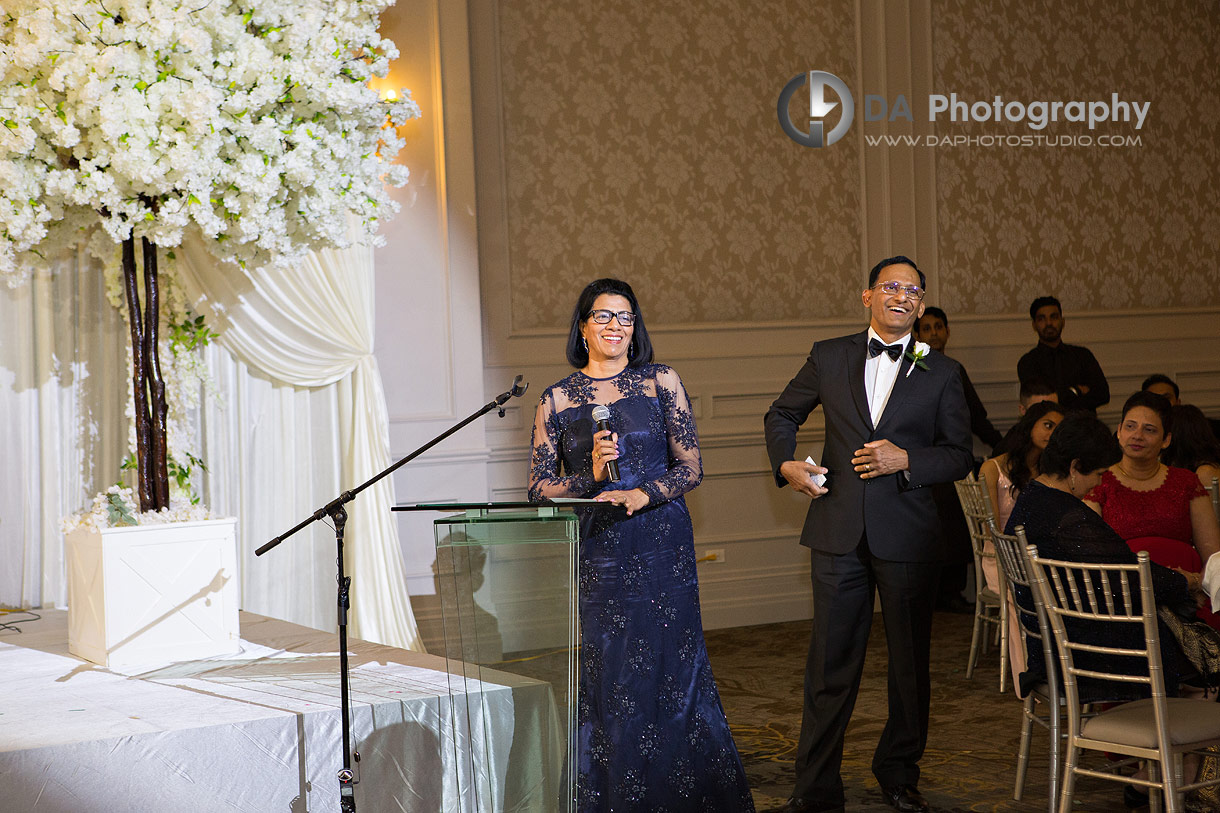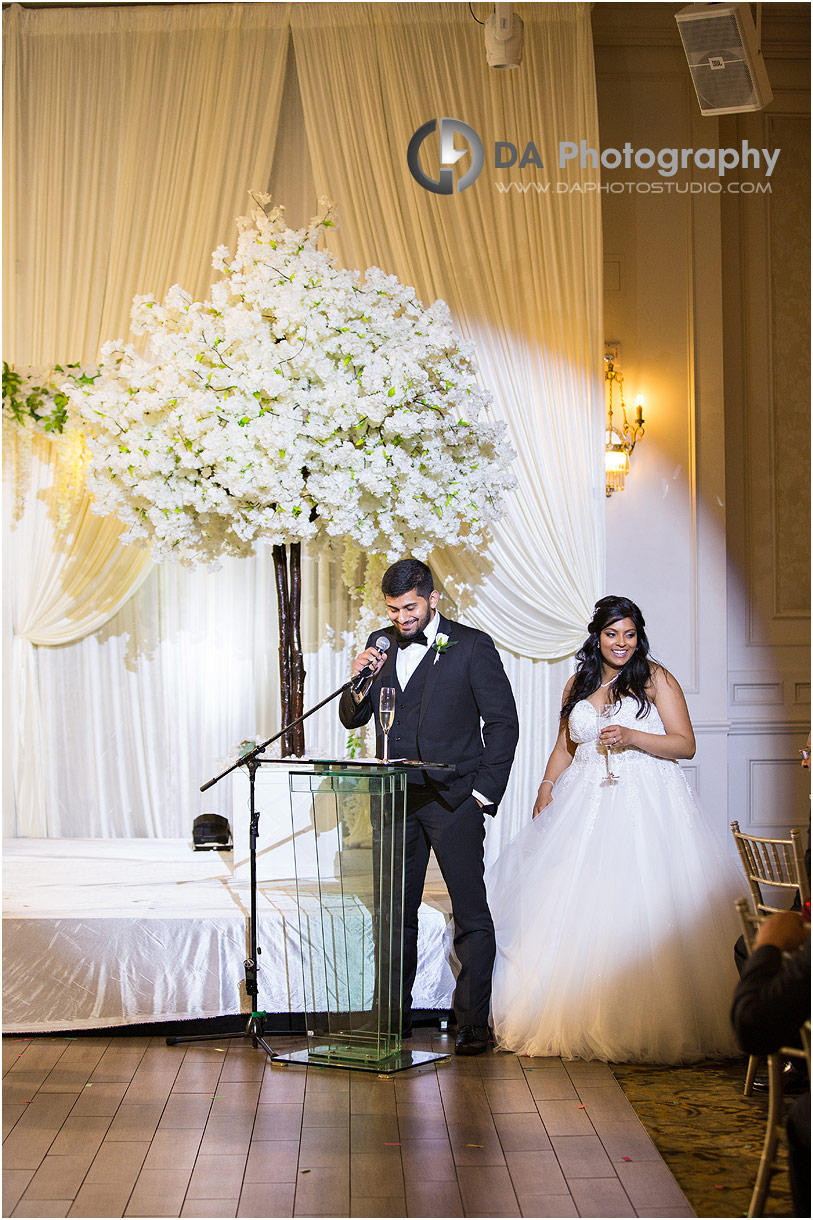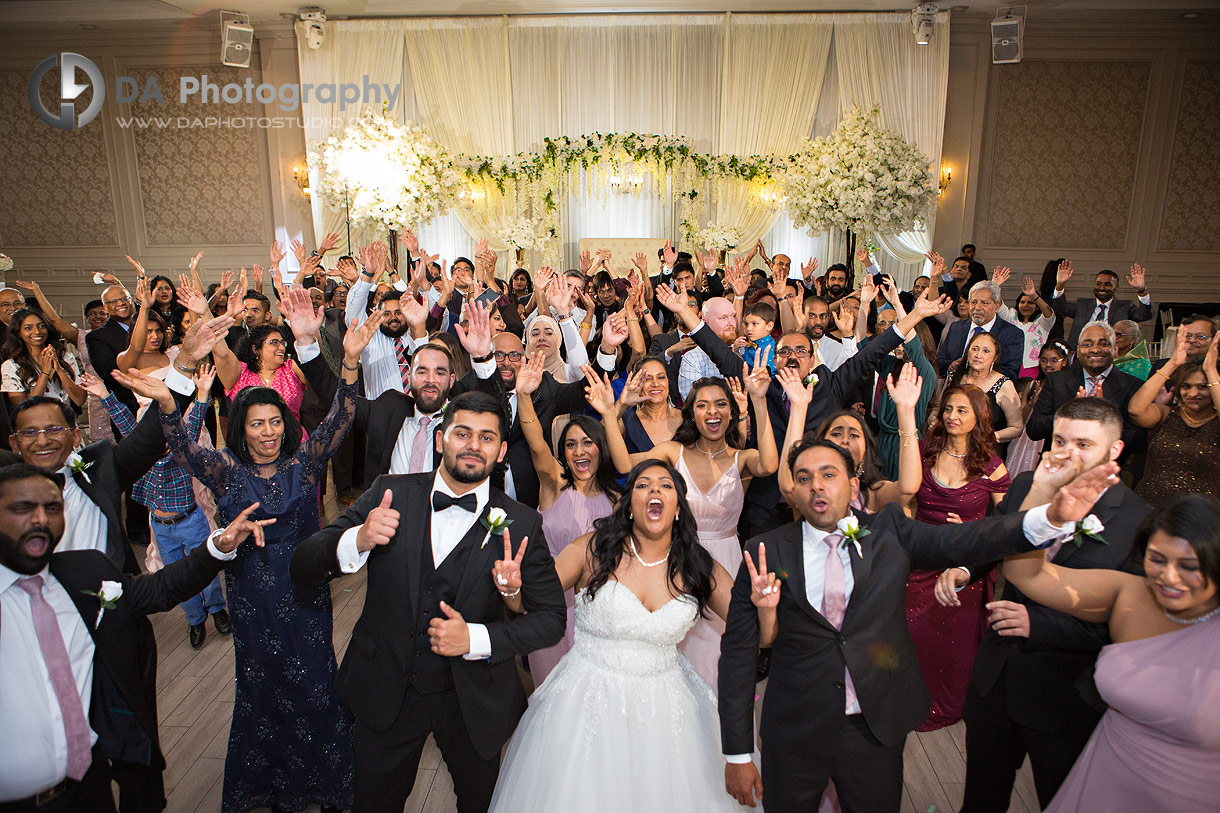 Night-time signature session for this Hazelton Manor Wedding
With the MC's entertaining and robust agenda and the DJ's great music, I noticed that it was already passed our dedicated coverage time. We took Erika and Stan for the last time for a photo session just outside of the manor. There was no way I was going to finish this amazing wedding without my signature nighttime photos!
Using the Hazelton Manor's outdoor lighting, I was able to capture the exact atmosphere that we were all experiencing. The last photos of the two of them and their smiles was proof that their wedding day was perfect in so many ways. It was a day full of fun, dancing, smiles and great photos to remember the amazing feelings for years to come.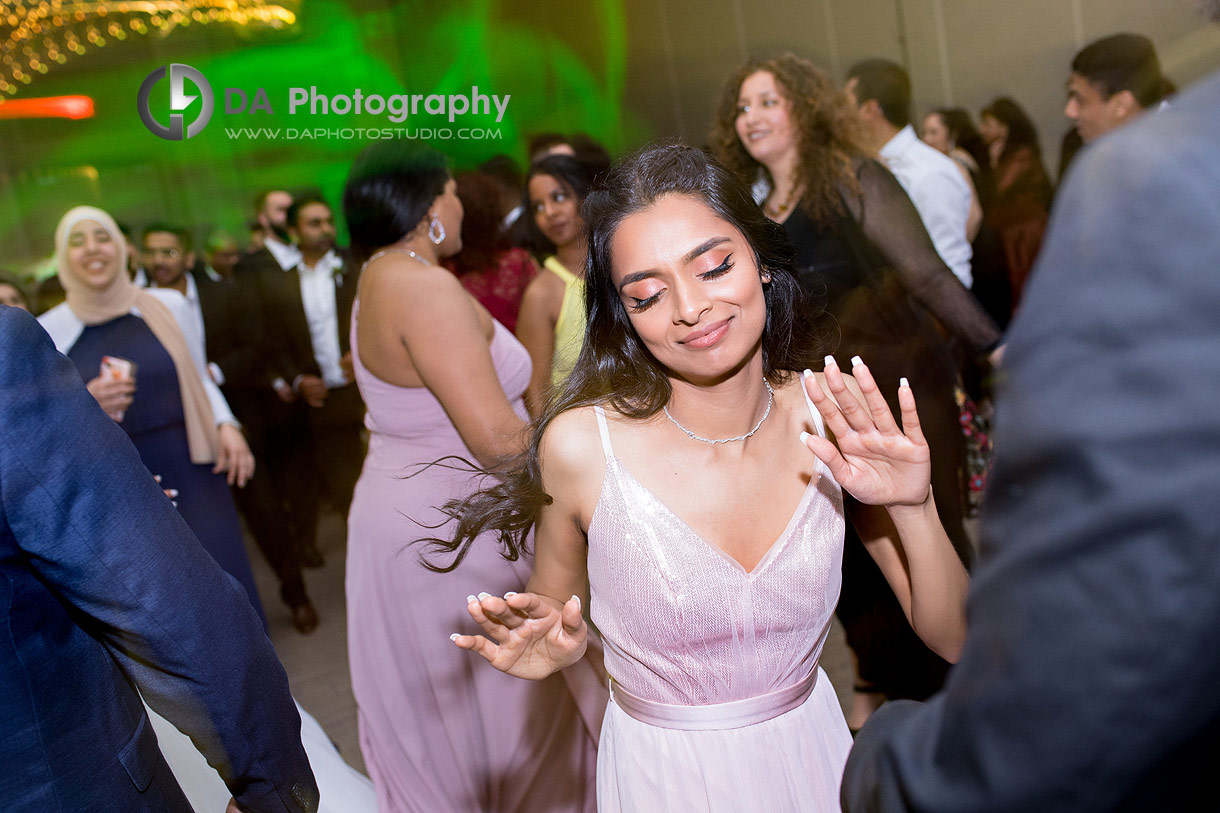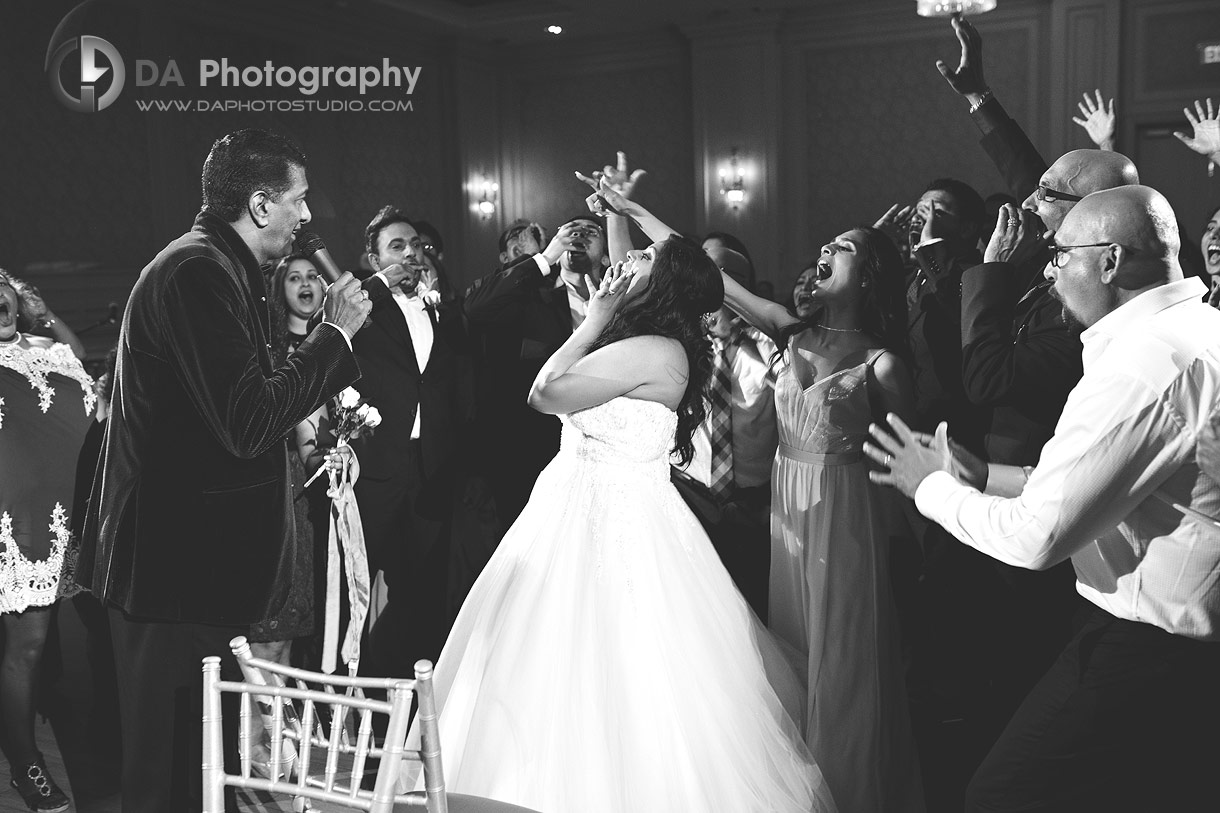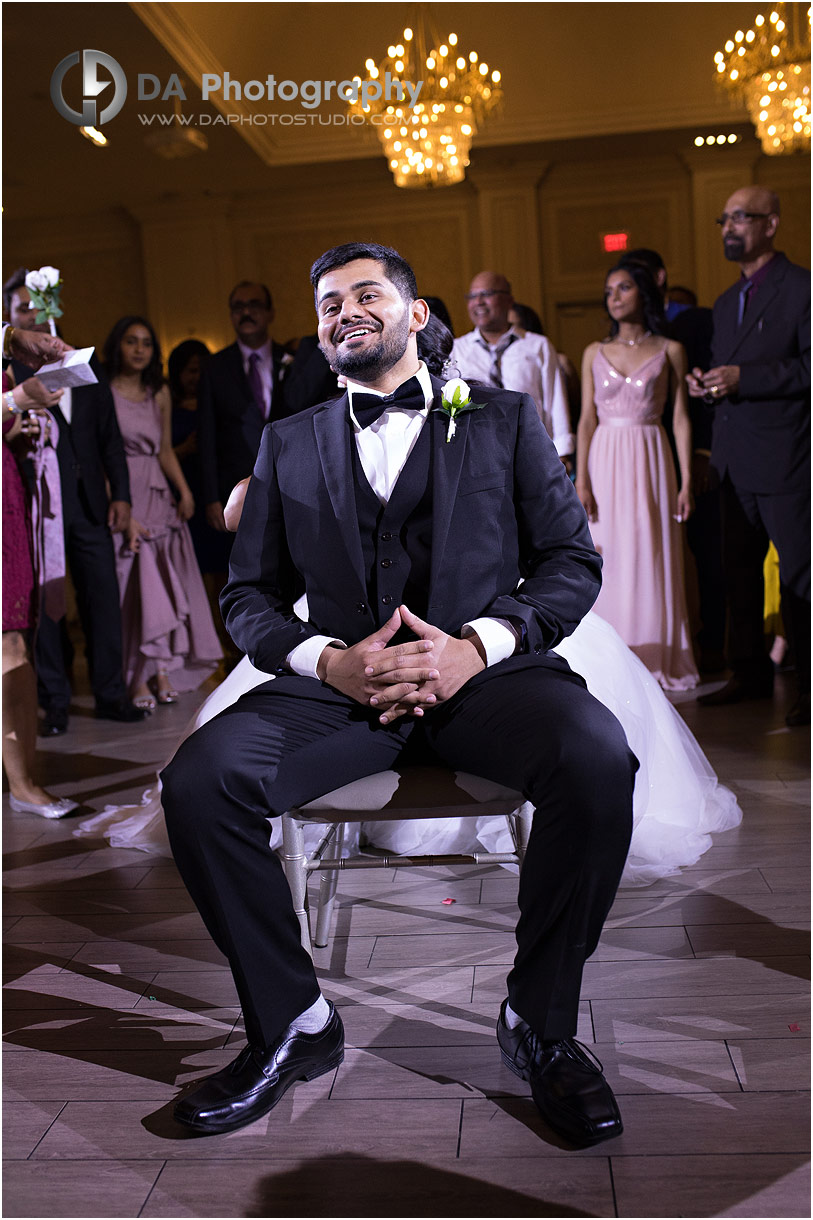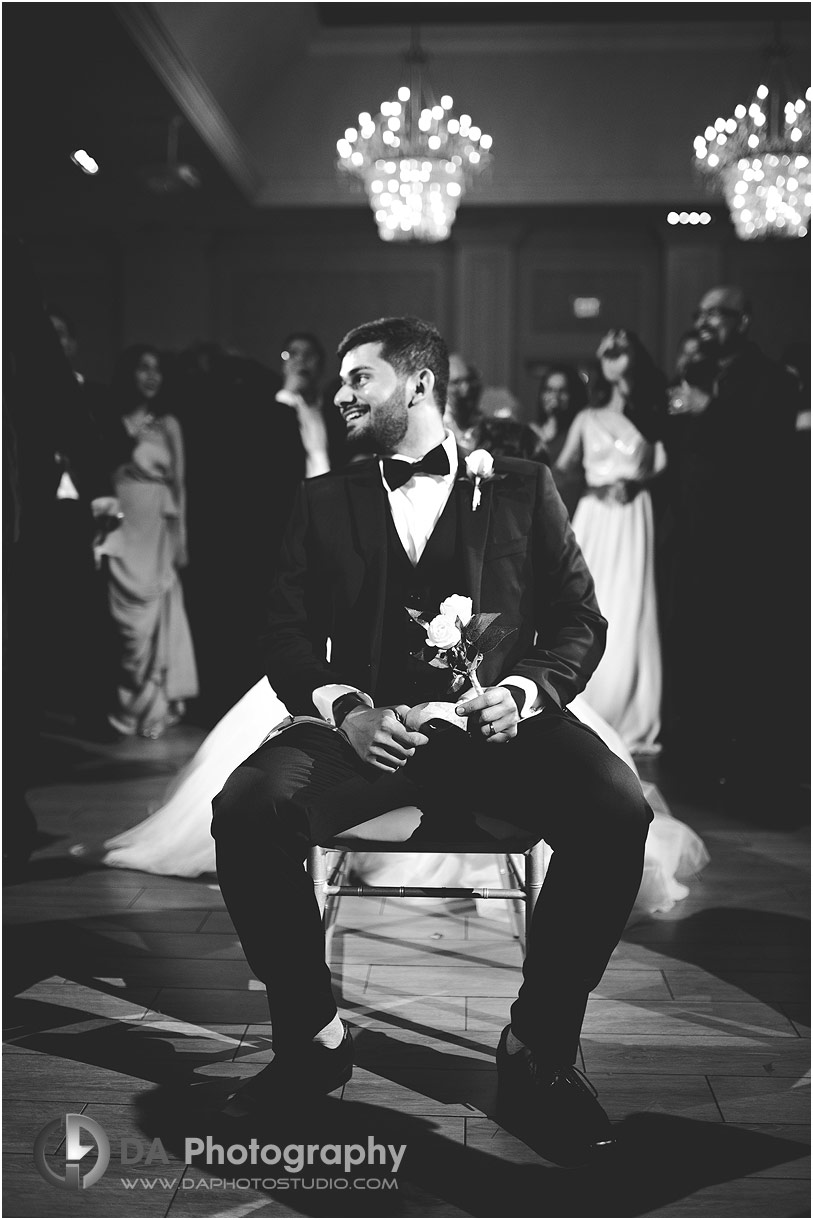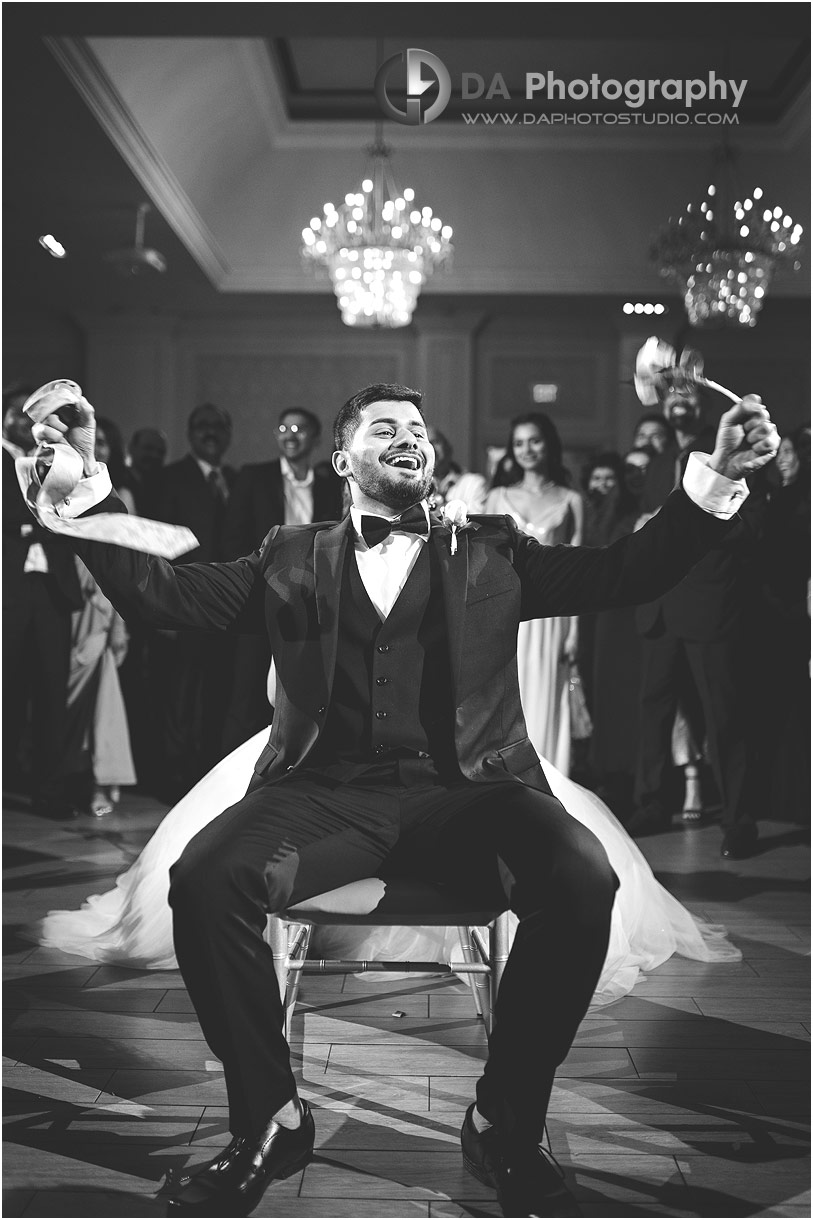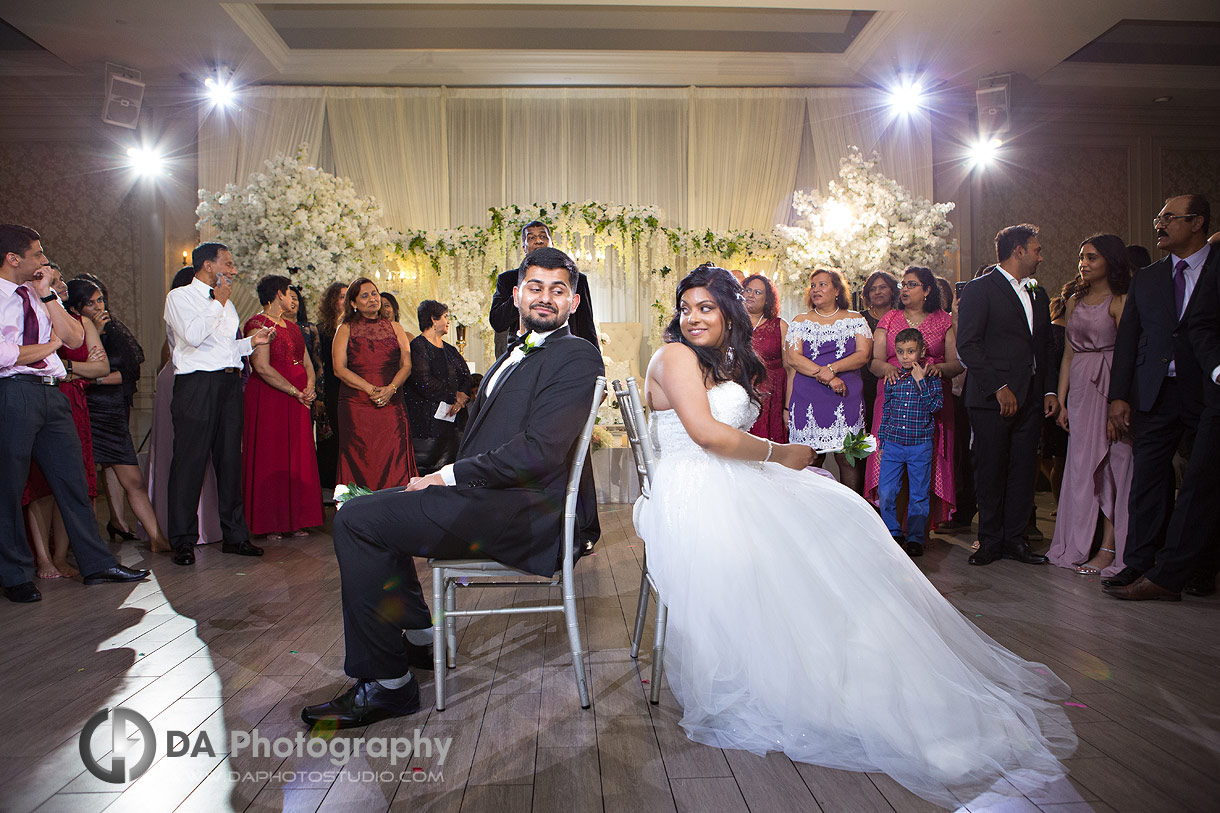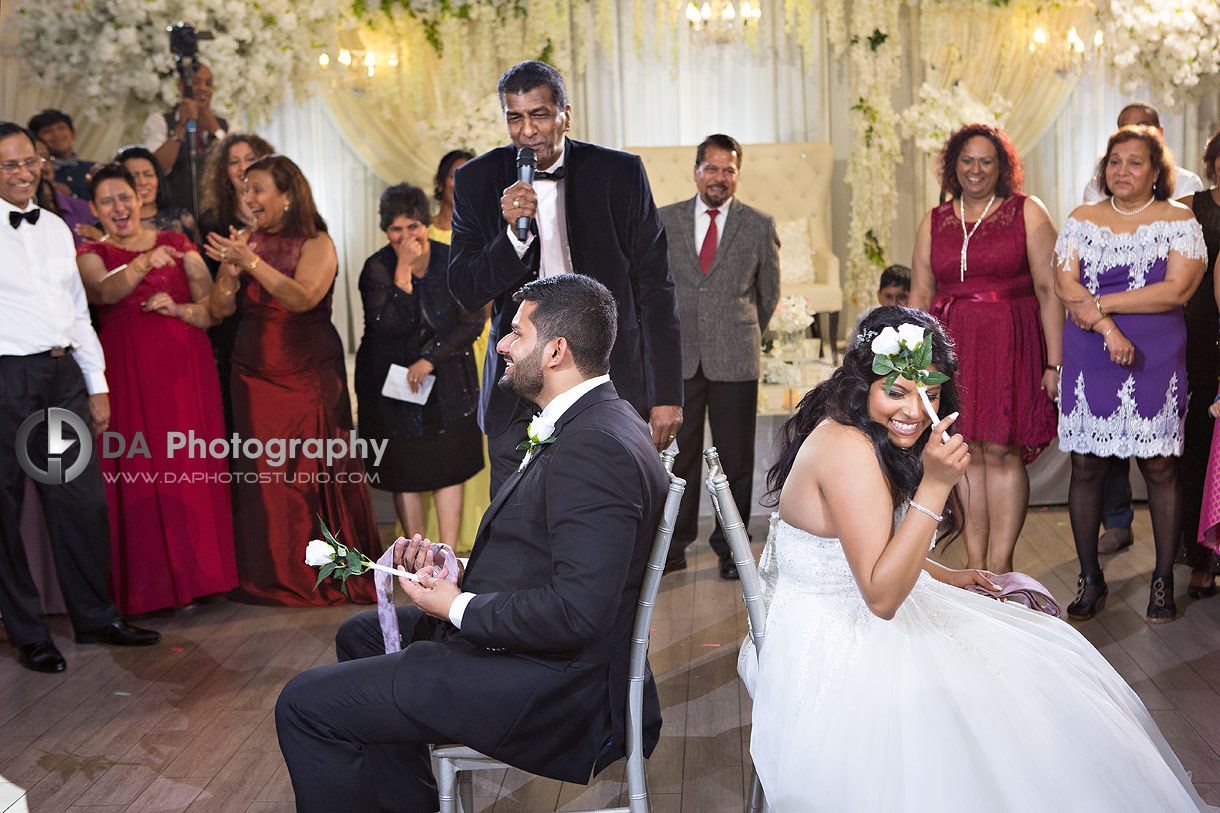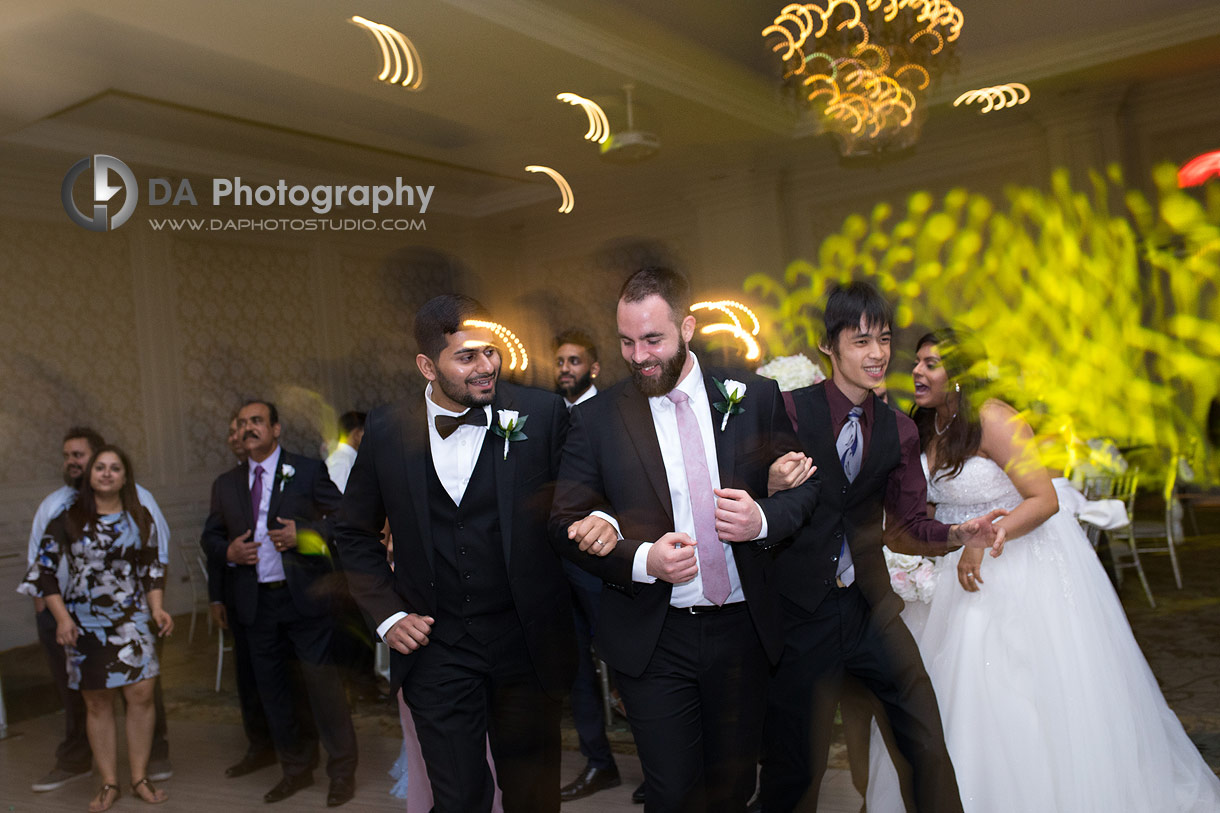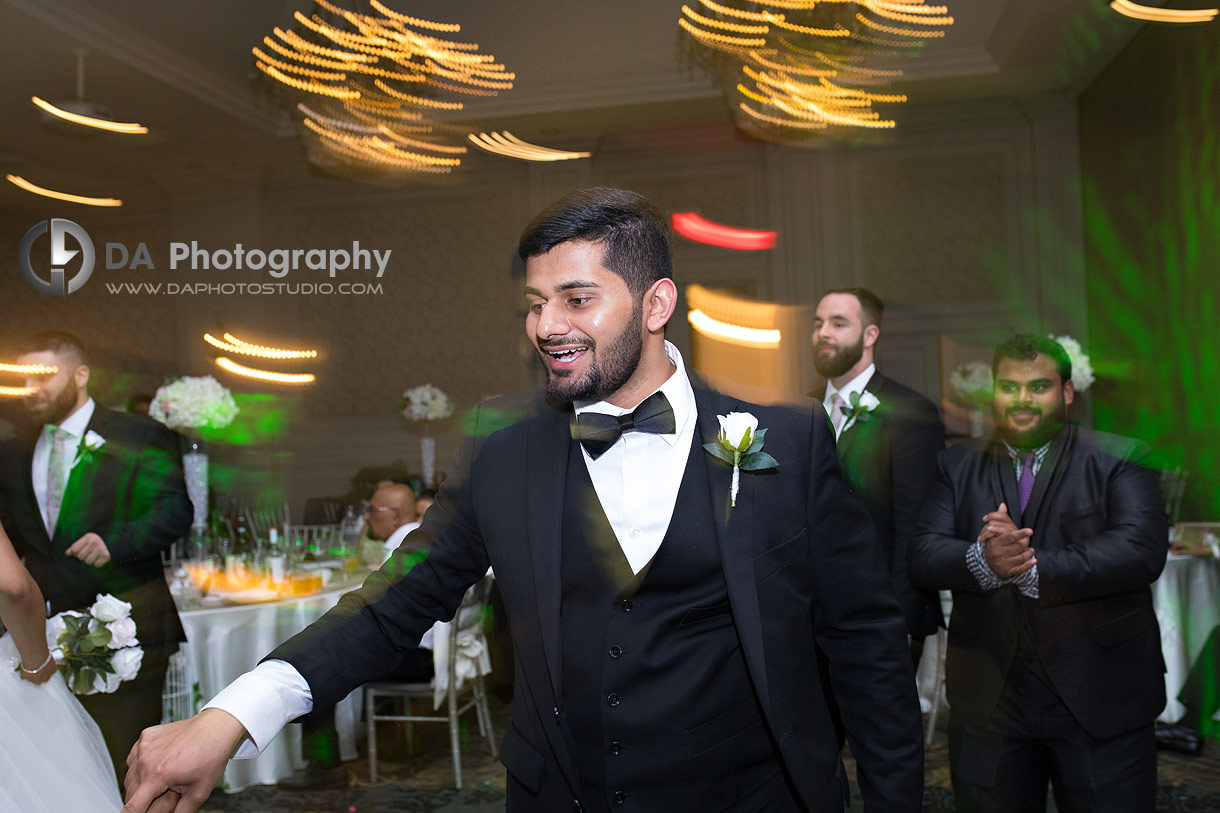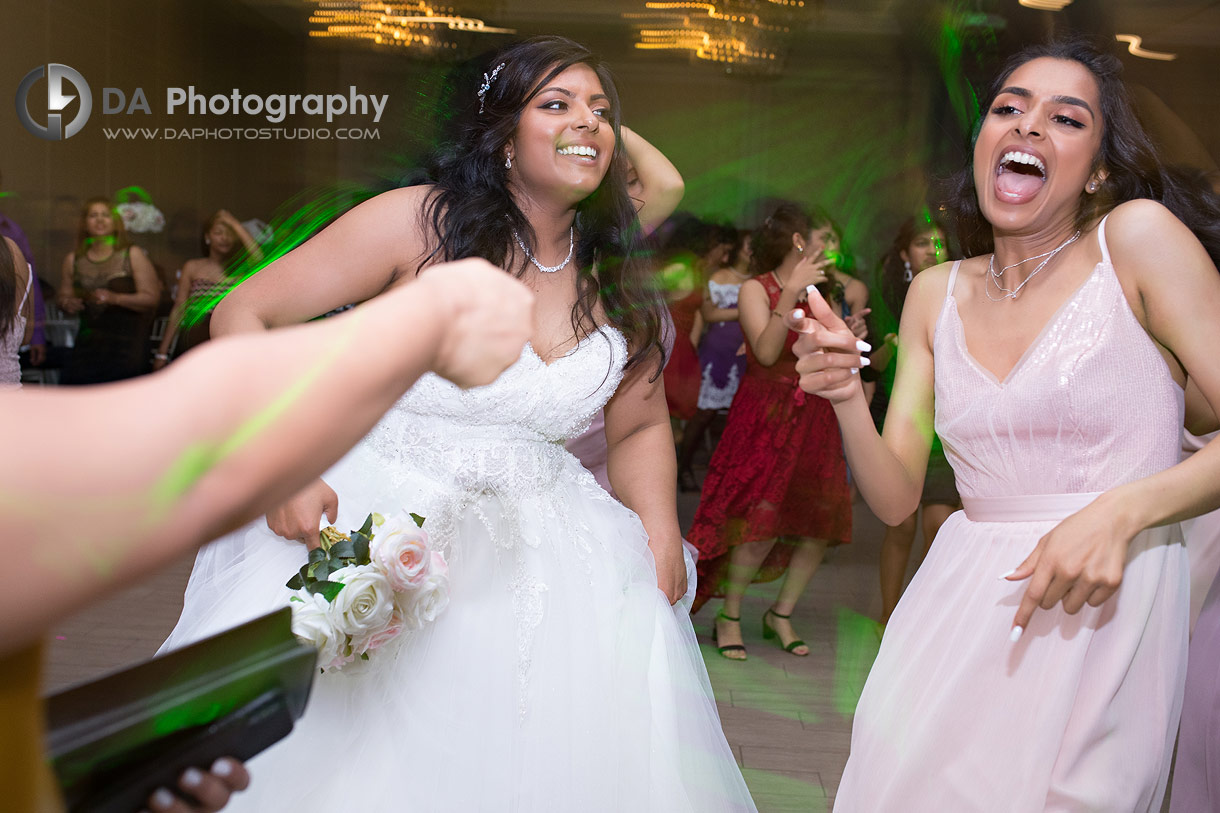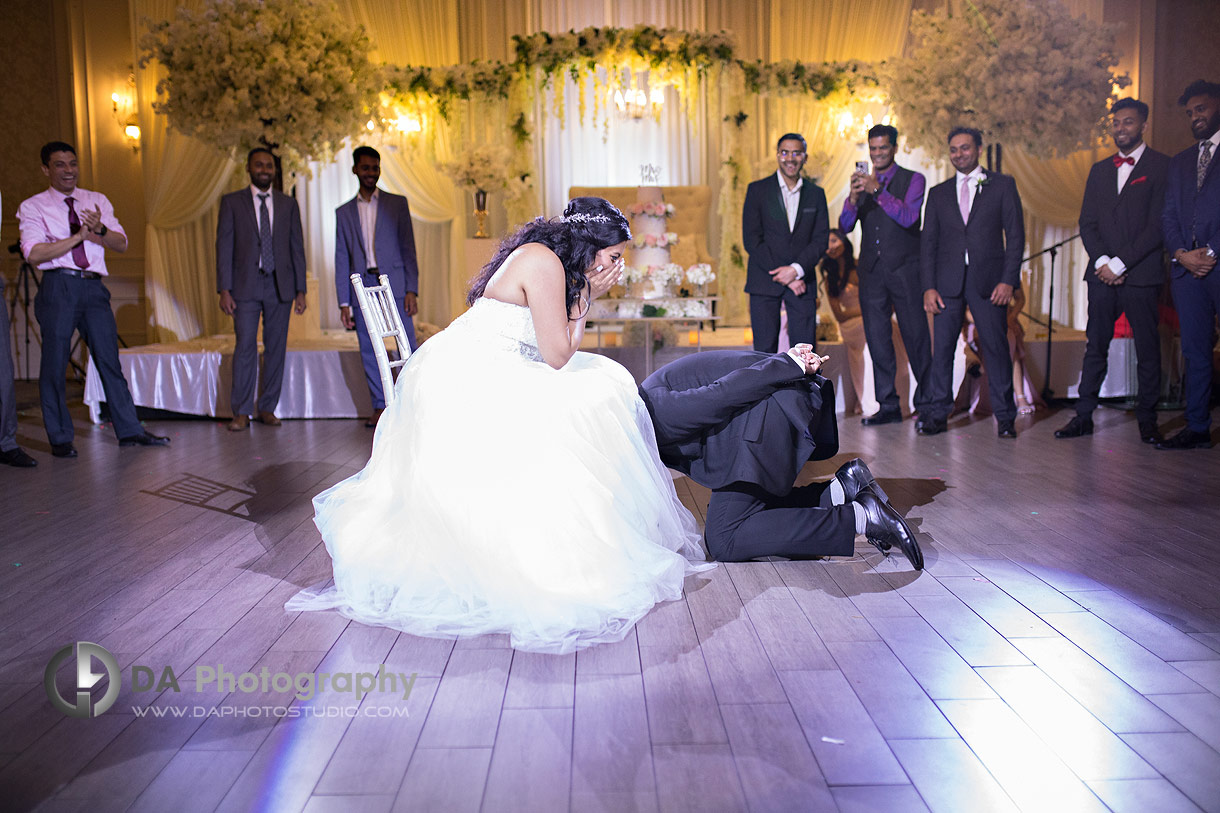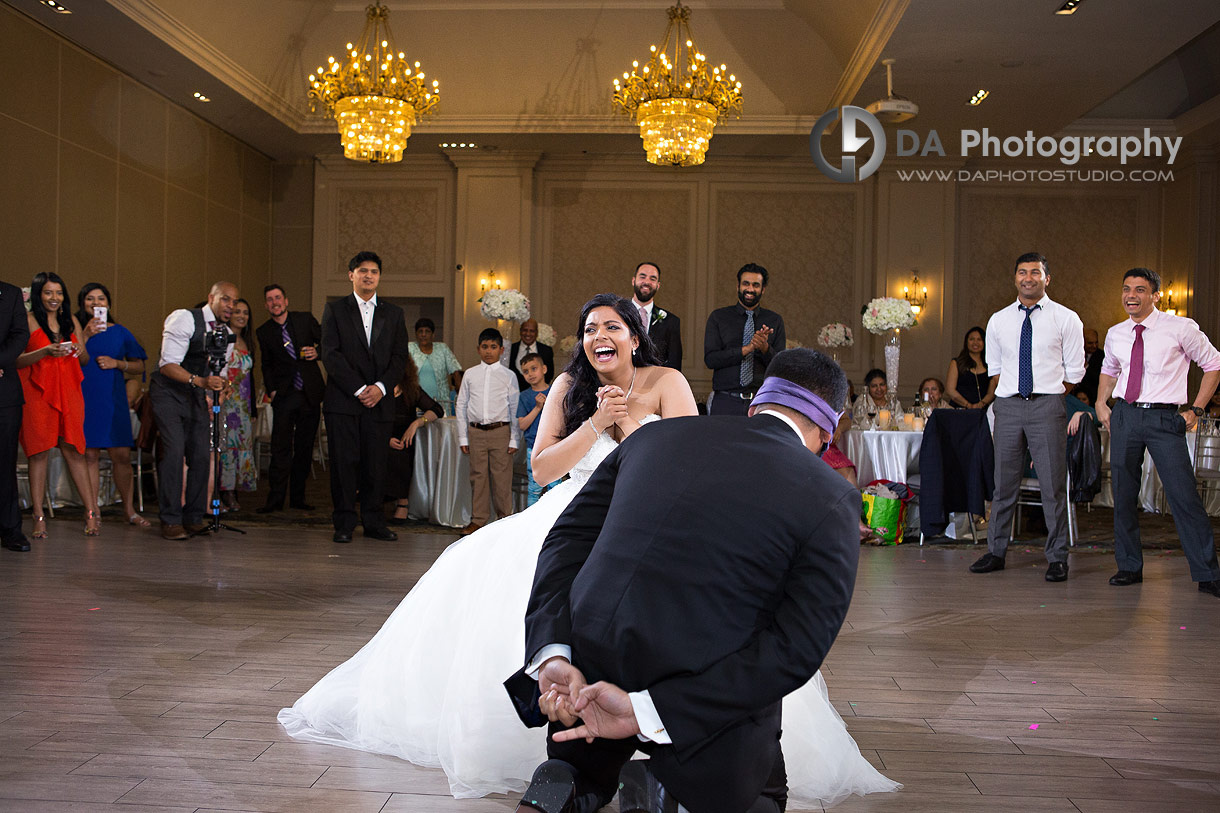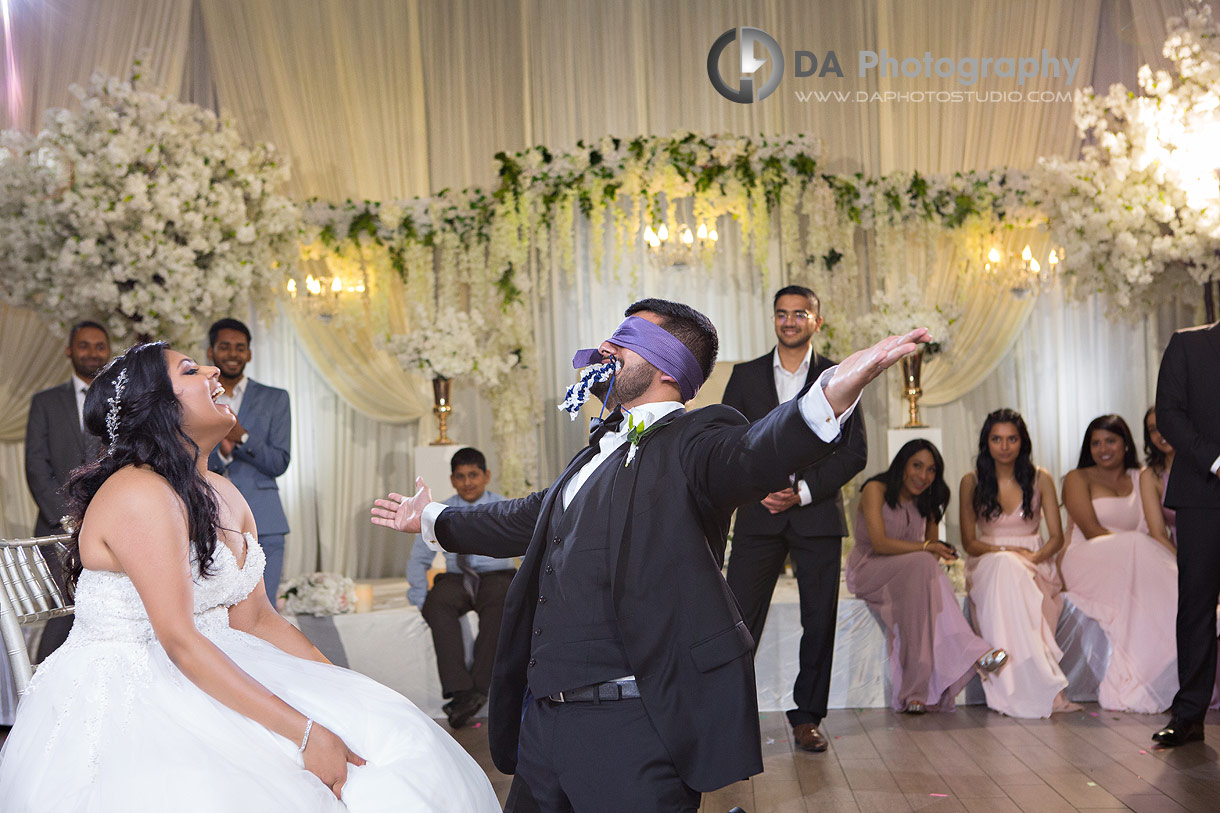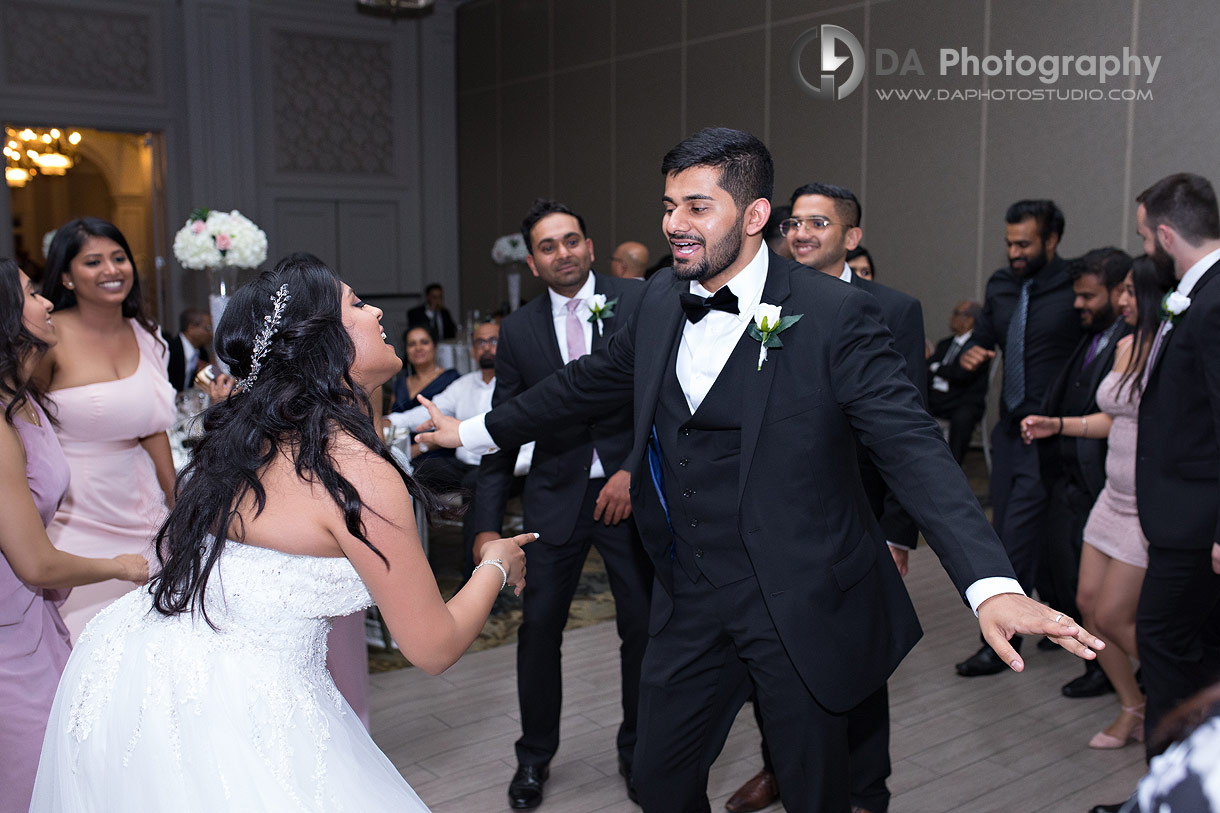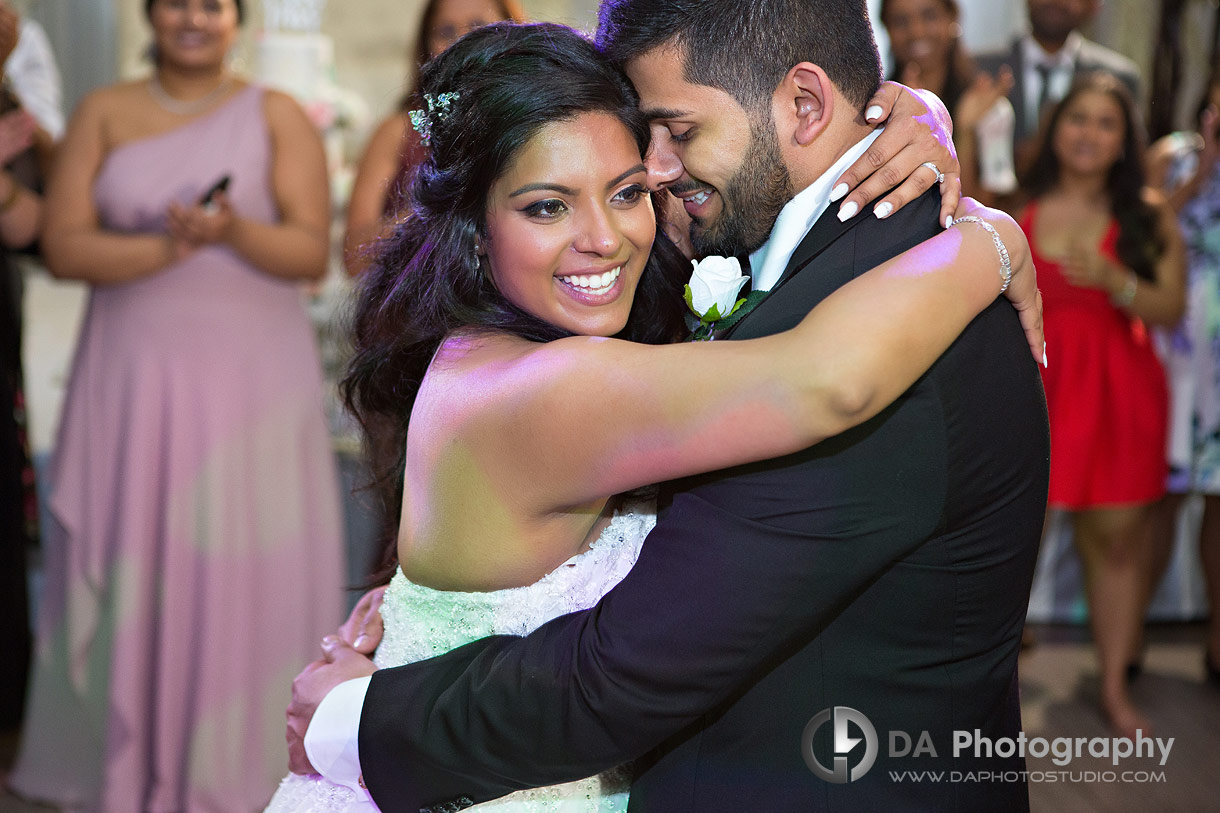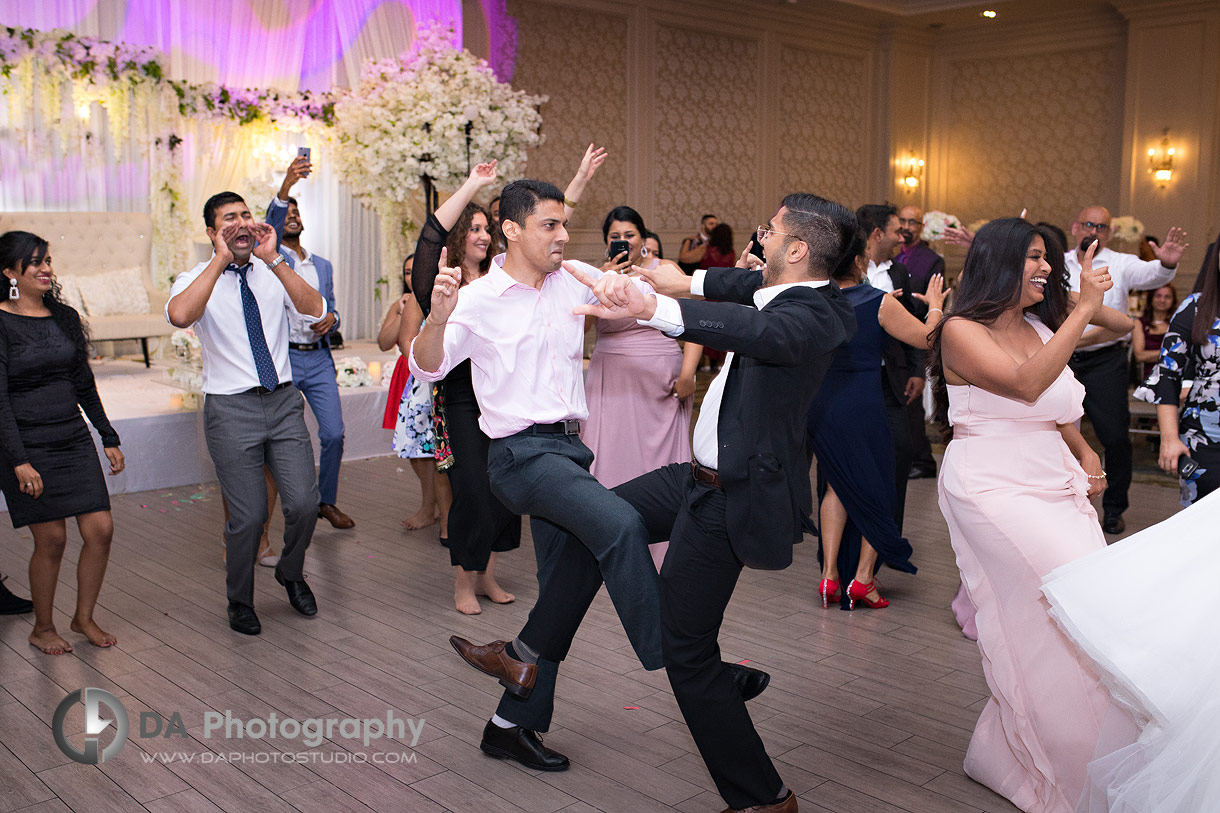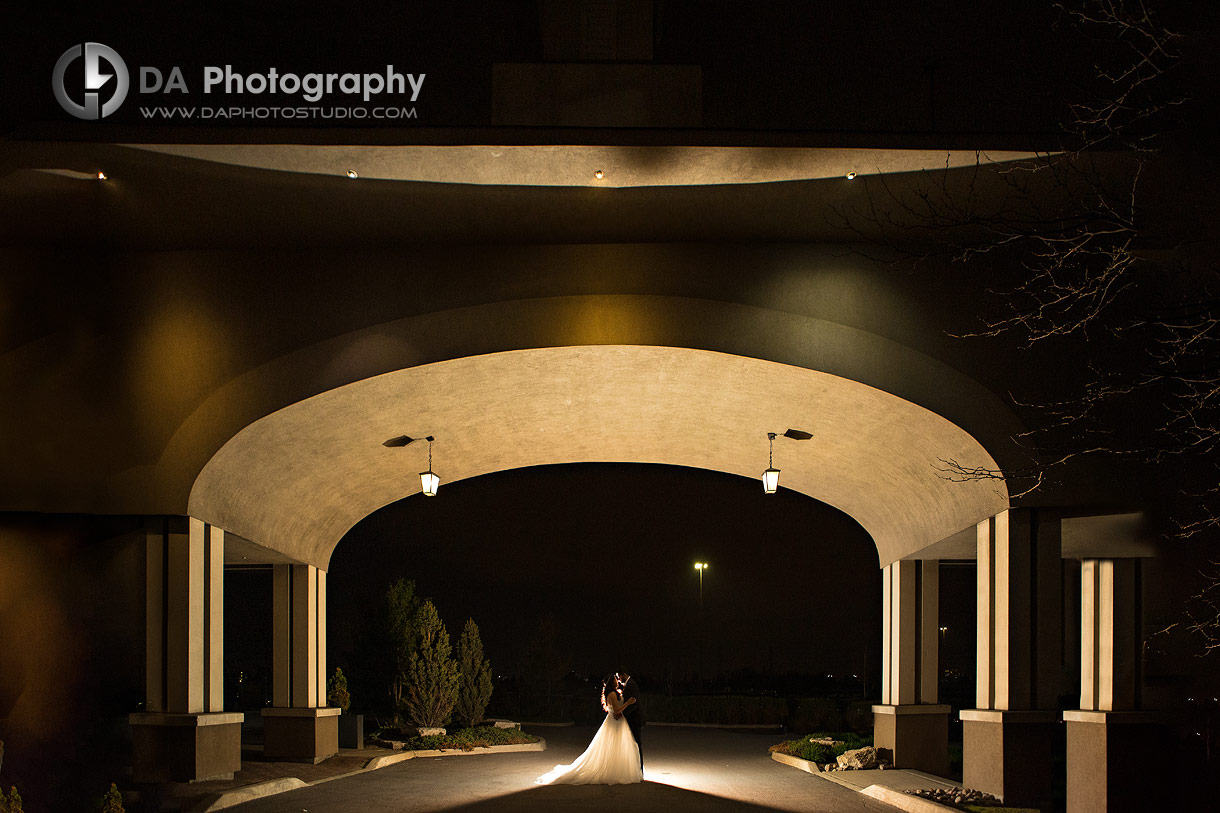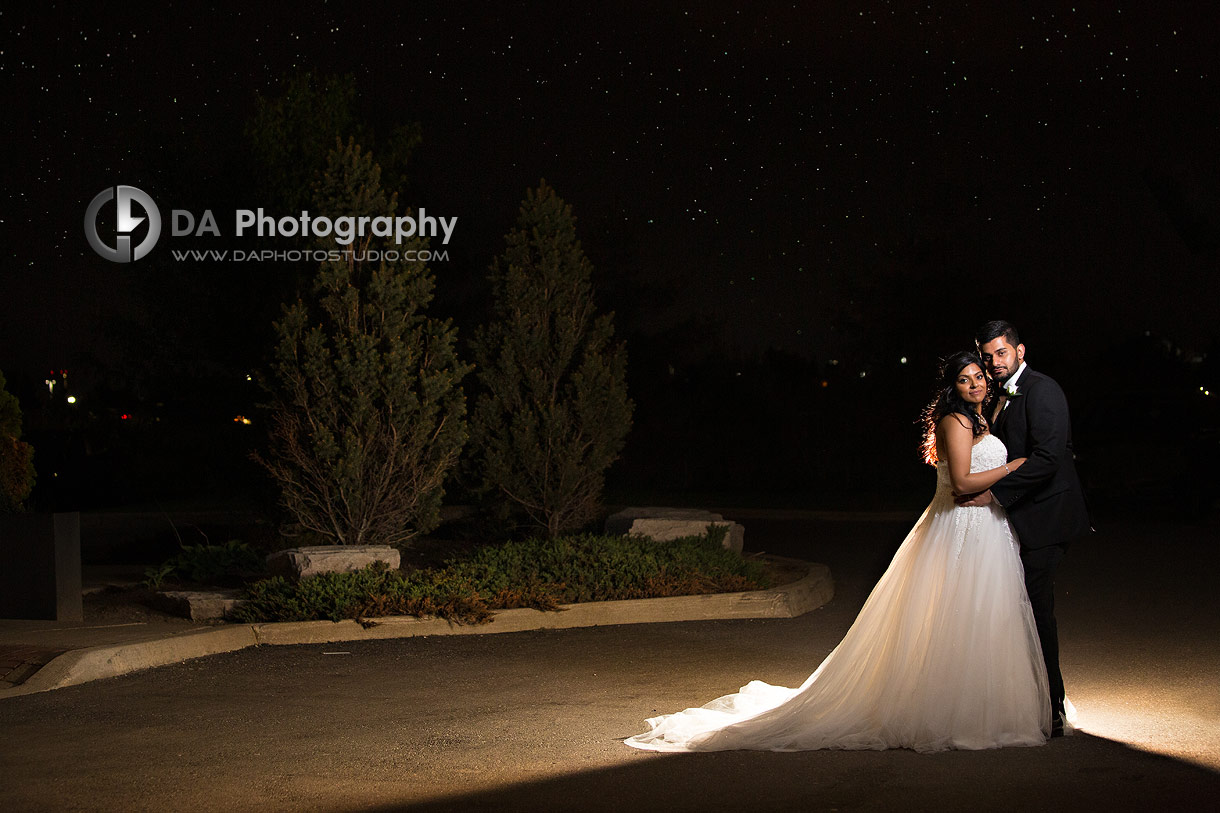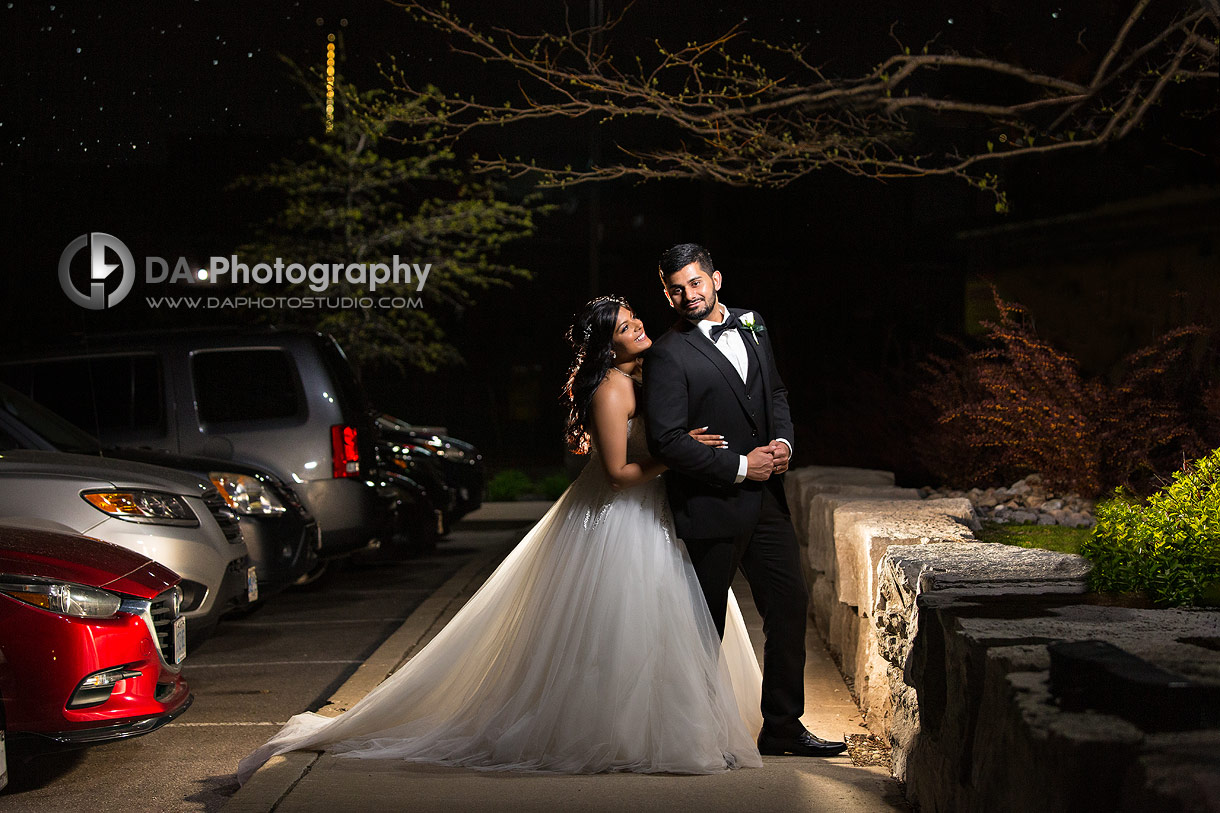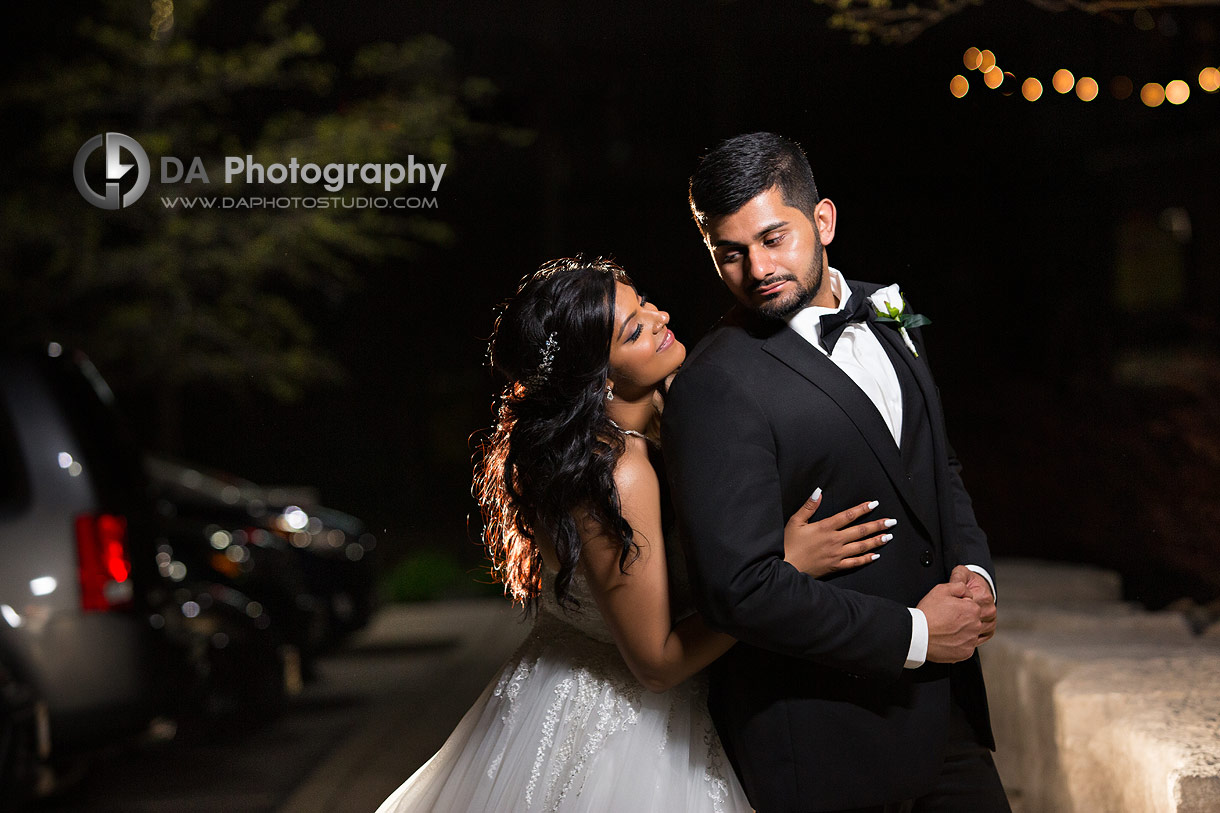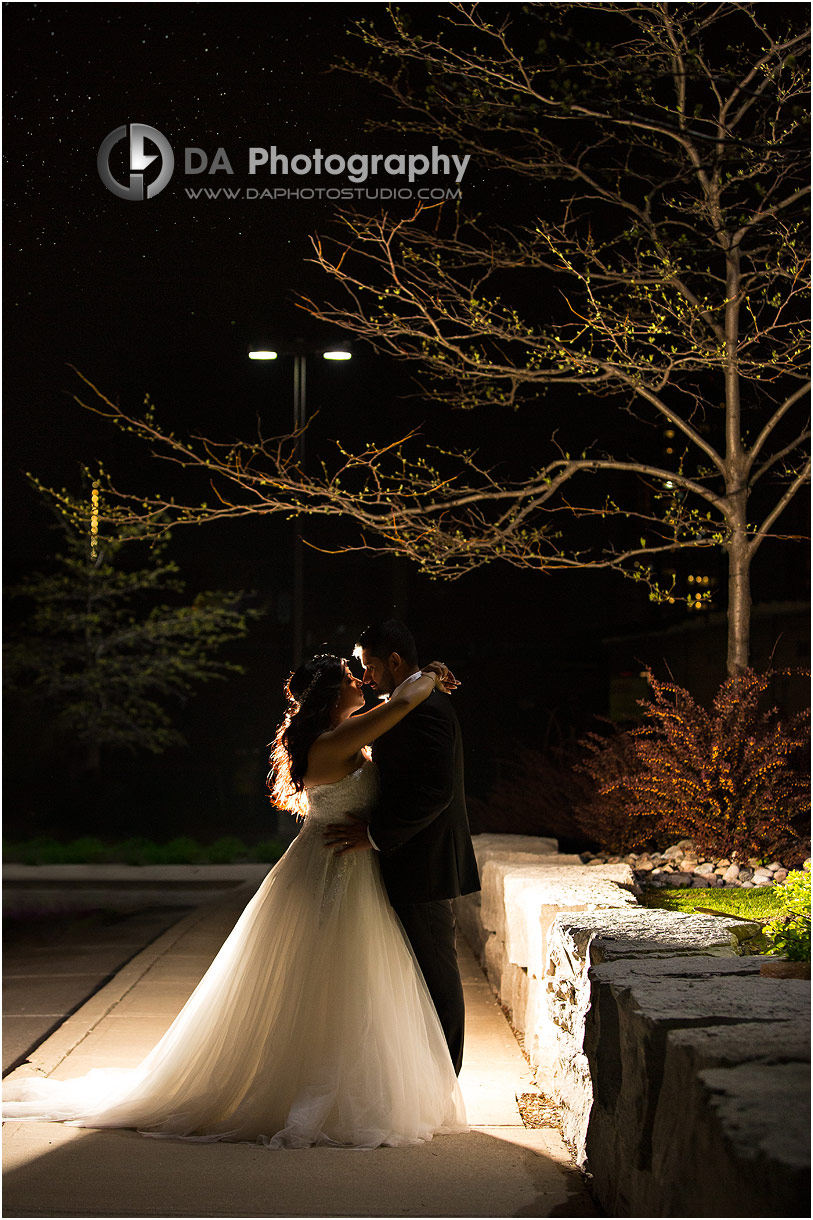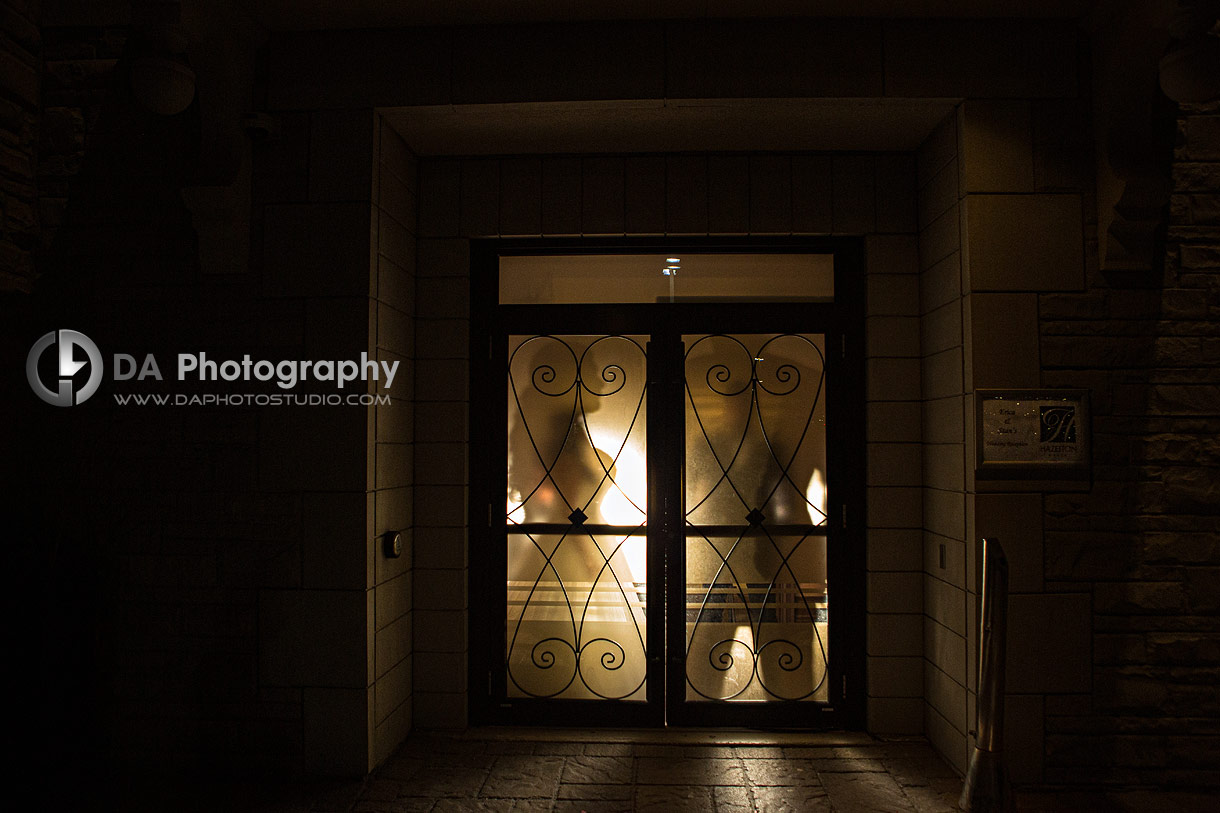 By saying that this was a great wedding is truly an understatement. Erika and Stan's day was a reflection of their personalities, their family values and all of the hard work put into planning it too. Their friends and family also showed their support in so many unforgettable ways throughout the day. In the end, I always say, "Be who you are and the things that you want will come your way."
Credits to below wedding professionals and locations that helped Erika and Stan's wedding to be one of a kind.
If you like to see another church wedding click
here.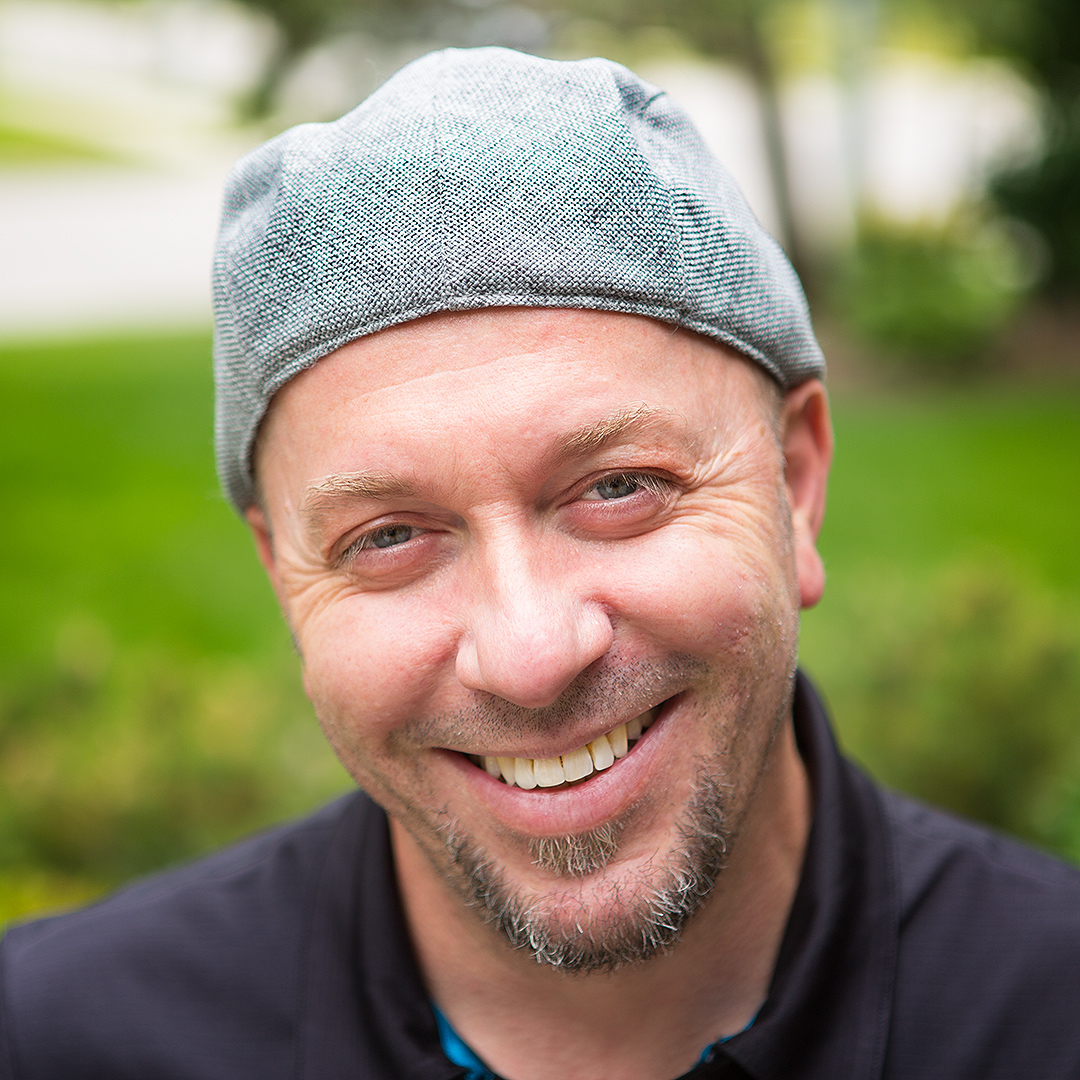 My passion and biggest asset is taking the time to make every client comfortable and relaxed before I even pick up the camera. The result? Photos of you that actually look like you at your best! I can prove to you how much you can enjoy having your picture taken. Lifestyle photography is about the experience that happens to be served up along side of some great photos.
Specialties:
Family Photography for families that like to move around and enjoy their photo time, Wedding Photography for couples looking for a mixture of photojournalistic, contemporary and traditional images and Professional Corporate headshots that are far from cheesy and stiff.