In Indian tradition, a Mehndi is part of the pre-wedding ceremonies. Truly, it is one of the most colourful and vibrant parts of the celebrations that lead up to the wedding day. I have been blessed to be a part of many Mehndi and can say for a fact that it is a party like no other! There may be similarities to other celebrations in terms of how they are planned and executed. However, the feel, emotions, colours, and atmosphere are unparalleled for this party.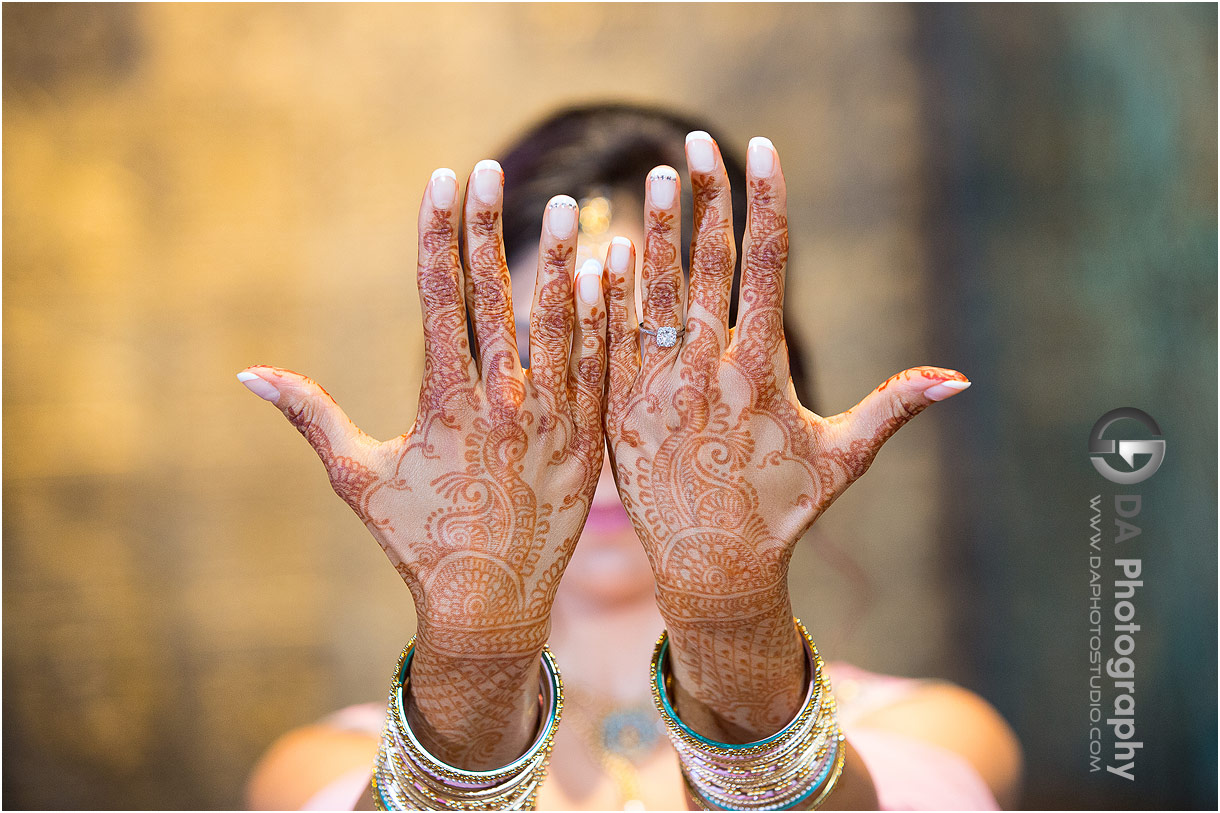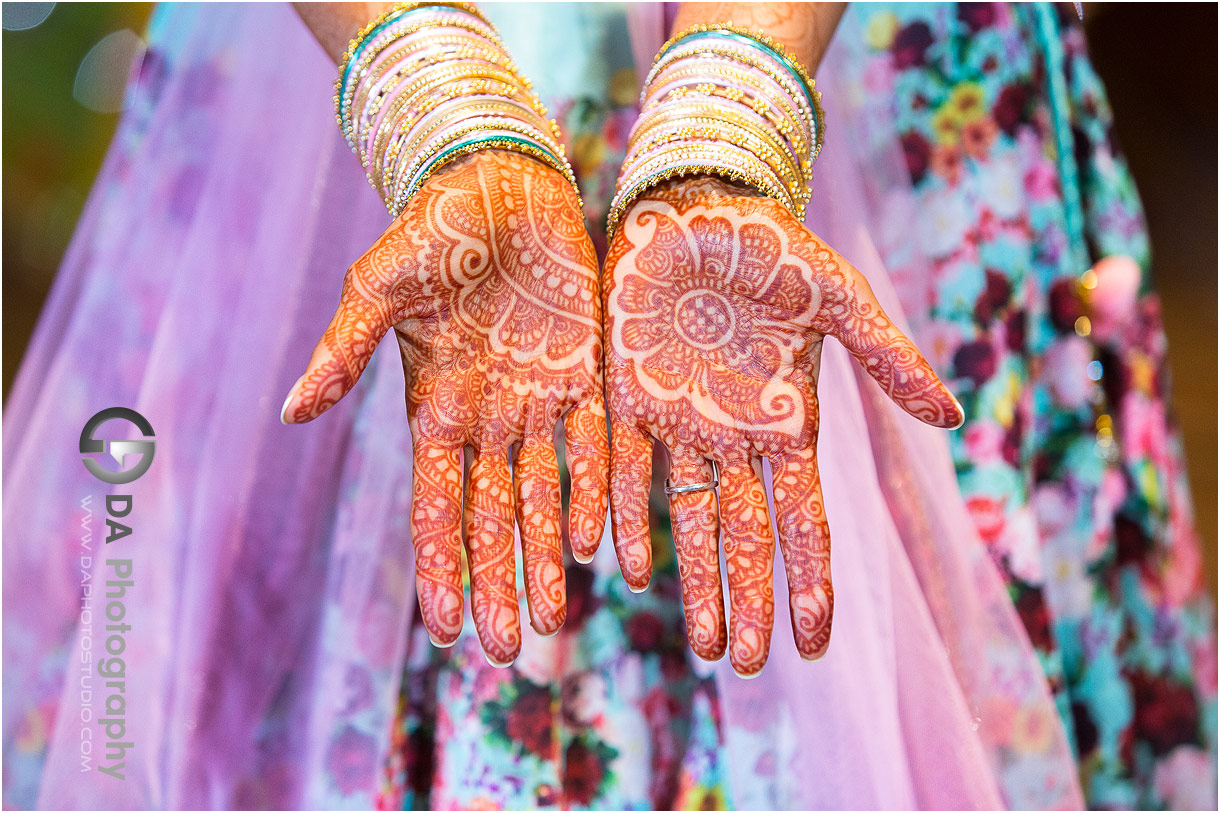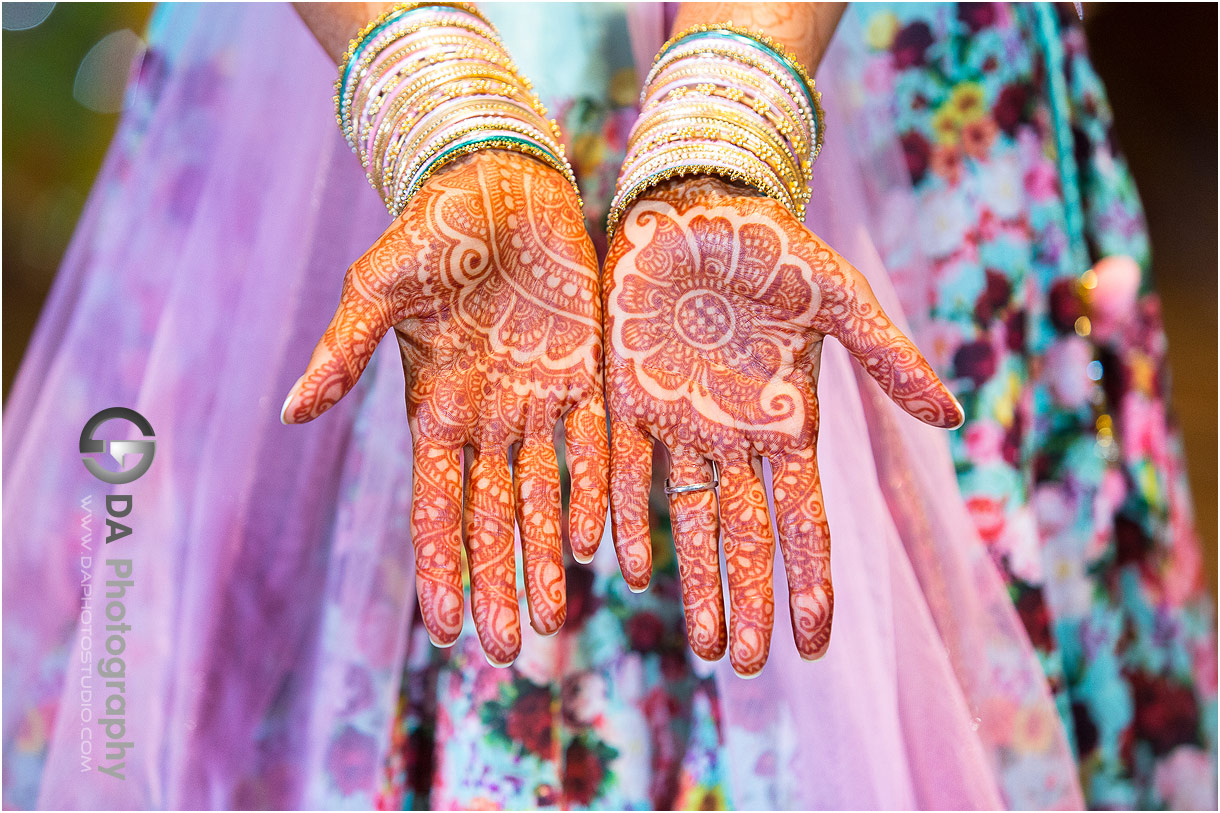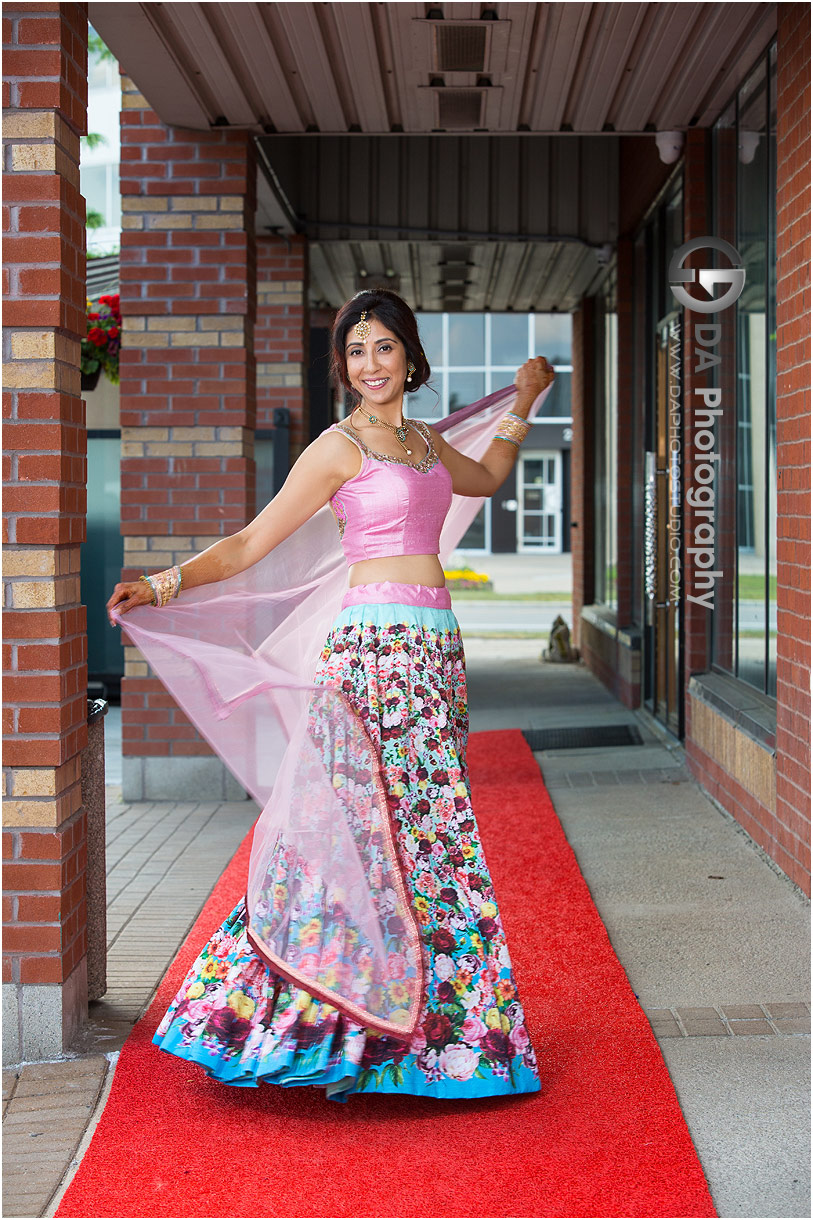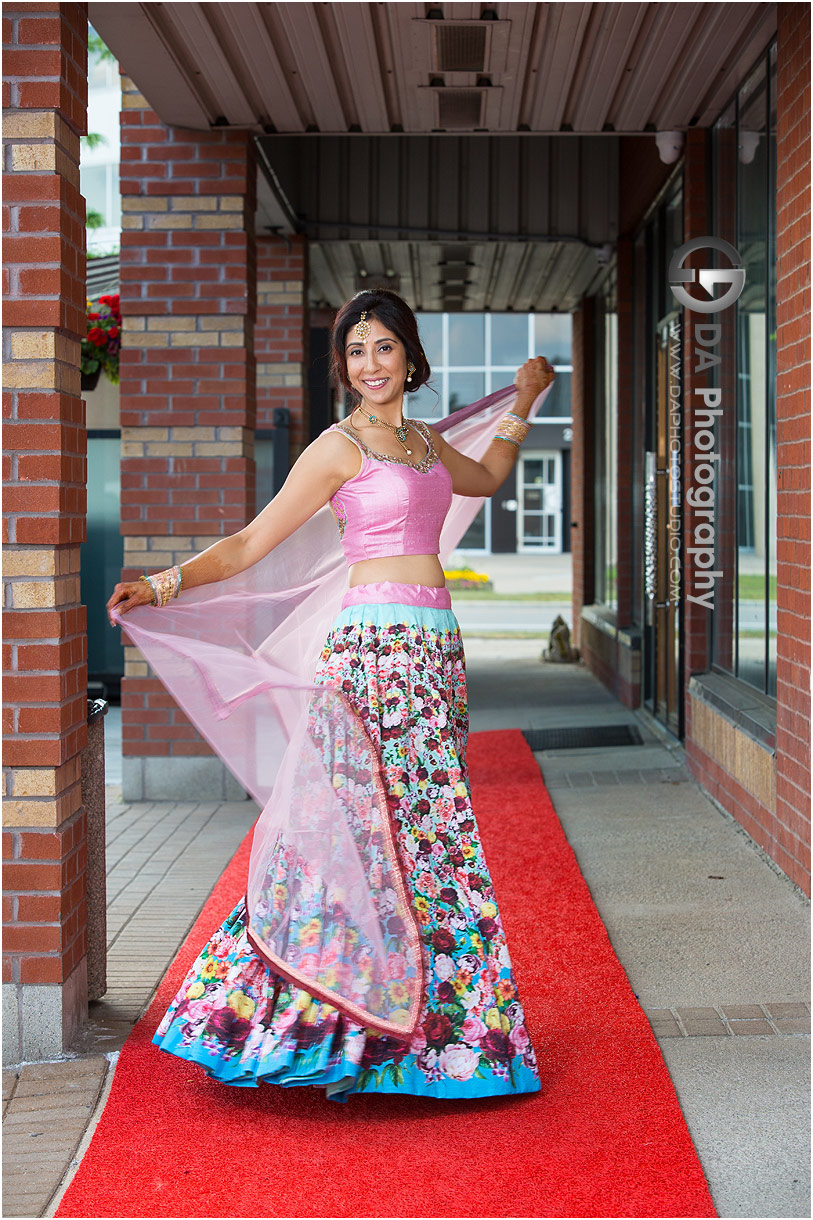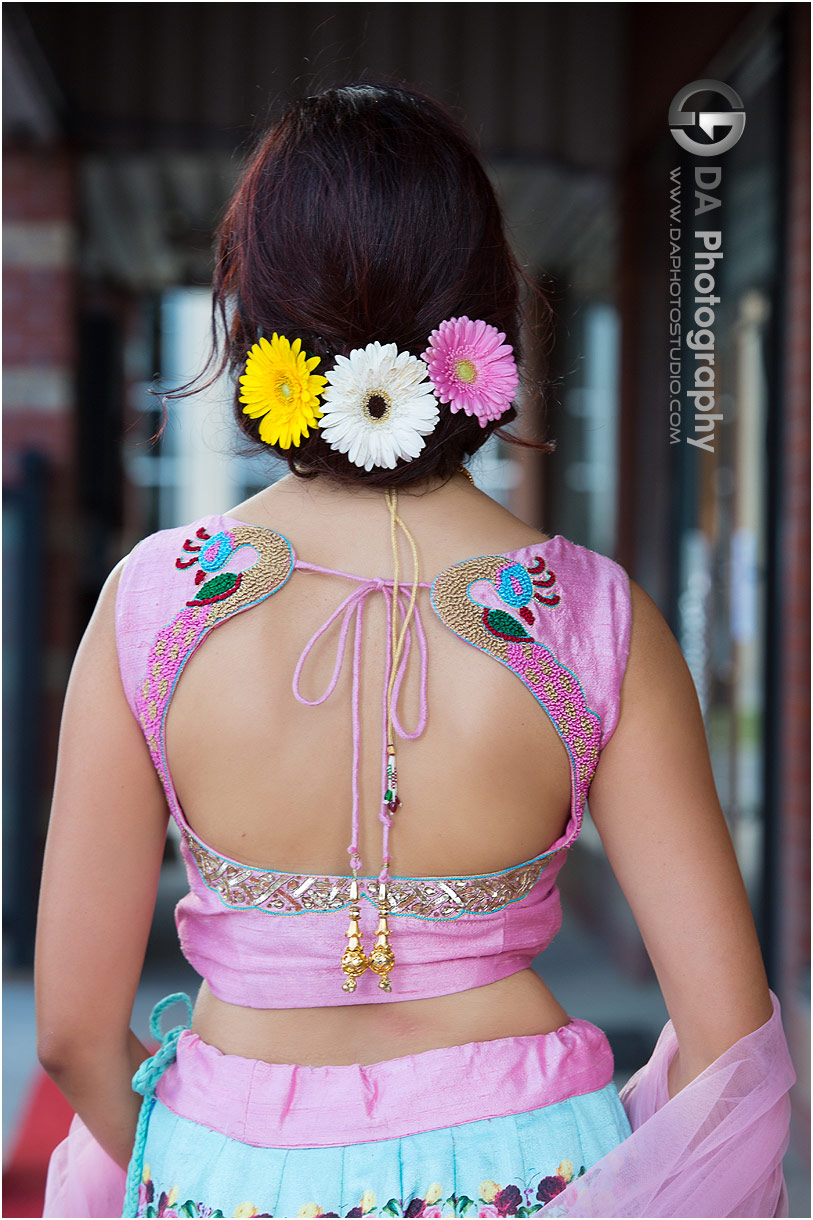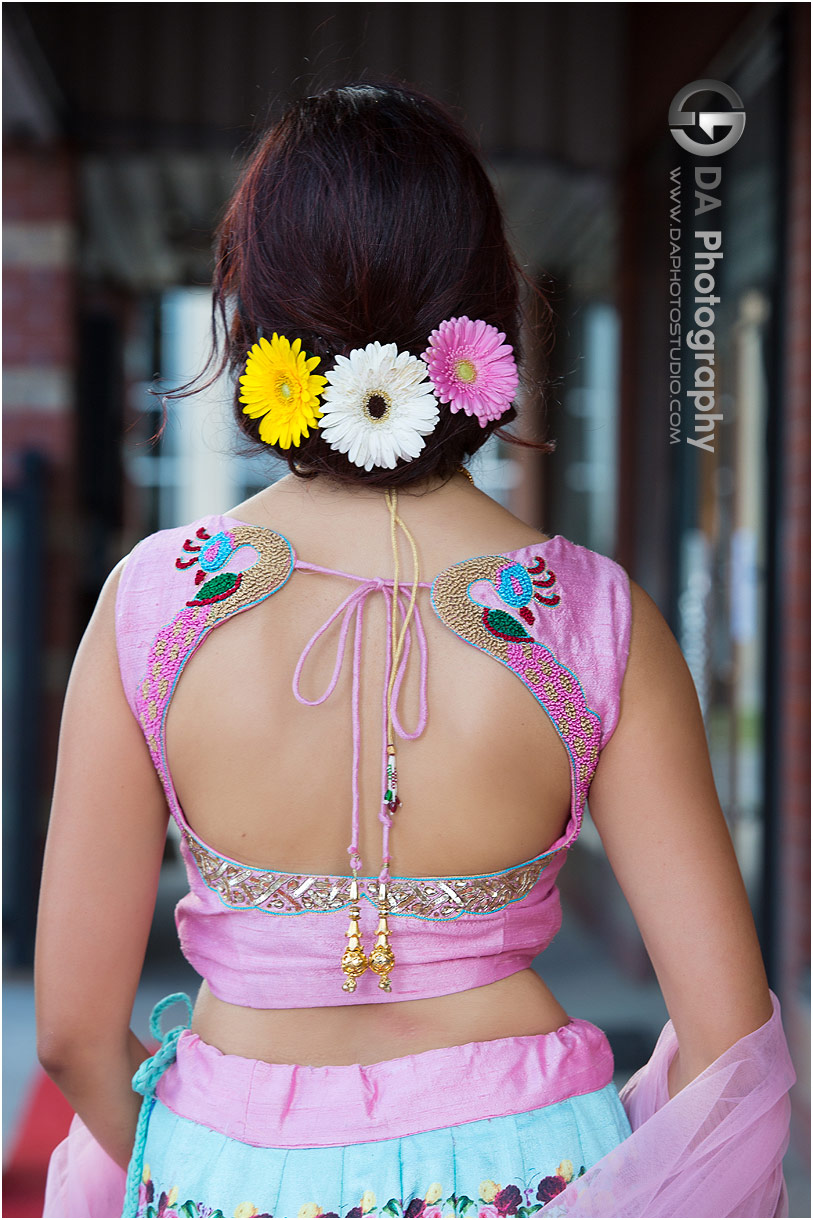 What is exactly the Mehndi party?
Mehndi or henna is an ancient form of body art that originates from India, across Asia, and the Middle East. This party is part of the Hindu and Sikh traditions as a pre-wedding event. During the celebrations, a red-orange ¨stain" called henna is applied to the bride's palms, the back of her hands, and her feet. However, all guests, predominantly women, are invited to have henna applied on a smaller scale than the bride.
The Mehndi party is traditionally held and organized in the bride's home. However, nowadays, this pre-wedding event is often held in banquet halls or wedding venues, depending on the size of the party.
There is a very important reason that the Mehndi party takes place in the days right before the wedding. Tradition says that the deeper the colour of the bride's henna, the happier the marriage will be. The symbols and designs painted on the bride's hands represent various blessings, luck, joy, and love. The groom's name is also hidden among these symbols too.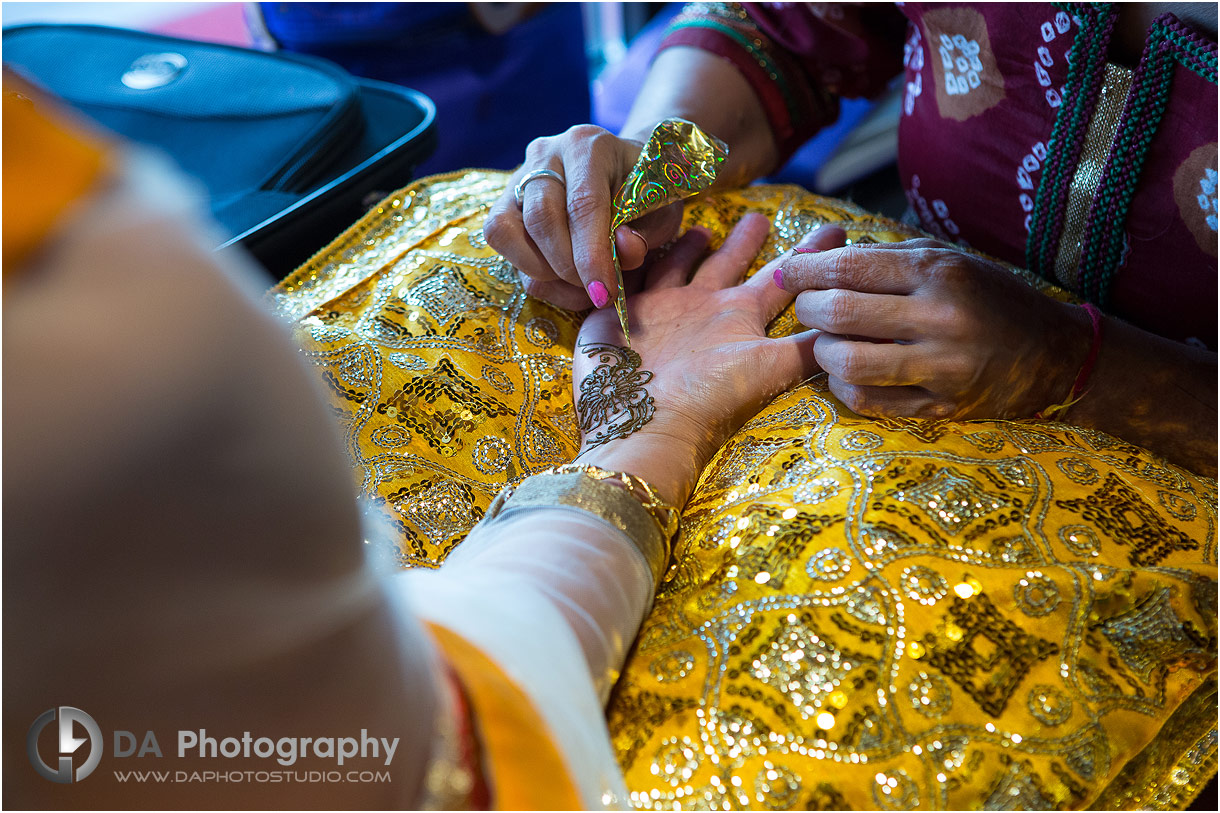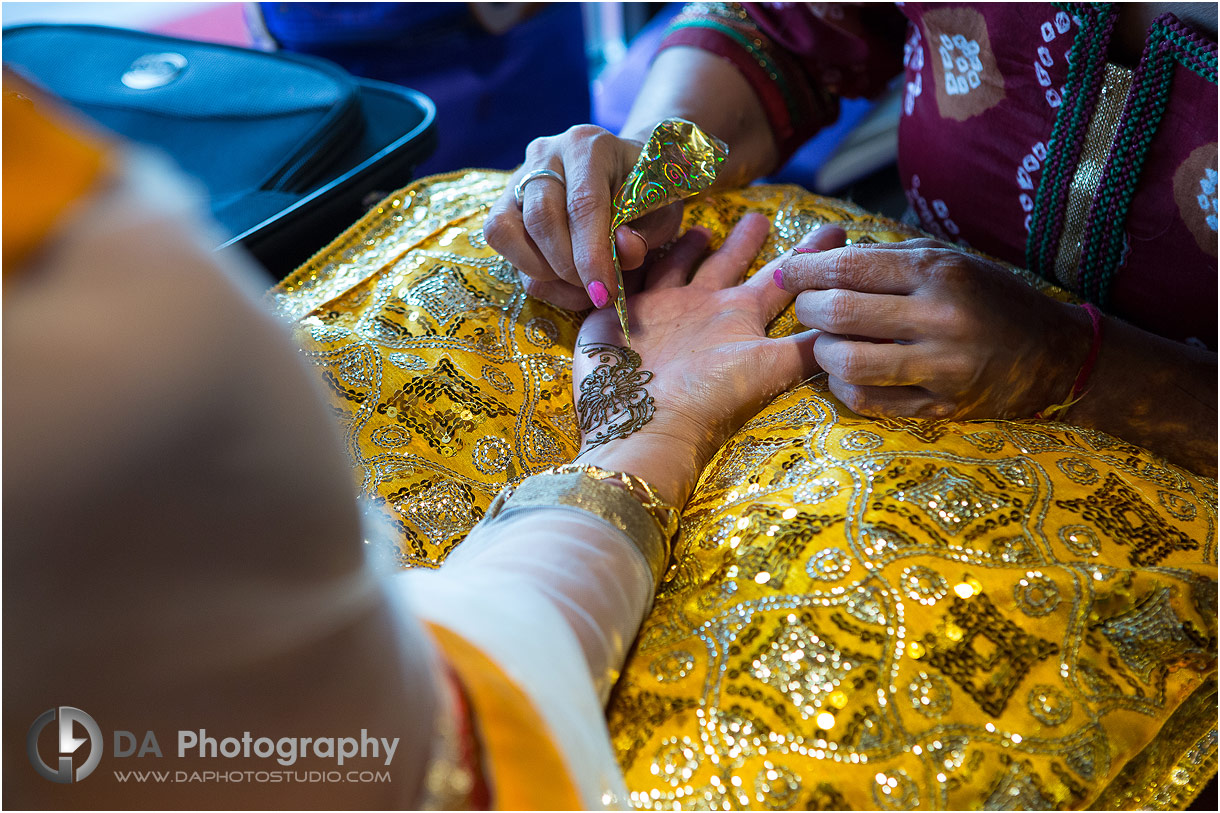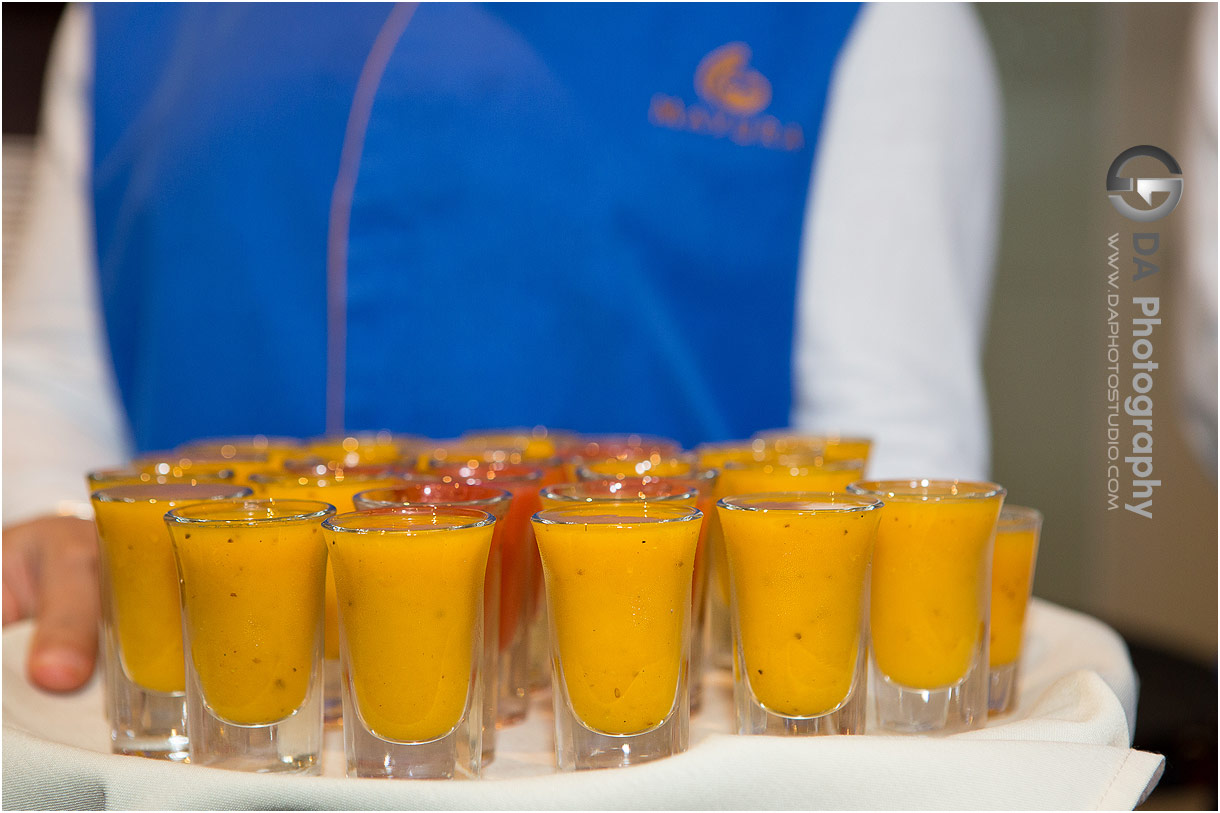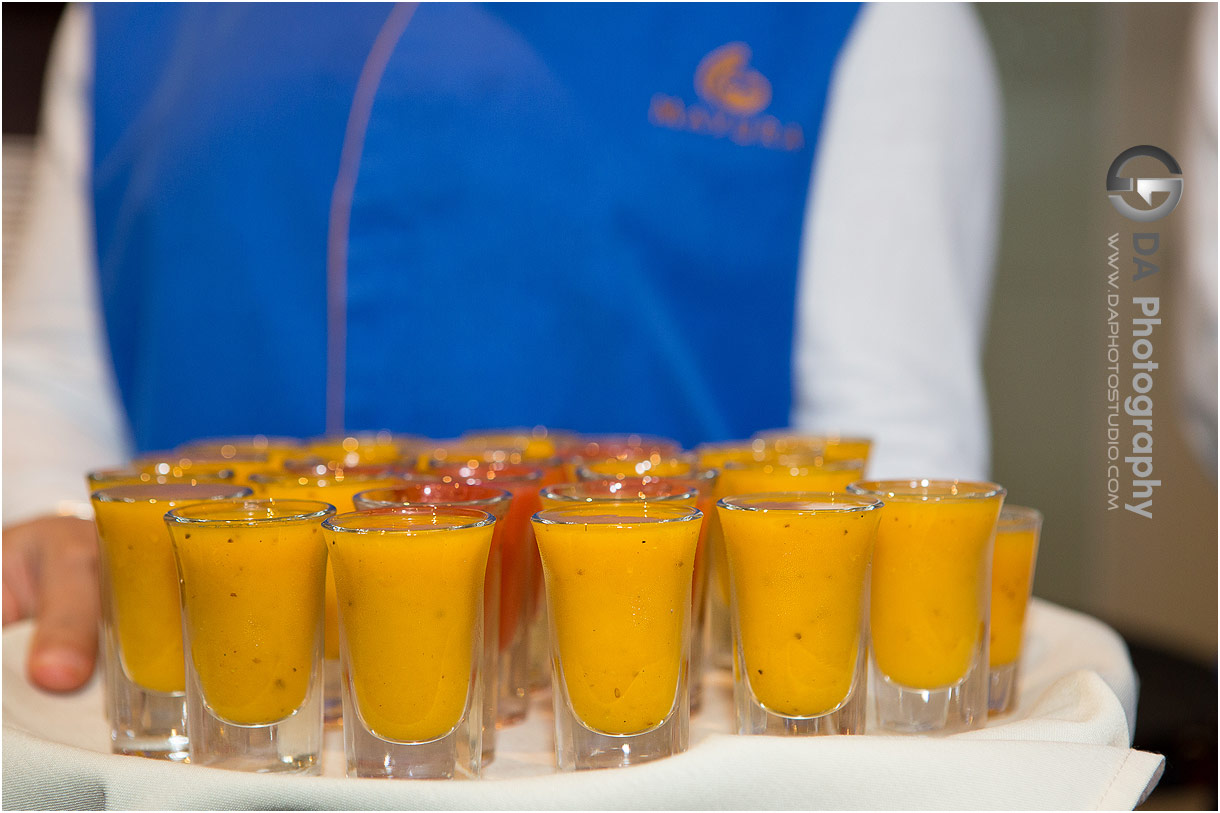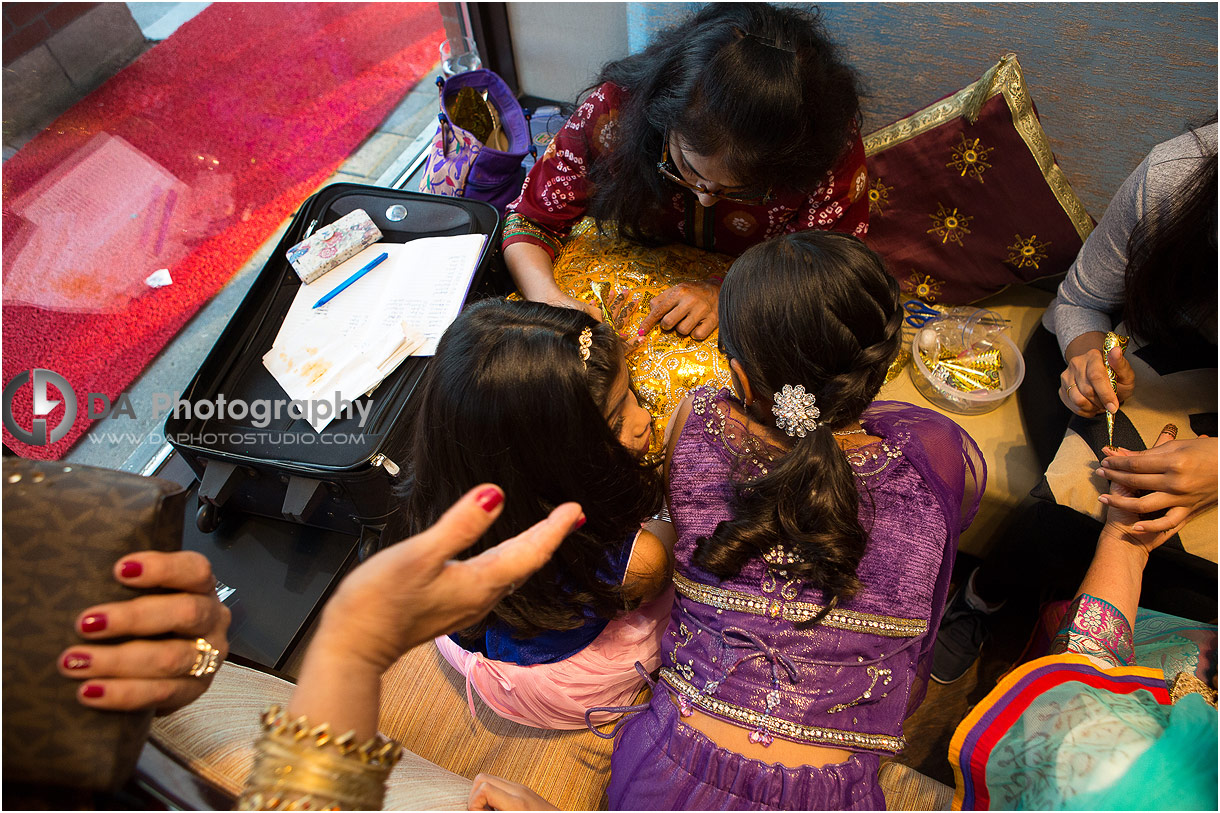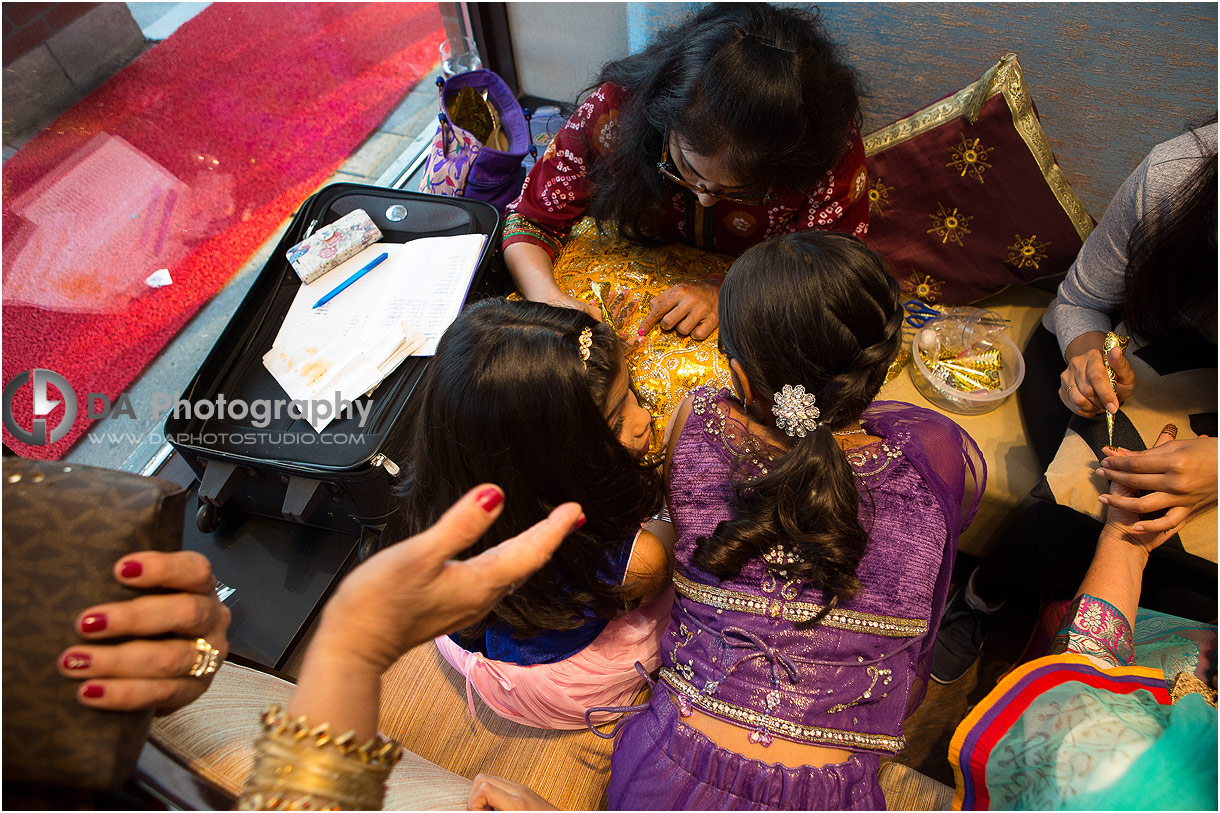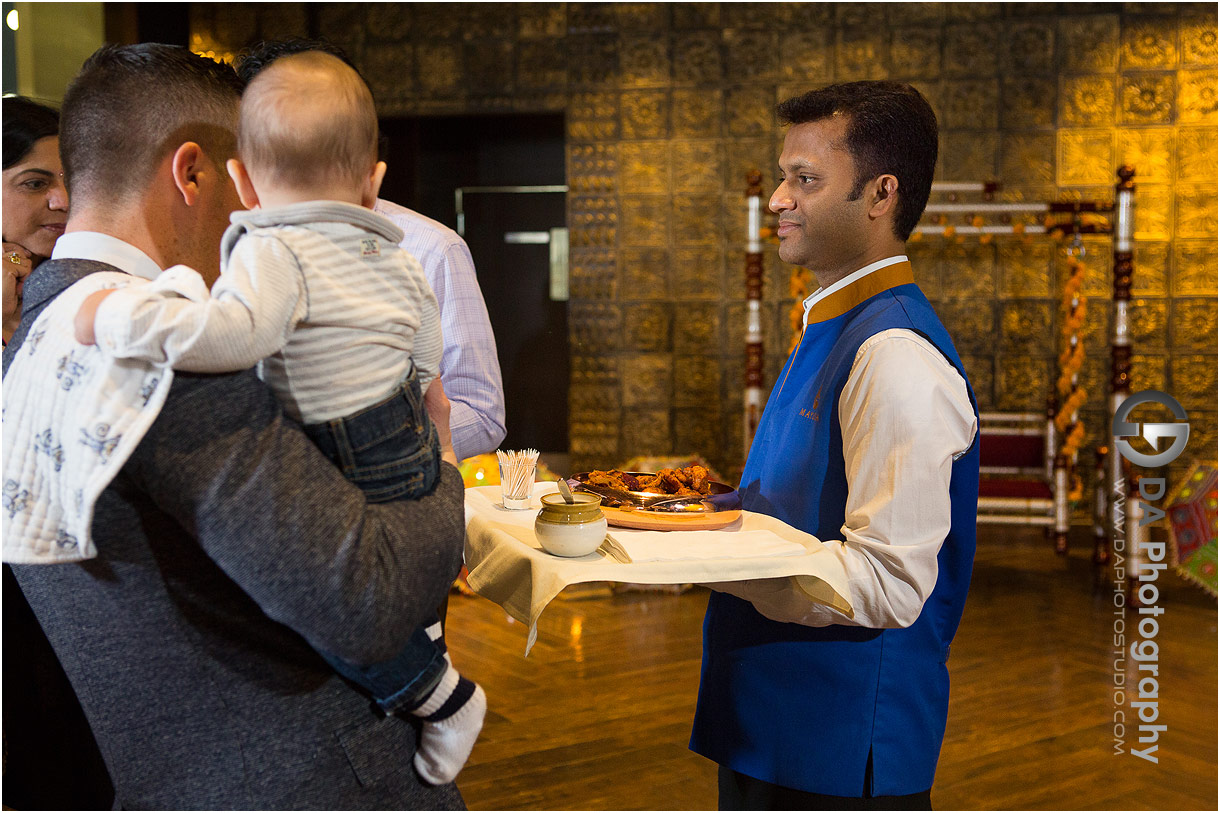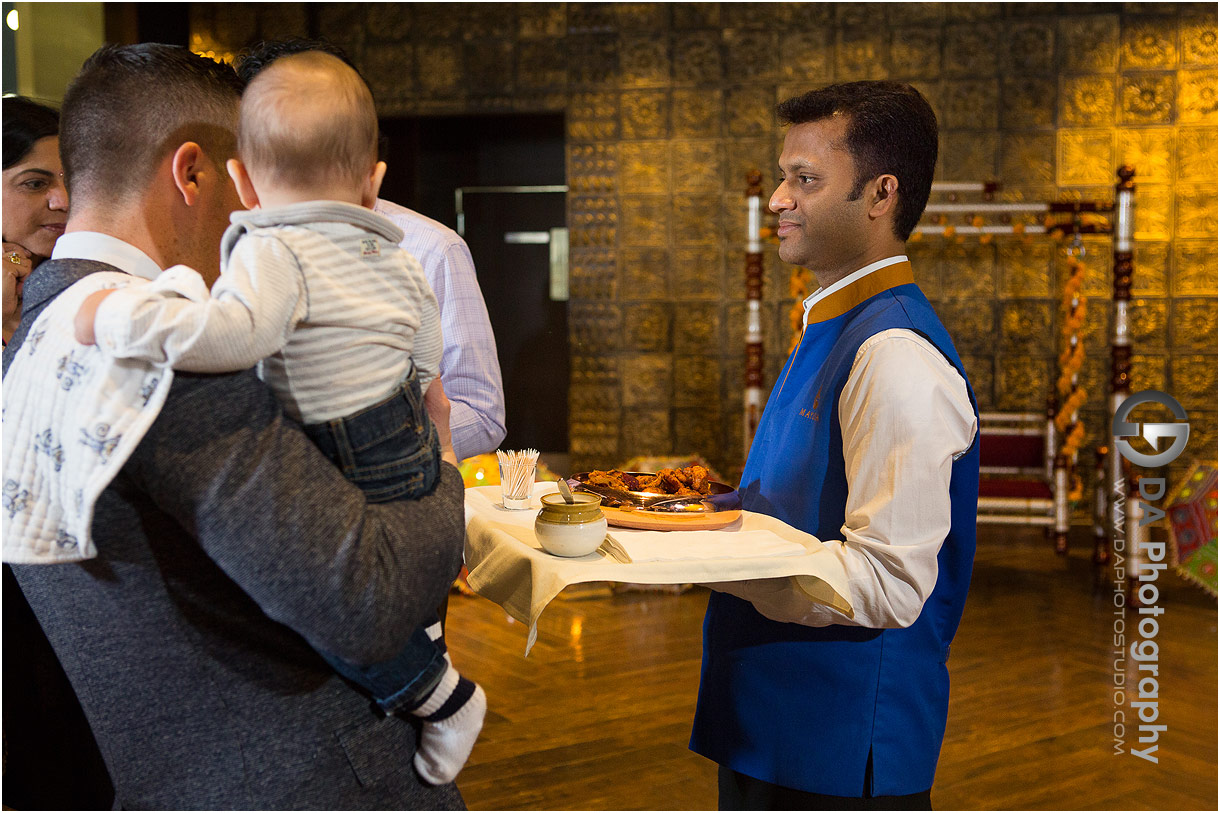 The Mehndi of Amee's family
I was fortunate to be introduced to Amee and Balkar through our family friend Mona. Amee is her long-time best friend. At the beginning of the wedding planning, they chose me out of many potential wedding photographers to document their special day. 
Having already finished one of the other pre-wedding events, their engagement photos, we were already familiar with each other. I knew what to expect from both of them for their Mehndi party photography needs. The party was to be held in the week leading up to the wedding. Their venue, Mayura Restaurant, sits inconspicuously amongst shopping plaza storefronts in Brampton. I like to arrive at these events well before my scheduled time. I know that the parents and close family members will be there to set up the venue. Once they see my cameras, they are eager to have the first portraits taken. I have learned the hard way to not take out my camera until my lighting and other time-consuming technical pieces are set up!
So once my preparations were complete, I donned my cameras and, as expected, started to photograph immediately. I felt like a paparazzi photographer as I took photos of the groups. At the same time, I kept an extra eye out for Amee as she was scheduled to arrive at any moment.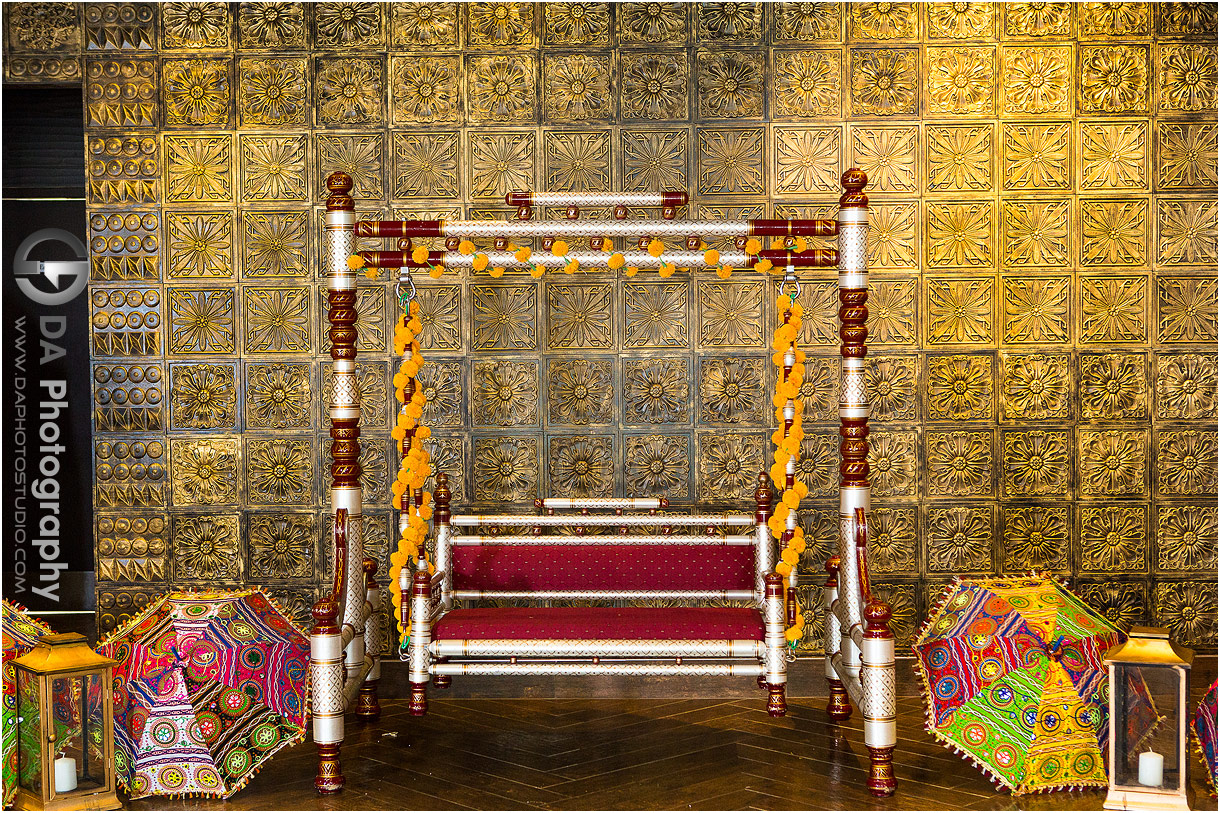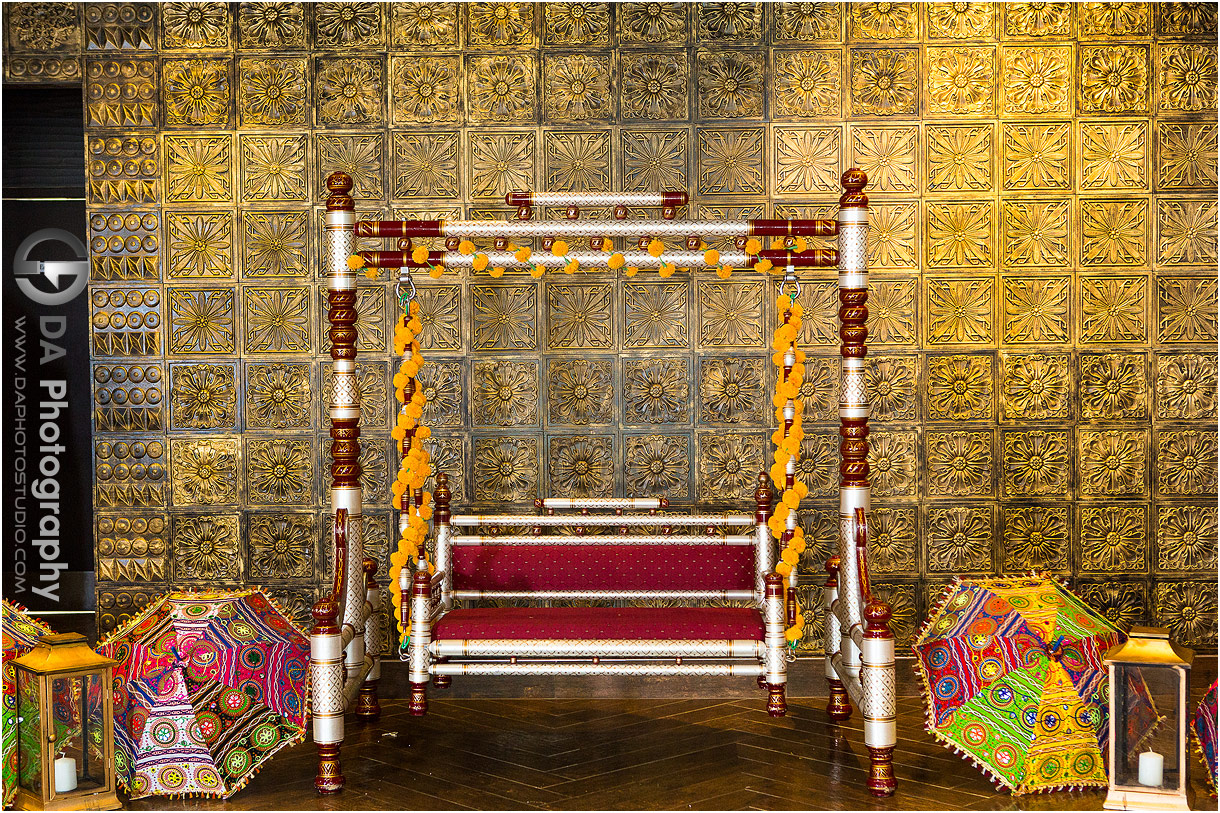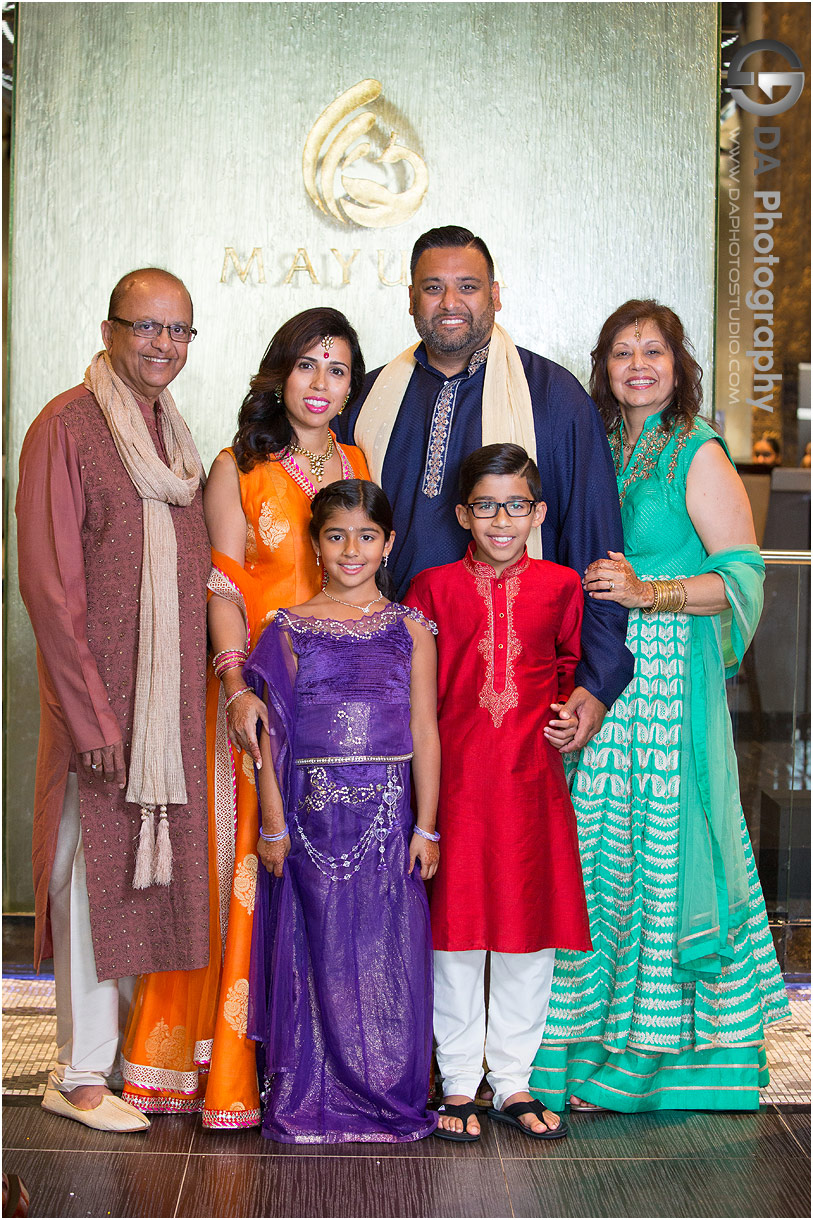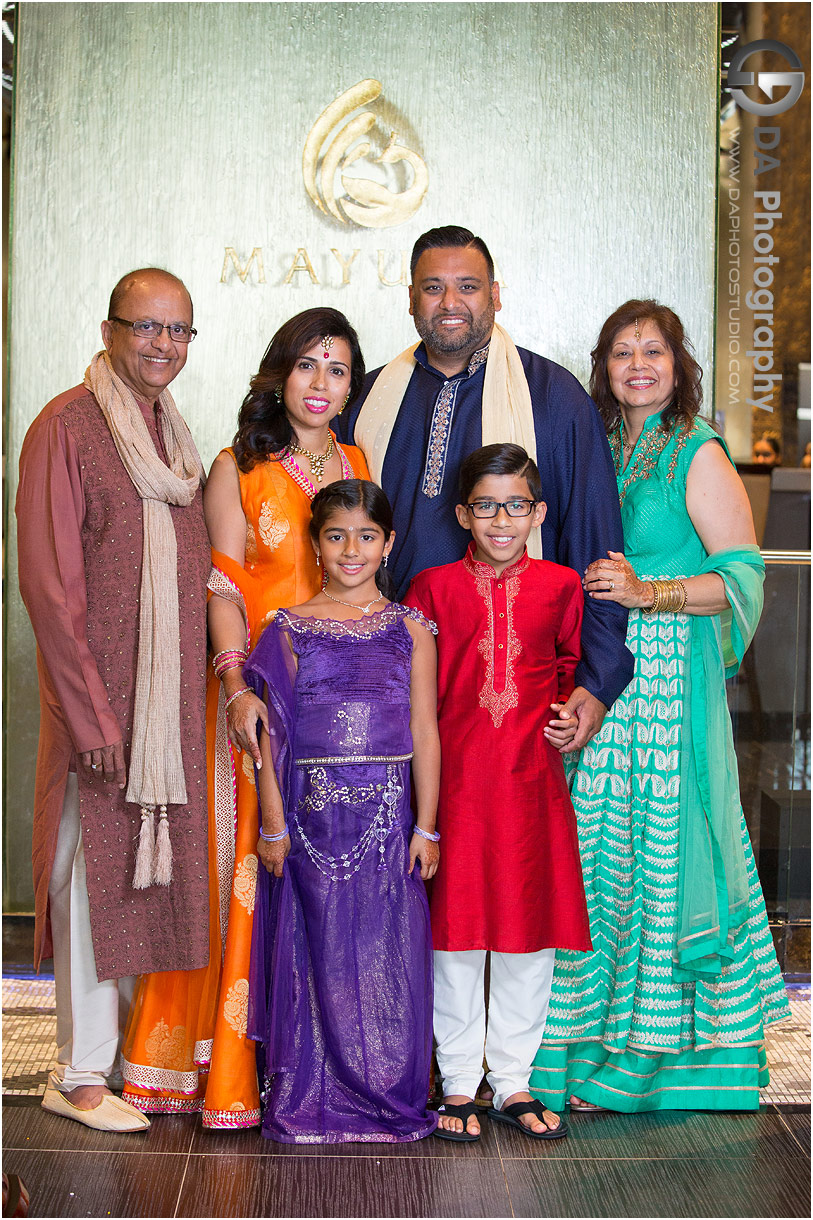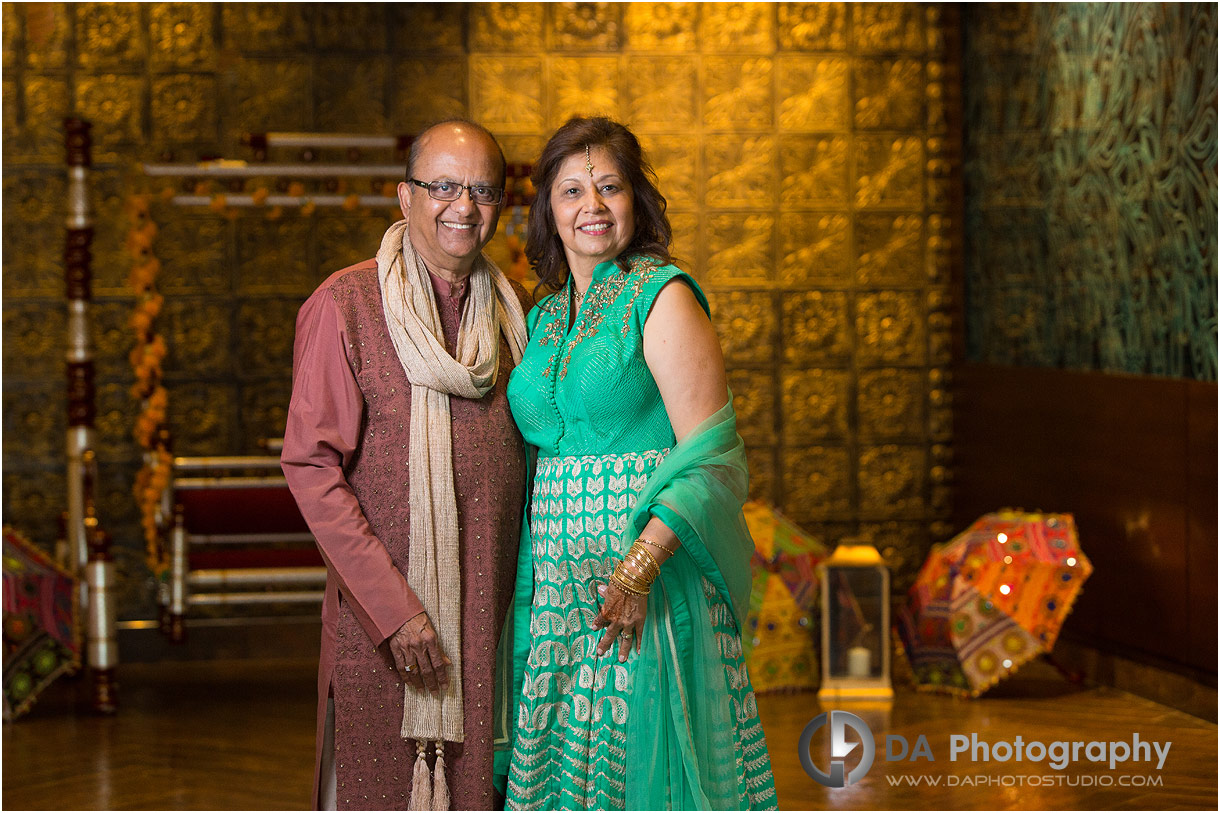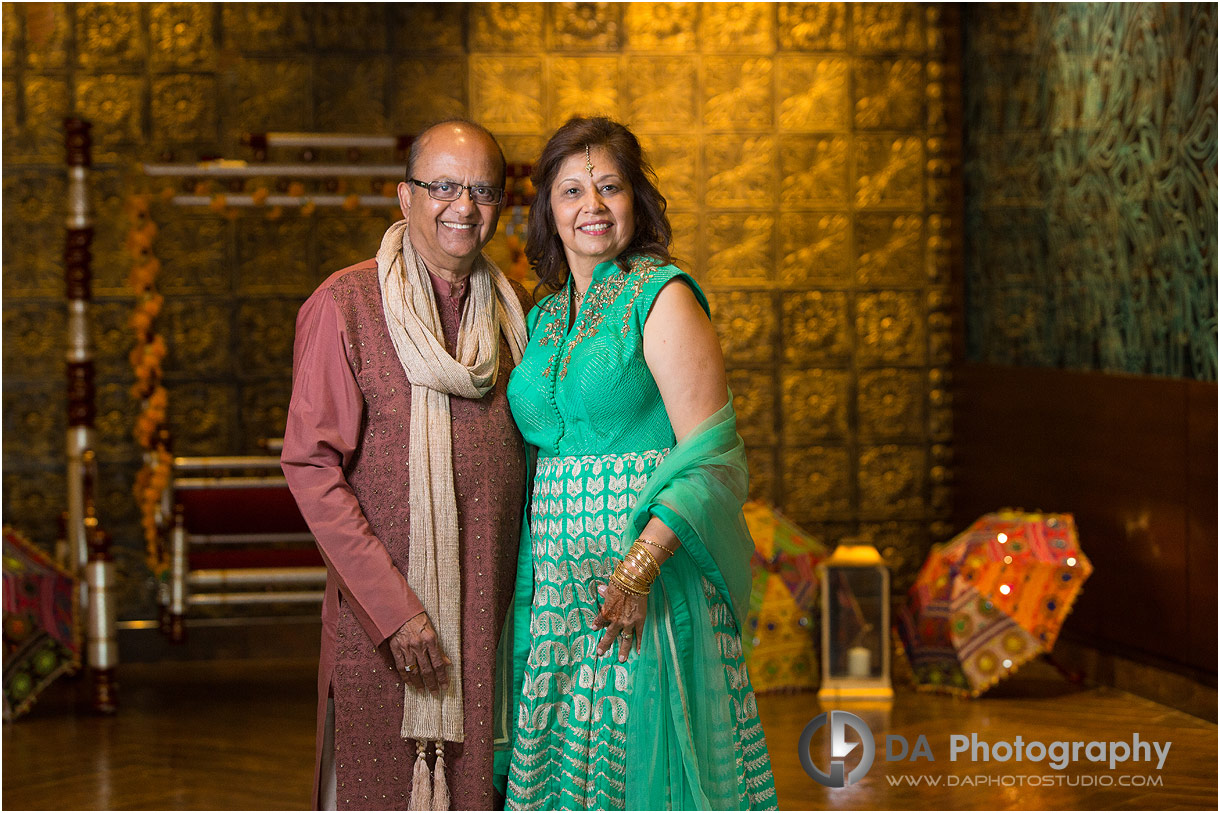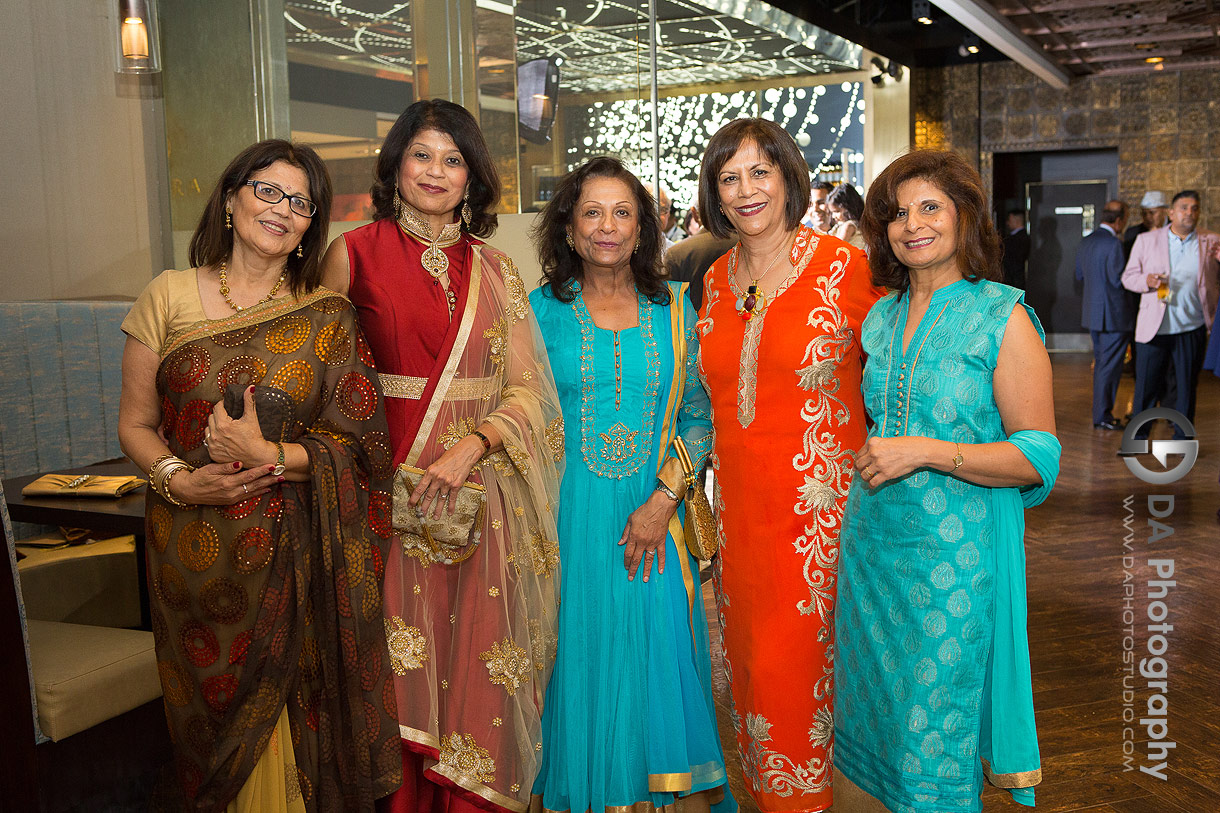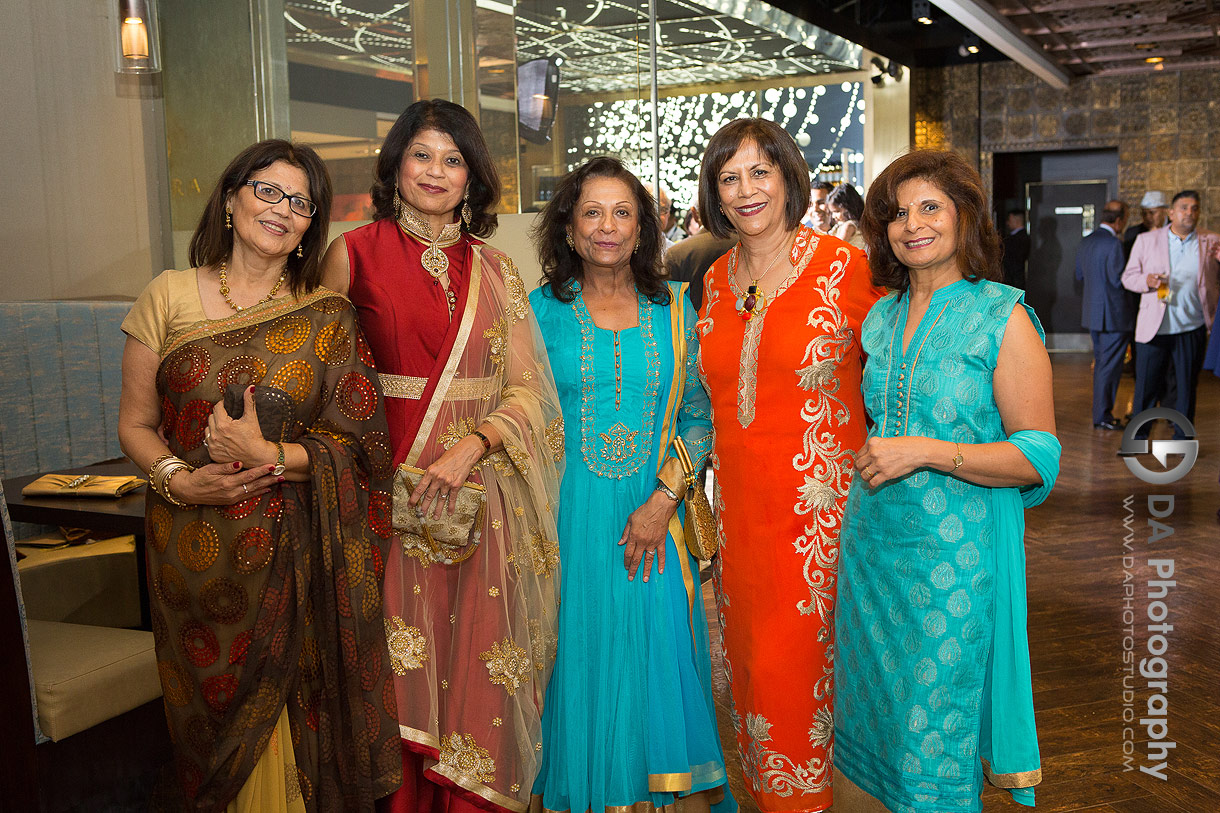 It's not a wedding event if everything goes as planned
As can often happen, the bride-to-be was delayed while at the same time more and more people arrived. If you have never attended a Mehndi party, you should know that it's a really busy event! A lot is going on and everyone is trying to help. However, many people giving direction and organizing can often lead to confusion and conflicting information. While anticipating Amee's arrival, I had overheard that something had happened to her dress. Nevertheless, she was on her way. I didn't want to risk the chance to get some images of her alone before she entered the venue and so decided to wait up front for her.
While I was waiting outside, Amee arrived. Her vibrant dress was amazing! Her facial expression told me that she was a little stressed, so I made sure to direct her attention to a more positive part of the day. Looking back through the photos, everything looked great and you would have never known that there were any obstacles. We managed to capture some photos of Amee and her mom right before the entrance into the venue.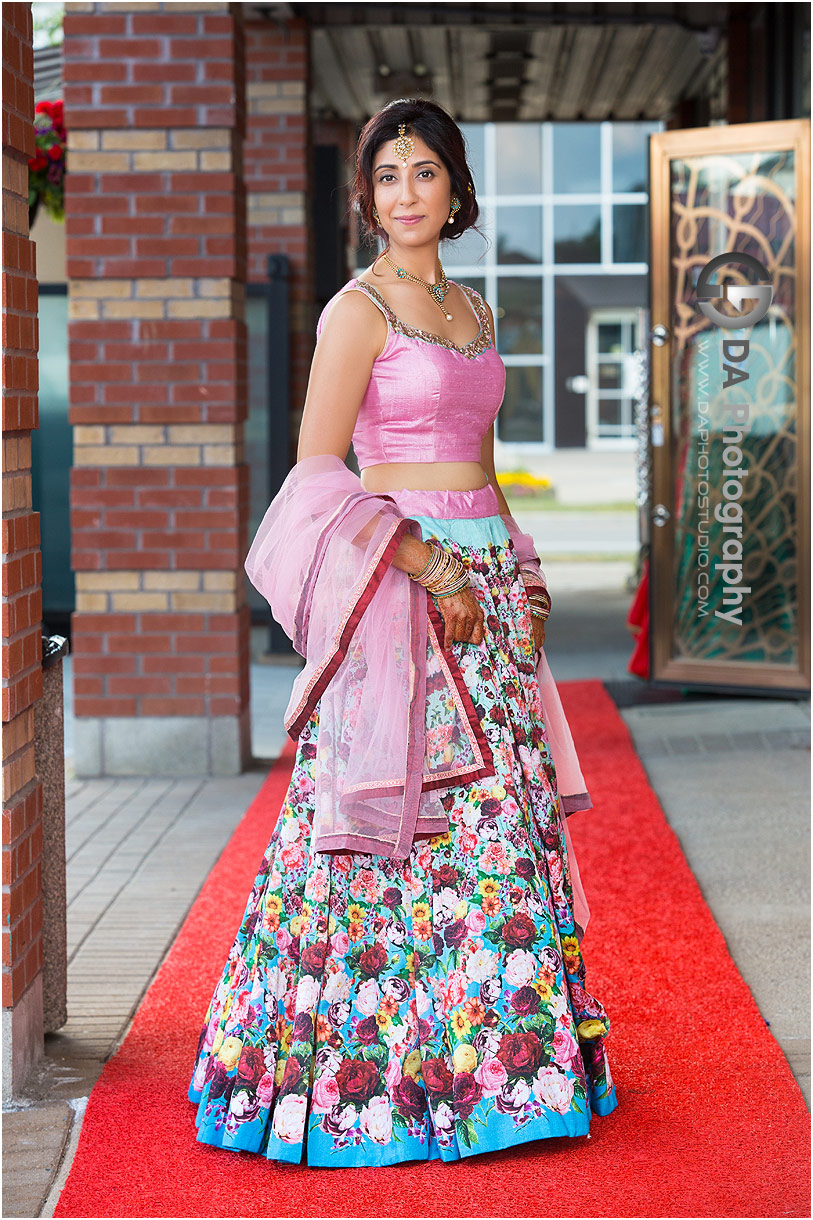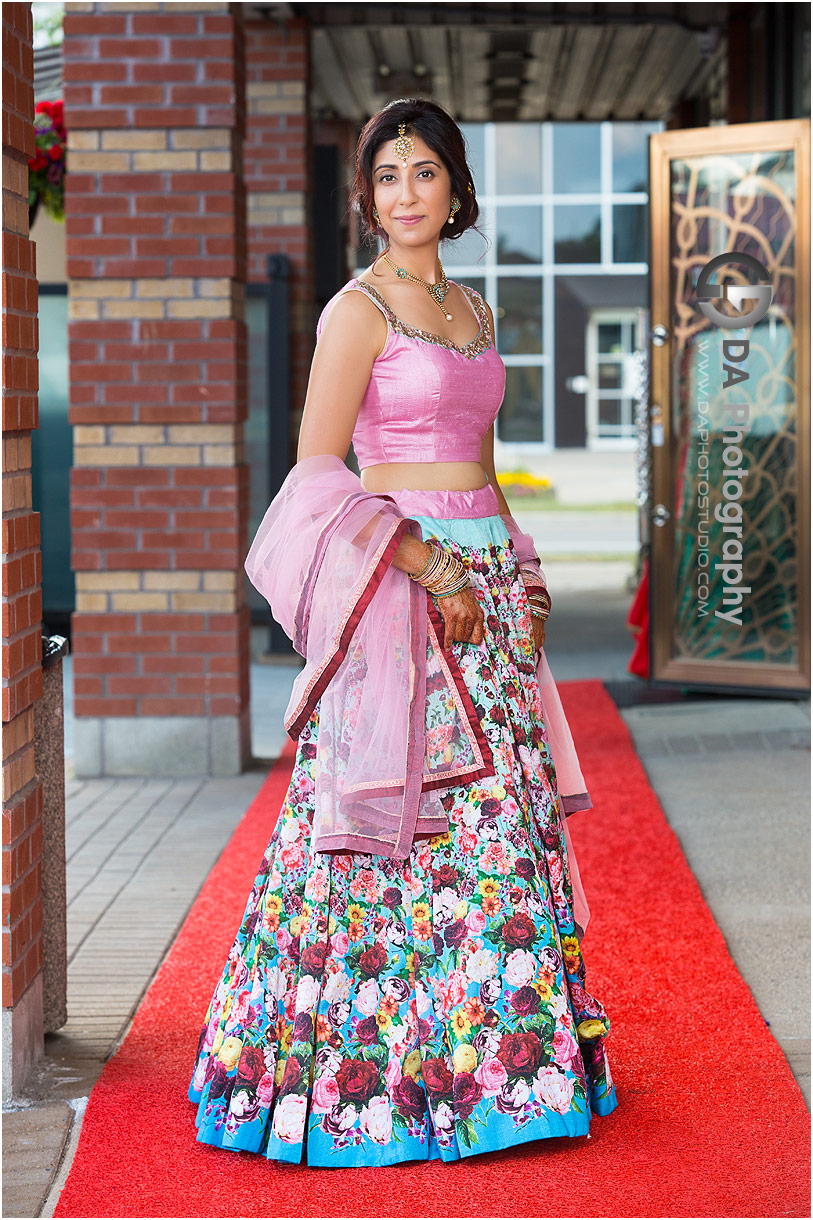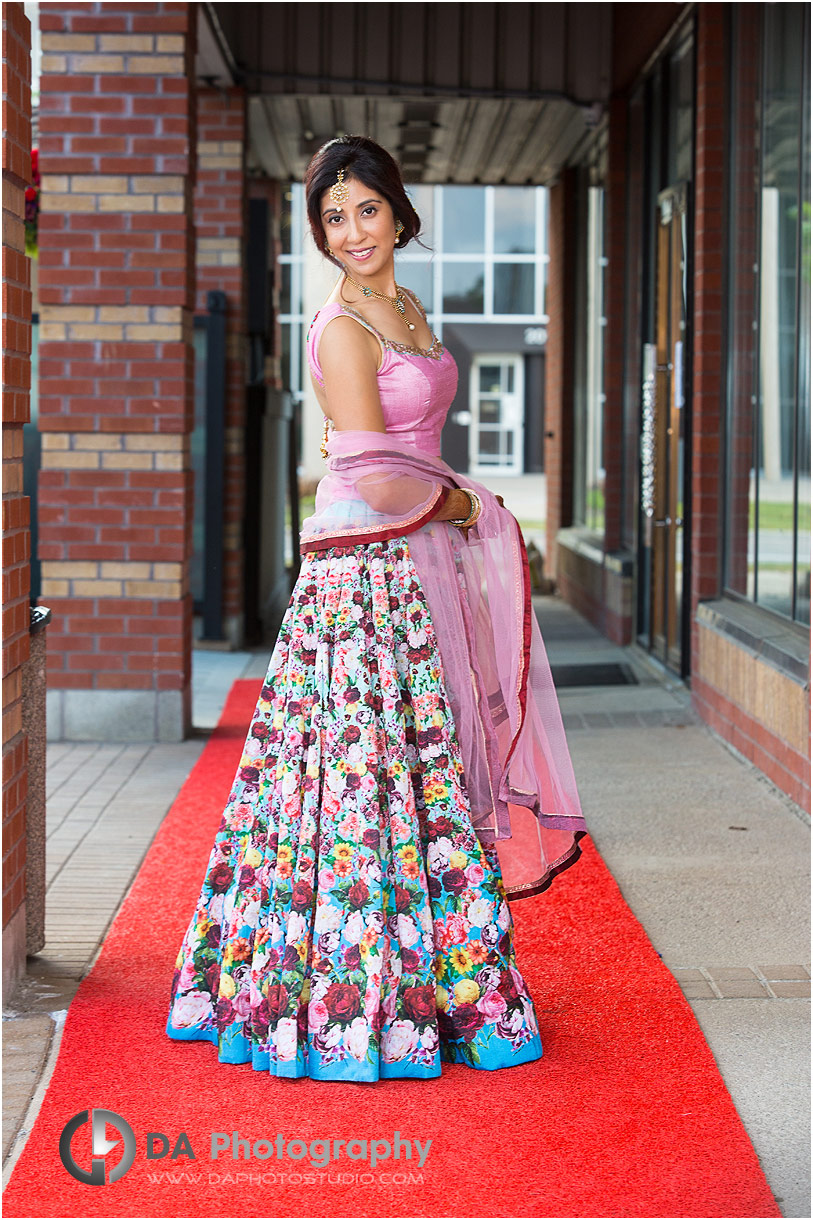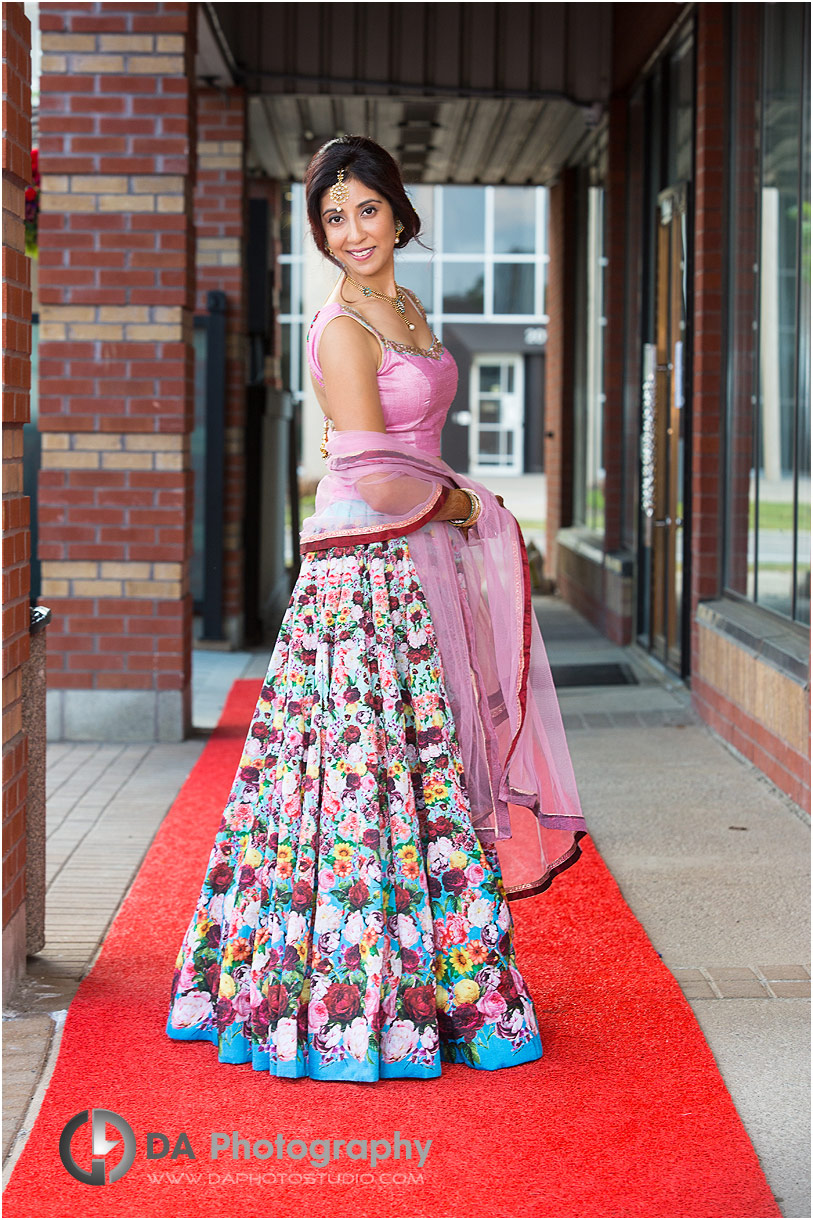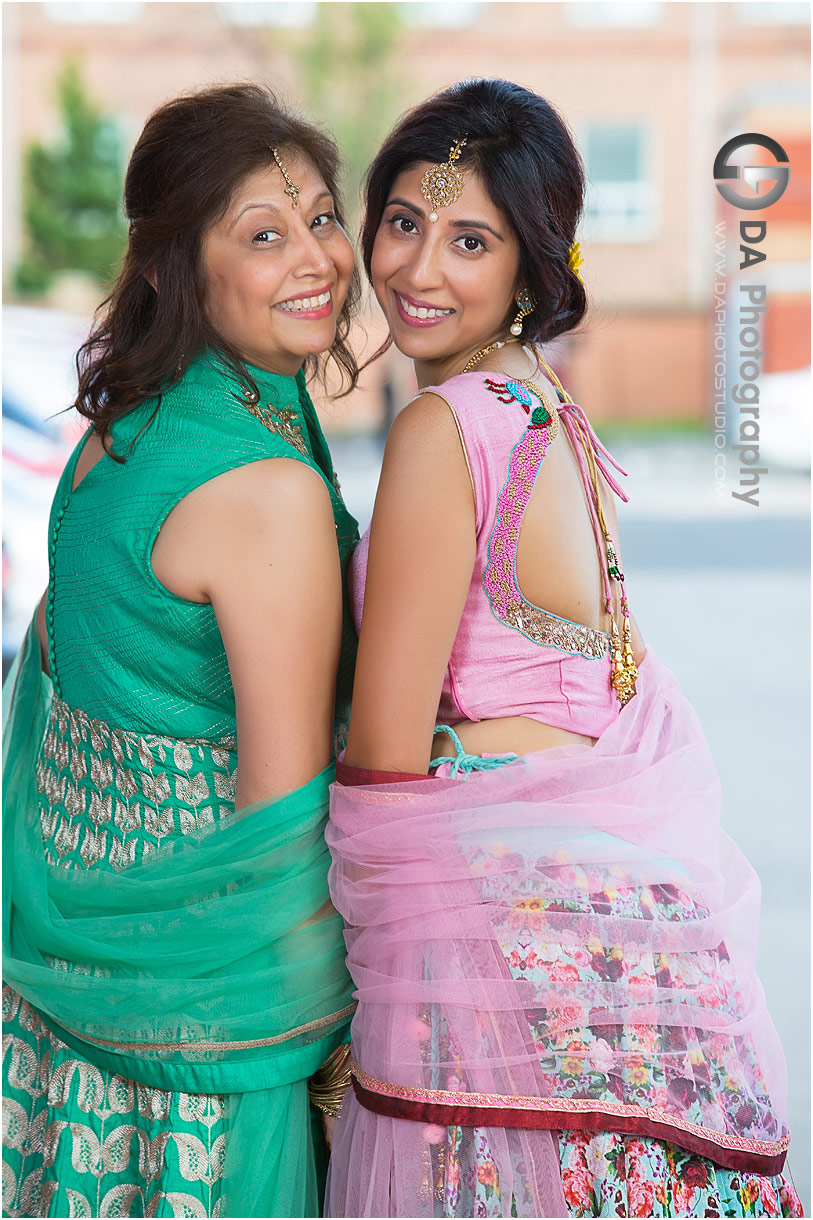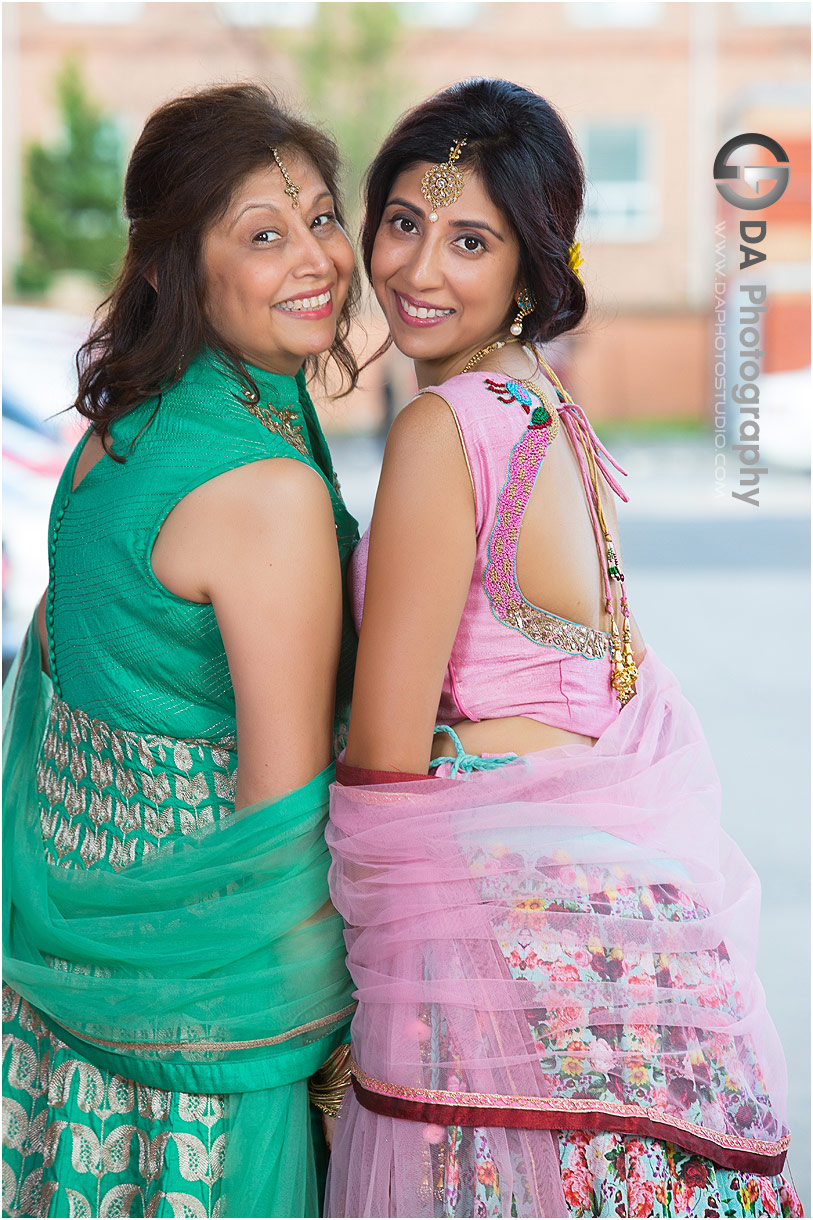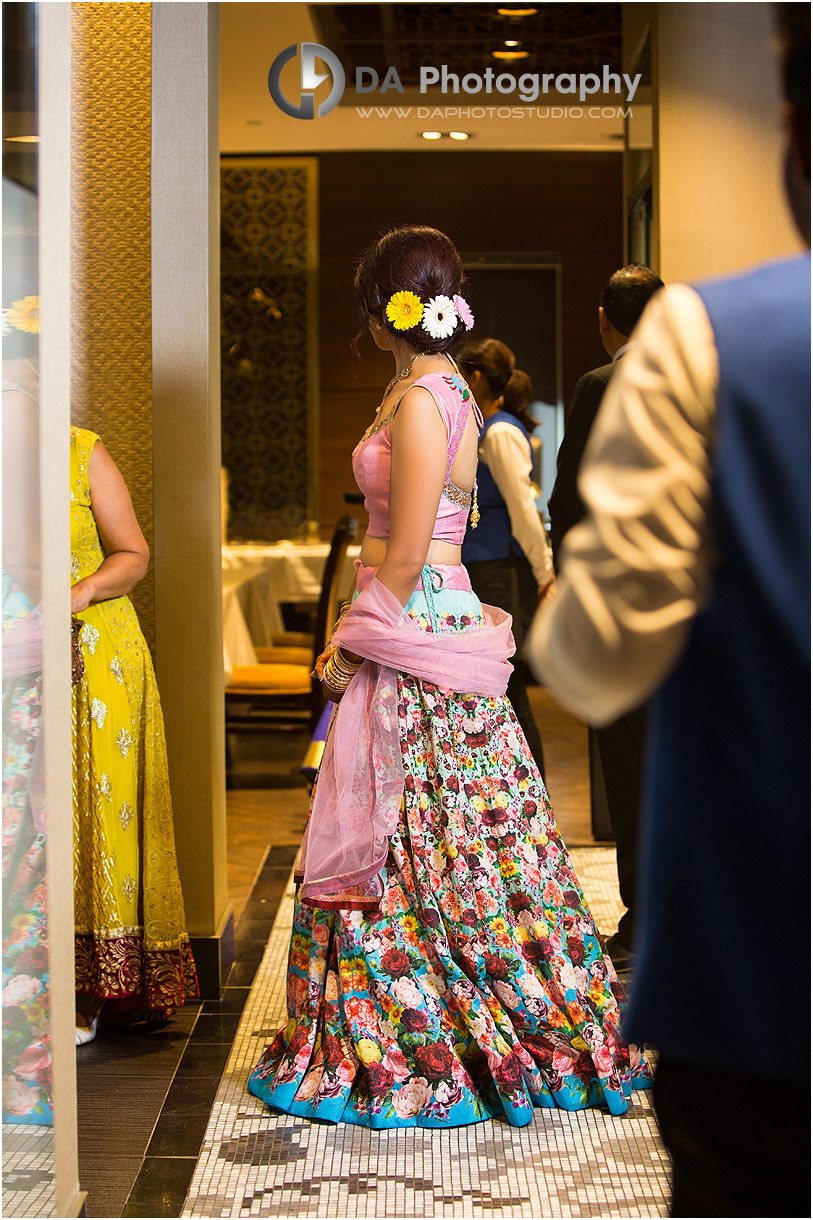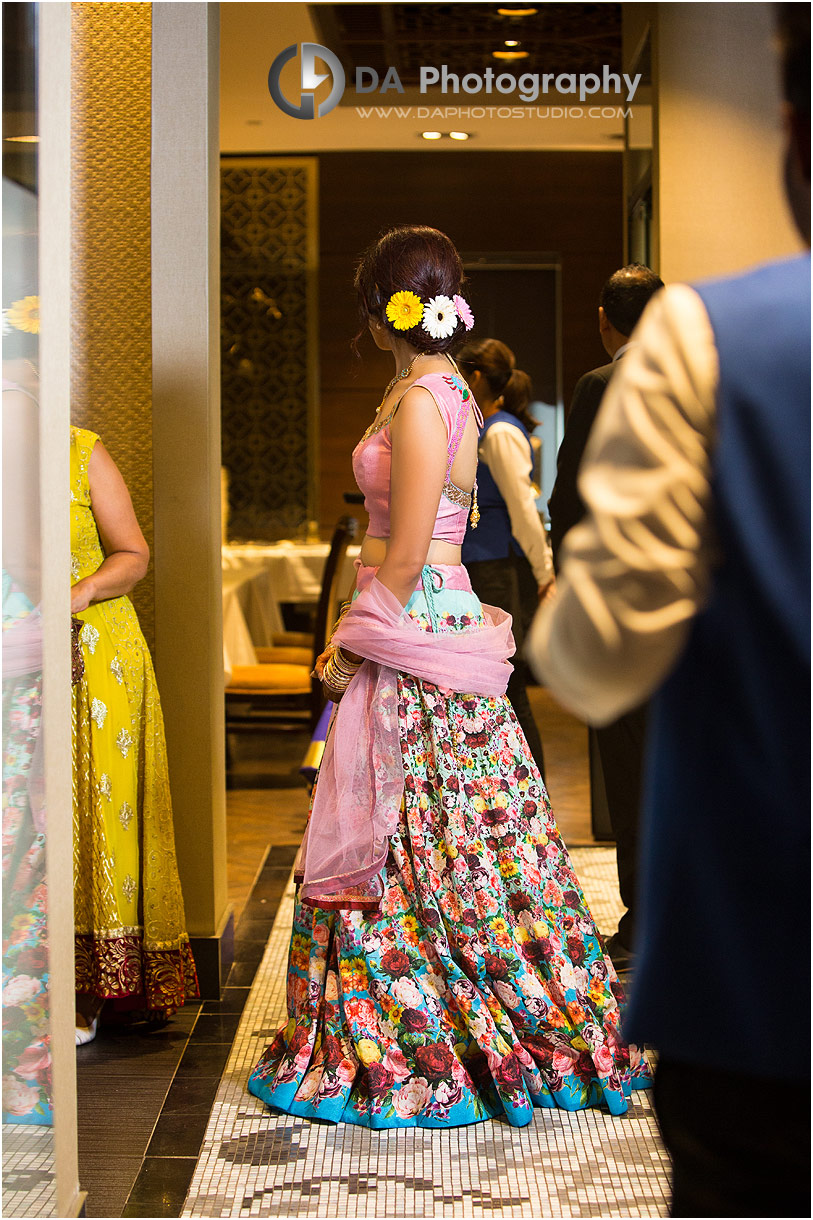 The party is on!
Once Amee walked into the venue, you could tell that everyone was ready for the real party to begin. Balkar and his party were waiting in the parking lot before Amee arrived. Traditionally, the groom's closest family arrives with gifts while the bride's closest family greets and welcomes them at the entrance. With this starting, it meant that there was no time for me to stand around and wait for the perfect place to capture my photos. Fast-paced events demand an awareness of the traditional elements combined with a photojournalistic approach and knowledge of indoor lighting.
Once the groom's party began mingling among other guests, I was able to capture some candid photos of the guests enjoying their hors d'oeuvres and cocktails. During Indian wedding celebrations, there is not a sit-down, plated meal service that you might associate with a wedding dinner. In my opinion, it is so much better! There is always so much food and drinks. However, everything is served in a buffet-style with the choice to eat wherever or whenever you can during the busy celebrations.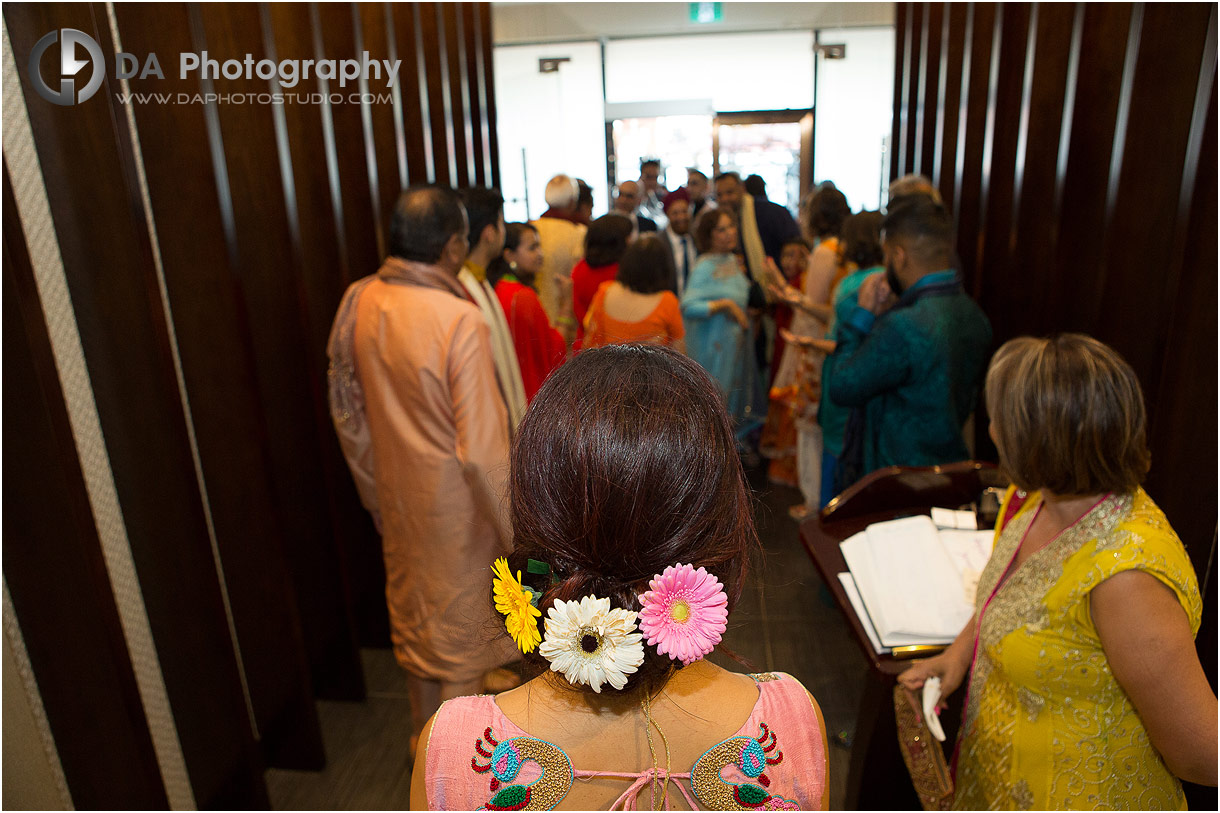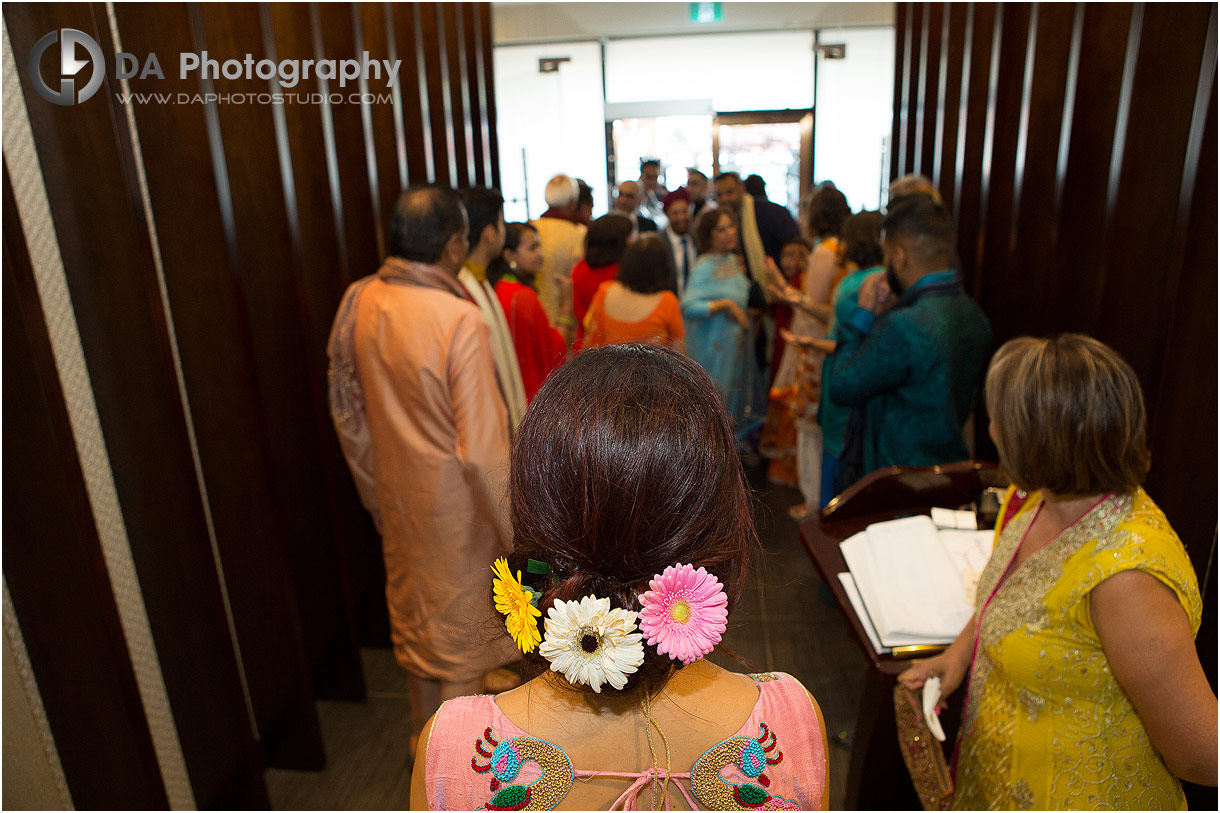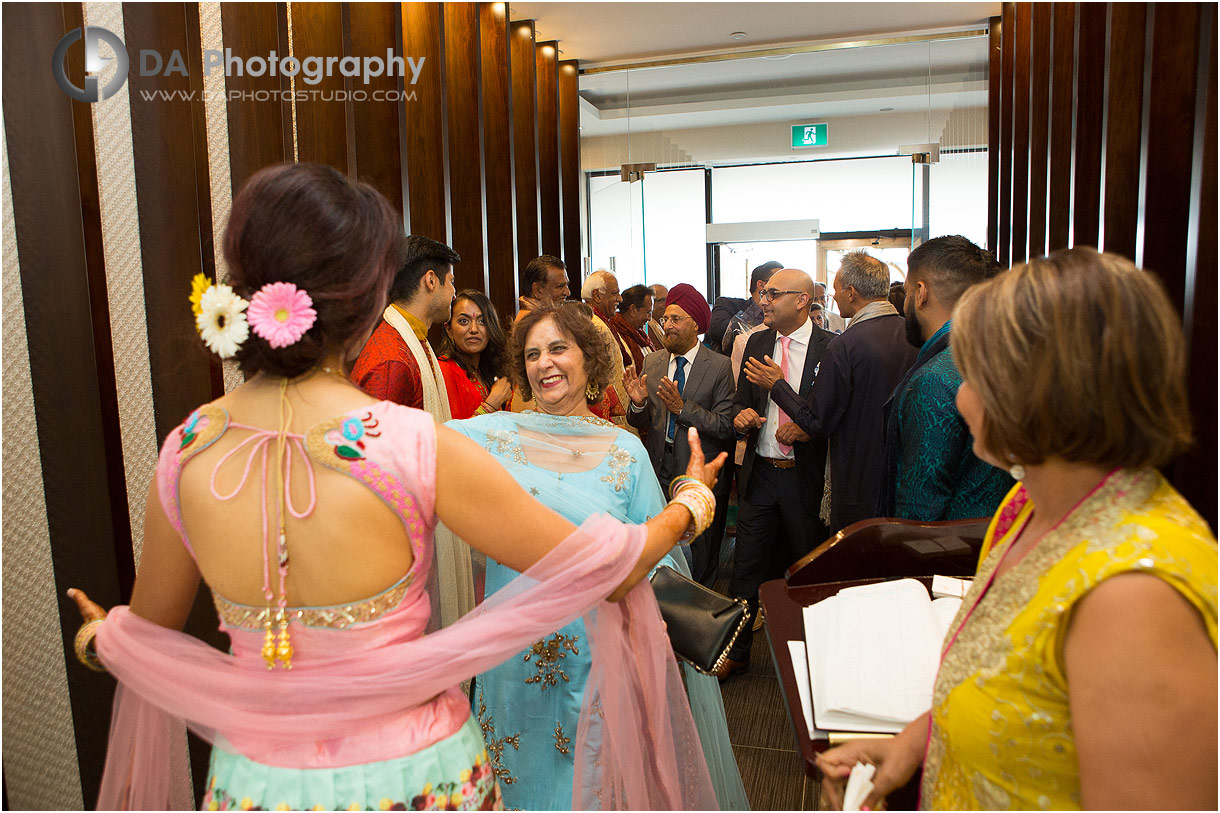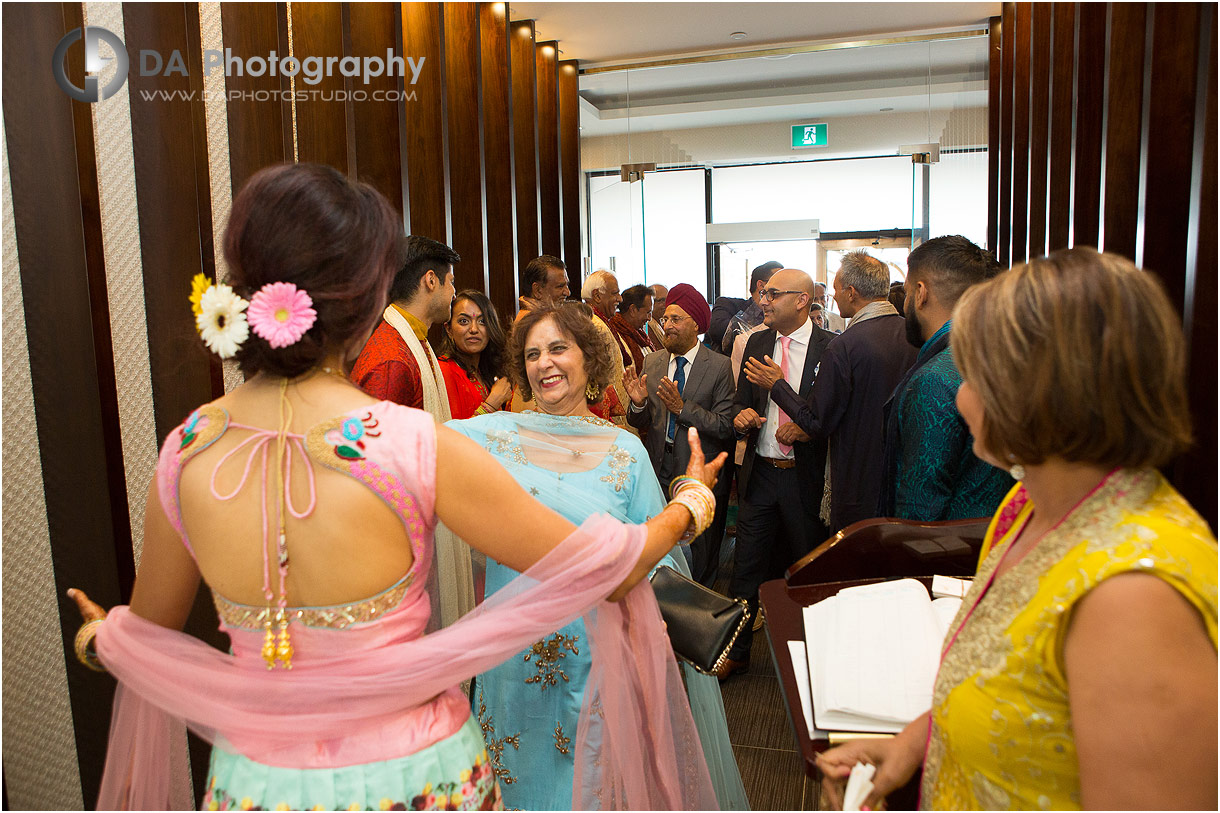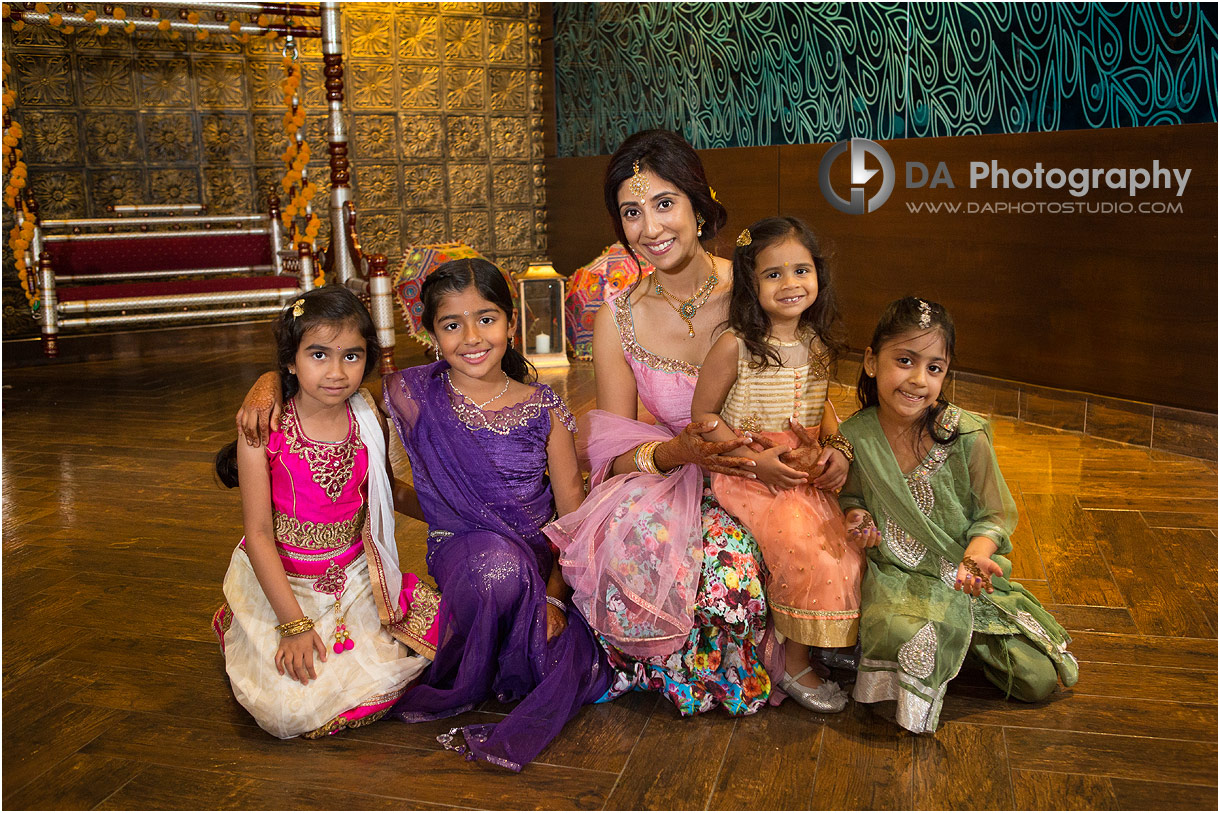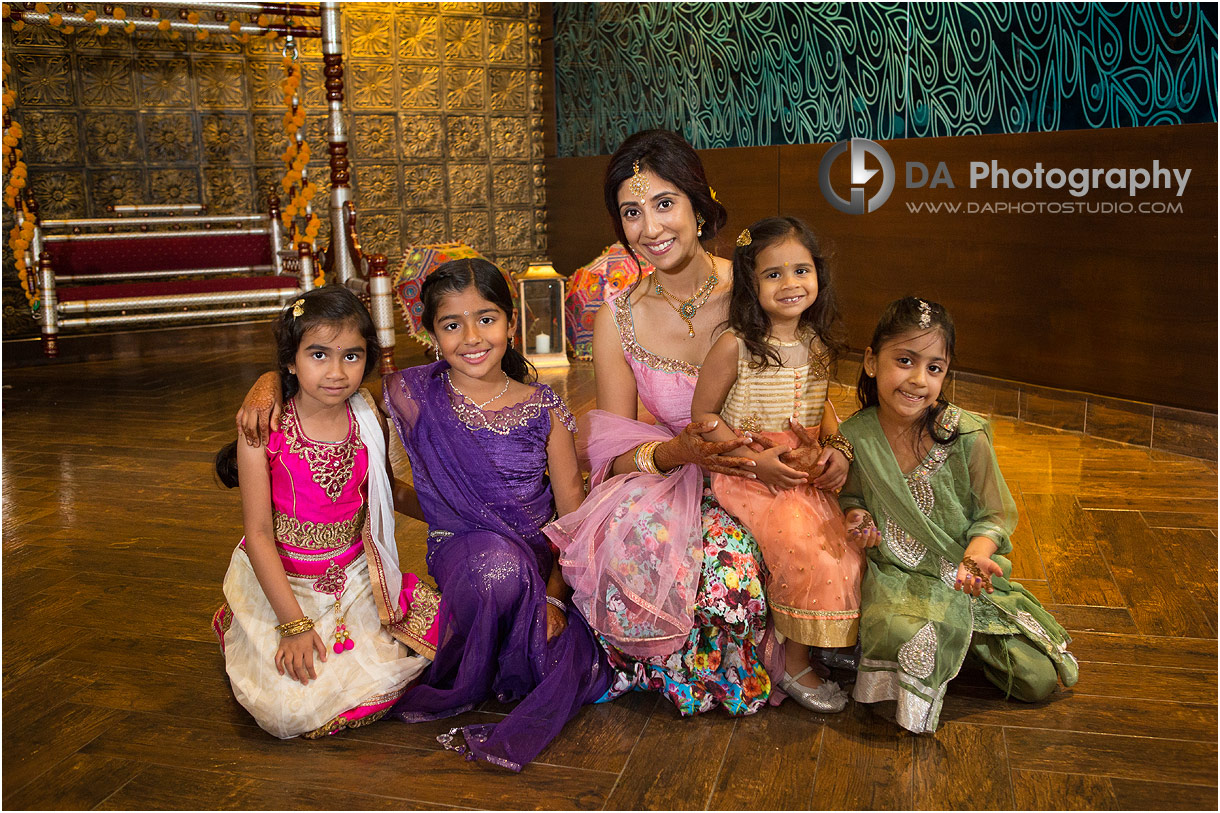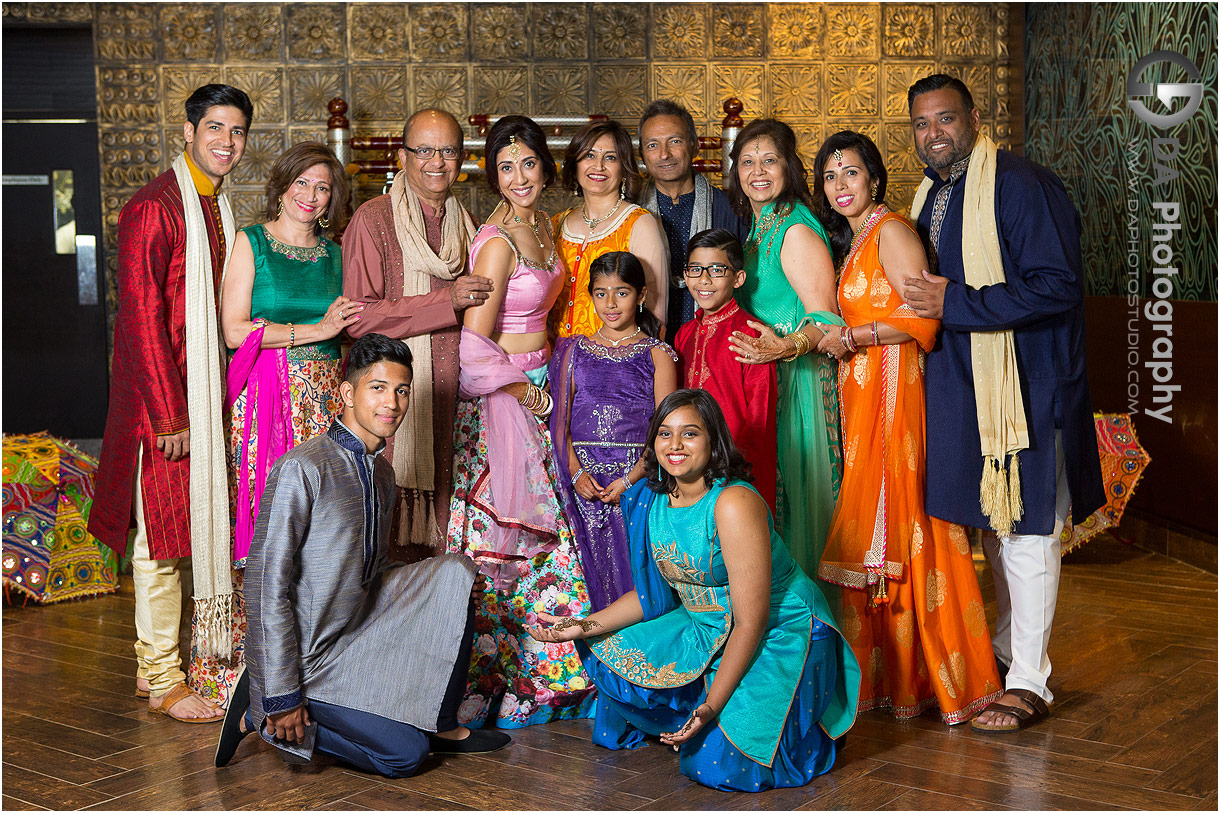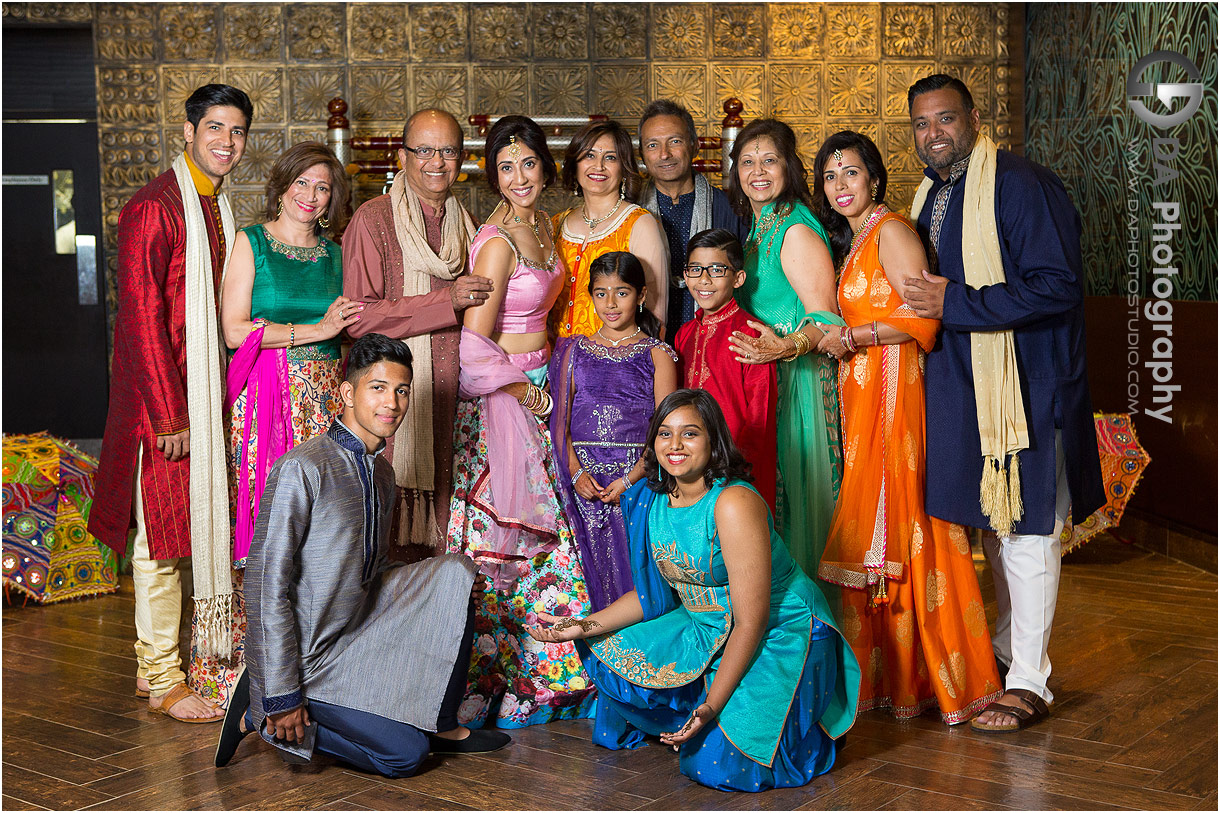 What happened when the event transitions to a Mehndi party
Toward the middle of the night, Amee and Balkar took a seat on a beautifully set up two-seater swing. Here, they were literally showered with gifts, presents, envelopes, and all sorts of surprises. It is certainly a challenge to capture everything that was happening during this time. However, knowing my way around and arriving at the venue ahead of everyone, I was able to not miss a thing.
The announcement that the buffet had opened slowed things down a bit. But not for too long! By 20 minutes later, the dance floor had opened. Amee's little niece performed a dance for the couple while everyone applauded the performance. Like a heavy rain, once the little girl finished her dance, the crowd poured onto the dance floor and started to dance.
By then, I focused my attention on the bride and groom for their first dance among their guests. When covering these kinds of events, I use a fully documentary approach. However, I am always able to fit in many posed and traditional photos, especially of the women and girls with their colourful saris and lehenda's.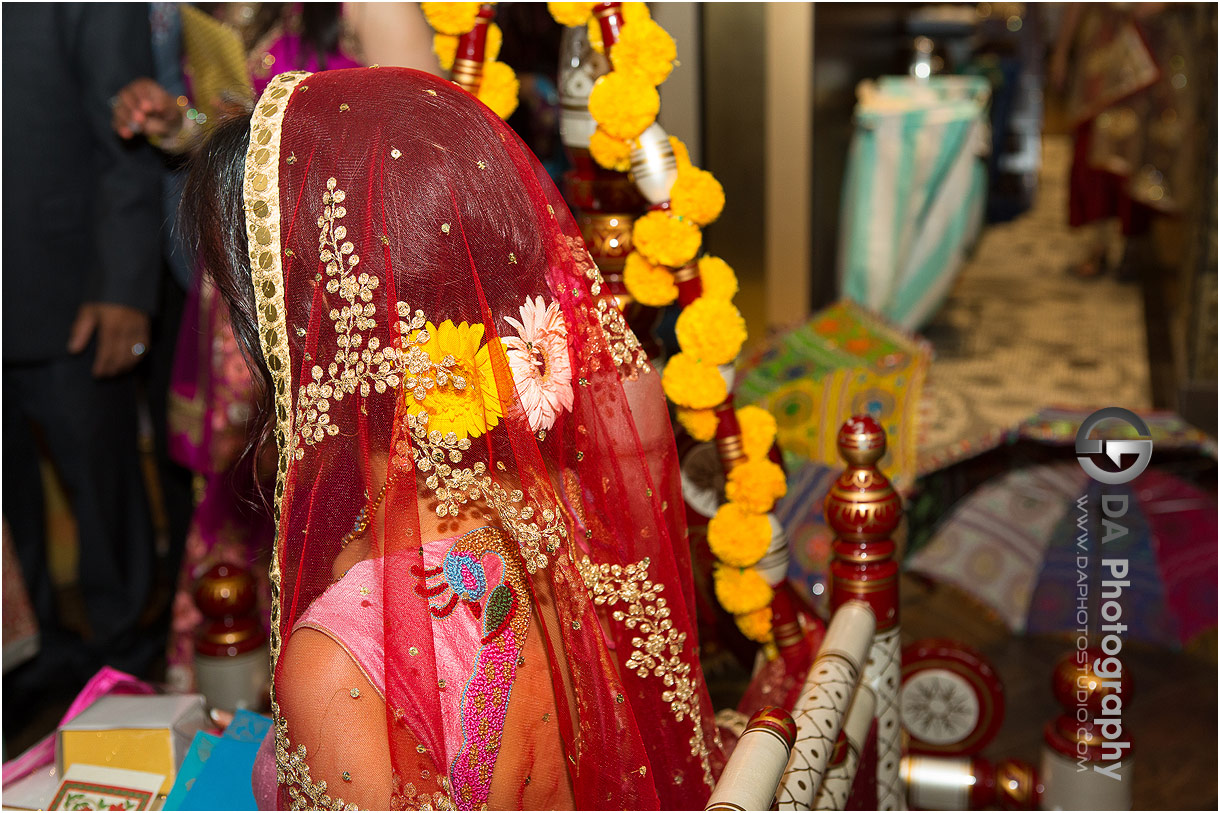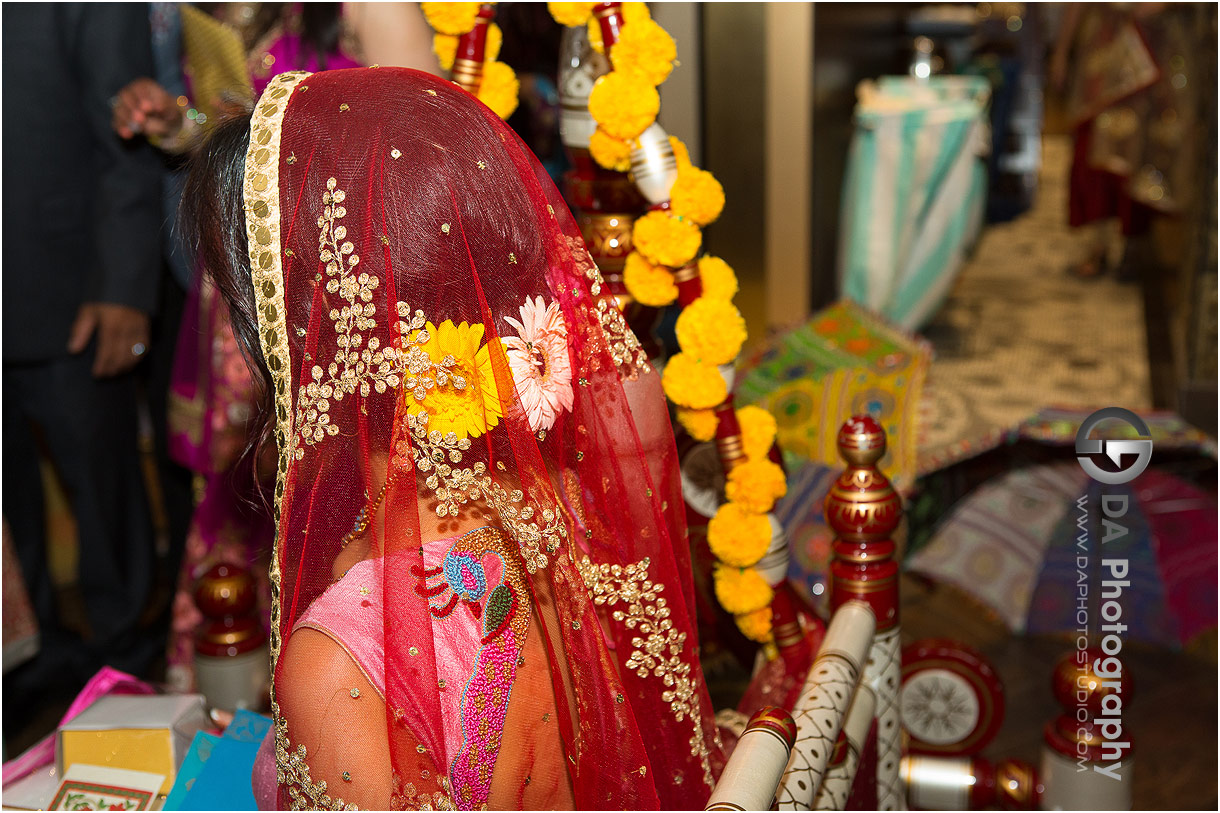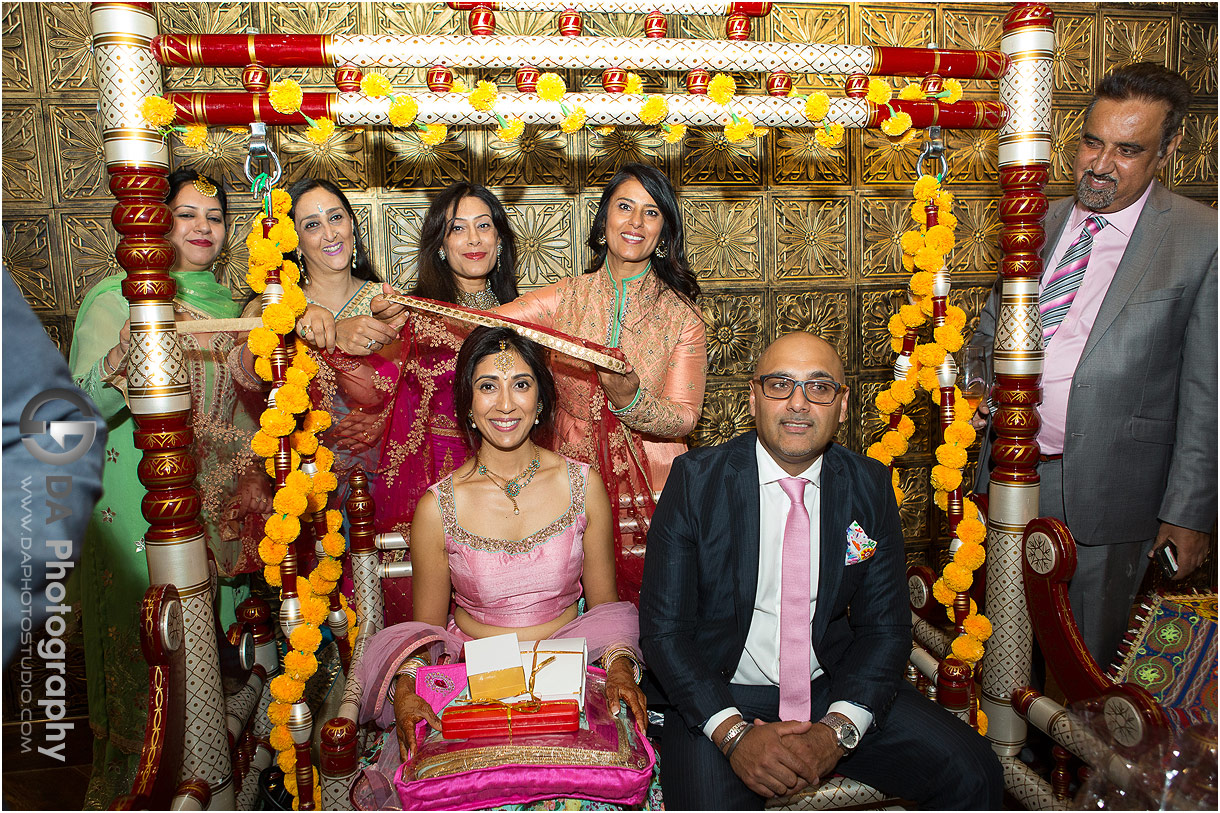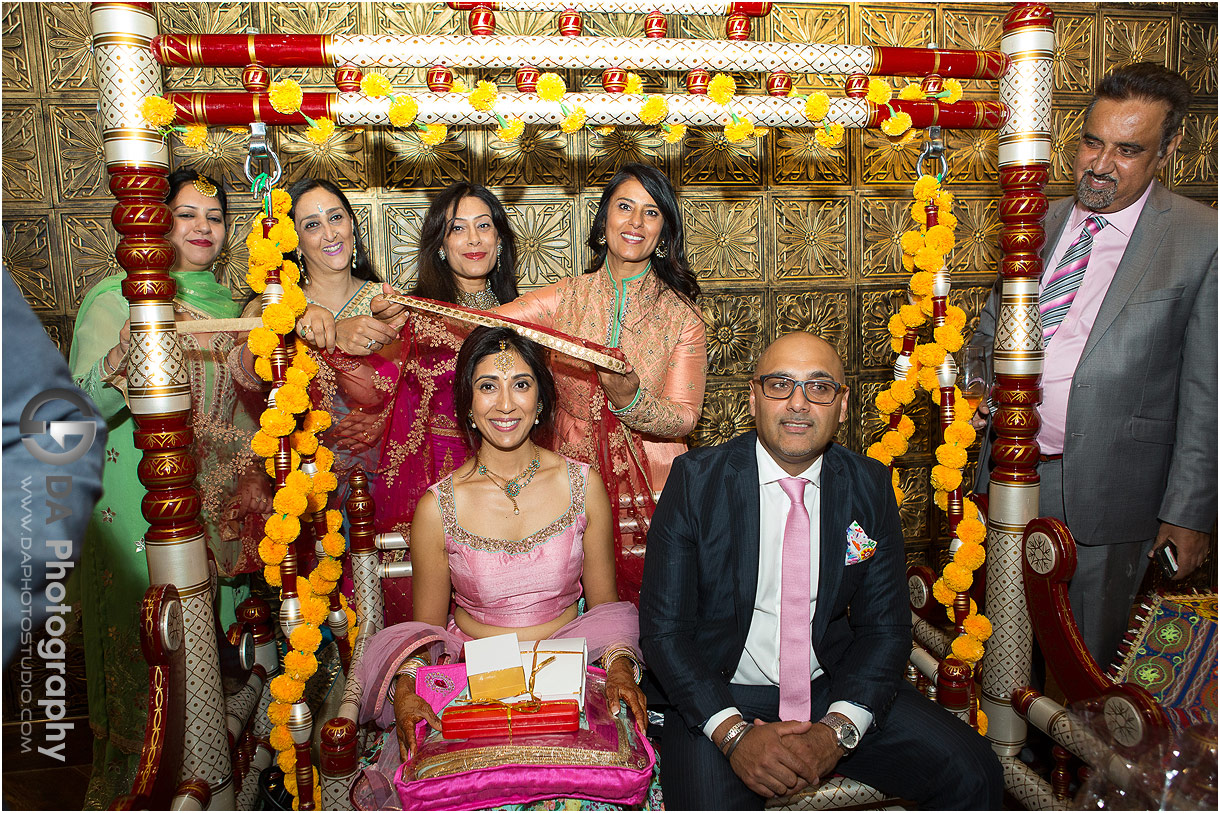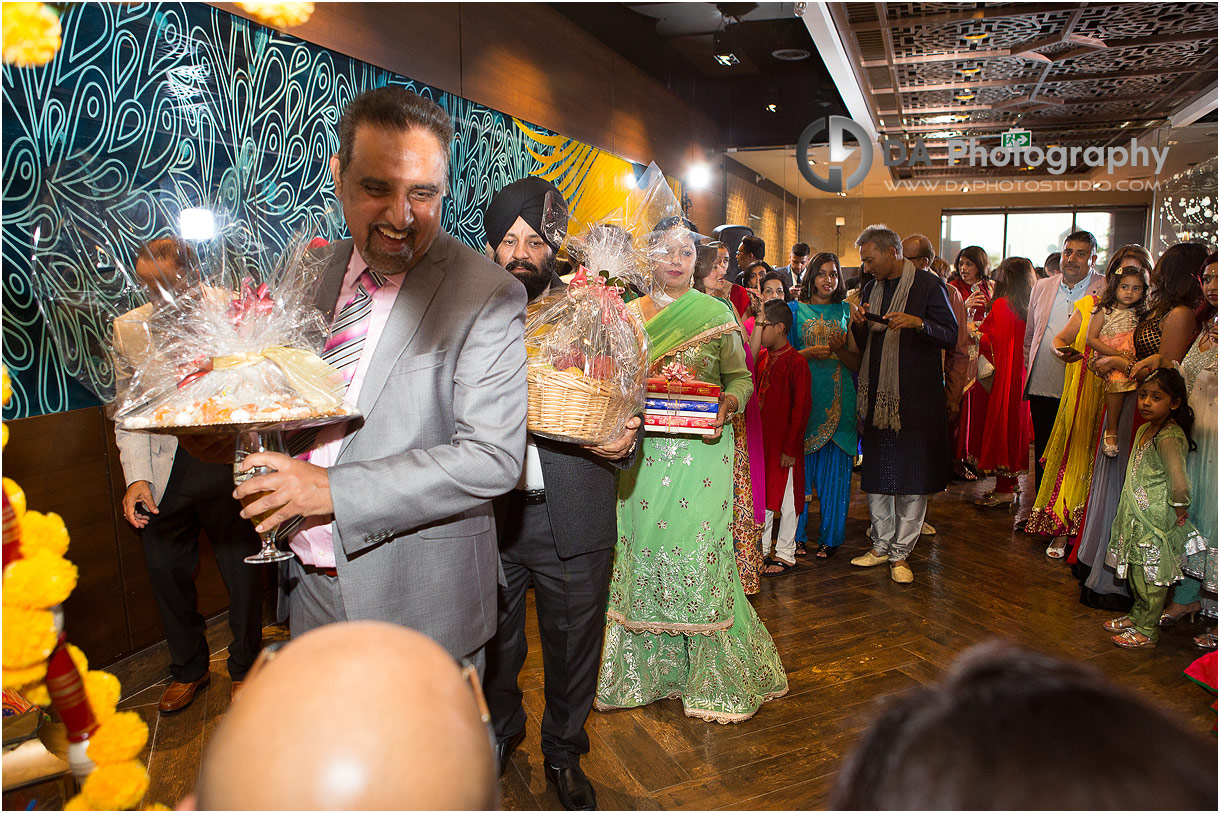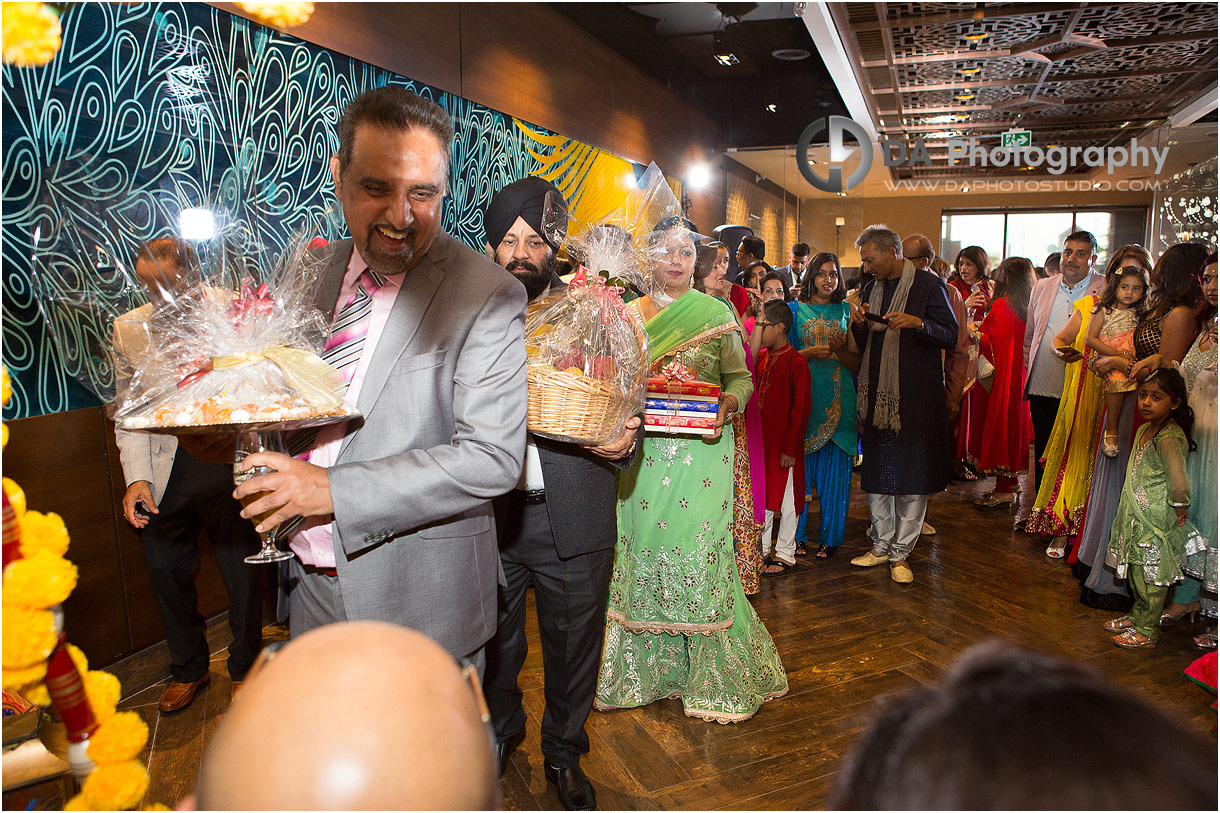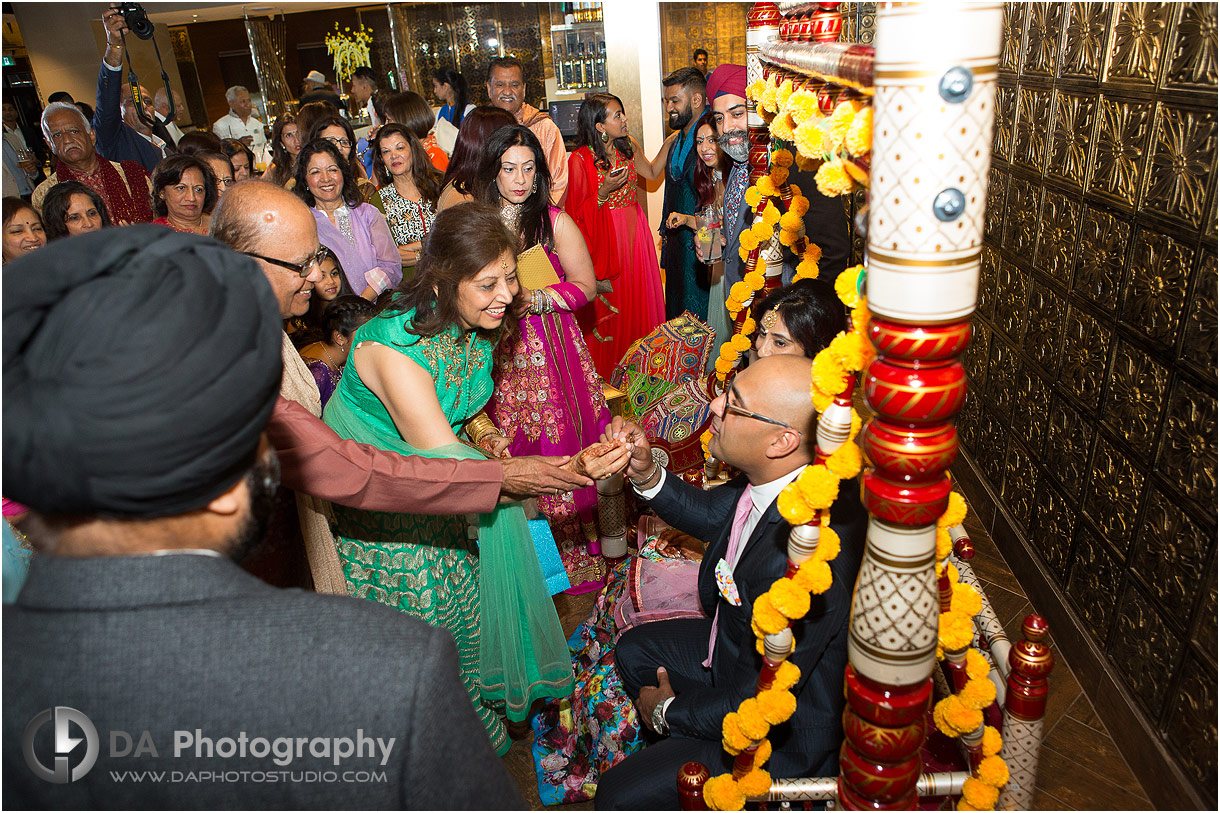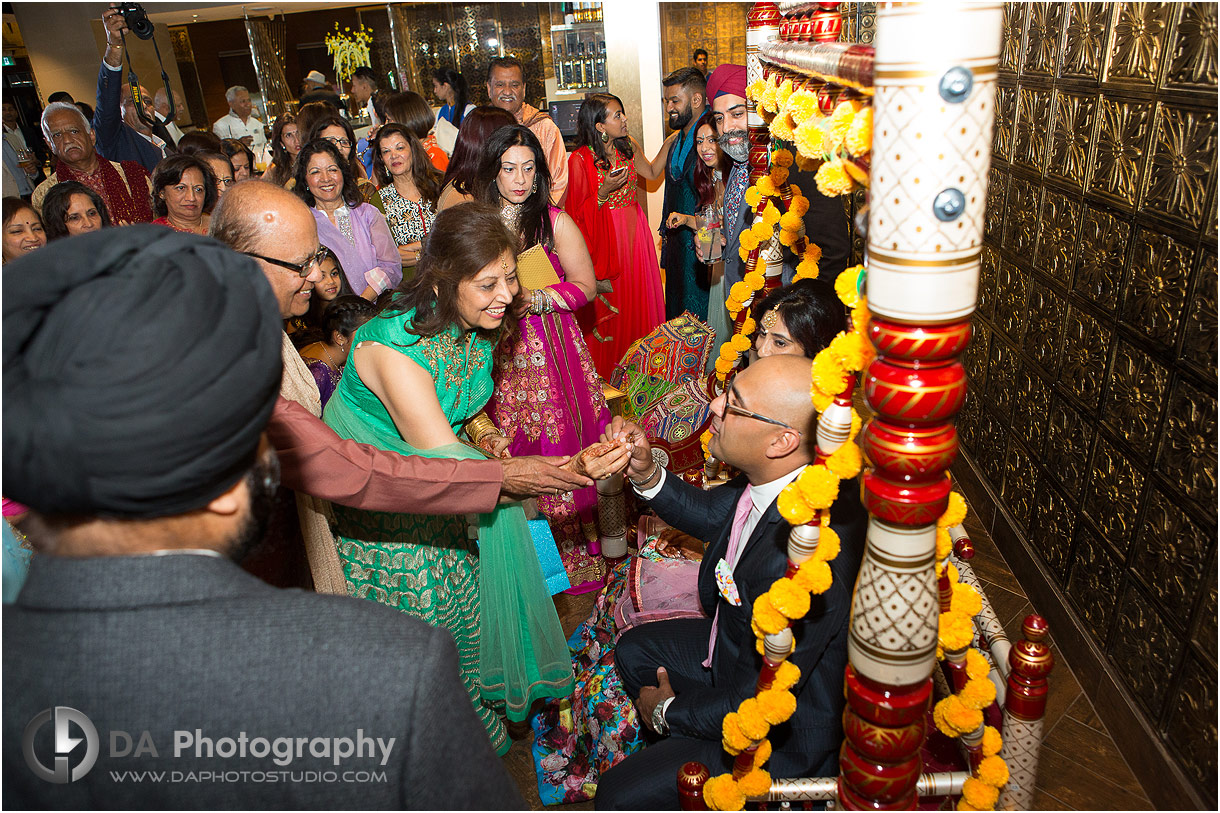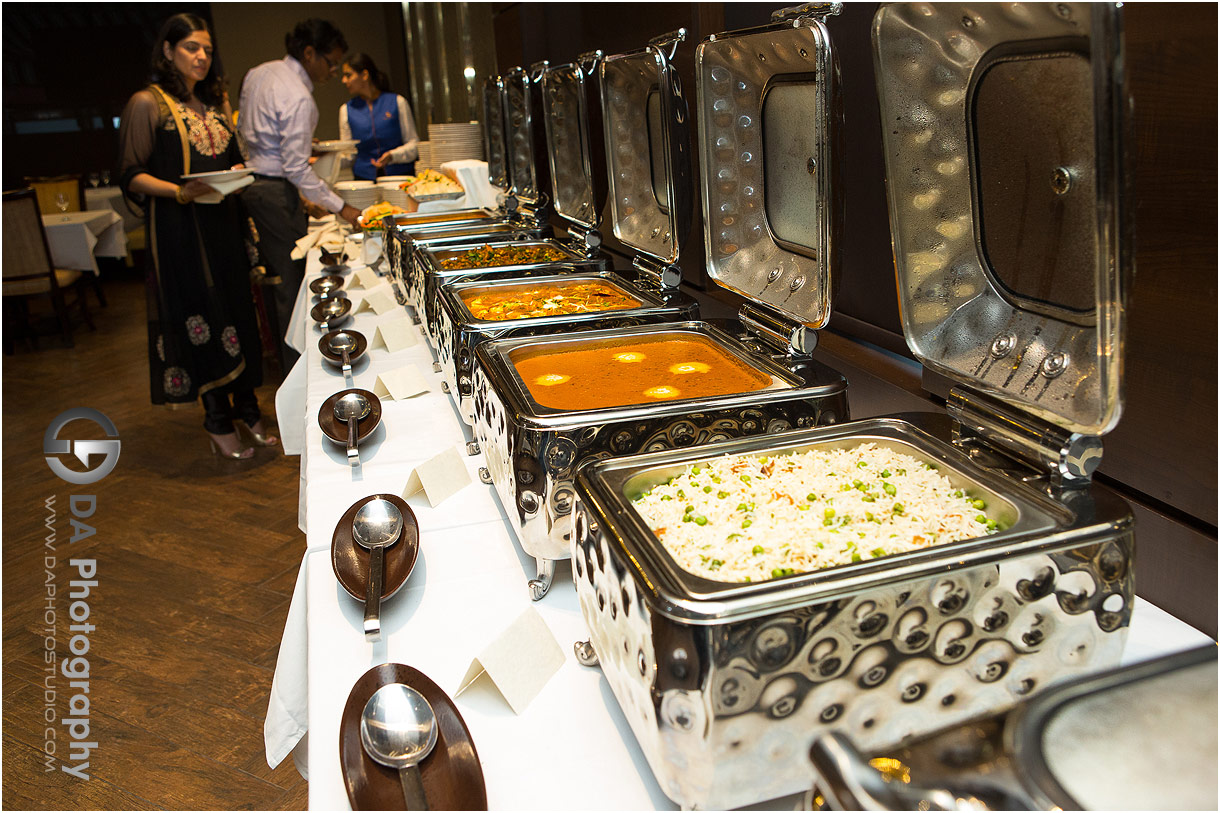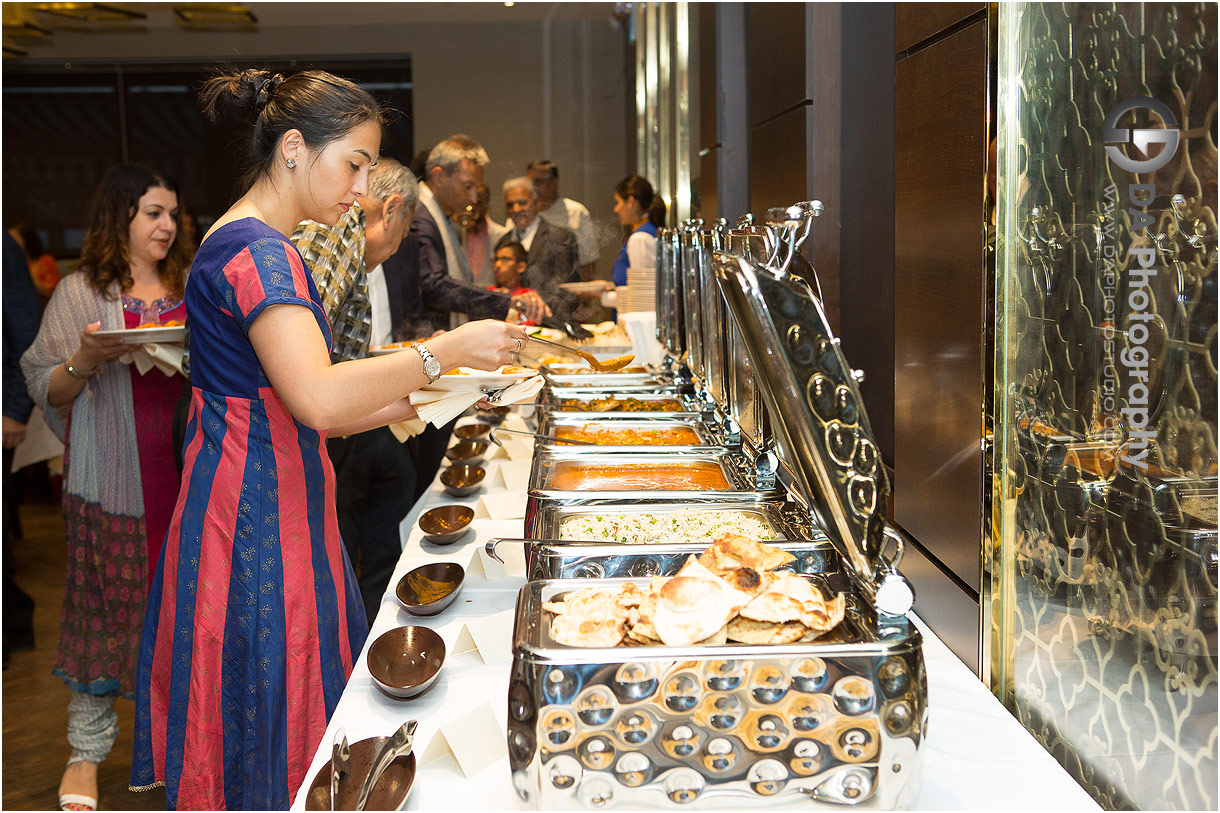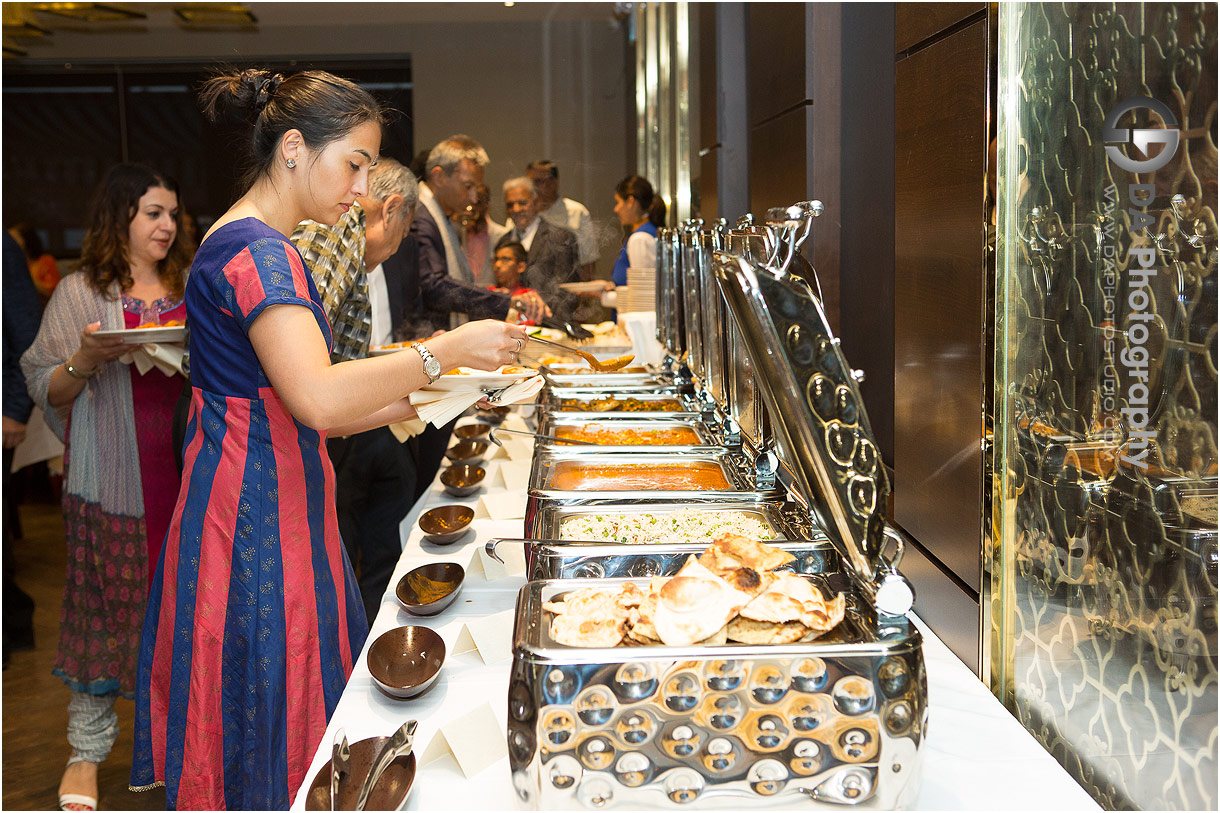 Ready for the wedding
A Mehndi party is a great way to connect with the closest family members from both sides of the wedding. It's almost like a rehearsal for the big day that's just around the corner. A perfect opportunity to break the ice and learn something new for the couple and their loved ones, it gives me an advantage for creating beautiful memories on the wedding day too.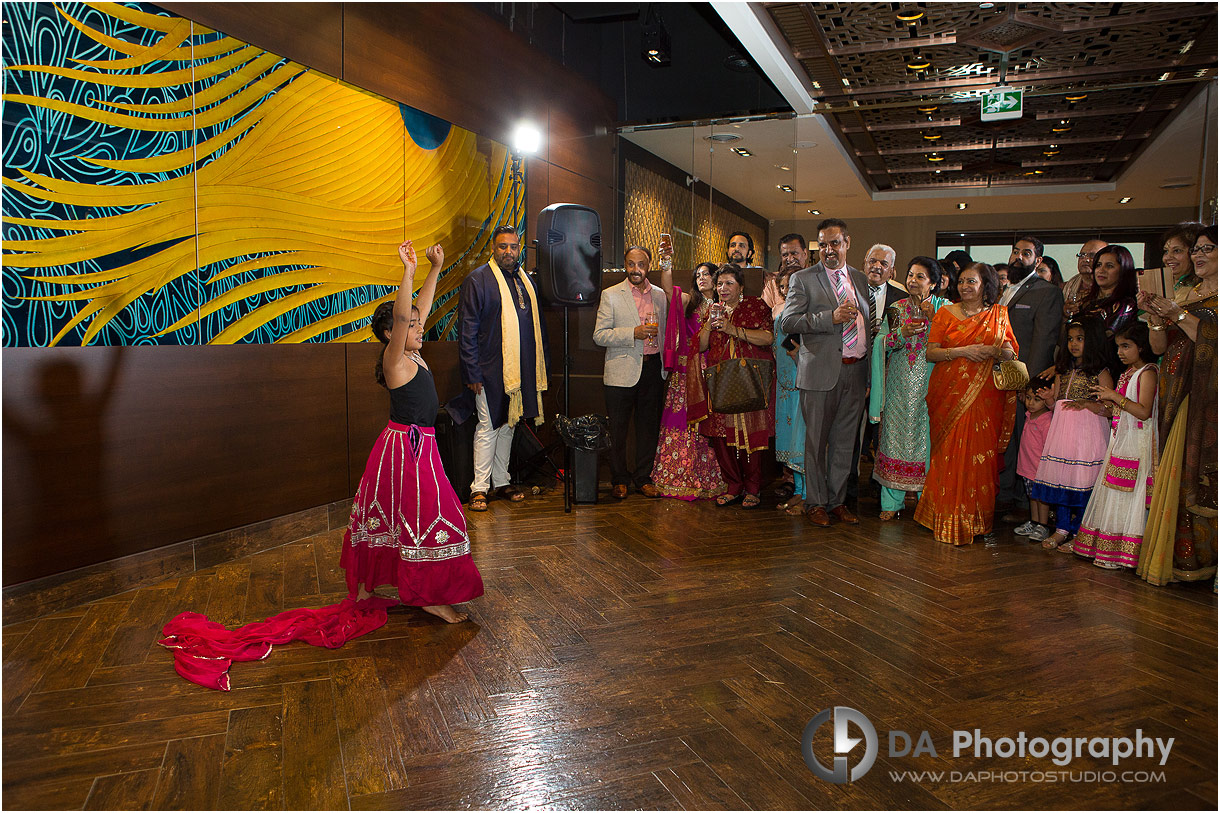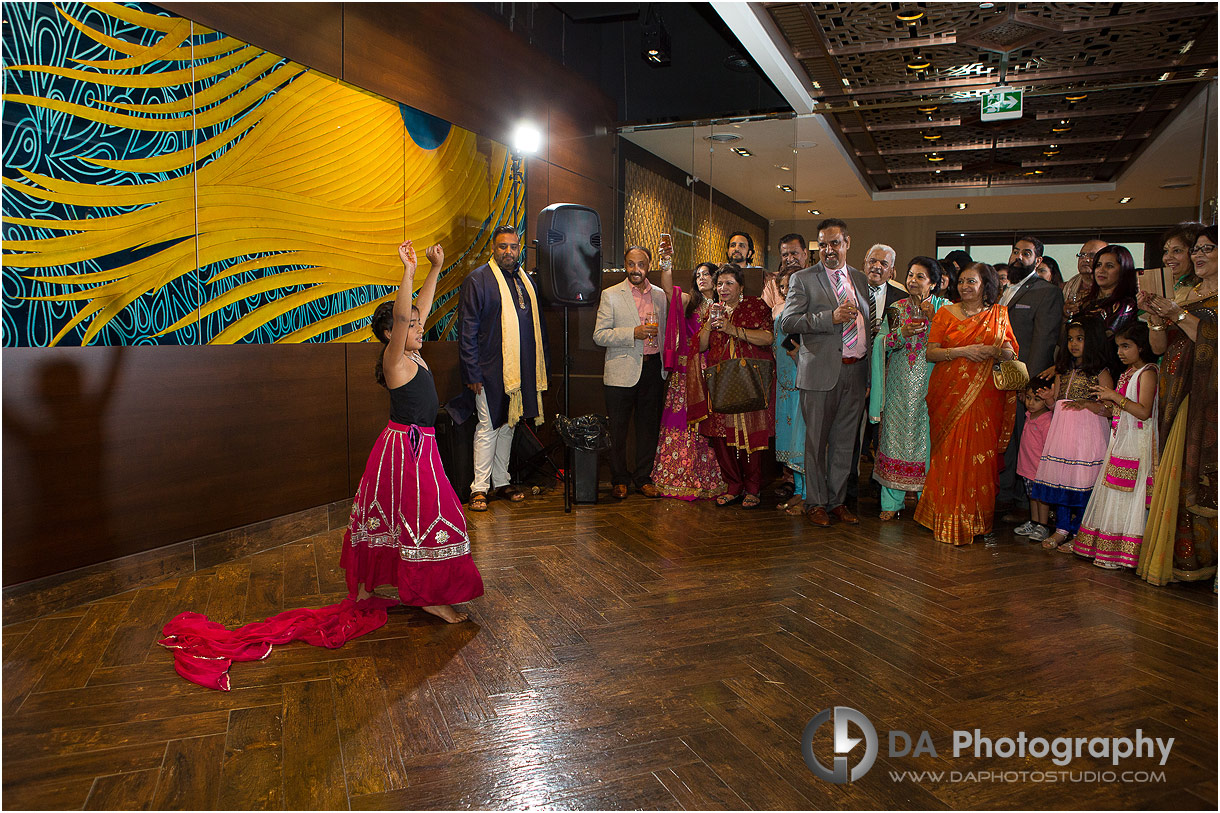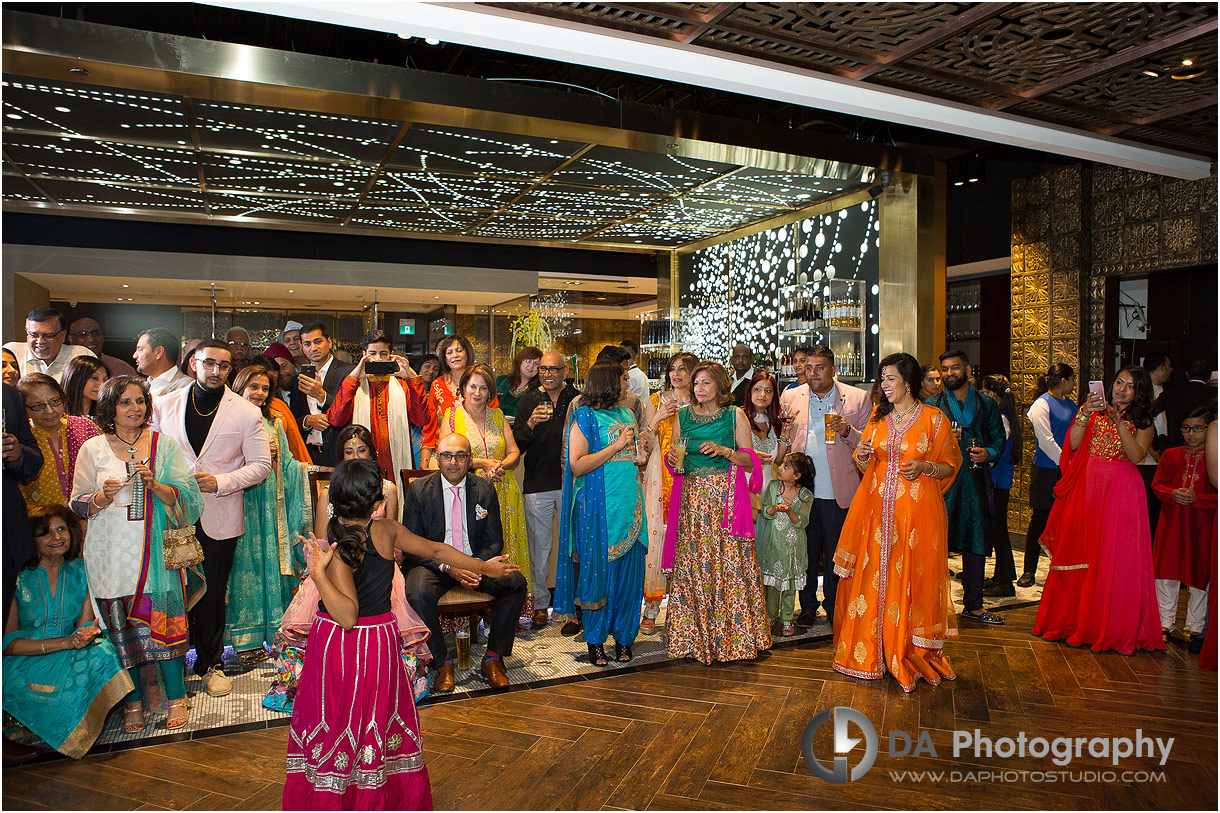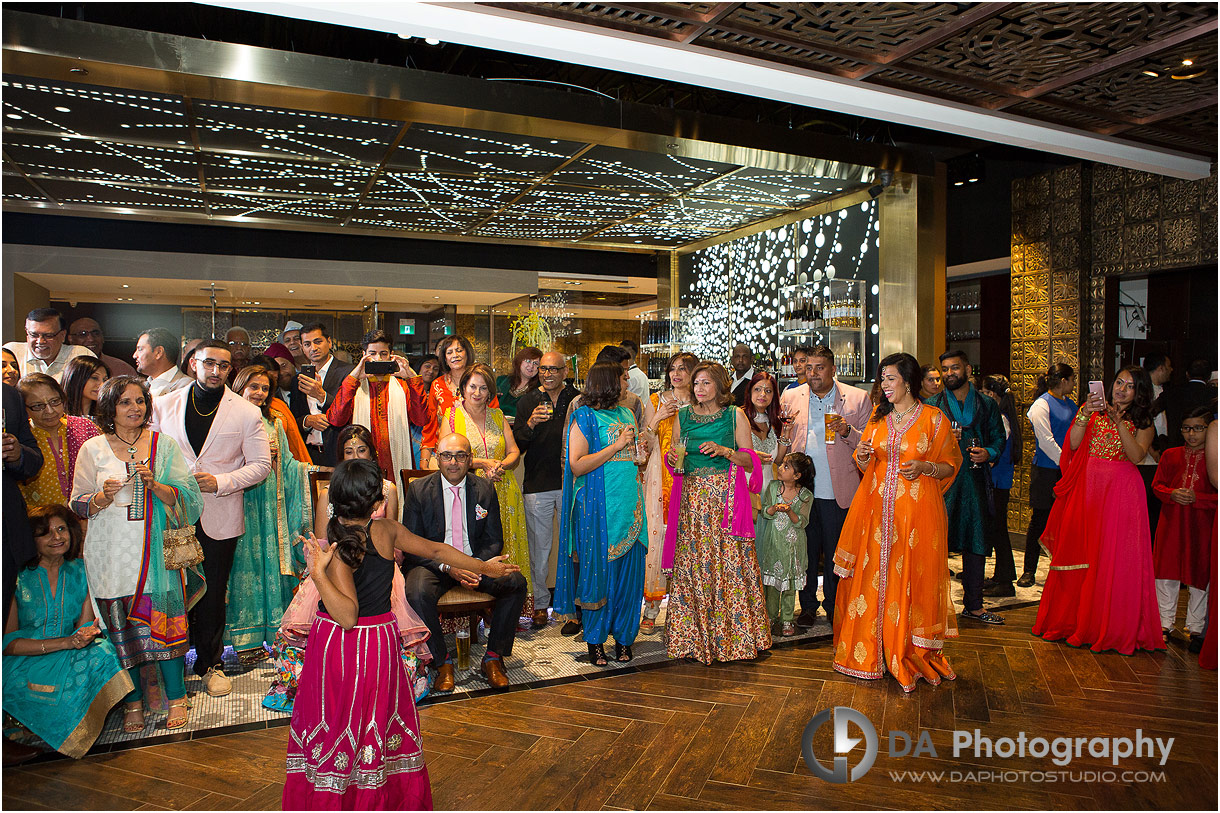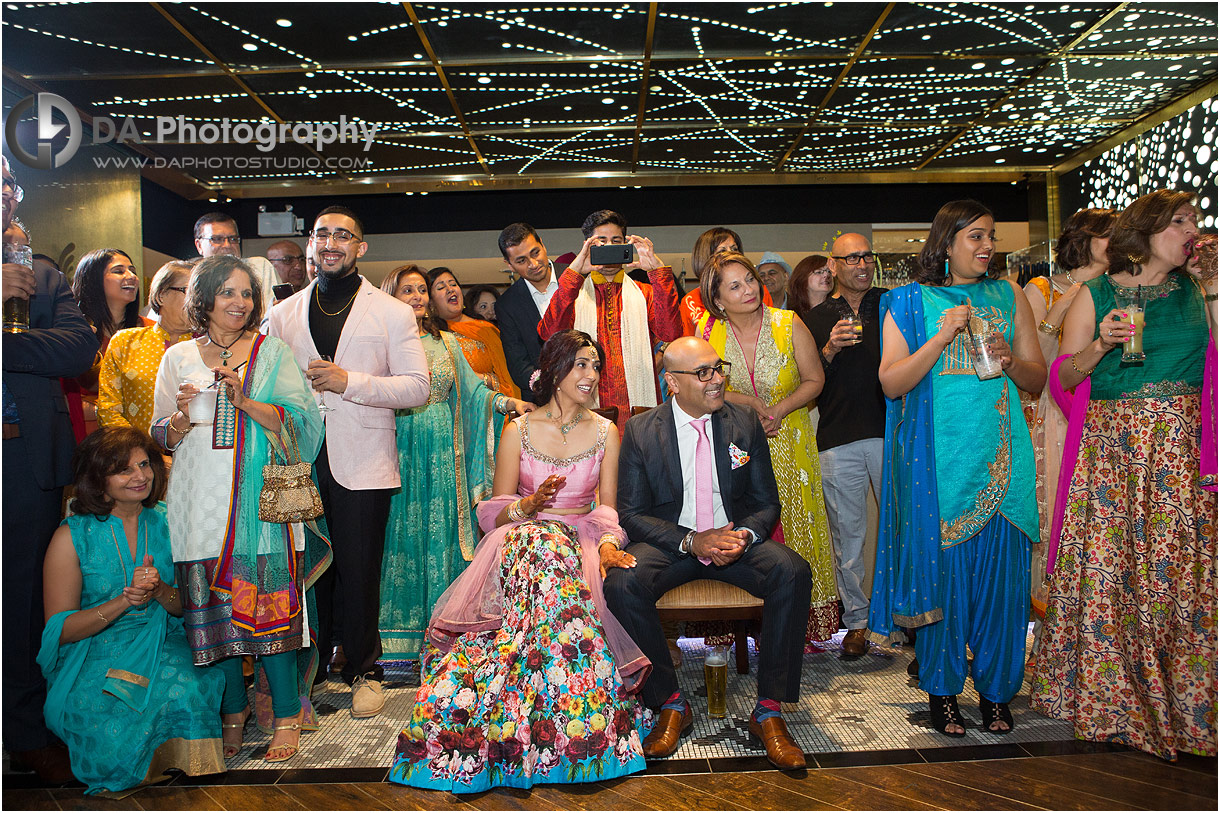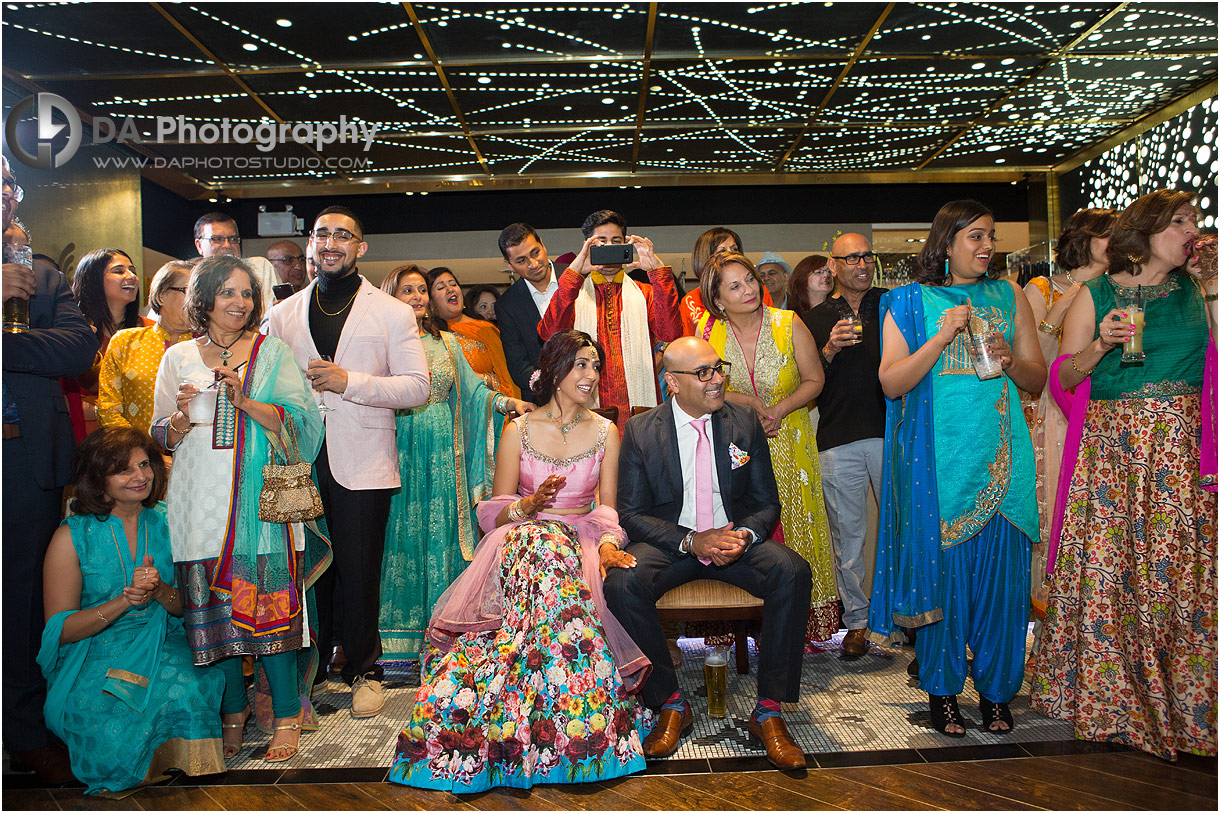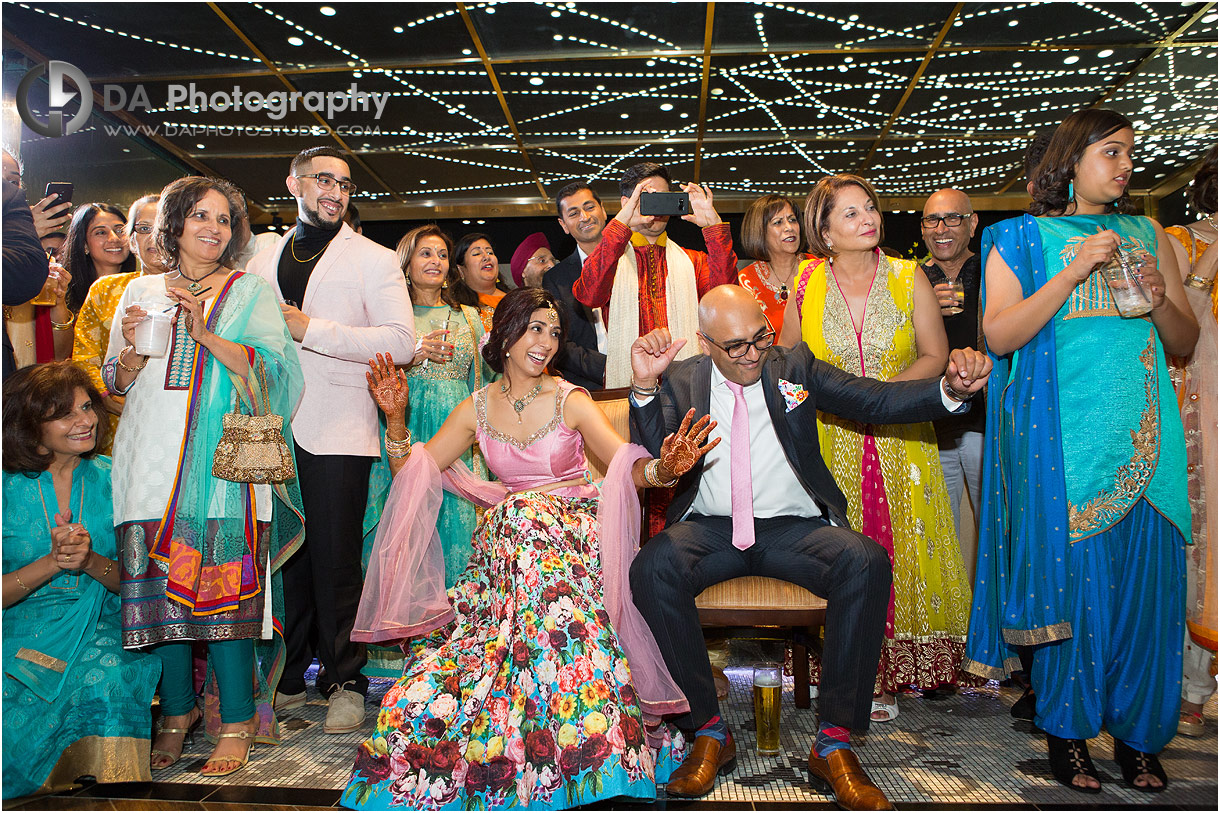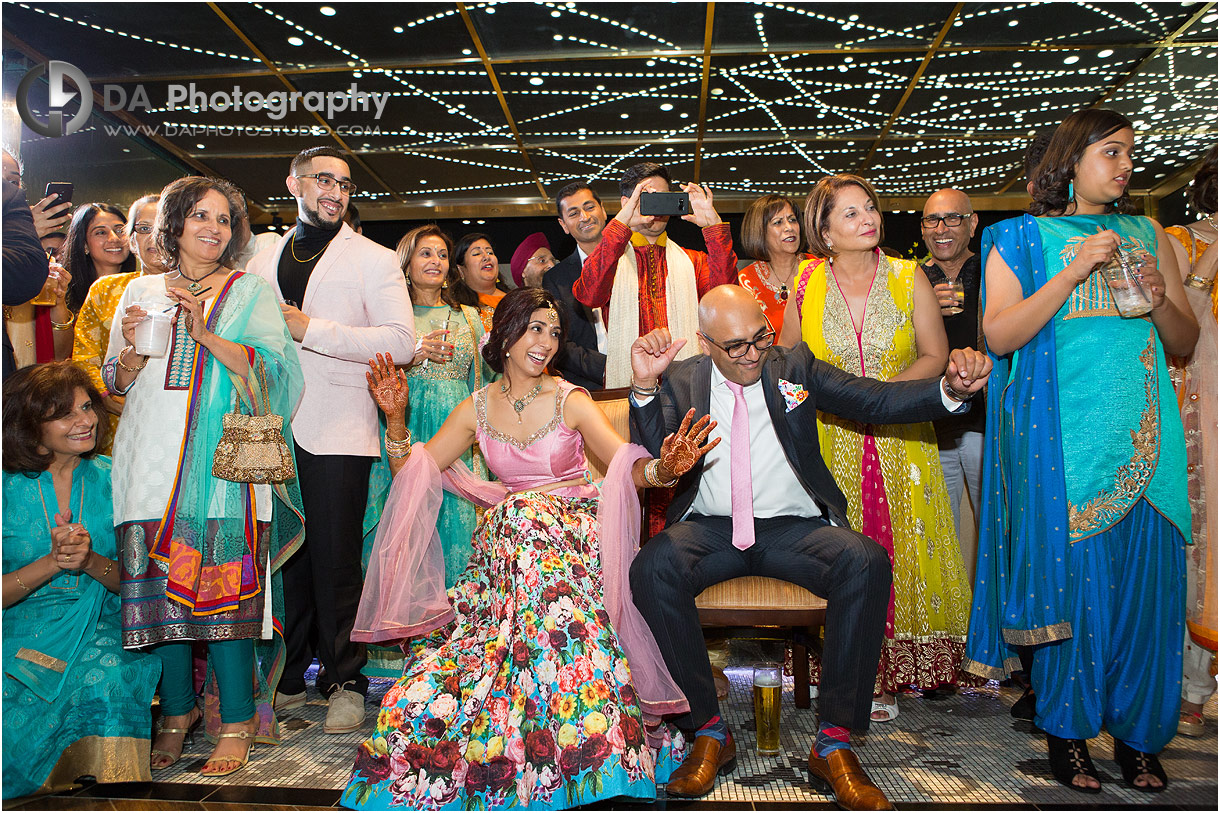 After finishing documenting this part of Amee and Blakar's pre-wedding events, I was ready to document their wedding ceremony that was just two days away!
Mehndi party location: Mayura Restaurant, Brampton, ON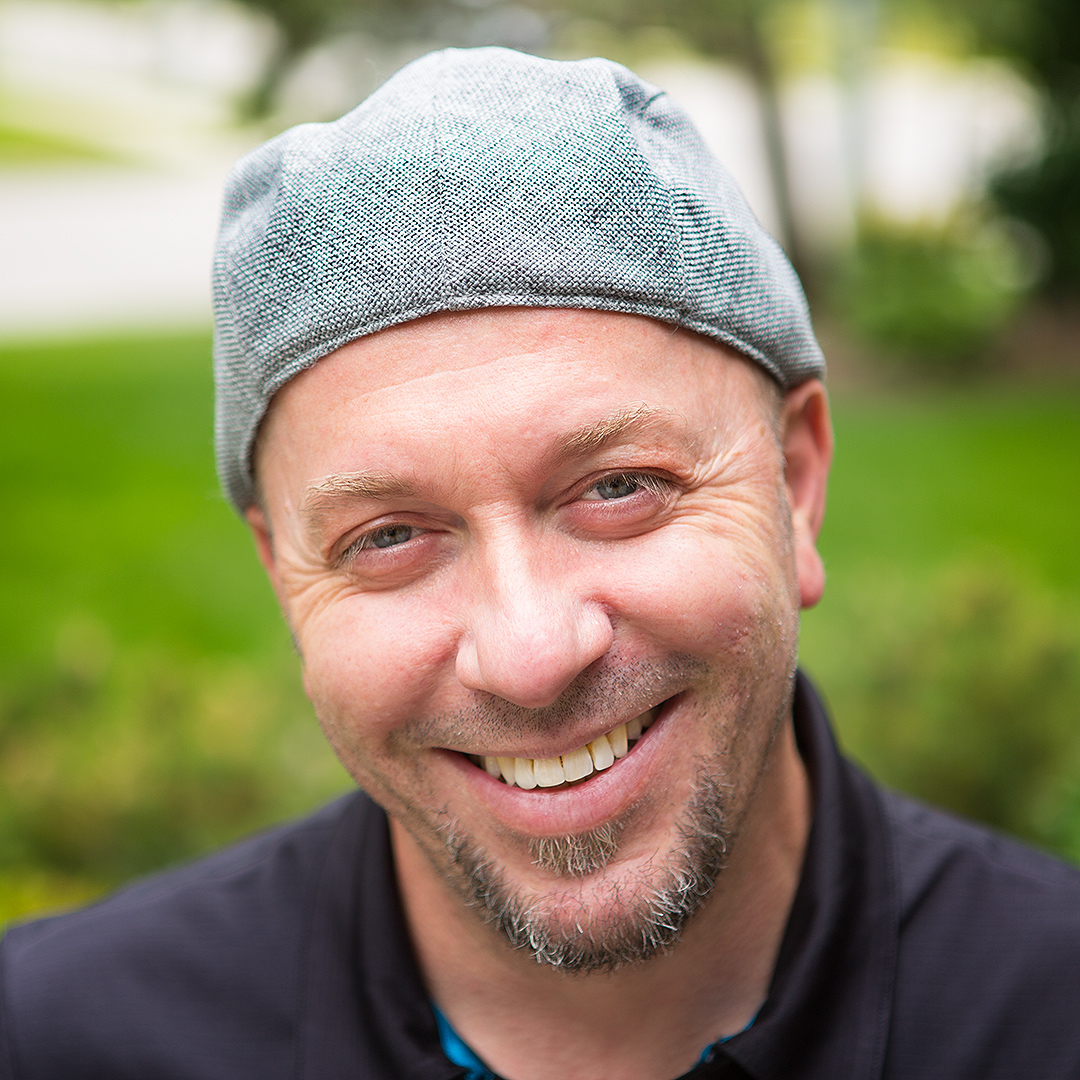 My passion and biggest asset is taking the time to make every client comfortable and relaxed before I even pick up the camera. The result? Photos of you that actually look like you at your best! I can prove to you how much you can enjoy having your picture taken. Lifestyle photography is about the experience that happens to be served up along side of some great photos.
Specialties:
Family Photography for families that like to move around and enjoy their photo time, Wedding Photography for couples looking for a mixture of photojournalistic, contemporary and traditional images and Professional Corporate headshots that are far from cheesy and stiff.