This Kariya Park Wedding could certainly be used as a guide to help you with your own wedding plans. That is, only if you want it to be executed exactly as you would like! Ultimately, although it is always a good idea to listen to other's advice, there is no need to follow any suggestions if they don't fit your vision. Simply, work around your own schedule and the plans you have in mind.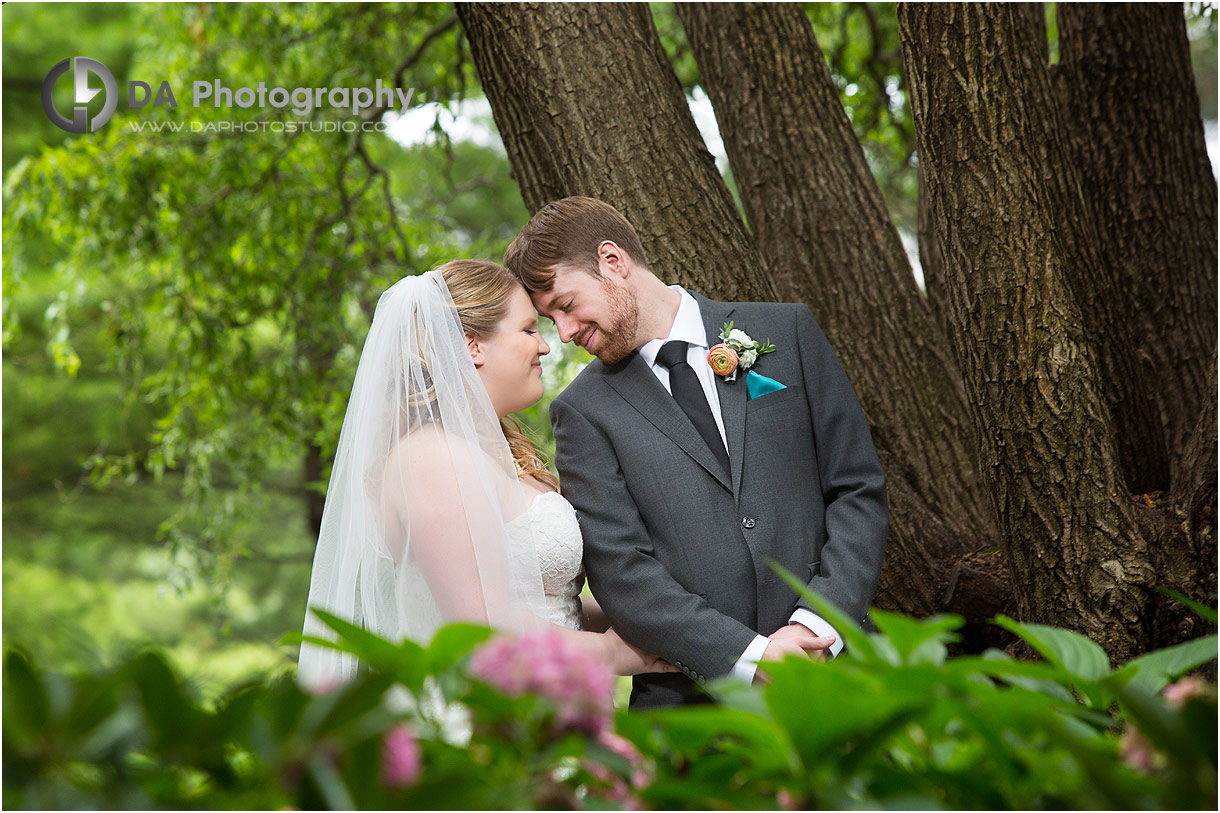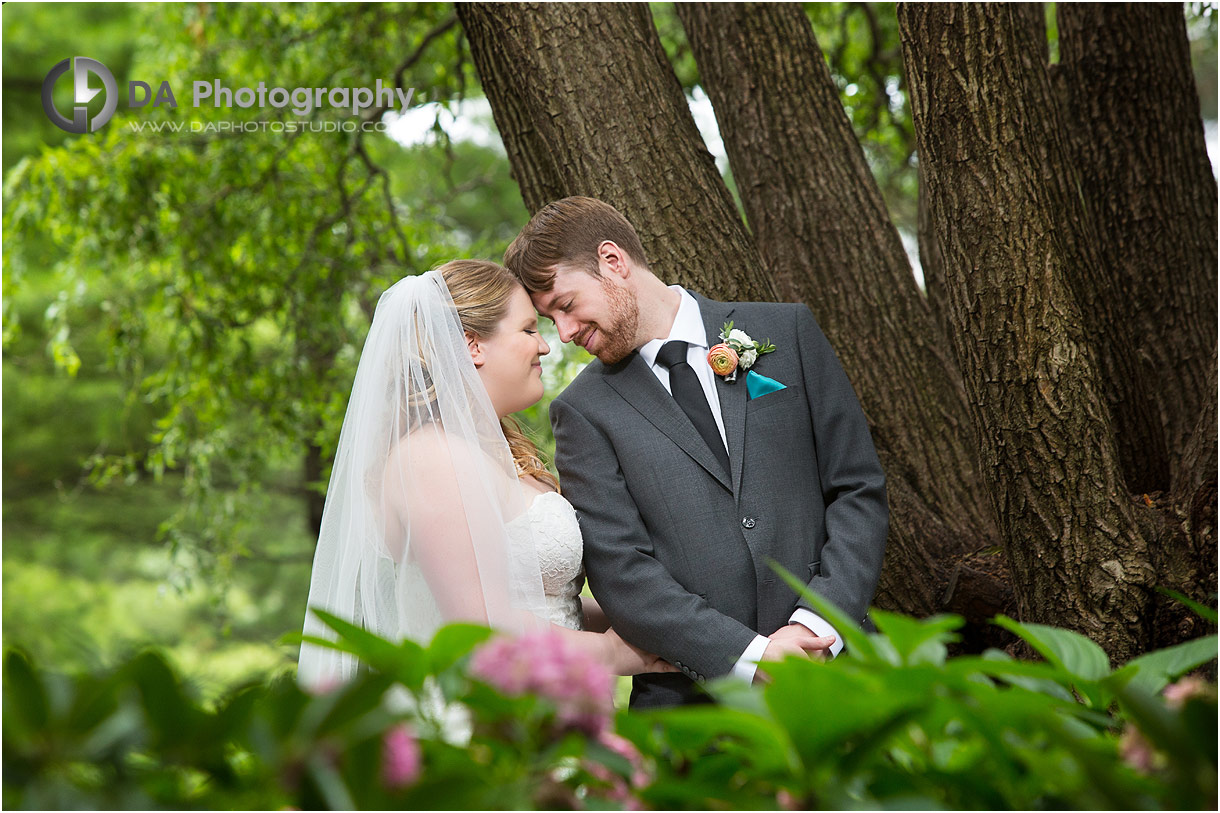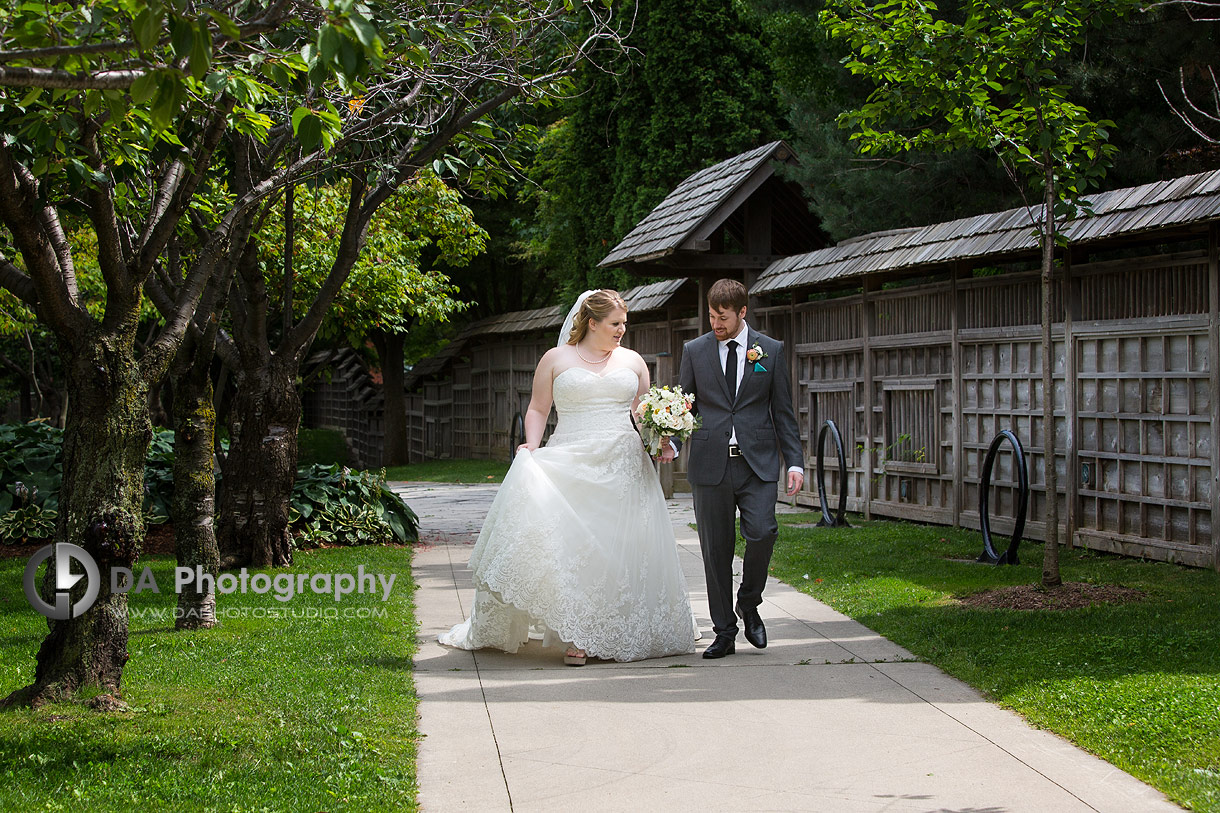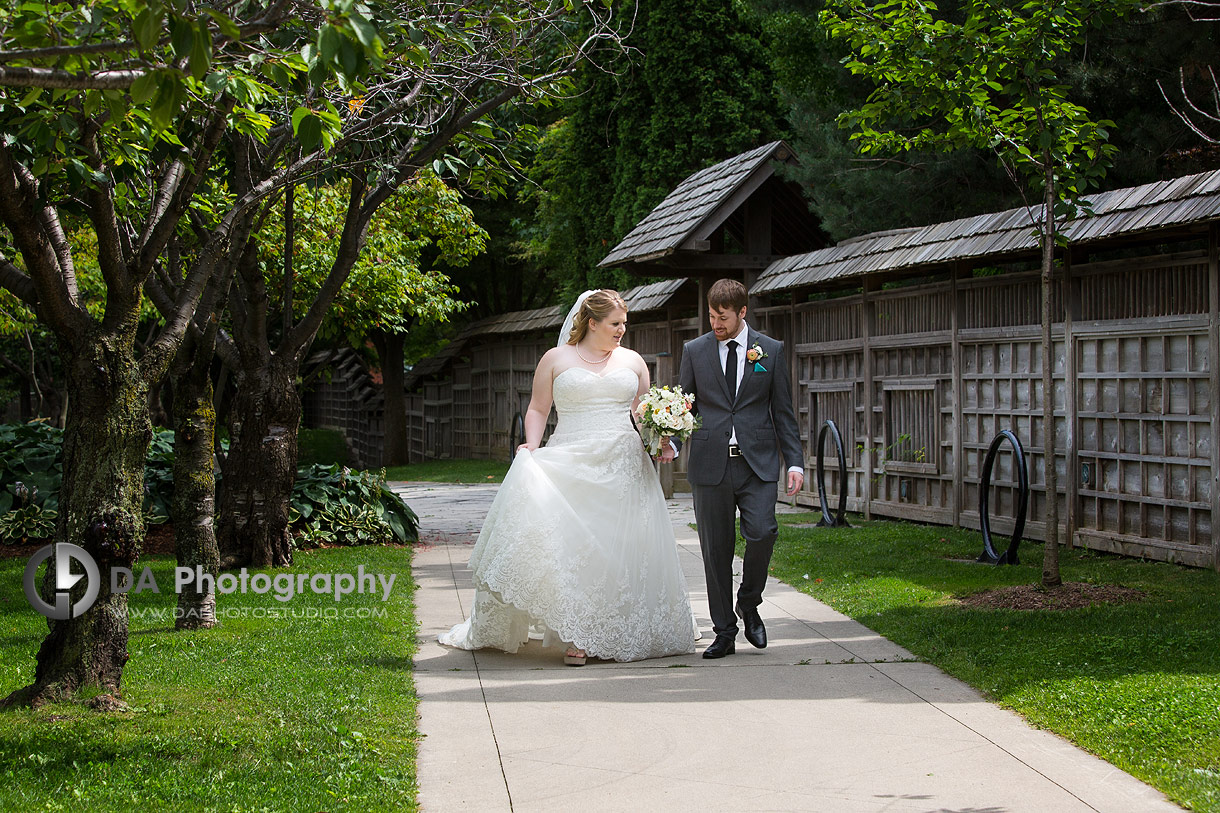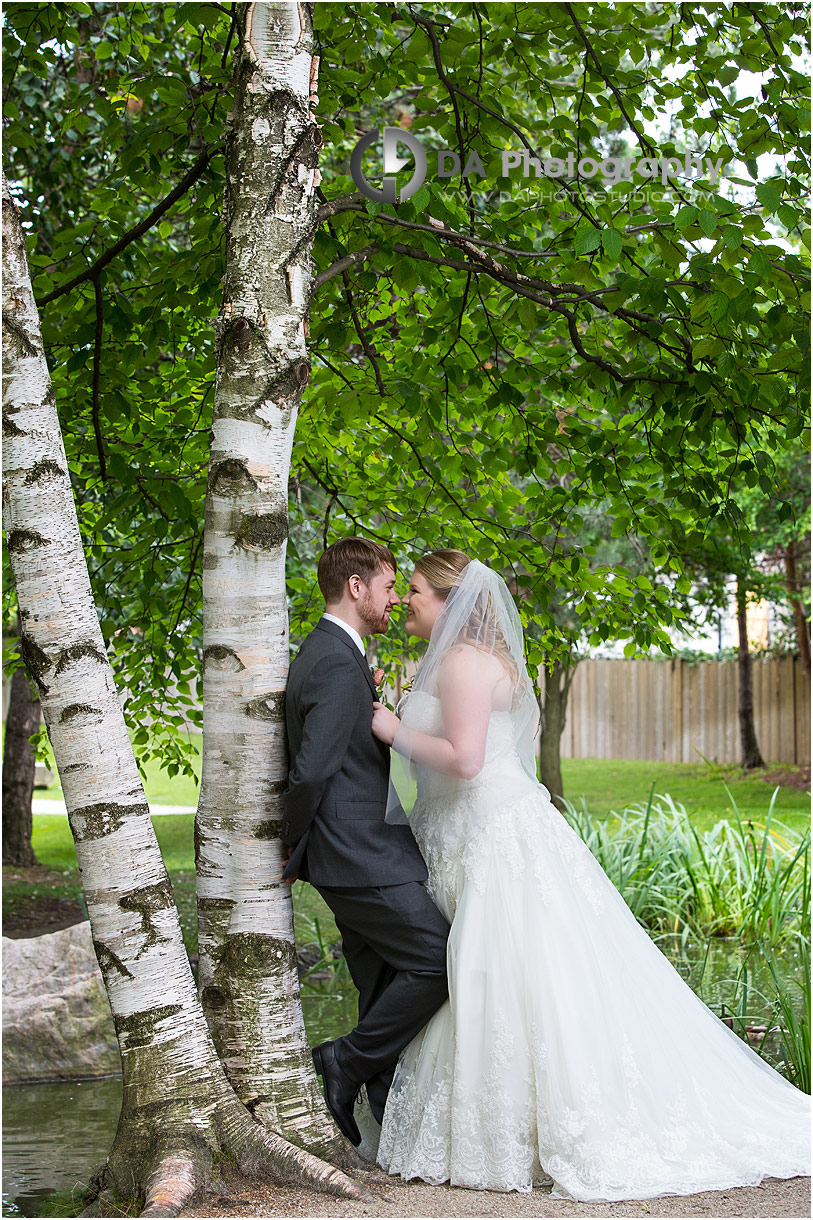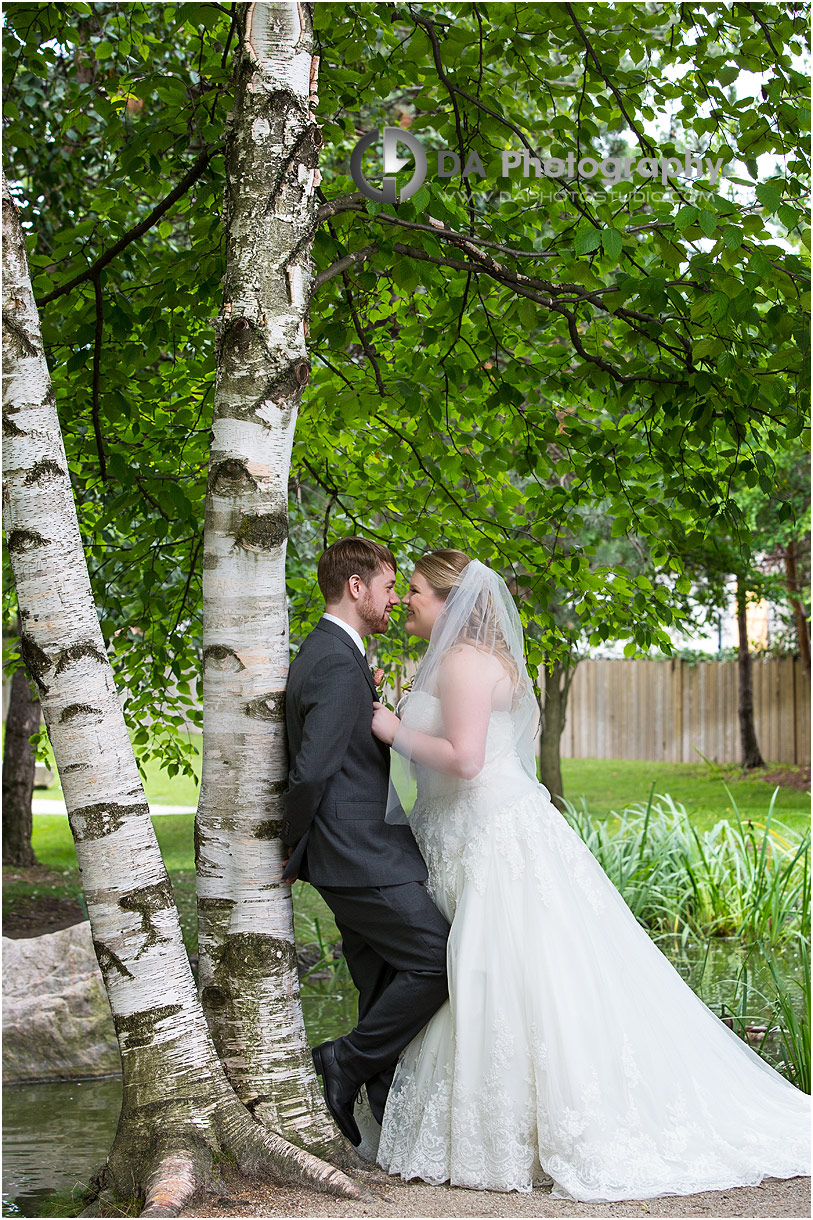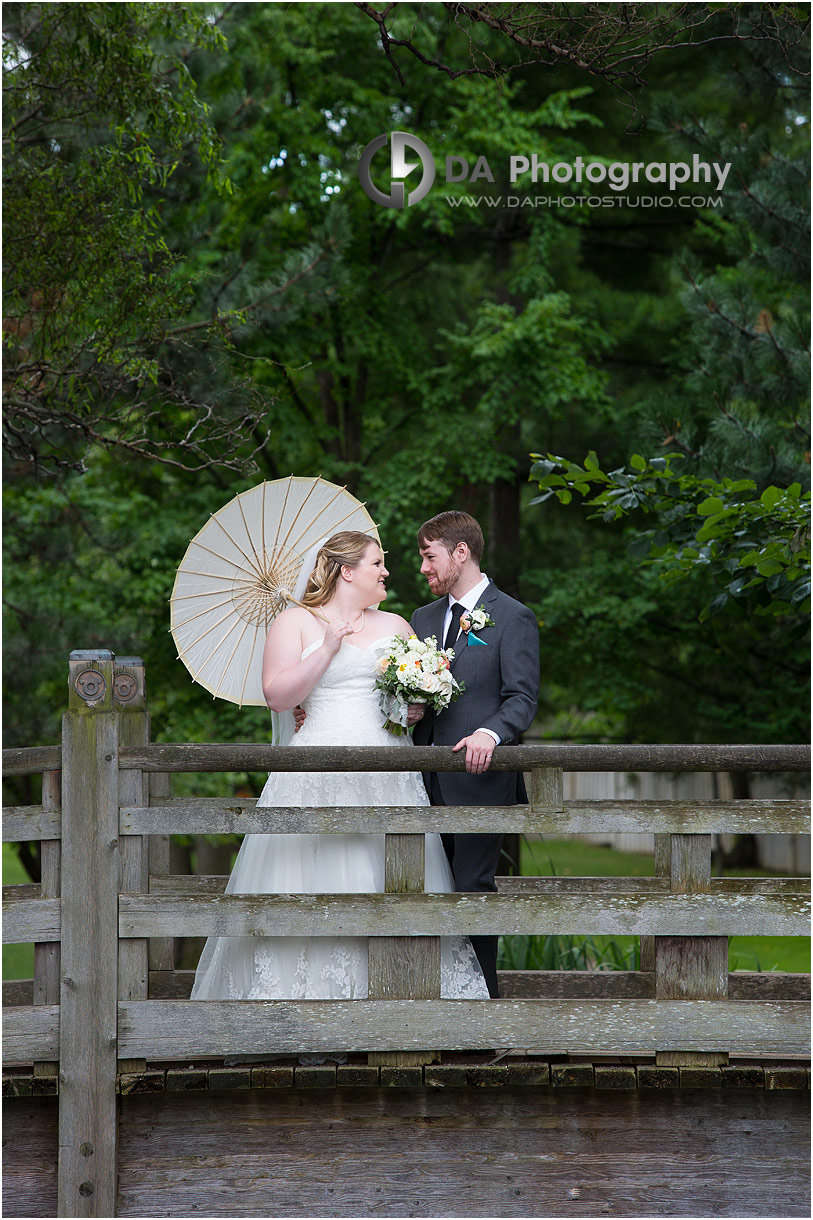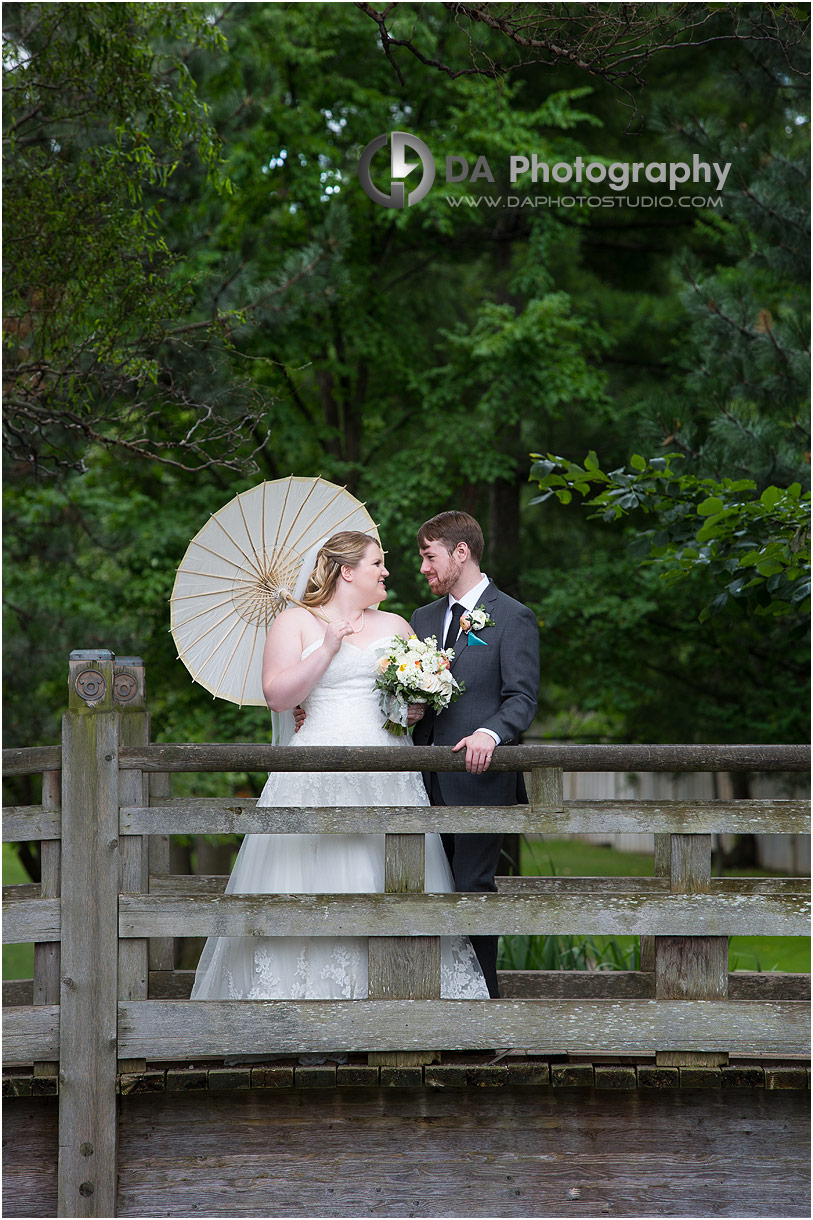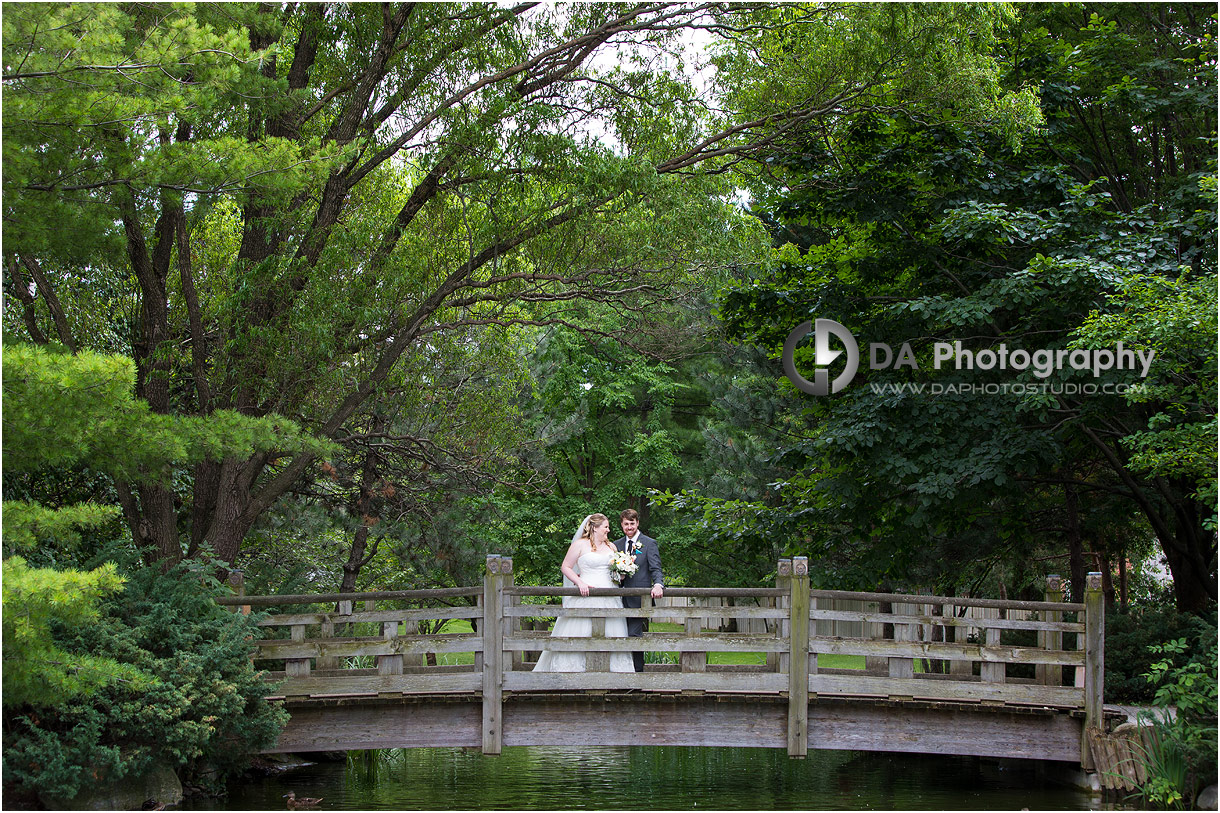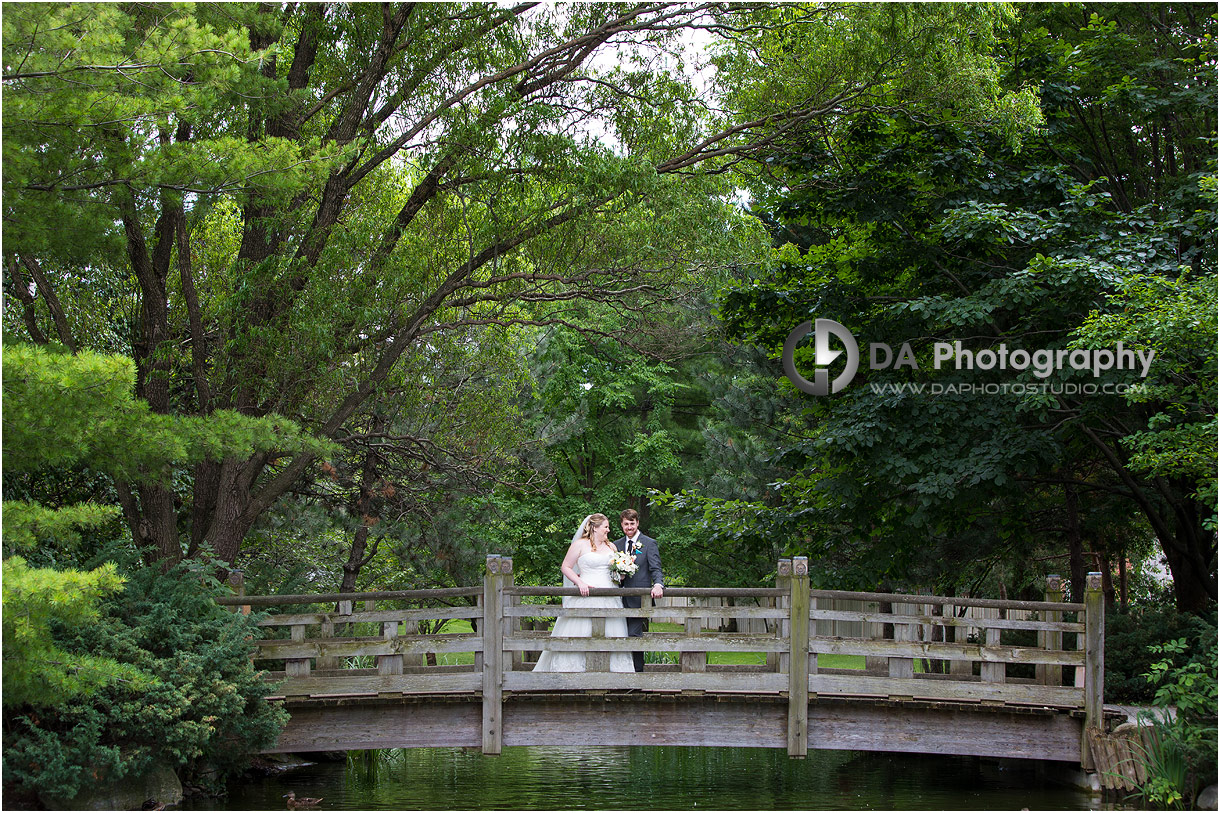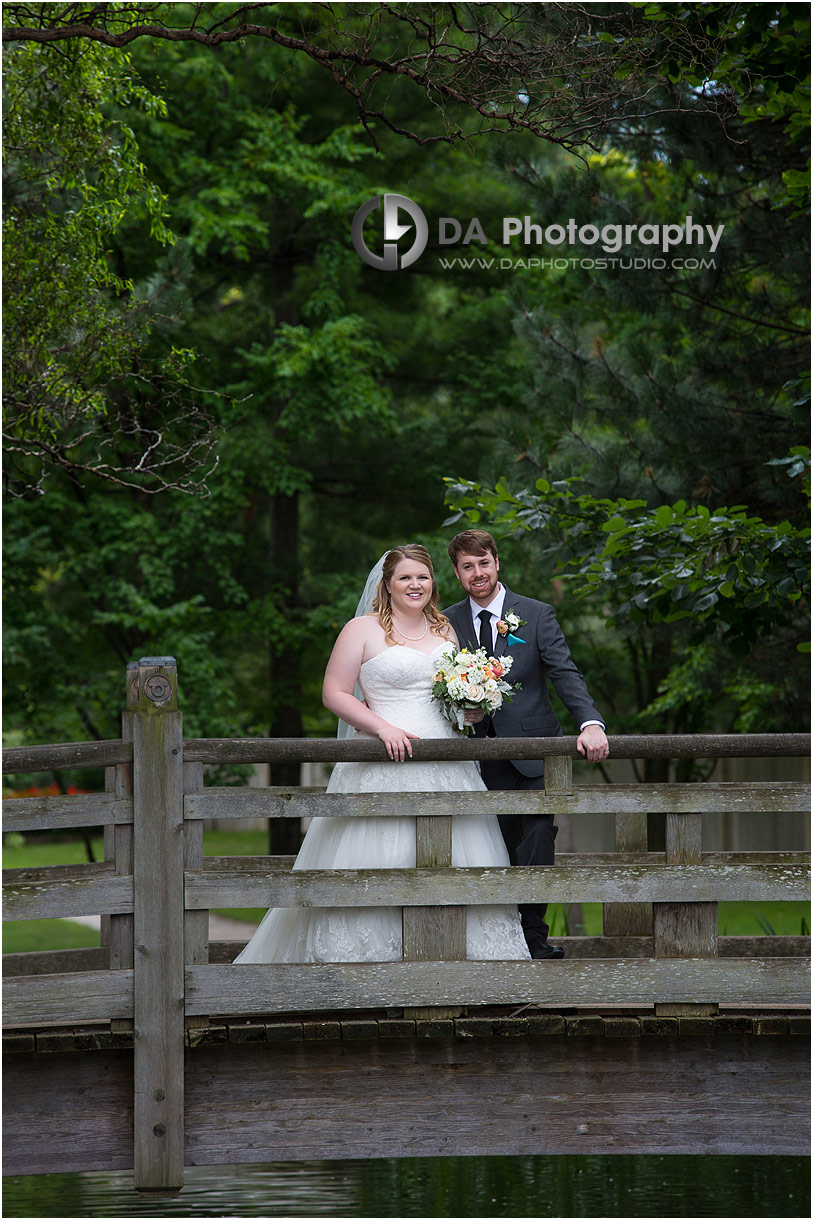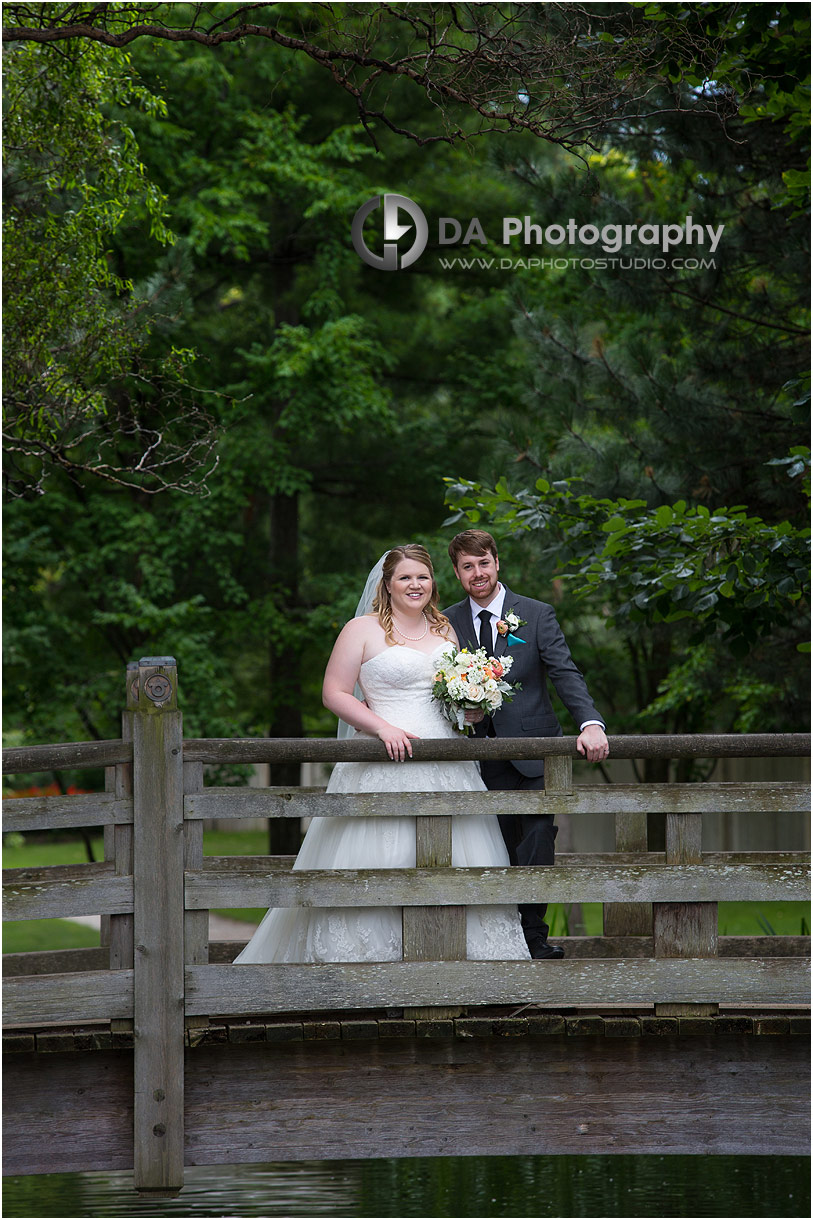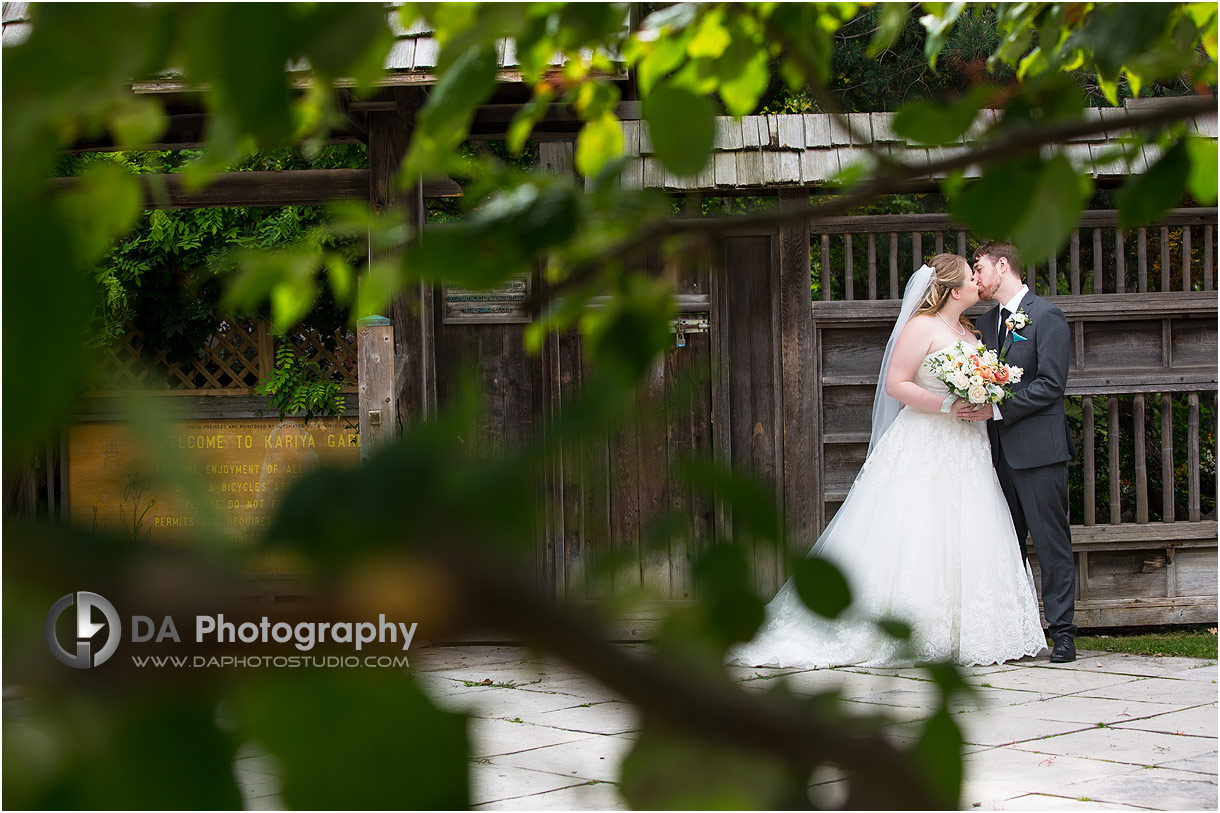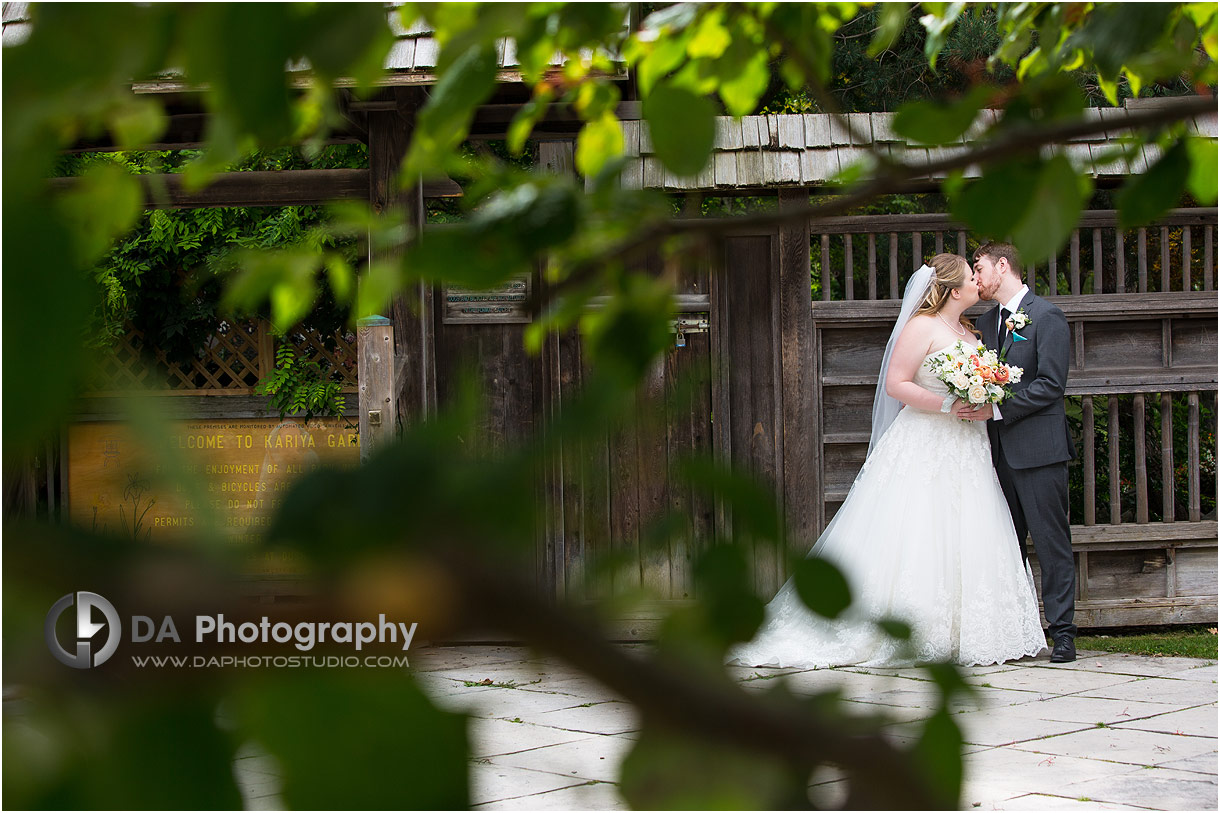 Kariya Park Wedding planning process
From my initial meeting with Victoria and Ryan, I knew that their wedding was going to be super smooth. Seeing Victoria with her large notebook, I was pleased to be able to work with another bride who appreciates planning and timelines.
Victoria and Ryan had planned for the wedding ceremony and reception to be held at Roma's Hospitality Centre. Located in the industrial part of Mississauga, this location is actually such a versatile venue for a variety of indoor events and set-ups. However, the outdoors doesn't have much to offer for a wedding couple in comparison to other venues with well-kept gardens as an example.
With this in mind, we started to plan for another location that we could use for the outdoor photos on their wedding day. Looking at what would be the most convenient as well as providing us with the most photo opportunities, we decided to have the pre-wedding photos taken at Kariya Park. This site is a Japanese garden located by Square One, in the heart of Mississauga.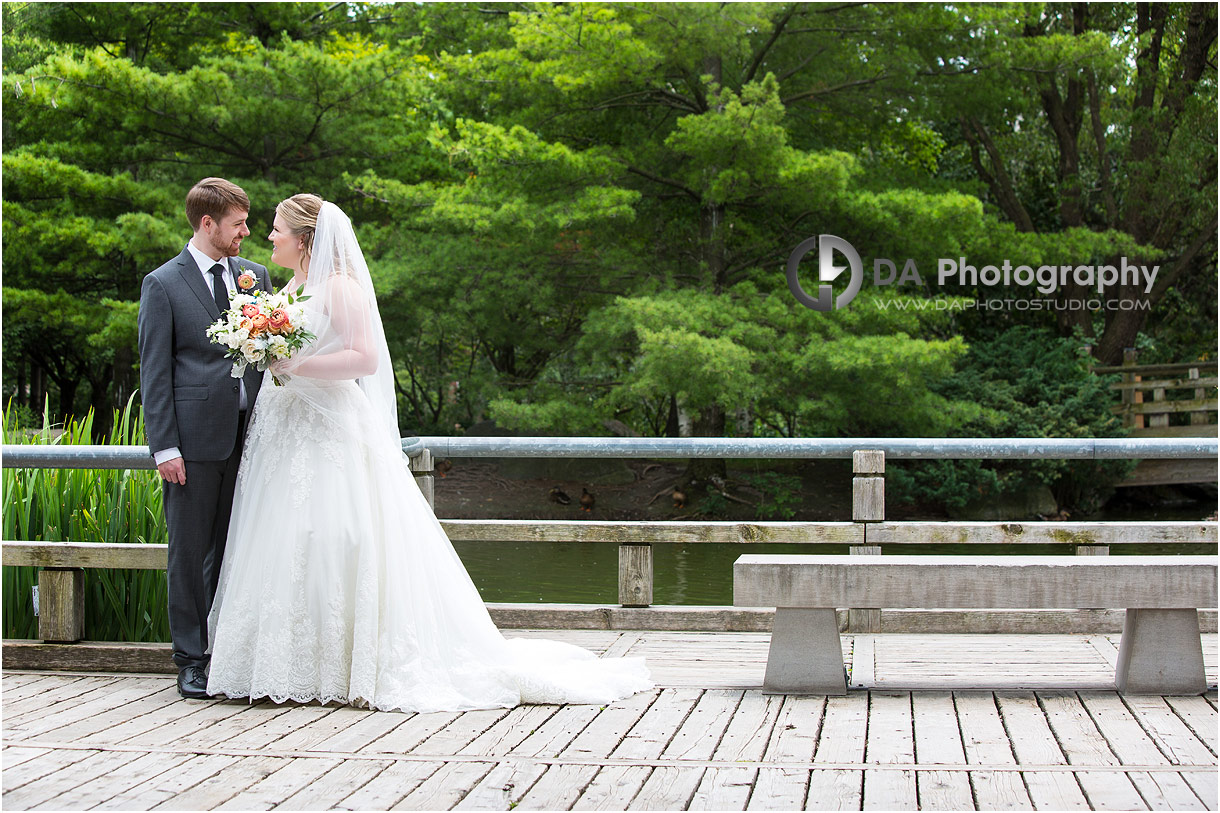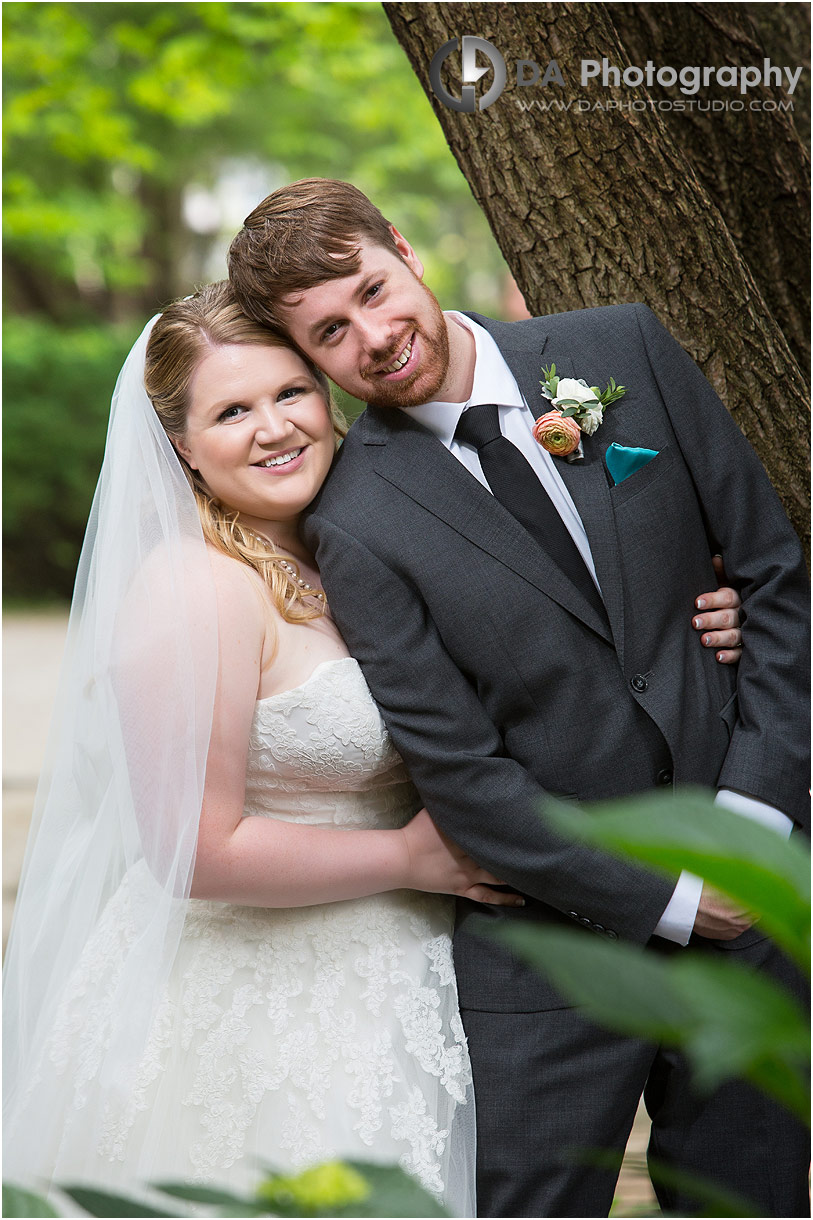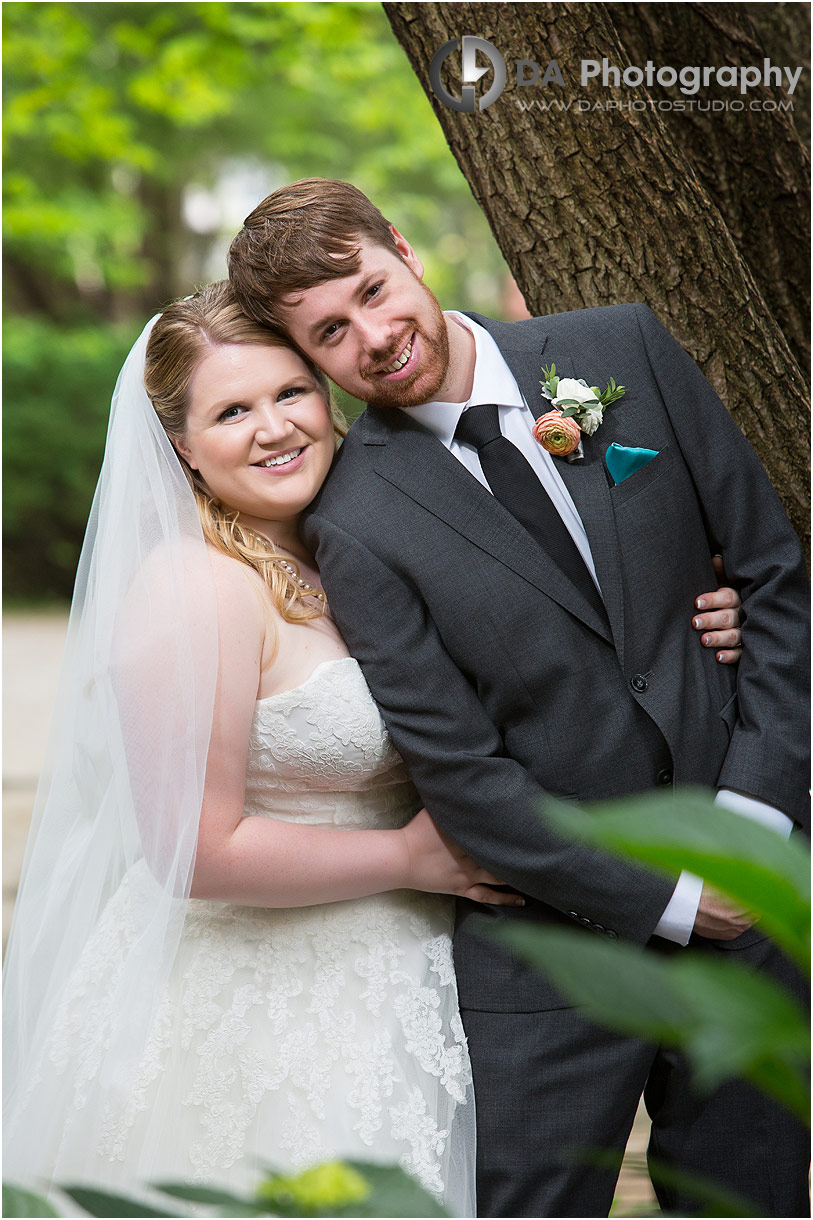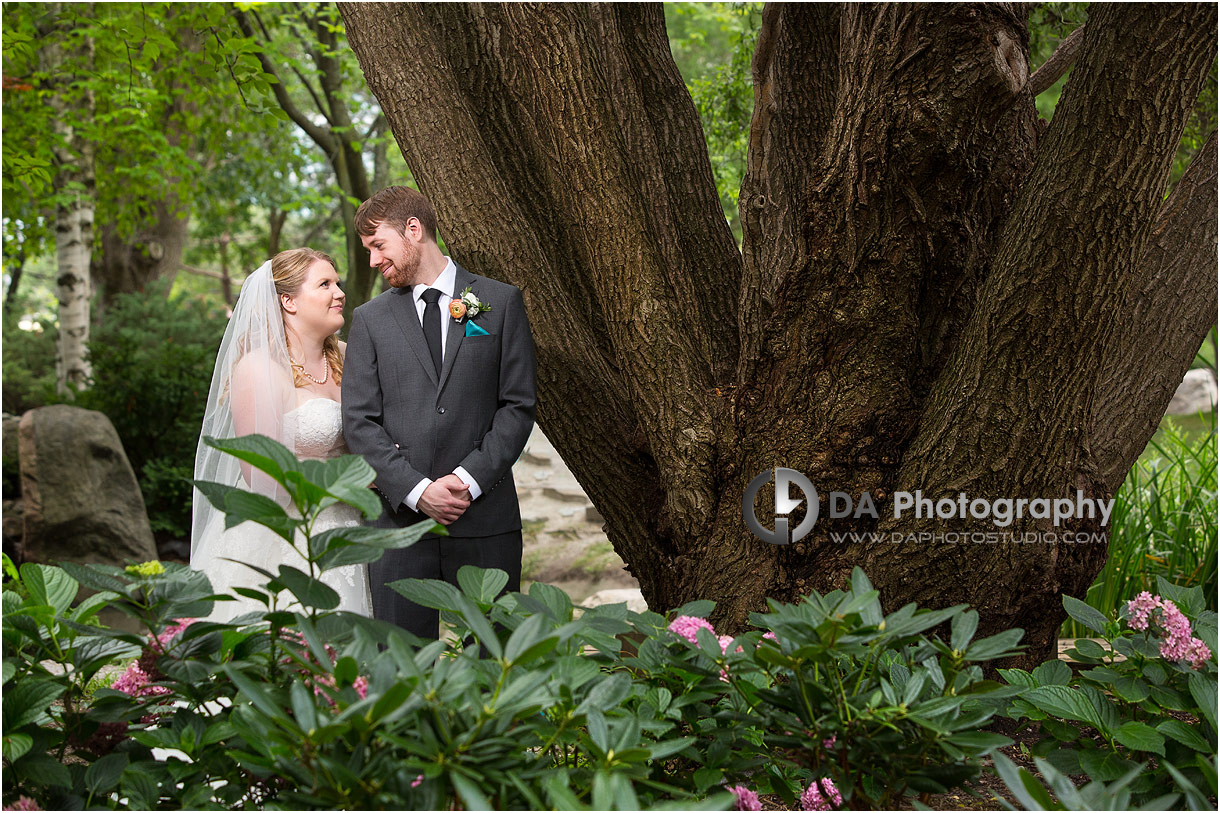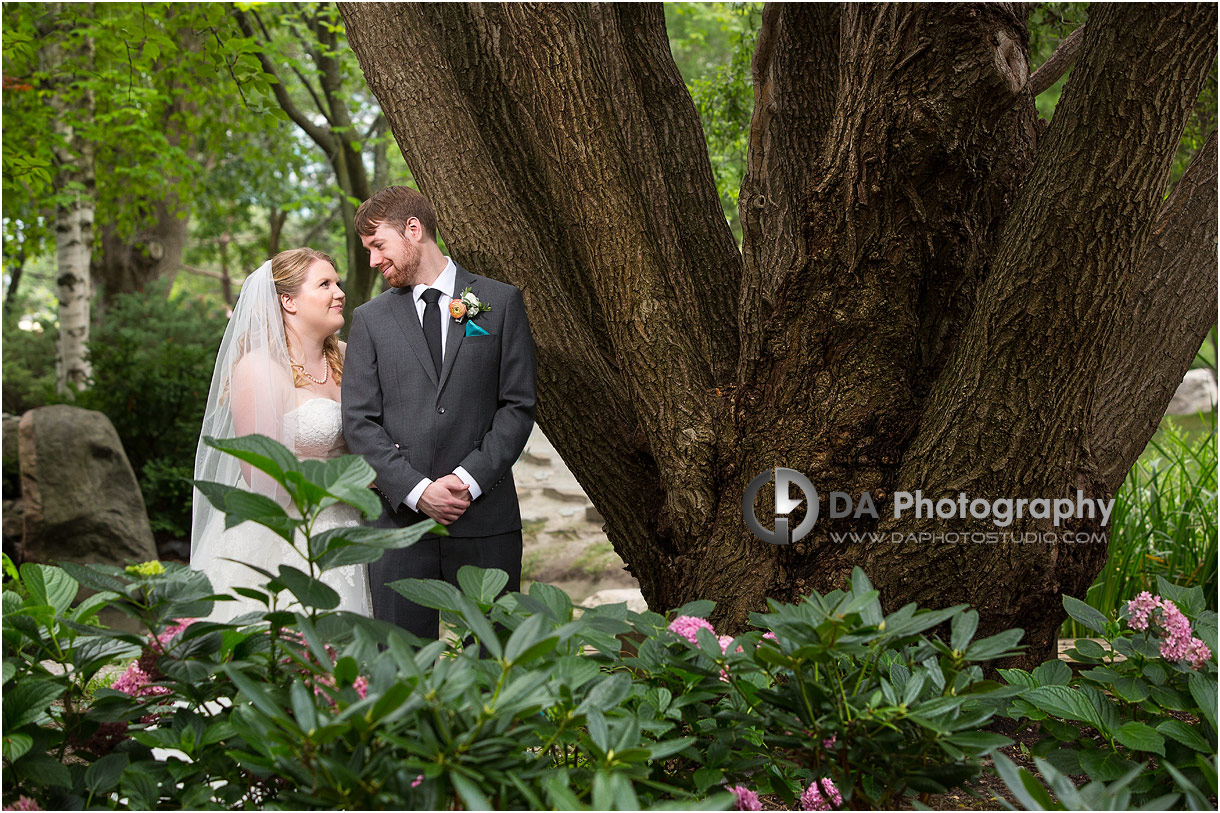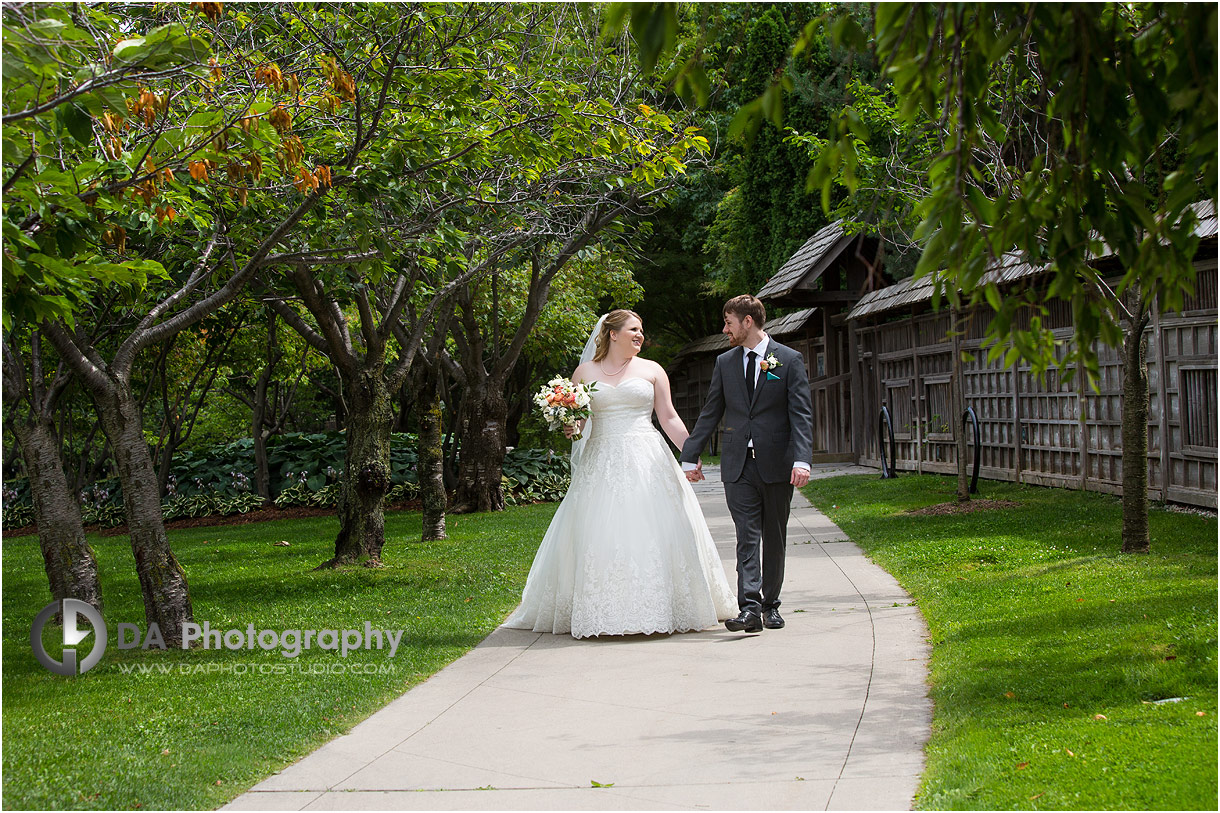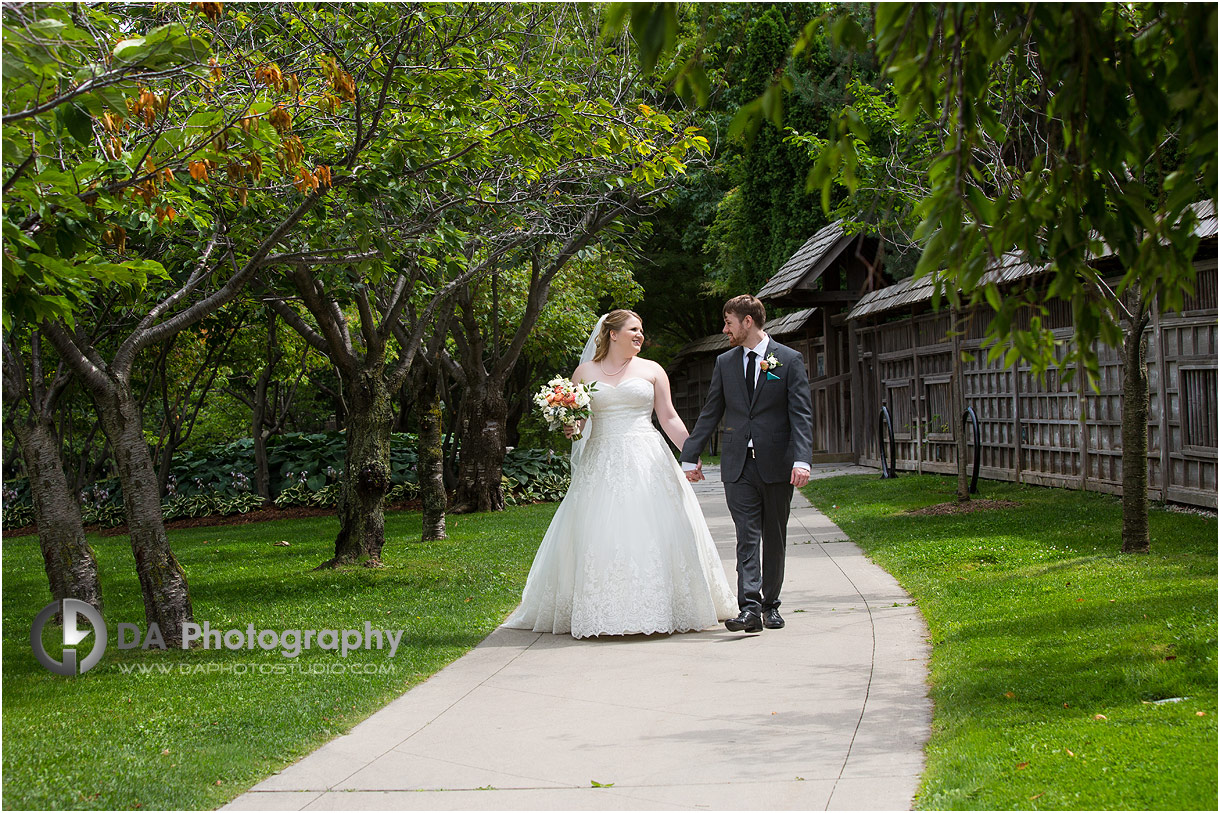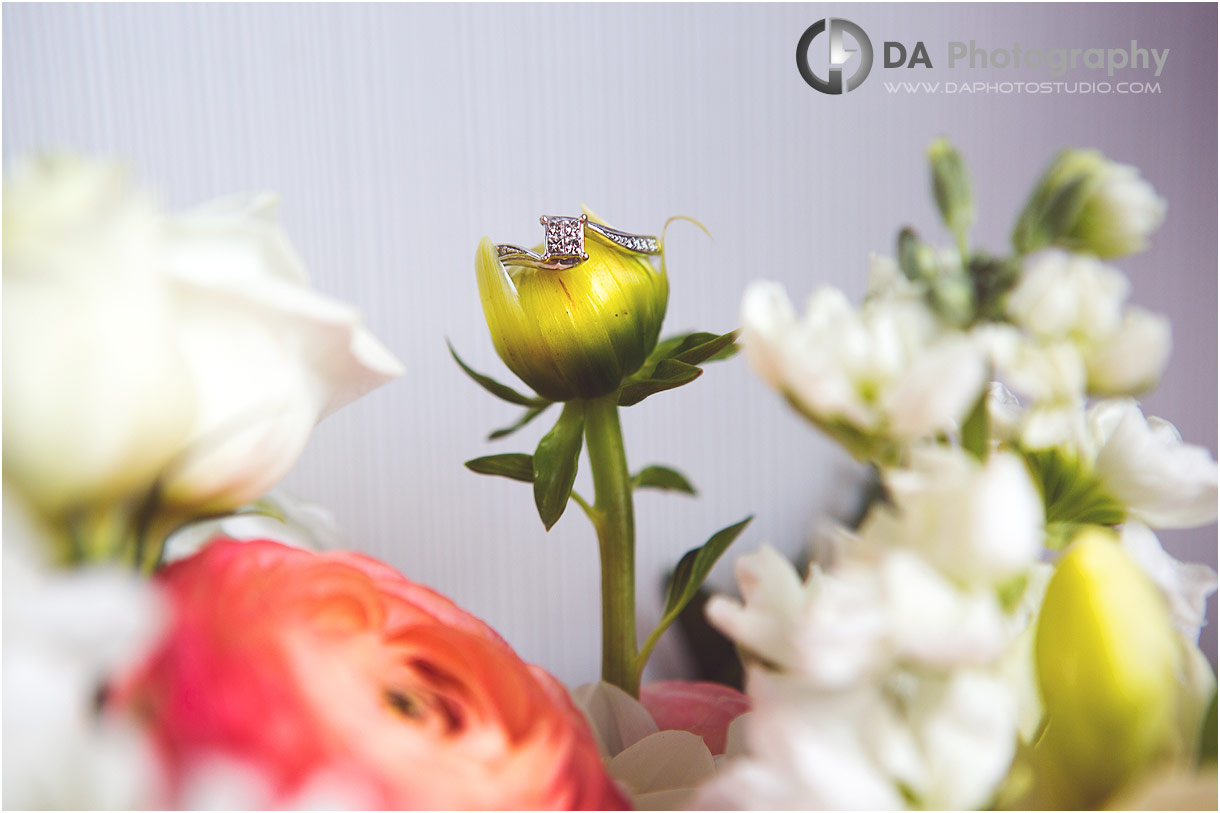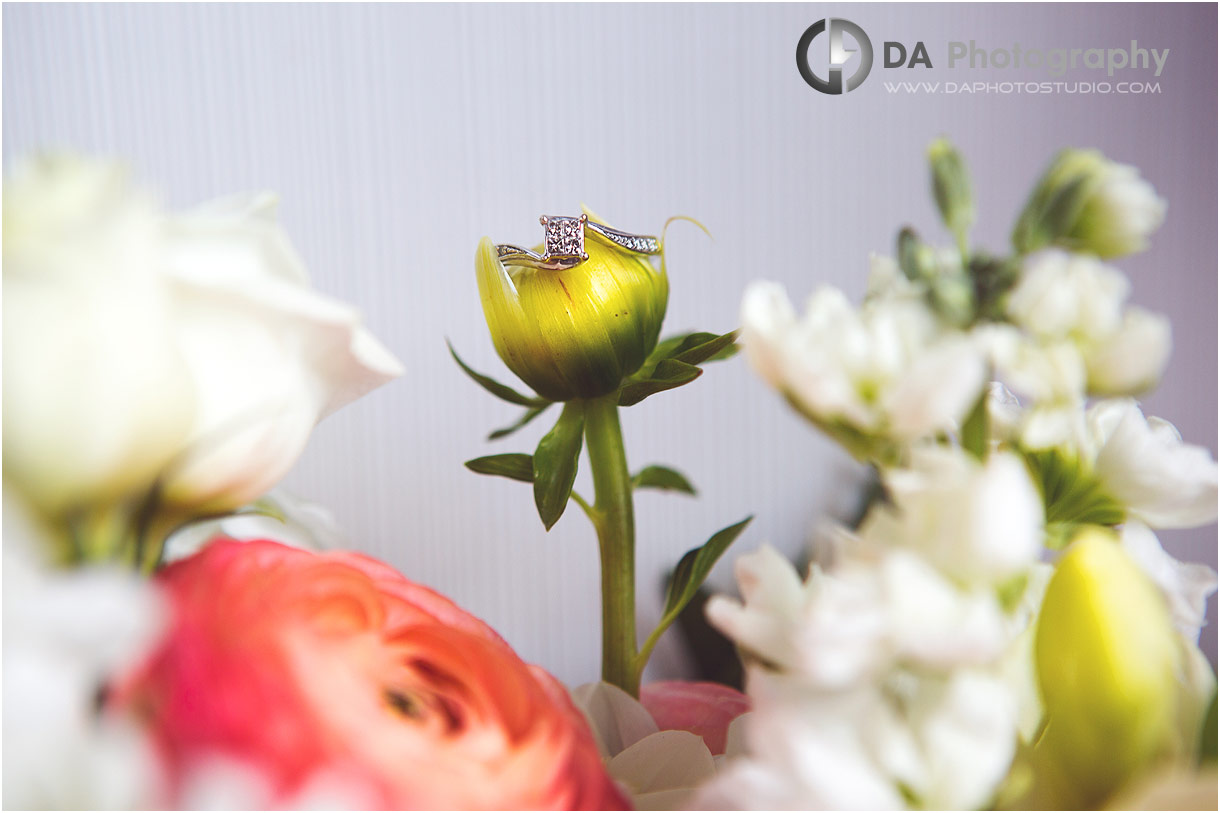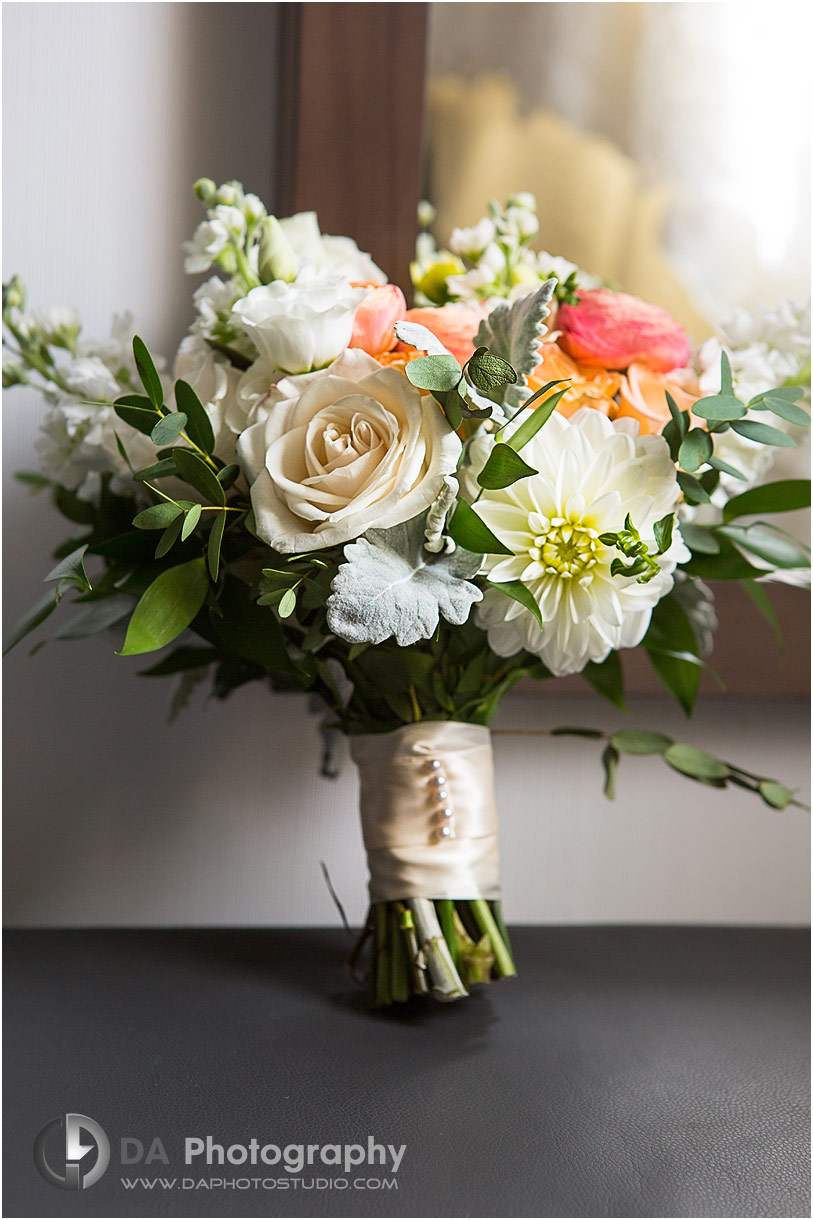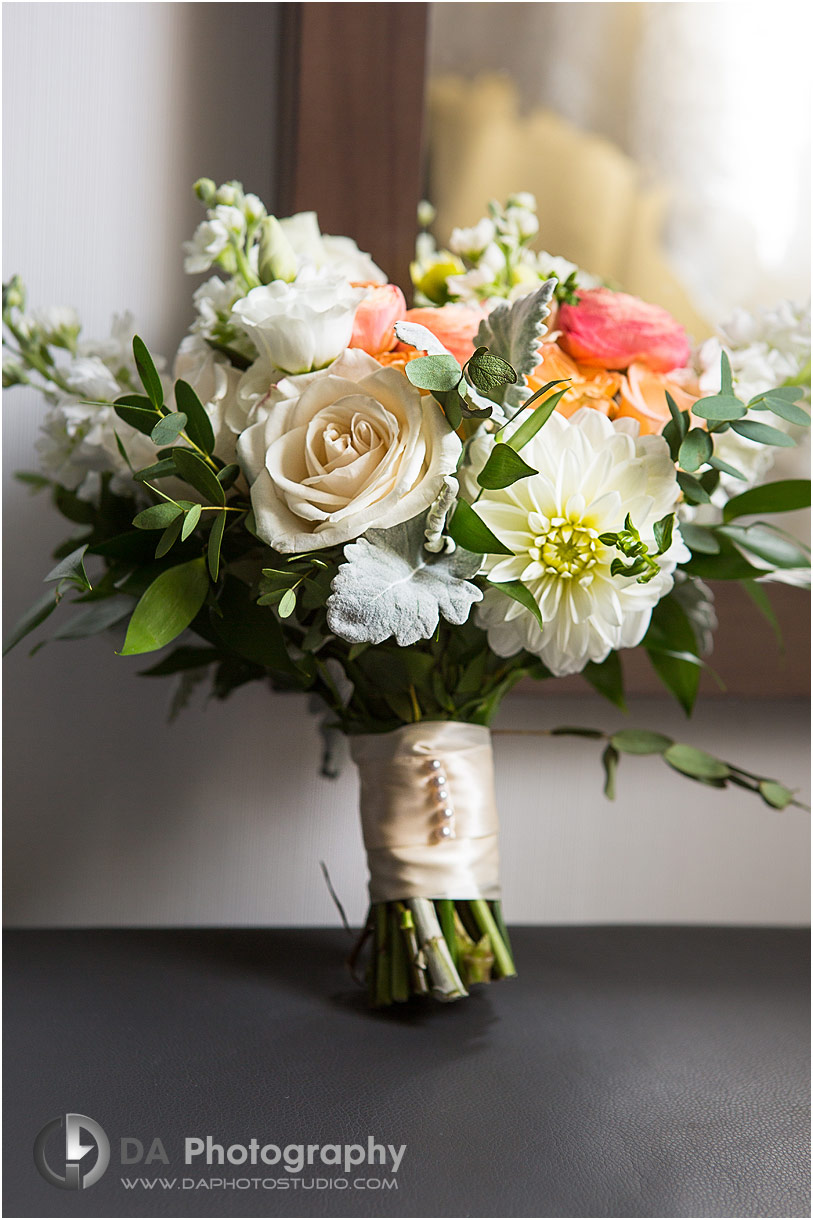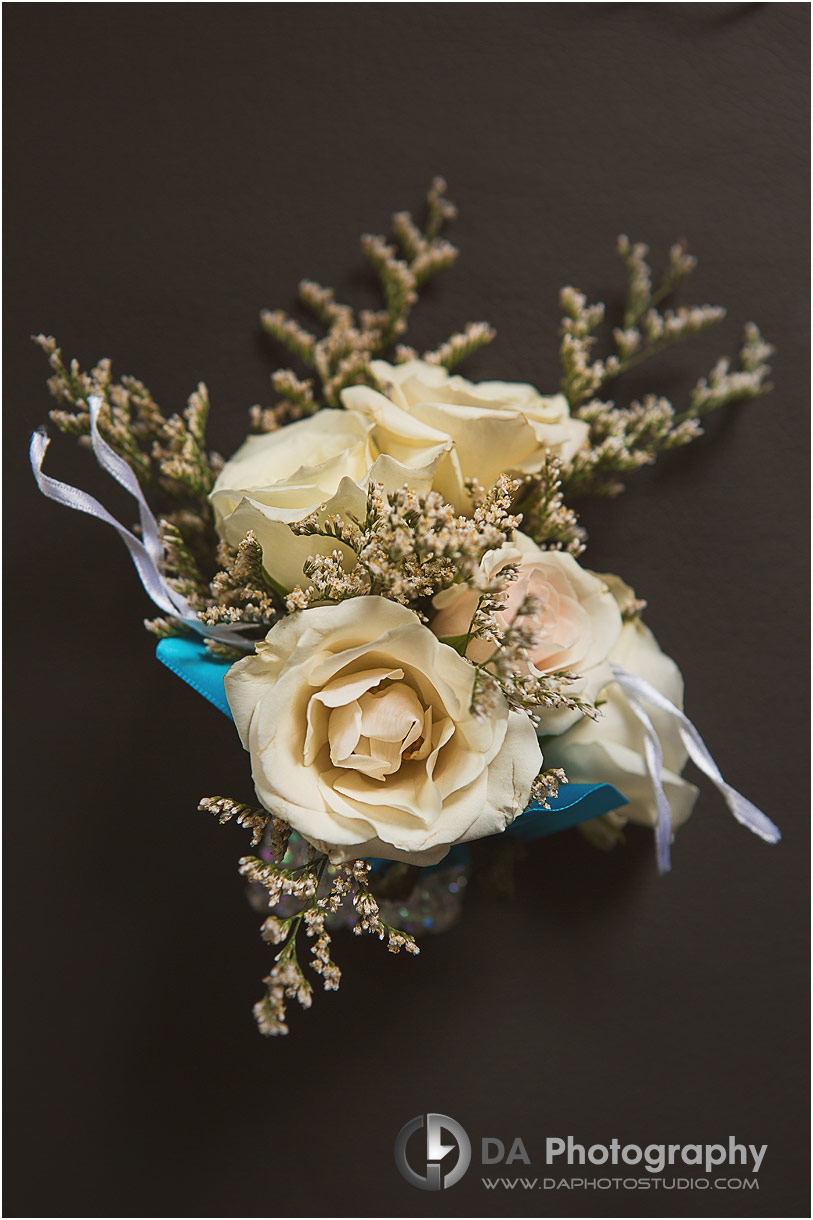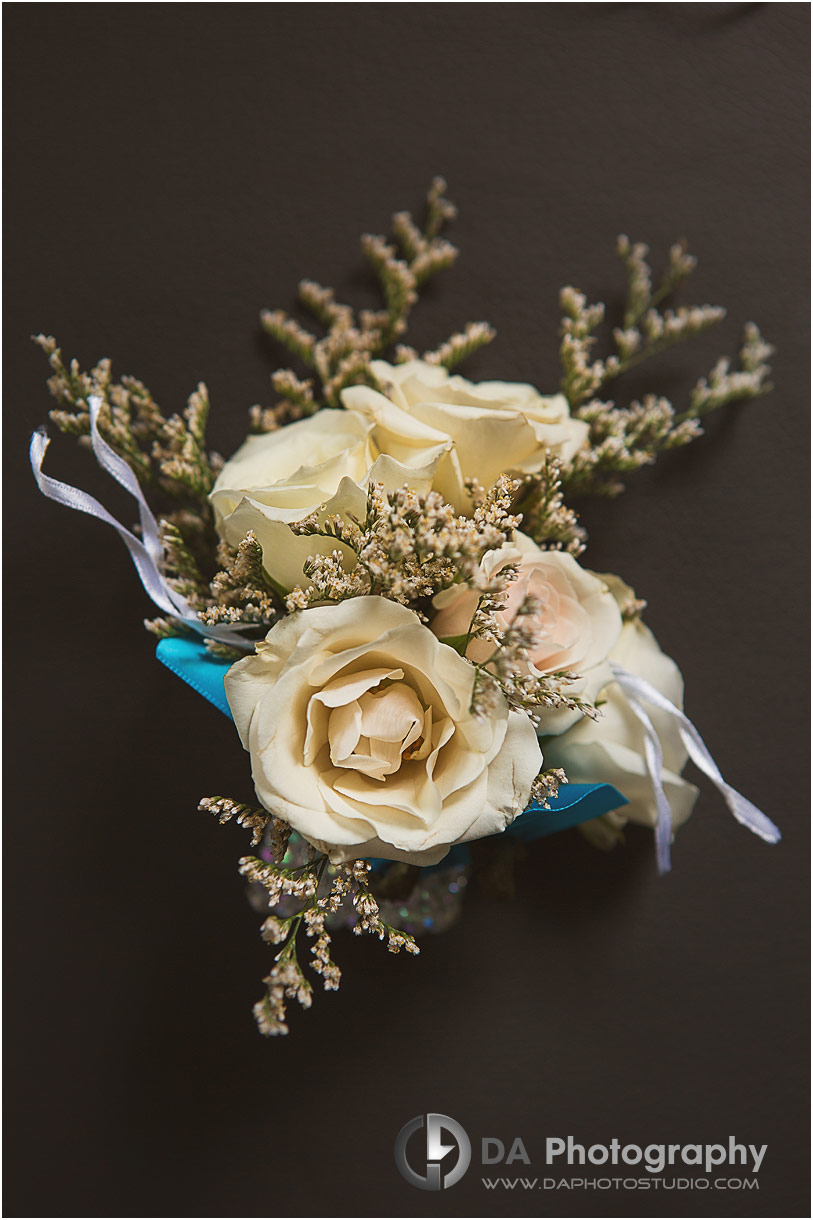 Getting ready for the big day
Victoria and Ryan decided to get ready for their wedding in a hotel situated between their venue and the Kariya Park photo location. It was a perfect, stress-free solution for them.
Since both of them were getting ready in the same location, I could easily cover both of their getting ready photos by myself. The plan was to then have my 2nd photographer for the day, Jacquie, join us for the first look. From my experience, hotels offer a more relaxed and hassle-free environment. The hotel staff makes sure the room is clean and there is not the added stress of "hosting" the bridal party on top of everything else. This was absolutely the case with Victoria and Ryan's wedding too. Arriving at her room, I could see that everything was on track and she was ready for me to start documenting the day.
Her dress, shoes, jewelry, and flowers were already prepared. I find that the flowers a bride choose usually tell me the most about her. Victoria's flowers were one of the most photogenic bouquets that I have photographed. I have seen many bouquets and boutonnieres, however, these ones were really loving the camera! No matter how I positioned them the images were absolutely stunning.
While working on the details, I was also monitoring Victoria's progress as she was getting ready. When her hair and makeup were complete, her bridesmaids were also ready. We did some group photos in their robes. Then, I left them to relax a bit as I headed over to Ryan and his groomsmen.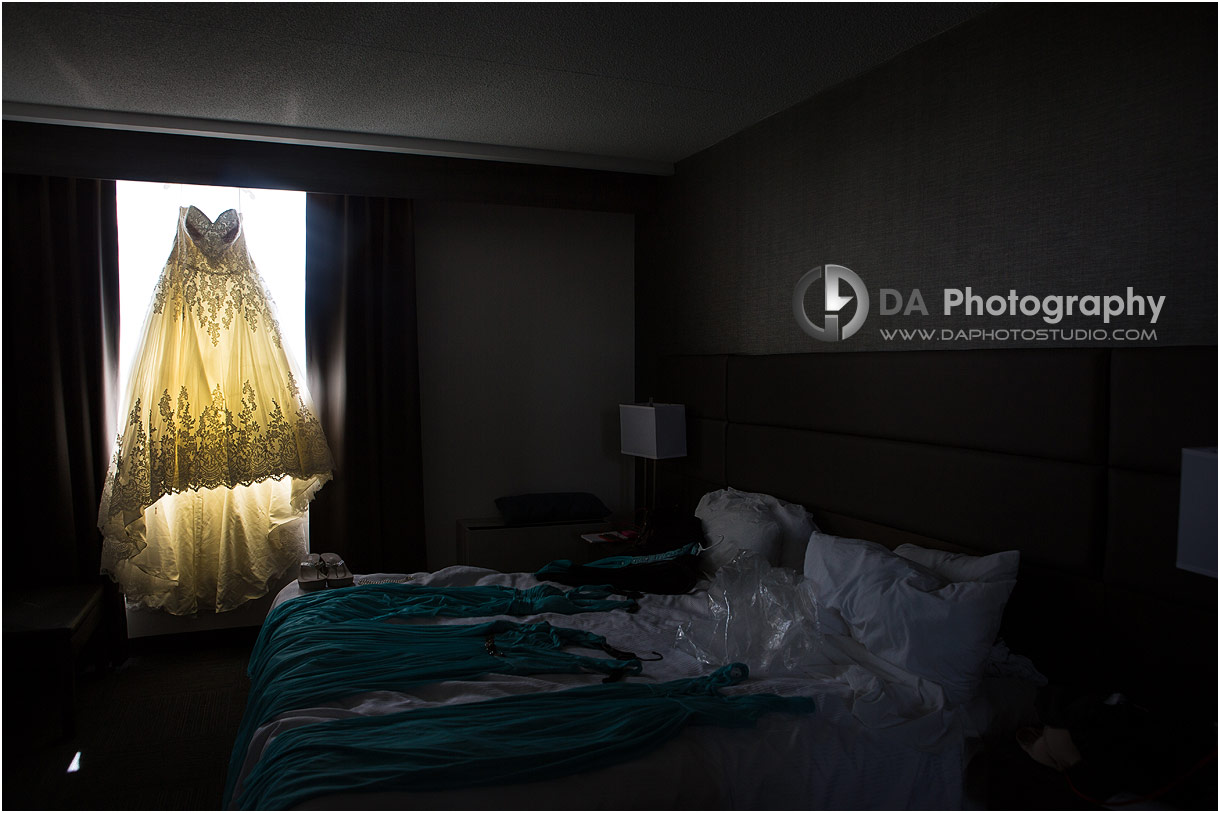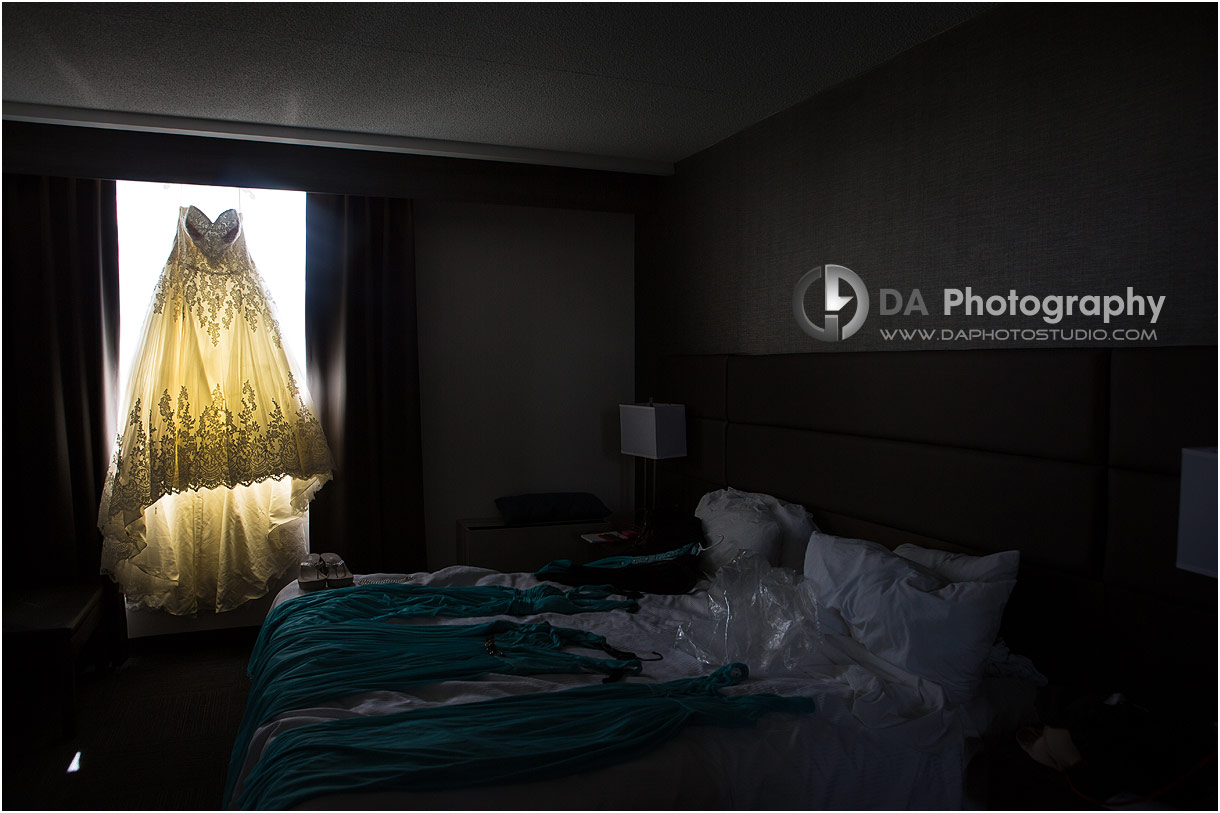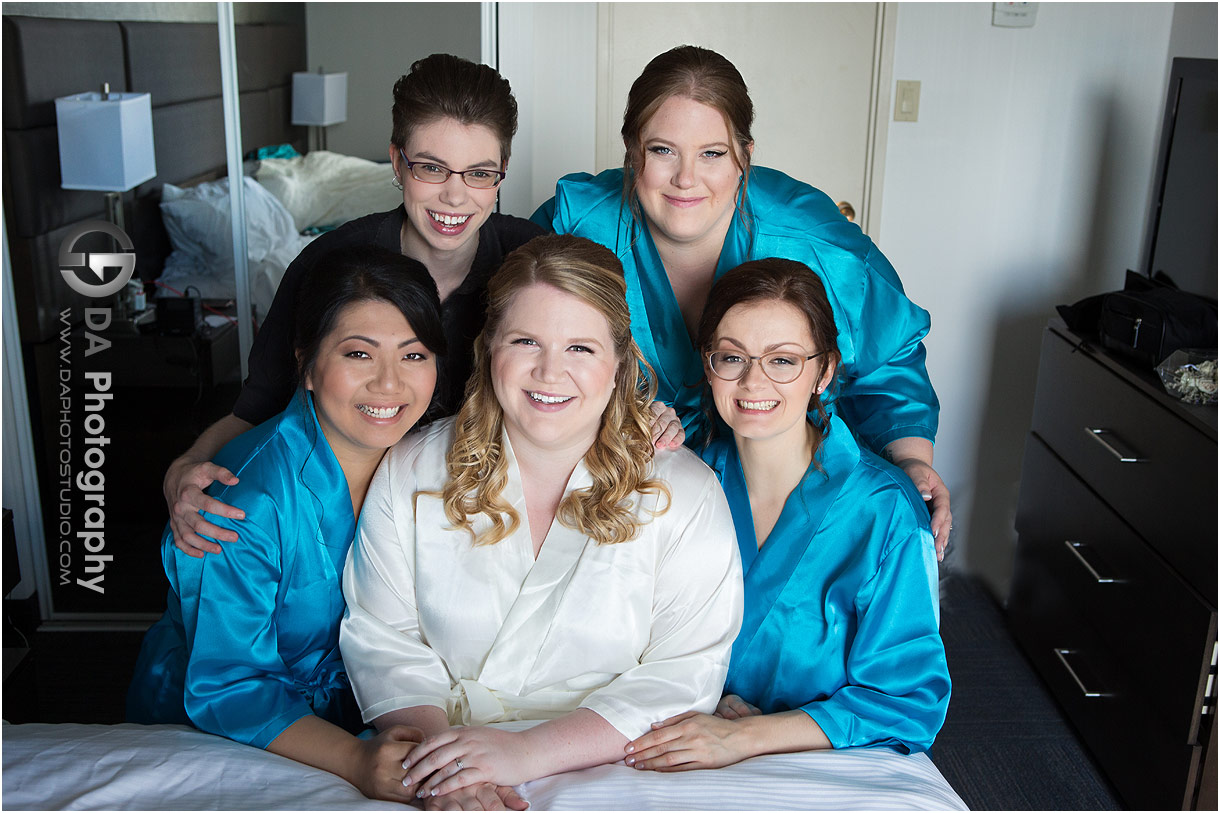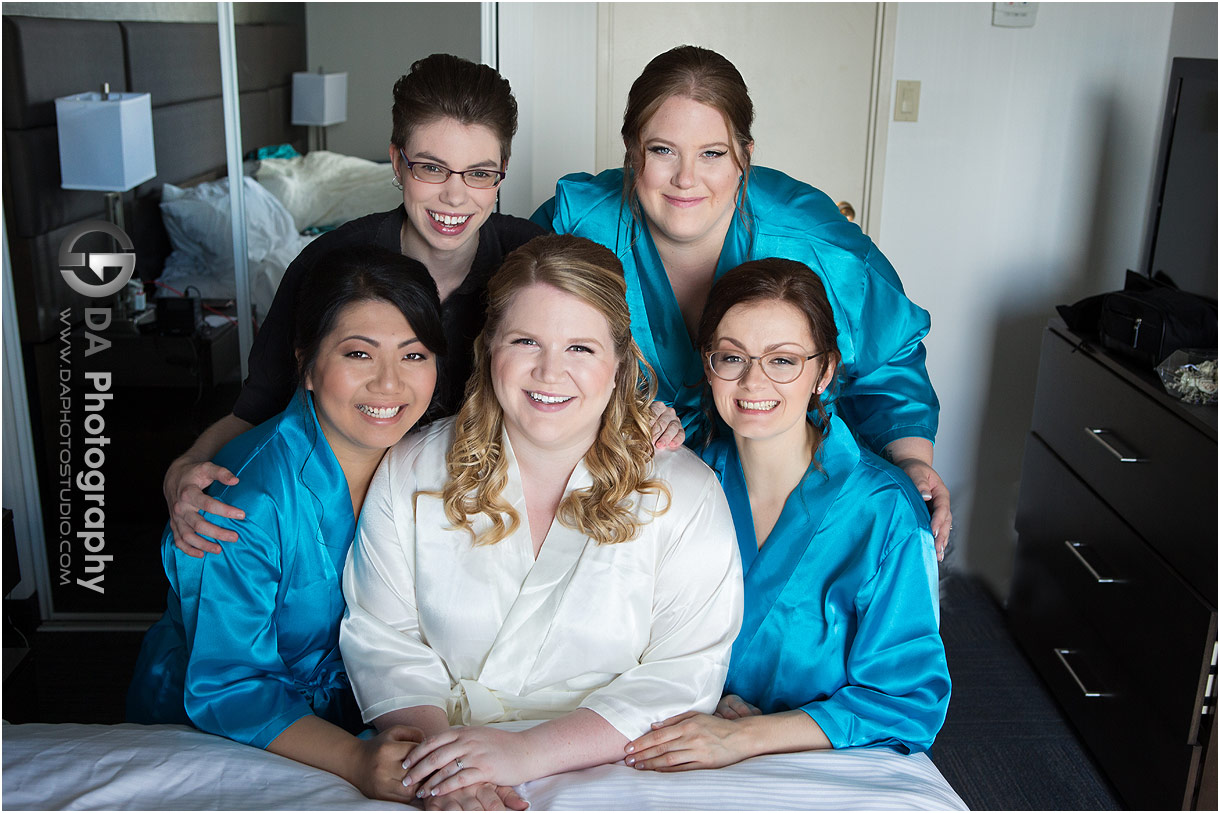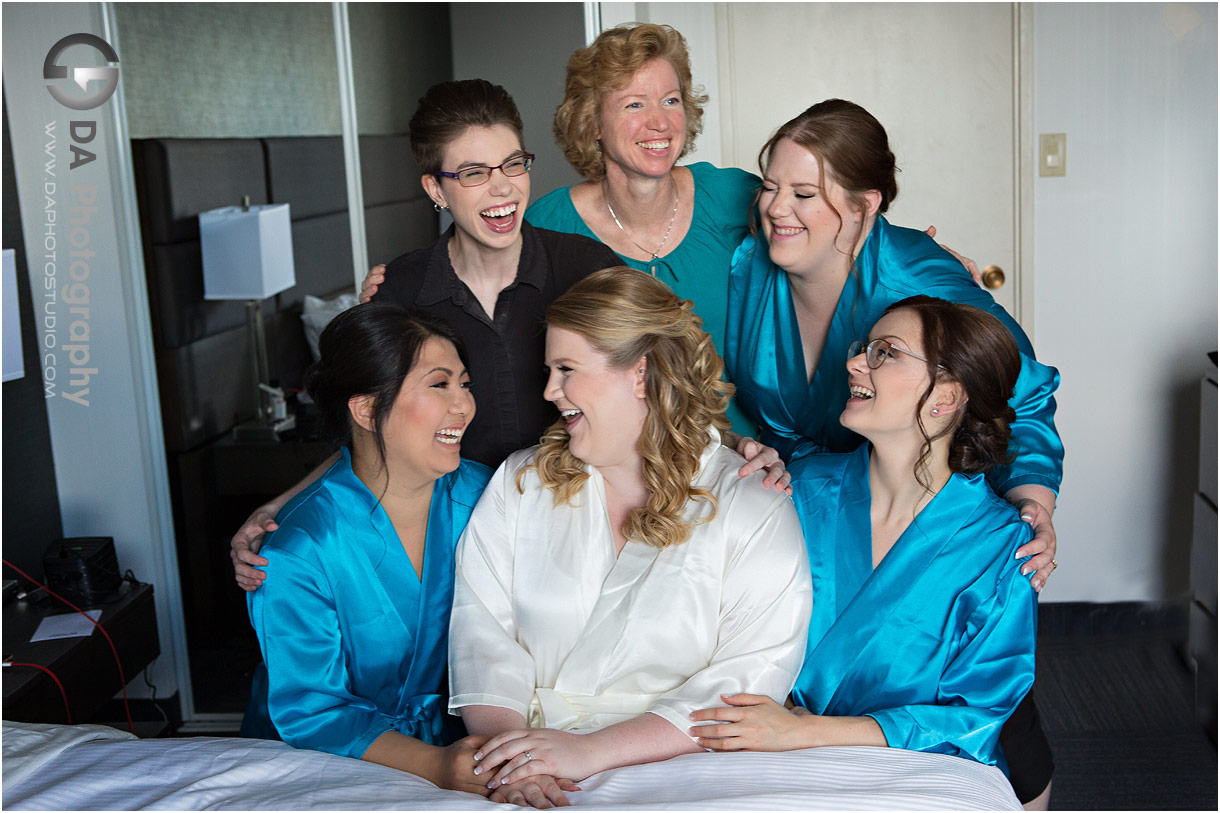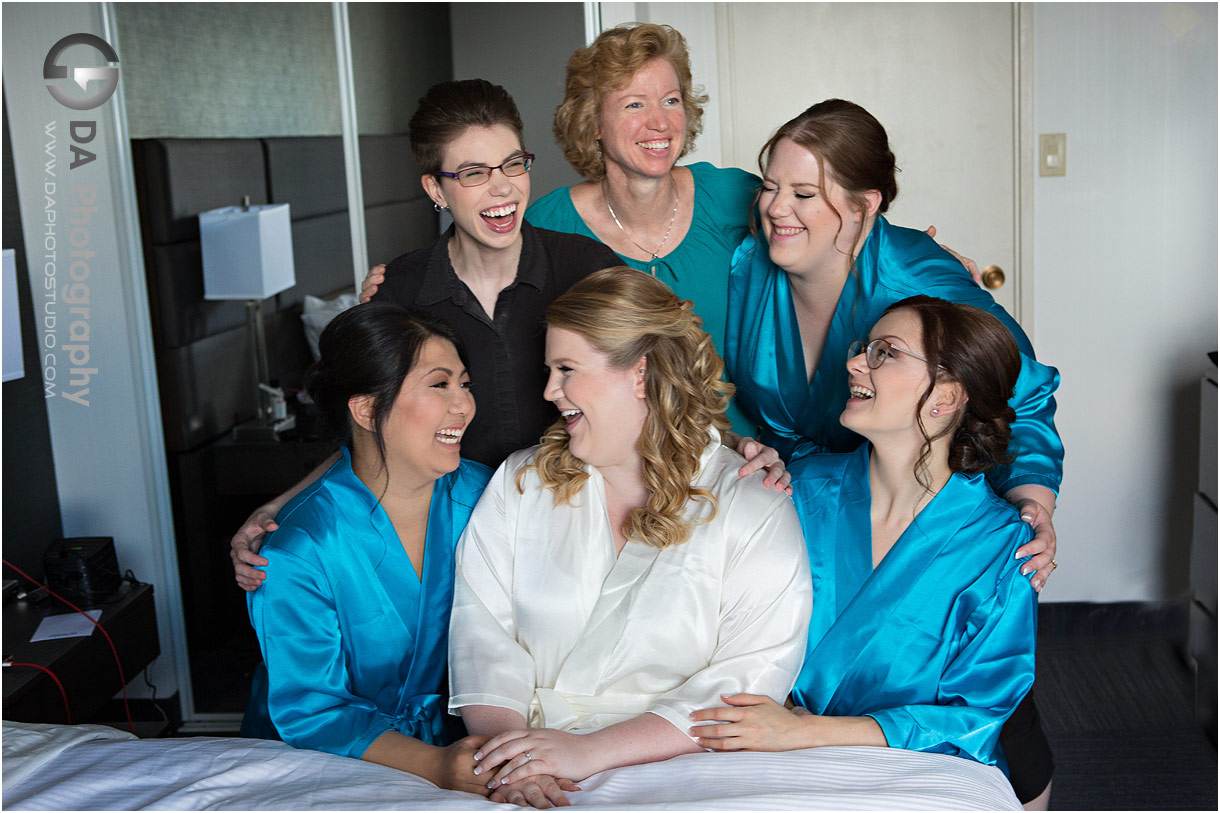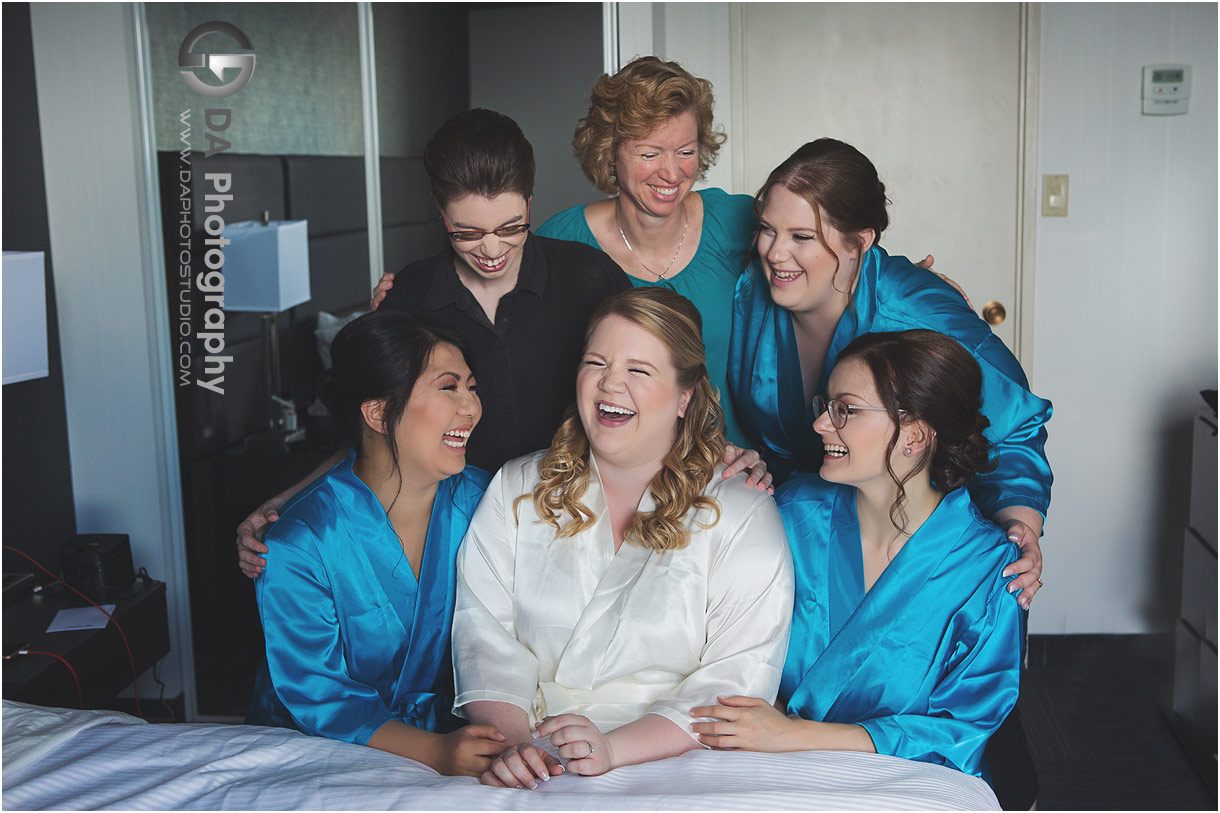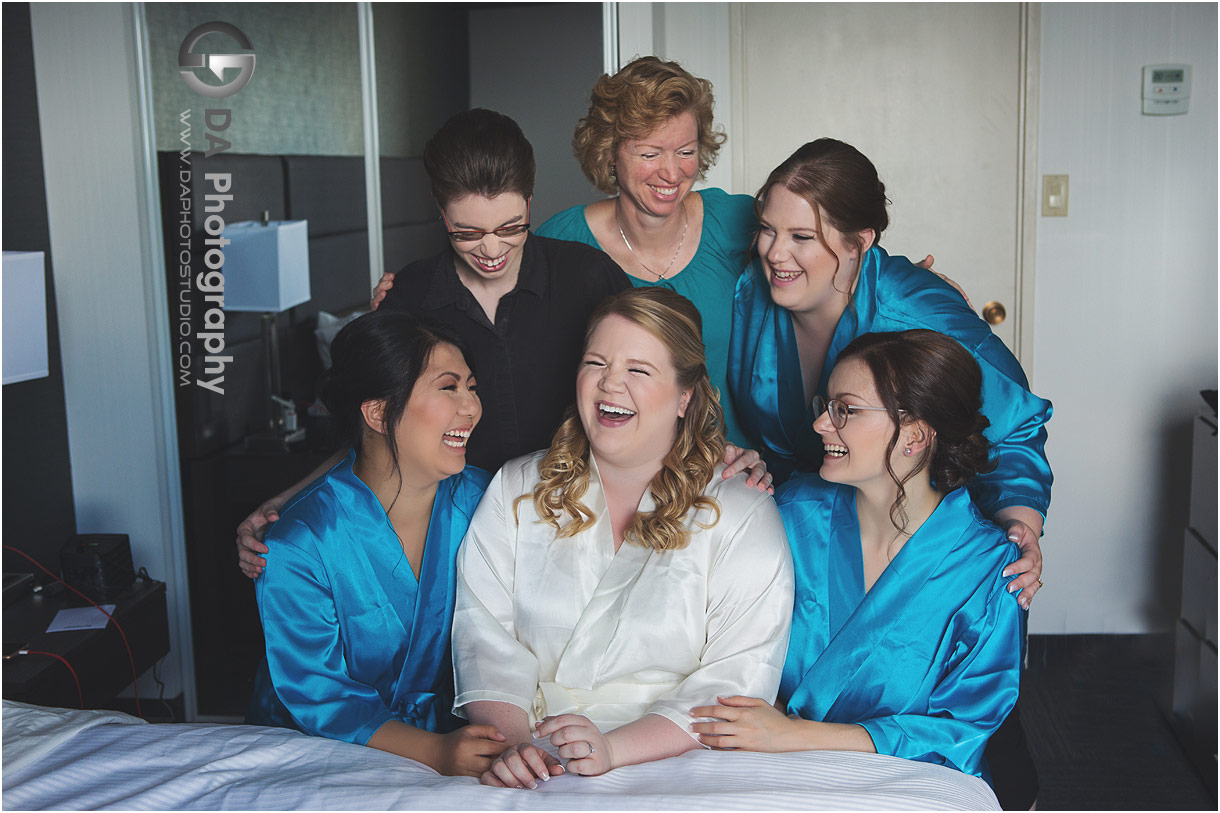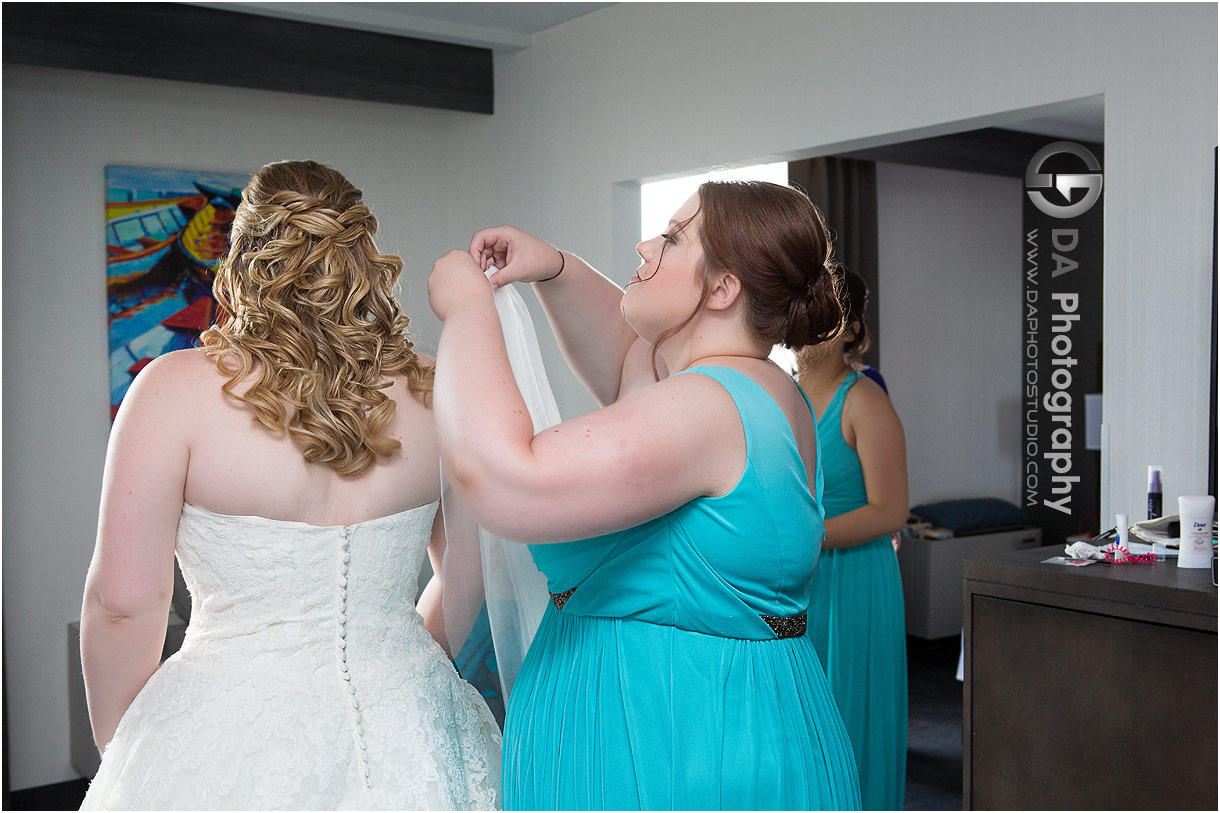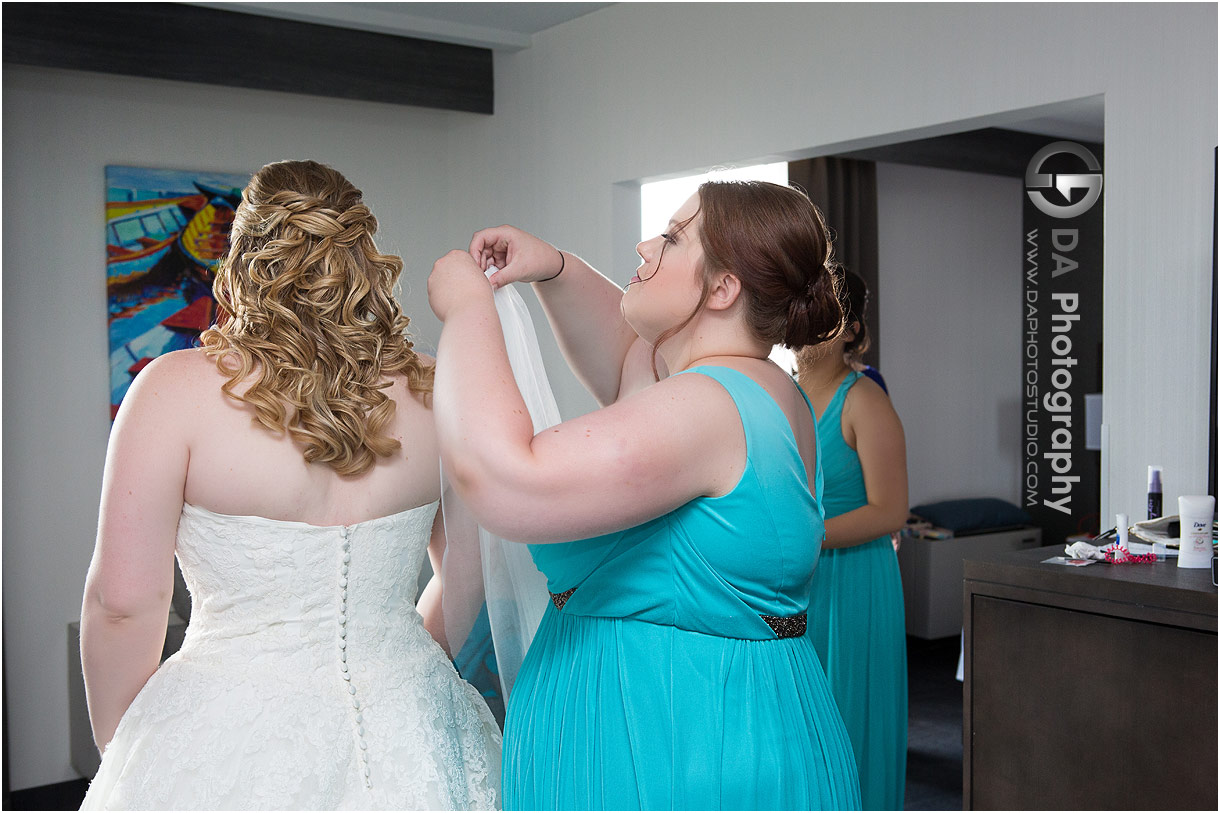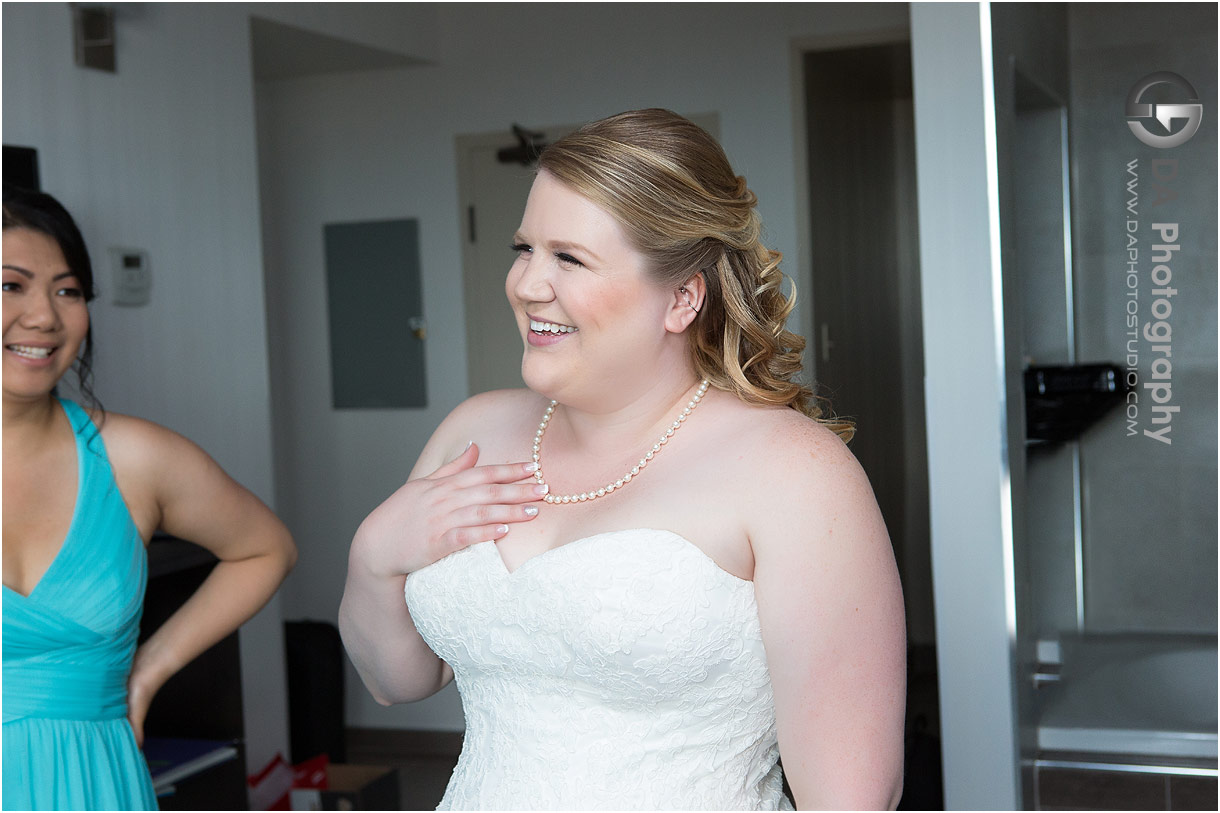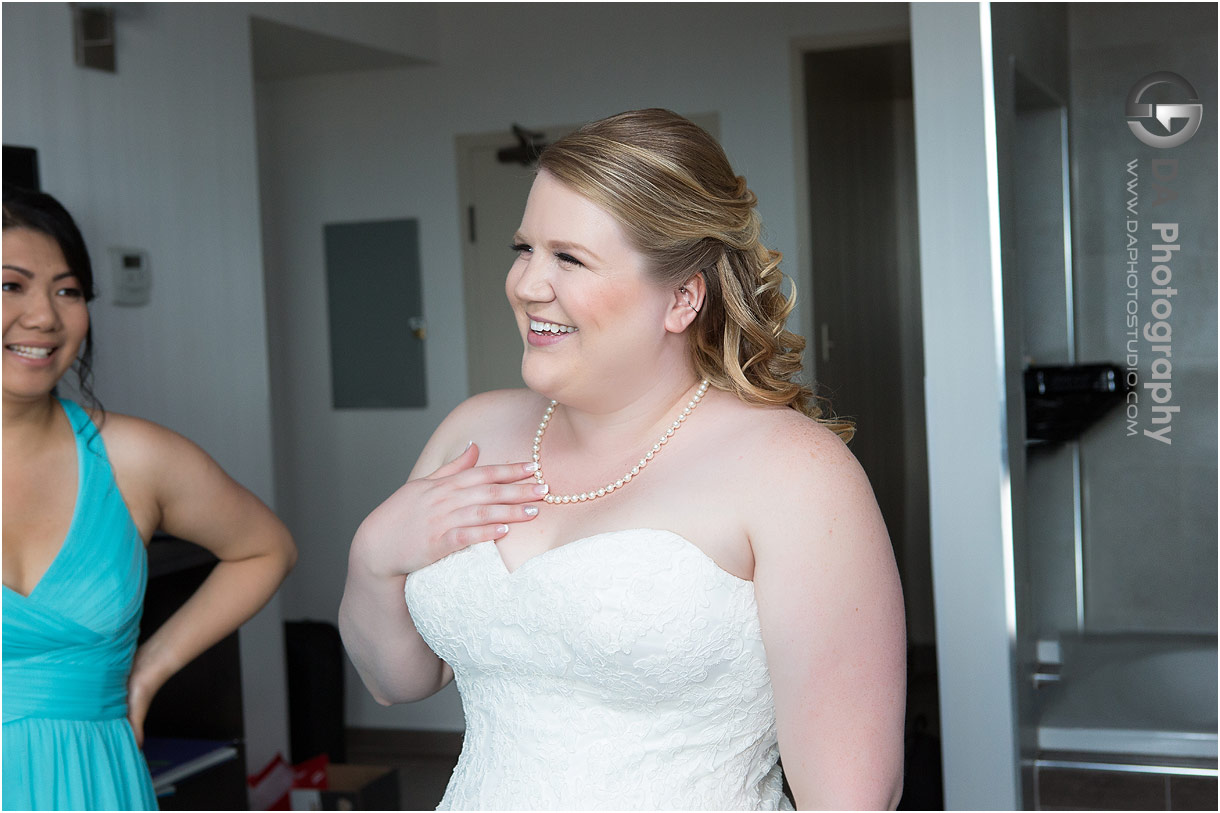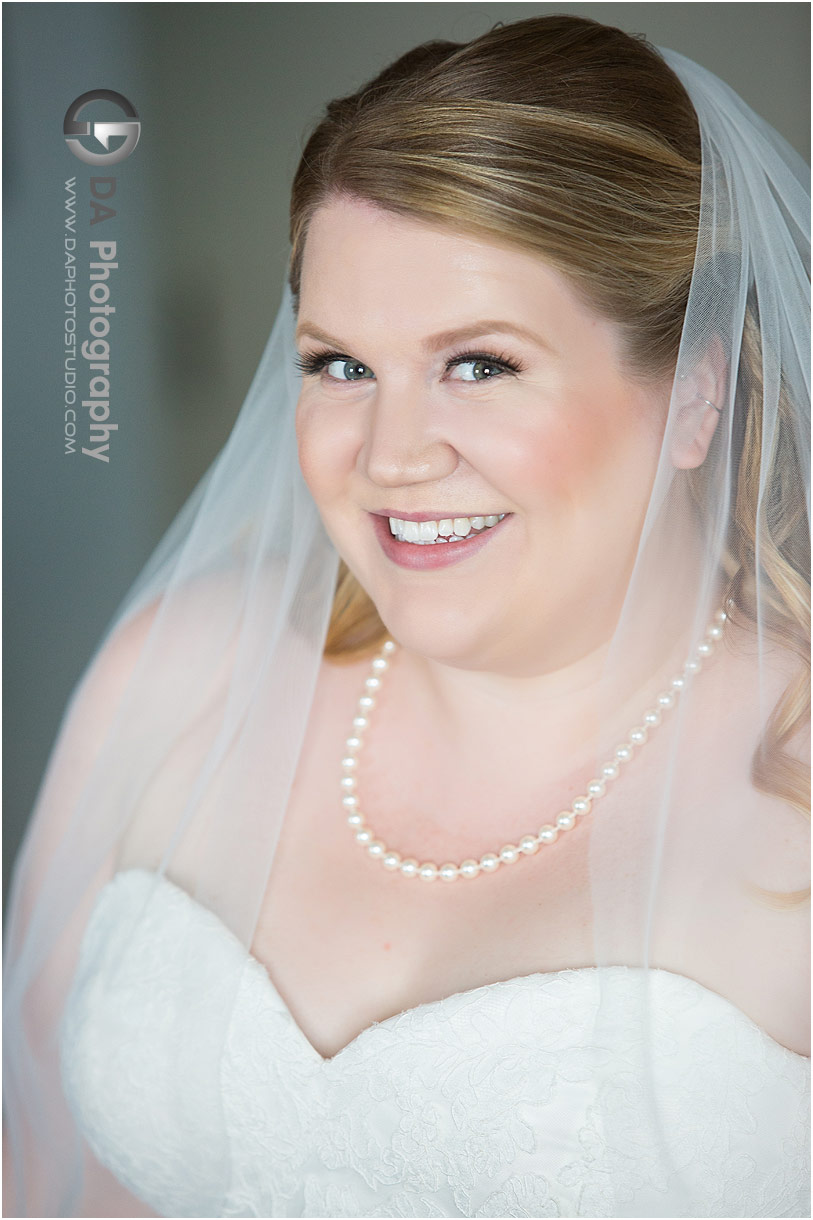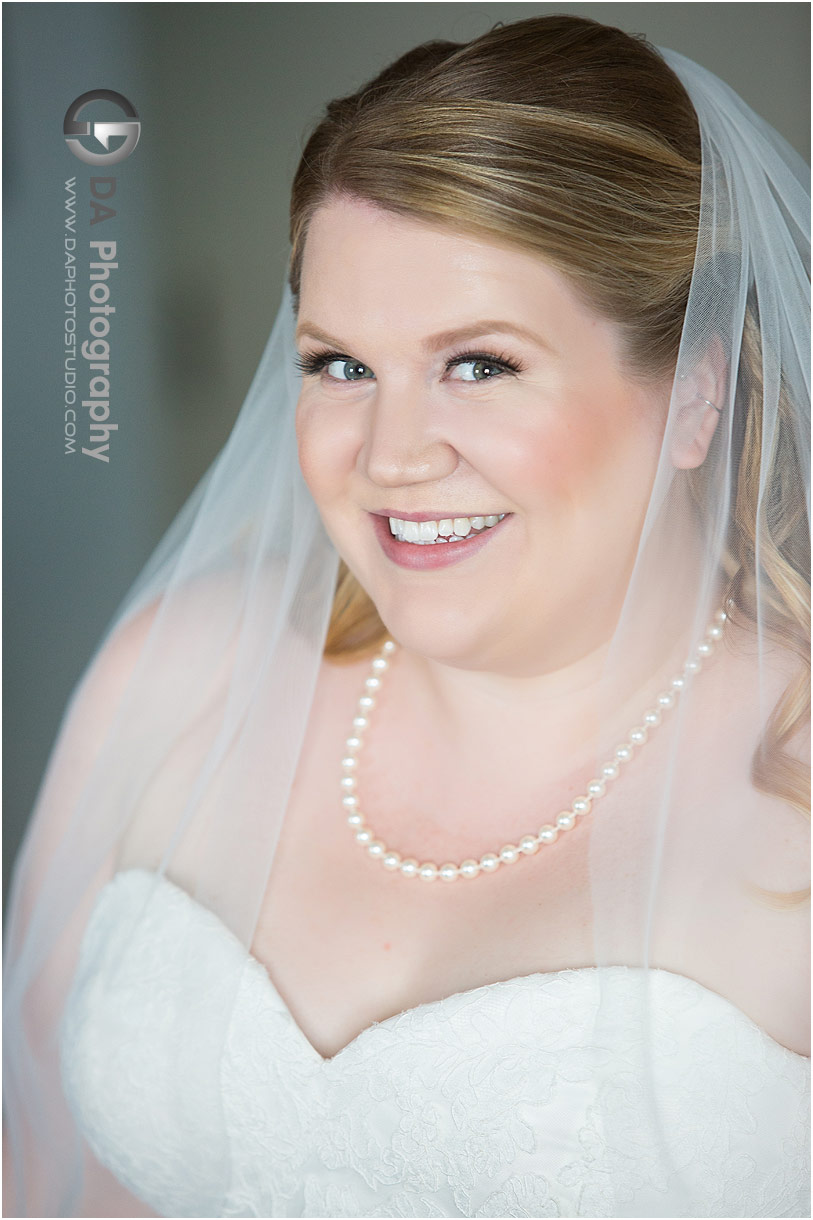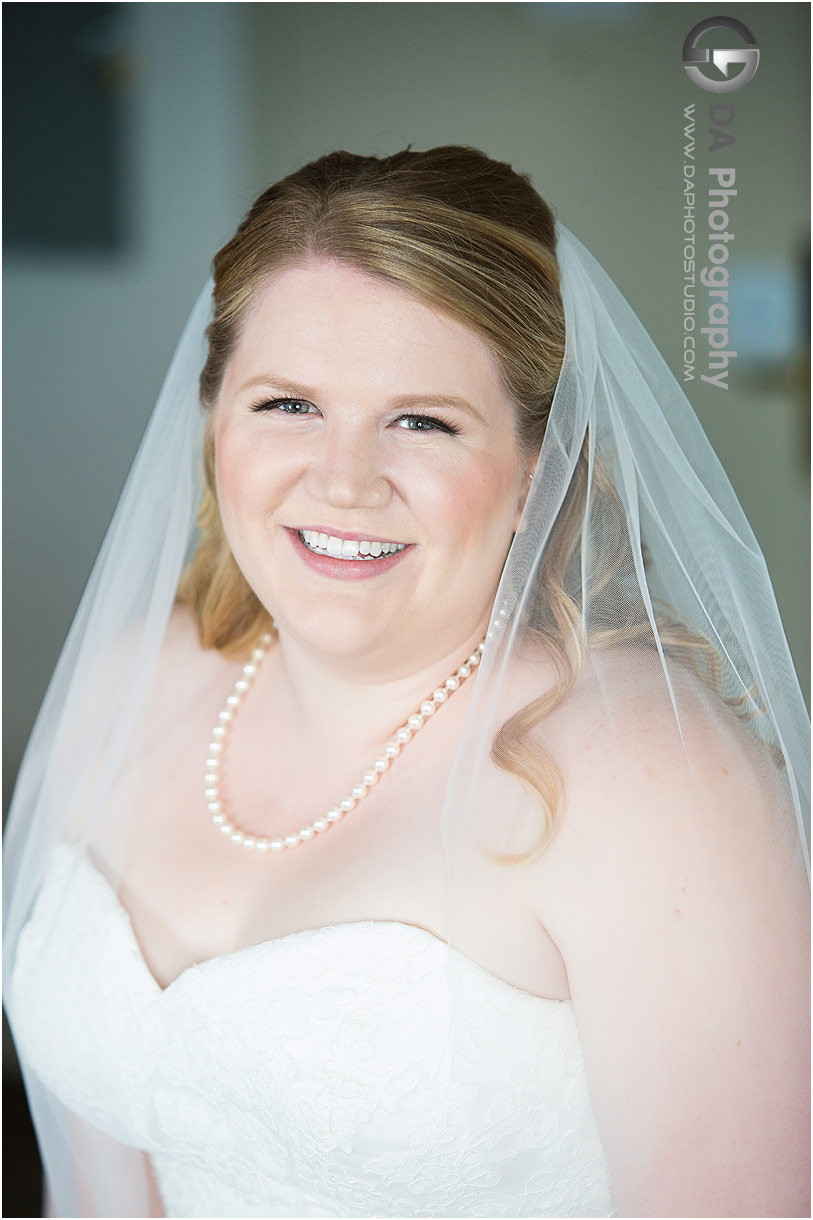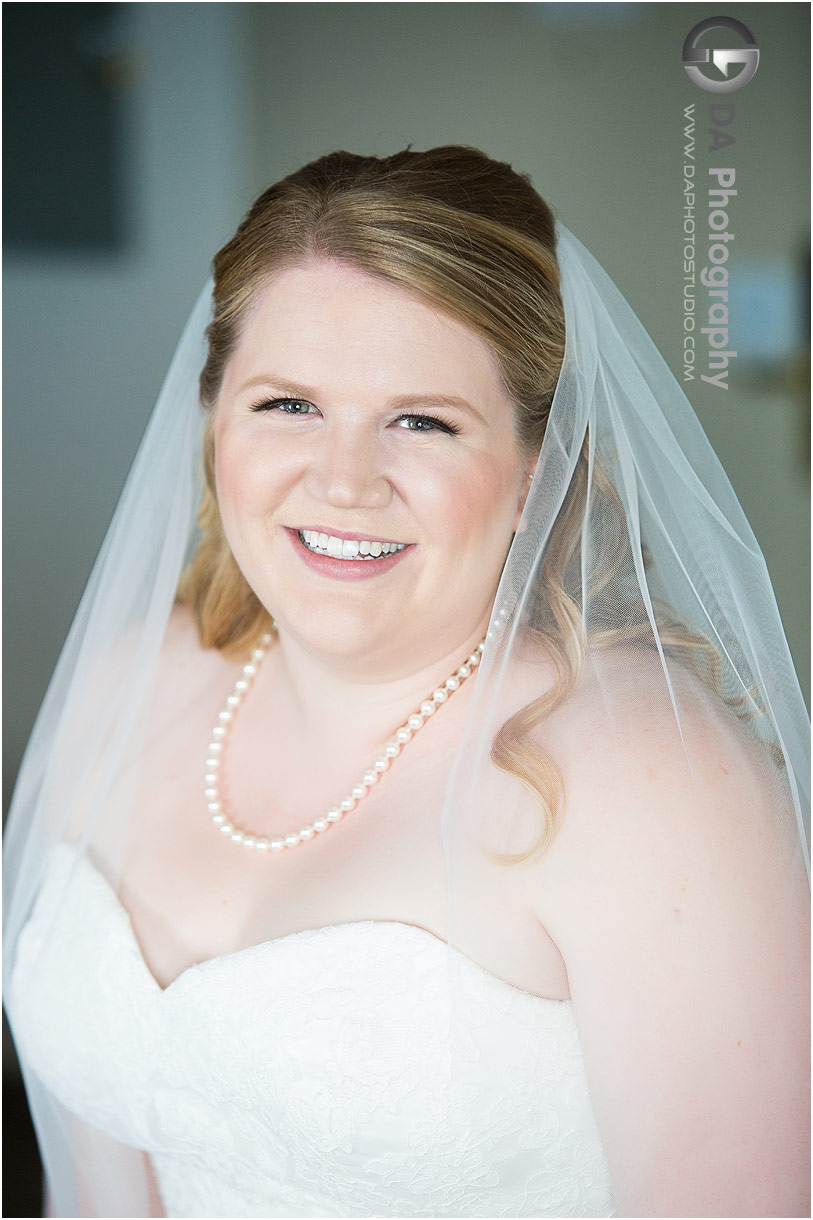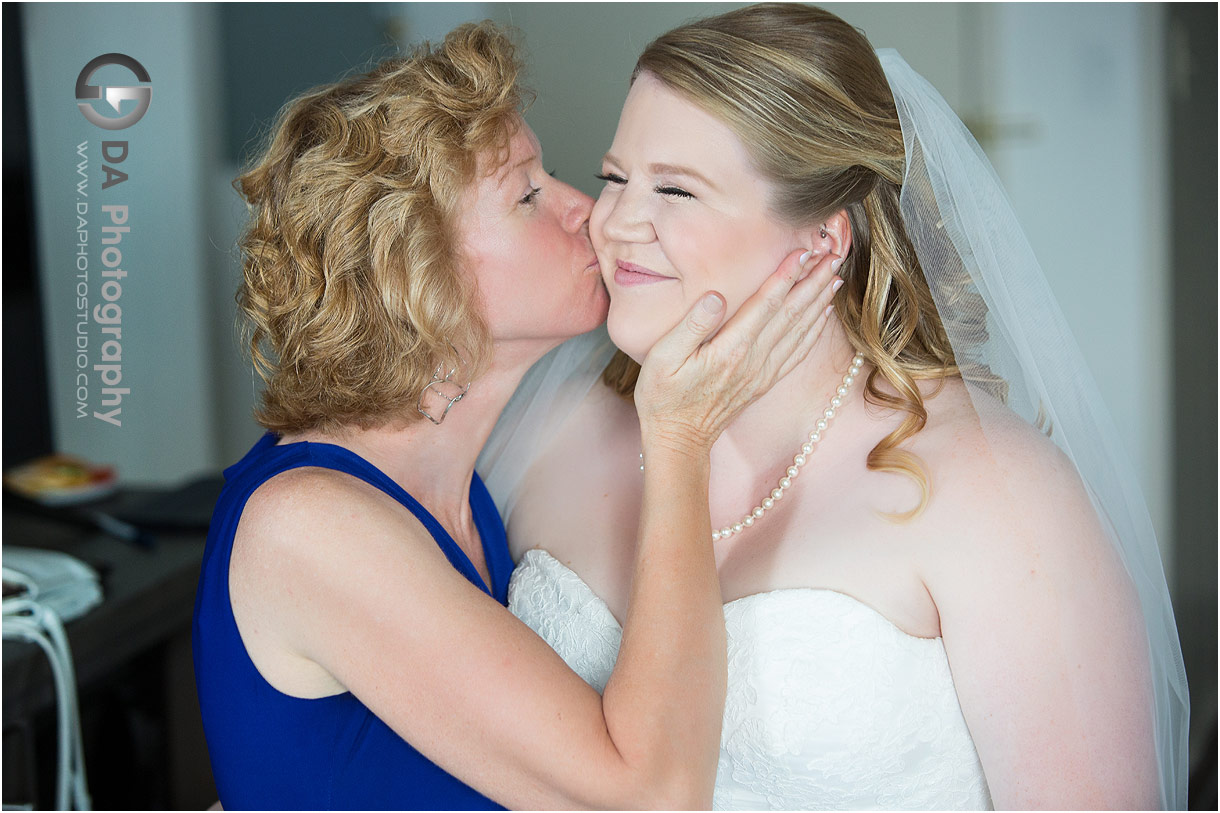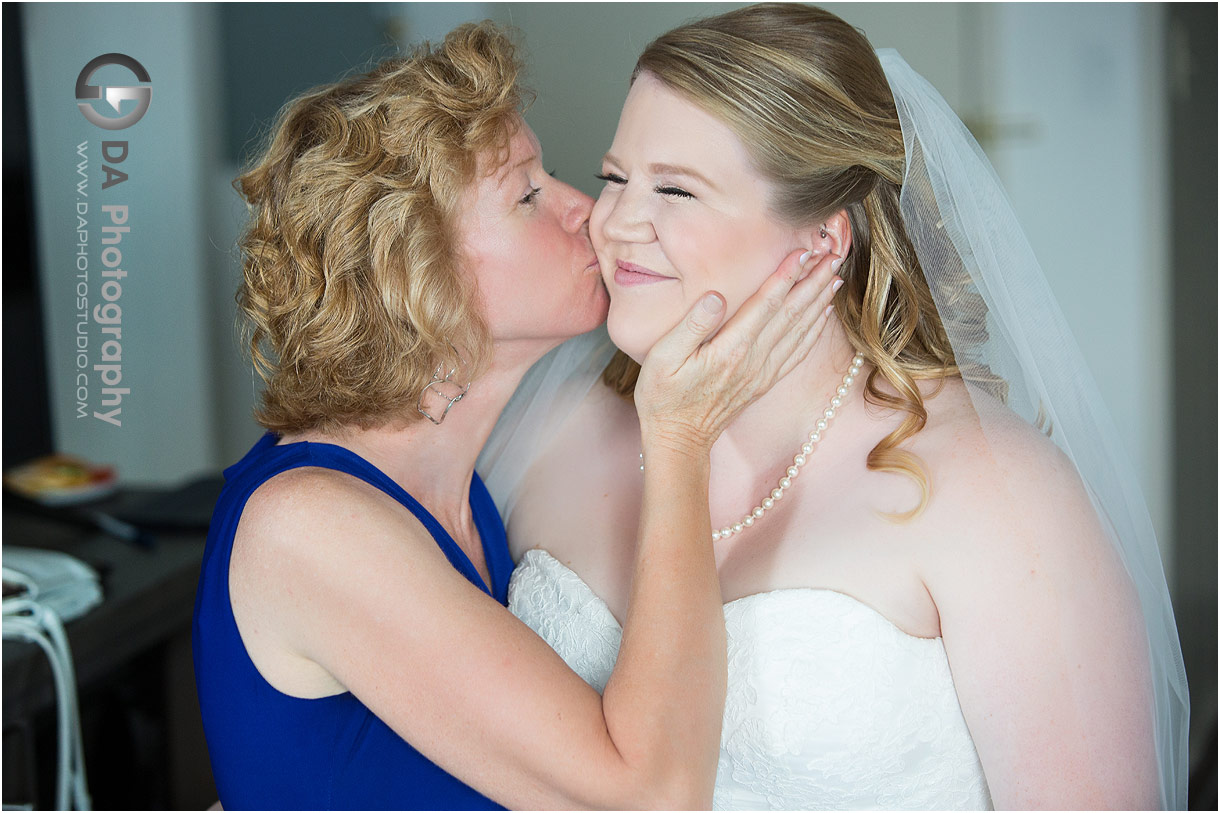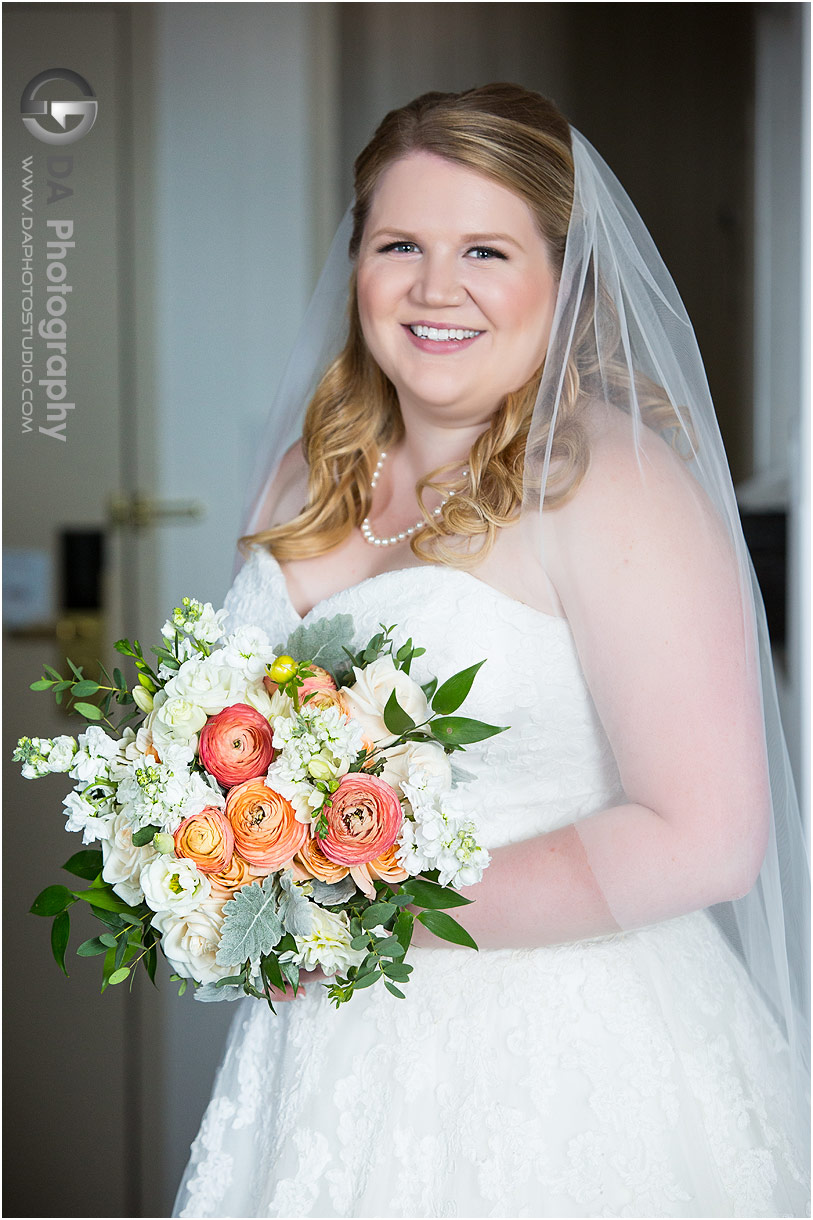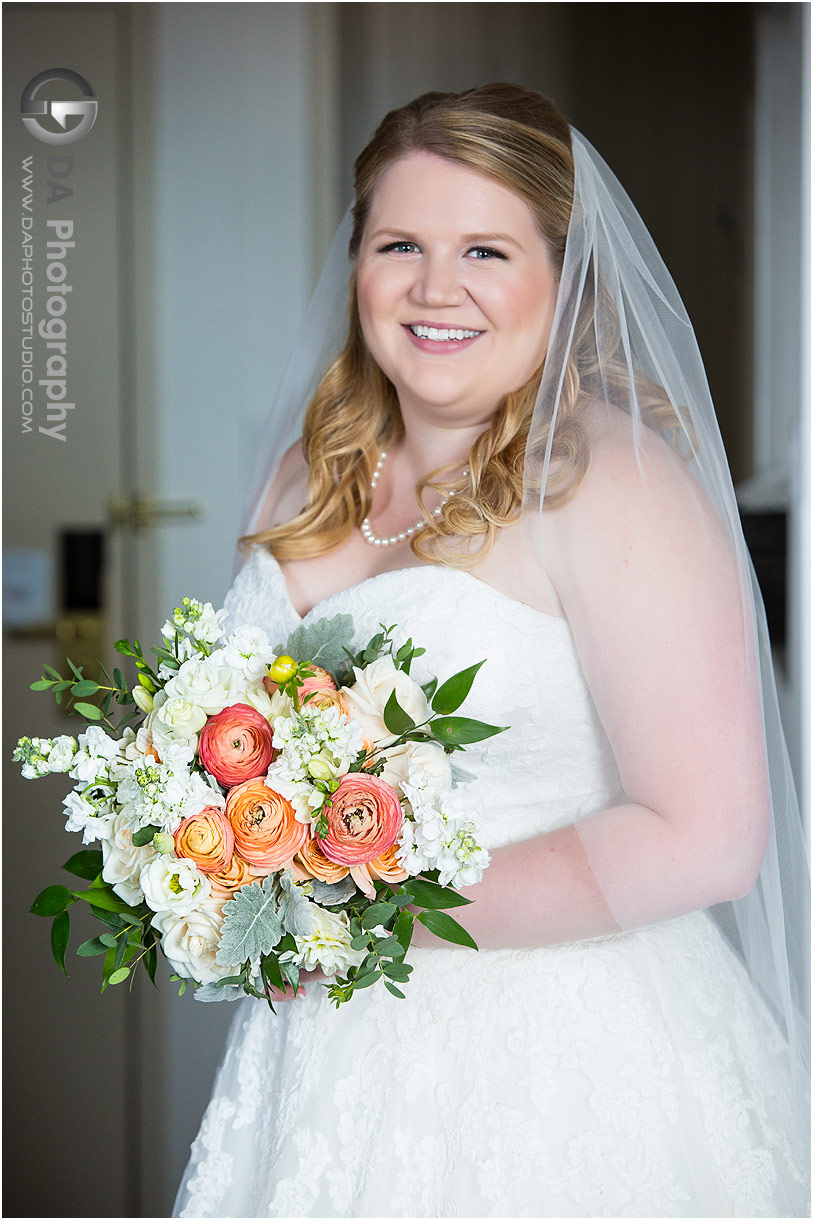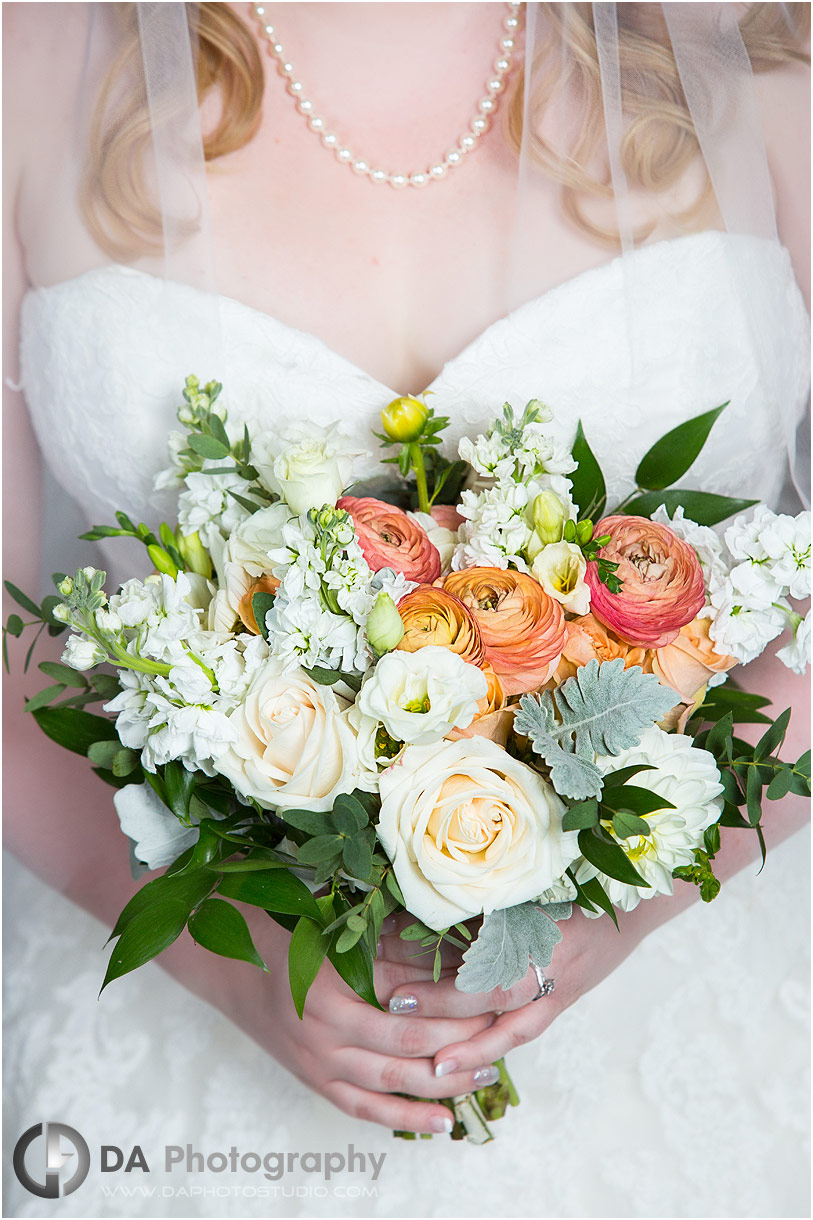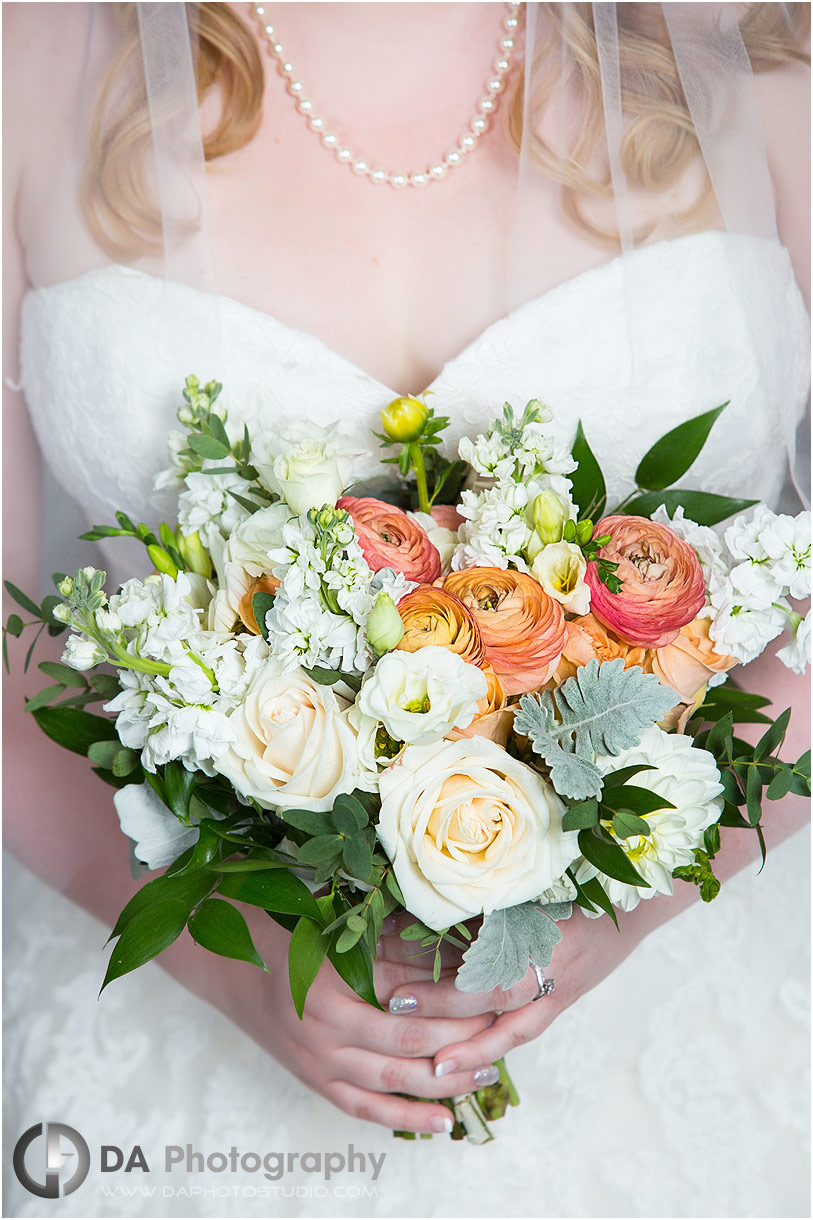 Hotel's room preparations for this Kariya Park Wedding
Ryan was also totally ready for me when I arrived. There were two of his groomsmen in his room with him, his brother and Victoria's brother. I quickly completed some of my signature photos and Jacquie arrived to continue documenting their moments. At the same time, I headed over to complete Victoria's getting ready photos.
In her room, we continued with the same easy rhythm. This time the focus was her getting into her dress and more candid coverage of this happy day in her life. With laughter and champagne toasts, we pivoted to the next step – the first look.
Although the plan wasn't really anything fancy, it was unique, for sure. The plan was to have the first look take place in the lobby of the hotel. Victoria was going to arrive in the elevator while Ryan waited with his back to the door.
Jacquie and I positioned ourselves strategically. While staying out of each other's camera viewpoints, we chose different locations that would provide different perspectives of this documentary coverage.
With the anticipation of this important moment, I began to see that Victoria and Ryan were a bit nervous. To me, this excitement is good as it is a sign of love.
The first look photos went off without a hitch and we then headed towards our next destination as a team.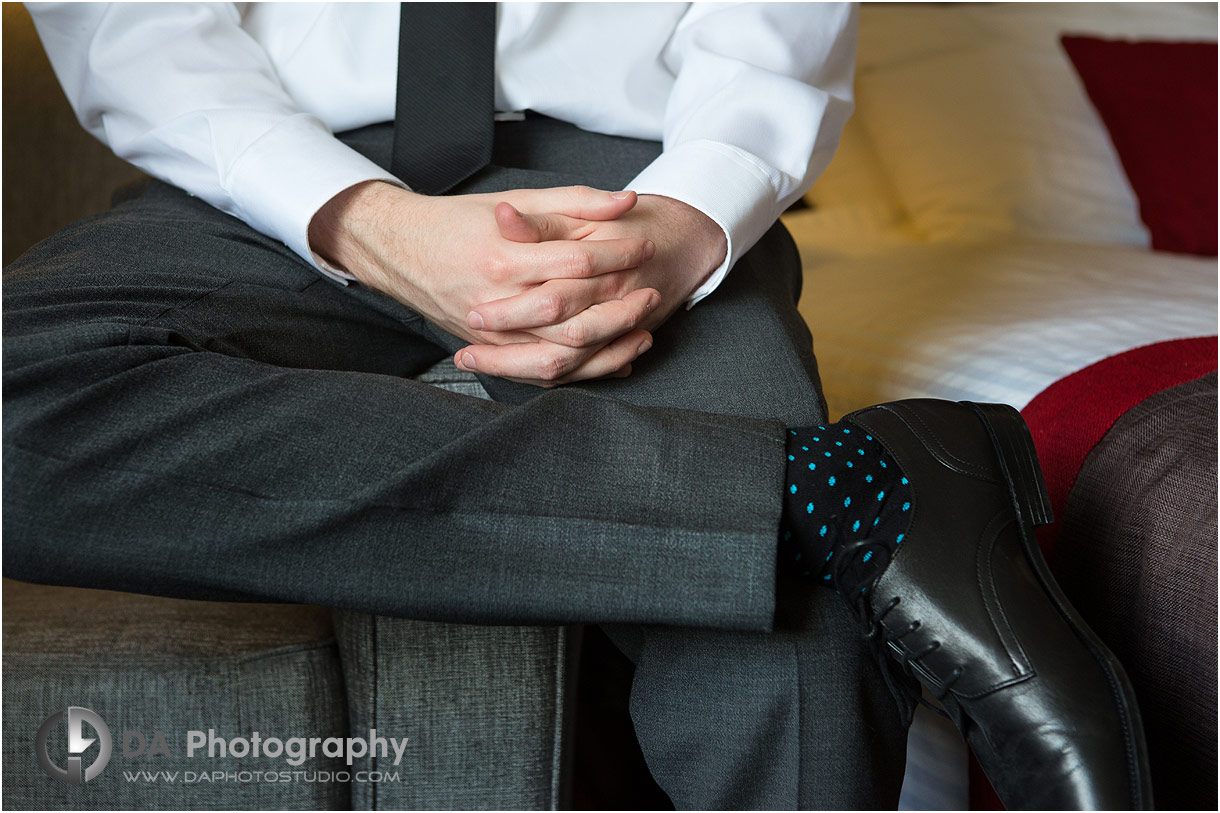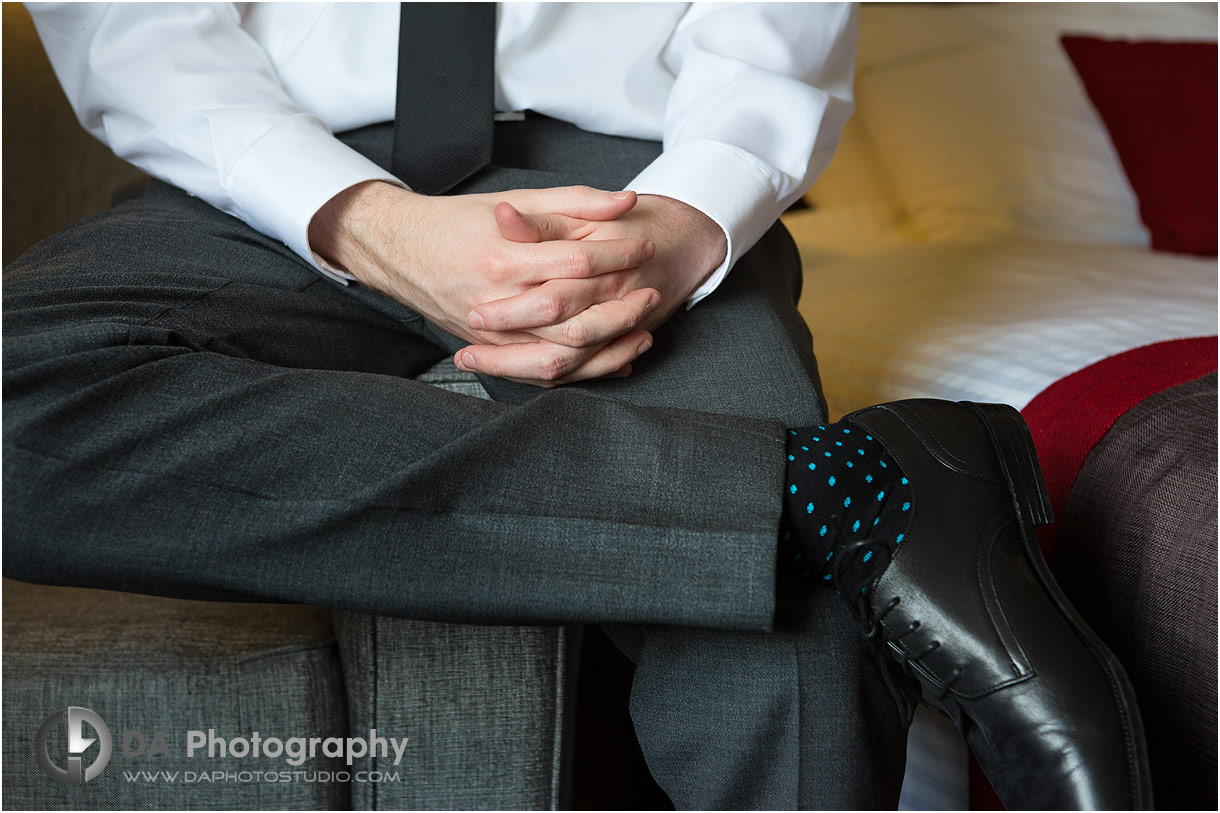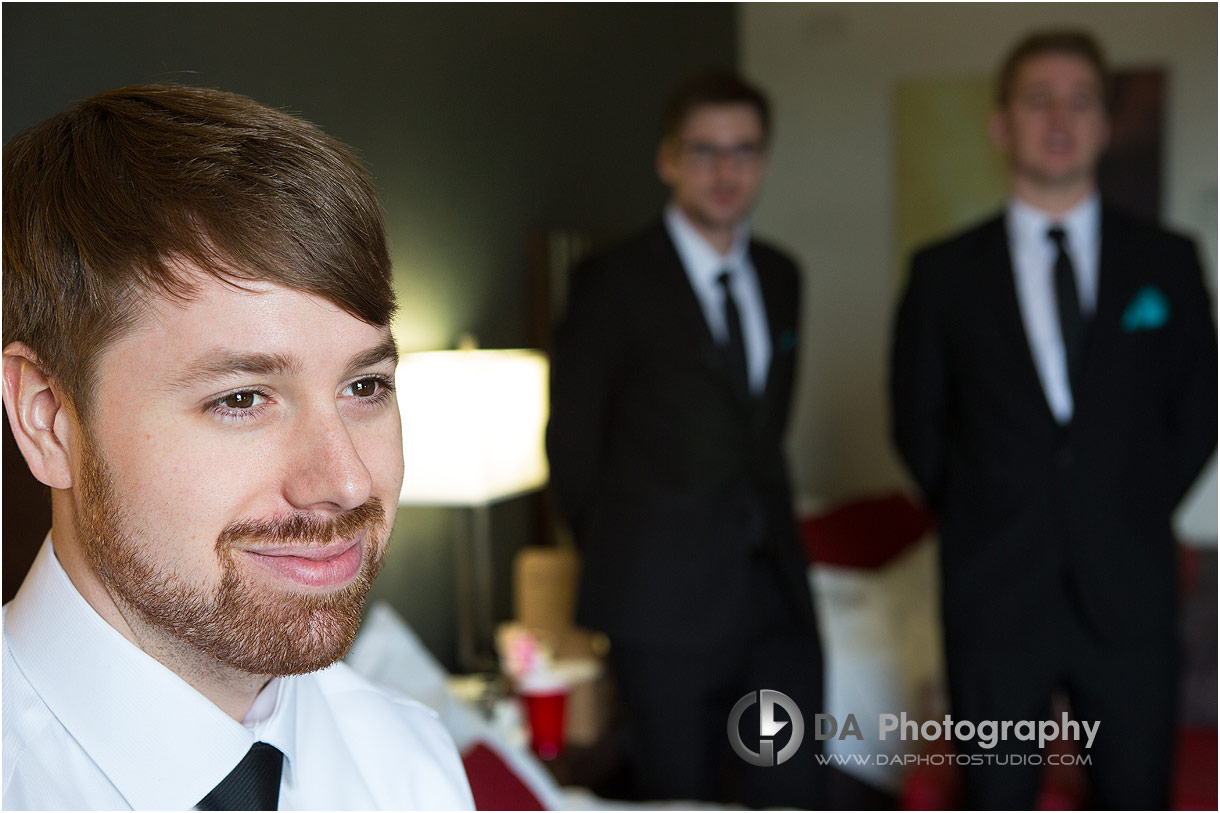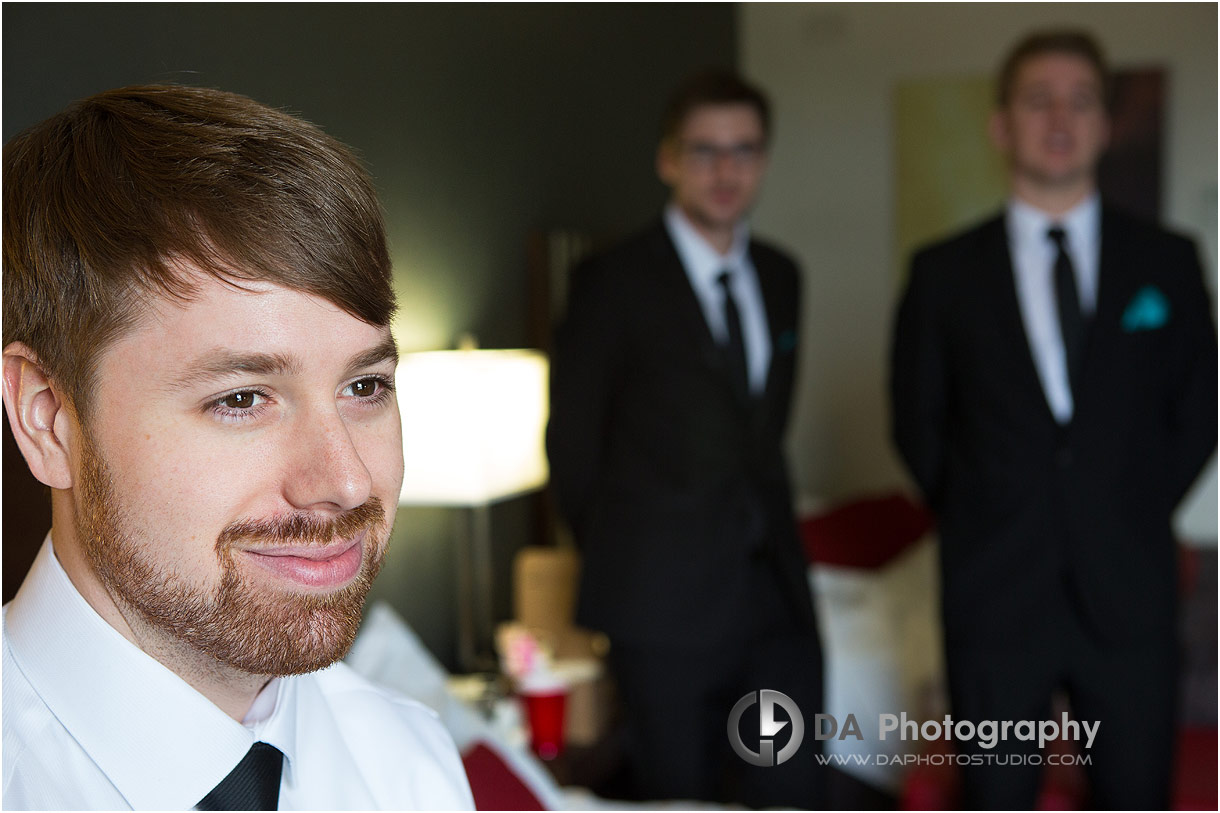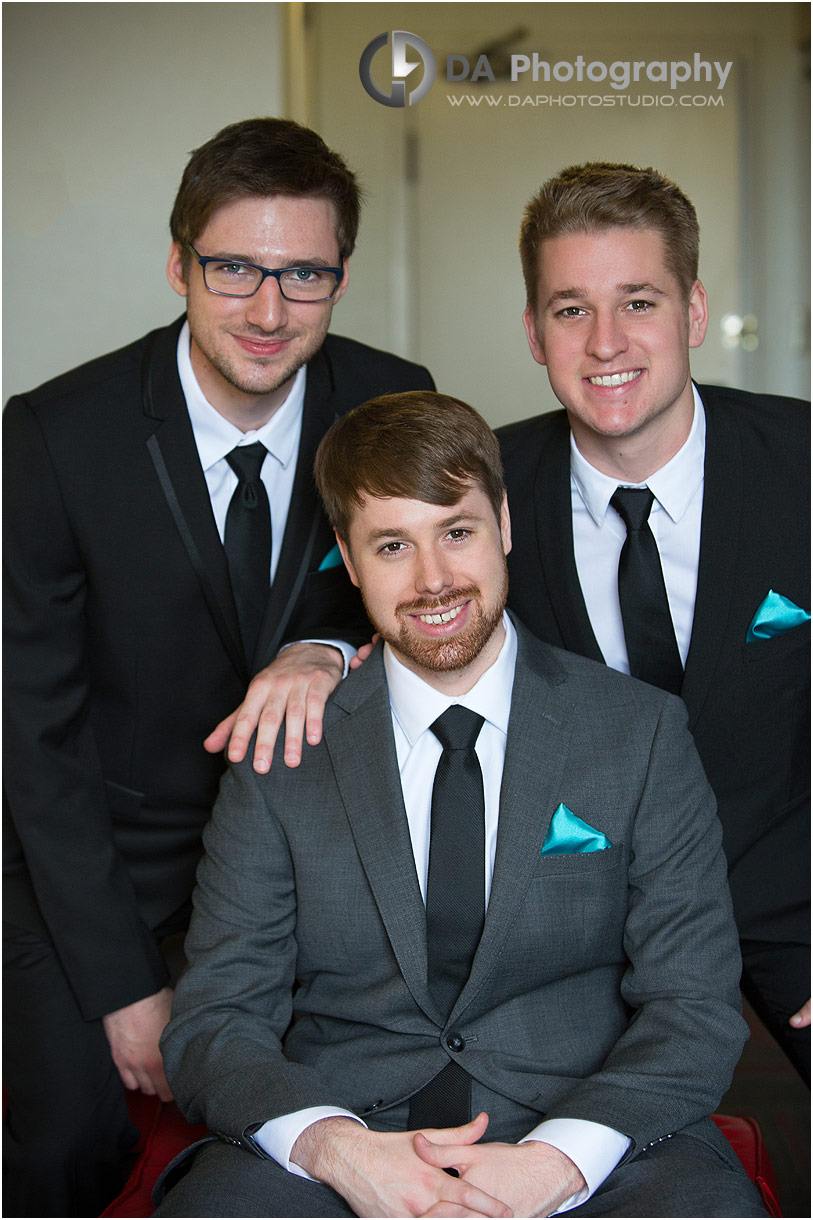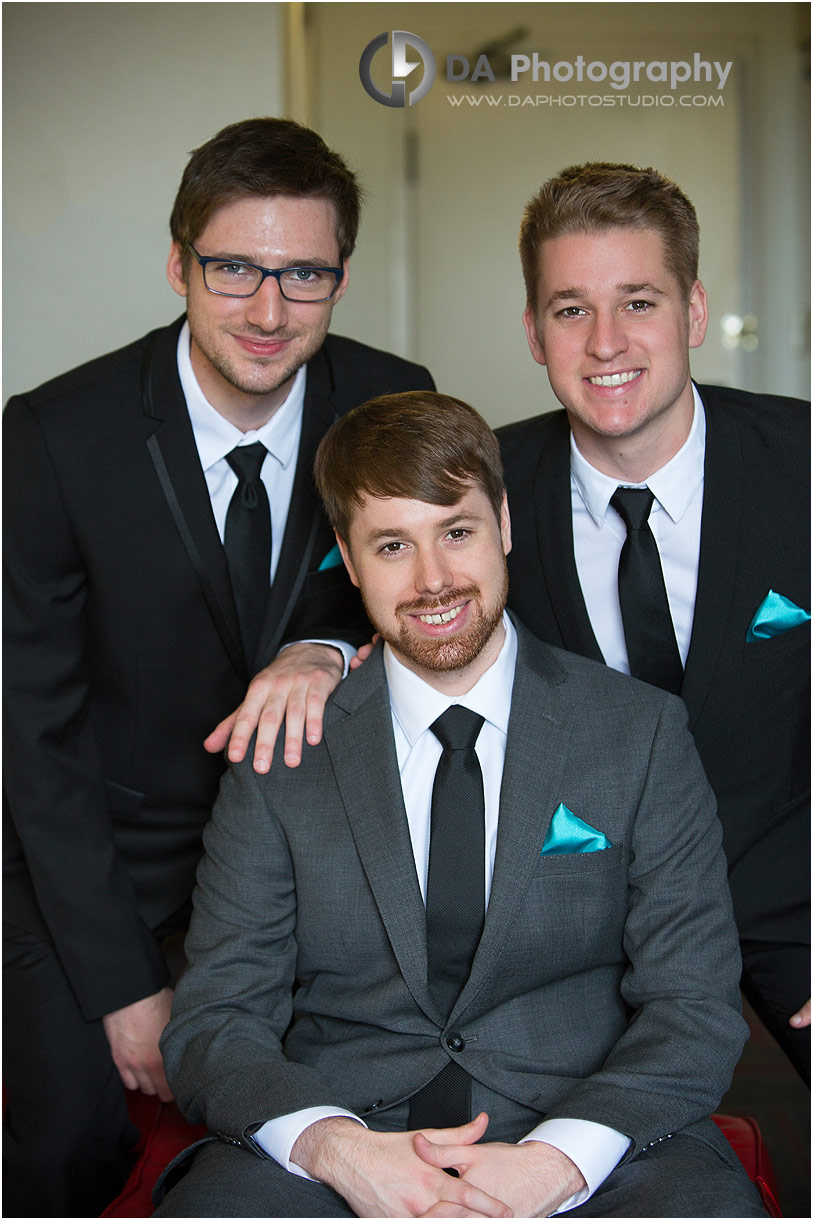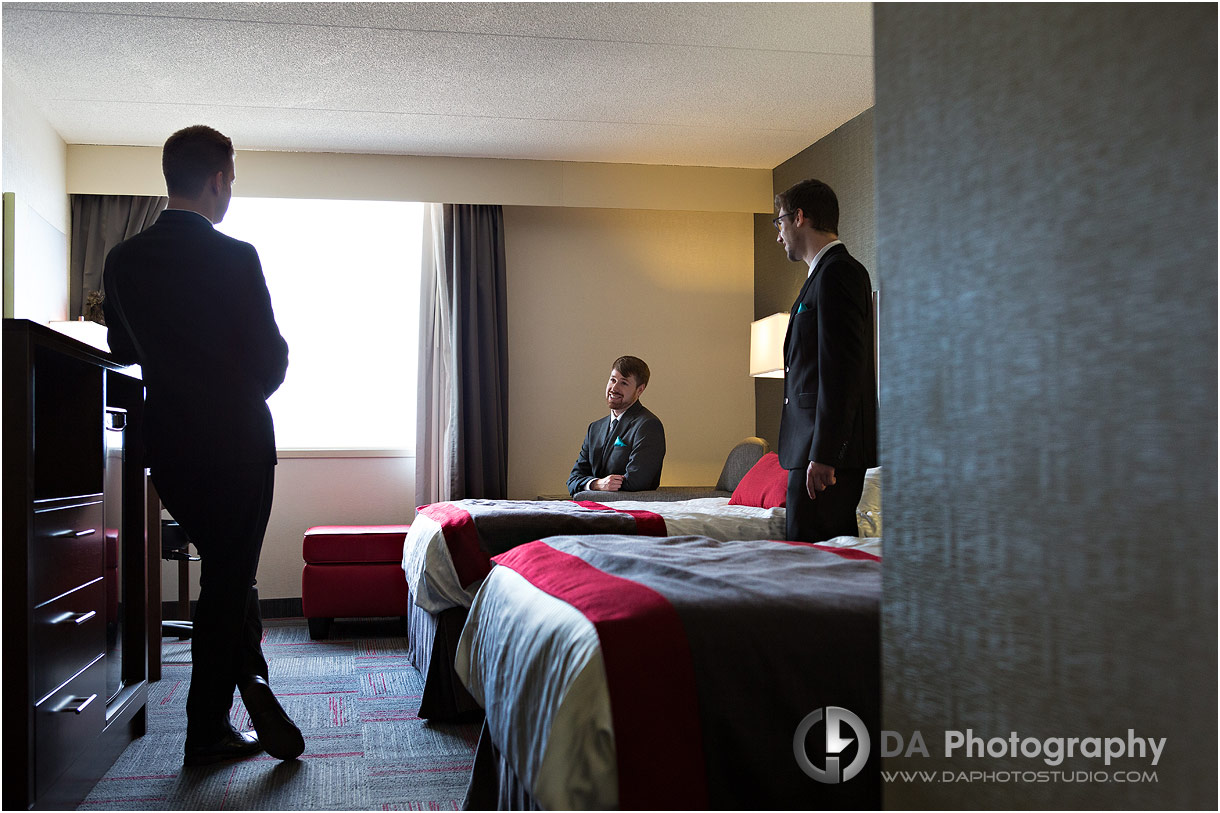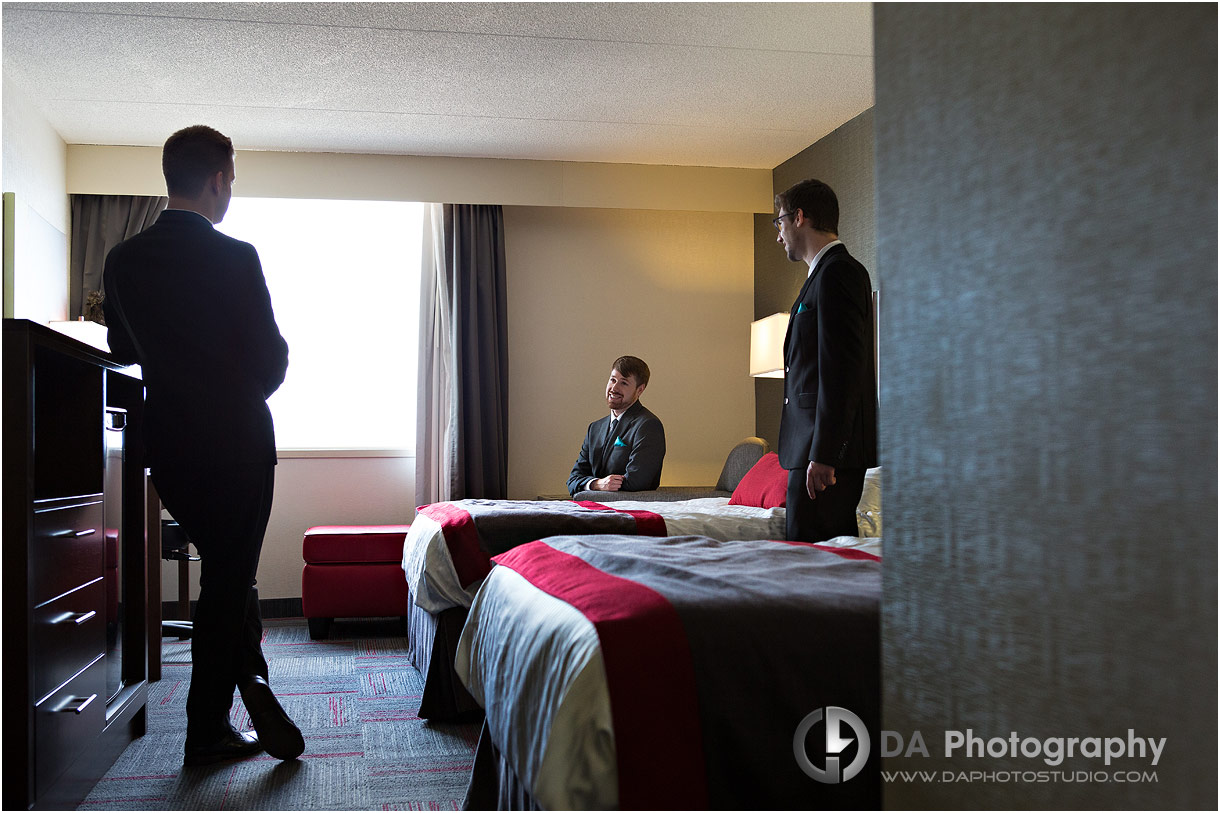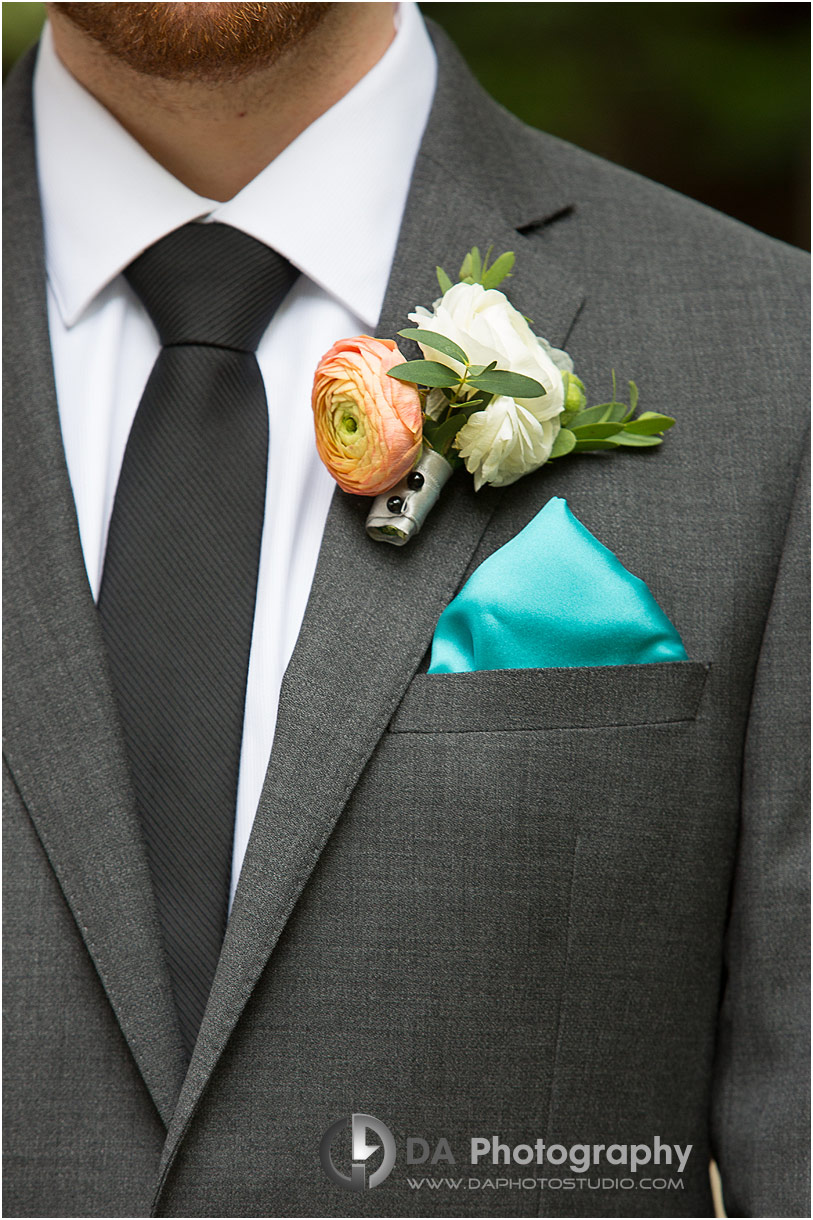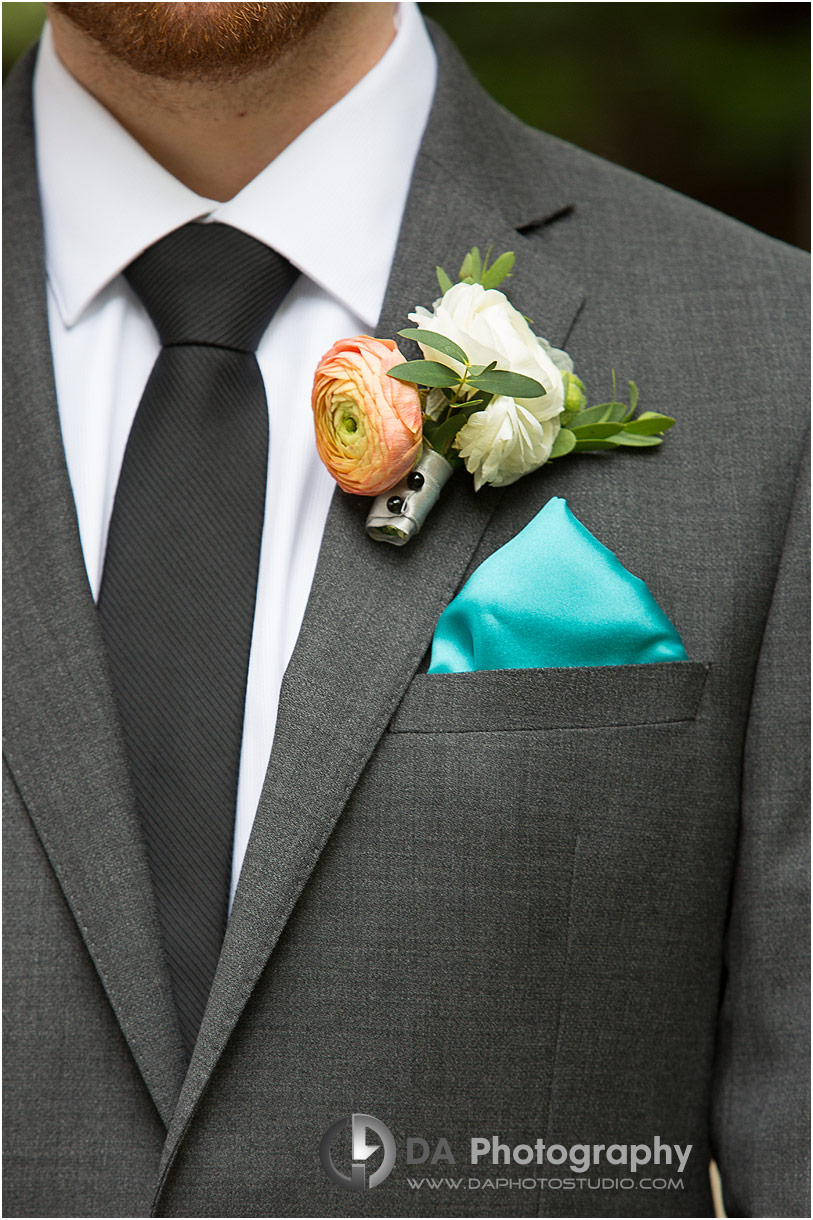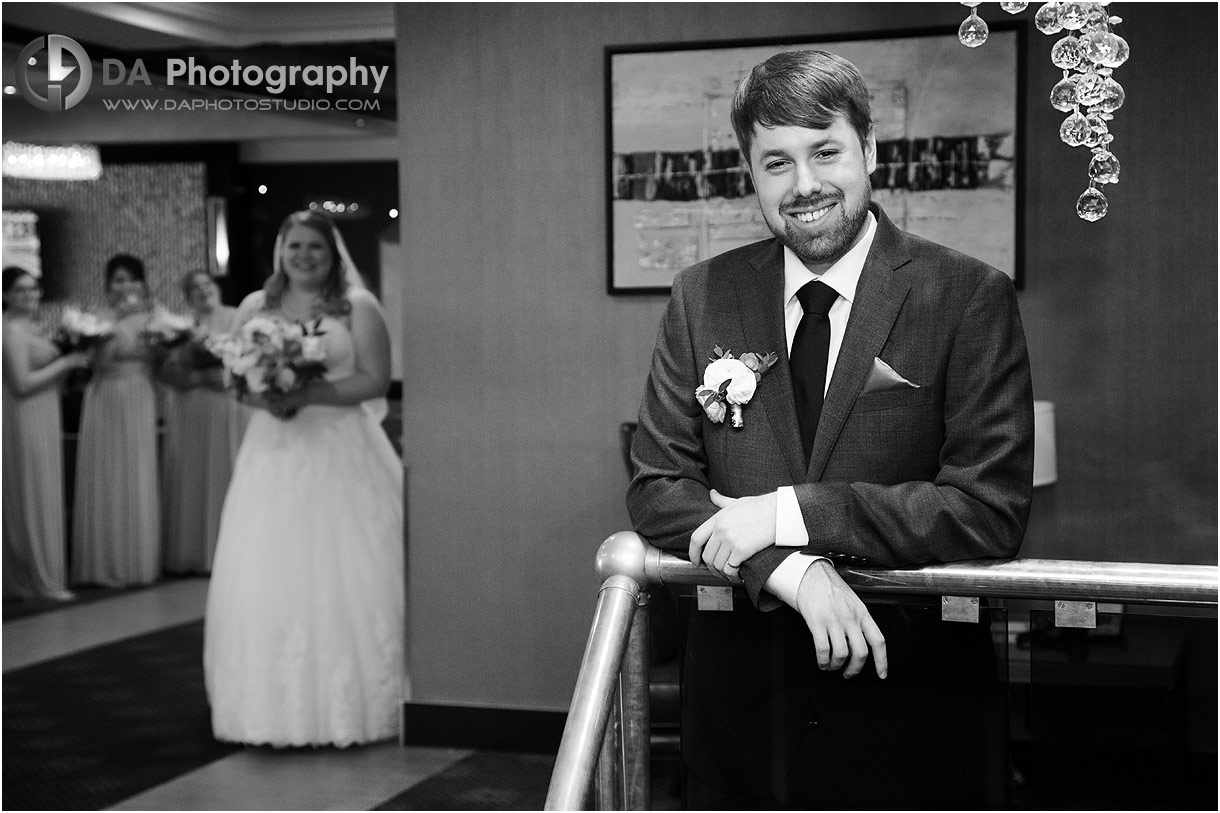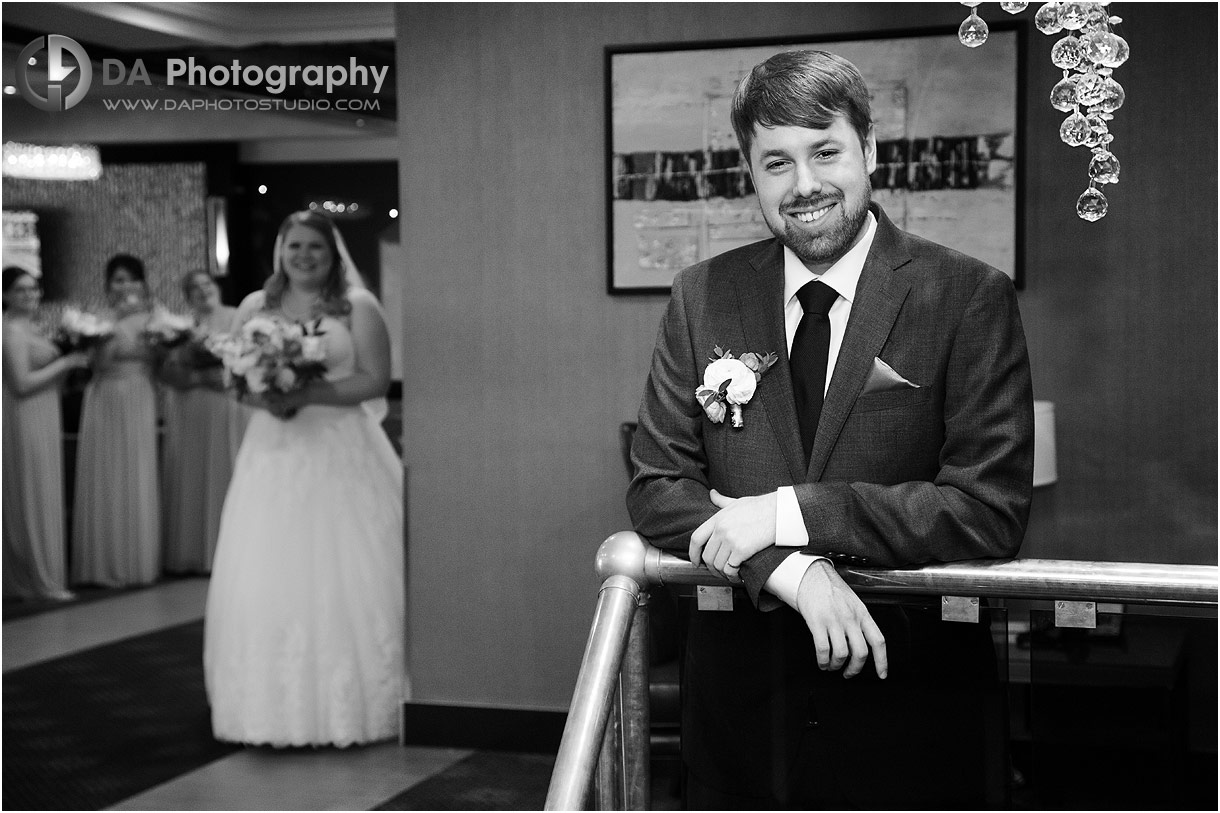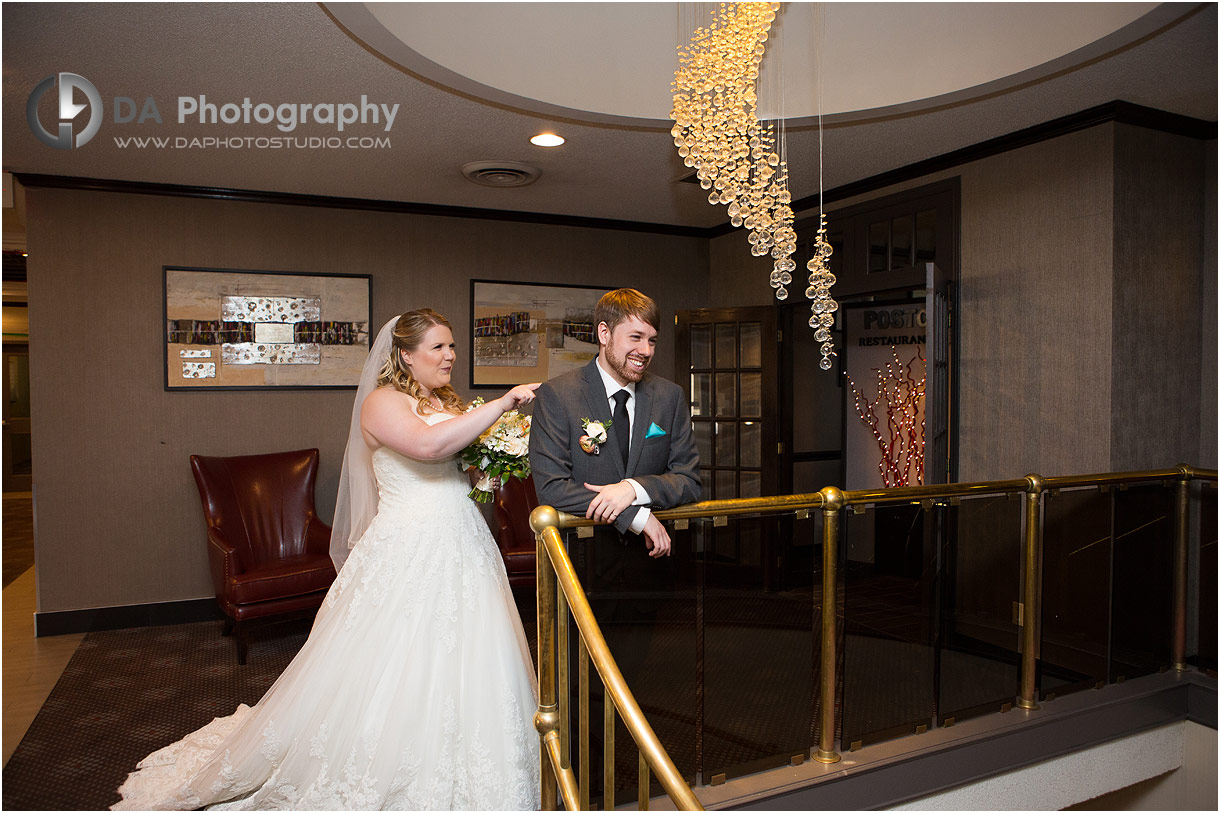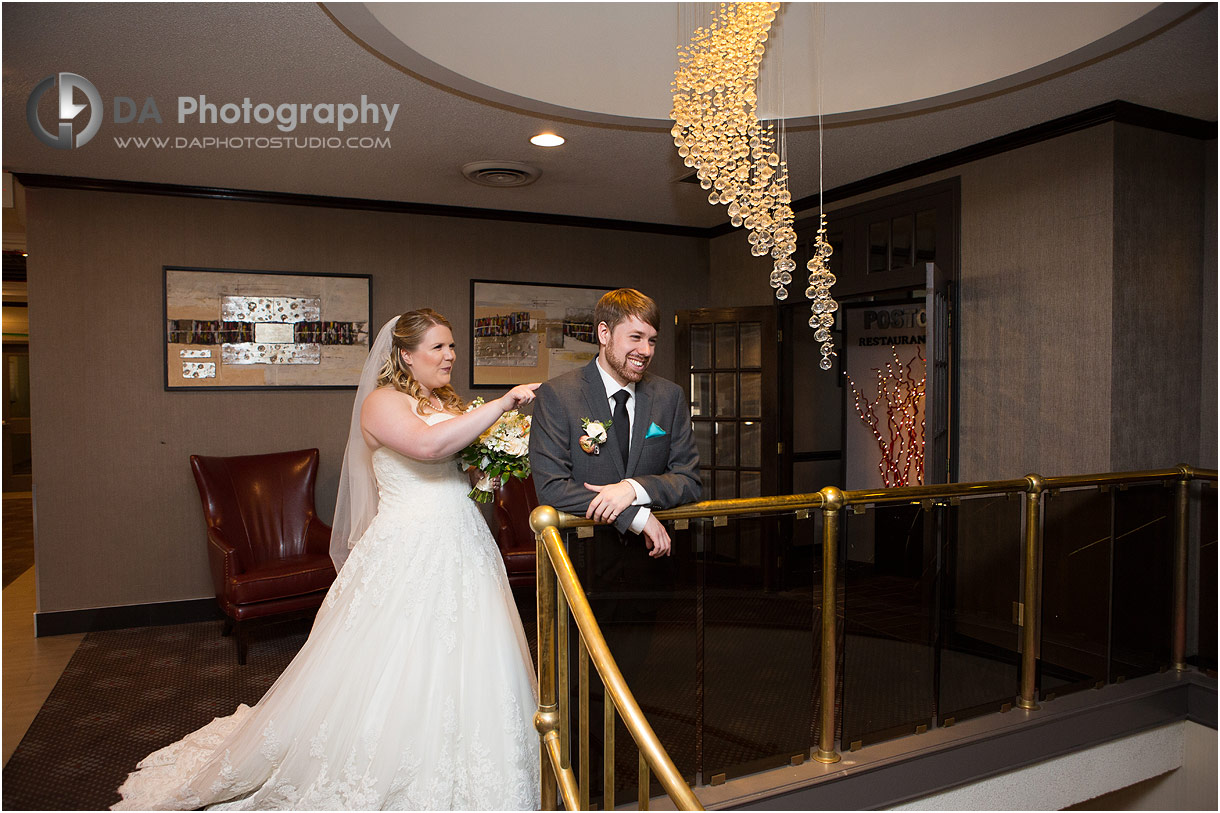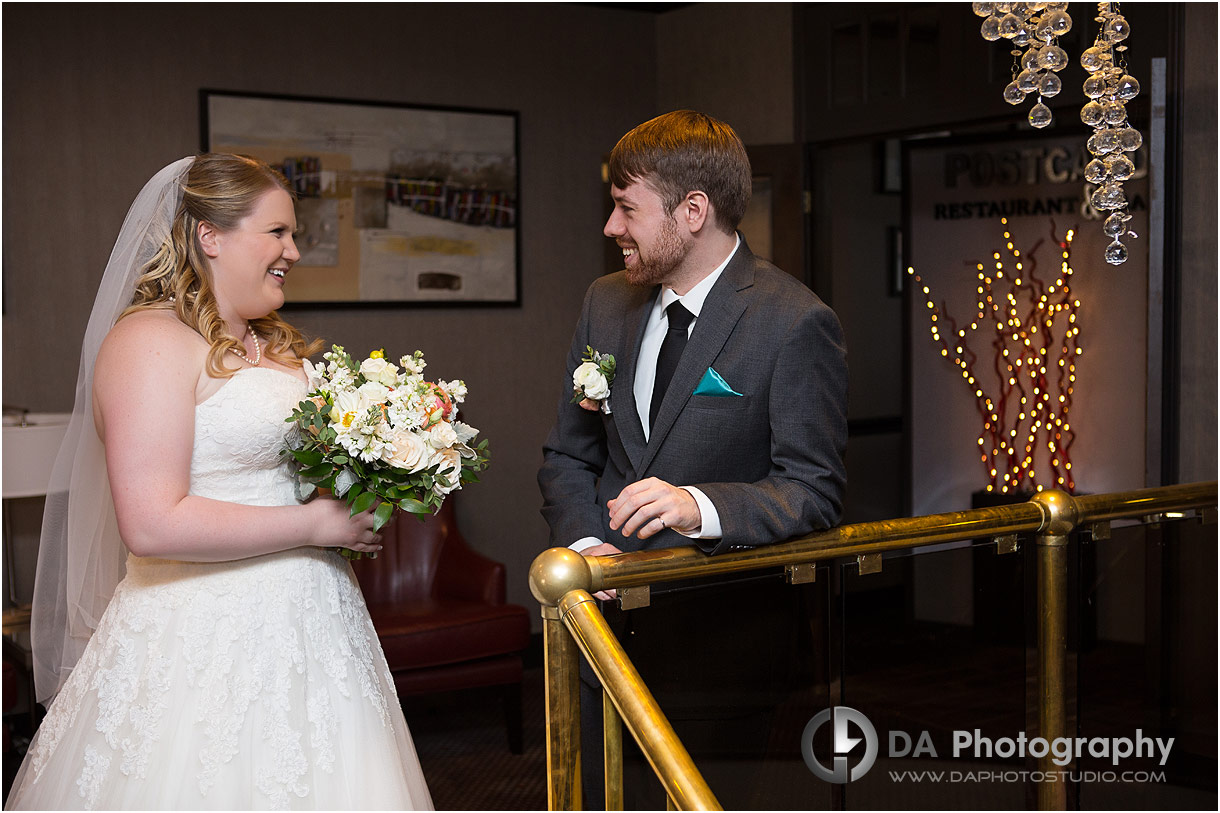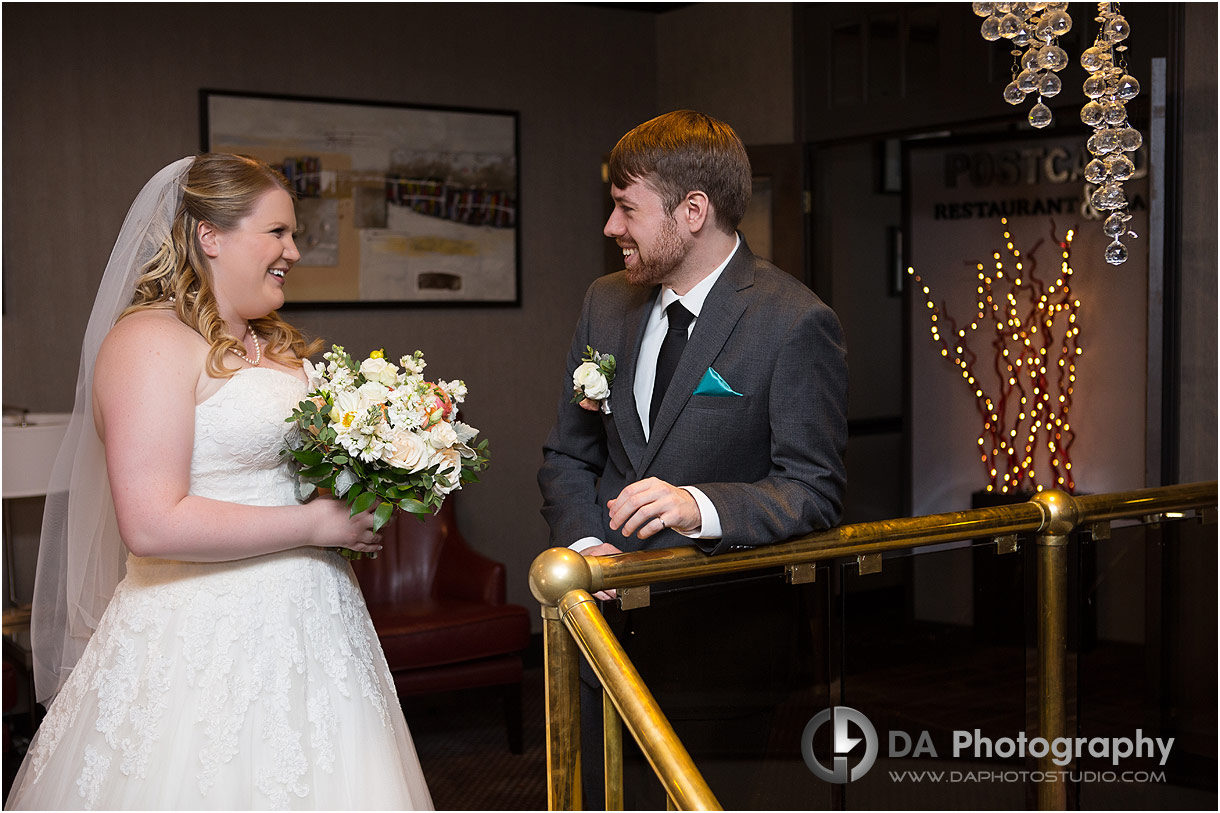 Kariya Park wedding photography location
This was actually my second time photographing a Kariya Park wedding. The previous experience taught me all the perfect spots to take Victoria and Ryan's photos. Also, I knew that if we arrived early, we could take advantage of the limited yet super convenient street parking spots.
The weather was overcast and cloudy. As with a regular day in August in Toronto, it was also a bit humid. Inside the garden, the humidity felt more manageable and the environment was perfect for our pre-wedding photo session.
First, we began working with the immediate family. These photos can be easily forgotten if you don't have the time. However, they are so precious that if you miss them you are sure to regret not doing them afterward. By finishing these images first, it allowed the family to leave for the ceremony first as we continued with the bridal party.
The garden was such a pleasure to work in. It was empty of visitors and there was no stress or time constraint. It was perfectly scheduled so that we had enough time for traditional images as well as some creative photos too. More creative photos require both more time and a relaxed couple as well.
I would say that this wedding photo session was one of the best executed that summer. The timing was flawless and the bridal party so much fun to work with.
After we had gotten all the photos we needed, we headed out to Roma's Hospitality Centre.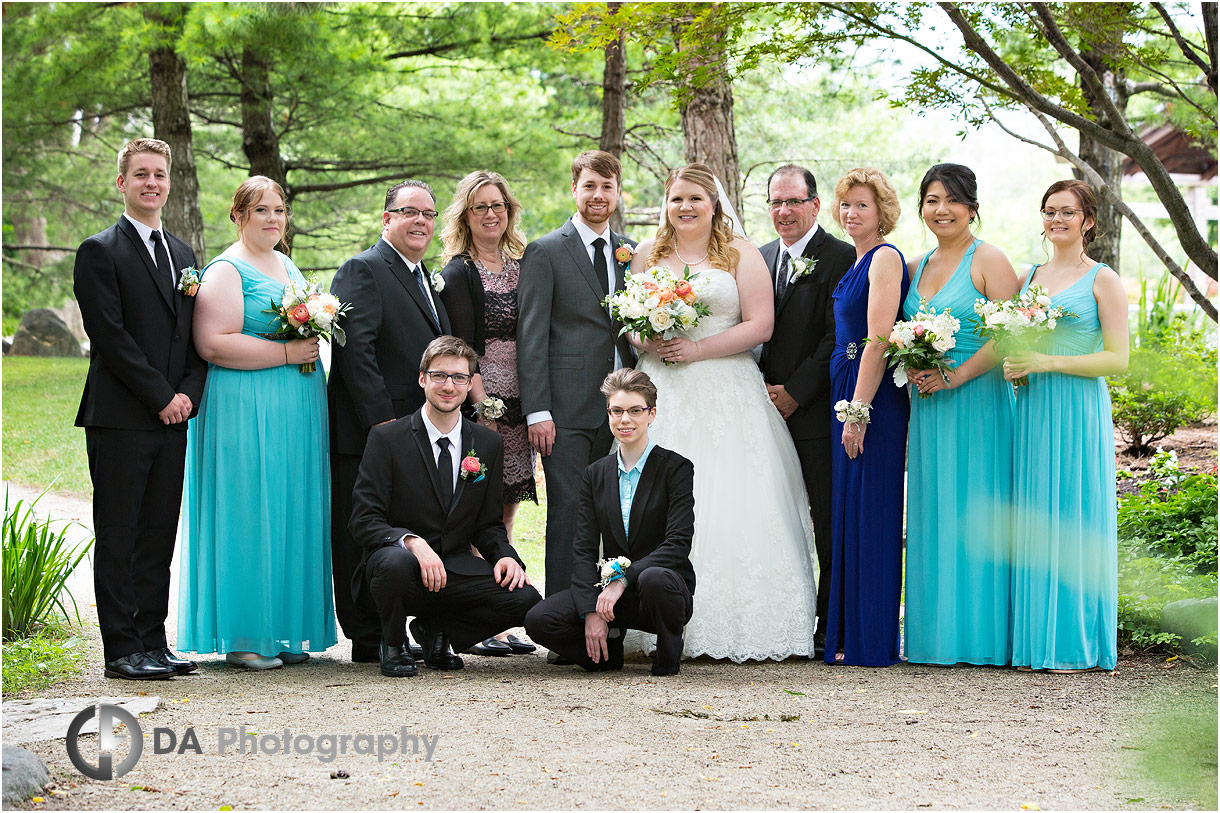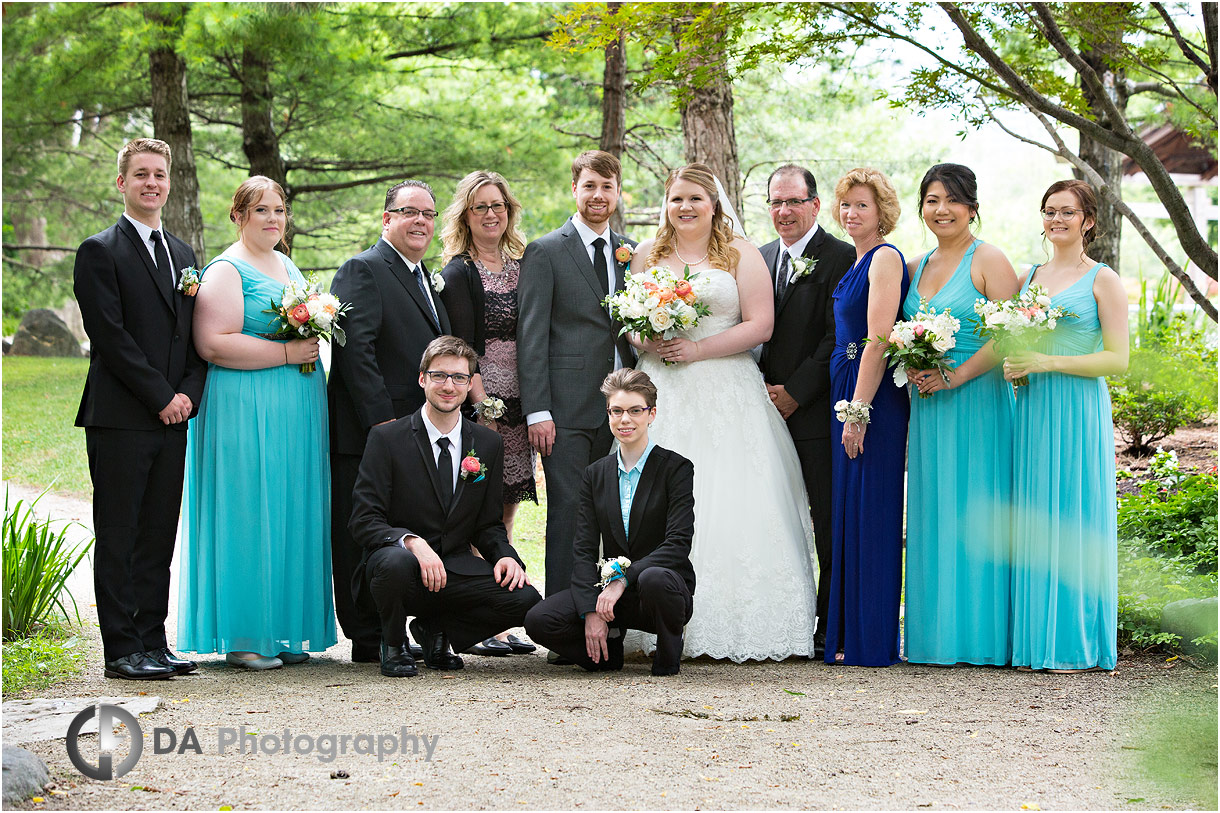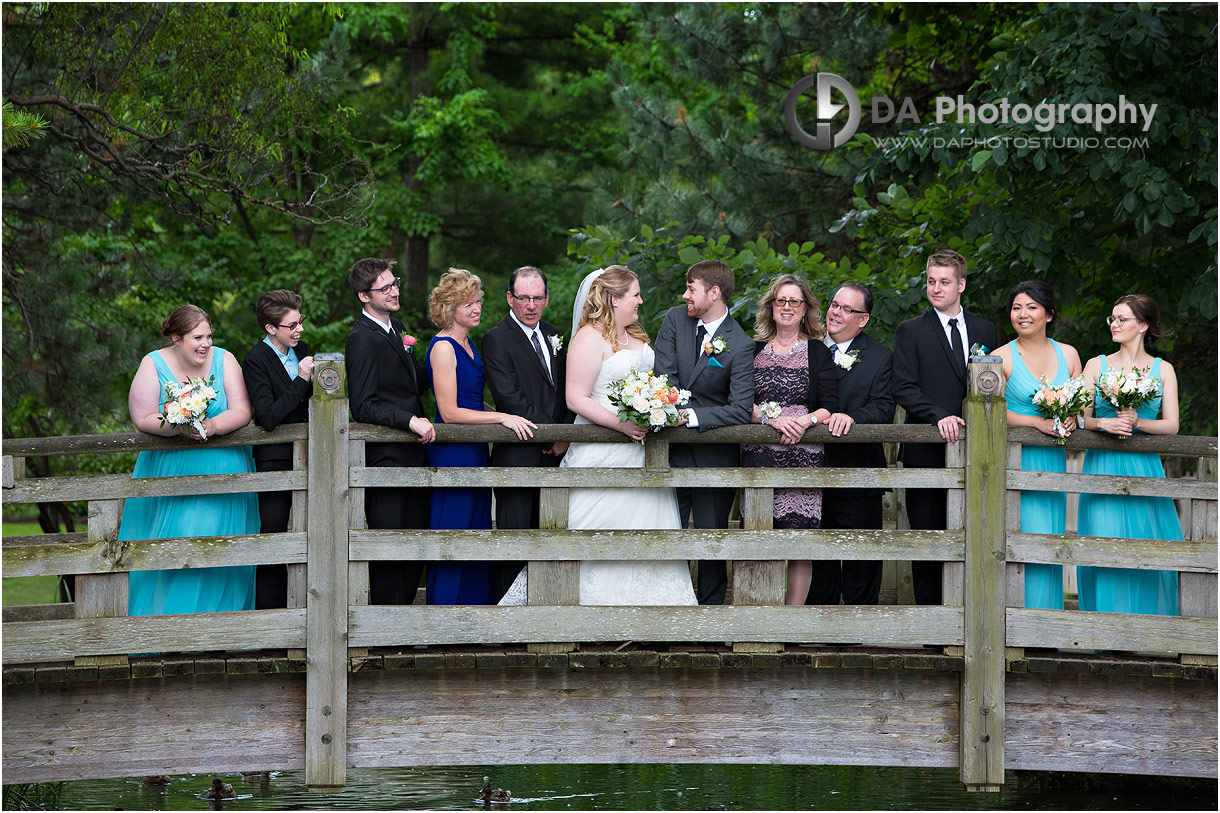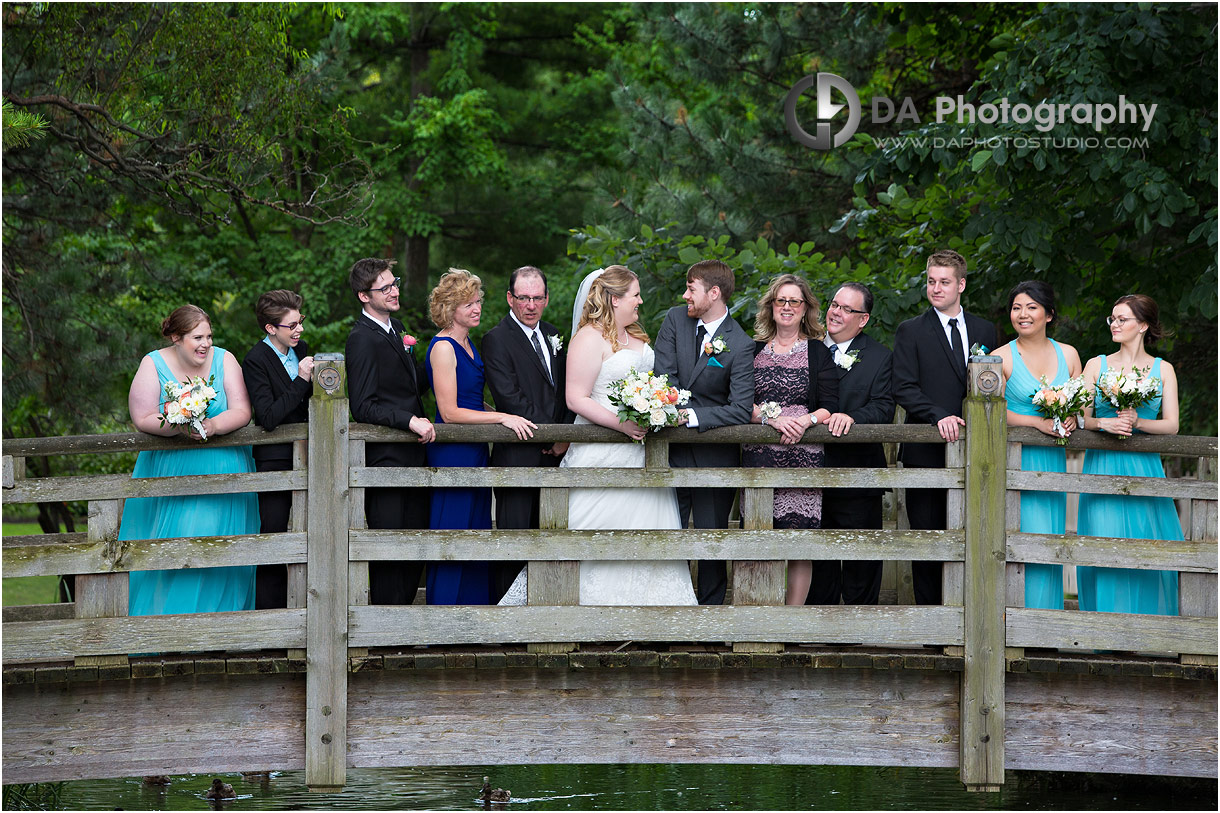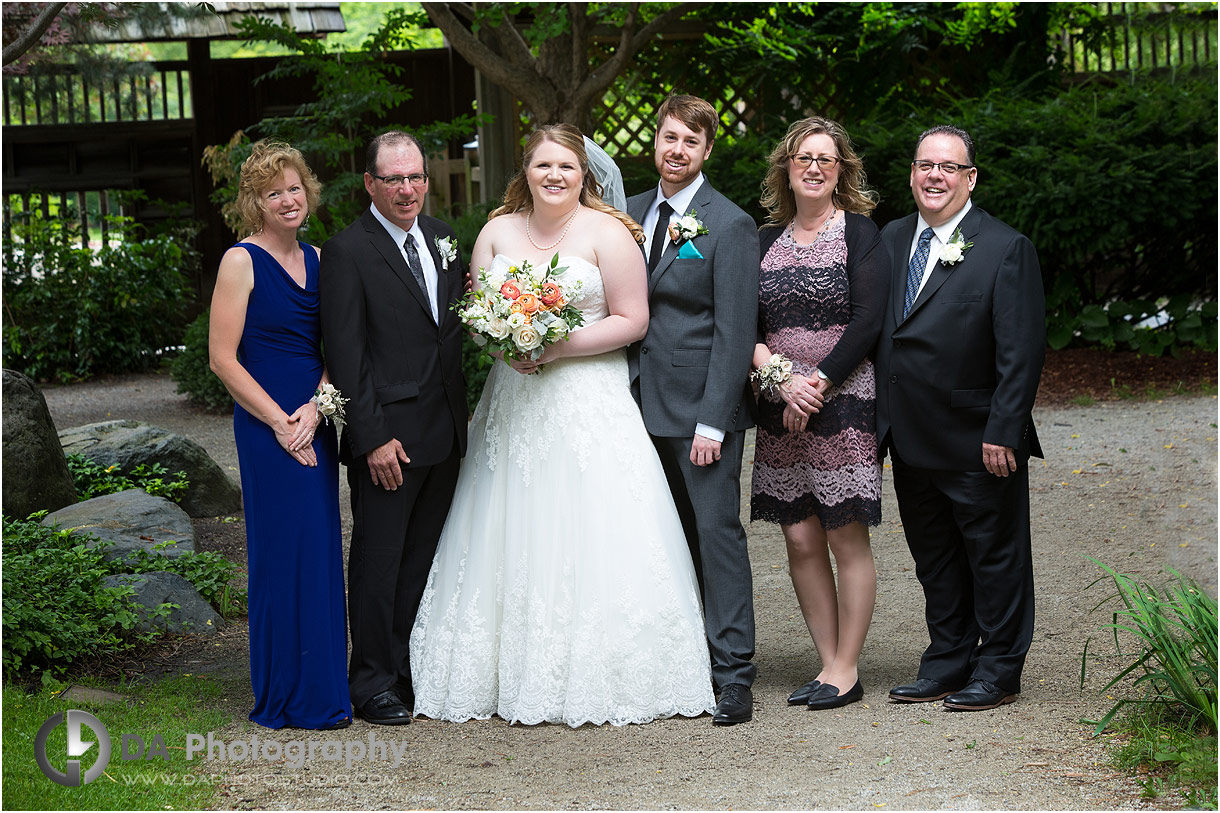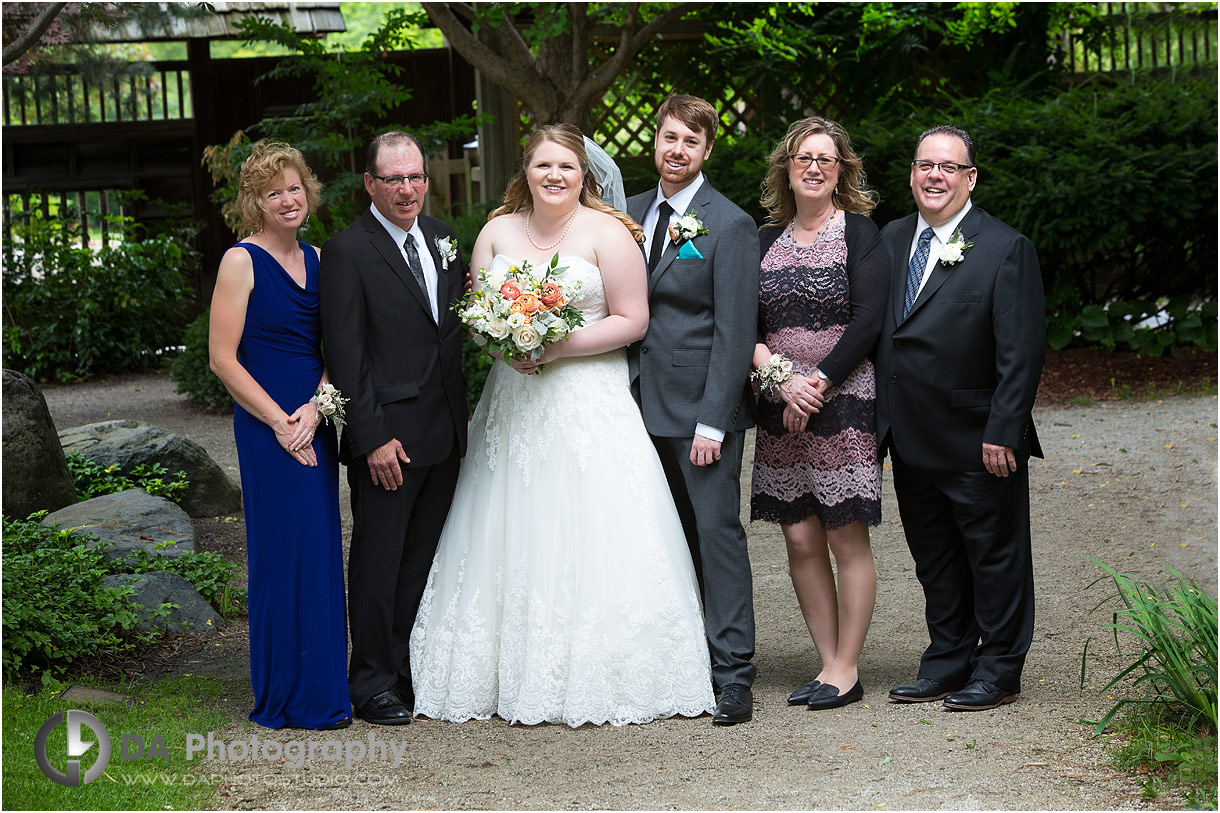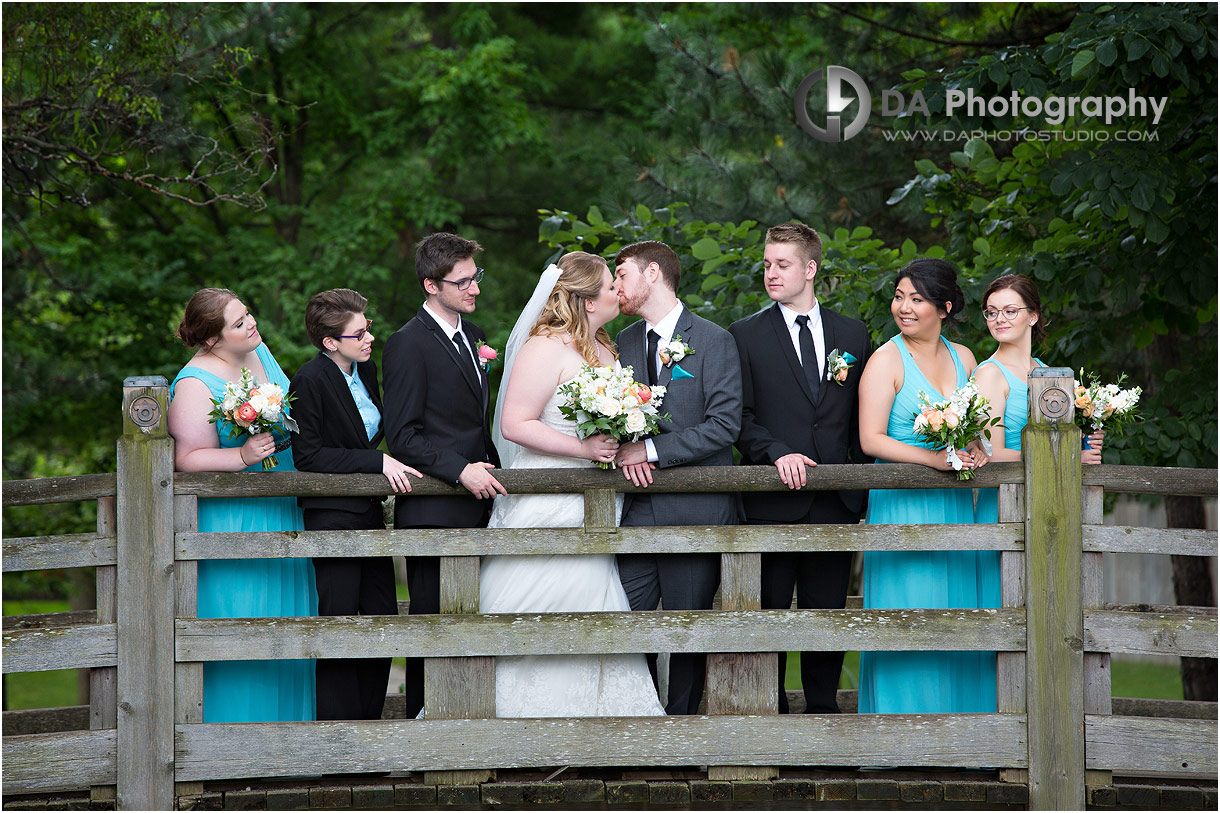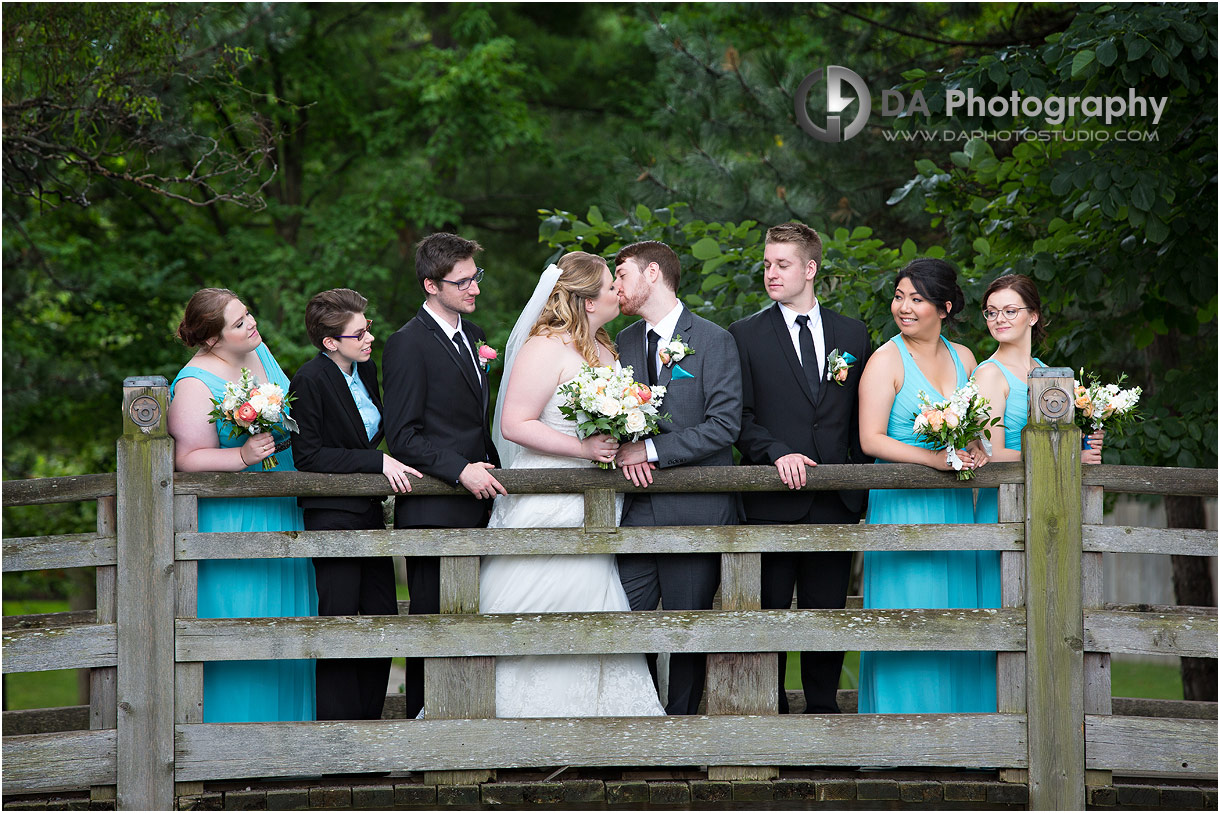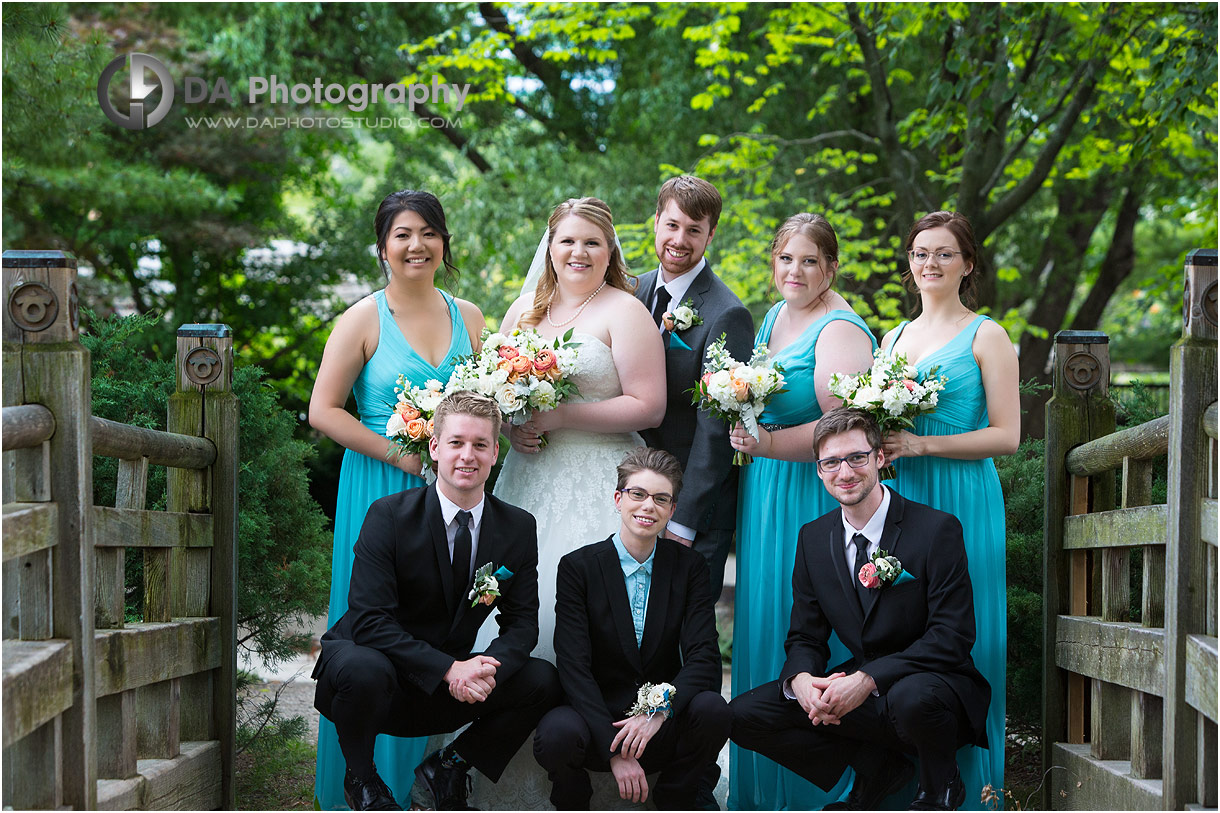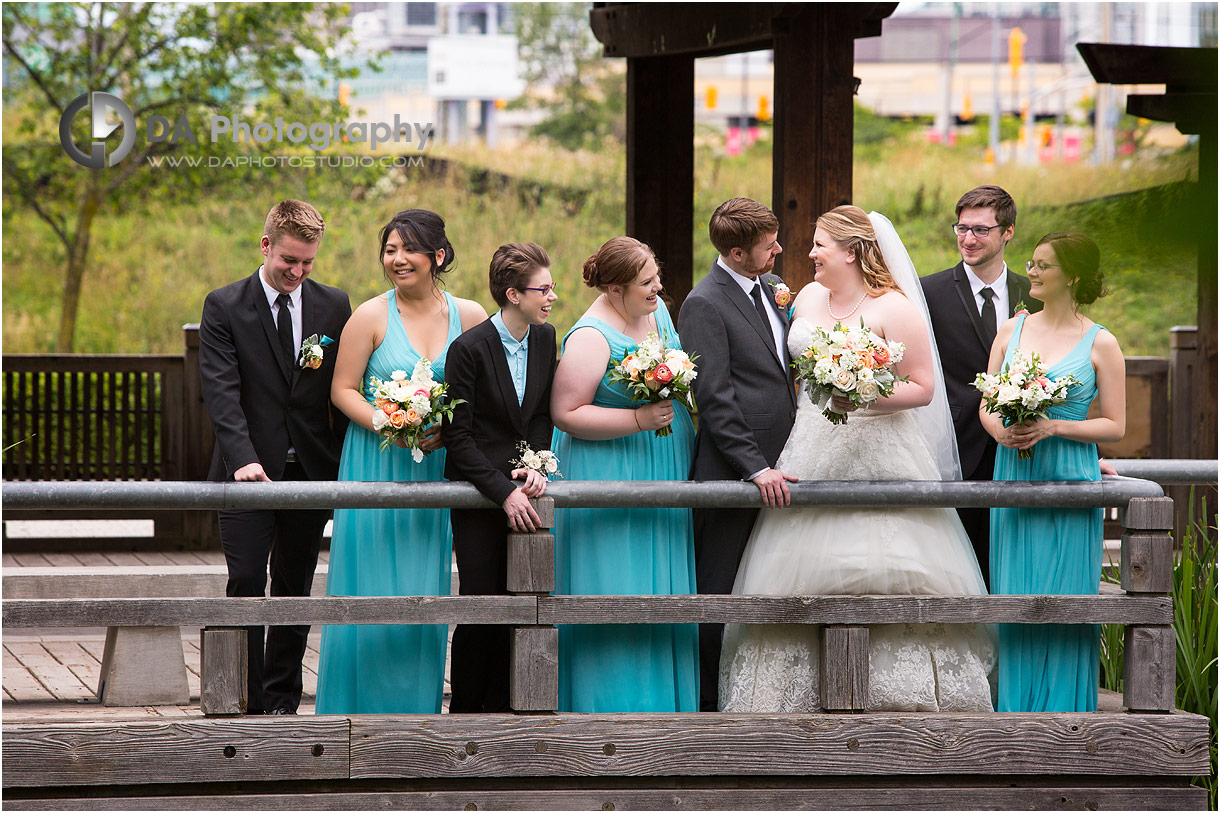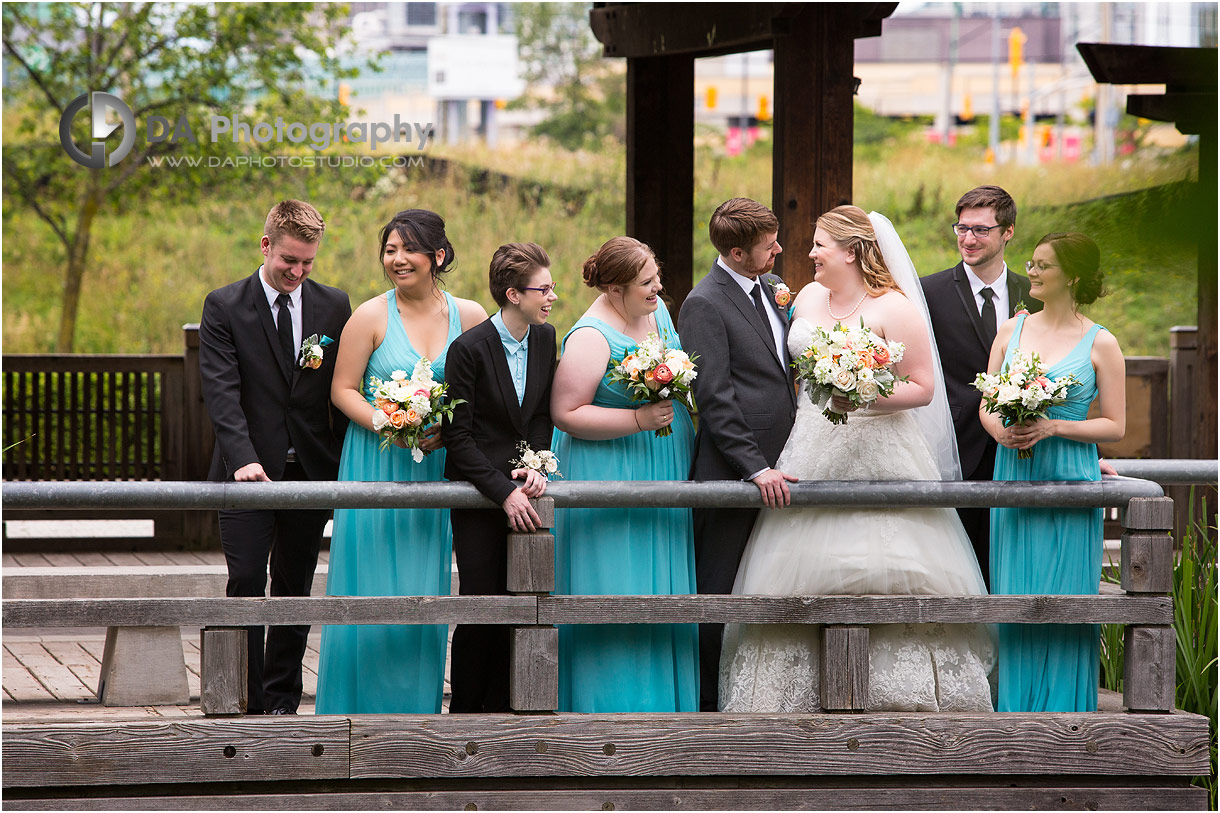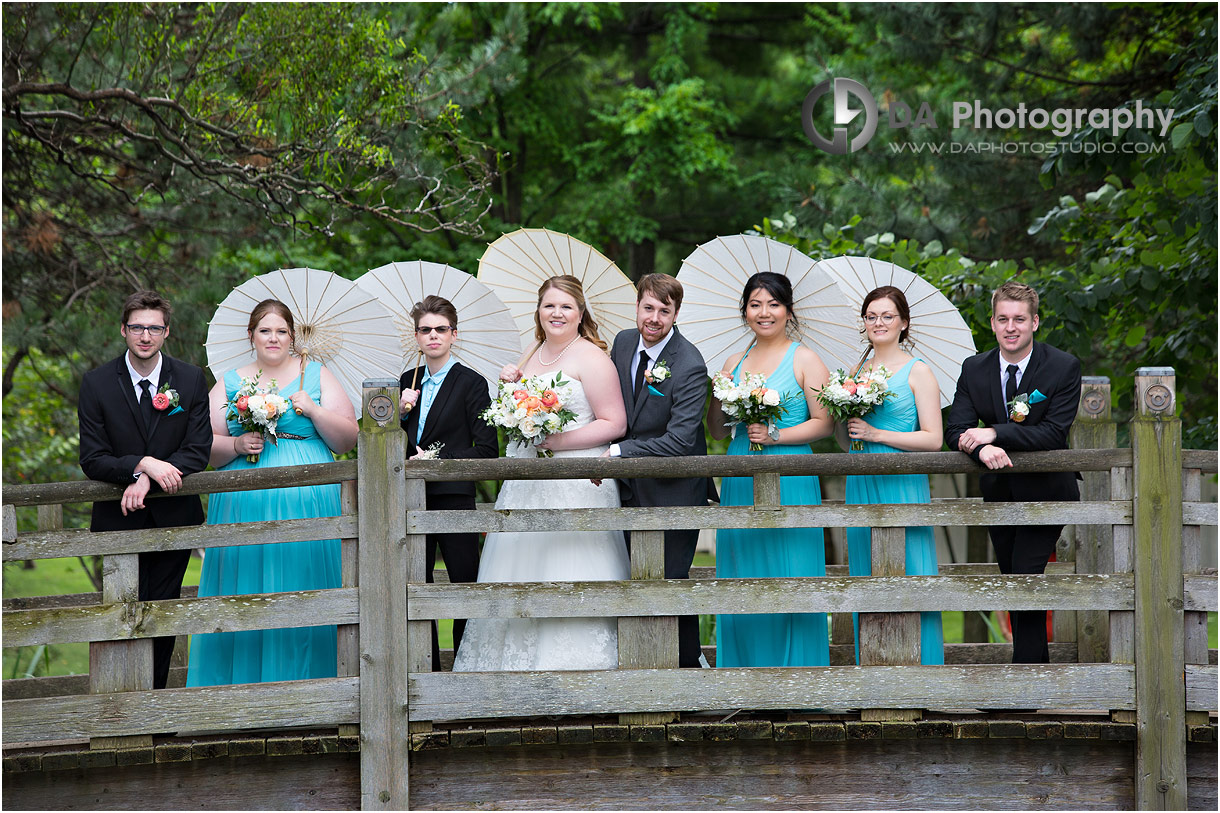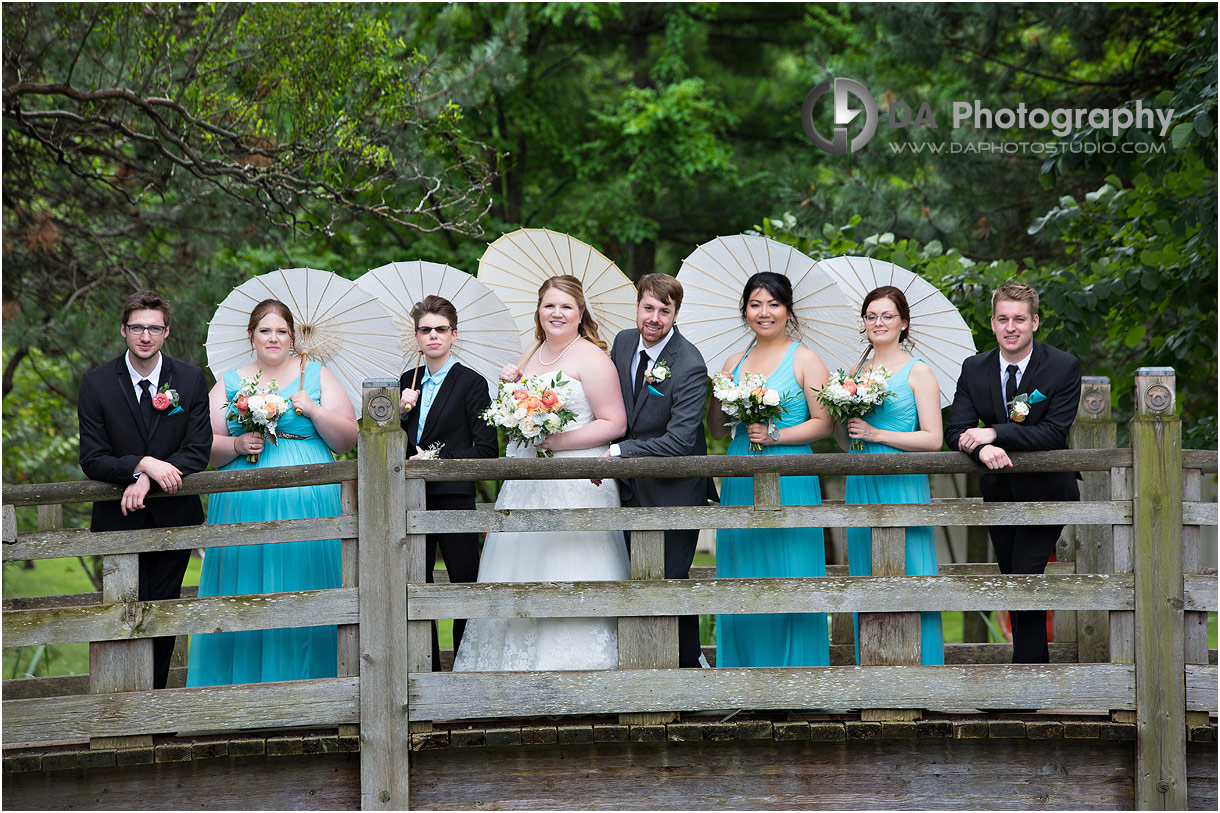 Roma's Hospitality Centre wedding ceremony
As with most banquet halls, the outside of Roma Hospitality Centre really doesn't paint a real picture of the beauty of the venue. The wedding venue's grounds were dramatically different than what we had just experienced at Kariya Park.
I started to set up my lighting equipment immediately after arriving. It was then that I noticed that three out of four of the main doors were mirrored. This can be quite challenging to photograph. With this in mind, I set up the lighting so that the reflections will bounce elsewhere and not create glare in the camera lens.
Meanwhile, the bride and her party were in their allocated suite. It was small but charming. I saw the possibility of a unique photo of two of them. While climbing on the toilet bowl in the suite's bathroom, I captured a dramatic portrait using the widest lens setting possible.
While working on this, I noticed that the hall was getting filled with friends and family. It was soon to be time to start the ceremony.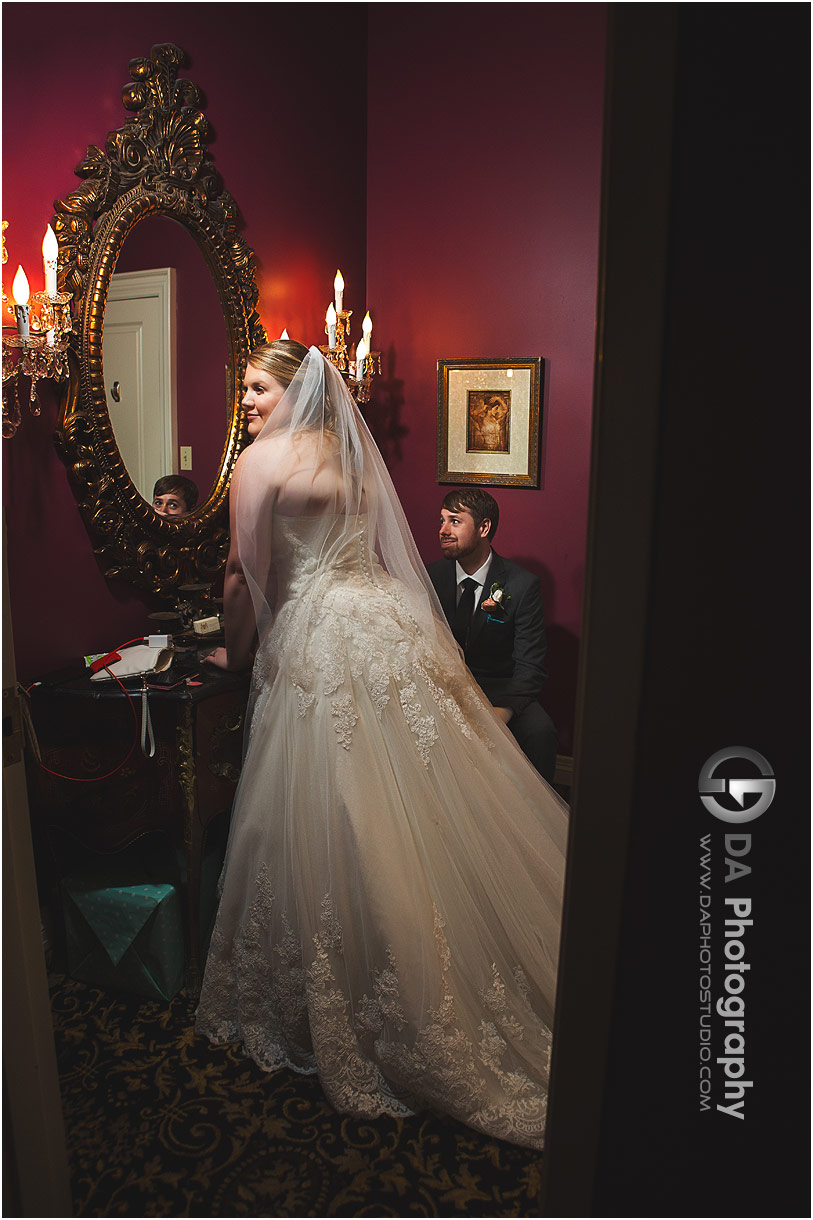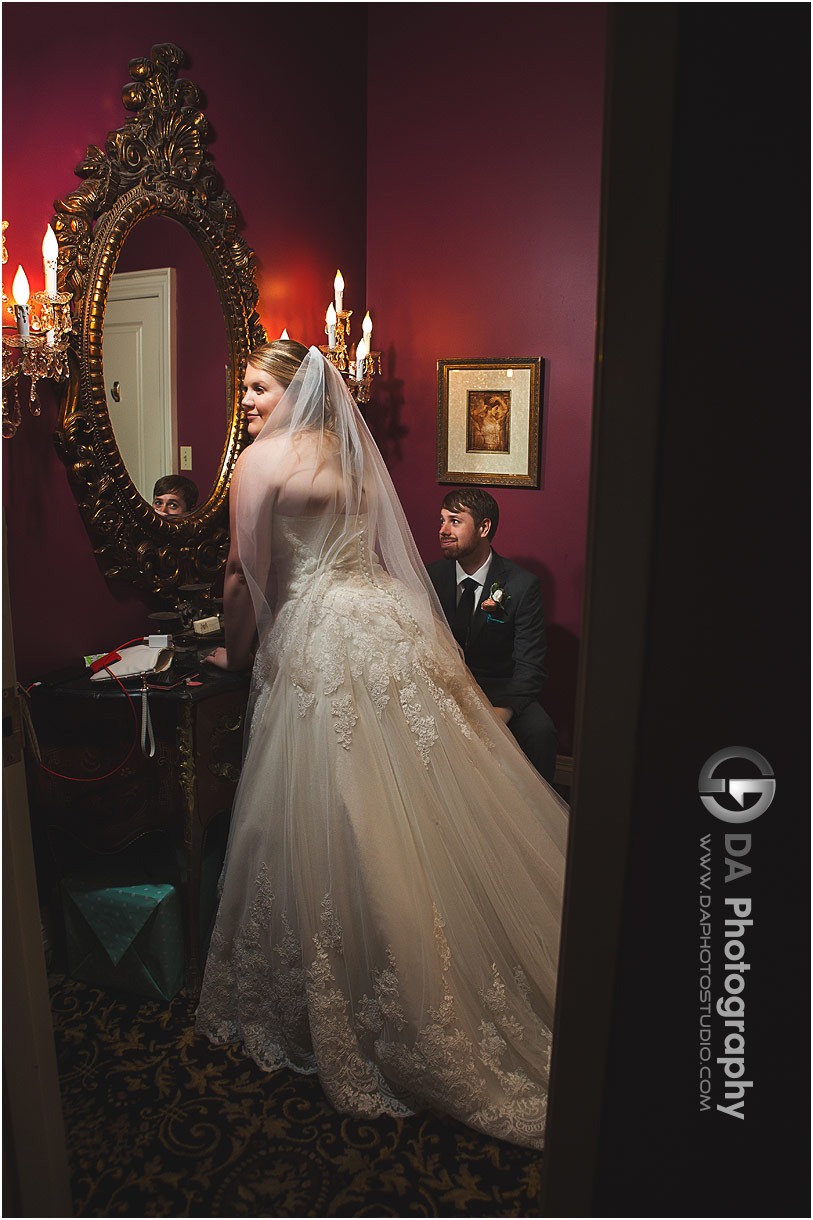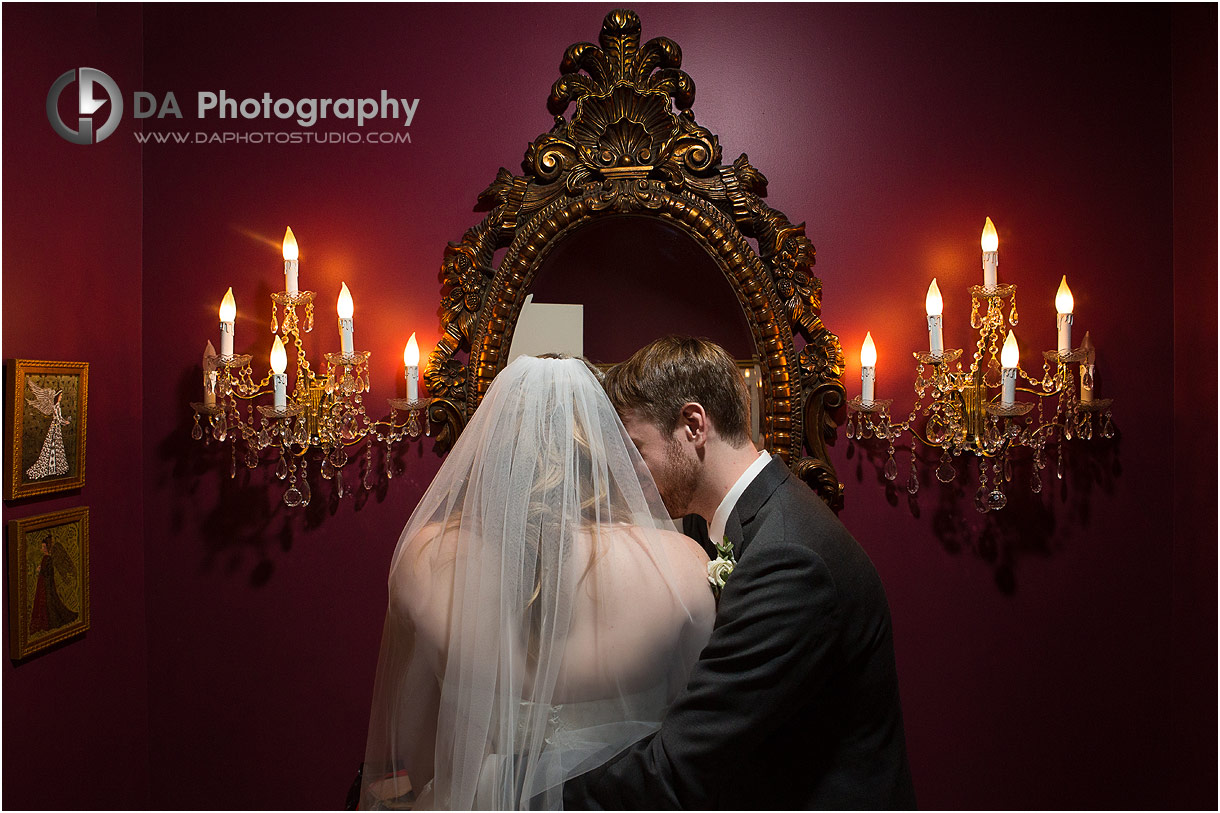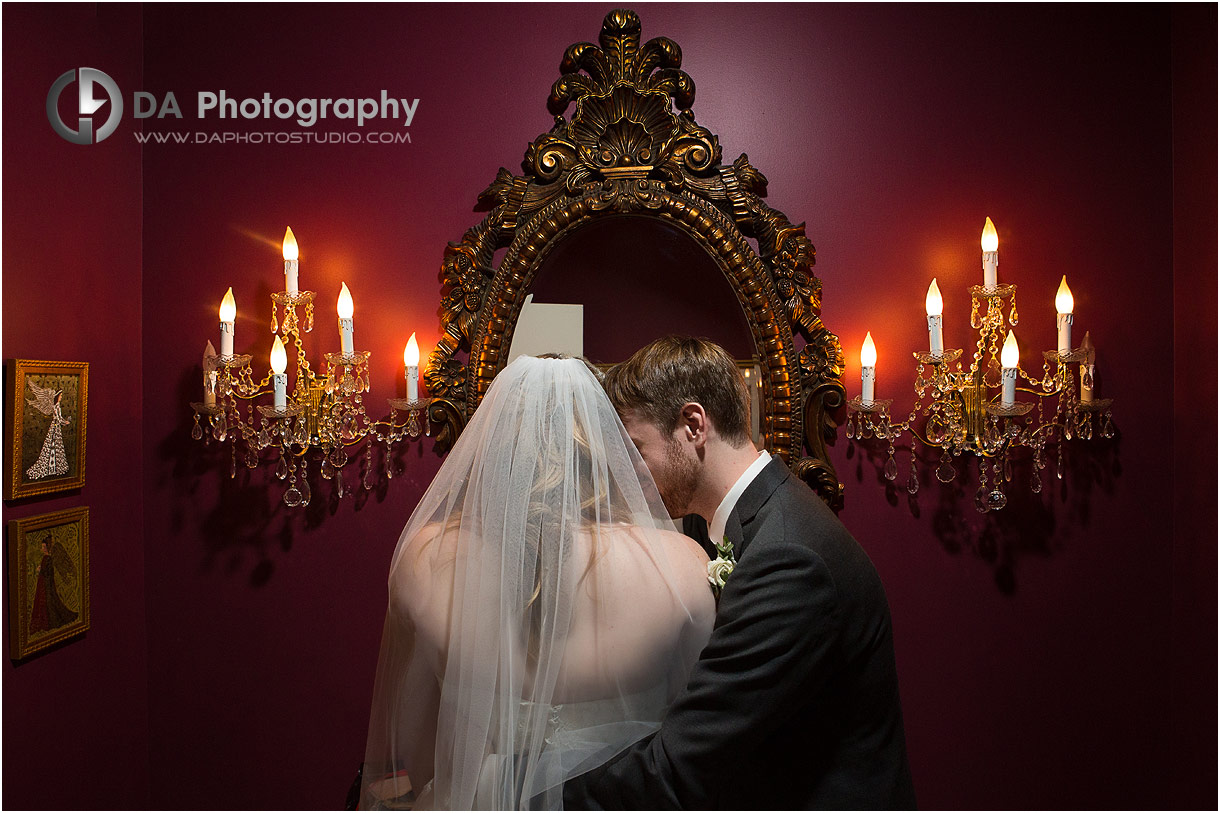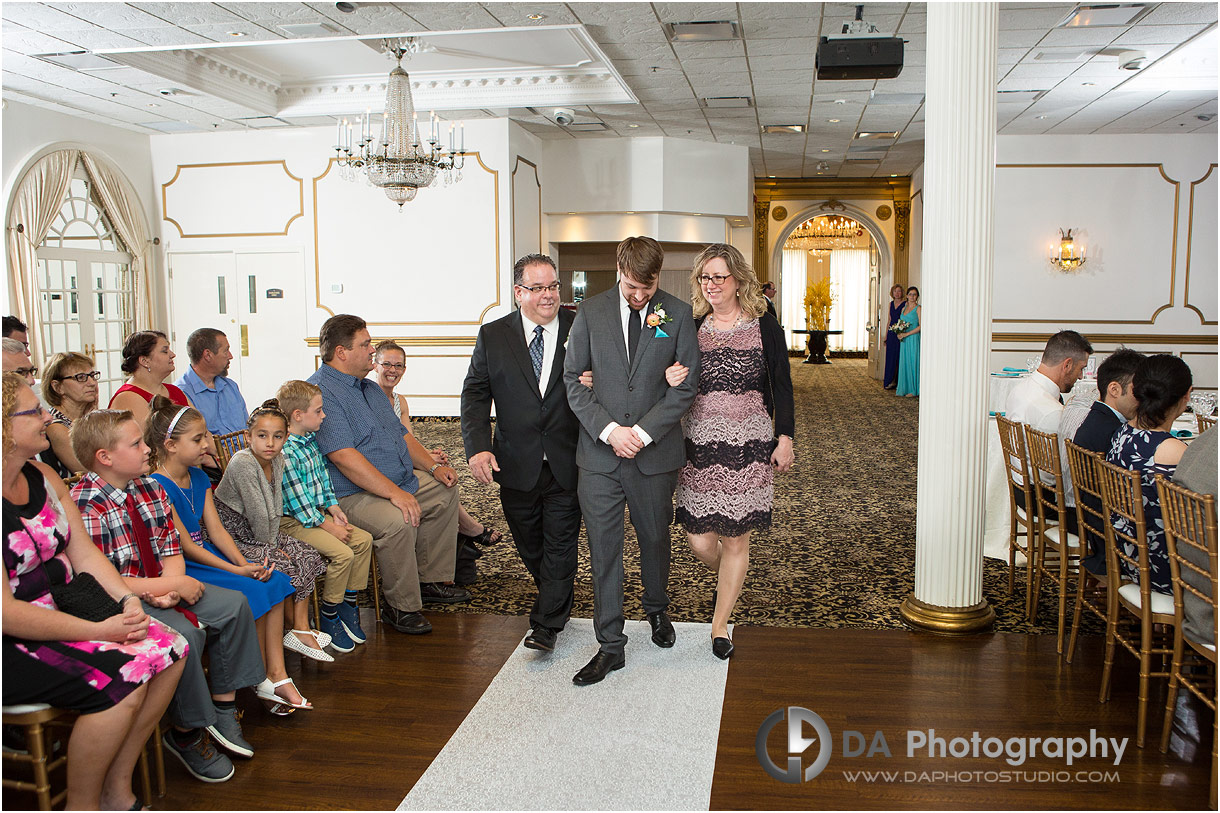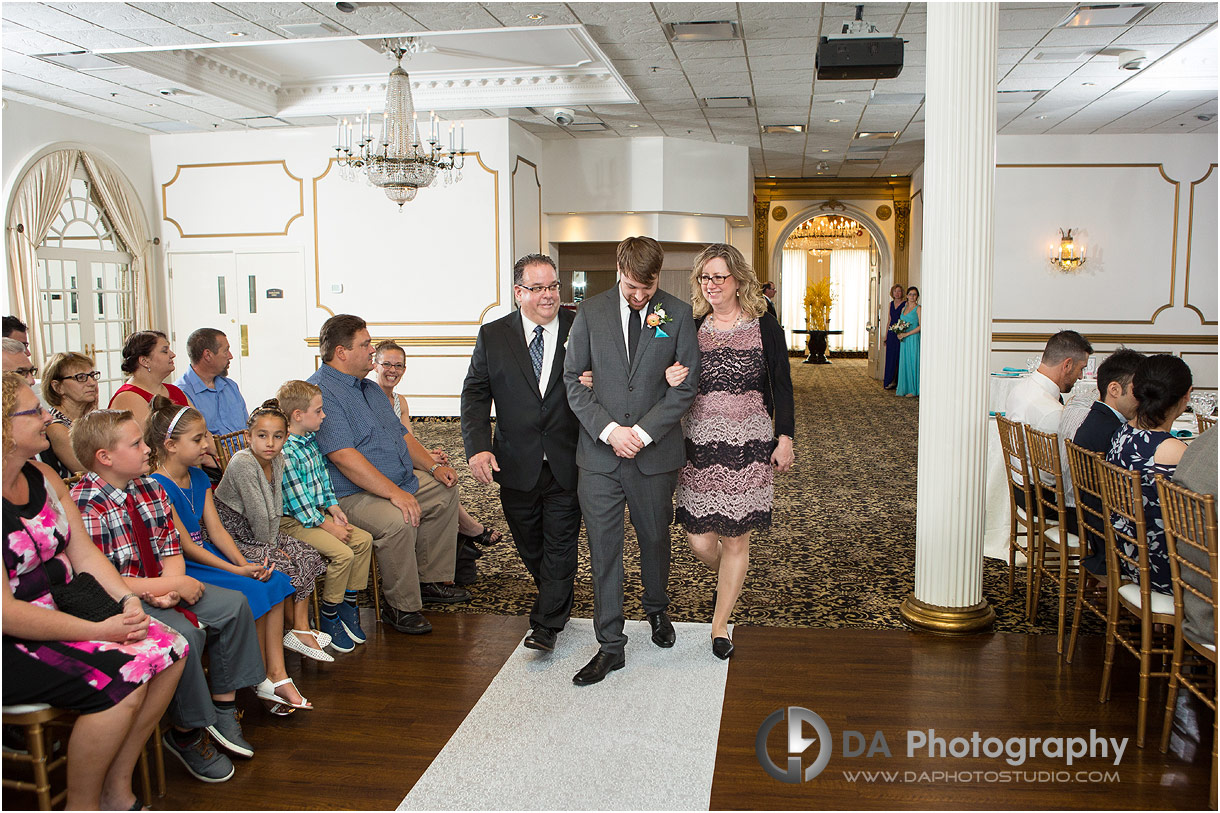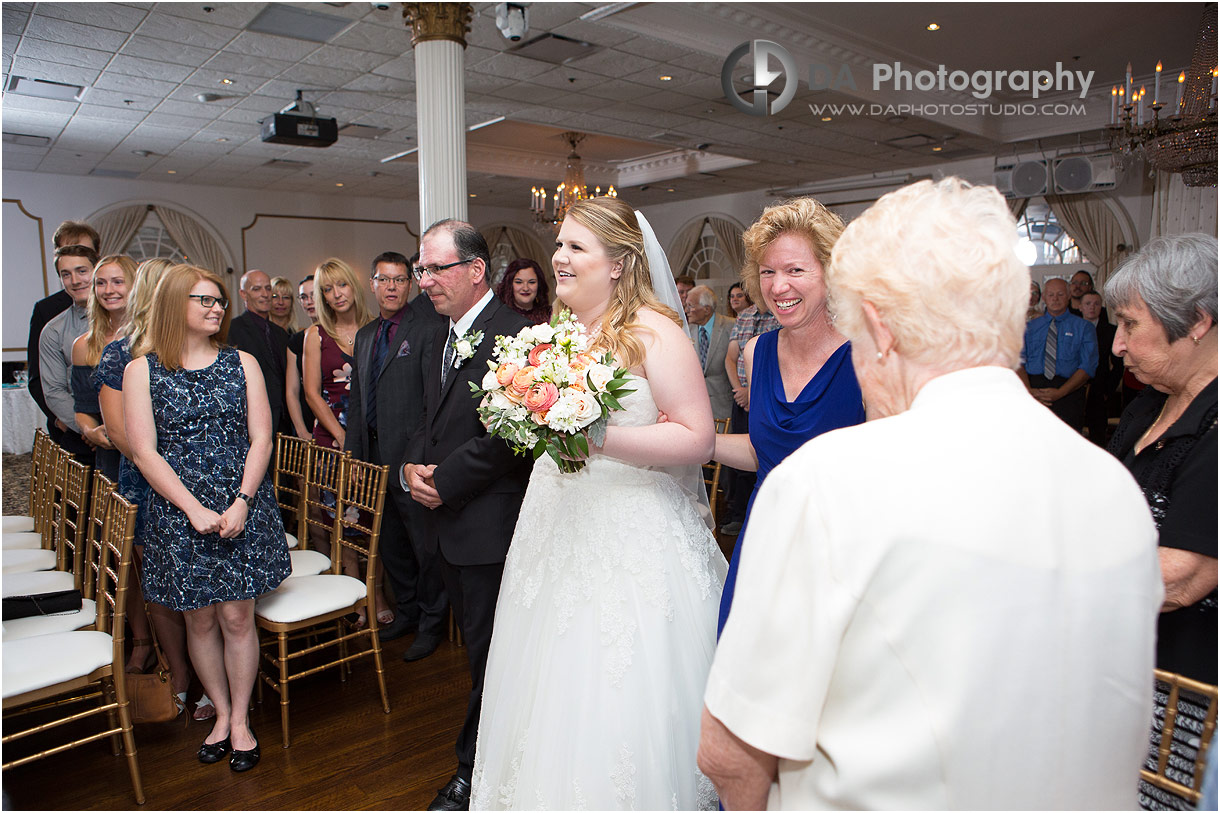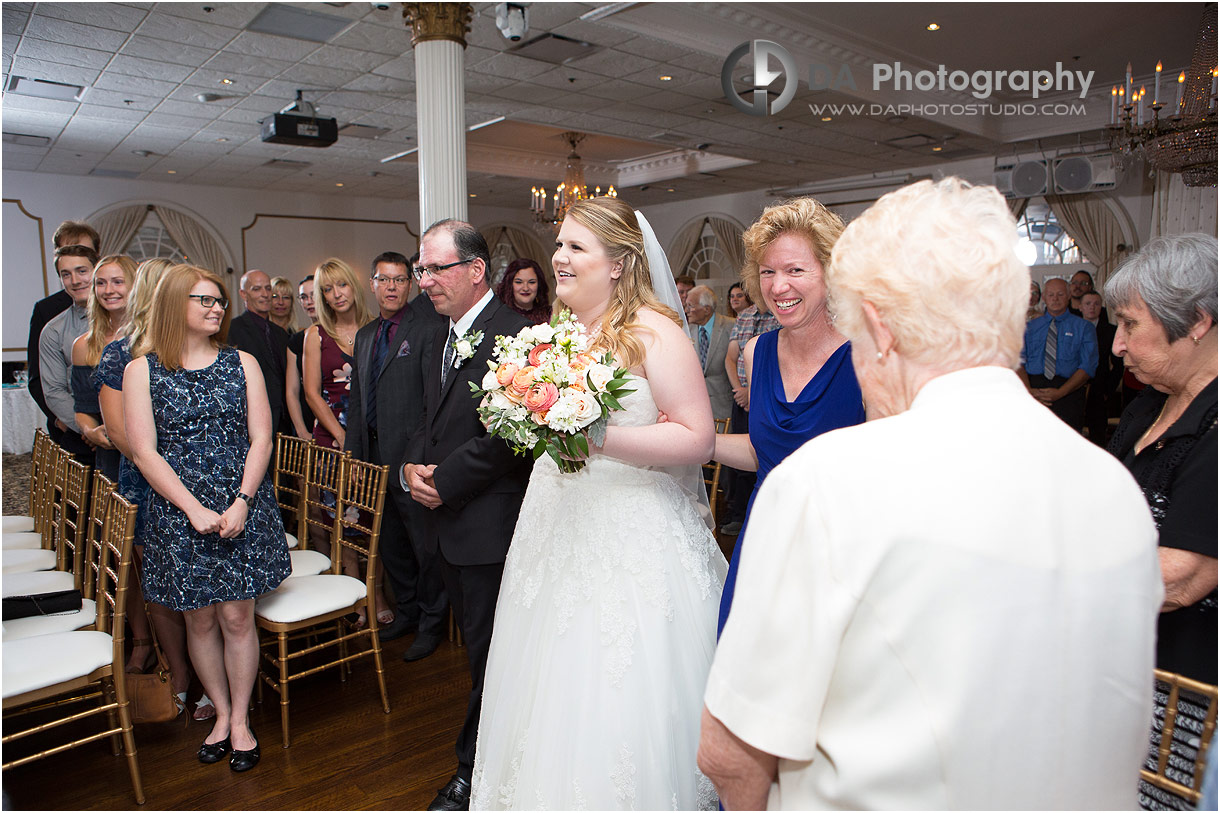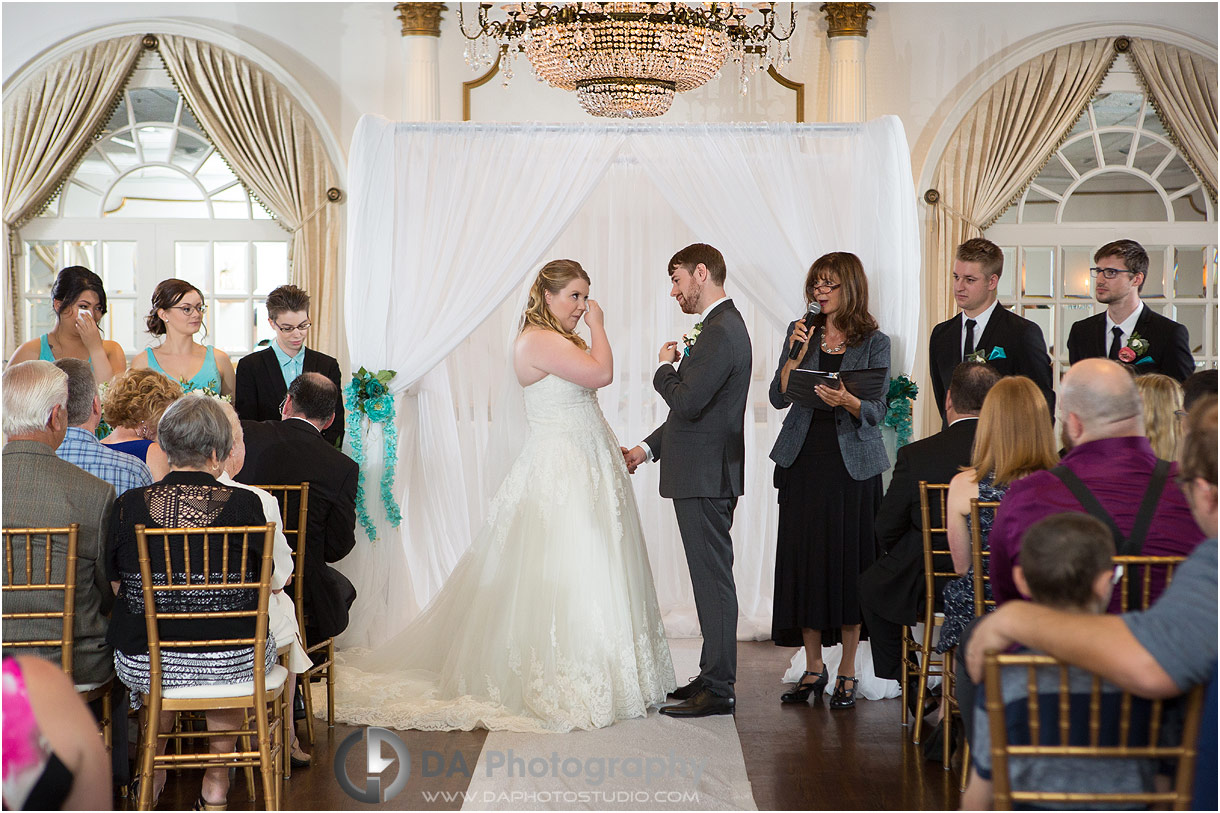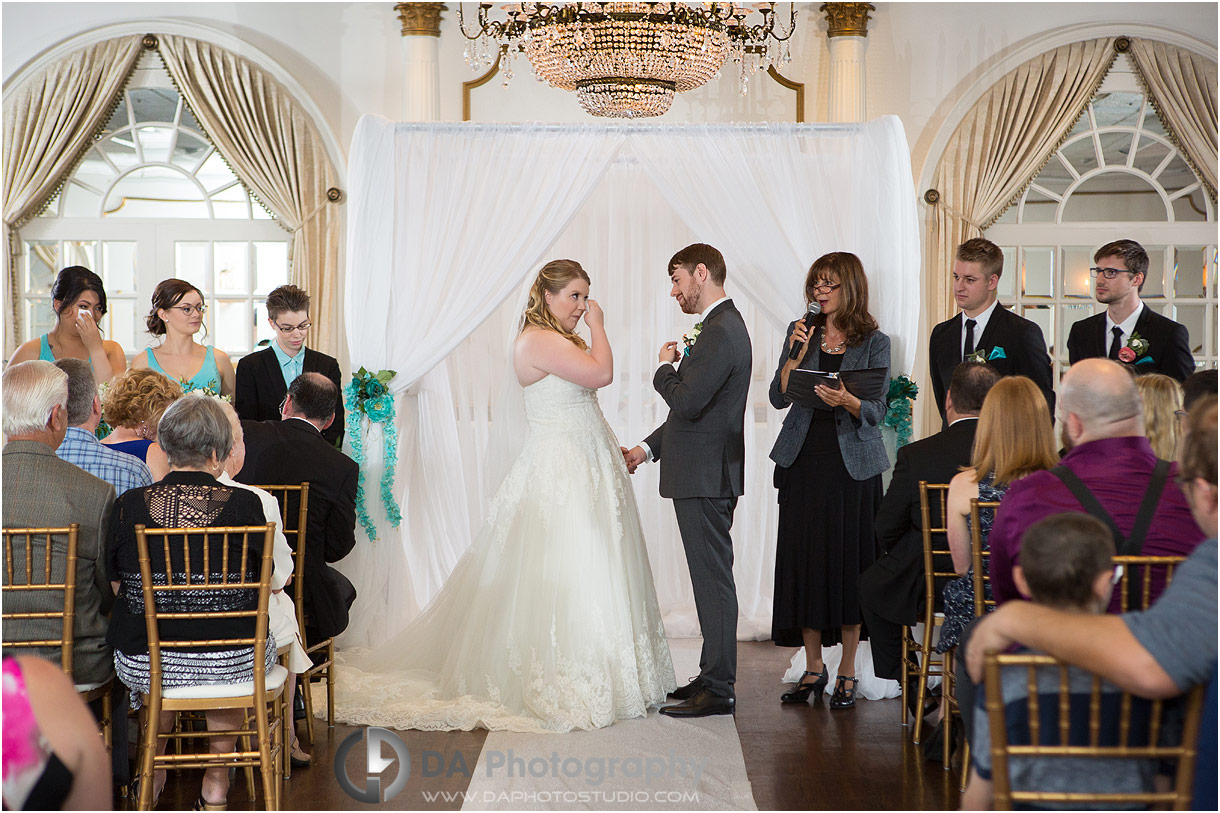 The ceremony
The location for the wedding ceremony at Roma's was to later be used for the reception as well. The décor company had set it up perfectly in advance.
As with every wedding, there was no time for trial and error. When the ceremony began, everything went smoothly as had the entire day so far. It was beautiful and packed full of emotions and joyful tears. The time passed so quickly while we captured every single candid moment possible.
At the end of the ceremony, the couple did a grand exit and then joined their guests for the cocktail hour. One thing that really set this wedding apart was that they were truly able to participate in this. Often wedding couples are whisked away for their bridal party photoshoots and miss out on this time for celebration. For sure, Victoria and Ryan reaped the benefits of perfect planning as they enjoyed the cocktails and hors d'oeuvres at this Kariya Park wedding.
While this was taking place, the venue and décor staff were transforming the ceremony setup into the reception area. It was such a smooth process that happened without anyone even noticing.
Once ready, the venue staff invited the guests back inside, the guests spilled back into the room and the reception began.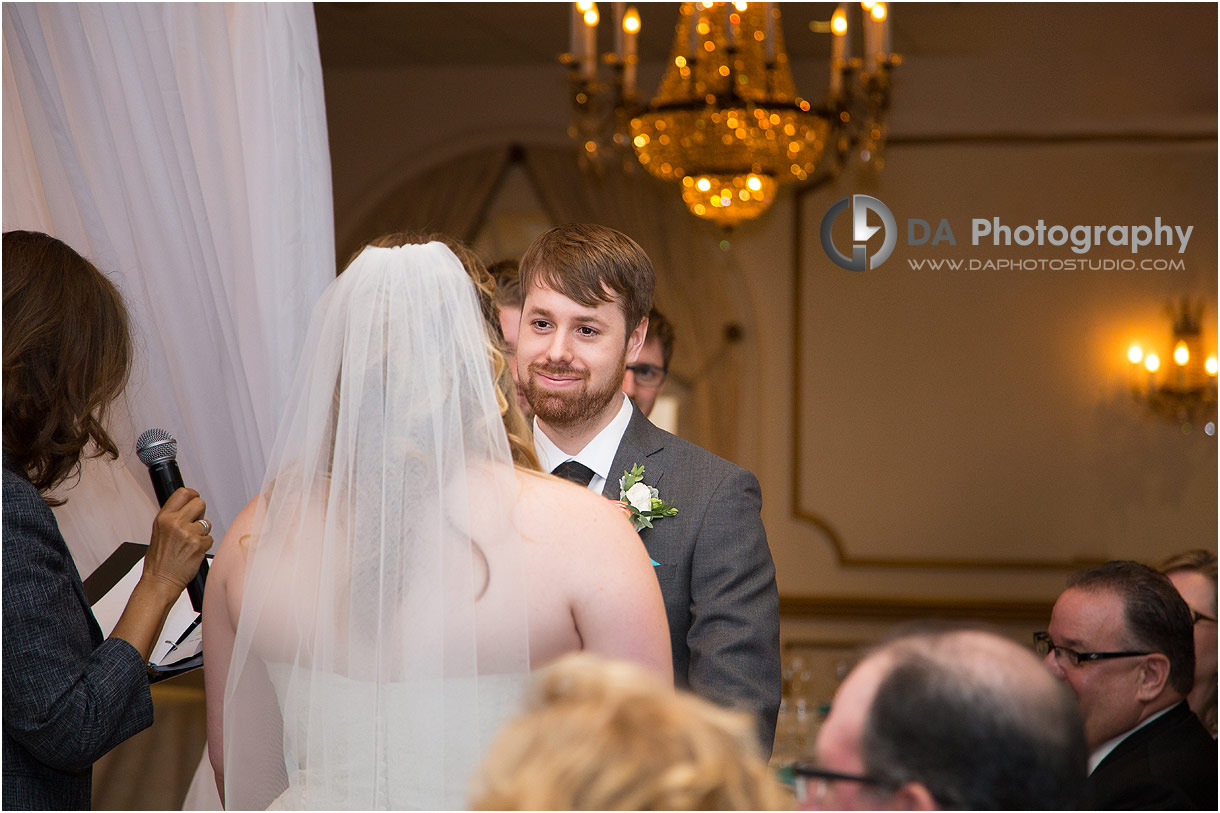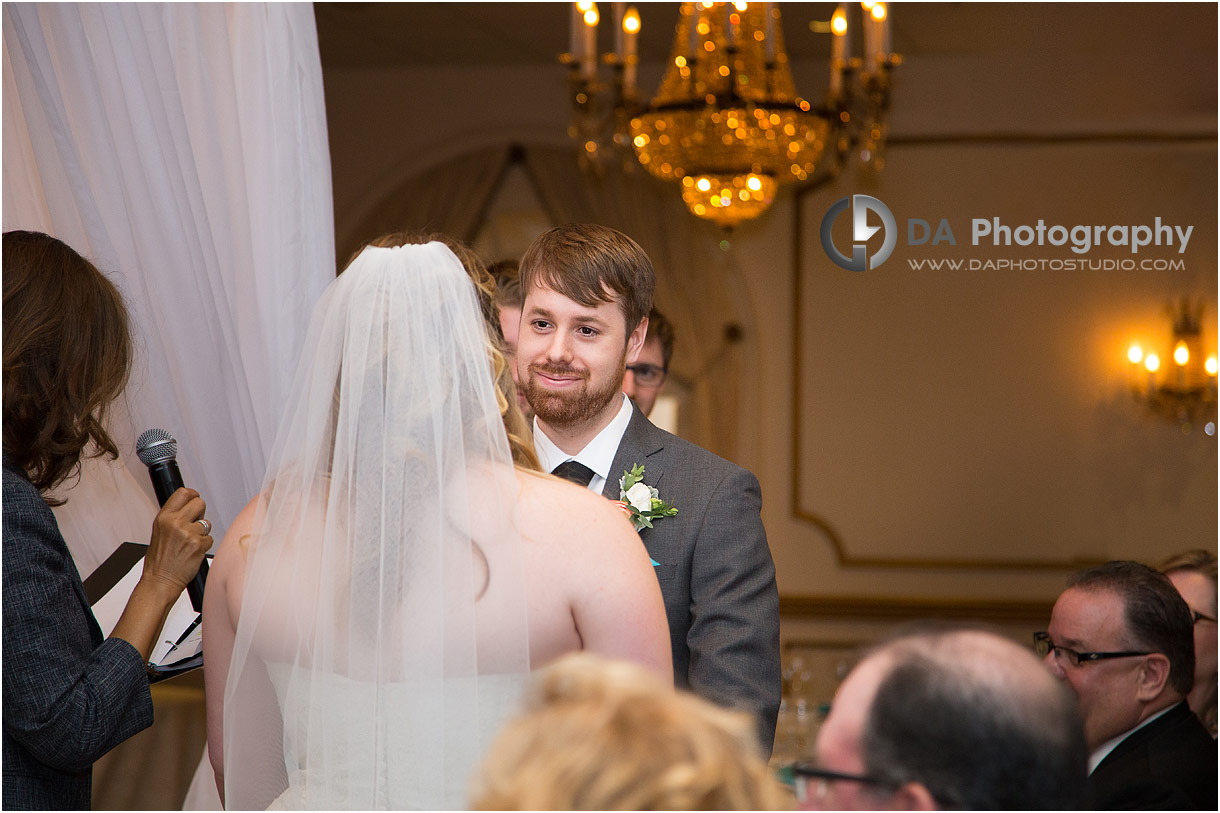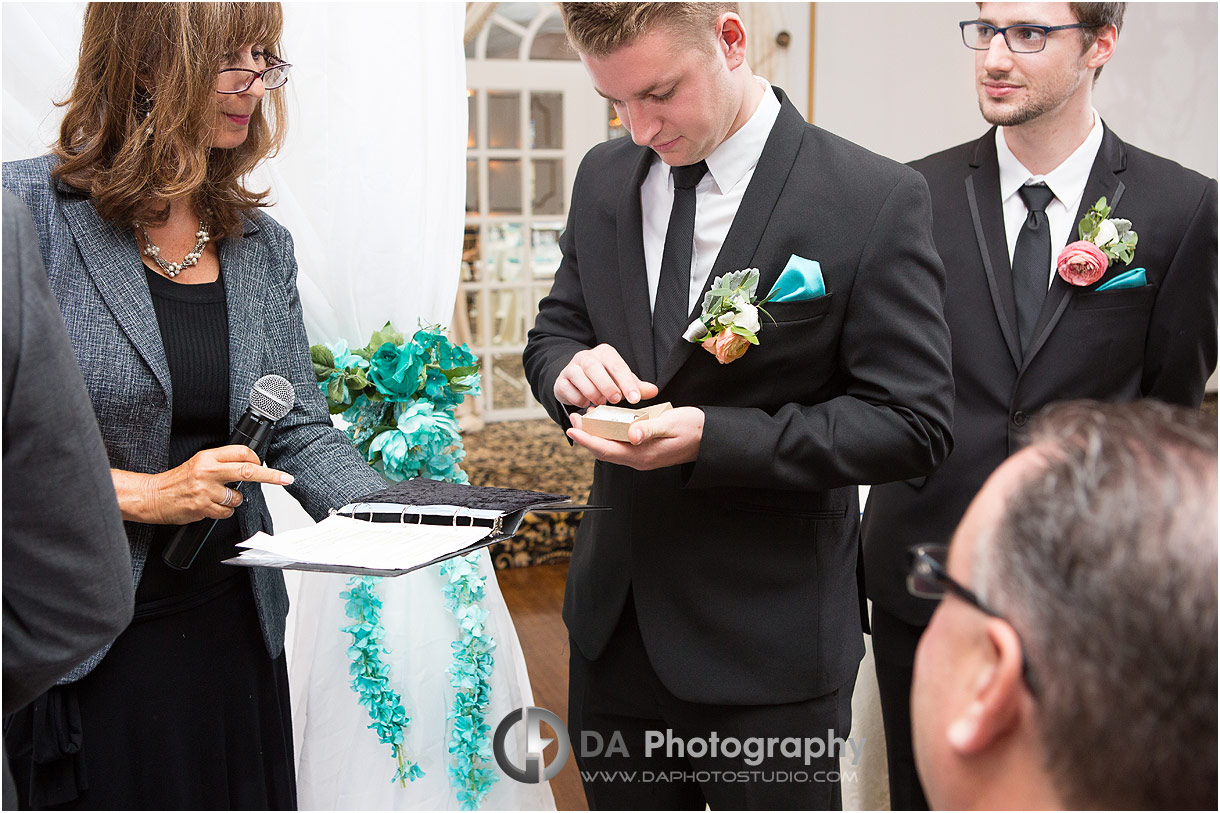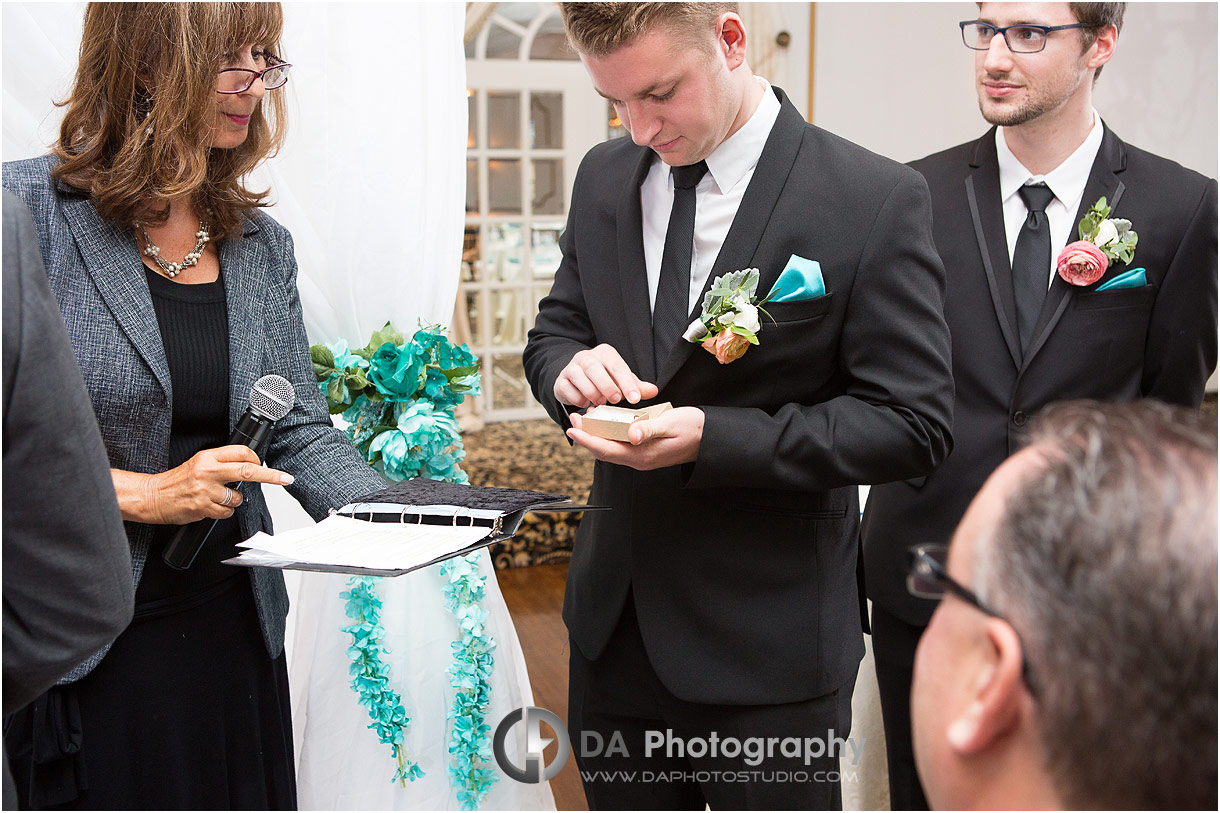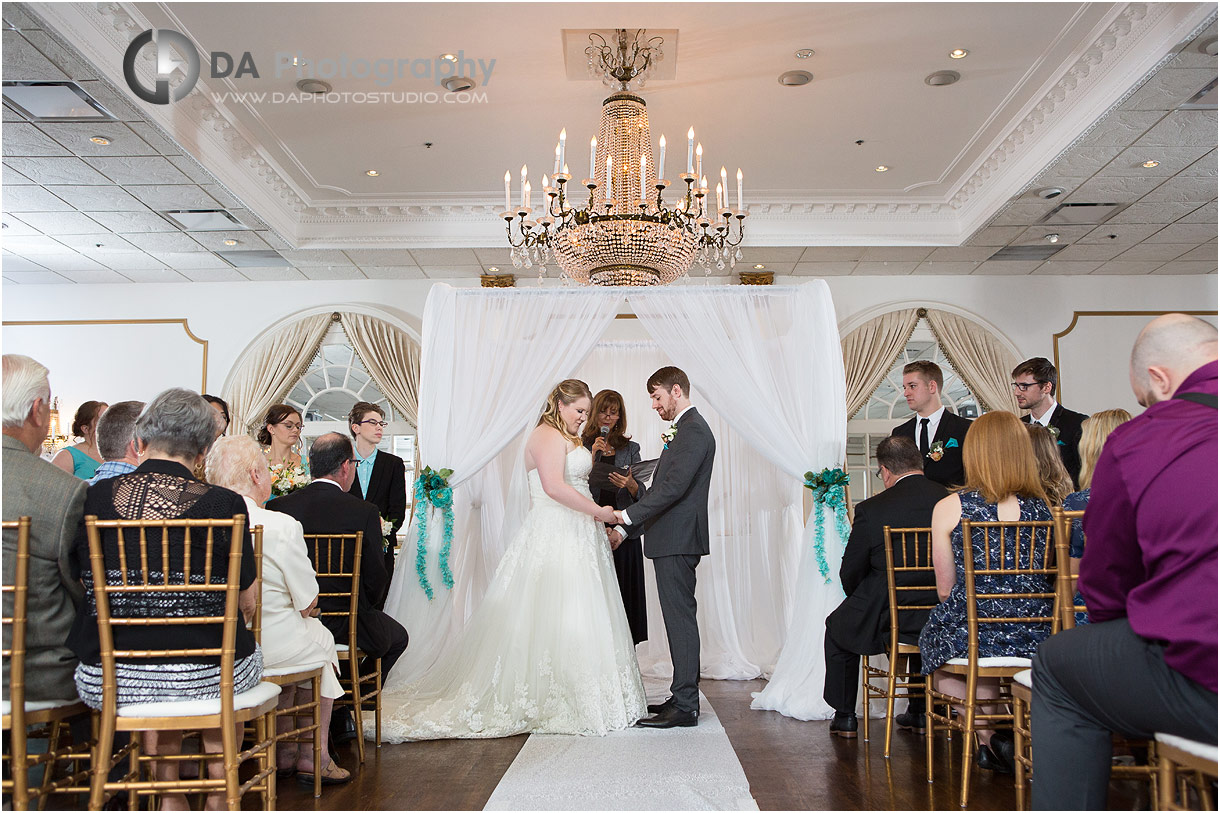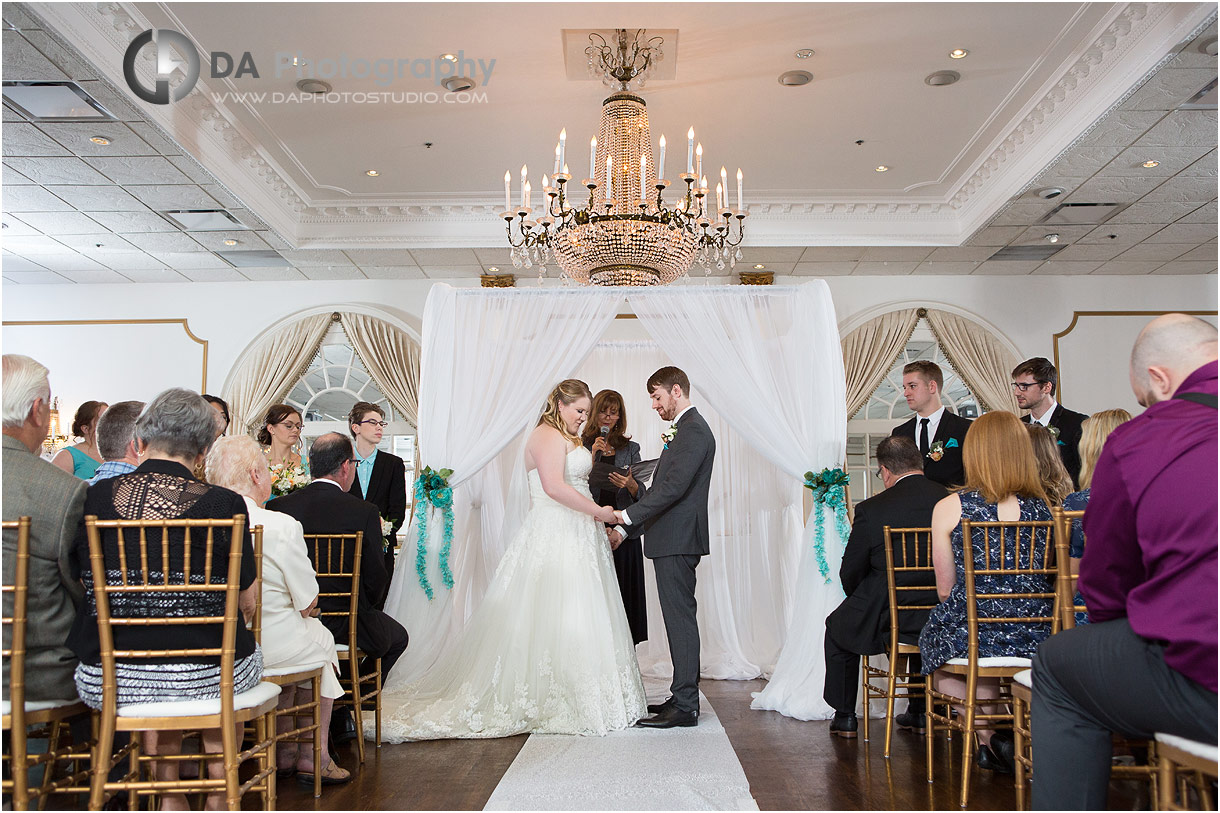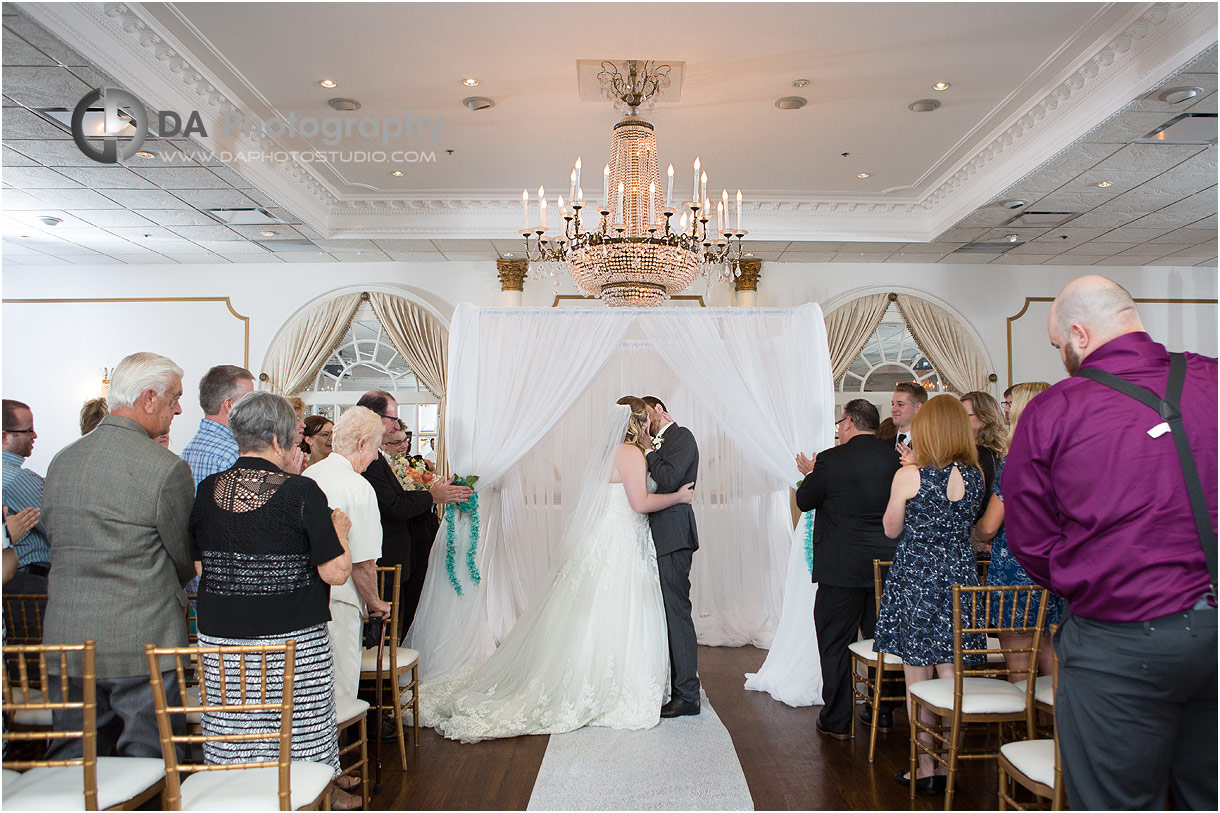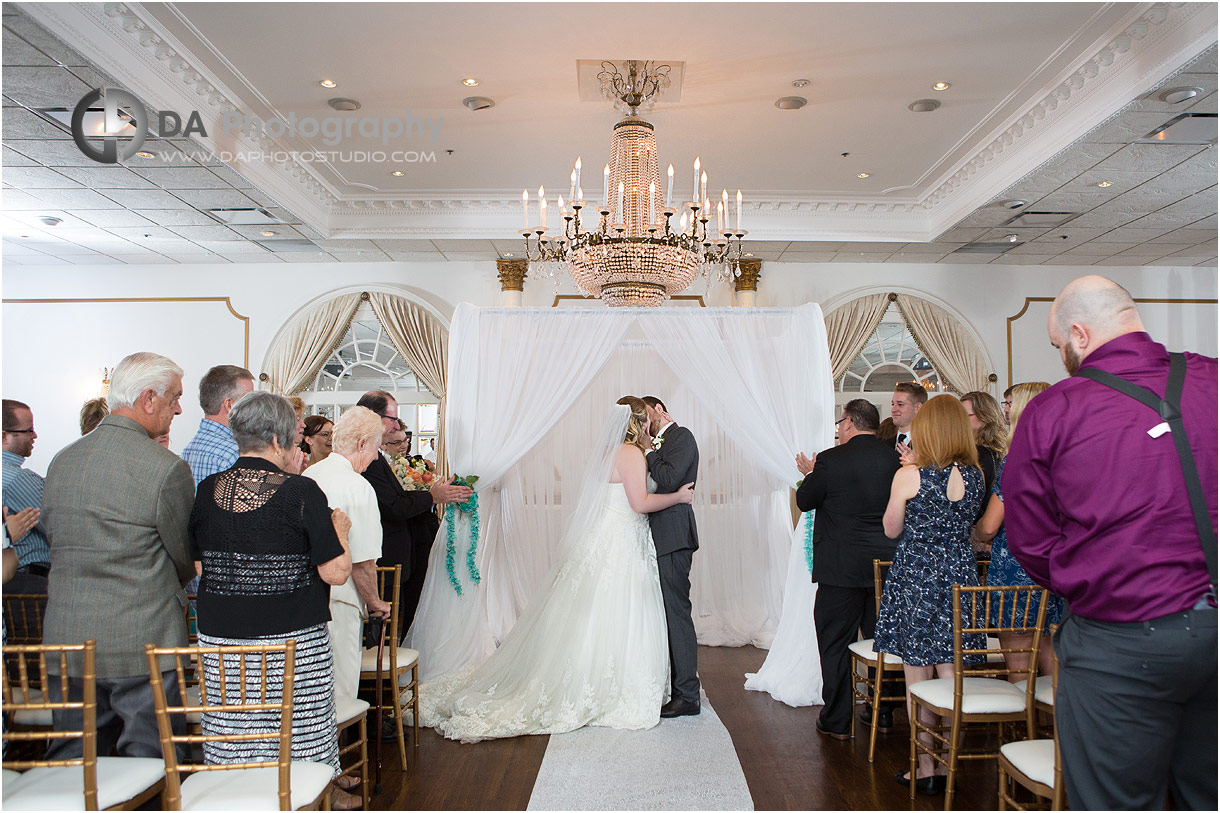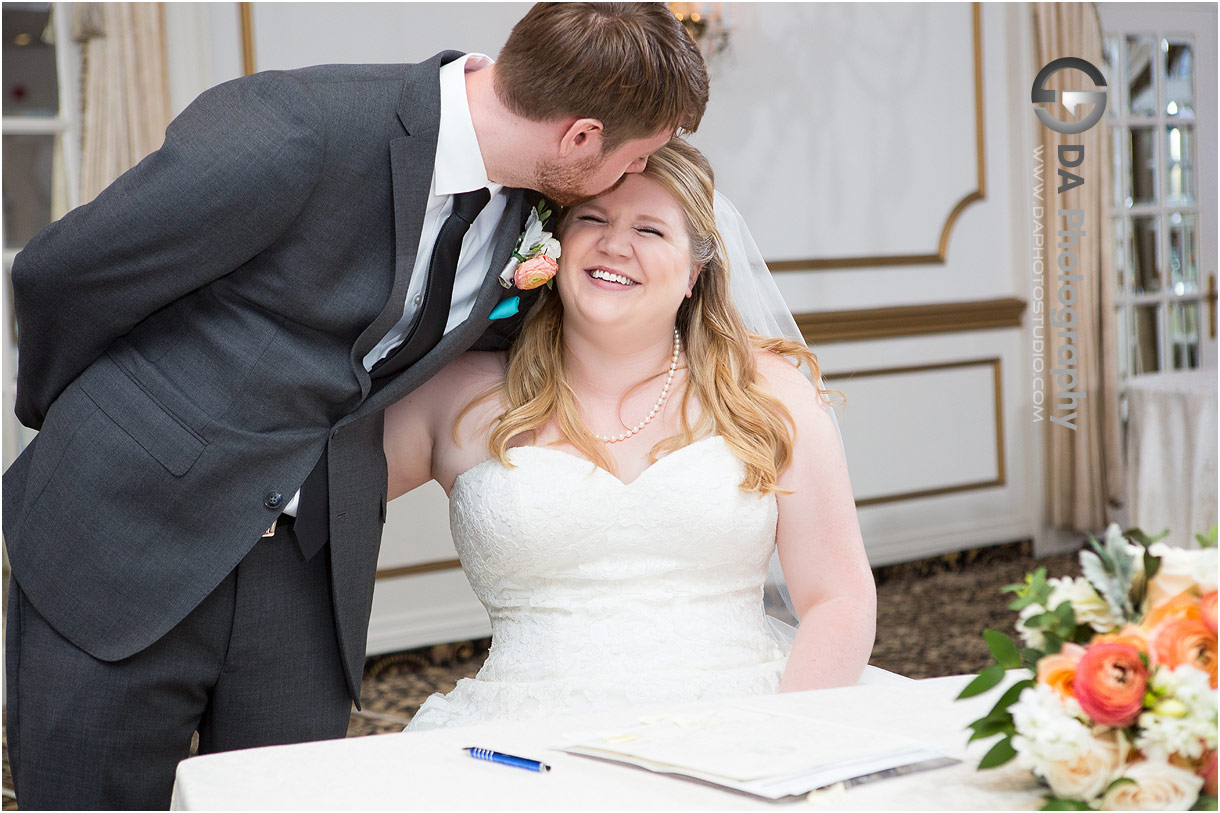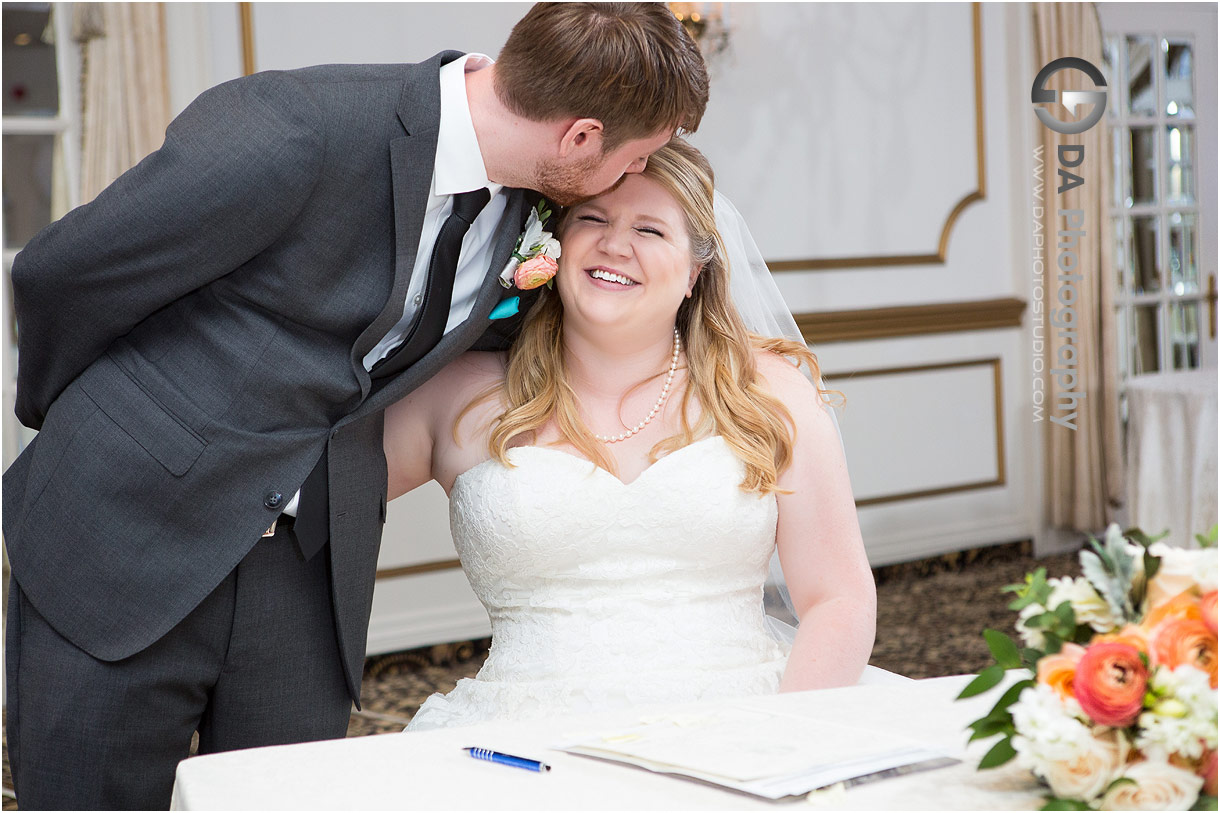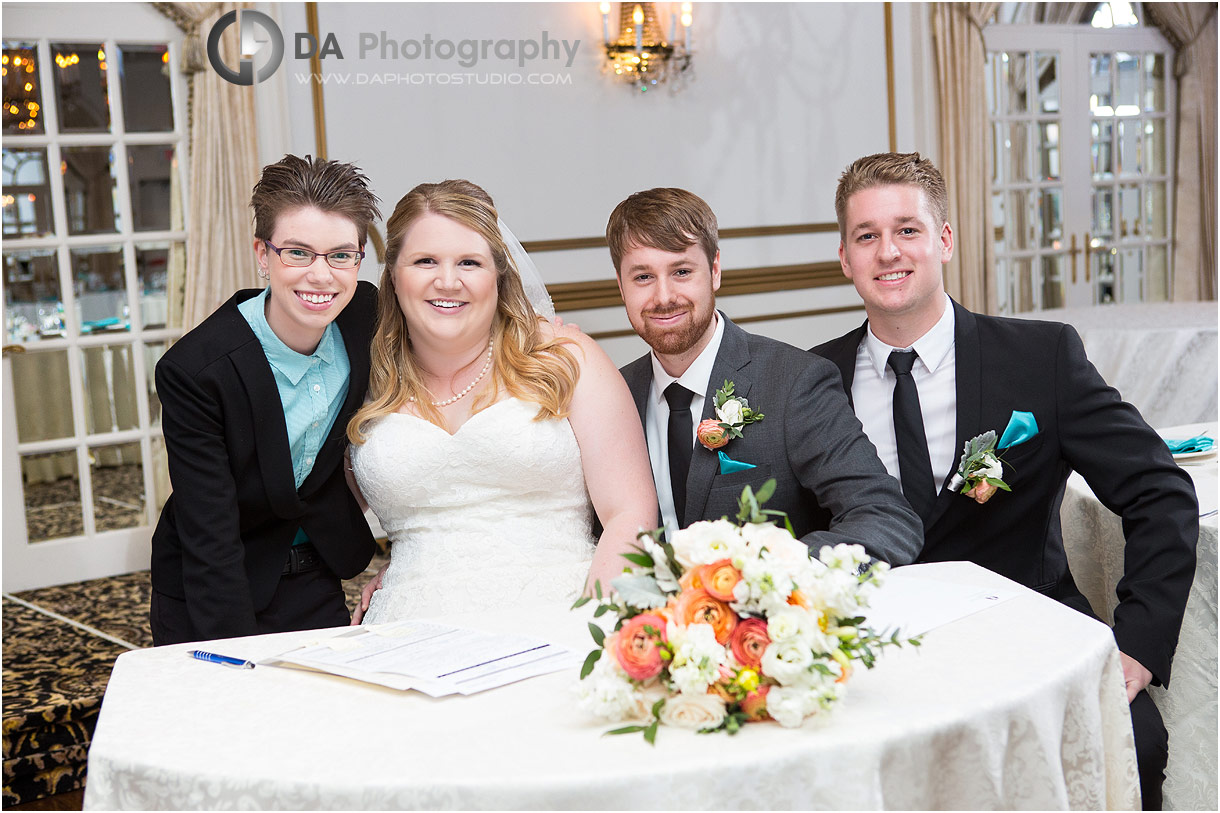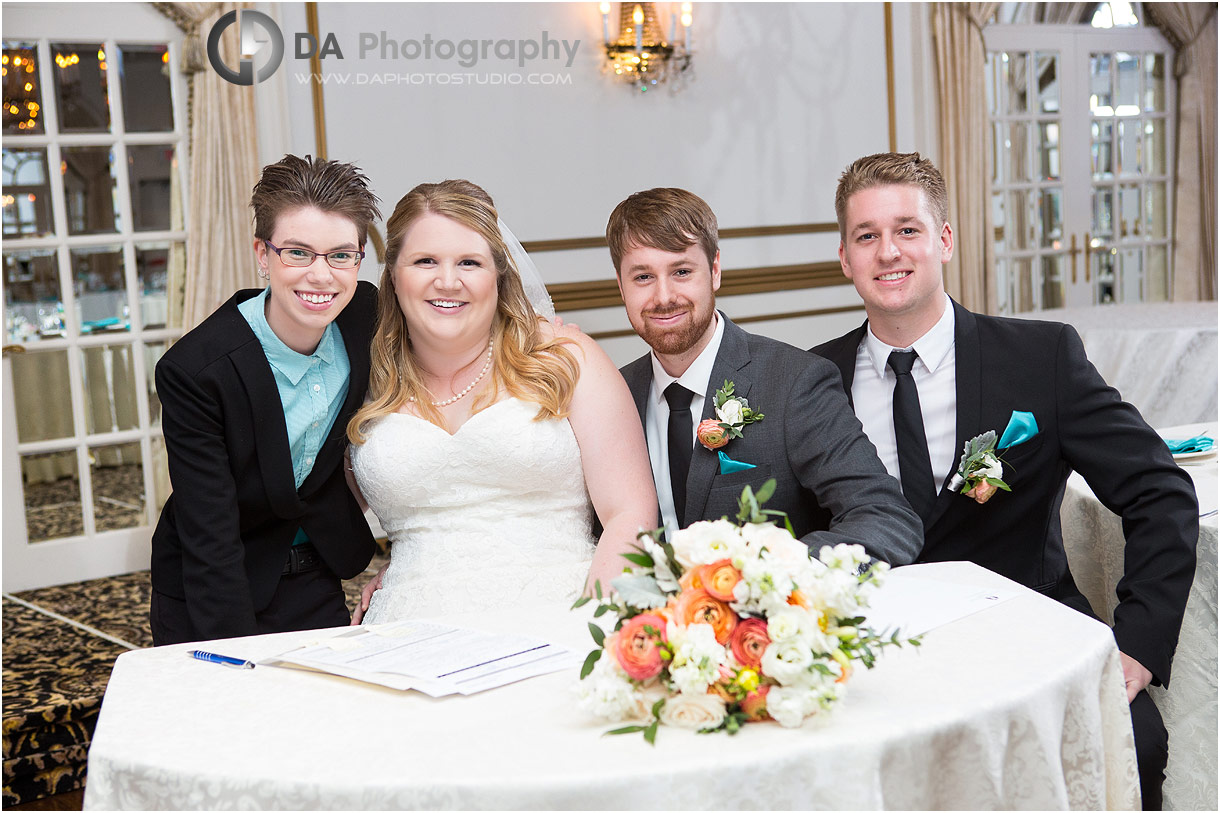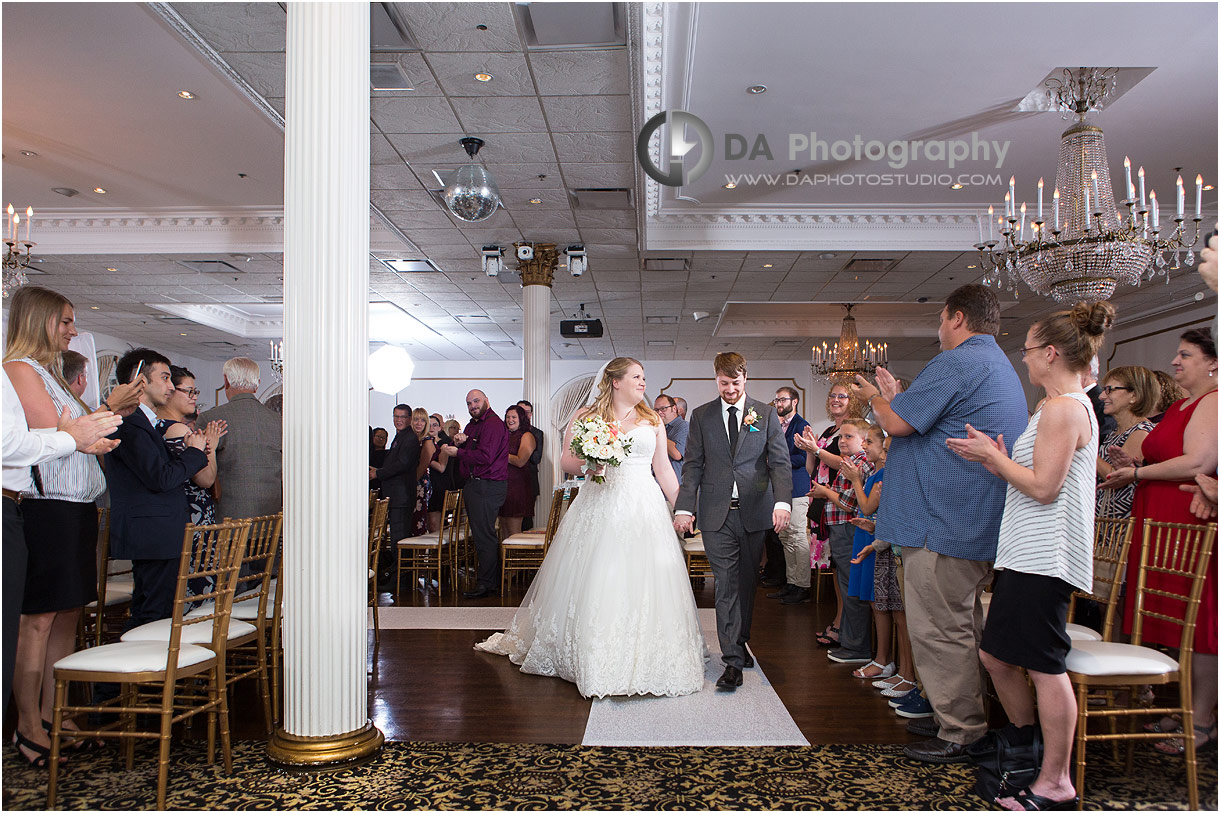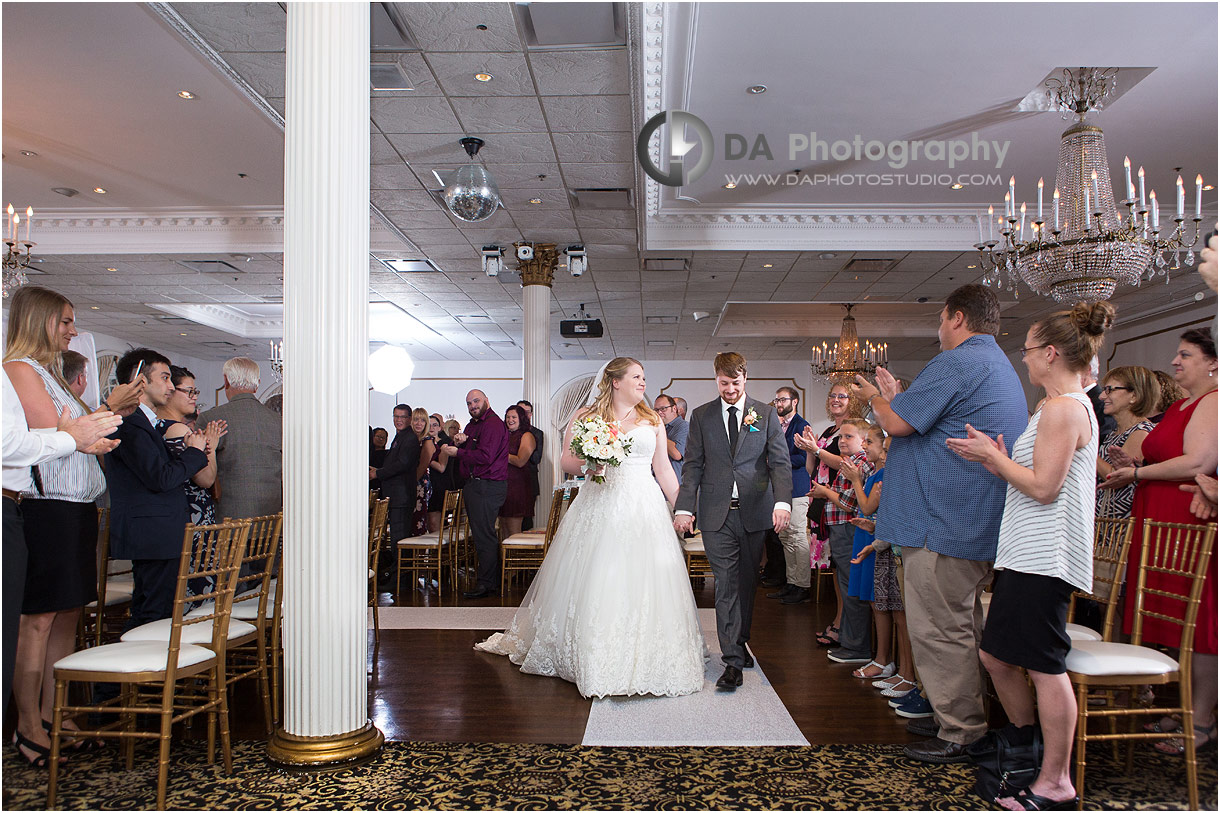 The reception party
Victoria and Ryan opted out of the grand entrance and formal introductions that you often see at weddings. They simply wanted to join their guests and appear at their main table. It set the perfect tone for the evening ahead.
The night was so relaxed that I wondered if there was something I was missing. It seemed suspicious that there was no stress or hustle and bustle. However, there was nothing to worry about. Everything was going according to plan.
The wedding couple wanted their guests to enjoy the food, drinks, and company. After the dinner was over, there was something else Victoria and Ryan had in mind.
Victoria's uncle was the MC for the reception. He also was performing and singing a couple of songs while inviting the couple to the first dance. It was an easy shift from the sit-down dinner to the party on the dance floor. And what a party it was!
I loved how effortless the day felt for me. While we were still busy capturing every detail, it was such a pleasure to be a part of Victoria and Ryan's day. This stress-free wedding started with the couple but certainly was helped along with the wedding professionals that helped pull it off and the bridal party and the wedding guests' positive energies too.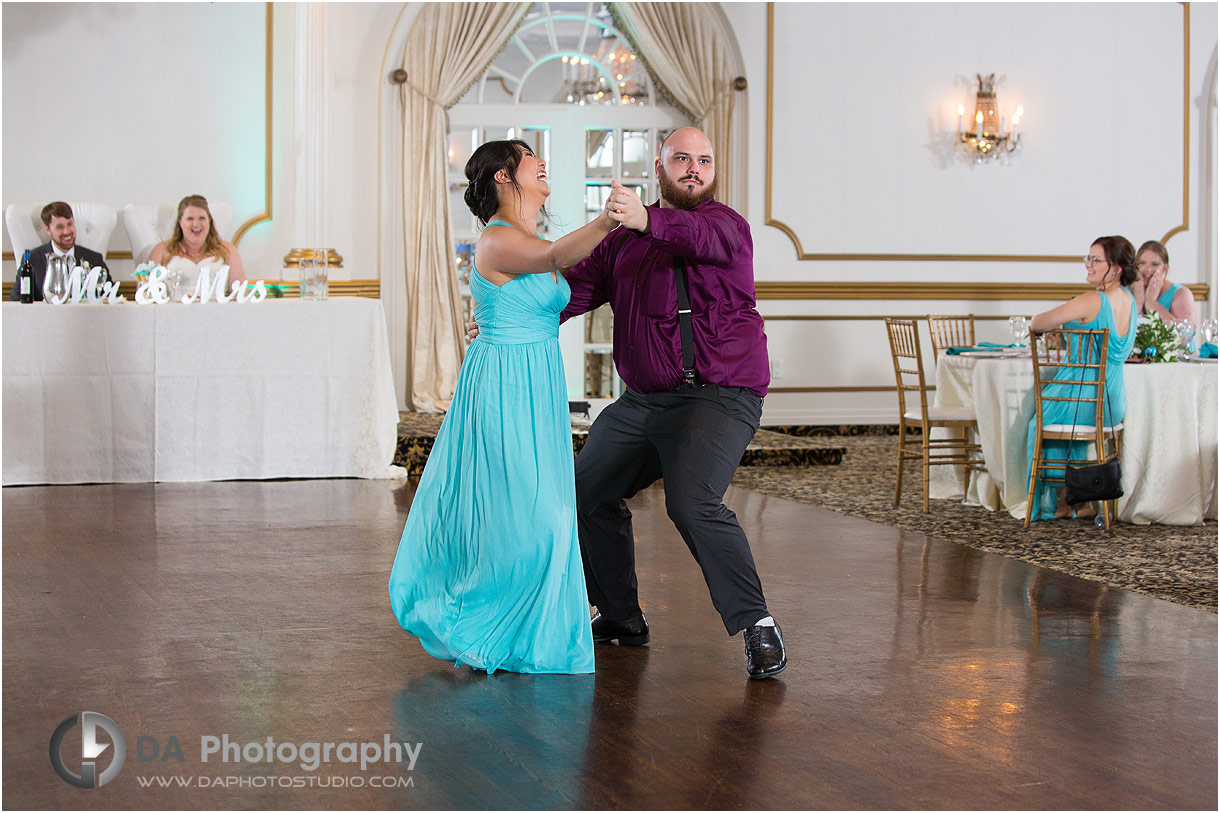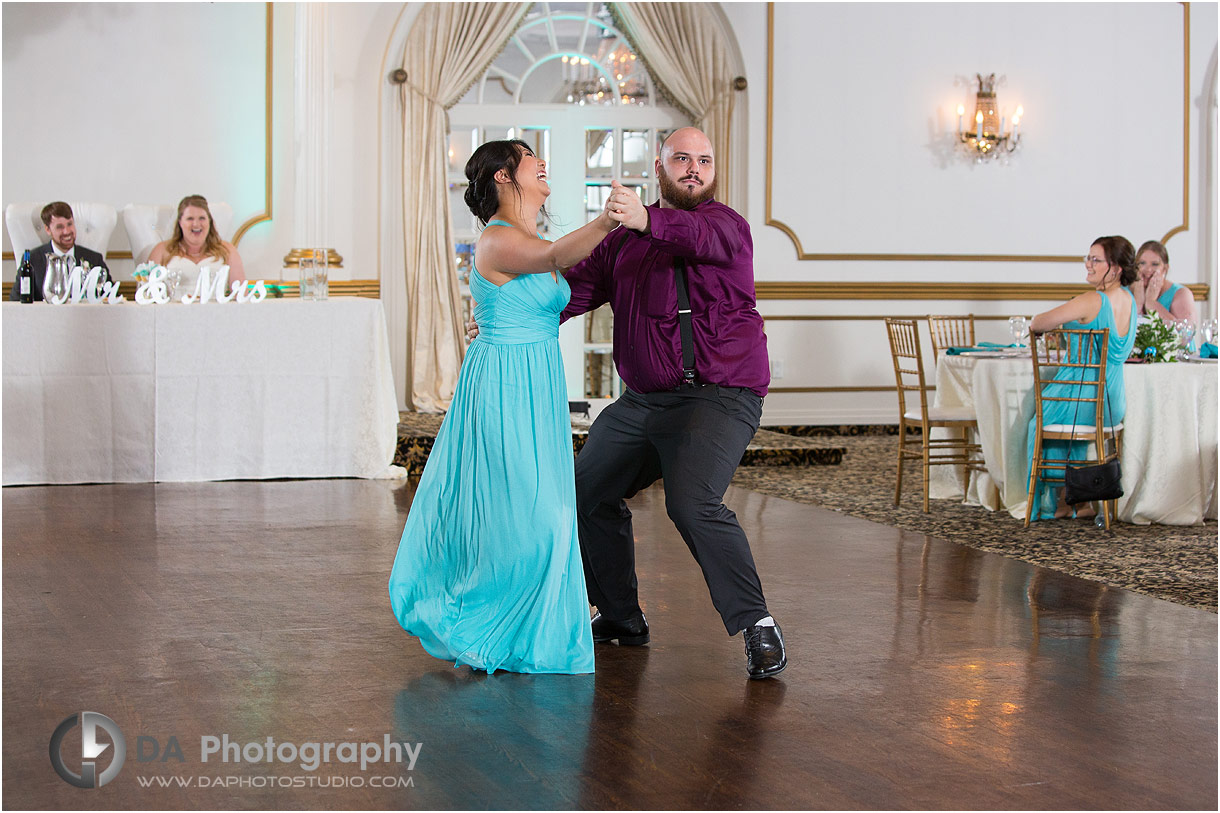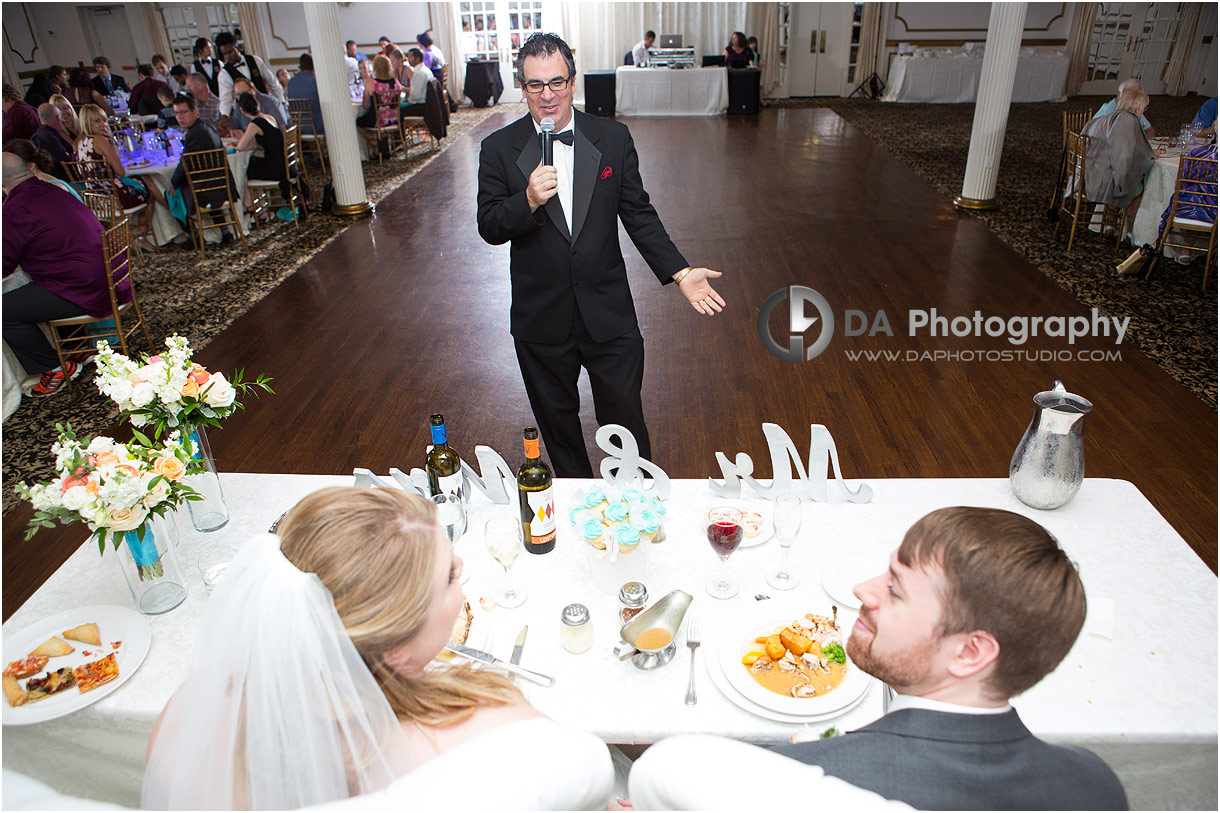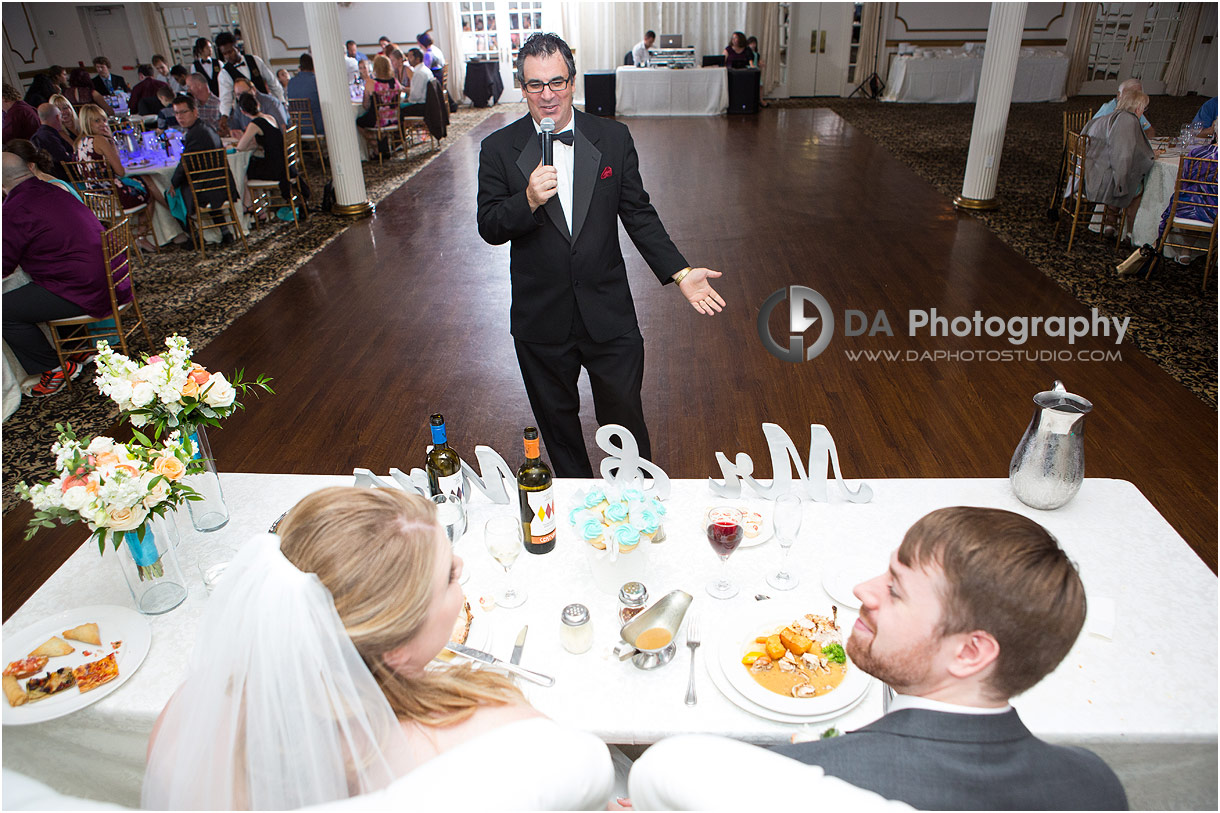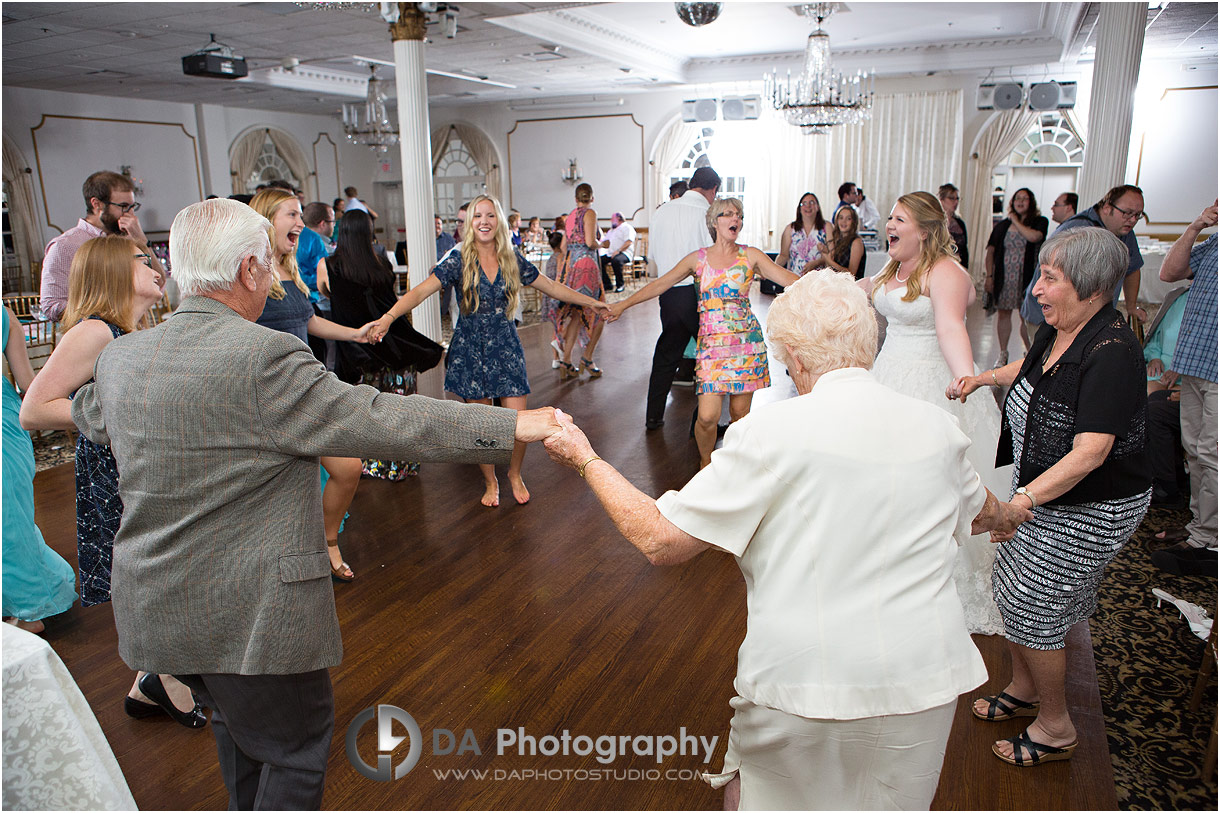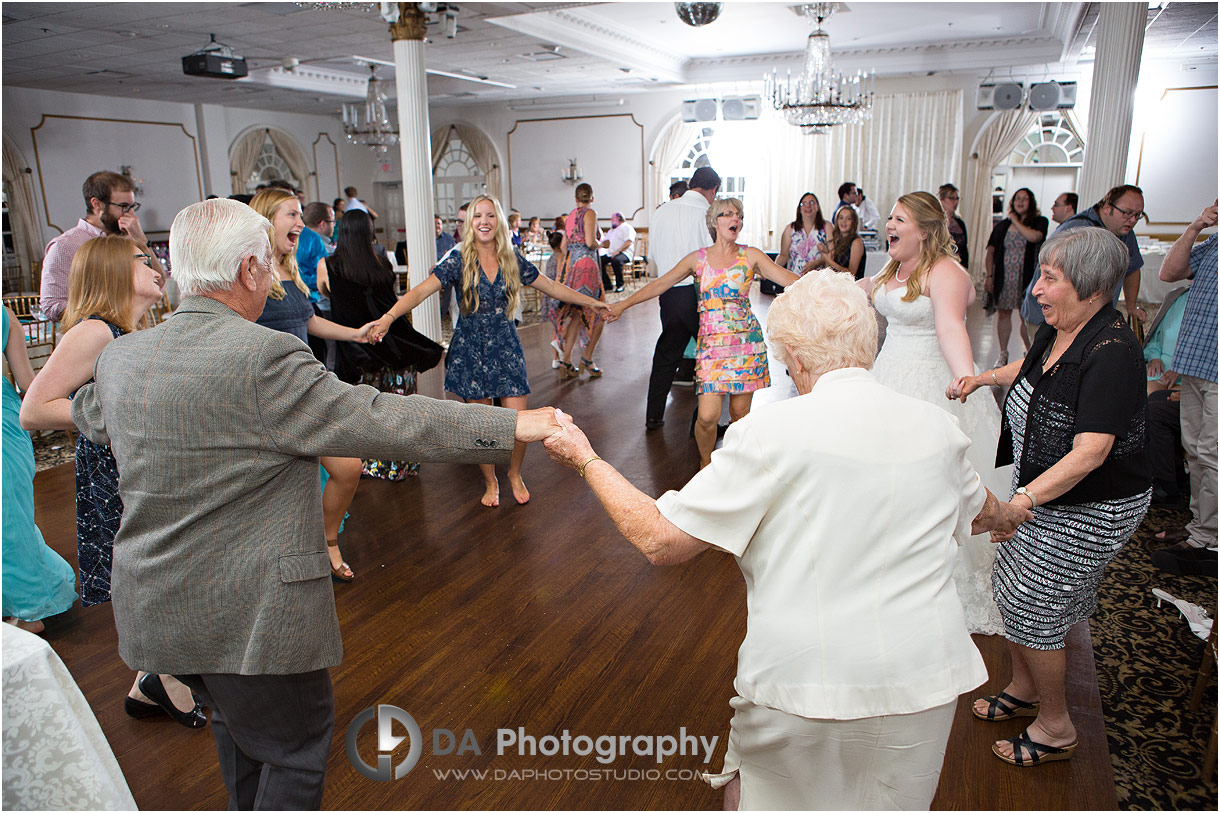 Intimate Nighttime Photos
For my weddings, I never leave without taking my signature nighttime photo session. Absolutely, this was the case for this wedding too. This particular August evening was so hot and humid. The entrance of the venue was packed with guests as a smoking area. Other guests were also enjoying getting a bit of fresh air. This made it a bit challenging to find a quiet spot for these intimate images.
However, we still managed to capture these gorgeous photos and I was sure to showcase the venue's name as a fantastic memory for them. And with that, we finalized this Kariya Park wedding in the way that we had started it. Smooth and perfectly planned.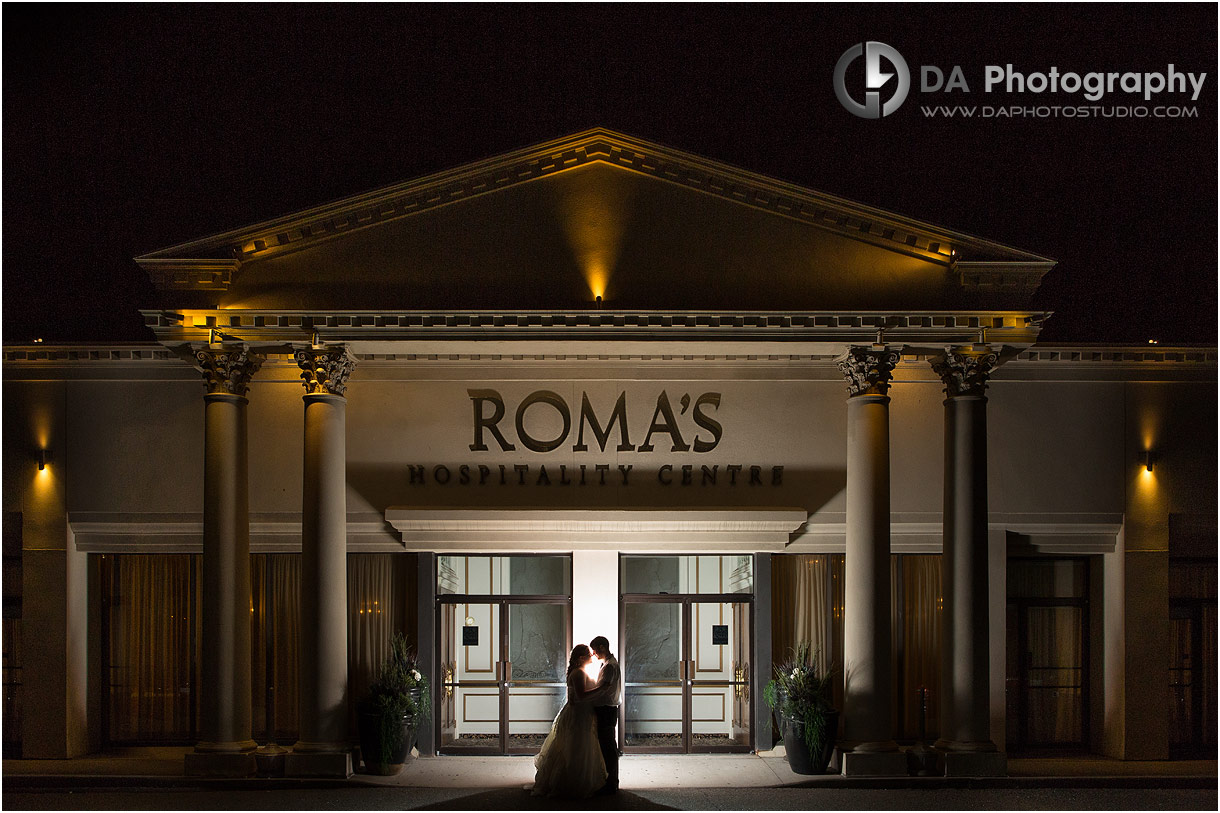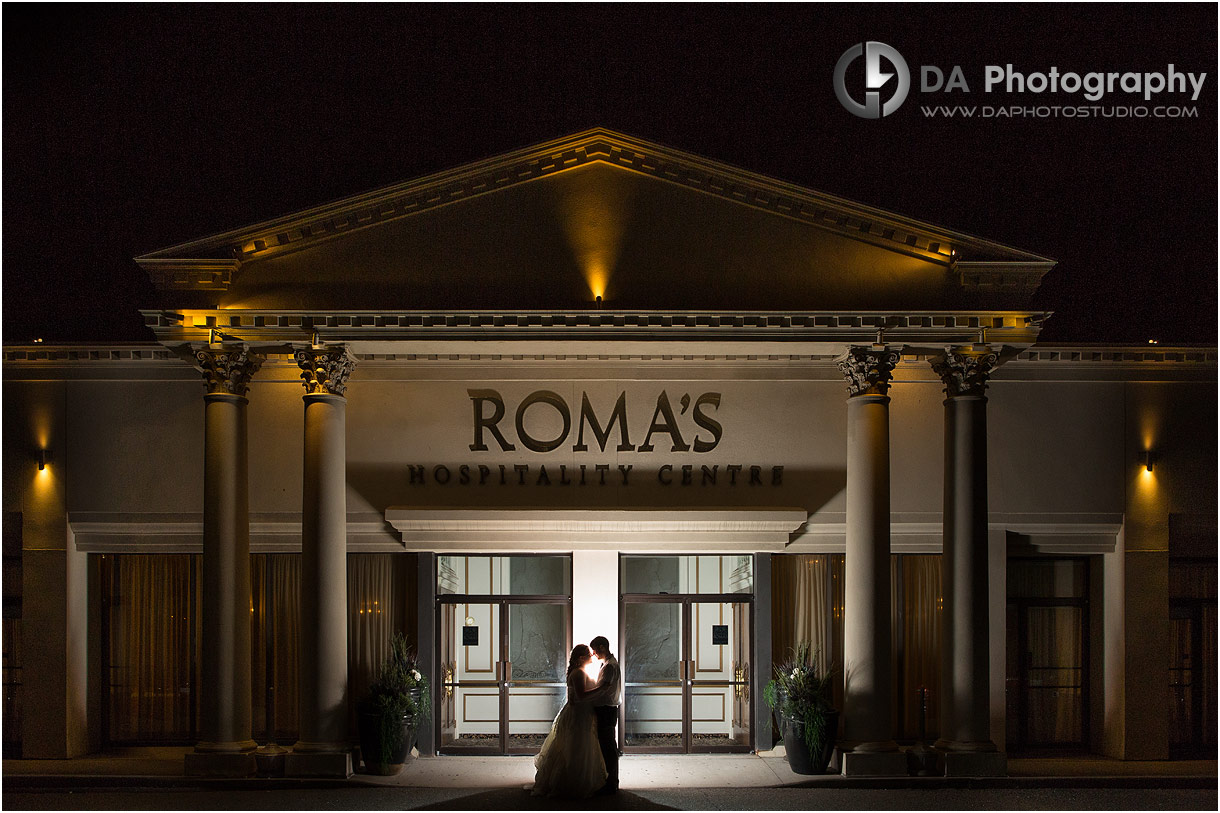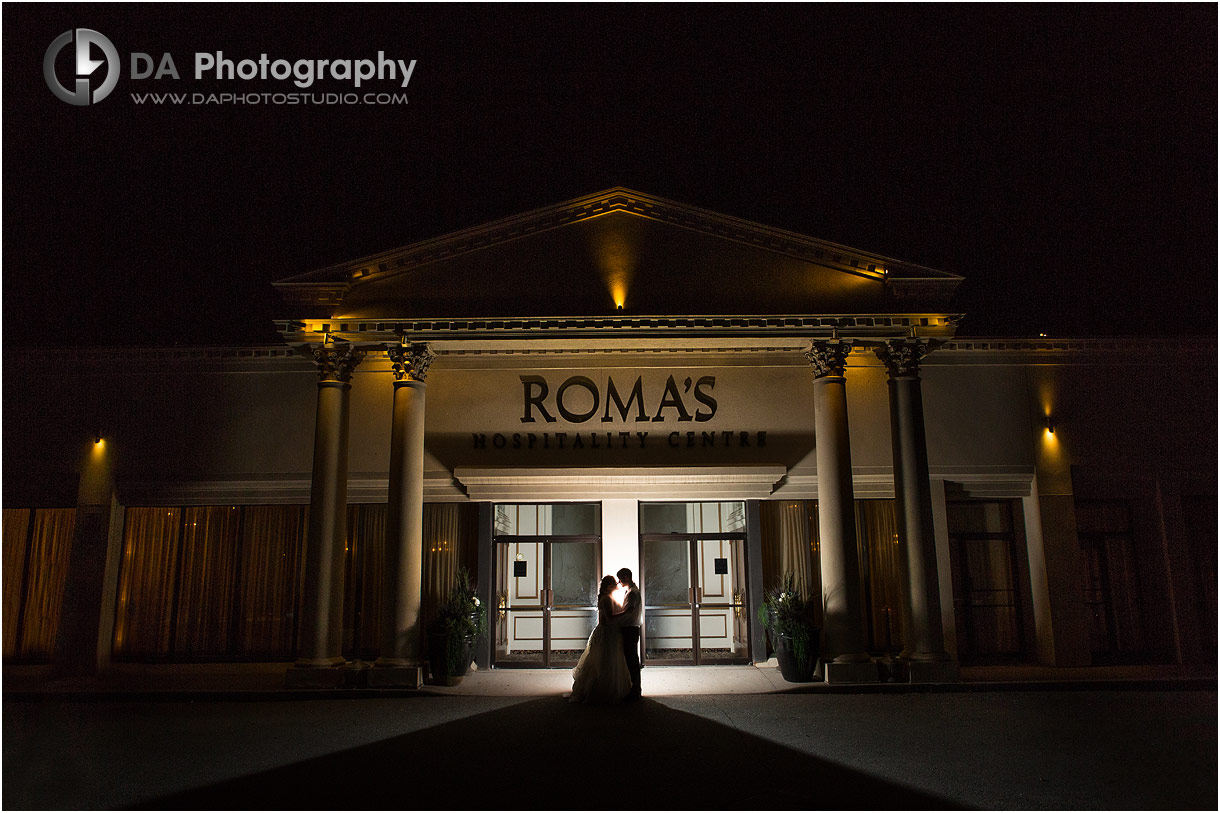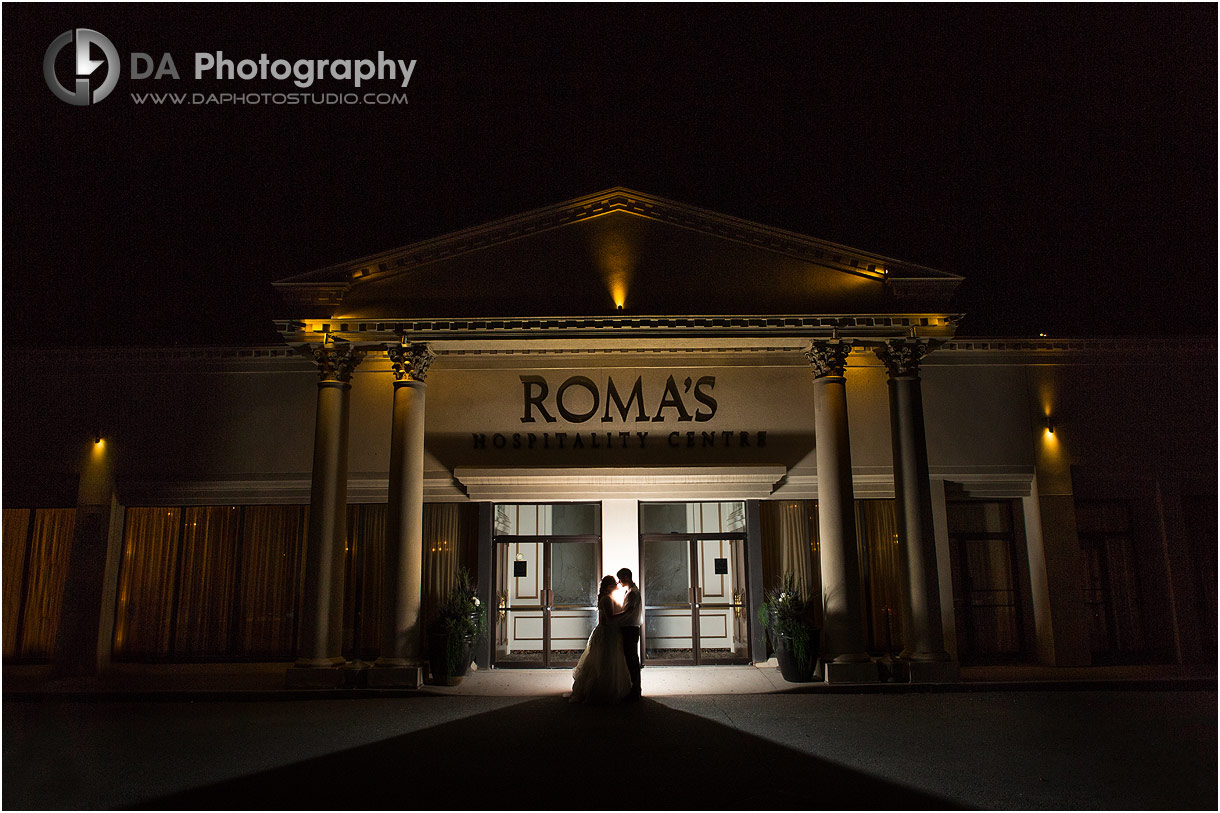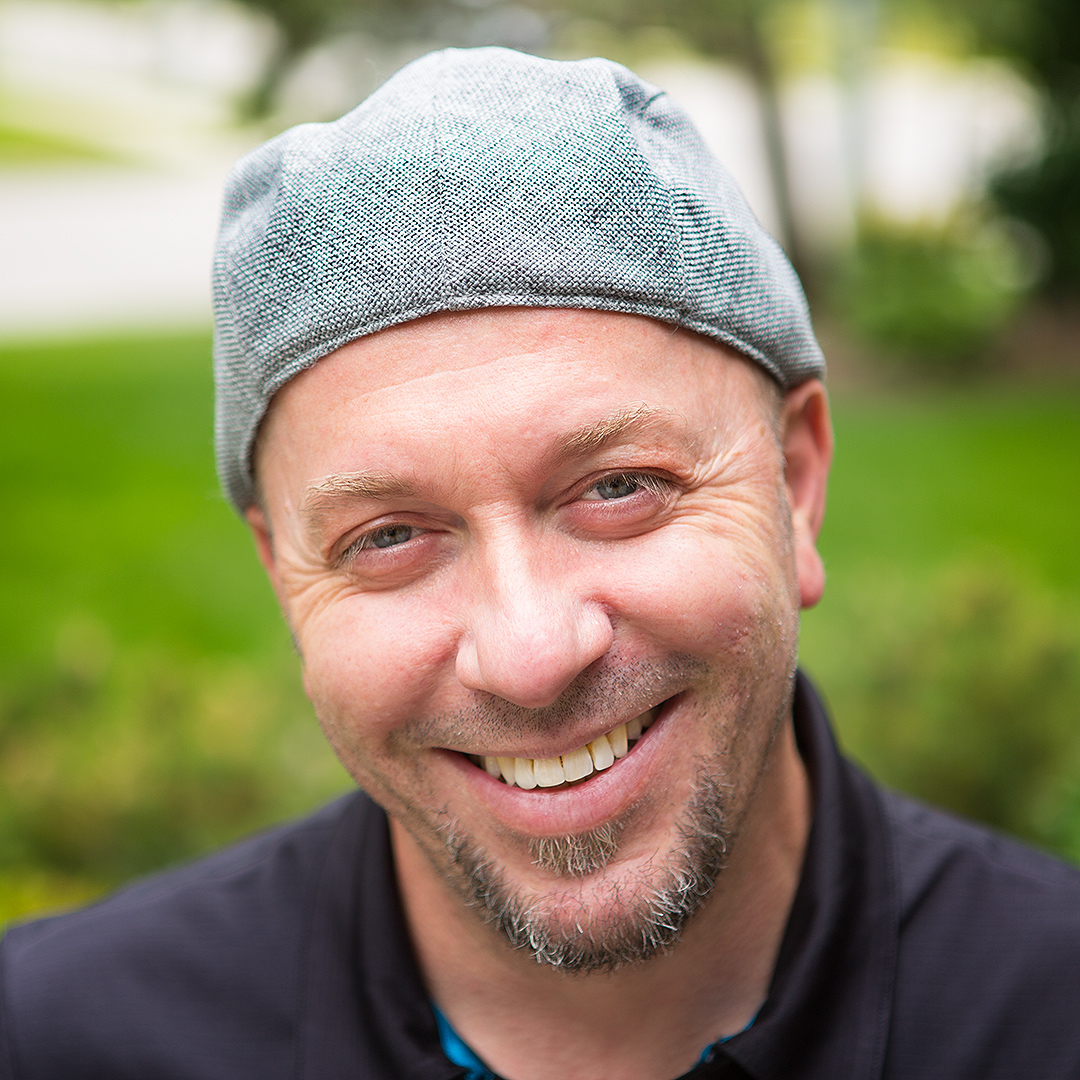 My passion and biggest asset is taking the time to make every client comfortable and relaxed before I even pick up the camera. The result? Photos of you that actually look like you at your best! I can prove to you how much you can enjoy having your picture taken. Lifestyle photography is about the experience that happens to be served up along side of some great photos.
Specialties:
Family Photography for families that like to move around and enjoy their photo time, Wedding Photography for couples looking for a mixture of photojournalistic, contemporary and traditional images and Professional Corporate headshots that are far from cheesy and stiff.