This wedding at Four Fathers Brewery was a long time in the making. Previously postponed twice because of COVID-19 pandemic restrictions, Tangi and Stephen managed to finally celebrate their love with their friends and family.
The wedding was a perfect representation of who this couple is, their wonderful personalities, and what this celebration meant to them. A local venue with one-of-a-kind characteristics, Four Father's Brewing Co. offered my couple a chance to celebrate their wedding with their guests in a way that was absolutely perfect for them.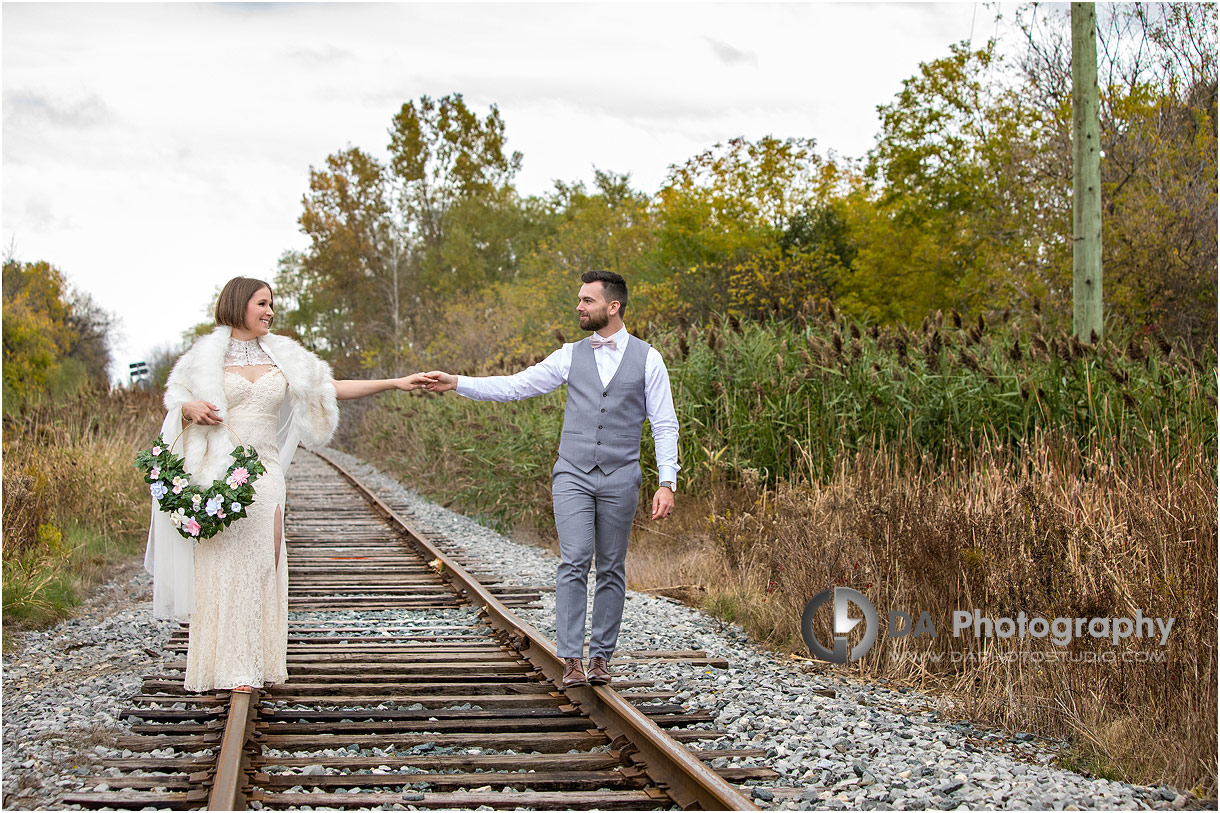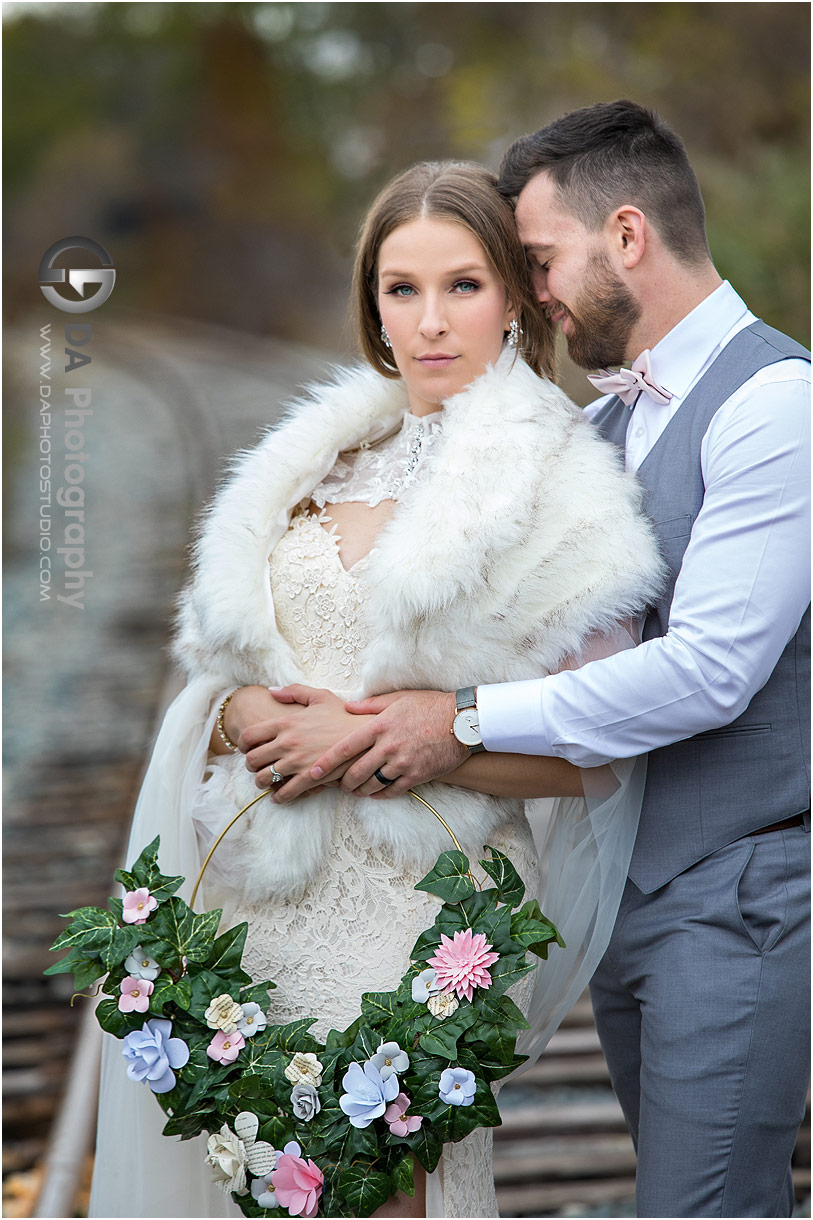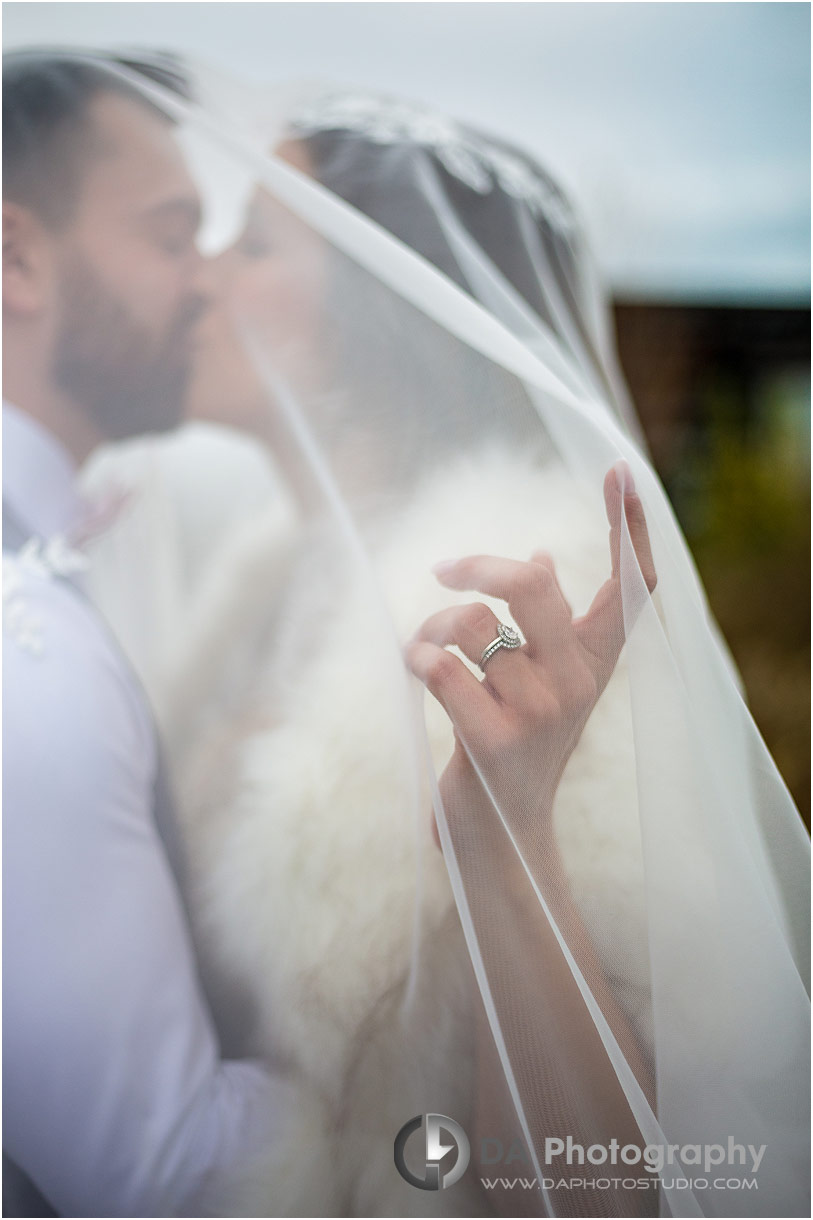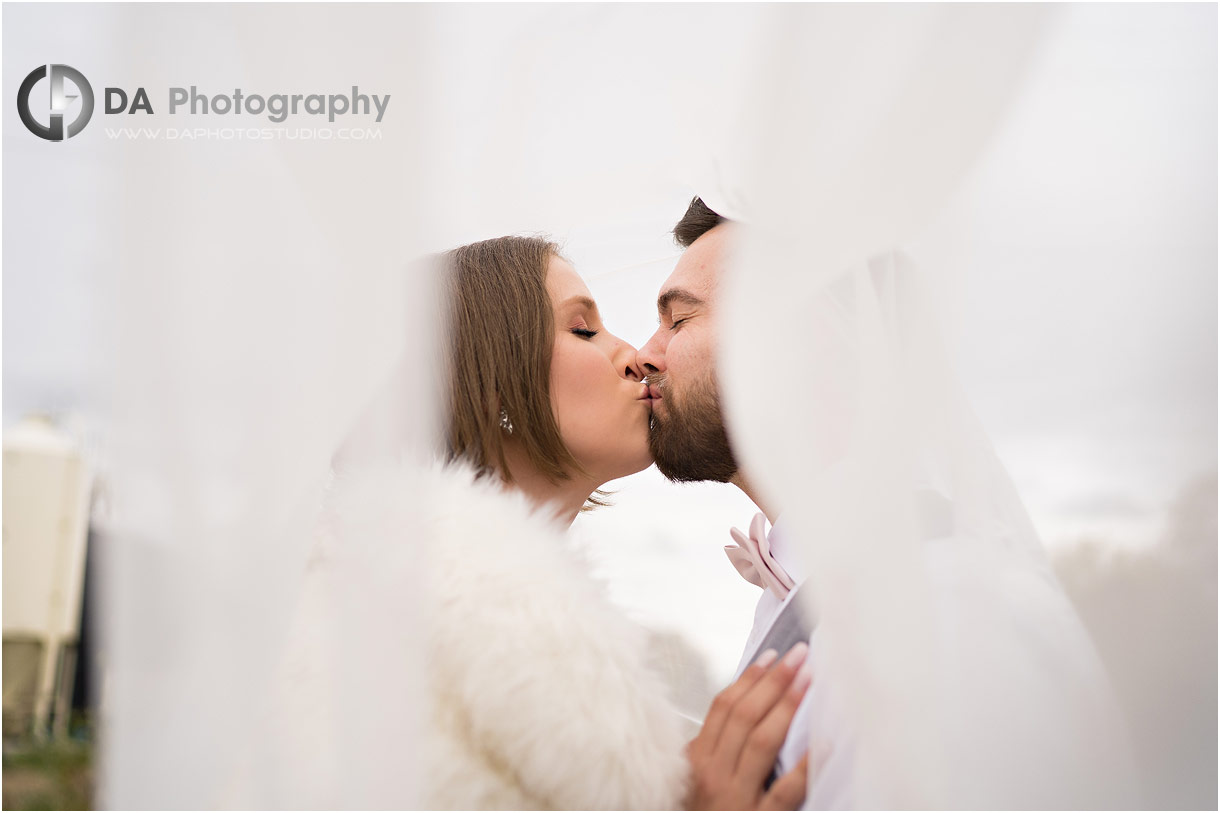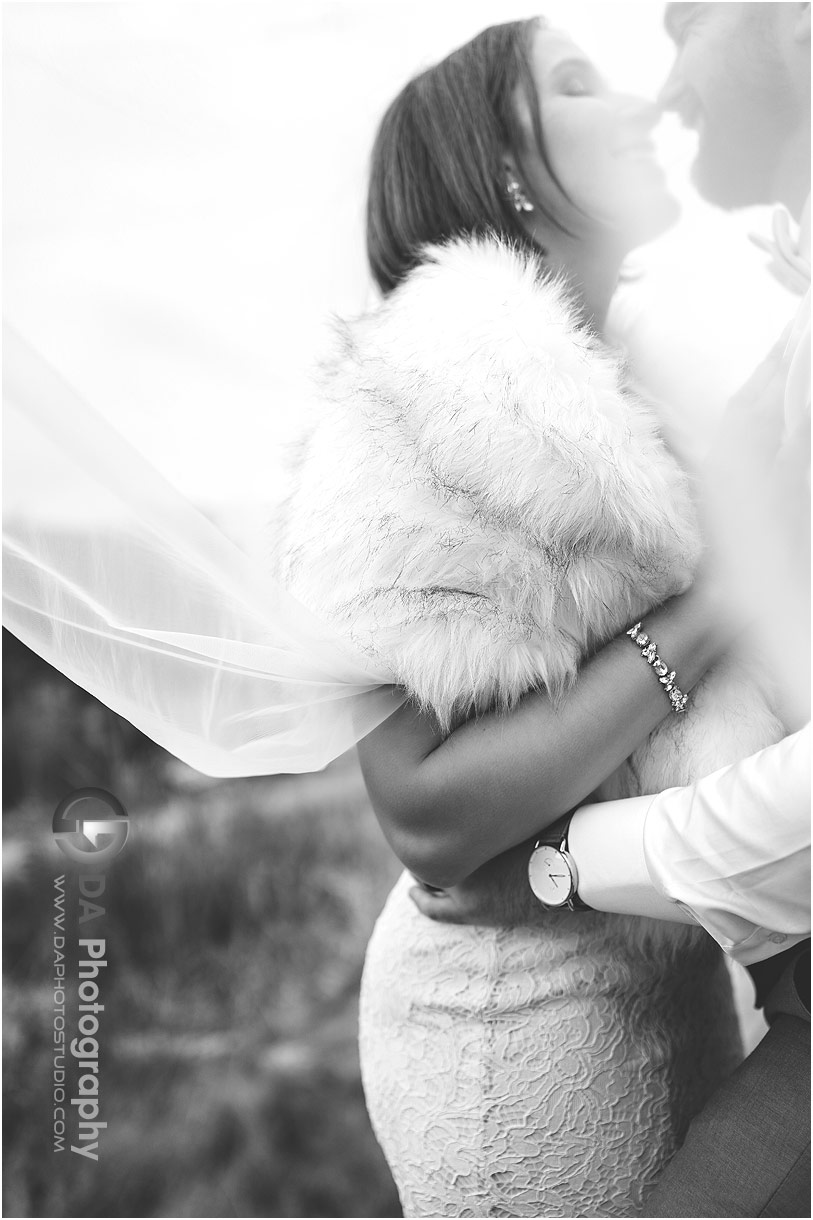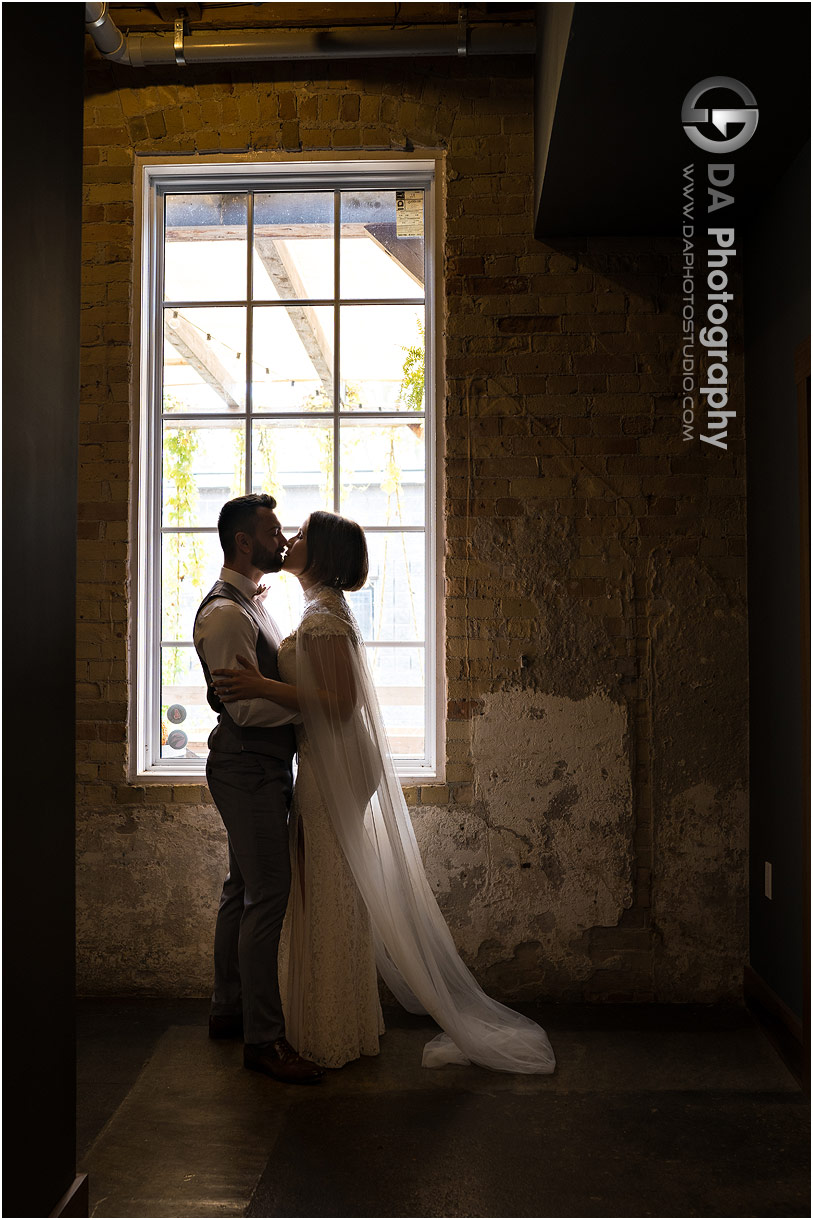 Getting ready for Four Fathers Brewery wedding
Judging from their unique choice of venue, I was sure Tangi and Stephen had additional unique and one-of-a-kind surprises planned for their special day too.
While Tangi and her girls started to get ready for the day at the couple's house, Stephen and his groomsmen were in Elora at the amazing Wright's Coach House doing the same. Erika, my 2nd photographer, was the perfect fit for Stephen and the boys. Each of their unique personalities was captured perfectly and documented just as they wanted.
At the same time, I had the pleasure to work with Tangi and her bridesmaids, capturing the getting-ready moments. Tangi is so down-to-earth and lovely to work with. She showed no sign of stress at all as she did her make-up and then helped others with theirs as well. I truly adore working with Tangi. It would be amazing to see more brides as relaxed and easy-going as she was on their wedding day.
To walk around the house freely, I had to first make sure to gain the trust of their dog. Although it took about half an hour, I eventually passed the test and was accepted as a guest.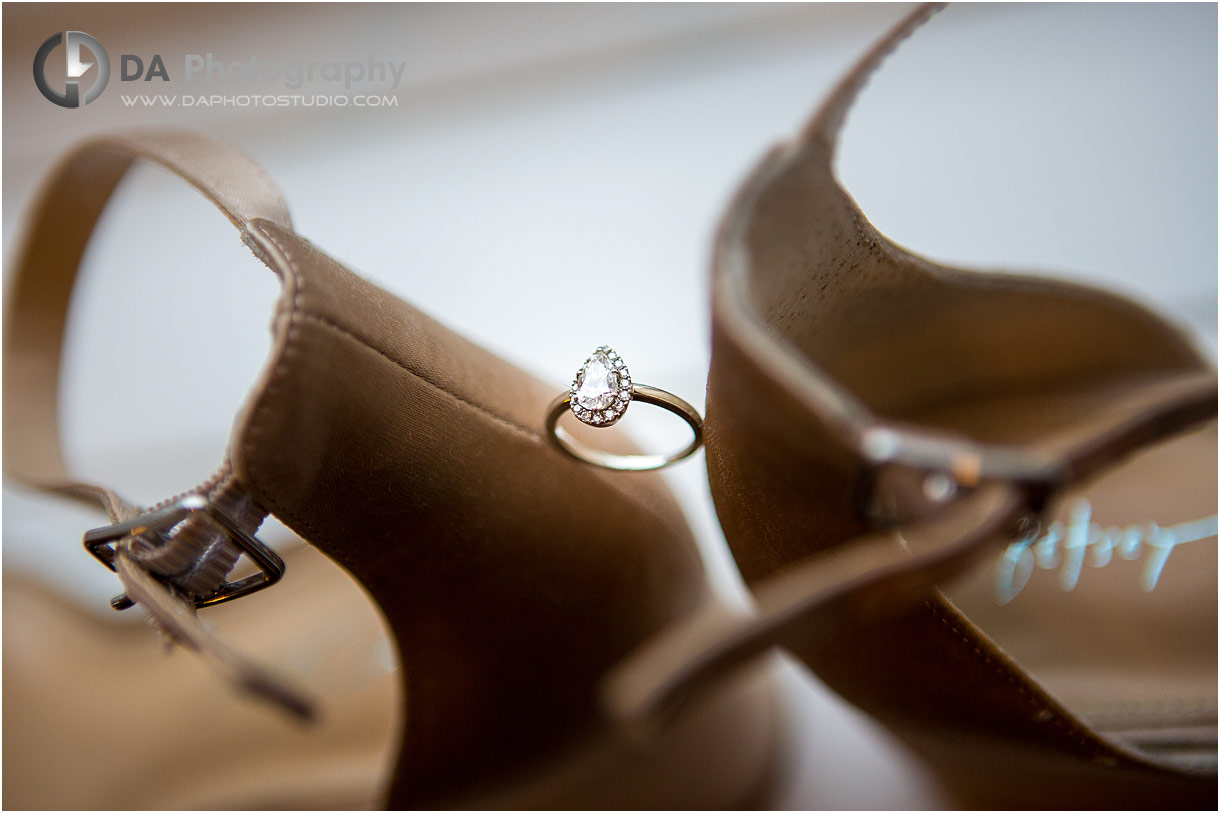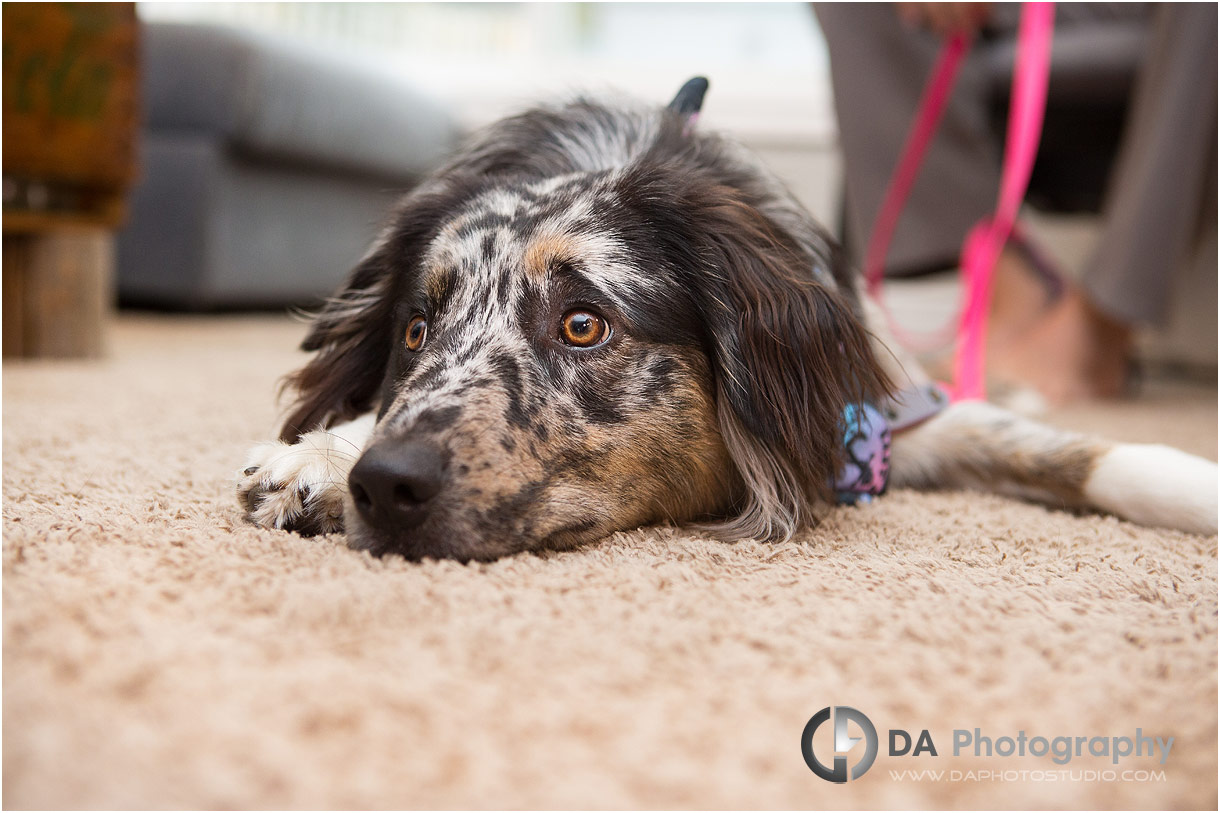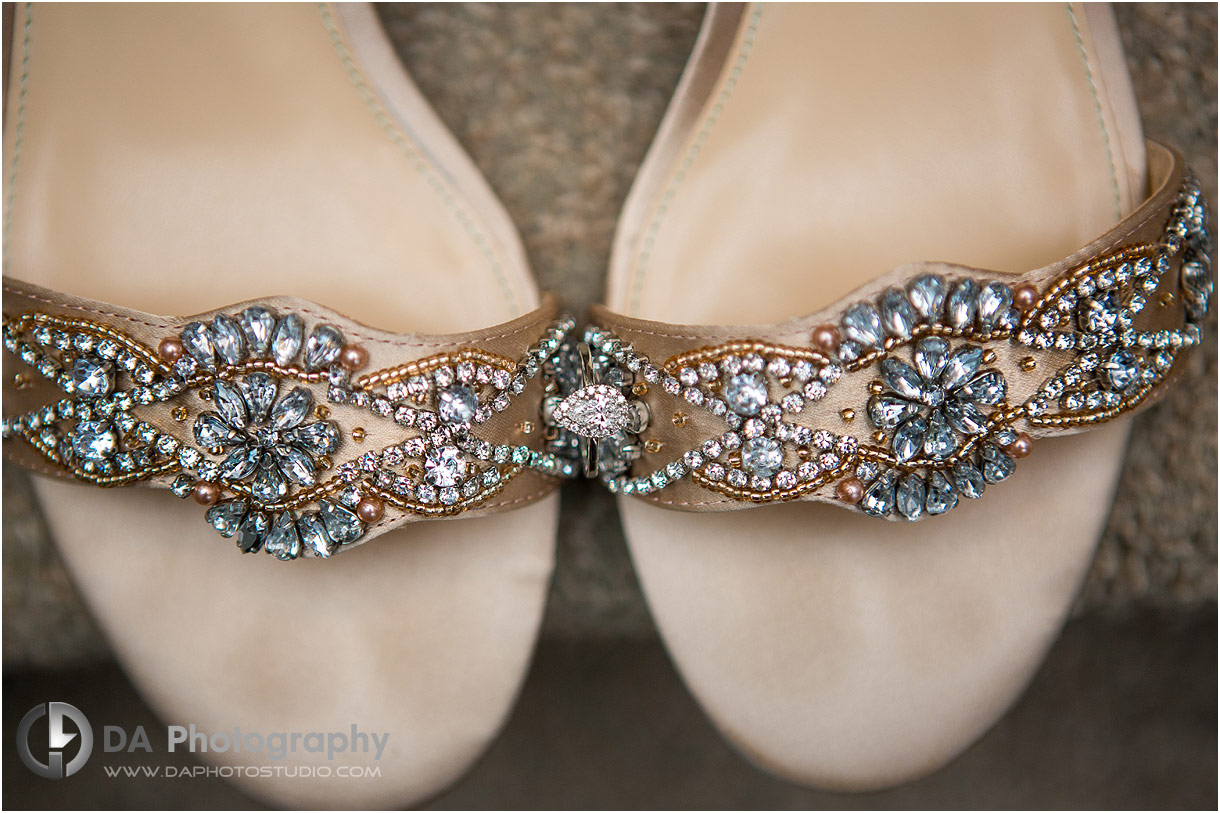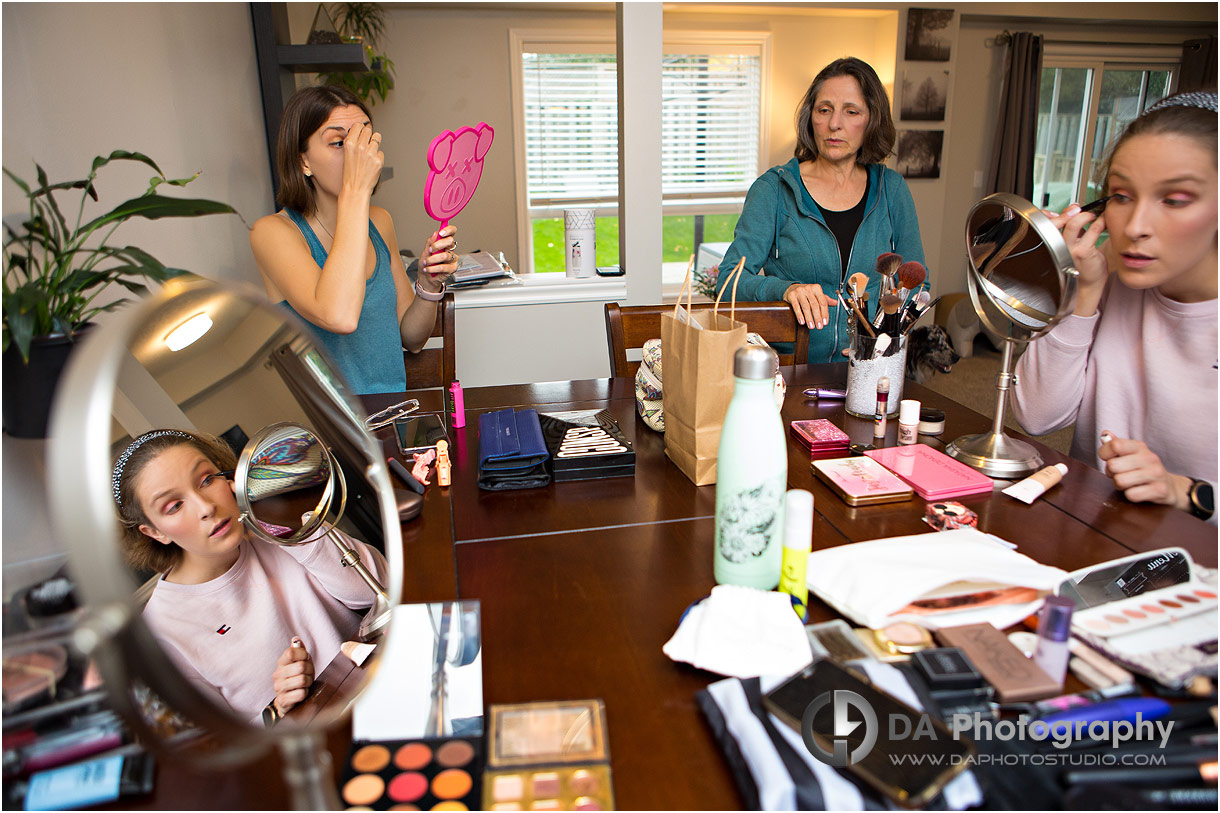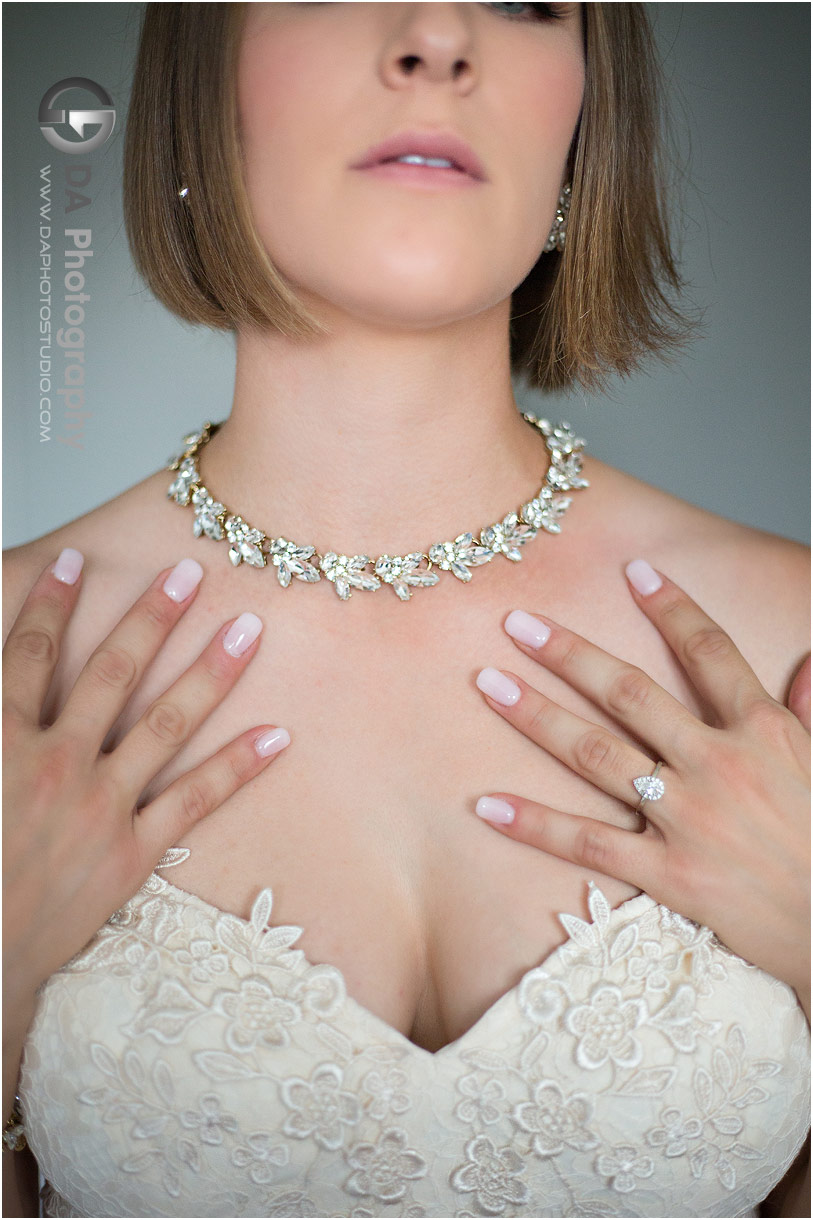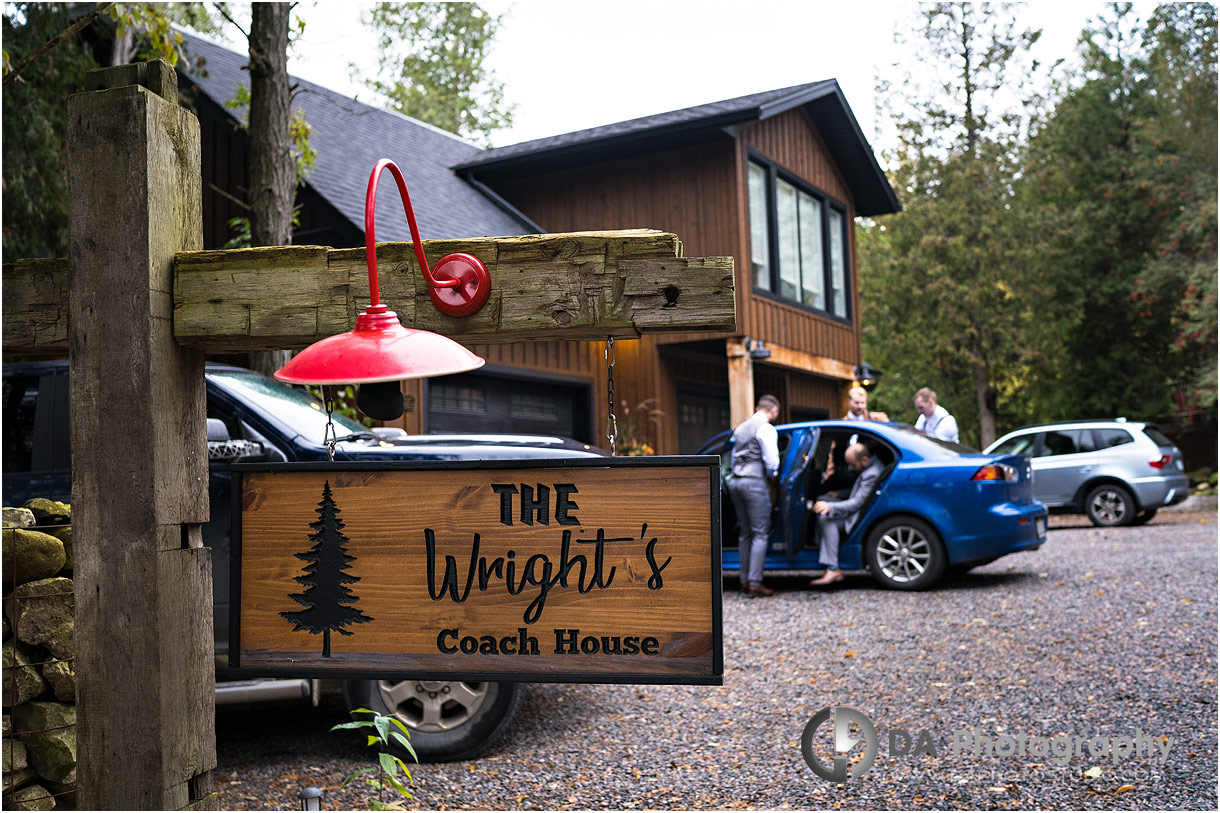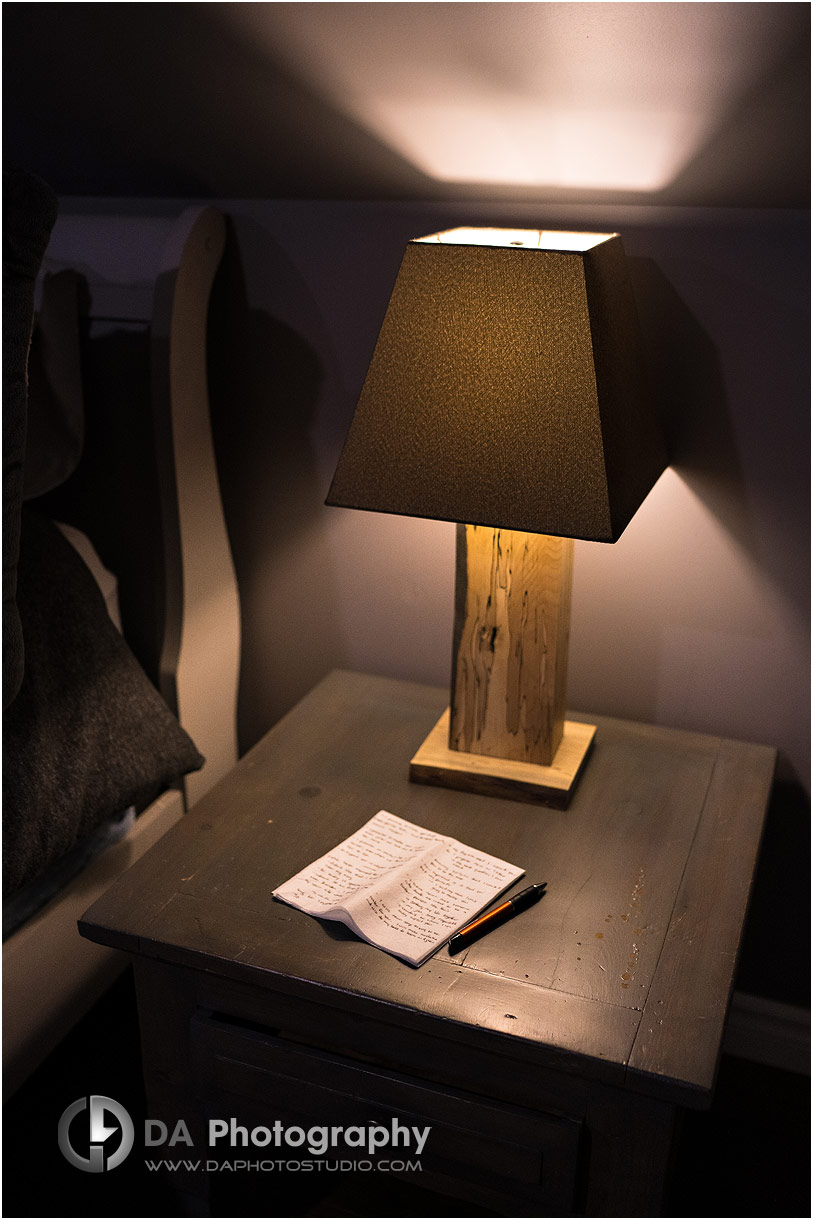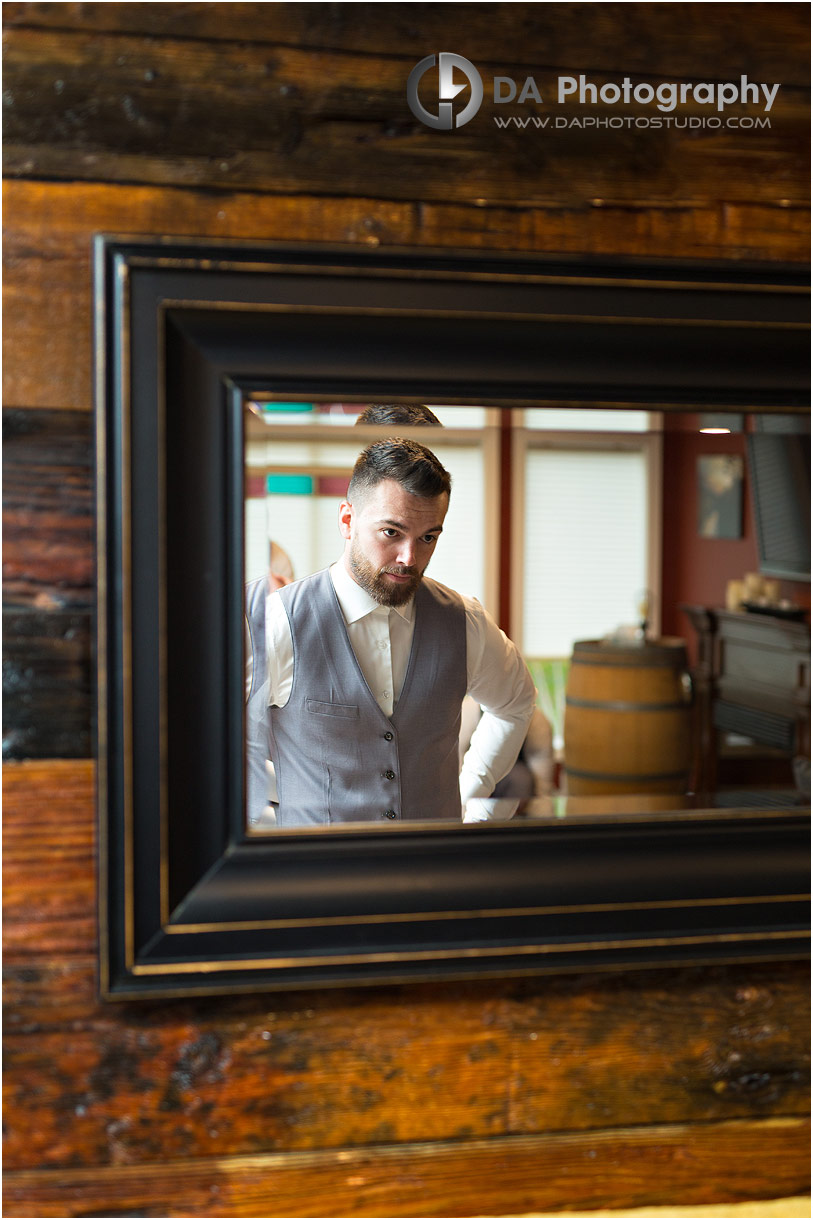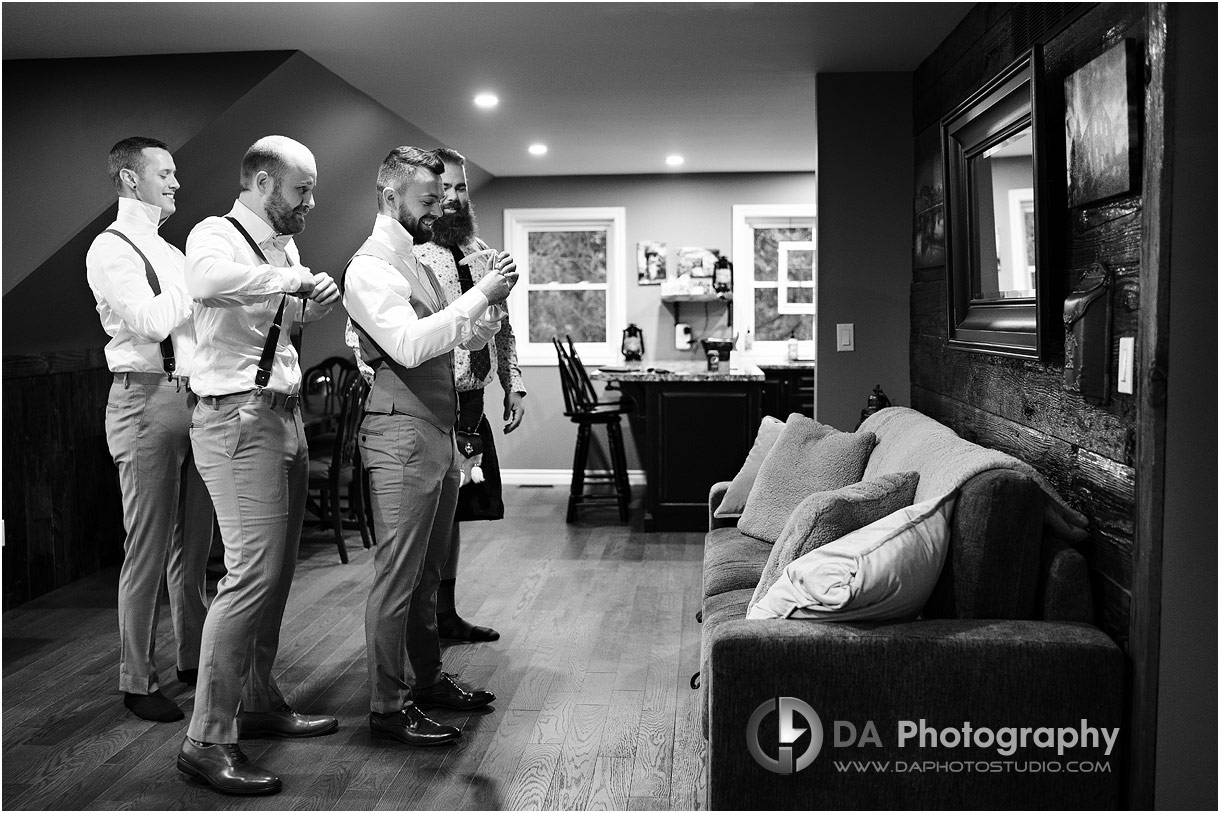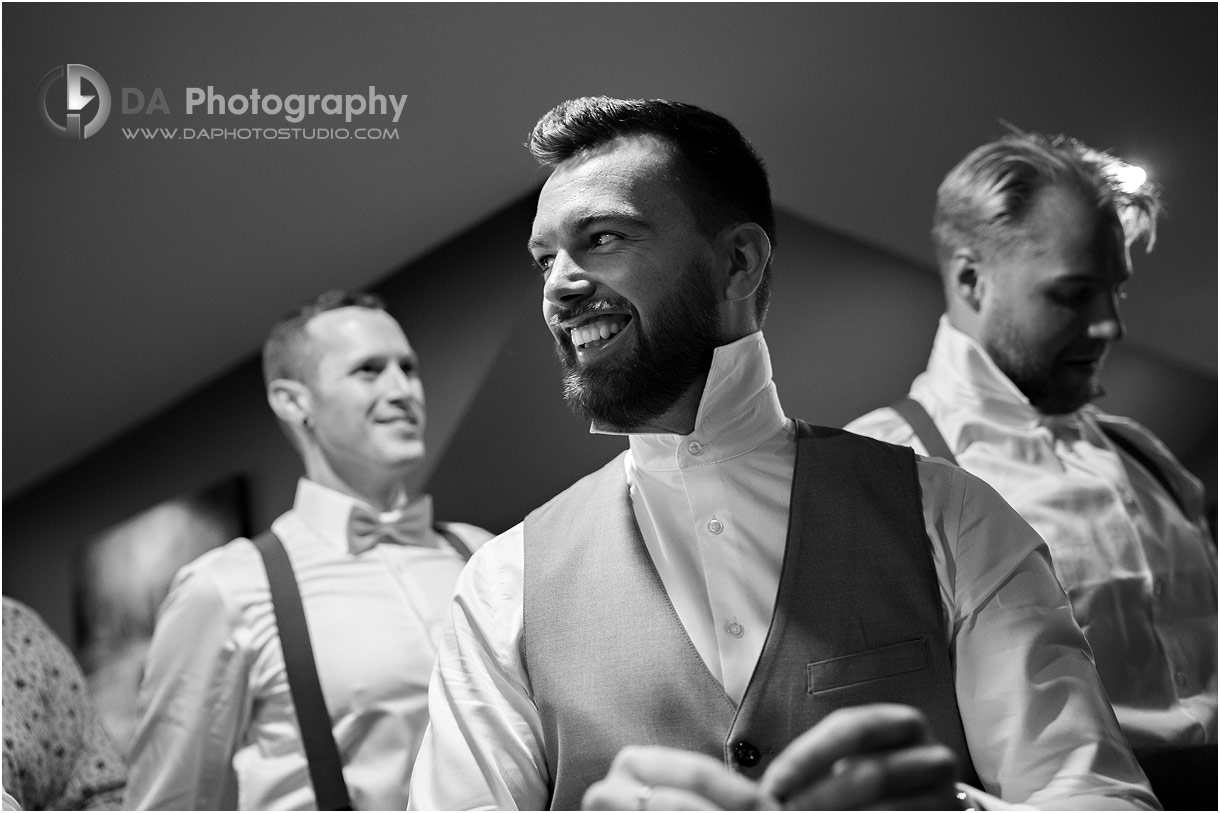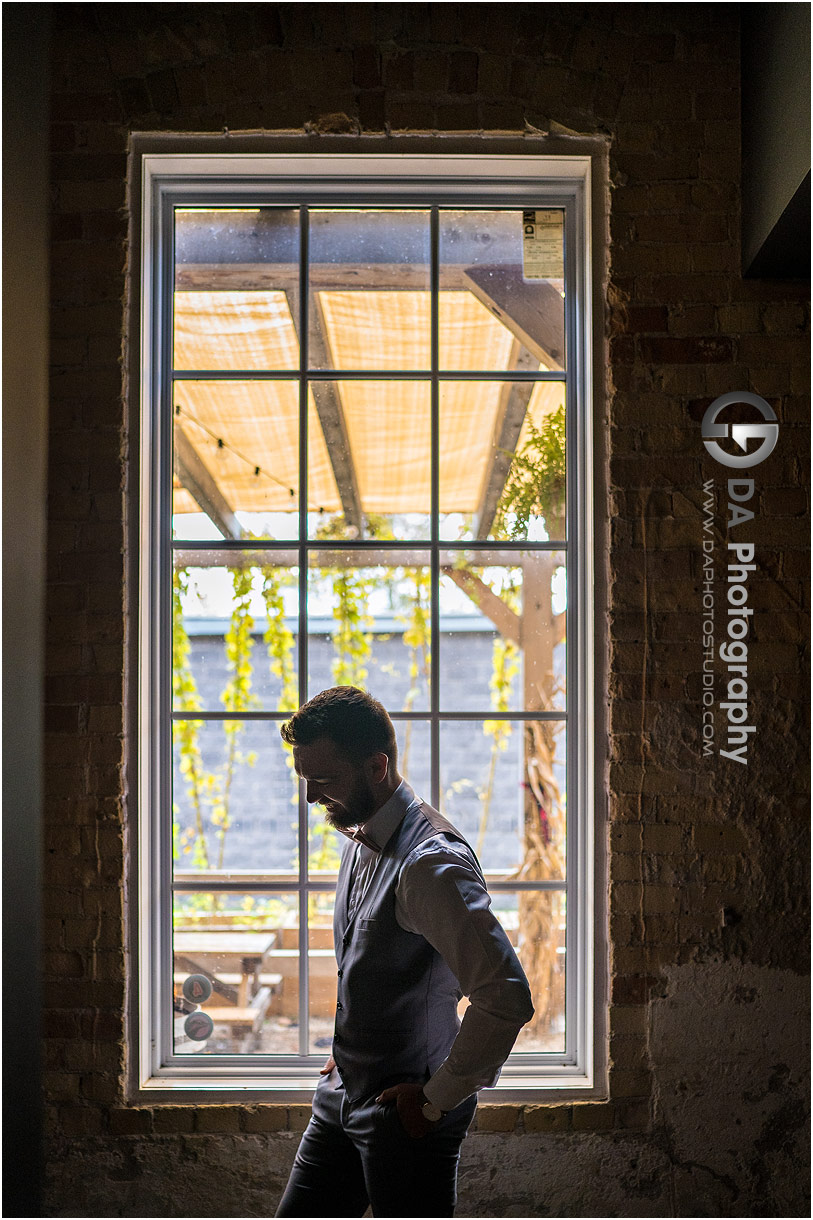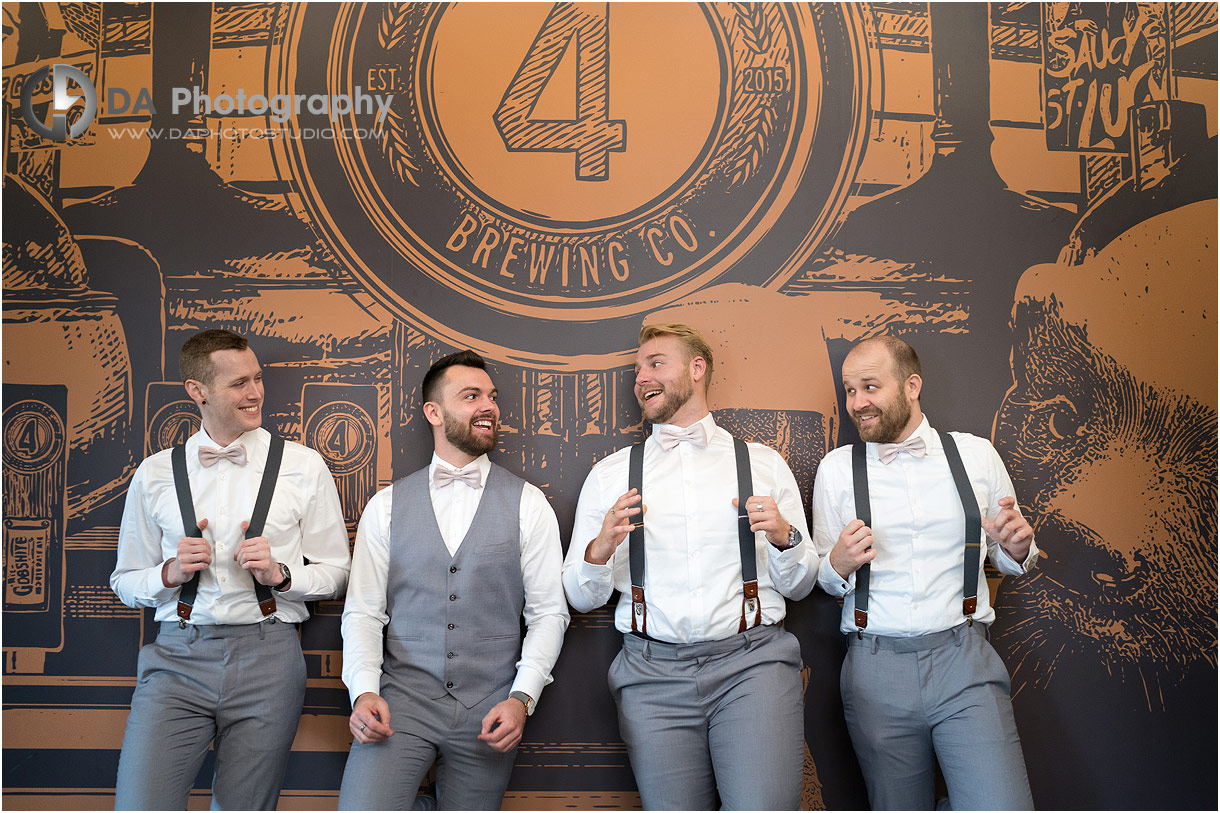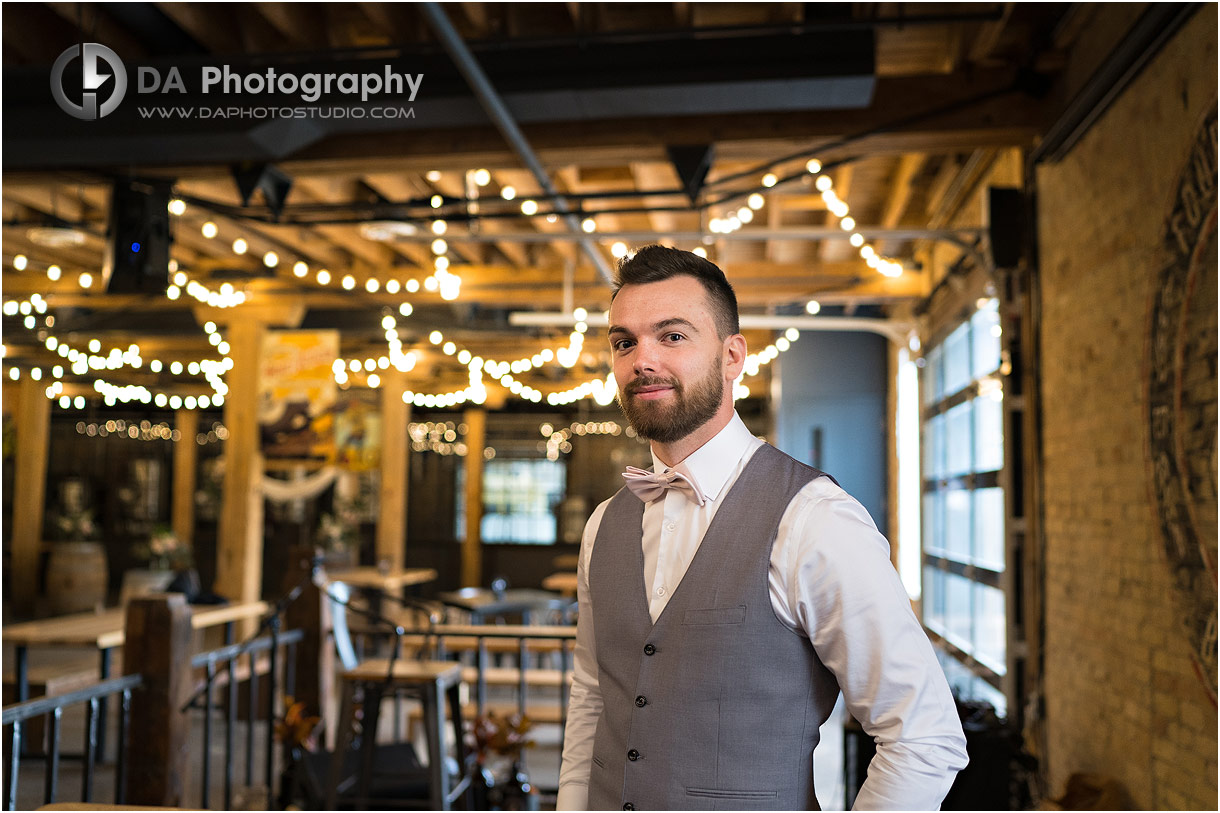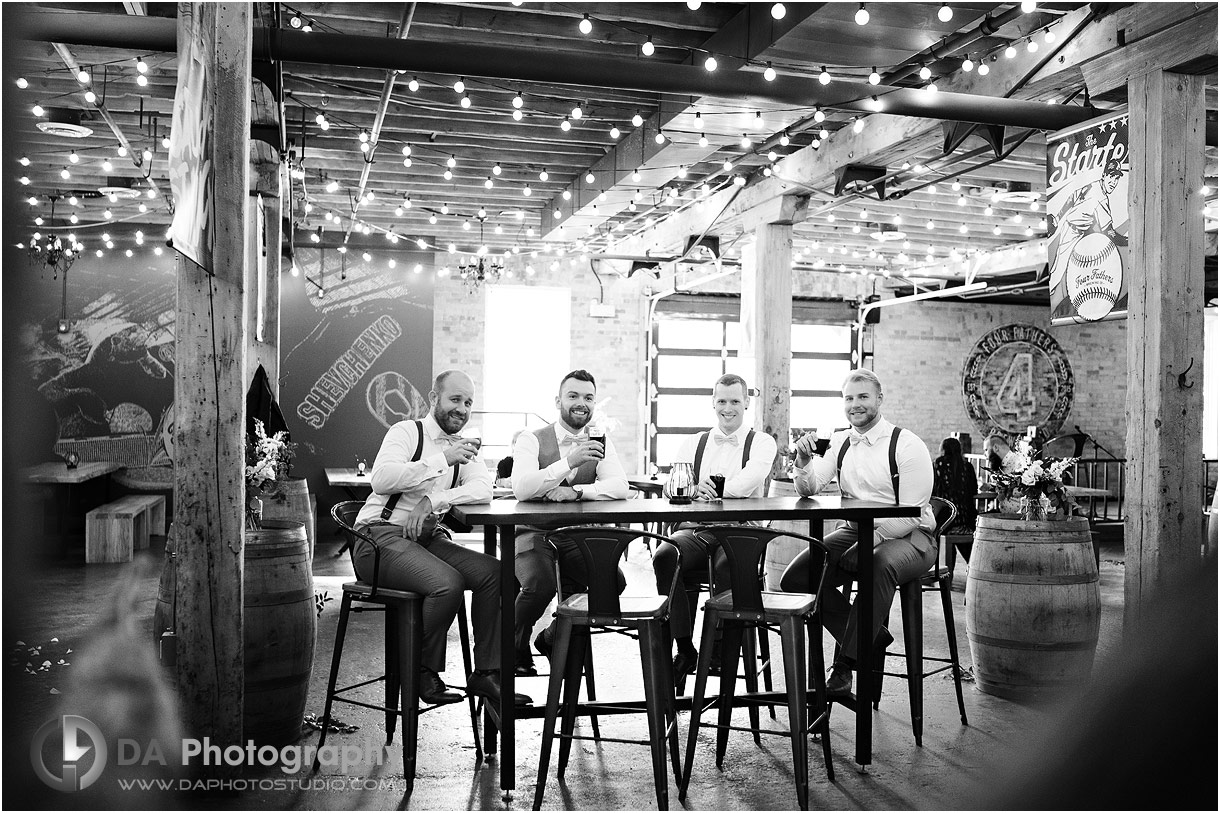 Wedding Ceremony in Cambridge
I first met Tangi and Steven locally at the Guelph Wedding Ring Show. I felt an immediate connection to this amazing couple. Working with a local couple means that I travel less to the event. Ultimately, I can spend more quality time on photography and less time stuck in traffic.
Tangi and Stephen's entire wedding was to take place in one location – the Four Father's Brewing Co. I'm at an advantage when this happens. It means I am able to focus my energy on taking photos while continuing to create their photography plan for their day. If there are location changes throughout the day, it not only takes time to travel there but it also means extra time for us to adjust to each new place.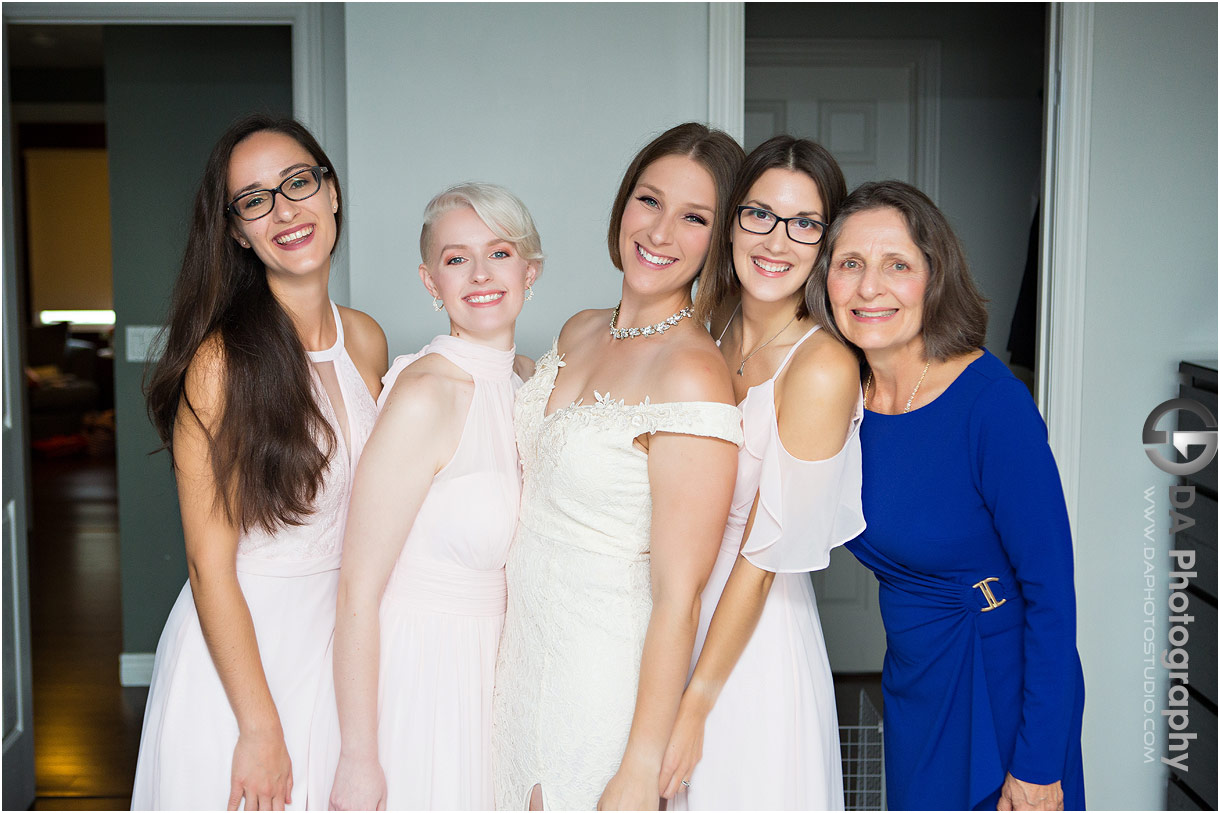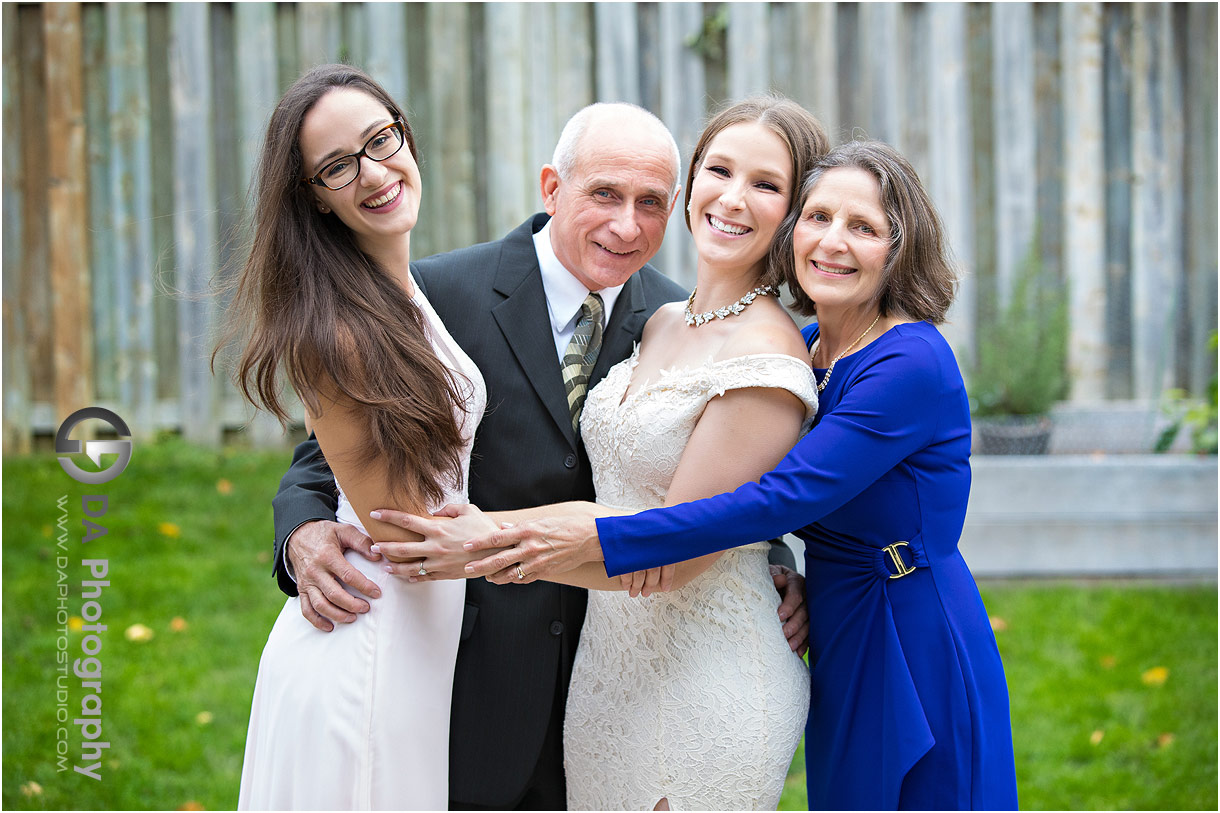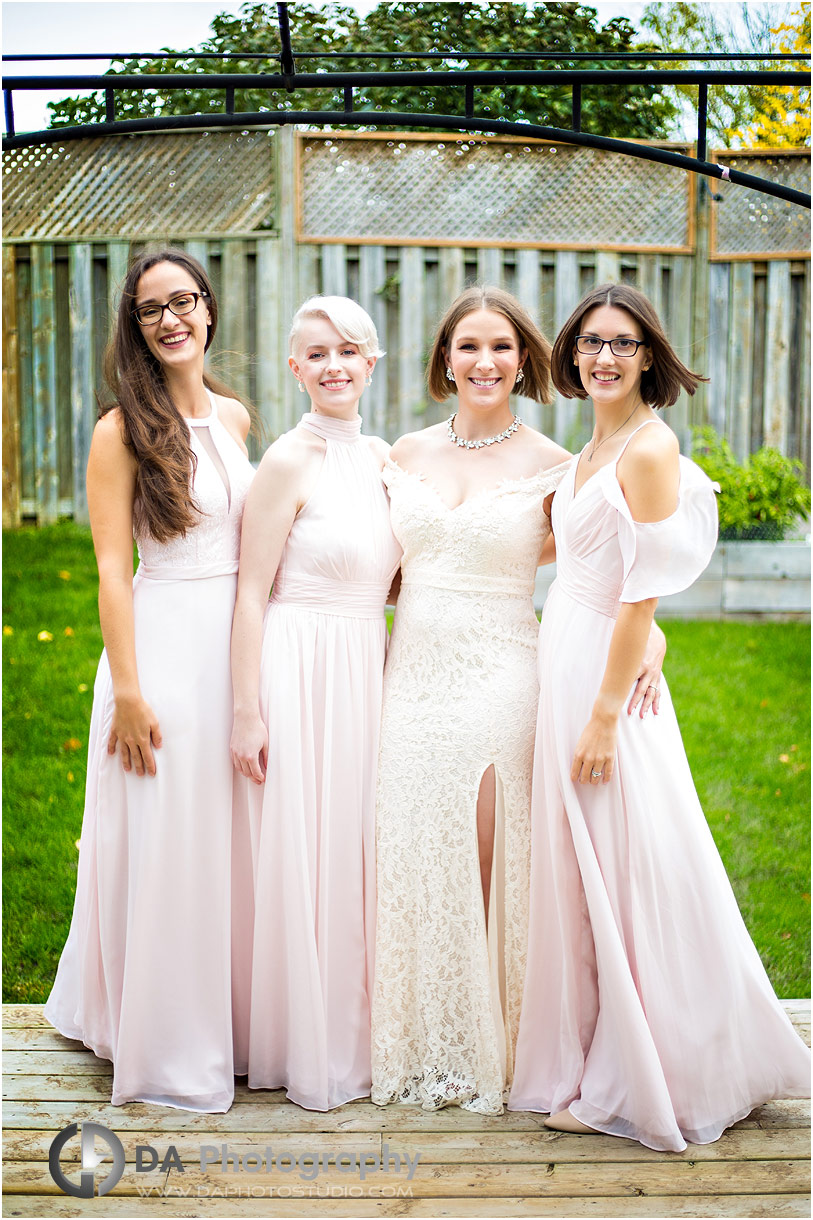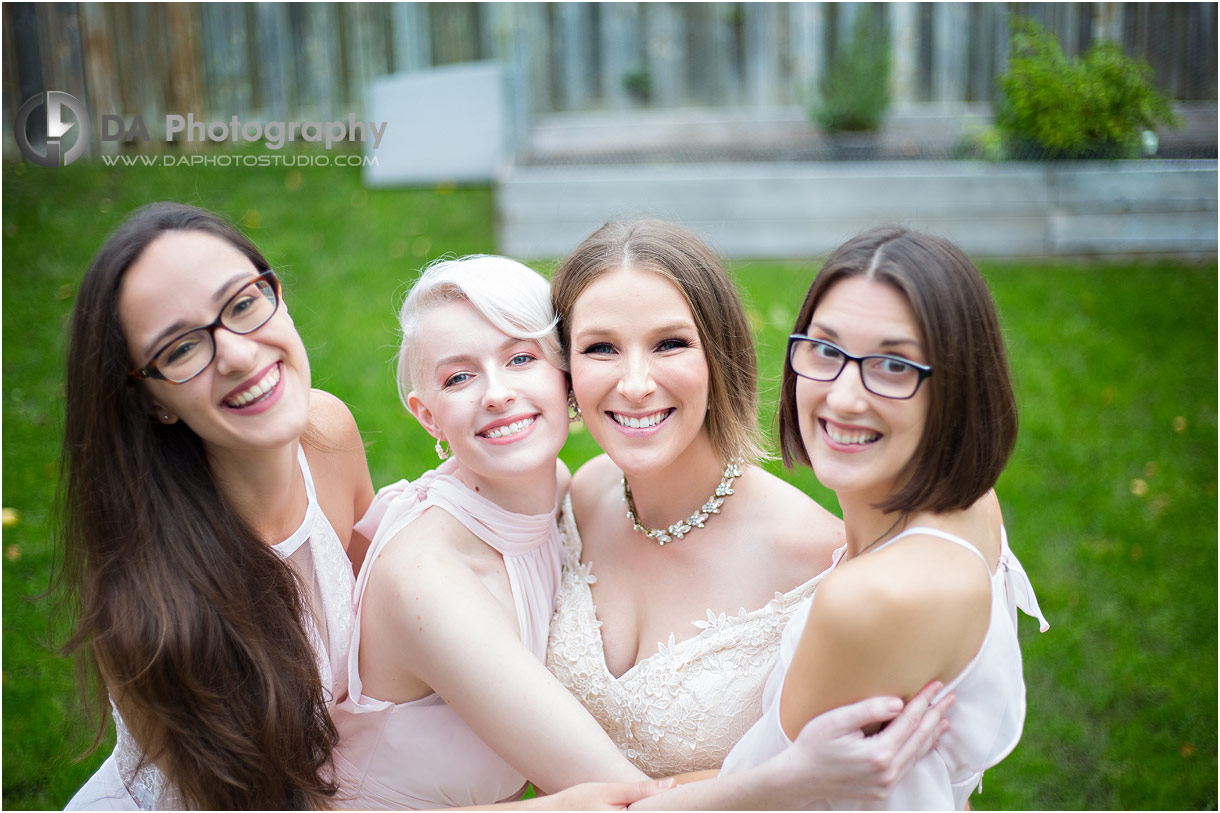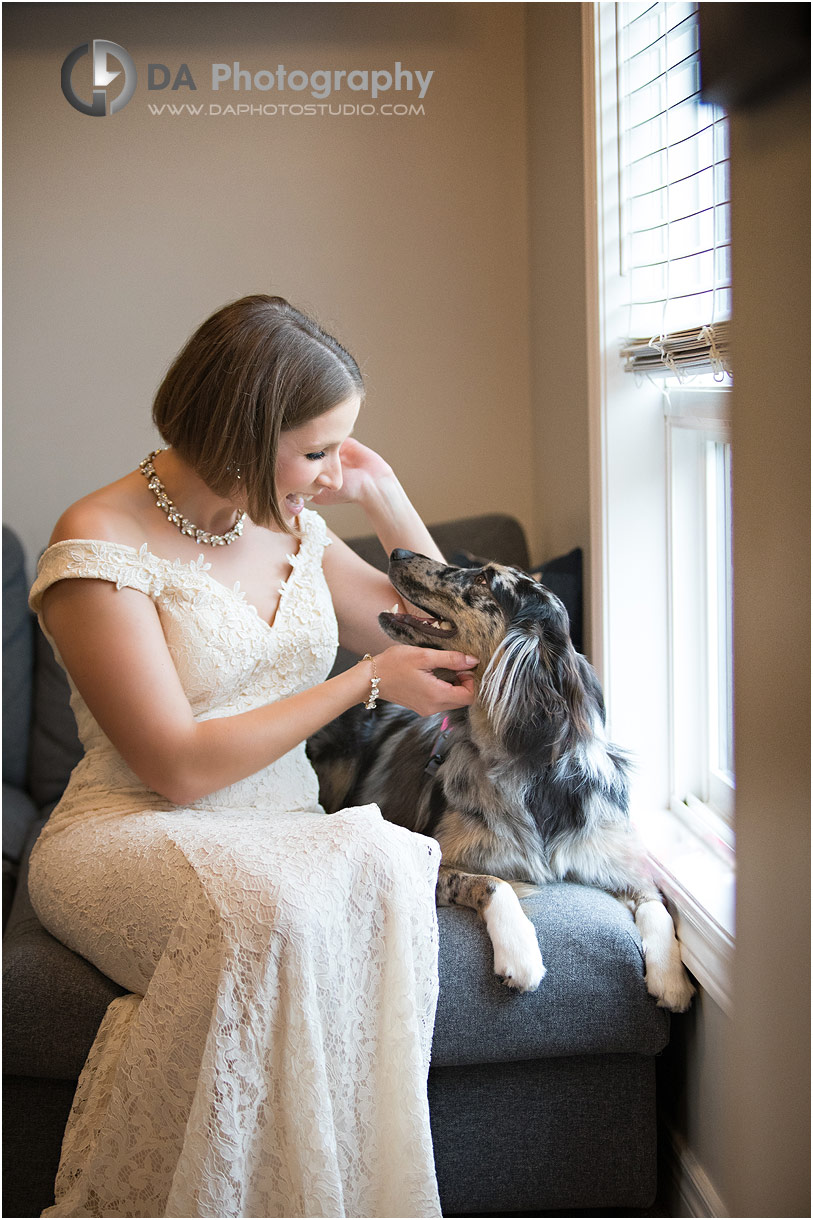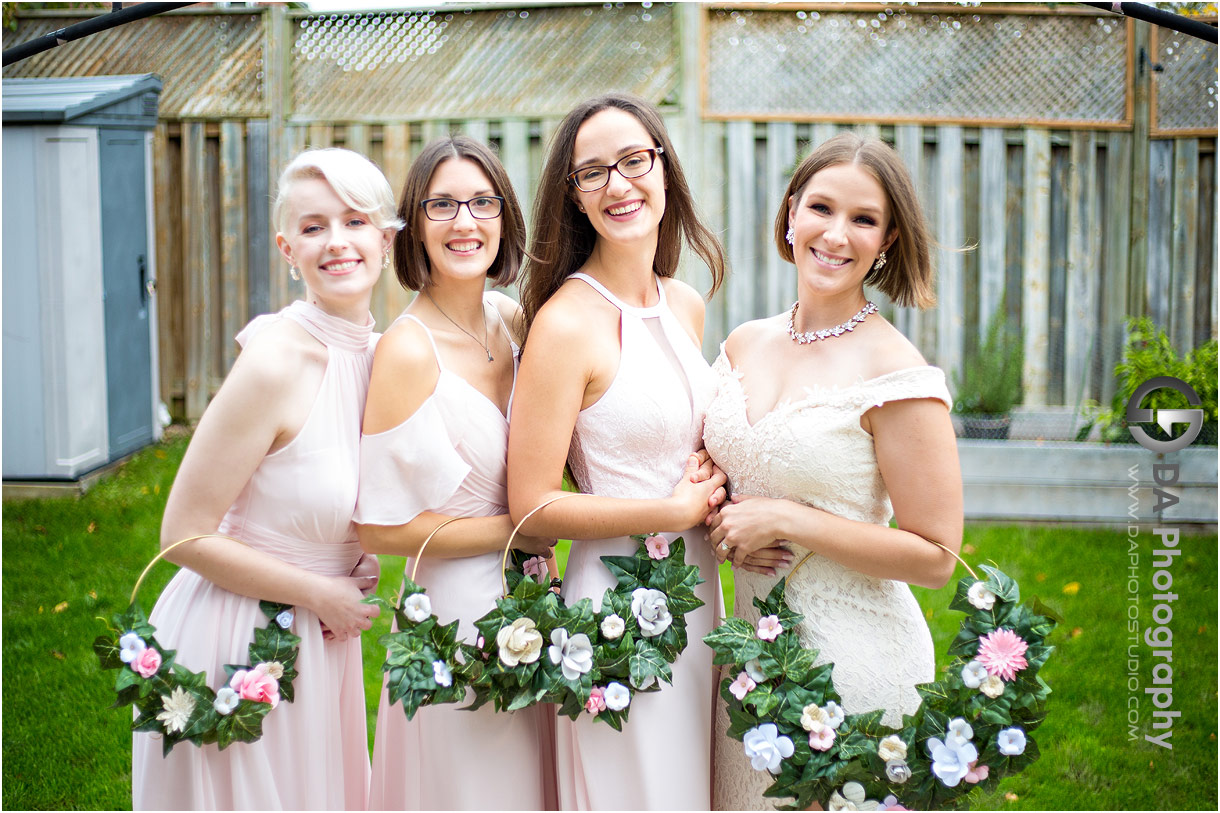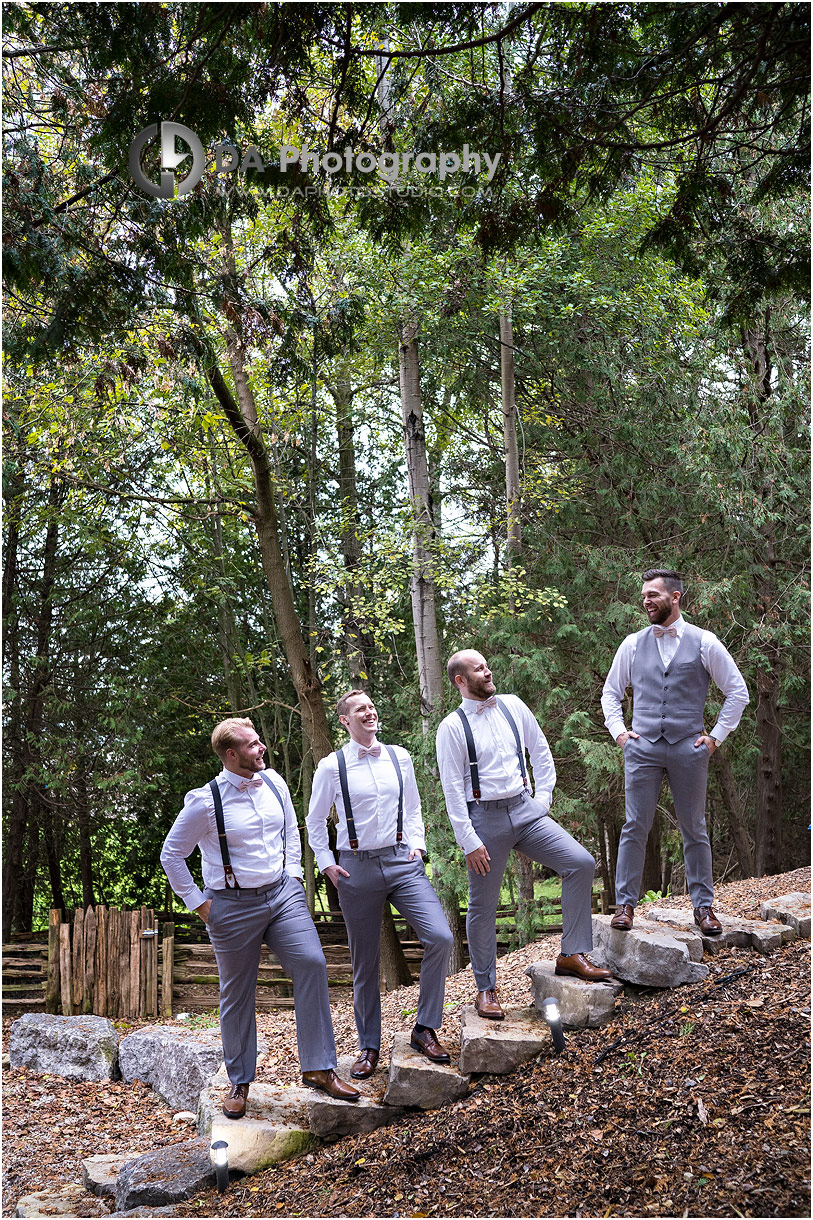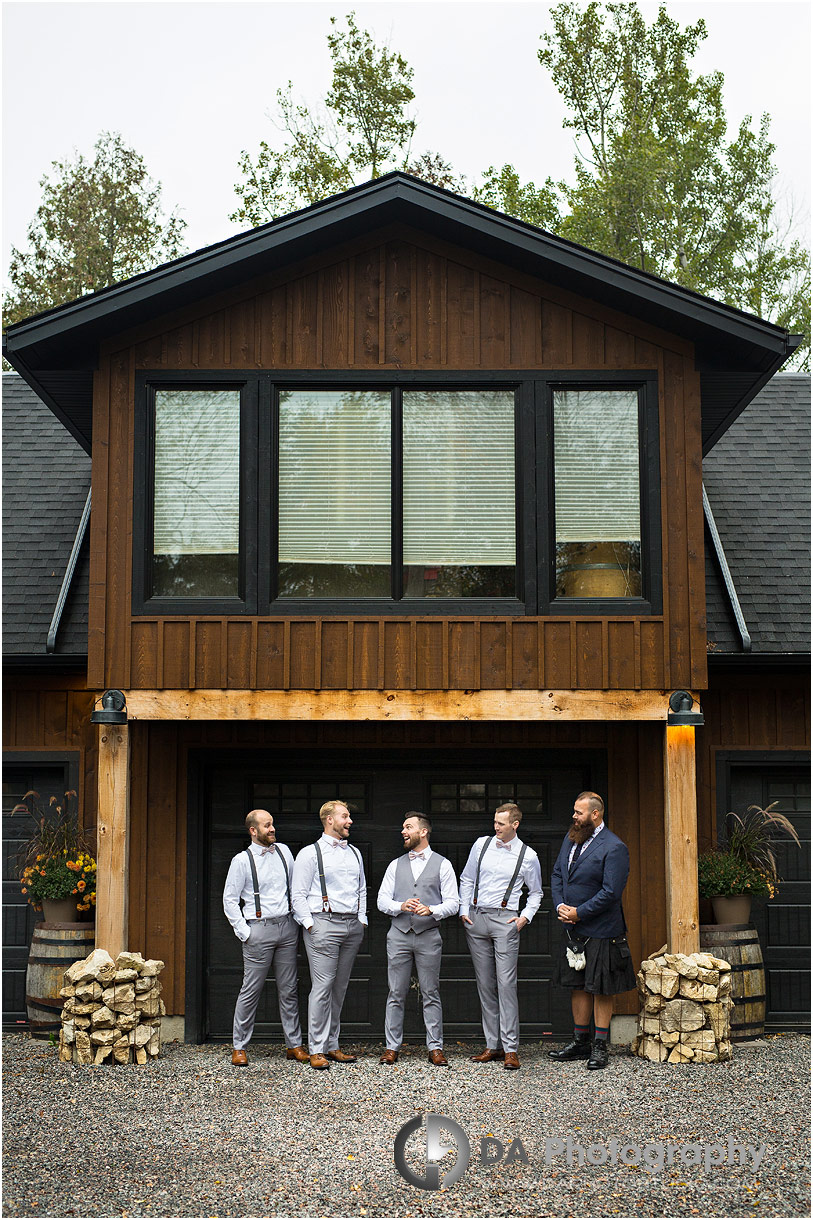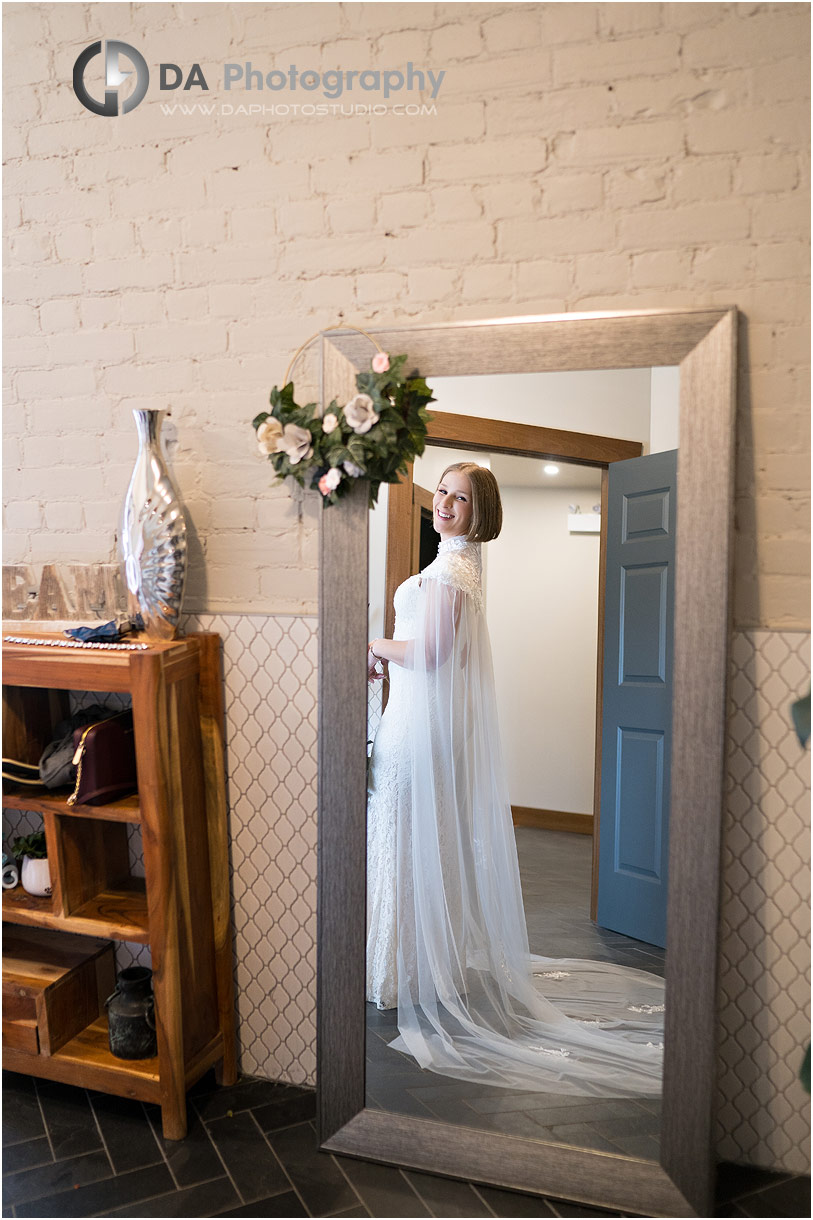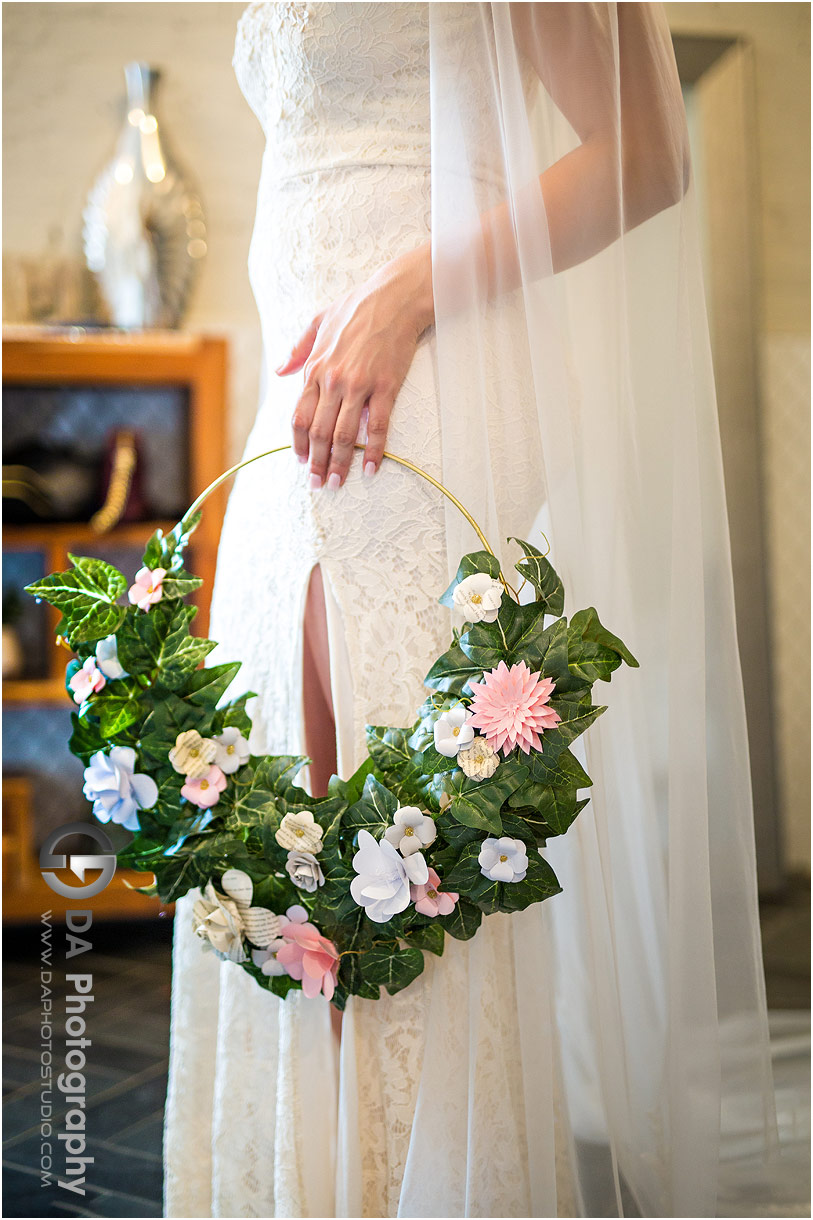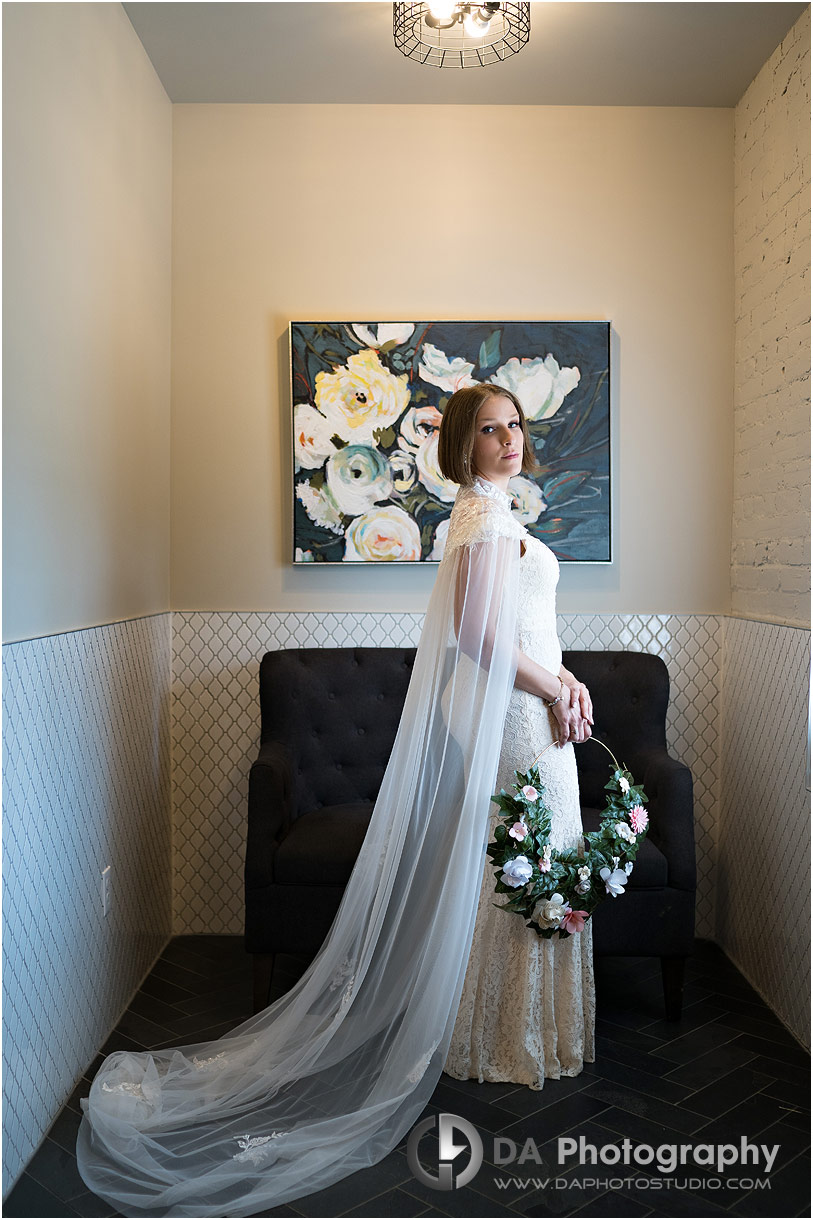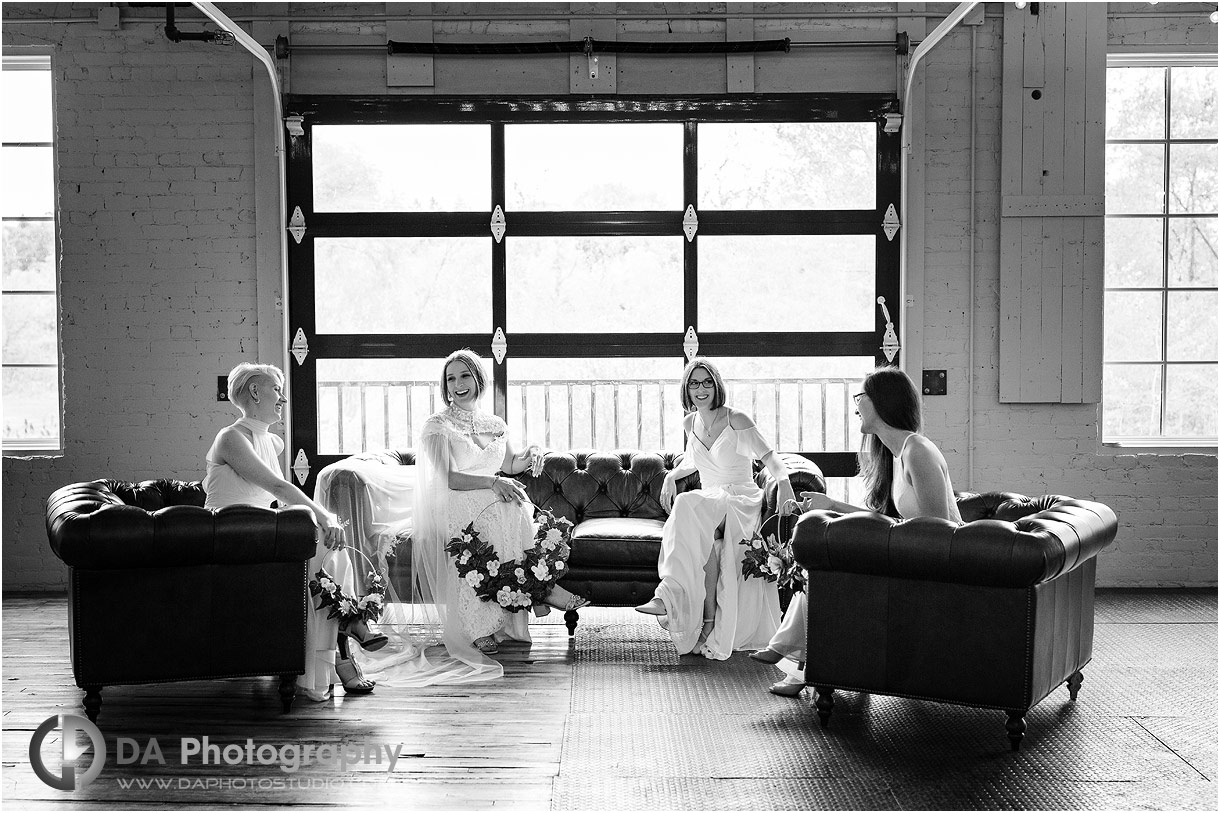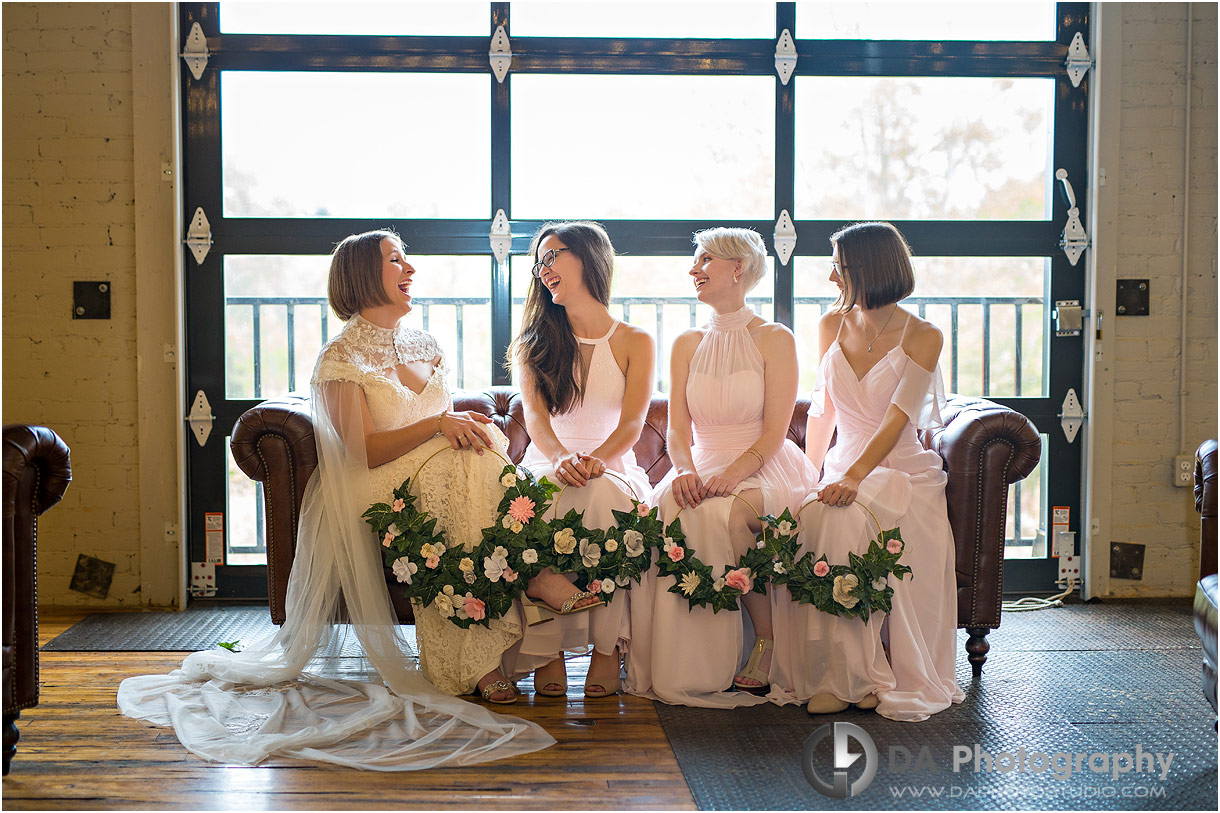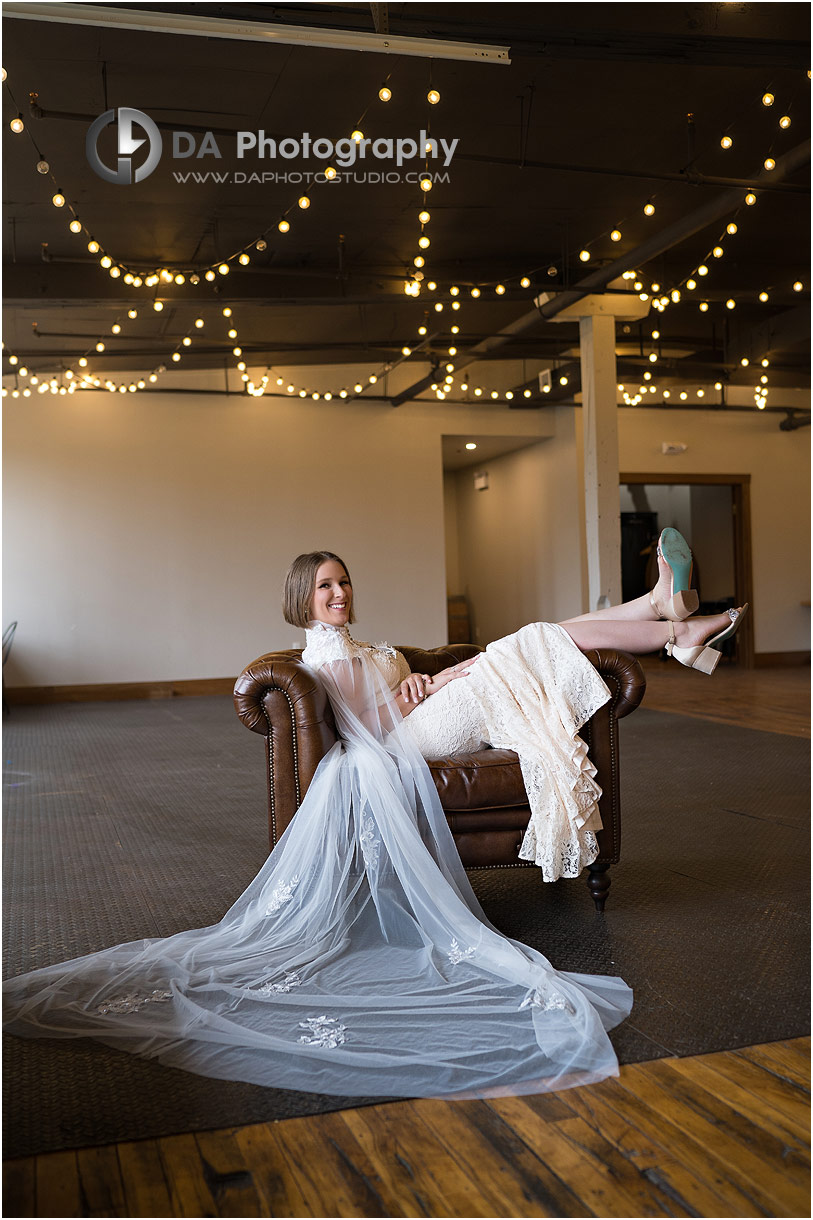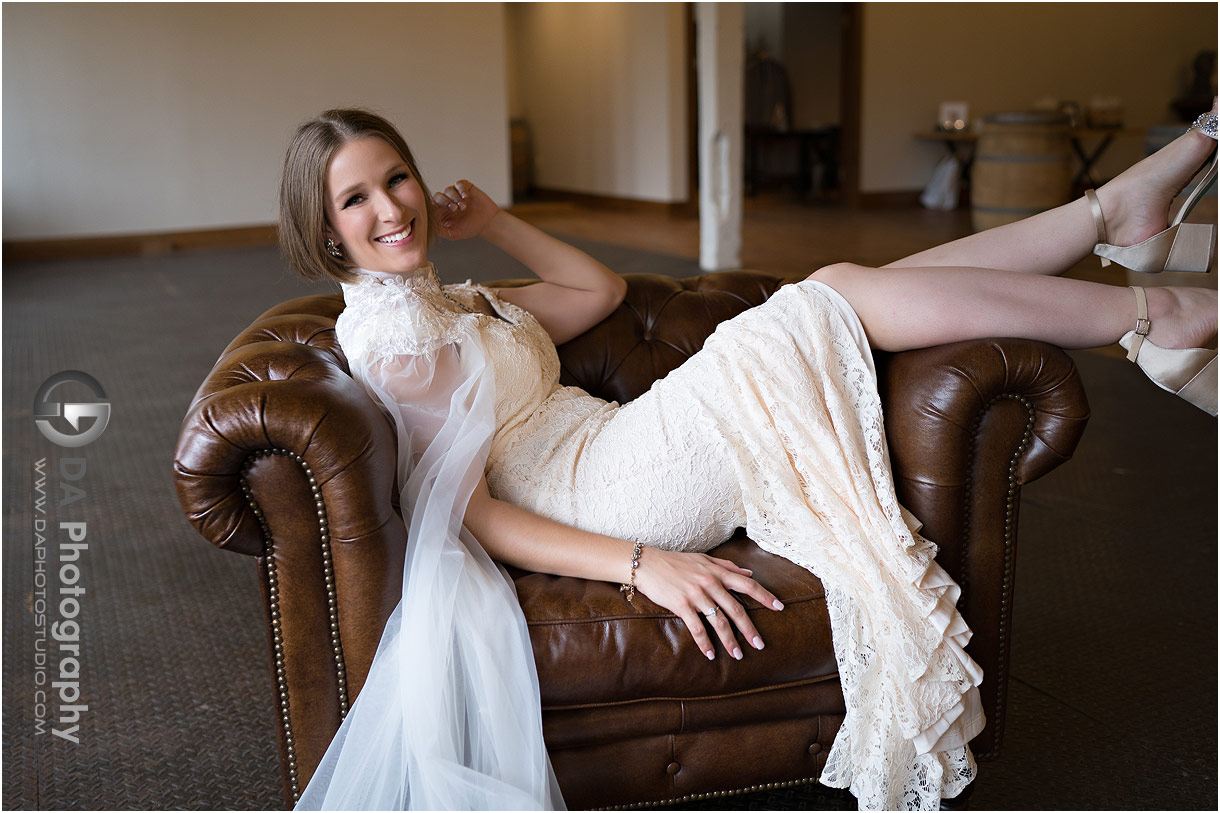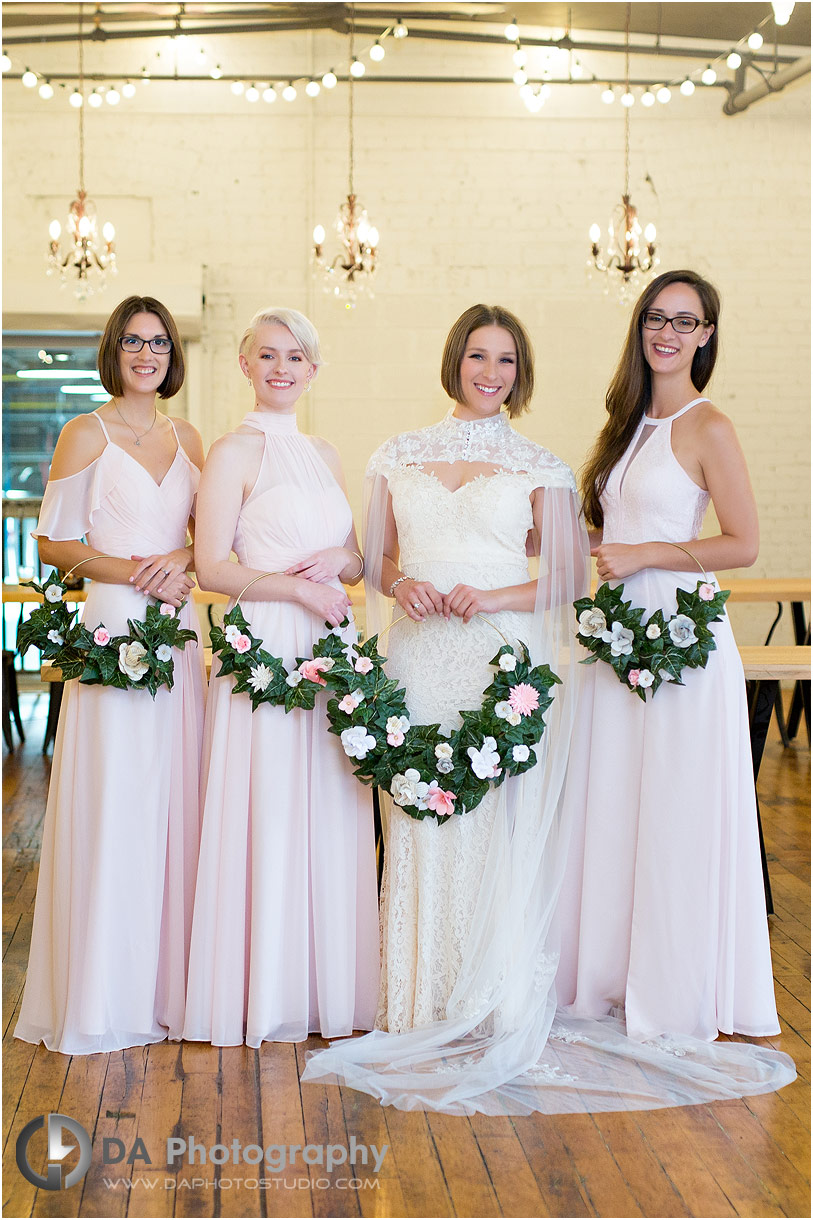 The ceremony for this Four Fathers Brewing wedding was in the lower level of the brewery, their Taproom. The elegant setup fully complimented the vision of my wedding couple. Flowers arrangements were unique and nicely done to enhance the area for this occasion. The altar was set up so that all brewing equipment was in the back, supporting this one-of-a-kind venue choice.
The entire wedding ceremony happened quickly with so many happy tears and joyful emotions. You could easily see the bond of this couple in love, helping us document some special memories.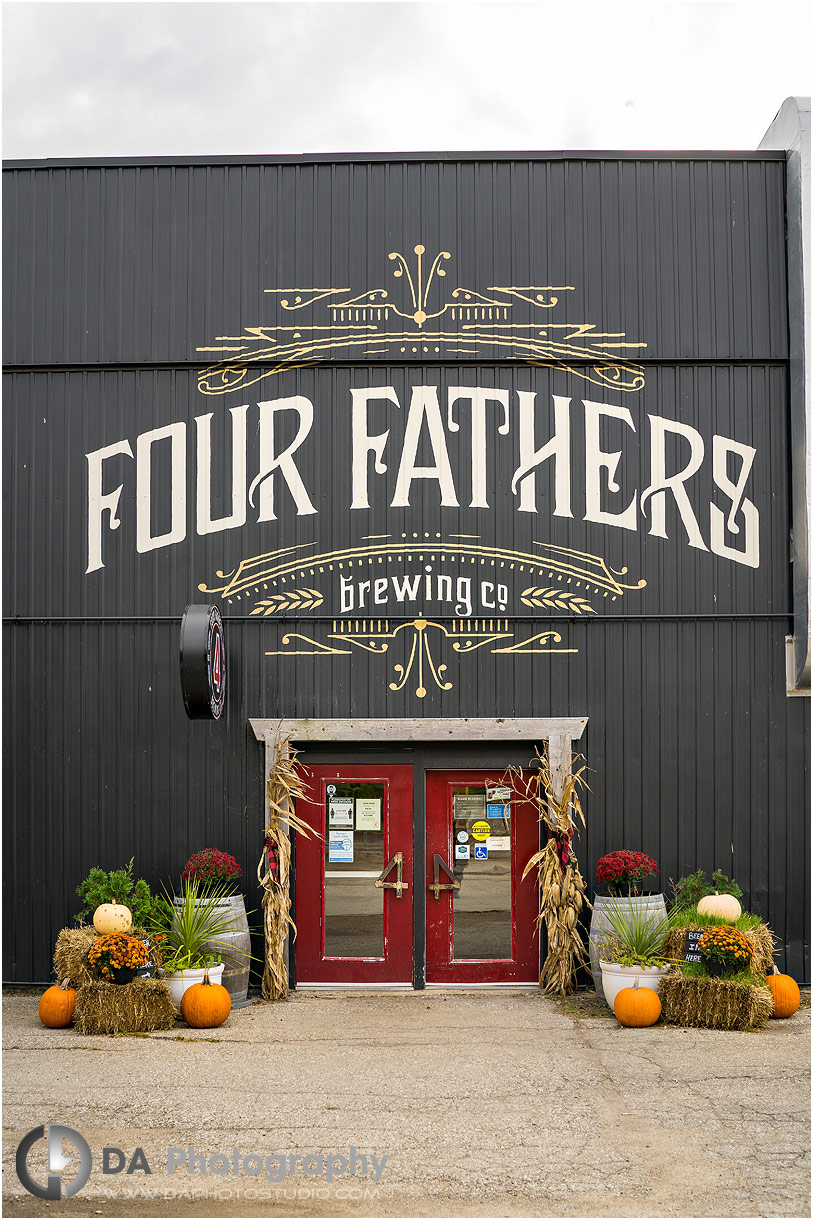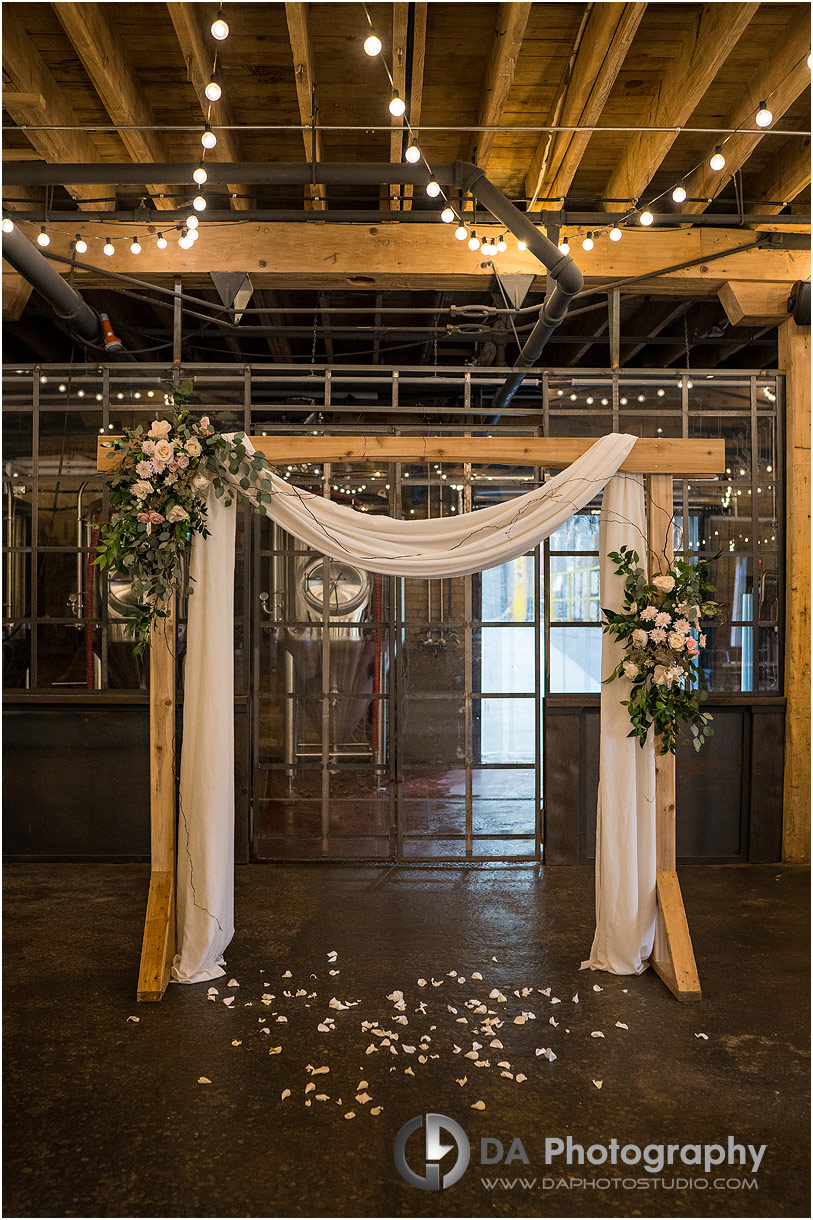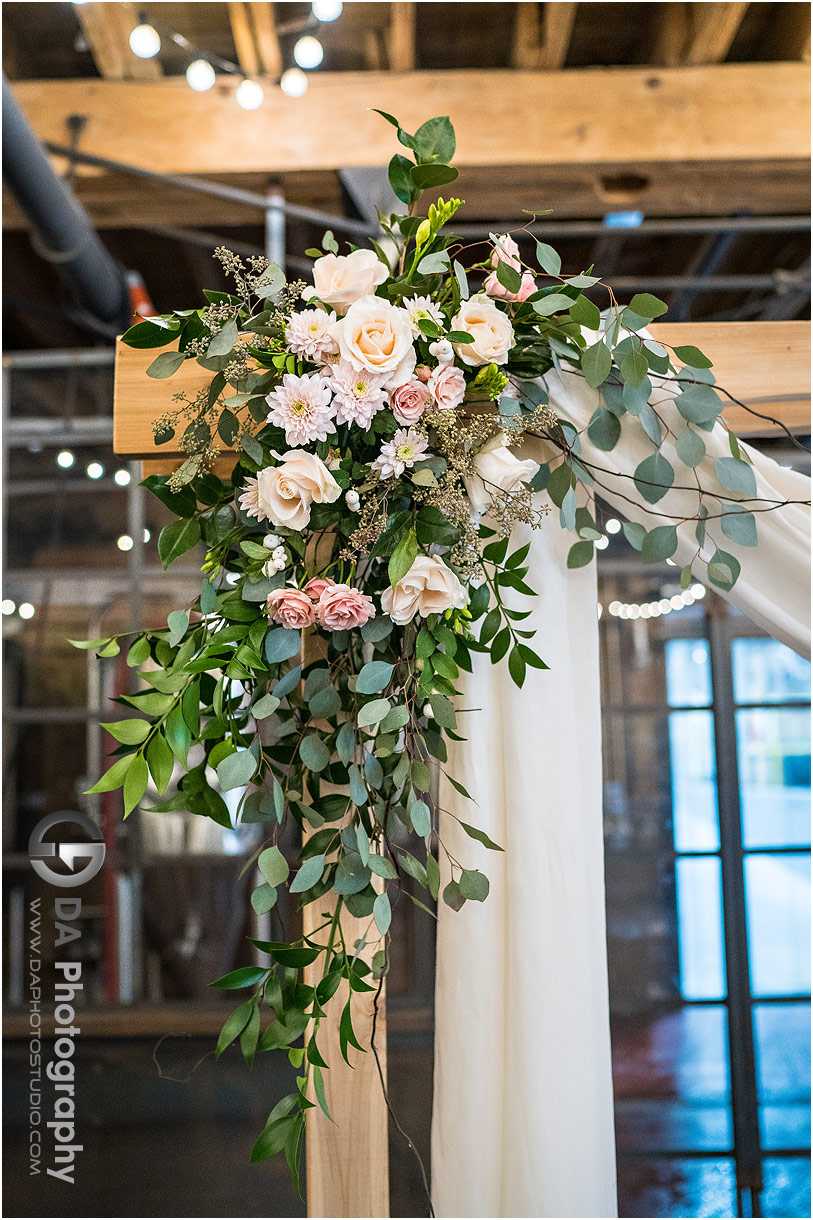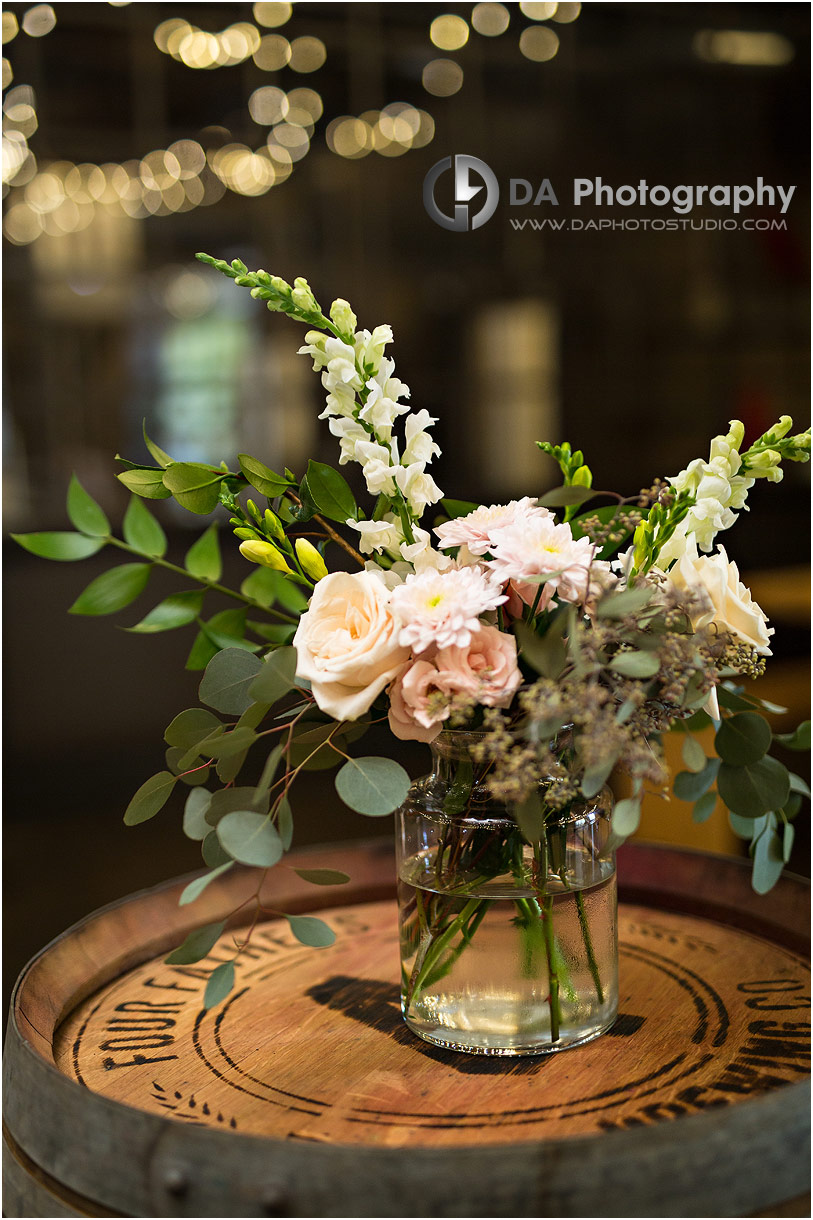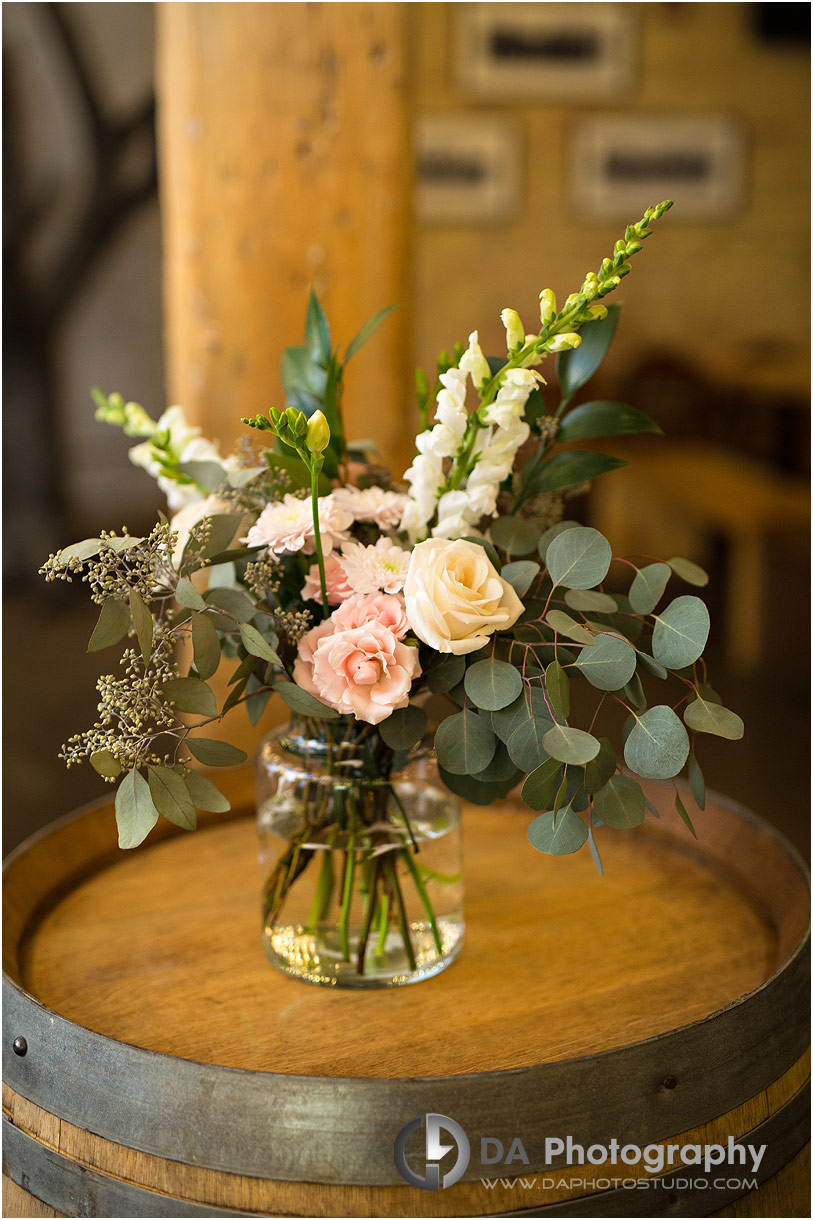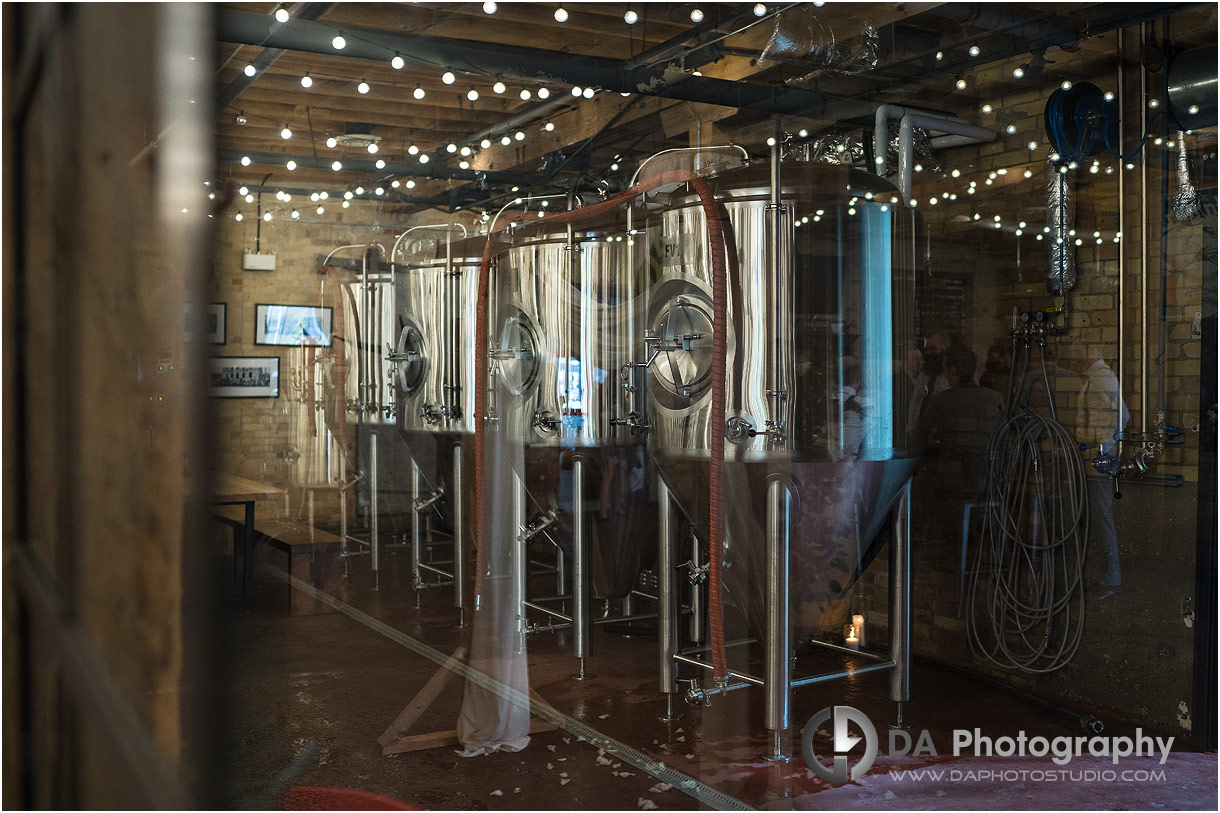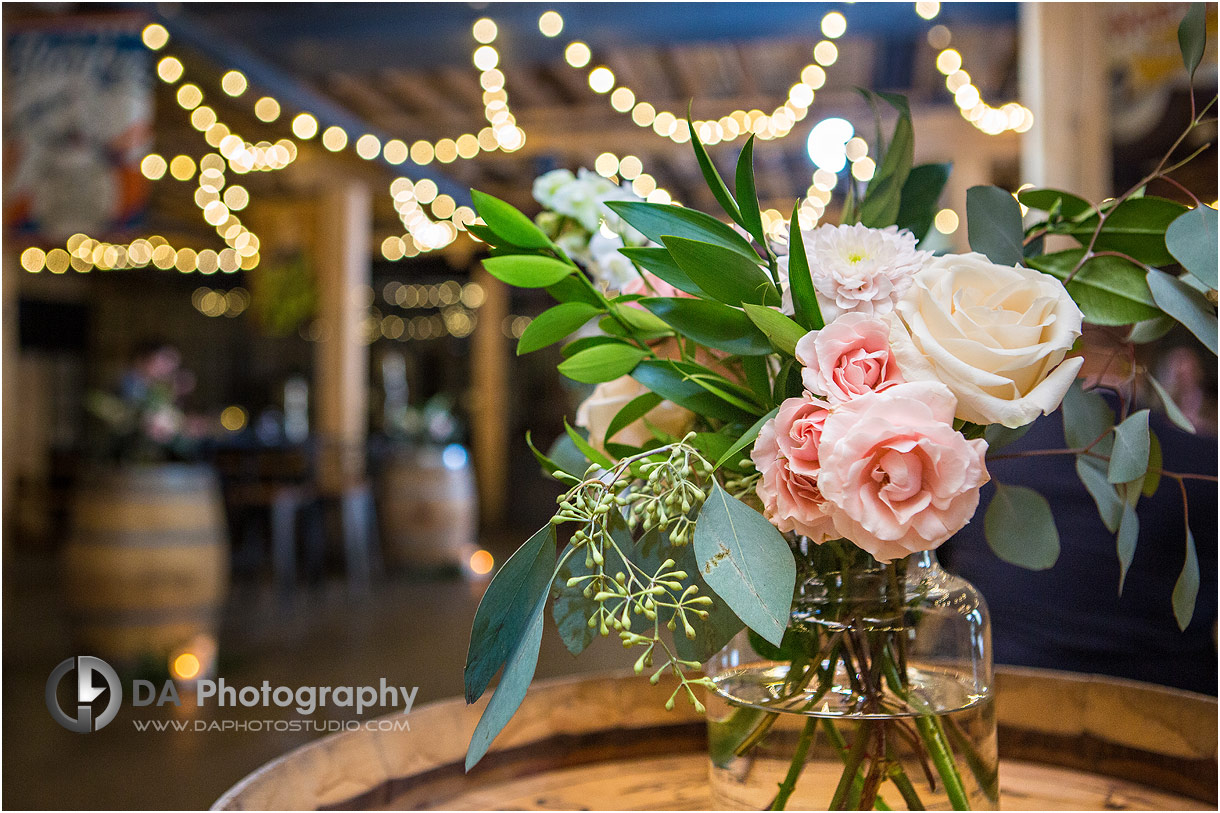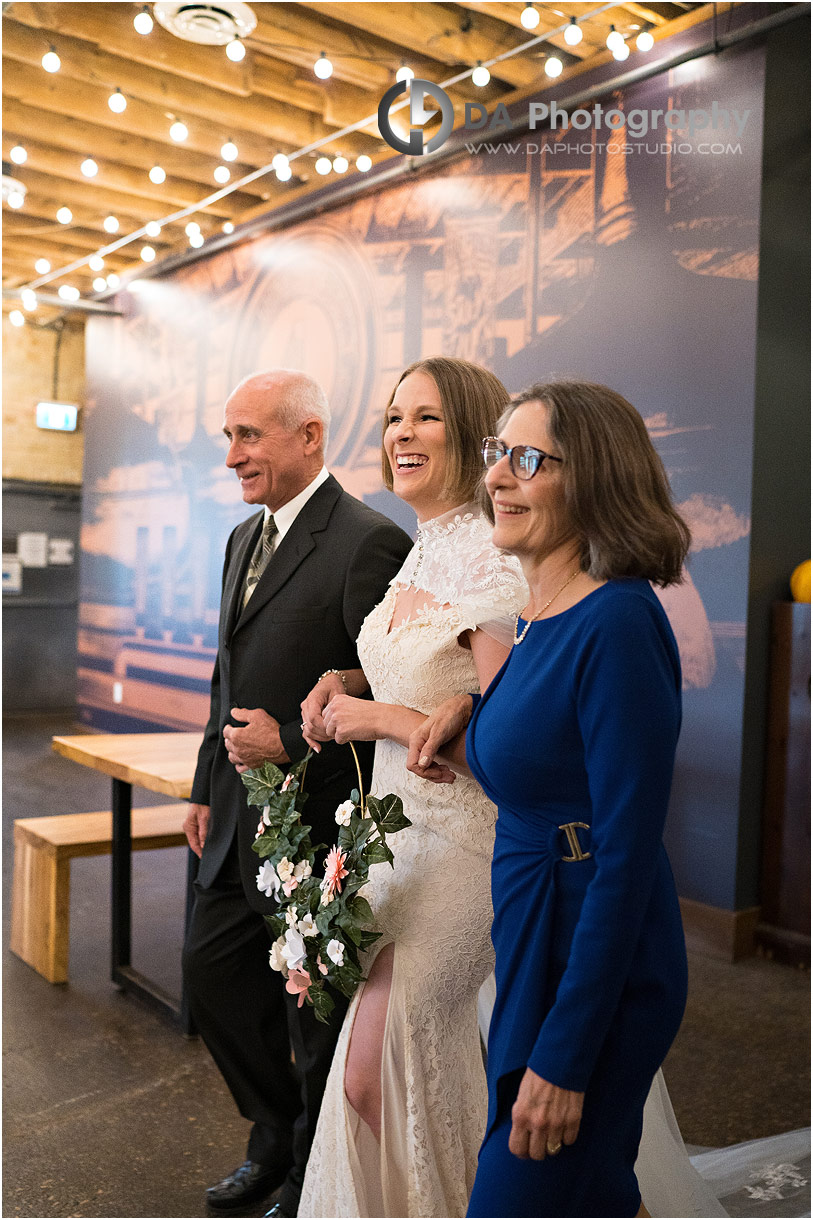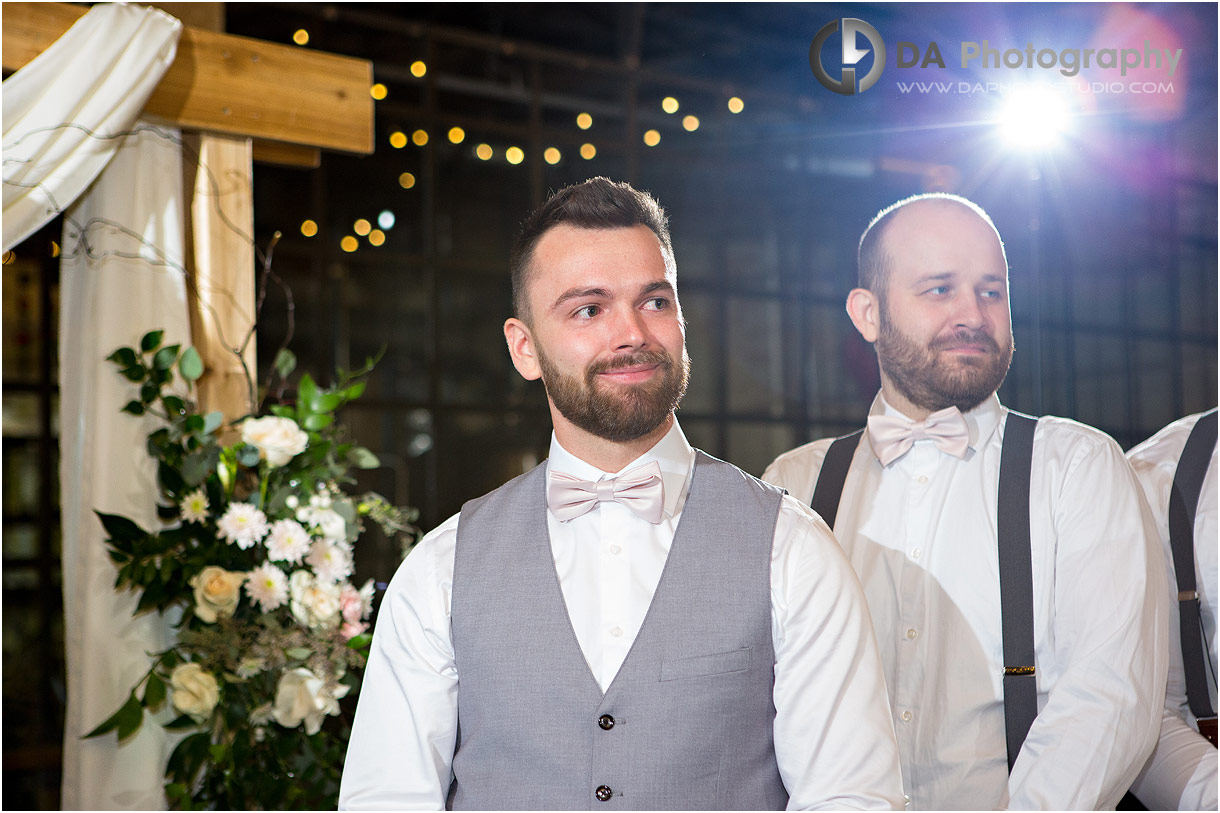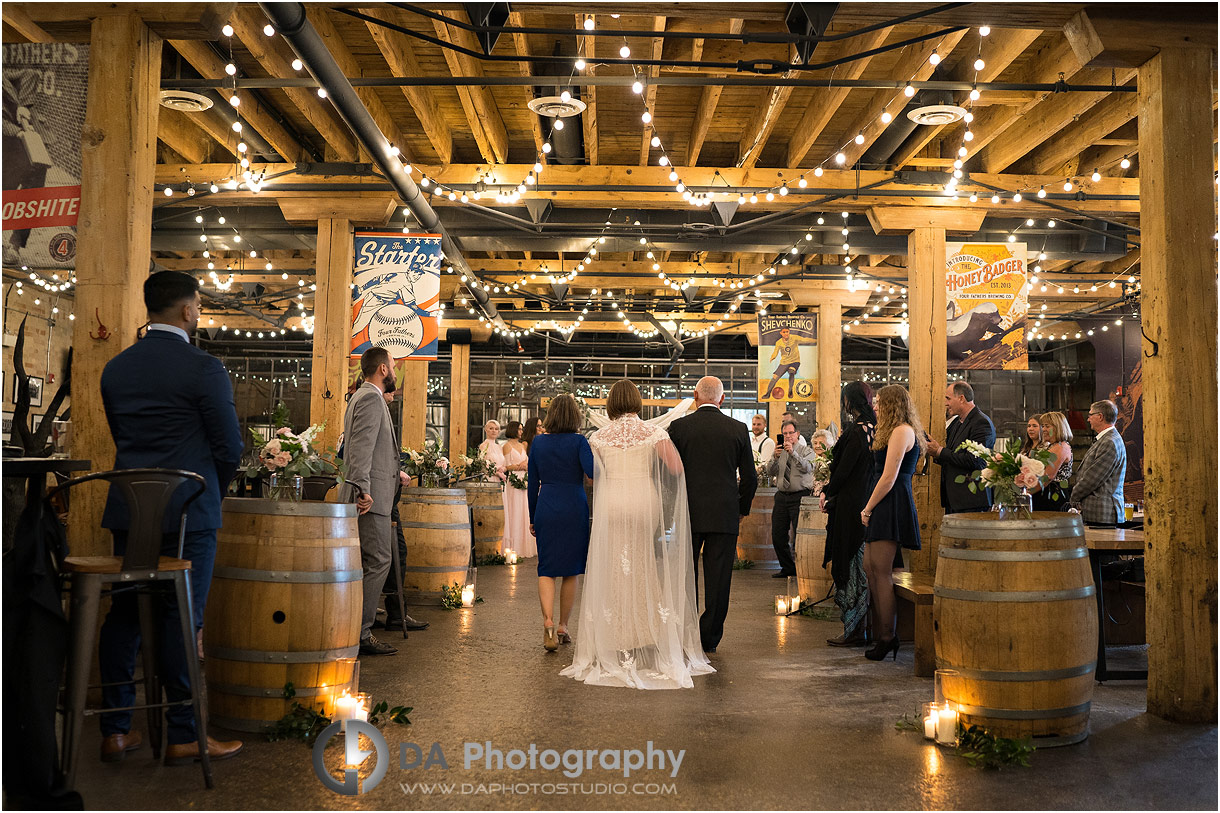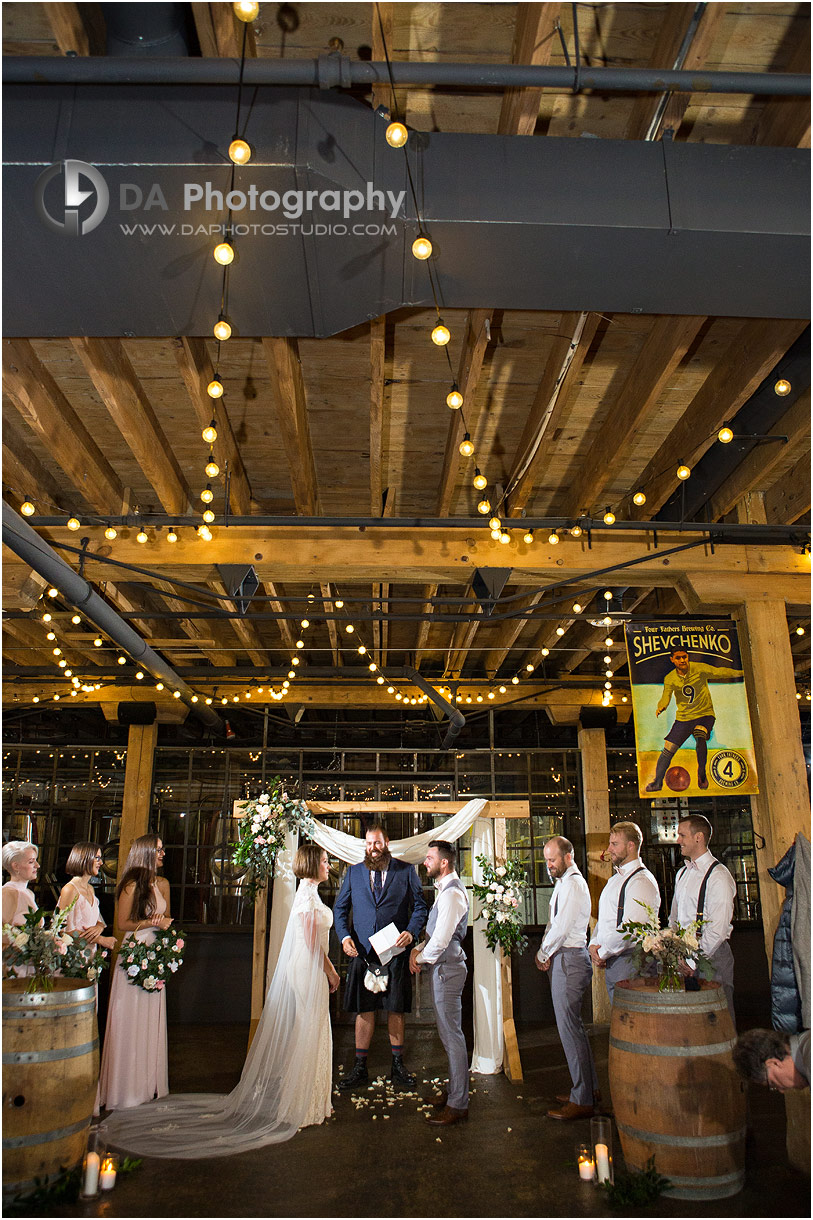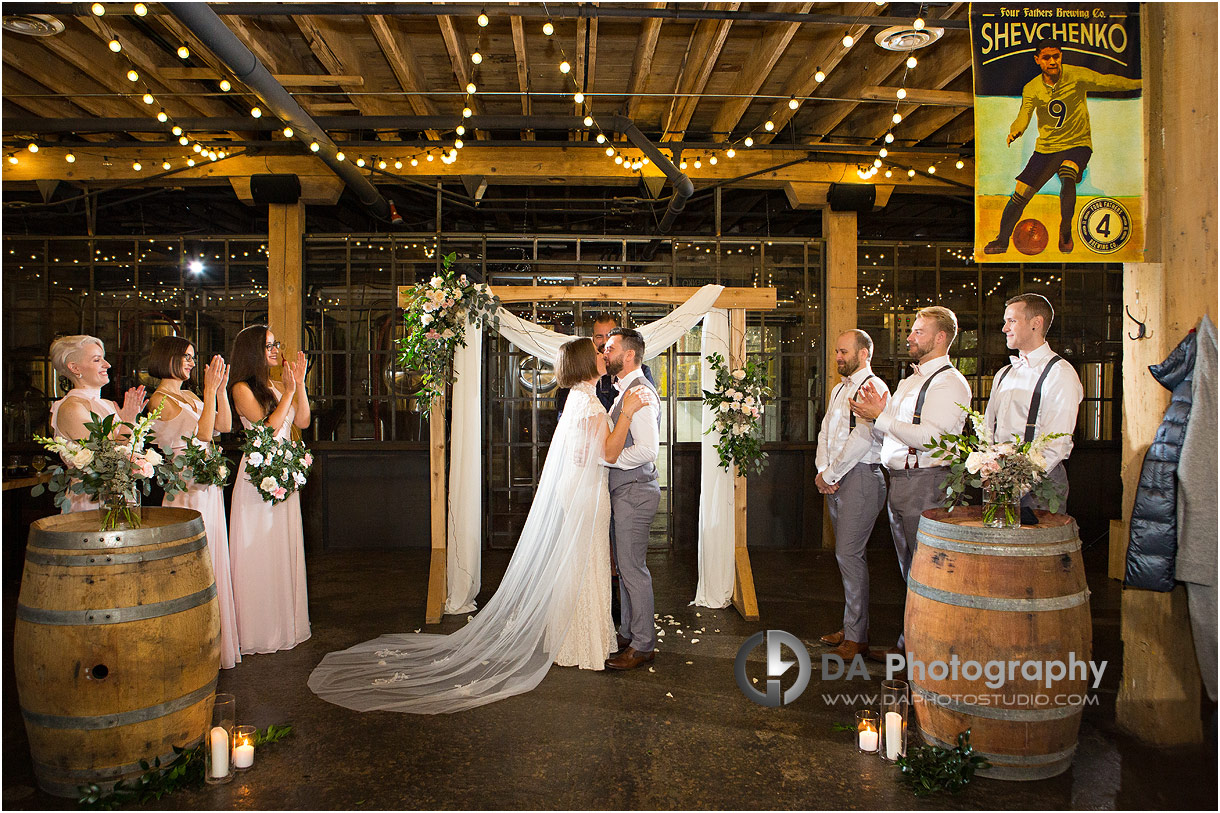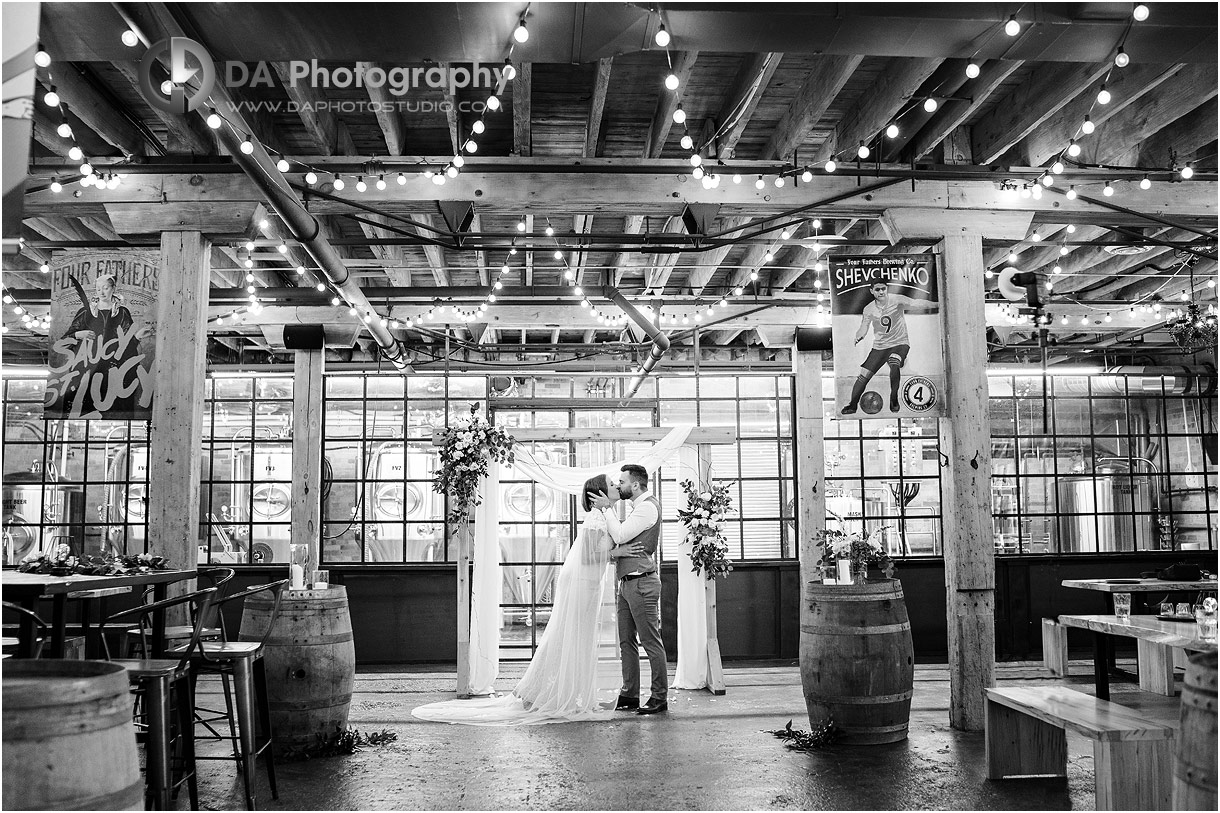 Wedding Photos on location
After the ceremony, we knew that rain was forecasted in less than half an hour. With this in mind, we set out to work on the photography session while the guests enjoyed the cocktail reception. For this Four Fathers Brewery wedding, we had access to inside the brewing facilities. I was so excited about this awesome opportunity!
The bridal party fully aligned with Tangi and Stephen's personalities. They were playful and full of joy while still being respectful of my instructions and the time that we had. We moved smoothly from one photography place to another within the venue, capturing some great photos as we went.
Towards the end, while we were walking outside, we saw two police cruisers parked at the end of the road. Stephen happens to be a police officer and gave a hand signal to the officers indicating for them to turn on the cruiser's lights for our photos. The police officers did just that, in turn, creating a happy little moment for the entire bridal party!
There are railroad tracks just behind the venue. Here, we were able to take some photos to capture the romance between Tangi and Stephen. These images are such an important part of their wedding day story and will show the love this incredible couple has for each other for years to come.
As the wind began to pick up, ready to bring the heavy rain with it, we went indoors. We worked together here for a short time before we went to the IV Loft on the upper floor, where the casual wedding reception was underway.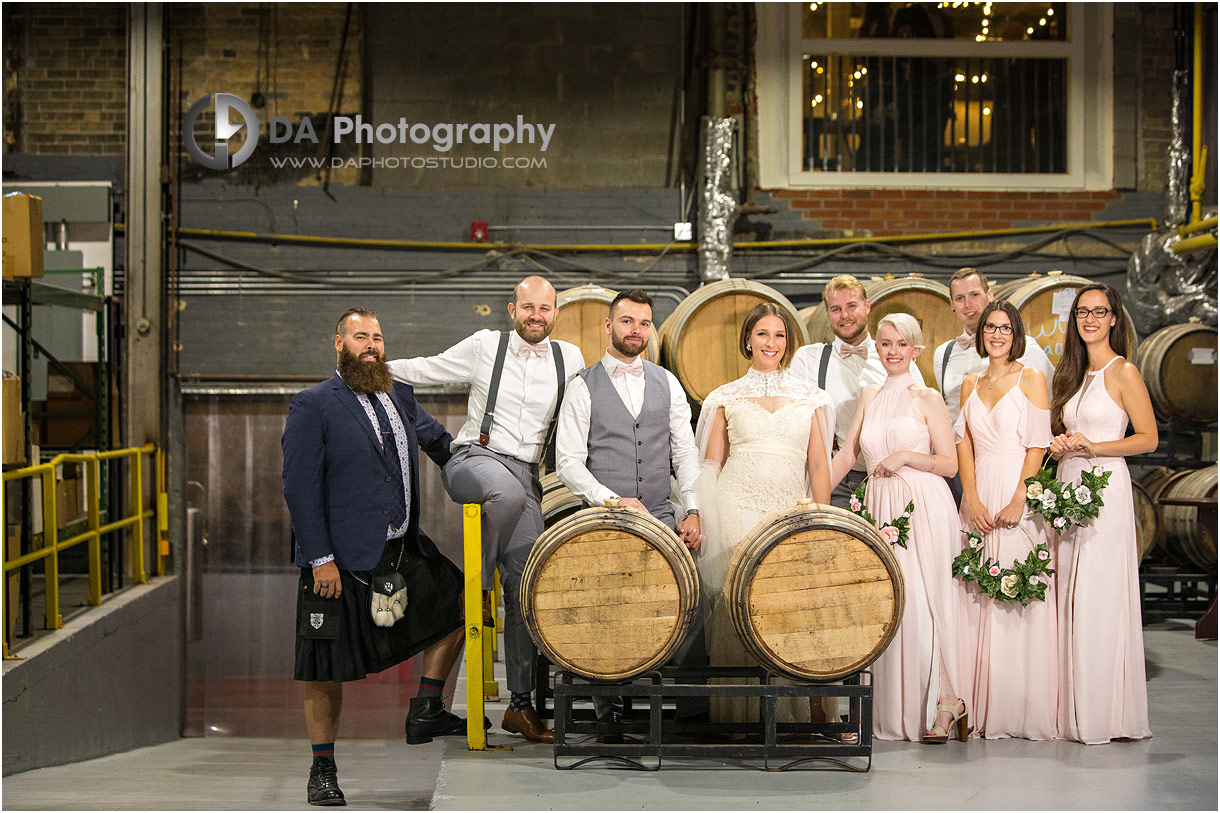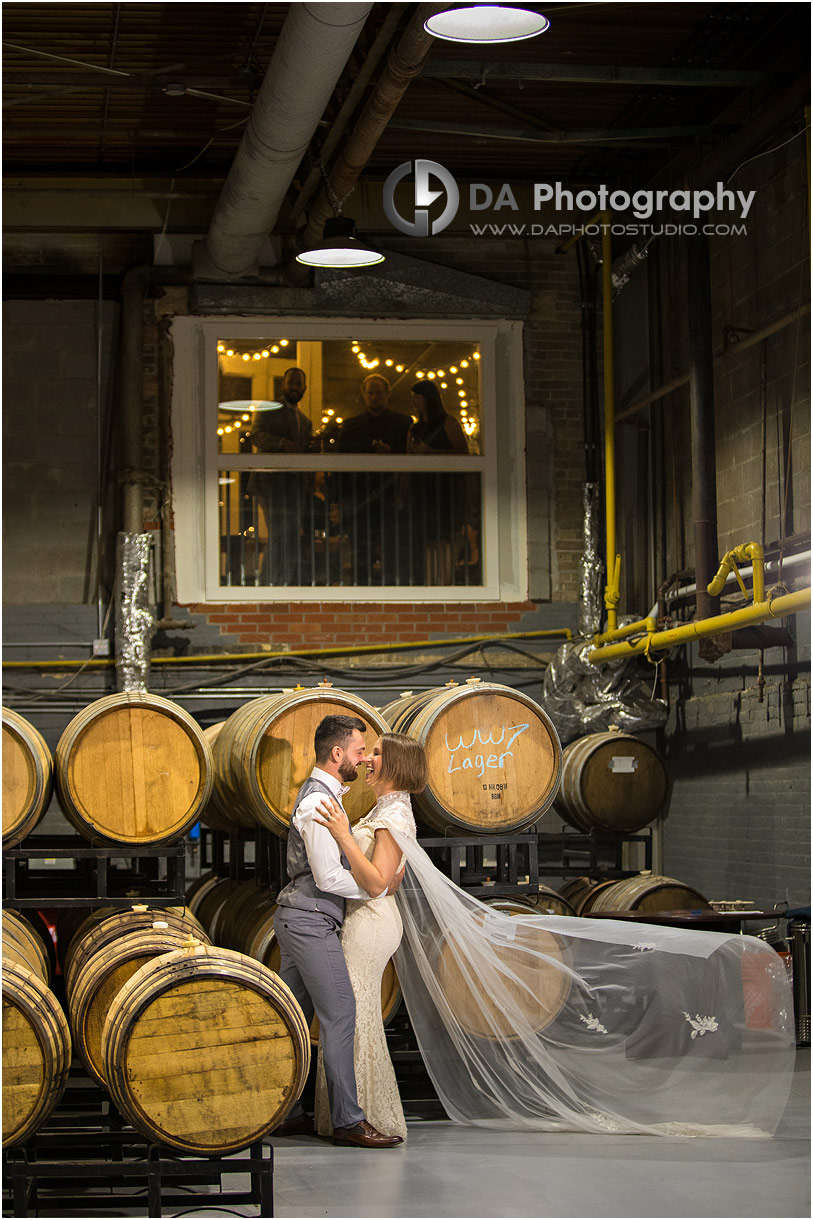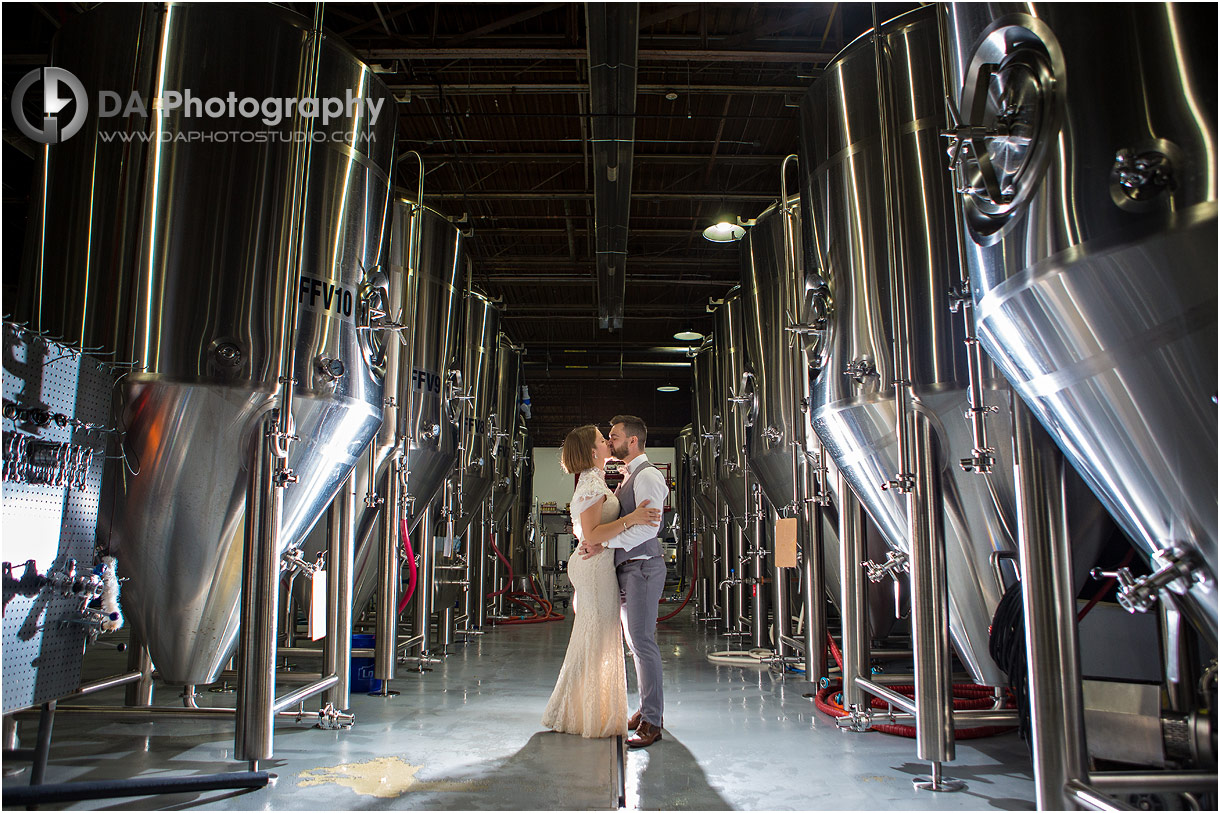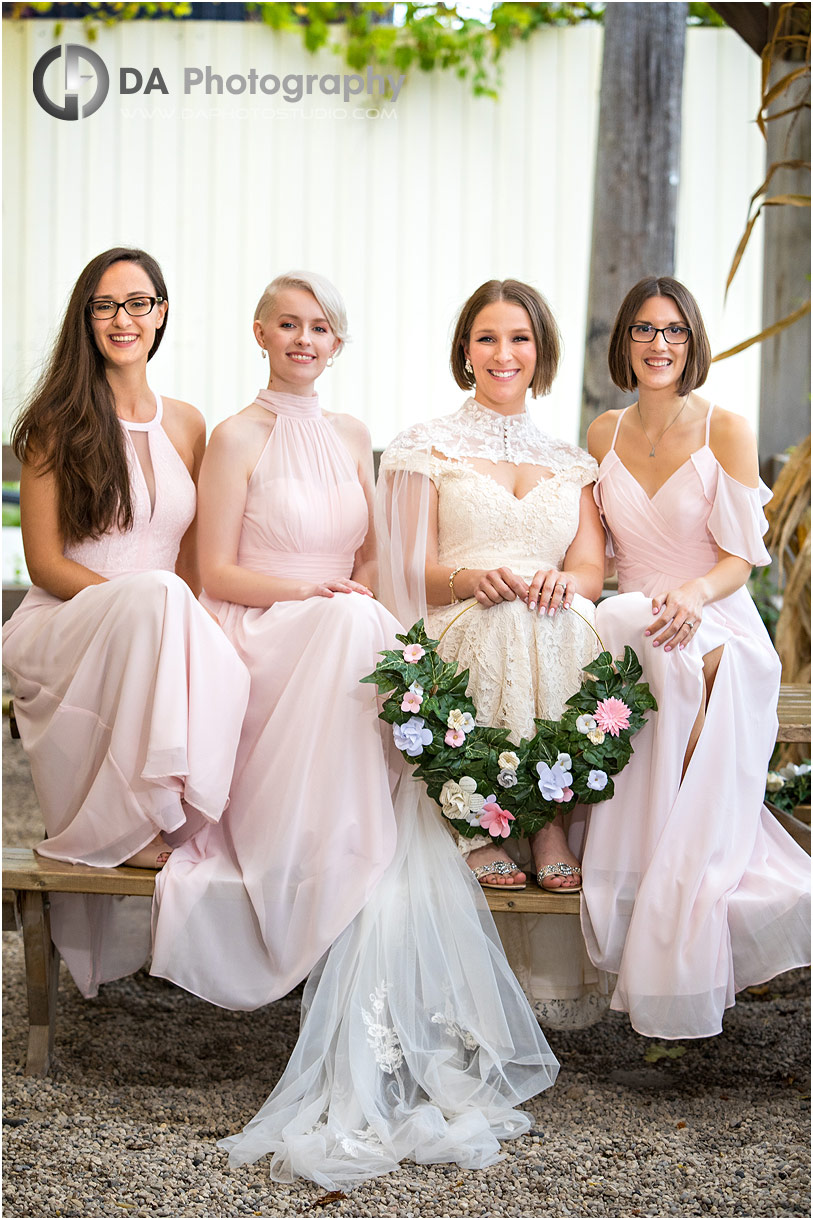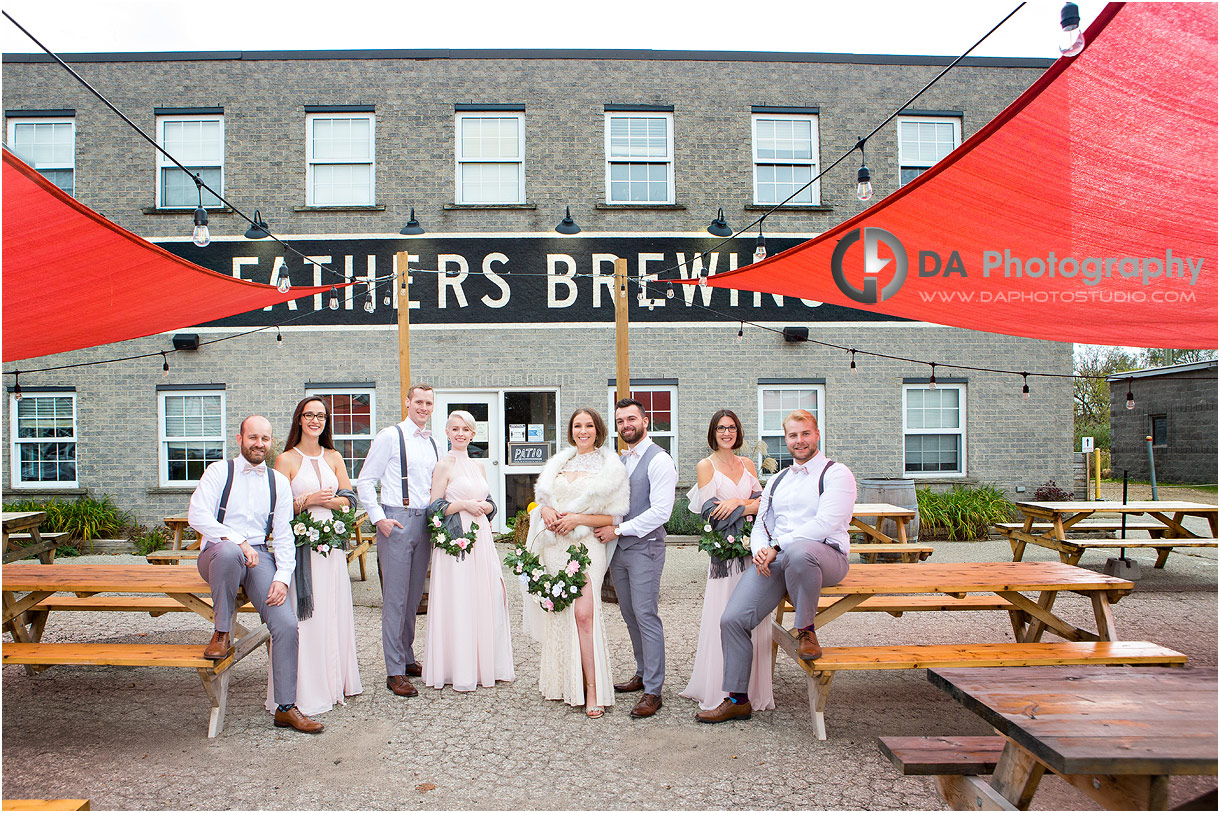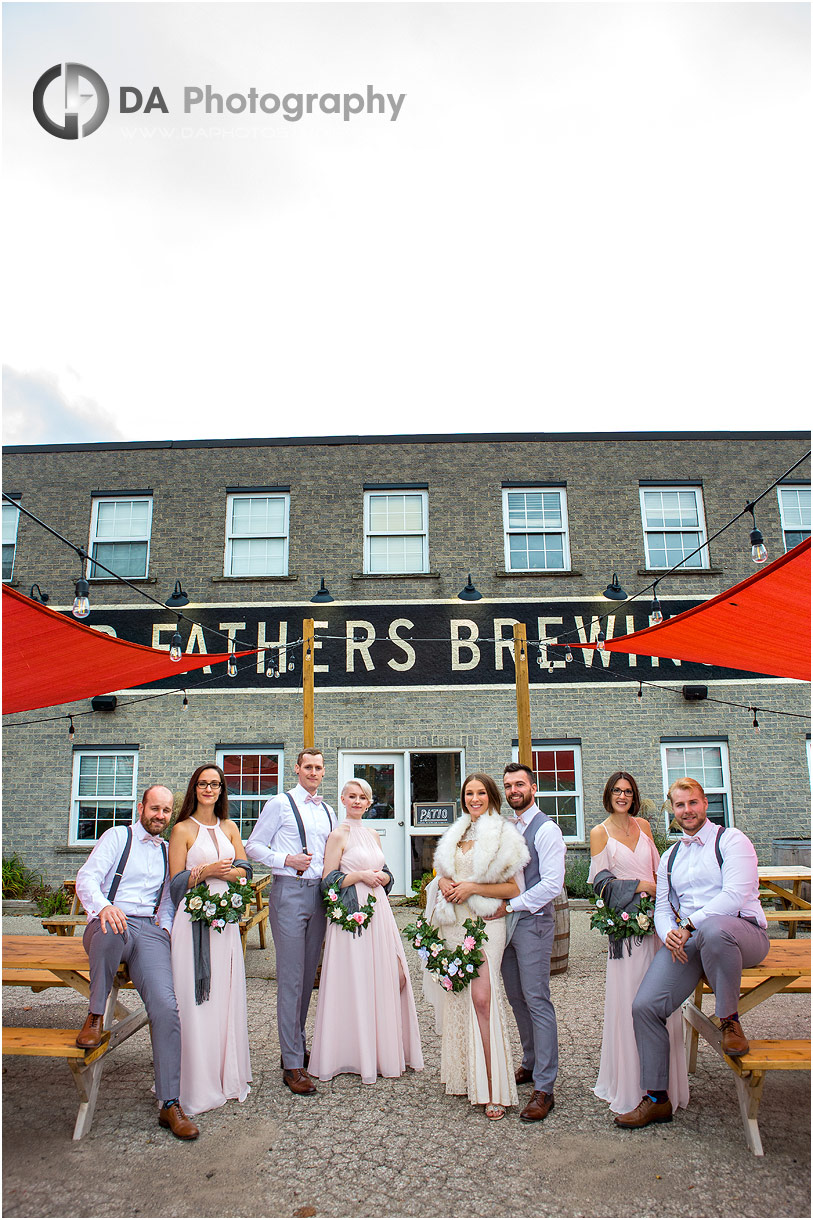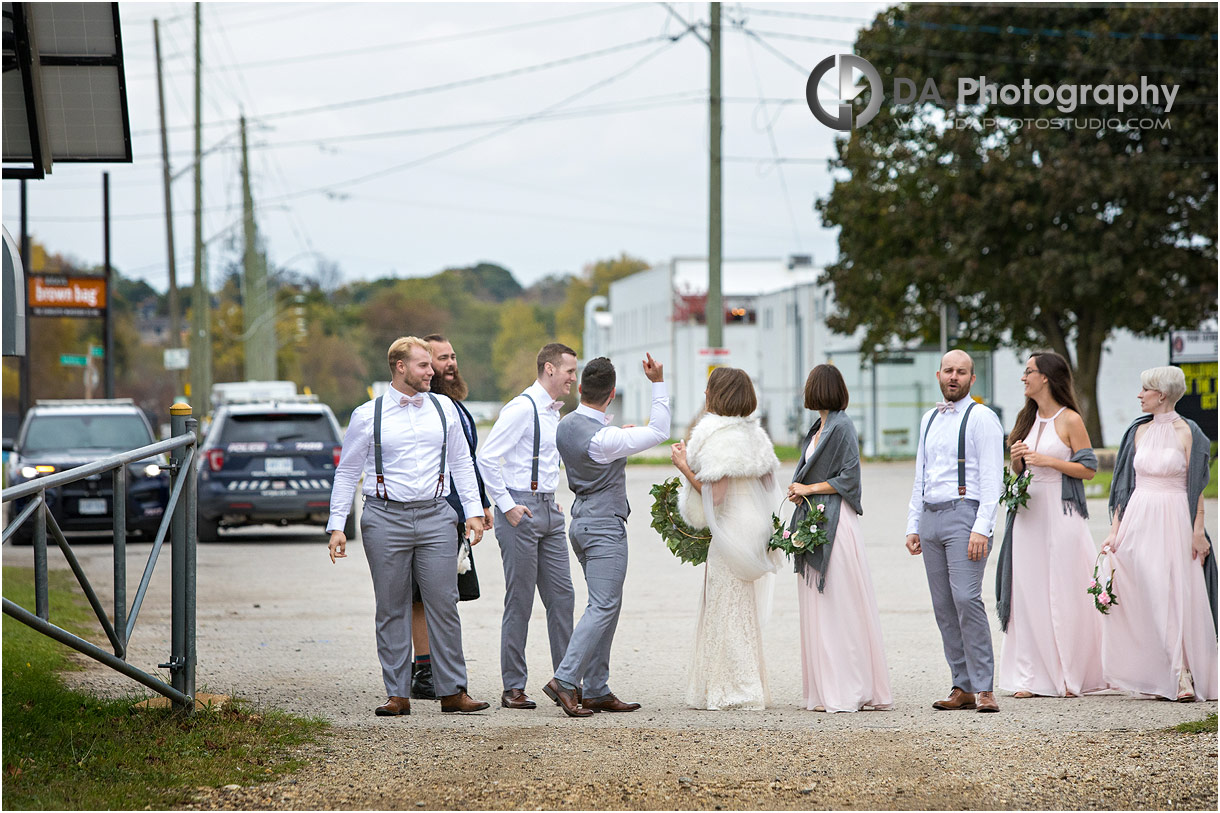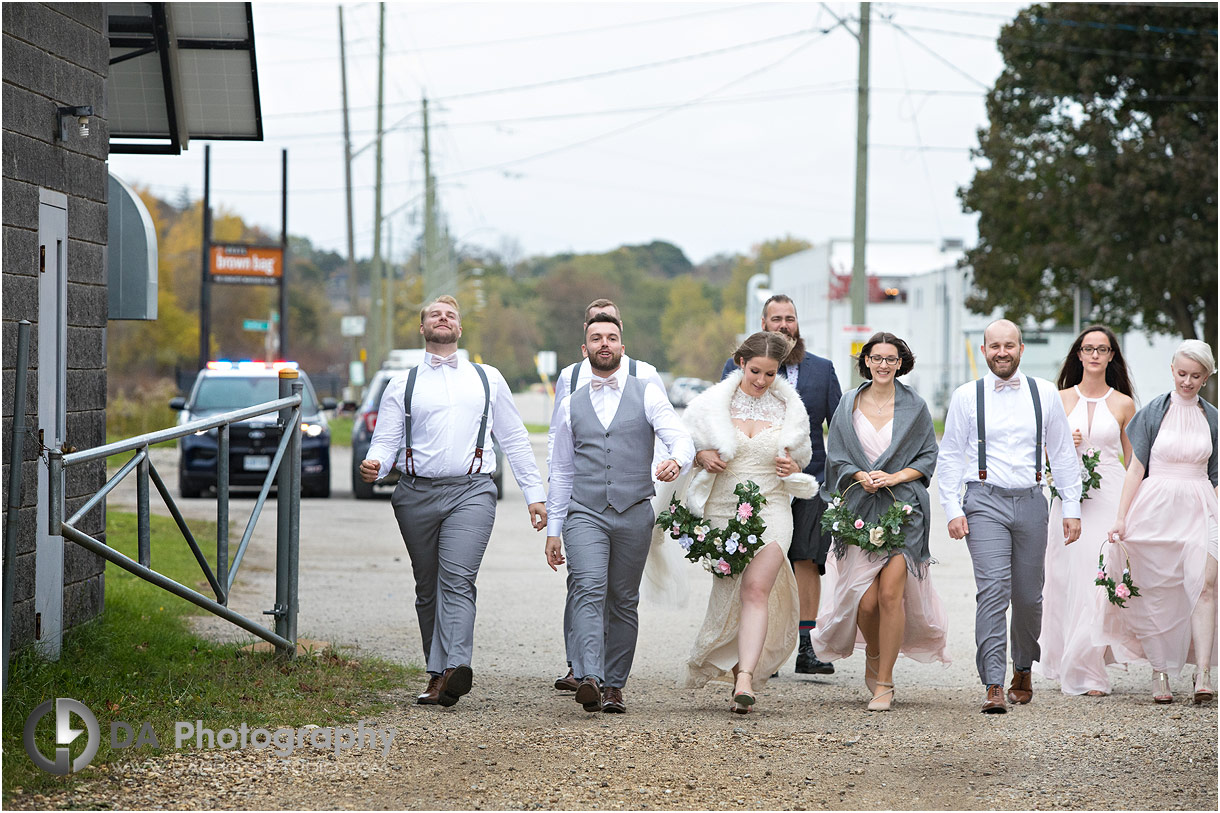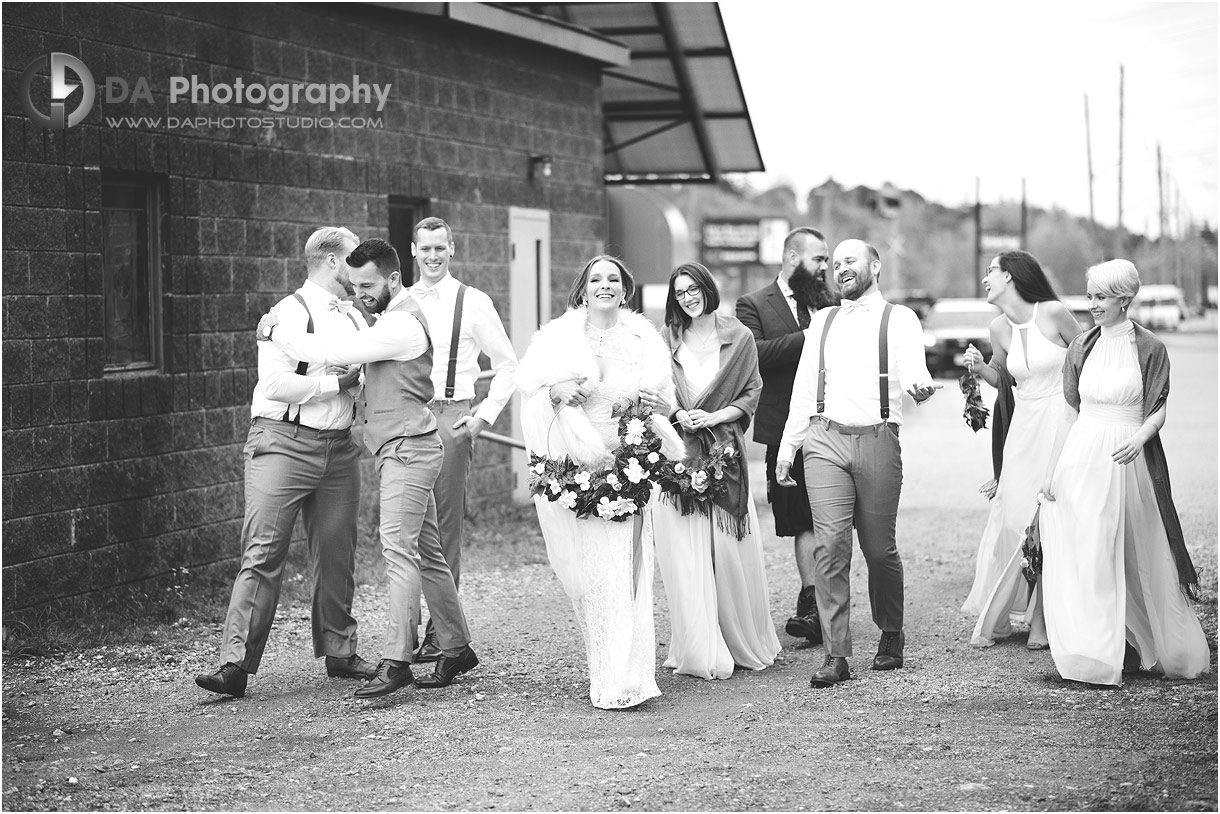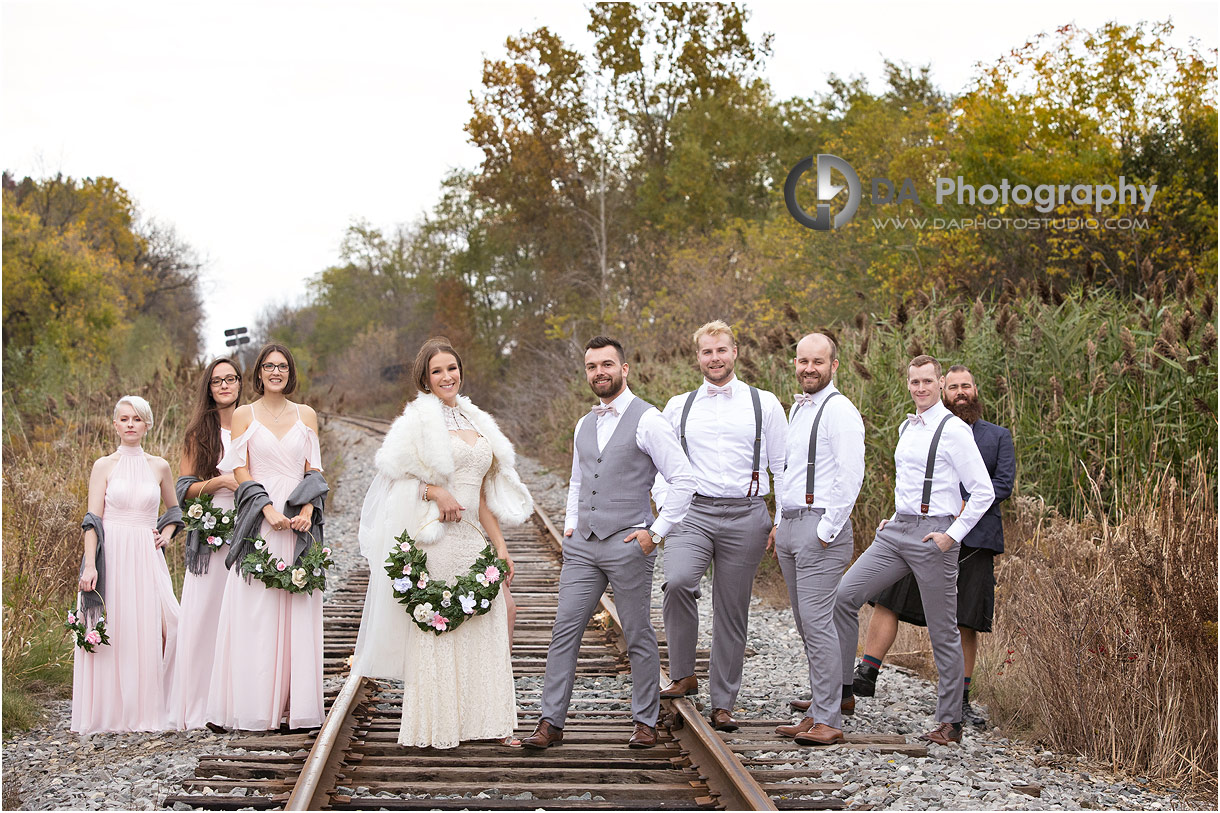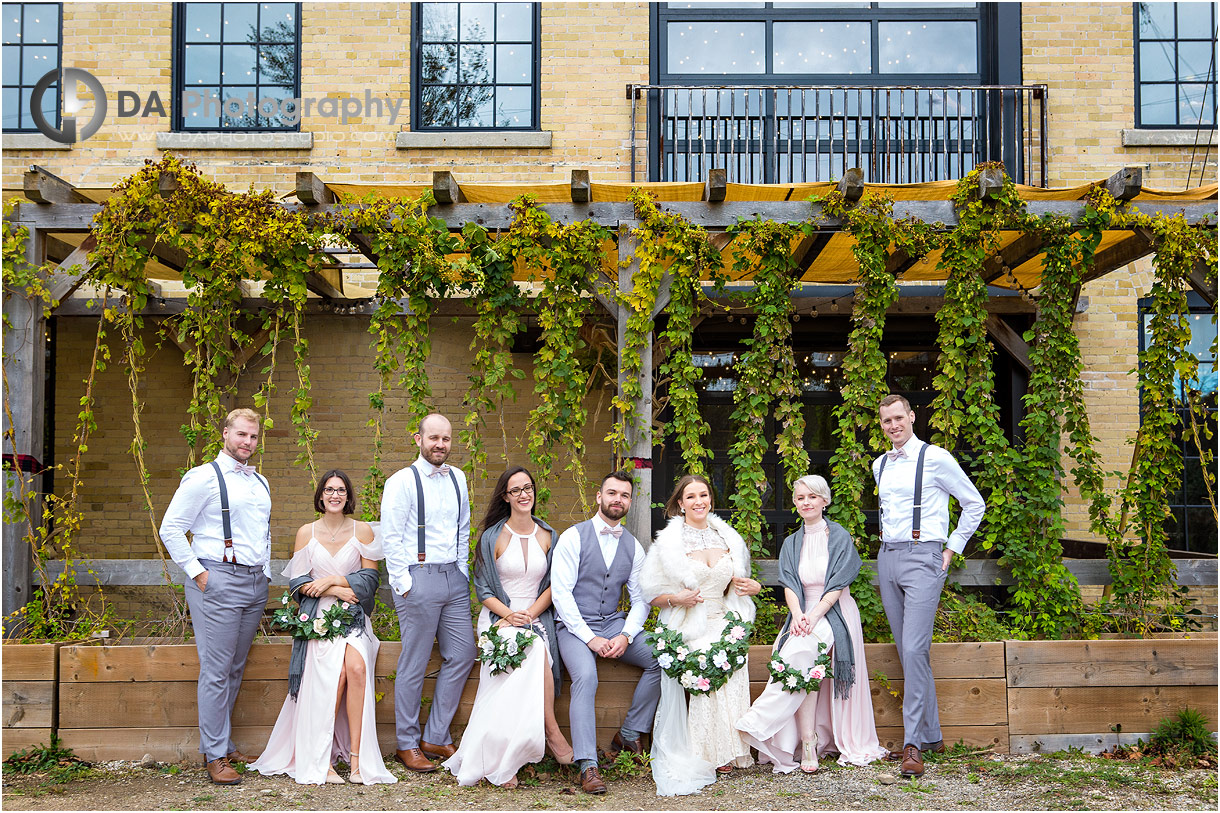 The Loft Reception
From this point onwards, we left Tangi and Stephen to enjoy their party with their guests. At the same time, we remained on the lookout for some candid photos during the time we were not taking any of their family photos.
The great food, amazing choices of beer, an awesome display of 12 dozen donuts, powerful speeches, and a lively dance floor were all memorable moments we were able to capture during the reception. The guests even performed a spontaneous yet coordinated dance as led by Tangi and Stephen. We had such a great time documenting all of the fun!
While the rain poured down, it did nothing to dampen the warmth and happiness at this wedding reception at the Four Fathers Brewery. It was such a pleasure to capture some modern yet warm images in this loft-like venue. Tangi and Stephen's guests were so involved in this couple's happiness, creating such an amazing atmosphere. The time simply flew by!
When I noticed Tangi and Stephen giving away the remaining donuts to Erika, I realized that we were the last ones left in the loft. I said to Erika, "Wow! This was an awesome wedding!"
It was such a pleasure to discover such a great venue in my own backyard. The service and atmosphere of Four Brothers Brewing Co. complimented this wonderful couple celebrating with their amazing group of loved ones. I will absolutely be adding this location to my list of venue recommendations as a local photographer and look forward to more happy moments to come.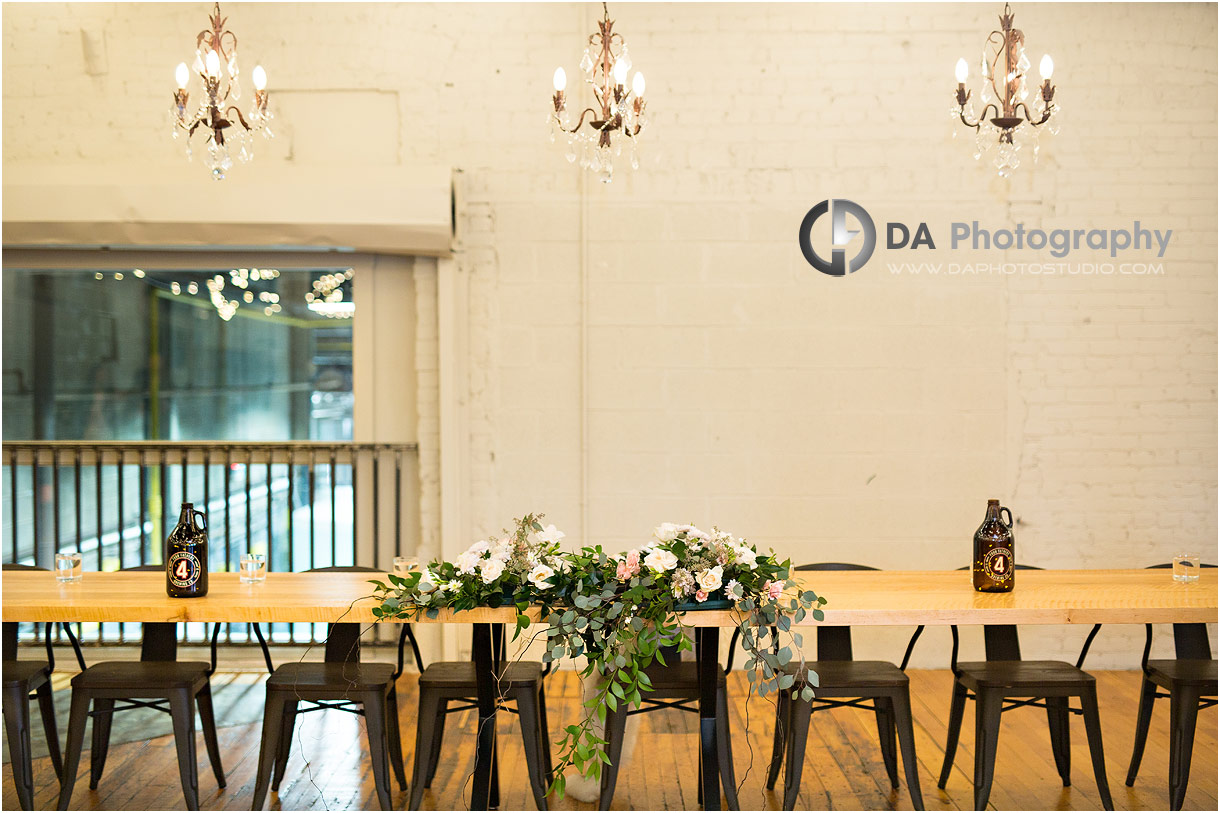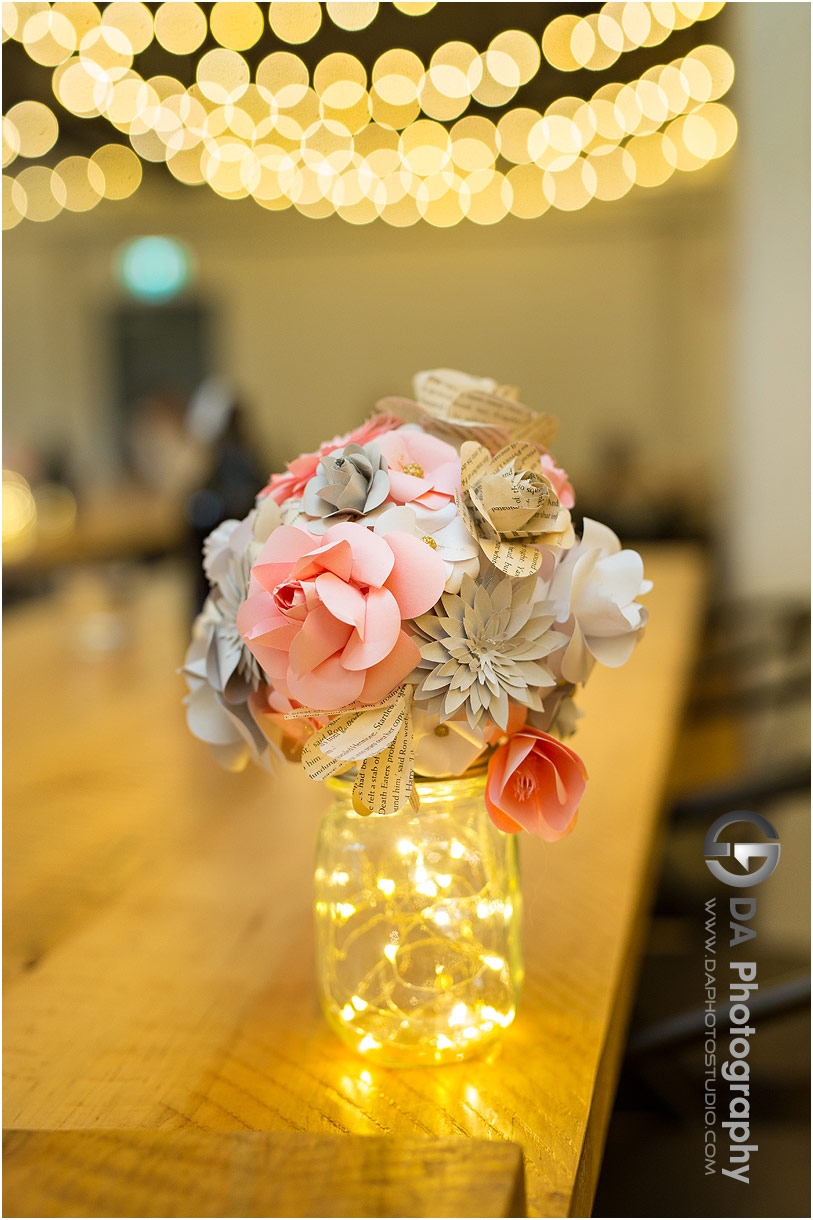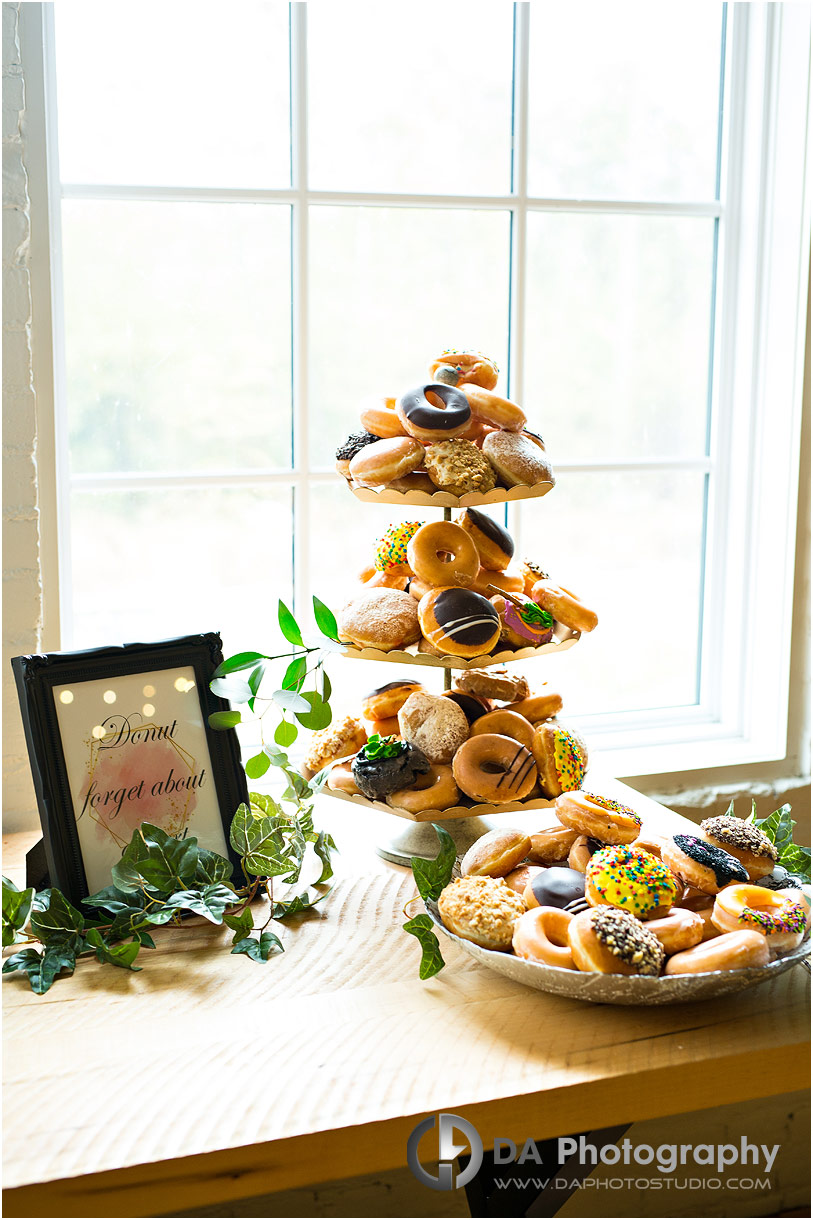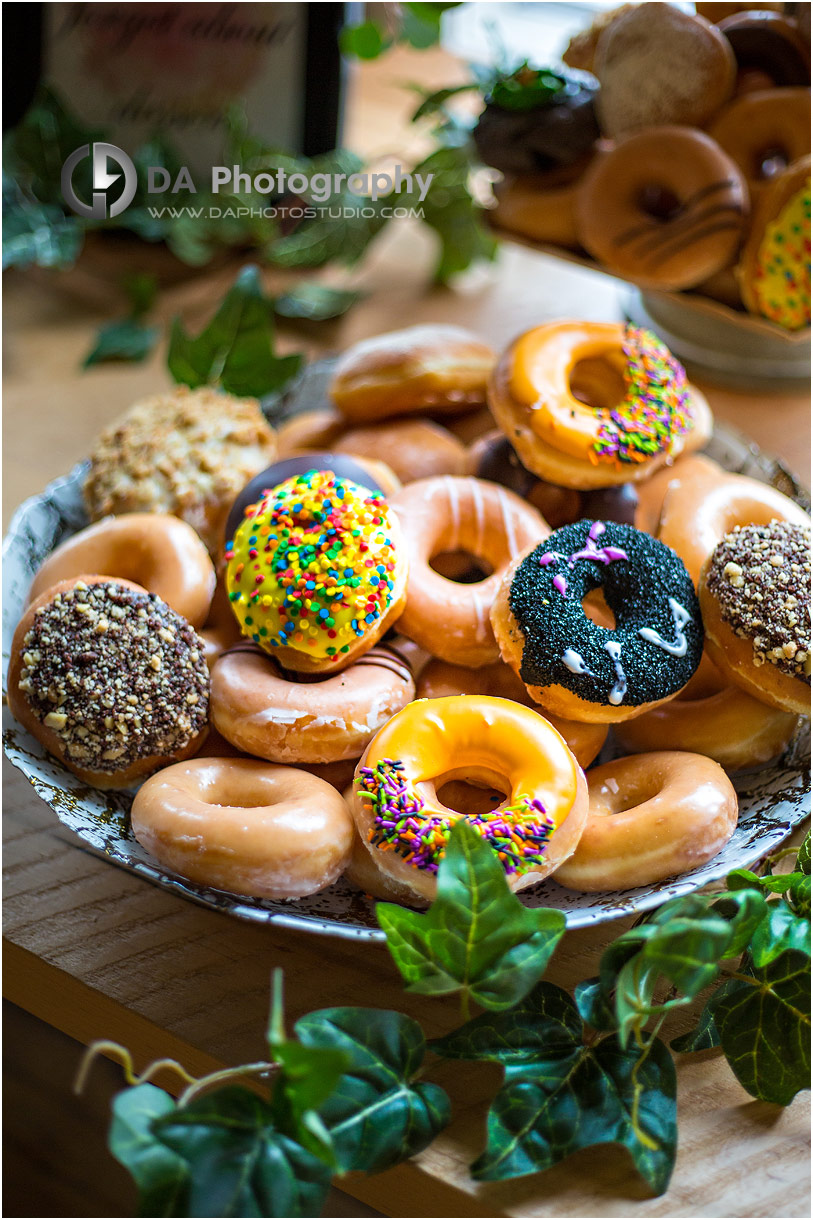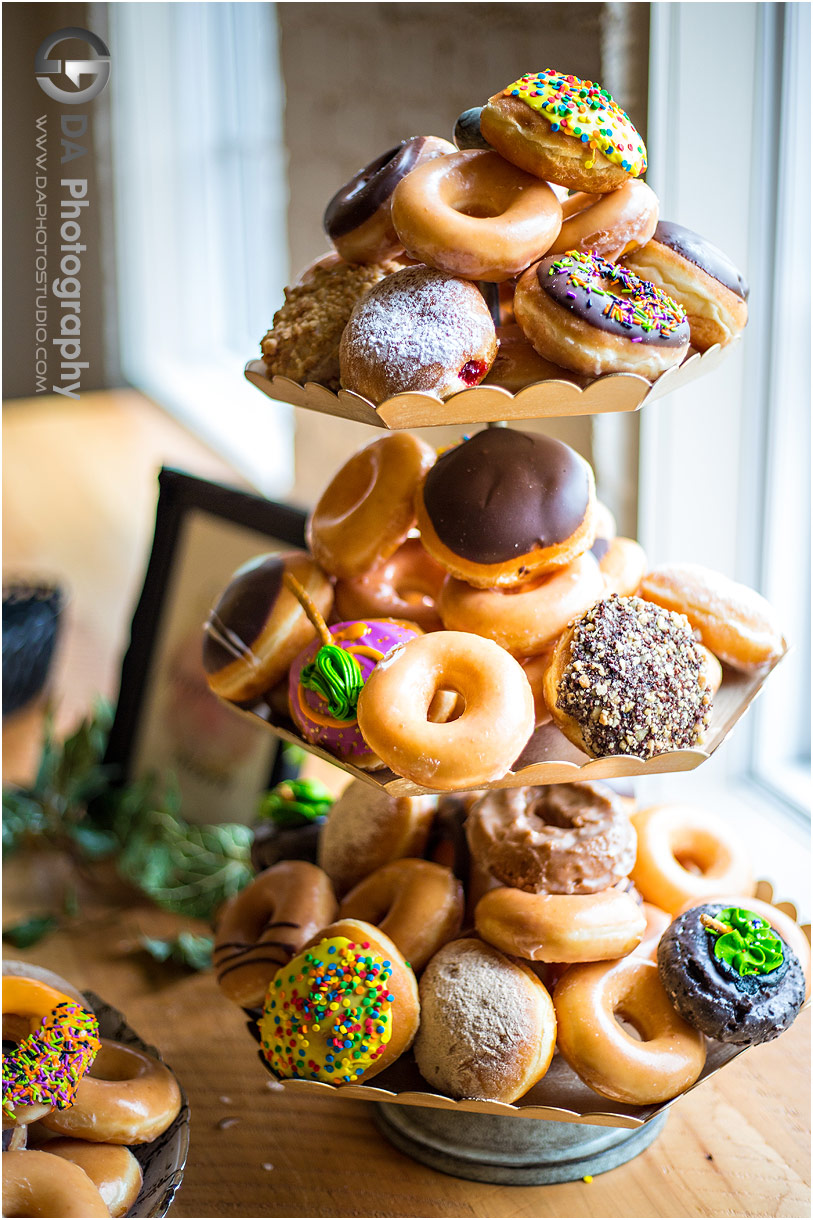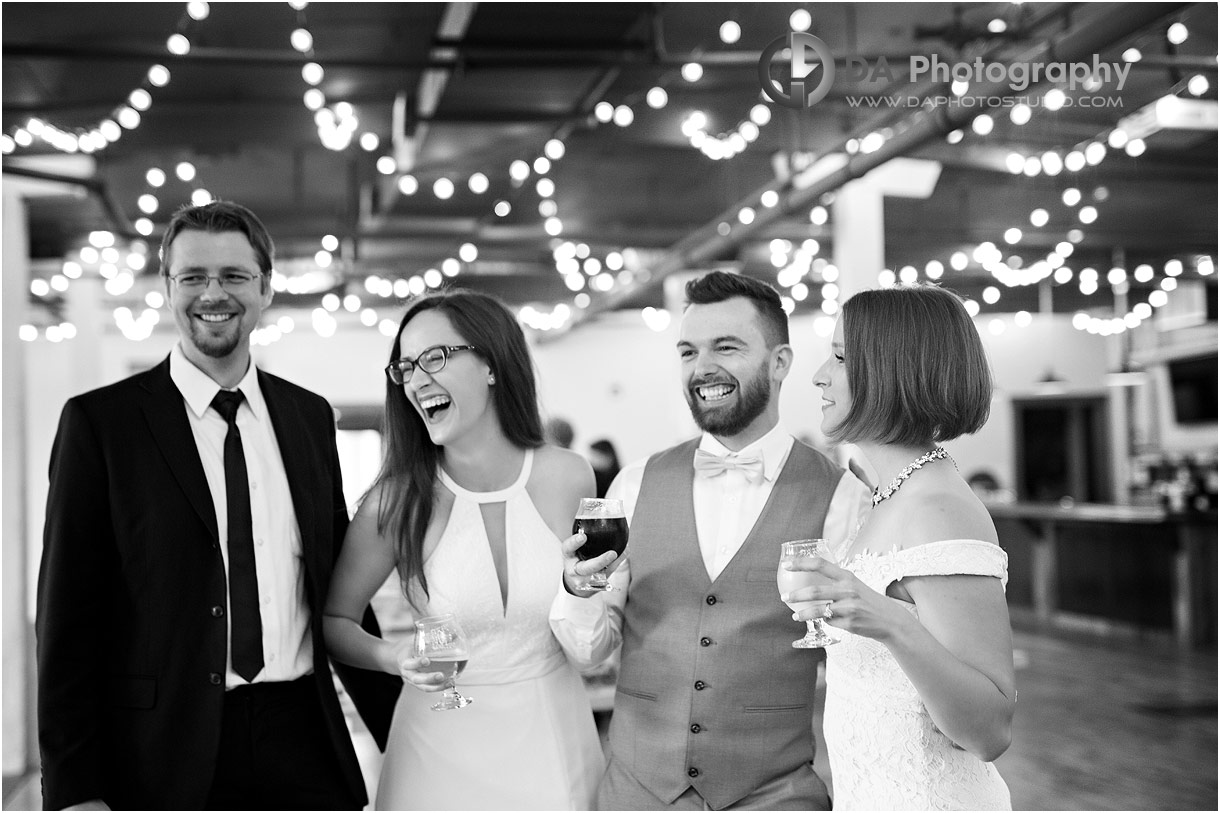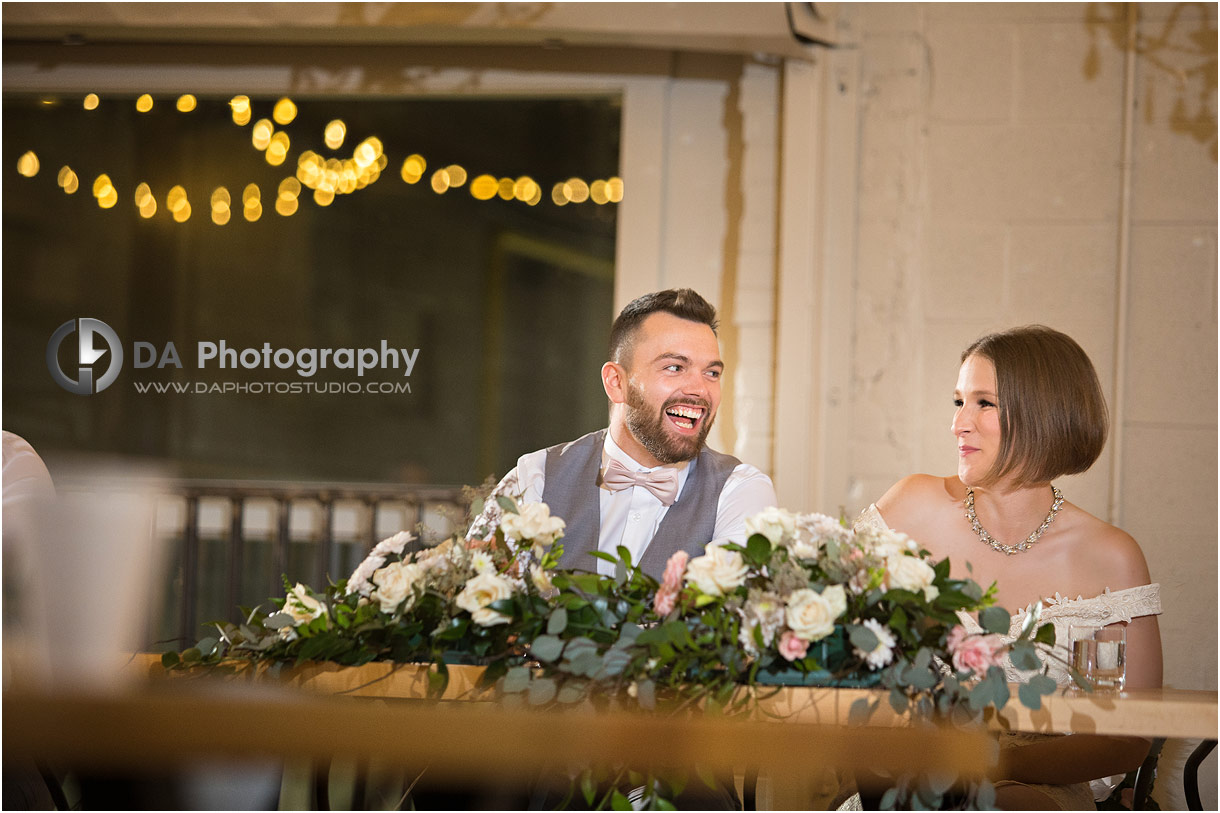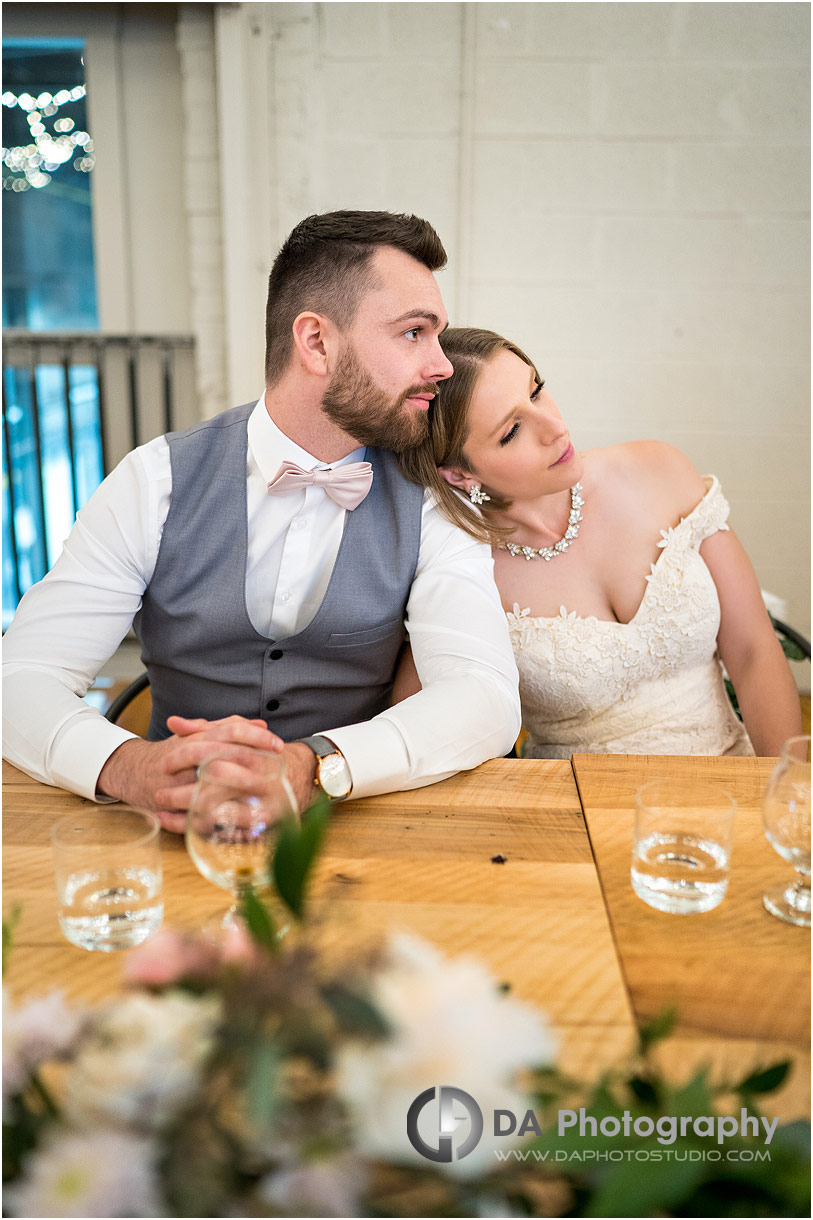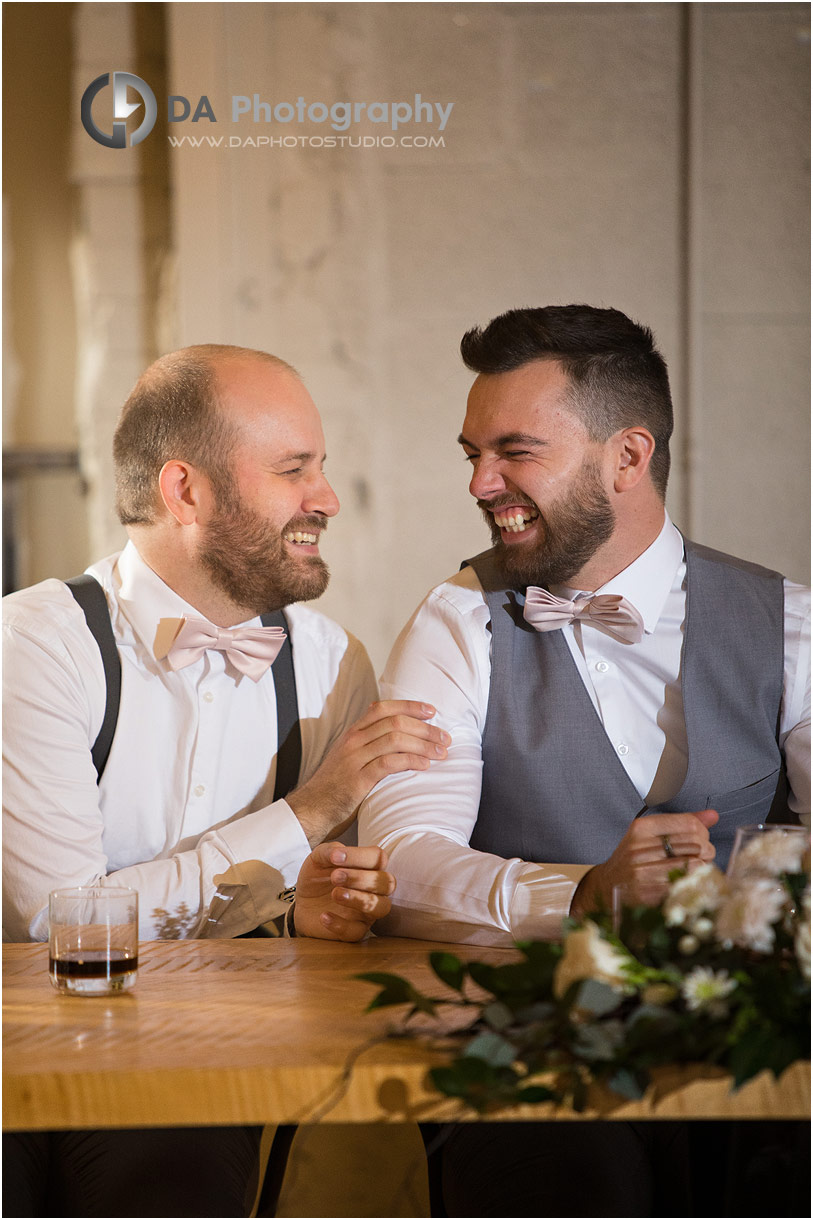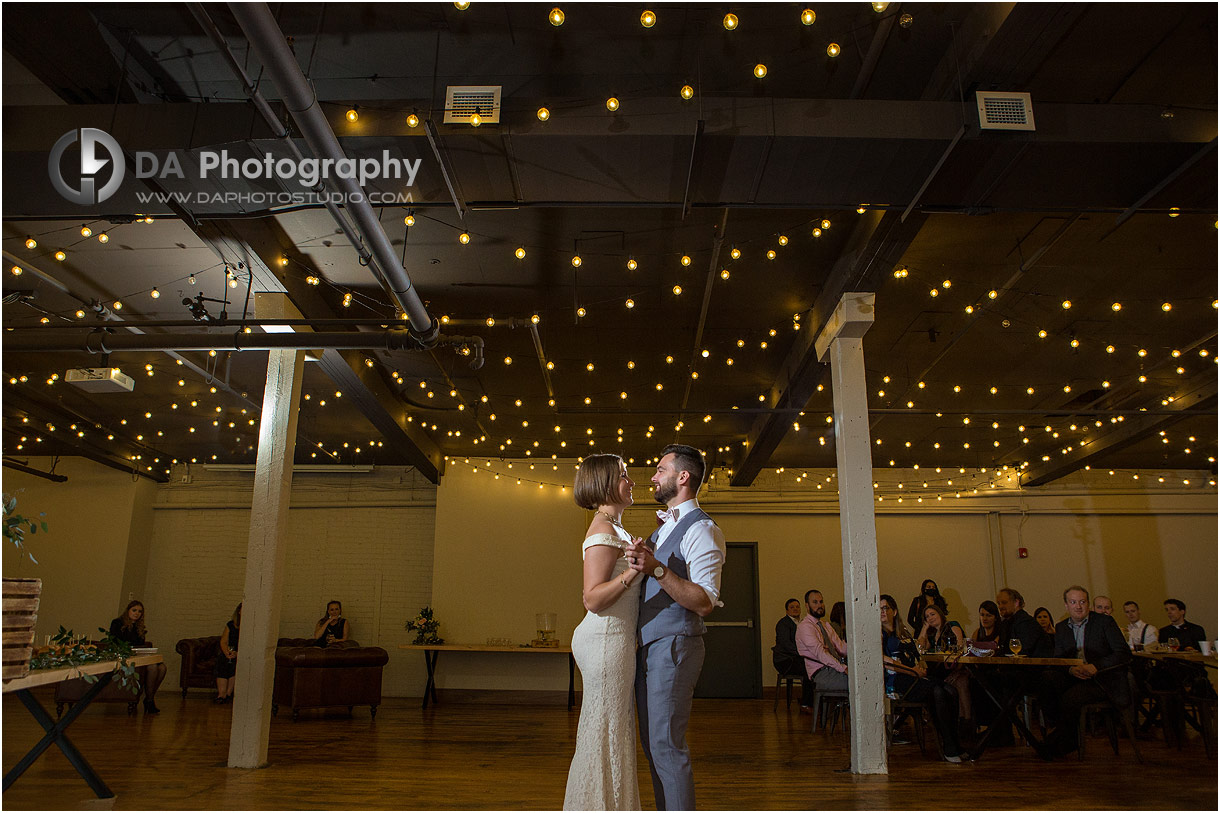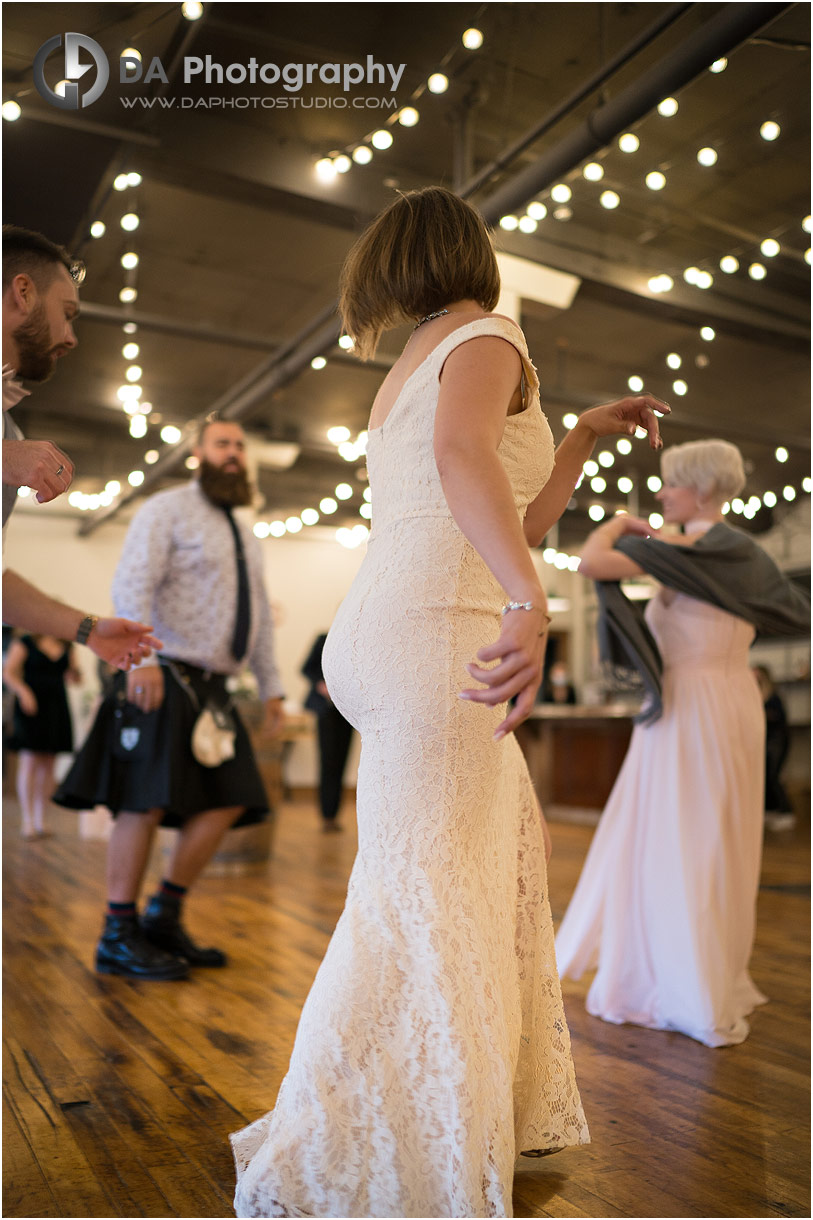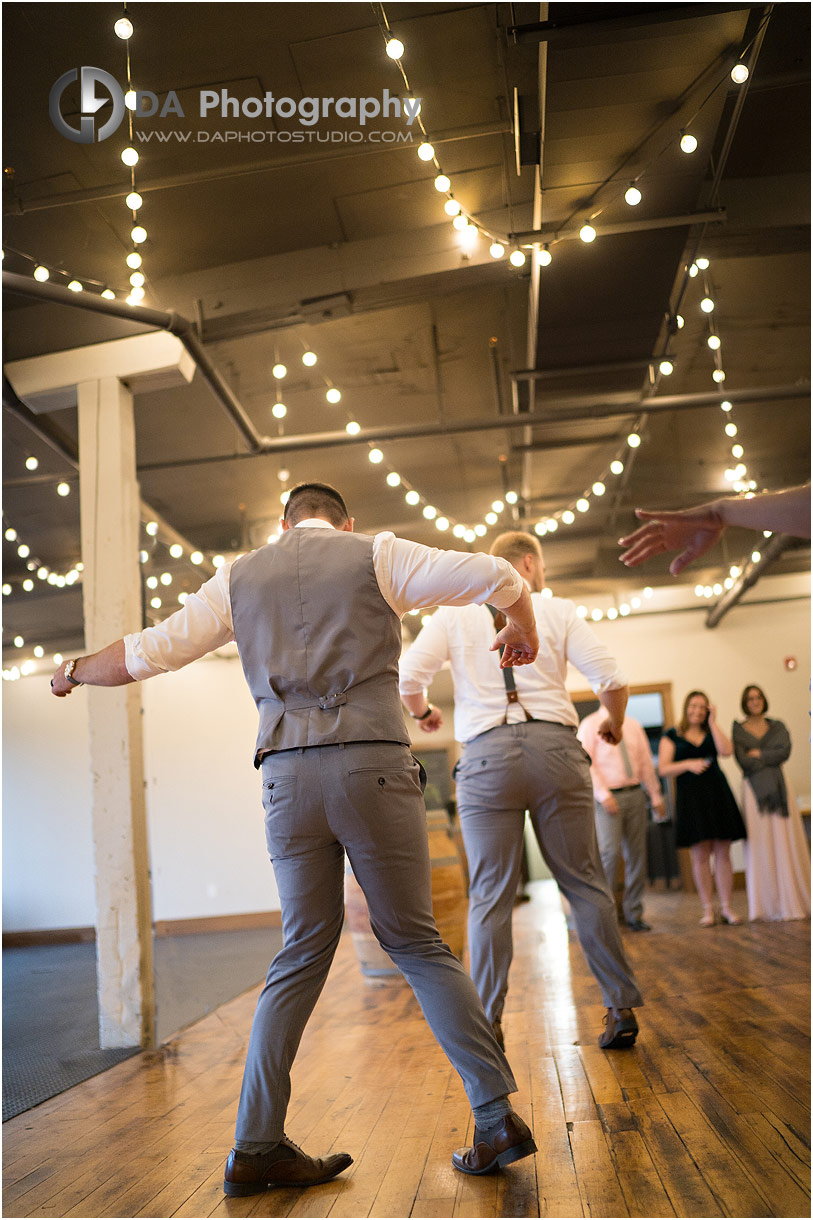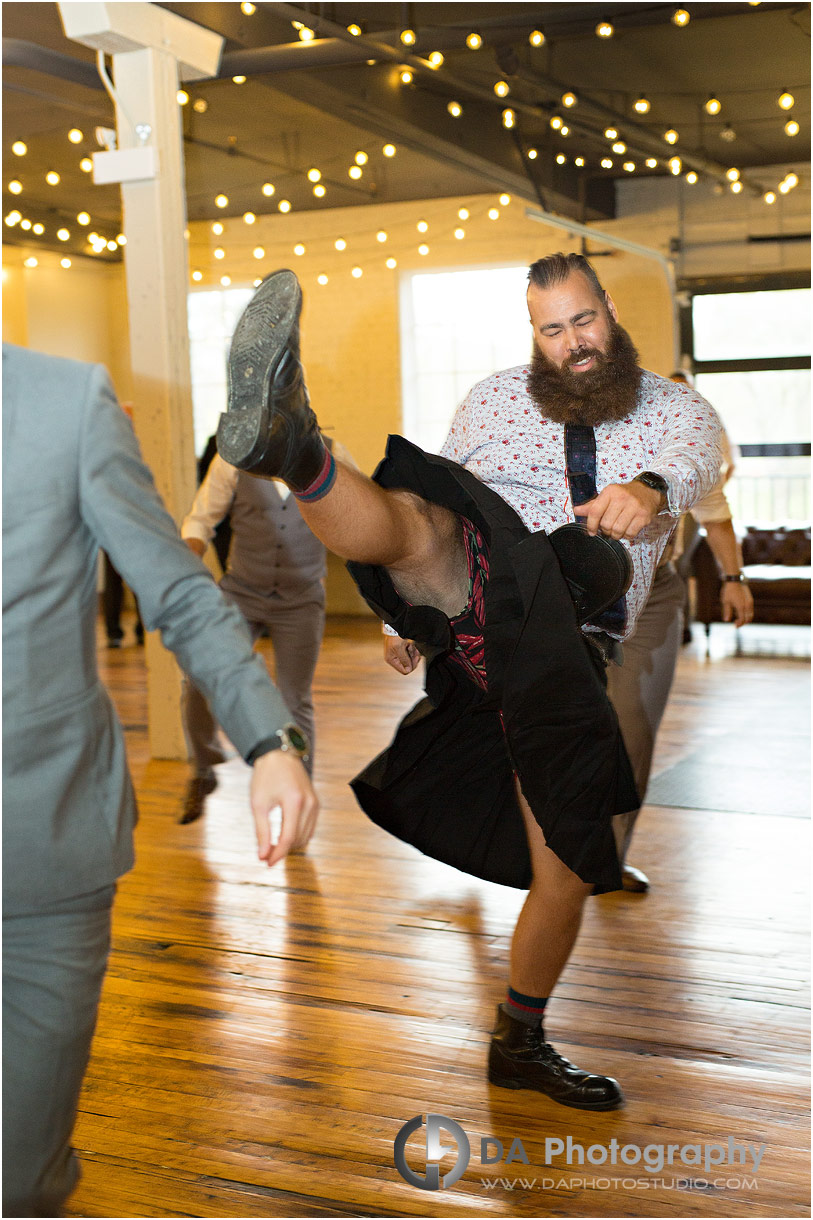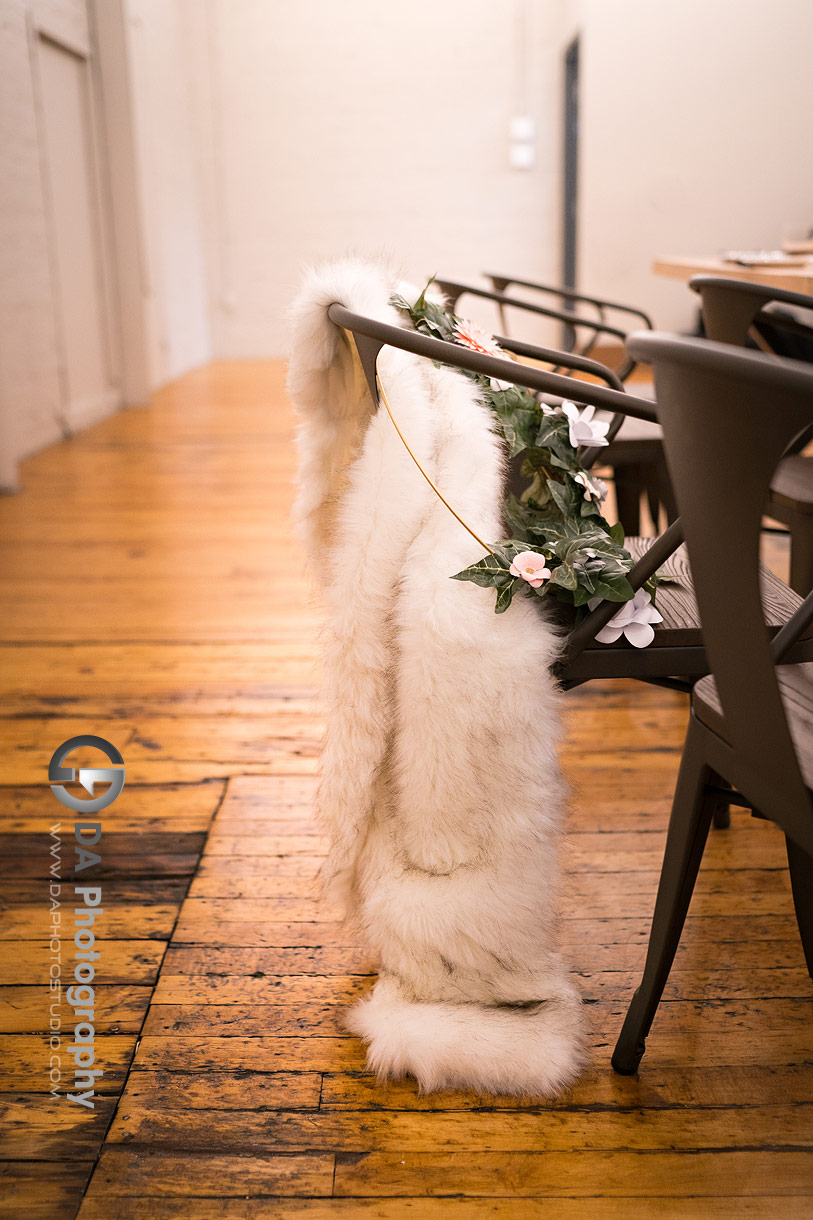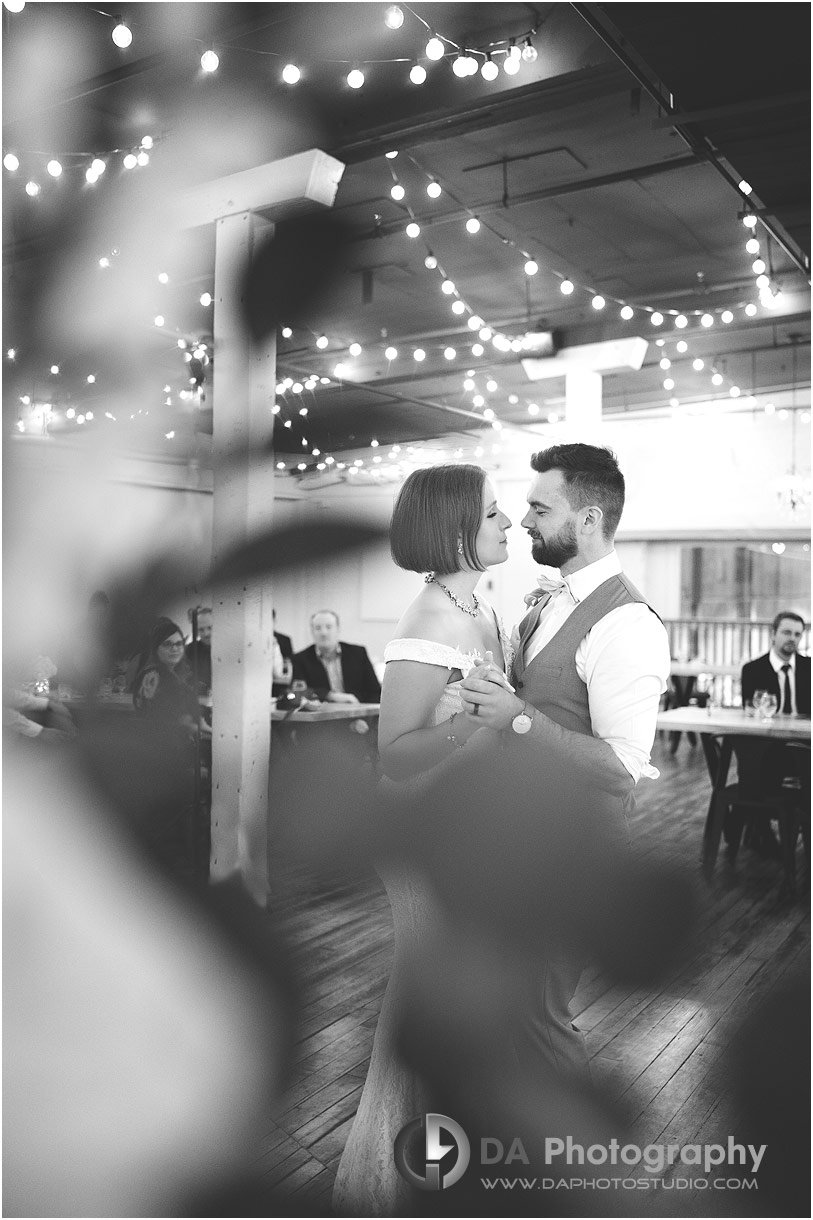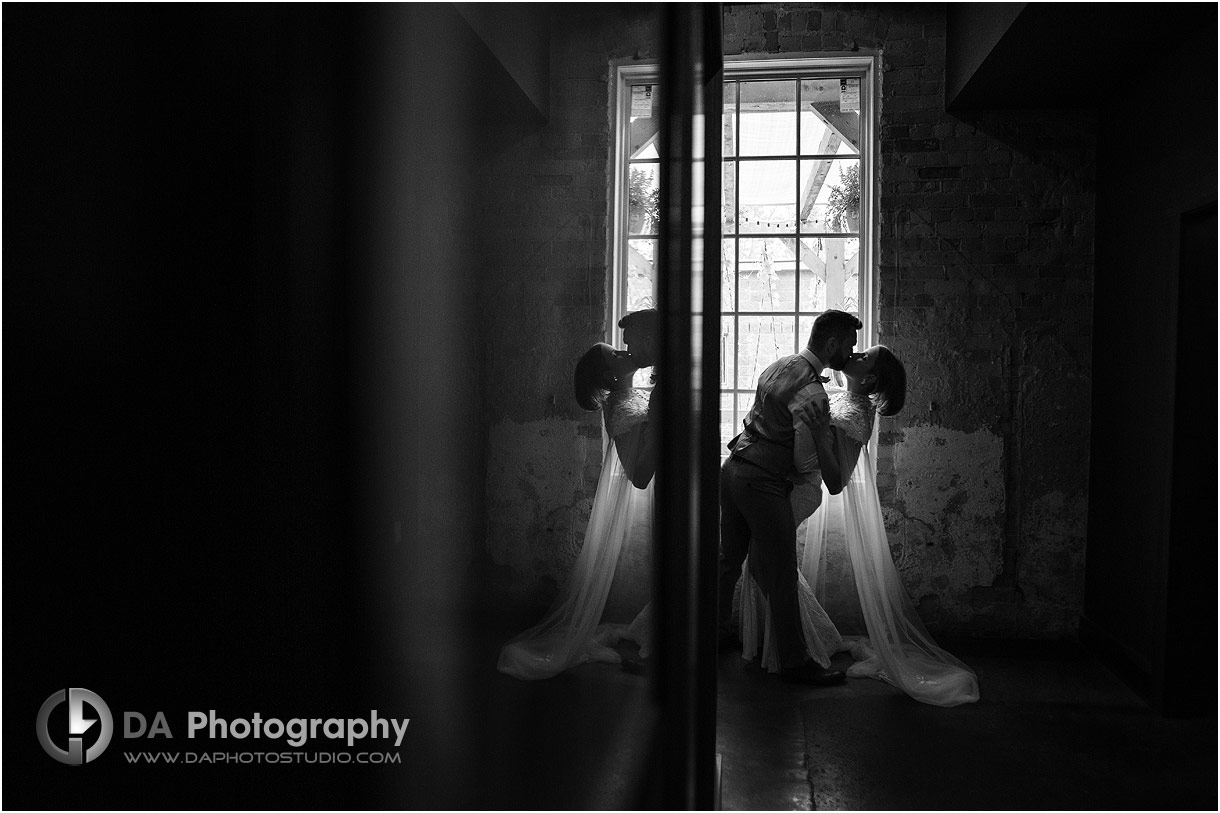 Credits to below wedding professionals and locations that helped Tangi and Stephen's wedding to be one-of-a-kind.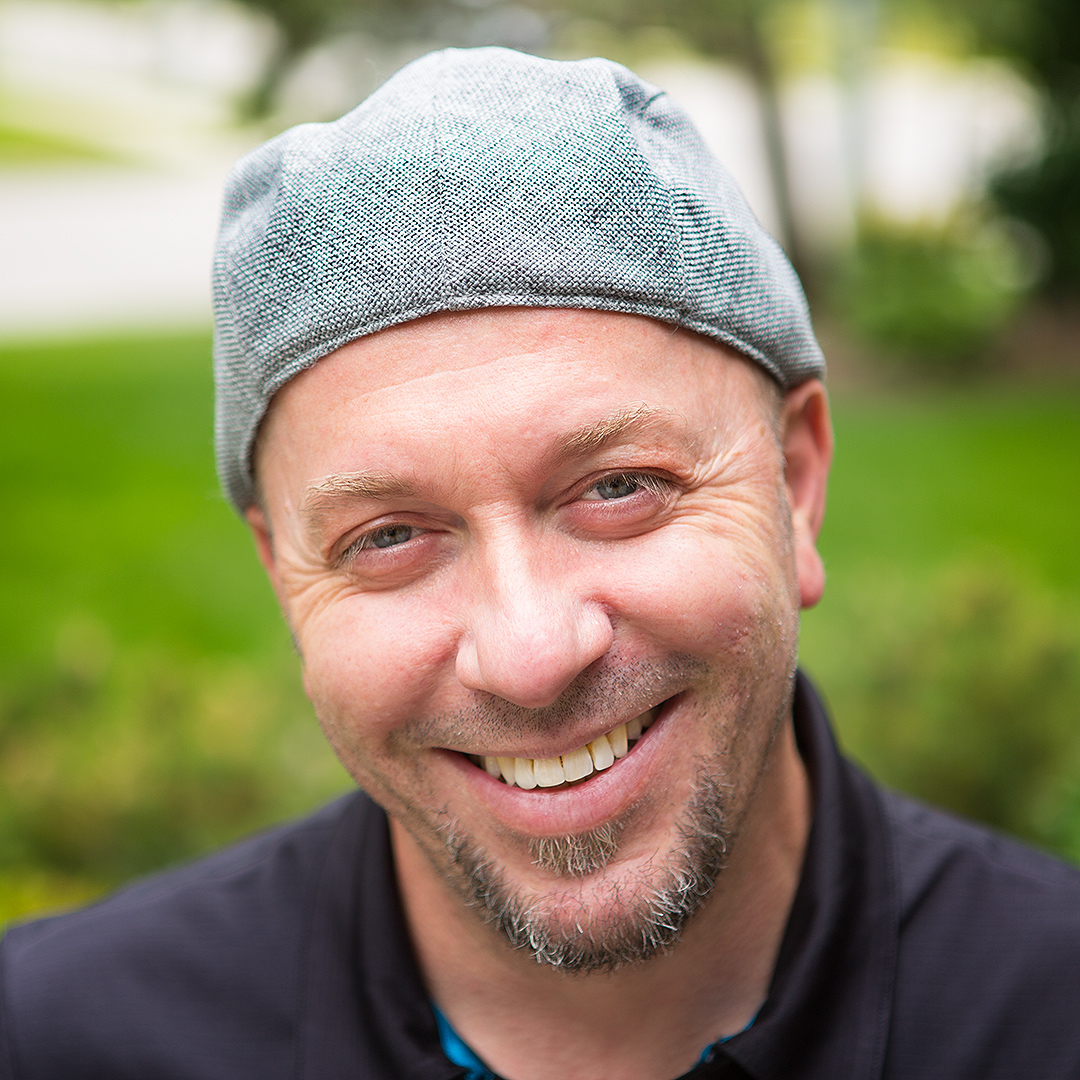 My passion and biggest asset is taking the time to make every client comfortable and relaxed before I even pick up the camera. The result? Photos of you that actually look like you at your best! I can prove to you how much you can enjoy having your picture taken. Lifestyle photography is about the experience that happens to be served up along side of some great photos.
Specialties:
Family Photography for families that like to move around and enjoy their photo time, Wedding Photography for couples looking for a mixture of photojournalistic, contemporary and traditional images and Professional Corporate headshots that are far from cheesy and stiff.