She's Kind of a Big Deal!
During our photo shoot last fall, Adele was 8 months pregnant and her daughter was thrilled – being a big sister is a super big deal! Having a baby brother or sister means you get to help Mom feed the baby, you get to hold the baby and you get to help change baby's diapers… Wait. What?!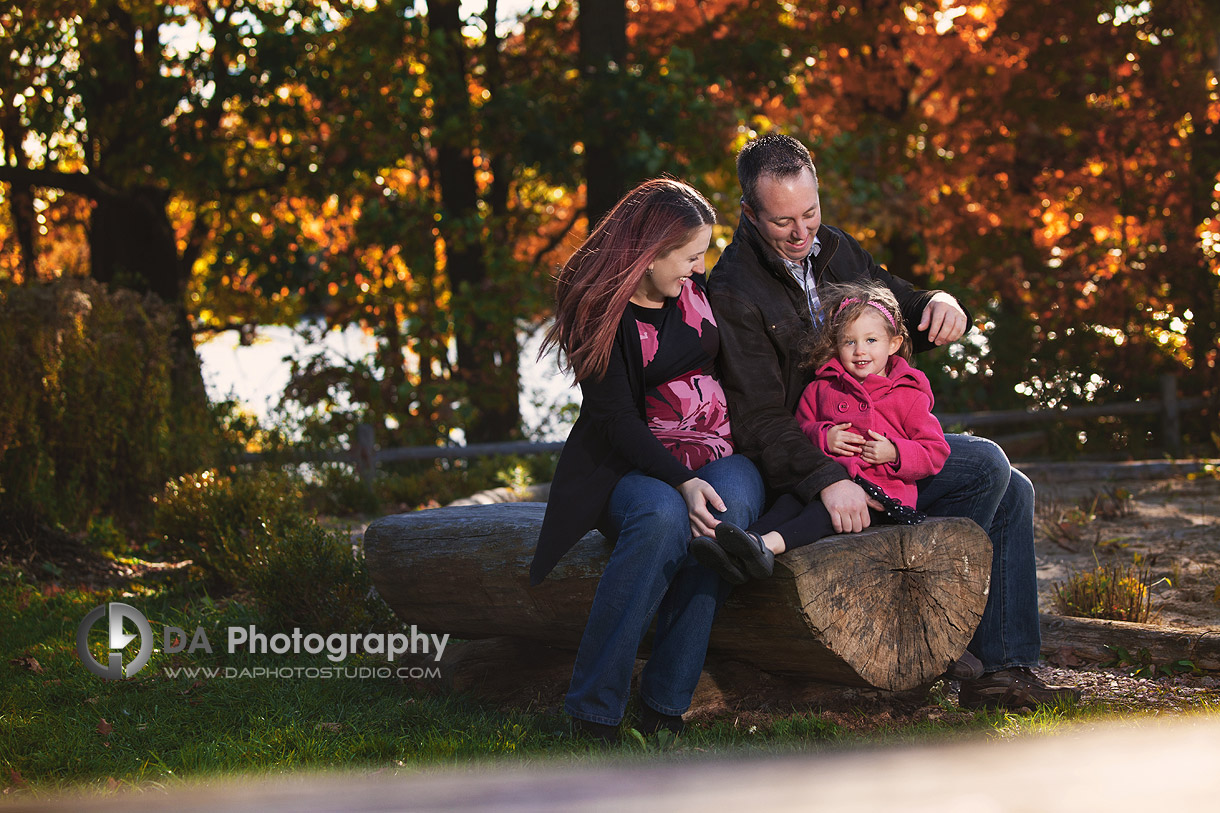 Adele's daughter loved posing with her momma's expanding belly! She loved kissing the baby inside and saying sweet little messages. I had the pleasure of photographing this sweet young girl when she was just a toddler in her backyard. She's grown a lot since then and when I asked her about being a big sister, she was so excited to tell me about it.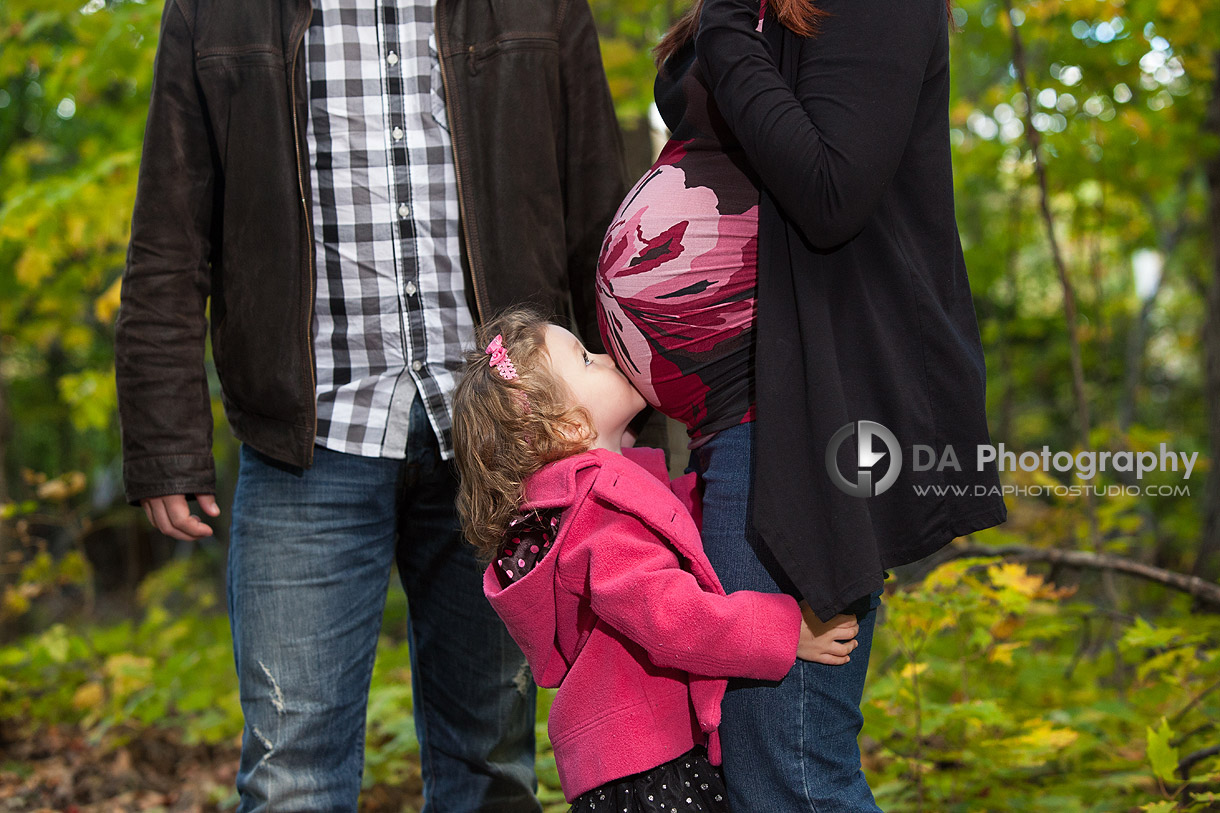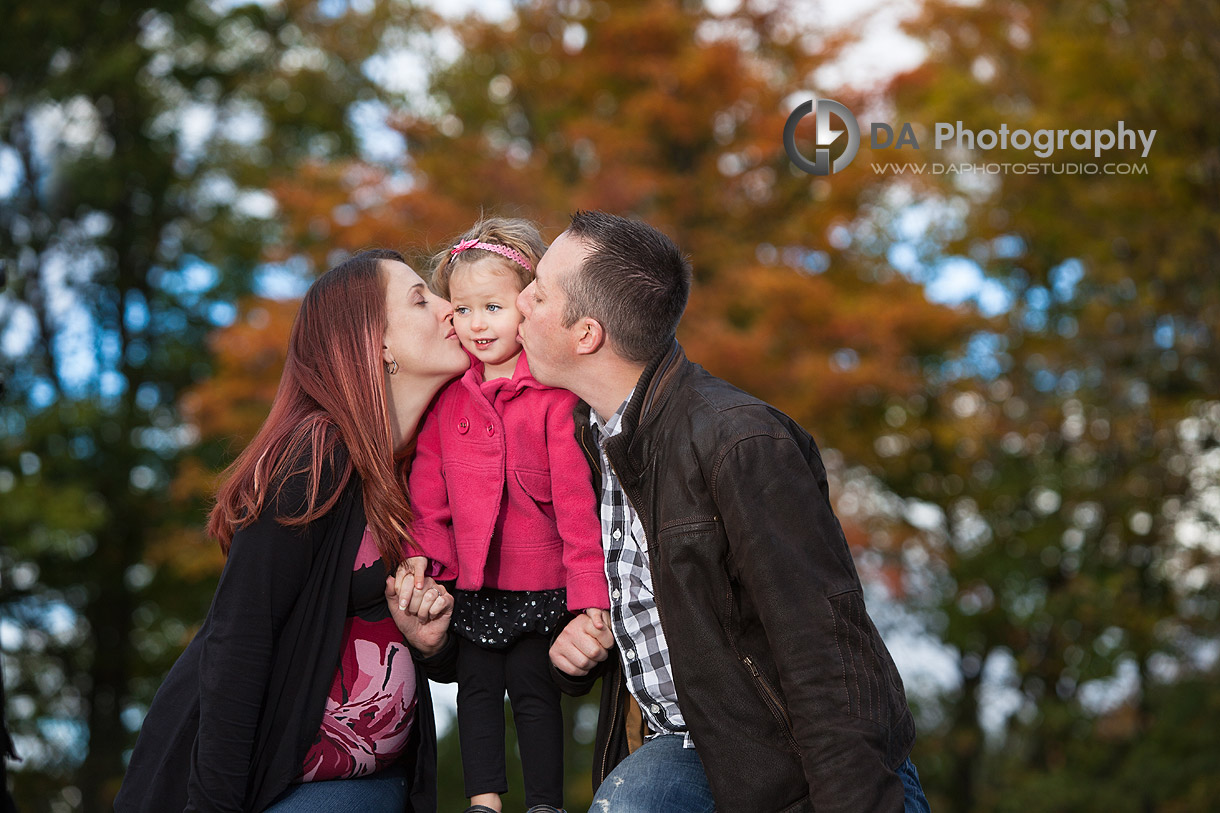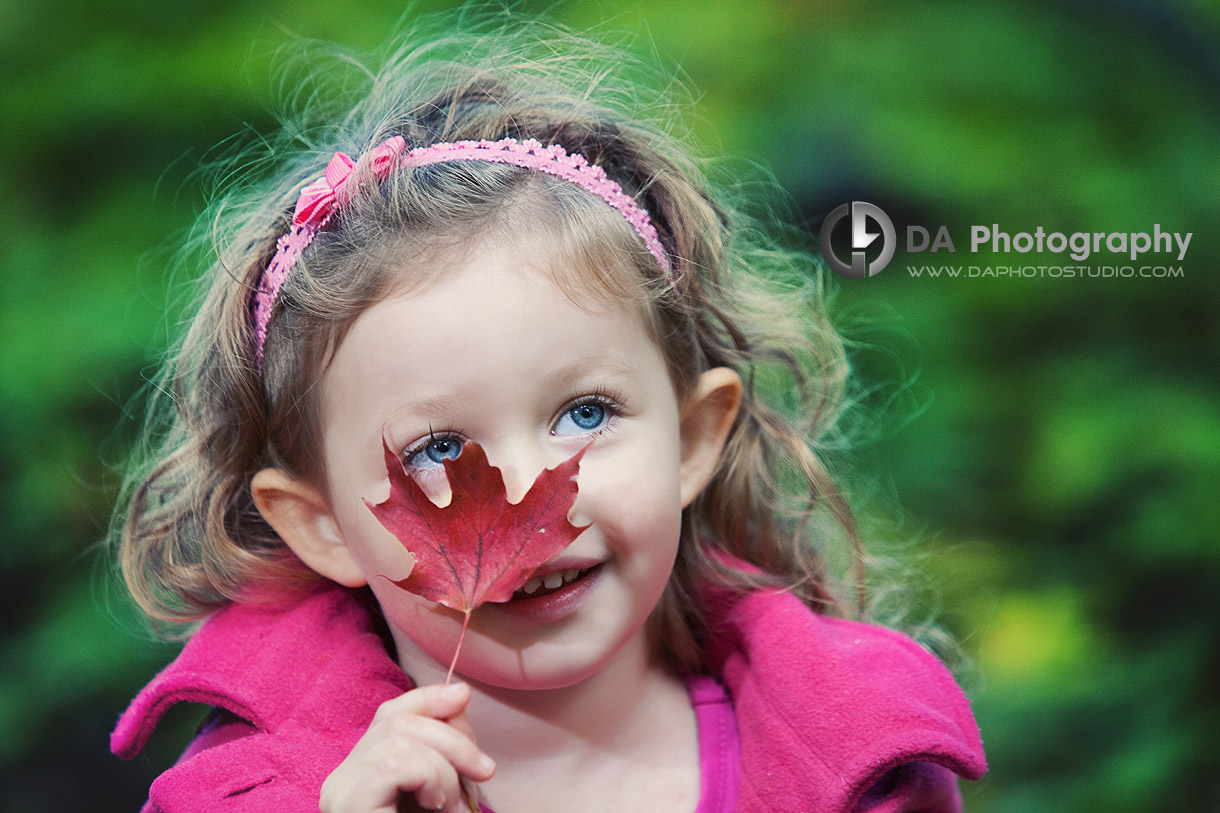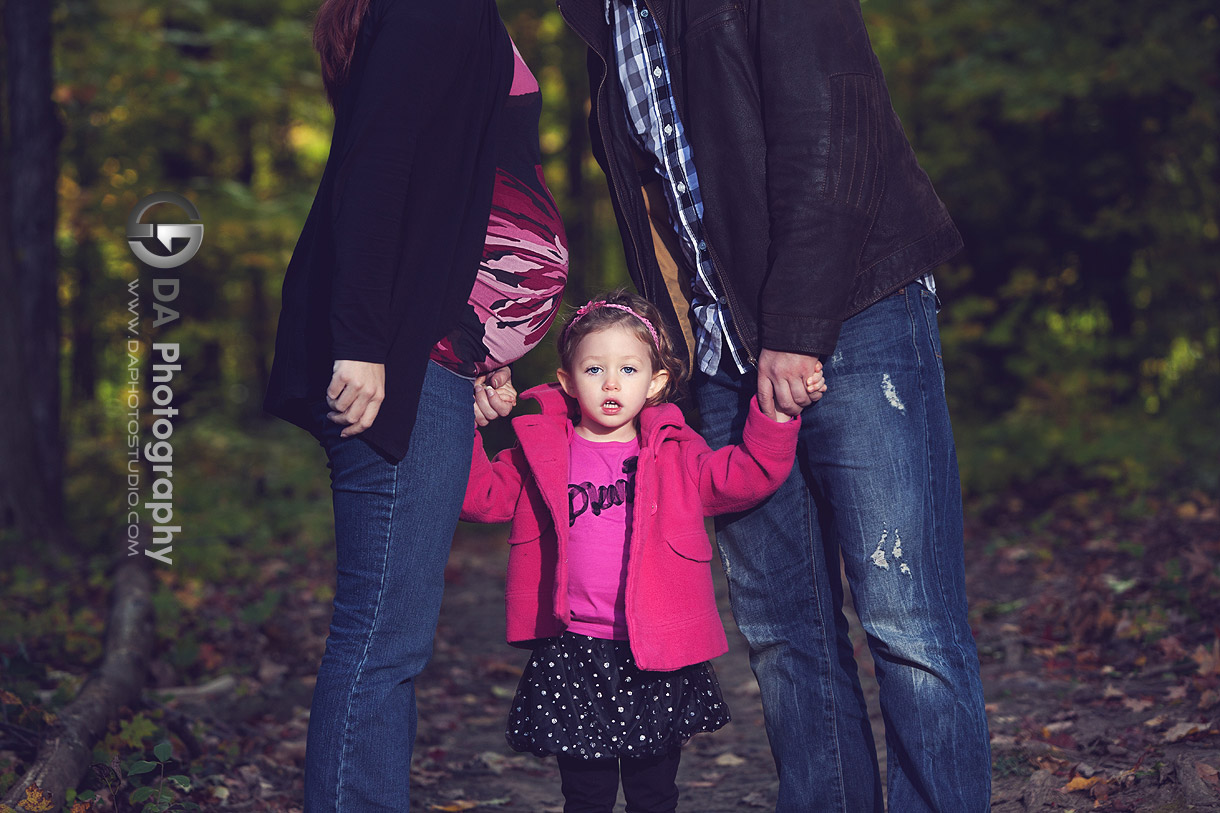 Perfect Posing 
Adele, her husband and her daughter were easy to work with and we were able to try a variety of poses. We went from standing, to walking, to sitting and lying on park benches. One of their favourite posing sessions was when I told everyone to lie on the ground and cuddle together. Their daughter was full of laughter and thought it was silly that Mom and Dad were just chillin' in the grass. These are some of my favourite photos from the day because the smiles and laughter came so easily.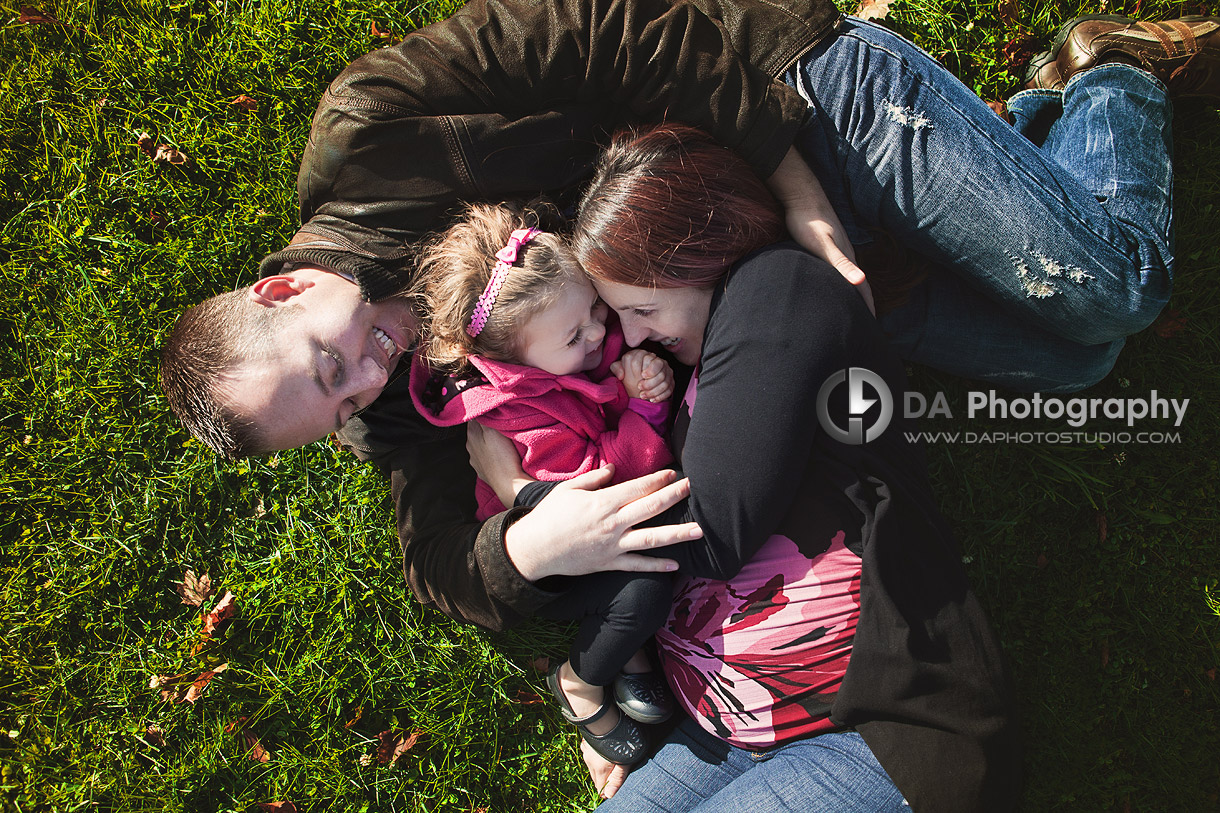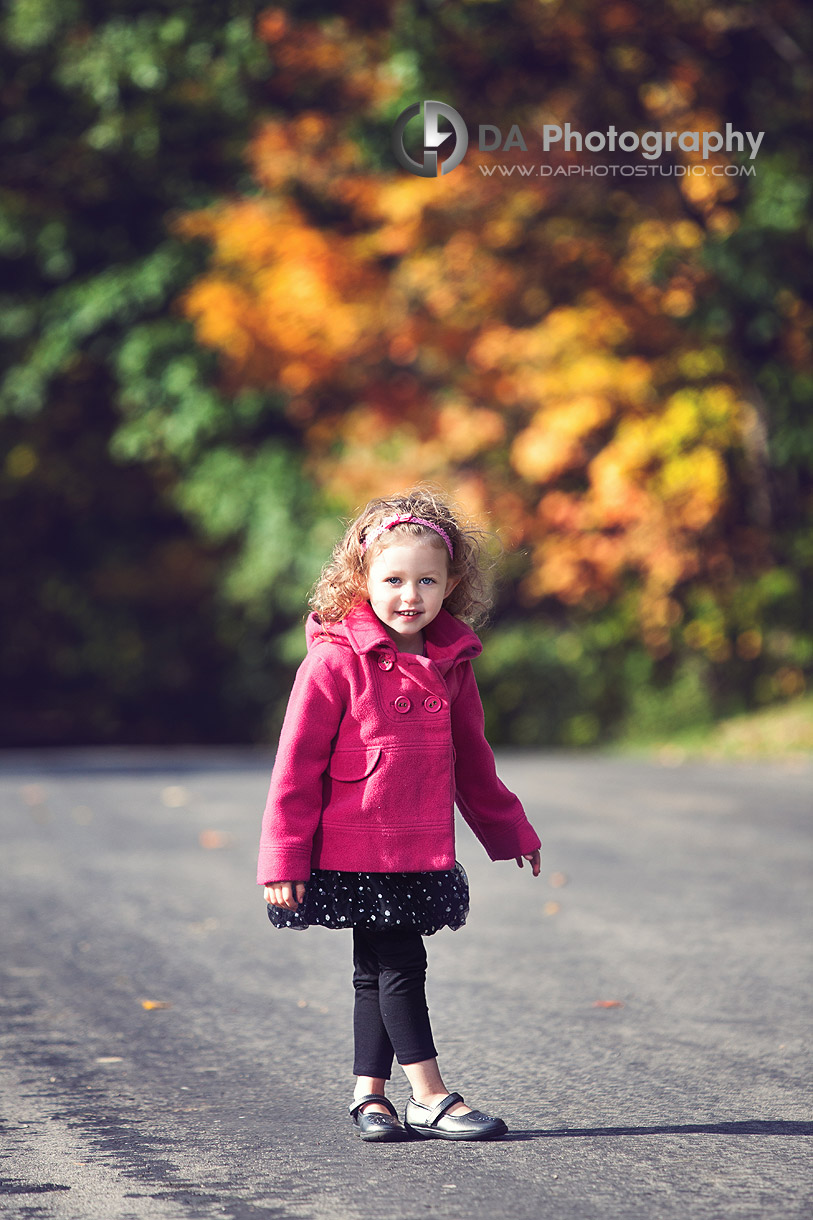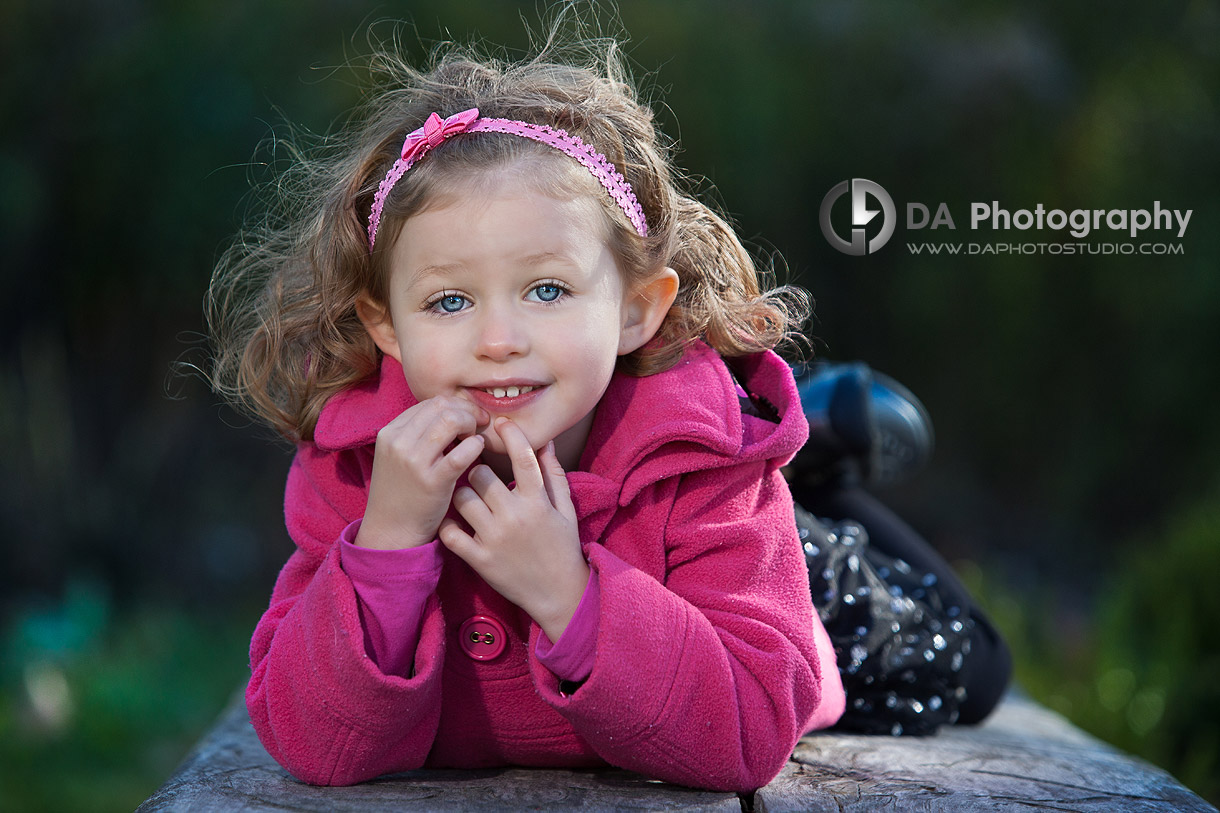 Location: Heart Lake Conservation Area, Brampton ON
Our photo shoot was scheduled for the perfect time of year – the beginning of the Fall season. During the beginning of the season we're able to capture the beauty of the changing leaves as well as the greens in the grasses and the trees that haven't yet changed colour. The lush greens are always a great backdrop that appropriately highlights the people I'm working with. At Heart Lake Conservation Area in Brampton we were able to use everything from the forest to the lake and pond in the background.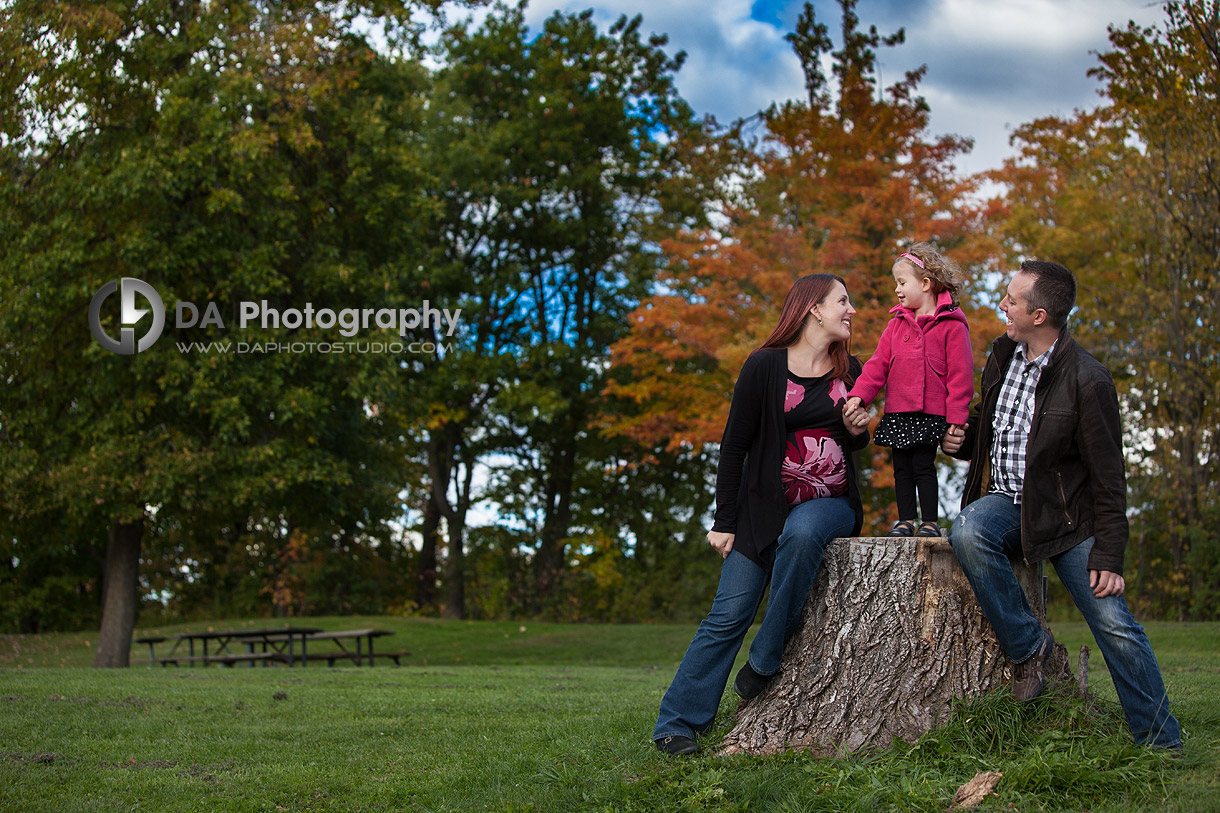 And Baby Makes Four
The majority of maternity photo shoots involve only the new parents and we usually focus on Mom's belly. Very rarely am I able to do a maternity photo shoot with second time parents as well as a big sister. It's completely understandable! When you're expecting your first child, you have the time and unbridled excitement about what's to come. Scheduling a photo shoot is first on your list of things to do. When you're expecting your second child, you know it's important but now you're busy juggling jobs and your first born. I'm so happy that Adele and her family made it priority to schedule a photo shoot with me. It was so much fun seeing this expanding family as they grow together!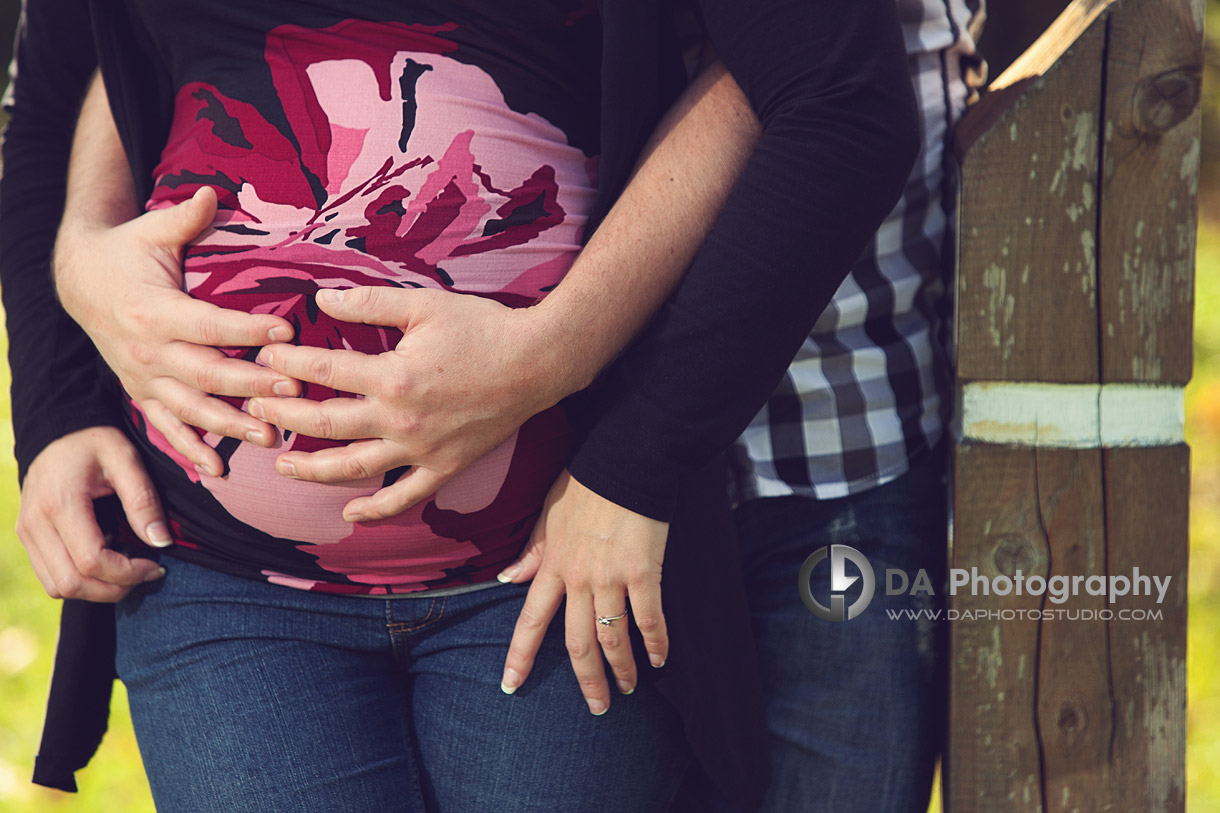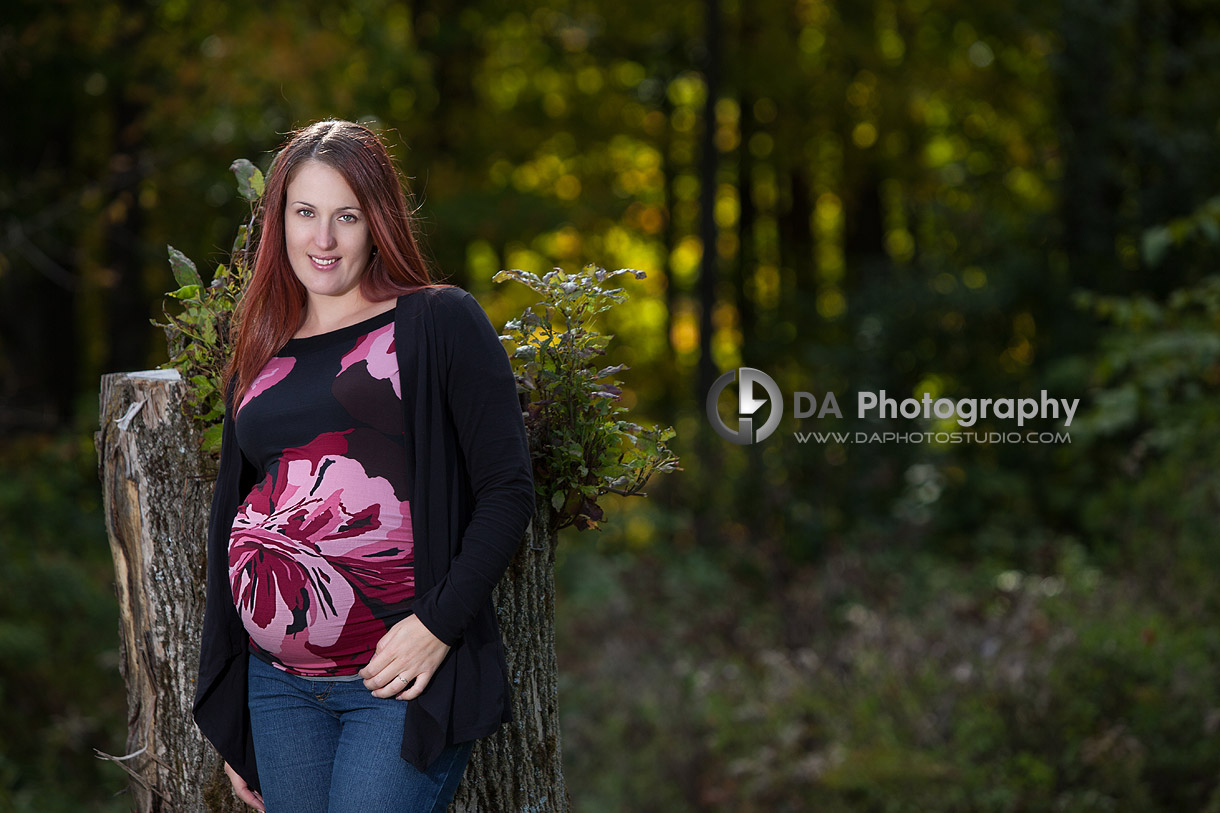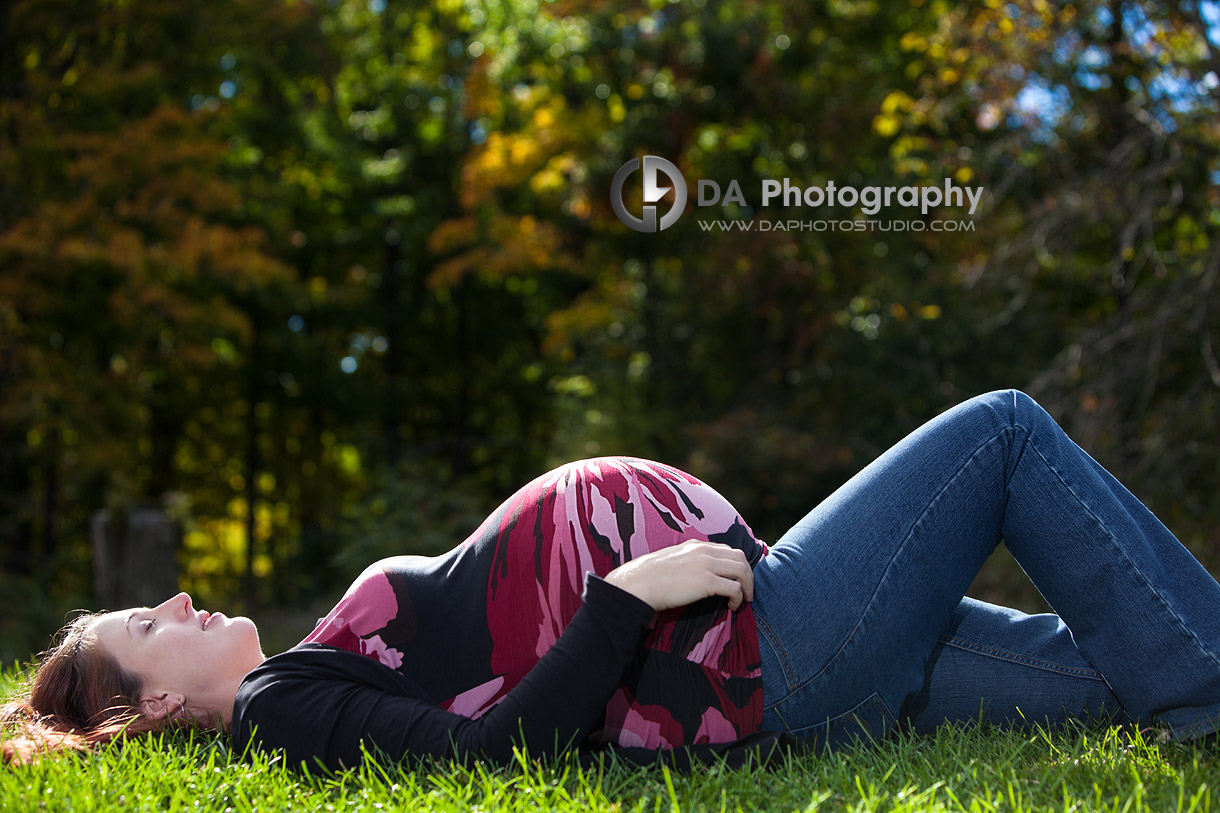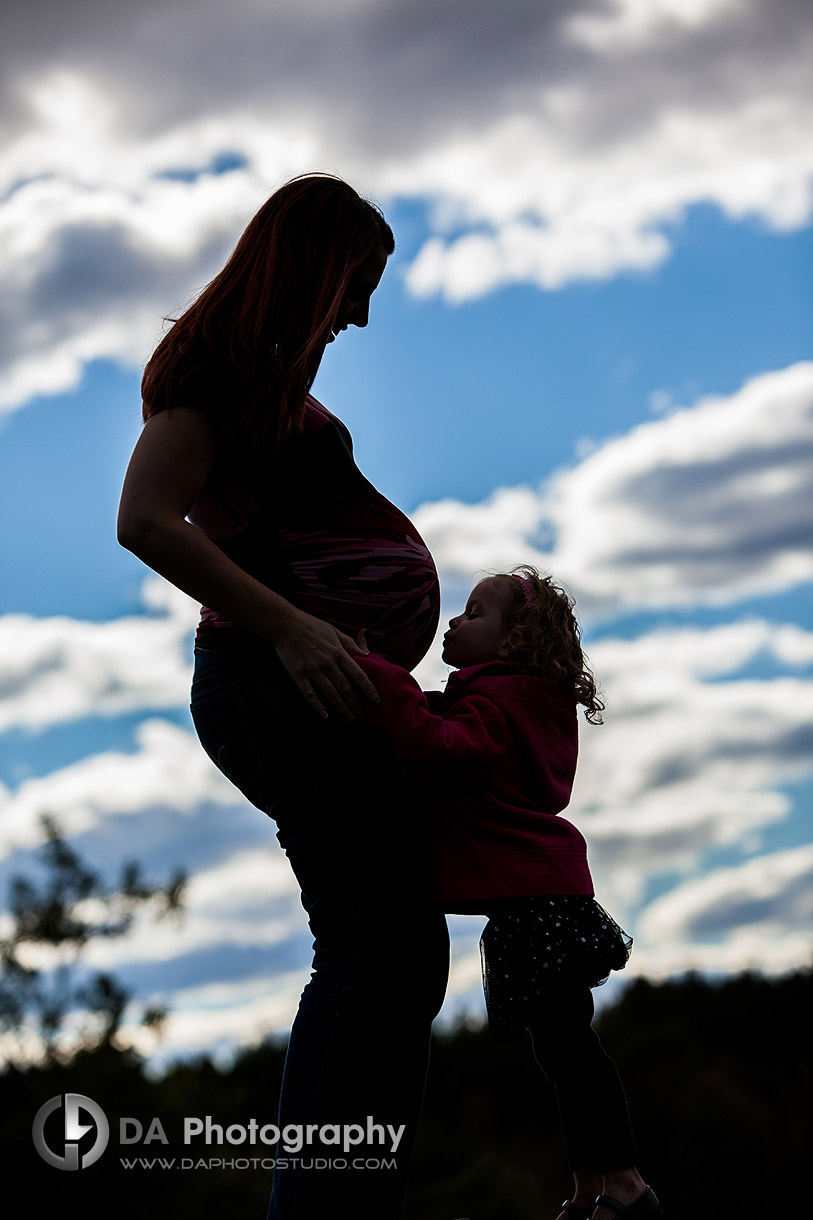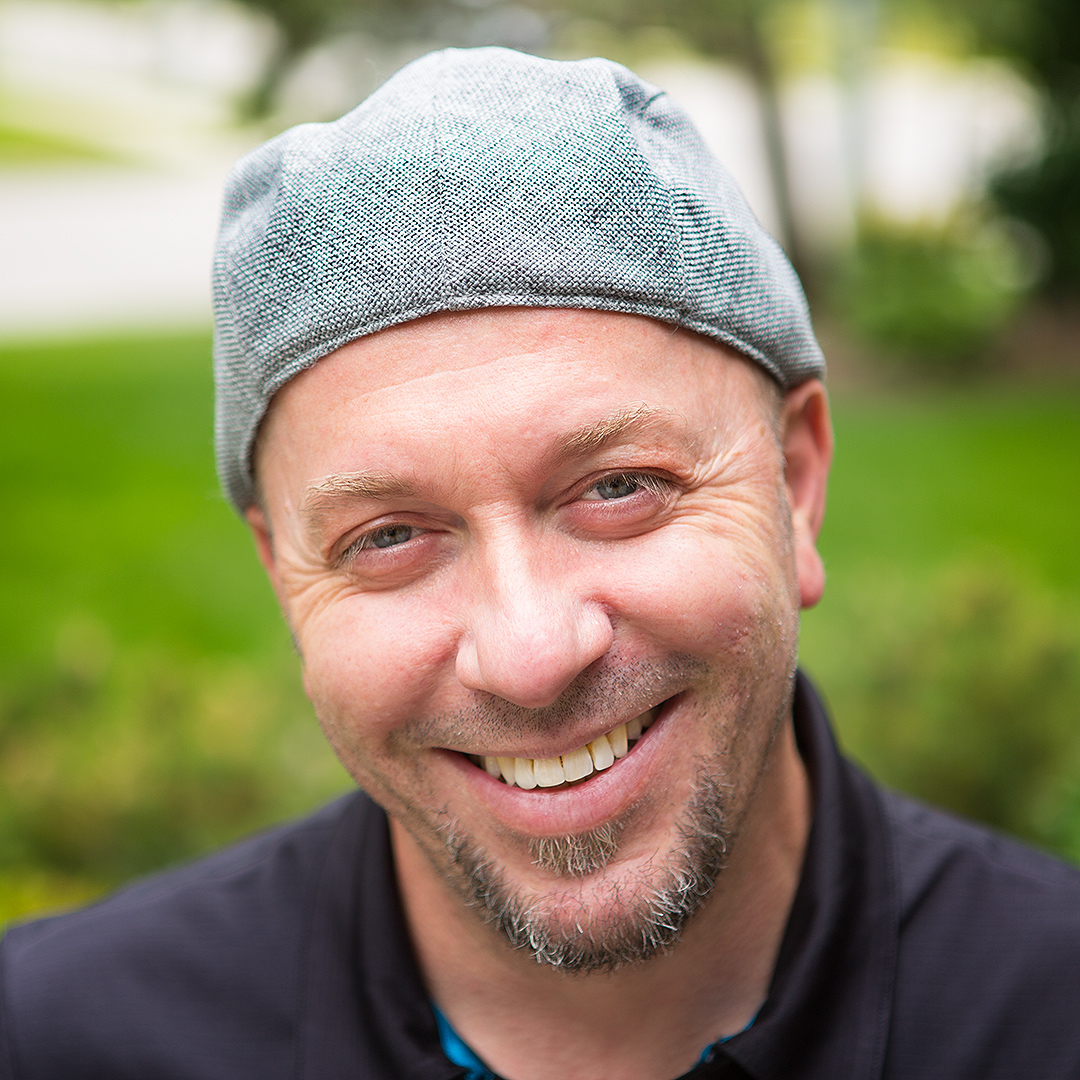 My passion and biggest asset is taking the time to make every client comfortable and relaxed before I even pick up the camera. The result? Photos of you that actually look like you at your best! I can prove to you how much you can enjoy having your picture taken. Lifestyle photography is about the experience that happens to be served up along side of some great photos.
Specialties:
Family Photography for families that like to move around and enjoy their photo time, Wedding Photography for couples looking for a mixture of photojournalistic, contemporary and traditional images and Professional Corporate headshots that are far from cheesy and stiff.