I have been waiting for a Guelph engagement like this one since moving here. I have been itching to shoot in the abundance of greenery and woodland surrounding us. When I discovered the Arboretum, which is 400m from my studio, I couldn't believe my luck! Especially, when I found out you don't need a permit to shoot there.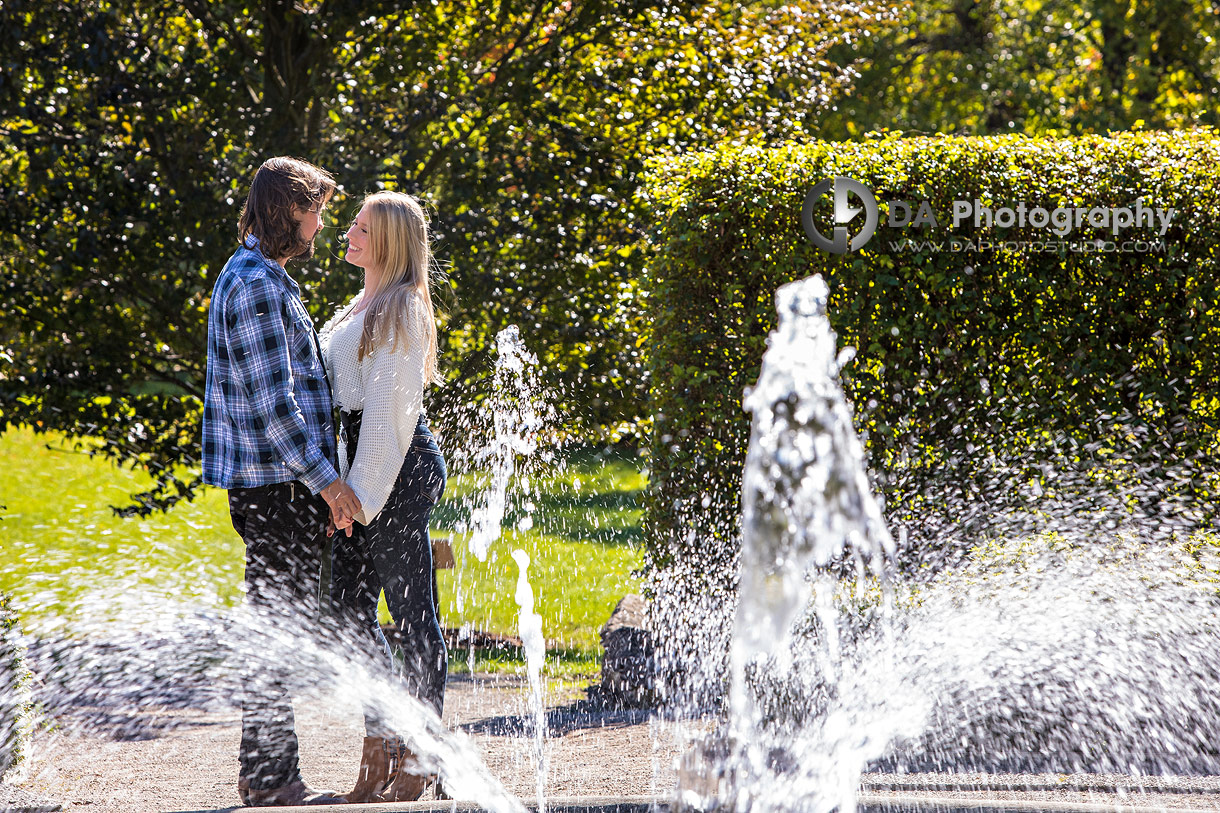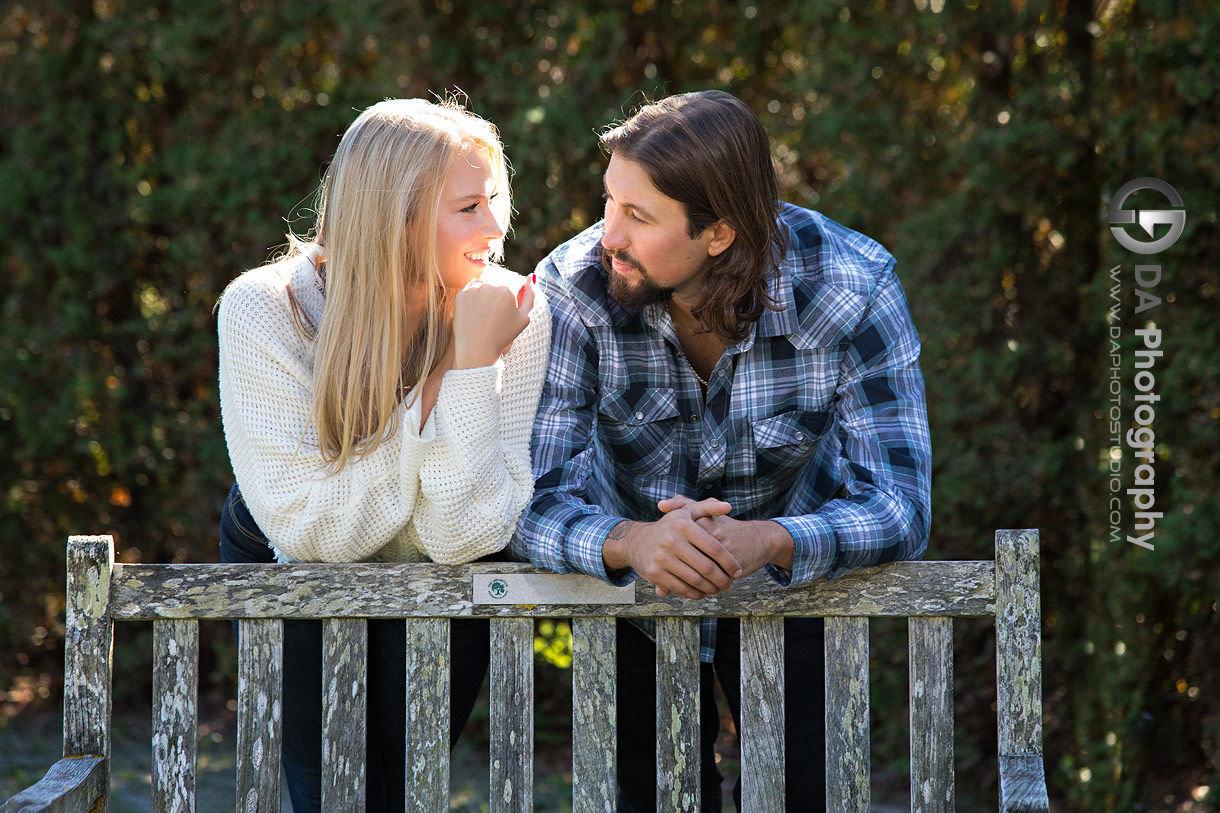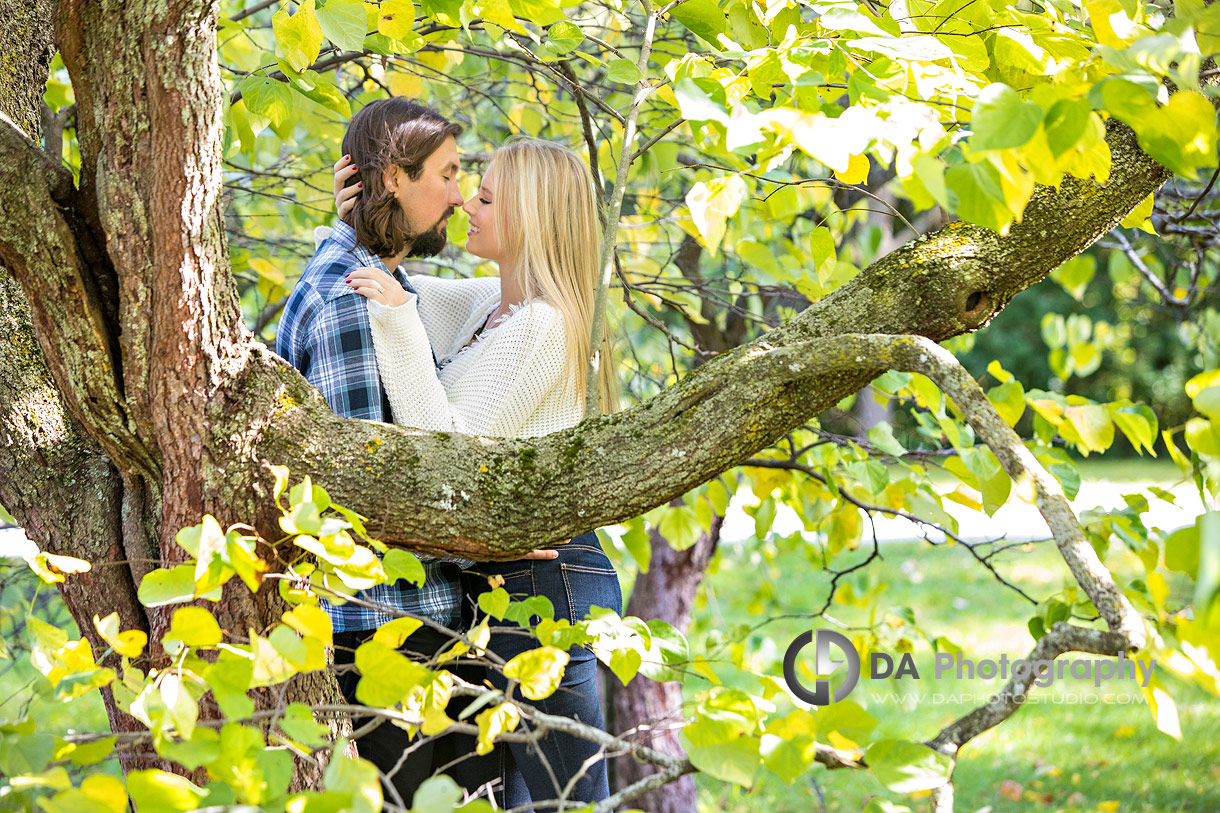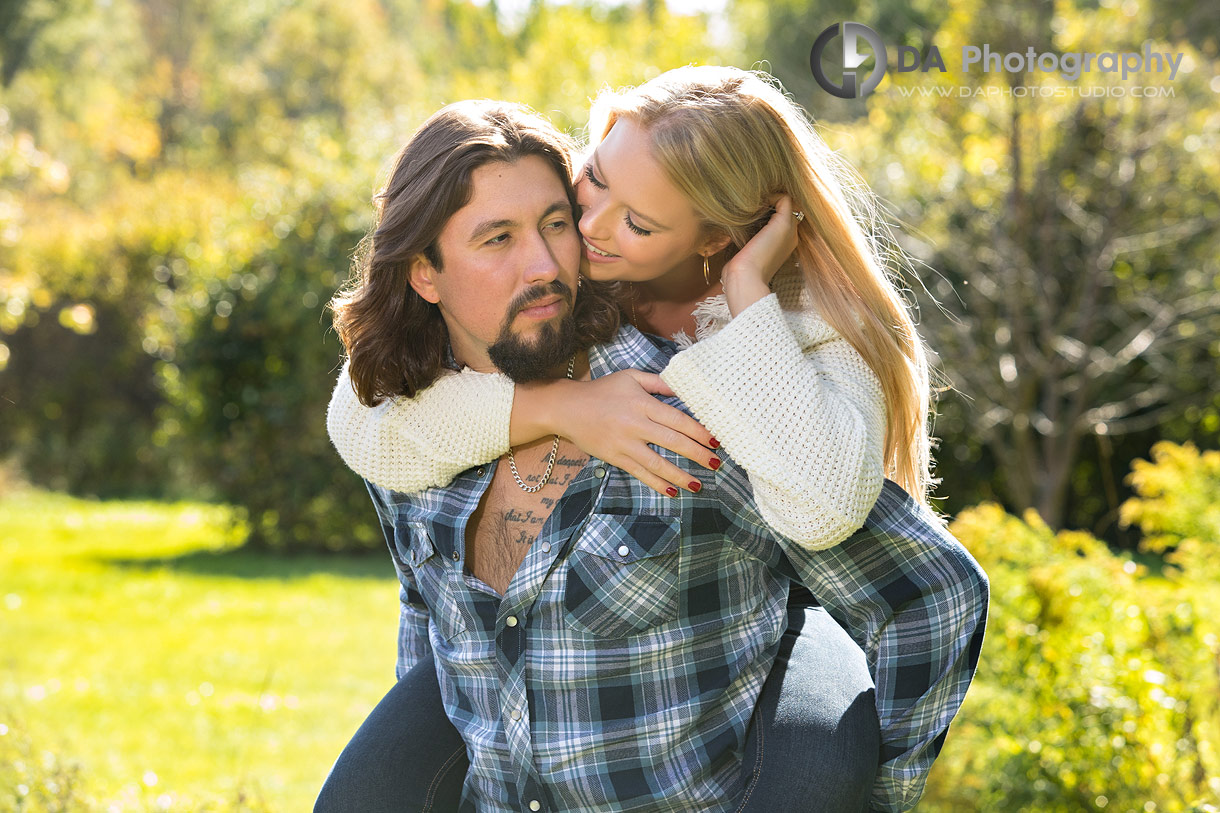 Before speaking to Camilla and Tommy themselves, I won the attention of their mothers. They encouraged the young couple to look at my work. They were the first to request the most popular date of 2020: June 20th. Despite having 18 inquiries for the same date, the couple was the first to book my services.  Before deciding on a destination for their Guelph engagement, I asked them if they had any suggestions. However, they were more than happy to hear some of my recommendations. I knew the Arboretum would be the perfect choice as it represented their love for nature and was fairly local. When I found out they bought home in Acton, I told them about a spot on Stone Road I had had my eye on for some additional pictures. Featuring a wall of tall thin trees, I knew it would be the perfect backdrop for portraits.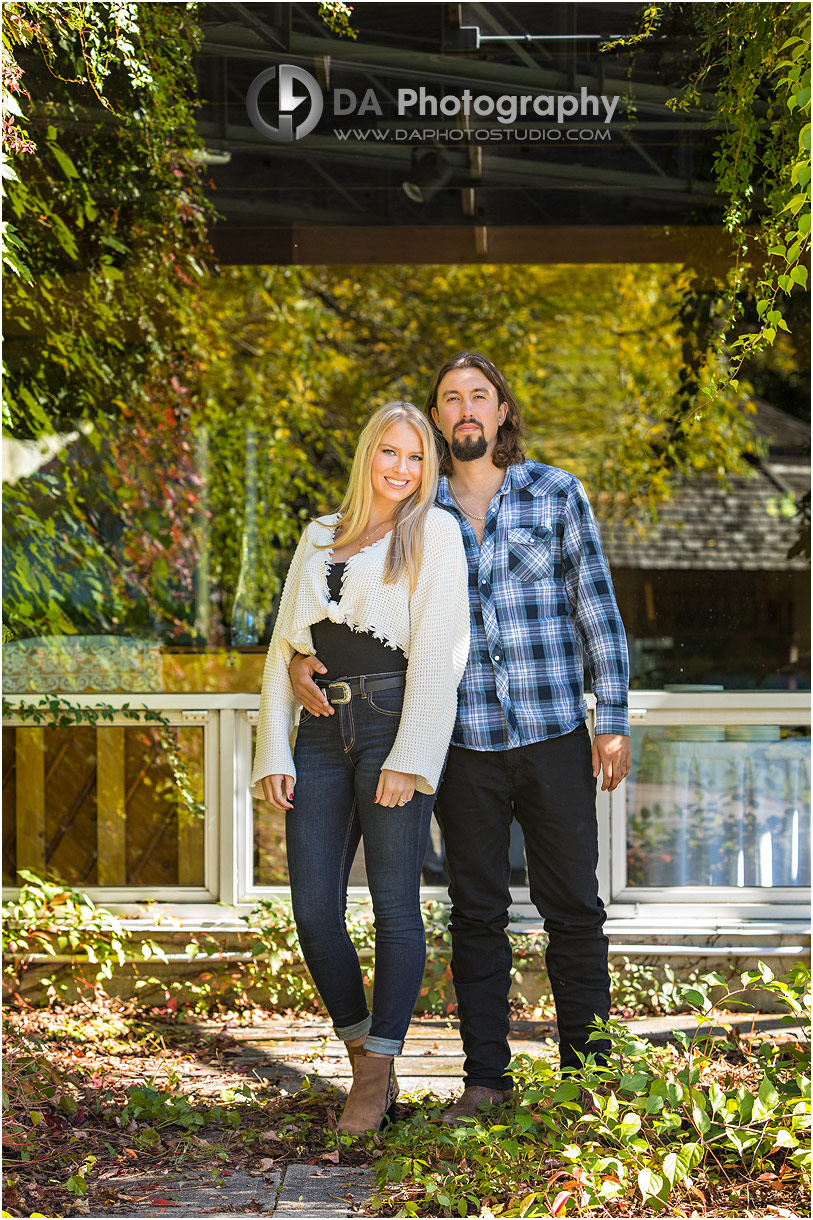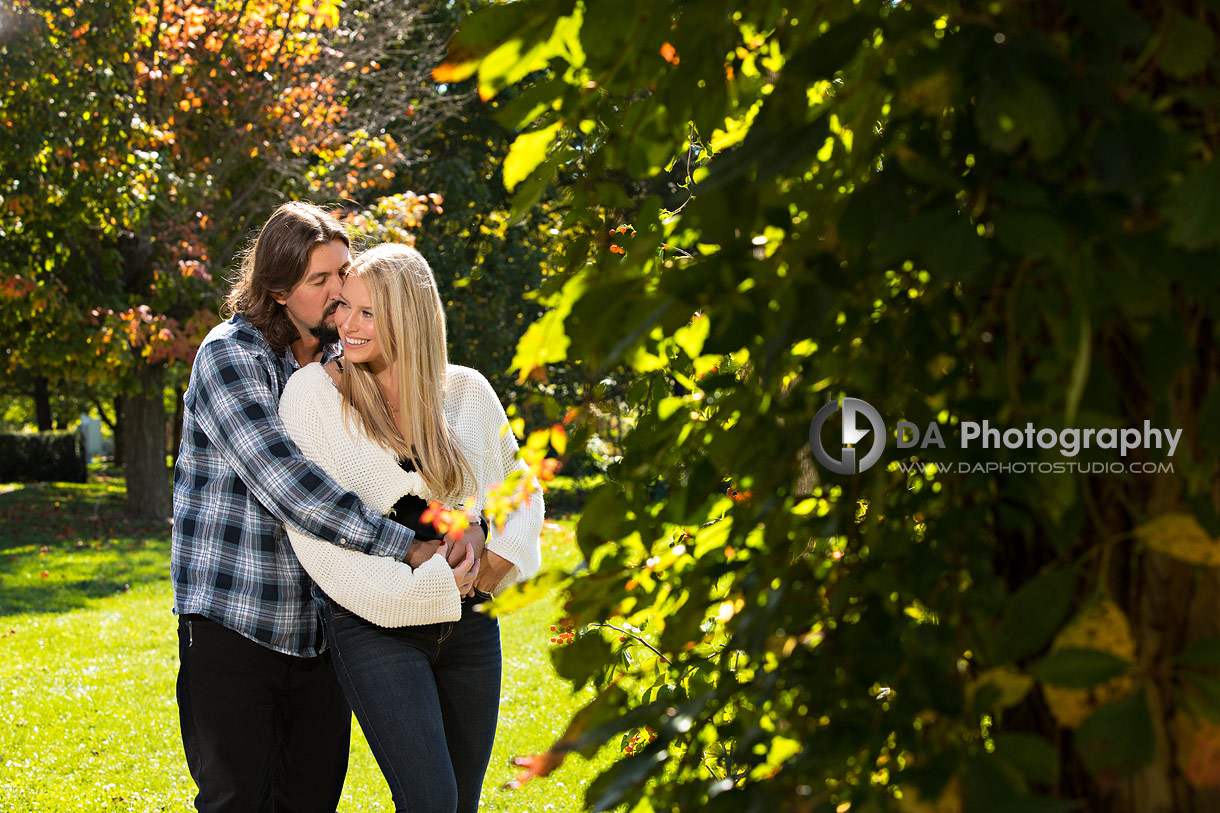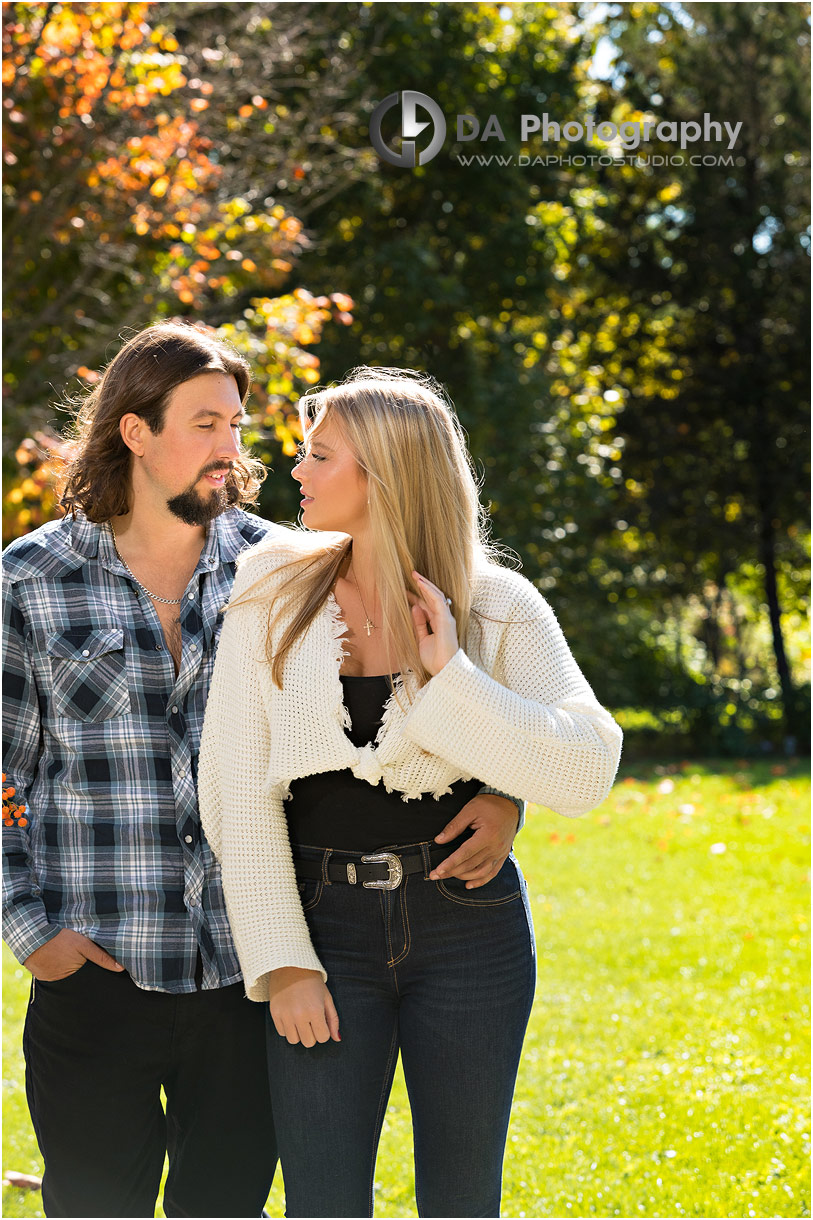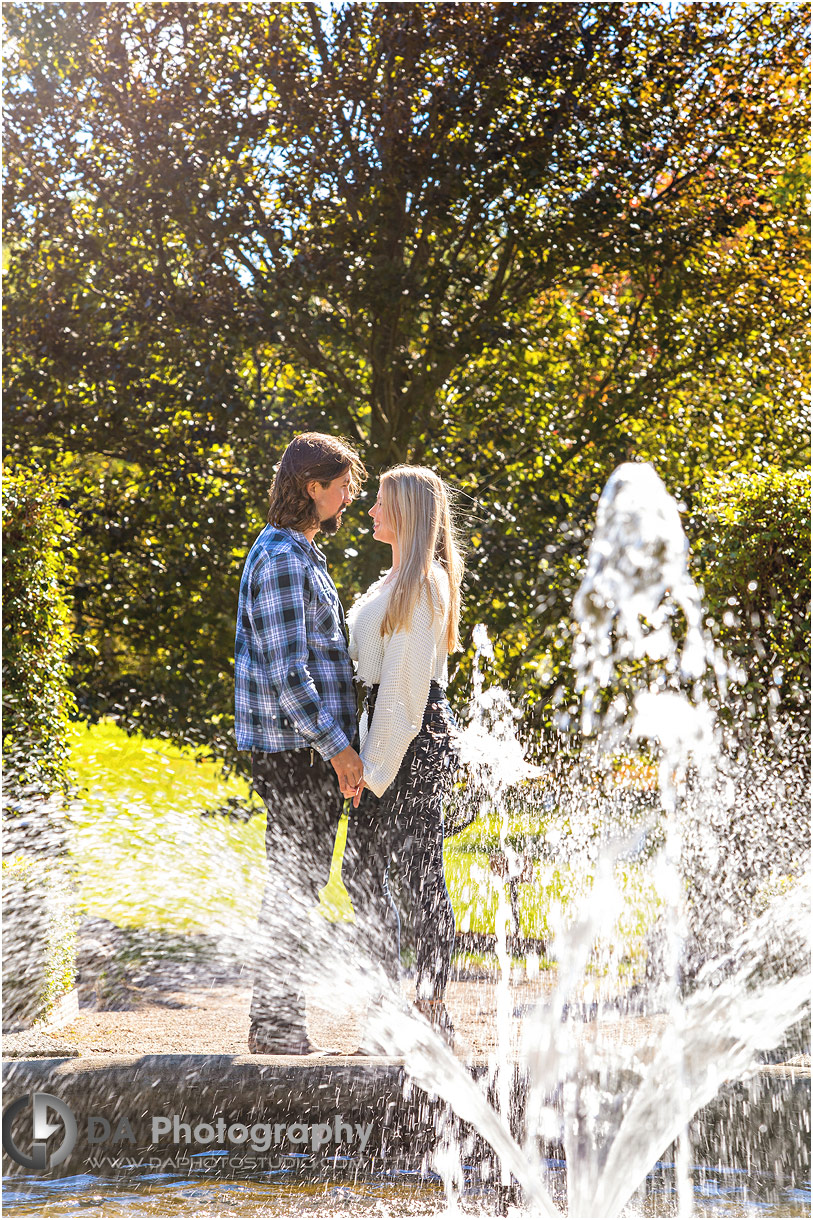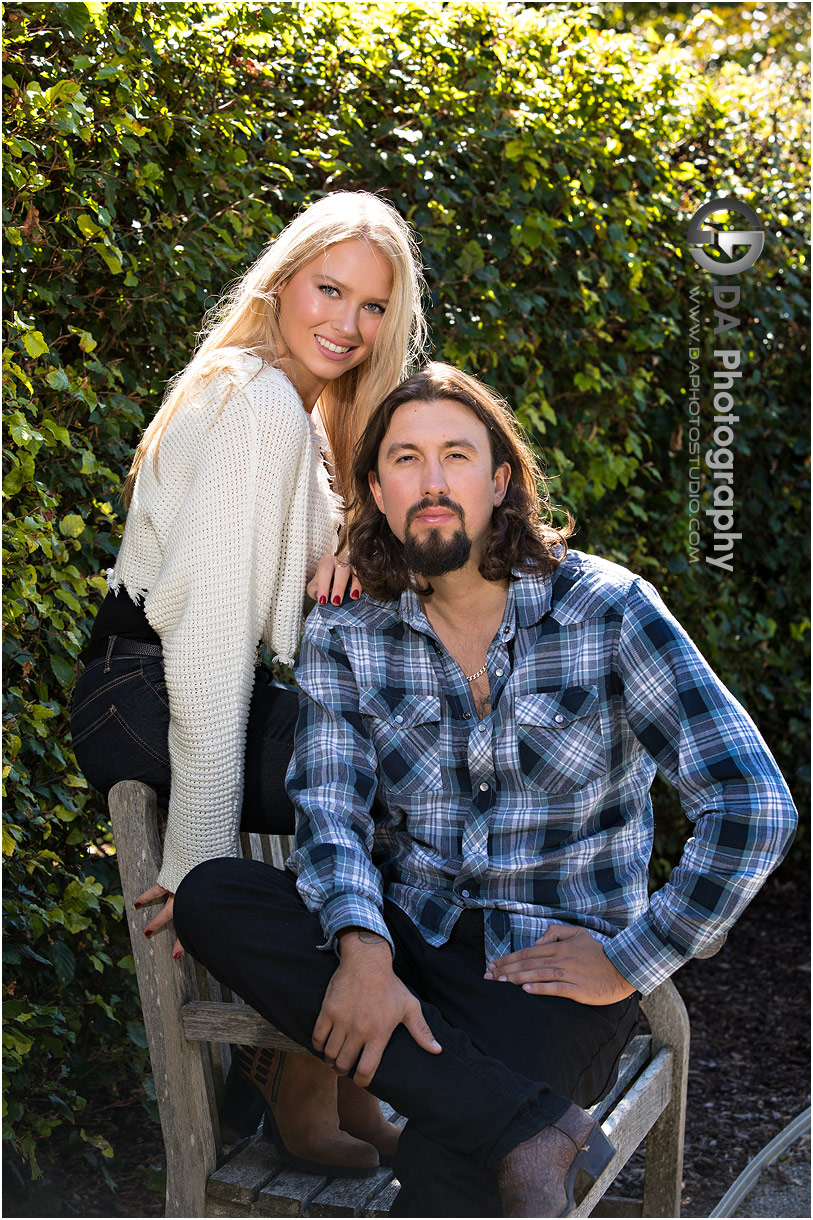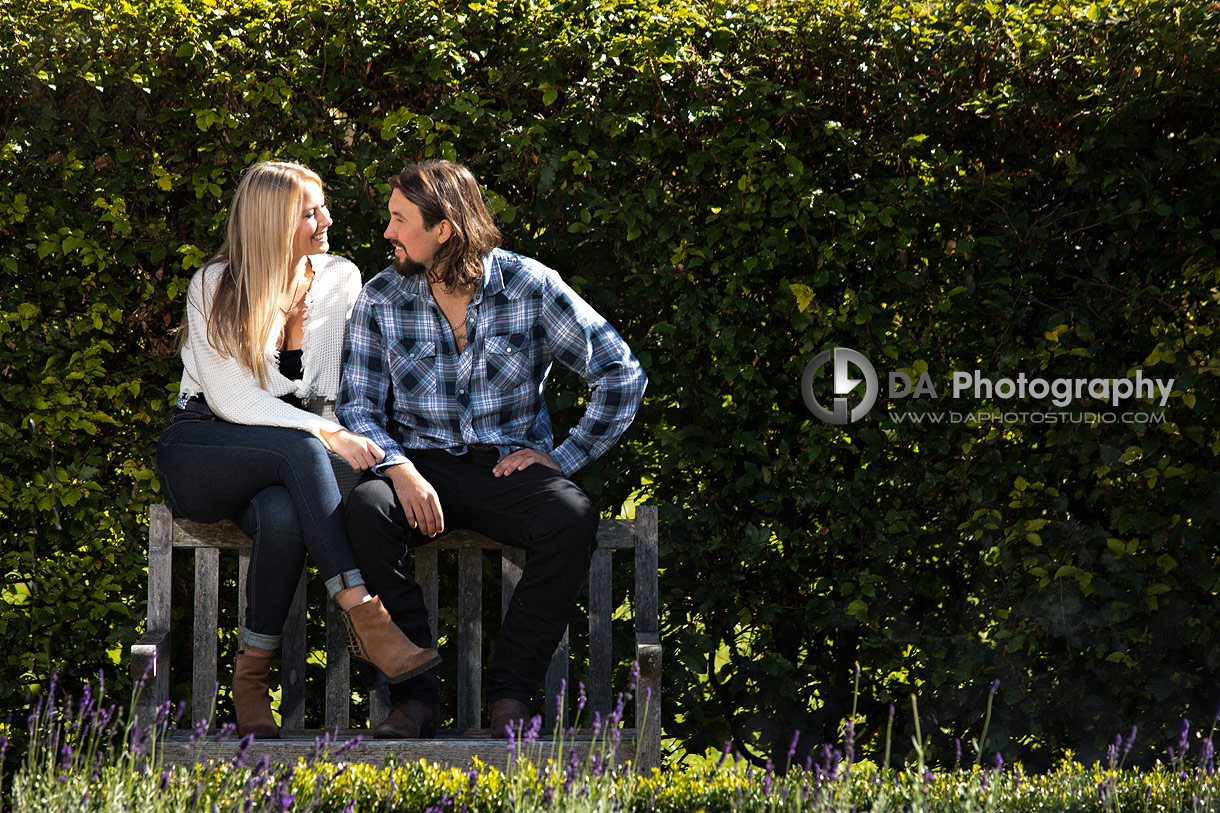 This Guelph engagement started within metres of my studio doorstep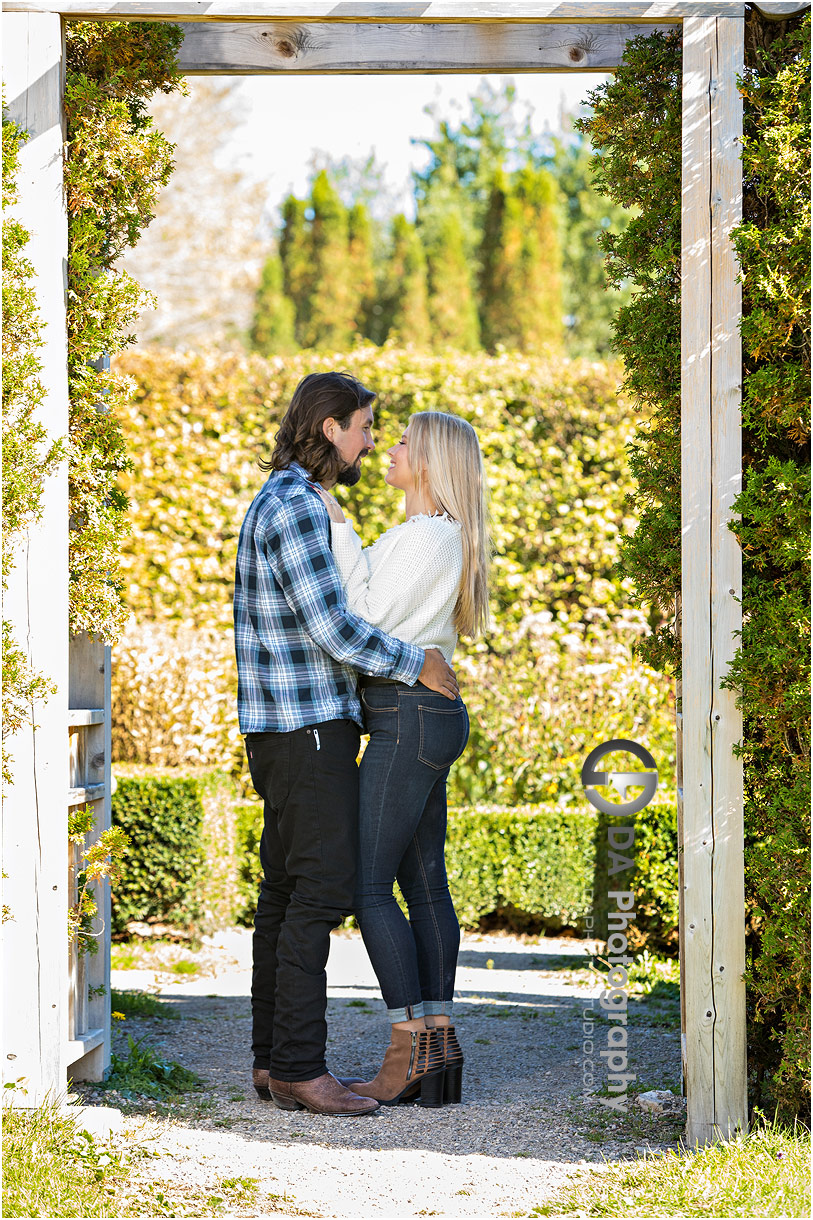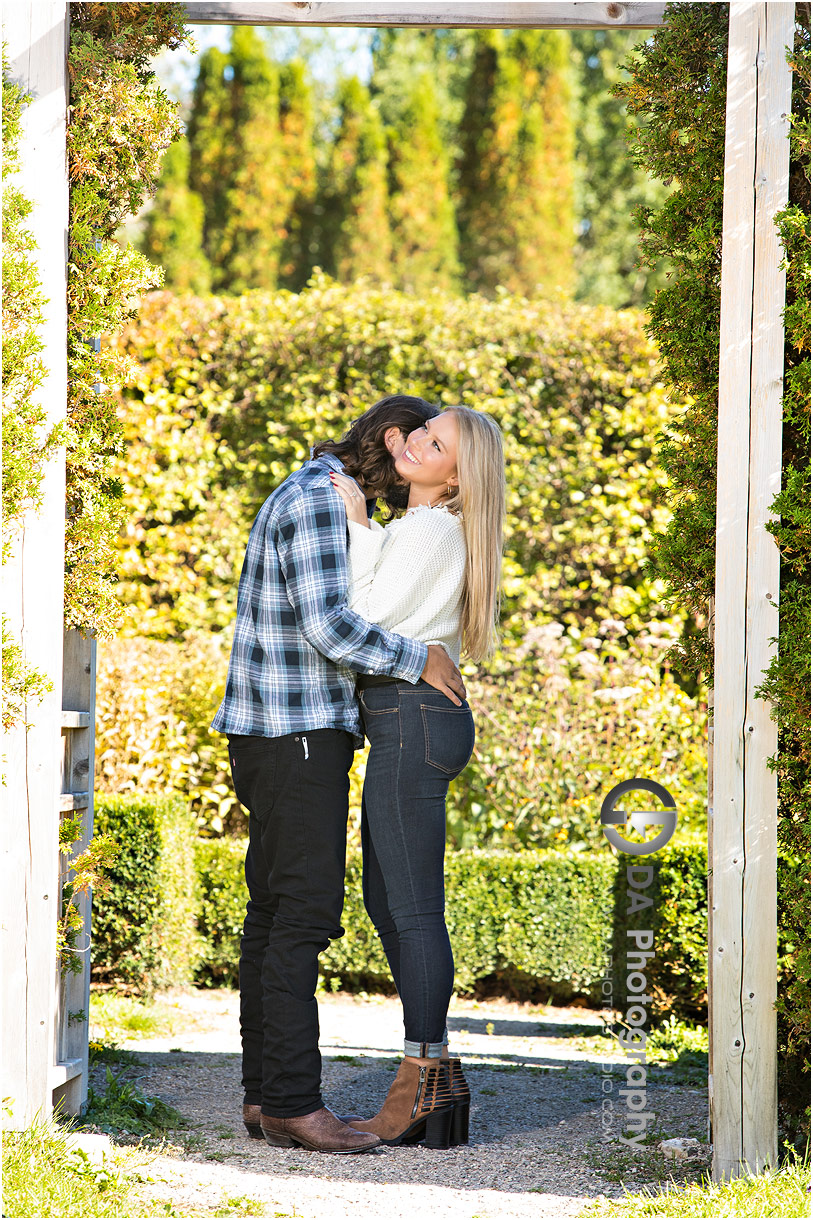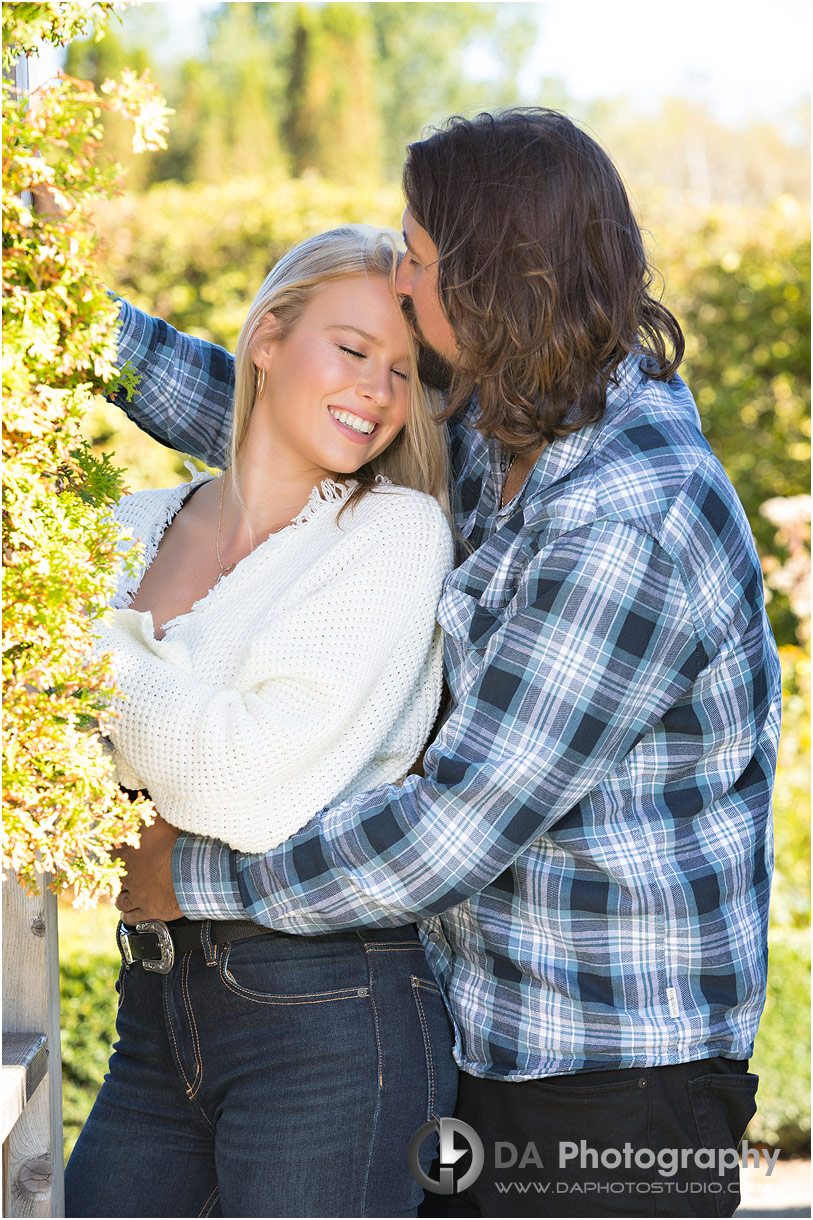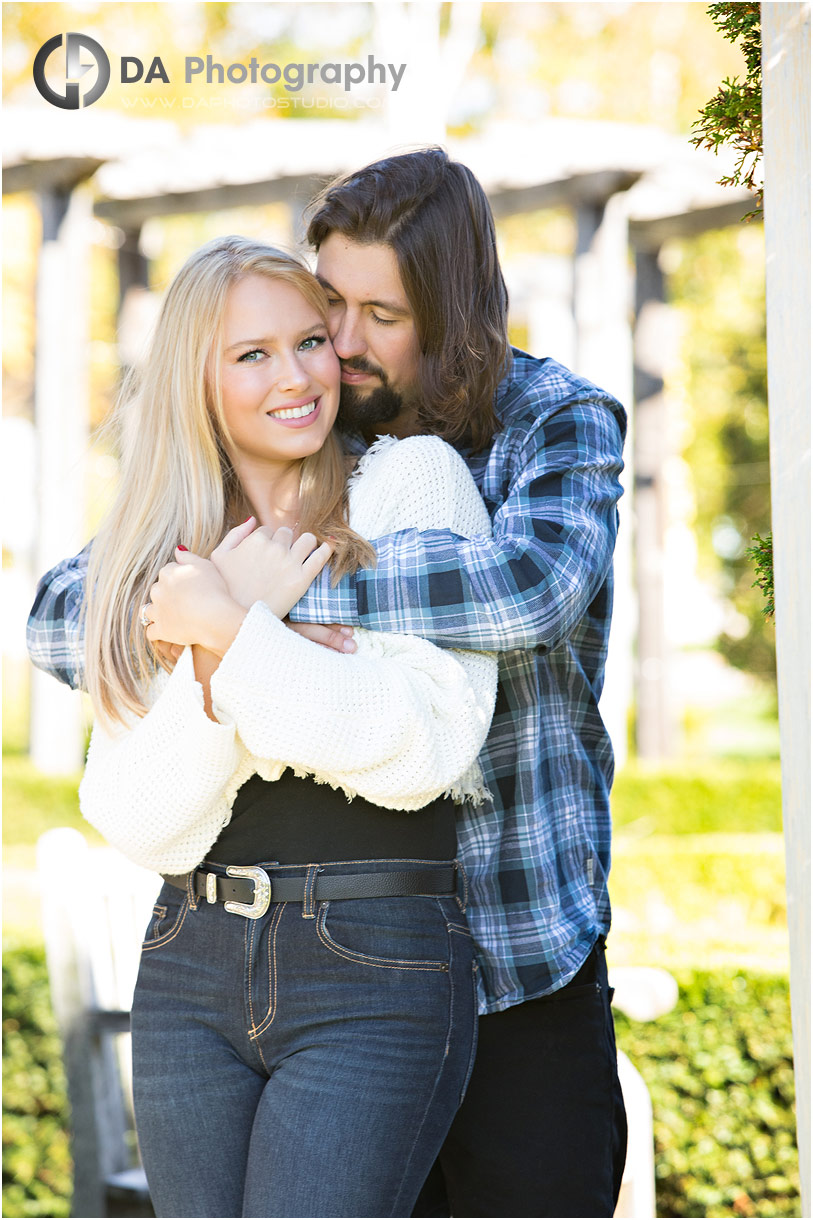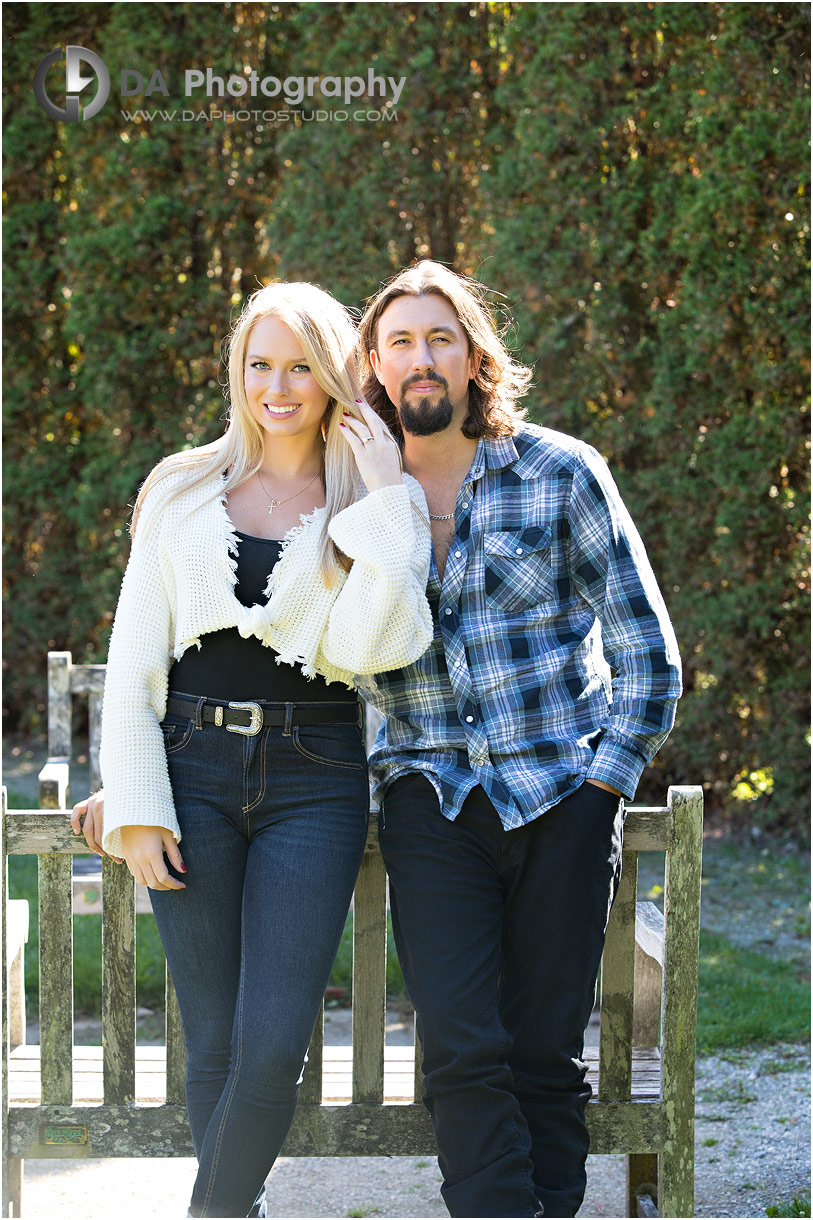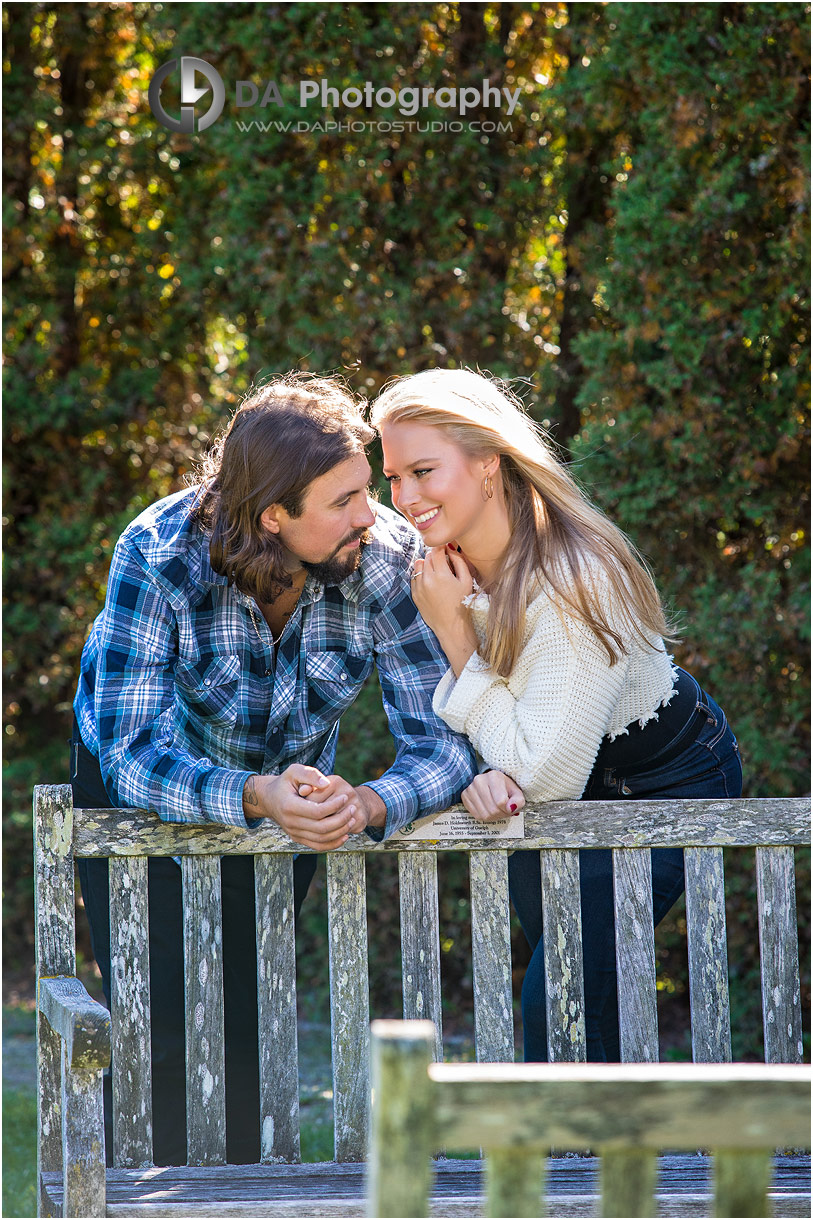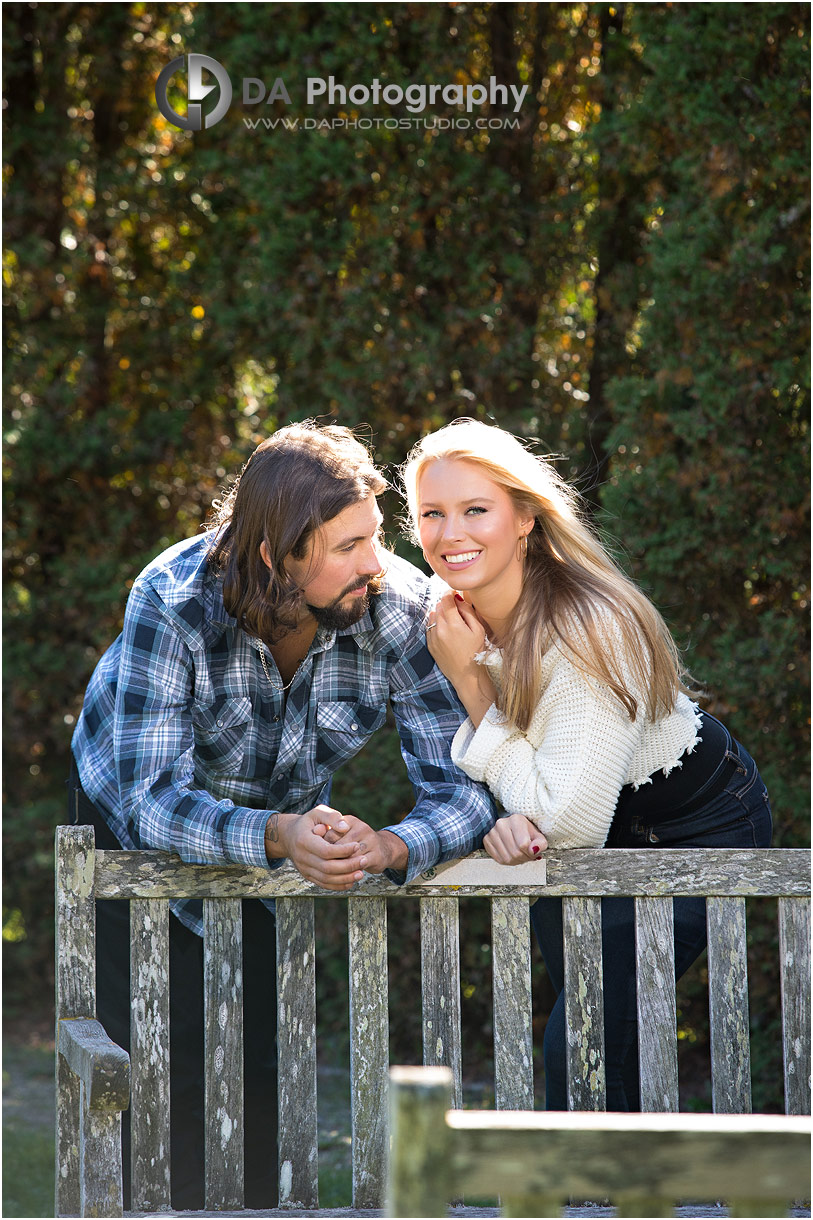 The day of their session was one of the last nice days in fall of 2019. The colours were still vibrant and the temperatures were mild enough to be without jackets. First, I began by testing the water with how they would react to being in the presence of a camera. I quickly saw that Camilla was smiley and receptive to anything I asked, whereas Tommy wasn't as relaxed.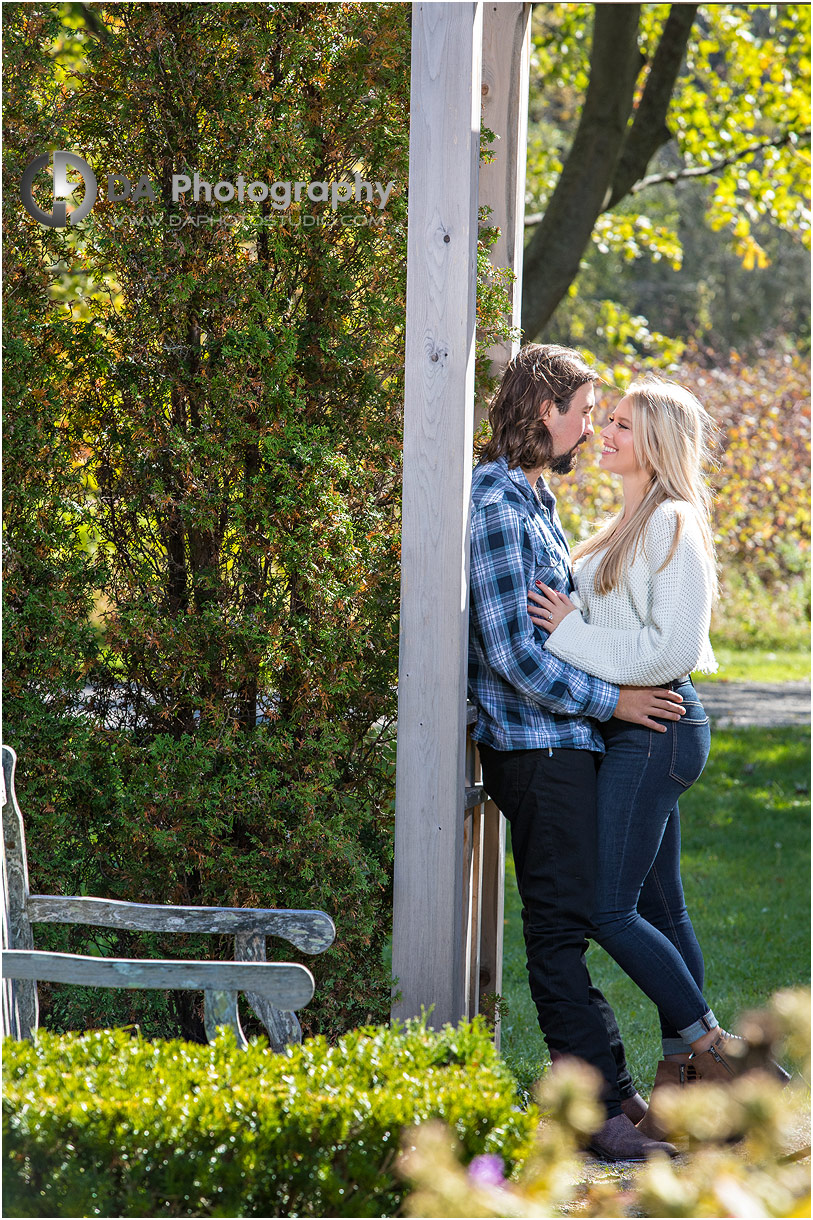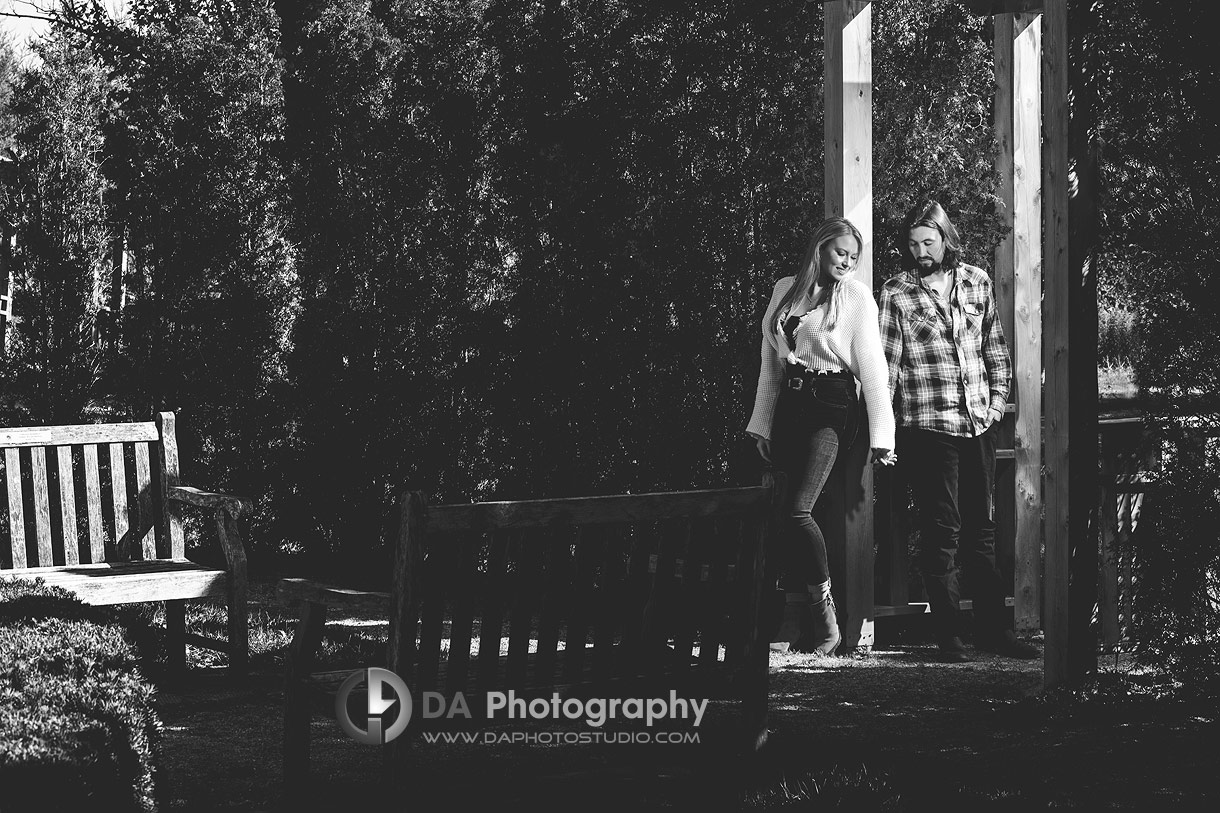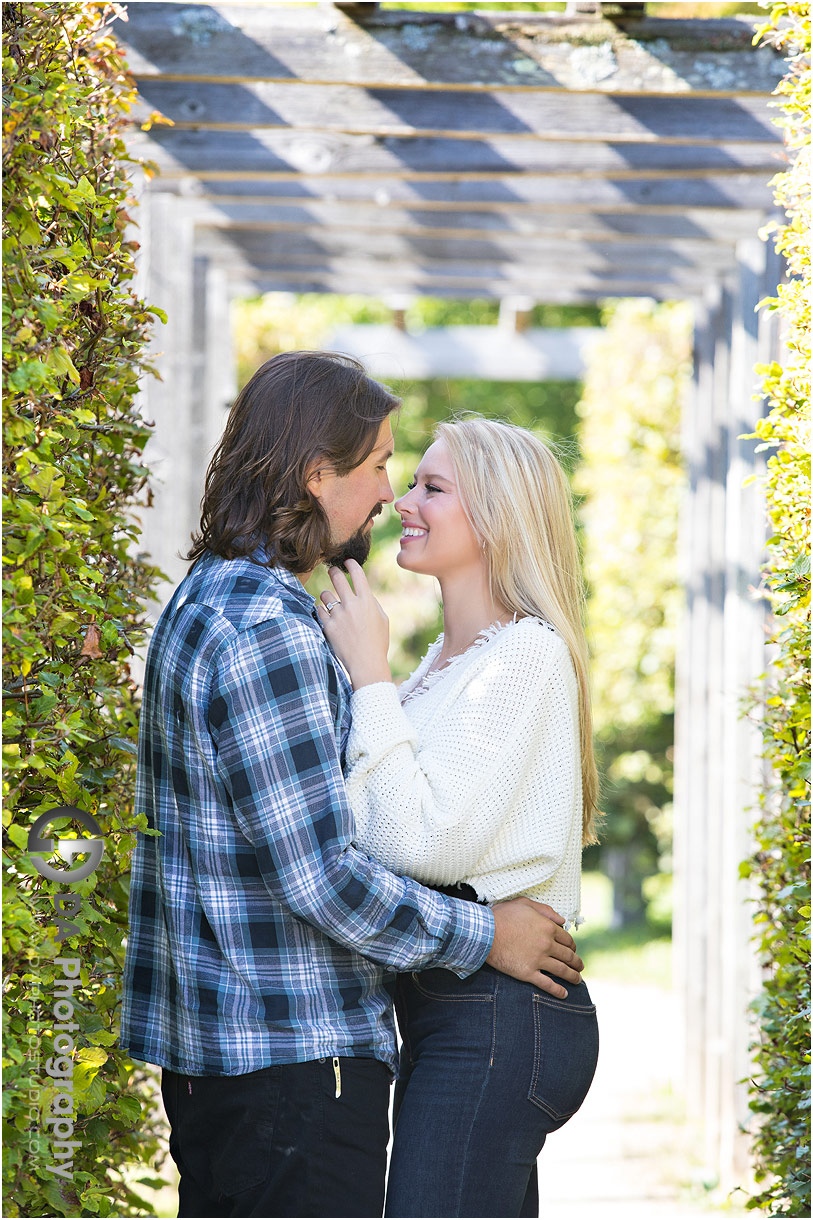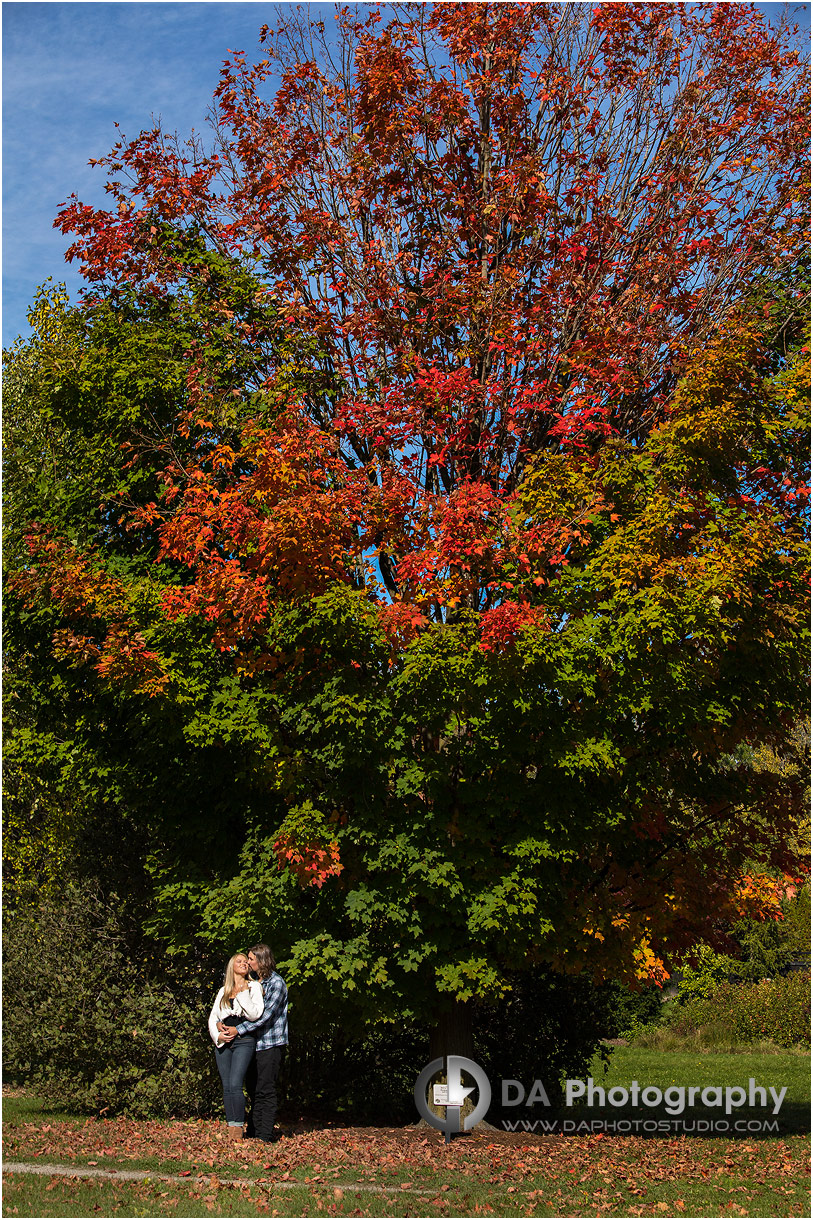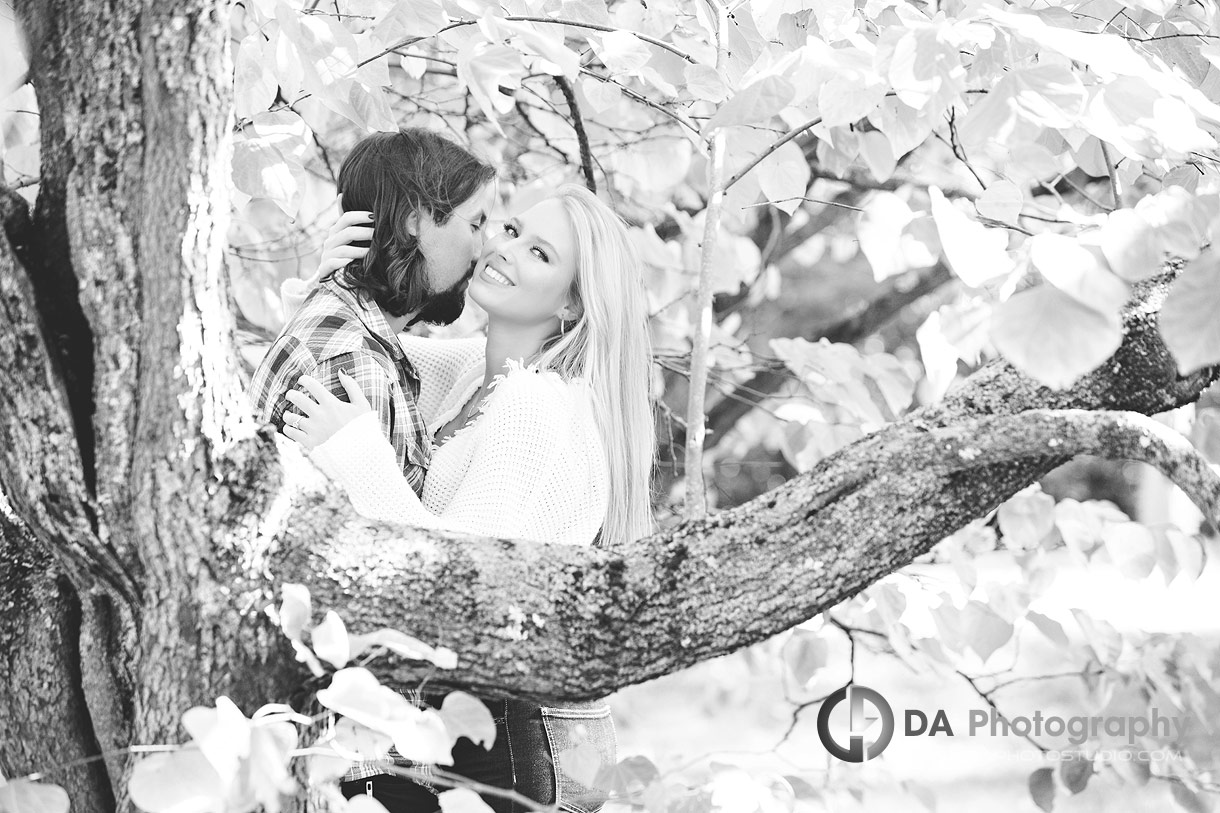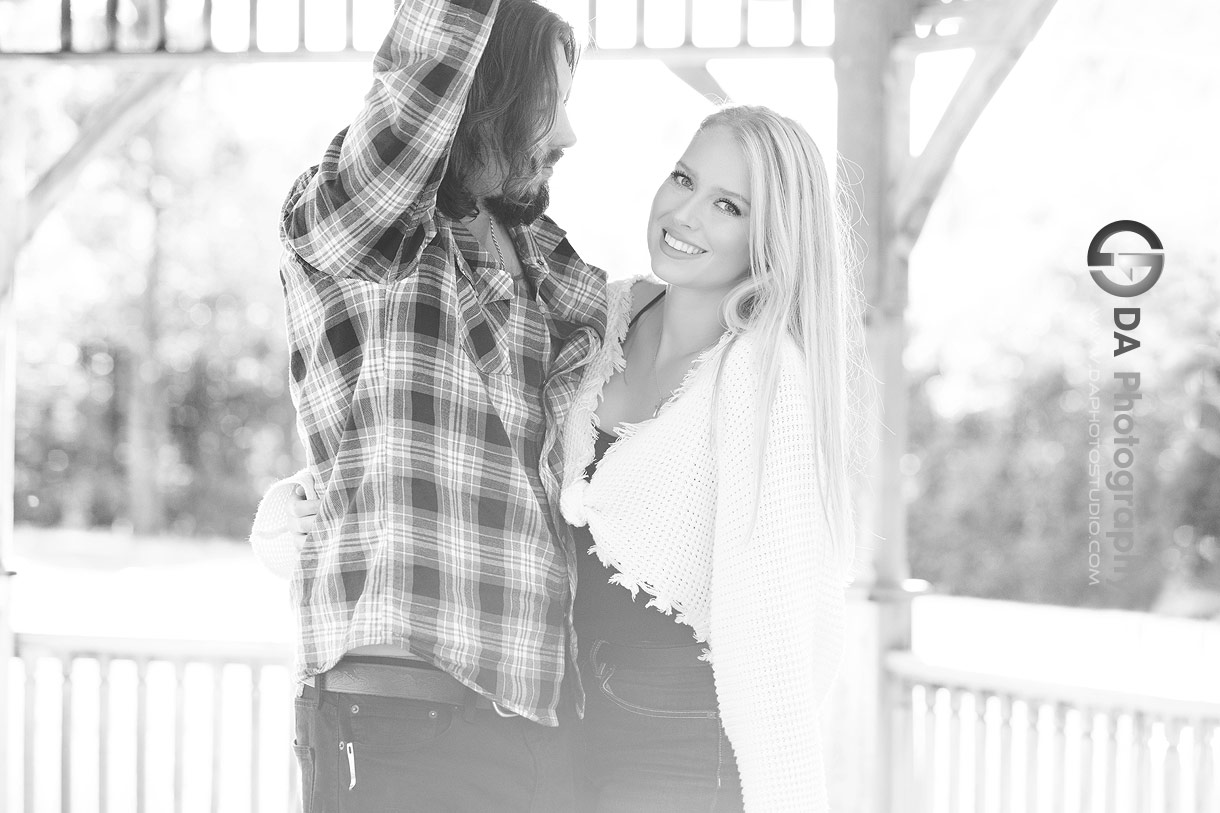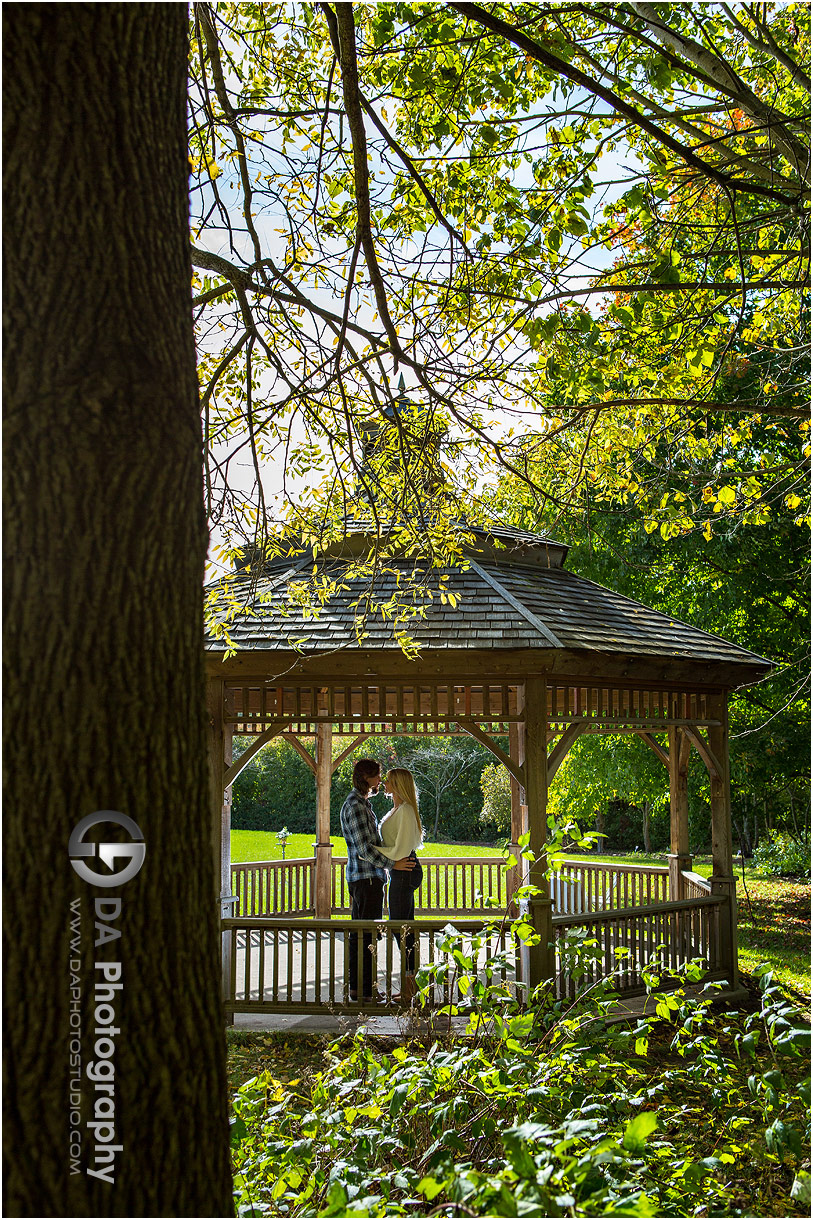 I decided to take a less intrusive approach to begin with and hung back, shooting from afar. By framing them naturally with the large leaves, gazebo, wooden arches and tree trucks, I was able to fill the space so it still made interesting compositions. Camilla was quite happy to smile for the camera and Tommy was doing a great job supporting her. Additionally, I also caught them off guard as Tommy had his attention on her. There are some great images of when she would turn around and look straight down my lens beaming from ear to ear.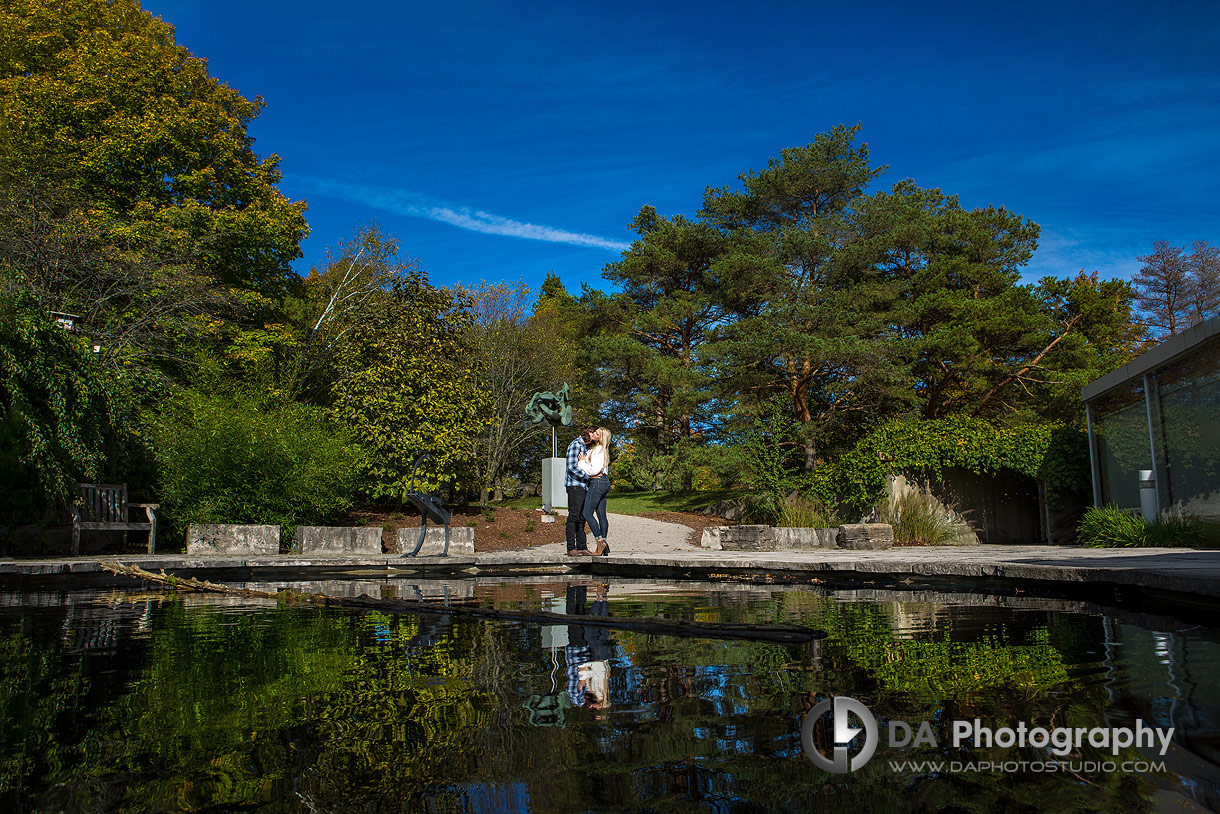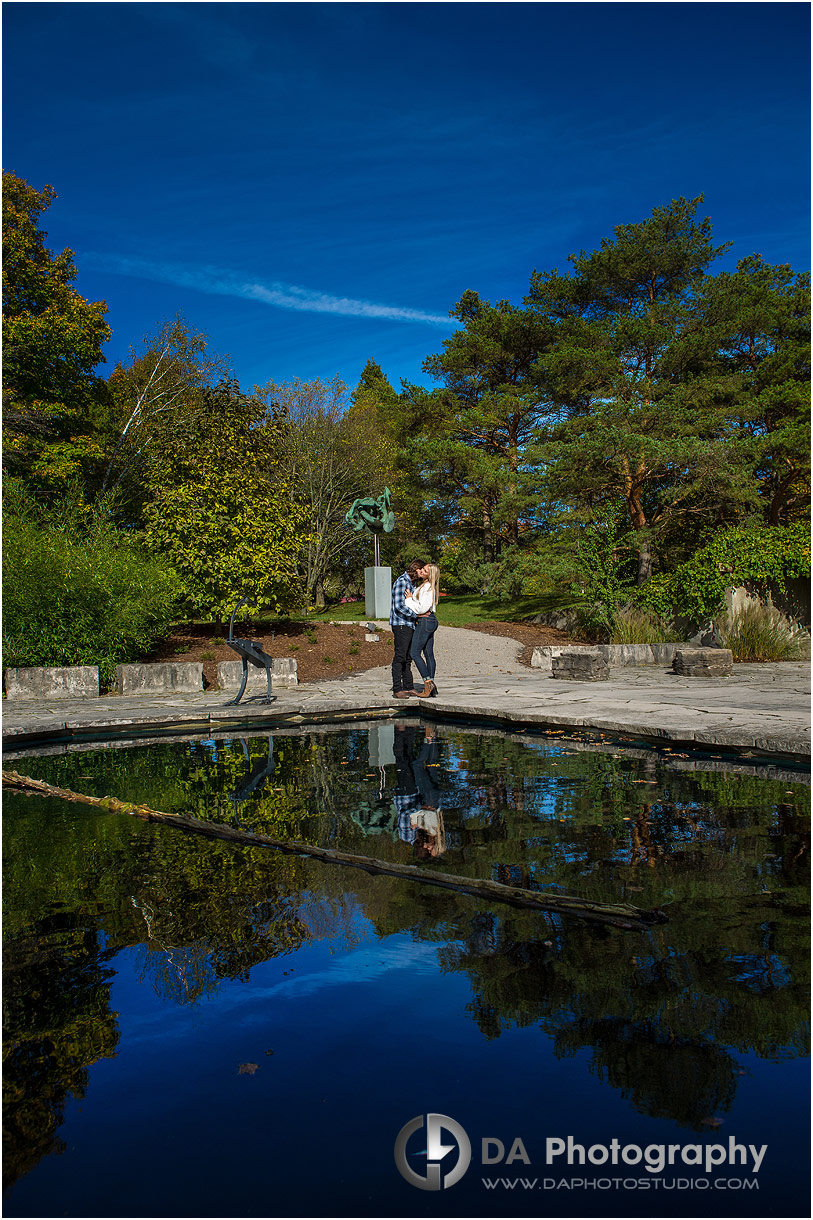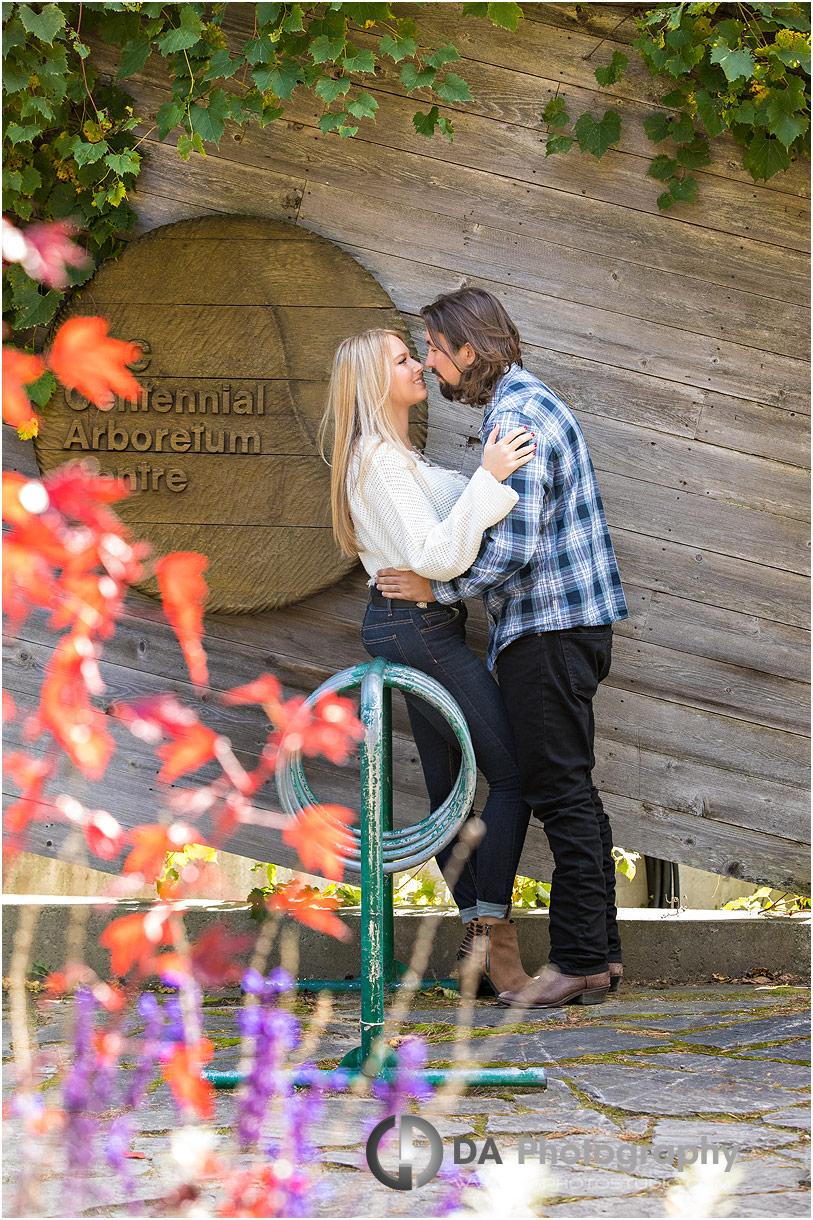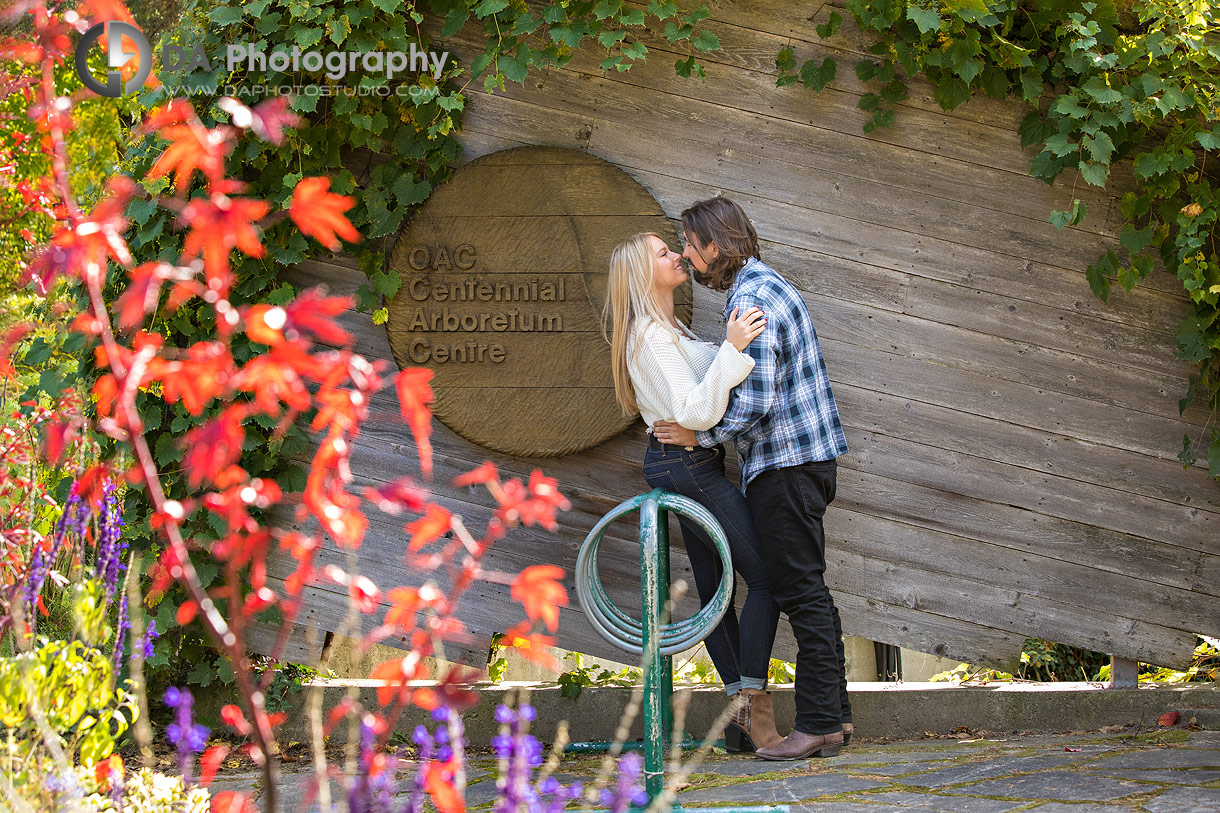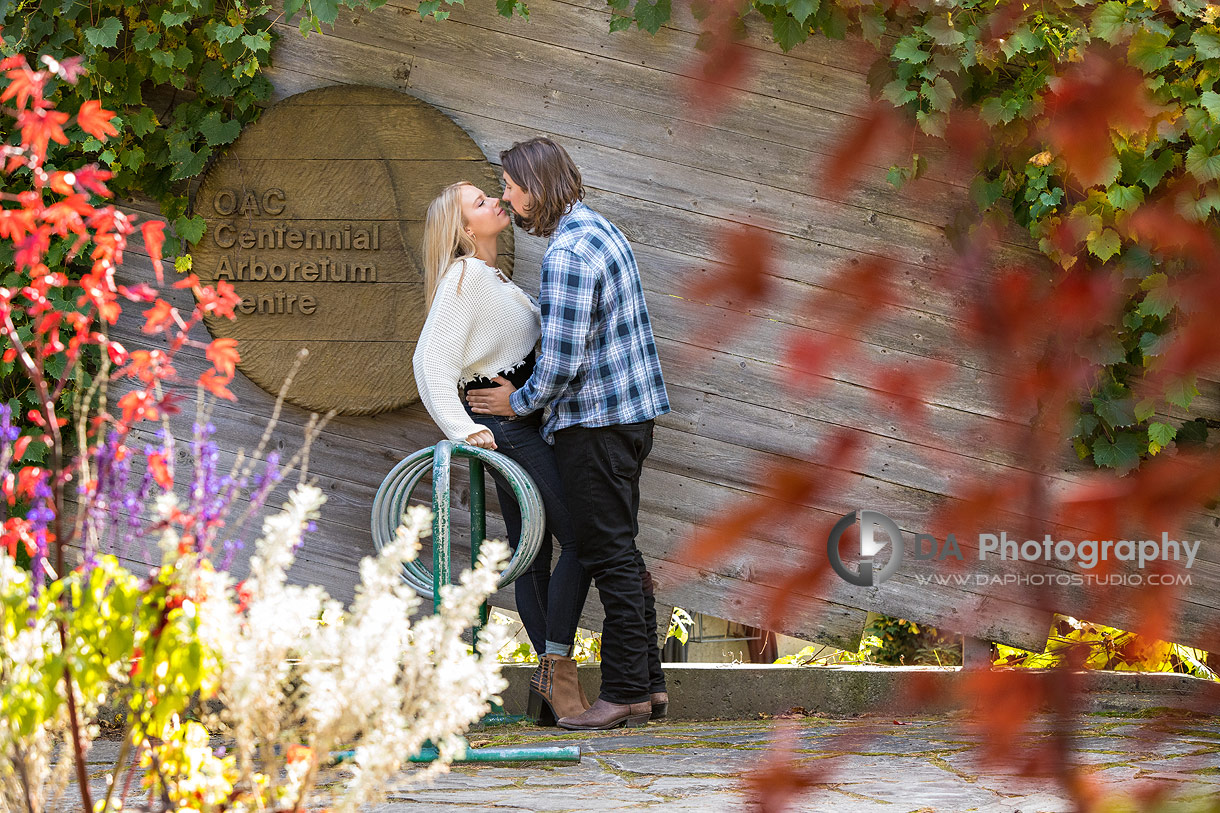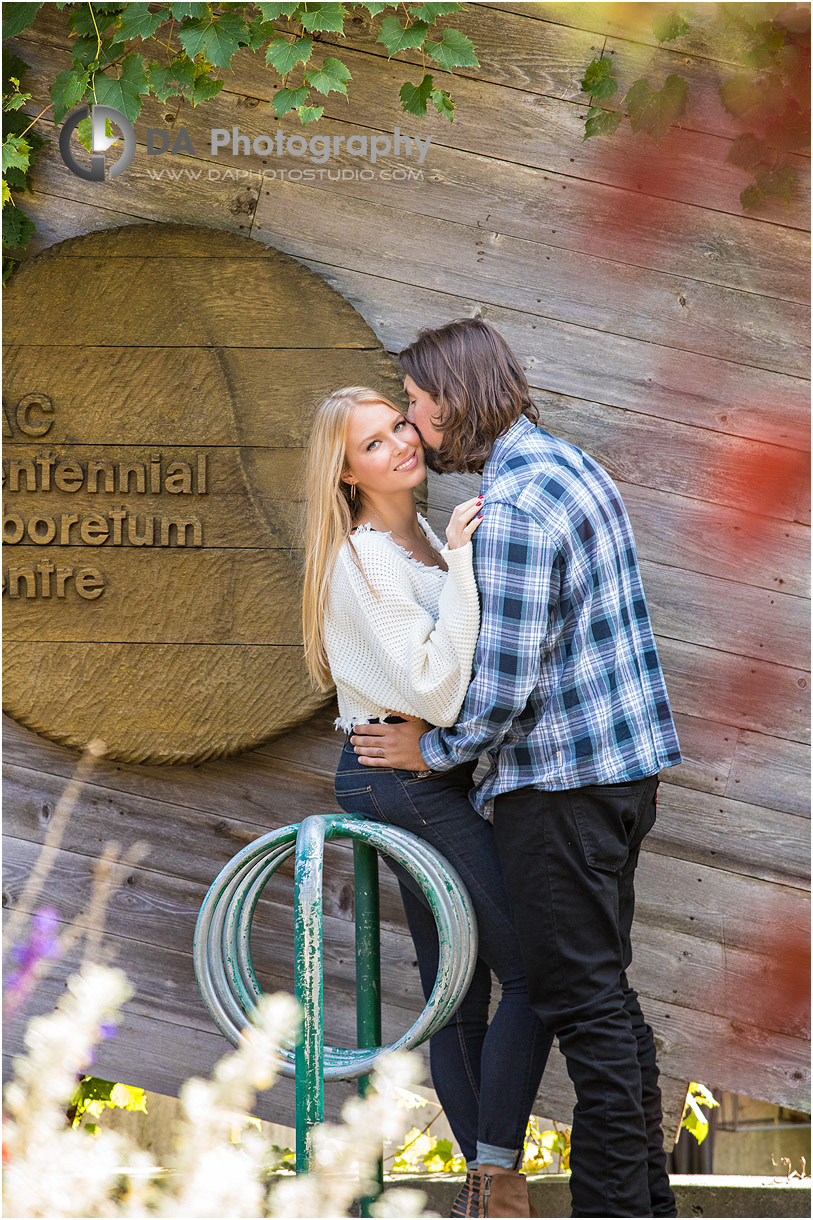 One of the poses Camilla had wanted to try was her jumping onto Tommy's back. It was perfect and added a carefree vibe to the portraits. It is astonishing that this location doesn't require a photography permit as there is so much scope. I'm sure I could spend an entire day there without shooting against the same background. From water and gazebos to forested areas and open spaces, the options are endless.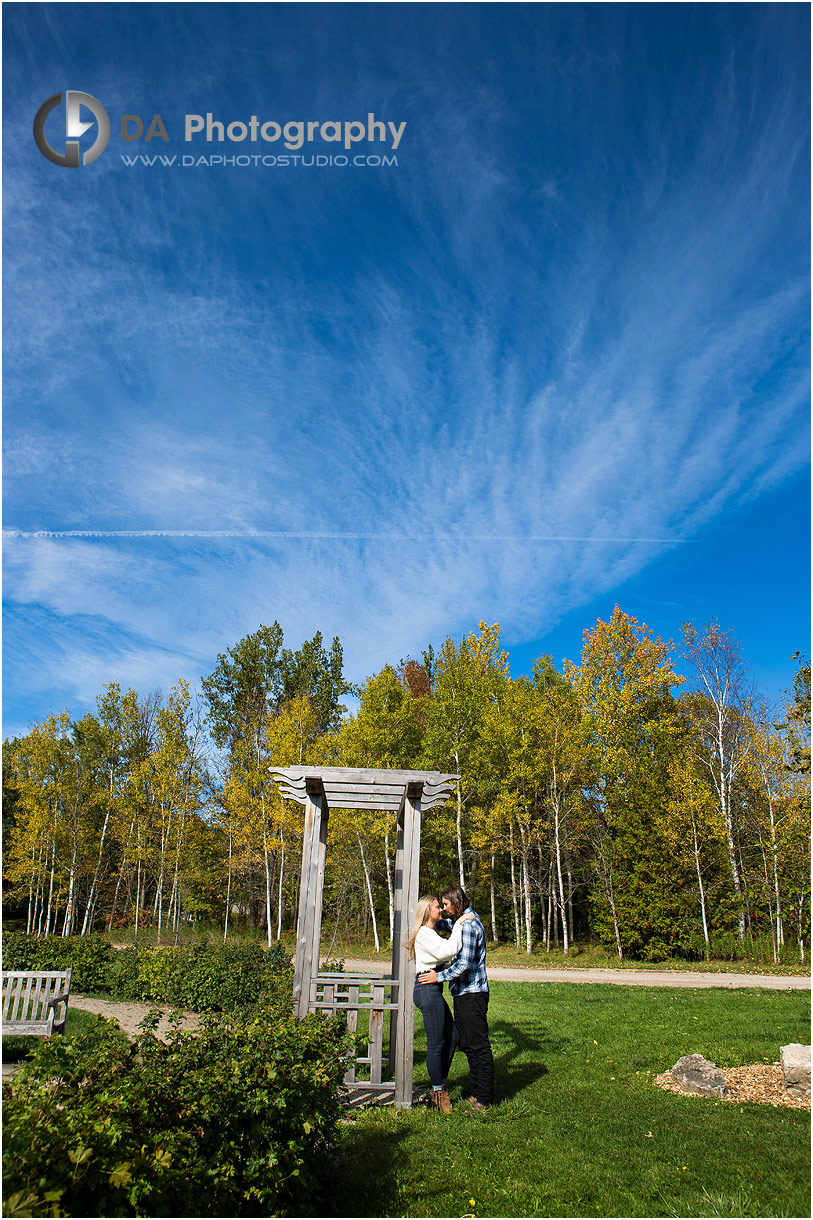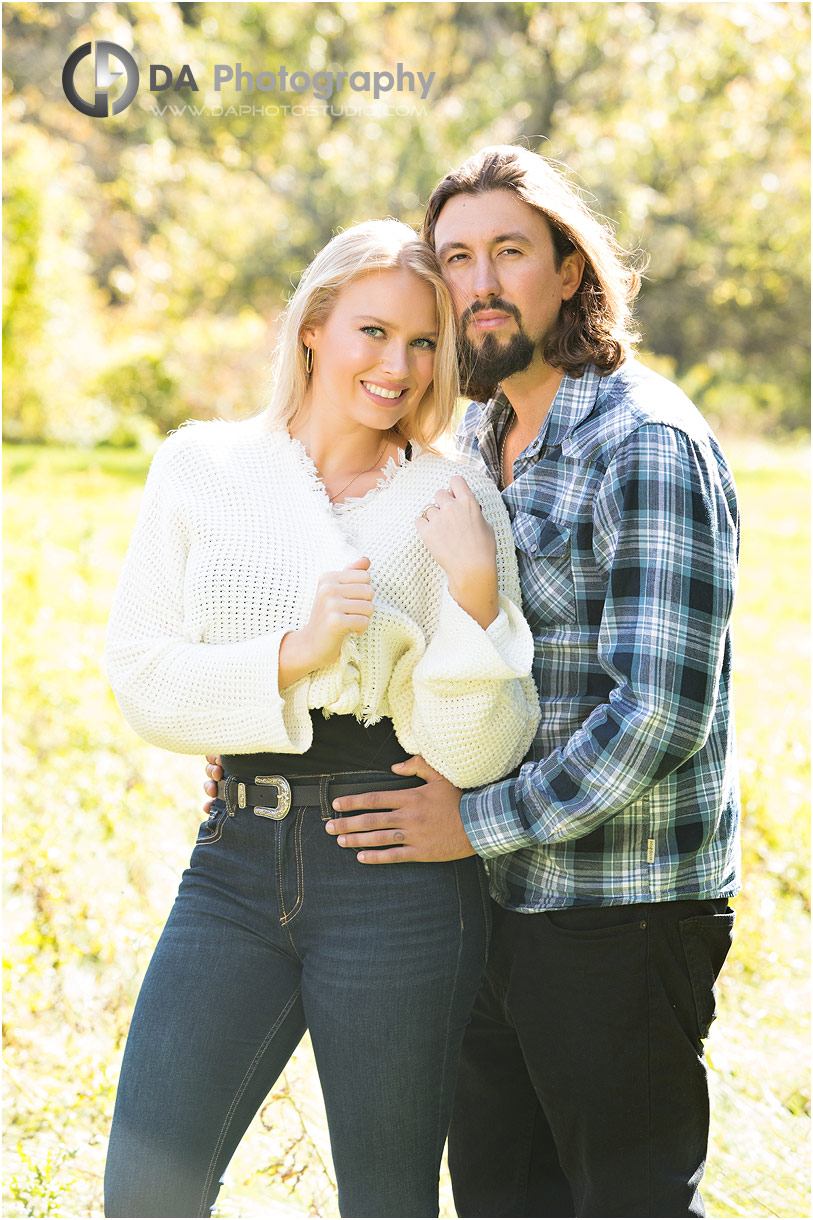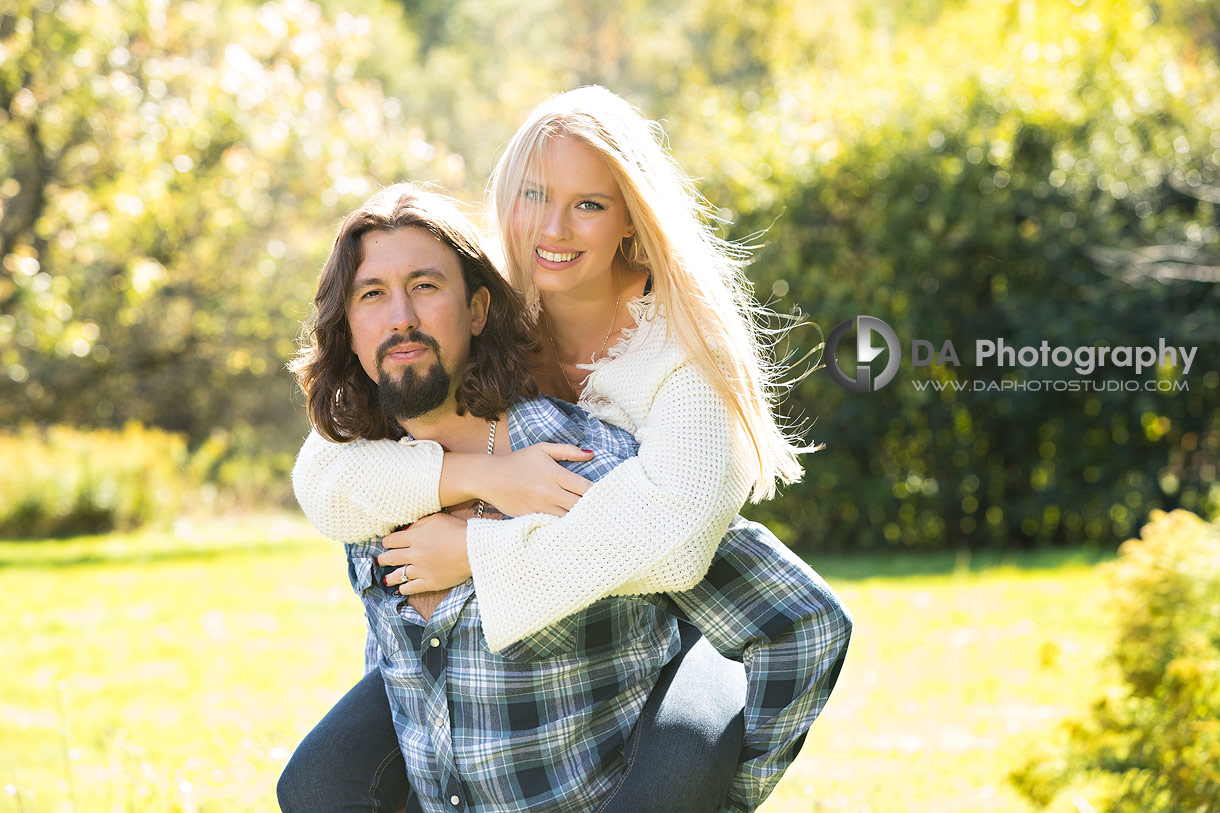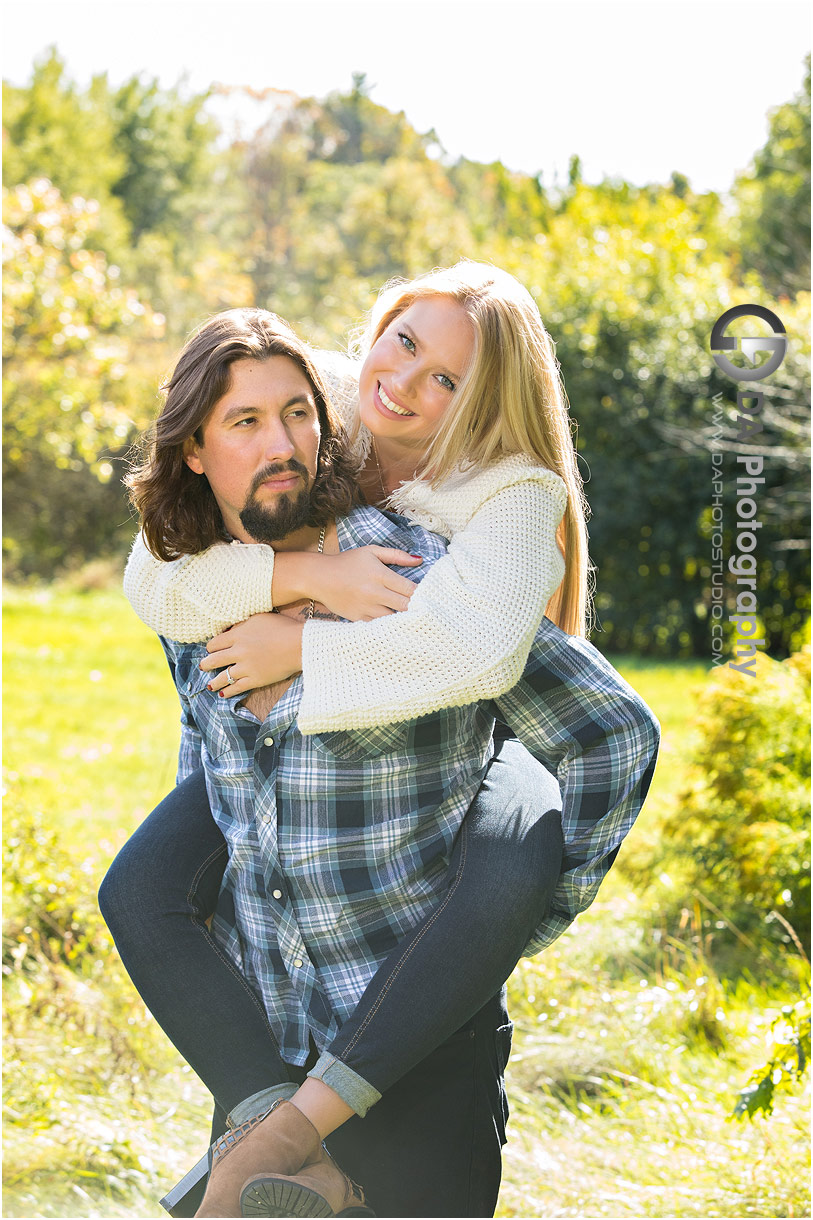 Who knew there could be so much scope for locations for this Guelph engagement
As we wrapped up at the Arboretum, we headed to The Covered Bridge that crossed the Eramosa River in downtown Guelph, right by the Boathouse Tea Room. For anyone who is familiar with the area, they will know how popular the bridge is. It is nearly impossible to get photos alone. You can see how well the intricate structure translates onto film. My priority was to nail their expression and worry about the background in postproduction later if need be. Taking the time to add this location into their session was worth it as offered the perfect contrast to the set.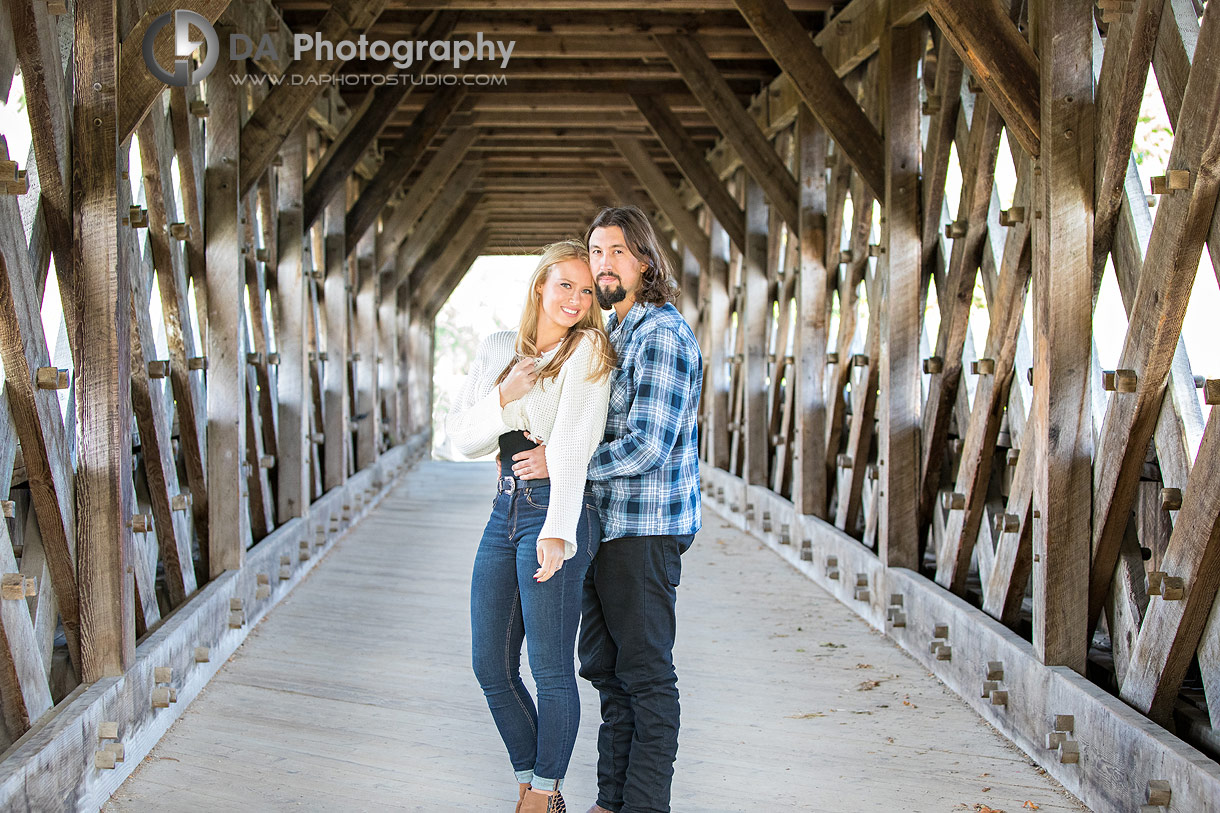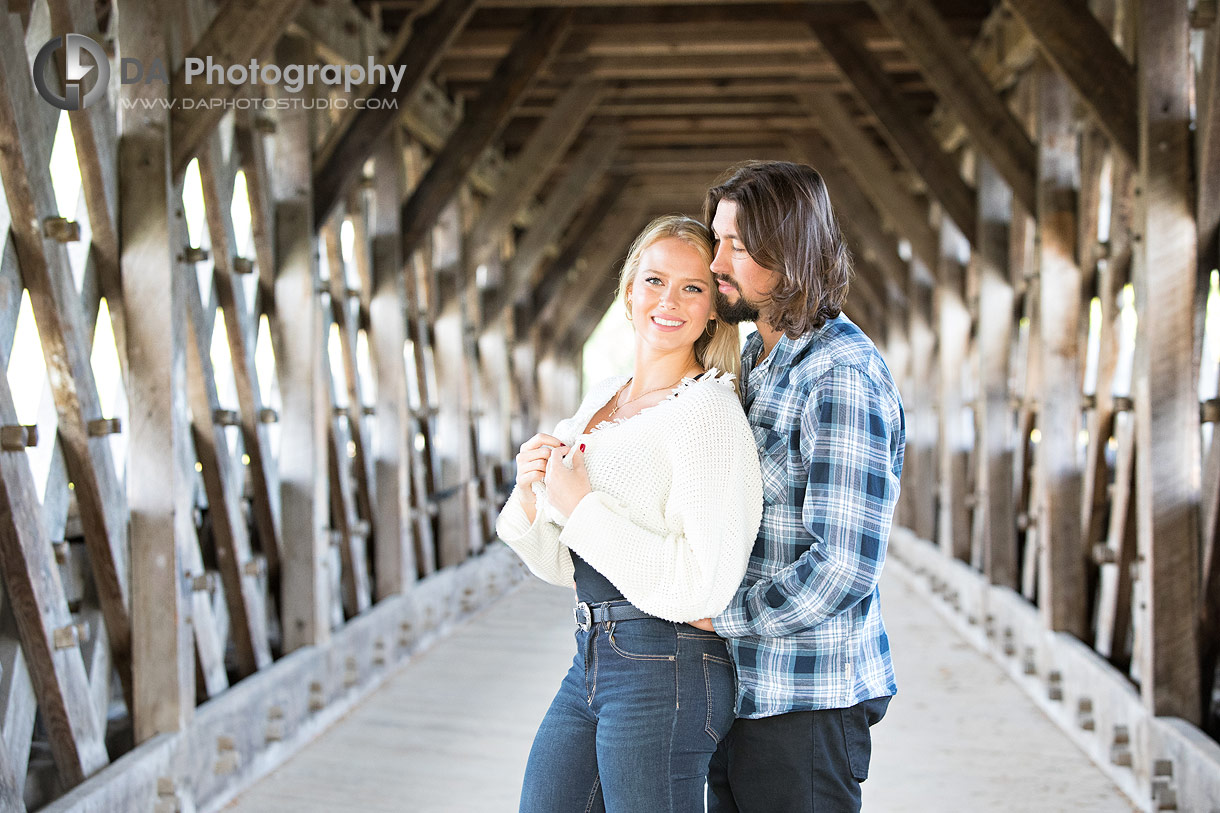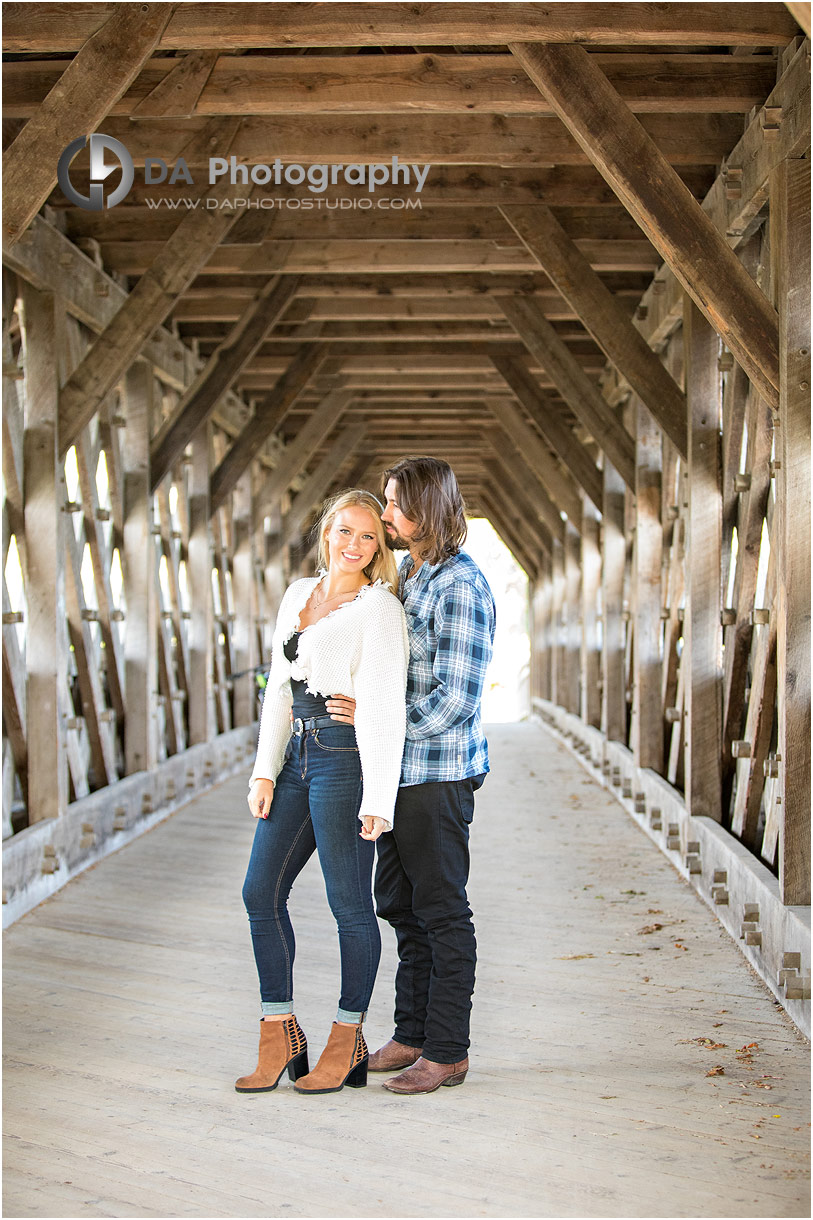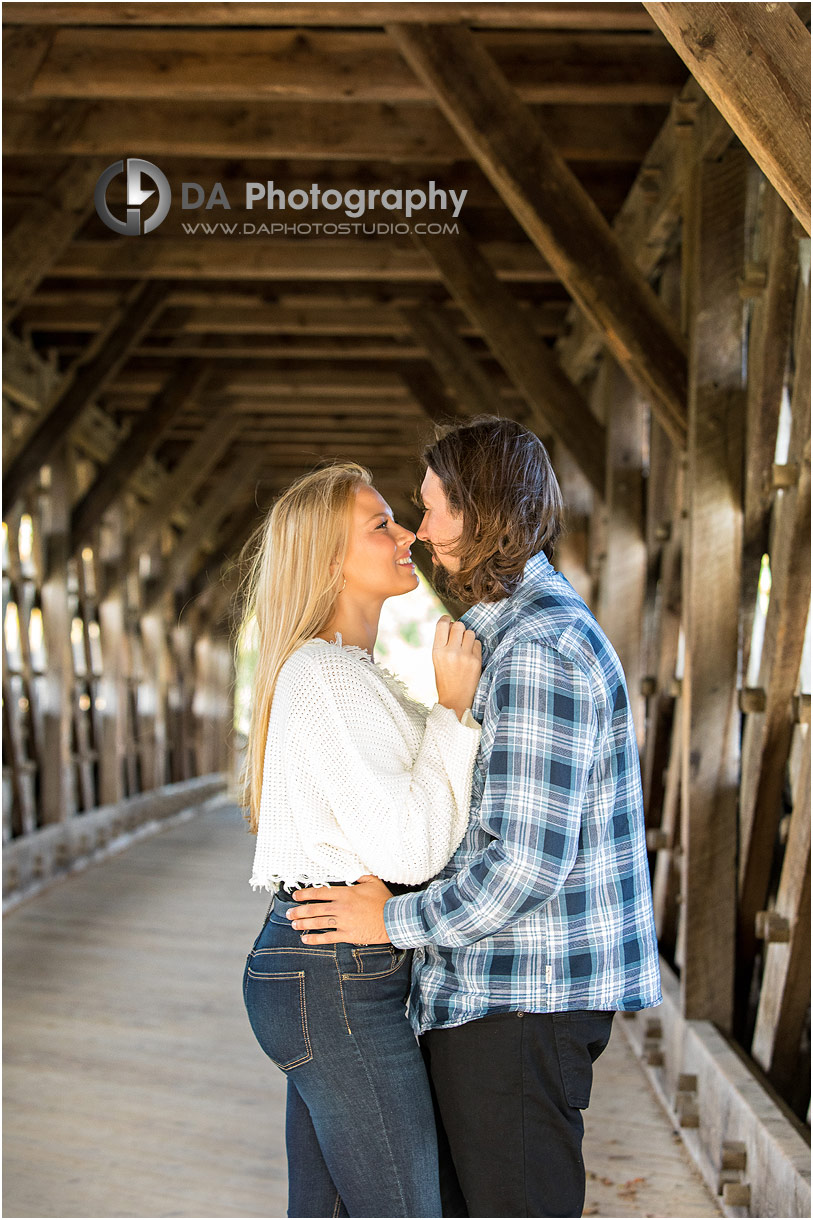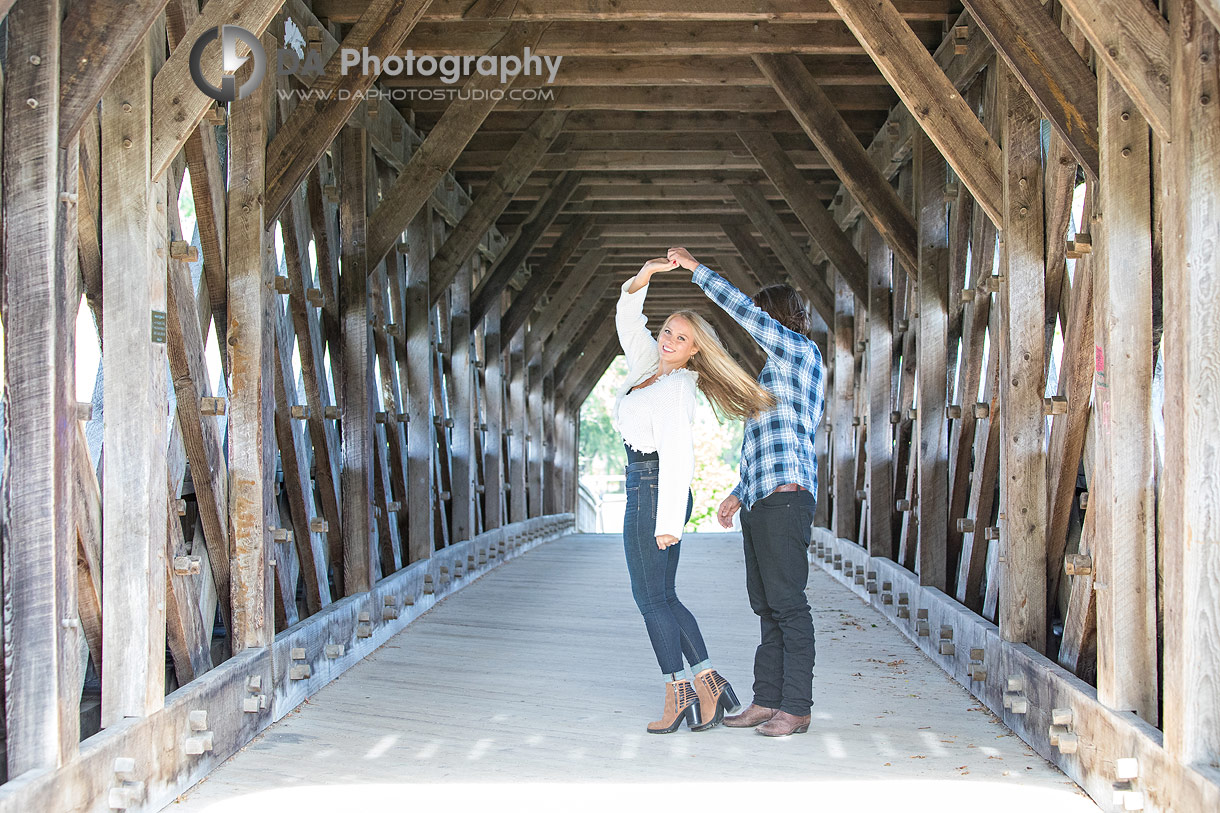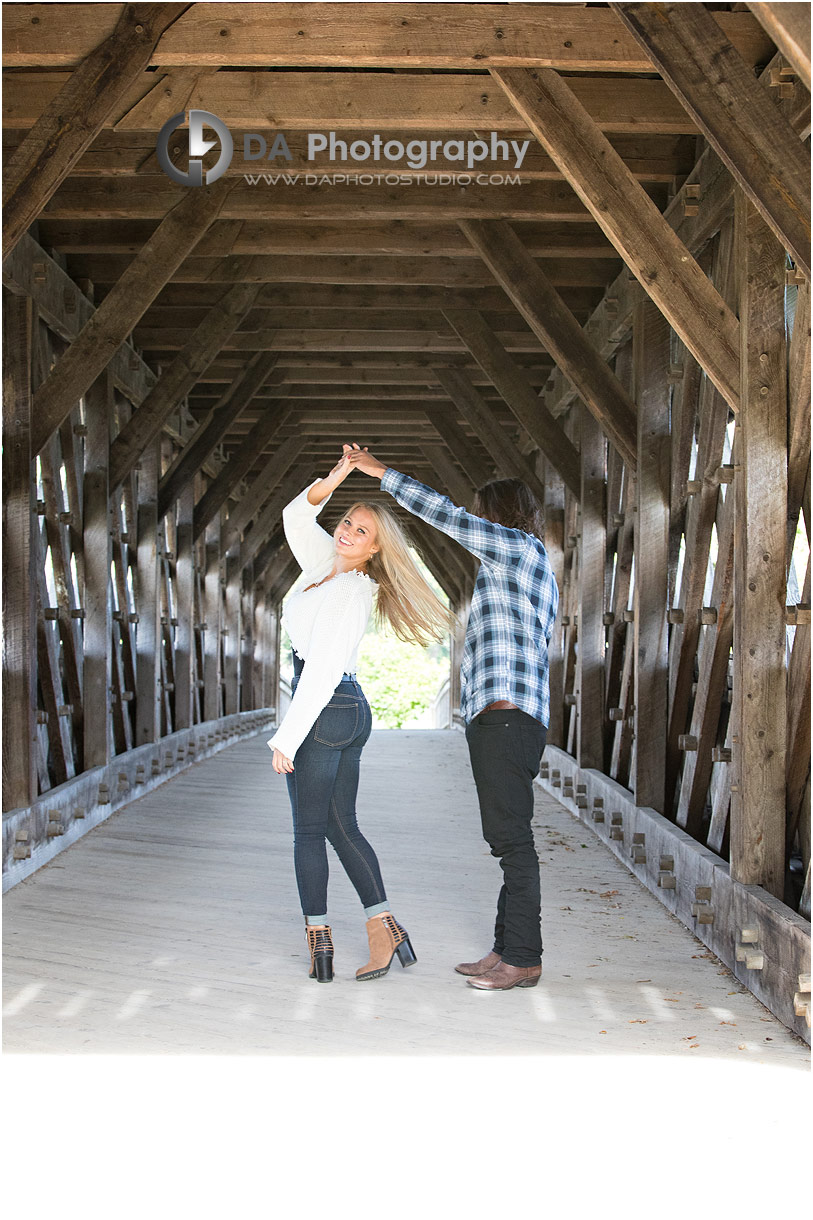 Our final stop of the day was just off Stone Road. There is a place I had been wanting to utilize for the last three years with tall, thin trees and what looked like bamboo. Together, it created a natural vignette framing for the portraits. It was a great end to a session that managed to incorporate so many different areas that Guelph offers.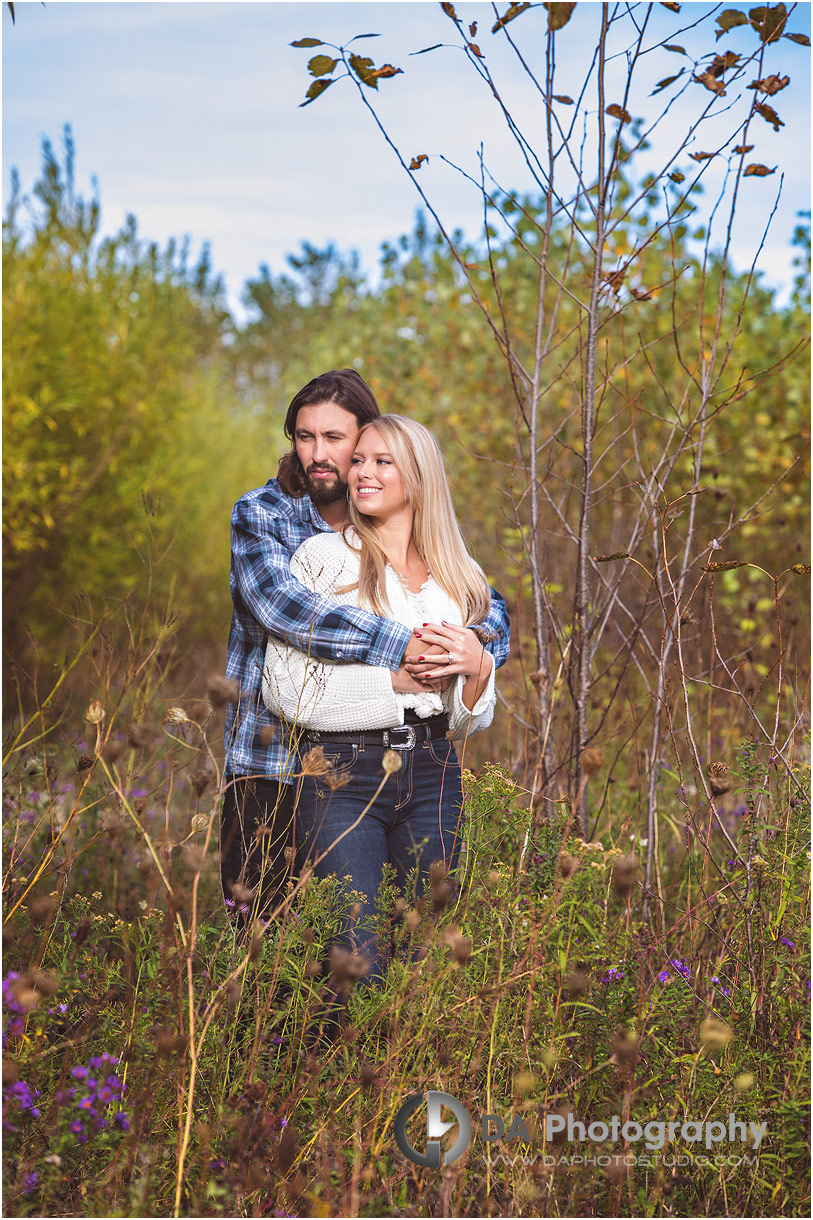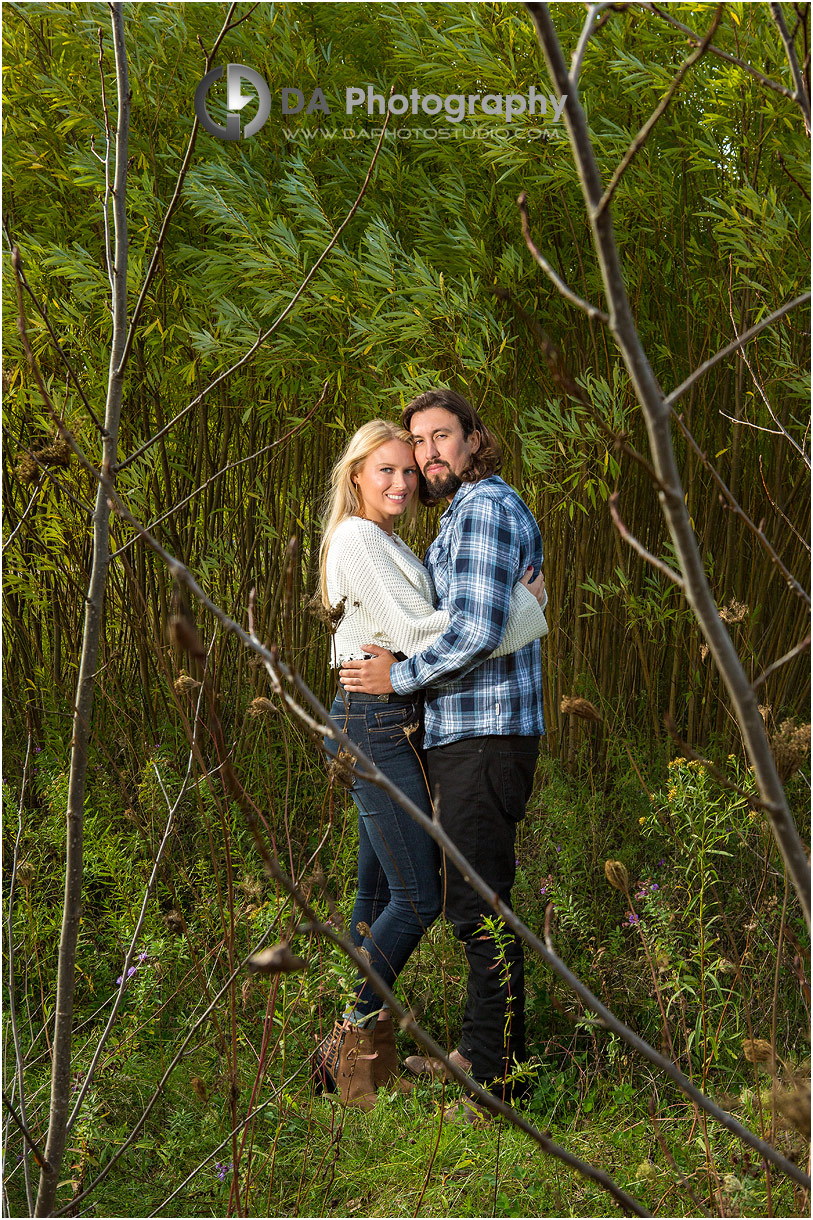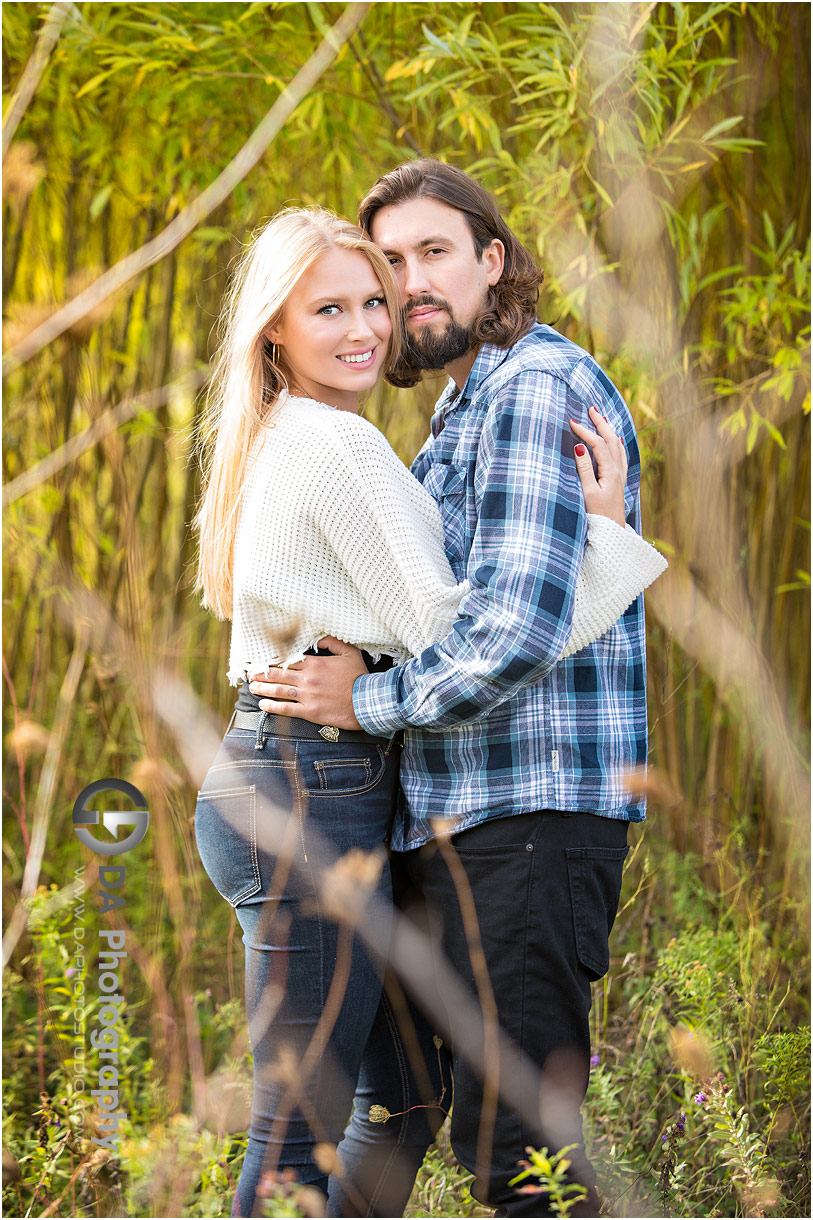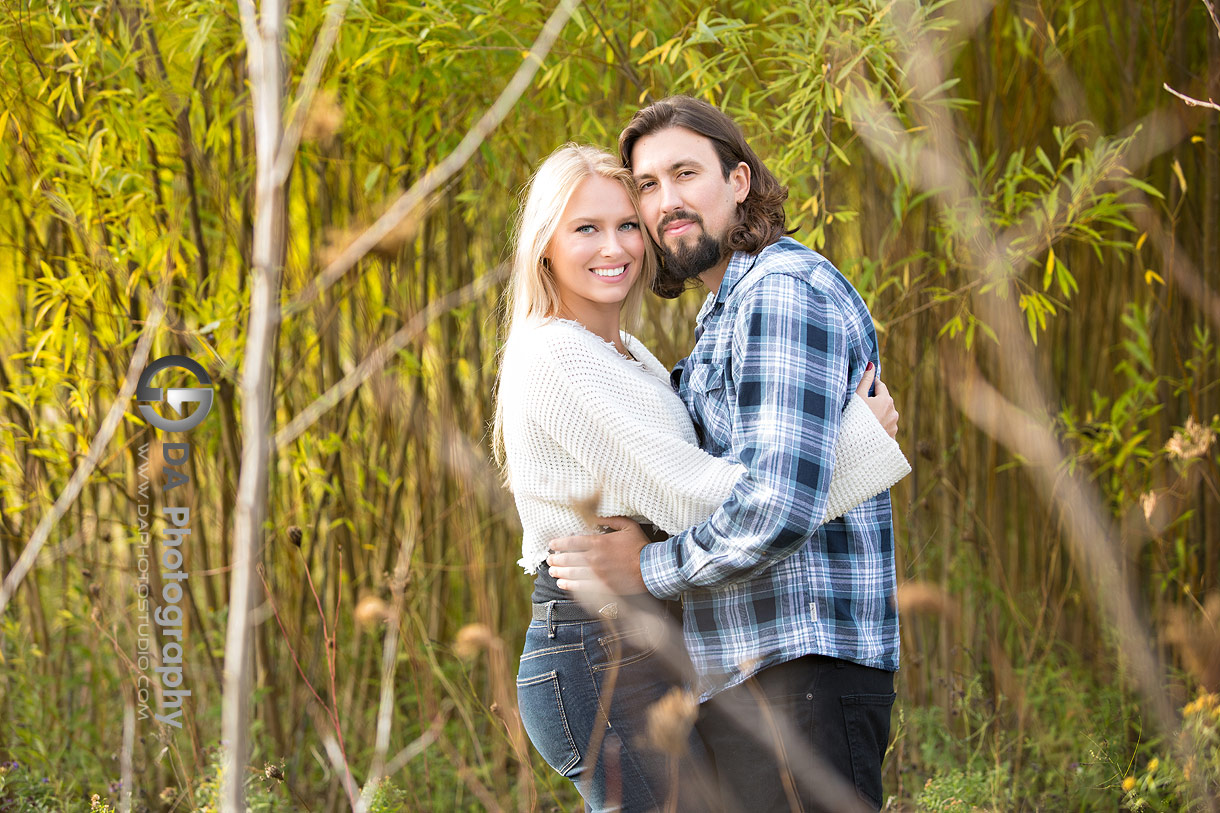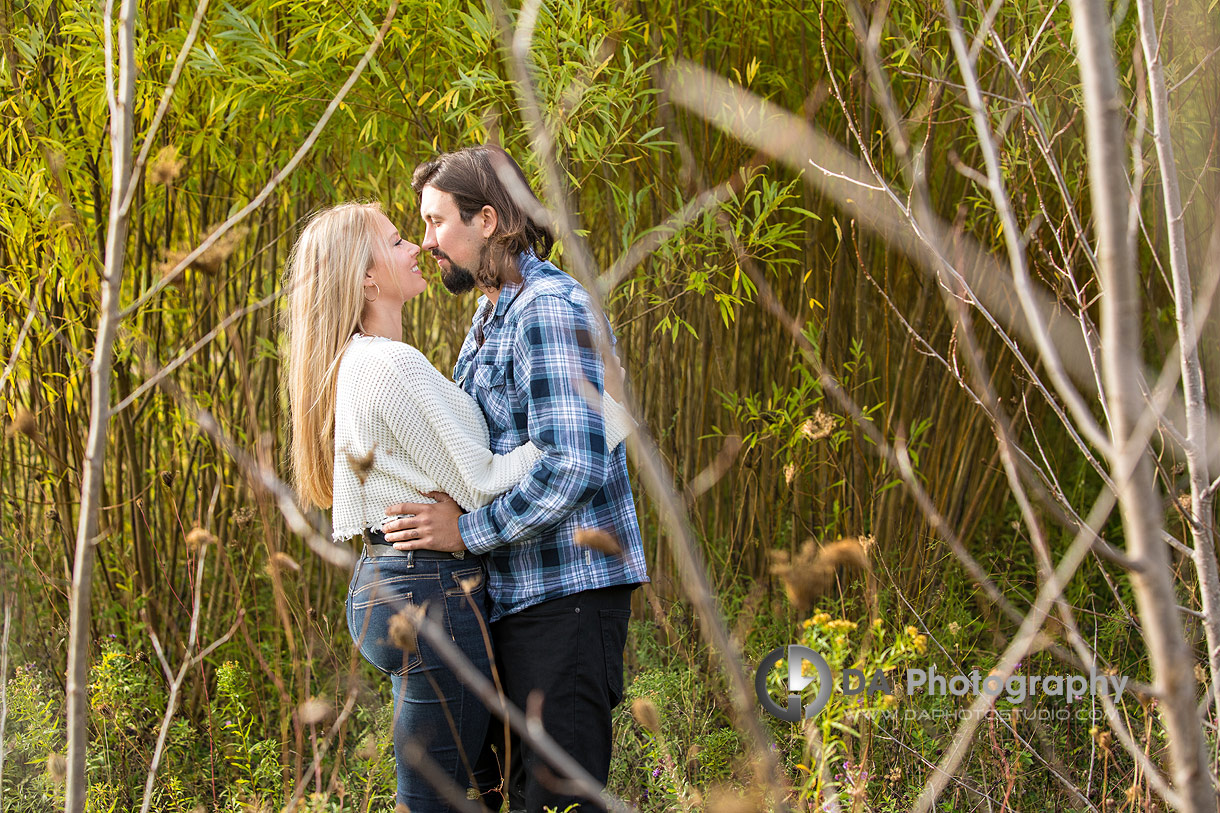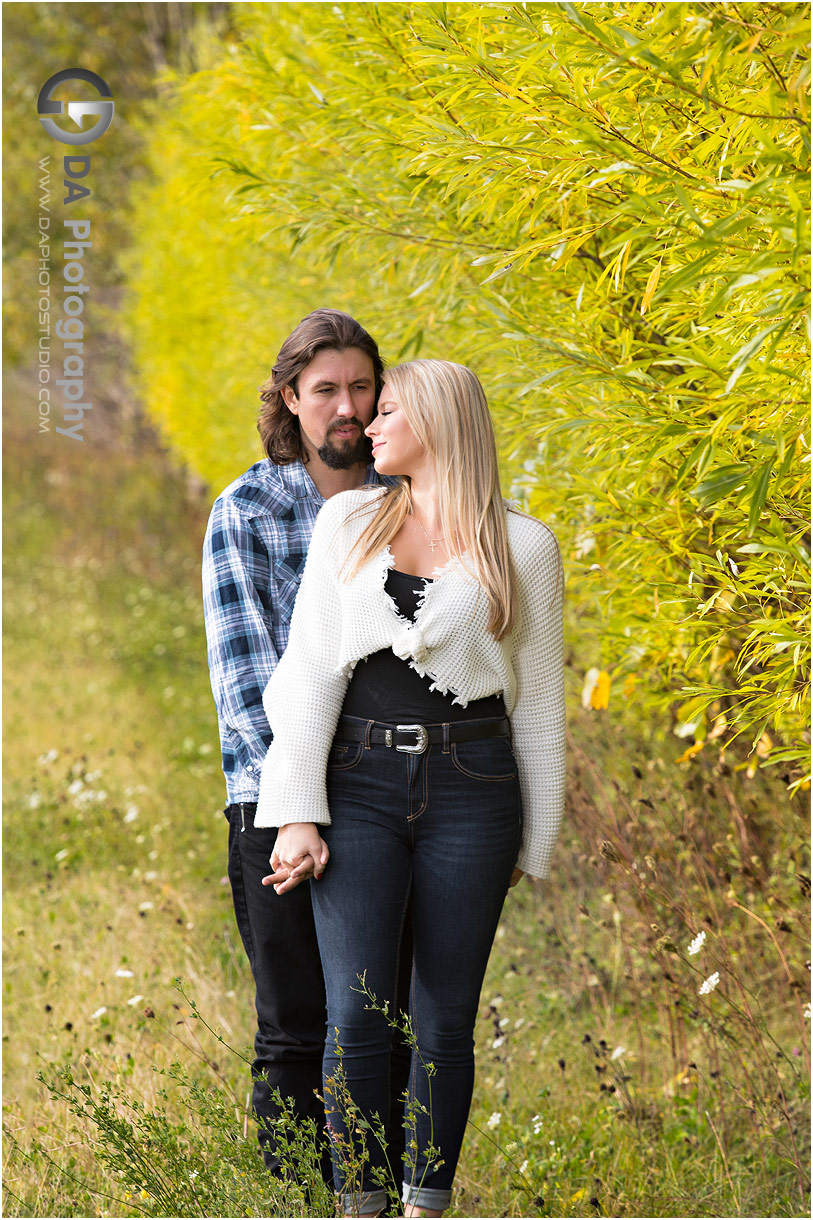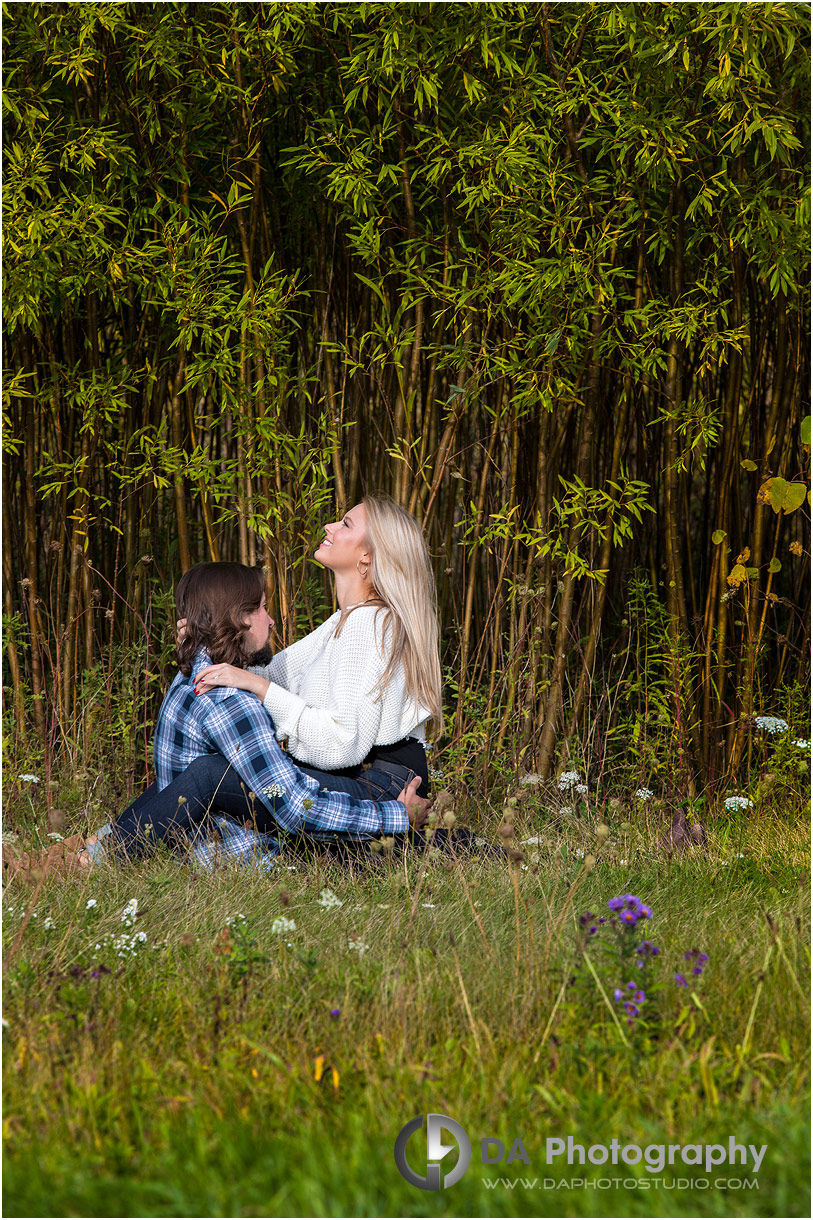 With their wedding in June of this year, their Guelph engagement was an amazing opportunity for them both to practice being in front of the camera. By using locations that I was familiar with, I spent less time scouting. This means I had more time to make them feel comfortable and unleashing my creativity for this beautiful session. Now I know what is literally on the doorstep to my studio, I can't wait to bring more clients here.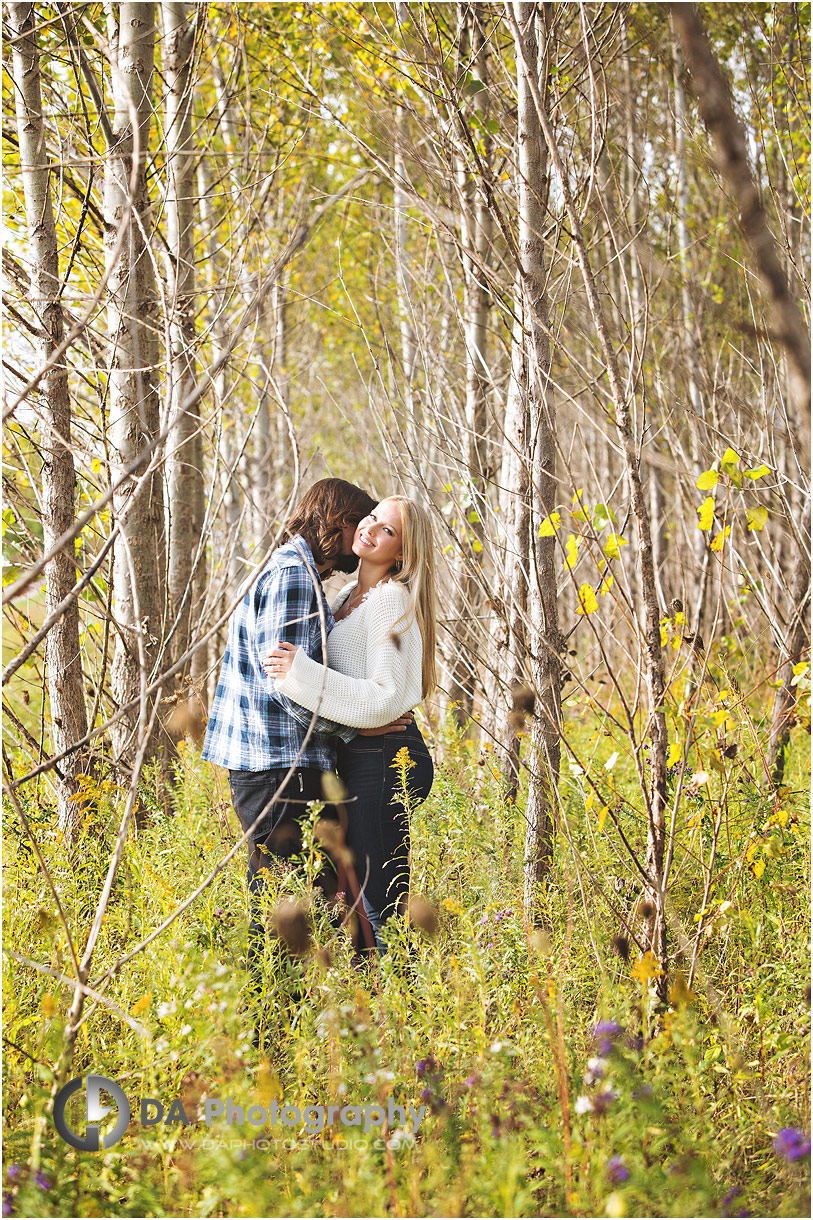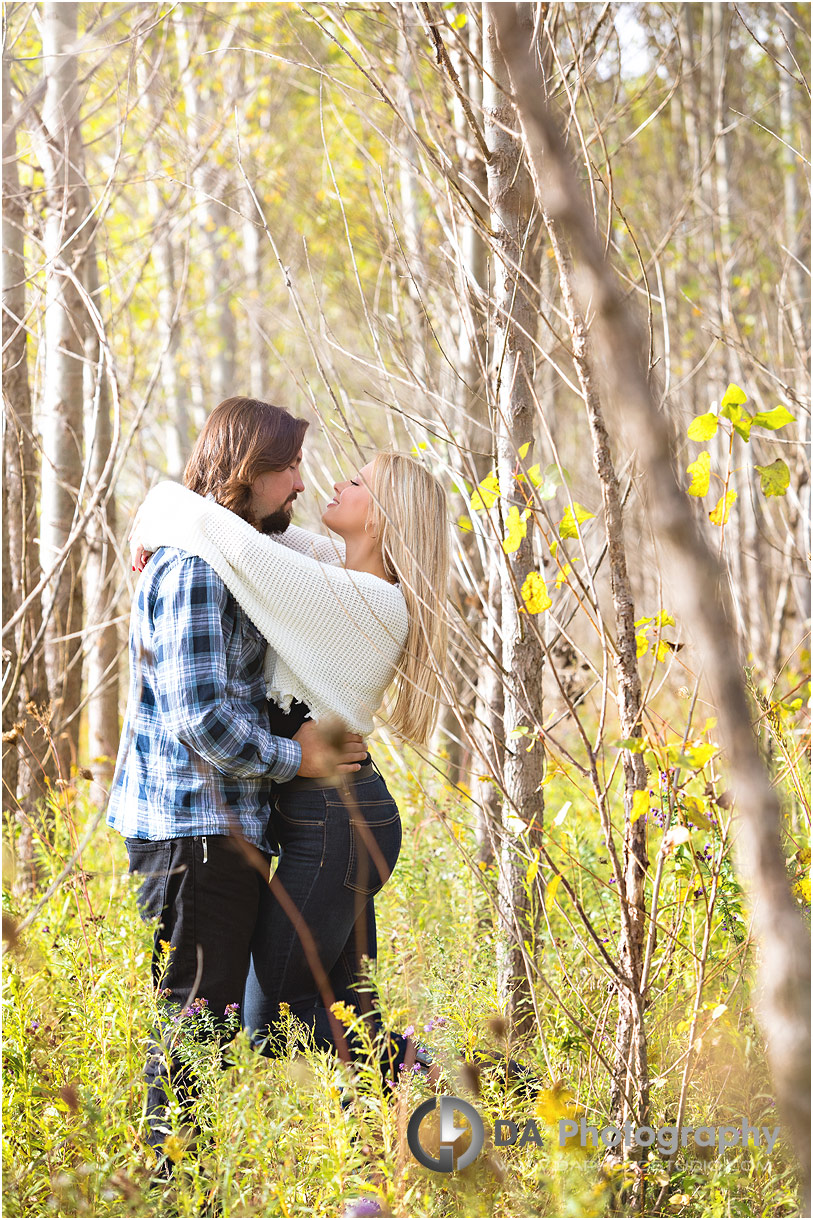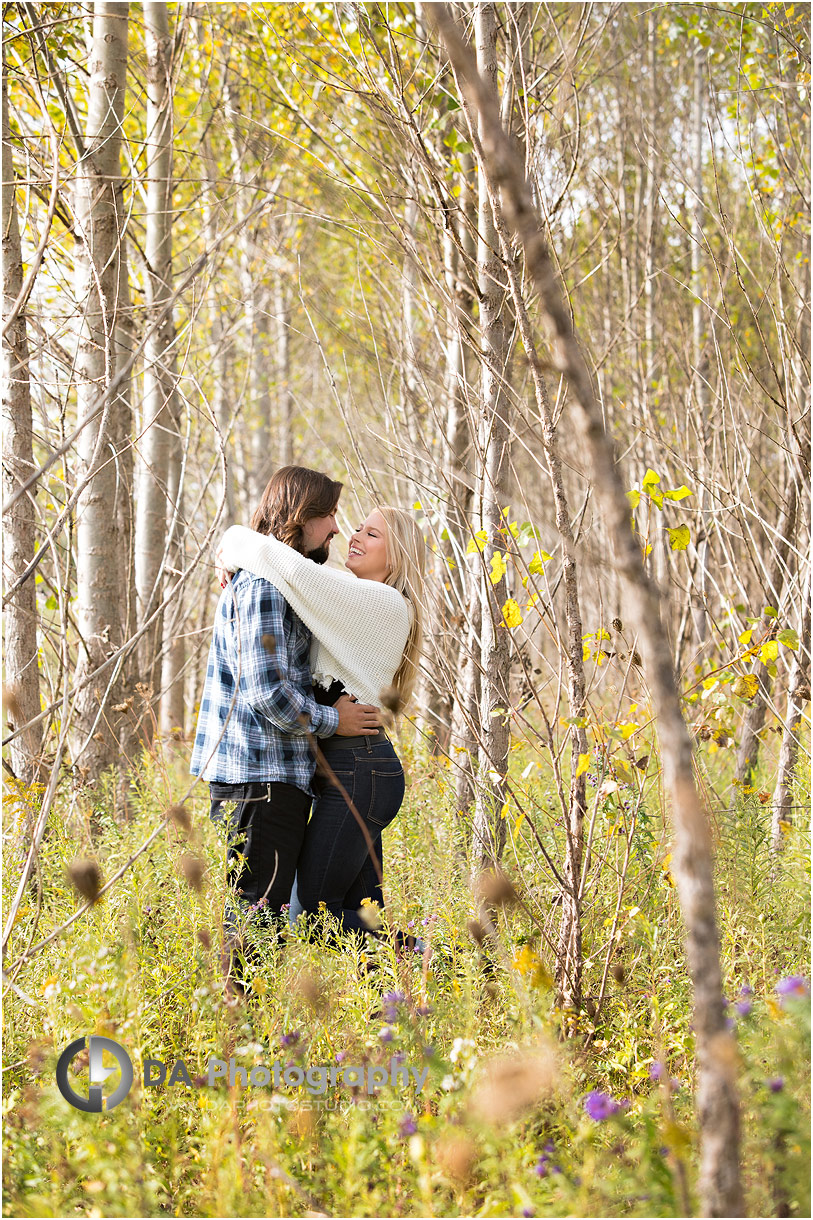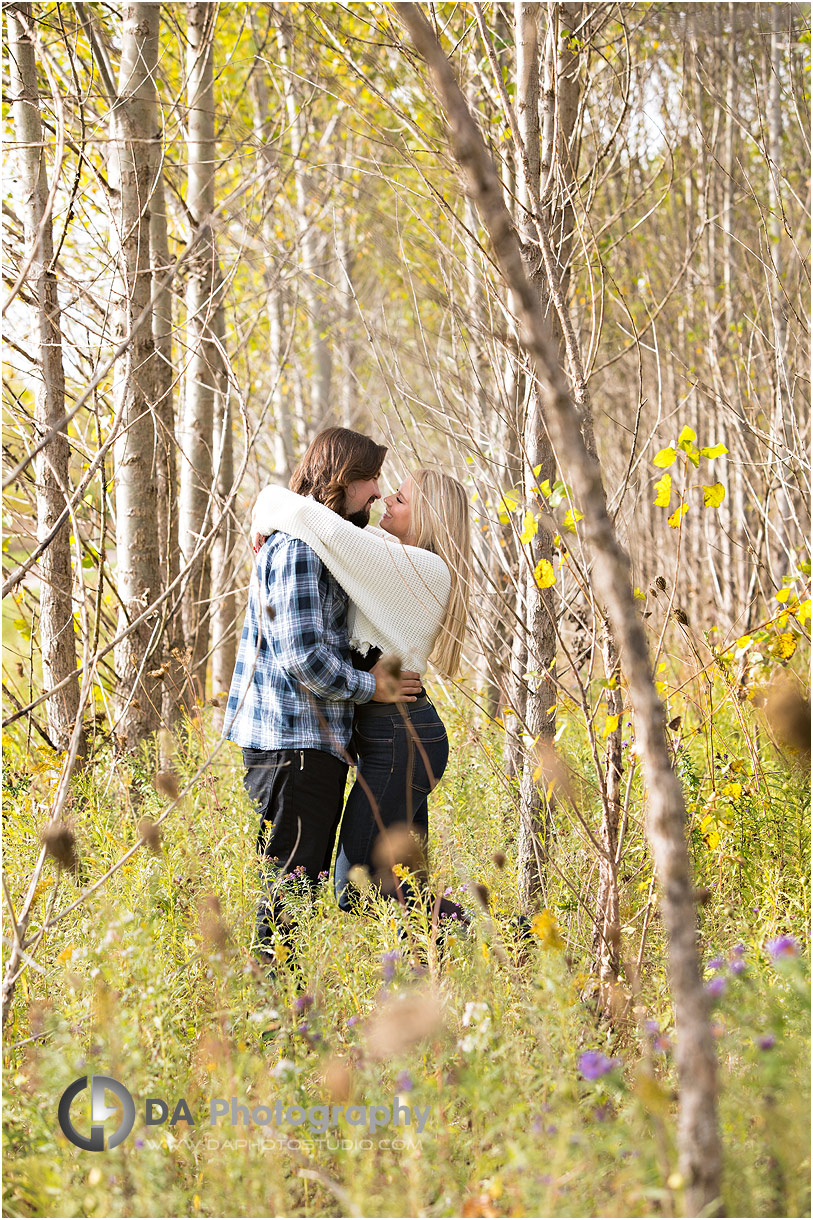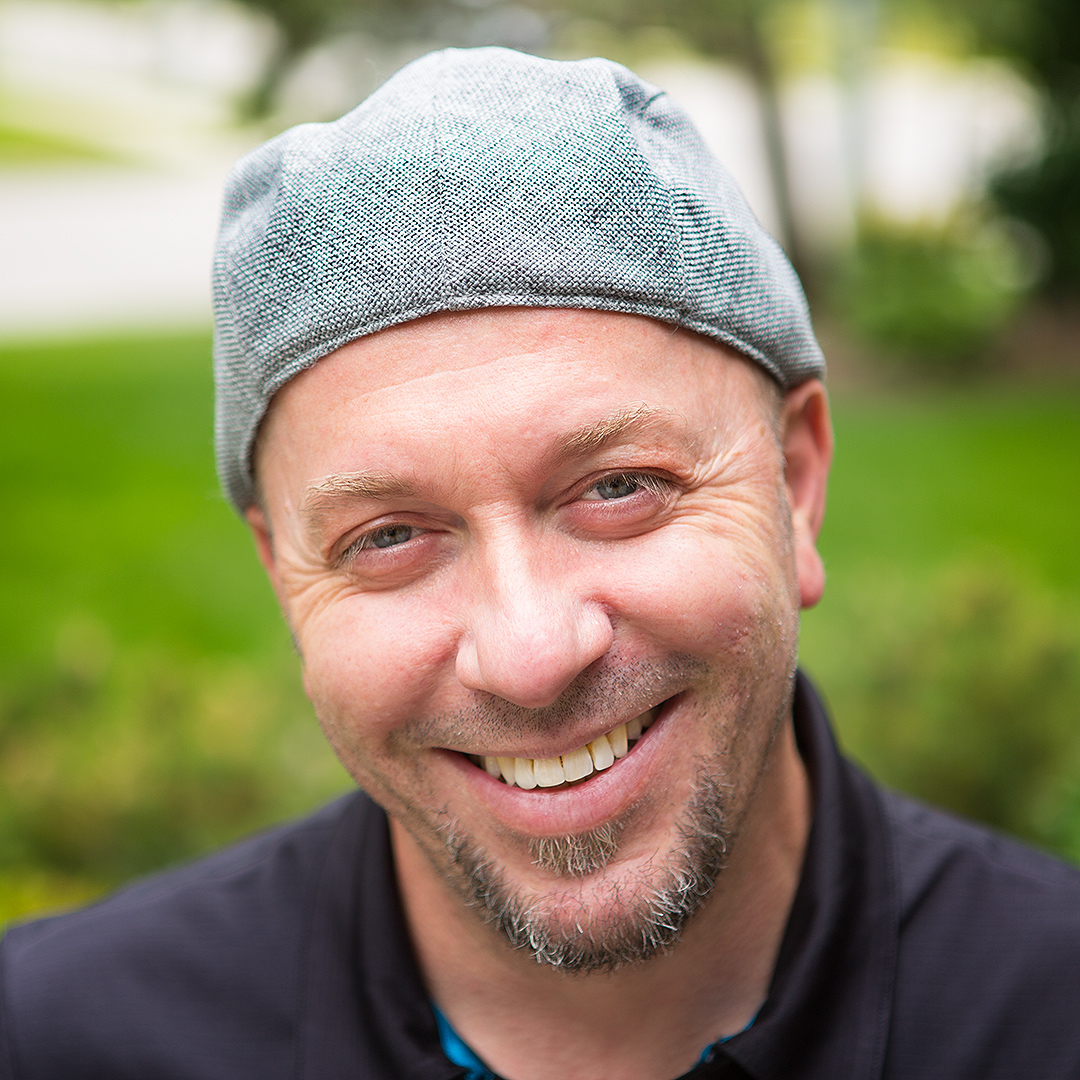 My passion and biggest asset is taking the time to make every client comfortable and relaxed before I even pick up the camera. The result? Photos of you that actually look like you at your best! I can prove to you how much you can enjoy having your picture taken. Lifestyle photography is about the experience that happens to be served up along side of some great photos.
Specialties:
Family Photography for families that like to move around and enjoy their photo time, Wedding Photography for couples looking for a mixture of photojournalistic, contemporary and traditional images and Professional Corporate headshots that are far from cheesy and stiff.