Interestingly, this High Park cherry blossom photo session was not actually planned for these gorgeous flowers. However, we still had the amazing experience of the Sakura trees during this time of the year. We were lucky enough to have flawless weather in the ideal part of the season. This meant that we had the best equation for stunning images for this engagement session.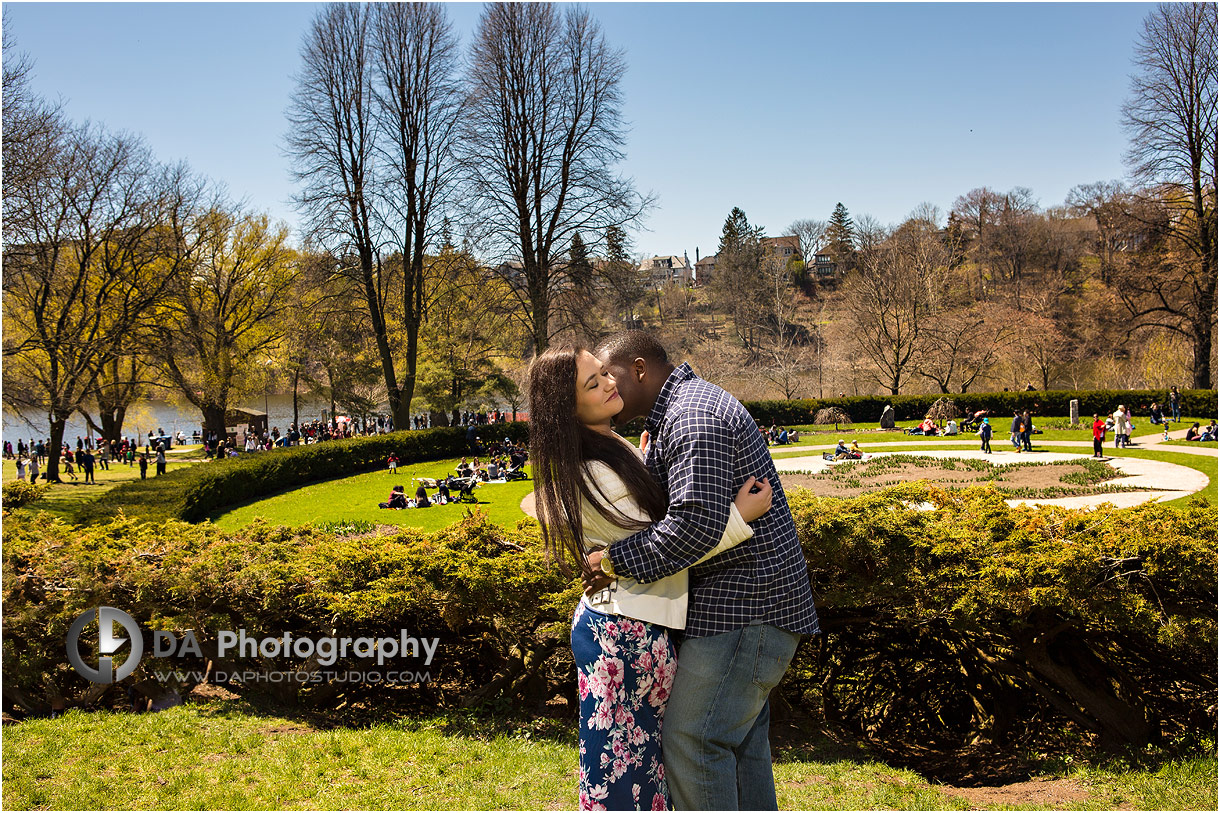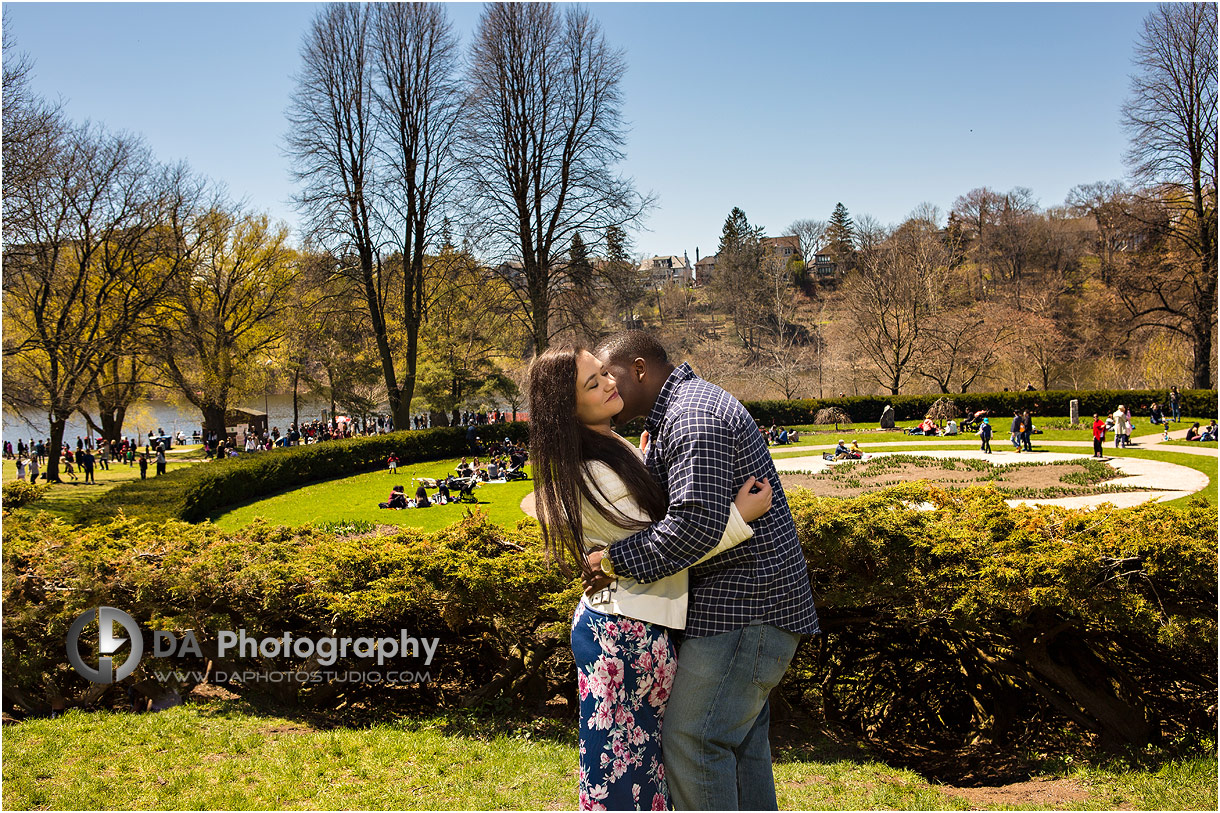 High Park cherry blossoms photos with three
It was very close to their wedding date when I had the pleasure of meeting Lora and Matthew. In less than 4 months, they had booked me, and the planning began. Together, we organized the photography for their wedding at Columbus Event Centre and all the other events leading up to it. Because we met during such a cold and less-than-picture-perfect time of year, I gathered that their engagement session would take place with close proximity to their wedding date. Turns out, I was right.
Lora and Matthew chose to have their photos taken in the first week of May. The location they chose was High Park. Having taken photos in here during cherry blossom season before, I knew what was in store for us. I prepared myself for another insanely busy event and the challenge of taking photos while so many other visitors were trying to do the same. However, this season was different than I had ever experienced before.
The main focus for Lora and Matthew was their little daughter and the love they have for each other. These were the top priorities. They were not concerned with the perfect cherry blossoms or the fact that there were thousands of others park visitors waiting in line for photos with the stunning magnolia tree!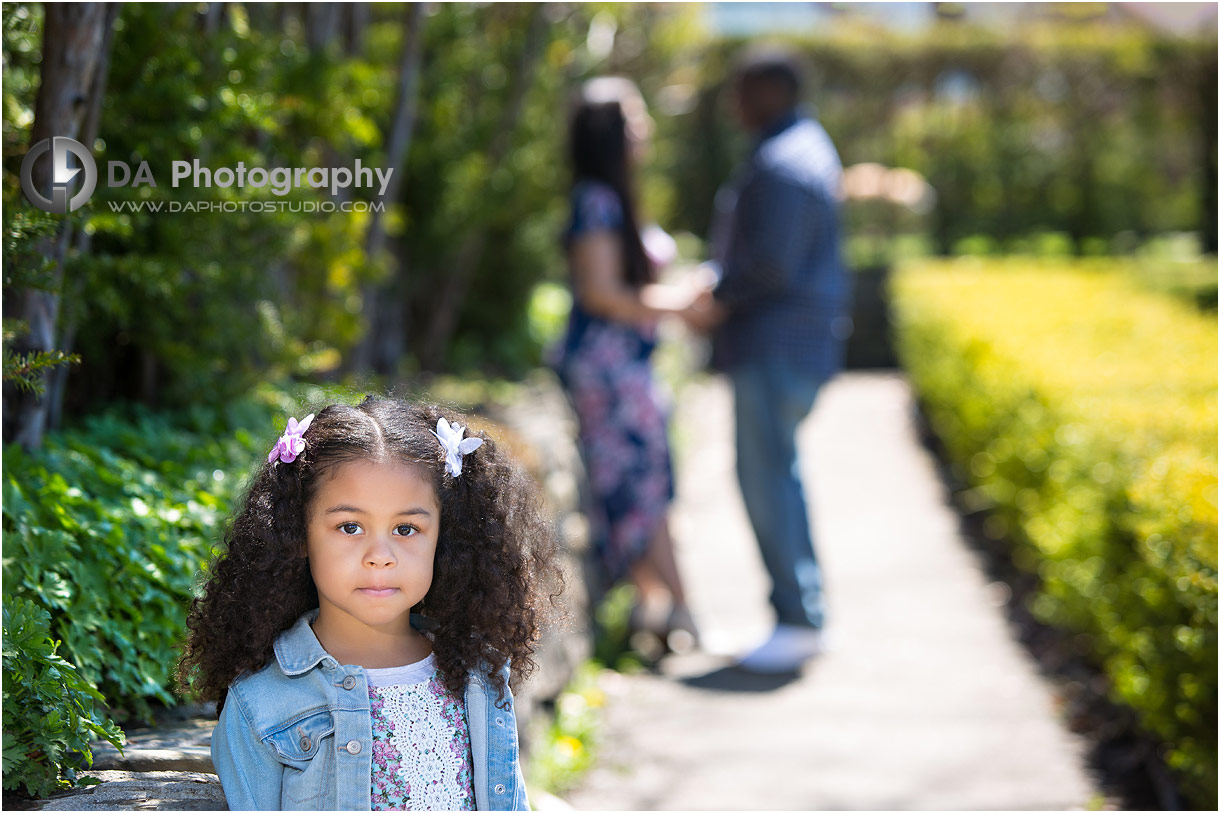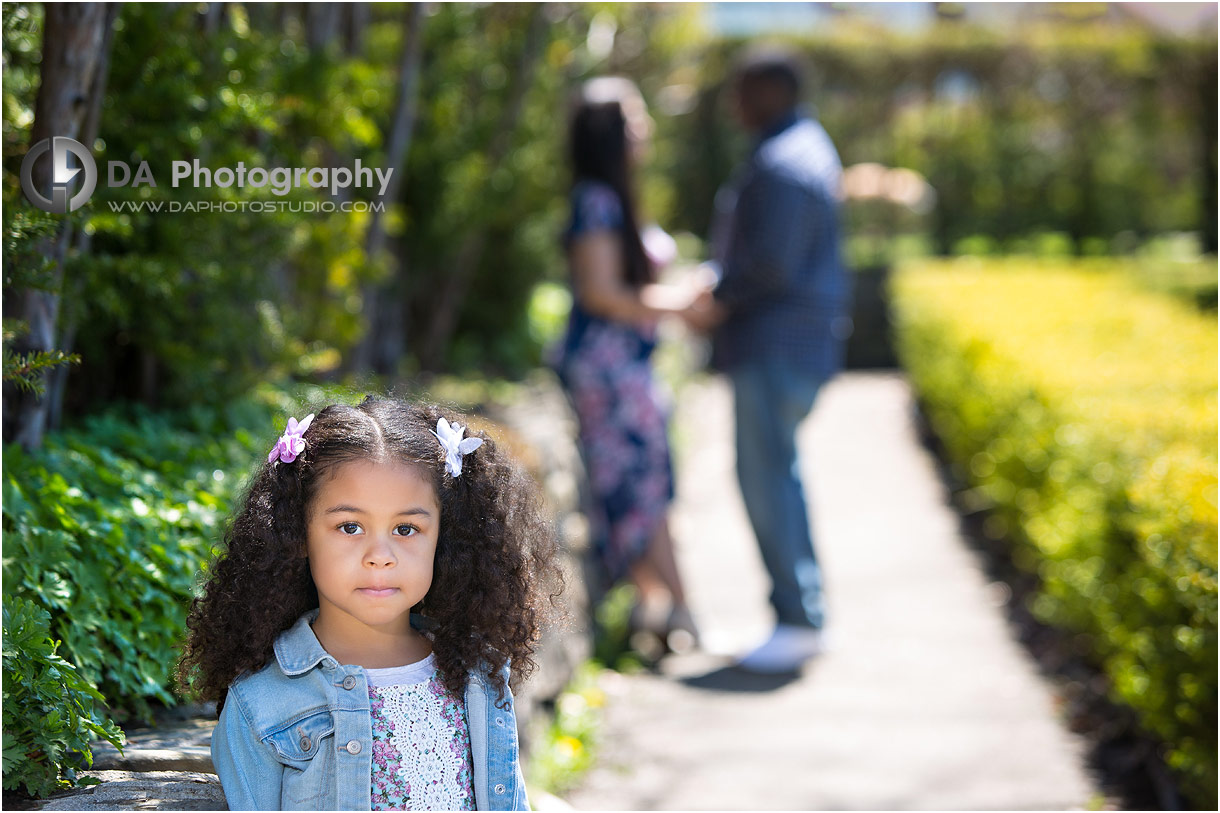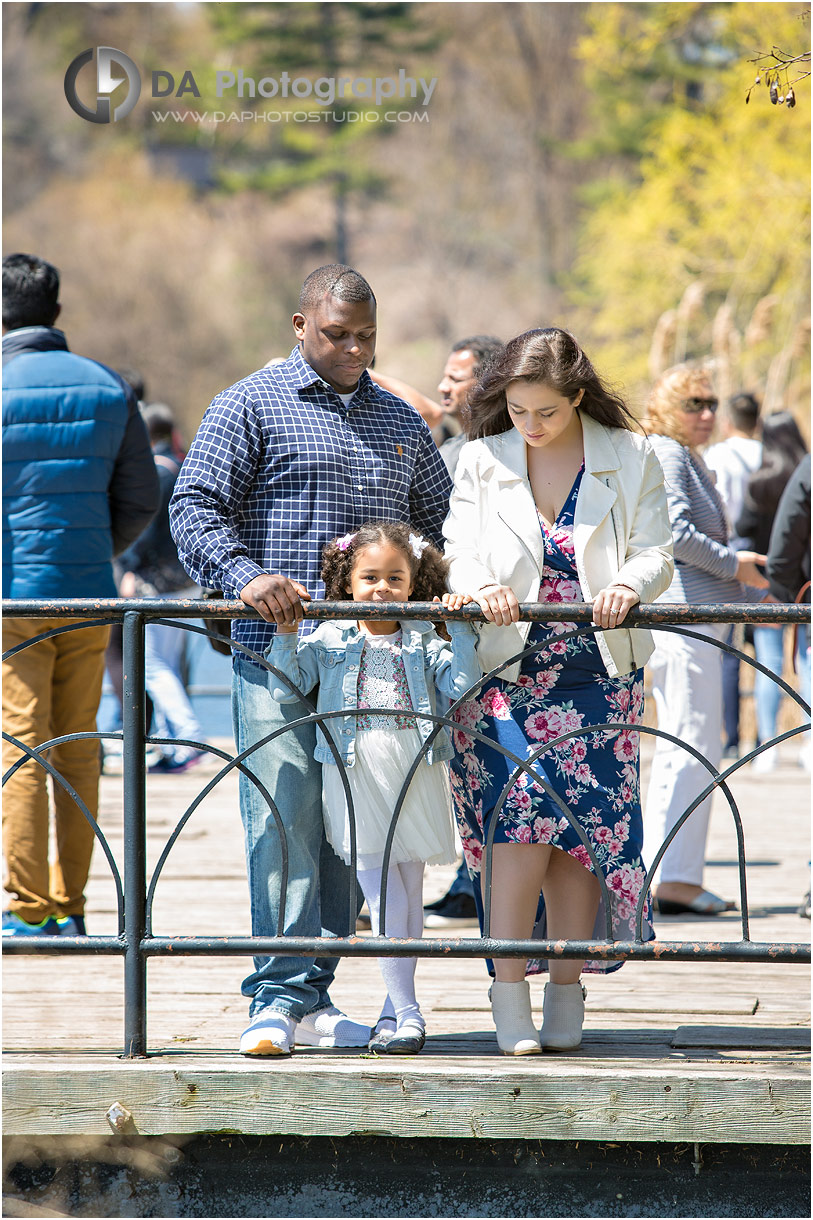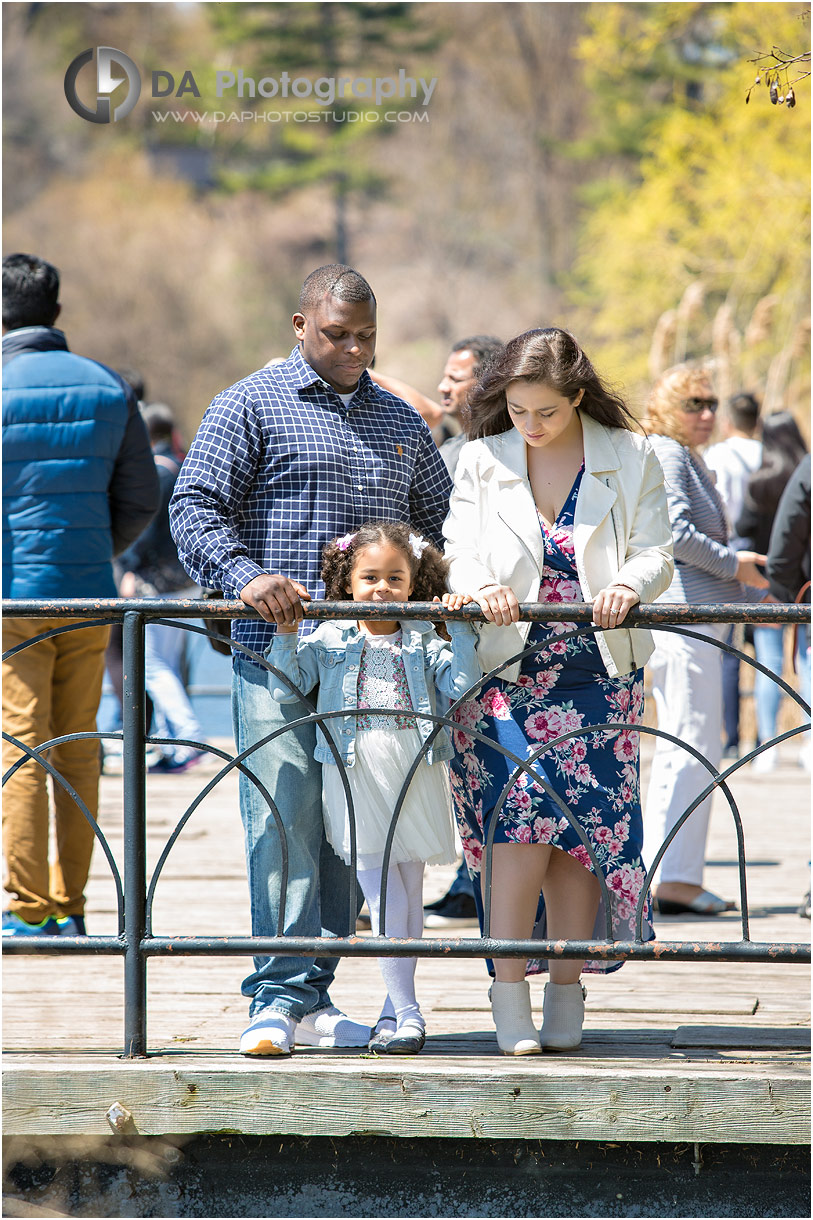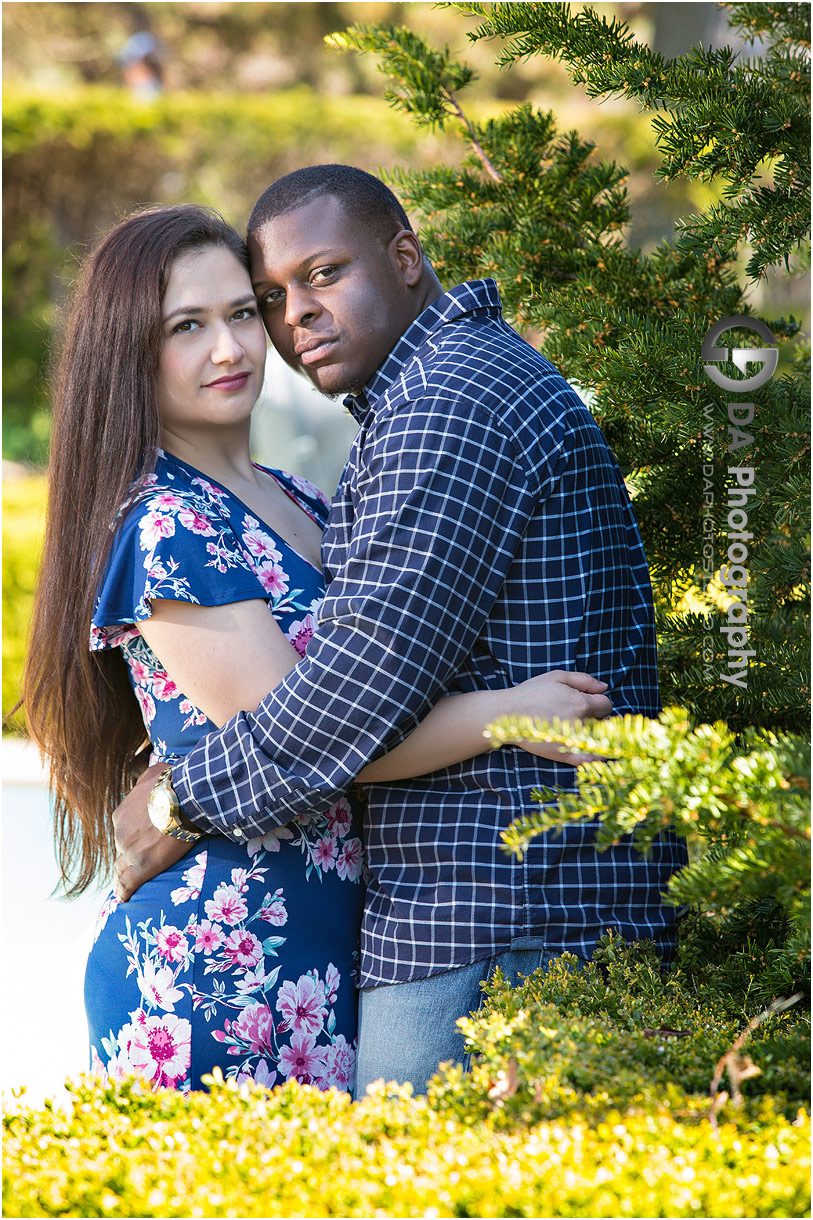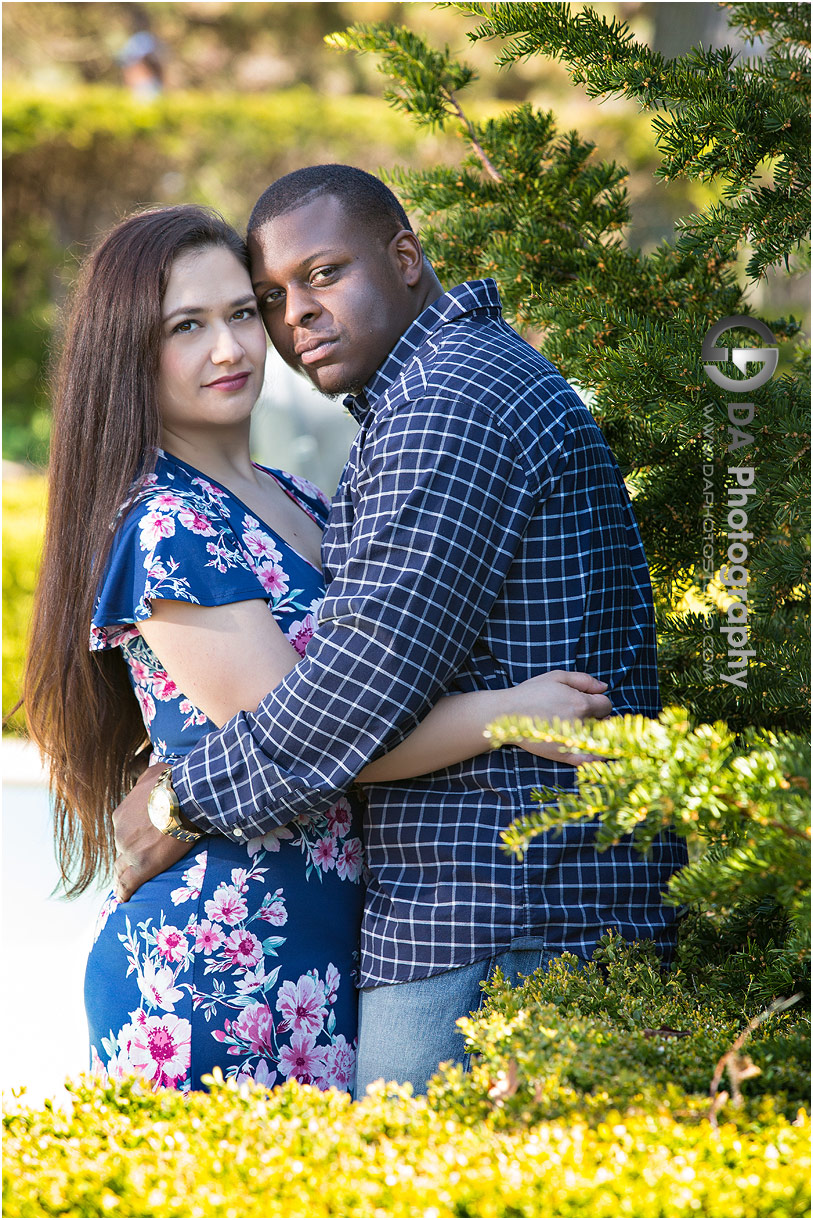 When your client's values meet your vision
Immediately, I saw the priority for this lovely couple. As a married man with my own kids, I could truly relate. It also inspired me to fully dedicate myself to showcase the basis for this session. I needed to highlight their connection and love for each other as authentically as possible.
From my previous experience, I knew that the cherry blossom pathways were going to be very busy with foot traffic. So, instead, we started working in a different direction. We started working at the water feature that was empty at this time of the year. I love that the hedges gave us leading lines to work with. Between the blue reflections and the landscaping, there was so much to work with for the composition.
Here, I worked with all three of them. I wanted to make sure that their daughter felt she was a part of the engagement session. However, I also wanted to document Lora and Matthew and their connection at the same time.
Mentally, I created a pattern that I kept repeating throughout the session. We started with some poses of the three of them, then went to Lora and Matthew as a couple and some of the little girl herself. Finally, we would take some of Lora and Matthew individually with their daughter. With this complete, we would move to a new location and repeat the pattern. The purpose of this was to keep them busy while still ensuring it wasn't repetitive with similar-looking images again and again.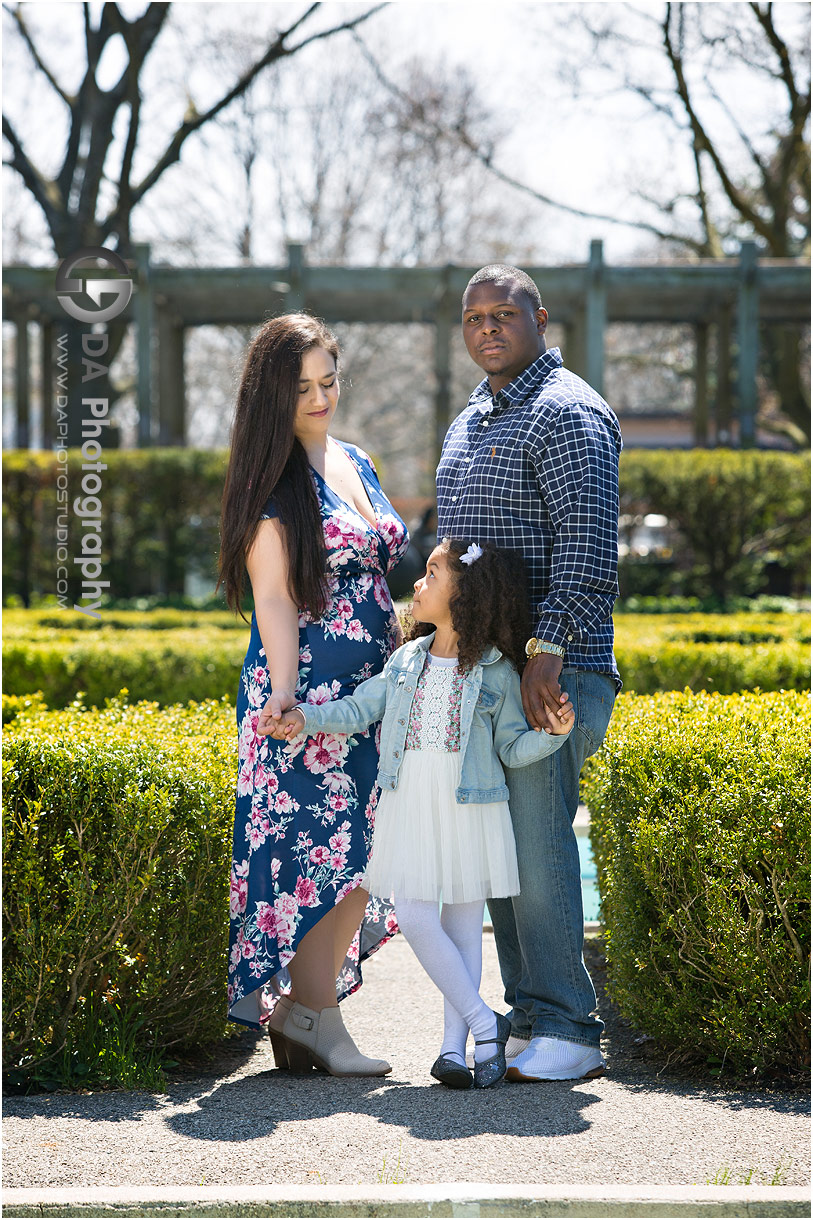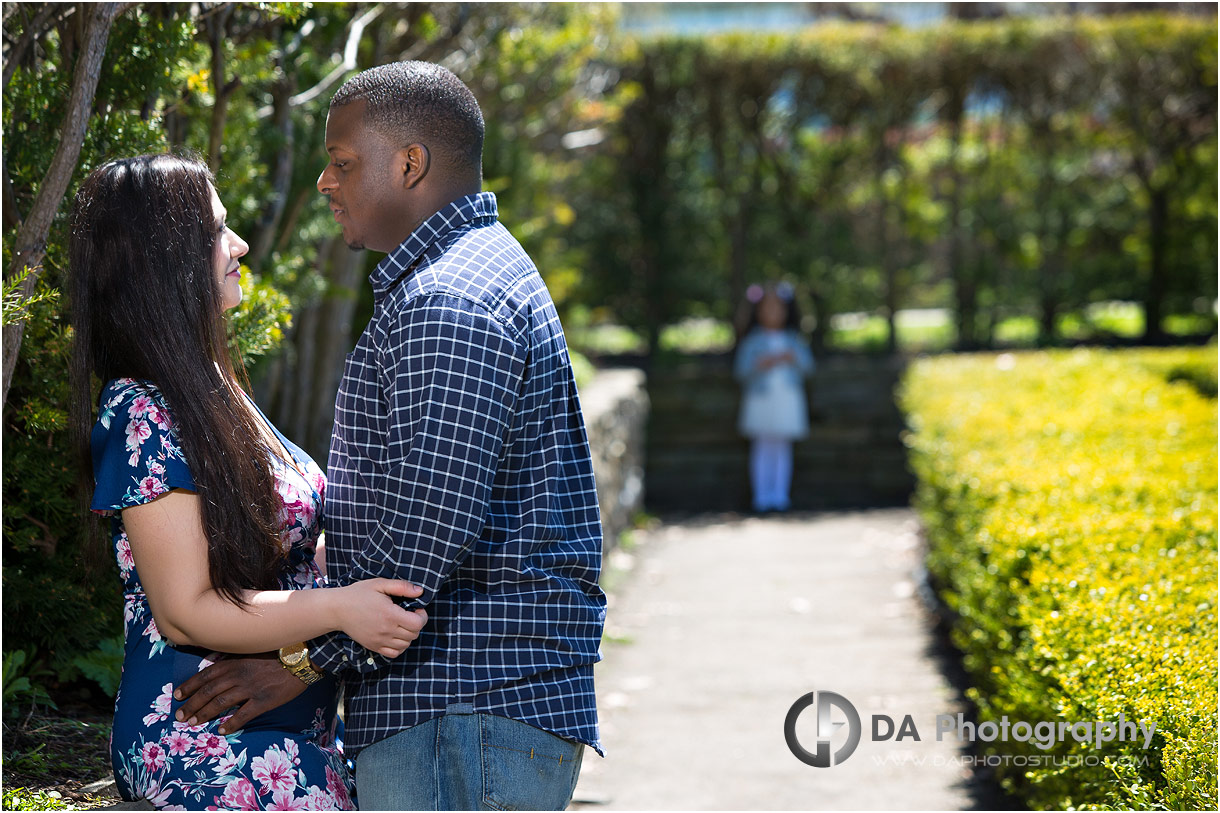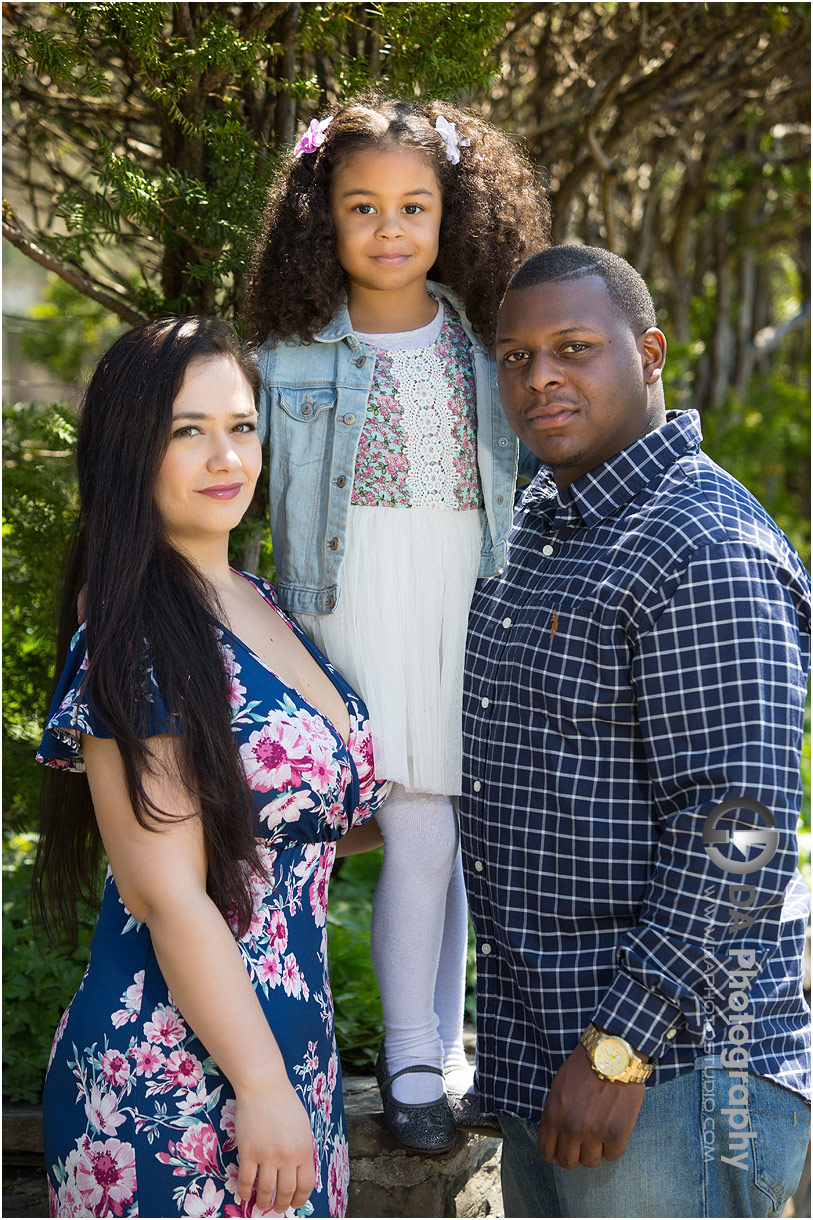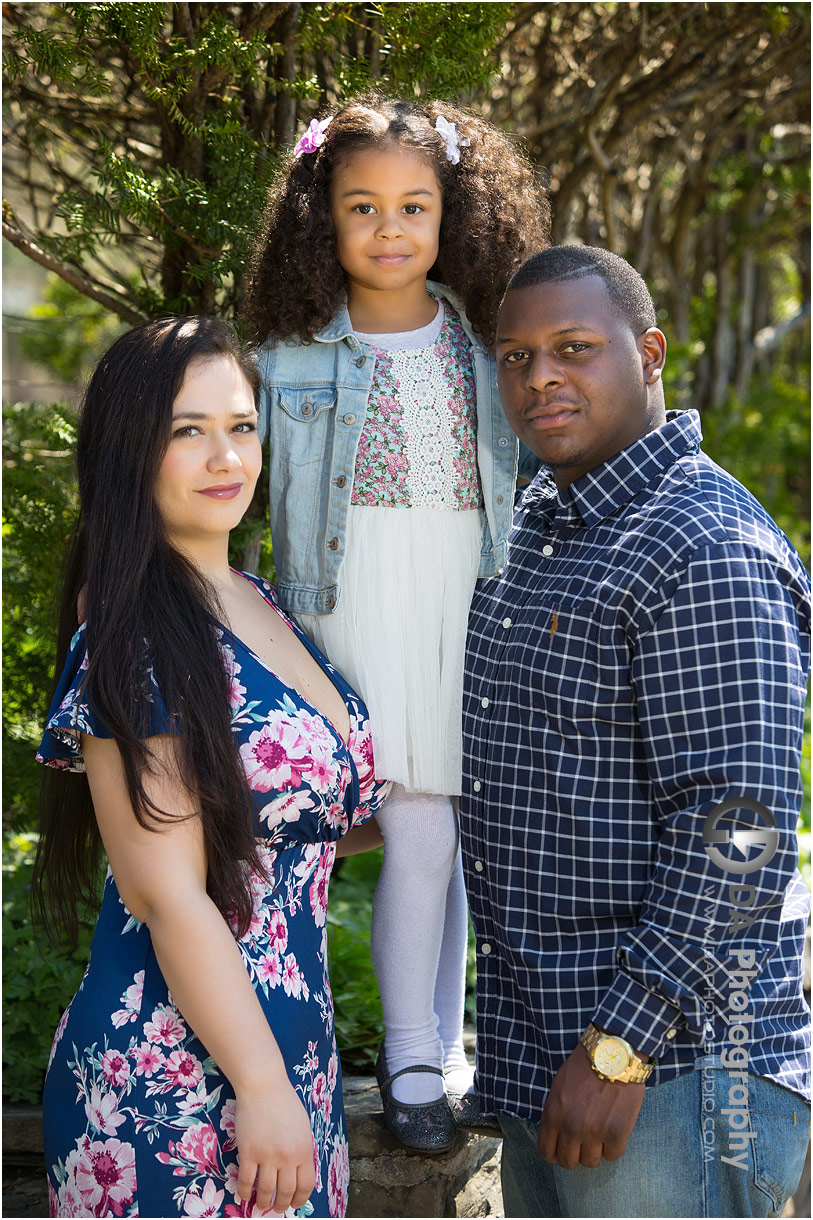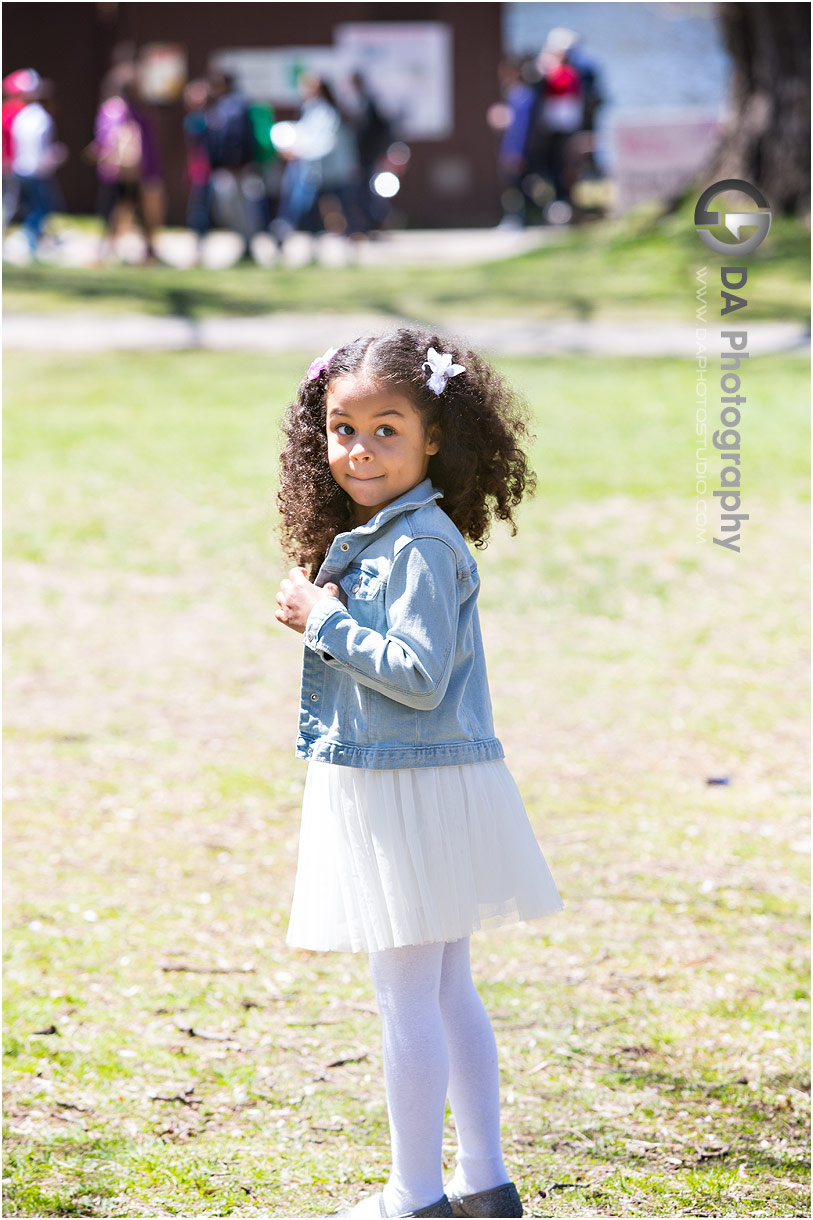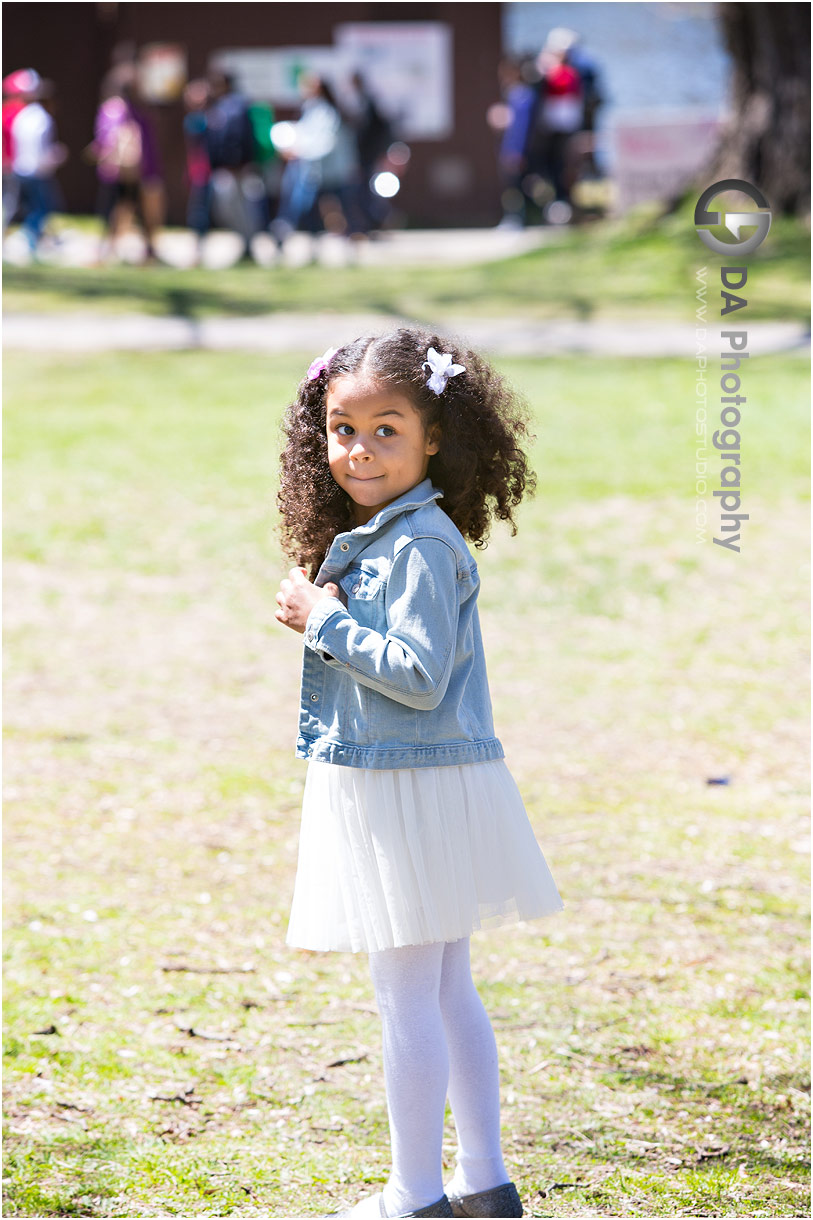 Grenadier Pond view and the family
Looking back on the images, the weather looked like a perfect, sunny day. In reality, it was chilly and a bit cold for us all. However, there were no complaints. If it were any warmer we were sure to start sweating with how much we were walking that day.
After finishing at a couple of different locations, we arrived at the Grenadier Pond. At this time, most of the traffic was at Hillside Park and the High Park cherry blossoms pathway. Away from all of the chaos, we started by working on some photos focused on them as a family. Then, we switched to something a bit more intimate with Lora and Matthew as a couple.
Their little girl was amazing! Constantly she predicted my next move and when her turn was coming. We truly connected that day and she was really genuine in her emotions in front of the camera.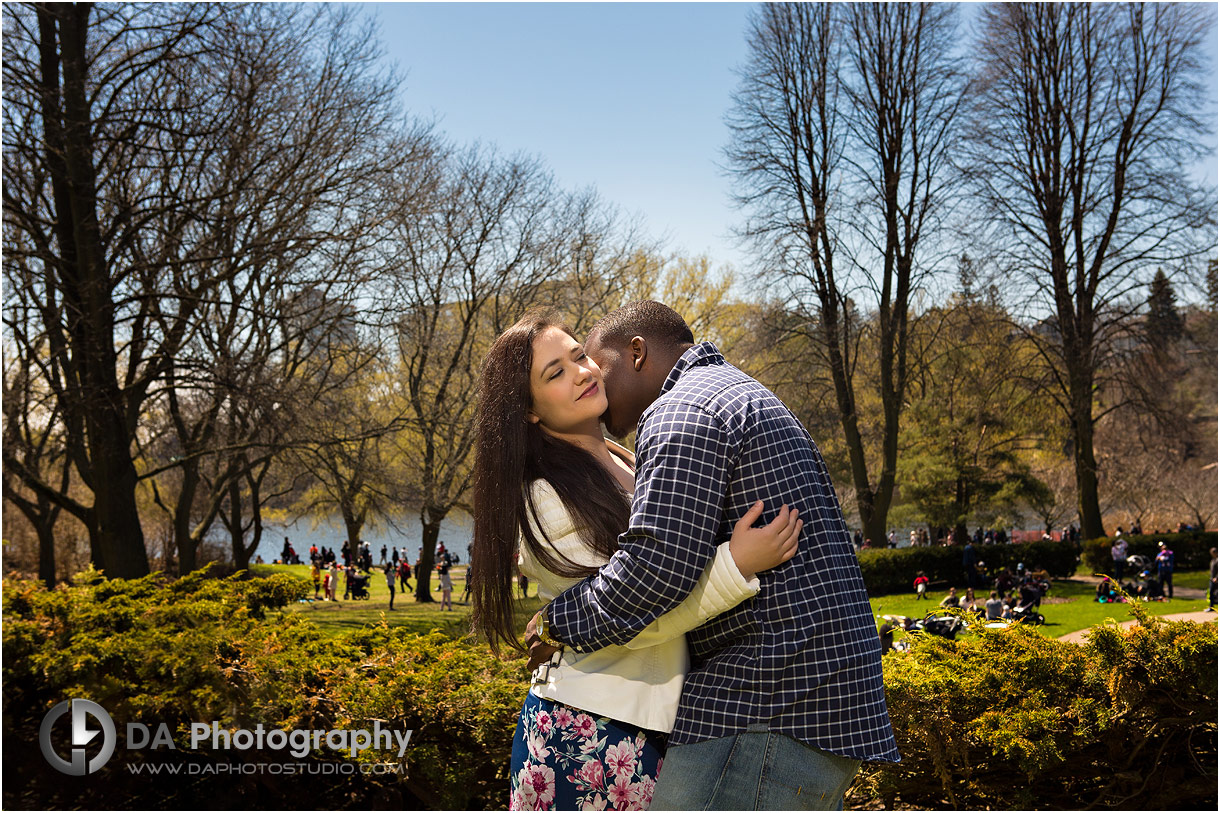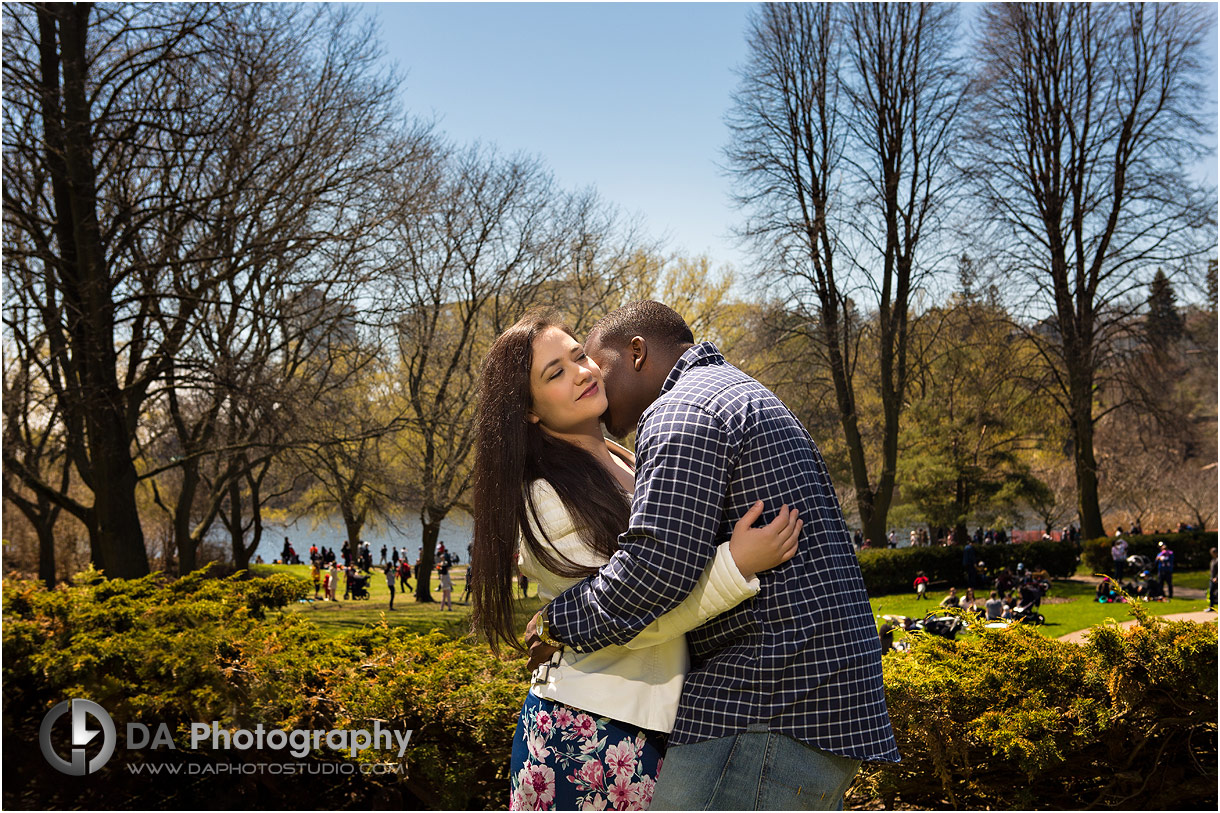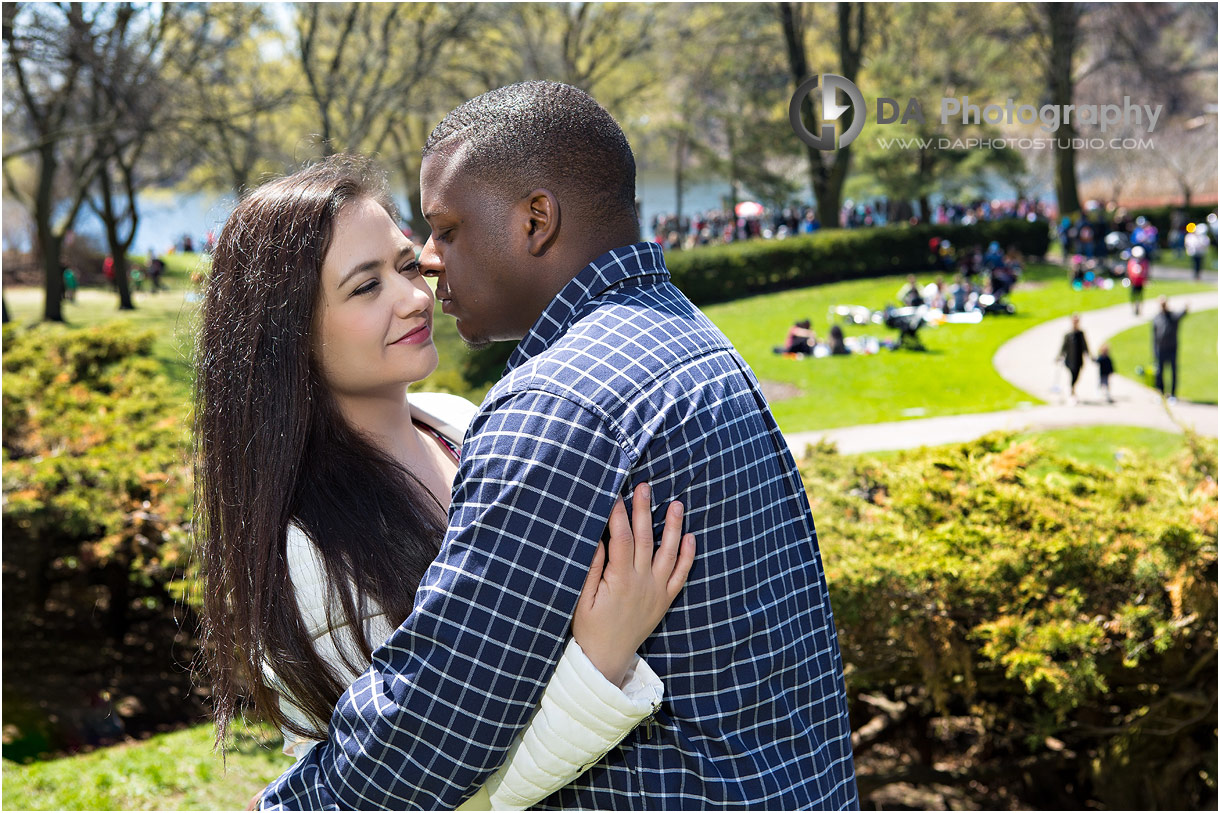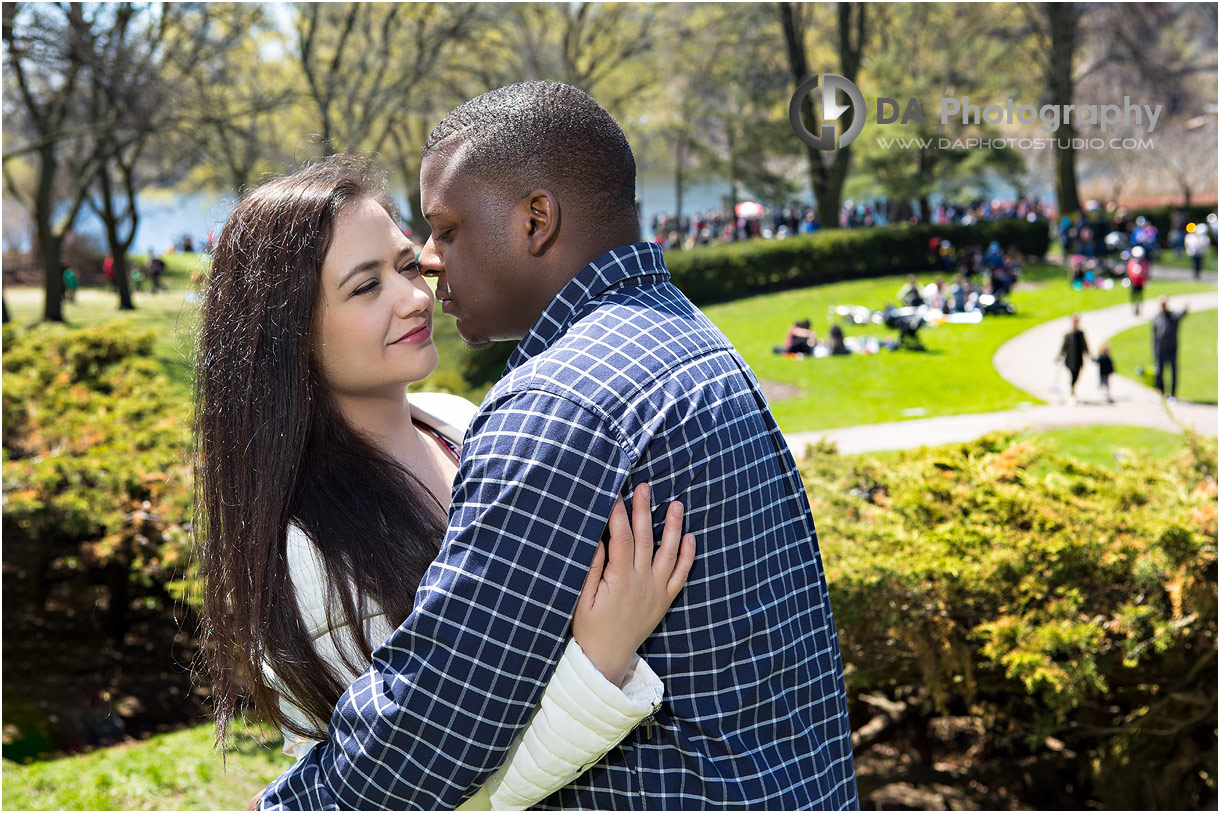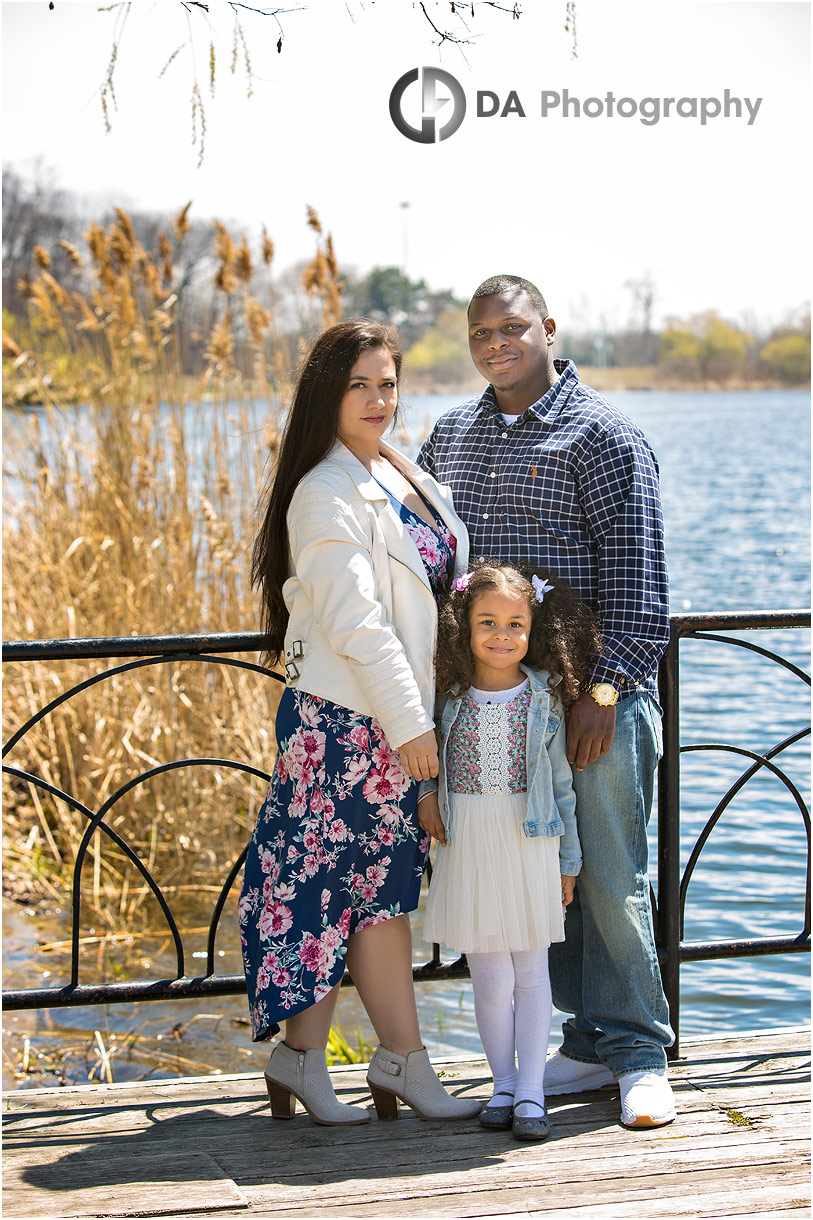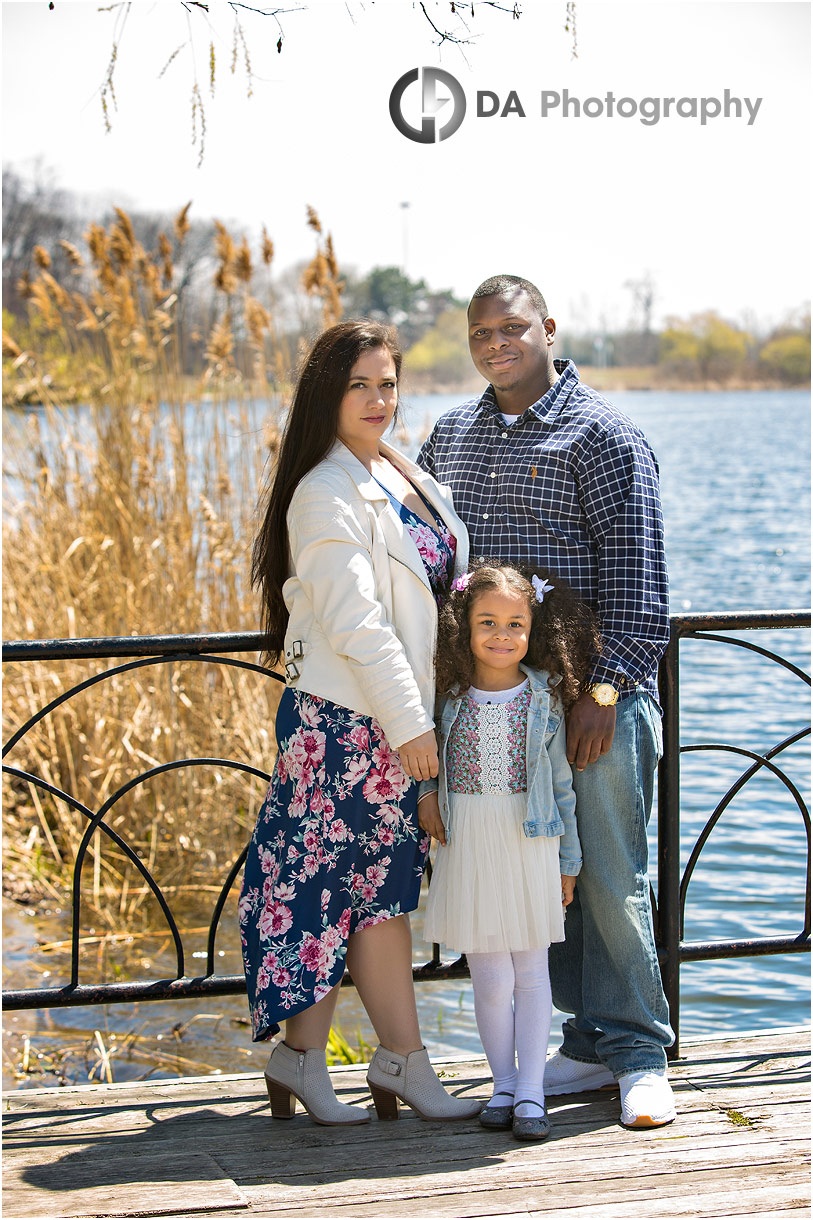 Hillside Gardens photos
While heading back towards our car, I couldn't resist some images from another perspective. I wanted to take some photos that showcased the park from a higher elevation and with the crowd behind them. Choosing to work against the sun, we avoided all of the really packed areas of the park.
Still wanting to experience the beauty of the cherry blossoms, we quickly walked along the pathways as to not get overwhelmed by the crowds. We traveled past this busy section to a lovely area with a Forsythia background for our images. I don't think that there is a more Spring-like flower than on these vibrant yellow early-bloomers.
Because this area was starting to get more foot traffic as well, I used my usual strategy for times like this. I was shooting against the sun and compensating with my off-camera flash for my subjects. I could almost feel the questions in the eyes of the other visitors. Why would a professional photographer use flash in full daylight? On the other hand, some might also be wondering why their photos are so dark and unrecognizable to the people in the images.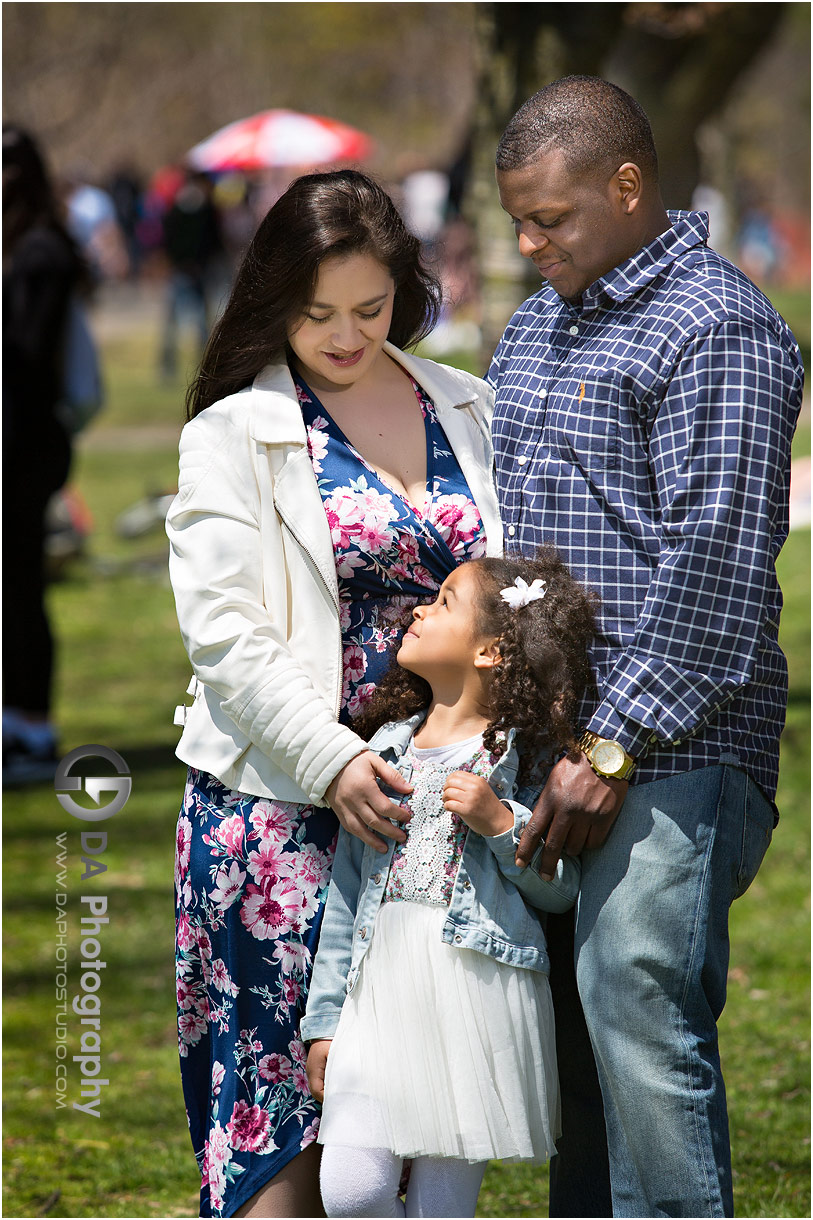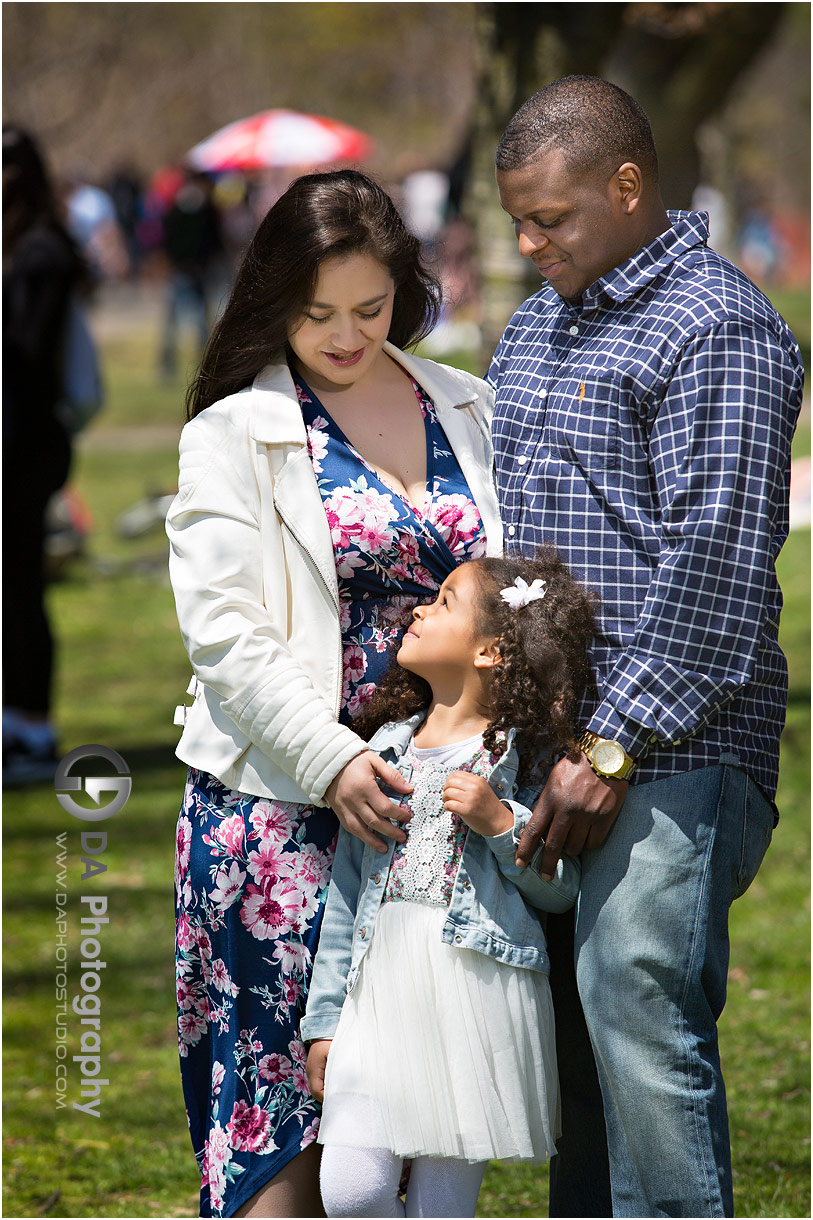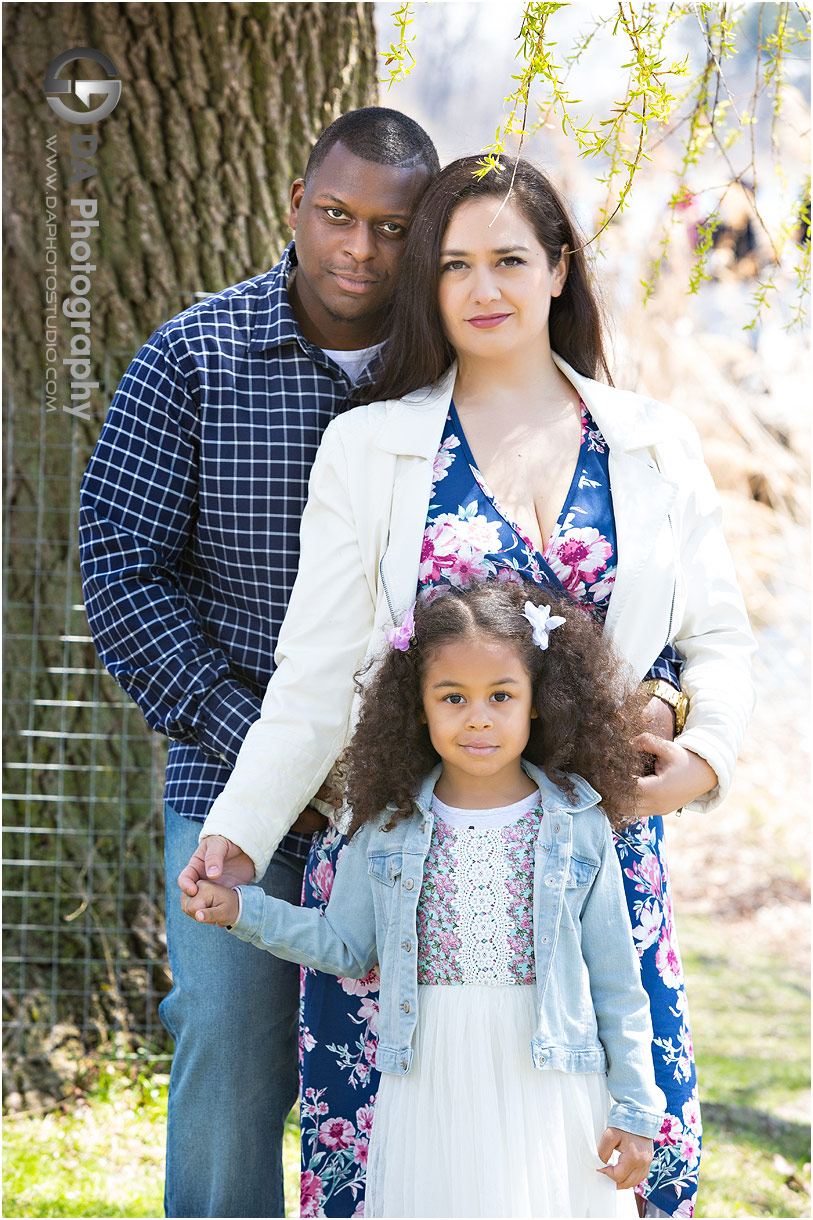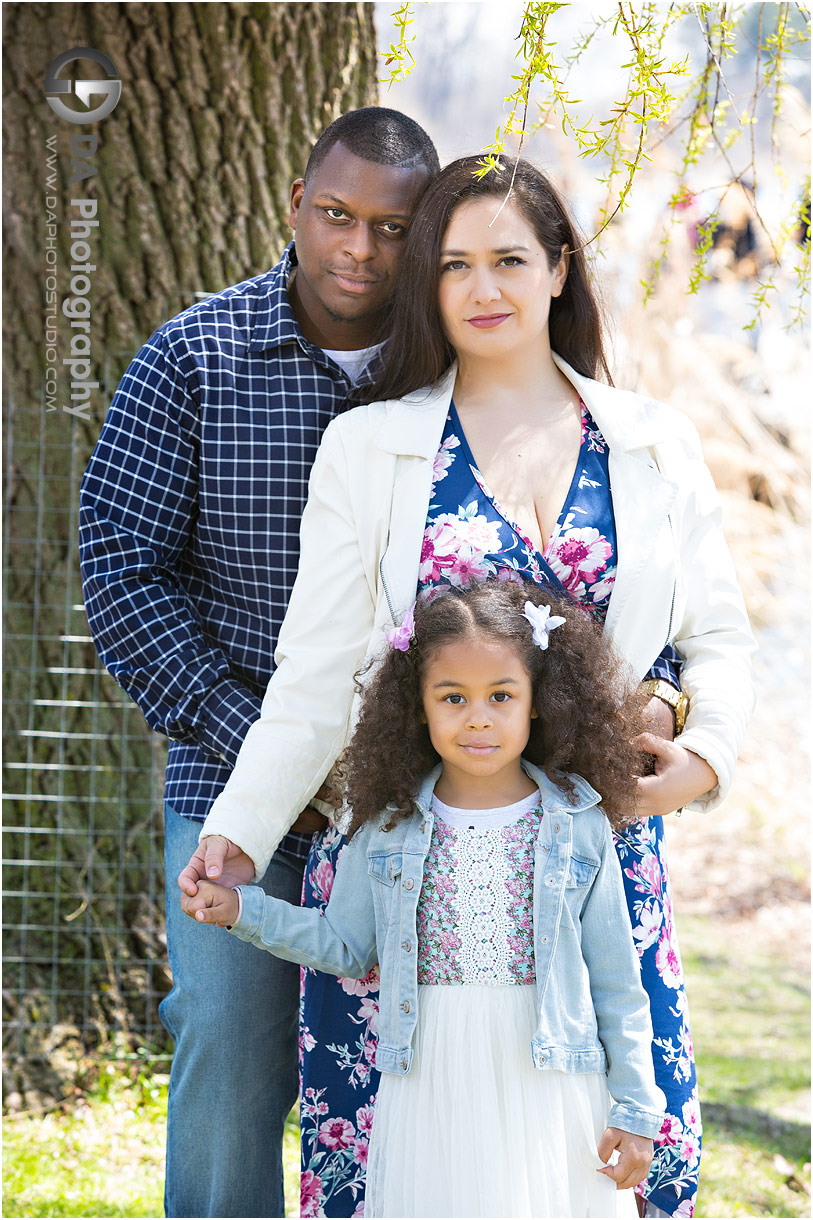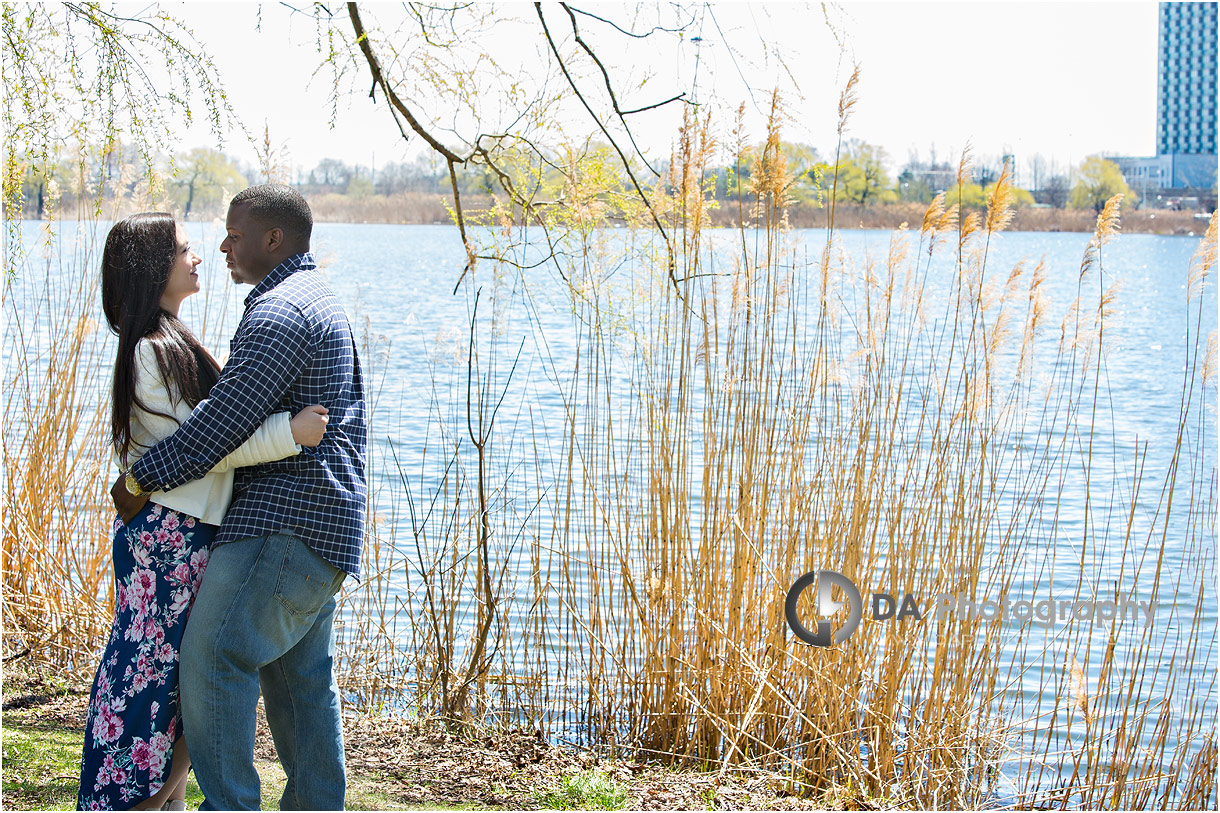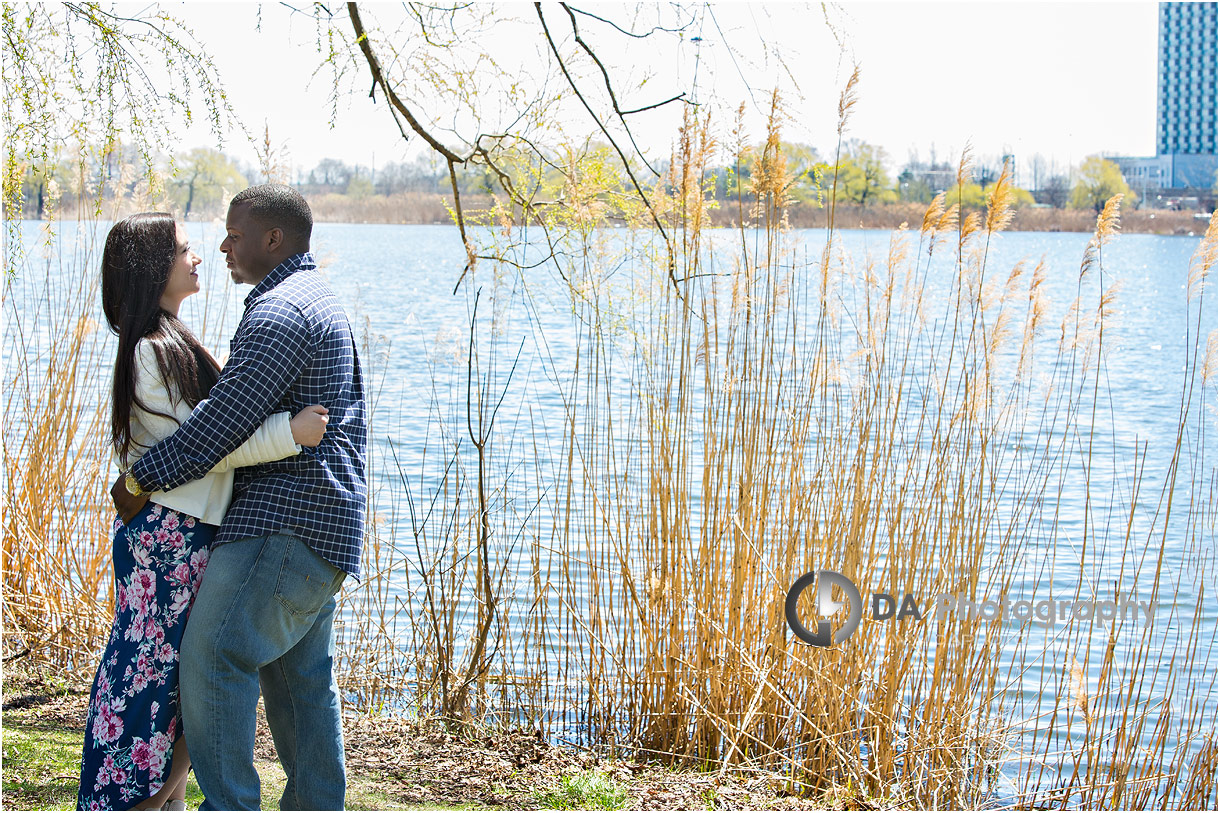 Connection is everything
After completing our full circle of High Park and these cherry blossom photos, we ended back at the parking lot. Here, there was a sign on the street barrier to indicate where the viewing crowd should begin. I asked Lora and Matthew to pick up their daughter and to sandwich her between them. This entire session was basically in celebration of this lovely family. I wanted to finish their session with this signature image.
Driving home, I had the time to think and reflect on this experience. This session would not have been that successful had I assumed that Matthew and Lora were at High Park for the cherry blossoms only. Our initial connection was so solid. We were able to communicate, even without words, what their values were and what they wanted from this session. By being open to listening, in this instance from reading their body language, I helped us all to get some great images.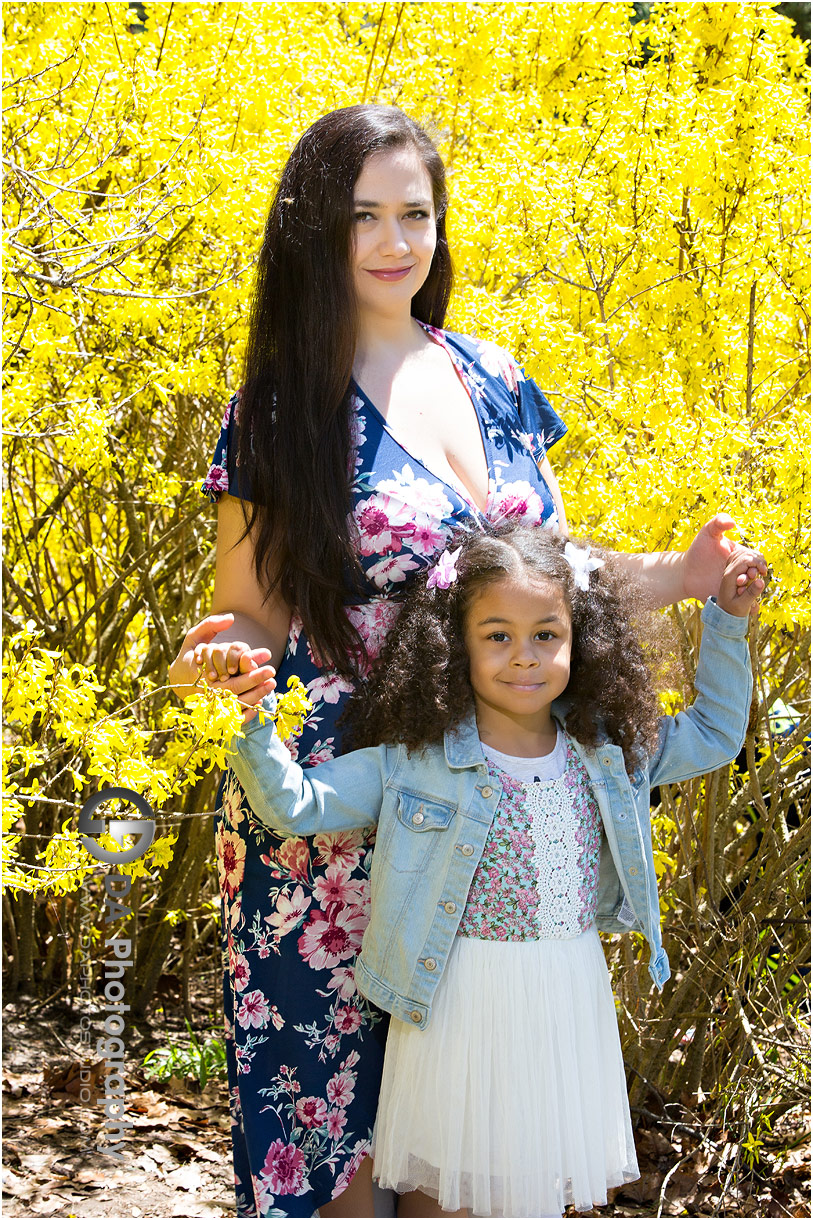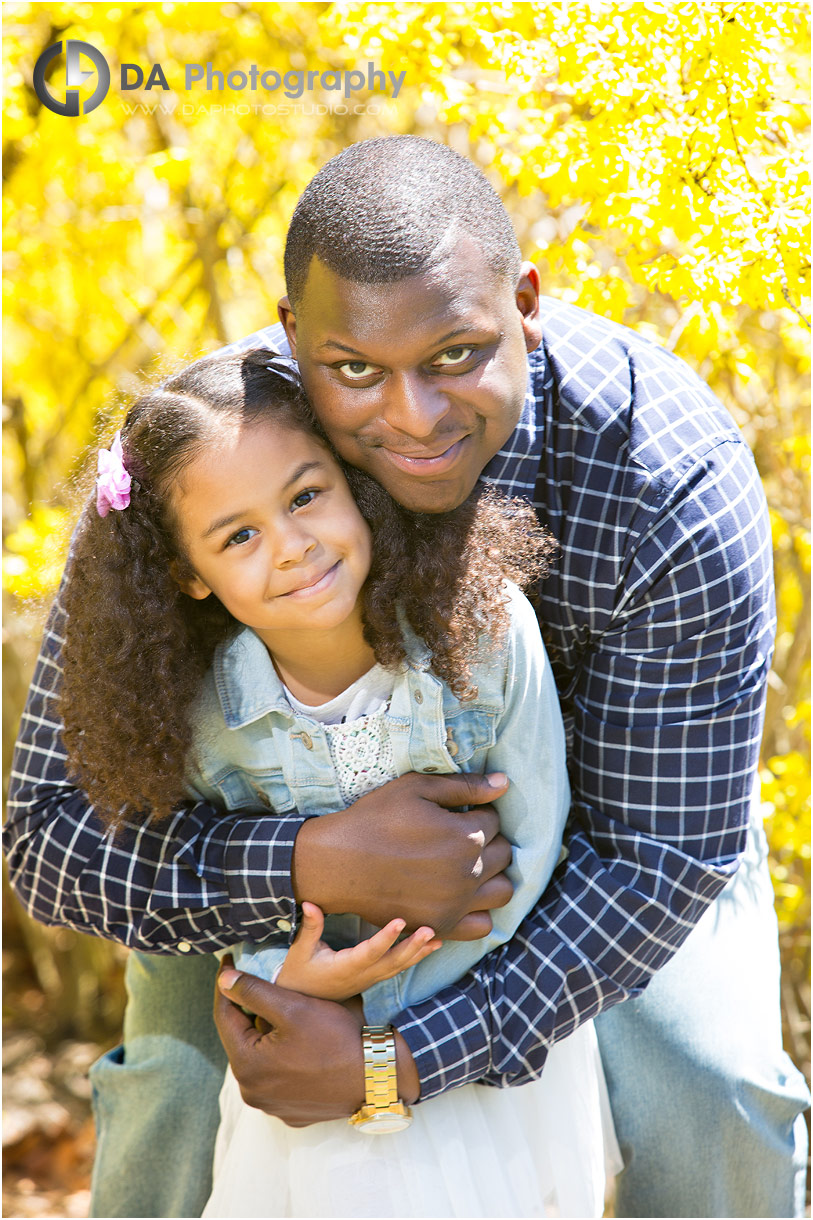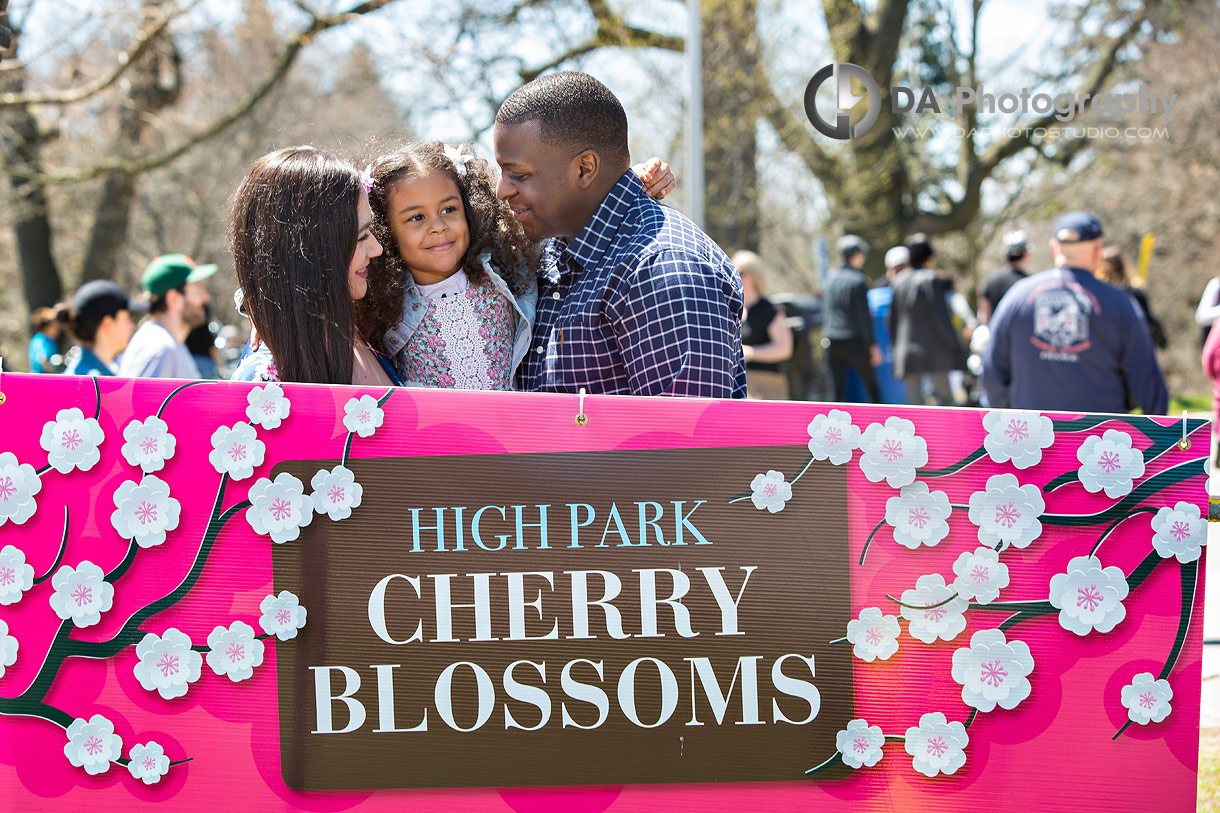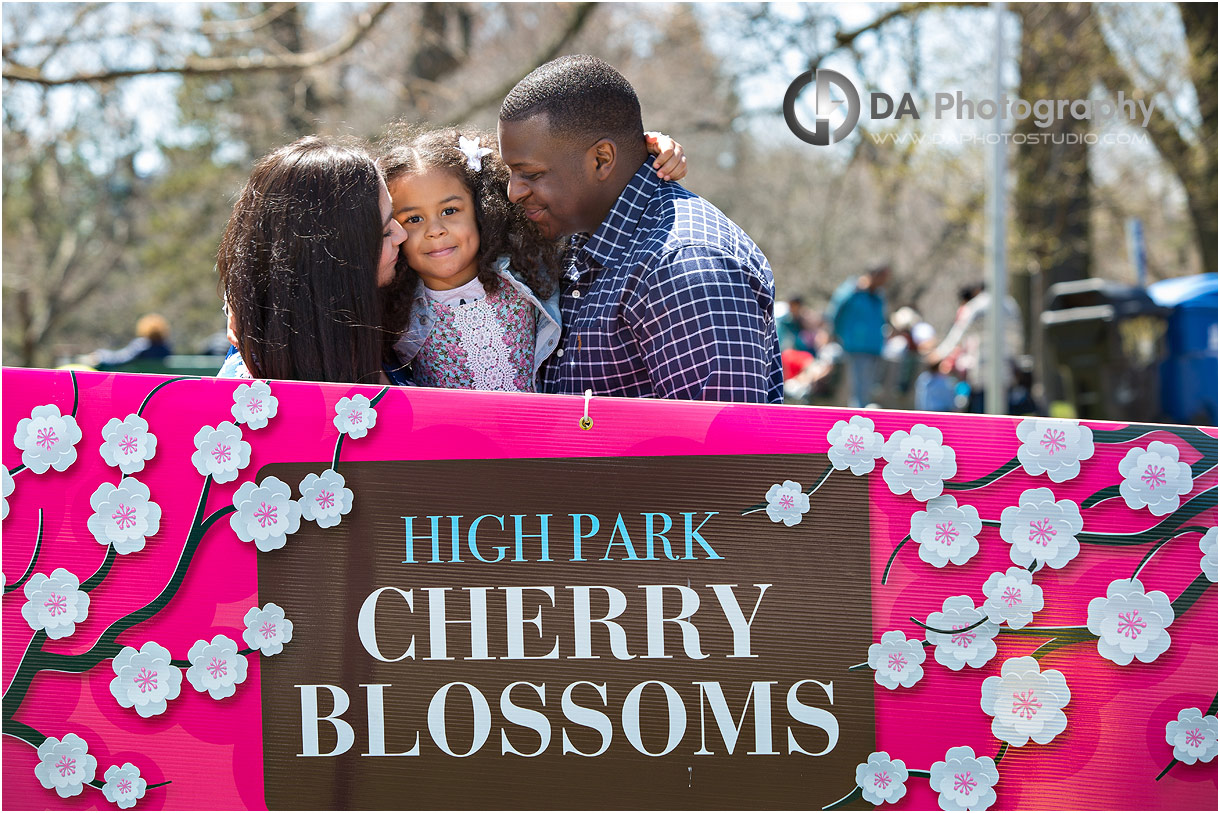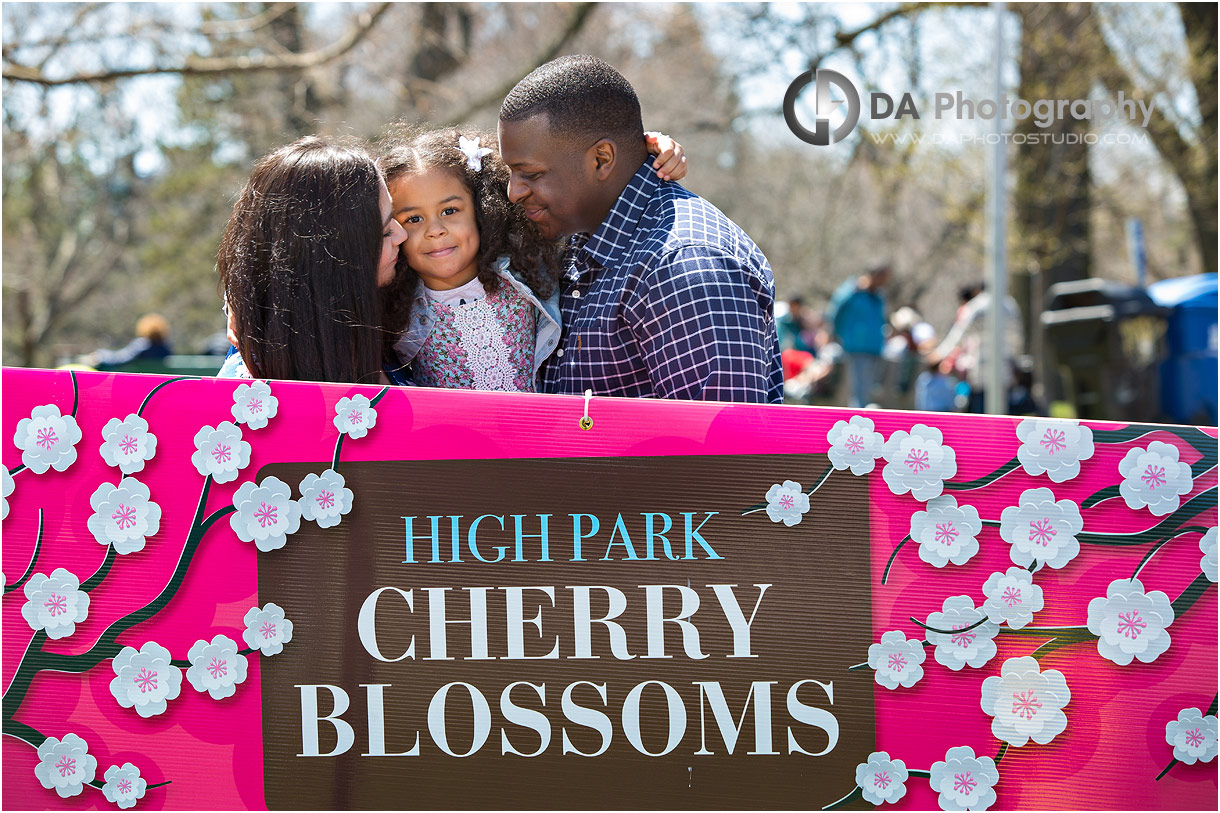 This connection continued through to their wedding photos three weeks later. We had an absolute blast. Some of the photos even found a place on the Columbus Event Centre official website, where I'm now also an official preferred wedding vendor.
Stay tuned for their gorgeous spring wedding photos.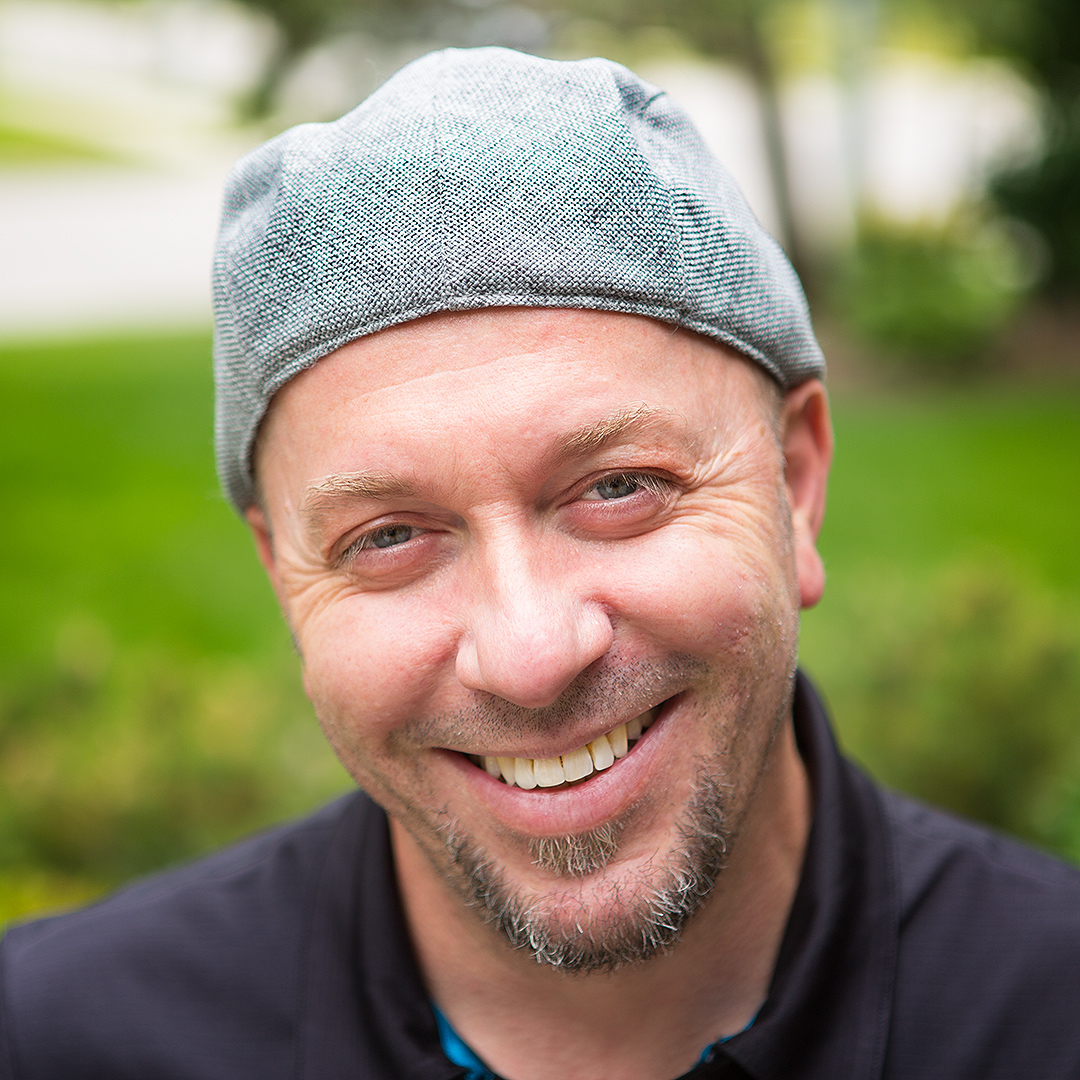 My passion and biggest asset is taking the time to make every client comfortable and relaxed before I even pick up the camera. The result? Photos of you that actually look like you at your best! I can prove to you how much you can enjoy having your picture taken. Lifestyle photography is about the experience that happens to be served up along side of some great photos.
Specialties:
Family Photography for families that like to move around and enjoy their photo time, Wedding Photography for couples looking for a mixture of photojournalistic, contemporary and traditional images and Professional Corporate headshots that are far from cheesy and stiff.