Despite its appearance, preparation for this rustic wedding wasn't years in the making. In fact, I met Ximena and Jason less than 6 months prior to their wedding day.
This certainly proves that if you do not need to stress and plan for years before your big day. You simply, need to outsource great wedding professionals and choose a fabulous location like the Millcroft Inn!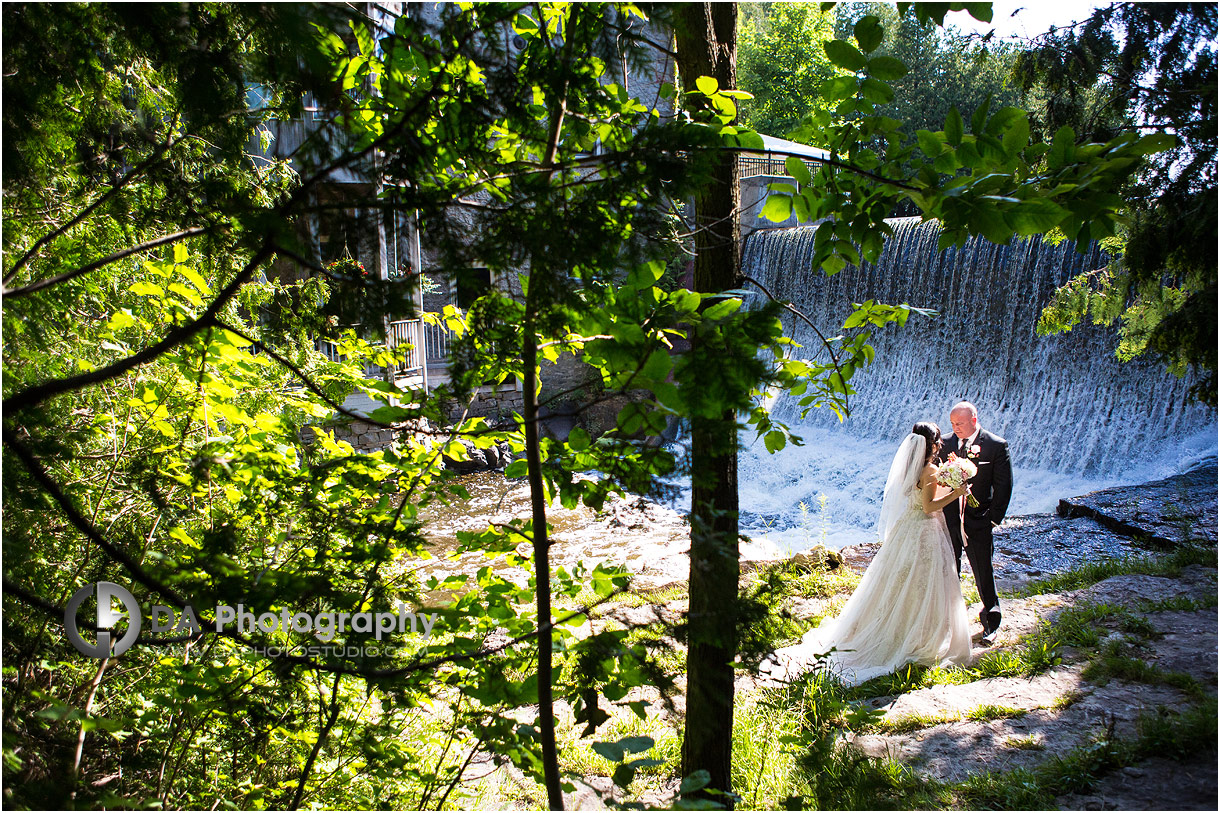 How this rustic wedding started to take a shape
I was first introduced to Ximena through her sister Carolina. I took photos of Carolina's family about 7 months before Ximena's wedding day. Once Carolina experienced my photography service, she said that she just had to recommend me for her sister. She was to be her maid of honour and wanted to make sure her sister had the best experience for her special day!
Fast forward to only one month later and I was already in the planning stages with Ximena and Jason. I used my previous experience photographing Shavon and David's wedding at this location to make sure we were best prepared.
Additionally, I'm also a preferred photographer for Millcroft Inn and the rest of the Vintage Hotels properties. I'm sure this just further reassured my couple that I was the perfect choice for their wedding photography.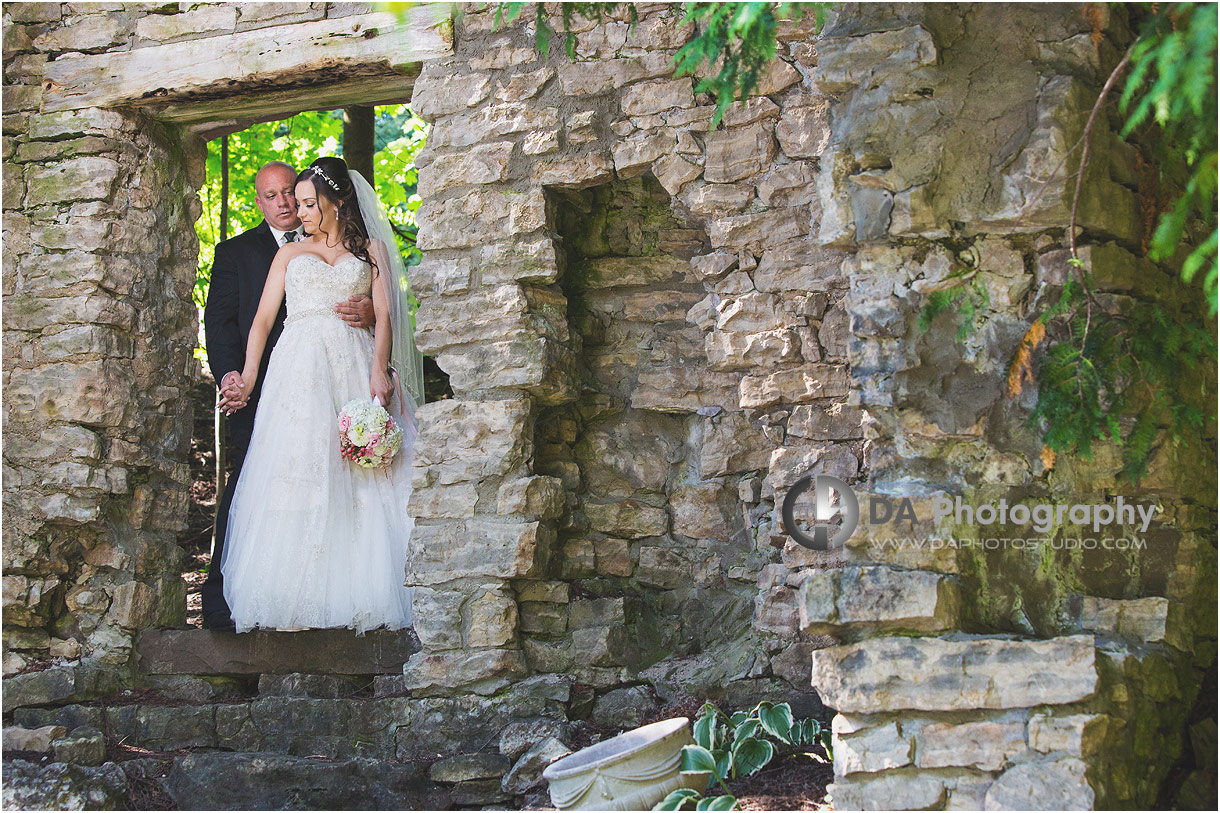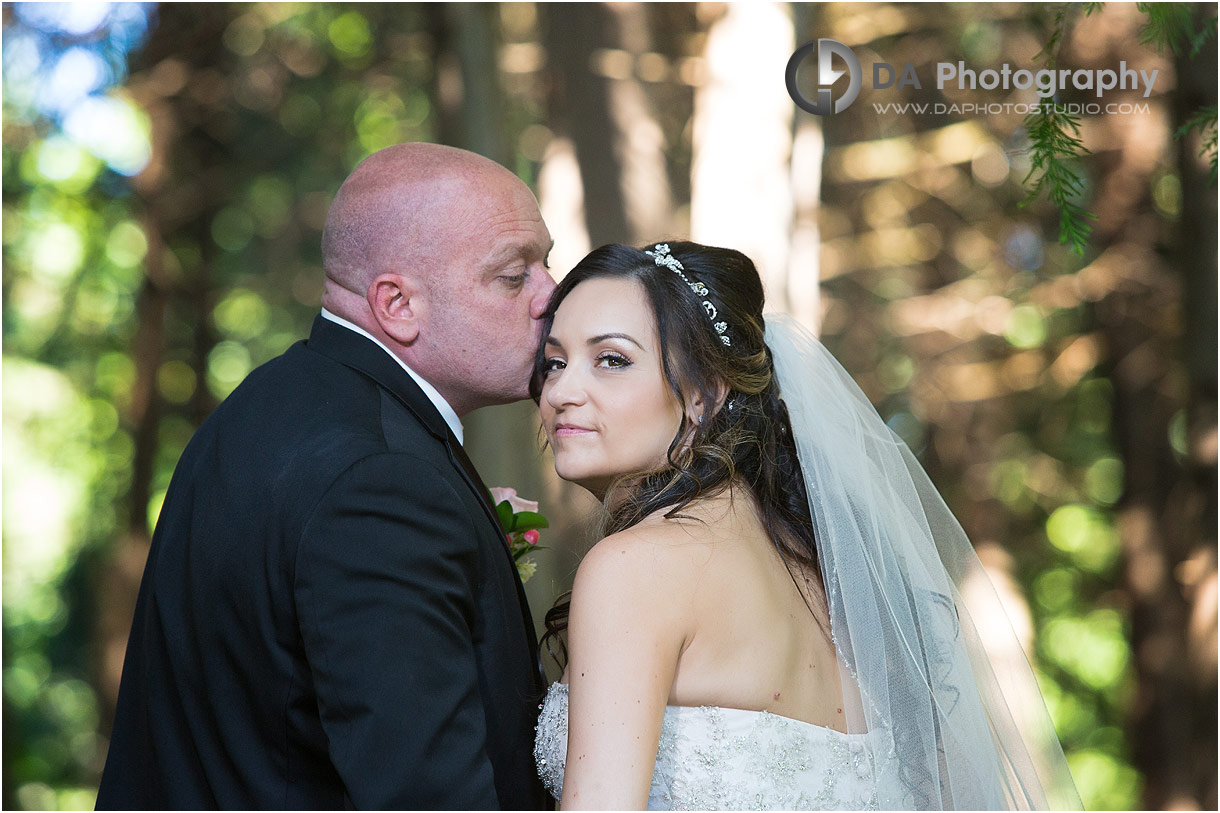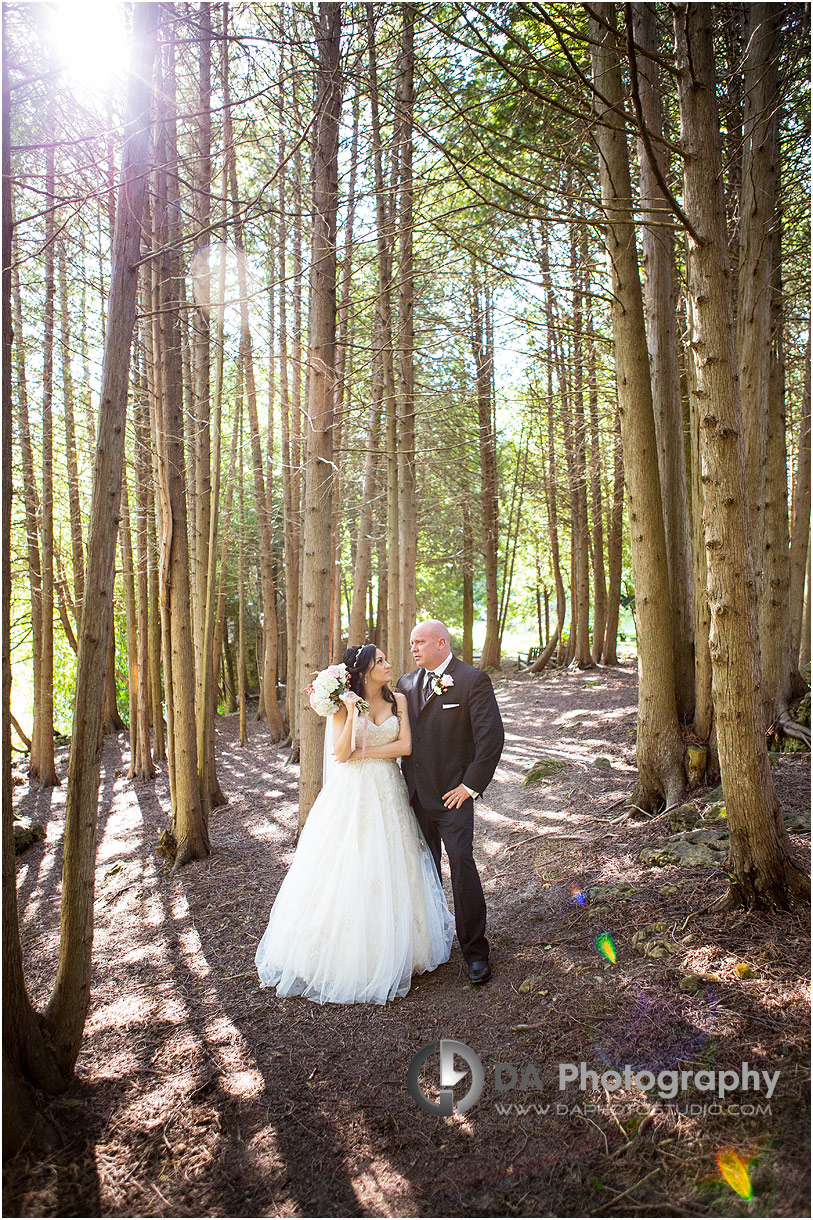 The wedding day
If you haven't been to Millcroft Inn yet, you're certainly missing out. There is a reason that this venue is one of my Top 5 favourites in Southern Ontario.
This location is full of so many photography opportunities that can create some really one-of-a-kind images. You can use the awesome architecture of the main building or even the cute wedding chapel garden. Millcroft inn provides a hidden, out-of-the-way feeling that is ideal for an intimate or rustic wedding.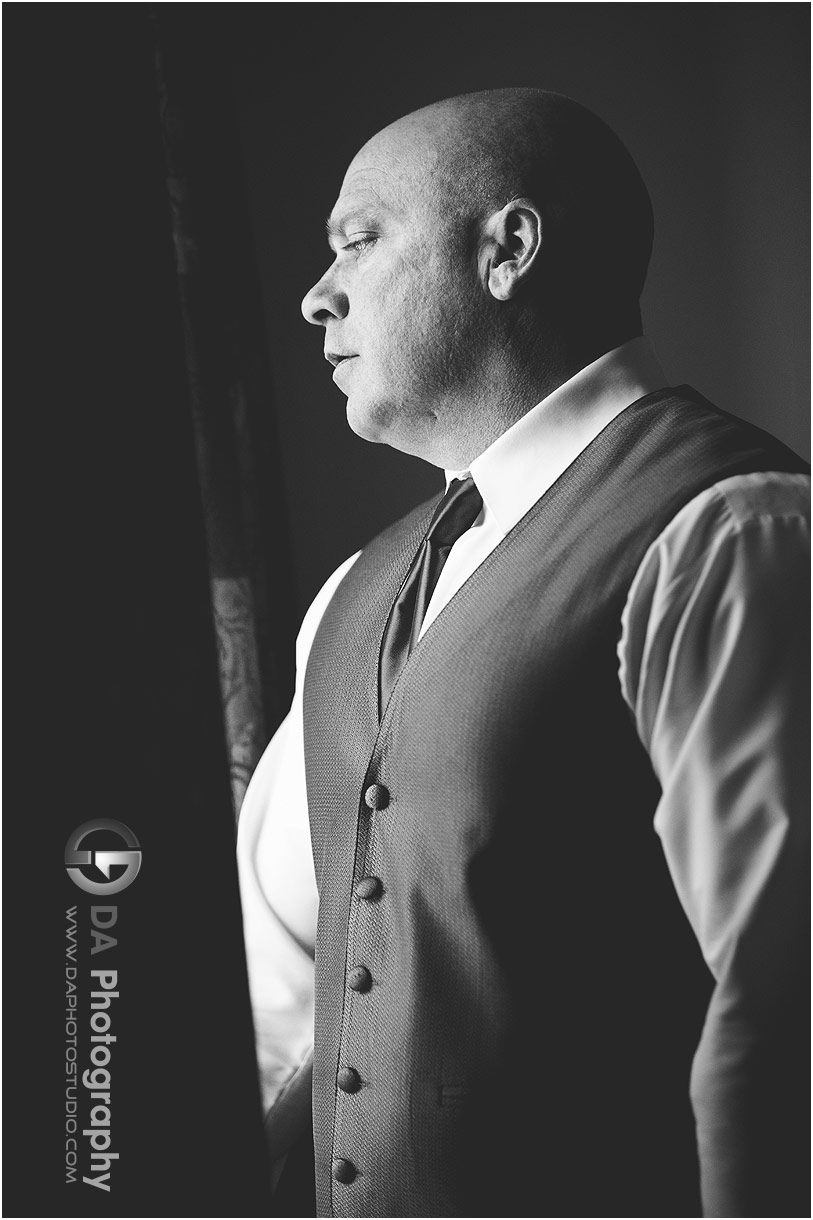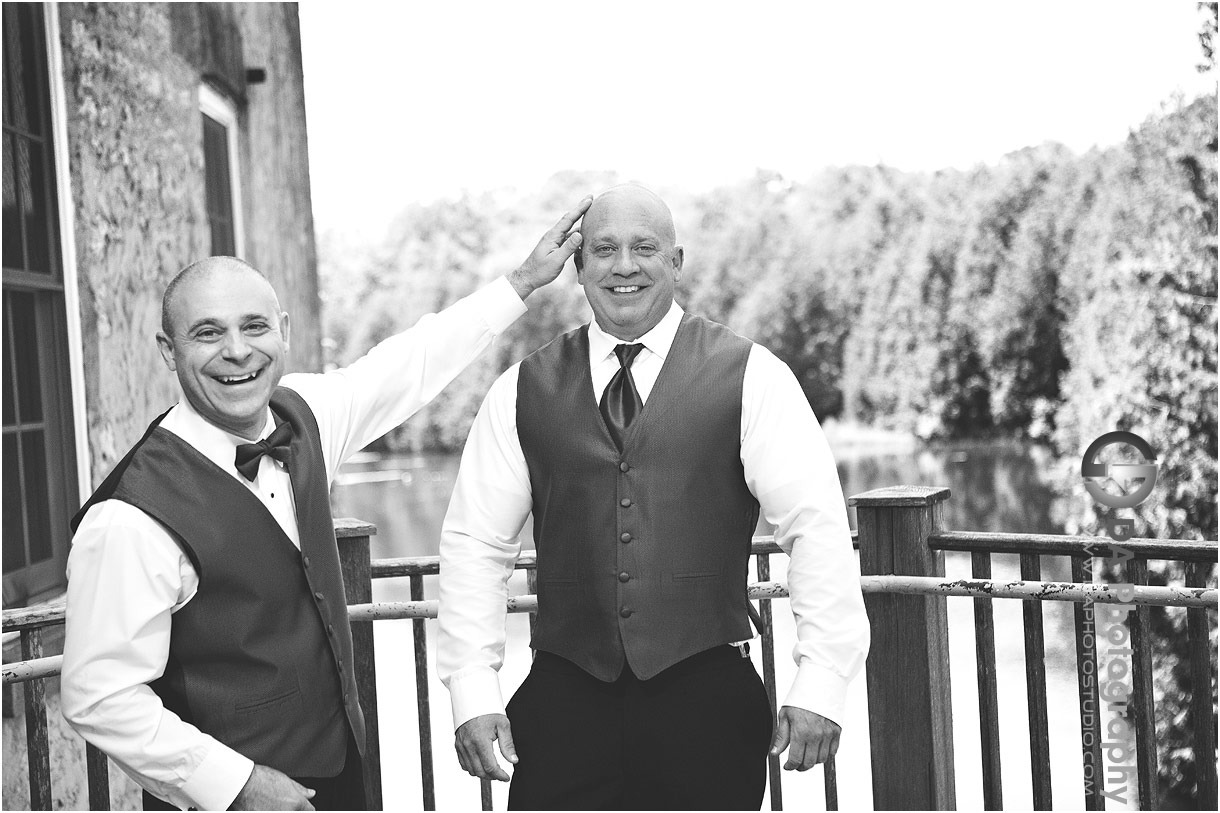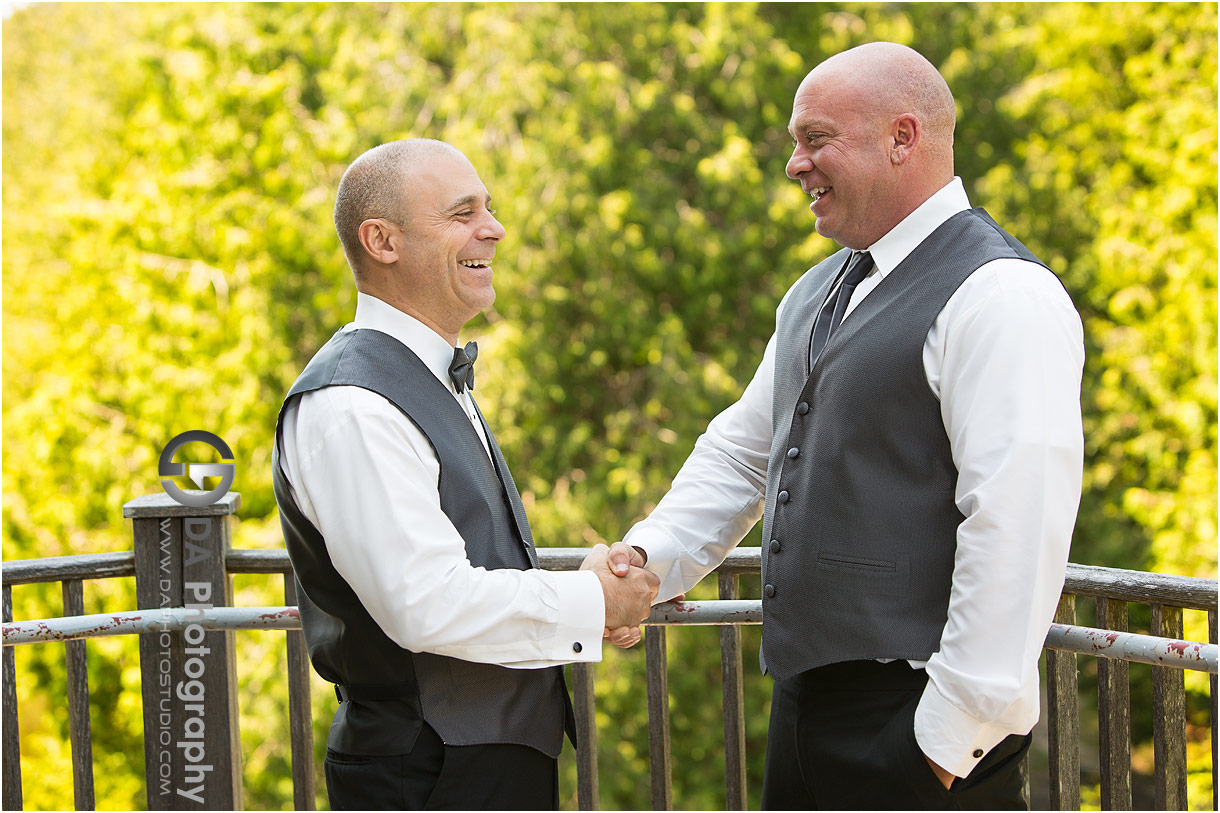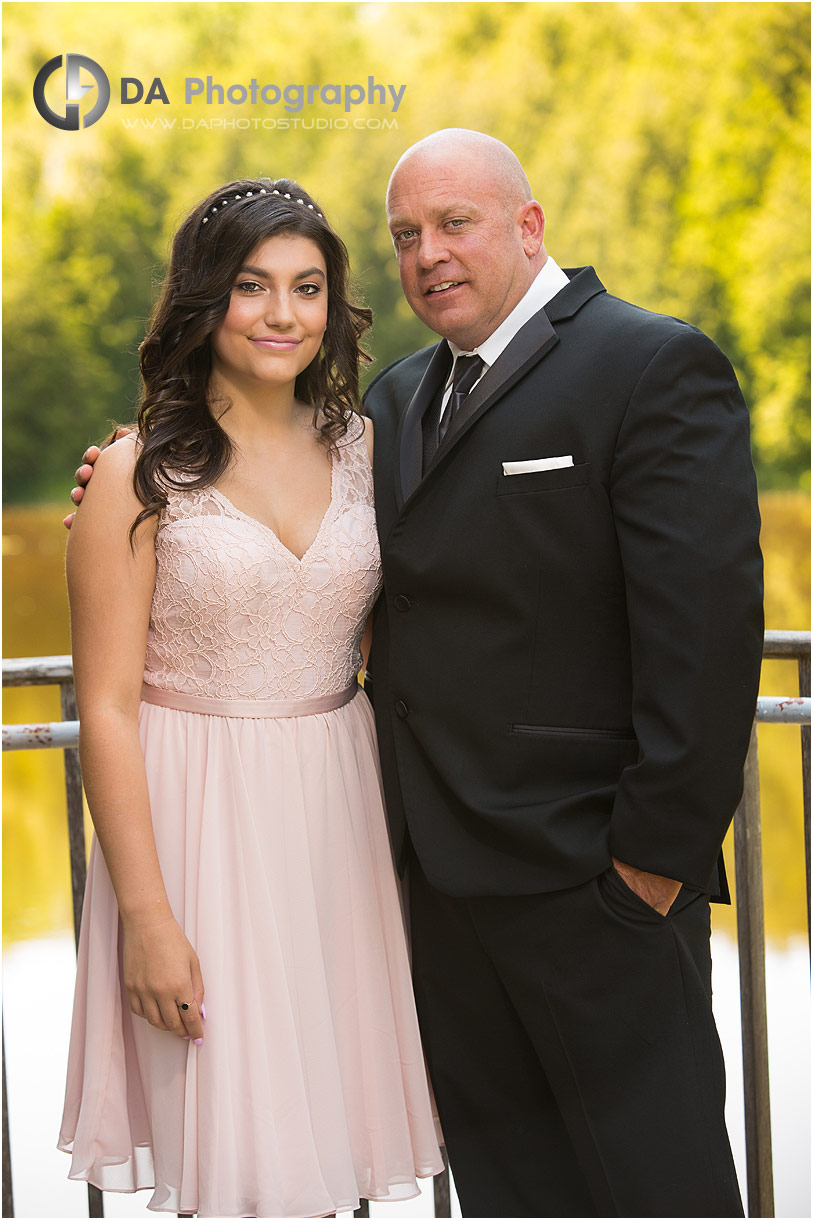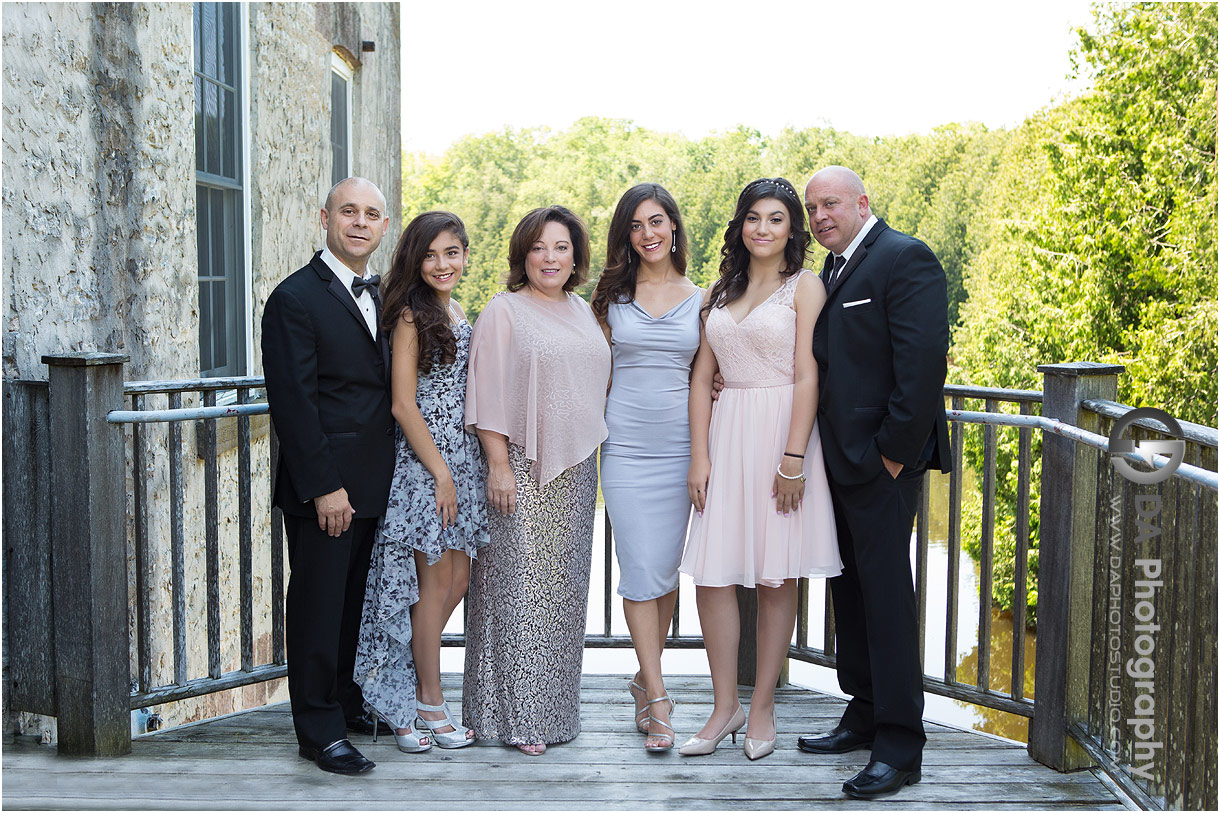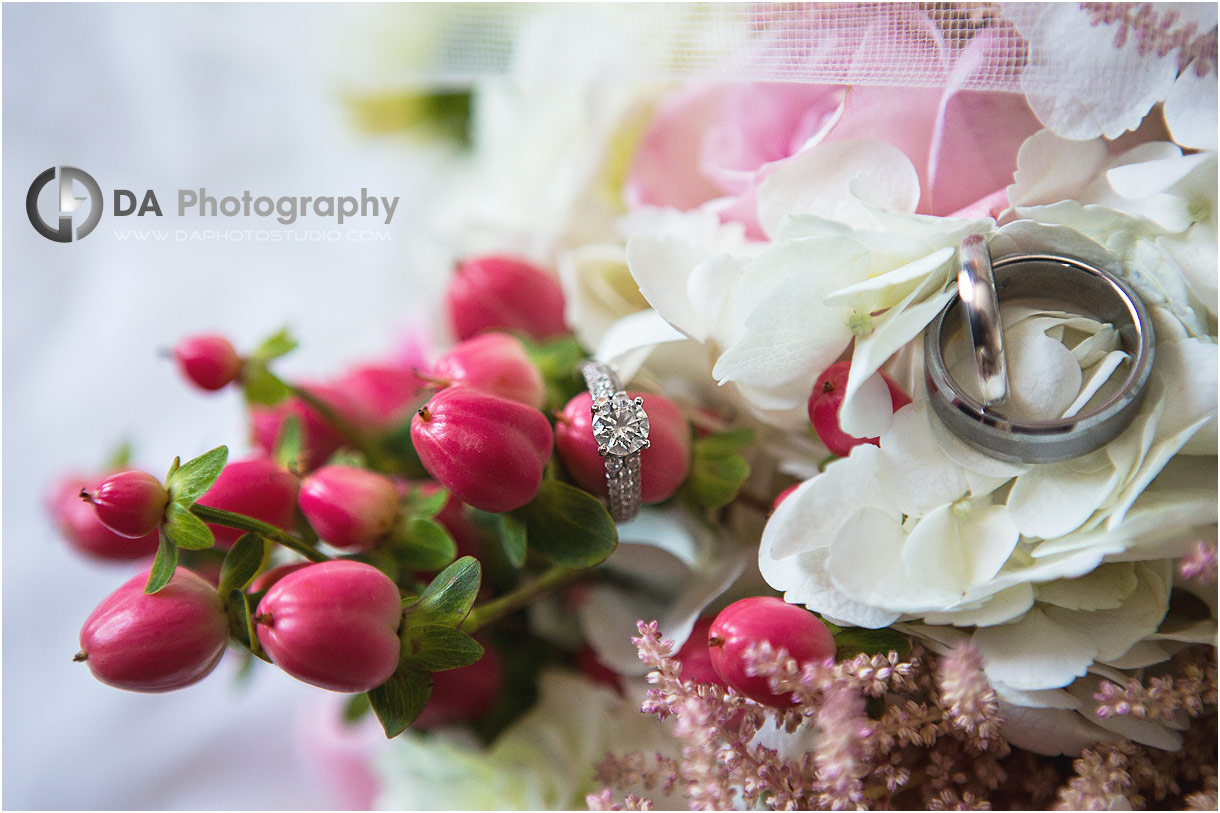 Getting ready
Jason and Ximena had planned an intimate, private affair for their rustic wedding. Considering the smaller scale, they opted for limited coverage of their getting ready photos.
The small amount of time for these photos didn't diminish the impact they could have. With this in mind, I made sure to focus more on showcasing the true emotions for this part of the day.
My wedding couple had the use of the bridal suite at Millcroft Inn. Instead of Ximena getting ready in that location, they very cleverly used the bridal suite as a pre-wedding location site. First, we started with Jason's family photos while Ximena was getting her make-up done in another room. Then, once the make-up was complete, Jason left the bridal suite so that we could continue with Ximena's getting ready photos.
As a blended family, I made sure to include everyone equally throughout the wedding day. It was truly a marriage that brings two families into one. Jason's daughter and Ximena's son had various roles and were a very important part of the ceremony and day. Starting with the emotions that Jason's daughter so lovingly displayed right through to Ximena's son's responsibilities as a ring bearer, the two kids supported their parent's union so beautifully.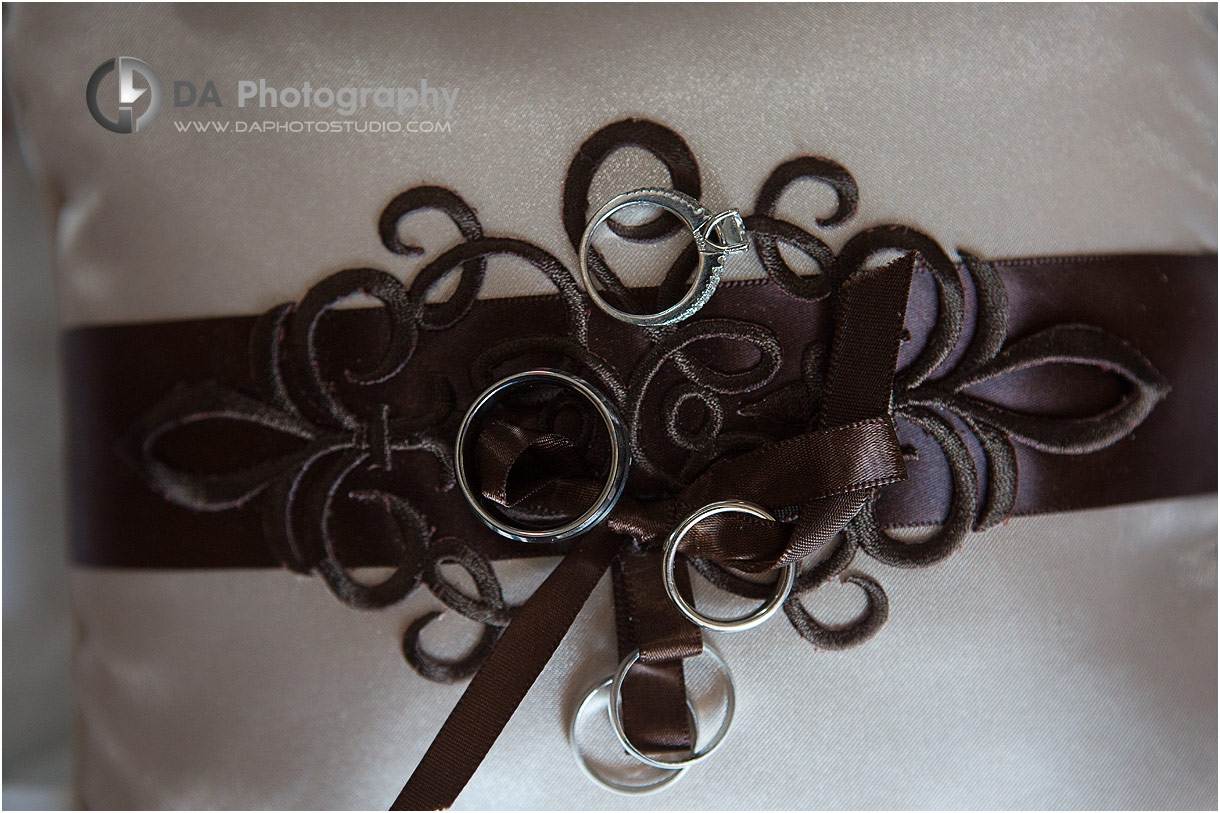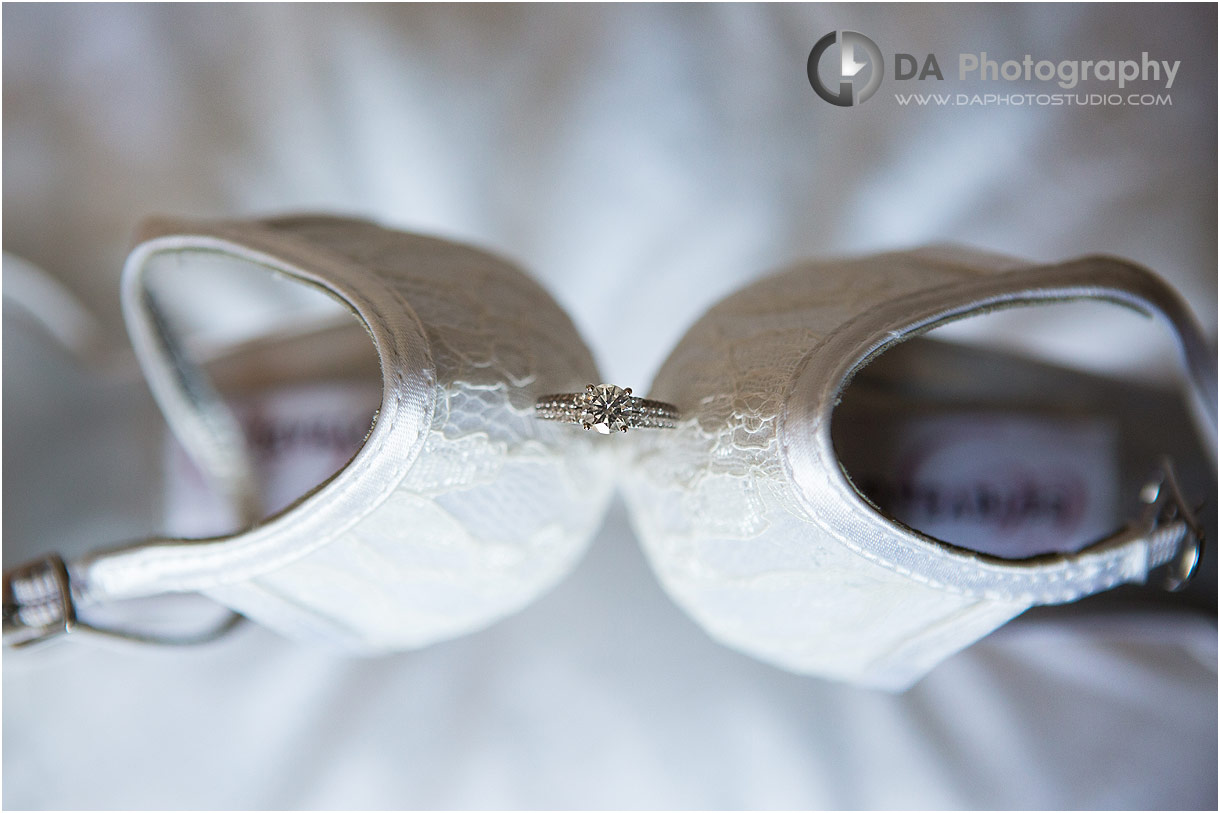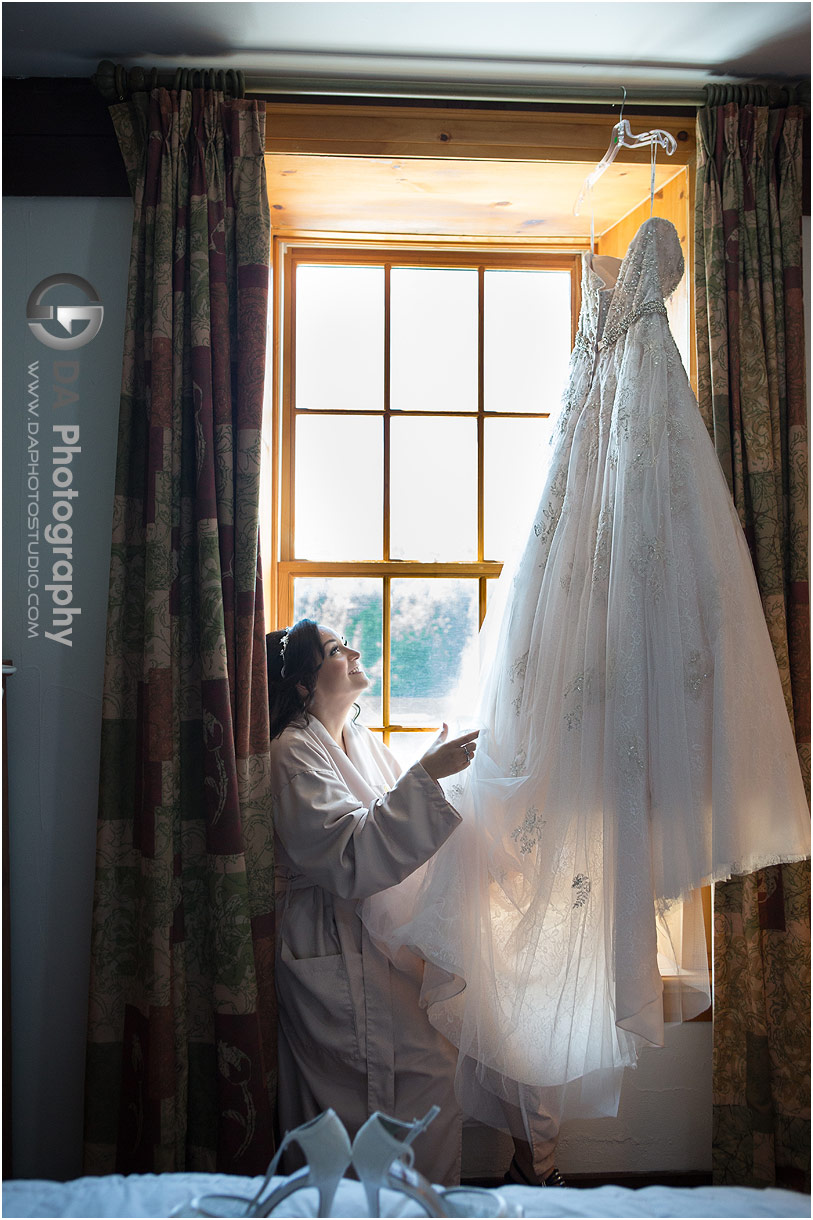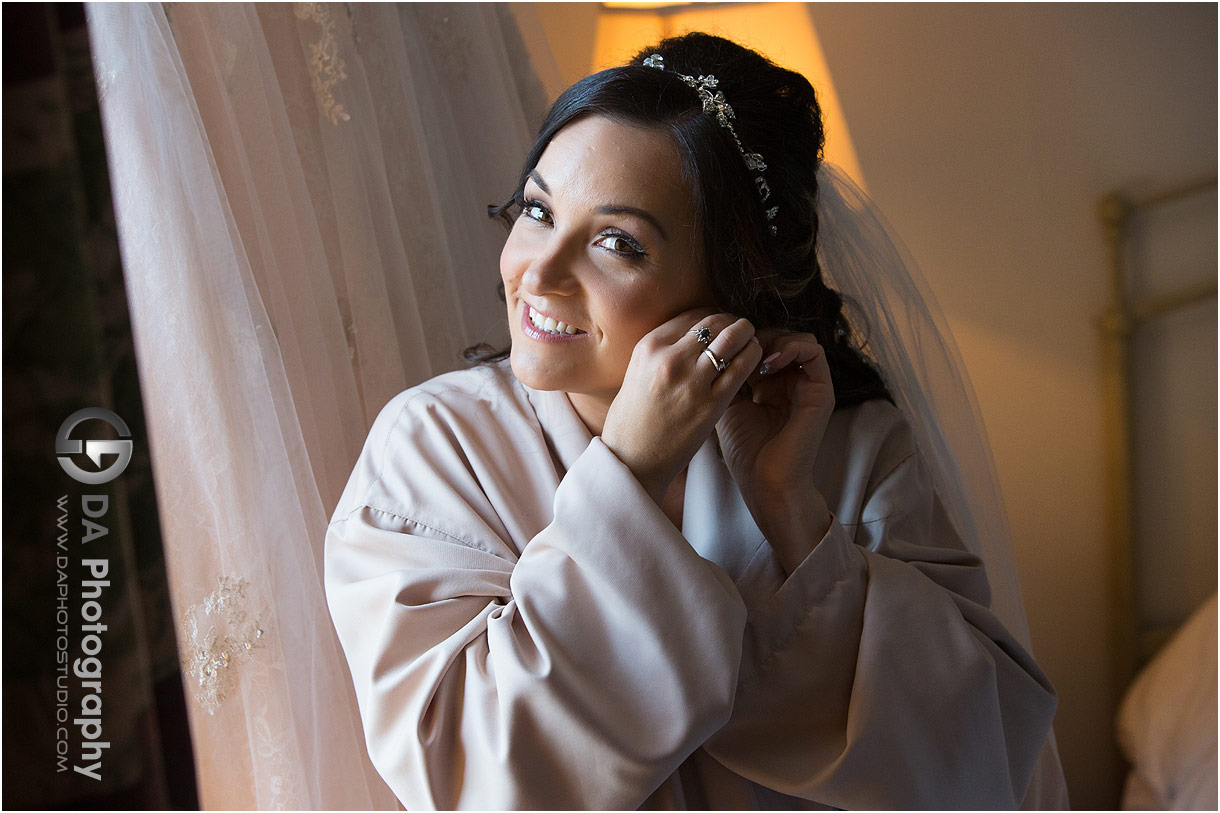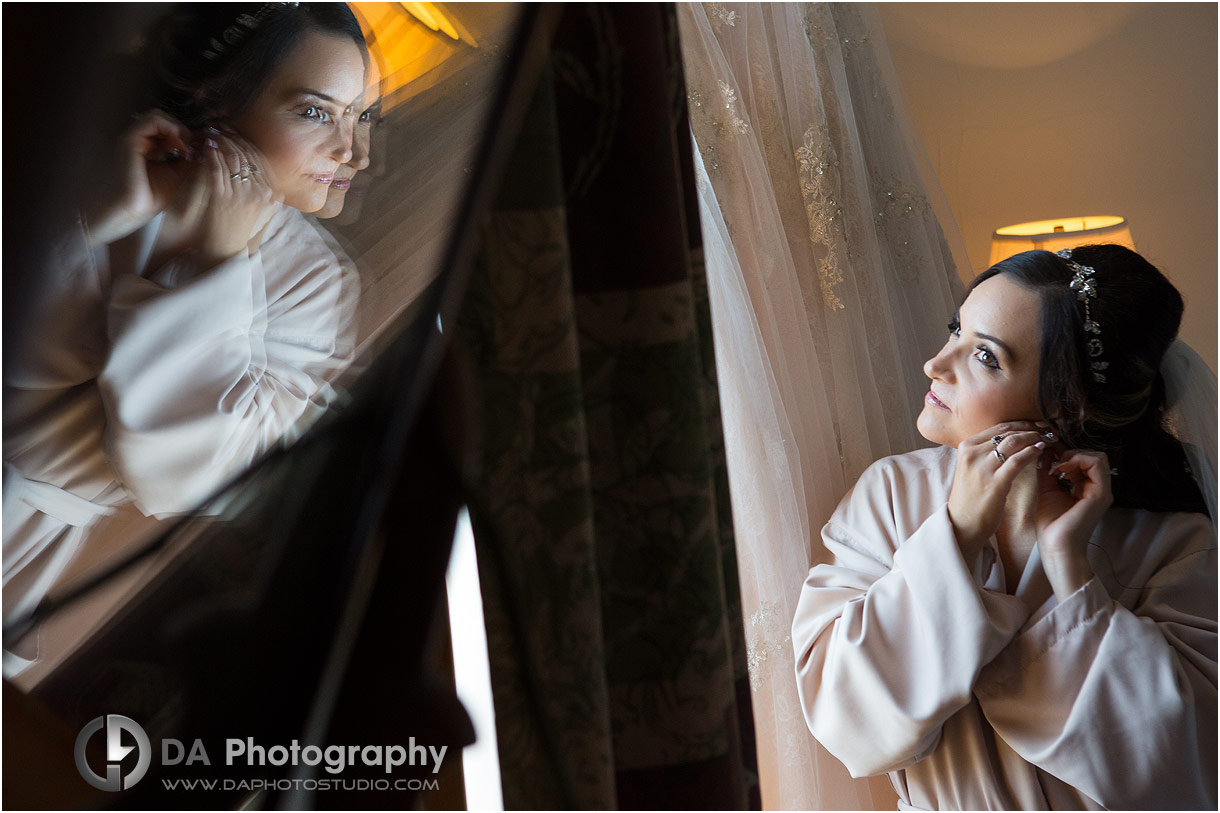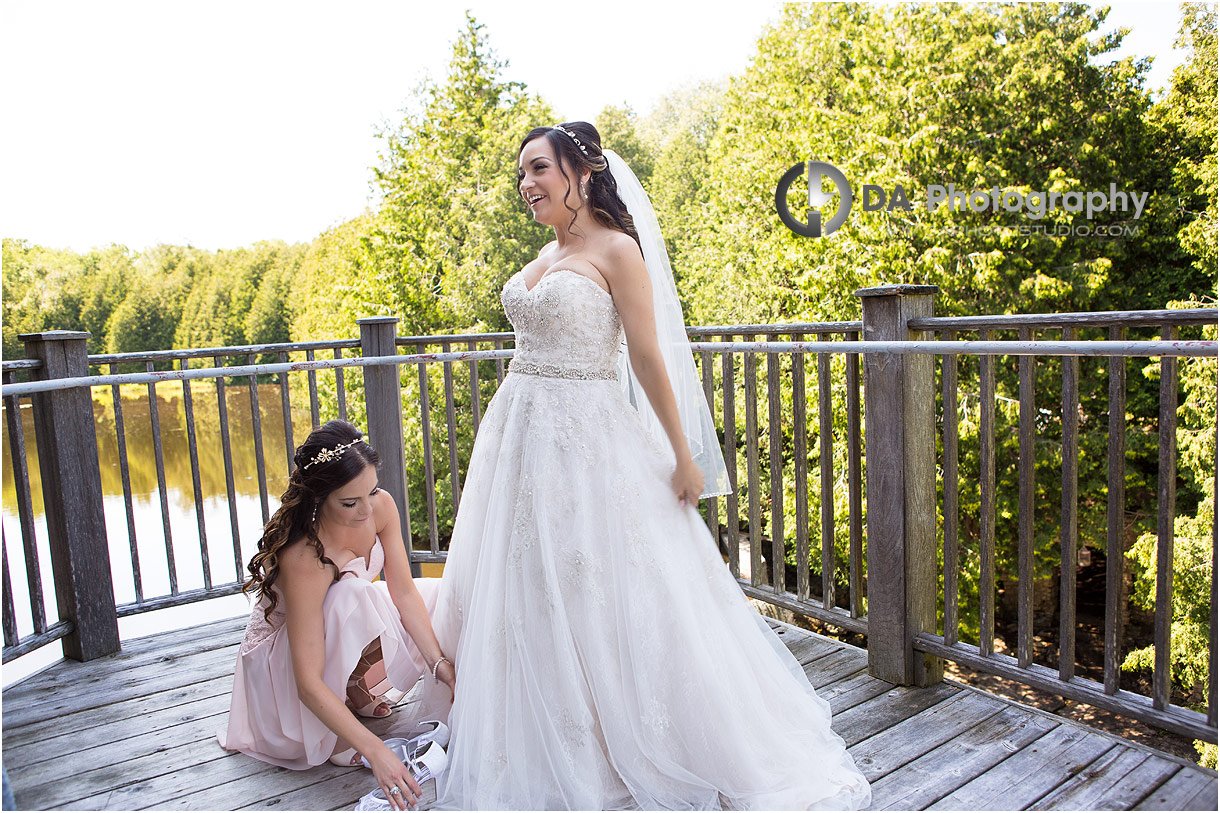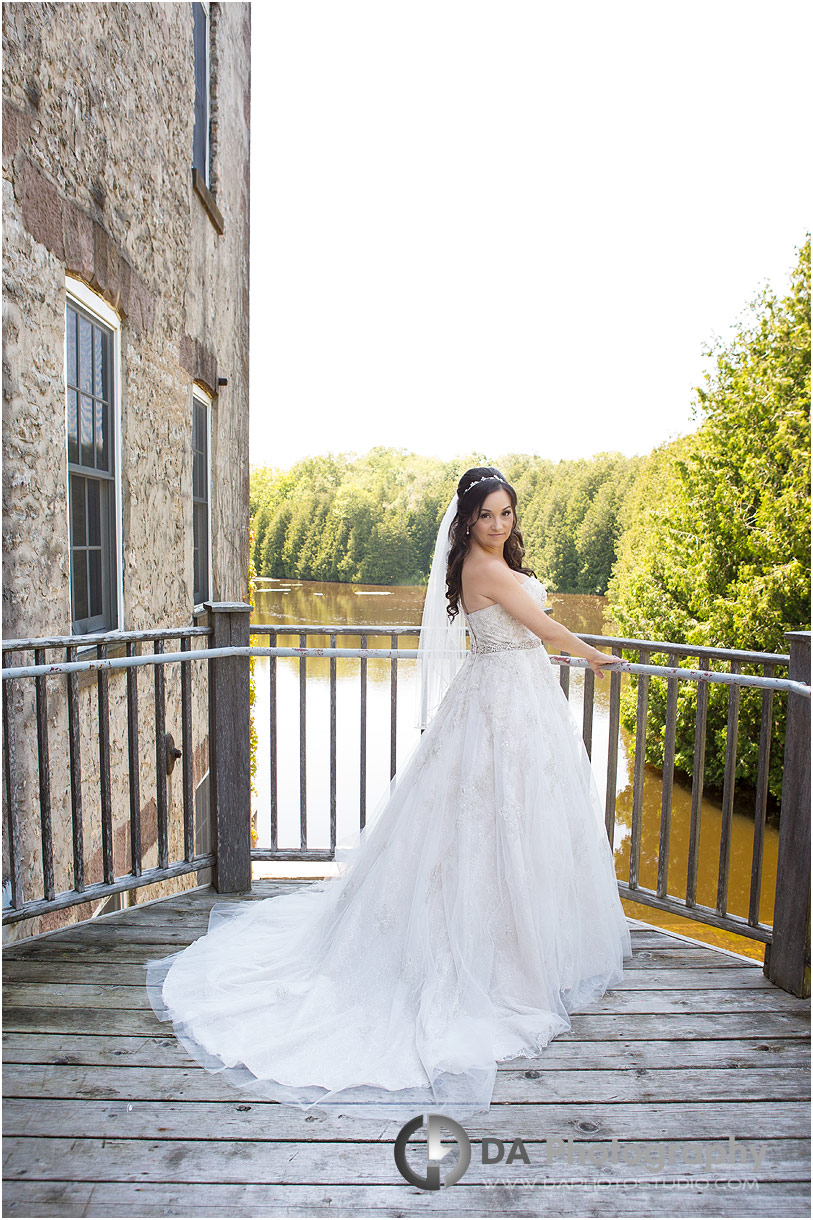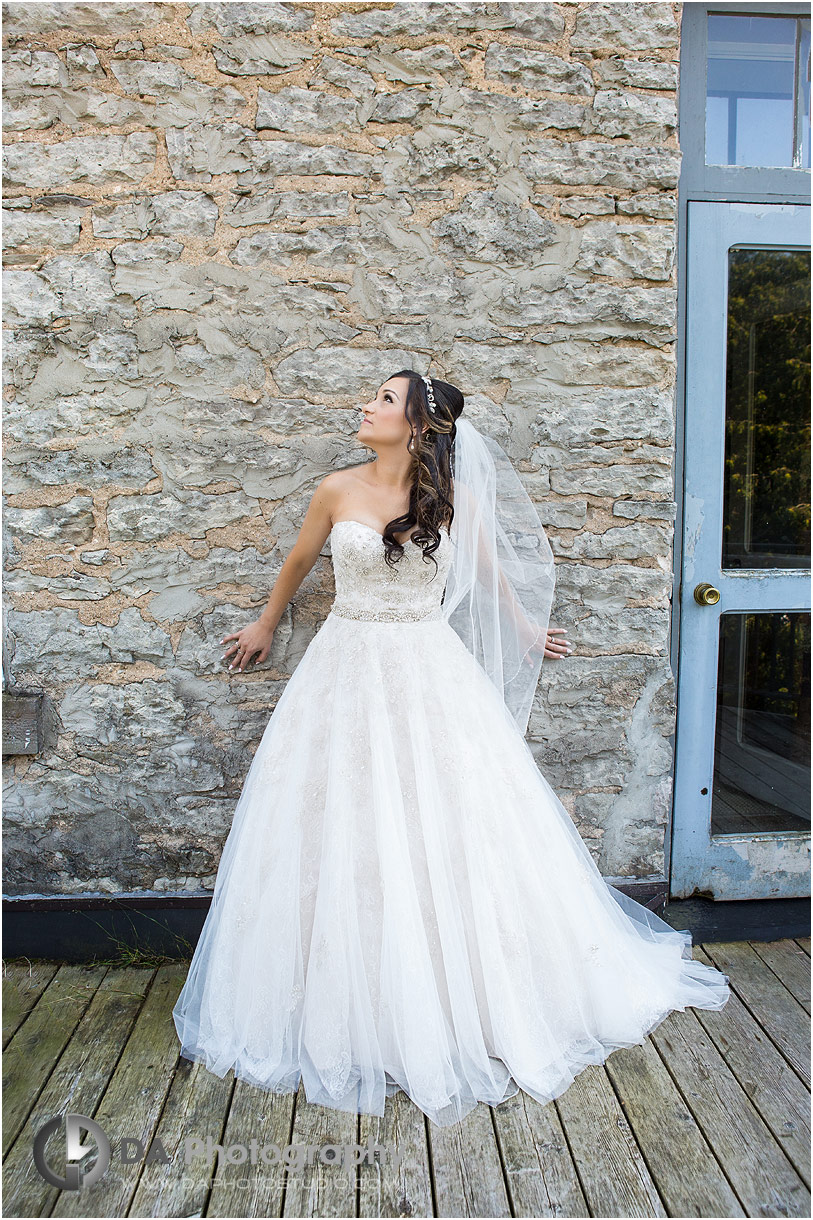 The wedding chapel set-up for this rustic wedding
The decor company that Ximena had chosen did a beautiful job of elevating the experience. How they designed the space added so much character to this rustic wedding in Millcroft Inn. Christina from Dolce Vita Events took care of every single detail. There were stunning flowers and centerpieces and a rustic door set up for the backdrop for the ceremony. The wedding chapel had simple but cute decorations and the reception area was immaculately set for this rustic wedding.
As usual, the couple had the option to include a second photographer for a wider area of wedding day coverage. This is especially beneficial for the ceremony part of the day. For this wedding, Jacquie helped to showcase the bride's arrival to the ceremony and her preparations before walking down the aisle. So many times, people do not have a chance to see this important part of the day. However, I find it an important part of telling their story. This behind-the-scene coverage is so full of anticipation and emotions. Essentially, it is the last moment before the bride becomes united with her husband.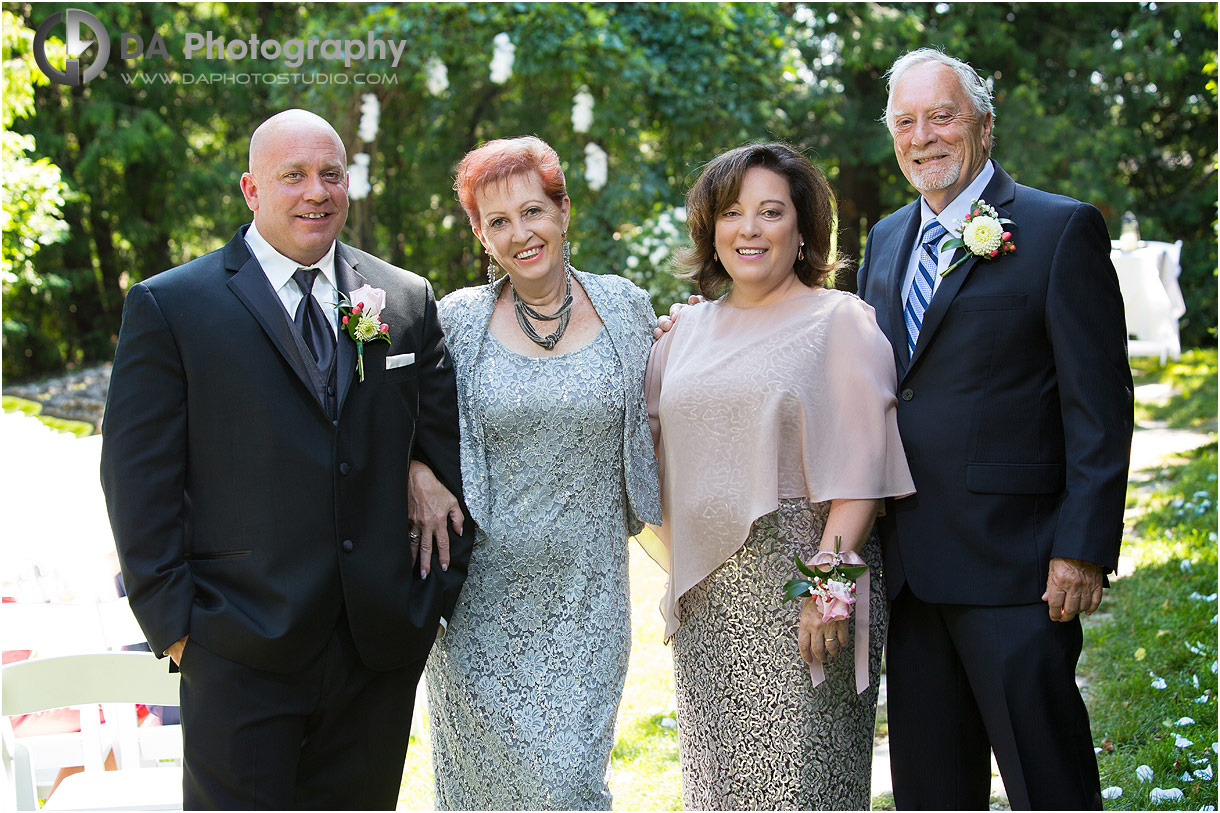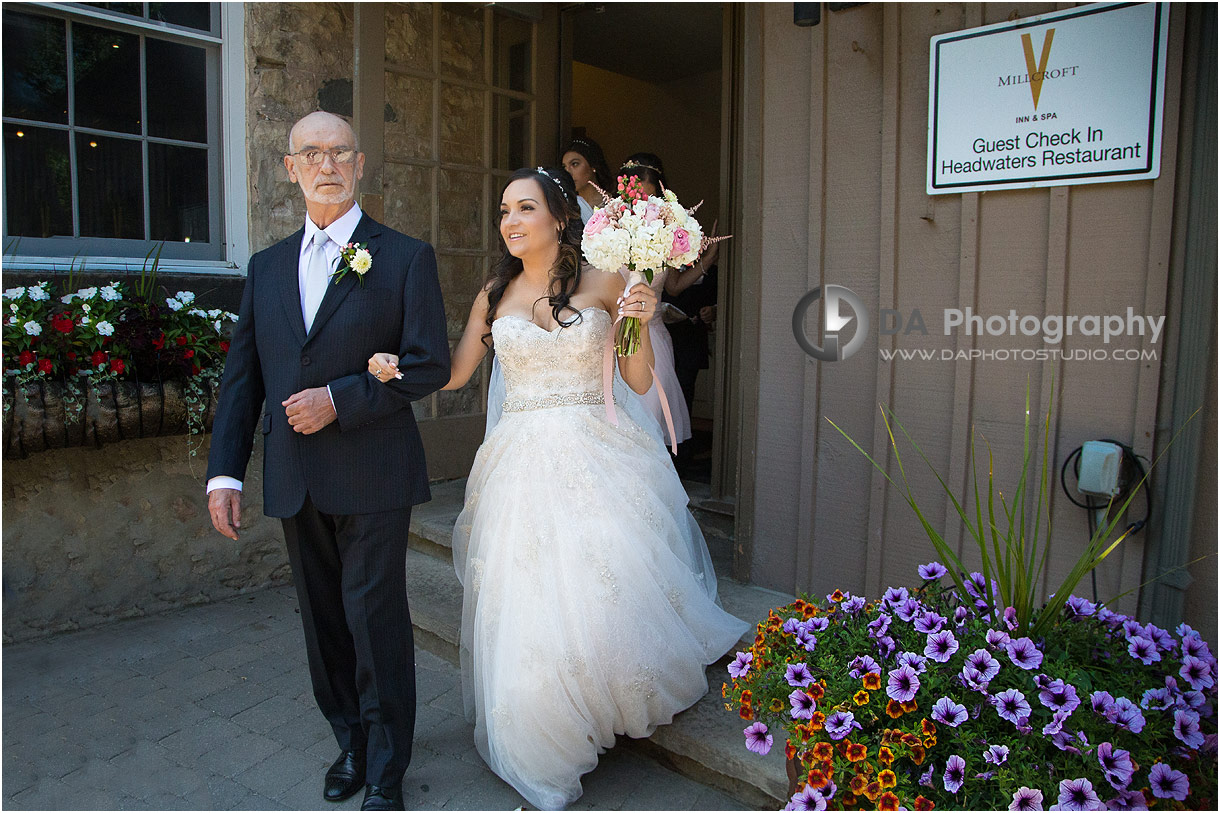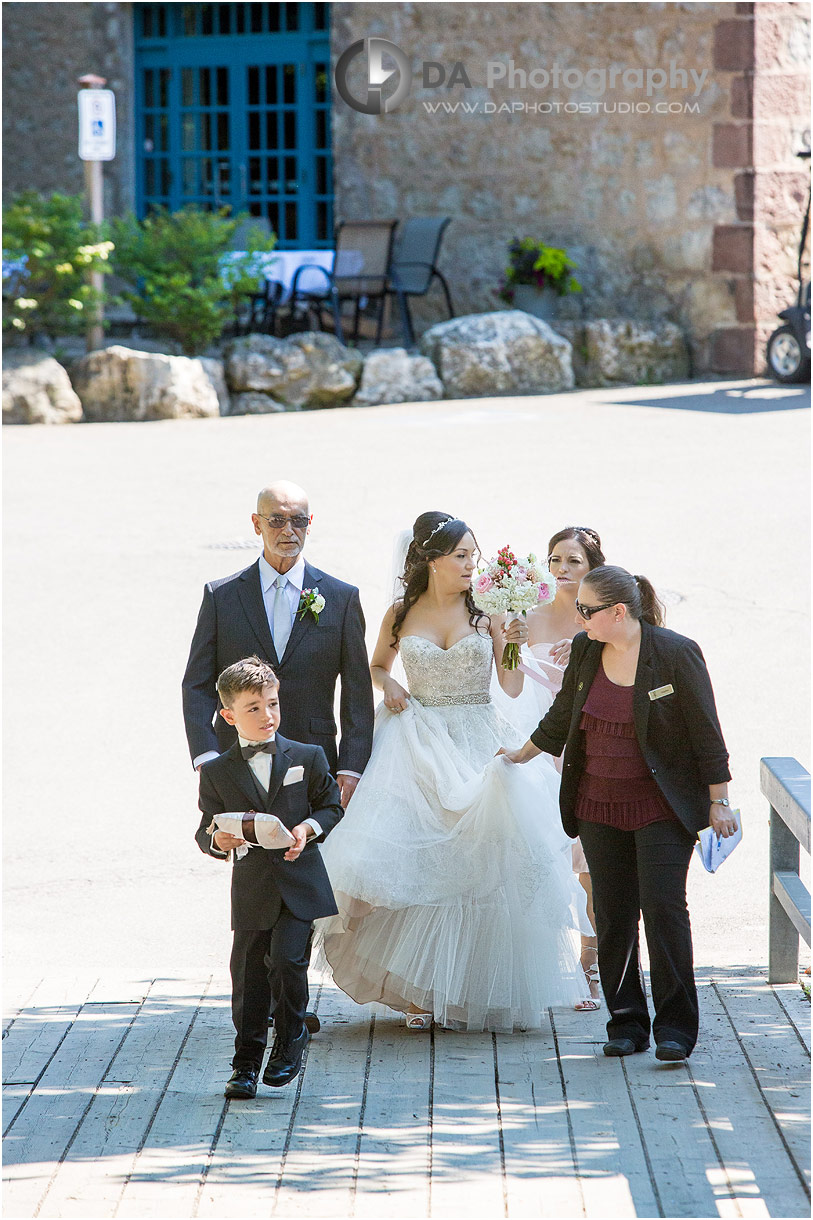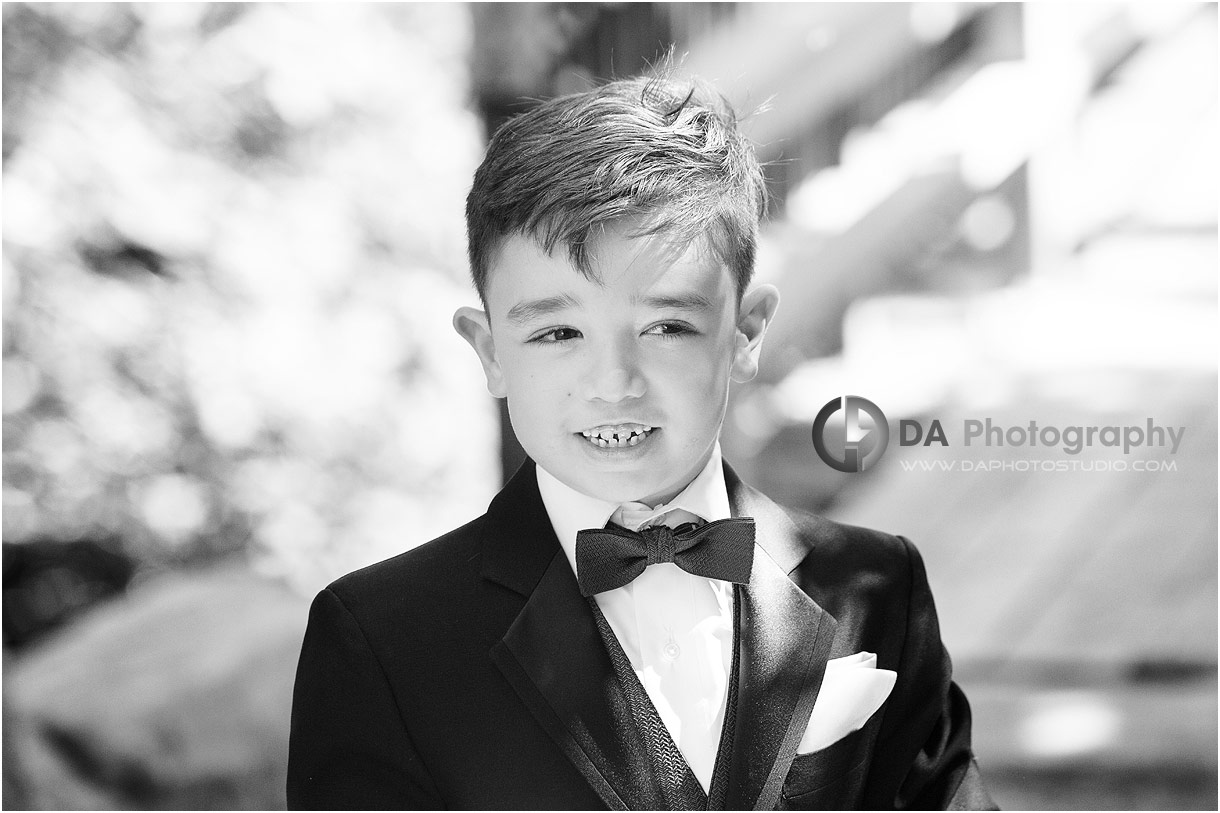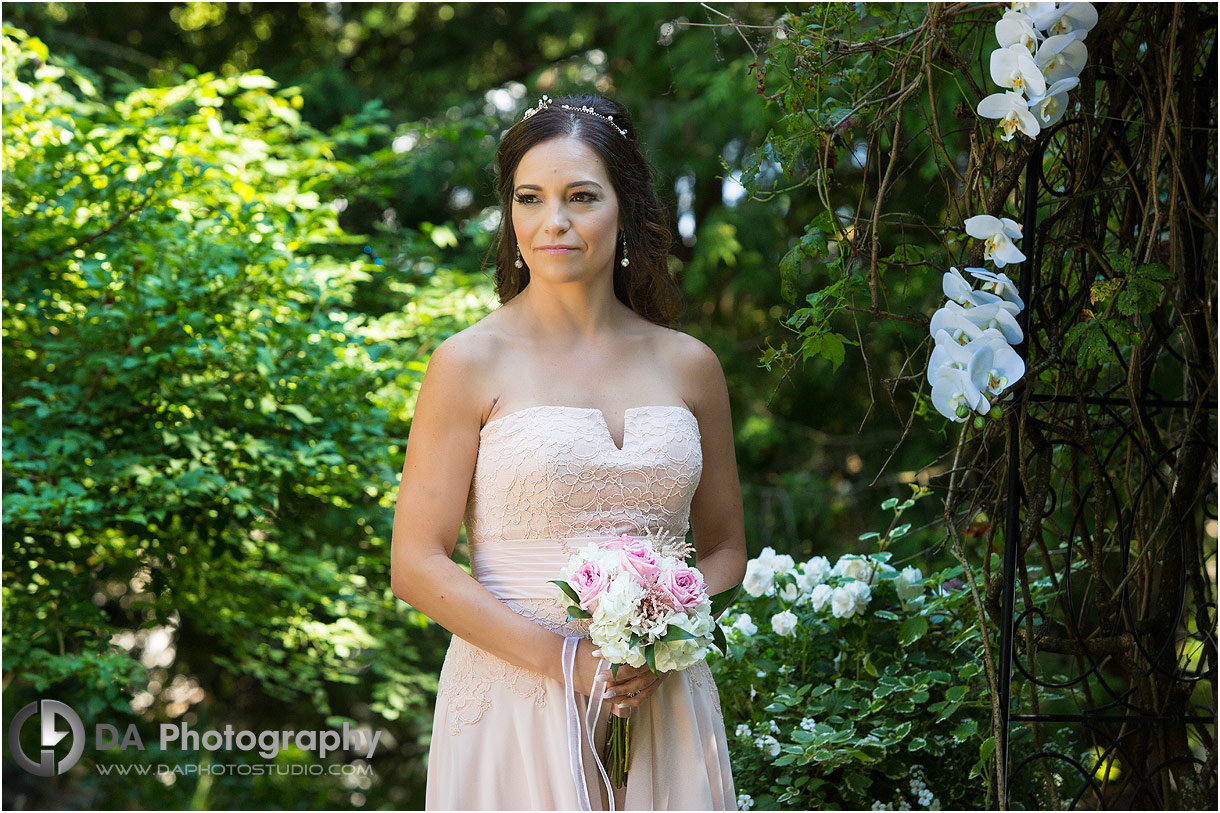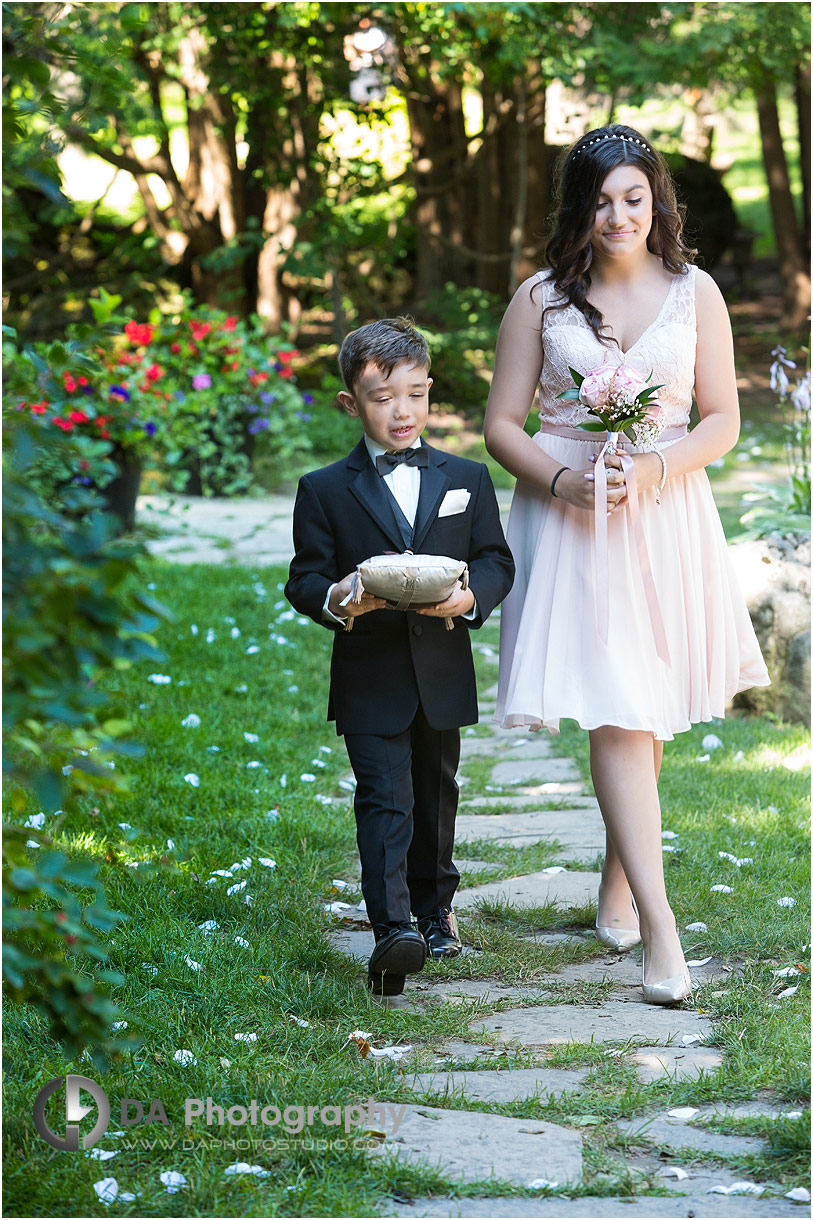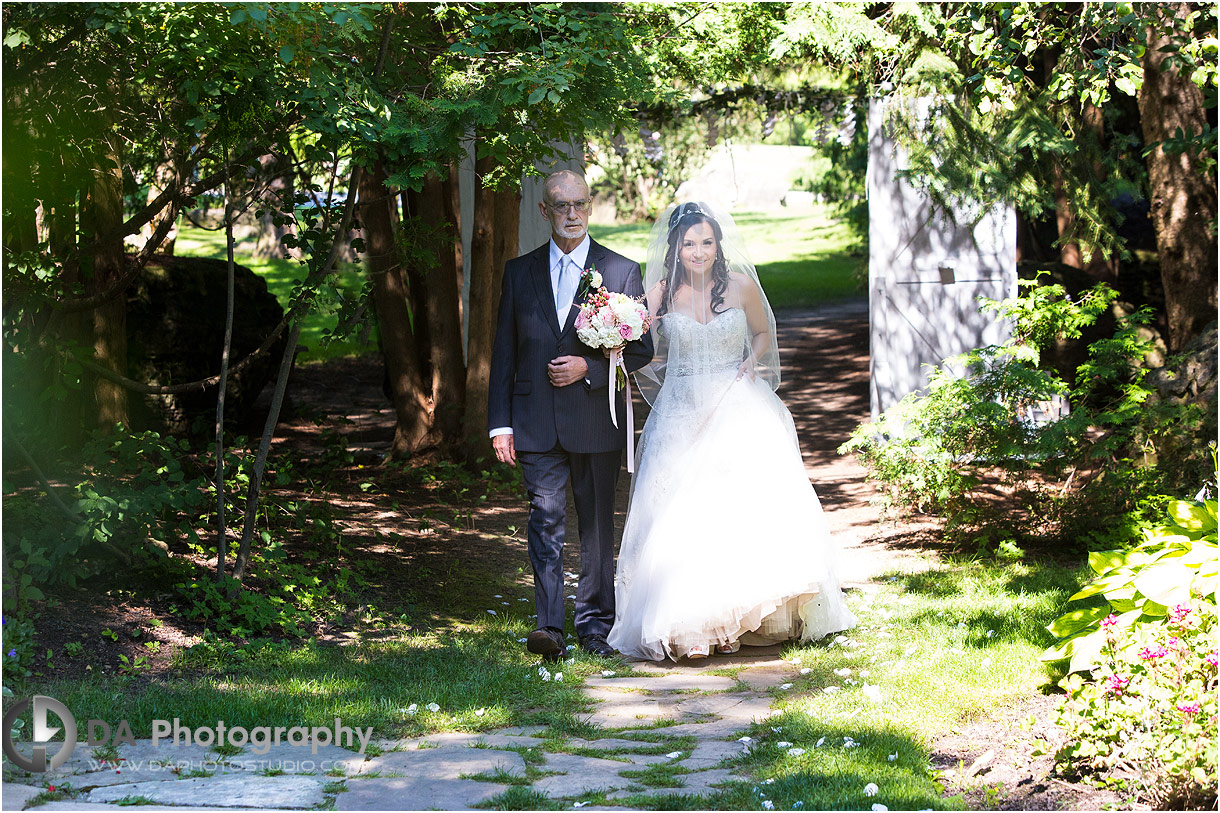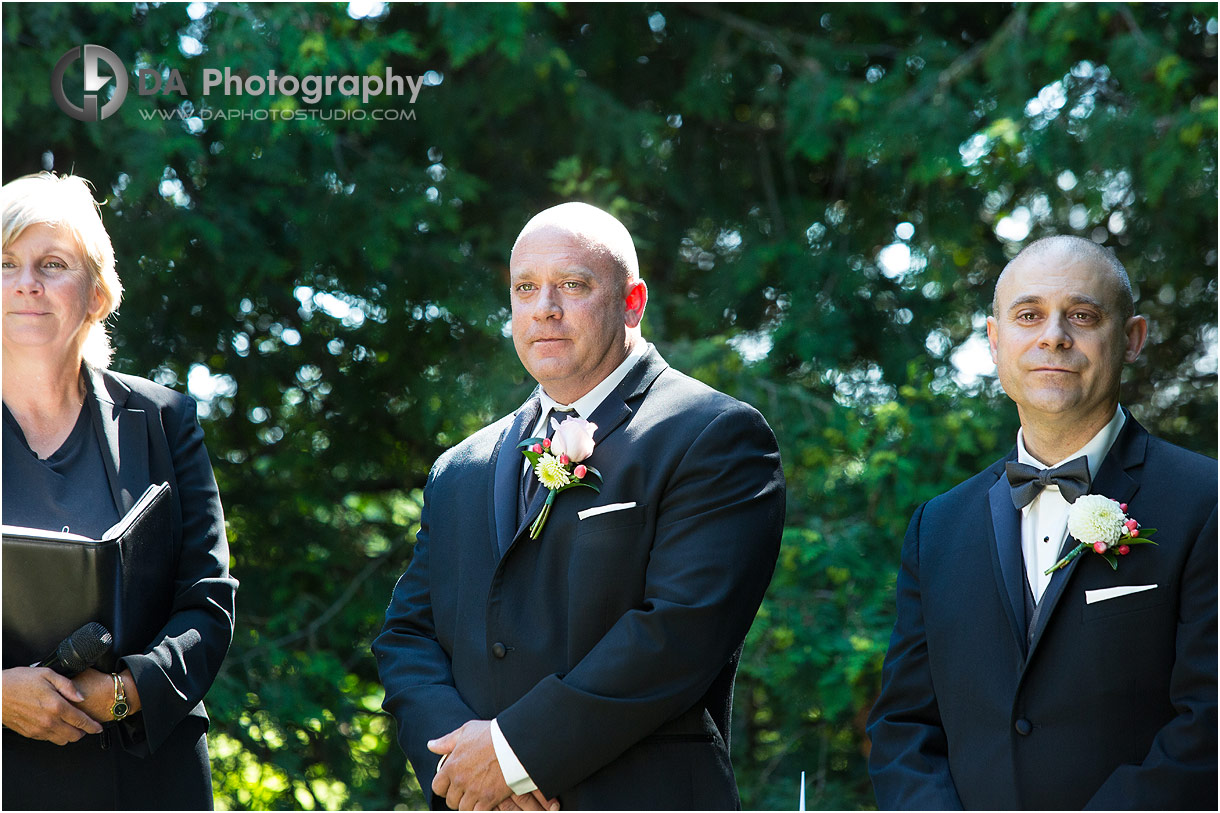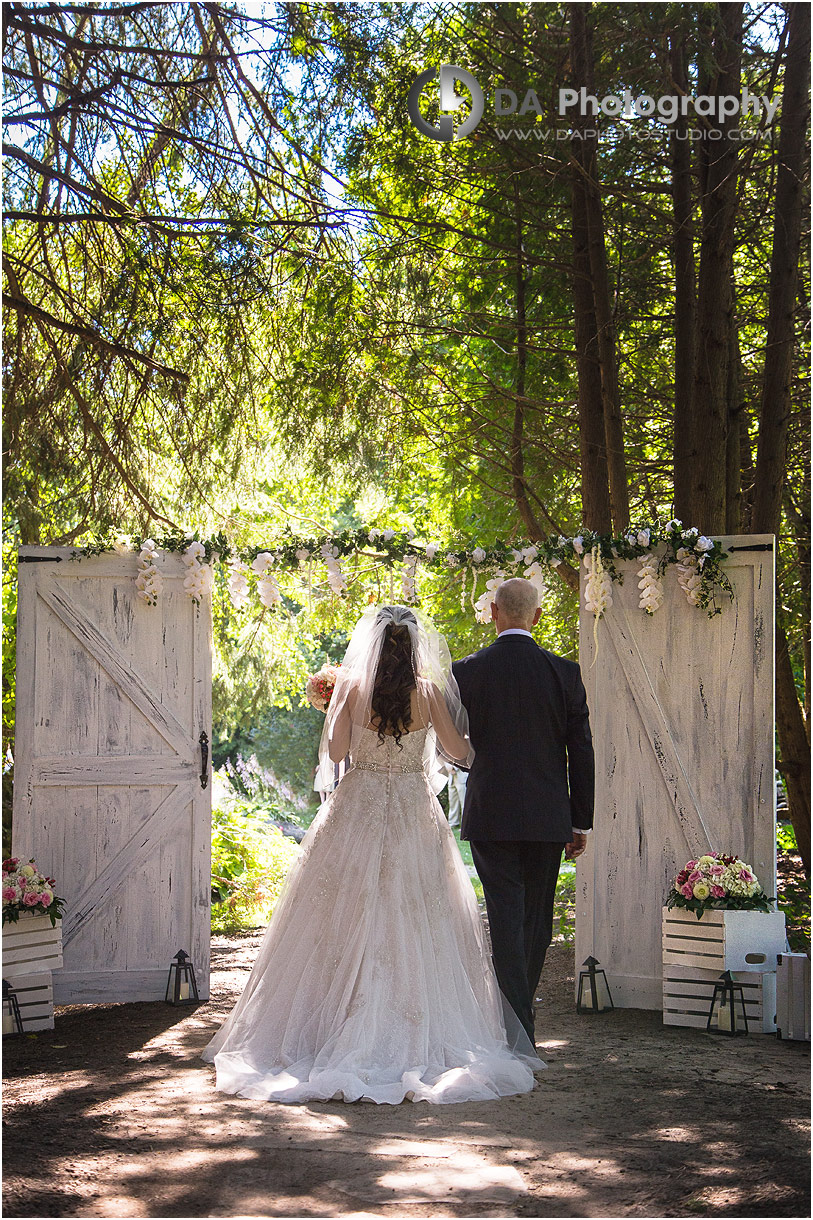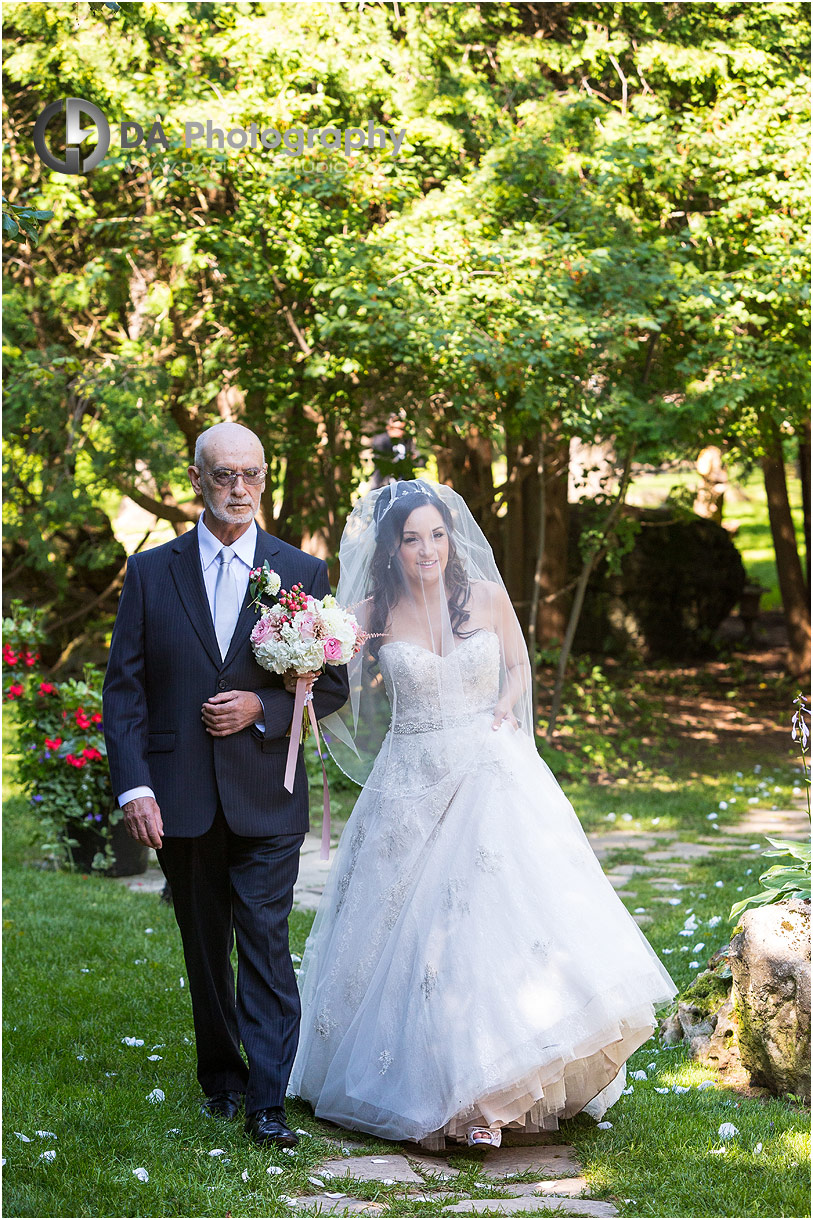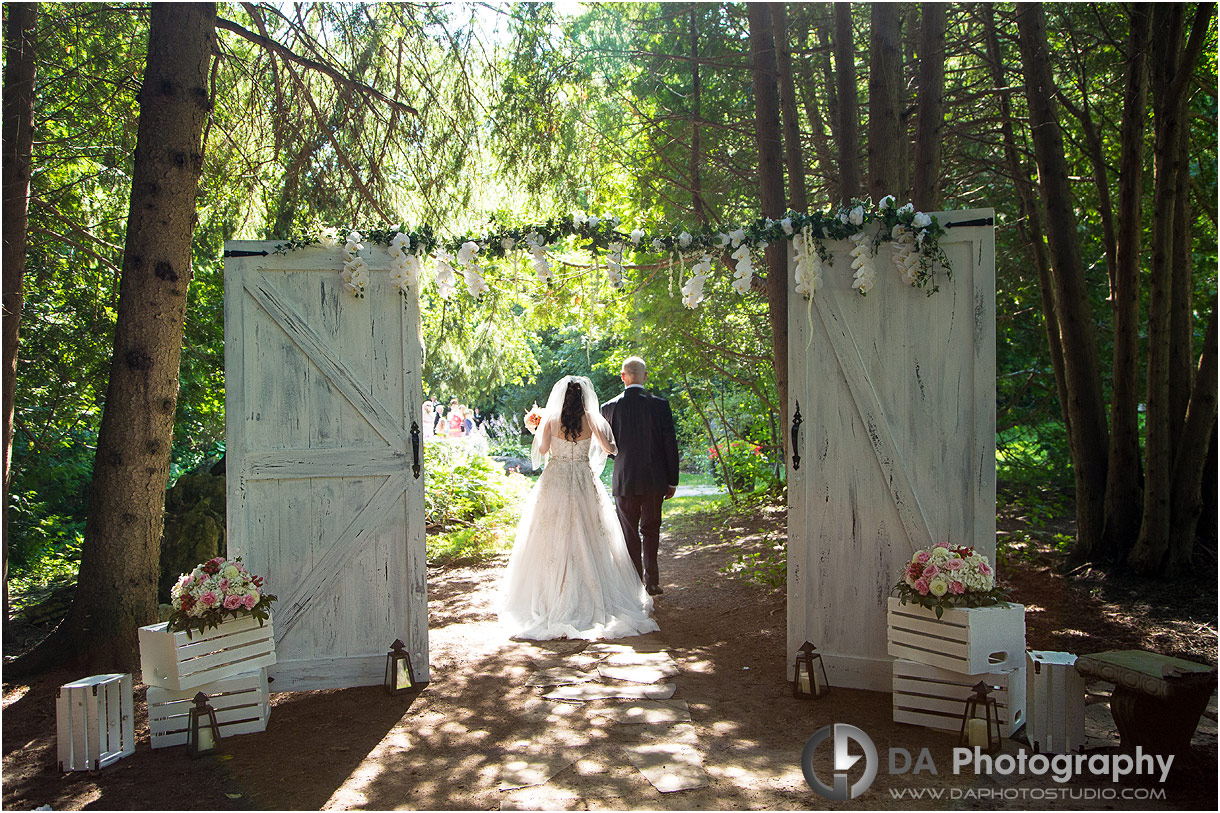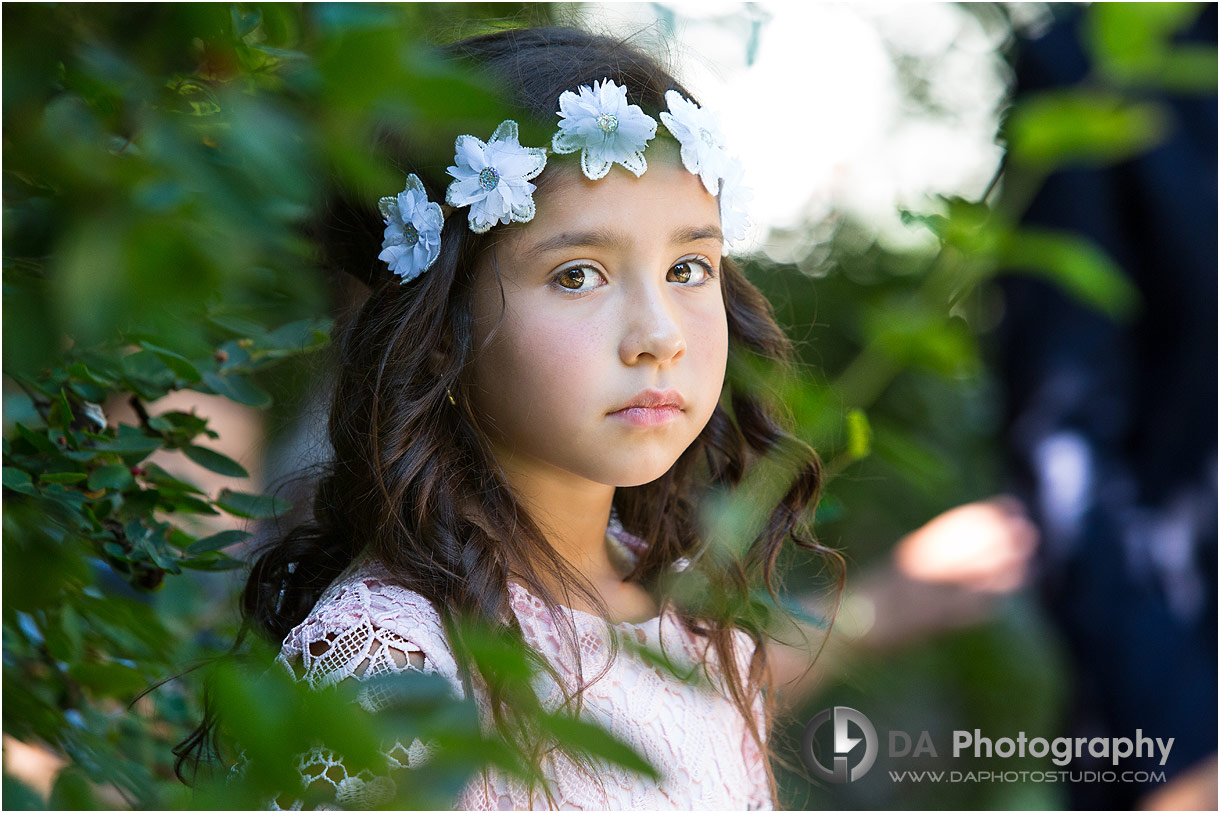 Wedding ceremony
Once the ceremony began, the entire focus for the photography shifted to a documentary style. At this time, nothing was posed and every moment was captured as it happened for this rustic wedding. The arrival of Ximena and her father with his happy tears in his eyes was extra special. As well, Jason's daughter had such a beautiful display of emotions, and the wedding couple had their own nervous energy. Working hard to get all of the angles, we captured it all!
What is truly unique at Millcroft Inn is that the wedding chapel garden is so secluded. It is nicely isolated from any curious bystanders and away from and spa or resort noise. You truly feel that you are the only ones there! Naturally separated by trees and water, this location will always be my favourite to photograph with its natural available lighting.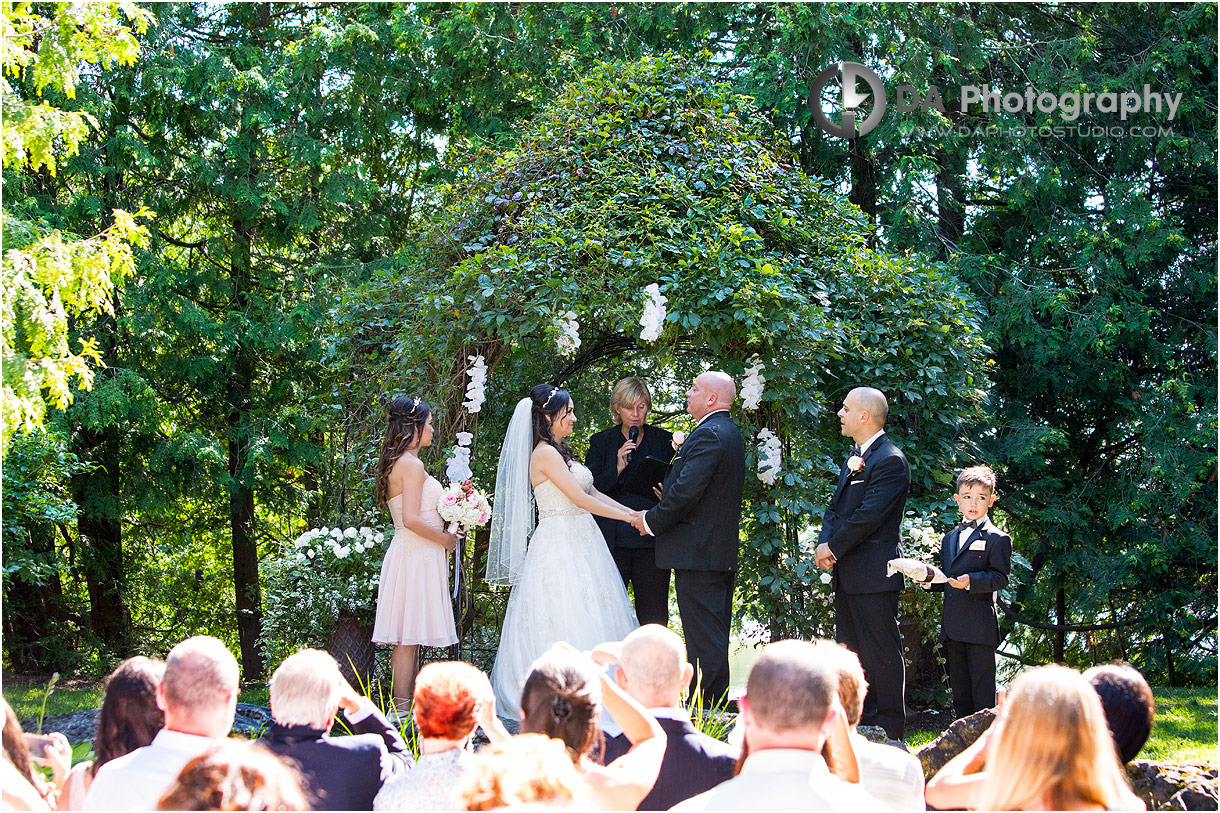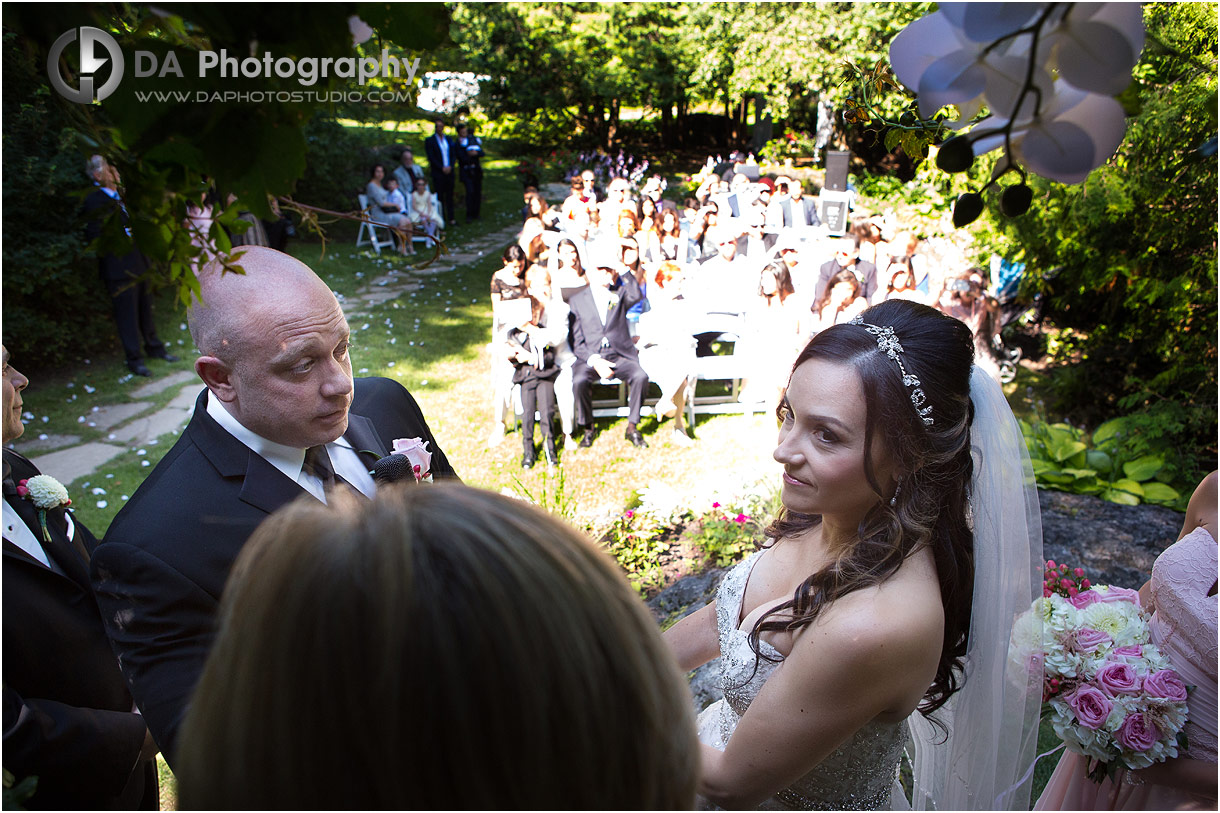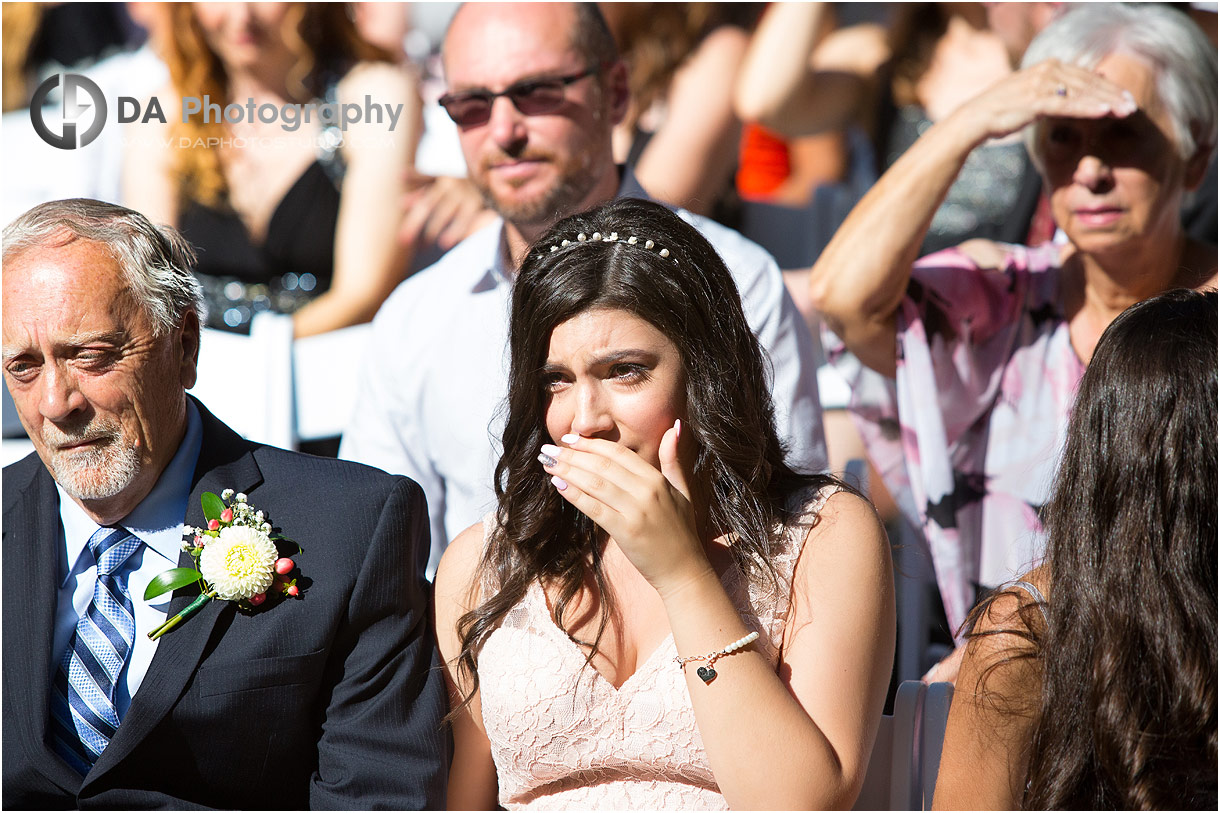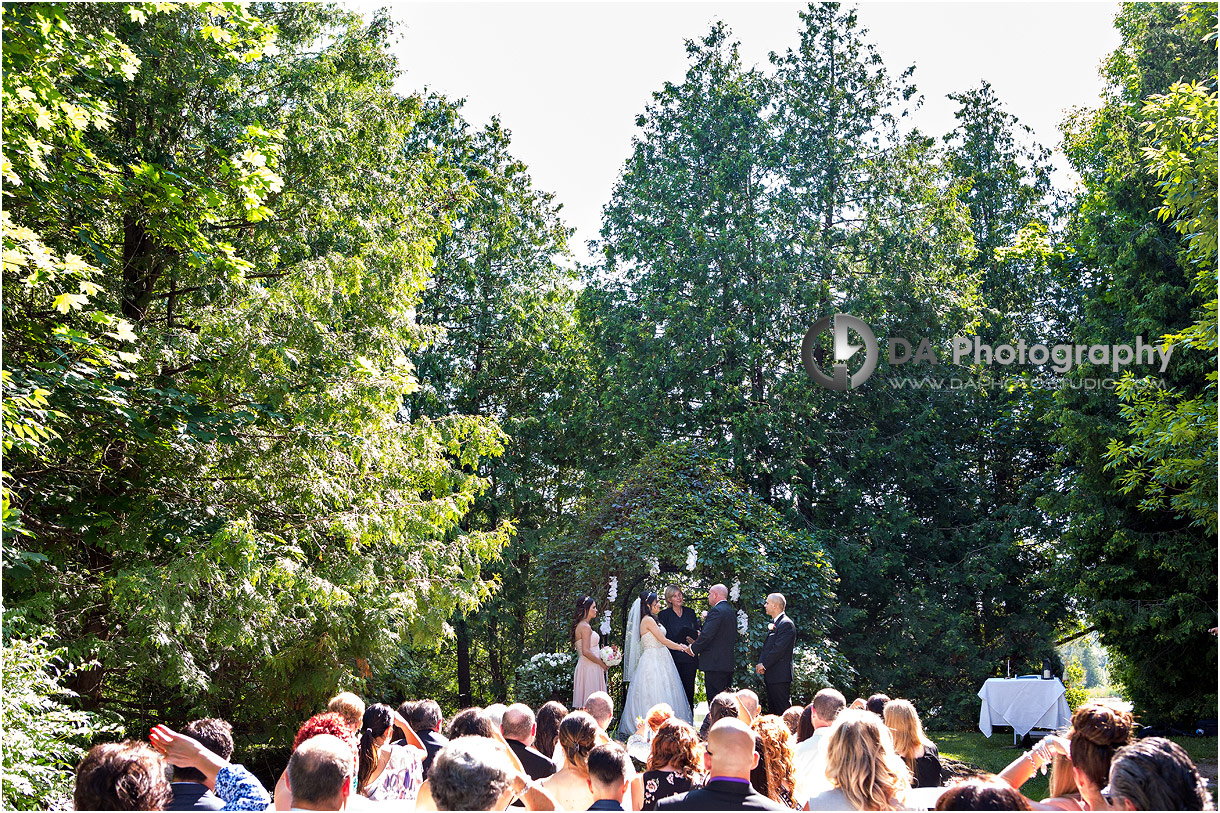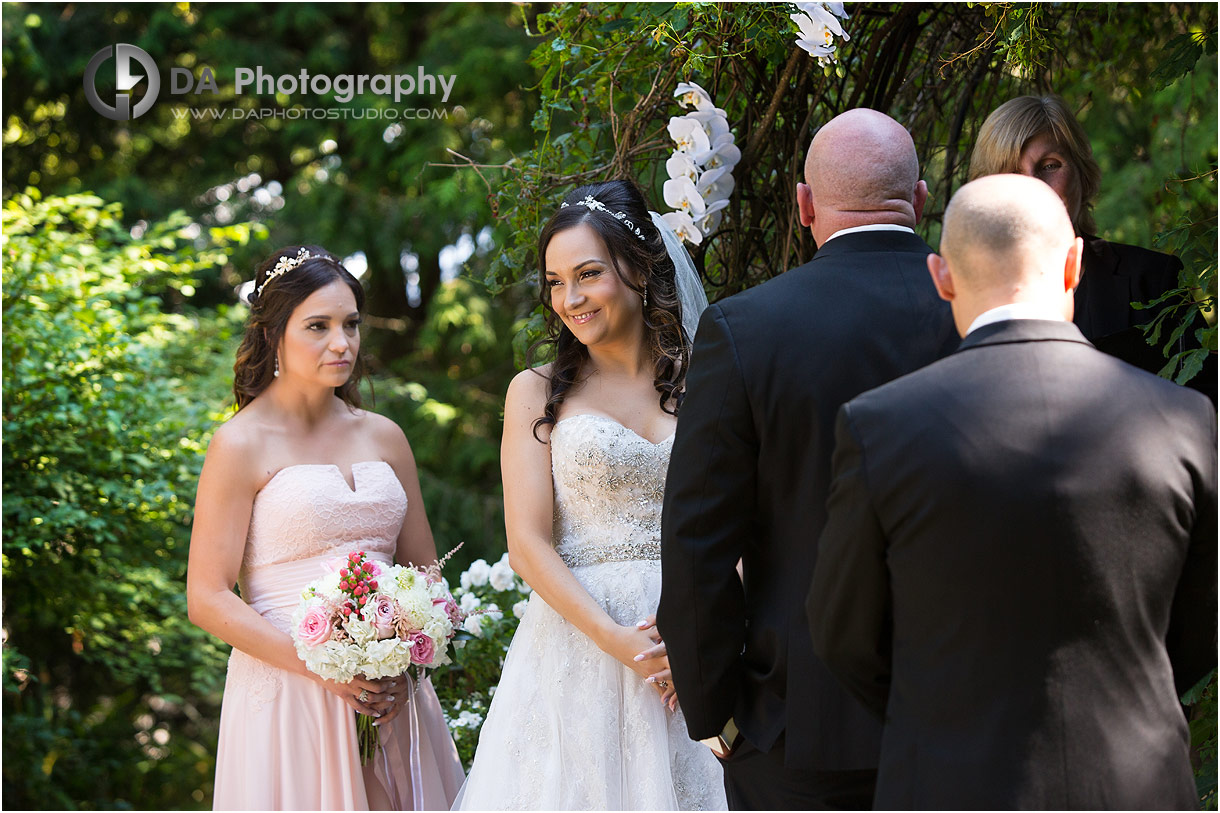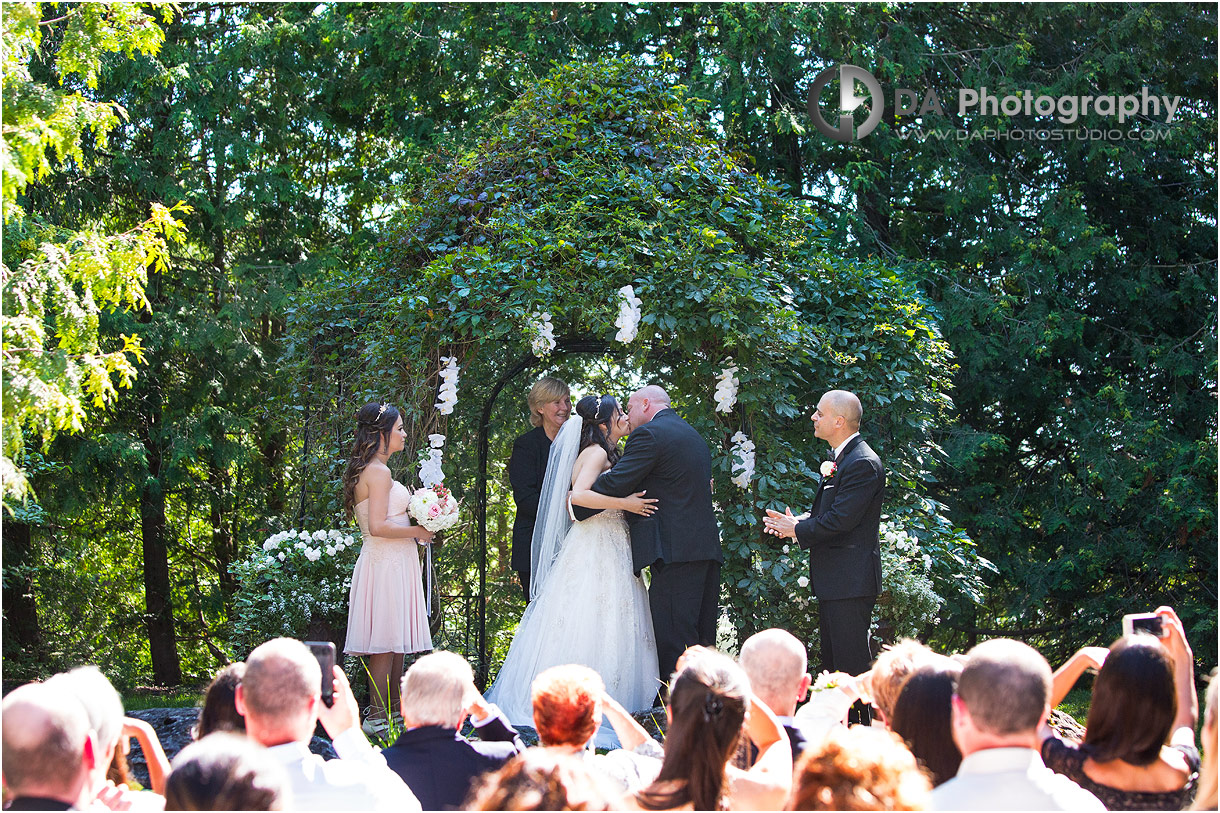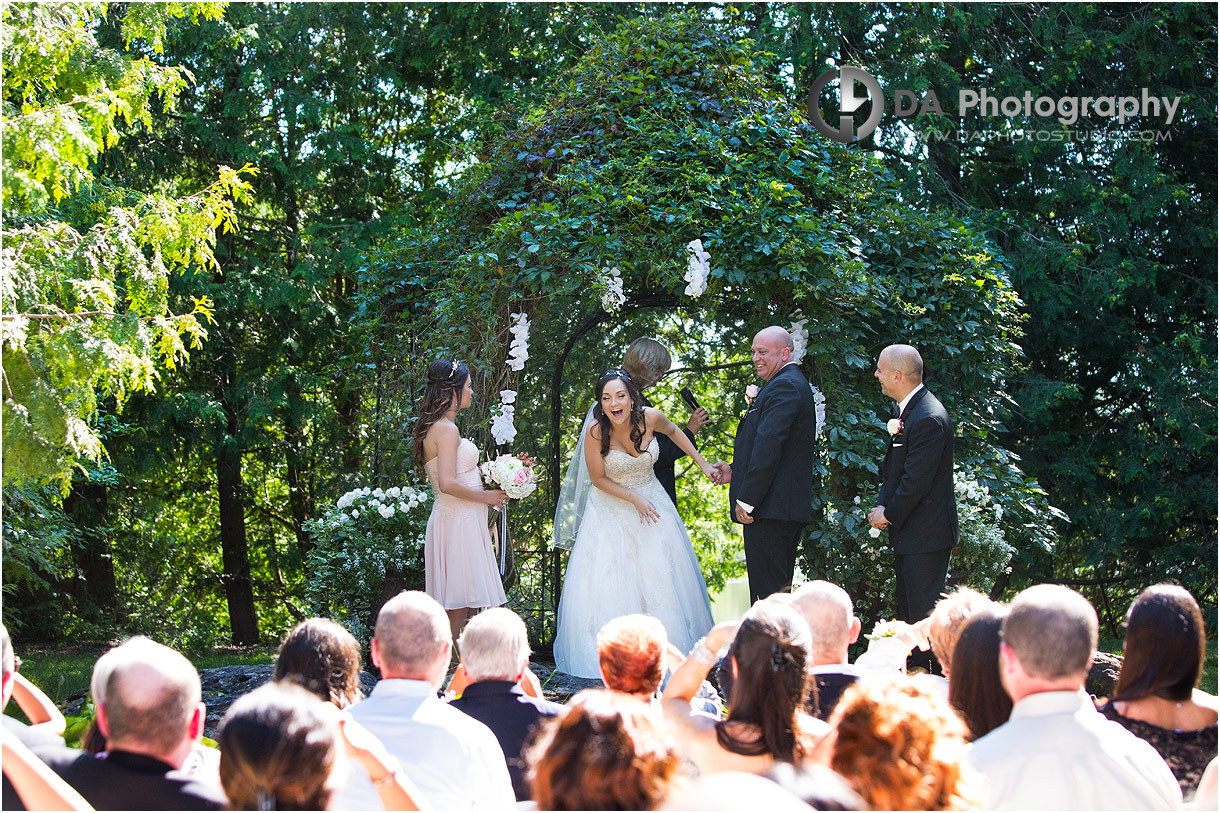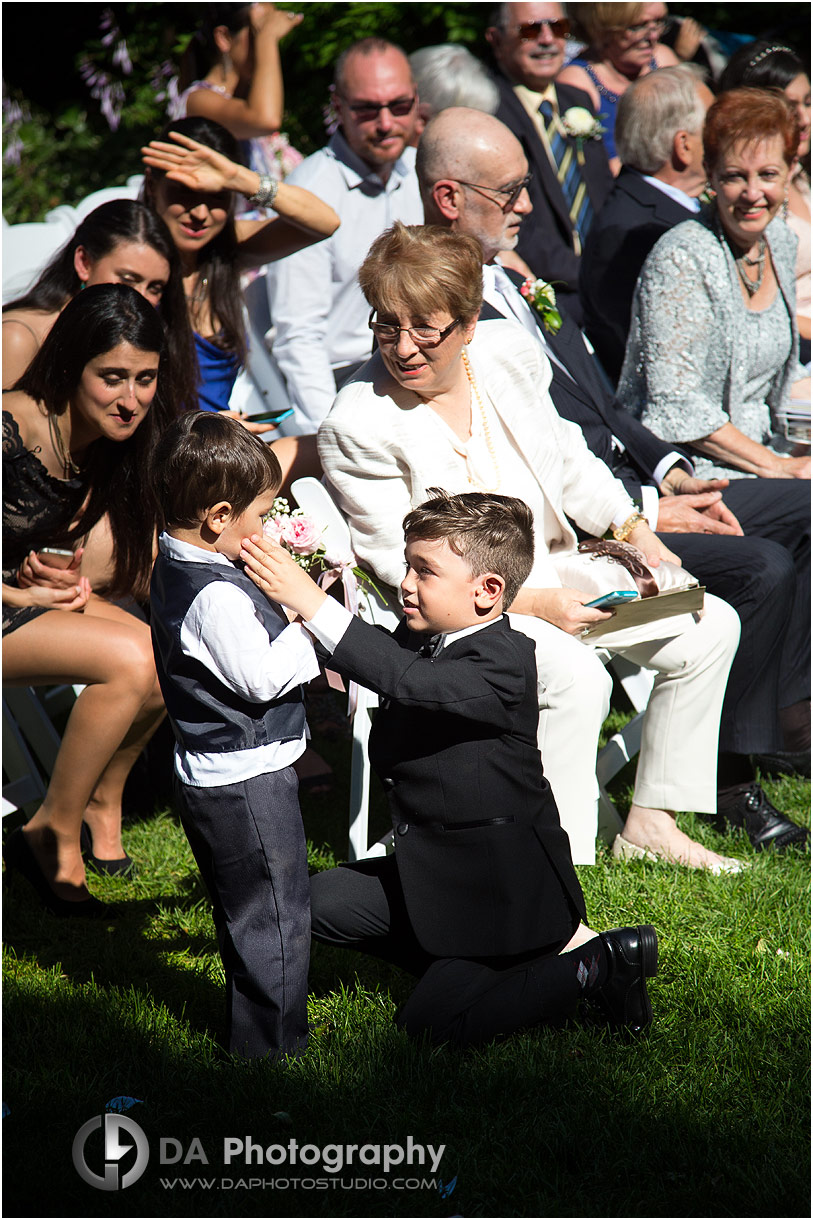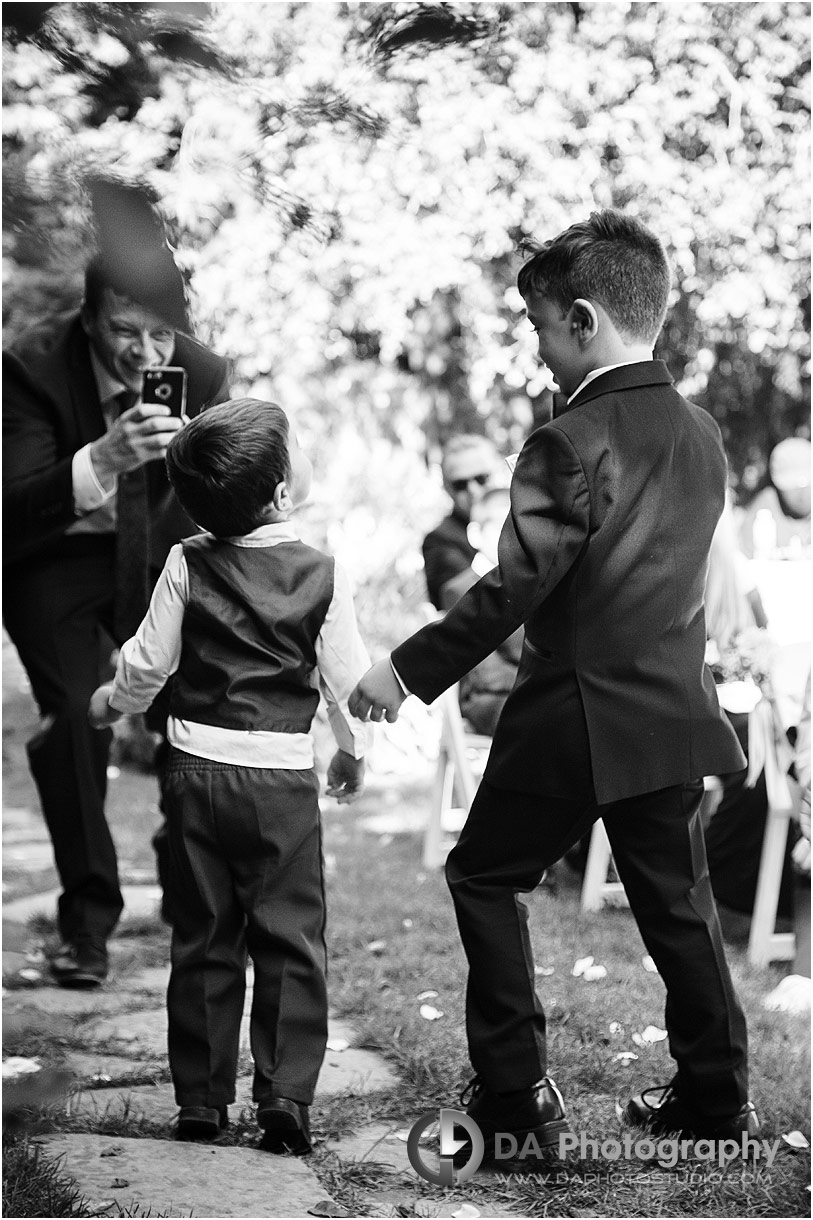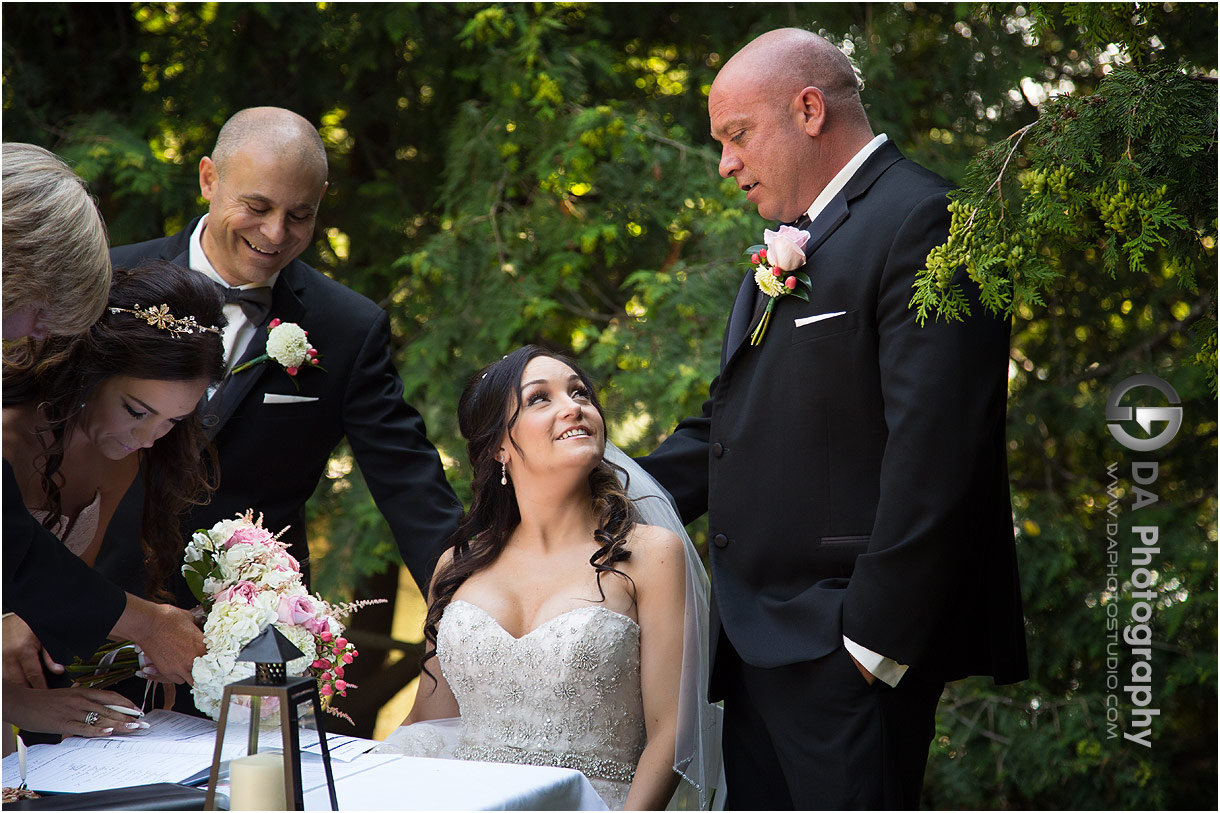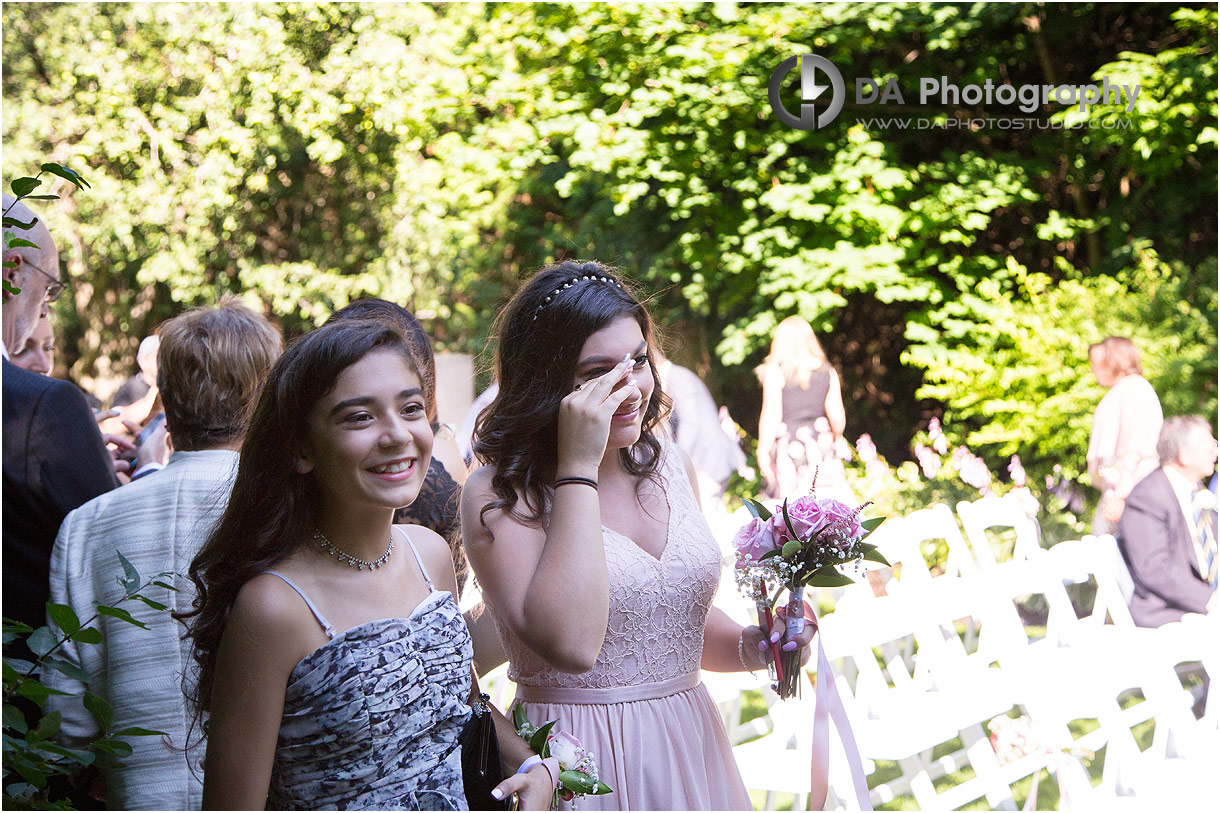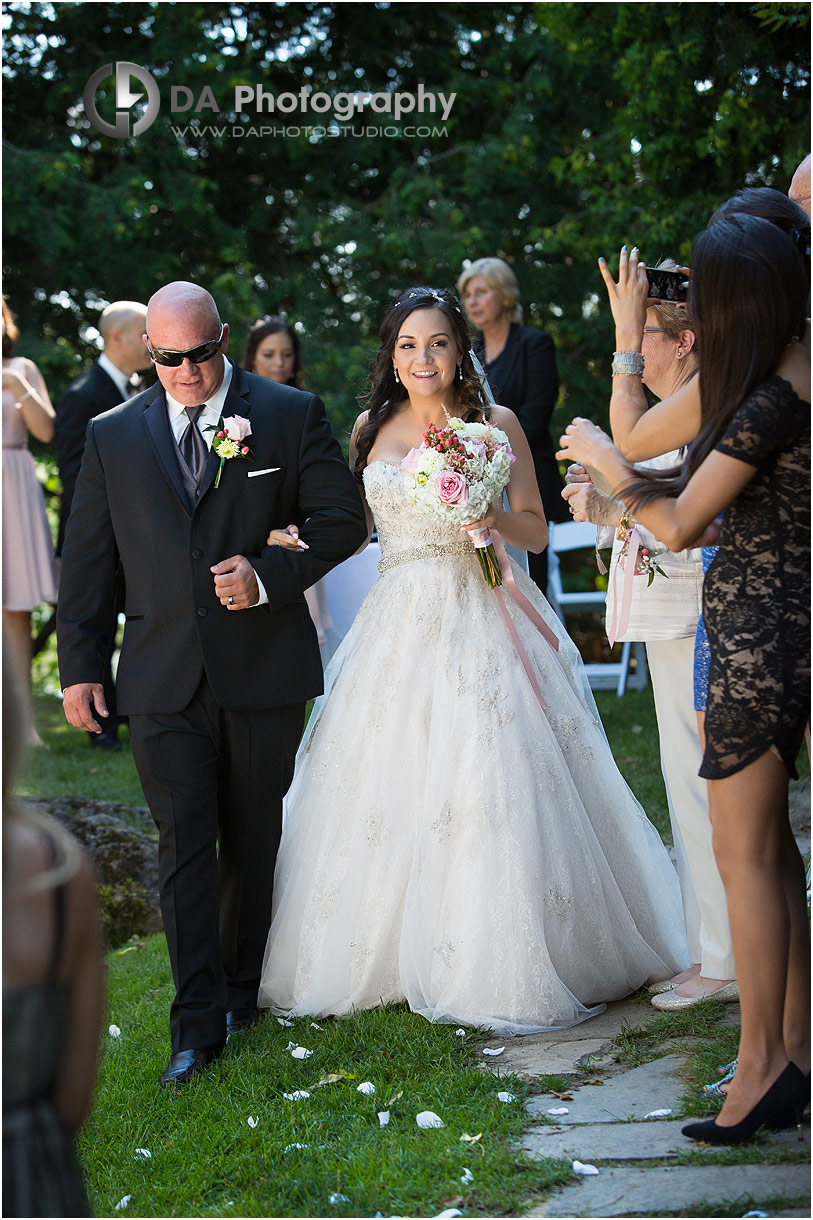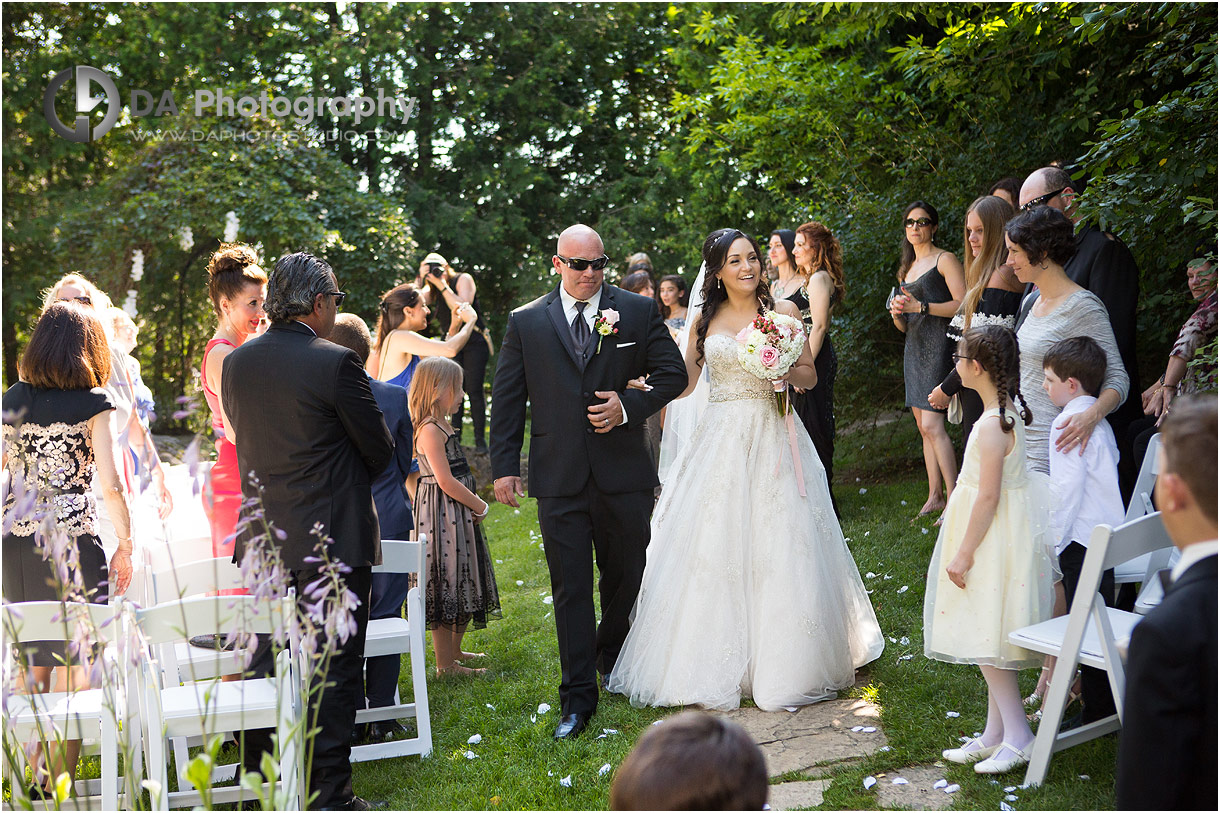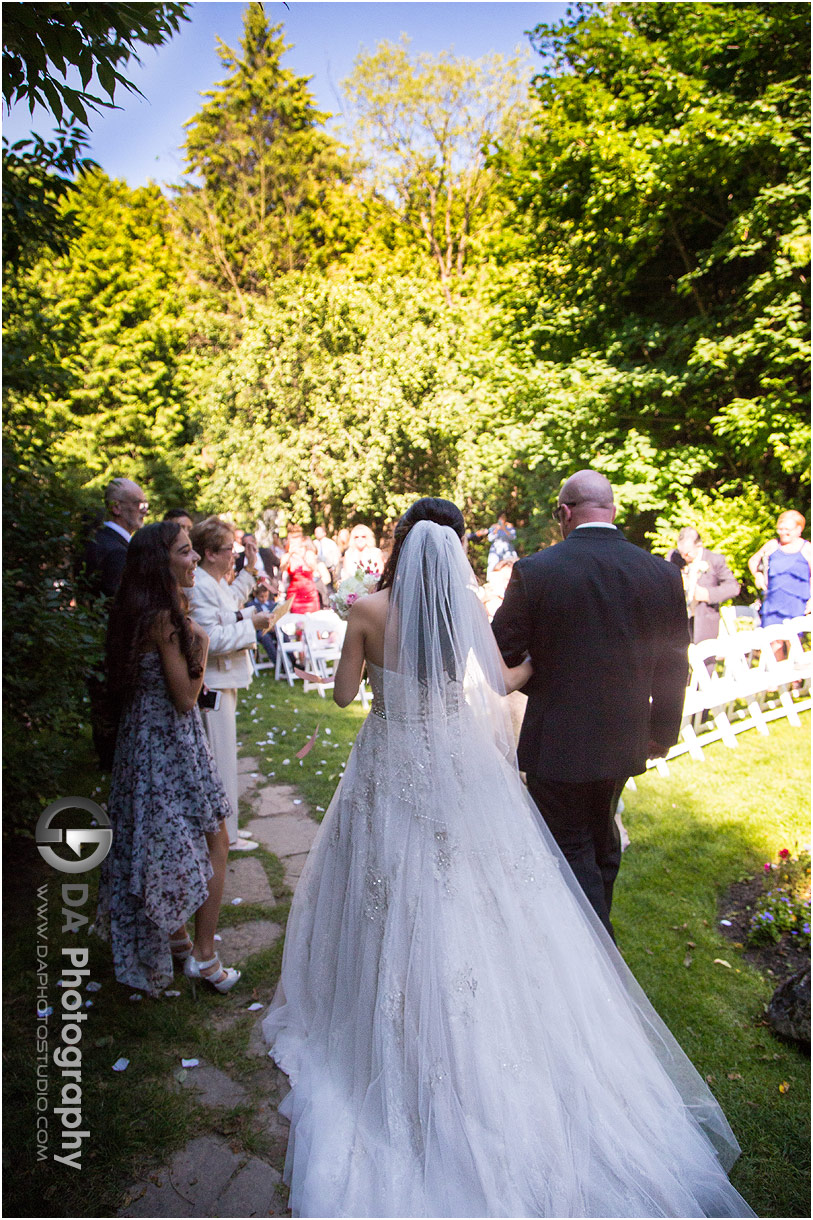 Plenty of unique locations within the Millcroft Inn
With everything located all in one space, a wedding at the Millcroft Inn spares you from a lot of traveling. Ximena and Jason walked out of their wedding ceremony as husband and wife onto a path that naturally guided them to their next location. The first spot for photos that day was the waterfalls by the Inn. I find that this is a great starting point for a variety of reasons. First of all, the calming sounds of the waterfalls provide tranquility and have a calming effect. With high emotions, excitement, and adrenaline my wedding couples can take a moment to breathe and regroup. As well, I also use the ruins part of this location for a variety of backdrops.
Once all the guests had left for the cocktail party, I brought Ximena and Jason back to the wedding ceremony set-up. I wanted to capture the amazing door decor in a less hectic and stress-free environment. Once complete here, we captured images on the way out that highlight the deep forest separating the wedding chapel garden from the main building.
Heading towards the cocktail patio, we stopped on the bridge for some photos. This location is excellent for images with the wedding couple, the Inn, and the waterfalls beside it. It's a great spot no matter what season or climate we happen to be working in. Here you can see another wedding that I photographed on a very rainy day and you can see that it still looks just as amazing!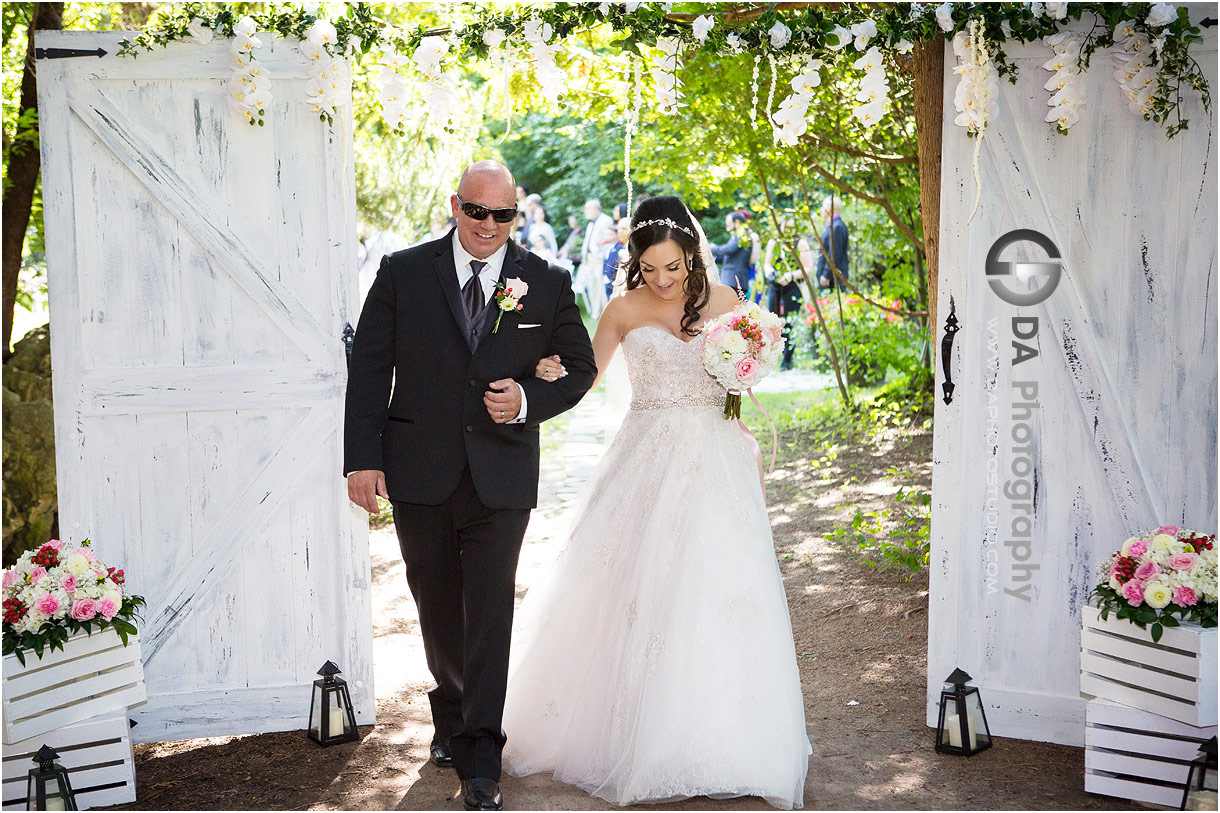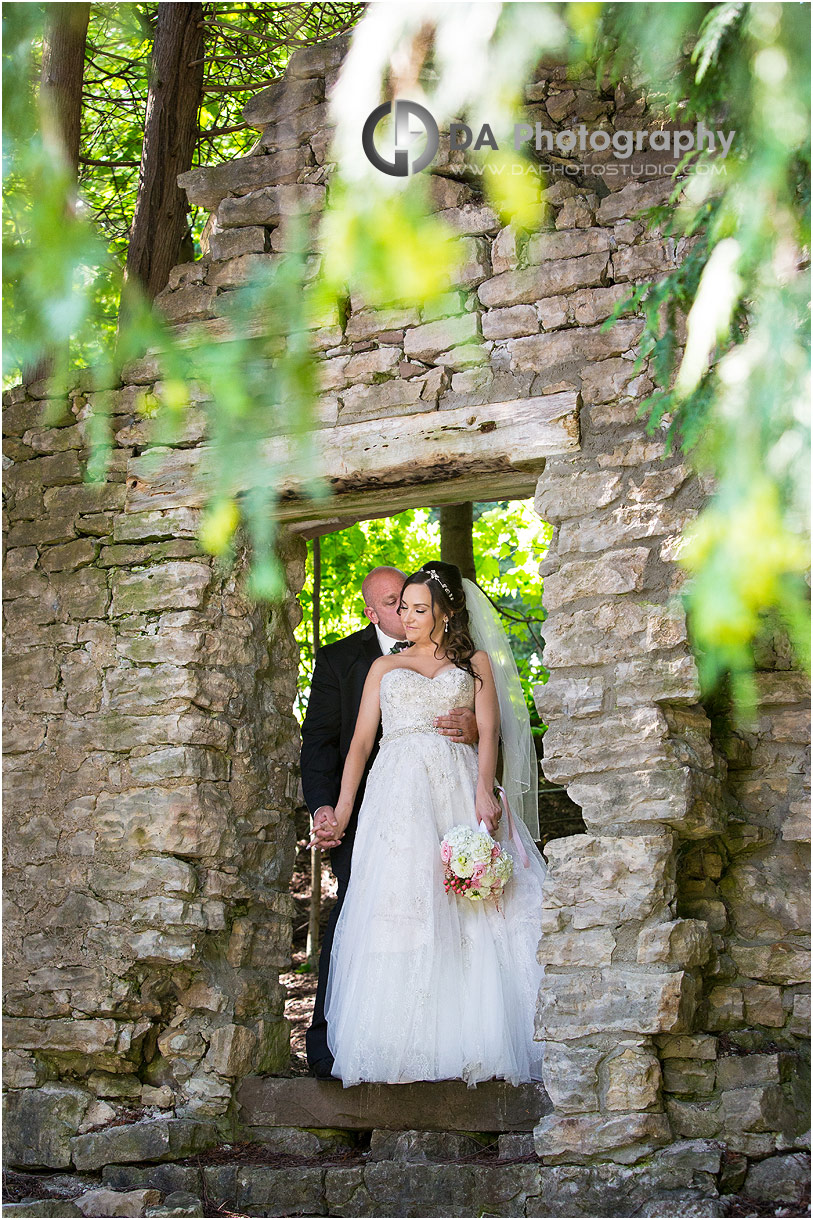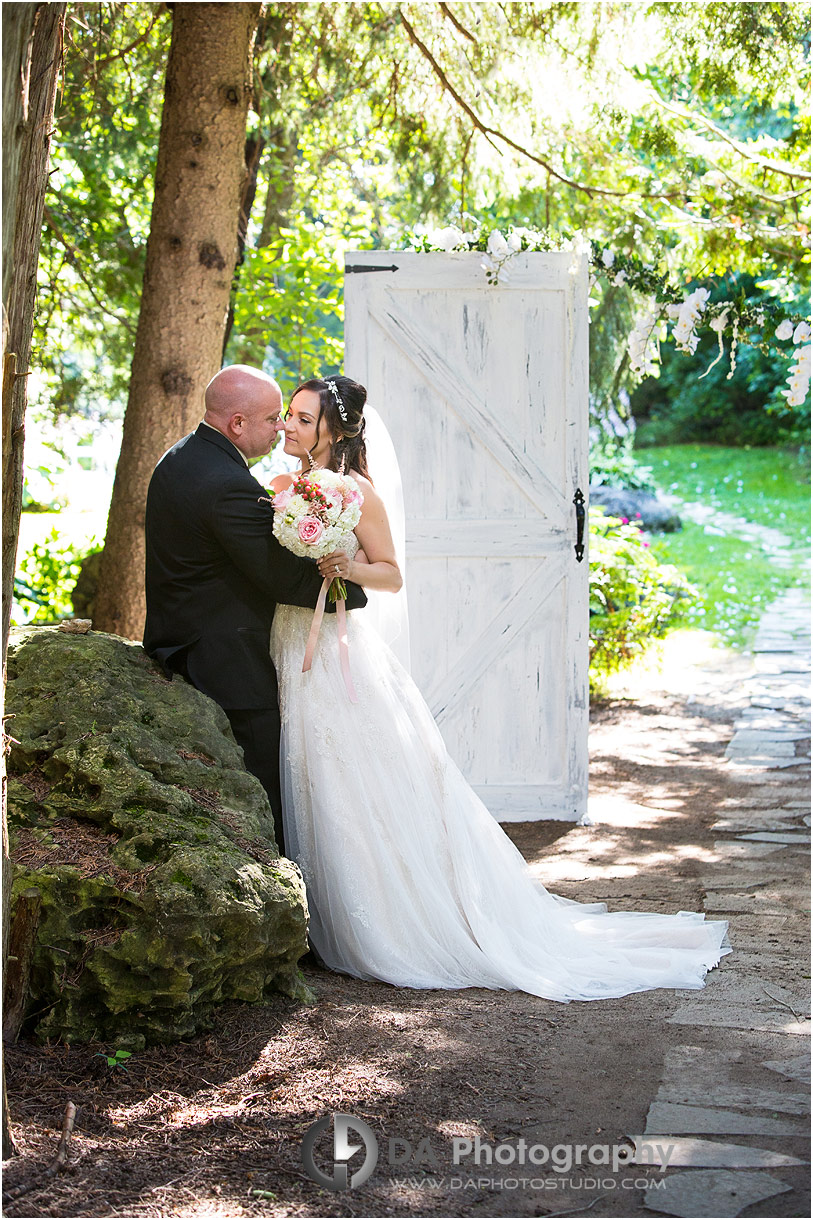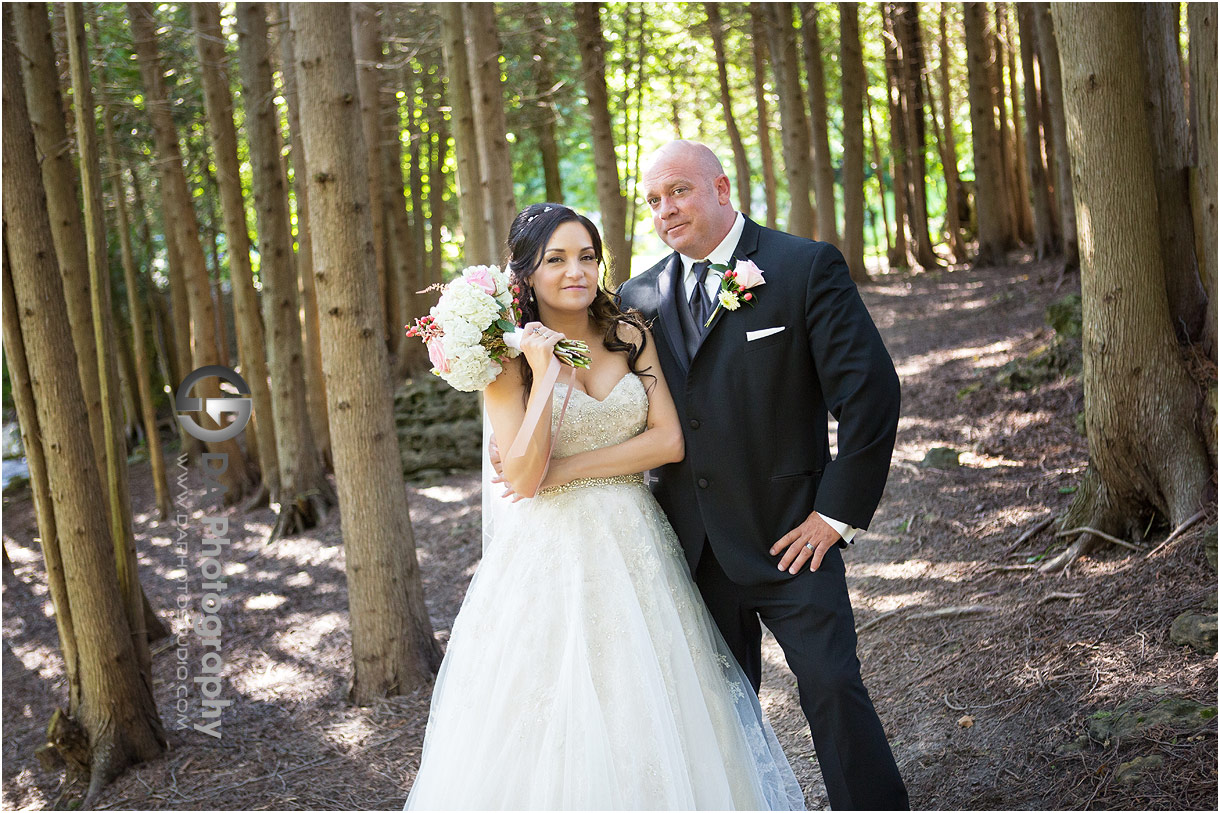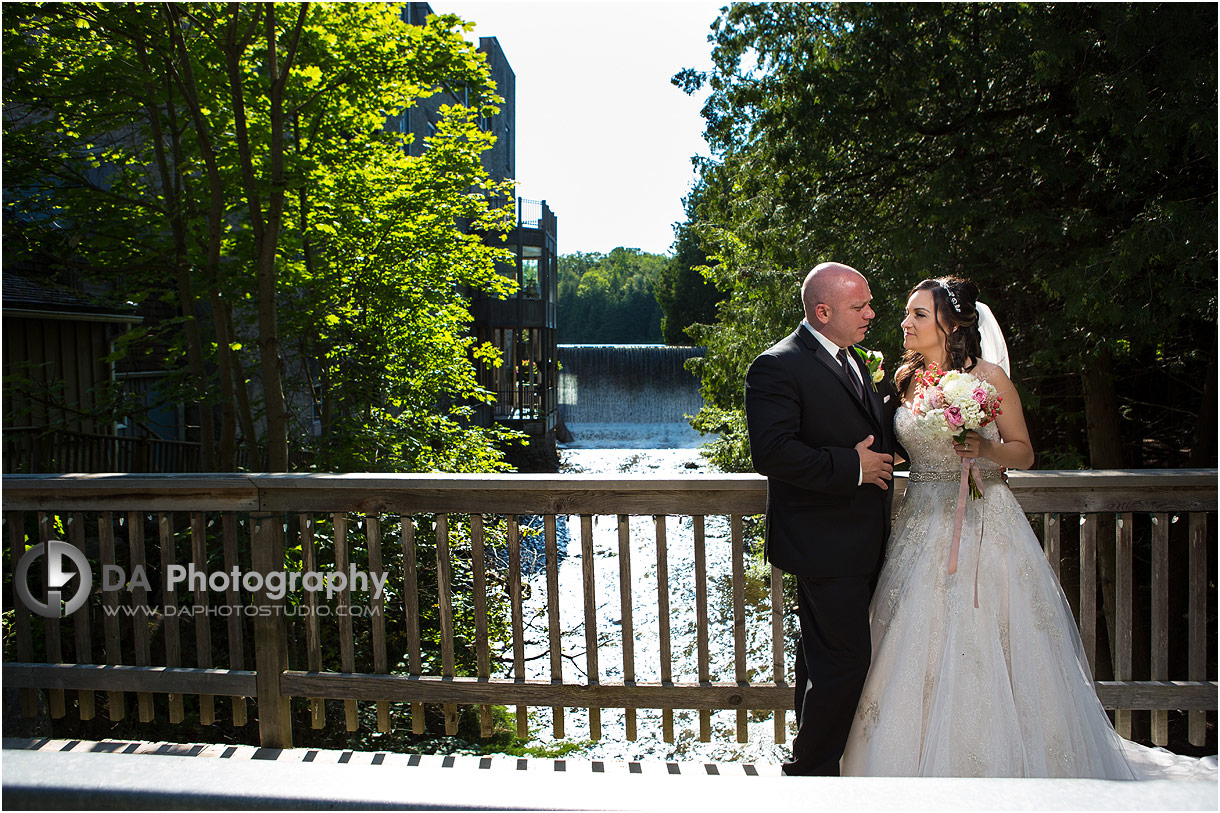 Cocktail and dinner reception fun
I can't properly express just how fun this rustic wedding was! From the mingling reception moments, the group photos of smiling guests, and the freedom of being with dear loved ones, it was a pleasure to be there to document this fabulous event.
It felt as though the dinner and formalities that come with wedding celebrations happened in a blink of an eye. Somehow, before I knew it, we were already at the dancing part of the reception.
The guests continued to enjoy the party. As I recall, there no one was seated at the tables. There was an adorable homemade photo booth setup that everyone was keen to try out. As well, the majority of the guests were on the dance floor. Those that needed some rest could be found outside admiring the summer night by the waterfalls.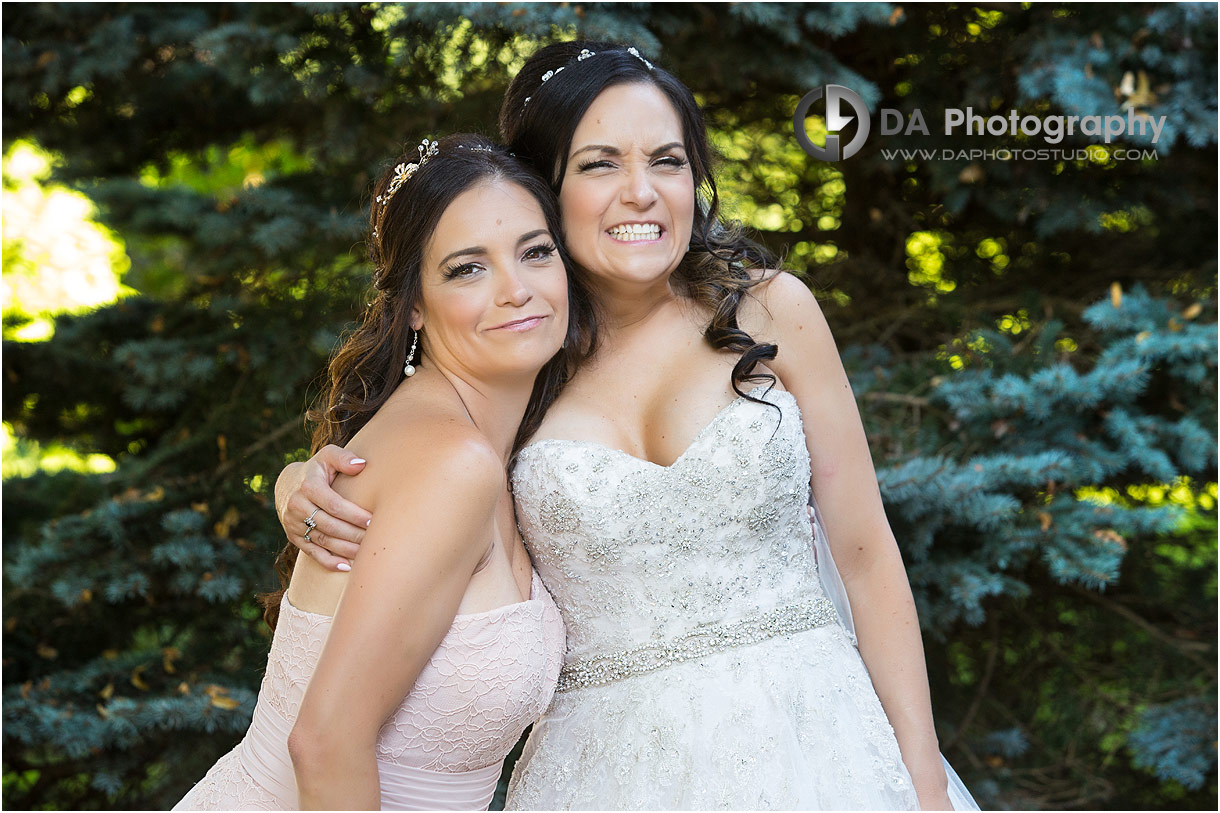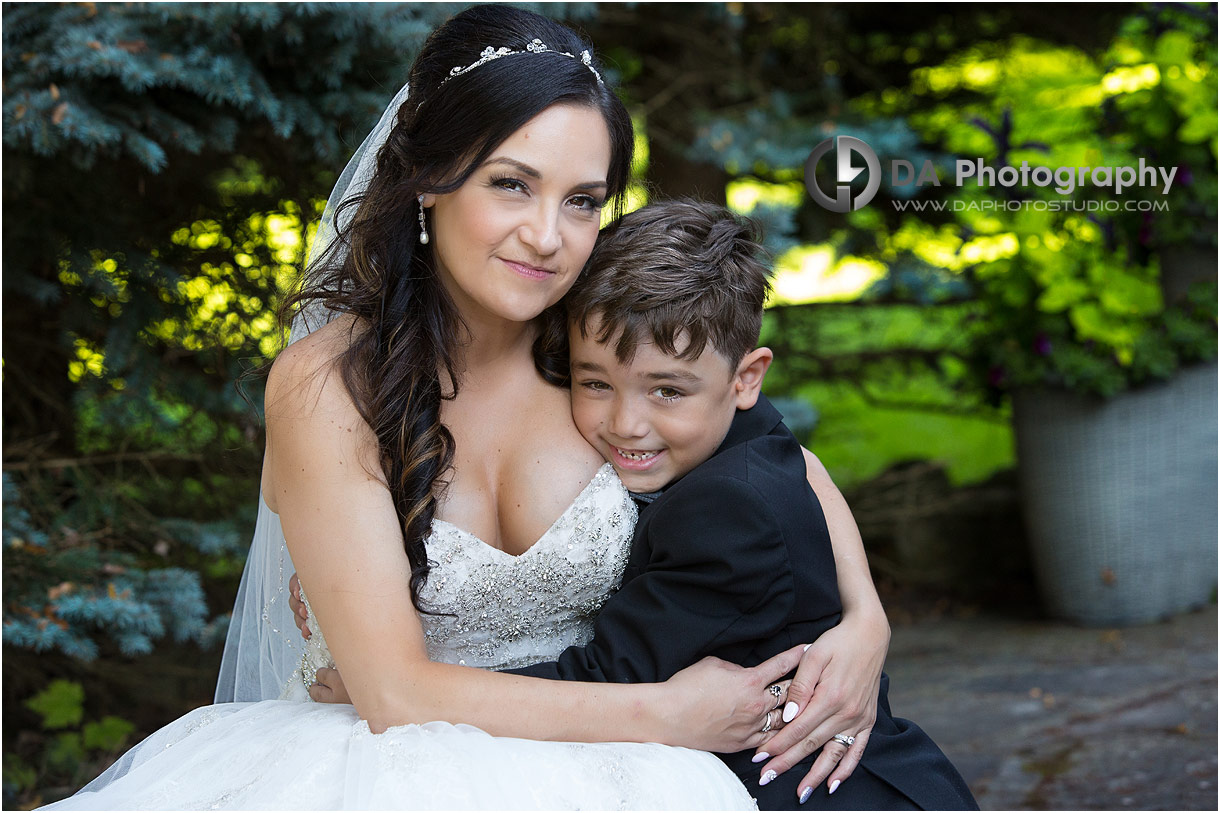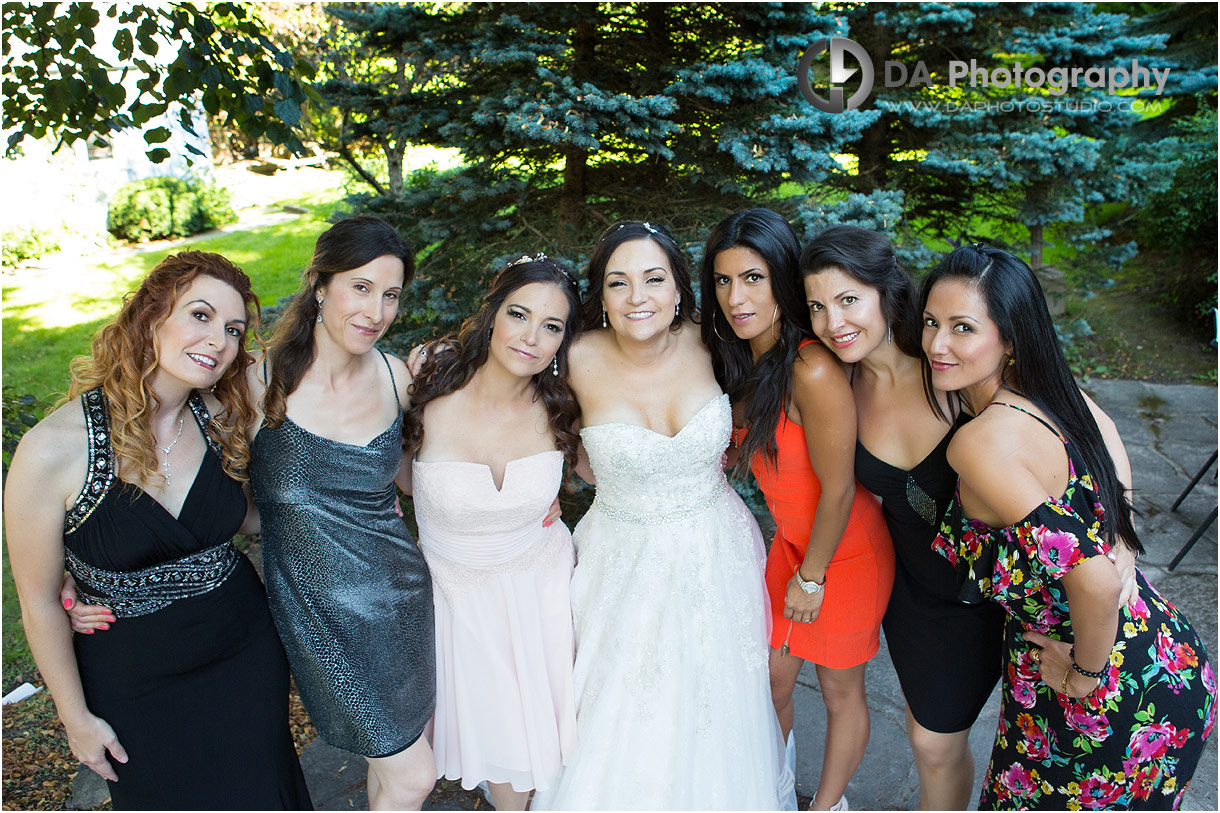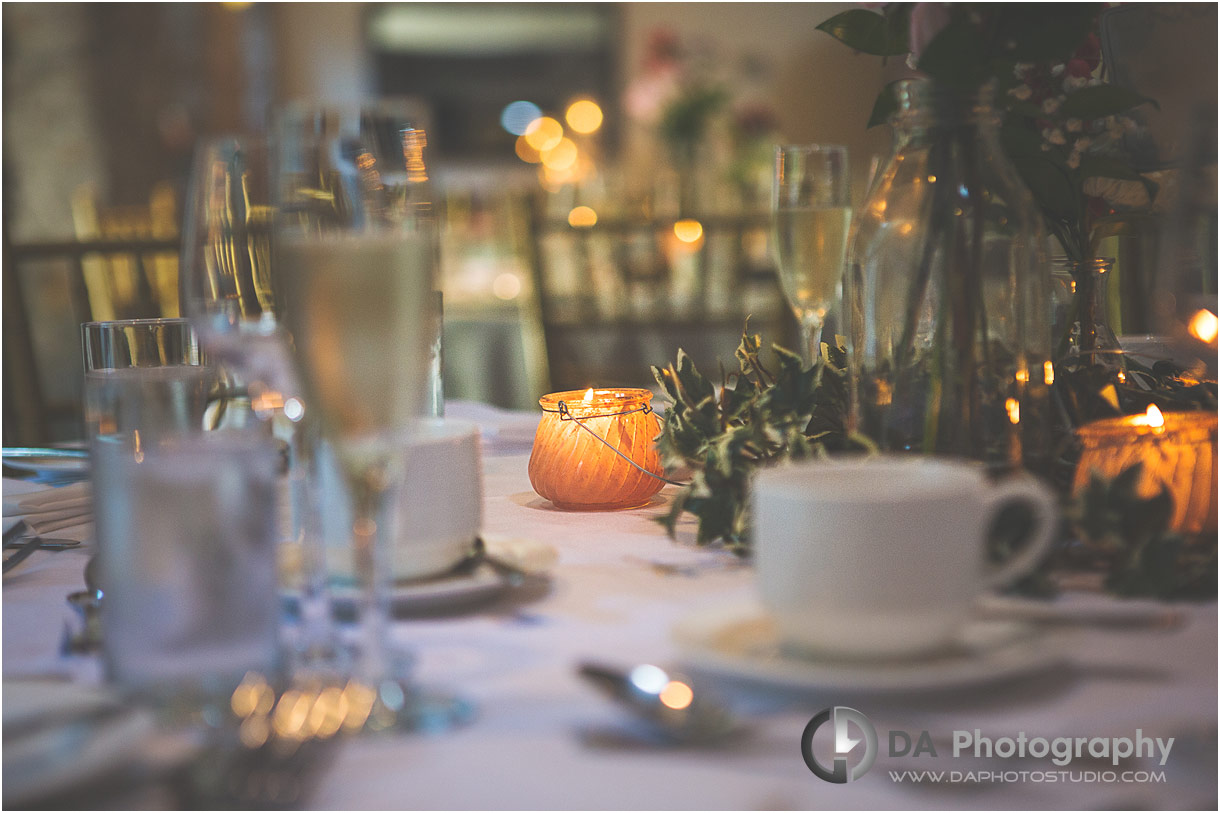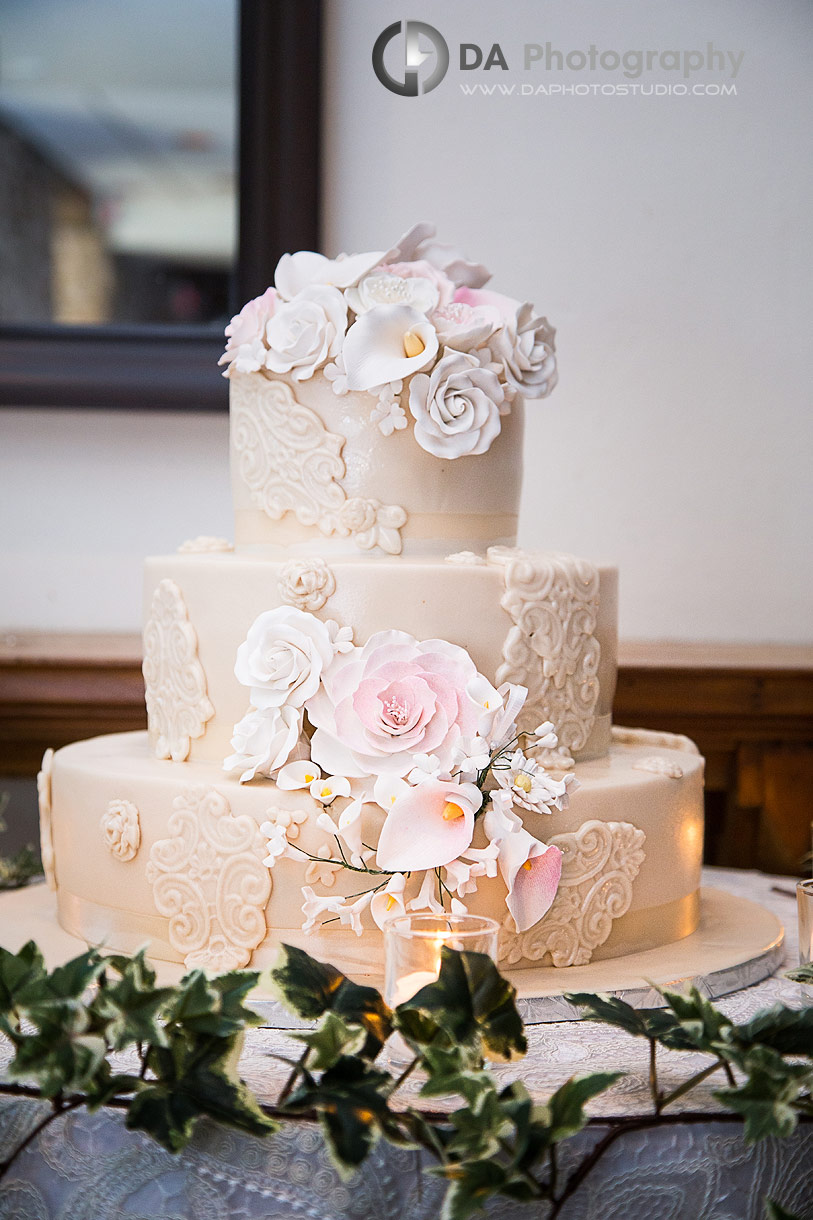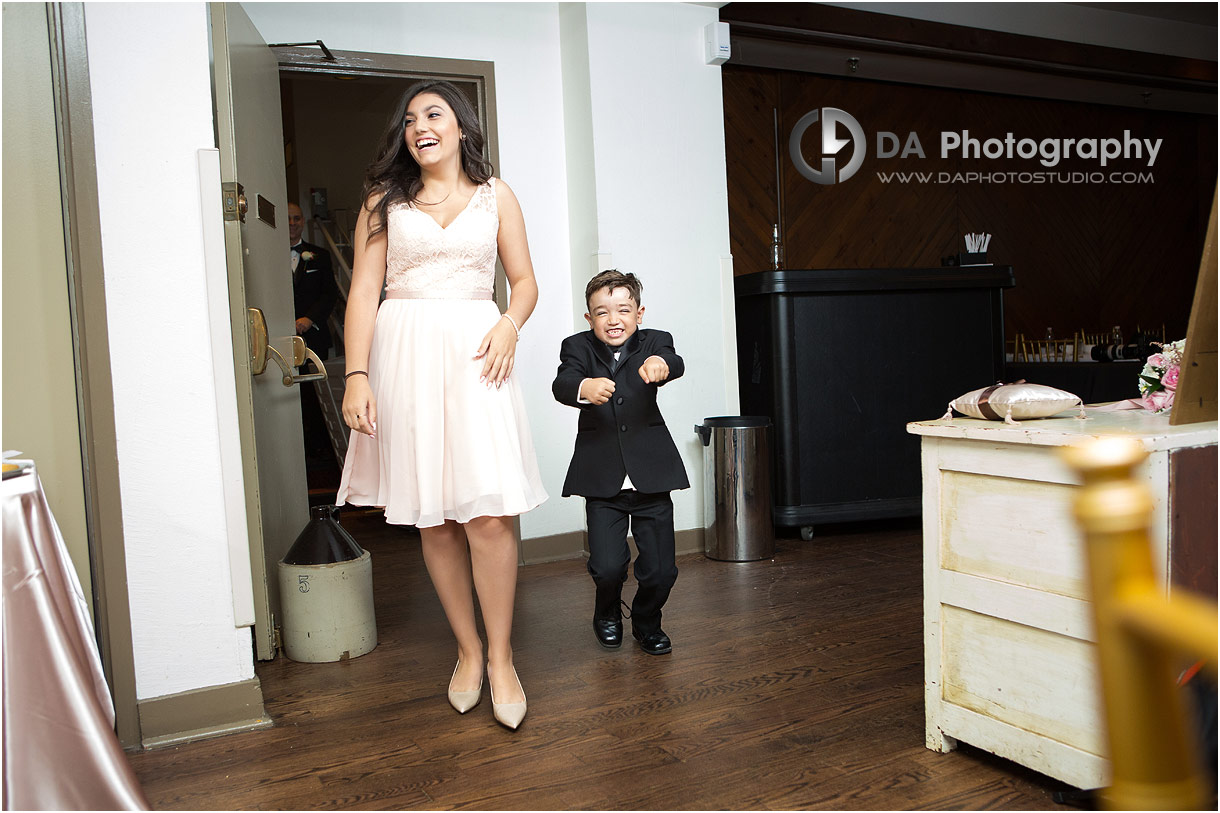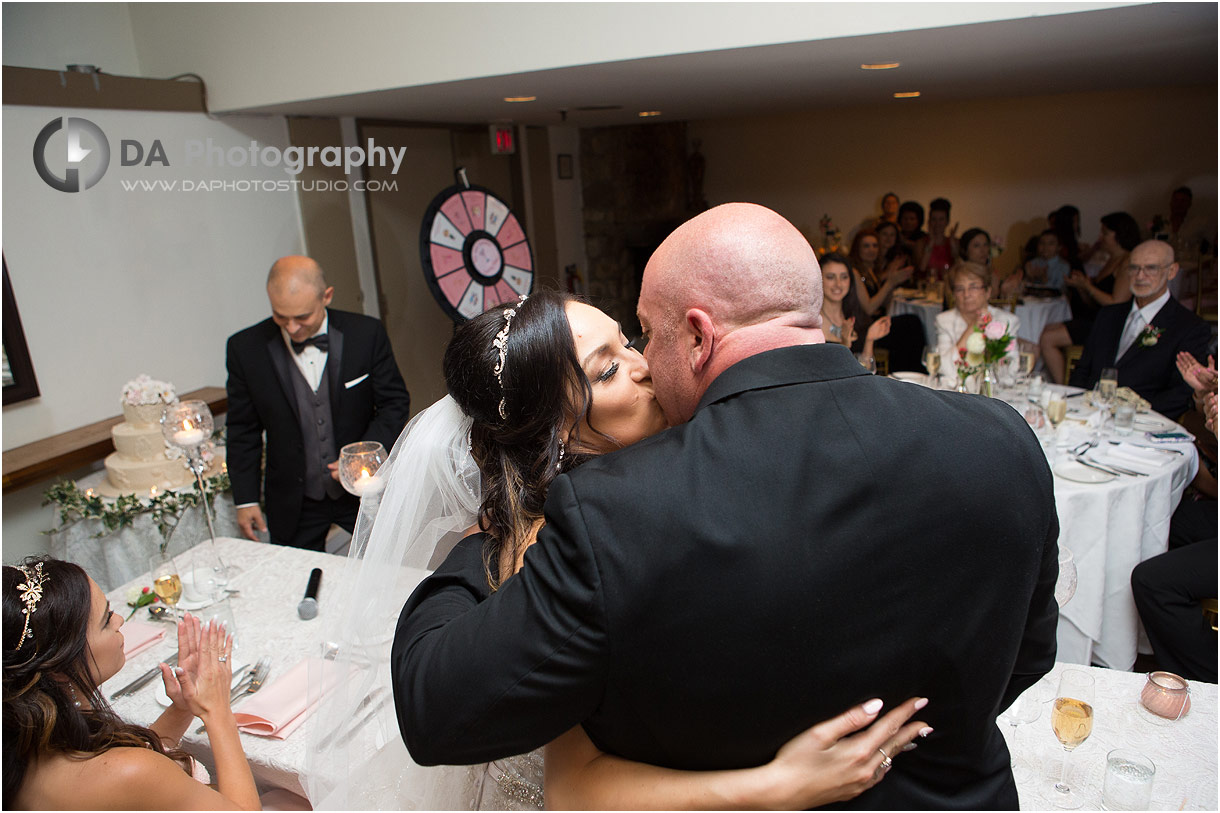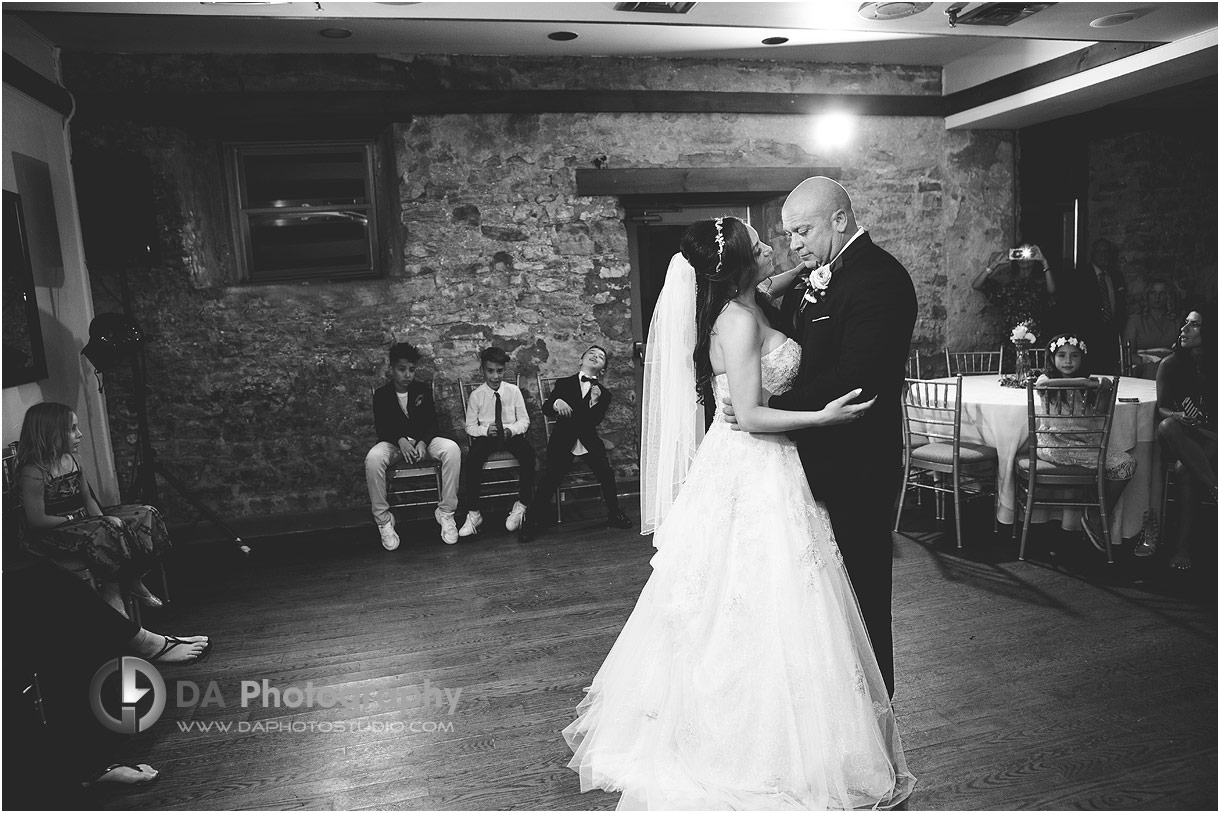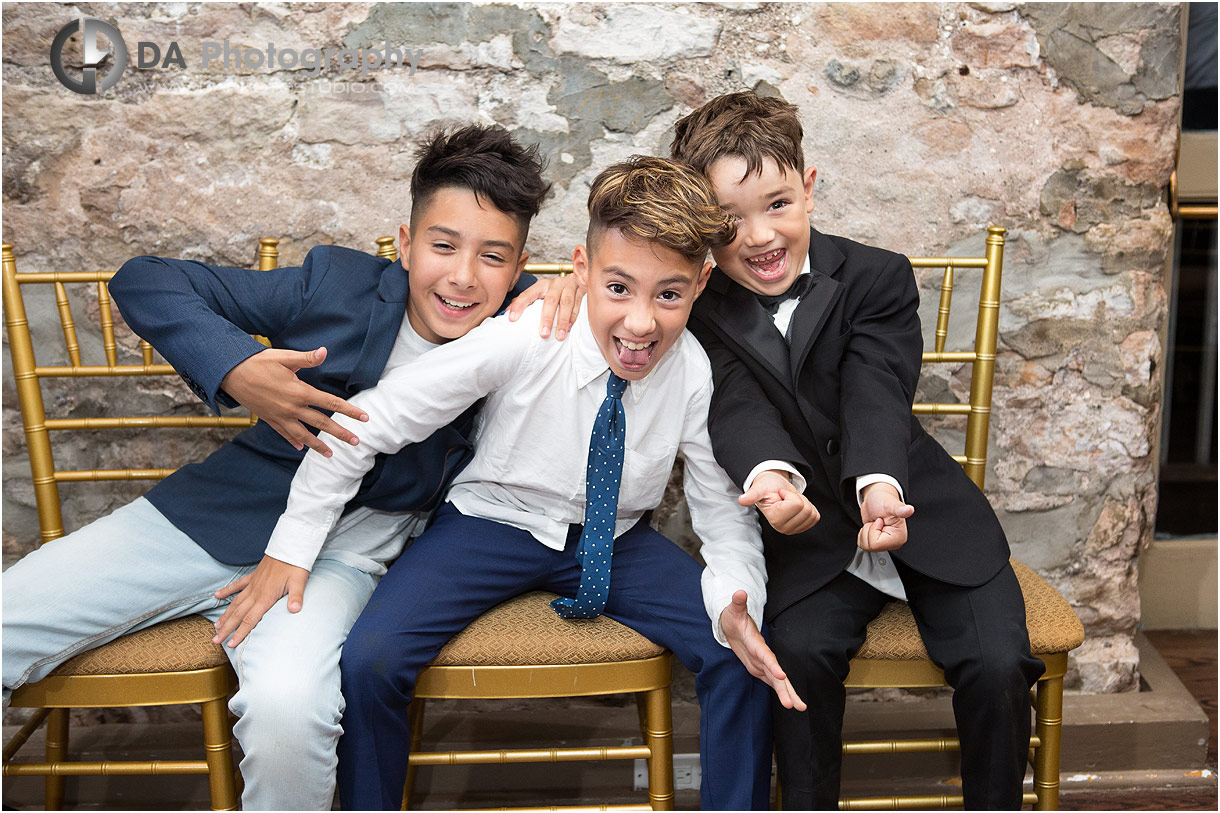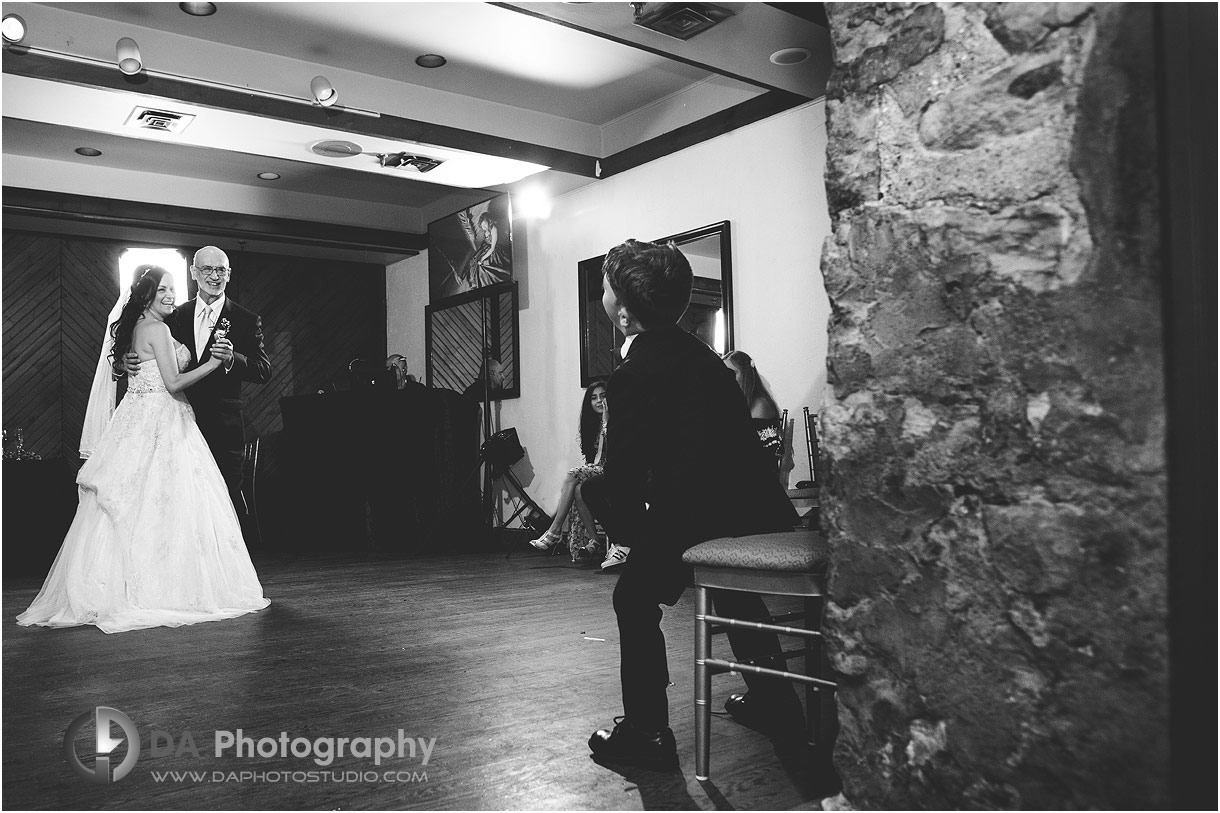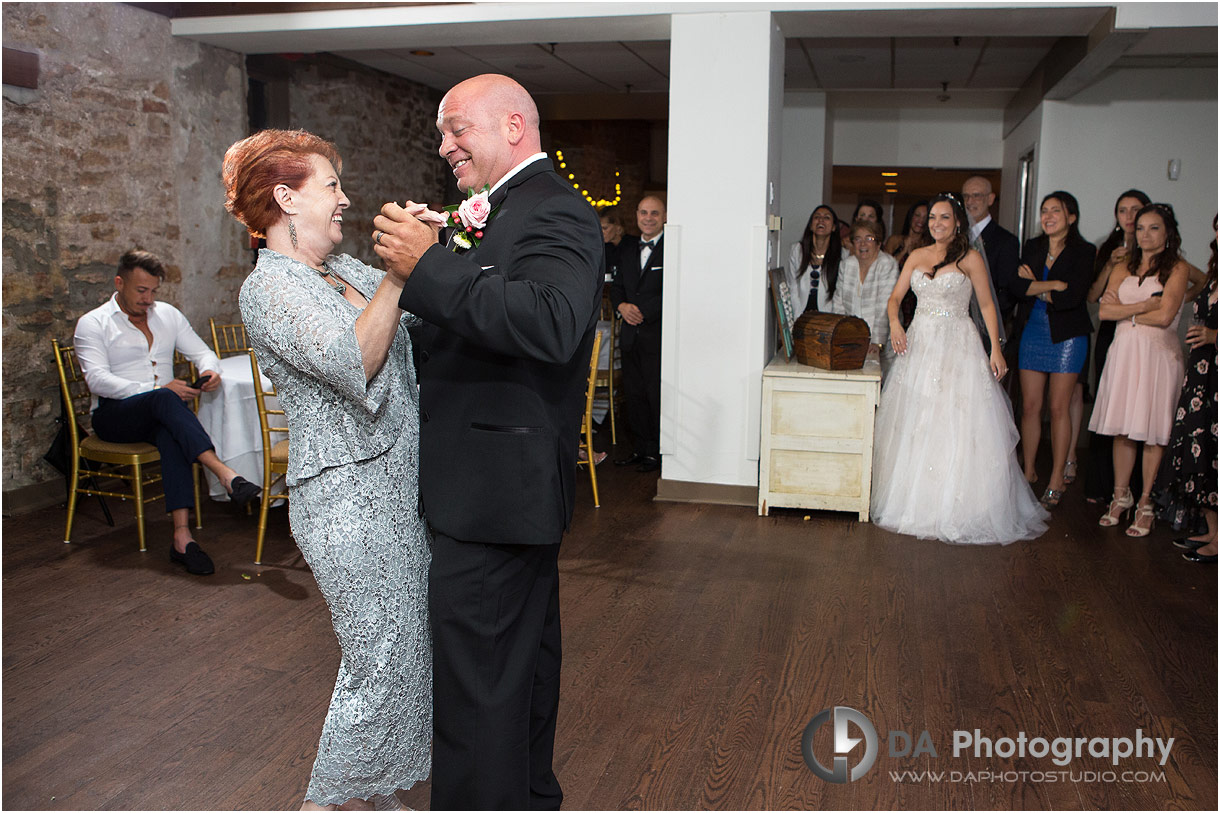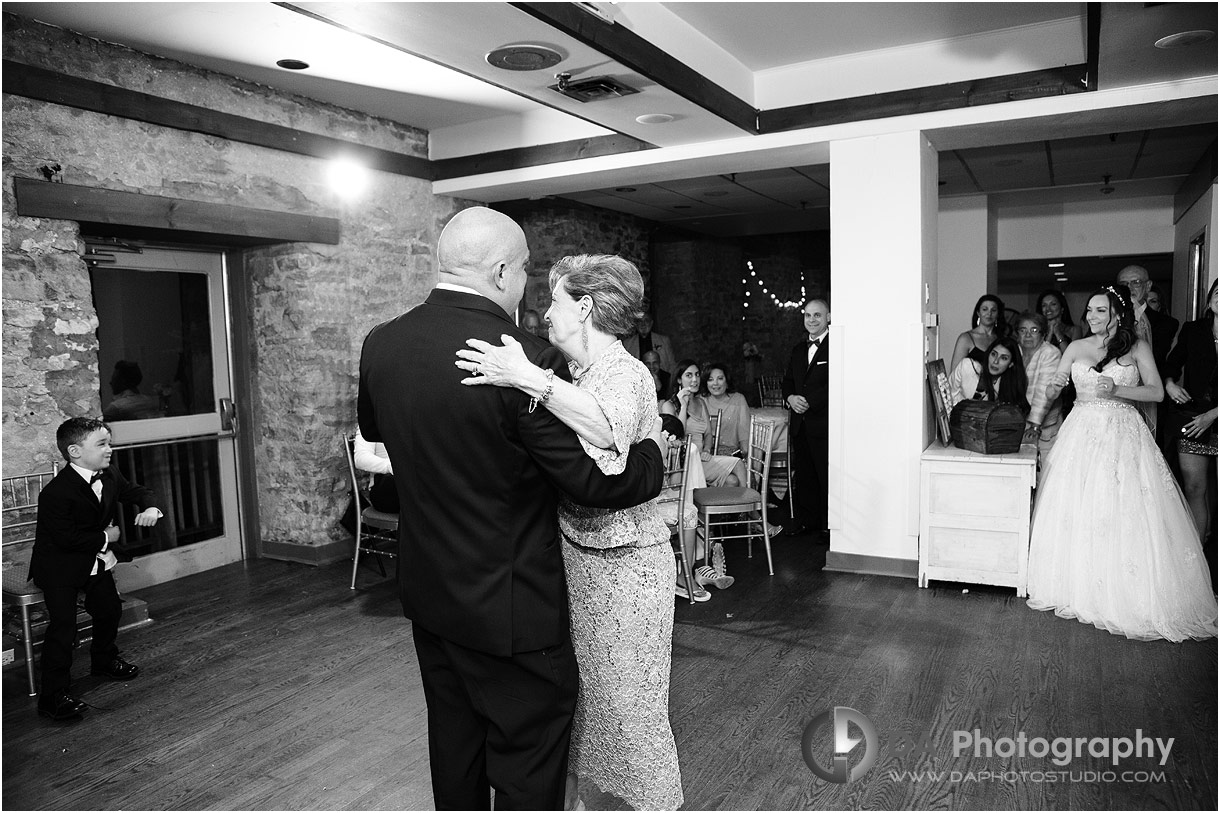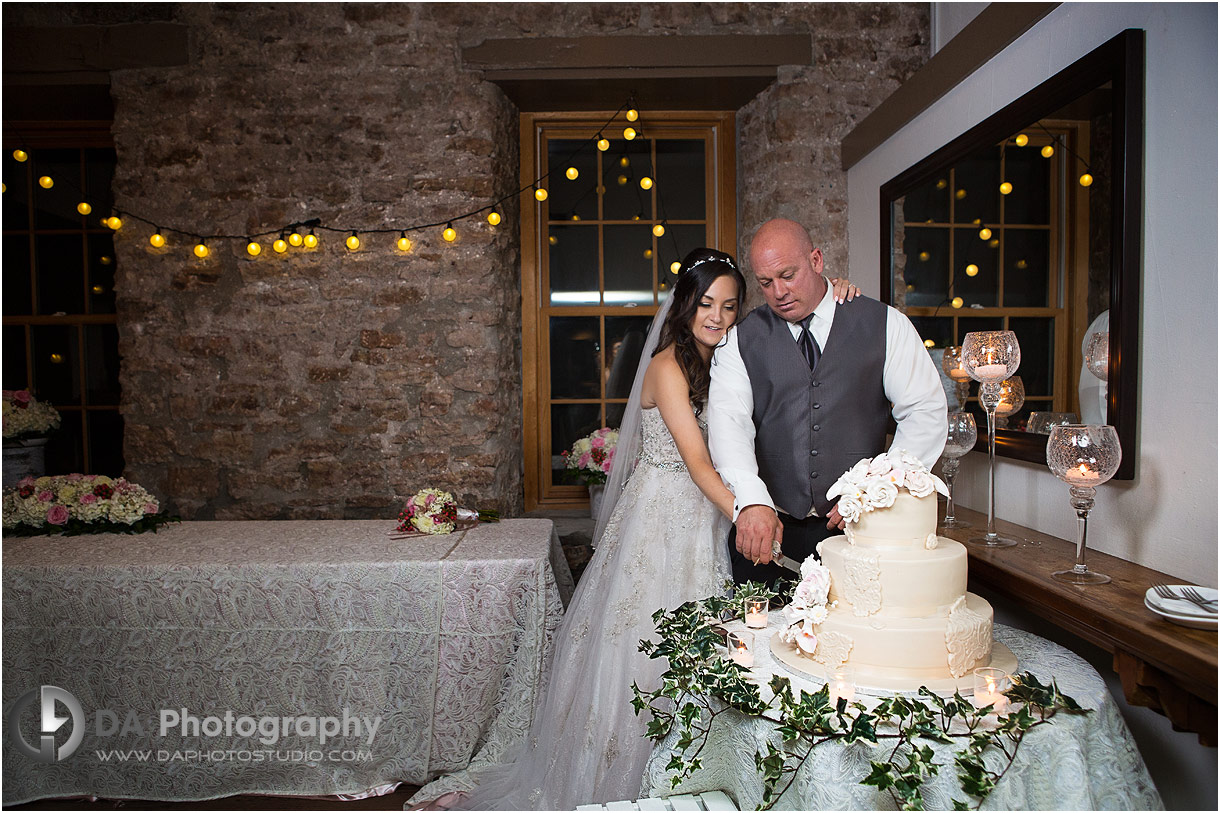 Nighttime photos
Every location has its own unique feeling at night. And Millcroft Inn is no exception to this! With years of photographing here, I have discovered many spots that many others might not be willing to venture to. The result is stunning, one-of-a-kind images for my couples to enjoy for years to come.
Images like these may take a lot of effort for us to create, but it is totally worth it! Between superb communication with my couple and my run in the dark to the other side of the river, there is a lot to organize for these photos.
Once I made sure that everything was preserved in photos, it was time for me to leave the party and my couple to really get the celebrations started!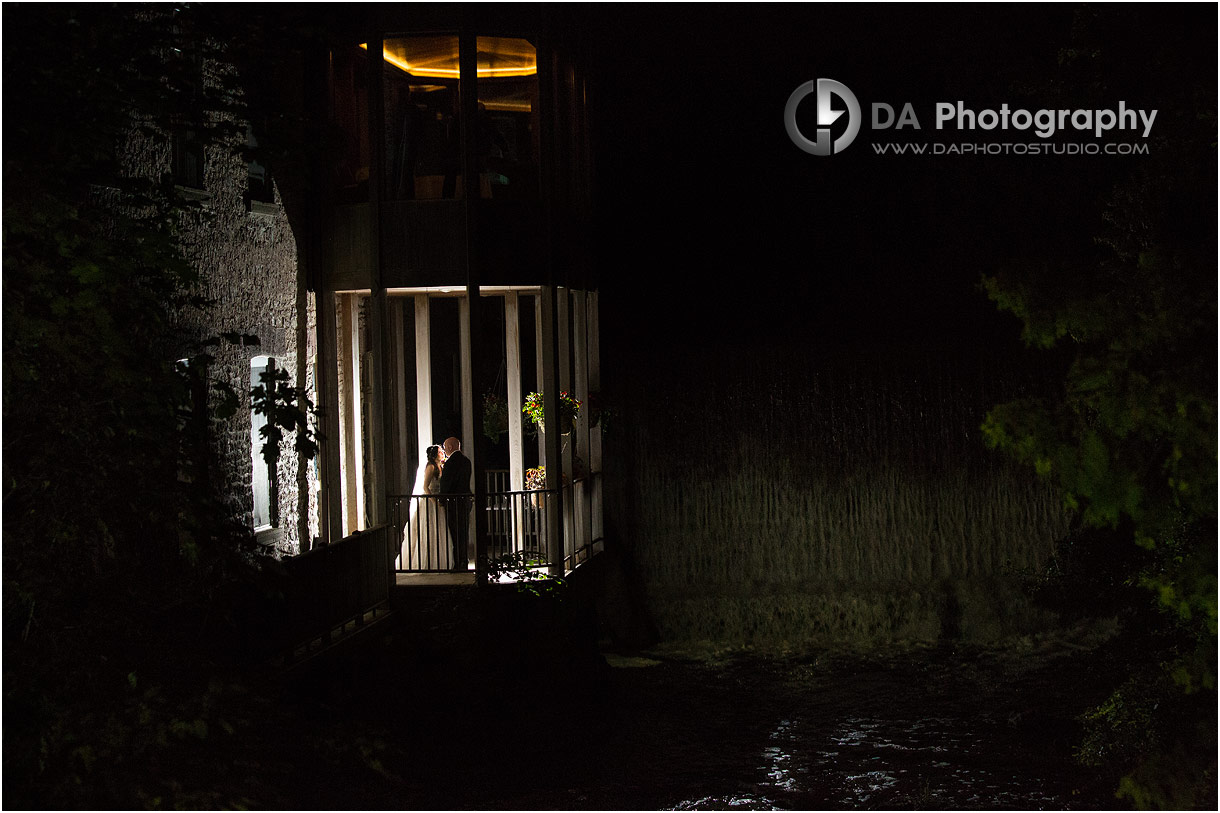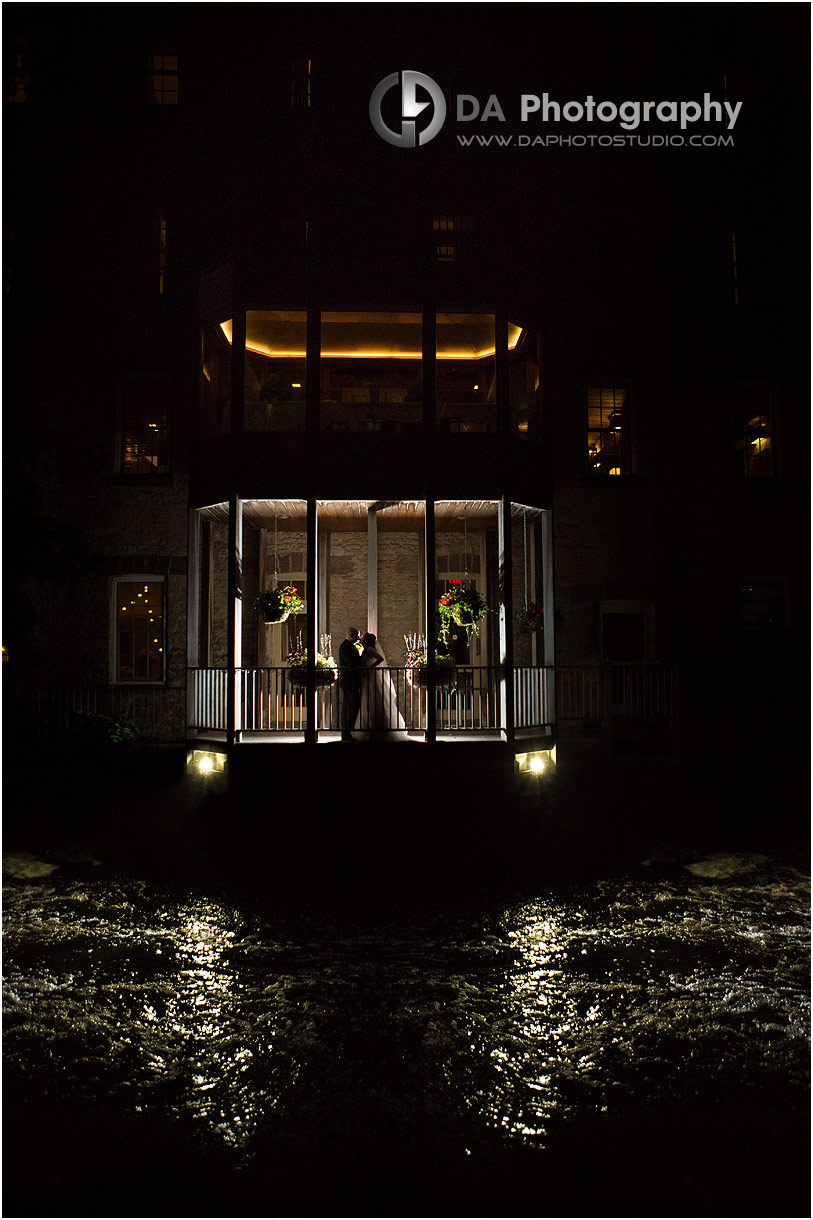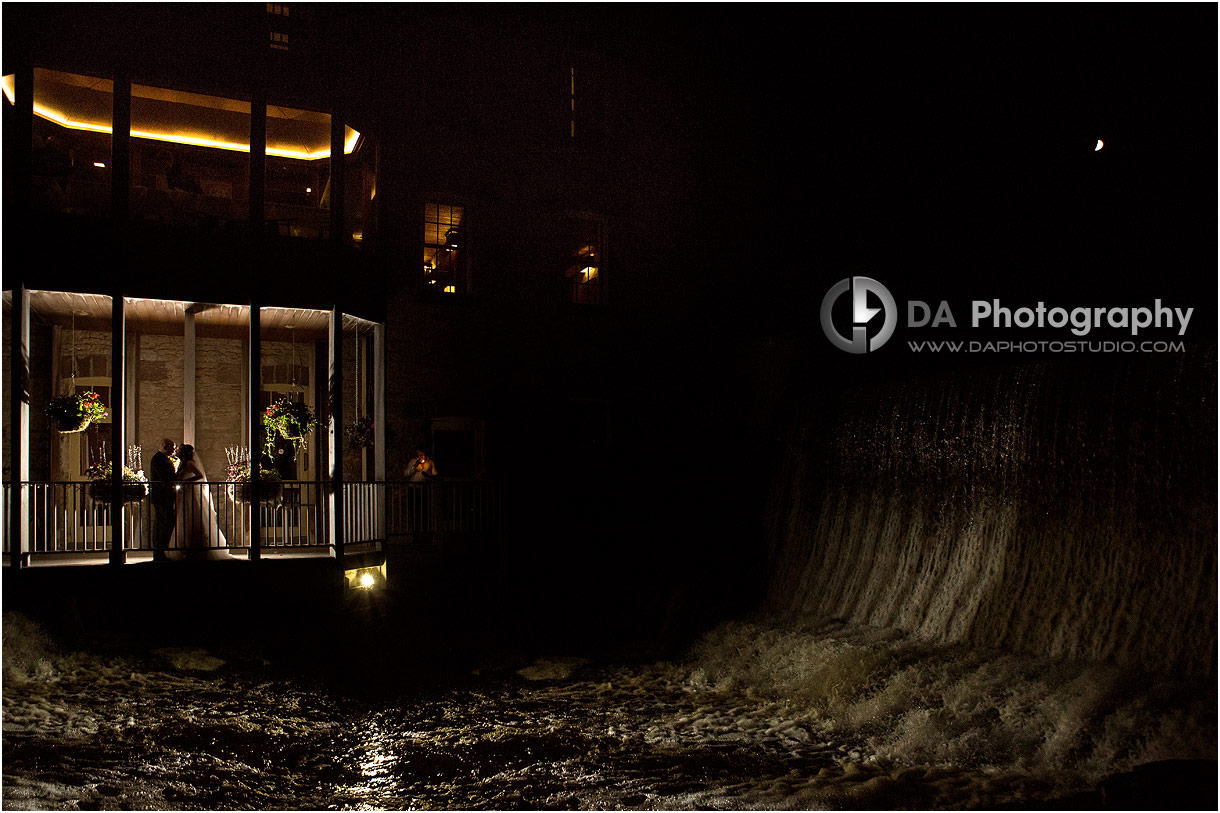 For these quality photos and the one-of-a-kind experience of this rustic wedding, there were many people involved. All of them made sure to do their part to help this couple have the time of their life. Some may say that there are no perfect weddings. However, to that, I say that all weddings are perfect in their own way. This is especially the case for rustic weddings at Millcroft inn and Spa in Alton.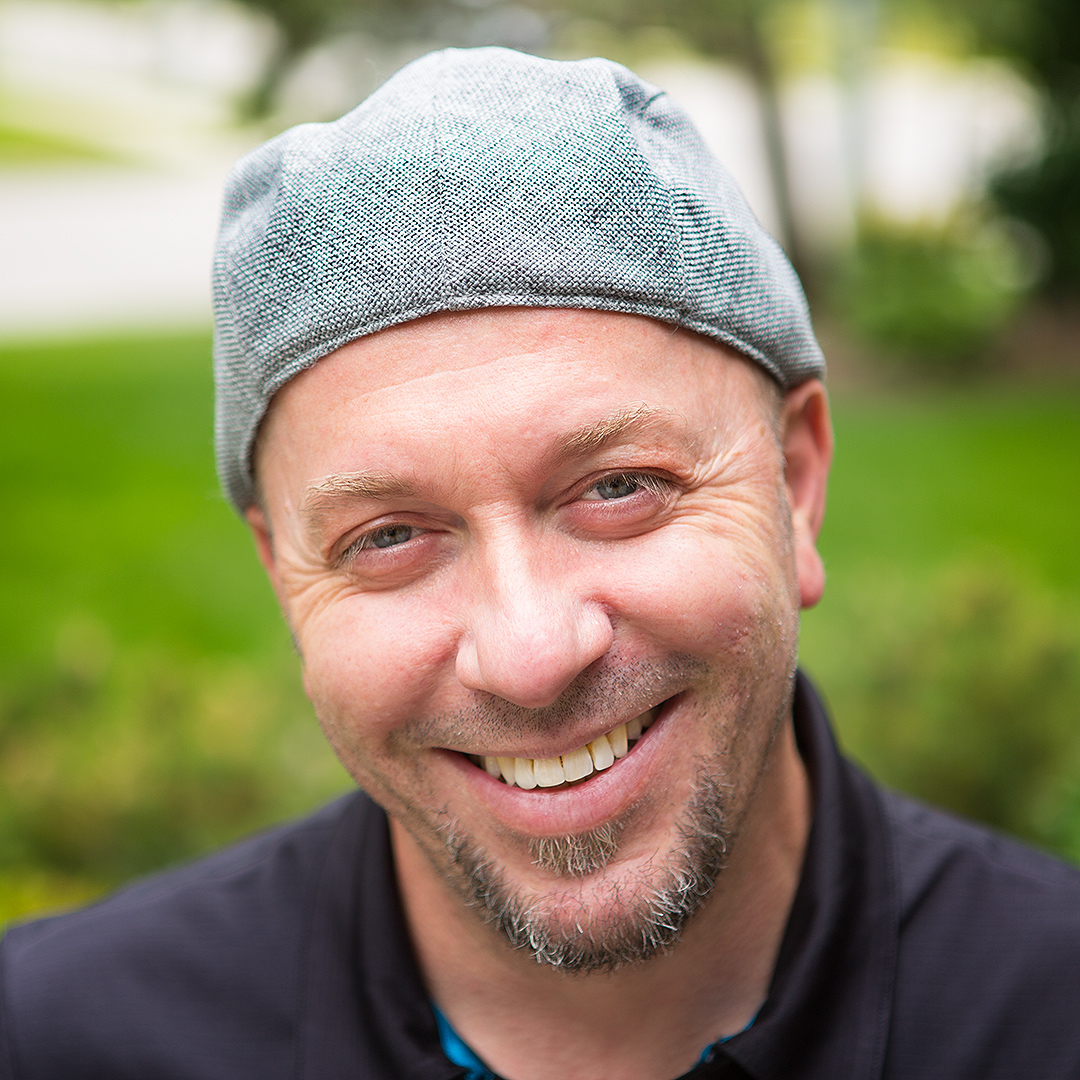 My passion and biggest asset is taking the time to make every client comfortable and relaxed before I even pick up the camera. The result? Photos of you that actually look like you at your best! I can prove to you how much you can enjoy having your picture taken. Lifestyle photography is about the experience that happens to be served up along side of some great photos.
Specialties:
Family Photography for families that like to move around and enjoy their photo time, Wedding Photography for couples looking for a mixture of photojournalistic, contemporary and traditional images and Professional Corporate headshots that are far from cheesy and stiff.