Planning Martha and Corey's maternity photos started years before. Our relationship began when we met and they decided to book me for their wedding. What you probably didn't know is how involved I have been with the documenting their journey together. Before this maternity photo session, I had already photographed them three times and then would go on to do another session once more after this one. We met each other 5 years ago and still keep in touch. They are truly part of our DA Photography family. My other secret is that I *may* still have the ceramic plate that Martha's mom sent me home in 2016 with some delicious Portuguese custard tarts on it!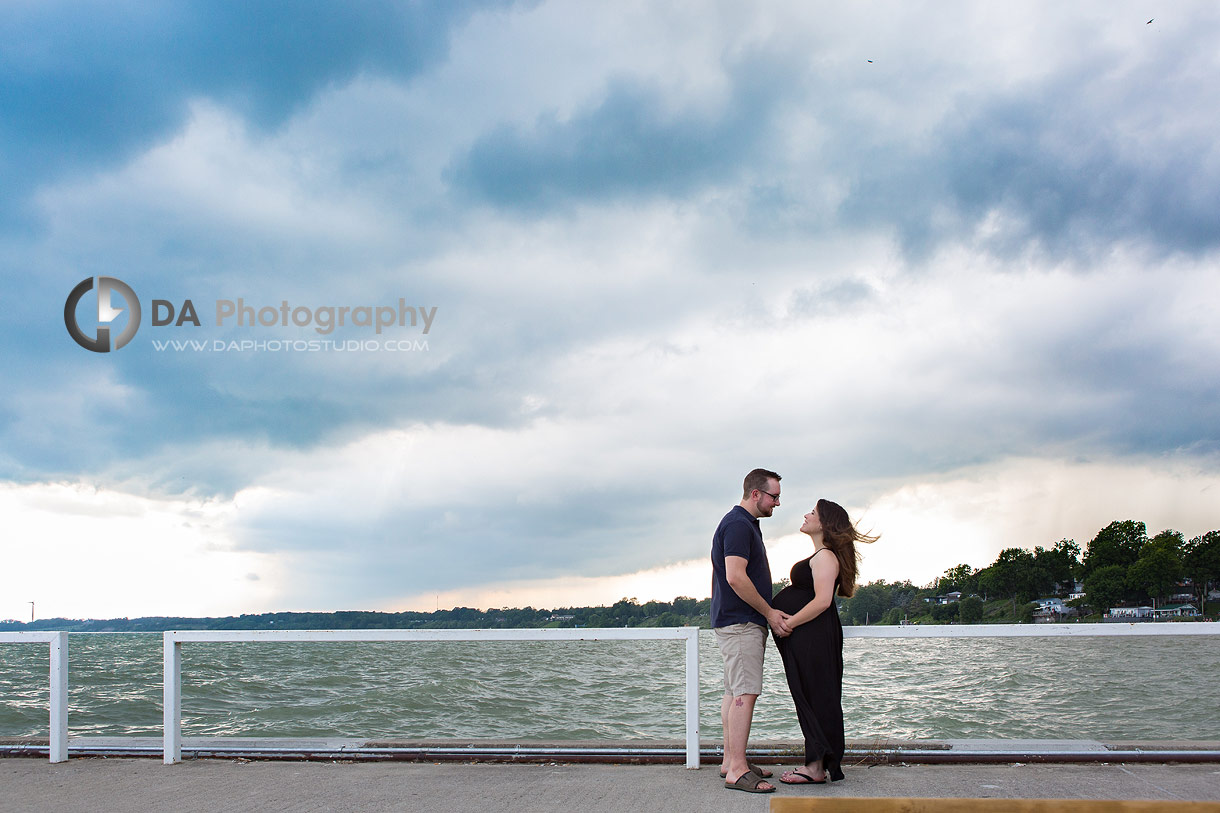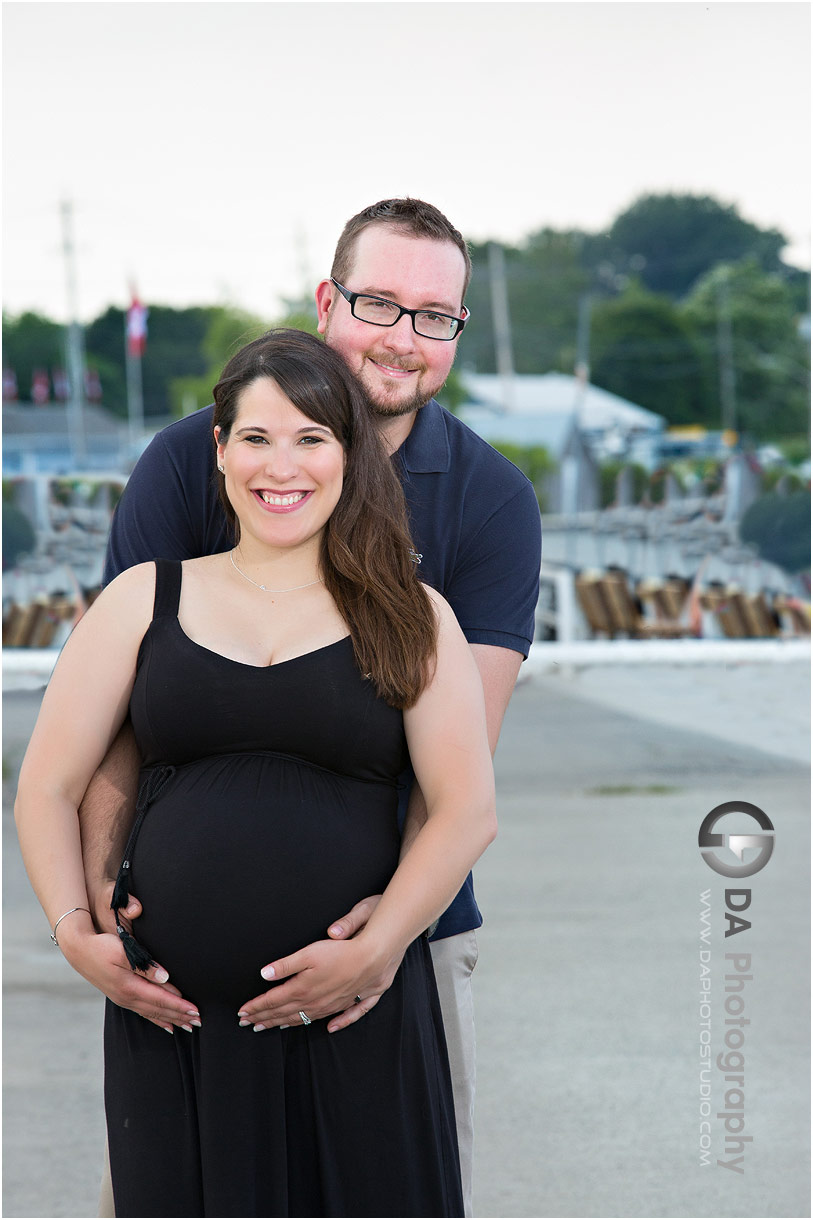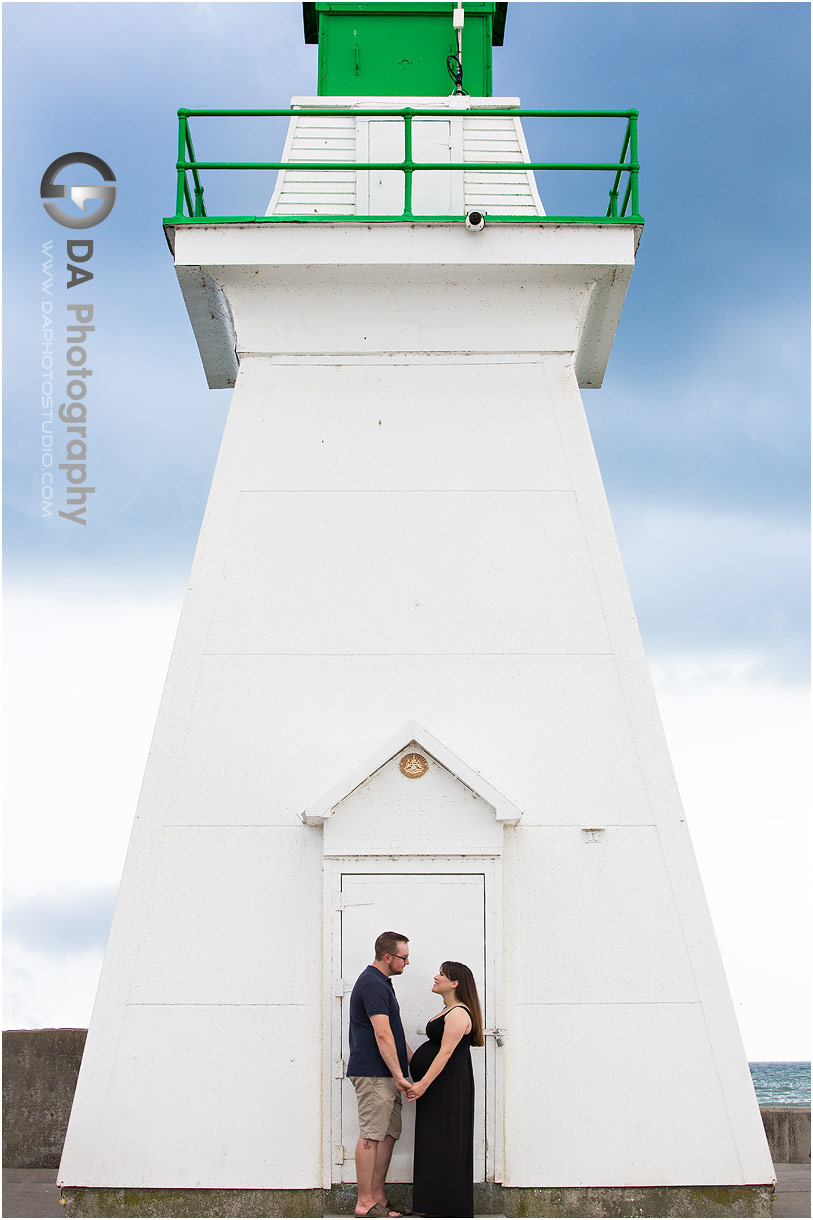 So, what does this all have to do with maternity photos, right? Before I start sharing some stunning photos from this session, I would like to take a moment to touch on how these photos came to life and the base and structure for each of my images that I take. To me, my connection with my clients is very important. Honestly, I truly value these relationships! Most importantly, I make sure to nurture these and keep the communication open as long as my couple is comfortable with it. This helps me to get to know them and their loved ones, while also foreseeing if there is anything I can assist with to capture their photo memories.
Being involved and connected means so much more than just a salesman-client relationship. It gives me purpose and reasons to capture more emotional and creative images. Essentially, they become photographs that tell a story instead of an image to update your social media profile.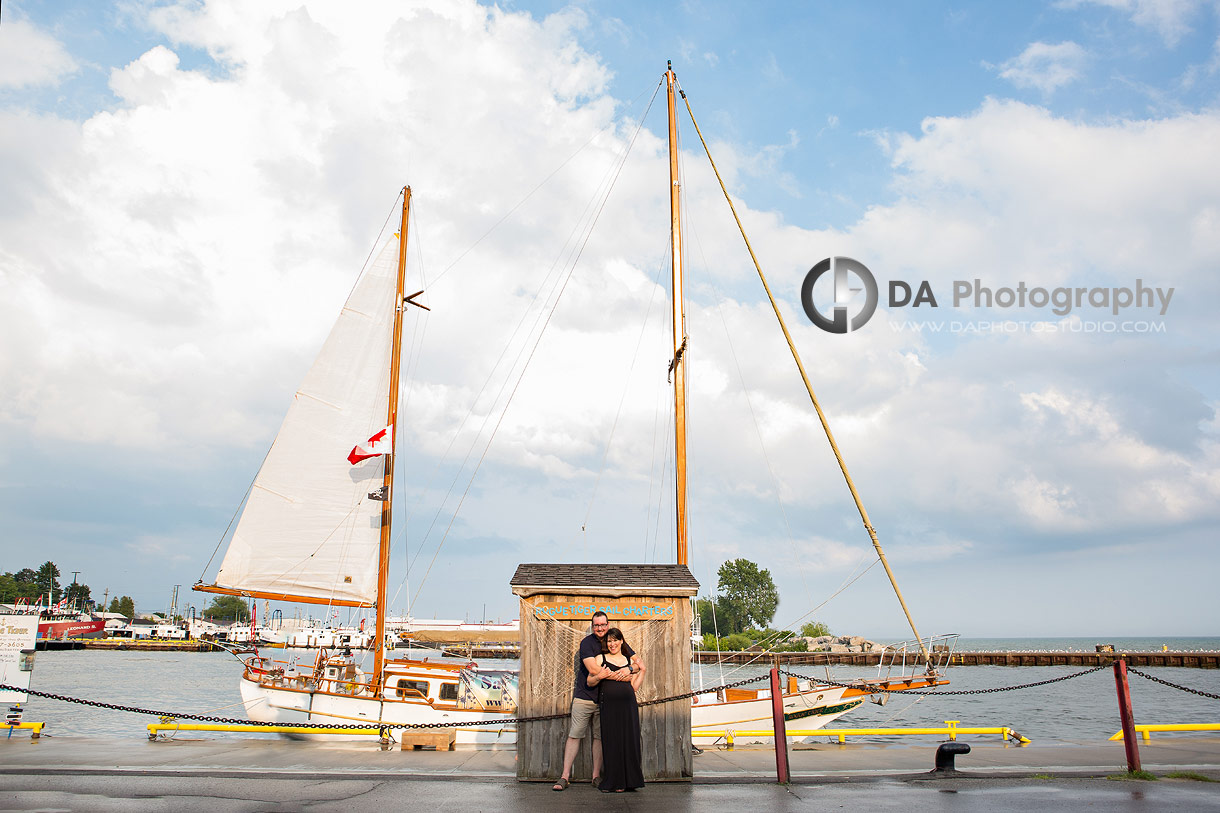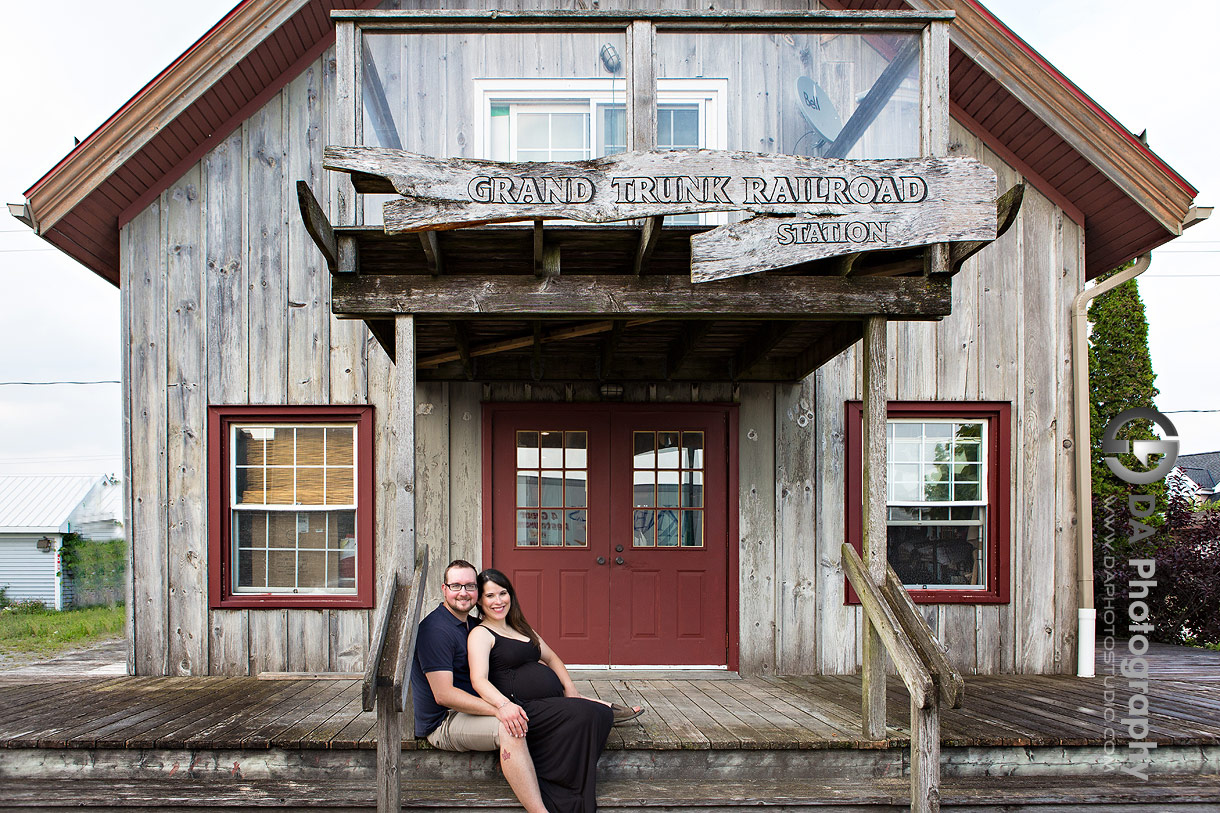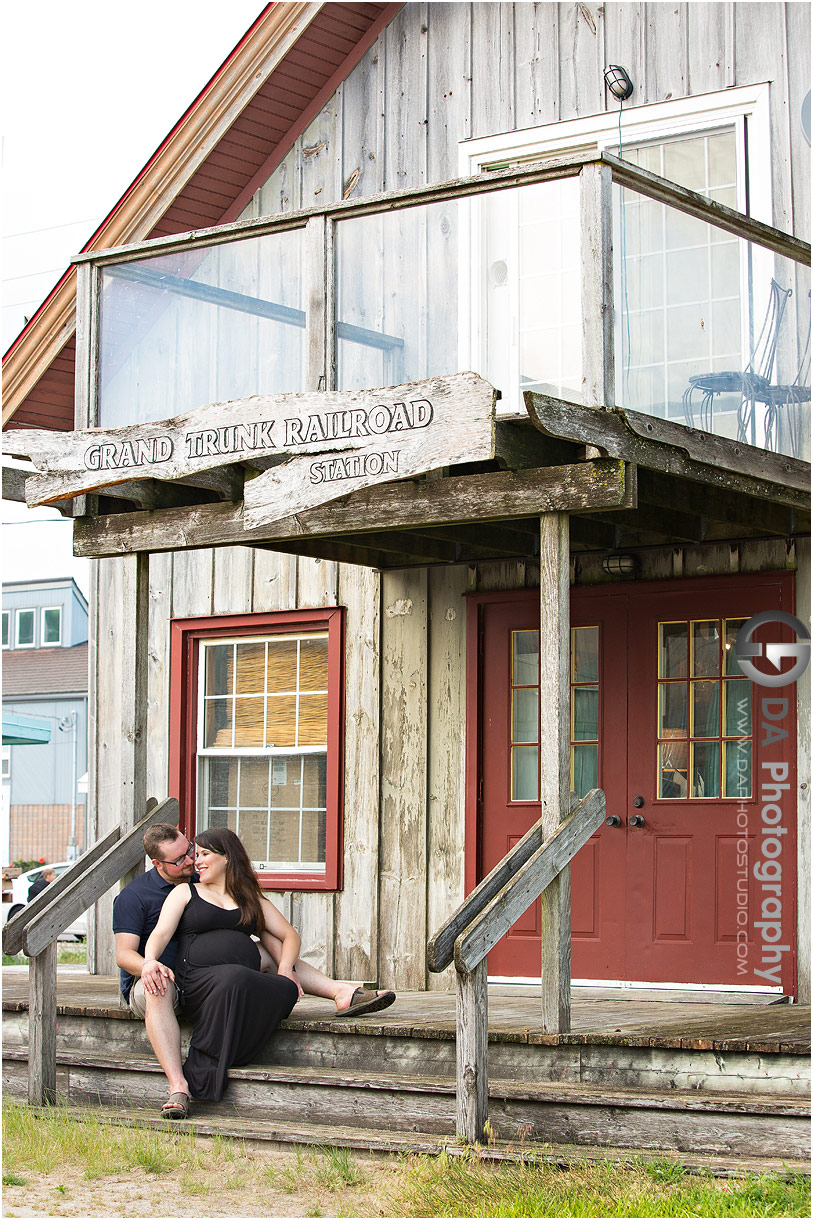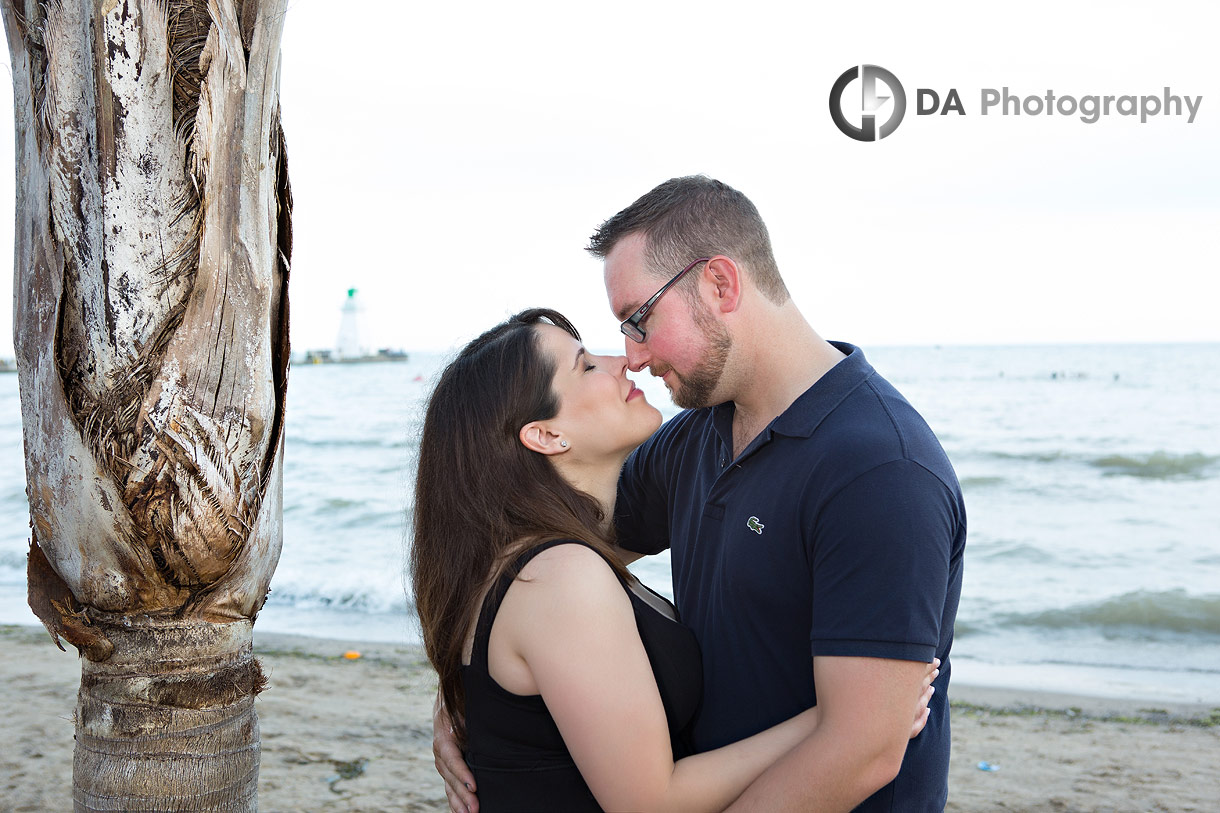 How the maternity photo day began
In February, Martha let me in on the good news. They were expecting their (first) new addition! She wanted to do so early so that we could schedule maternity photos in July. During their maternity session I wanted to capture the essence of their very real connection. This meant I needed to listen more than I talked.
Martha and Corey are very relaxed by their nature. Don't get me wrong. There is totally a plan for everything in Martha's head. However, once she is confident in her choice, she is ready to not sweat the small stuff! Proof of this was on their wedding day when the sky opened up. It began right after their church ceremony and only stopped late in the night. Through it all, she kept her wedding organized and a happy face for all her friends and family. Her mindset was key to the happy atmosphere that gave us some really great wedding day images.
But let's get back to these amazing maternity photos and the next chapter of their relationship! Martha and Corey wanted the pictures taken by the lighthouse in Port Dover. This was the original location for their wedding photos and is just a few steps from their house too. I was excited as I knew that location would help create some really great maternity photos for them. We started the session at their house where we were able to capture some images with their dog too. Then, we organized ourselves for the outdoors. The weather was humid and a storm was brewing, soon to be on the way. I couldn't resist asking Martha and Corey if they knew this feeling before!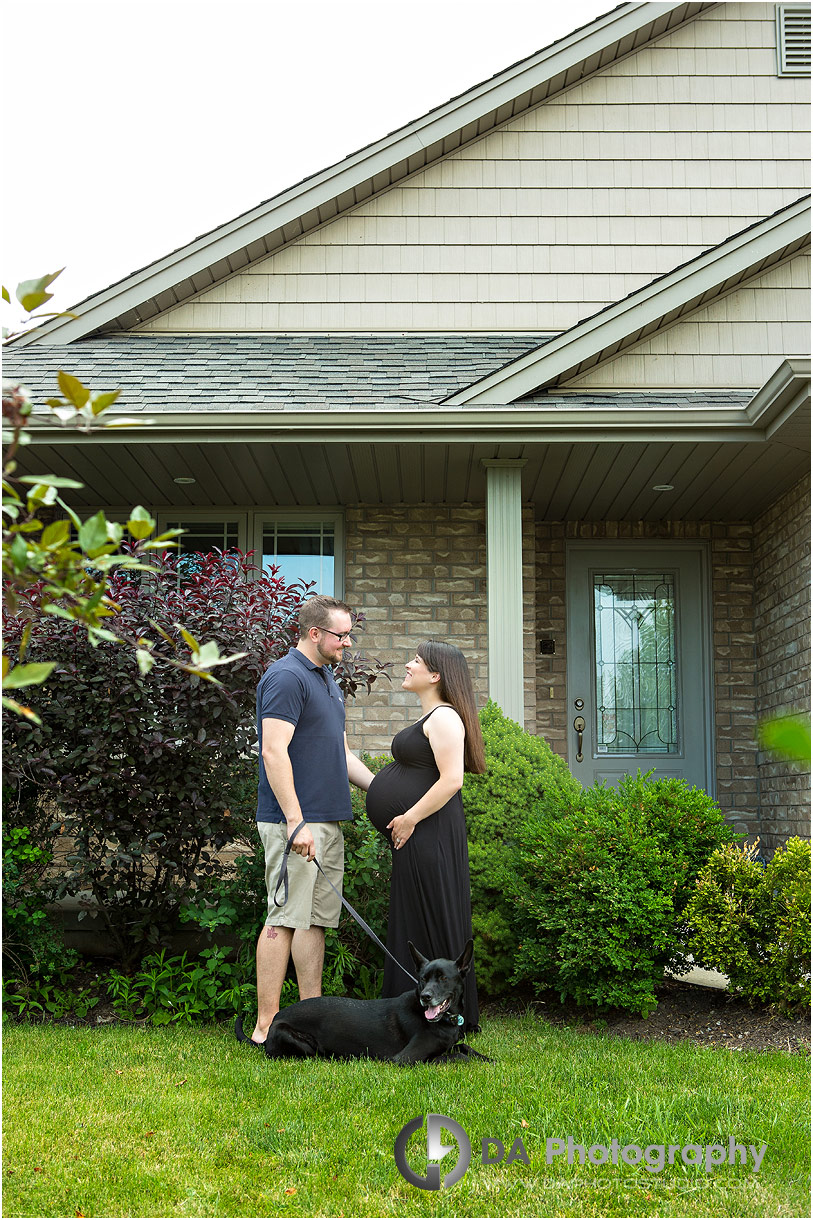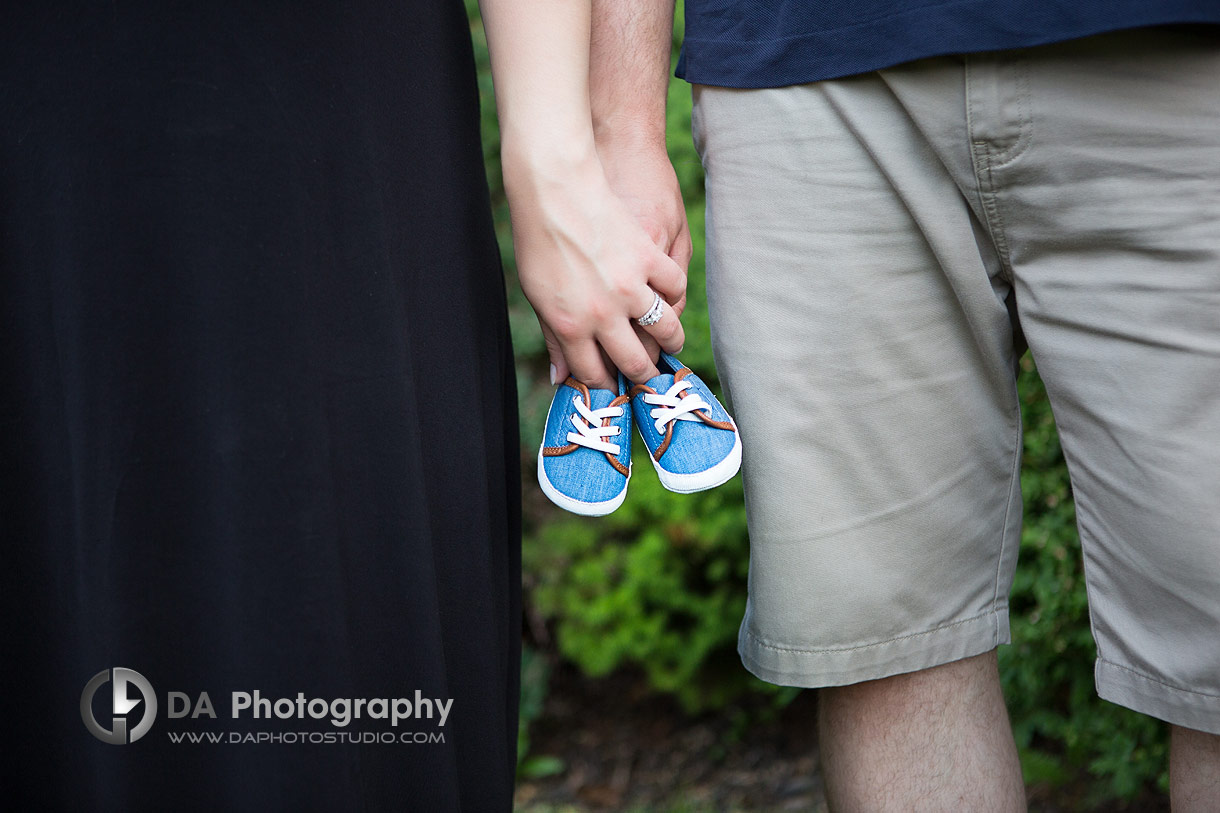 Stormy weather for Martha and Corey's maternity photos
At the lighthouse you could actually see the dramatic sky from the storm coming our way over the Lake Erie shore. The visitors and tourists around the lighthouse gave us lots of space. After seeing Corey, Martha and her 8-month belly, they gave us the room we needed in order to capture some great images at the pier and around the lighthouse.
As a side note, I tribute my move to Guelph with my family to Martha and Corey. You probably didn't know that! After Martha and Corey's engagement session in Port Dover I saw the beauty of a less busy and more relaxed smaller city. Port Dover inspired my wife and me to look for our new place to call home. One year later we had our new house in Guelph!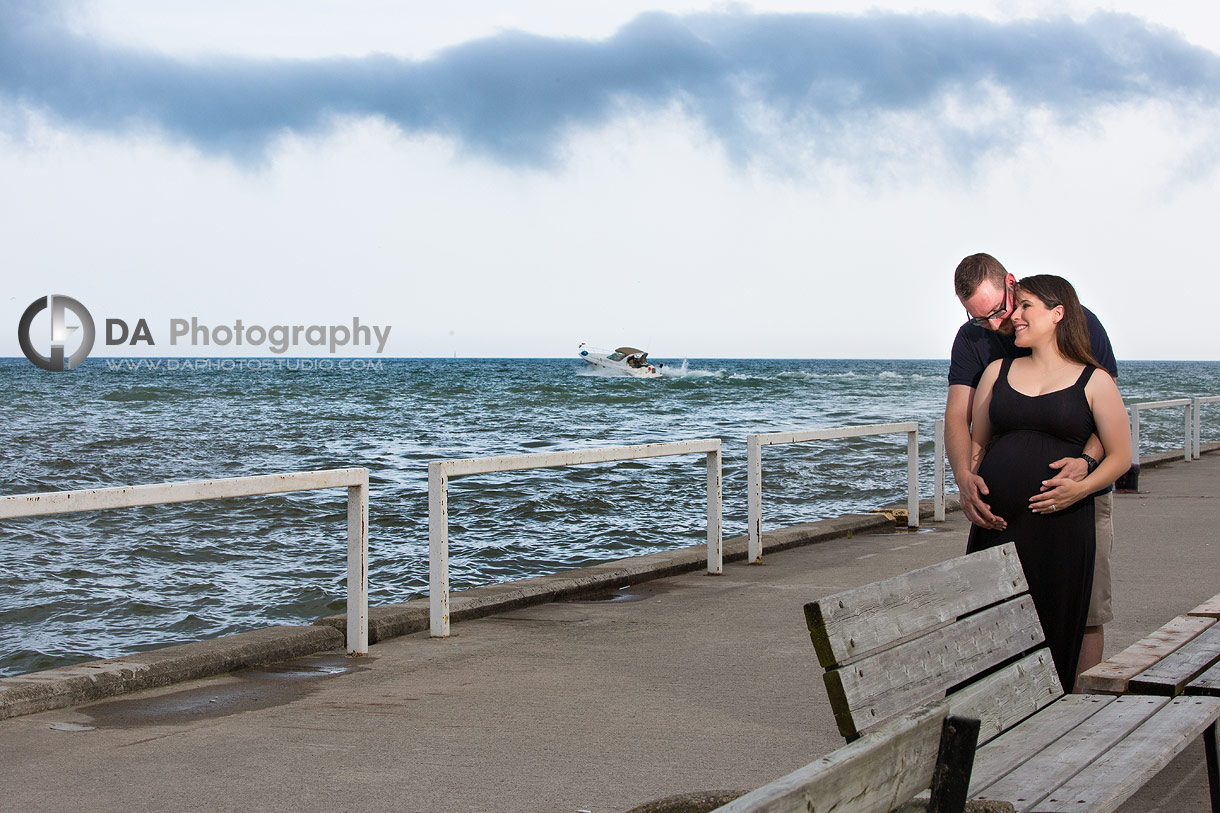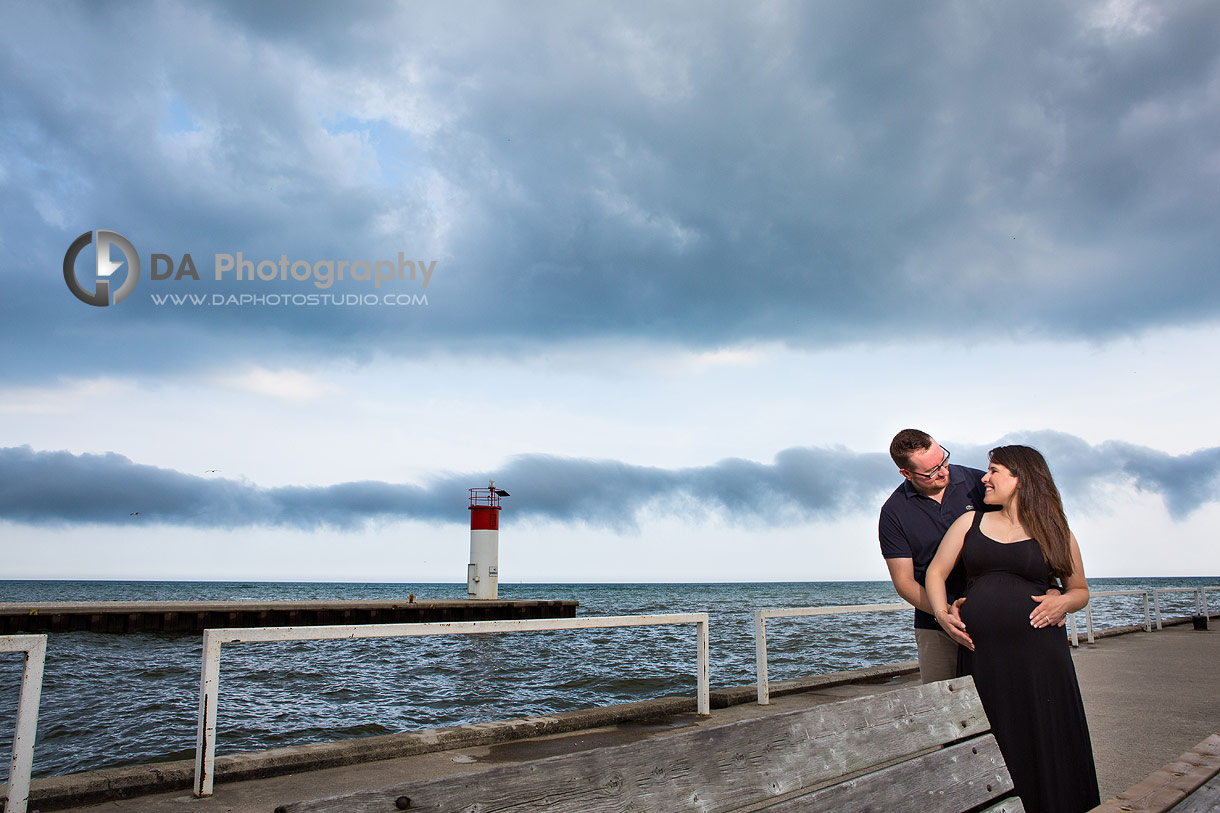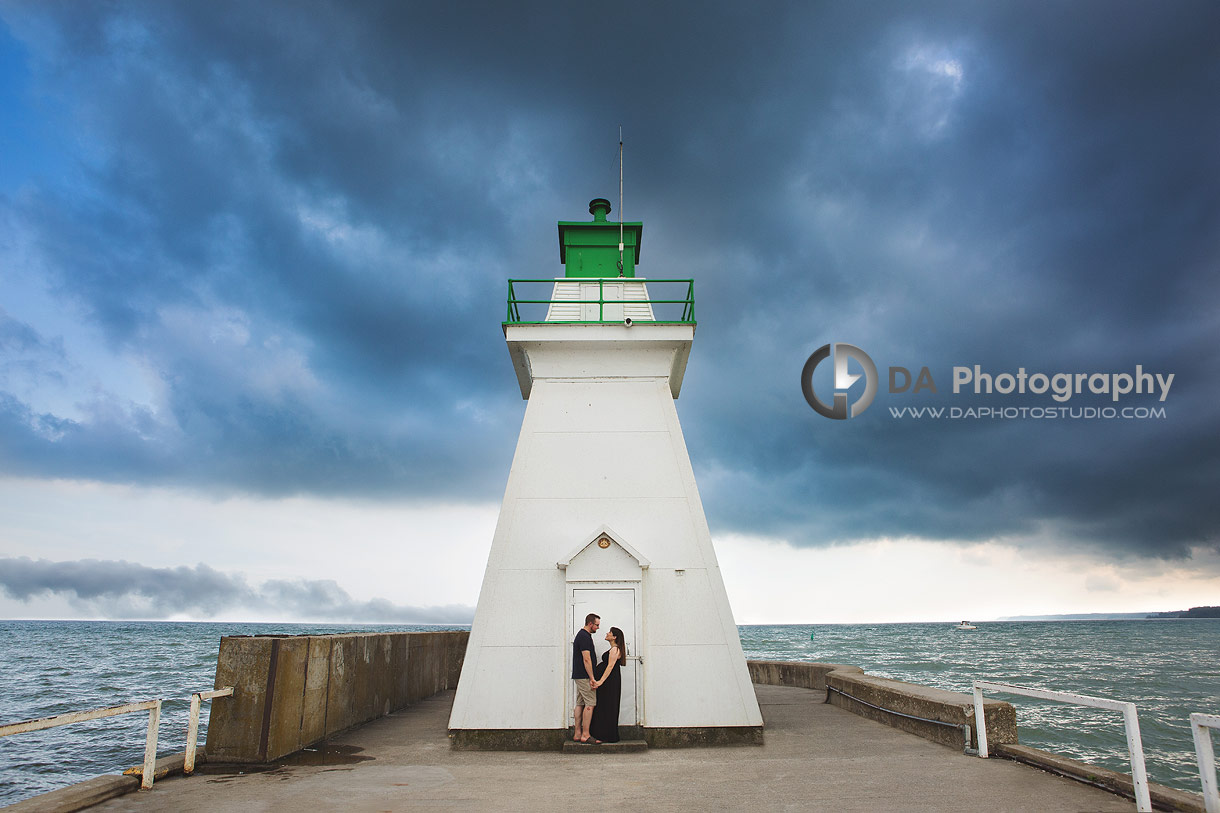 Rain at Sunset
Once we finished at the pier, we were close to the beach area when the rain started. The winds helped the storm to fly by very fast so we didn't stop the session then. Sheltered under the trees by Lake Erie, we did some great silhouette photos. Then, we moved closer to their favourite restaurant, Wille's Burgers. With Martha's Portuguese background, food plays an important role in celebrations. I had learned this previously at their bridal shower party.
Noting that the sun was peeking out from behind the storm, we went back to the beach. Here, we did some images where I focused on their connection instead of the background. The beach was very busy, so my goal was to capture them and not the crowd.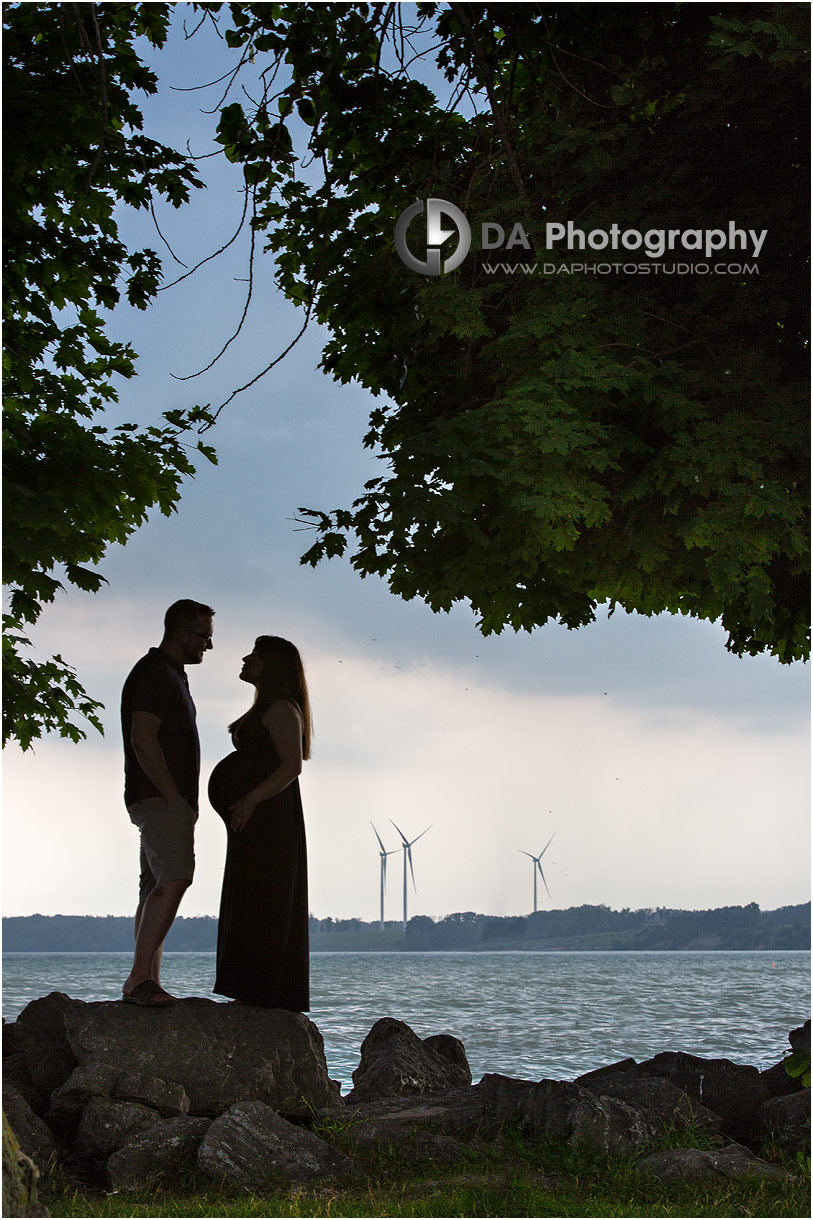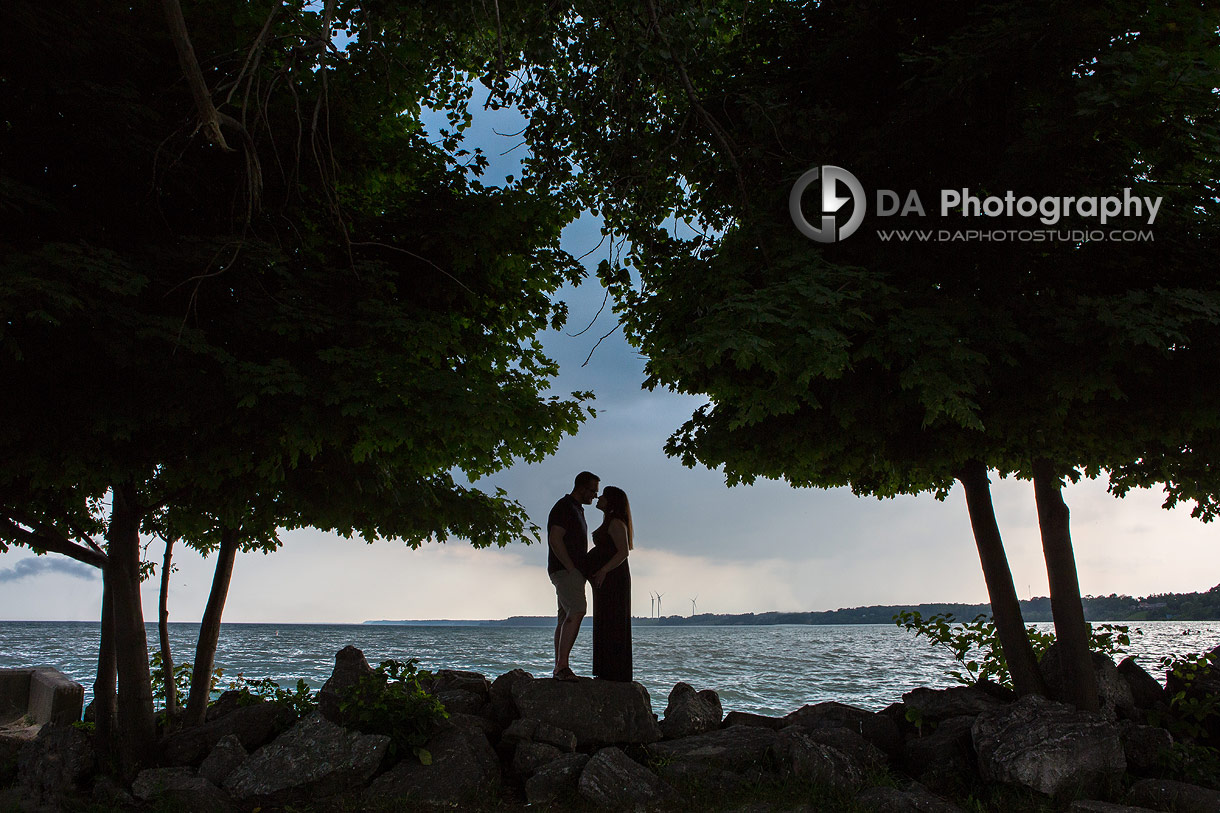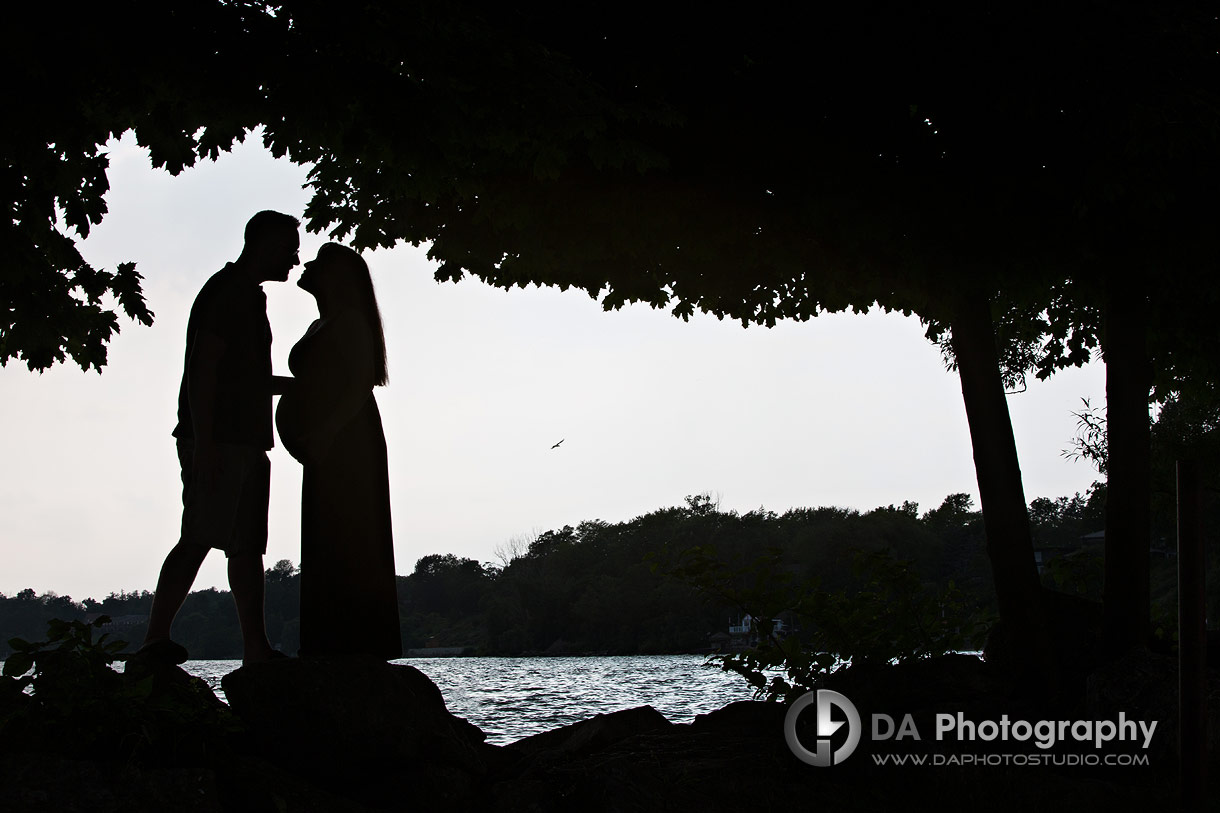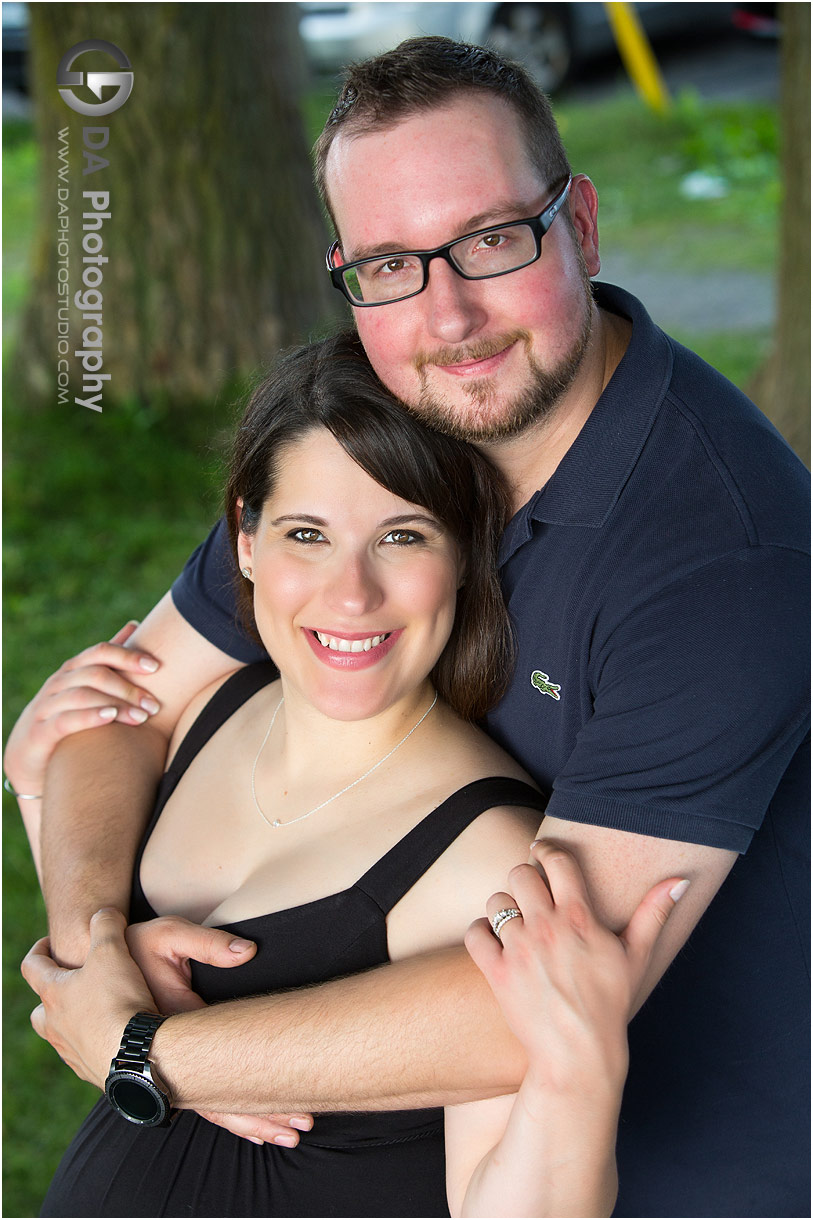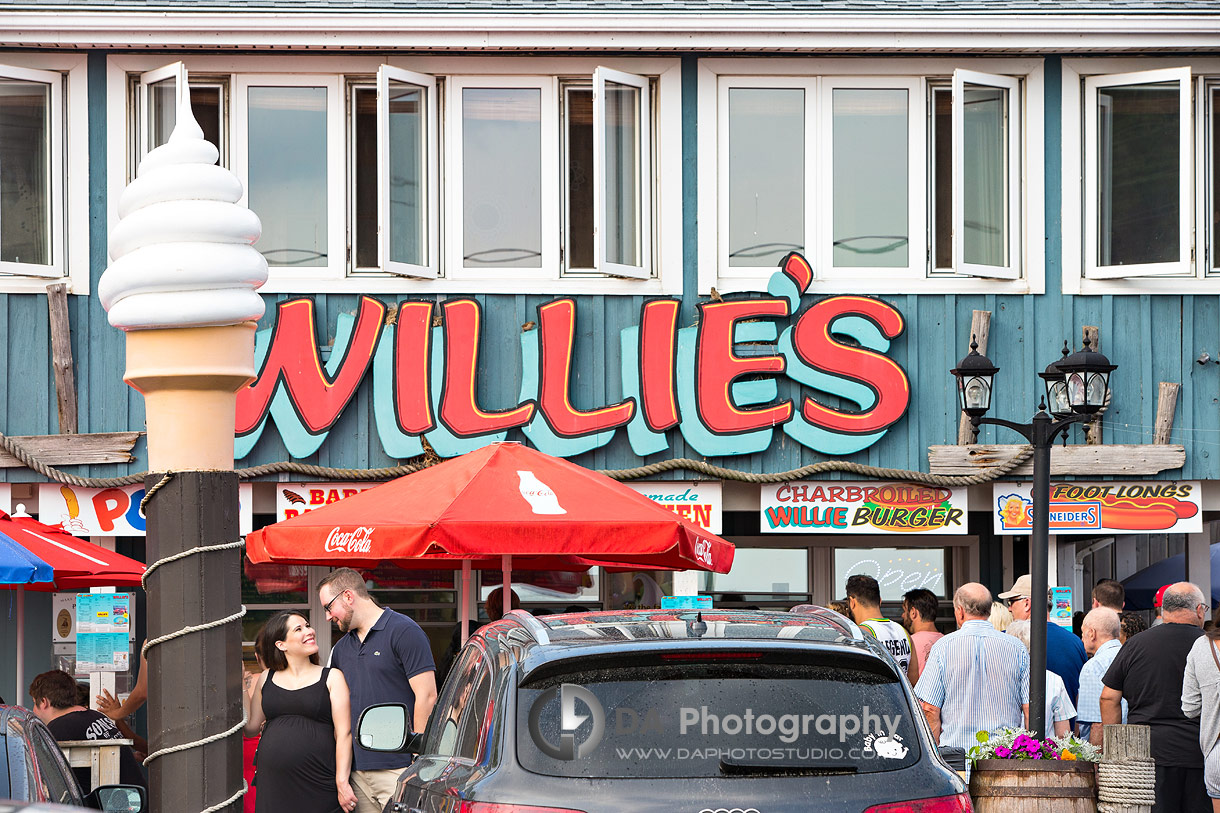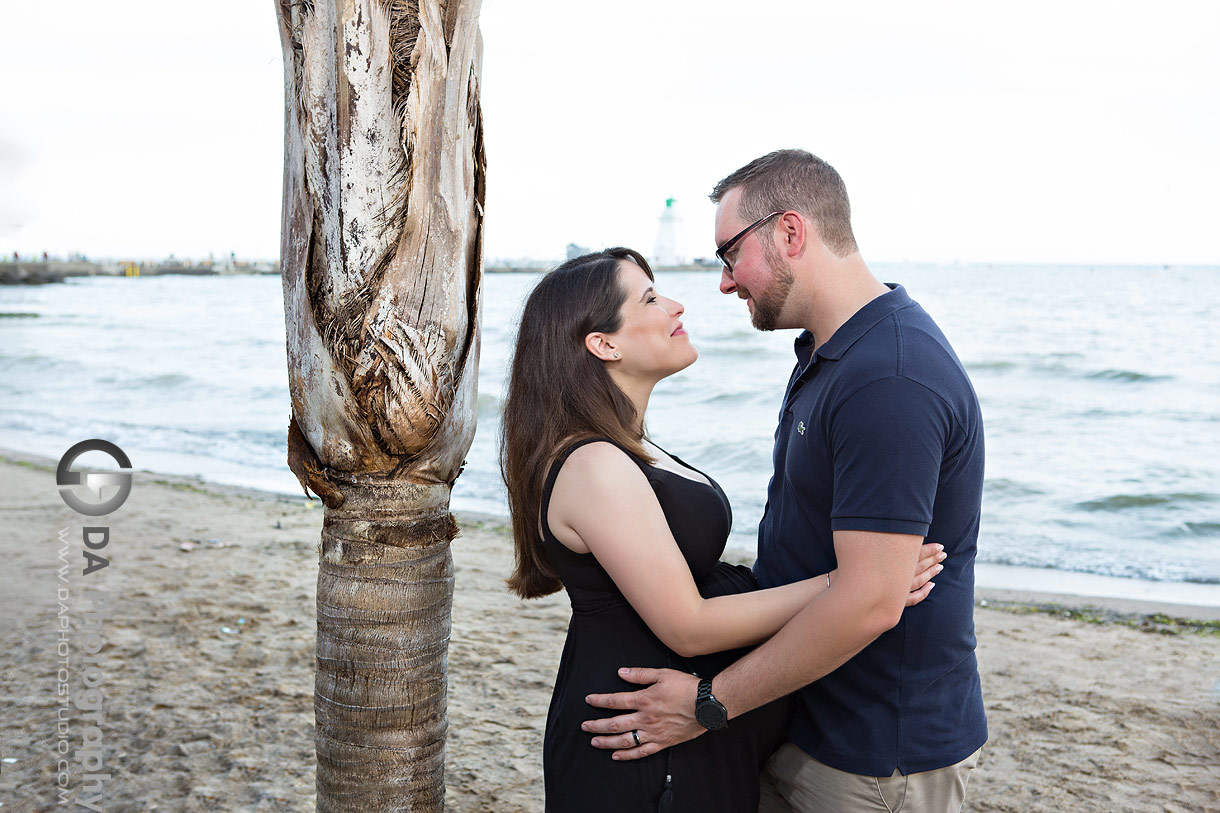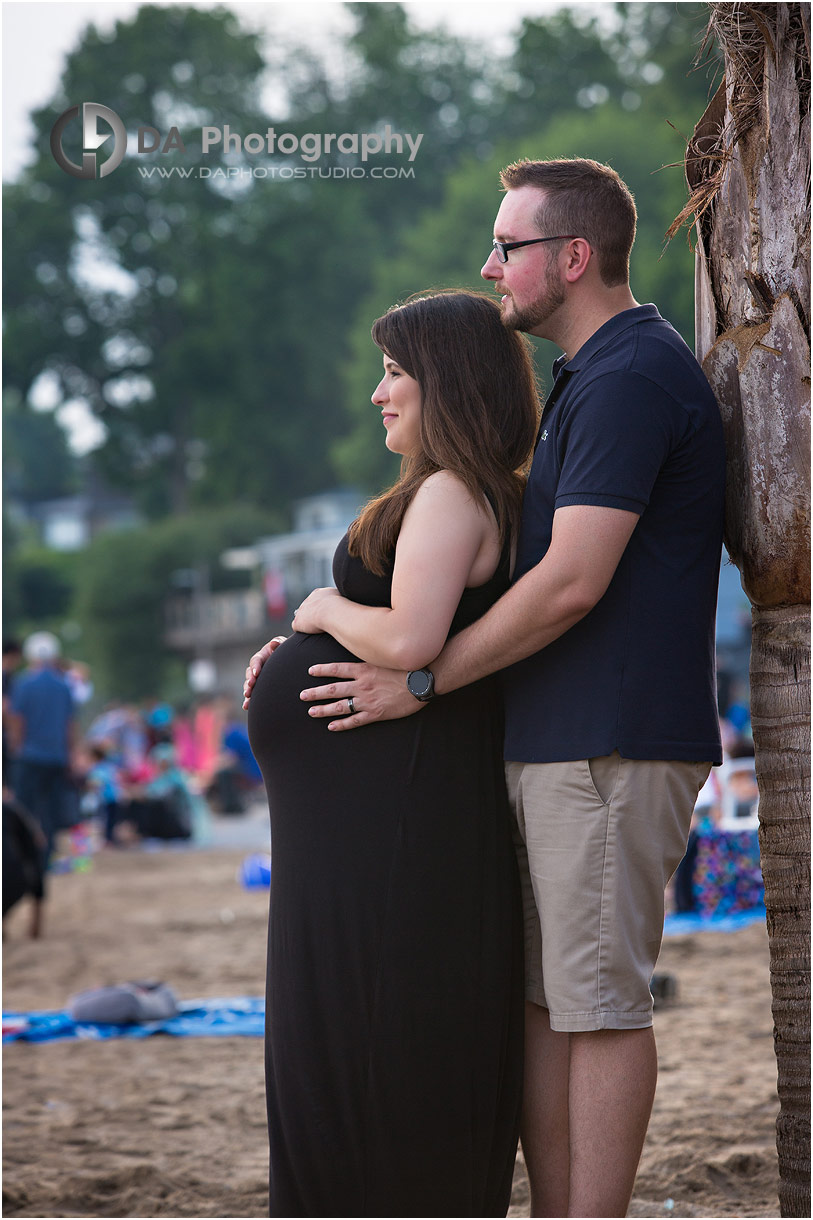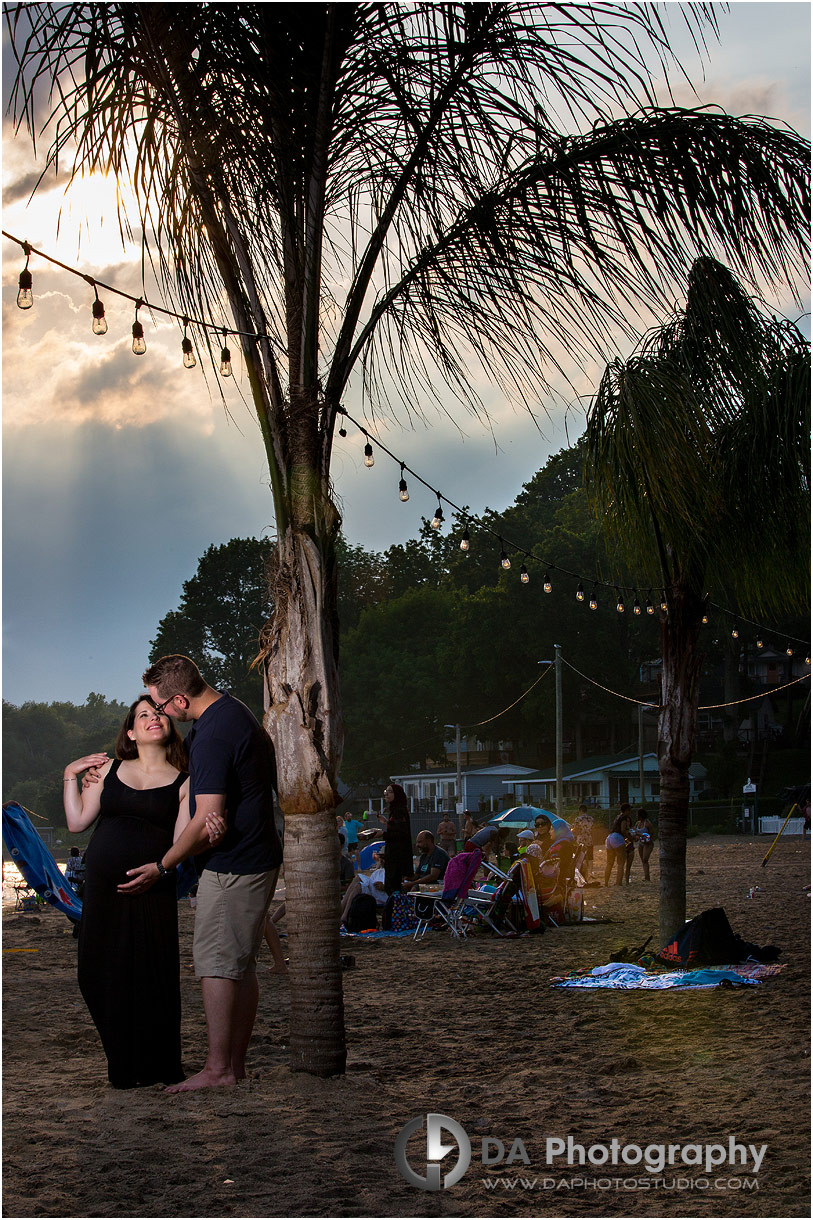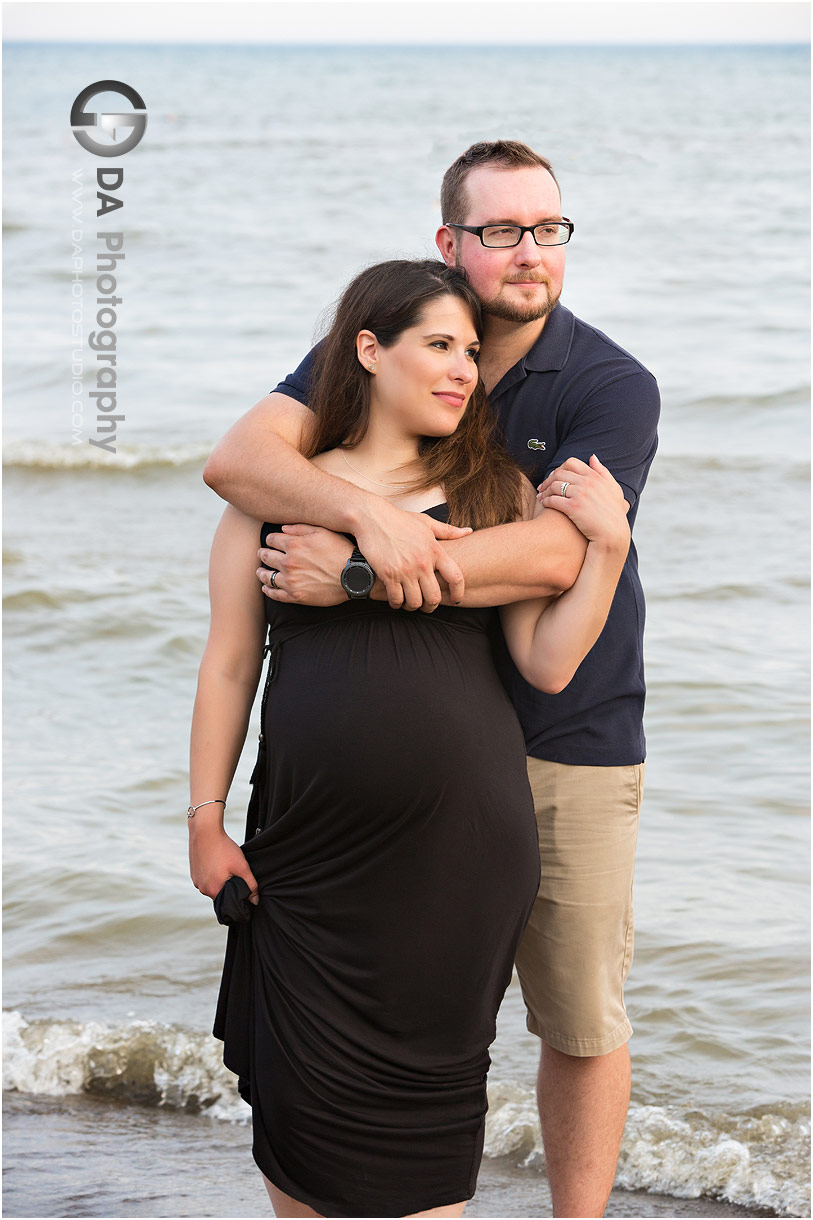 Back at the house
I noticed Martha's energy waning as we finished up the maternity photo session by the lake. No wonder, right? However, before I left, I wanted to capture a few images at their house. I was looking for photos that are more focused on the new arrival and the preparations for him. I took some photos with his new blue baby shoes and the book Oh, Baby the Places you'll go! From the works of Dr. Seuss. I'm sure this book will be a big hit for baby Asher!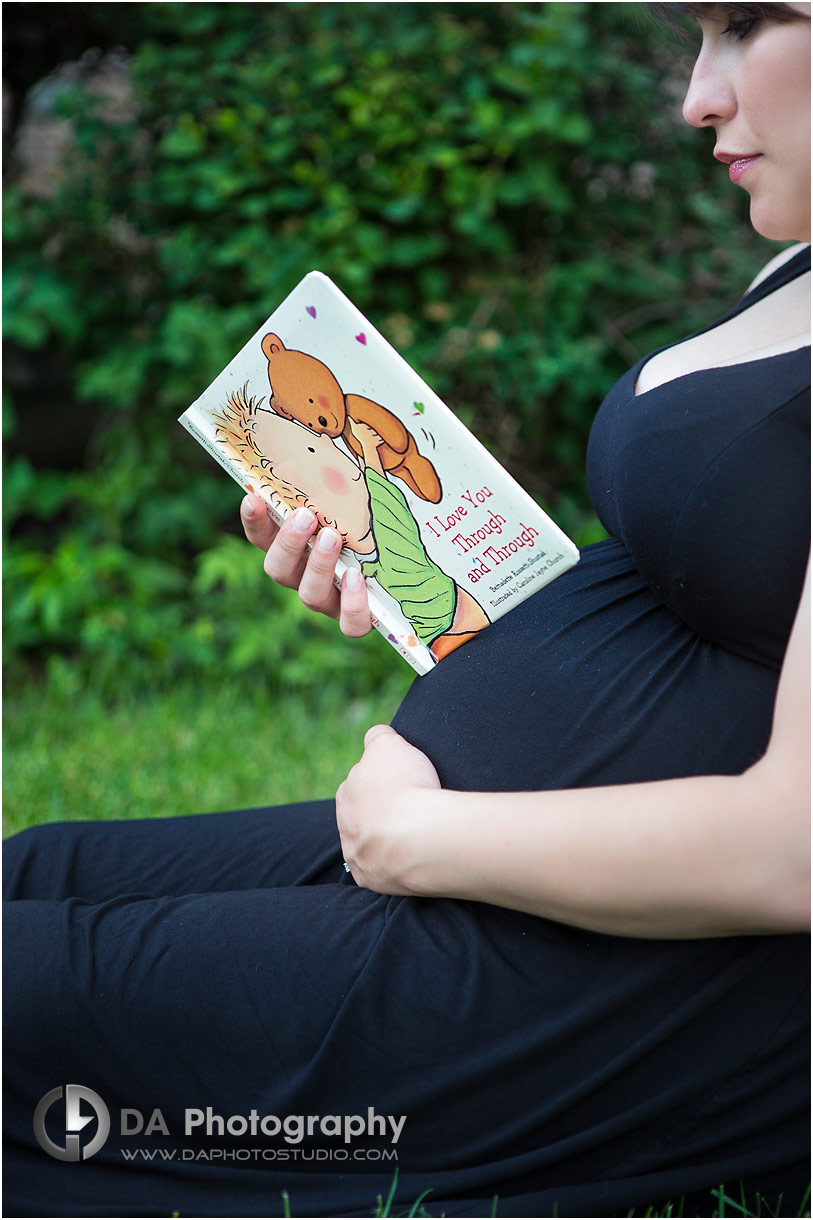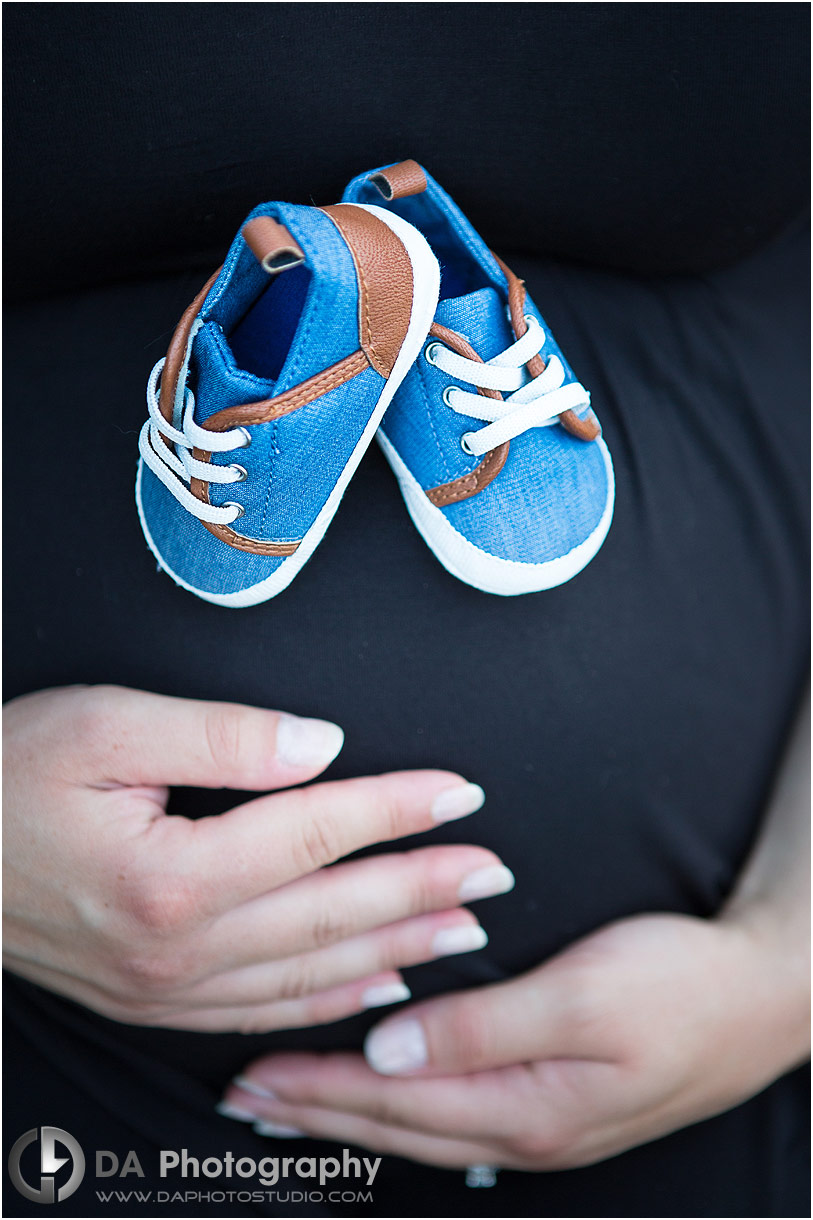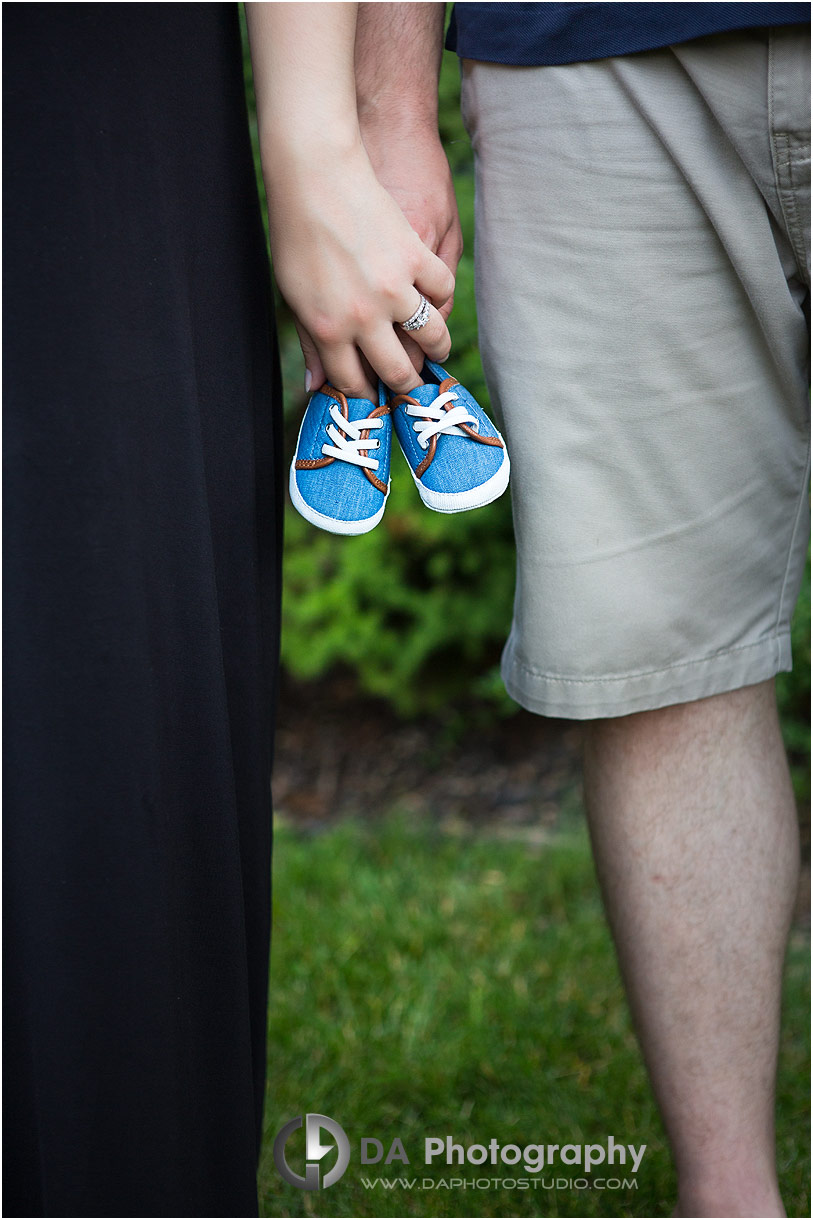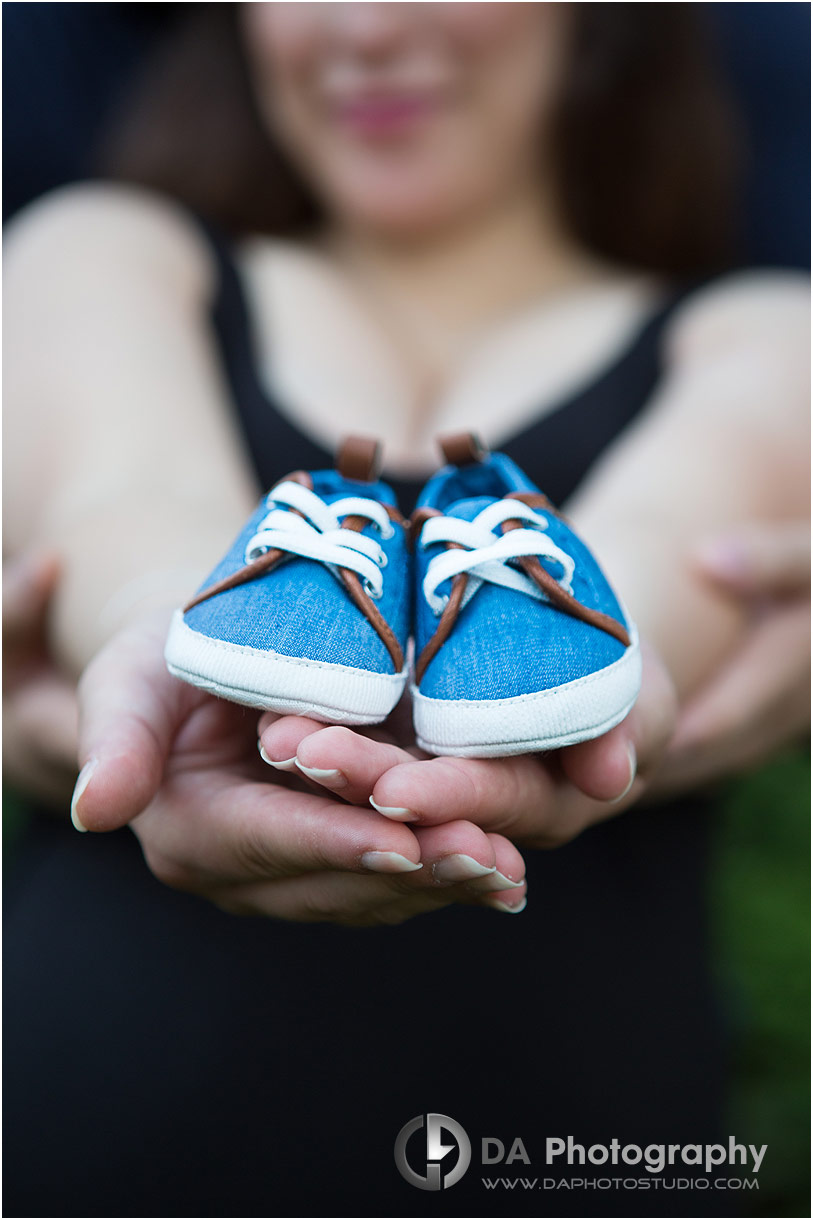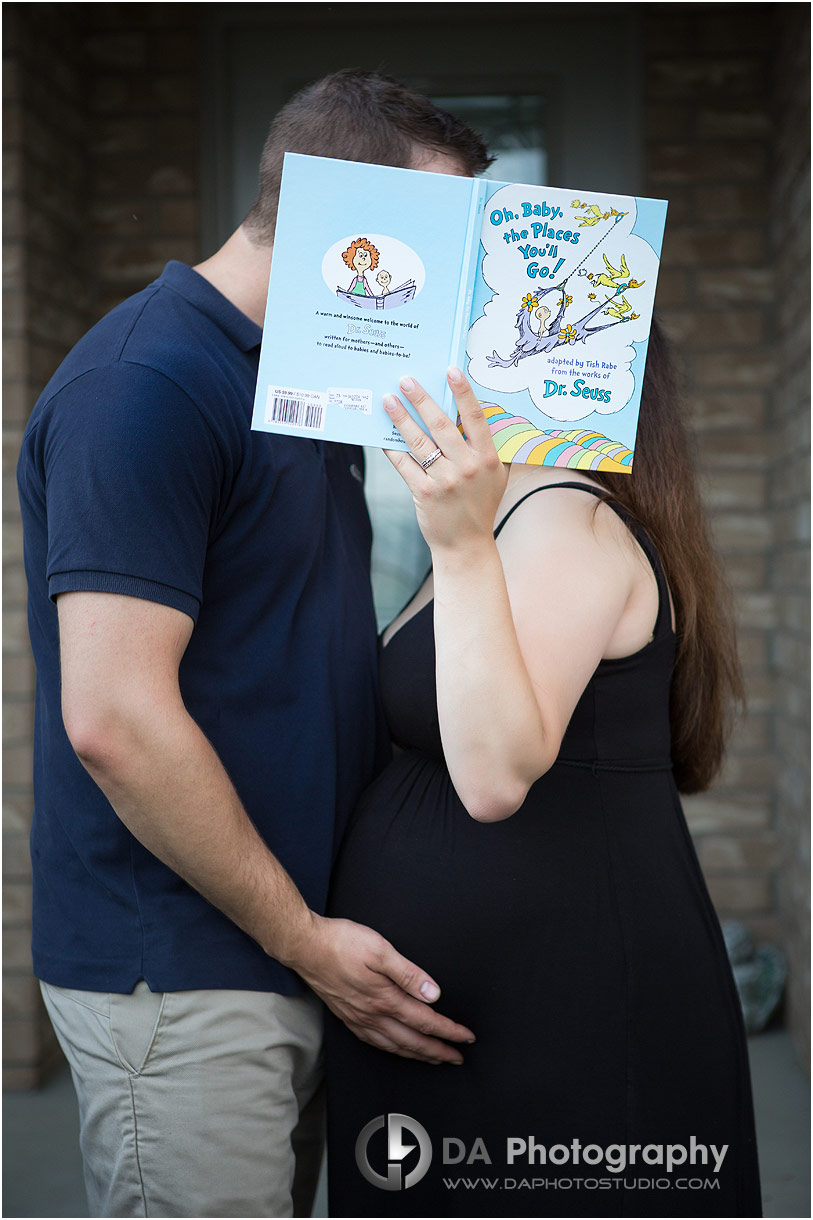 In the end, I was capturing the last image of Martha's silhouette with her belly at the door, when her cat emerged out of the blue. You can see the tail resembling a question make sticking up by the door. This is the very same cat that Martha is photographed with on her wedding day, sporting a cute little bow tie. And, the same cat that will soon take the cutest, curious photo with baby Asher. But you'll have to hold on for that image until the next blog post about Martha and Corey's life journey.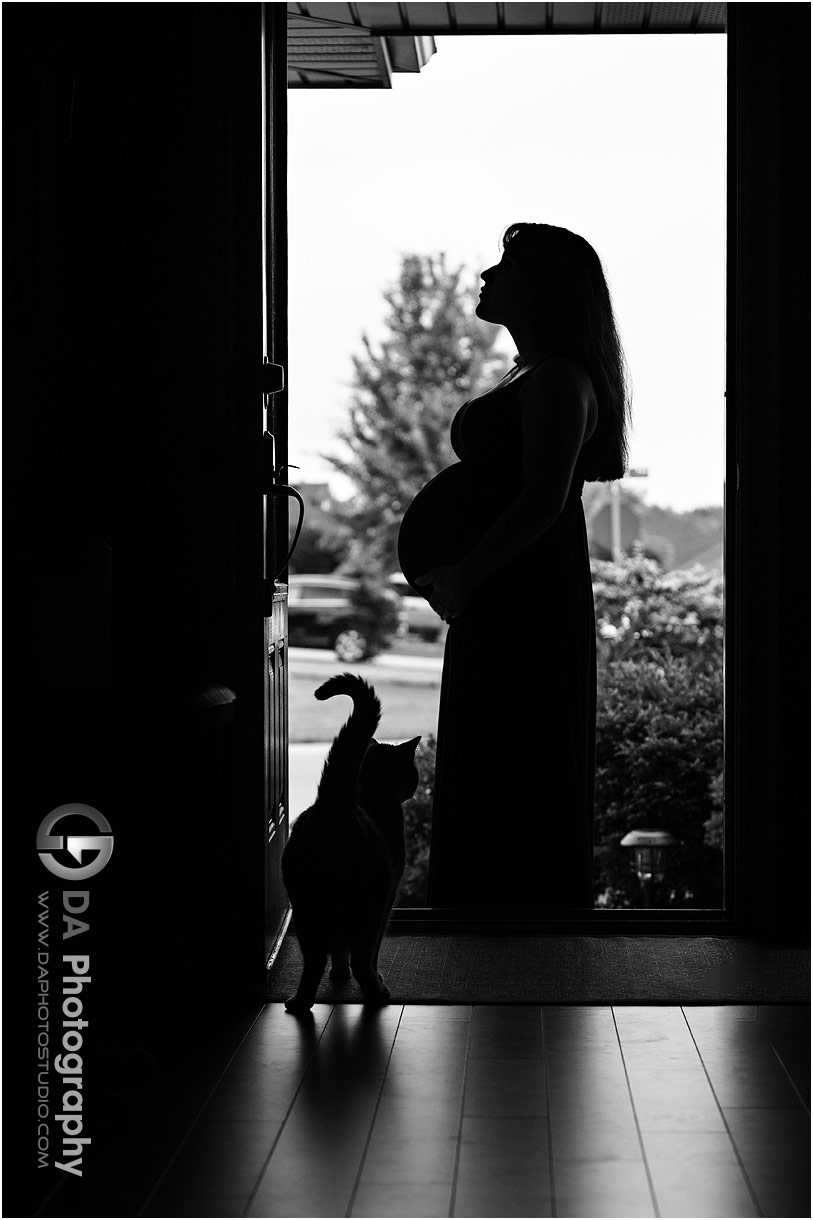 To be continued with baby Asher photos…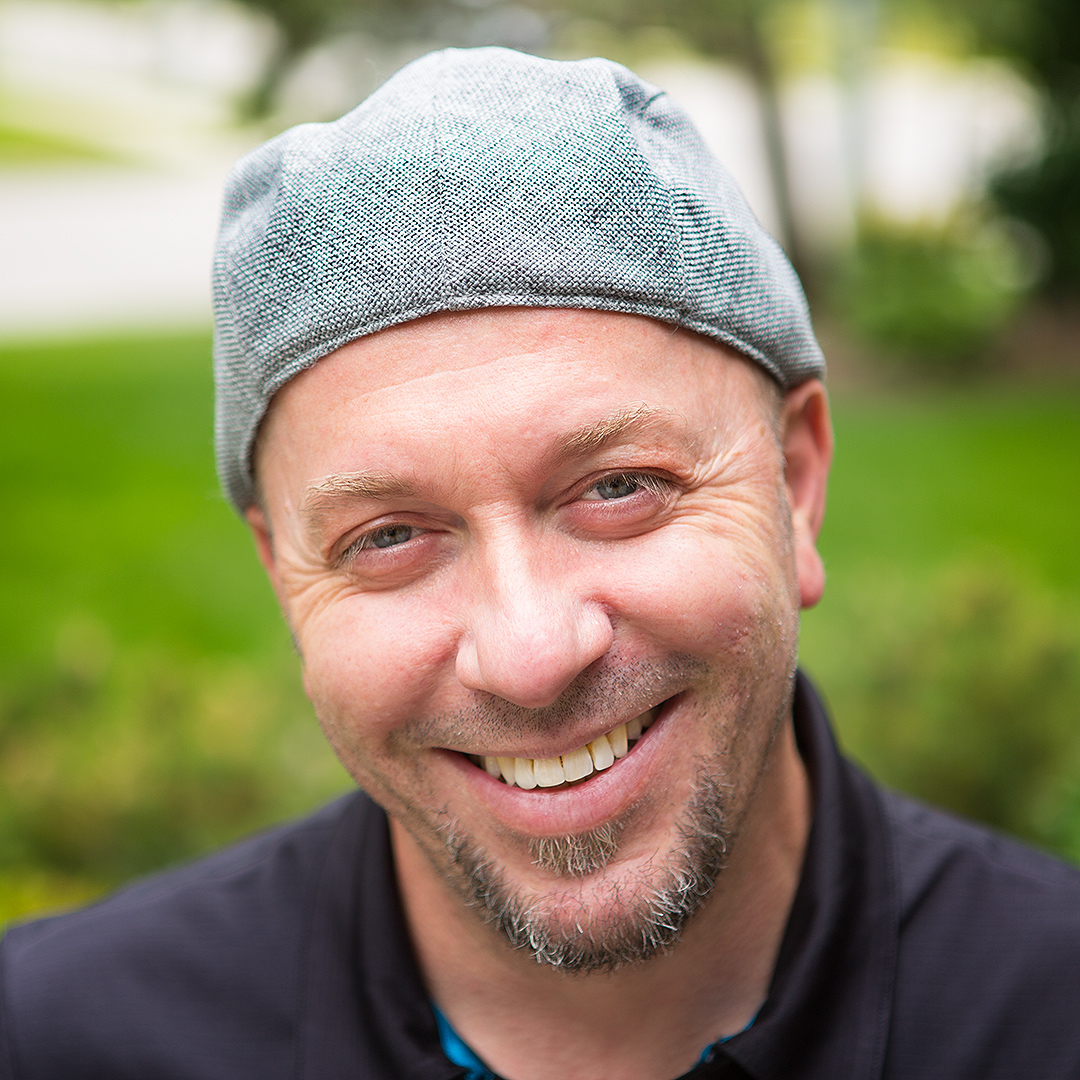 My passion and biggest asset is taking the time to make every client comfortable and relaxed before I even pick up the camera. The result? Photos of you that actually look like you at your best! I can prove to you how much you can enjoy having your picture taken. Lifestyle photography is about the experience that happens to be served up along side of some great photos.
Specialties:
Family Photography for families that like to move around and enjoy their photo time, Wedding Photography for couples looking for a mixture of photojournalistic, contemporary and traditional images and Professional Corporate headshots that are far from cheesy and stiff.