Having photographed previous weddings at Hendrie Park I knew this Royal Botanical Gardens engagement would be great. This location offers so much variety and is so diverse that every couple will be able to find its appeal, no matter their style. Misha and Alex met me through her mom Sandi. Interestingly, Sandy was actually the one to inquire about me for their wedding. She is a retired wedding photographer, along with her husband, and had observed me working on a wedding for one of their friend's children. There, she was impressed with my performance and the entire approach to the wedding business. Knowing the importance of quality as a former wedding photographer of her own, she made sure her daughter had the best possible investment and experience.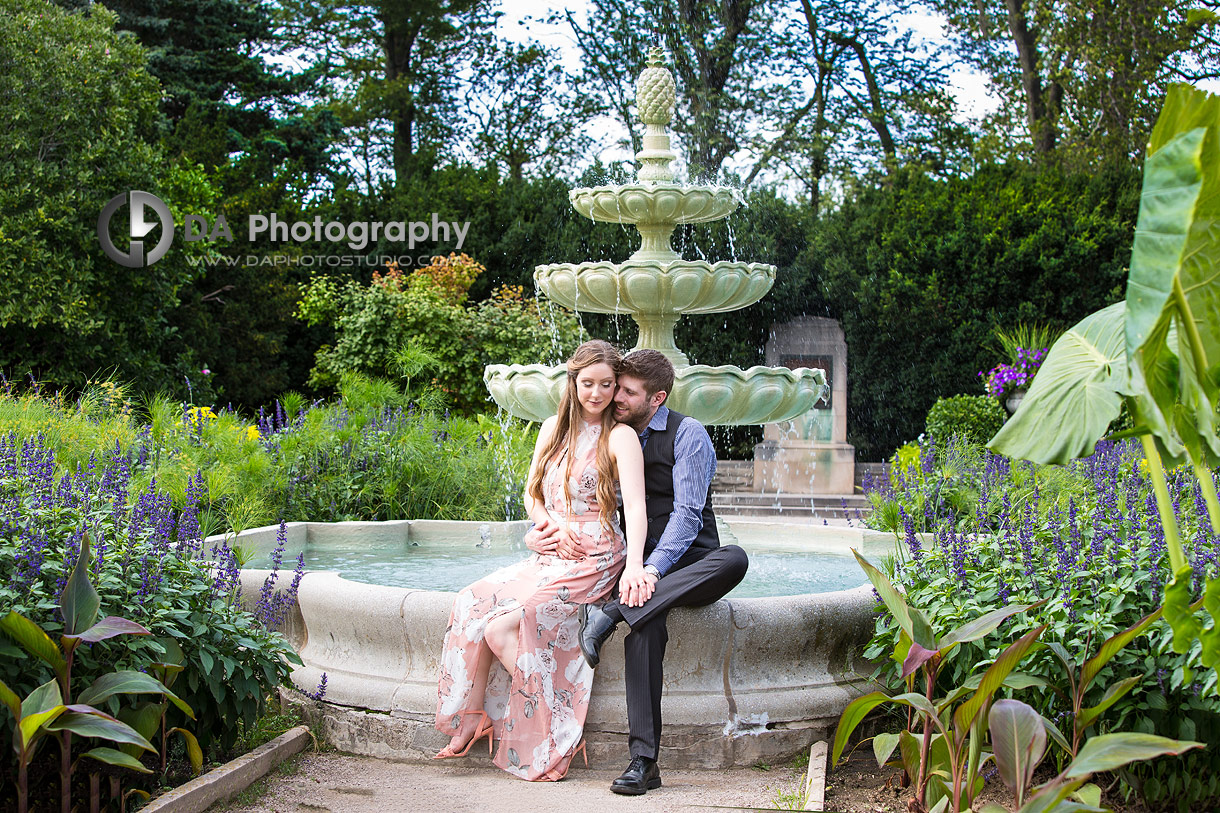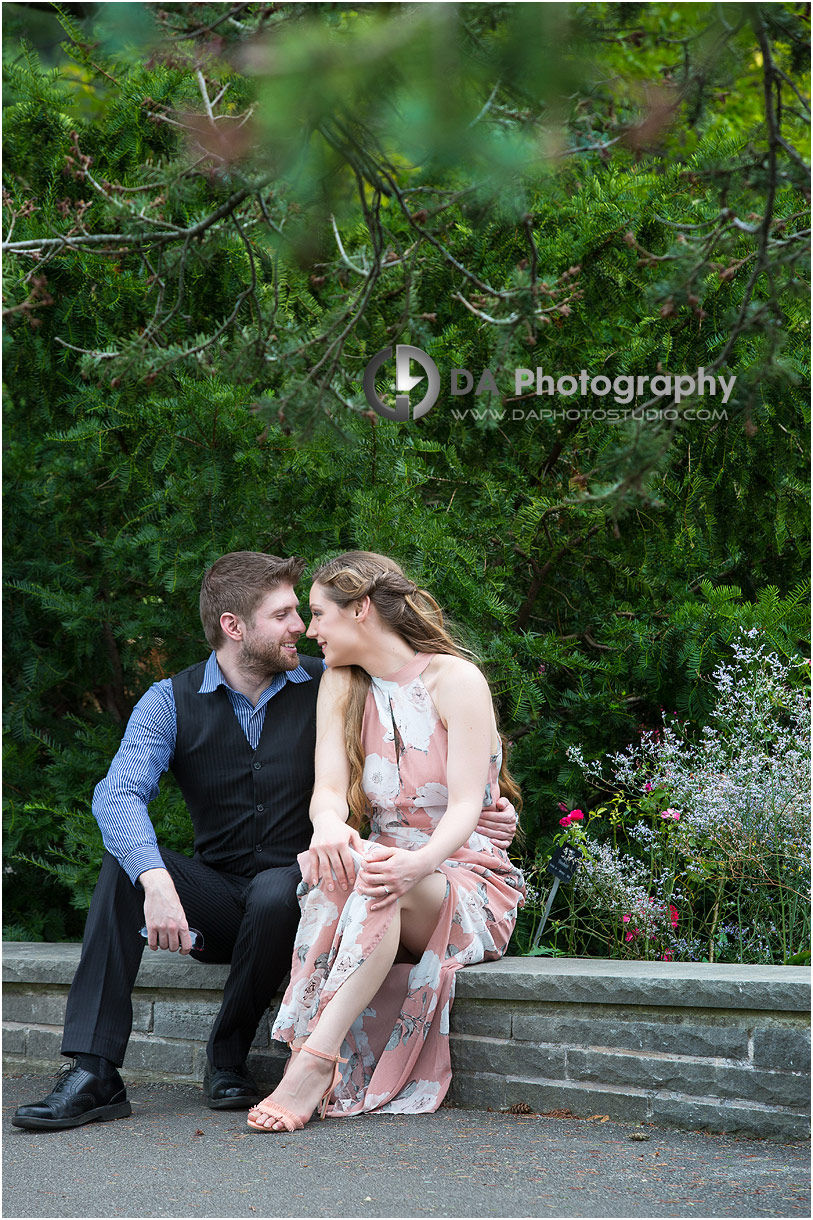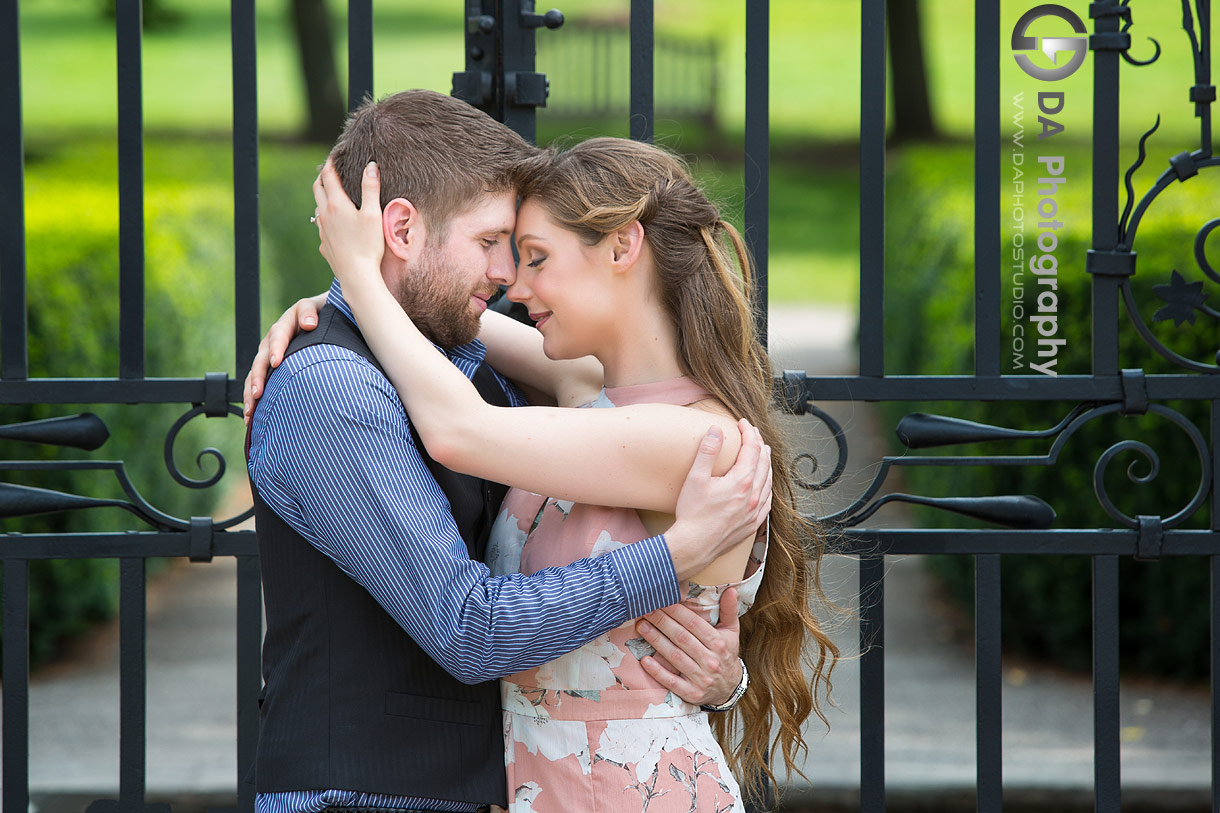 How we booked this Royal Botanical Gardens engagement
We were on a deadline! The period between the booking of the wedding, to the engagement photo session and then to the wedding day was very short. We confirmed the booking in June, the engagement session was to happen in August and the wedding was at the beginning of September. Obviously, there was no time for experimenting or waiting to develop a working relationship organically. With no time to waste, we set up the engagement session so that we could begin our work together. We had to make sure the connection was there in order to deliver the perfect photos on their wedding day.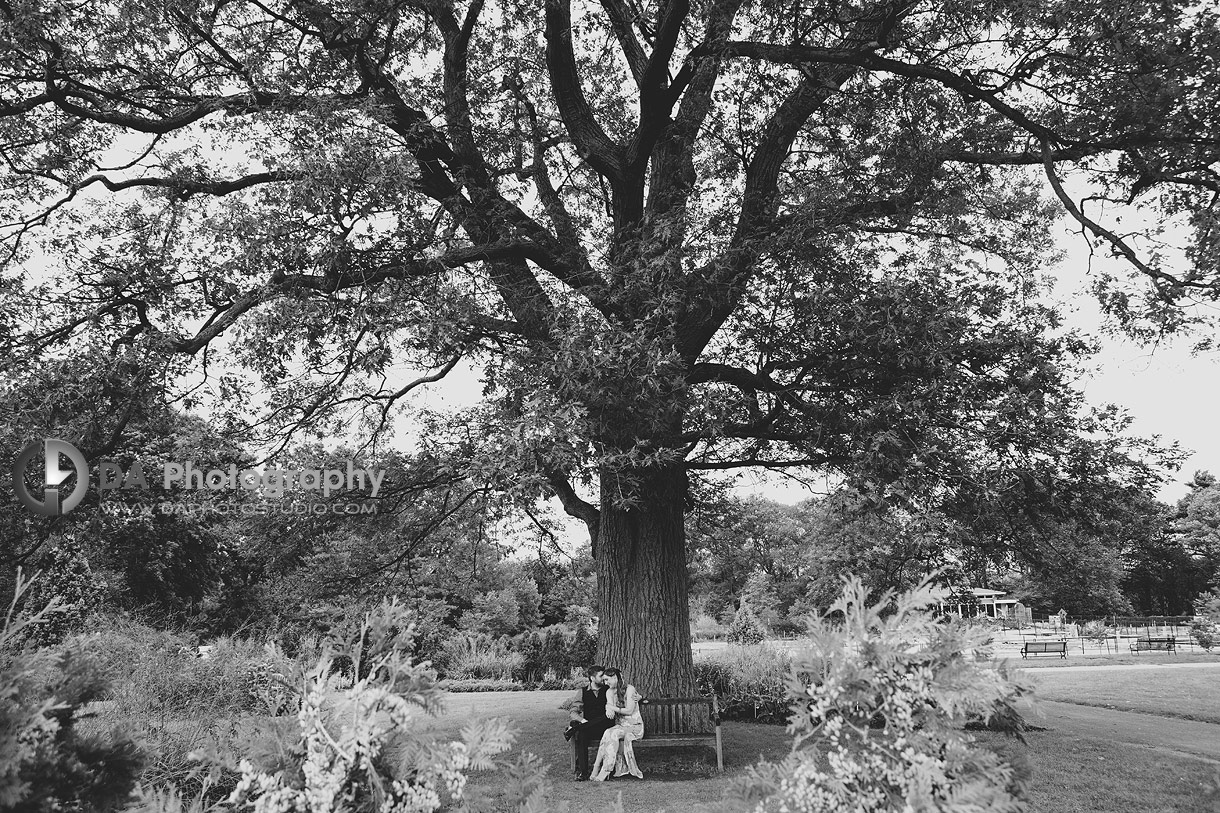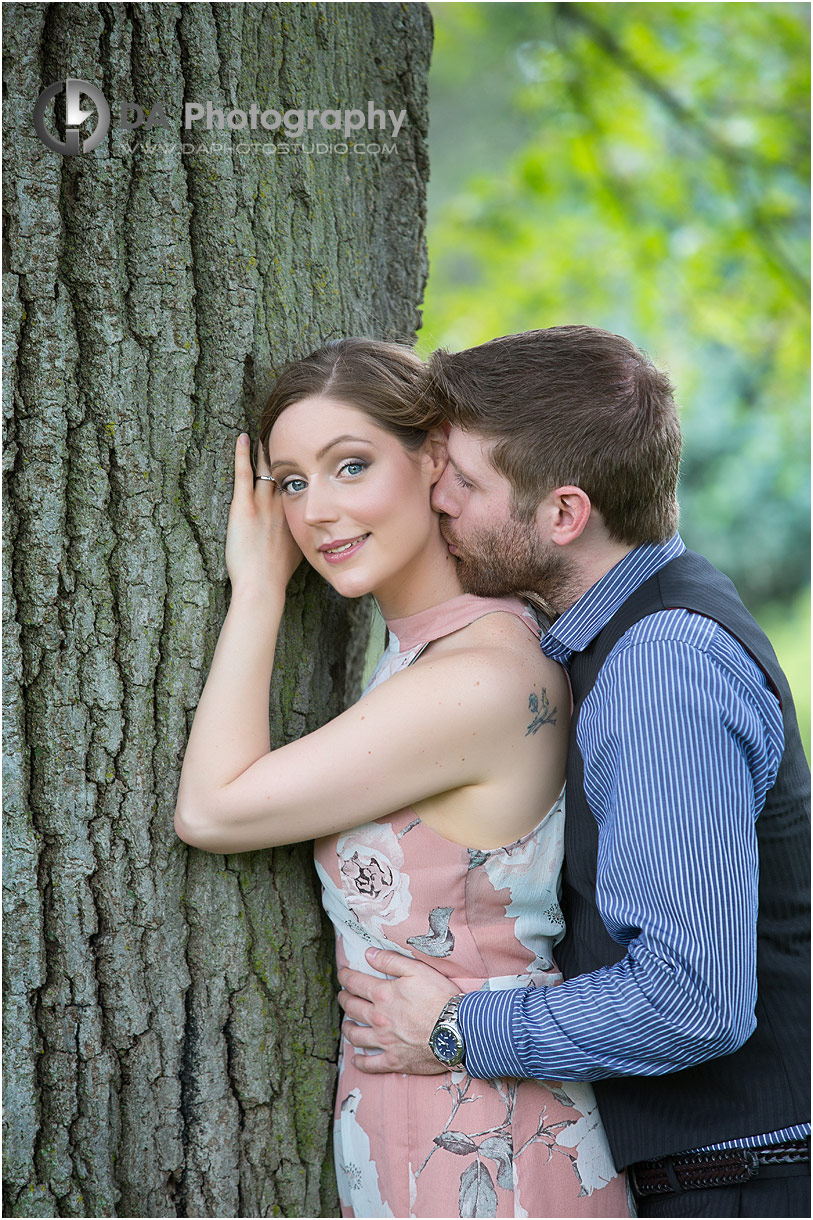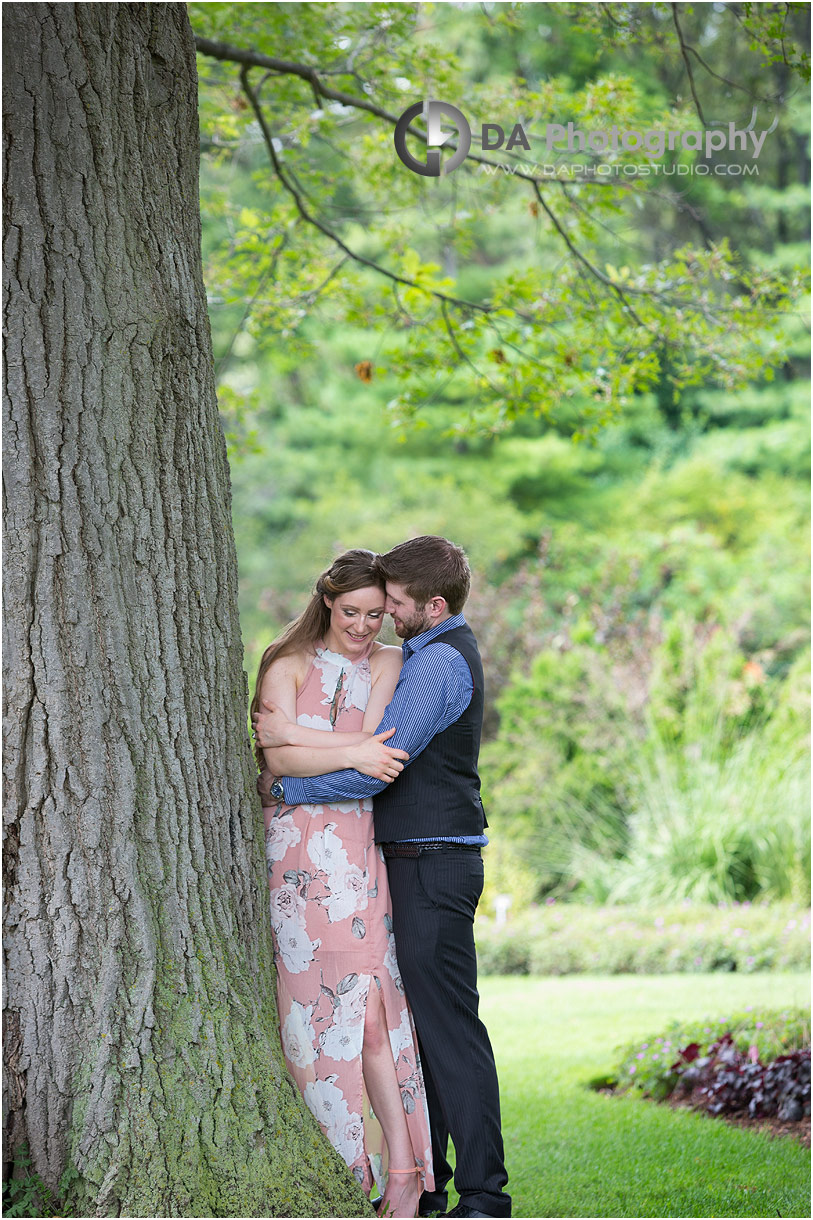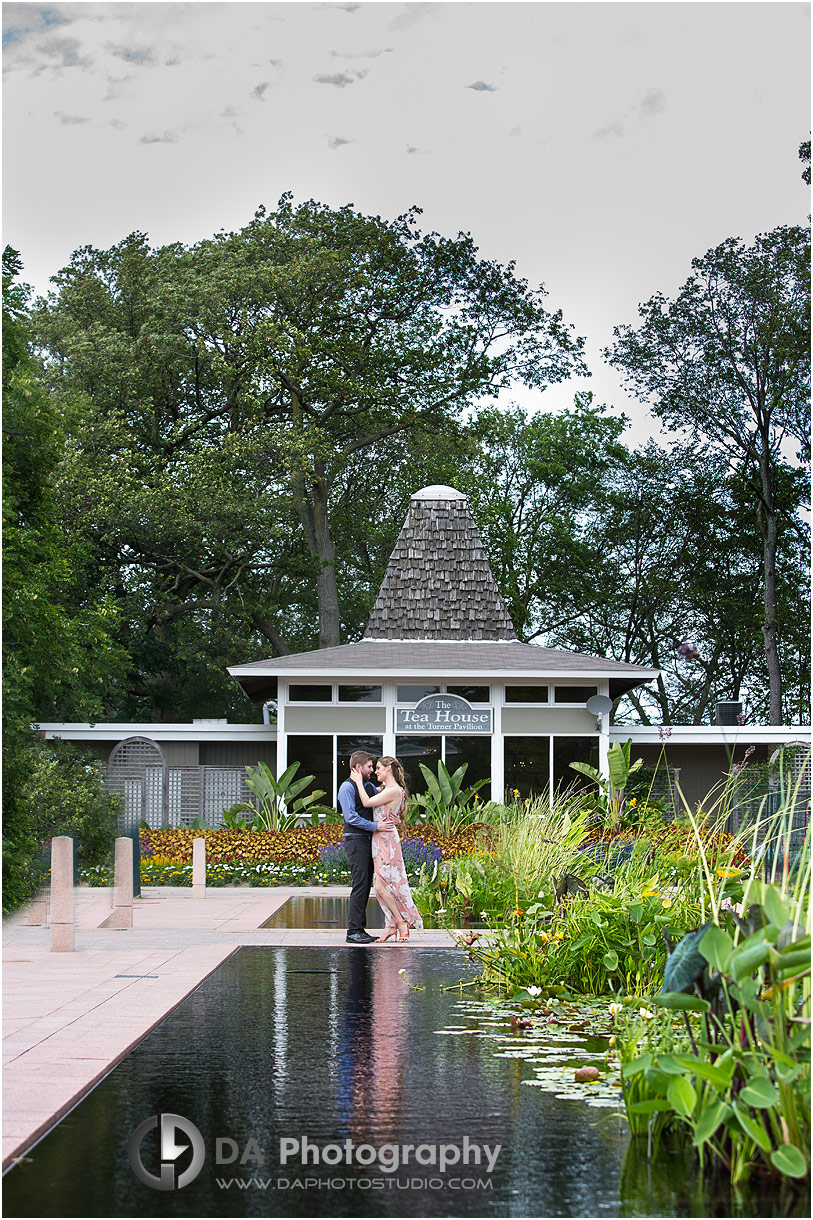 Afternoon overcast scenario was perfect addition to this engagement
Our Royal Botanical Garden engagement was as soon as possible so that we could work together and get ready for their wedding day. Hendrie Park in the RBG is, I believe, one of the most diverse photography location in the Burlington area. It can deliver so many unique backdrops and locations within the park. An overcast day meant that we didn't have to battle harsh elements. On hot sunny days, I have to work around strong sunlight and overheated couples. Session usually then take place near or in shady areas. However, the overcast gave us freedom to work wherever inspired us. From the stone walls, to the fountains, and the beautiful greenery, we had it all.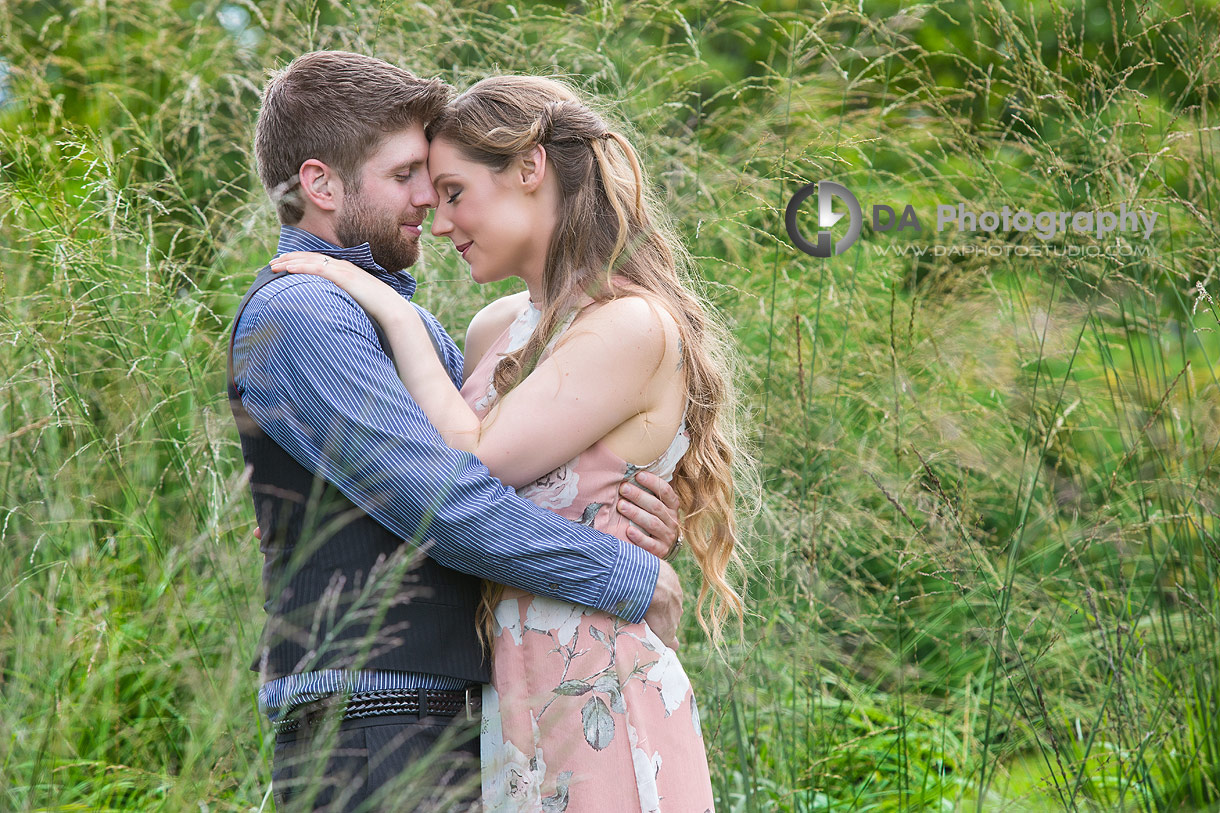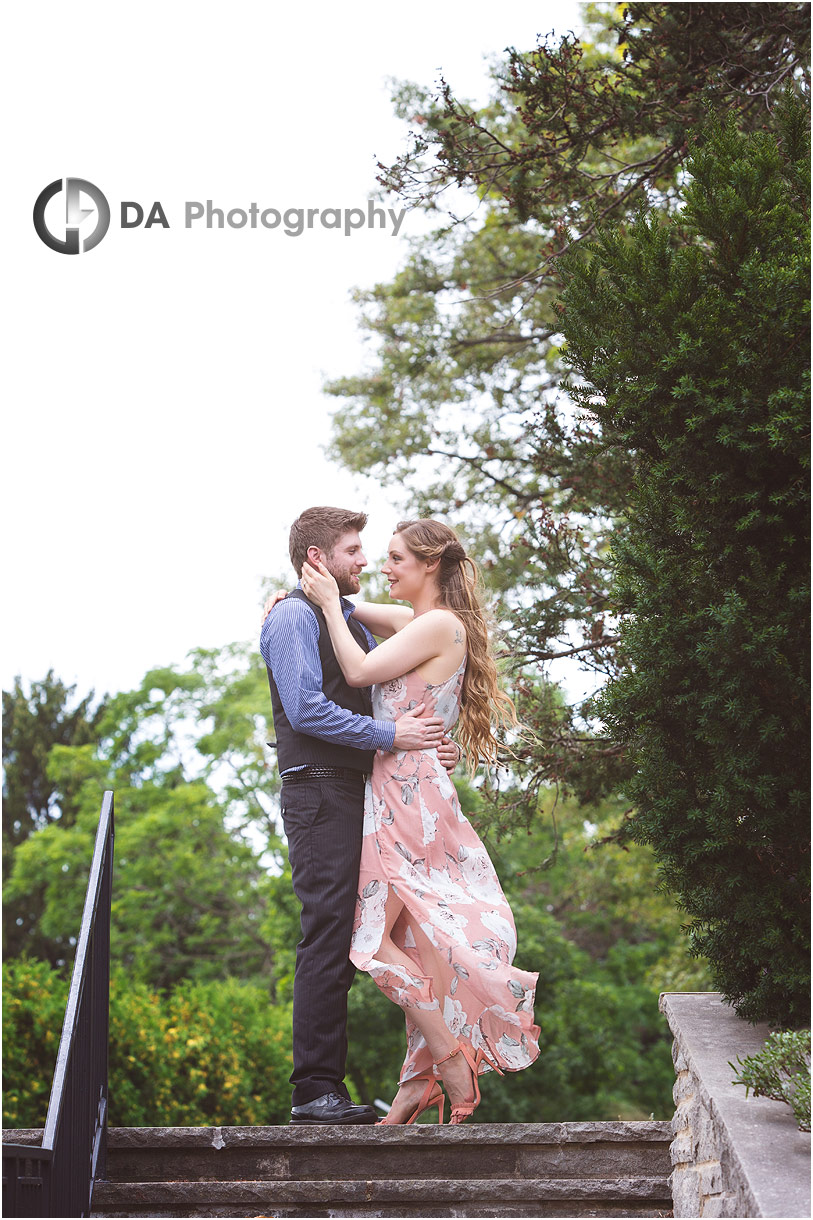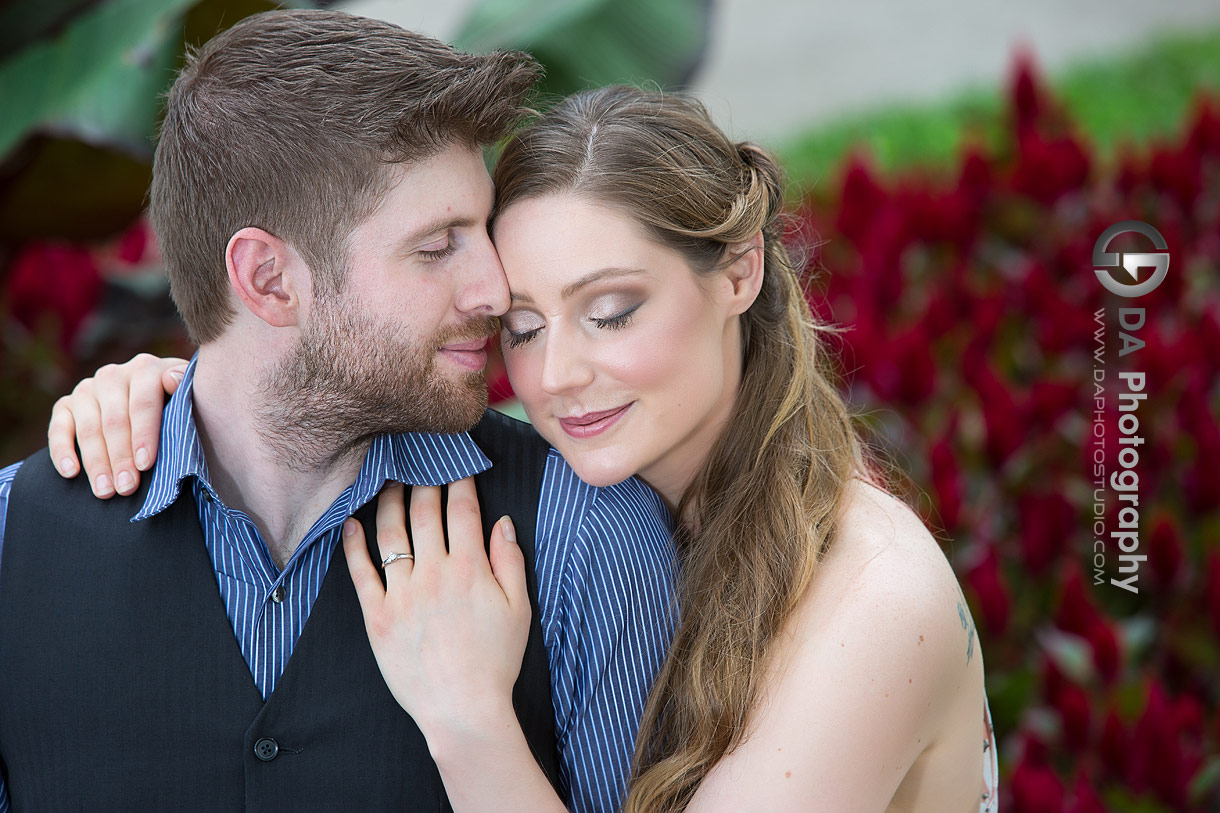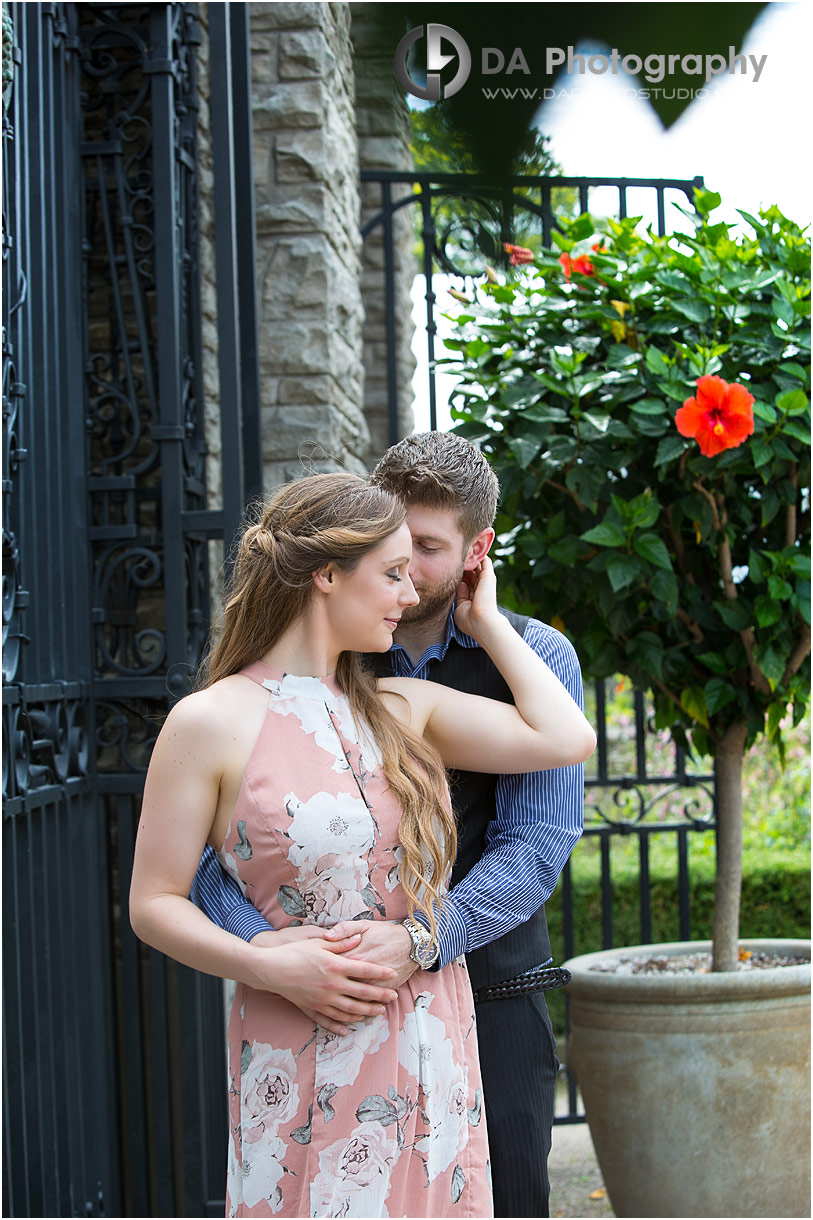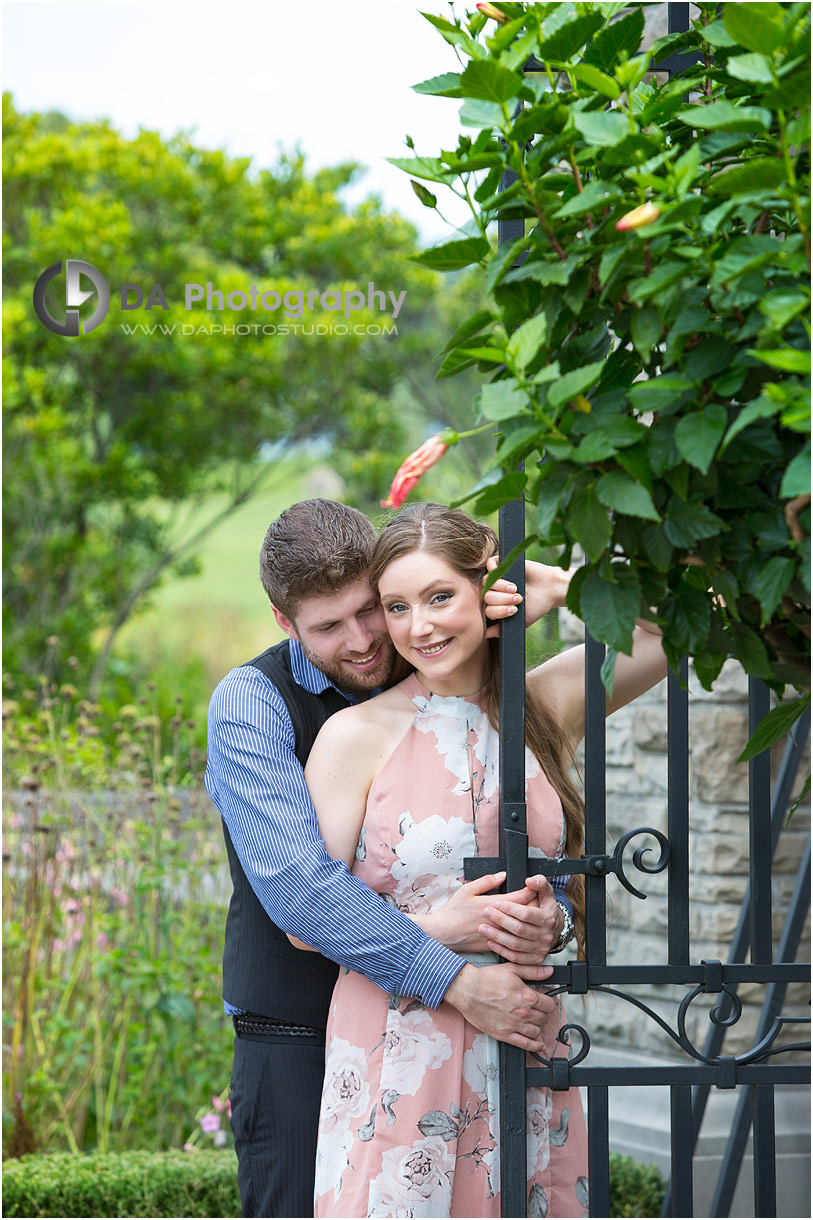 Misha helped Alex to relax by leading him in to gentle hugs which gave an intimate feeling to the entire session. The only thing left for me to do was to step back and photograph. At this point, I was directing them to the next location but the emotion part was all Misha's work. This was amazing, because during the engagement session, I could also predict the gorgeous photos that we would be able to capture on their wedding day too! Spoiler alert: that is just what happened! Here you can see the full blog post of Misha and Alex's wedding day photography.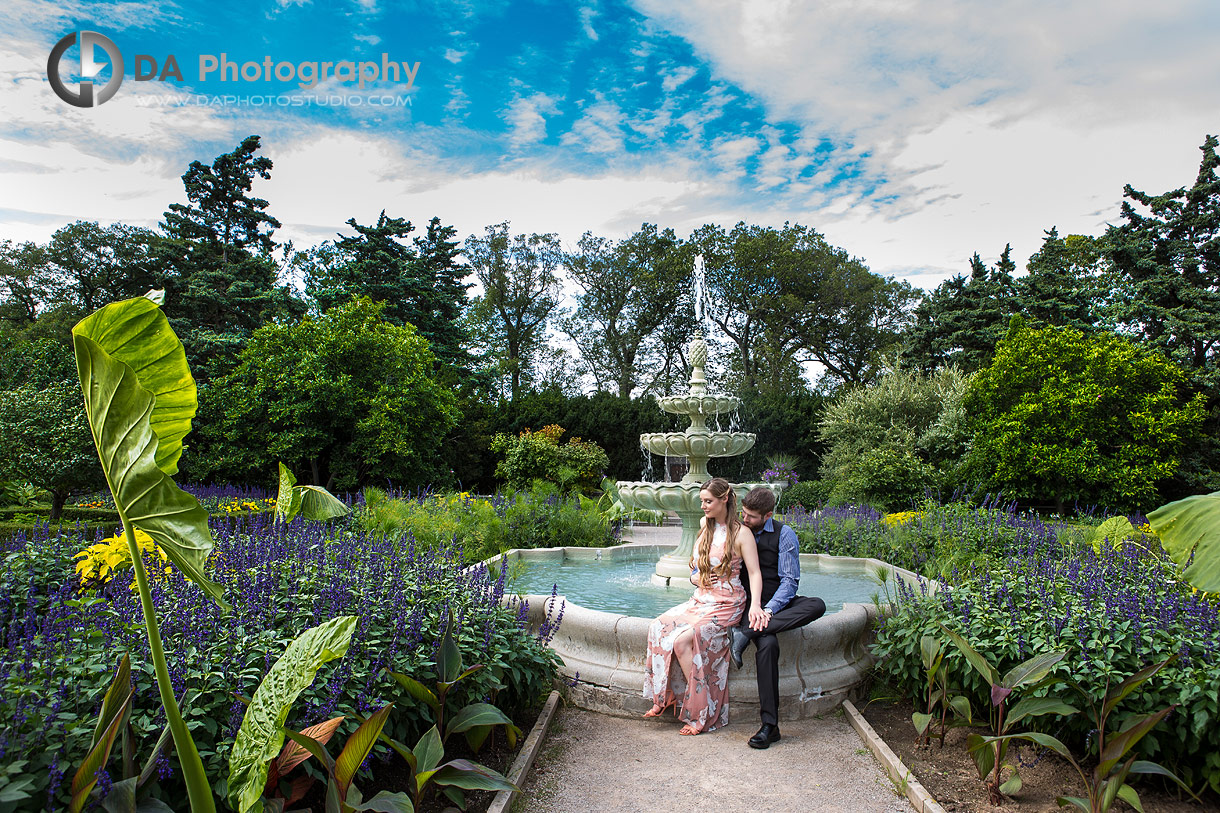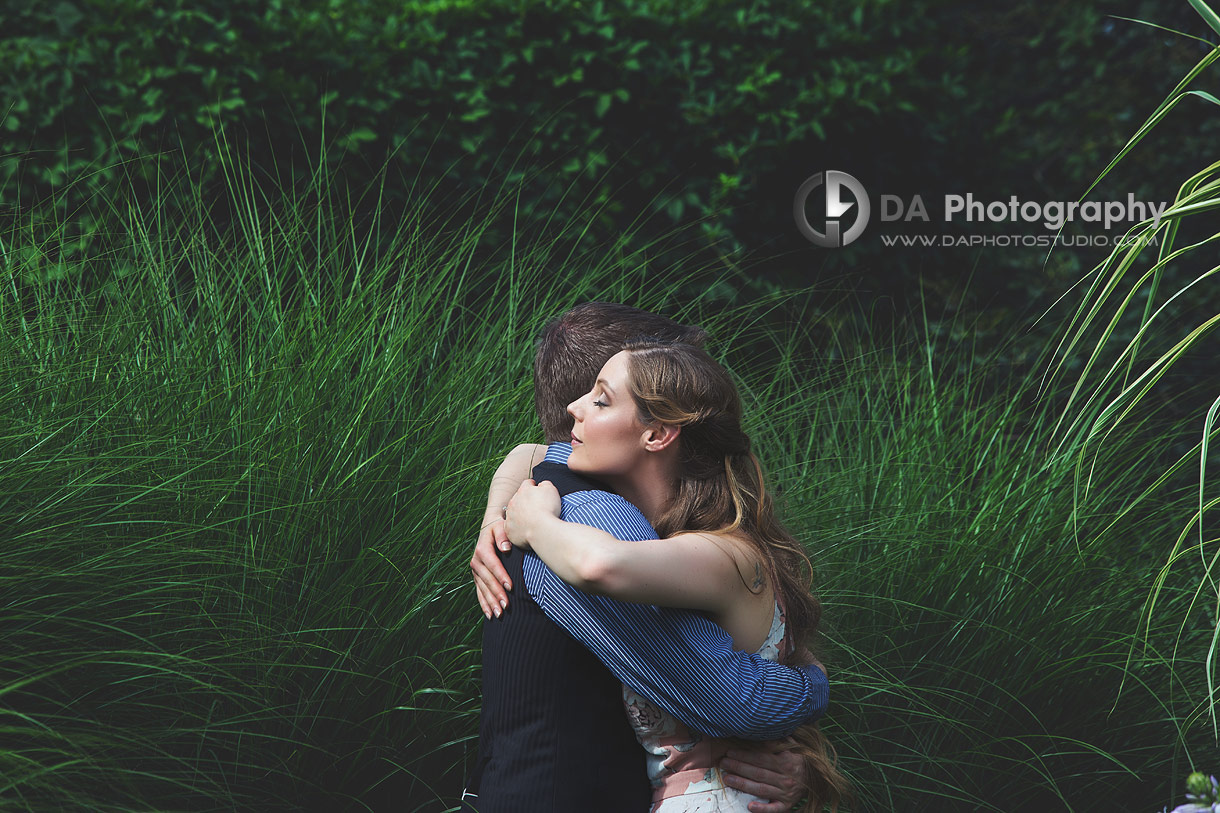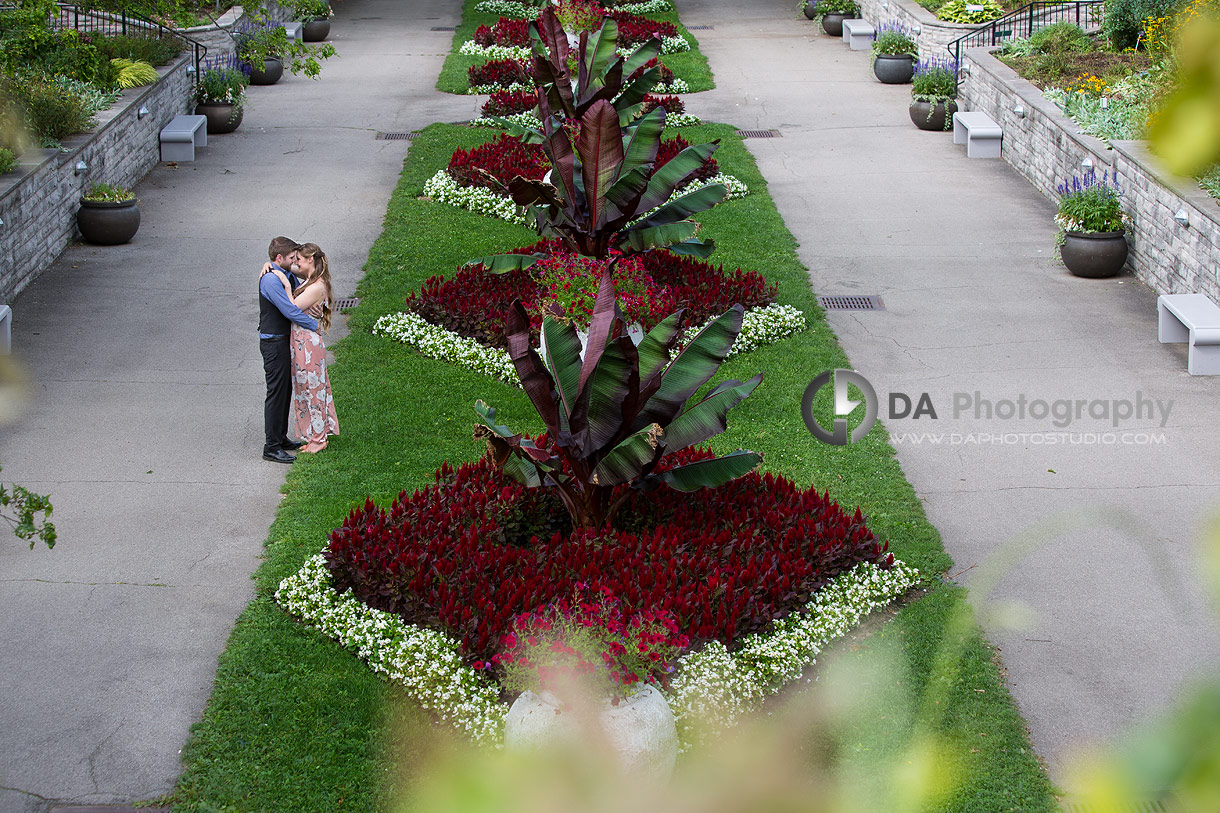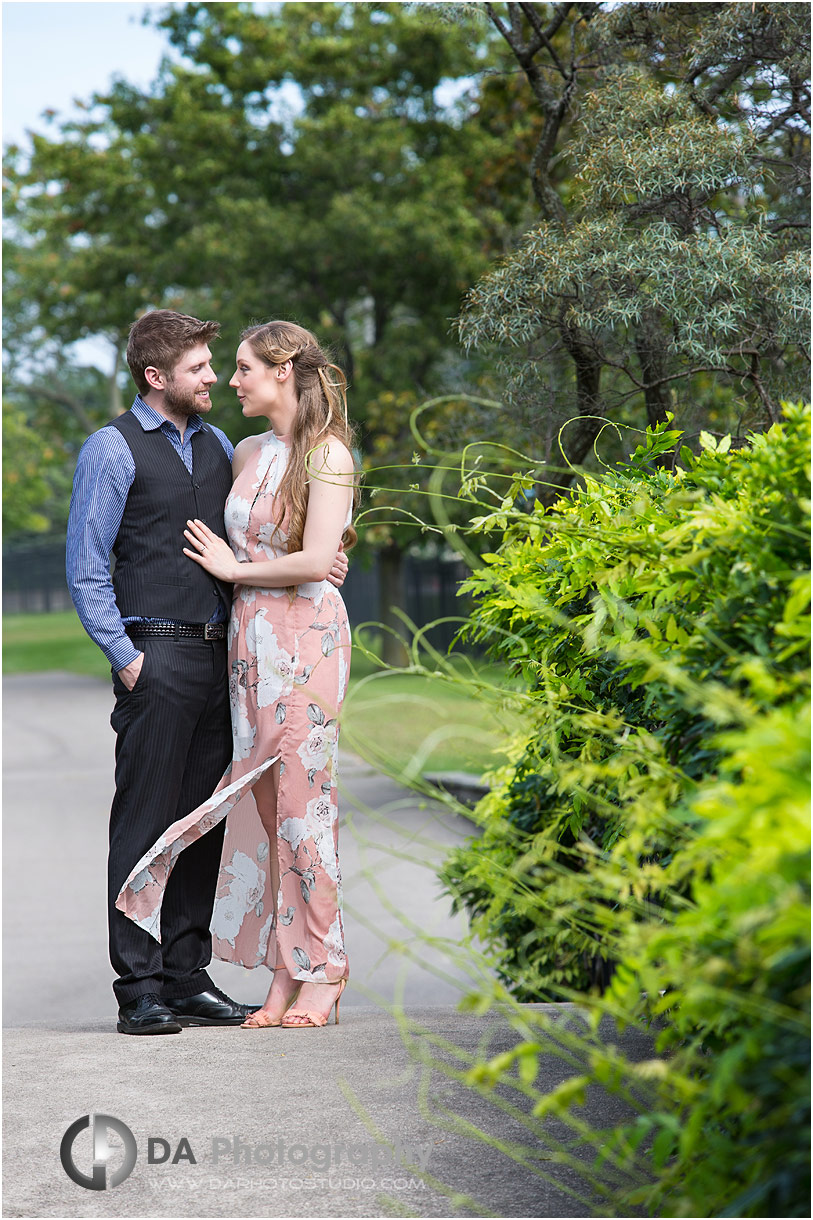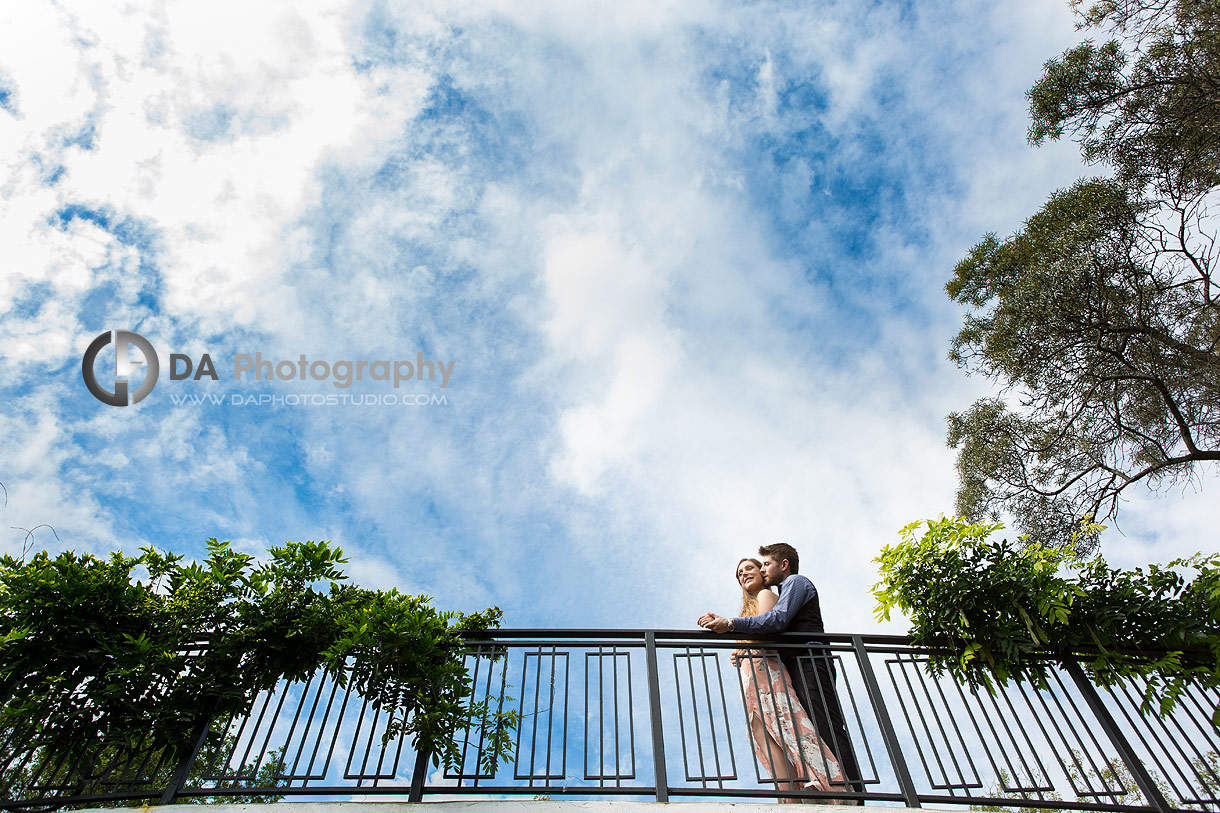 Why a Royal Botanical Gardens engagement is the way to go?
With the great weather, we were not really forced to go inside the green house as a shelter. However, I thought it would be a really perfect opportunity to work in some different lighting situations. In the underpass on the way to Hendrie Park, we did some silhouettes photos. This tunnel gave us an an illusion of dark nighttime-like shots in the middle of the day! We then went straight to the green-flower wall. I really love the dynamic and different shades of green of this wall. While it is a monochrome background, the different shades are complimentary and lead the eye straight to the subjects, Misha and Alex. Then, inside the green house I was able to capture the rustic Spanish-Mexican wall. And finally, I worked with my favourite evergreen trees in the Mediterranean part of the garden.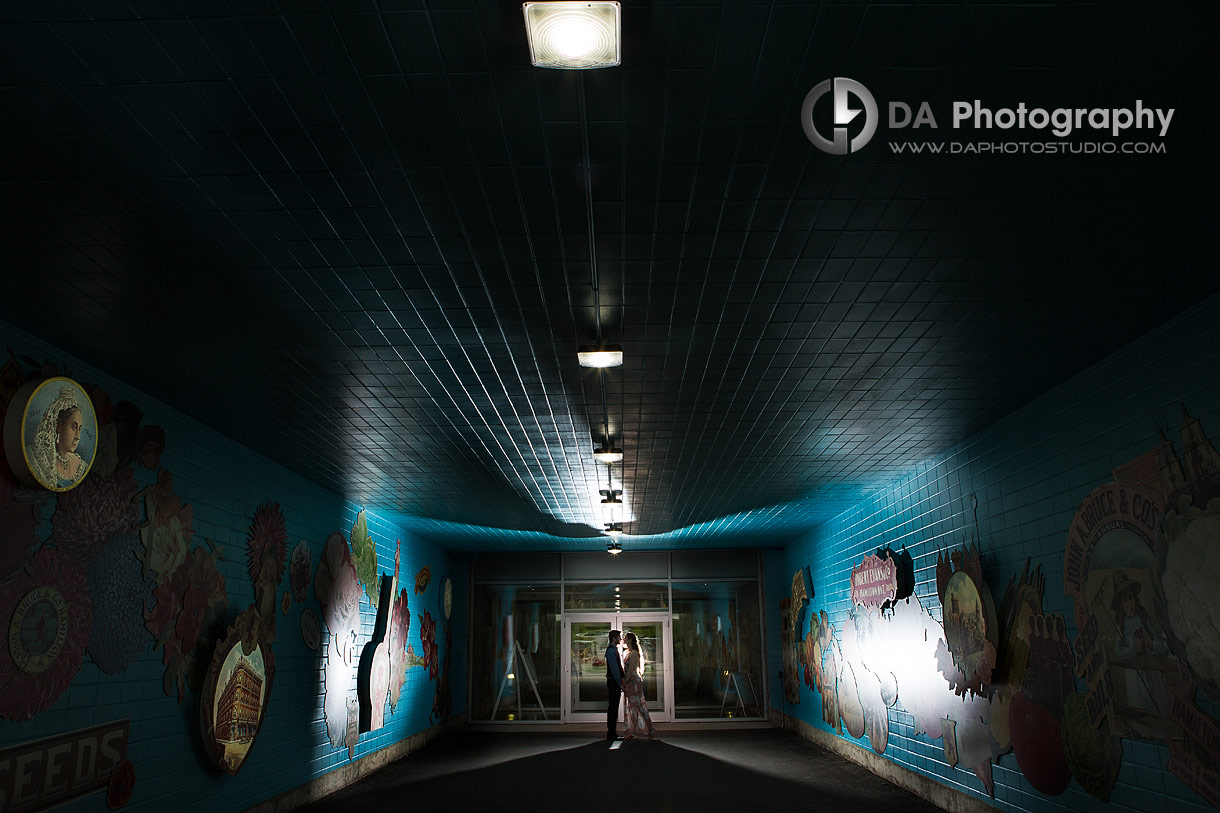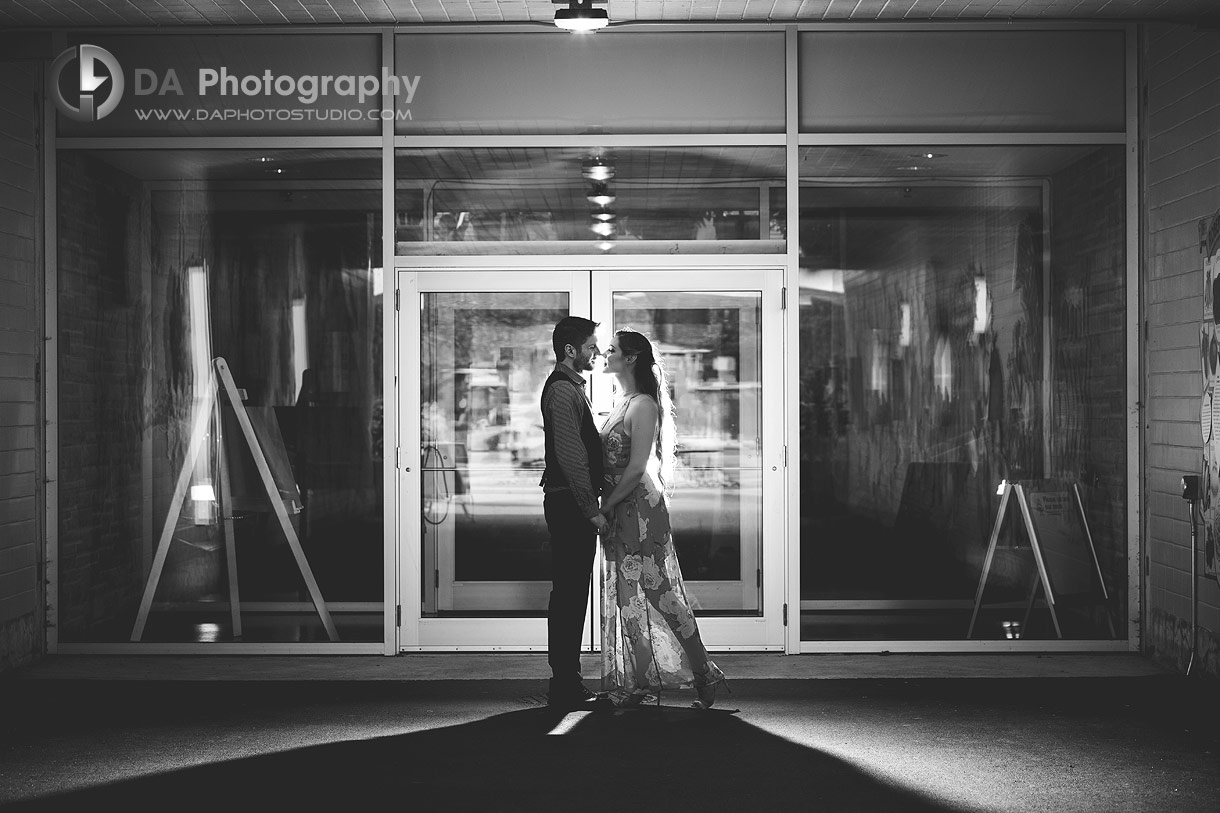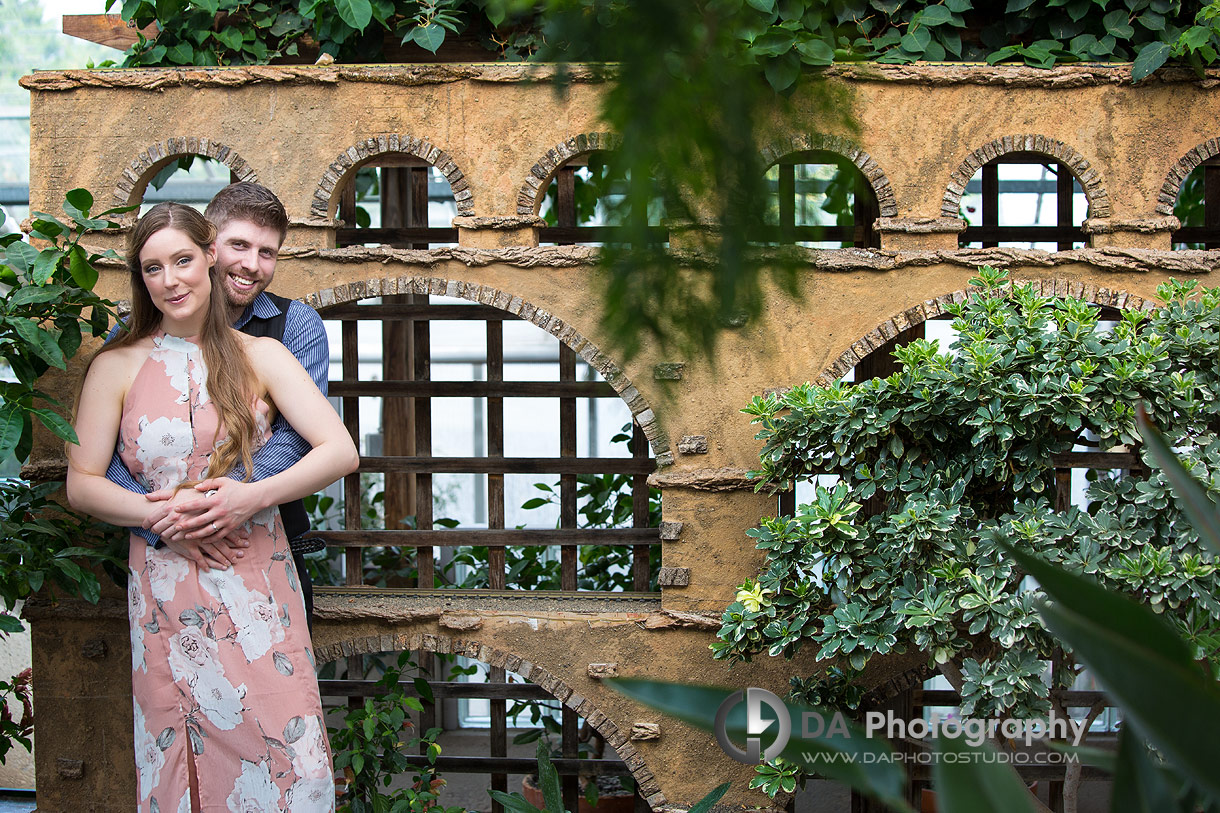 How Misha and Alex became one of my favourite couples that year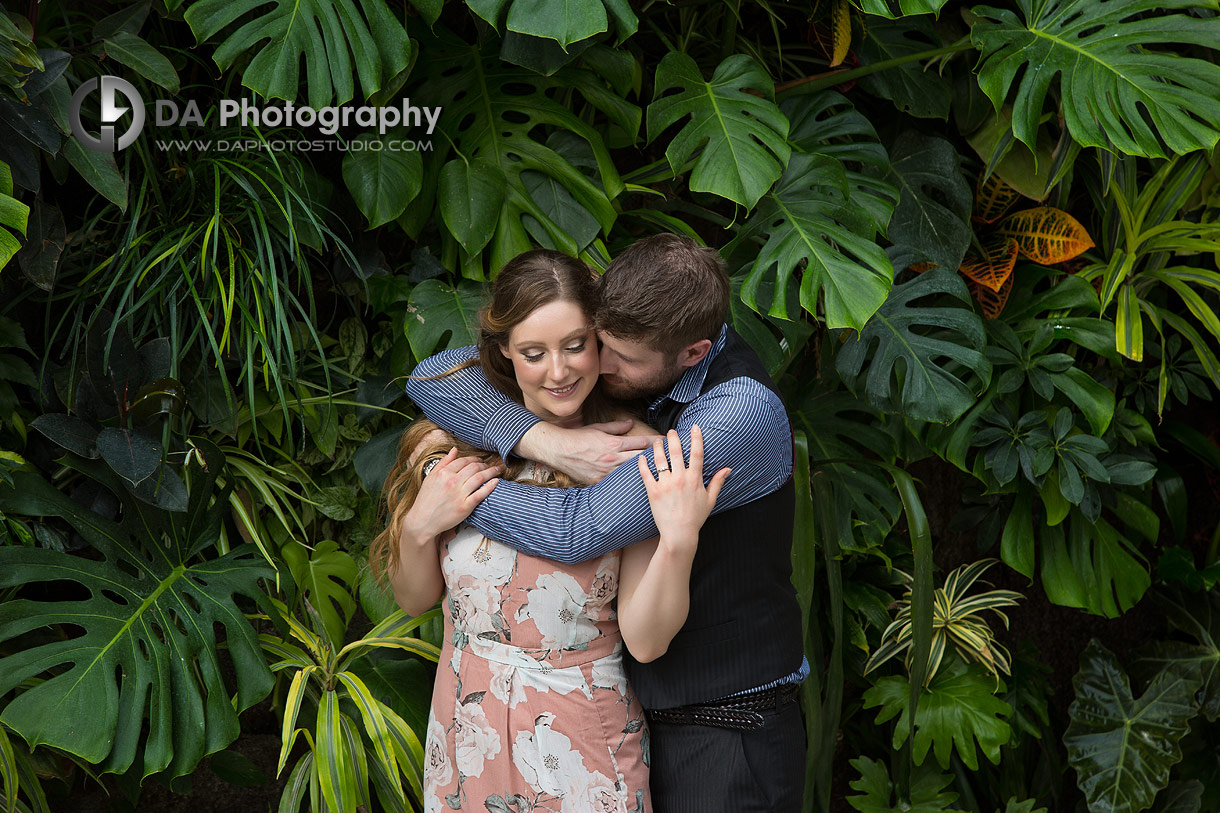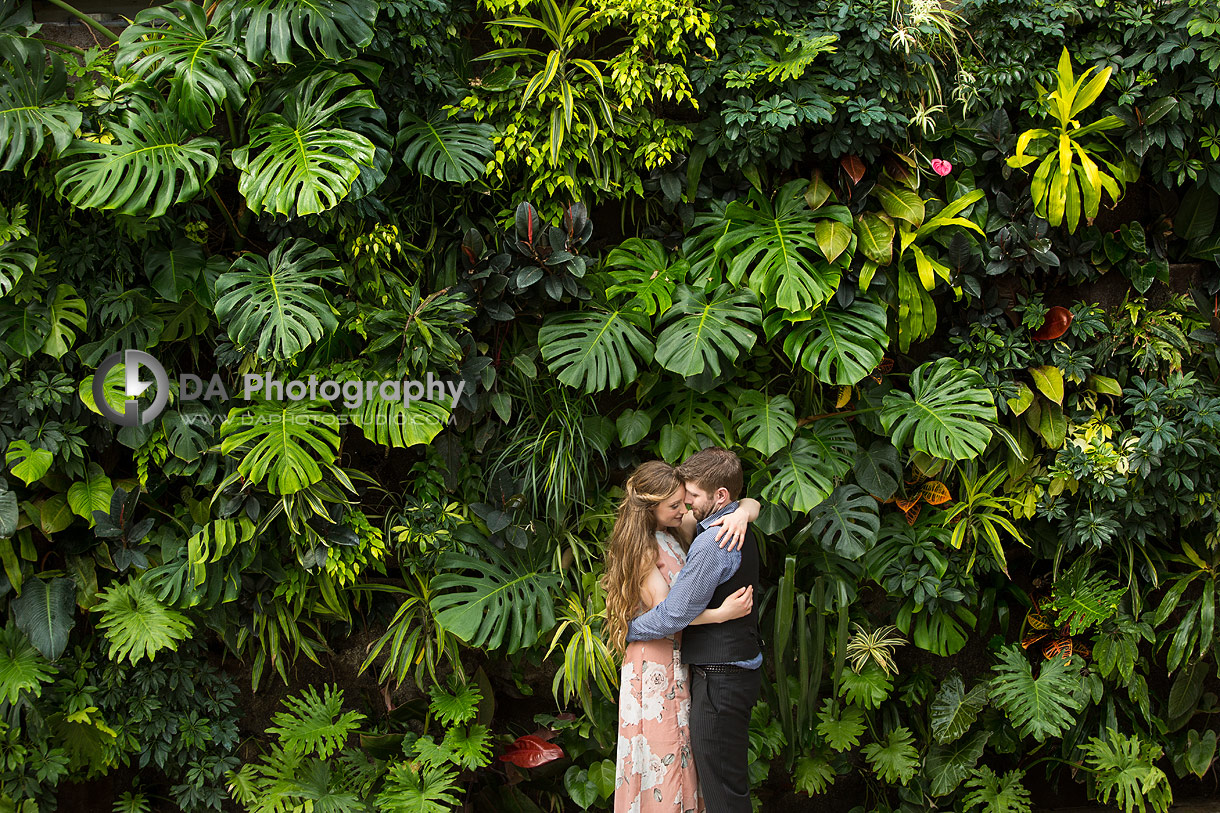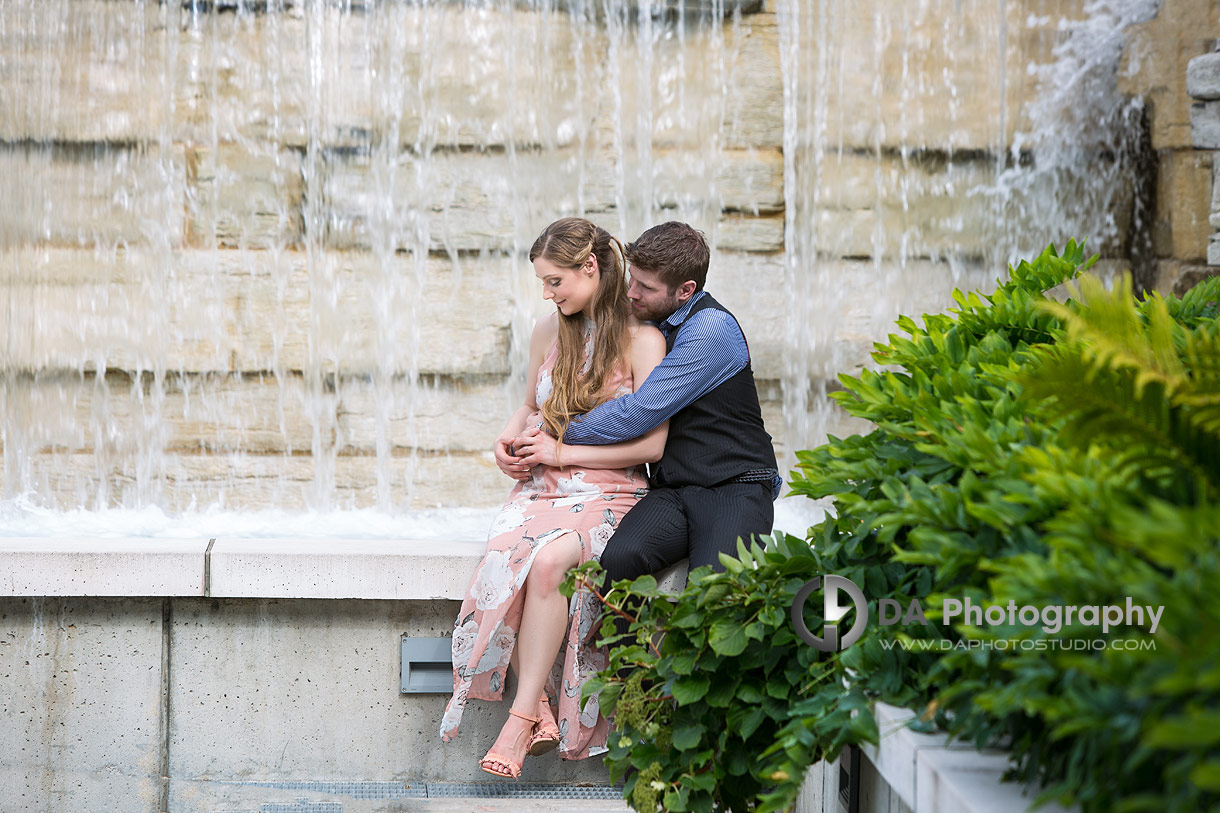 After this session, I could feel that we had created a really solid rapport. The connection was mutual and right away I knew I was able to capture some really great images. Misha helped a lot by leading the emotional part of the session. Alex was a great supporter, following every step that Misha took. That only left me to the rewarding part of documenting these memories. We were quite the team! Their uniqueness offered me a white canvas on which to paint their memories in a way special to only them. All of that combined made Misha and Alex one of the dearest couples I had the pleasure to work with that year. So happy that Sandi contacted me and allowed me to document her daughter's memories.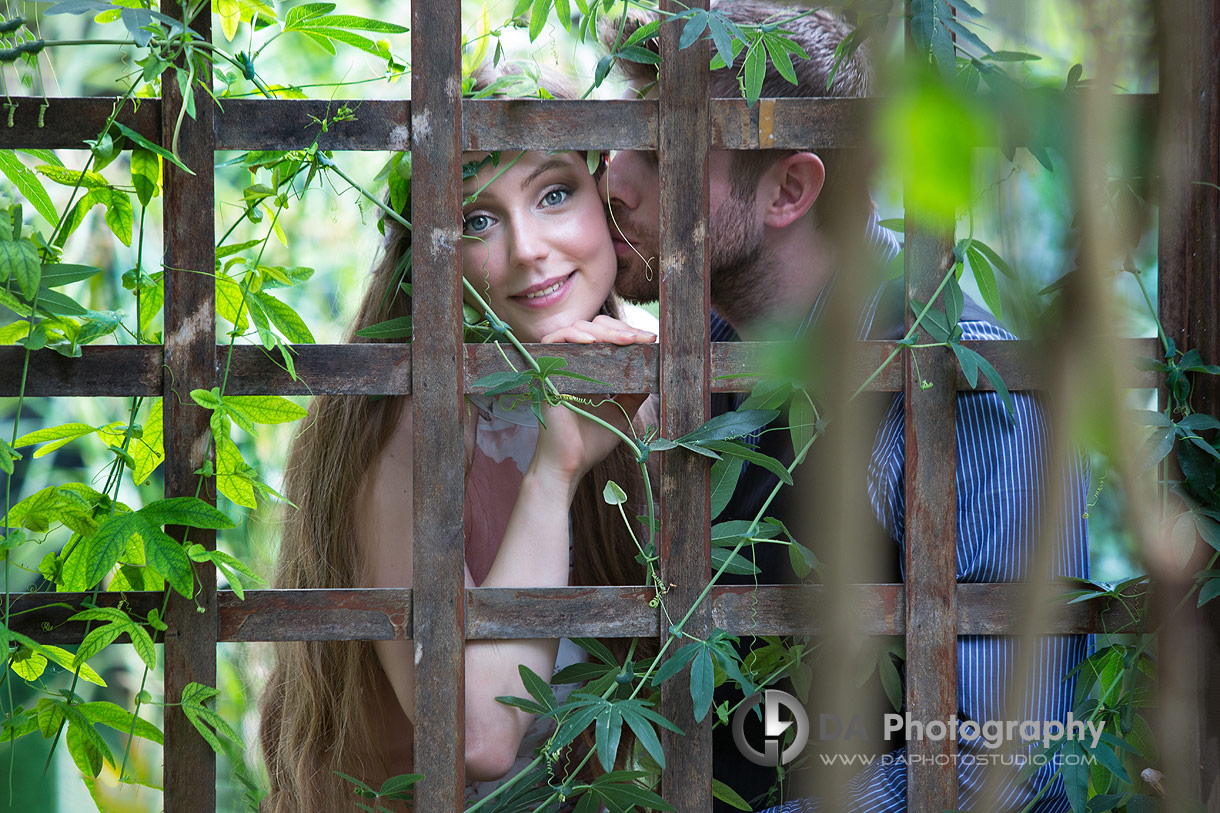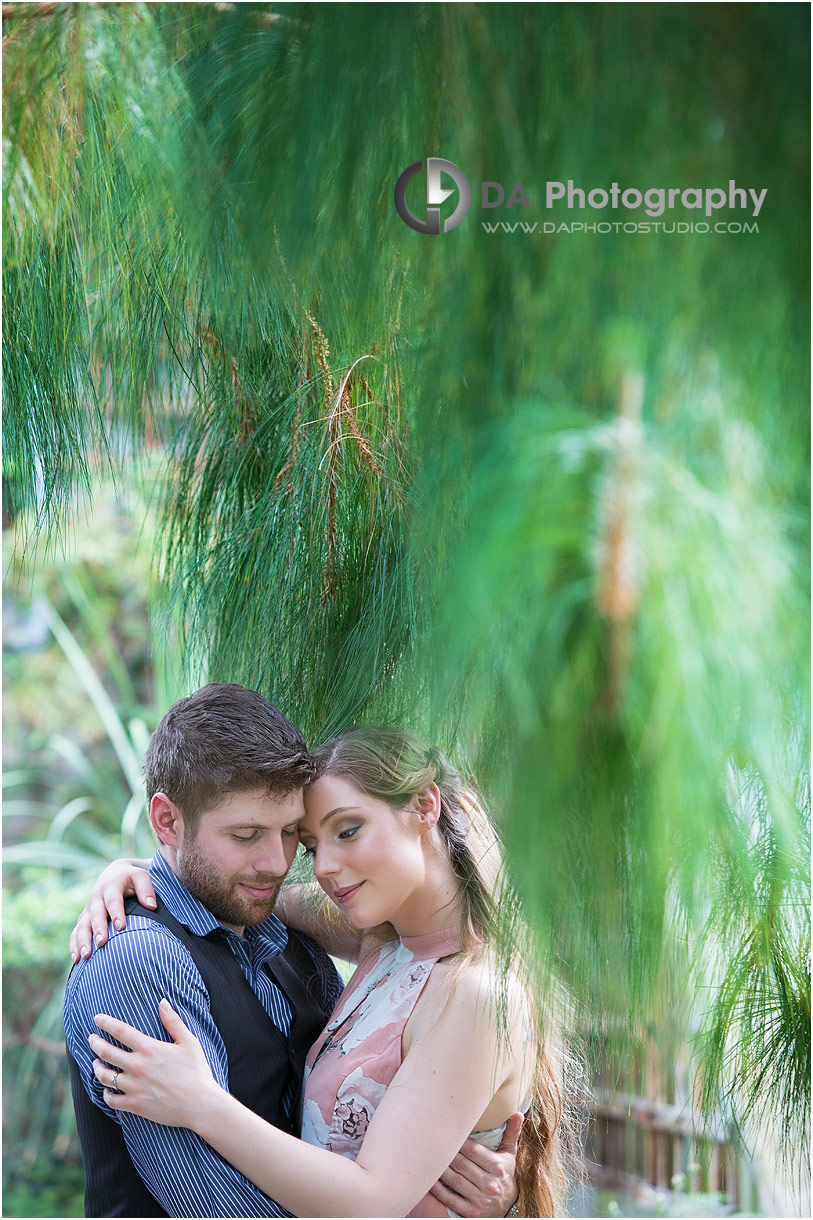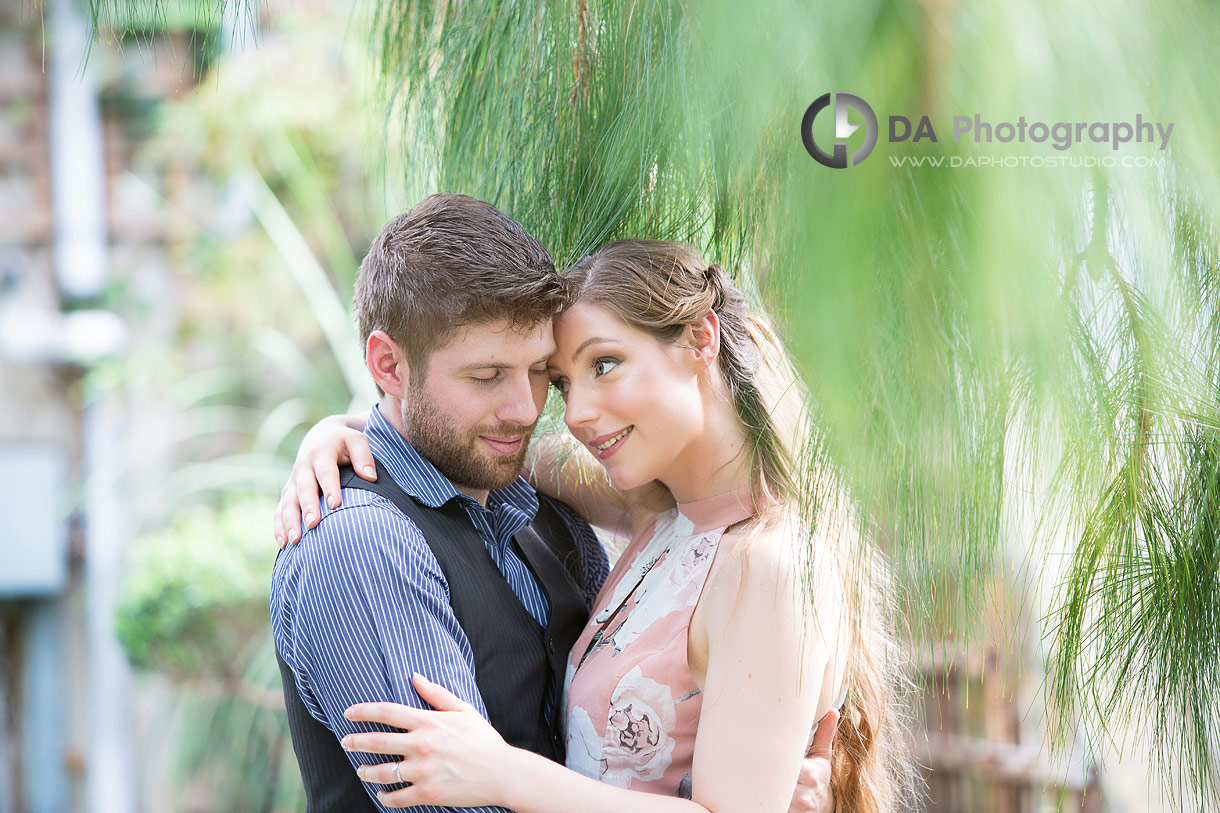 Have you seen me working at some of your friend's or family events? What do you like about me? Do you have any suggests how I can make my work even better? I'm always ready to improve my craft, communication and approach to your special events. To document them in your unique way.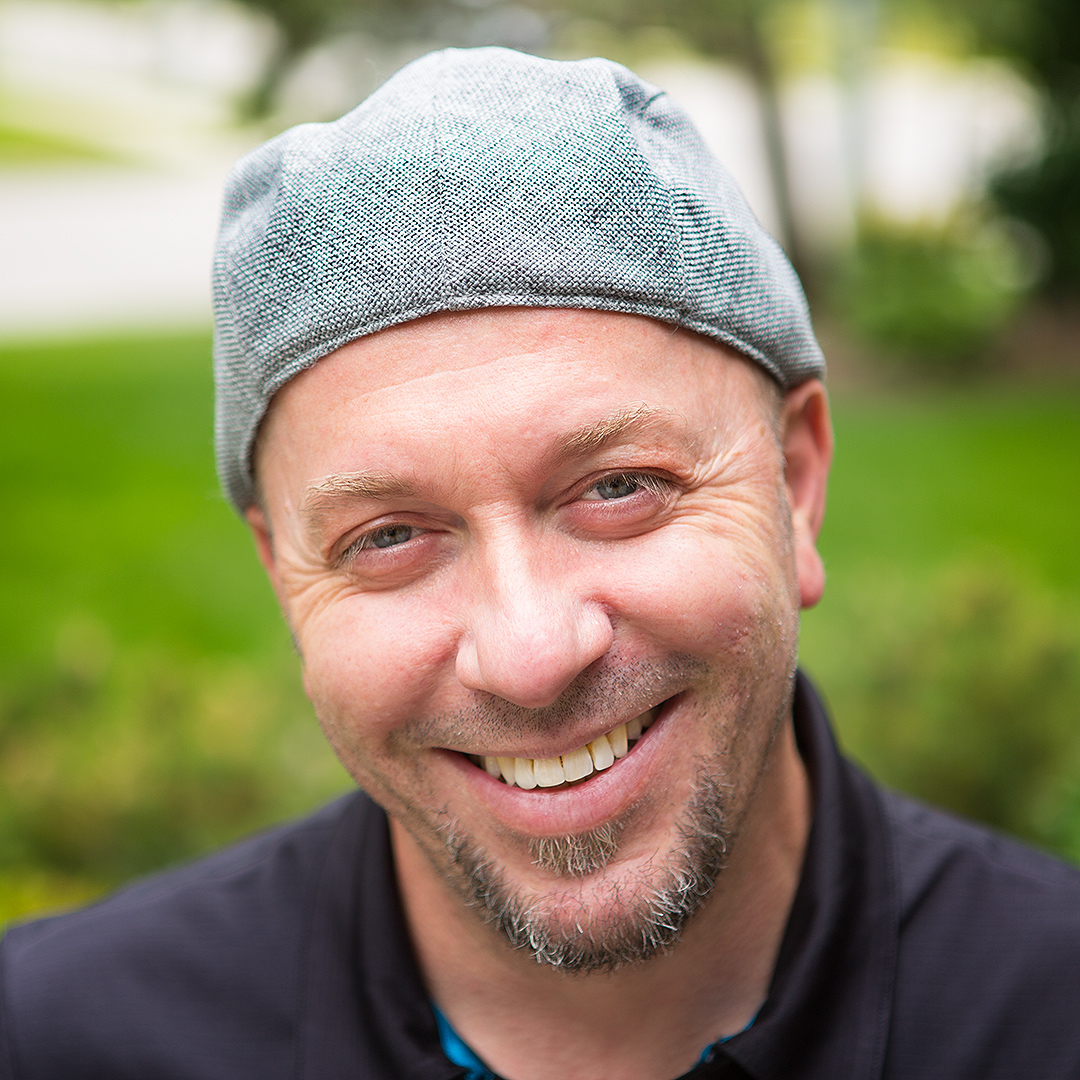 My passion and biggest asset is taking the time to make every client comfortable and relaxed before I even pick up the camera. The result? Photos of you that actually look like you at your best! I can prove to you how much you can enjoy having your picture taken. Lifestyle photography is about the experience that happens to be served up along side of some great photos.
Specialties:
Family Photography for families that like to move around and enjoy their photo time, Wedding Photography for couples looking for a mixture of photojournalistic, contemporary and traditional images and Professional Corporate headshots that are far from cheesy and stiff.